Welcome to Sao Paulo. As the biggest and most populous city in Brazil, this South American city is the pulsing heart of the country. This incredible metropolis is located in the Southeast Region of Brazil, on a plateau just about 43 miles from the Atlantic Ocean coastline.
Not only is the city the capital of Brazil and the largest city in the country, but it is also the financial center with a buzzing economy that helps propel the entire country forward.
Visiting this massive metropolitan center on holiday can be overwhelming. With such an enormous population, it is no surprise that the city is spread out over a gigantic area, with endless choices of neighborhoods to stay in and things to do. However, once you're there, exploring this city isn't as intimidating as it seems, and it's easy to see why so many people choose to call Sao Paulo home.
Staying in one of the best hotels in Sao Paulo is an incredible way to experience the city. Hotels are the most convenient option for big city vacations, given you stay in a spot with a central location that provides useful amenities.
Best Hotel for Couples in Sao Paulo
Best Hotel for Couples in Sao Paulo
Queen Guest Room at Renaissance Sao Paulo Hotel
> $$$$
> 2 Guests
> Ideally located in the Jardins District, close to Paulista Avenue and Oscar Freire Street
> Outdoor pool and fitness center as well as a spa with sauna and zen-zone
Best Budget Hotel in Sao Paulo
Best Budget Hotel in Sao Paulo
Executive Room at Radisson Park Inn Berrini
> $
> 2 Guests
> Dedicated workspace and self-check-in are available
> Swimming pool, gym, and spa with hot tub on the property
Over-the-Top Luxury Hotel in Sao Paulo
Over-the-Top Luxury Hotel in Sao Paulo
Suite L'Hotel at L'Hotel PortoBay Sao Paulo
> $$$$
> 4 Guests
> Inhouse restaurant and bar serving a superb breakfast
> 24-hour reception and daily housekeeping/turndown service
Staying in a Hotel in Sao Paulo
Sao Paulo is used to falling in second place among desirable Brazilian cities to visit, with the picturesque and cultural phenomenon of Rio de Janeiro coming in first. However, by no means should this city be underestimated. Sao Paulo is bursting at the seams with cultural and historical attractions, shopping and dining options, a buzzing nightlife scene, vibrant local art, and an impressive collection of museums.
The city is predominantly occupied by locals, with much fewer tourists than in other cities. In my opinion, this makes the bustling Brazilian city so charming and alluring, and the diverse urban center is a melting pot of cultures and religions.
When visiting such a busy city, I always prefer staying in a good quality hotel over a self-catering rental. Of course, it all depends on what amenities you're looking for; however, staying in a hotel allows you to take advantage of hotel amenities and services such as in-house dining options, laundry facilities, housekeeping, and room service.
Even more convenient, helpful staff will gladly assist you with restaurant bookings, directions through the city, tour arrangements, and airport transfers. They might even offer you some exclusive local knowledge.
While you might not get to experience the city as a local, you'll be well taken care of by the local professional staff and be able to socialize with like-minded travelers at a hotel.
What to Look For in a Hotel in Sao Paulo
Since the city is a sprawling metropolis, most of the inner-city's best hotels in Sao Paulo are high-rise buildings. While the city is big, you can expect most of the top hotels to be centrally located, either in or near the city's most trendy neighborhoods. I advise researching the best areas to stay in Sao Paulo before booking a room.
Of course, the city has its fair share of monotonous business-style hotels, with repetitive rooms offering not much more than a place to rest your head. However, not all hotels were created equally, and the city is also home to an incredible range of unique, luxurious, and beautiful properties.
Depending on the star rating of your hotel, most hotels will offer a rooftop terrace with a swimming pool. Since the weather reaches hot summer temperatures here, you'll be thankful for a swimming pool after a day of exploring the city.
You can also expect most hotels to have at least one option for in-house dining – be it a terrace restaurant, a fine-dining experience, or a casual eatery. Regarding food, most, if not all, hotels will offer a tasty buffet breakfast each morning as a part of your nightly rate.
You can expect different things from your rooms depending on how much you are willing to spend. Family rooms are available but not super common, so make sure you book in advance if you want a room with a sofa bed or a second bedroom. Another option for families or groups is to book two conjoining rooms.
A basic hotel room should have a window with some sort of city view, a bed, TV, air-conditioning, a closet, a mini-bar, a personal workspace, and an ensuite bathroom. If you're eager for a bathtub, kitchenette, living area, or balcony, you might have to book a suite or more luxurious room.
You will find most of the best hotels in Sao Paulo listed on Booking.com, with a few available on Airbnb. Make sure you filter your Airbnb search to 'hotels.'
The Top 15 Hotels in Sao Paulo
The heart and soul of Brazil, Sao Paulo is one of the most exciting cities in the Southern Hemisphere. Take a look at this list of the top fifteen hotels in the city, from those suitable for budget travelers to the most extravagant properties on the market.
In the trendy Itaim Bibi neighborhood near Ibirapuera Park
Nespresso coffee machine and minibar. Rooftop pool, gym, and sauna
A good location is imperative in a busy city, where getting from A to B can be time-consuming and expensive. Set in the heart of the Itaim Bibi neighborhood, surrounded by some of Sao Paulo's top parks and green spaces, The Capital Itaim offers cozy accommodation with a rooftop pool, sauna, and gym.
The rooms are simple yet perfect for a short stay, with a dedicated workspace, mini bar, and private patio. Guests can also use free parking on the premises and paid washer and dryer facilities in the building.
Dedicated workspace and self-check-in are available
Swimming pool, gym, and spa with hot tub on the property
If you're looking for the best hotel in Sao Paulo on a budget, you've come to the right place. The hotel is located in a quiet neighborhood near Brooklin along the river and features spacious bedrooms with everything you might need from an affordable hotel.
Besides the spacious closets, large windows overlooking the city, and ensuite bathroom, this room has a two-seater dining table that doubles as a workspace. Added benefits include daily housekeeping and access to a restaurant, fitness center, and spa with a sauna and hot tub on the property – not your average budget hotel!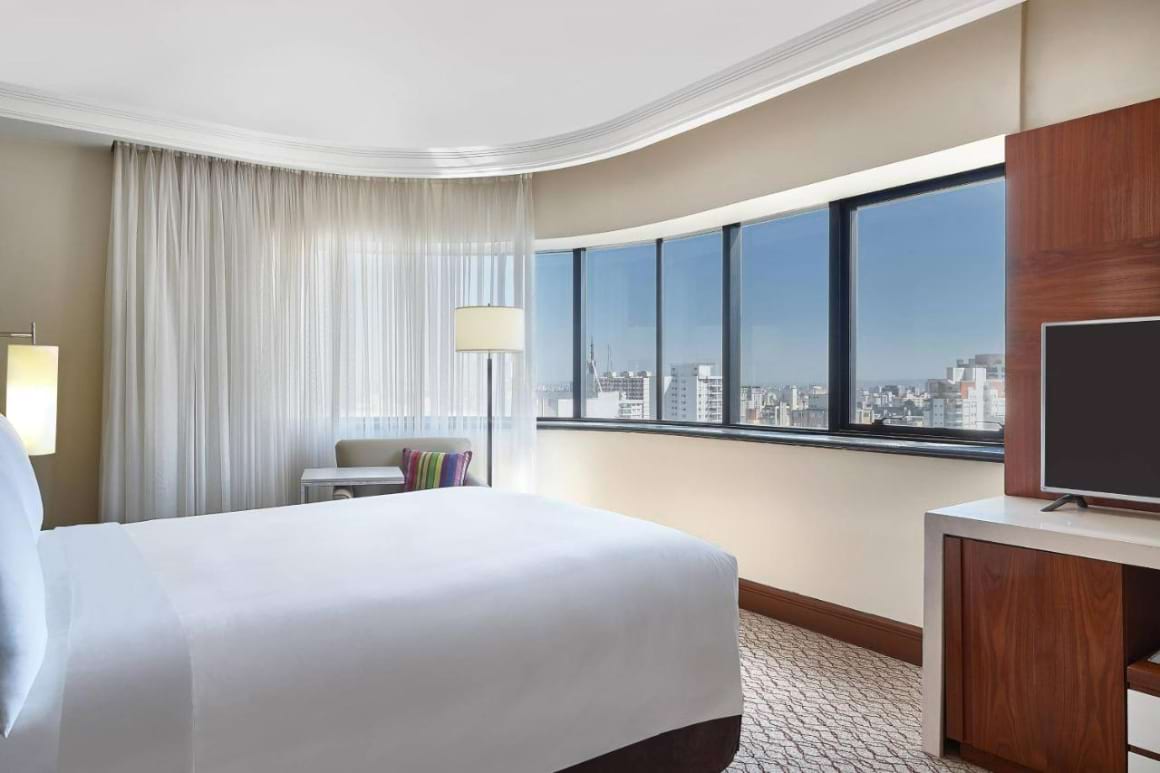 Ideally located in the Jardins District, close to Paulista Avenue and Oscar Freire Street
Outdoor pool and fitness center as well as a spa with sauna and zen-zone
The Renaissance Sao Paulo Hotel is the perfect destination to set the scene for a romantic vacation. The modern hotel is designed with mid-century-inspired interiors, cozy furnishings, and warm lighting and tones throughout.
Bedrooms are spacious, featuring luxury linens, great views, and a bathroom with a bathtub. The hotel boasts an outdoor pool terrace and a well-equipped gym and spa, perfect for a romantic end to a day in the city.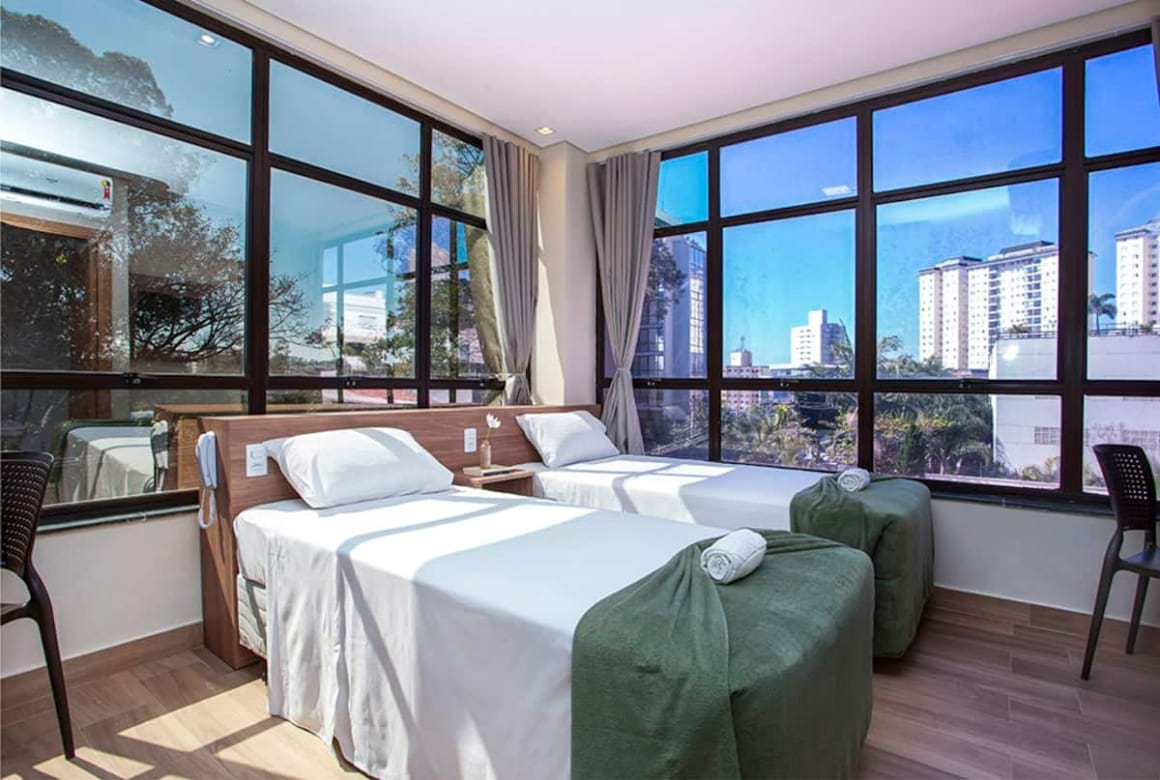 Stylish rooms with floor-to-ceiling windows and tons of natural light
Fully equipped kitchen and shared terrace with outdoor lounge and dining furniture
The grand windows and huge rooms make this studio the best hotel in Sao Paulo for a group of friends. With three bedrooms, a kitchen suitable for preparing family-style meals, and a workspace for remote work requirements, this spot will quickly become your home away from home in Sao Paulo.
What's even more, this self-catering aparthotel is set in the lush Campo Belo region, near the Jardim Oriental, the city's most desirable garden neighborhood.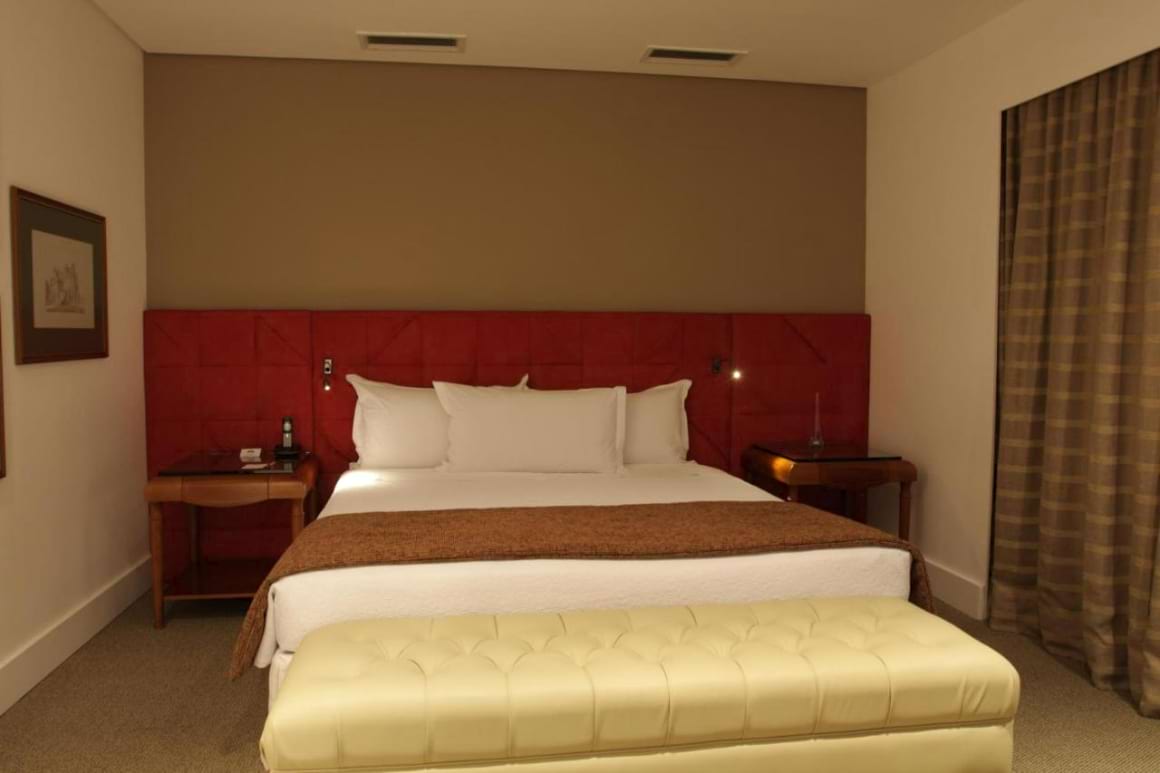 Private kitchenette and lounge with a balcony
Room service, private parking, and bar and restaurant on site
A more exclusive option for friends, the Presidential Suite at the Gran Estanlaza Berrini features two private bedrooms, a beautiful living room with a private balcony, and a shared bathroom.
Although the suite doesn't have a full kitchen, it does include kitchenette appliances and a dining room table. However, with a world-class restaurant and bar downstairs, you'll want to take advantage of the delicious food prepared on the property.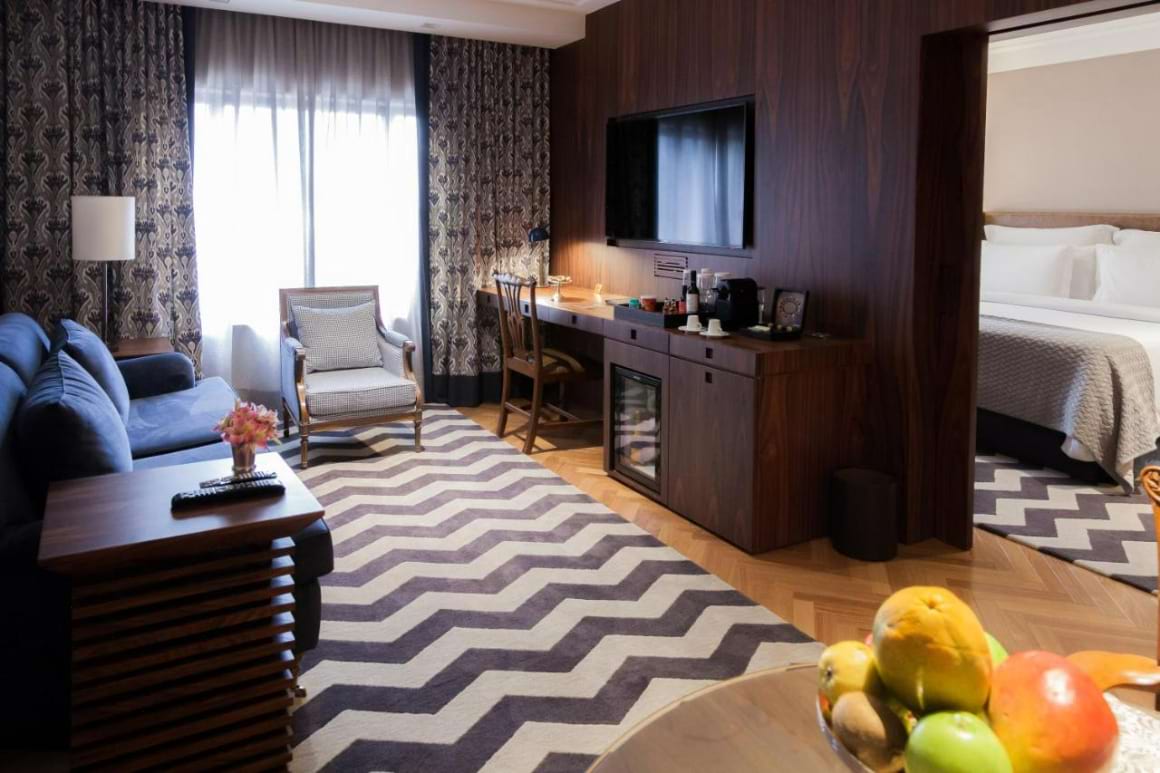 Inhouse restaurant and bar serving a superb breakfast
24-hour reception and daily housekeeping/turndown service
Enjoy a taste of luxury living at the L'Hotel PortoBay, one of the best hotels in Sao Paulo for fans of opulence. This five-star hotel offers incredible accommodation and service just a short stroll from Bela Vista. It has a spa and a heated indoor pool that guests can use year-round.
The hotel is designed in a contemporary style, with many modern furnishings, natural light, and warm wooden tones. Best of all, the attentive staff is always willing to go above and beyond to ensure your stay is as comfortable as possible.
Suite with two bedrooms, a sofa couch, and a private kitchen
Tasty breakfast included in the rate, swimming pool on site
Enjoy a bit of privacy from your children in this two-bedroom suite at the luxury George V Alto De Pinheiros Hotel. With two private bedrooms and a sofa bed in the living room, this room could squeeze five in easily.
Ideal for traveling with fussy children, the suite has its own private kitchen, which perfectly complements the breakfast served daily in the hotel dining hall. The hotel also has an outdoor swimming pool and free parking on site, which is always helpful when traveling with young children.
Clean and spacious room with private bathroom
Swimming pool and fitness center, leisure area, and room service available
Instead of staying in a dingey shared hostel dorm, why not book this cozy suite for a surprisingly low price? As one of the best hotels in Sao Paulo on a budget, not only will you have your own bedroom and a double bed to spread out across, but you'll also have a private ensuite bathroom all to yourself.
The room also features a workspace, coffee machine, and microwave for heating up quick meals. It's well-designed with modern interiors, suitable for solo travelers, couples, or even business trips.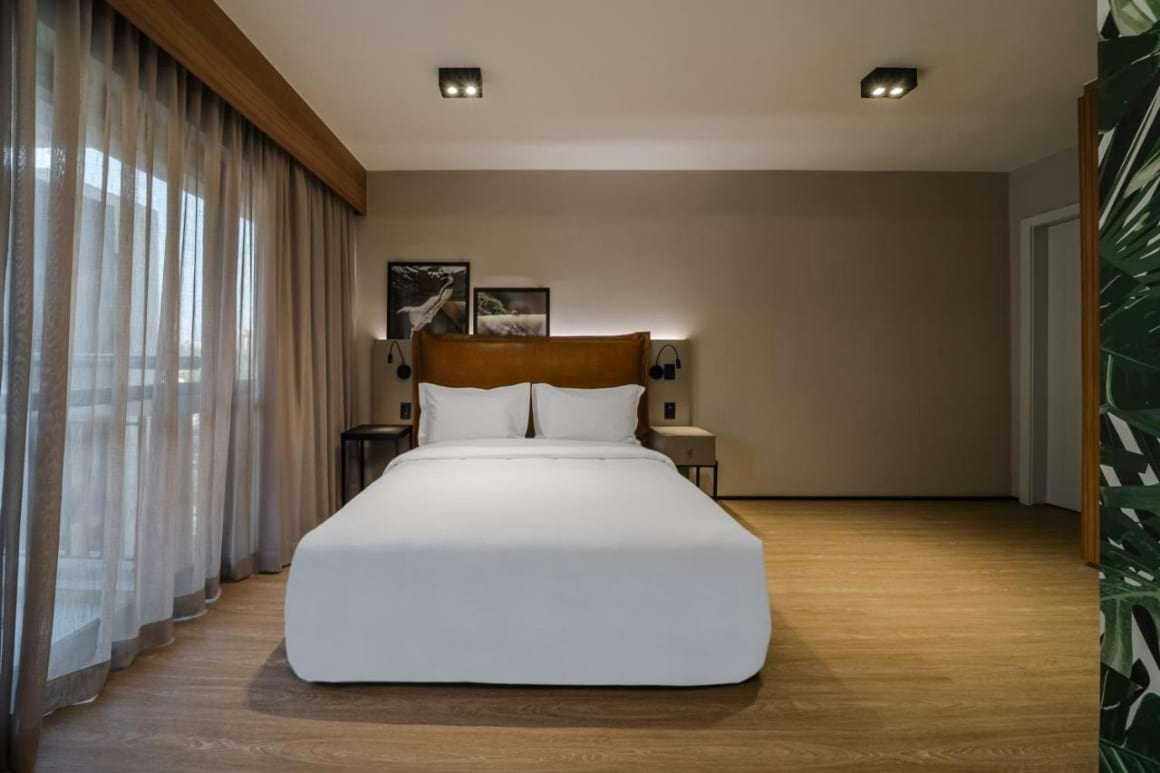 In the heart of the city's trendy Itaim Bibi neighborhood
Spacious room with disability facilities
Traveling with a wheelchair shouldn't have to be as hard as it is, and this disability access room was designed to make life easier on the road. The spacious room can be accessed via an elevator and includes a large roll-in shower with handles perfectly positioned for those with limited mobility.
Each room has its own balcony with gorgeous skyline views. The hotel itself is spectacular, with a rooftop pool and terrace overlooking the lively Itaim Bibi district.
In the heart of the city on the iconic Oscar Freire Street, near Ibirapuera Park
Japanese-inspired decor with warm wooden tones and natural light
Set on the iconic Oscar Freire Street in the city's cultural center, Hotel Emiliano has rightfully earned its title as one of the best hotels in Sao Paulo for its location. The chic hotel is within walking distance of many trendy bars and restaurants and even features a champagne and caviar bar on site.
The hotel spa offers a range of massage and beauty treatments and access to a sauna and hot tubs. With a vertical garden, a terrace hosting DJs and parties regularly, and unique Japanese-inspired interiors, there is no wonder this spot is so popular.
Stylish contemporary interiors with tons of natural light and lush plants
Delicious breakfast served on a sunny garden terrace daily
With some of the most aesthetically attractive interiors combined with incredible city and park views, Canopy by Hilton Sao Paulo Jardins offers high-end accommodation that will make you feel like you're on vacation from the moment you arrive.
Staff at the 24-hour reception will be glad to offer insights and tips on the area, which is dotted with gardens and parks. This property is also just a short walk from the Ciccillo Matarazzo Pavilion and relatively nearby the Pacaembu Stadium.
Private parking, fitness and wellness center, onsite restaurant
Gorgeous modern room with personal desk space and city view
One of the most unique accommodations in Sao Paulo, Pestana Sao Paulo provides four-star accommodations just a few blocks from Paulista Avenue in the upscale Jardins neighborhood.
The rooms are beautifully designed with contemporary furnishings, modern art, and cozy linens. They all include a TV, minibar, workspace, and a strong Wi-Fi connection. An internationally inspired breakfast menu is served daily, and a lobby-level bar serves drinks late into the night – a great place to meet other guests if you're traveling solo.
World-class spa and fitness center
On the river in the exciting Itaim Bibi District
Honeymooners will be overindulged in a suite at the opulent Grand Hyatt Sao Paulo. Located in downtown Brooklin, the new commercial district. The hotel features two swimming pools, a wellness spa, and gorgeous views of the iconic Estaiada Bridge.
The rooms are modern and sophisticated, with ample natural light and windows overlooking panoramic city views. While you indulge in complimentary breakfast, housekeeping will ensure your room is spotless throughout your stay.
Rooftop terrace with a bar and pool overlooking the city skyline and Ibiraquera Park
Modern interiors with luxury amenities and fittings, including spa baths
One of the more unique accommodations in Sao Paulo, this hotel wasn't named Hotel Unique for no reason. The impressive architecture looks like a floating boat, with port-style circular windows and a massive top deck home to a bar and swimming pool overlooking some of the best city views.
The ultra-modern rooms are designed using white and neutral tones, featuring glass walls and warm lighting. Each room has desk space, a minibar, and an ensuite bathroom with a spa tub.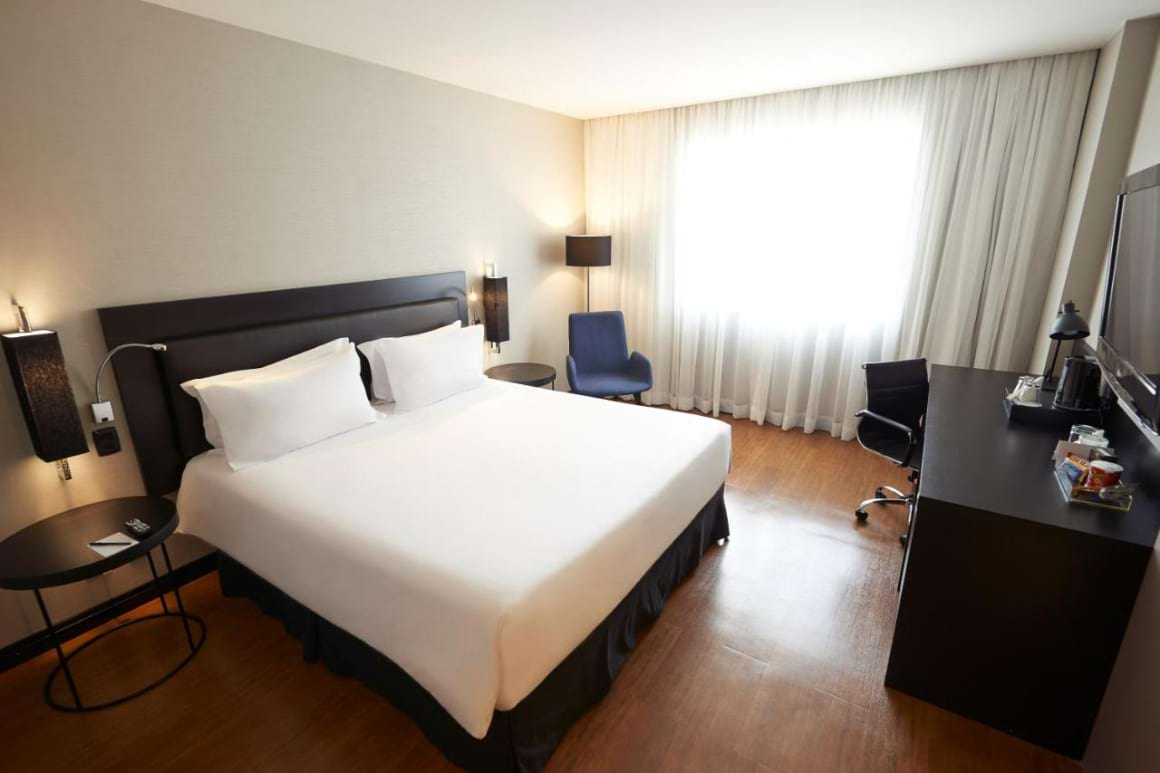 In-house restaurant serving delicious breakfast, lunch, and dinner
Professional convention center and event rooms for business trips
Business trips don't have to be dull, and the Grand Mercure Vila Olimpia has made it its mission to turn the business hotel concept on its head. The hotel provides large meeting rooms and convention centers, with equipment and professional multimedia assistance on hand at all times.
With chic rooms overlooking the city skyline, an incredible breakfast spread, friendly staff, and a casual on-site restaurant, there is much more to the hotel than just business facilities.
Don't Forget Your Sao Paulo Travel Insurance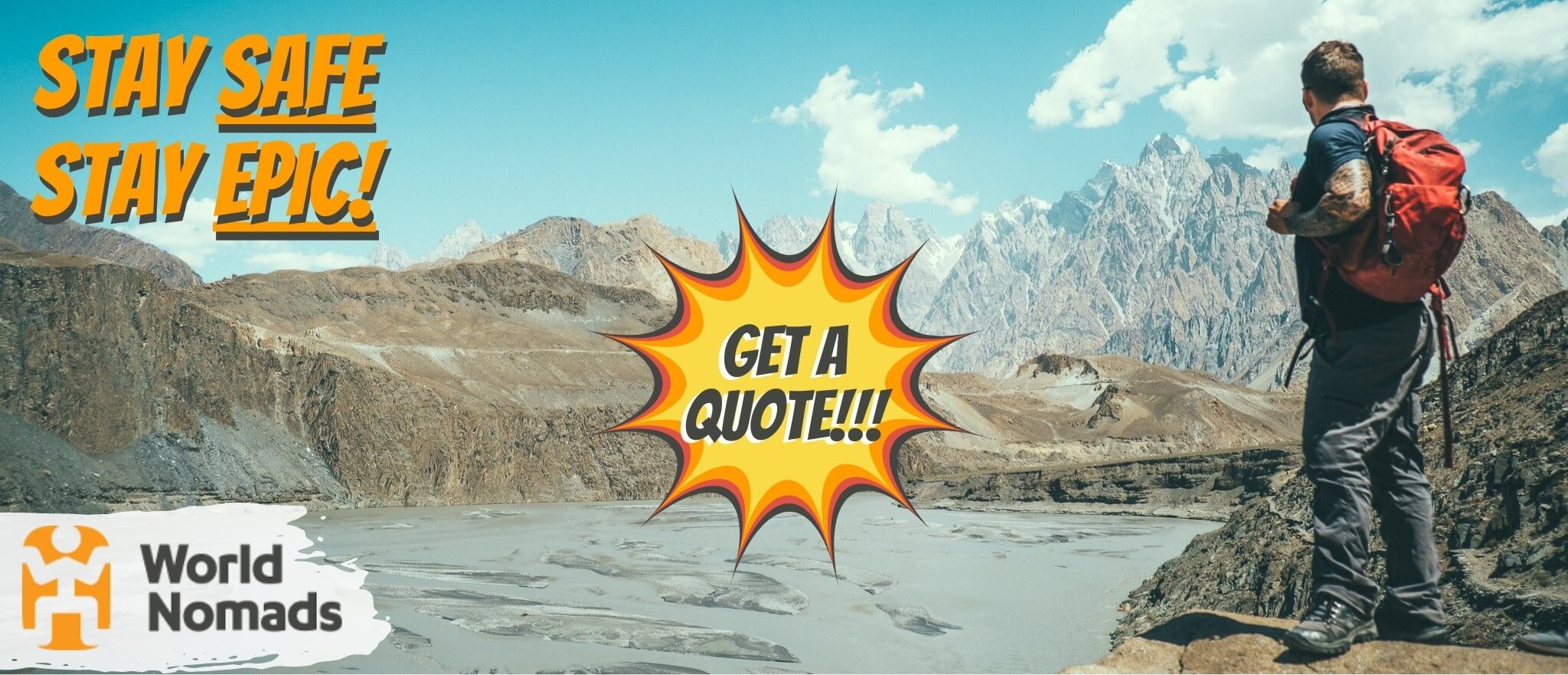 World Nomads' mission is to support and encourage travellers to explore their boundaries. They offer simple & flexible travel insurance, and safety advice to help you travel confidently.
They've been doing it since 2002 – protecting, connecting, and inspiring independent travellers just like you.
Get a quote below or read our in-depth review!
World Nomads provides travel insurance for travelers in over 100 countries. As an affiliate, we receive a fee when you get a quote from World Nomads using this link. We do not represent World Nomads. This is information only and not a recommendation to buy travel insurance.
Final Thoughts on Hotels in Sao Paulo
As Brazil's capital and largest city, Sao Paulo is the country's beating heart. An economic, cultural, and historical center, the city offers an endless list of activities to do, places to visit, and experiences to seek out.
Admiring Sao Paulo's city skyline looks like an ocean of never-ending skyscrapers. Naturally, many of these buildings house some of the best hotels in Sao Paulo. Hotels are one of the top options for a trip to a big city, with unique offerings that you won't find at any average self-catering rental.
After reading through this list, I hope you have added a few of the best hotels in Sao Paulo to your bucket list and that your search for accommodation has been made easier.
If you're visiting from overseas, remember to organize insurance for everyone in your travel party. Like any big city, there is always something that could go pear-shaped during your trip, and it is best to be safe rather than sorry.
---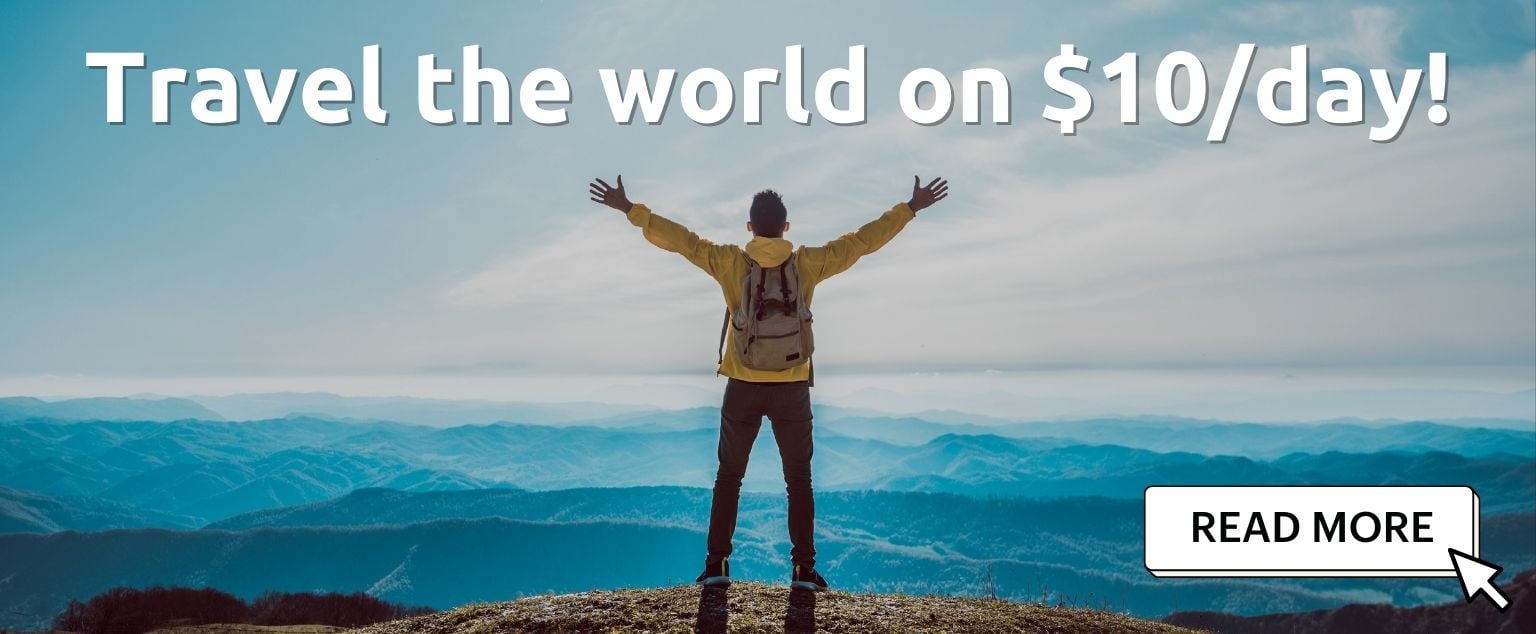 And for transparency's sake, please know that some of the links in our content are affiliate links. That means that if you book your accommodation, buy your gear, or sort your insurance through our link, we earn a small commission (at no extra cost to you). That said, we only link to the gear we trust and never recommend services we don't believe are up to scratch. Again, thank you!