South Korea is a fascinating place to visit. This East Asian nation is a whirlwind of food, culture, history, serene landscapes, and frenetic cities. One moment you could be touring the DMZ, the next kicking back on a beach on Jeju Island – safe to say this tiny country is absolutely loaded with adventure!
A dream is all good, but when it comes to the logistics of the trip, you have to ask yourself: Is South Korea expensive? Well, not necessarily!
Of course, we are all going to have different expenses based on our own circumstances when we hit the ground. But broadly speaking there are a few main categories to your budget, and tips and tricks to saving money in each of them. From food and accommodation to sightseeing and tipping culture, this guide has everything you need to plan an epic whirlwind of a trip to South Korea – all without breaking the bank.

Do You Want to Travel FOREVER??
Pop your email in below to get a FREE copy of 'How to Travel the World on $10 a Day!'.
So, How Much Does a Trip to South Korea Cost on Average?
So, the cost of a trip to South Korea depends on a whole load of different factors. First of all, there are the basics – accommodation and flights. Throw on top of that everything else – the sightseeing, transport, food, drink, even souvenirs, and things can really add up. That's where budgeting comes into its own. You want to make sure you have adequate funds for getting through your epic adventure in South Korea!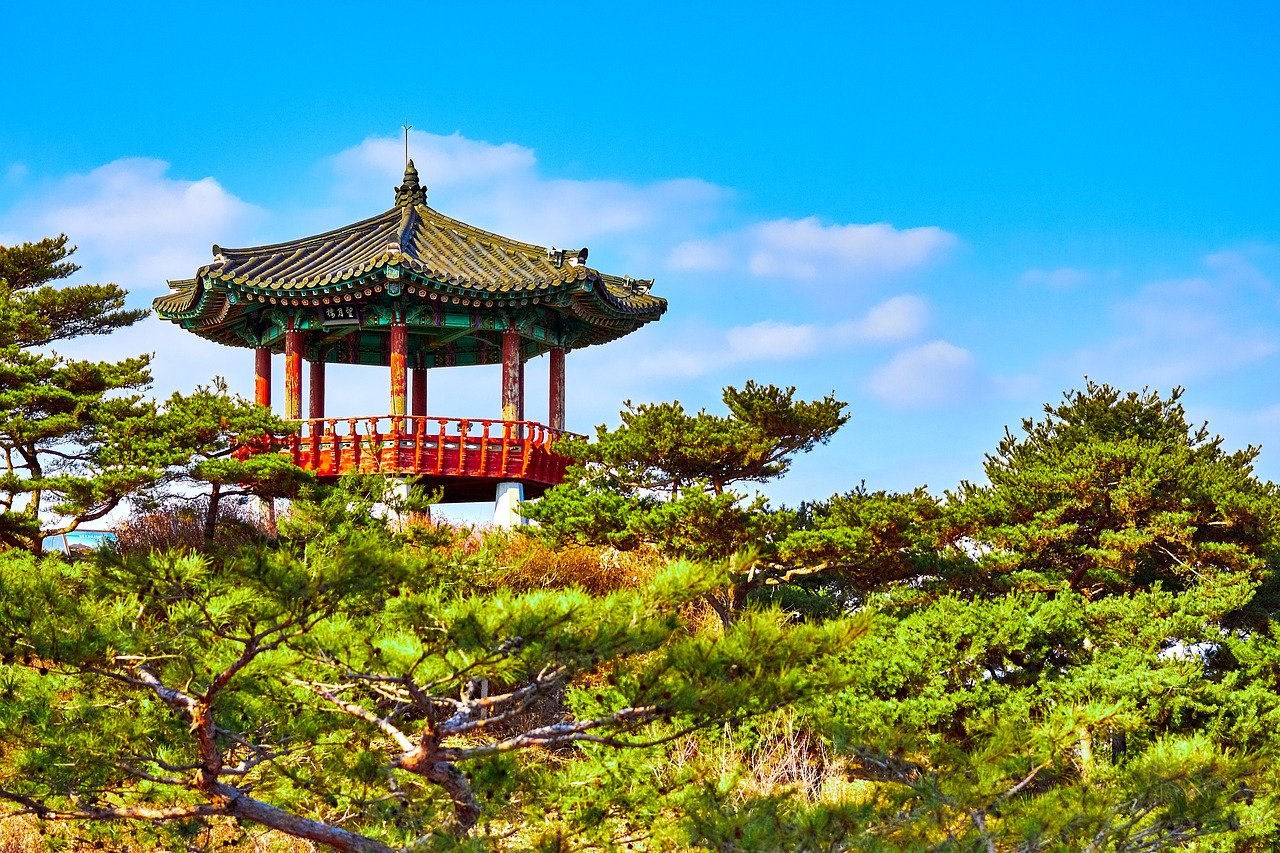 Travel costs we list throughout this guide are estimates and are subject to change. Prices are listed in US Dollars (USD).
South Korea uses the South Korean Won (KRW). As of March 2021, the exchange rate is 1 USD = 1112.36 KRW.
See below for a handy table summarizing the general costs for a two-week trip to South Korea.
2 Weeks in South Korea Travel Costs
2 Weeks in South Korea Travel Costs

| Expenses | Estimated Daily Cost | Estimated Total Cost  |
| --- | --- | --- |
| Average Airfare | N/A | $490 – $1133 |
| Accommodation | $9 – $80 | $126 – $1120 |
| Transportation | $0 – $10 | $0 – $140 |
| Food | $5-$20 | $70 – $280 |
| Drink | $0-$15 | $0 – $210 |
| Attractions | $0-$25 | $0 – $350 |
| Total (excluding airfare) | $14-$150 | $196 – $2100 |
| | | |
ESTIMATED EXPENSE: $490 – $1133 USD for a roundtrip ticket.
Is flying to South Korea expensive? Mostly, it depends on where in the world you're flying from, and also when you are flying. During the high season (June, July) flights into the country are more expensive. The cheapest month to fly into South Korea is April.
South Korea's main airport is Incheon International Airport (ICN), which is situated in the capital Seoul. Make sure to factor in transport to and from the airport into the cost of your trip to South Korea. Some hotels may offer complimentary shuttles, otherwise prepare to pay for public transport or a taxi.
Here's a rundown of the average costs of flying to South Korea from a selection of worldwide transport hubs:
New York to Incheon International Airport: 490 – 1054 USD
London to Incheon International Airport 590 – 720 GBP
Sydney to Incheon International Airport: 854 – 1,334 AUD
Vancouver to Incheon International Airport: 865 – 1,432 CAD
If you think that's expensive, don't sweat it! You can fly into South Korea more cheaply by using online services like Skyscanner. This allows you to scroll through various deals, last-minute bargains, and early-bird tickets, too.
Another tip: the cheapest option is often the longest! Yes, that means multiple connecting flights, but if you've got the time, the savings can do wonders for your budget and you will be able to hit the ground with more coin in yuor pocket!
ESTIMATED EXPENSE: $9 – $80 USD per night
We're going to let you in on a secret – South Korea is a very inexpensive destination! Accommodation in South Korea is not expensive (unlike Japan, which it is often conflated with). And the digs are good quality for the price too – just because it's cheap, doesn't mean it's sub-par.
You can expect to find every accommodation type across South Korea – hostels, urban Airbnbs, and all manner of hotels. There's something to suit everyone! If you're on a shoestring, or on your own, pop on into a hostel. If you have it in your budget to splurge a little, there will be something incredible here too!
But how do each of these options fit in with your budget? Good question. Let's get into the details of each of them now.
Hostels in South Korea
There is a sizeable selection of hostels in South Korea. More often than not, they're the cheapest option going, as is the case in other countries. But don't expect to find them everywhere – outside of the big cities like Busan and Seoul they are few and far between.
The cheapest hostels in South Korea cost as low as $10 per night.
Along with those wallet-friendly prices, hostels are packed with other perks. With communal kitchens and common rooms, they tend to lean towards being sociable places, hubs for international travellers exploring this East Asian nation. Free breakfasts, evening events, and walking tours put on by staff make them valuable for backpackers.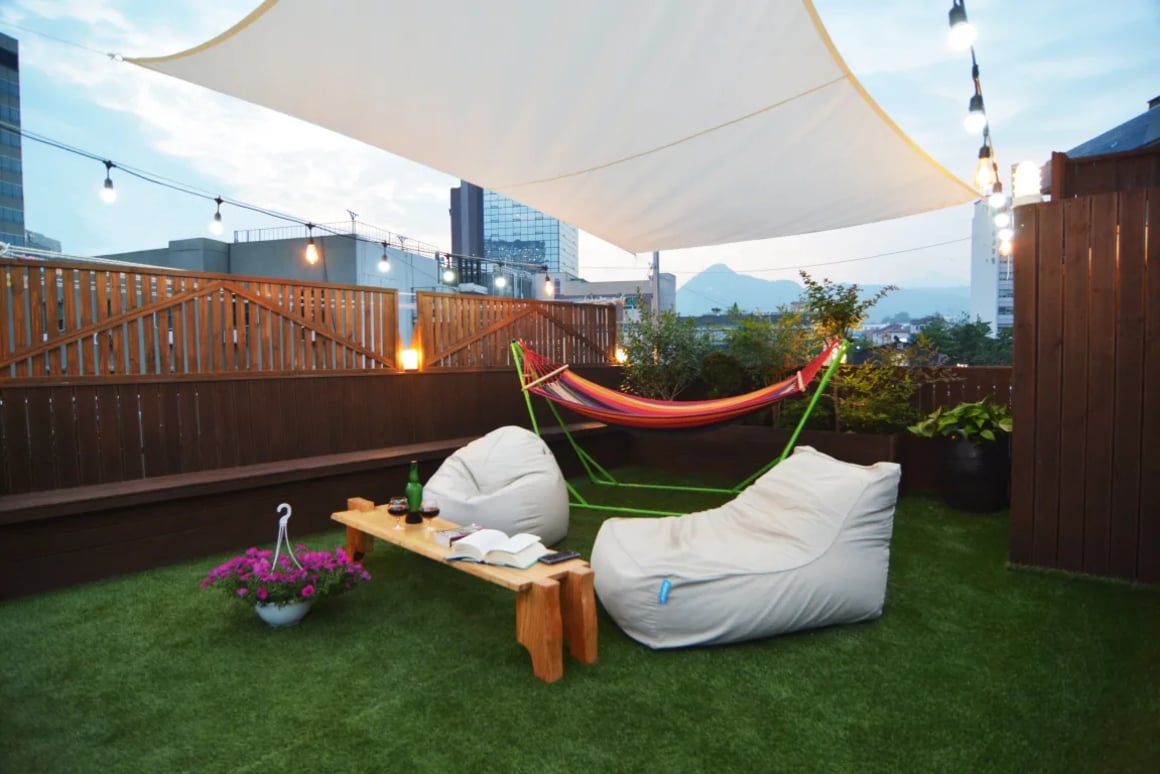 (If you're already sold, check out our guide to the best hostels in South Korea!)
Here are a few of the top hostels in South Korea to inspire your trip:
Seoul Cube Itaewon – This cool hostel in Seoul boasts female dorms, male dorms, and free breakfast among its many perks. Add to this its location just two minutes' stroll from Itaewon Station, and it's a solid option.
Insa Hostel Insadong – A backpacker-friendly hangout, Insa Hostel Insadong has colorful interiors and a rooftop terrace where you can mingle with other guests over drinks on a backdrop of city views. Breakfast is included.
INNO Guesthouse and Bar Hongdae – One major perk of this hostel is that it comes with its very own on-site pub, which is a great place to meet fellow travellers. Dorms are clean and spacious.
Airbnbs in South Korea
Airbnbs are plentiful in South Korea. Unlike hostels, you'll find them everywhere – and often, they'll be situated in modern apartments in high-rise buildings. A lot of the time they're fairly compact, but they come packed with all you need to enjoy a very local stay almost anywhere in the country.
They can be priced as a low as $20 per night.
Privacy is a big part of staying in an Airbnb anywhere in the world. The independence afforded by staying in an actual apartment as opposed to a hotel (or hostel) is highly valued too, and a kitchen to cook your own meals in keeps costs low. Plus, they're often in areas that other accommodation isn't, meaning you get a more authentic experience of the place you're visiting. What's not to like?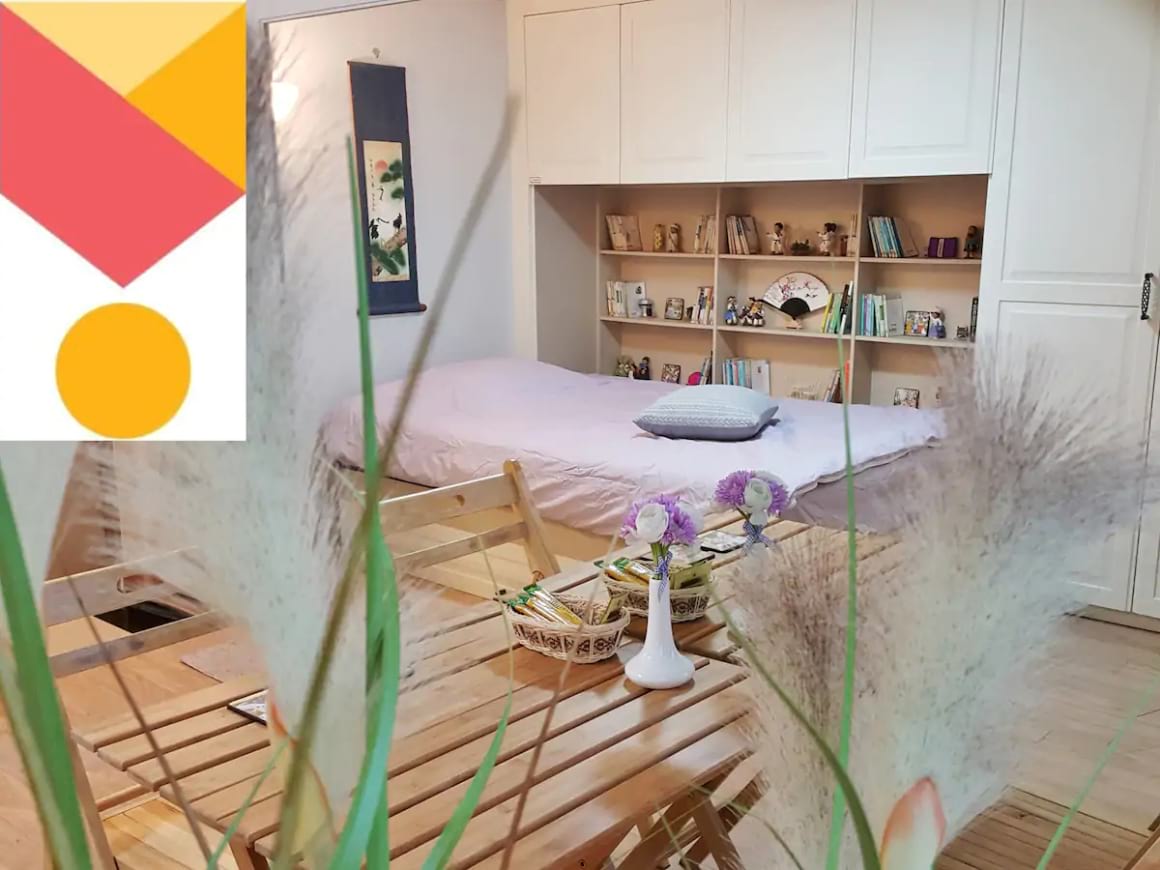 Here are some of our favourite Airbnbs in South Korea:
Beautiful Apartment in Hongdae – This is a cosy, homely kind of apartment that's perfect for a solo traveler or a couple. Decorated in warm, relaxing colors, it comes with its own kitchen and laundry facilities for extra convenience.
Bright Modern Apartment – Bright and contemporary furnishings mingle with whitewashed walls and wooden floors for a stylish stay. In addition, it's close to bars and restaurants.
Charming City Apartment – With enough room to sleep up to four guests, this studio apartment is ideal for small groups or a couple. It comes with a compact kitchen and all the amenities you'll need for a comfortable stay.
Hotels in South Korea
While the most expensive accommodation option in South Korea, they're still relatively cheap. In fact, you can enjoy a stay in a modern, mid-range hotel in Seoul for around $50. That's a bargain compared with many other countries! In other cities within the country, you can expect even cheaper room rates.
Hotels can be the way to stay in style in South Korea. You won't have to lift a finger, thanks to housekeeping, concierge services, complimentary breakfasts, and on-site amenities like gyms and restaurants. If you thought traveling in South Korea cheaply meant missing out on hotel stays, think again!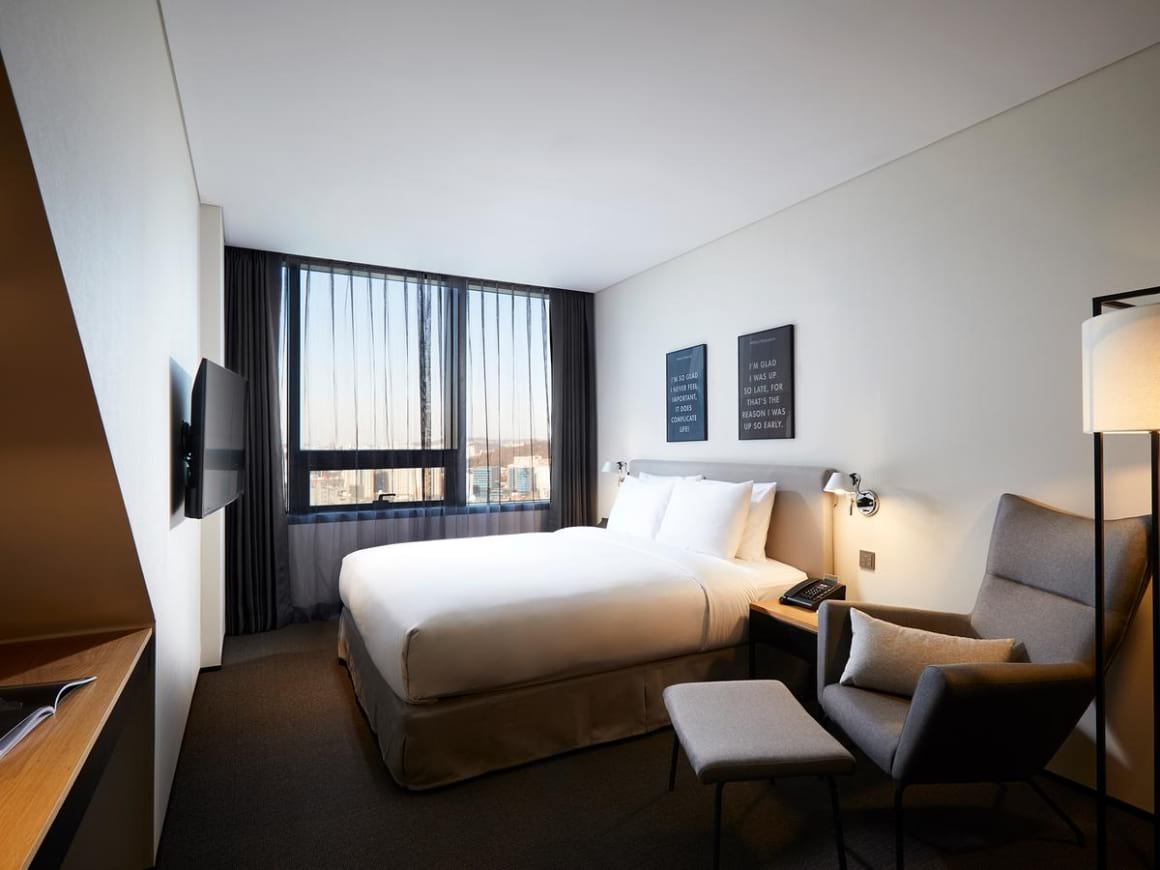 Here are some of the top hotels in South Korea:
GLAD Mapo – This contemporary hotel is situated right in front of Gongdeok Station in Seoul. Guests here can enjoy convenience and comfort, thanks to the onsite fitness center and bar.
Tong Tong Petit Hotel – Boasting a bar and garden, this hotel offers a selection of different rooms to suit travelers' needs, and all at a budget-friendly price.
Metro Hotel Myeongdong – A modern hotel with polished rooms, Metro Hotel Myeongdong has a fitness center, outdoor terrace, and is a stone's throw from a metro station.
Jjimjilbang in South Korea
If you wanted to stay somewhere a little more authentic, look no further than this jjimjilbang. Translating literally as "steamed-quality room" these bathhouses are a one-stop-shop for food, accommodation, and a spa experience.
Often multi-level, these 24-hour spa resort complexes boast swimming pools, baths, saunas, bars, computer rooms, and restaurants – you name it. Sleeping in a jjimjilbang is definitely unique, and a bargain too, costing as little as $13 per night (though rooms are communal).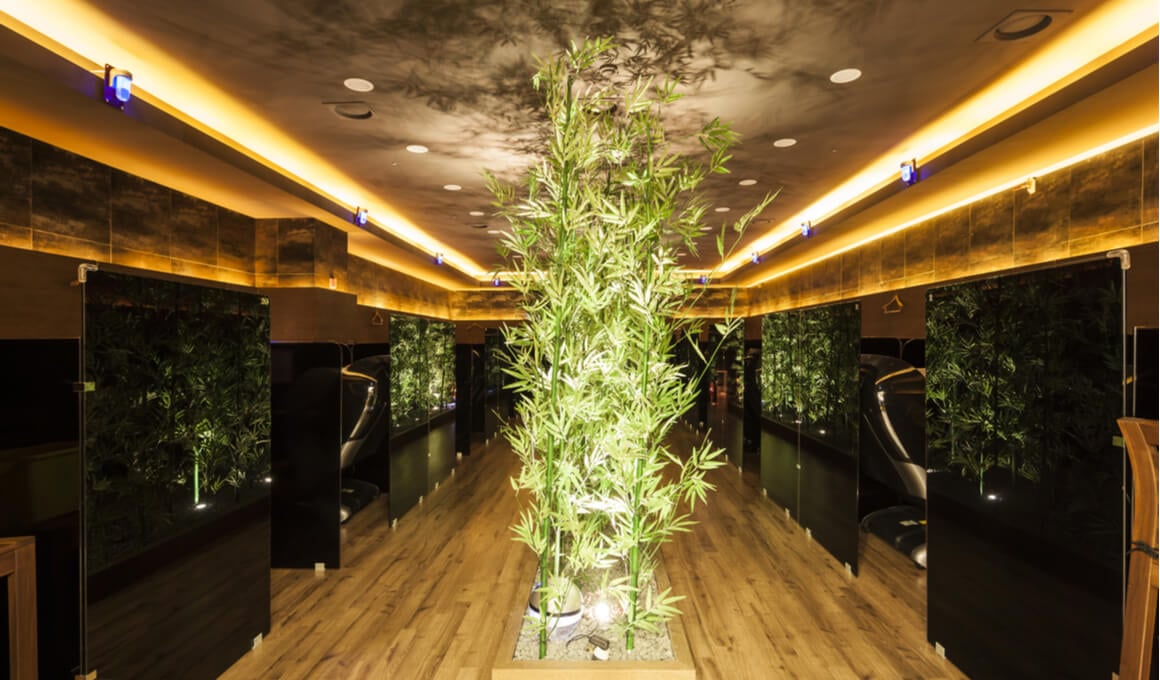 Despite the budget-friendly prices, they're often glossy and polished, but don't expect them all to be up to scratch. And note – they can't be booked in advance.
Here are a few of the top jimjilbang in South Korea:
Dragon Hill Spa – A famous spa in Seoul, this jjimjilbang is spread across eight floors and boasts various recreation facilities, including a movie theater, fitness center, and restaurants. The sleeping floor is spacious; the all-inclusive nightly rate is $30.
Spa Lei – With its welcoming atmosphere, this place really is cheap (around $14 per night). It's located in Seoul's upscale Gangnam and boasts multiple sleeping areas.
Is This the Best Backpack EVER???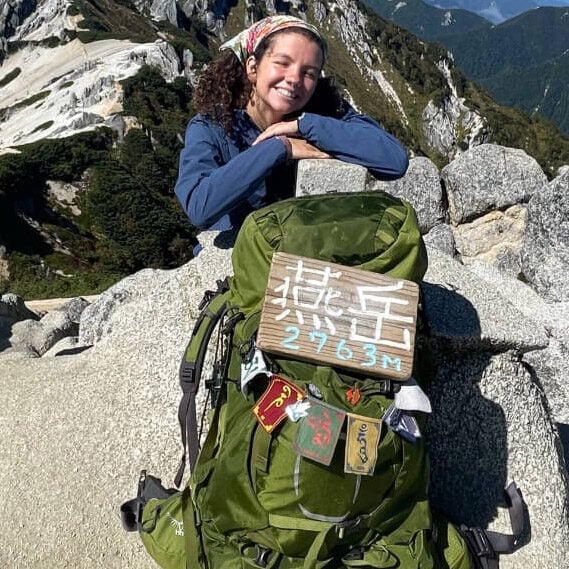 ESTIMATED EXPENSE: $0 – $10.00 USD per day
South Korea is a relatively small country – around 100,000 square kilometers. That means you can comfortably traverse its relatively small area during a 2-week trip.
Transport in South Korea is not expensive either. That combined with its fairly compact size means adventuring is a very viable option, even on a shoestring budget. You can choose from affordable high-speed trains, and even more affordable intercity buses, to get you from A to B.
Then once you're in the cities, you can use cheap metro (or bus) networks to get around.
All in all, public transport in South Korea is comprehensive, budget-friendly, and really opens up the country beyond its much-touted cities. Now let's take a more detailed look at how each of those transport options works out.
Train Travel in South Korea
South Korea has a pretty excellent train network, but it isn't always the most extensive. Used for long-distance travel around the country, trains in South Korea are safe, comfortable, and most definitely affordable.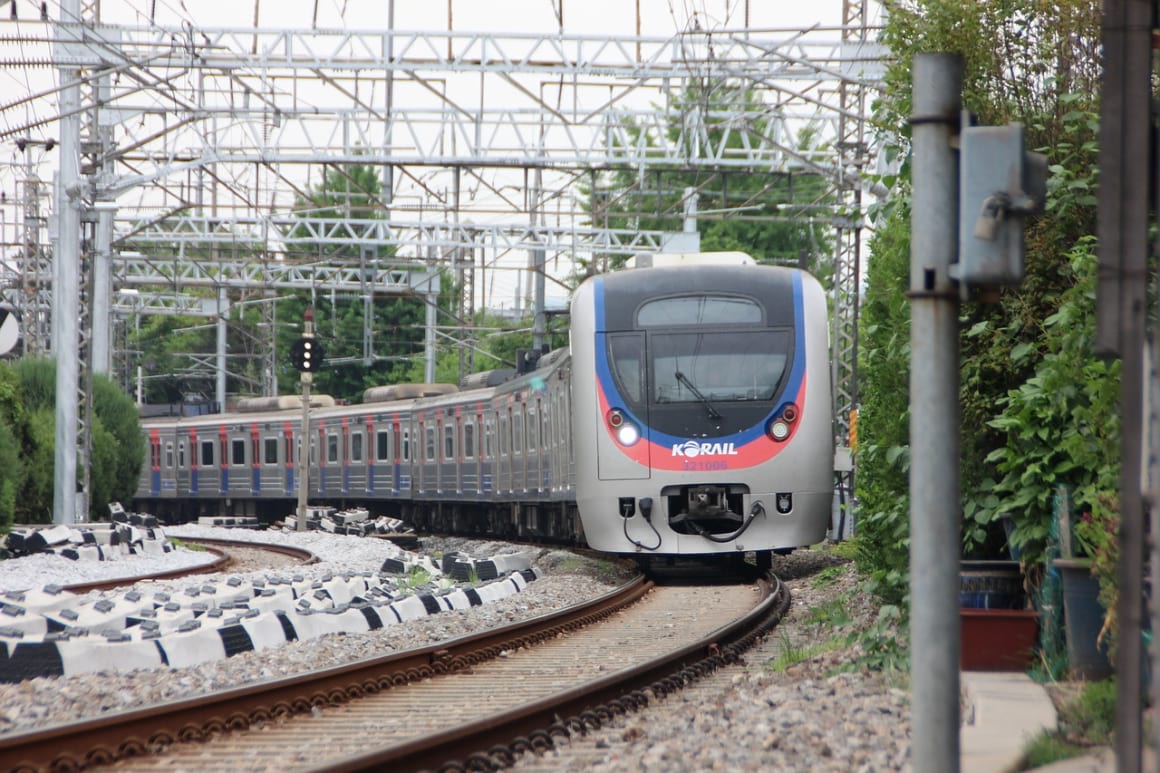 There are various options to suit your budget and schedule. KTX refers to high-speed express trains, ITX are regular train services, and KORAIL offers trains run for tourists.
The fare you pay depends on how far you travel and what type of the above train services you use. For example, KTX trains are 40% more expensive overall than regular ITX trains.
Booking in advance gets you a discount – trains are also cheaper by 15% if you travel Monday to Friday. Standing tickets called ipseokpyo are 15-30% cheaper than assigned seat tickets, depending on the route – you're still allowed to sit in an empty seat using an ipseokpyo, however.
You may want to consider the KORAIL Pass, allowing for unlimited rail travel across South Korea (including KTX/ITX services) within selected time blocks. These include:
1 day: $72
3 days: $100
5 days: $150
7 days: $174
There's also the option to select either two or four-day KORAIL Passes to be used within a 10-day window, giving you more flexibility. Those aged 13-25 get a 13% discount.
Bus Travel in South Korea
Bus travel in South Korea is very affordable. The network of long-distance buses connects every town and city in the country, and reaches areas that the trains don't go.
These long-distance buses are frequent, leaving every 15-30 minutes from large, well-organized bus stations. In smaller towns, they're more likely to leave/arrive hourly.
It's easy to just turn up at a bus station and buy a ticket on your day of travel. Simply go to the window and state your destination.
Express buses (ilban) are the quickest ways to get between larger cities. Expressways even have dedicated bus lanes to reduce delays. Buses almost always leave on time, and are pretty speedy to say the least.
There are also udeung. These "superior" buses have three separate seats across, as opposed to the regular two pairs of seats in ilban. You'll have to pay around 40-50% more for the privilege, however.
A ticket for an hour-long journey on a regular express bus will cost approximately $3.60. It's unlikely that you'll pay any more than $10 for a single bus journey (unless you opt for an udeung service).
Getting around cities in South Korea
City transport in South Korea is affordable and extensive, allowing you to get around cheaply. For one thing, six of its big cities have their own metro networks – in all cases, they're affordable and convenient. These are Seoul, Busan, Daejeon, Daegu, Gwangju, and Incheon.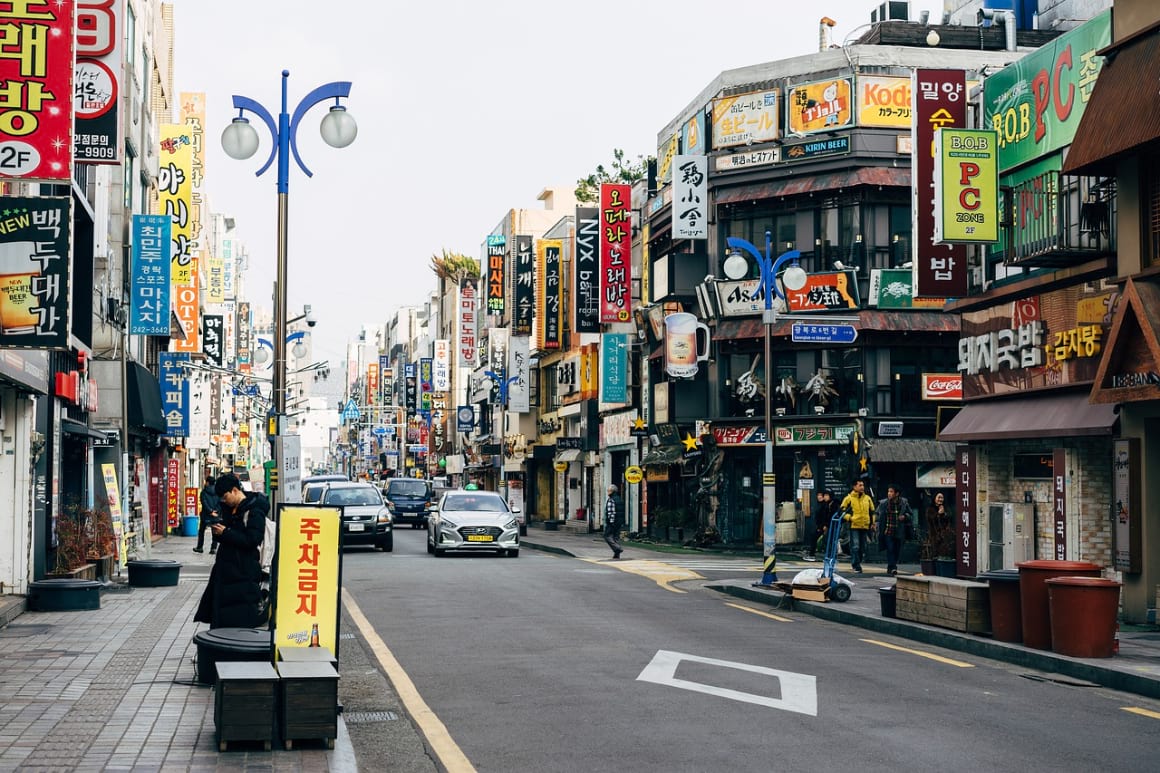 The average cost for a single ride on any of these subways is approximately $1.60.
Then there are city buses. Frequent and budget-friendly, a single ride costs $1.10 for one trip (no matter how far you travel). Make sure you have the correct fare though, as the machines on buses don't give change.
Taxis are ubiquitous and inexpensive in South Korea, and practically make up part of any given city's public transport network. A regular taxi (ilban) costs around $3 for the first two kilometres.
Like the metro and bus services, you can use a prepaid contactless travel card to pay for your journeys in taxis. The main one is the T-Money card. It gives you around a $0.09 discount on every trip and costs $2.70 to purchase.
Renting a Car in South Korea
Driving in South Korea is not recommended, especially if it's your first time visiting. The country's public transport will have you in most places you'll want to visit without any hassle.
Plus, the roads can be pretty hair-raising at times, too – it seems like everyone's in a big rush to get wherever they're going!
Even if you want to drive, and you're an experienced driver, it's not the most economic way to get around. The standard rate for a standard car is around $60 per day – compared with the cost of long-distance bus travel, it's very expensive.
Insurance is compulsory and costs around $10 a day.
On top of that, you'll also have to pay tolls to use the expressways, which makes renting a car in South Korea even less of a budget option.
The cost of petrol in South Korea is around $1.32 per liter, diesel about $1.14.
Rental costs do get cheaper if you rent the car over multiple days, but not by much. Renting a car in advance may also yield discounts. In conclusion, however, renting a car is not a good way to travel around South Korea cheaply.
Want to save some cash and explore South Korea by rental car? Use rentalcar.com to find the best deal possible. There are some great prices on the site and they aren't difficult to find.
ESTIMATED EXPENSE: $5-$20 USD per day
Whether it's grabbing some street food, or dining on high-end multi-course extravaganzas, food is always a centerpiece to life in South Korea.
Korean food revolves around bap (rice) and a variety of banchan (side dishes), as well as soup and the ubiquitous kimchi. Expect big, bold flavors with plenty of garlic and chili, soy sauce, hot chili paste, and fermented soybean paste.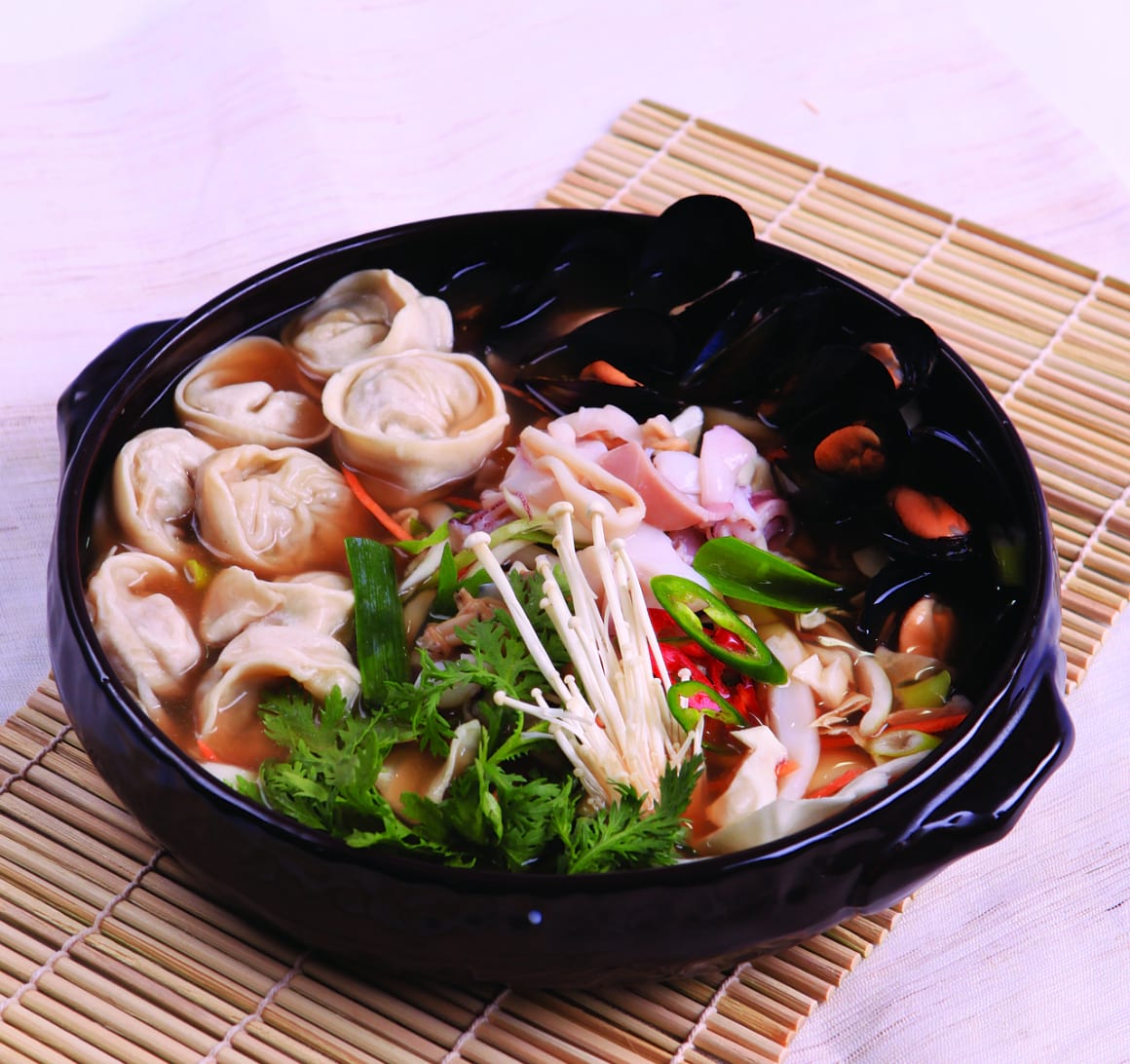 And for the most part, food is not expensive in South Korea. Unless you're trying so-called royal cuisine, it's affordable up and down the country. Make sure you don't miss out on:
Korean Barbecue – Now popular all over the world, Korean barbecue is a lively way to enjoy food in South Korea. Cook yourself an array of meats served up alongside vegetables and side dishes. Can be enjoyed for as little as $11 per person.
Bibimbap – The country's most famous rice dish, bibimbap consists of rice, vegetables, egg, and sometimes meat, served up in a hot stone bowl with lashings of gochujang (chili paste). One bowl can cost as low as $5.
Dakgalbi – Delicious dakgalbi is a spicy concoction of chicken and tteok (rice cakes), as well a variety of other ingredients thrown in depending on the establishment – even cheese. This can cost around $8.
Keep the cost of your trip to South Korea even lower with these foodie tips:
Look for noodle joints – Noodles are cheap and plentiful in South Korea. They serve up things like nangmyeon (buckwheat noodles) served in a cold broth, popular in the summertime. Noodle joints are honestly everywhere and offer bowls for as little as $2.50.
Street Food – You can sample an array of delights through Korean street food. This means anything from snacks at $0.50 to full-on meals for $1.80.
Opt for a buffet – This is a great way to eat a lot, try a lot, and not pay very much for the privilege. These are all-you-can-eat and offer different combinations – for Korean hotpot or barbecue, it's around $13.
Where to Eat Cheaply in South Korea
Eating out in South Korea is normal. It's a national pastime. Usually done with a bottle of soju (rice vodka) on the side, dining takes hours and is a big social event. A visit to South Korea would not be complete without enjoying this gastronomic scene.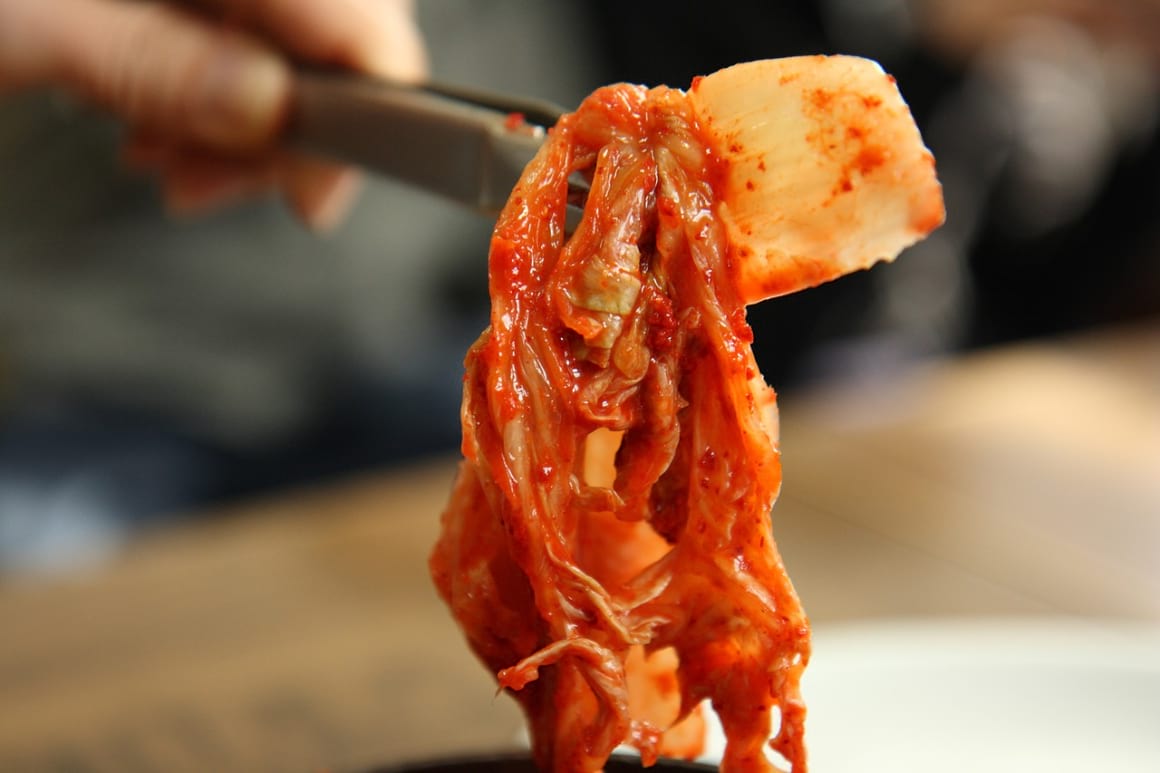 Joining in doesn't have to cost the world. In fact, eating out in South Korea isn't that expensive. There are a lot of options for budget-minded travelers, including these hotspots:
Look for orange tents: Called pojangmacha, these roadside eateries might look a bit ropey, but honestly, they're amazing. Usually bright orange (sometimes blue), all you do is duck in, pull up a chair, and point to something. They're usually quite rowdy with plenty of alcohol-induced silliness.
Discover Isaacs Toast: Not all Korean food is "traditional", as evidenced by its wide-reaching chain of toasted sandwich stores, Isaacs Toast. Combos of cheese, sausagemeat, bacon, eggs, potato, and chicken, are served hot, dripping with sauce, between toasted bread. Super inexpensive and a great hangover cure to boot.
Korean meal sets: Set meals are a big deal in South Korea. Head to side streets and food courts alike and there'll be places serving these. For around $5, you get a bowl of rice, soup, and various banchan.
Eating out may be cheap in South Korea, but sometimes cooking meals for yourself is even more affordable. If you feel like rustling up some grub, here are some great spots to pick up fresh ingredients:
Lotte Mart: This big chain of supermarkets and department stores can be found all over the country. They sell a wide range of groceries, international food, and even clothes and electronics.
E-mart: One of the largest retailers and oldest supermarket chains in South Korea, E-mart stocks everything from coffee and seaweed to cosmetics and alcohol. They also serve a load of Western brands if you're missing home comforts.
ESTIMATED EXPENSE: $0-$15 USD per day
Like eating, drinking is a big part of socialising in South Korea. And not just "normal" drinking, but drinking quite heavily is a regular part of Korean social life. On any given weekend, bars and barbecue restaurants overflow with friends enjoying copious amounts of soju and beer to wash down sizzling slices of beef and pork belly.
So, as you may be imagining, South Korea is not expensive for alcohol.
Whether it's a restaurant, a trendy bar, or a boisterous streetside drinking den, chances are the alcohol is going to be relatively cheap.
A glass of Cass (the local beer) will cost you between $2.70 and $4.50. For a craft beer, expect to pay more – between $4 and $6. Cocktails cost upwards of $6.
Happy hours aren't much of a thing, but a good option to enjoy some inexpensive drinks is to go to a Hof. These German-inspired establishments serve inexpensive fried snacks and draft beer for around $2.60.
Here are some beverages to stick to if you like bargain prices:
Soju – You must try this if you like your beverages. This rice (or potato)-based drink is super popular, super alcoholic, and super cheap. It's sold in 0.36-liter green bottles that'll cost you between $2.60 and $4 in a bar, but as little as $1.30 in a convenience store.
South Korean Beer – Local brands of beer include Cass, Max, and Hite. These can be picked up in supermarkets for around $2. If you really love beer, you should try out South Korea's burgeoning craft beer scene.
A very cheap way to drink in South Korea is to join the locals at seating areas outside 24-hour convenience stores (pyeonuijeom). We're not joking – this is actually a thing. Pick up a bottle of cheap soju or low-cost beer and enjoy the ambience!
ESTIMATED EXPENSE: $0-$25 USD per day
South Korea has an array of attractions to keep you entertained during your trip. From the charming centuries-old palaces in the capital city to historic villages in Jeonju and sleepy seaside in Jeju.
As well as cultural attractions, there are other fascinating sights where you can learn more about the South Korea of today. These include the DMZ, a multitude of museums, fish markets in Busan, and modern-day city districts, like the Cheonggyecheon – a beautified river district in Seoul.
Thankfully, the cost of attractions in South Korea is pretty cheap. Entry into museums – such as the National Museum of Korea – ranges from free to as little as $5. Elsewhere, many of the historic sites are free to enter – you can even peer into South Korea's imperial past at Changdeokgung Palace for $2.70.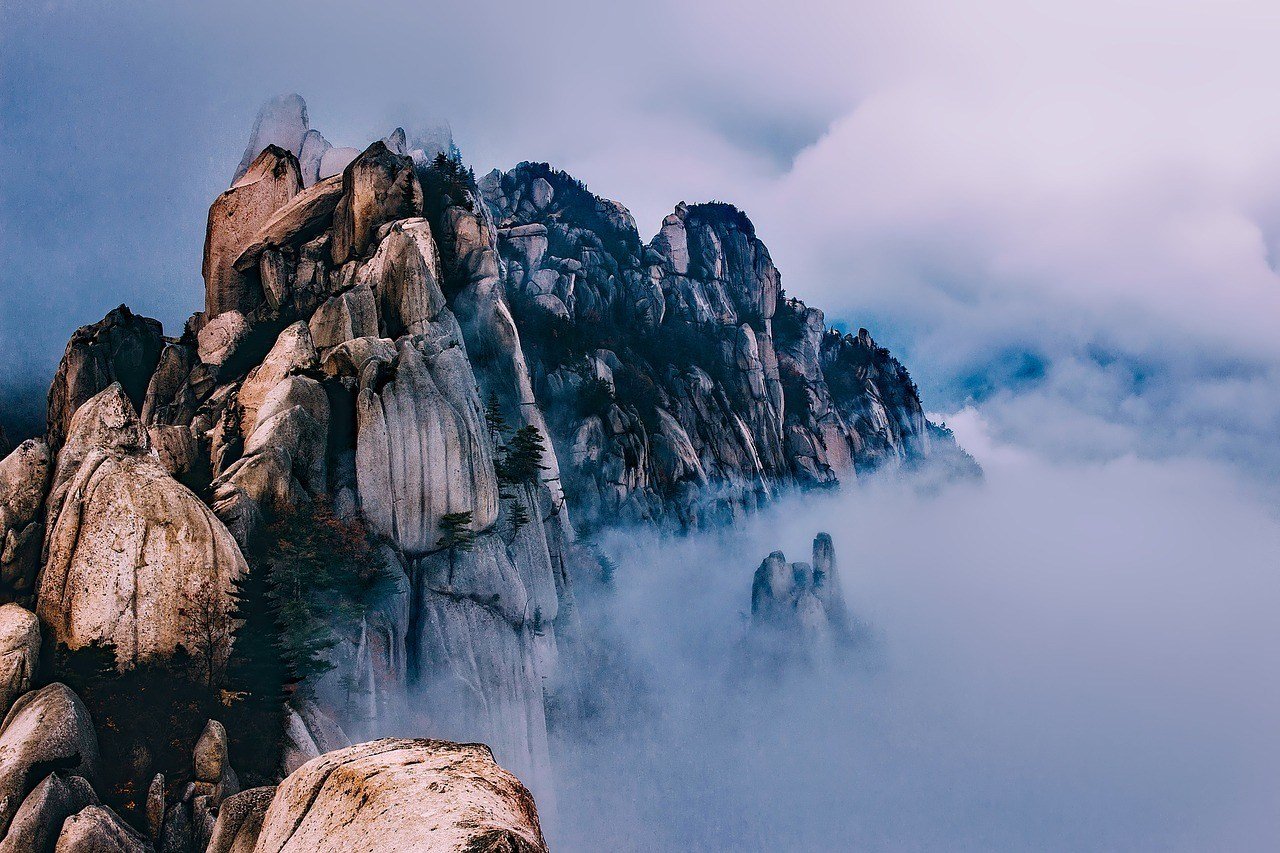 There's plenty of free activities too, try the following:
Hiking – Hiking is uber-popular in South Korea. With seemingly countless mountains with well-marked trails and amazing views (often boasting historic and cultural sites, too), it's no wonder that hiking is viewed as an unofficial national sport.
Hanok villages – Often free of charge, these renovated historic villages featuring hanok (traditional wooden houses) are amazing to explore. One example is Bukchon Hanok Village in Seoul, which boasts around 900 houses to wander around freely.
The Future of the SIM Card is HERE!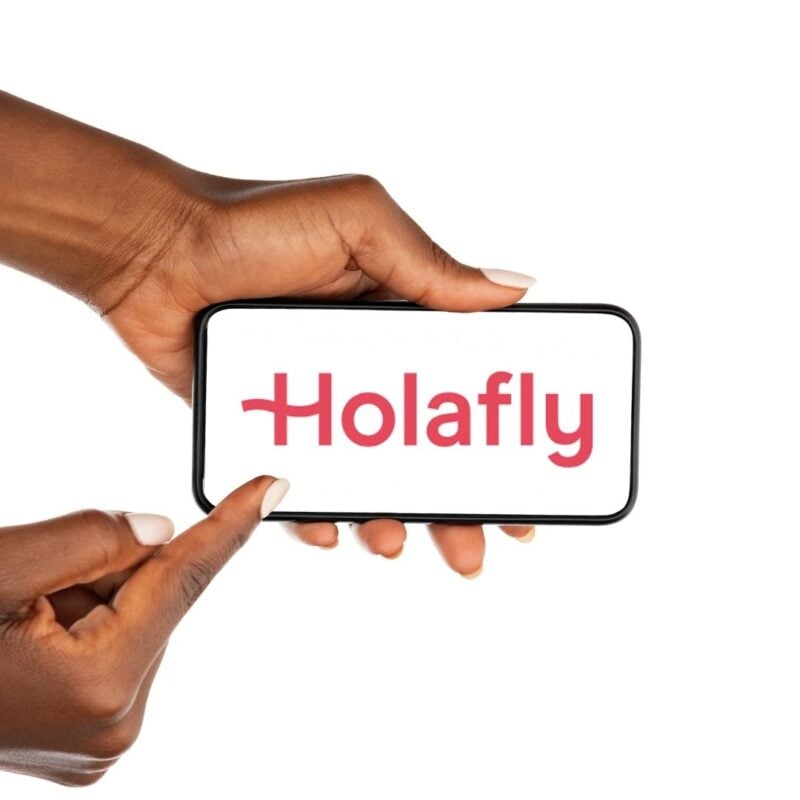 A new country, a new contract, a new piece of plastic – booooring. Instead, buy an eSIM!
An eSIM works just like an app: you buy it, you download it, and BOOM! You're connected. It's just that easy.
Is your phone eSIM ready? Read about how e-Sims work or click below to see one of the top eSIM providers on the market and ditch the plastic.
Grab an eSIM!
Now that you've got the basics of your budget figured out, you may think that you're ready to take your hard-earned cash to South Korea and adventure for a couple of weeks. Well, that's almost true, but there are still more financial factors to bear in mind.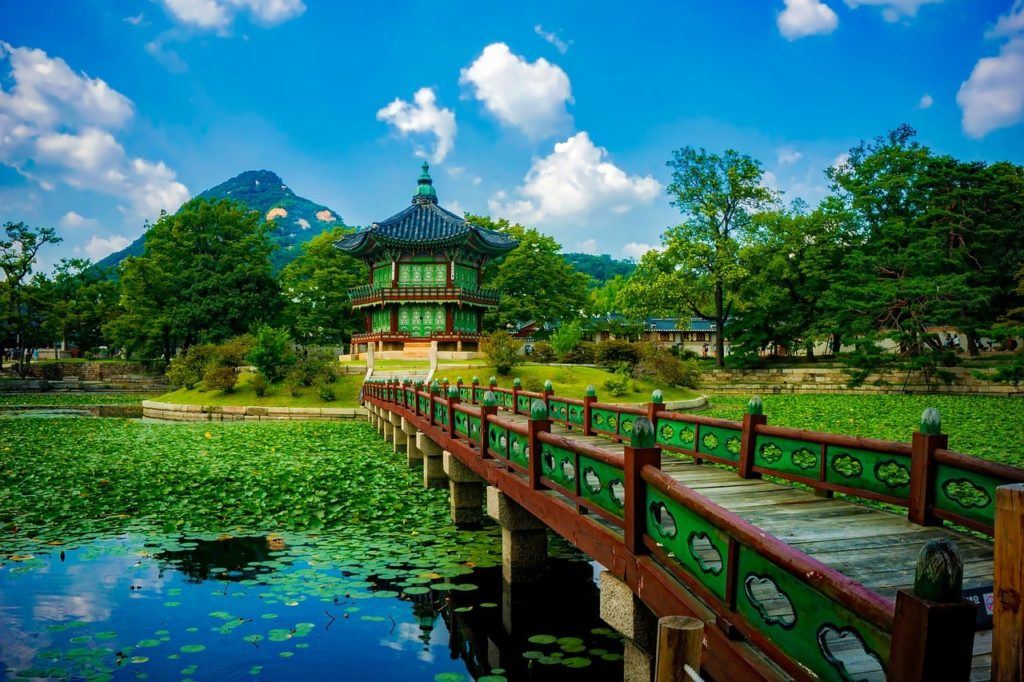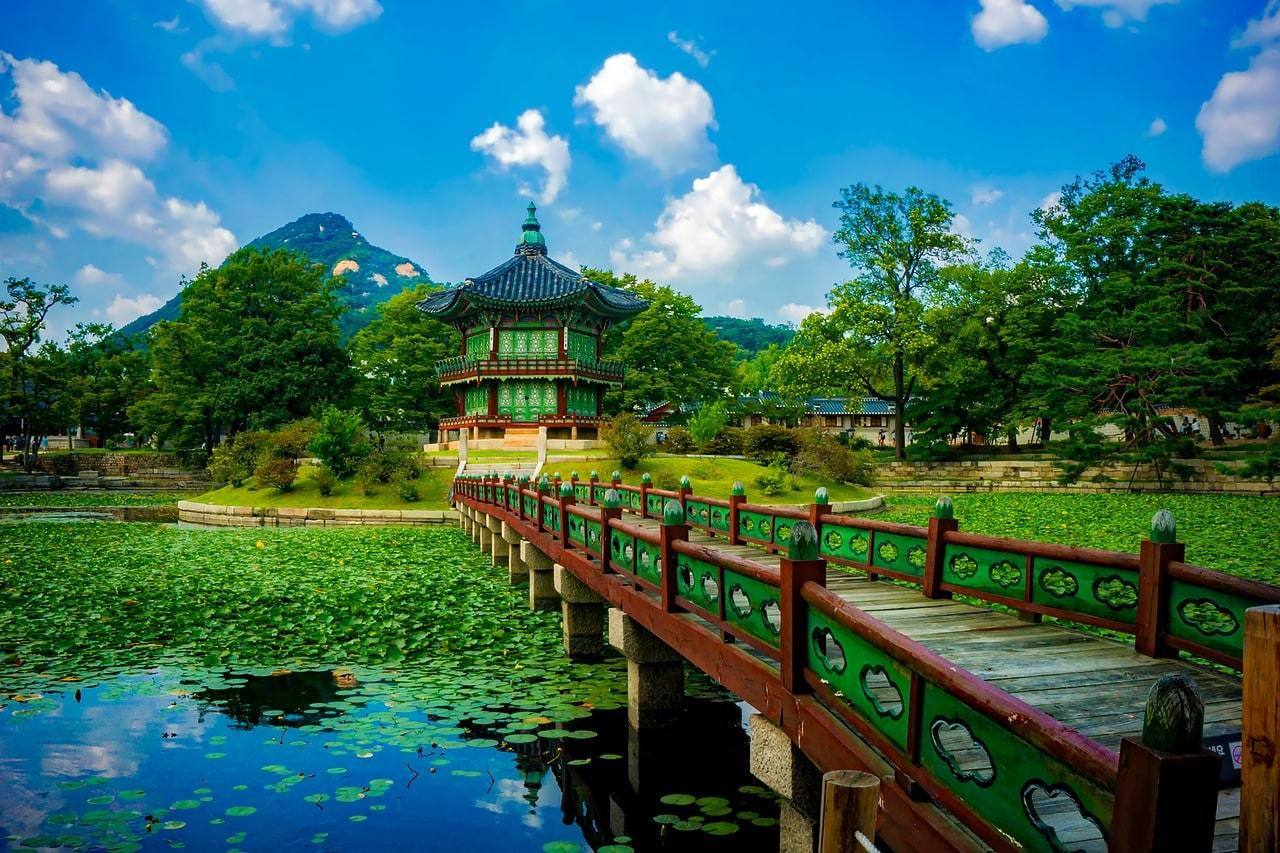 Unexpected costs are just that – unexpected. You may want to buy a book, a touristy T-shirt, a map, a souvenir, some medicine, or simply pay for luggage storage. It could be anything. Factoring around 10% of your original budget for such expenses should cover you though, thus preventing unforeseen purchases to eat into your allowance.
Tipping in South Korea
Tipping is just not the done thing in South Korea. Much like in Japan, tipping is not part of the culture in South Korea and is therefore not expected.
In fact, if you tried to leave a tip on a table in a restaurant in South Korea, it would, most likely, be returned to you.
In some restaurants, however, they will accept a tip. These are usually more Western-oriented establishments. And in upscale restaurants, there may be a 10% service charge included in your bill.
Though it is not uncommon for some South Koreans to outright refuse a tip, generally the more high-end the establishment – and the more "used" to Westerners it is – the more likely it is that they will accept a tip.
In hotels, for example, you can offer money to bellboys if you receive a high level of service. When it comes to tour guides, offering a gift is a more culturally approved way to show your appreciation.
It is not customary to tip in taxis either, so just pay the amount on the meter.
Get Travel Insurance for South Korea
The Future of the SIM Card is HERE!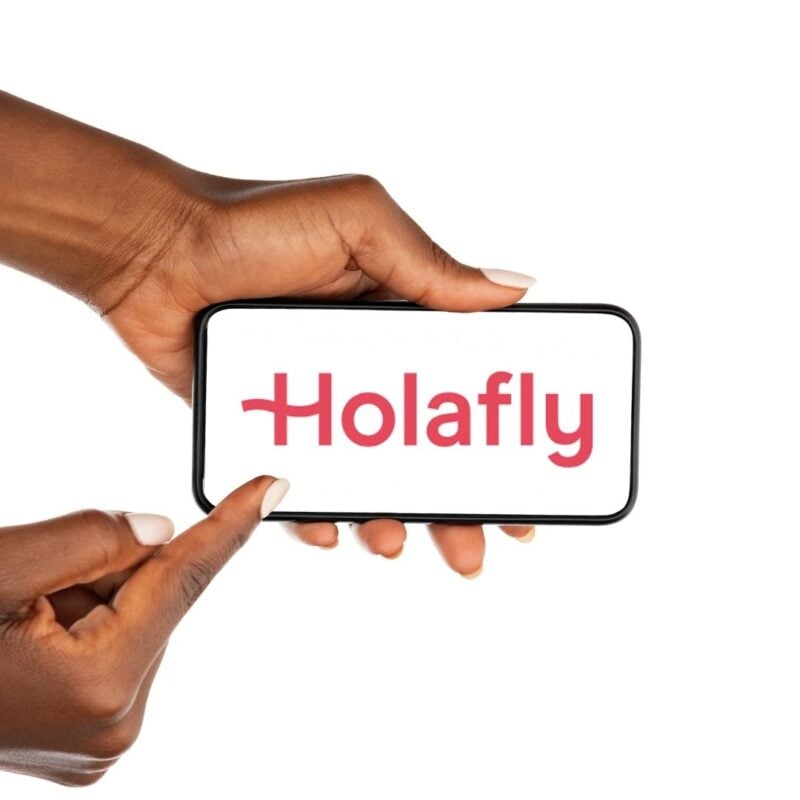 A new country, a new contract, a new piece of plastic – booooring. Instead, buy an eSIM!
An eSIM works just like an app: you buy it, you download it, and BOOM! You're connected. It's just that easy.
Is your phone eSIM ready? Read about how e-Sims work or click below to see one of the top eSIM providers on the market and ditch the plastic.
Grab an eSIM!
Some Final Tips for Saving Money in South Korea
If you're truly a fan of budget travel, then take note of these additional money-saving tips to help you travel around South Korea cheap:
Get out into nature – Whether it's hiking in South Korea's many mountains, as the older generations of love to do here, or if it's more watery activities like snorkelling, nature is free. Even if there are costs involved (in travel or equipment rental), exploring South Korea's natural world is very affordable and very rewarding.
Use intercity buses – These are crazy cheap. They may be hair-raising at times, but because of that, you'll often be where you need to be quicker than you'd expect! In all seriousness though, if you want to save money and travel around South Korea, buses are where it's at.
Go couchsurfing – Couchsurfing is a social experience for any traveler looking to meet locals and learn about their country through their hosts. There is a surprising number of these in South Korea's cities, and using Couchsurfing is a very budget-friendly option, but we realise it's not for everyone.
Eat street food – When you're hungry, opt for street eats. This is a very normal thing to eat in South Korea. You can spend your time just wandering around, filling up on various tasty snacks from food stalls for a snip of a restaurant meal.
Have a water bottle: Don't waste money on plastic, bottled waters; carry your own and refill it in the fountains and the tap. If you're worried about potable water, get a filtered bottle, like the GRAYL, which filters out 99% of viruses and bacteria.
Earn money while you travel: Teaching English while traveling is a great way to make ends meet! If you find a sweet gig, you may even end up living in South Korea.
Become a volunteer with Worldpackers: Give back to the local community and, in exchange, you're room and board will often be covered. It's not always free, but it's still a cheap way to travel in South Korea.

Our GREATEST Travel Secrets…
Pop your email here & get the original Broke Backpacker Bible for FREE.
So is South Korea Expensive, in Fact?
Not at all. South Korea is not expensive. Flights taking up the vast majority of your budget. Once you're on the ground, you'll marvel at just how budget-friendly this East Asian nation is.
You don't have to stay put, either – the relatively low cost of pretty much everything makes traveling around and actually seeing the country easy on the wallet too.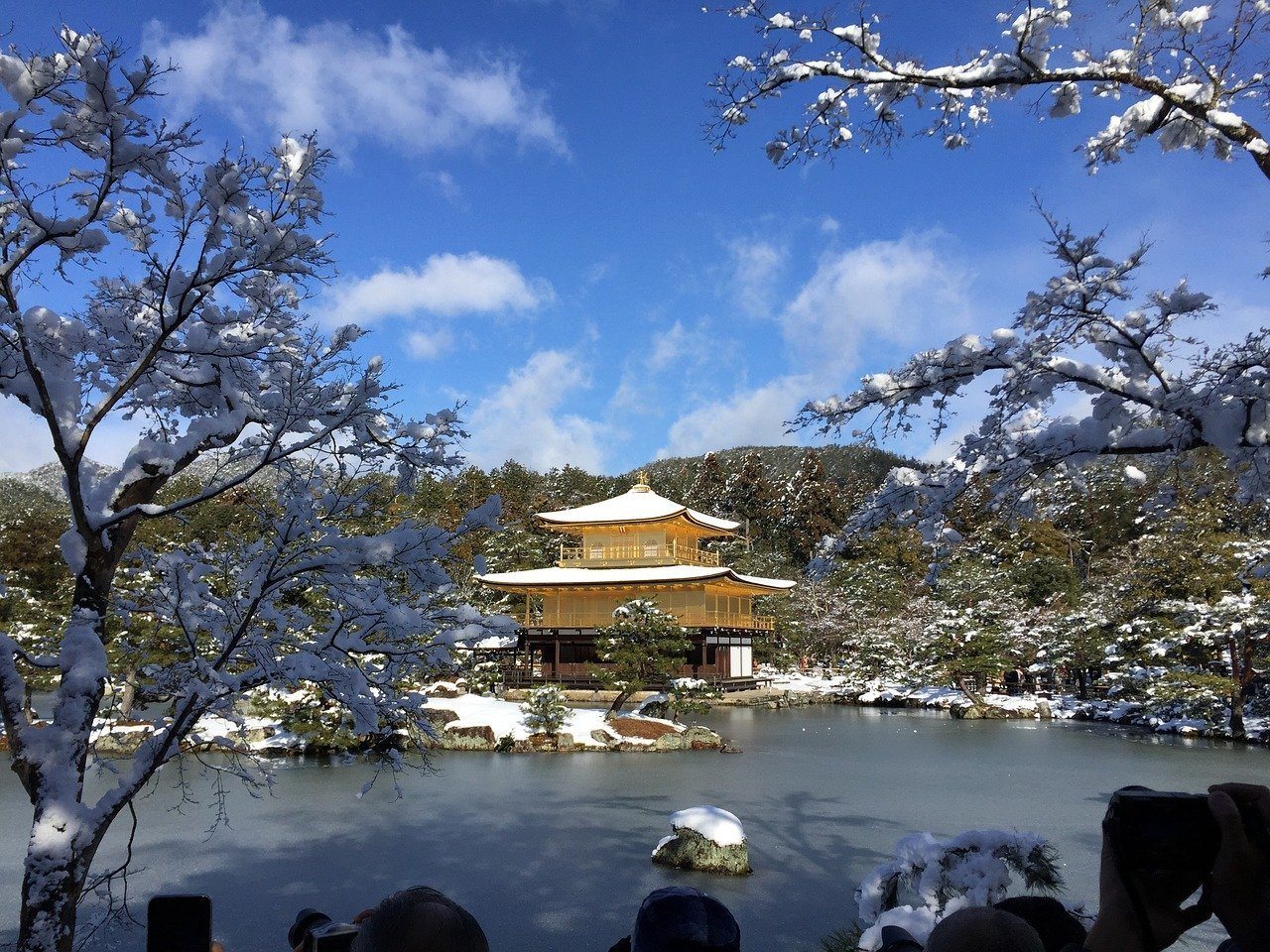 We're ending with a round-up of the best tips to keep the costs of your trip to South Korea even lower:
Go where locals go – There are various places throughout South Korea where locals congregate to drink, play music and generally hang out. These can consist of tables and chairs outside convenience stores, or it can be situated along a stretch of coastline – Haeundae Beach in Busan, for example. Grab a bottle or two of soju and join in!
Enjoy jjimjilbangs – Possibly more value for money than hostels (and definitely more of a "local" experience), jjimjilbangs have affordable accommodation that includes access to a range of spa amenities. A game-changer for budget travel.
Hike – Hiking is all the rage in South Korea. If you're stuck for things to do, simply head out into the mountains and hills surrounding its cities for a breath of fresh air, exercise, and awesome views.
Get buses – We've said it before and we'll say it again, buses are super cheap in South Korea. They make the cost of getting around pretty much negligible to your budget, which means you can make a whirlwind tour of the country on a two-week trip. Also, like almost everything in Korea, they are very safe.
Hit up convenience stores – These have cheap very Korean snacks, cheap coffee, and cheap alcohol, and they're everywhere. Any budget-minded traveller should definitely get involved.
With our money-saving tips, you can travel South Korea on a budget between $30 to $75 USD per day.
Before you go, check out our essential packing list. Forgetting something important means having to buy it when you're in South Korea, which isn't ideal for your overall travel costs!
---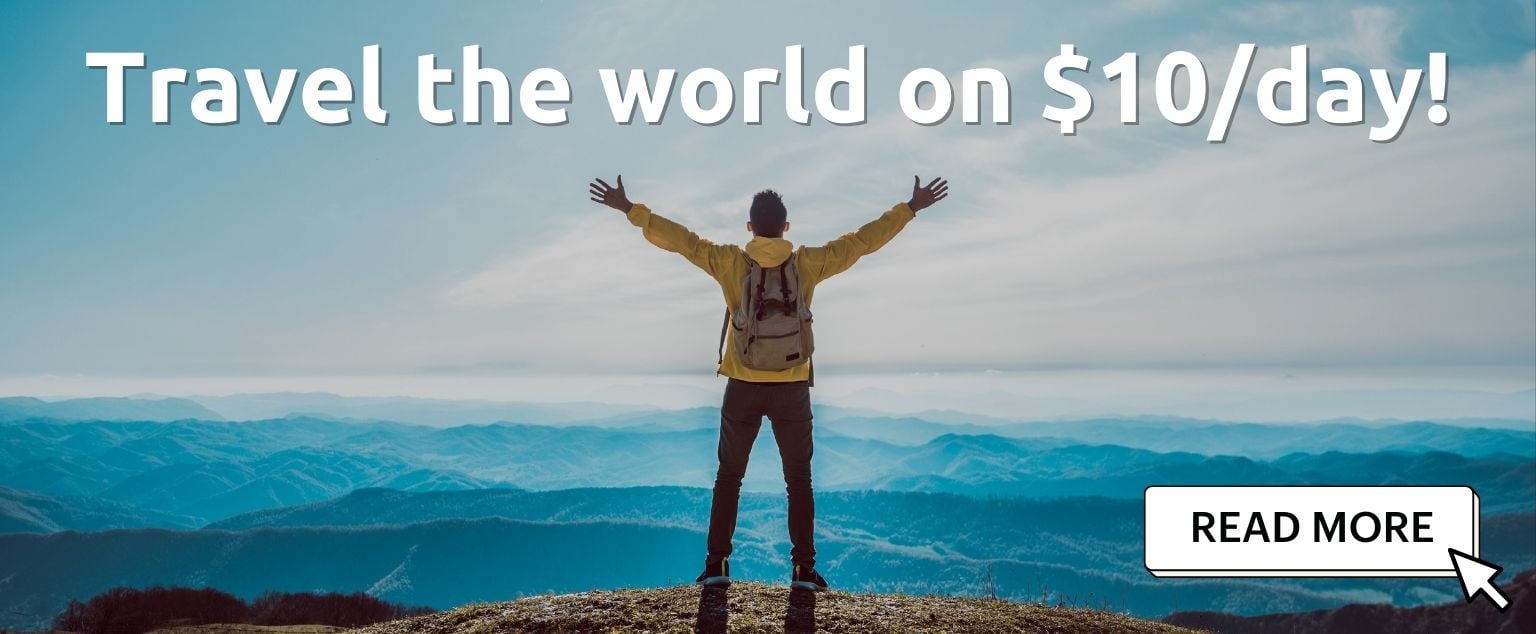 And for transparency's sake, please know that some of the links in our content are affiliate links. That means that if you book your accommodation, buy your gear, or sort your insurance through our link, we earn a small commission (at no extra cost to you). That said, we only link to the gear we trust and never recommend services we don't believe are up to scratch. Again, thank you!