Australia is famous for a lot of things: the awe-inspiring Great Barrier Reef, a staggering abundance of wildlife, and architectural marvels like the Sydney Harbor Bridge.
But did you know that the Aussie island of Tasmania is home to Hobart, one of the best-kept secrets in Oz? Indeed, this capital city is packed full of incredible sights to please all sorts of travelers. Whether you're traveling alone, with friends, or with family, I have no doubt that you'll find plenty to keep you entertained in Hobart.
If you ask me, the best way to get the most out of your trip to Hobart is to draft an itinerary of everything that you'd like to explore. So, let's check out the unmissable things to do in Hobart!

Unlock Our GREATEST Travel Secrets!
Sign up for our newsletter and get the best travel tips delivered right to your inbox.
The Top Things to Do in Hobart
Landed in Hobart and wondering what to see first? Well, I can absolutely help with that!
Whether you're backpacking across Australia or want to see all the top sights in less time, below are some of the best attractions that you may wish to add to your itinerary.
Outdoor Things to Do in Hobart
Outdoor Things to Do in Hobart
Visit Cradle Mountain-Lake St. Clair National Park
A UNESCO World Heritage Site located two hours from Hobart, Cradle Mountain-Lake St. Clair National Park is an absolute dream for outdoors travelers. Spend a day exploring the area's top sights like Marion's Lookout which features amazing views of Dover and Crater lakes.
Things to Do in Hobart in Summer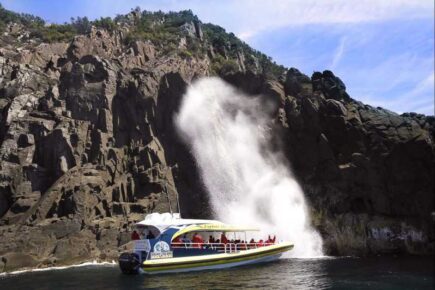 Things to Do in Hobart in Summer
Head to Bruny Island
Take a cruise to Bruny Island where you can explore the craggy coastline and sea cliffs. See marine wildlife up close and venture into those popular sea caves dotted around the island.
Romantic Things to Do in Hobart
Romantic Things to Do in Hobart
Mosey Around Richmond Village
Located less than 25 minutes from Hobart, Richmond Village is brimming with old-school charm. Plenty of quaint cafes and historical sites await. Be sure to pose for a picture on the heritage-listed stone bridge.
Things to Do in Hobart on a Rainy Day
Things to Do in Hobart on a Rainy Day
Uncover the Local Whiskey Scene
Tasmania is known for having the best whiskeys in the world- and it won't take you long to understand why! This activity includes a tour of three distilleries, complete with tasting sessions and lunch.
Things to Do in Hobart in Summer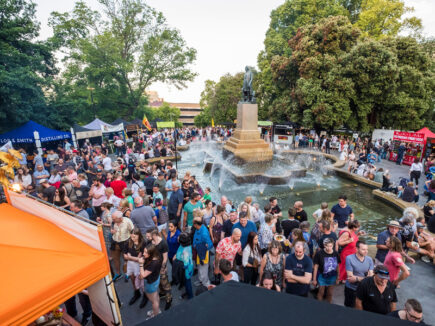 Things to Do in Hobart in Summer
Check Out a Food Festival
Hobart is a land of foodies- and you can easily experience the local food culture for yourself by attending the Eat Street @ Frankos Food Festival! This free event takes place each Friday from early December to Good Friday in April.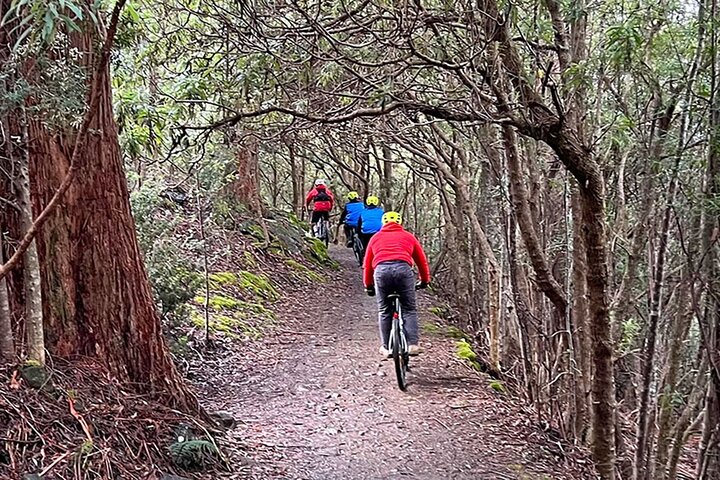 Okay, let's start off with one of the unmissable things to do in Hobart!
If you ask me, the iconic Mount Wellington is best explored on a bike- and the good news is that the mountain is crisscrossed with plenty of picturesque cycling tracks.
This guided expedition takes you across Pipeline Track, Mount Wellington's main trail which is especially known for its delightful views. Participants will be fitted for a helmet and mountain bike and yes, the activity is beginner-friendly – so don't worry if you don't have a lot of mountain biking experience!
In fact, it's mostly downhill cycling since a shuttle will take you to the summit of the mountain so you can feast your eyes on the incredible views. Afterward, you'll enjoy a gentle descent down the 11km trail that'll take you through the forest and the lower foothills.
Entrance fee: $99.95
Hours: 9 a.m. to 1 p.m.
Address: 473 Macquarie St, South Hobart TAS 7004, Australia
2. Enjoy a Seafood Feast on the Piers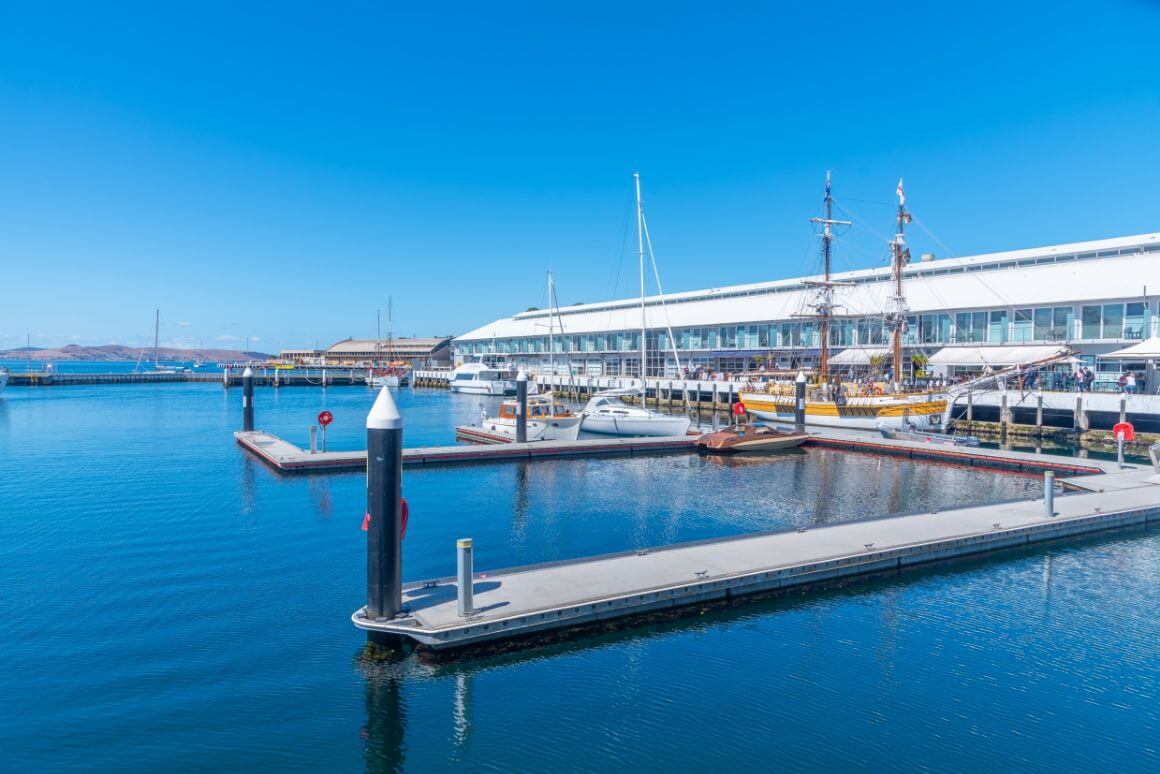 I'm sure I don't have to tell you that fresh seafood is an absolute delicacy in Hobart! After all, the city offers access to some of the most bountiful waters in the southwestern Pacific Ocean.
In my opinion, the absolute best place to savor a seafood meal is right on one of Hobart's piers. My personal favorite is the Elizabeth Street Pier which dates all the way back to the early '30s. A significant cultural and historic landmark, this pier is fringed by a variety of restaurants overlooking the marina.
For something nostalgic, you can always check out Fish Frenzy which serves up grilled seafood plates or French fries served in a cone- perfect for enjoying outside while watching the sunset!
Entrance fee: Dependent on the meal
Hours: 11 a.m. to 8.30 p.m.
Address: Sullivans Cove, Elizabeth Street Pier, Hobart TAS 7000, Australia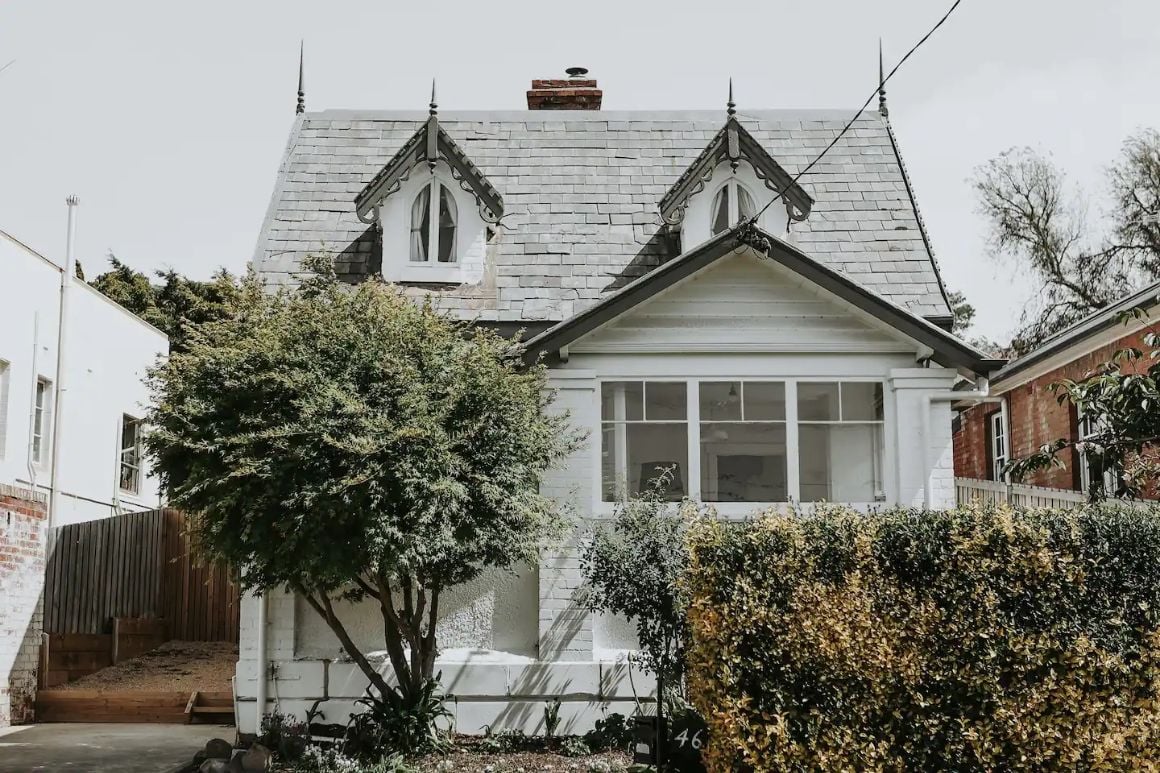 Enjoy a hefty dose of Tasmanian history with a stay in this former Gatekeeper's Lodge!
Now, just because this place is laden with interesting facts and history doesn't mean that you'll need to sacrifice your comfort. Quite on the contrary, the cottage offers luxe touches, including a clawfoot bath and a massive luxe walk-in shower.
Best of all, you'll be close to some of the top activities in Hobart, including Lenah Valley and the Royal Tasmanian Botanical Gardens.
With three bedrooms for up to five guests, this space also has a spacious and well-equipped kitchen where you can rustle up a quick meal when you don't feel like eating out.
Entrance fee: $166/night
Hours: Check-in after 3 p.m., Check-out before 10 a.m.
Address: Lenah Valley, Tasmania, Australia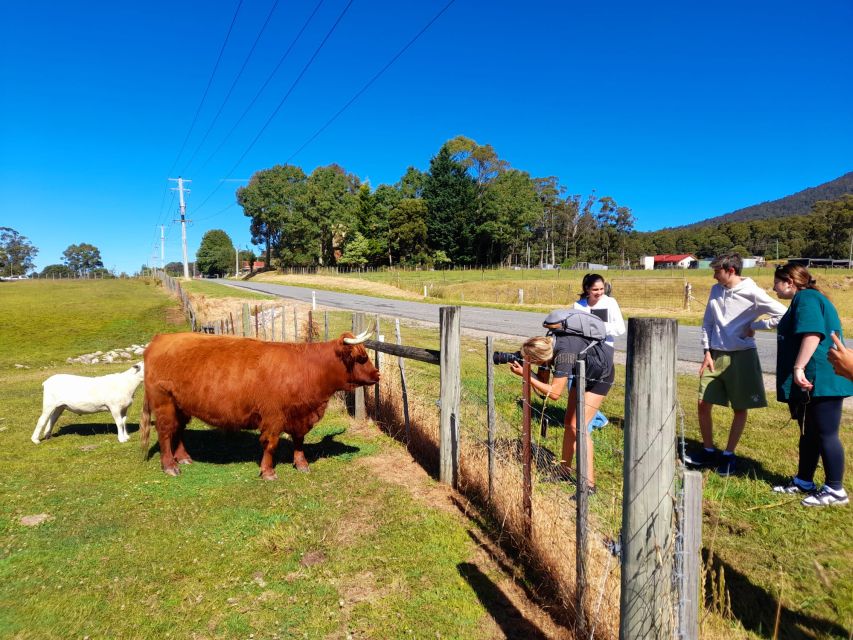 Looking for outdoor things to do in Hobart? Well, this activity's got you covered!
This guided activity takes you to the Cradle Mountain-Lake St Clair National Park, a UNESCO World Heritage Site known for its rugged landscape. Take a moment to mosey around Marion's Lookout, a popular viewpoint overlooking Crater Lake, Dove Lake, and Cradle Mountain.
Just a quick heads-up though: Marion's Lookout does have an elevation of over 1,200 meters. Be prepared for sudden rainfall or even snow (at any time of year), so it's a good idea to bring some wet weather gear as well.
You may also wish to bring a snack for a lakeside picnic after exploring the trails!
Entrance fee: $152.48
Hours: 6 a.m. to 9 p.m.
Address: Various pickup points in Hobart
5. Discover the Heritage Sites
I sure hope you're ready for some culture because this is exactly what awaits with a Heritage Tour of Hobart!
Now there are plenty of paid Heritage Tours out there, but if you're traveling on a budget, you can always download a self-guided walking map from the official city website to help you plan your own walking tour of Hobart.
As you wander down the streets, keep your eyes peeled for St. David's Park, Cnr Murray & Macquarie St., and St. Mary's Hospital, three venues that are deeply rooted in the city's history. I would also suggest that you make a couple of detours from the map to explore the quaint cafes and pubs speckled across the city.
Entrance fee: Free
Hours: Open 24 hours
Address: N/A
6. Chase the Waterfalls
Hobart may be a capital city but I'm sure that by now, you've realized that it easily caters to nature lovers as well! Travelers looking for nature things to do in Hobart will no doubt be glad to learn that the city is surrounded by no less than seven beautiful waterfalls.
Even though you'll need a full-day hike to reach it, I would absolutely recommend a visit to the majestic Wellington Falls in Wellington National Park. The alpine hike leading to it can be somewhat challenging to less experienced hikers.
If you'd rather avoid the crowds, you can always check out the Secret Falls and Strickland Falls, both located right there in the Hobart suburbs.
Entrance fee: Free
Hours: Open 24 hours
Address: Wellington Park TAS 7054, Australia
Small Pack Problems? 😉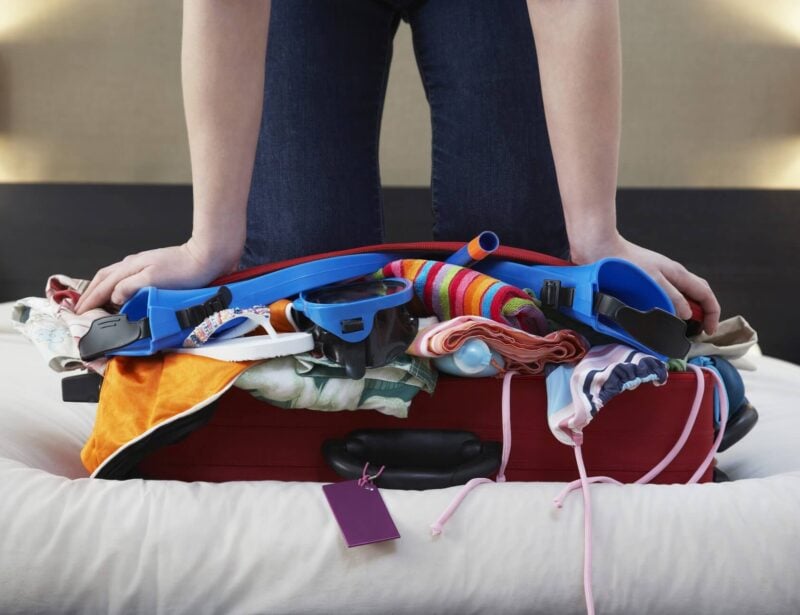 Wanna know how to pack like a pro? Well for a start you need the right gear….
These are packing cubes for the globetrotters and compression sacks for the real adventurers – these babies are a traveller's best kept secret. They organise yo' packing and minimise volume too so you can pack MORE.
Or, y'know… you can stick to just chucking it all in your backpack…
Get Yours Here
Read Our Review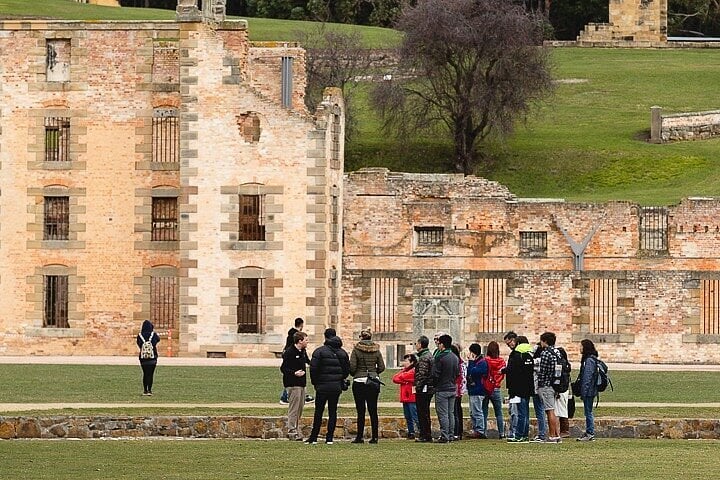 In the mood for something different? How about a visit to the Isle of the Dead, located just opposite Port Arthur?
This tour actually takes you through Port Arthur, a World Heritage Site that now serves as a final resting place for free settlers, soldiers, and convicts. This family-friendly activity even includes a cruise on Carnarvon Bay and a tour of the Isle of the Dead, another historical site that houses Aboriginal coastal shell middens.
It doesn't end there either: the activity even includes a tour of the Tasman Peninsula, known for its dramatic landscape of caves, waterfalls, and sea cliffs.
Entrance fee: $107.33
Hours: 8.45 a.m. to 5 p.m.
Address: Franklin Whrf, Hobart TAS 7000, Australia
8. Browse through The Salamanca Market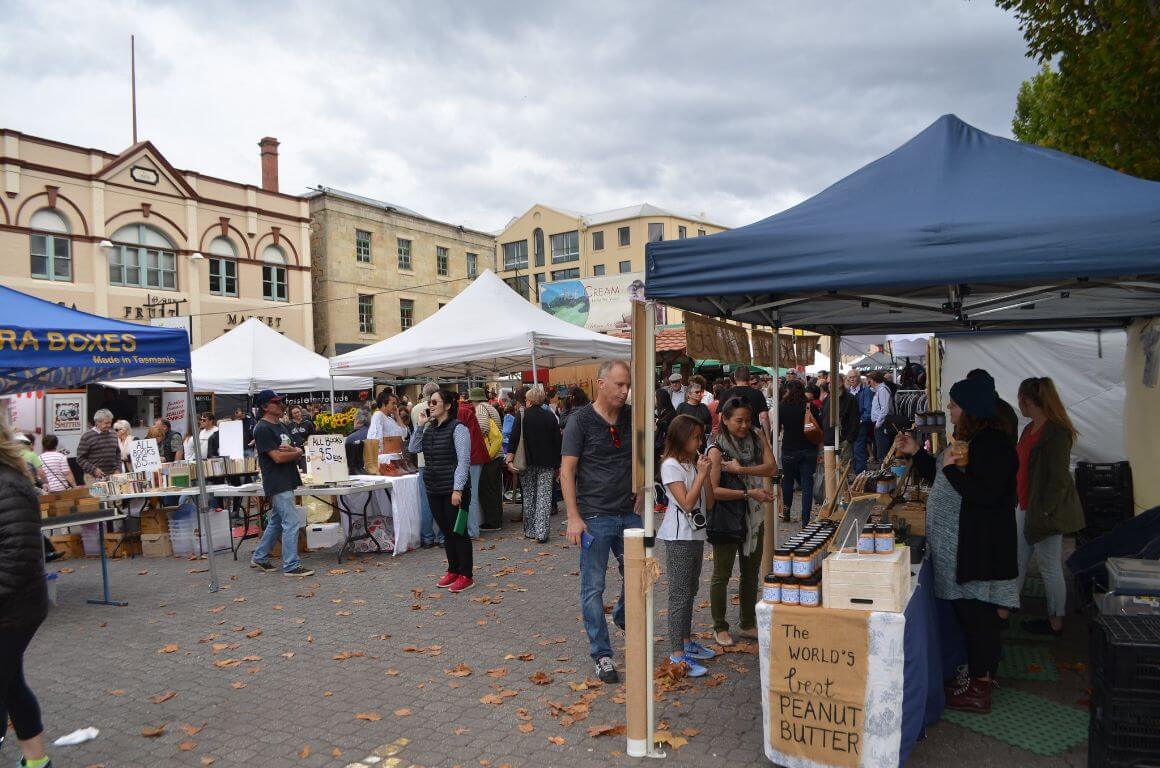 Located just a short distance from Battery Point, the Salamanca Market is something of an institution in the city.
Anyone who's ever been there will tell you that one of the best things to do in Hobart on a Saturday morning is to browse through the stalls – and I quite agree with them! Because this market gathers several Tasmanian small business owners, you'll support the local economy while soaking up that lively Tasmanian vibe! Expect plenty of artisan food, homemade souvenirs, art, and produce straight from the farm.
After stocking up on produce and souvenirs, I would strongly suggest that you head down to the Salamanca Waterfront in the afternoon to enjoy those legendary Tasmanian sunsets!
Entrance fee: Free
Hours: Open 8.30 a.m. to 3 p.m. (Saturdays only)
Address: Salamanca Pl, Hobart TAS 7001, Australia
Time to hop on a boat and leave the noise of the city behind as you embark on a leisurely cruise to Bruny Island!
It would be unfathomable to leave Hobart without crossing over to Bruny Island and you'll quickly understand why as you land on the delightfully craggy coastline. Thick rainforests, towering sea cliffs, and plenty of marine wildlife in their natural environment await on this eco-friendly day trip!
After taking a ferry over to Bruny Island, you'll even be treated to a freshly baked muffin and either a hot or cold tea before taking a scenic bus ride to Adventure Bay. From there, a custom-built boat will take you to those sea caves that Bruny is famous for.
We recommend Bruny Island as one of our top day trips from Hobart.
Entrance fee: $161.28
Hours: 7.45 a.m. to 5.45 p.m.
Address: Franklin Whrf, Hobart TAS 7000, Australia
10. Relax at The Royal Tasmanian Botanical Gardens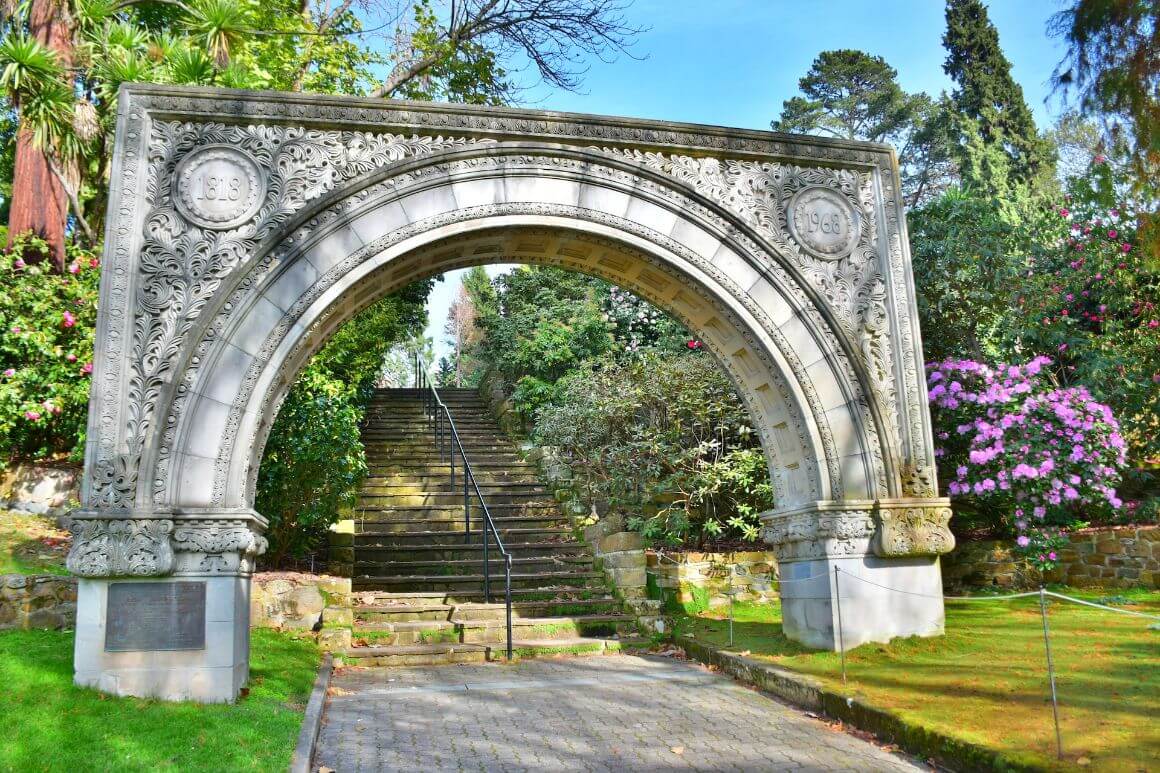 Budget travelers, rejoice! If you're looking for the best free things to do in Hobart, you can always head over to The Royal Tasmanian Botanical Gardens.
With free admission, this cool climate garden may not be the largest in Tasmania, but it certainly provides an amazing experience. I would recommend a visit to the onsite Subantarctic Plant House, a specially constructed feature that houses a unique collection of plants from Macquarie Island. These subantarctic plants are kept in a chilly and climatically controlled atmosphere, complete with cold mists and fogs.
In addition, the Royal Tasmanian Botanical Gardens also feature a Japanese Garden with a Lily Pond, cascading falls, and even a quintessential red Japanese bridge.
Entrance fee: Free
Hours: 8 a.m. to 6.30 p.m.
Address: Lower Domain Rd, Hobart TAS 7000, Australia
Is This the Best Daypack EVER???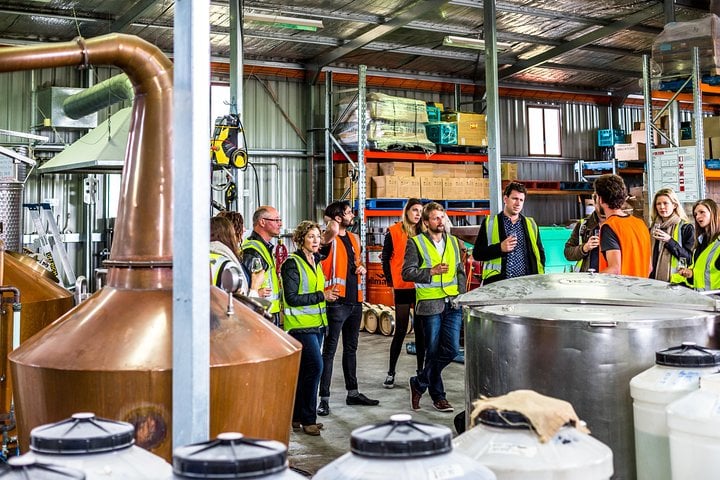 Here's a fun fact for you: Tasmania is known for producing some of the best whiskeys in the world.
In fact, the island was the very first Australian province to receive the much-coveted Craft Producer of the year at the 2022 World Whisky Awards! Taste-wise, the local whiskey has been even likened to its Scottish counterparts.
If you'd like to sample some of the best brews in the area, you definitely don't want to miss out on this distillery tour. You'll even get to squeeze in a little bit of sightseeing since the vehicle will take you through the Southern Midlands and the Coal Valley on your way to three distilleries.
Best of all, the activity includes lunch and tasting sessions!
Entrance fee: $200.47
Hours: 10 a.m. to 5.30 p.m.
Address: Brooke Street Pier, 12 Franklin Whrf, Hobart TAS 7000, Australia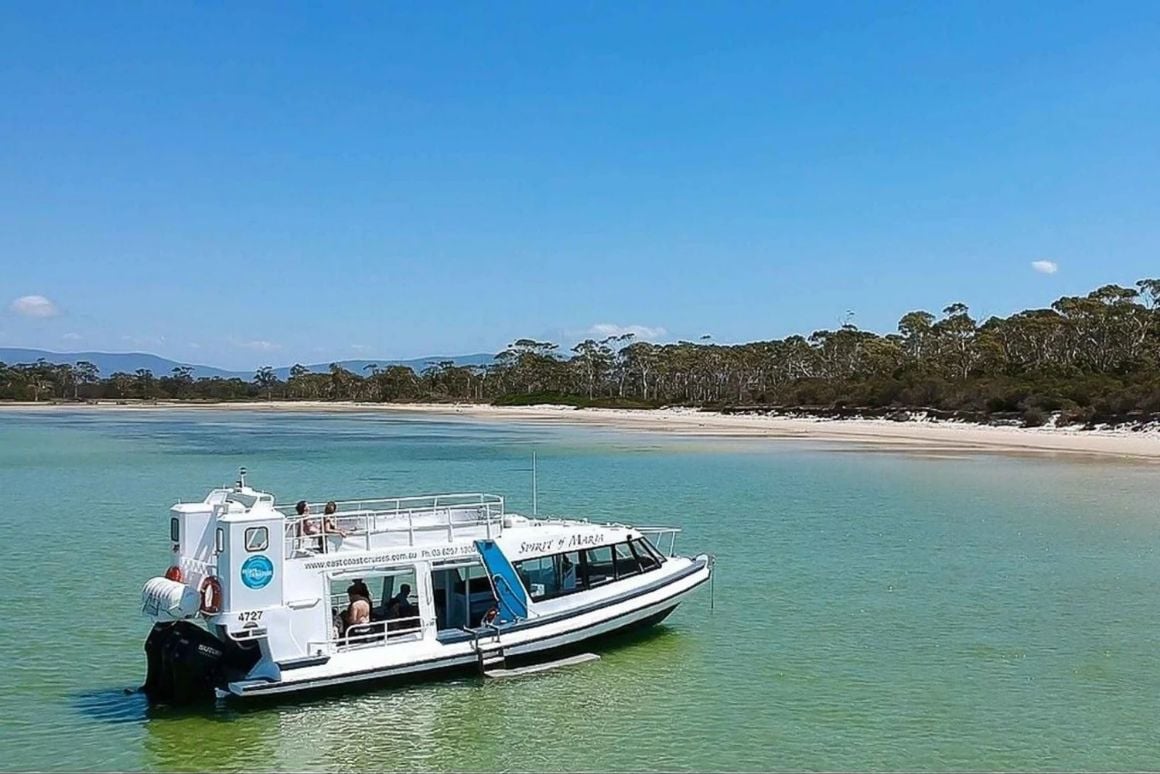 I know, I know. Another cruise. But hey, Tasmania's surrounded by heaps of spectacular islands, so it would be a shame not to explore them, right?
Despite its tragic past, Maria Island National Park is well worth a visit since it aims at paying respect to the Tasmanian Aborigines. Positively bursting with natural beauty, this park is actually one of the best places in Australia where you can learn more about Aboriginal culture.
There's literally something for just about everyone there: historians, for instance, will undoubtedly enjoy wandering the ruins before checking out the ancient rock drawings at Fossil Cliffs. Remember to keep your eyes peeled for the island's resident wombats!
Oh, and did I mention that lunch, tea, and coffee are provided?
Entrance fee: $195.49
Hours: 6.45 a.m. to 5.45 p.m.
Address: Hotel pickup in Hobart
13. Spend Quality Time with the Family at Coal River Farm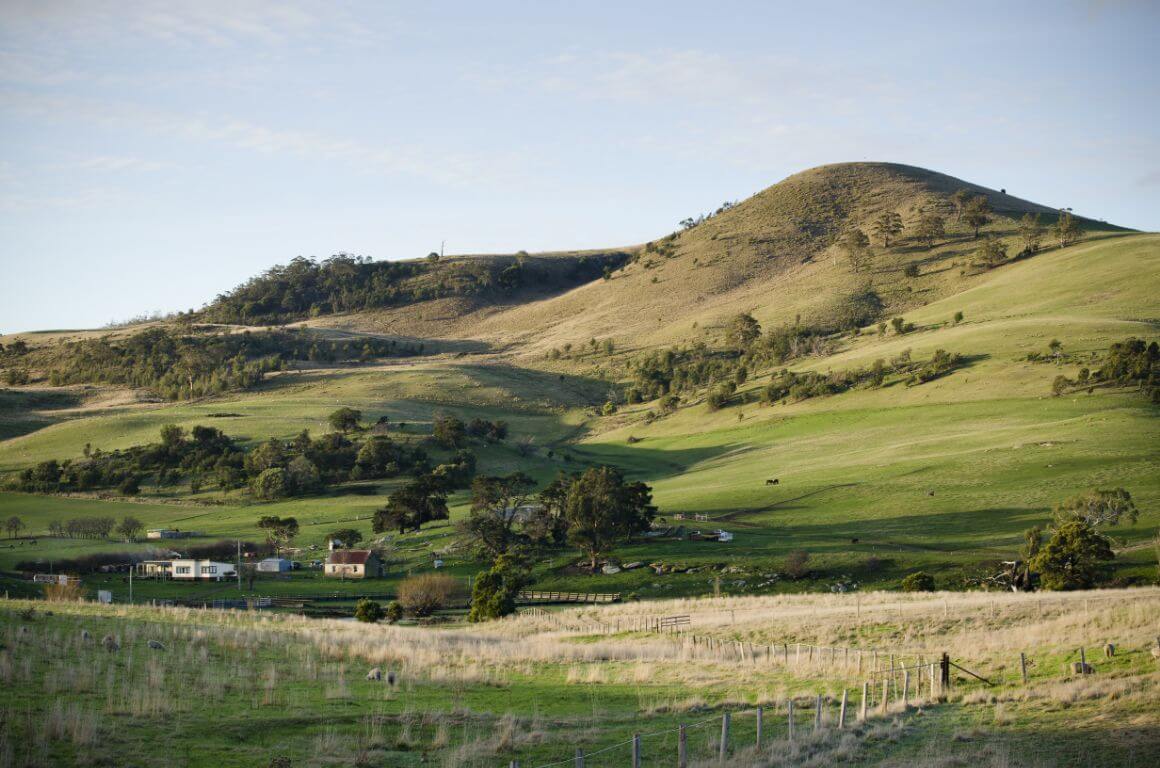 If you're wondering why the Coal River Farm made the list of top things to do in Hobart, wait until you see this place for yourself!
Whether you're a foodie or simply trying to show the kids a good time, there's no doubt that you'll relish the farm's scrumptious offerings. In fact, you can even get a behind-the-scenes tour so you can see the chocolate and cheese being made. Just a quick heads-up though: you might just end up with some major cravings afterward!
Visiting in spring or summer? Then you may wish to take advantage of the farm's Pick Your Own: a super fun activity where you can stroll through the fields with your family while picking raspberries, strawberries, and other fruits.
Entrance fee: Dependent on the activity
Hours: 9 a.m. to 5 p.m.
Address: 634 Richmond Rd, Cambridge TAS 7170, Australia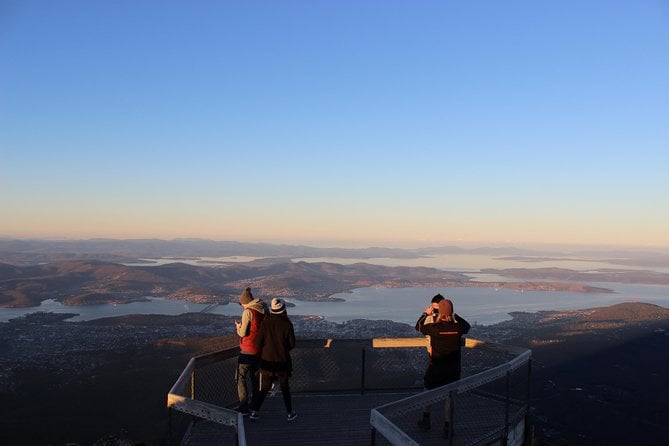 For some of the best hikes in Australia, head over to Mt. Field National Park, located just over three hours away. Yes, I know it's a bit of a drive, but if you've got some extra time to spare for the road trip, I promise it'll be entirely worth it!
Now, if you don't feel like driving all the way out there, you can always consider this activity which provides a pickup from Hobart. Not only will you get to walk to the beautiful Russell Falls, but you'll also climb the stairs up to Horseshoe Falls. And if you feel up to the challenge, you can even complete the Three Falls Circuit.
Bear in mind that this activity is physically taxing so you need to be in good physical condition!
Entrance fee: $100.57
Hours: 7.30 a.m. to 6.30 p.m.
Address: Hotel pickup from Hobart
Travel with peace of mind. Travel WITH a security belt.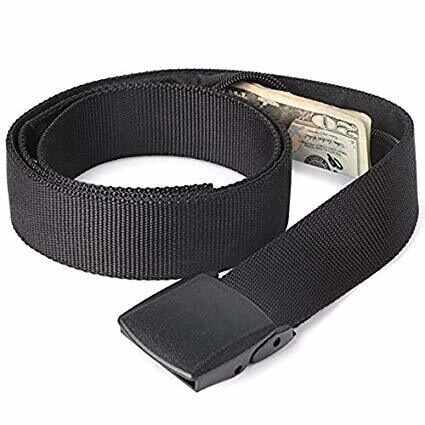 Stash your cash safely with this money belt. It will keep your valuables safely concealed, no matter where you go.
It looks exactly like a normal belt except for a SECRET interior pocket perfectly designed to hide a wad of cash, a passport photocopy or anything else you may wish to hide. Never get caught with your pants down again! (Unless you want to…)
Hide Yo' Money!
15. Soak Up Some Culture at the Tasmanian Museum & Art Gallery
Whether you're looking for things to do in Hobart with kids or simply want to learn more about the local culture, you really can't go wrong with a visit to the Tasmanian Museum & Art Gallery!
And don't worry – this is not another boring ol' museum either: As the second-oldest museum in Australia, you can expect plenty of interesting facts, colonial, and archaeological relics. Visitors can also take advantage of various family-oriented programs and events.
In addition to several exhibits centered around the local cultural heritage, the museum also has a Herbarium with preserved plant specimens. I would strongly suggest that you make a stop by the First People Art and Culture section, featuring a global Indigenous collection consisting of over 12,000 pieces.
Entrance fee: Free (voluntary donations welcome)
Hours: 10 a.m. to 4 p.m.
Address: Dunn Pl, Hobart TAS 7000, Australia
16. Take the Kids to the Beach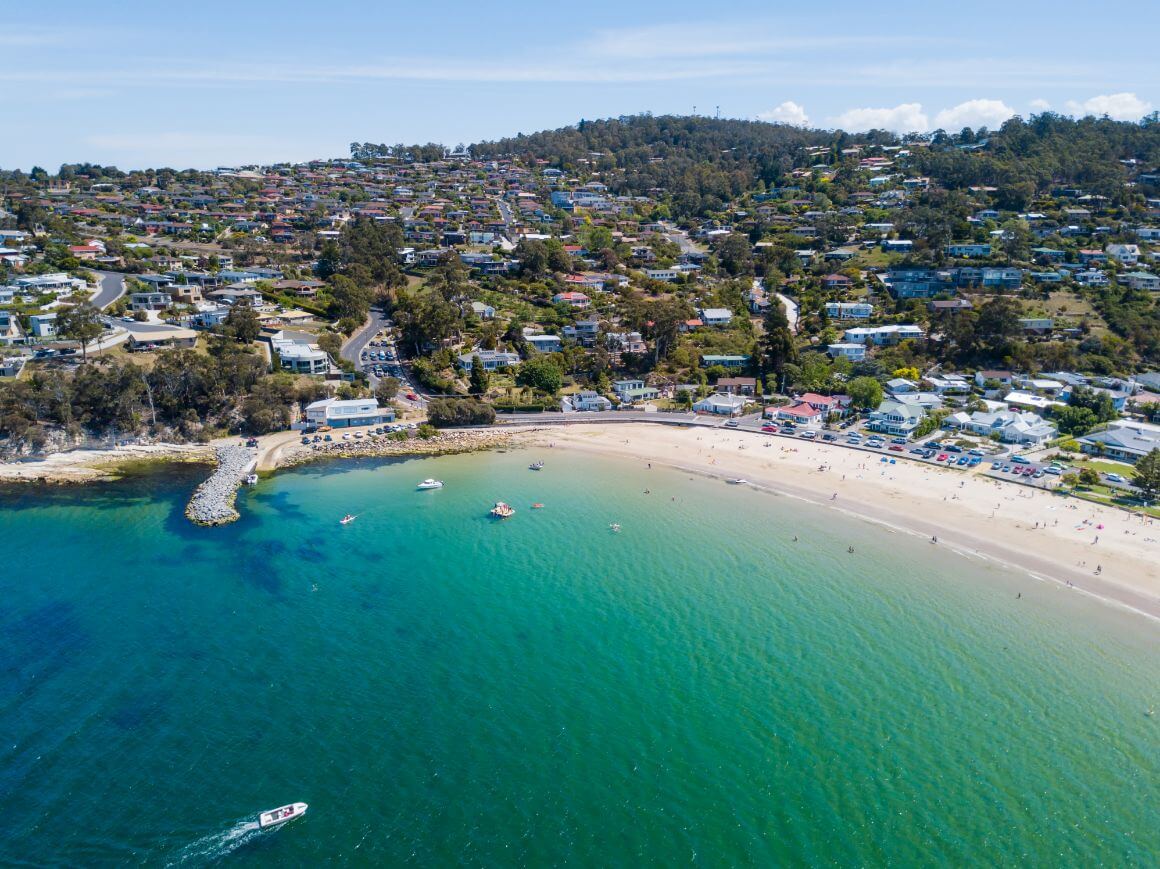 I know that Hobart doesn't exactly spring to mind when you think of beautiful Australian beaches. After all, Hobart ain't as popular as, say Bondi, but the truth is the city is surrounded by numerous coastal gems that not a lot of tourists know about.
For a truly picturesque escapade from the city noises, head over to Opossum Bay, located just 40 minutes outside Hobart. Brimming with rural charm, this sheltered beach is known for its fine, powdery sand and classic fish and chips from the local store.
I would also recommend that you head over to Coningham, another jaw-droppingly gorgeous beach located less than 30 minutes from the city. Because it's fringed by bush-covered cliffs, this beach still feels relatively undiscovered.
Entrance fee: N/A
Hours: Open 24 hours
Address: N/A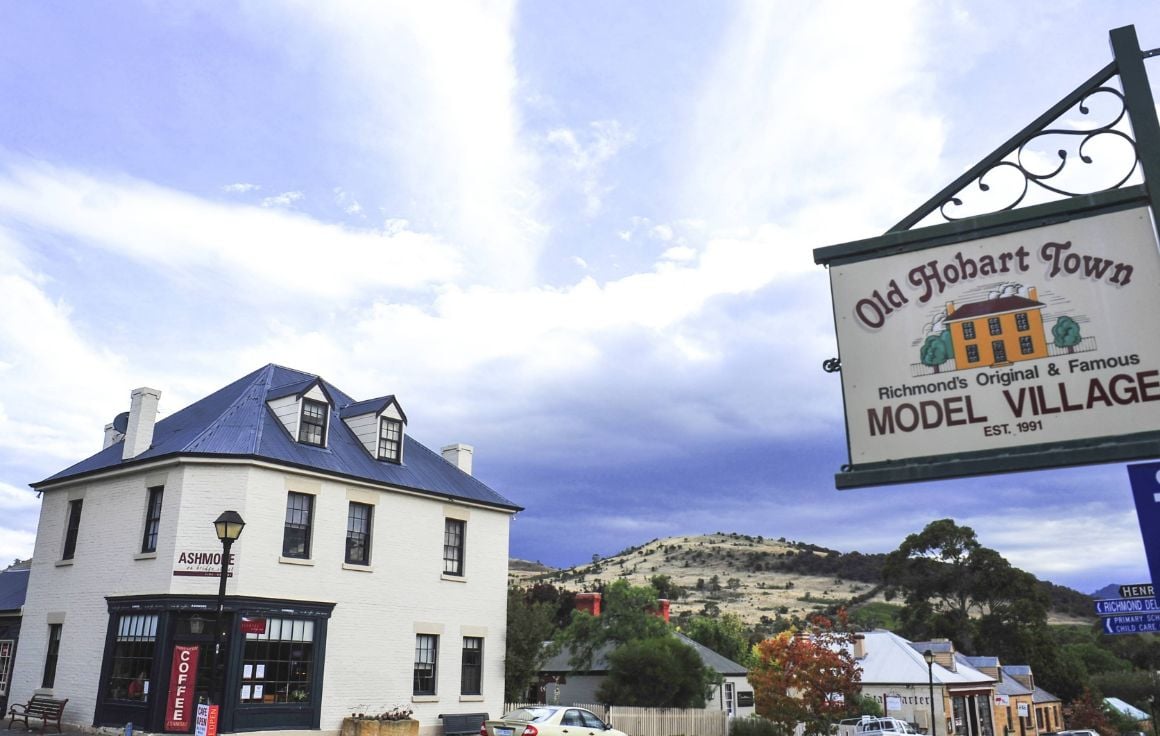 Okay, you're not thinking of leaving Hobart without hopping over to Richmond Village at least once, are you? After all, this gorgeous village lies less than 25 minutes from Hobart!
One of the best day trips from Hobart, Richmond Village is an absolute feast for the eyes with stone bridges, quaint cafes, cobbled streets, and plenty of historical sites.
This activity even offers a bus ride through the Coal River Valley on your way to Richmond. Be ready to feel like you've stepped back in time as you mosey about this impossibly charming area, fringed by elegant Georgian buildings. Some of them actually date all the way back to 1820.
Remember to save your tour ticket for exclusive discounts at numerous Richmond attractions!
Entrance fee: $23.34
Hours: 1.30 p.m. to 4 p.m.
Address: 20 Davey St, Hobart TAS 7000, Australia
18. Walk the Battery Point Sculpture Trail
There's no better way to take advantage of that glorious Tasmanian sun than to head out for a refreshing stroll- and one of my favorite walks in Hobart is undoubtedly the Battery Point Sculpture Trail.
This hour-long walk is meant to be relaxing, so inexperienced hikers shouldn't have any issues. It's also perfectly suitable for children.
An excellent way of uncovering some lesser-known aspects of Tasmanian history, this walk is fringed by nine large sculptures. Each sculpture tells a specific story about Tasmania and Hobart.
I would also suggest that you visit the trail both at night and in daylight so you can see the sculptures under different lighting. One of them glows at night, so keep your eyes open for that!
Entrance fee: Free
Hours: Open 24 hours
Address: Battery Point TAS 7004, Australia
19. Step into the Parliament House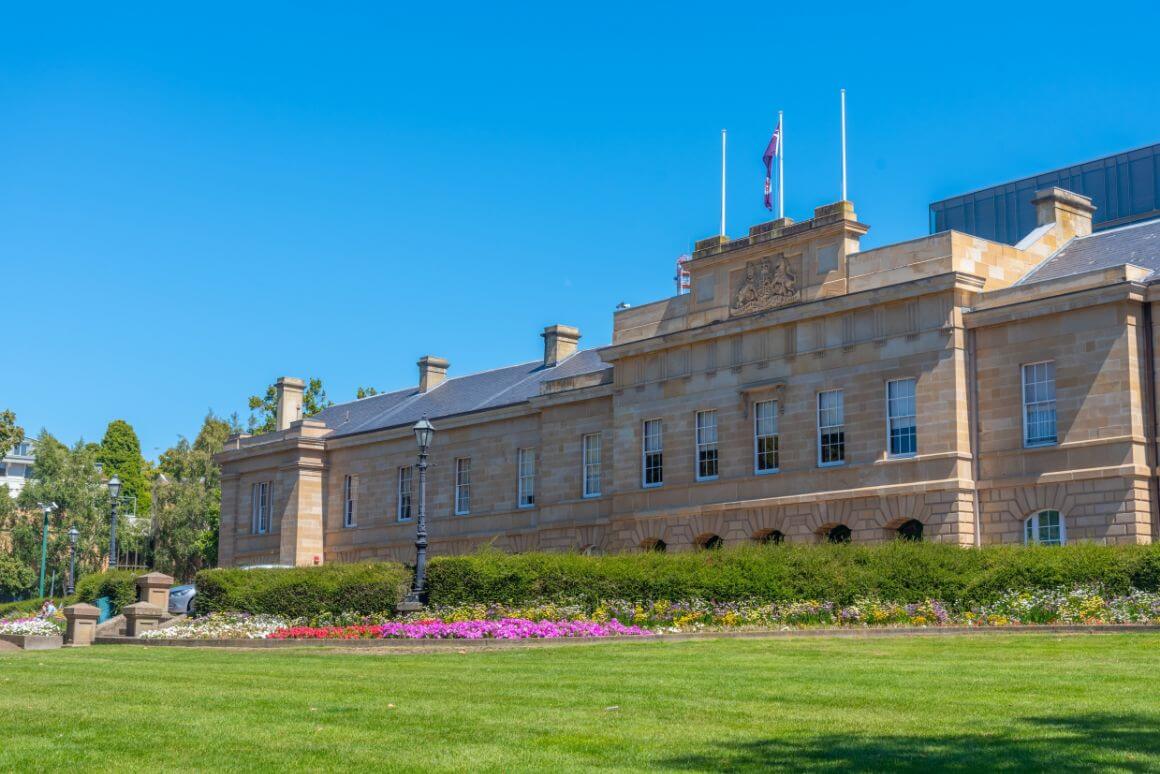 Located just a quick walk from the Salamanca Market, Parliament House draws heaps of tourists and locals alike – and it's not exactly difficult to see why!
This 19th-century, Georgian-style building was originally meant to be a customs office, but as Hobart entered a rapidly developing political phase, it was eventually chosen to house both the Parliament and the customs.
Plenty of lore and legends await as you stroll down those ornate halls. Parliament House tours are only conducted between 9.30 a.m. and 2.30 p.m. on non-sitting days. Alternatively, you can also visit the Legislative Council or the House of Assembly galleries on sitting days.
Entrance fee: Free
Hours: 9 a.m. to 5 p.m. (closed on weekends)
Address: Parliament House, 1 Salamanca Pl, Hobart TAS 7000, Australia
Save $$$ • Save the Planet • Save Your Stomach!
Drink water from ANYWHERE. The Grayl Geopress is the worlds leading filtered water bottle protecting you from all manner of waterborne nasties.
Single-use plastic bottles are a MASSIVE threat to marine life. Be a part of the solution and travel with a filter water bottle. Save money and the environment!
We've tested the Geopress rigorously from the icy heights of Pakistan to the tropical jungles of Bali, and can confirm: it's the best water bottle you'll ever buy!
View on REI
Read the Review
20. Attend a Food Festival at Franklin Square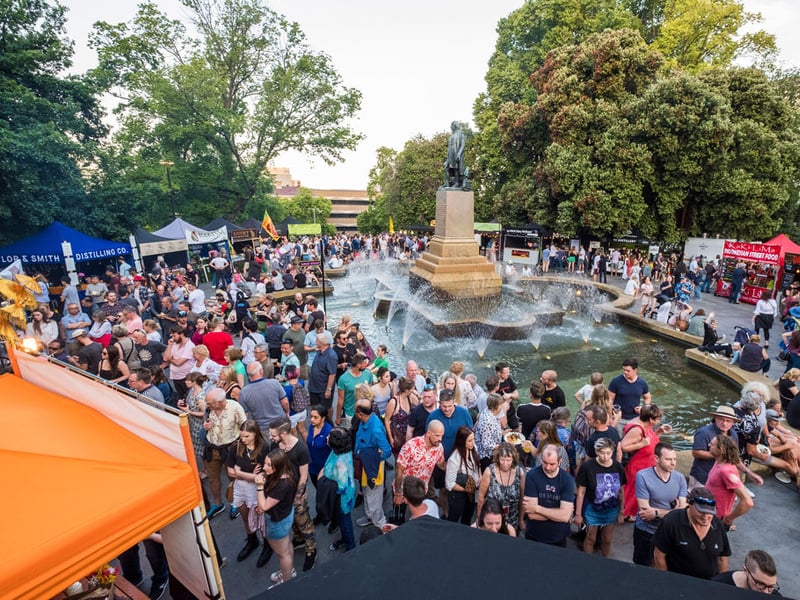 Wondering what to do in Hobart in late summer or early autumn? How about a stop by Eat Street @ Frankos, one of Hobart's most popular food festivals?
From December to April, this free event draws both tourists and locals from all over Australia.
Plenty of incredible eats await, with local specialties like a char-grilled barbecue on schticks. In addition to classic Tassie fares, the festival also features heaps of international offerings, with Sri Lankan, Indonesian, Venezuelan, American, and Vietnamese offerings.
The festival is also known for its eclectic cast of live performances and concerts- so set up your picnic chair, grab a cocktail from one of the drink stalls, and get ready for a good time!
Entrance fee: Free
Hours: 4:30 p.m. to 9 p.m. (Fridays only)
Address: 70 Macquarie Street, Hobart, Tasmania, 7000
21. Catch a Ferry to Melbourne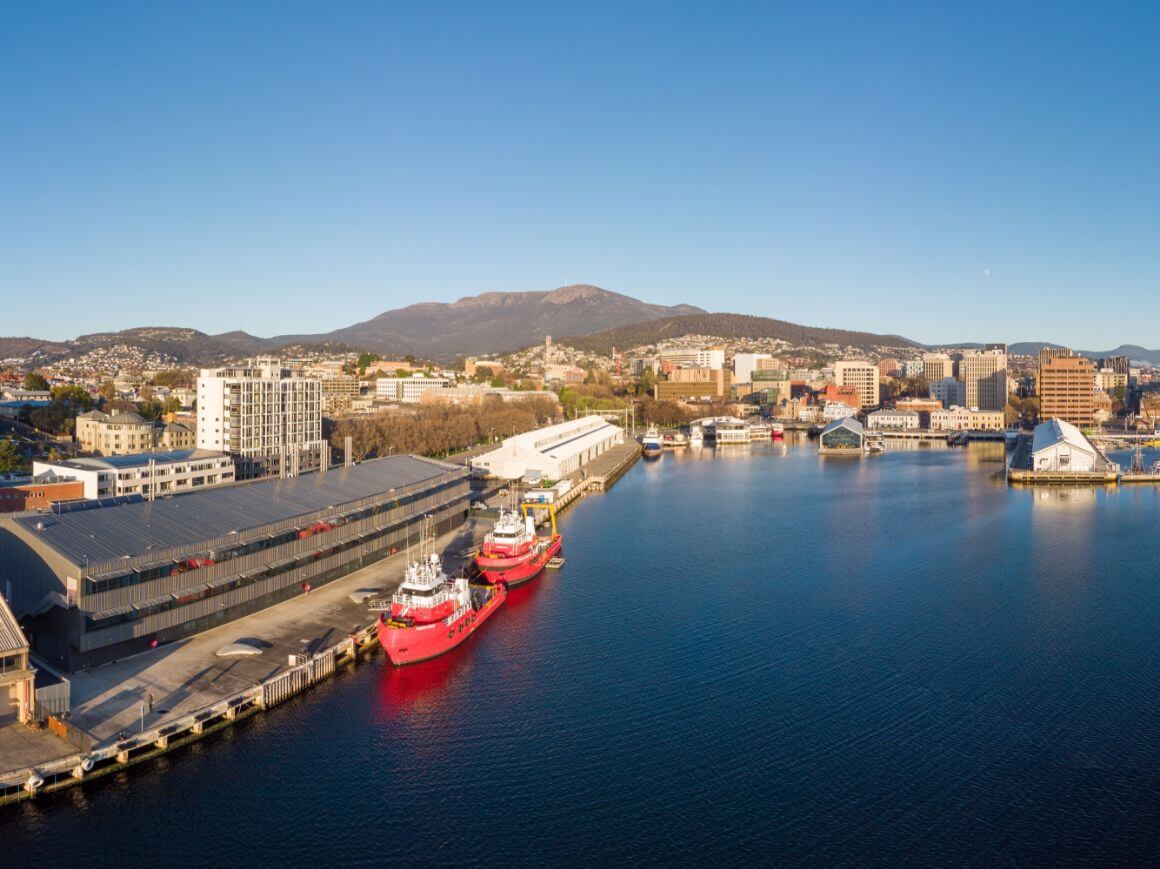 If you're feeling particularly adventurous, I would totally recommend that you catch a ferry over to Melbourne!
A quick disclaimer b
Travelers who have some extra time to spare will no doubt enjoy this fun-filled adventure to Australia's coastal capital. In fact, you'll find a staggering assortment of things to do in Melbourne, like seeing Australia's largest moving image collection at the ACMI or walking across a glass observation deck at the Eureka Skydeck.
Entrance fee: Dependent on accommodation
Hours: First departure between 9 a.m. and 11 a.m., second departure between 7.30 p.m. and 10.30 p.m.
Address: East Devonport, Tasmania
Where to Stay in Hobart
Owing to its gorgeous sights that draw heaps of travelers from all over, Hobart offers various accommodation options to suit all budgets.
Here are a few places that I can vouch for!
Here's an affordable, yet comfy option that certainly ticks all the boxes! Not only does this hotel boast a great location near the city center, but it's located close to some of the best attractions in Hobart, including the Salamanca Markets, the Art Gallery, and the Harbor.
The hostel features mixed, male, and female dorms as well as private rooms.
Ideal for solo travelers or couples, this West Hobart studio apartment comes with all the comforts of home!
With a stay in this apartment, you'll be close to the Hobart Waterfront, Salamanca Place, and the Farm Gate Markets.
This apartment is also fitted with a charming kitchenette, but with some of Hobart's best eateries practically on your doorstep, why muck about with cooking, right?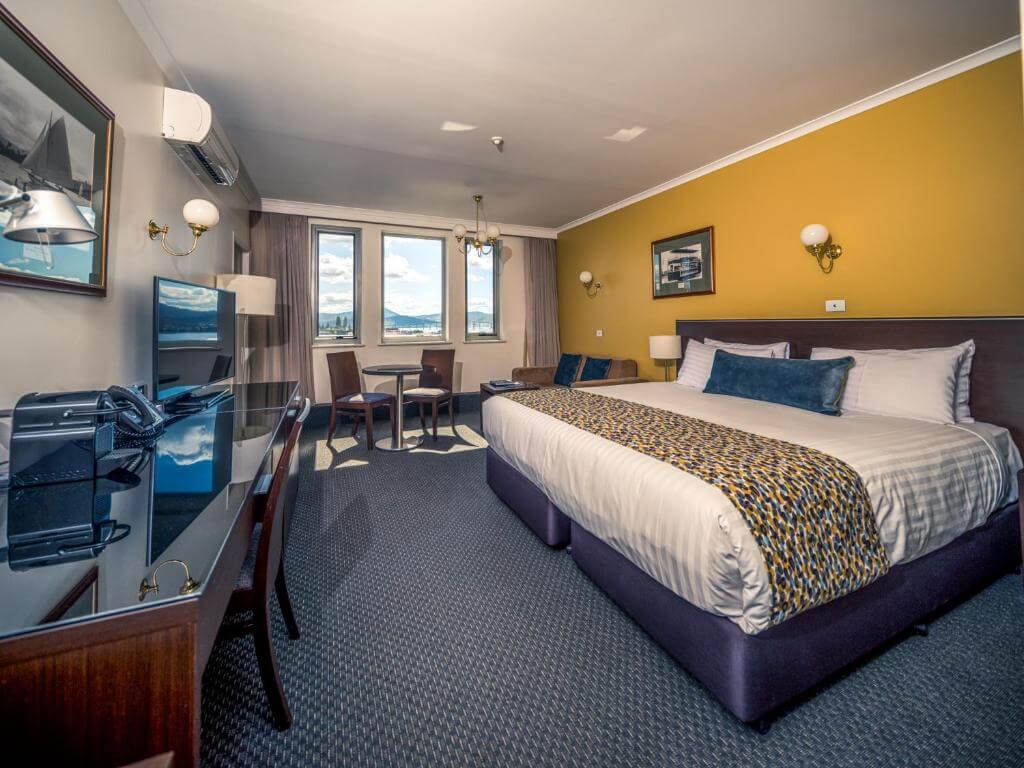 Now, if you don't mind splurging a little, this hotel totally has my vote!
Located smack dab in the heart of Battery Point Village, this hotel lies just a 10-minute walk from the Art Gallery and the Tasmanian Museum.
After exploring all those great attractions, return to the hotel where you can relax in spacious rooms, some with mountain, park, or harbor views.
Some Additional Tips for Visiting Hobart
Before you zip up your suitcase and grab your passport, be sure to check out a few more handy travel tips below!
Drive on the Left. If you're hiring a vehicle to explore the many glorious sights that lie around Hobart, bear in mind that Australians drive on the left.
Respect the Wildlife. Wombats and platypus sightings are quite common in Hobart. Tasmania is also known for its rich population of Kangaroos and wallabies. Remember to observe the wildlife from a safe and respectful distance.
Prepare for Summer. Hobart is found on Tasmania's south-eastern coast which is known for its milder summers. I would still recommend that you pack your sunscreen, a wide-brimmed hat, and loose, comfortable clothing.
Take Day Trips. If you're looking for the best day trips from Hobart, rest assured that the city is surrounded by a ton of incredible sights, including national parks and scenic villages. You can even consider crossing over to Melbourne by ferry.
Don't forget your travel insurance for Hobart
ALWAYS sort out your backpacker insurance before your trip. There's plenty to choose from in that department, but a good place to start is Safety Wing.
They offer month-to-month payments, no lock-in contracts, and require absolutely no itineraries: that's the exact kind of insurance long-term travellers and digital nomads need.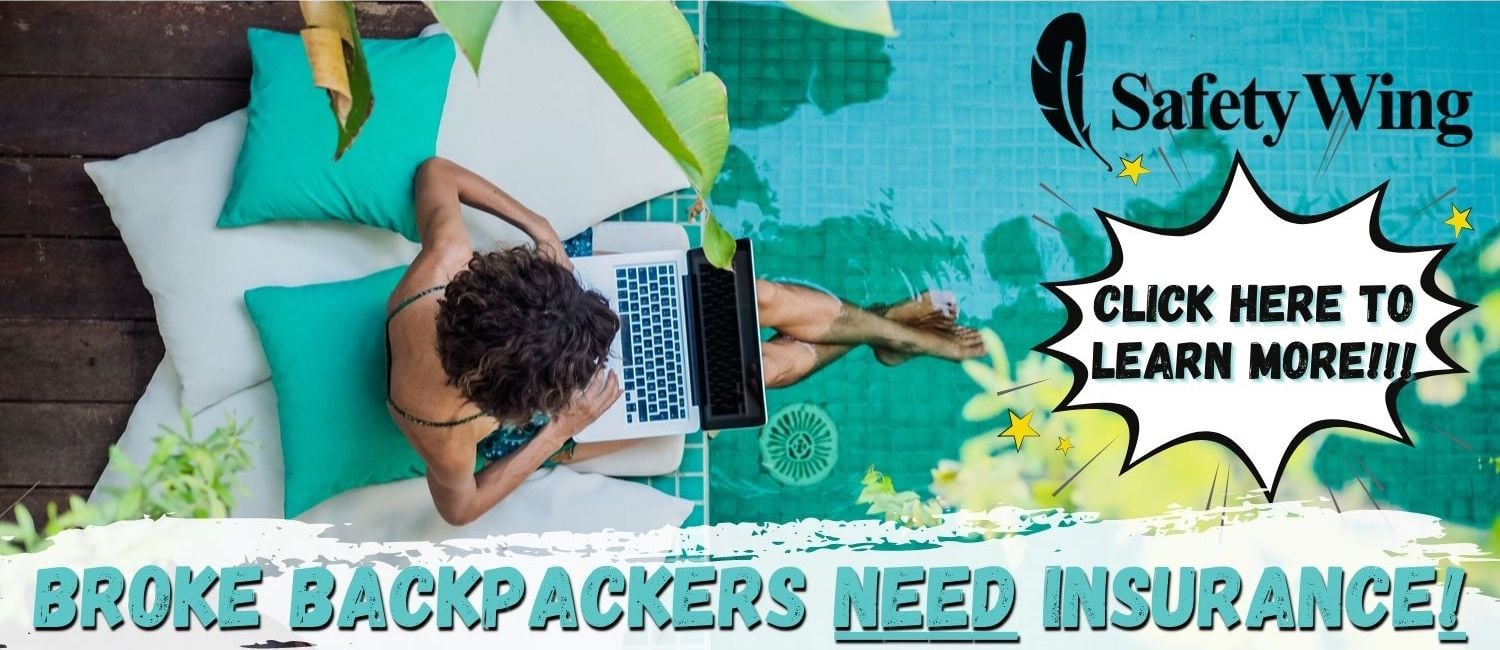 SafetyWing is cheap, easy, and admin-free: just sign up lickety-split so you can get back to it!
Click the button below to learn more about SafetyWing's setup or read our insider review for the full tasty scoop.
Final Thoughts on Things to Do in Hobart
Whether your idea of fun is to laze on the shore with your toes burrowed in the sand or munch your way through local delicacies, you can be sure that Hobart's got you covered on your visit to Tasmania!
More importantly, the city perfectly caters to various budgets and preferences, so there's literally something for everyone. Hobart also happens to be an excellent jumping spot to other Aussie destinations, so don't hesitate to explore.
---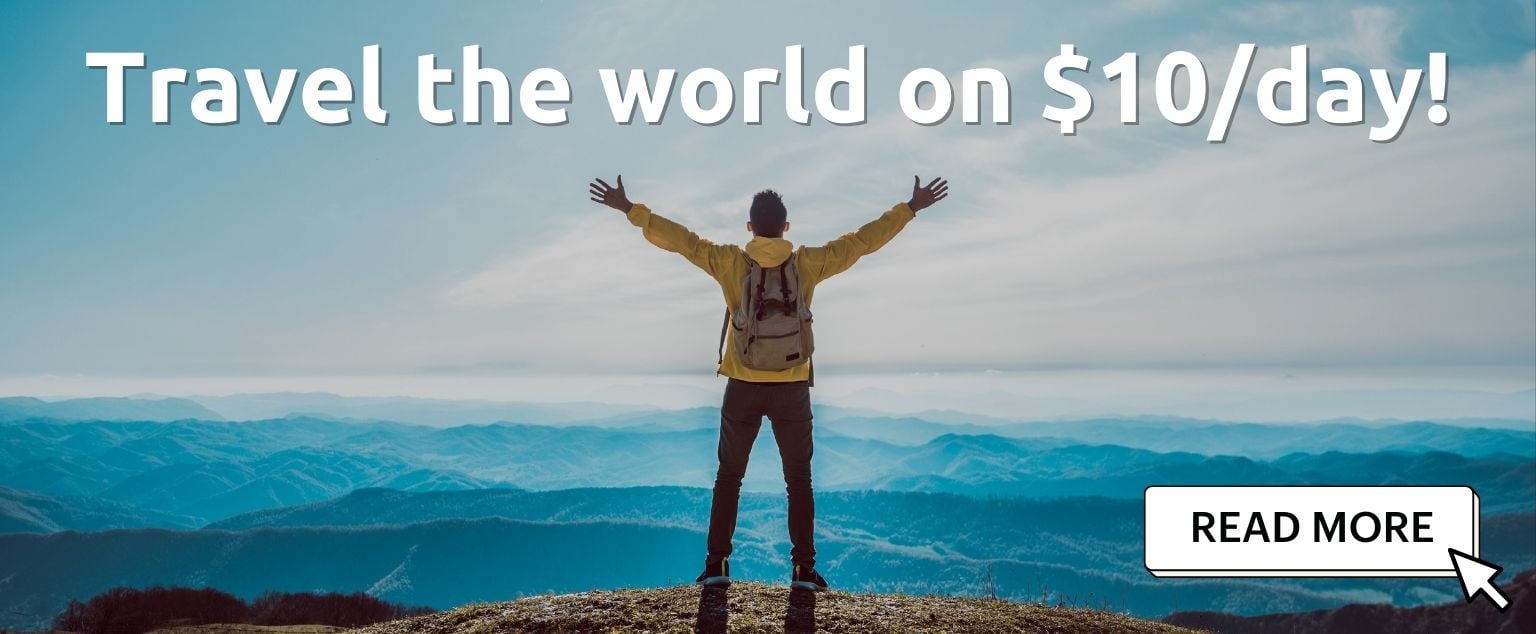 And for transparency's sake, please know that some of the links in our content are affiliate links. That means that if you book your accommodation, buy your gear, or sort your insurance through our link, we earn a small commission (at no extra cost to you). That said, we only link to the gear we trust and never recommend services we don't believe are up to scratch. Again, thank you!