Ahoy friends! Regular followers of this blog will know that two things we are very passionate about are travel (no shit right?!) and FITNESS. And why not?! Afterall us travellers do want to look good when we get to the beach, right?
Well today we are going to take a look at a form of travel that beautifully meshes the two in a niche that is fast growing in popularity – fitness retreats. Specifically we will look at what a fitness retreat is and exactly who may benefit from once. Finally we will also look at Tuscan Fitness, one of Italy's best all round fitness, yoga and wellness retreats, and the various retreat packages that they offer.
Fitness and Yoga Retreats: Work it out, Chill it out
Over the last decade, fitness, yoga and wellness retreats have been soaring in popularity. In fact, the market grew by over 1000% in the last 5 years alone and demand for retreats saw a riotous 81% increase in 2020 (yes, the following years of COVID and economic-anarchy have stymied the trend a bit).
But what even is a fitness, yoga or wellness retreat you may well be asking?
Well, think of it as your favourite workout and chill-out sessions rolled into one, shipped off to some of the most insanely beautiful spots on earth and packaged together with 5 star service ('Excellent set of reps Sir, may I hand you a towel?' . If that doesn't scream 'holiday goals' then frankly I don't know what the hell does!
Is This the Best Daypack EVER???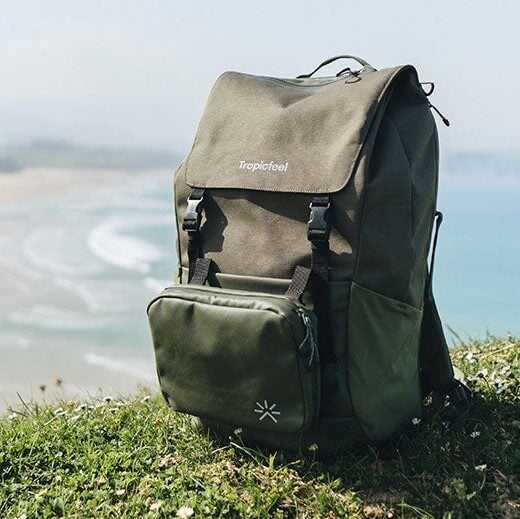 We've tested countlessday packs over the years, but the Tropicfeel Shell is something else. There are a lot of flashy backpacks on the market but not many come with a detachable wardrobe.
Weatherproof, eco-friendly, durable, feature-loaded, and comfy as fudge brownies: these are just some of the words people might use to describe the Tropicfeel Shell. But we just call it bloody beautiful.
Learn More • View on Tropicfeel
Fitness retreats are sort of like the cheat code for the healthier, happier version of you – with added holiday snaps checked in for good measure. They pack in all the good stuff – from heart-pumping exercise to zen-tastic yoga, mind-blowing nutrition, and a whole heap of chill-out time – and remove all of the distractions and stresses that daily life tends to throw at us . It's like being in a wellness video game where you level up just by turning up!
You've got pro trainers and teachers leading the way, helping you to develop whether you're a workout warrior, a beginner yogini or anywhere in between. Plus, the whole squad is on the same mission as you, which makes the ride so much more fun and helps you to focus.
Fitness retreats have so far proven very popular amongst fitness buffs, high flyers seeking relief from stressful jobs as well as those looking to train as instructors. But honestly? Anybody who's up for a good time can jump on this bandwagon and this is why the space is now growing exponentially. Fitness buffs, yoga lovers, wellness wannabes, or folks just keen on trading the usual holiday binge for something a bit more wholesome – these retreats are your ticket to a rip-roaring yet refreshingly healthy adventure.
Tuscan Fitness: Your Ticket to the Ultimate Fitness Adventure
To be honest, the last time I visited Tuscany the trip was a bit of a grand tour of gluttony where I spent my days (and nights) sampling prosciutto, tiramisu and chianti. But there is another way to experience this beautiful and historical region.
Imagine starting your day getting your sweat on with the sun rising over glorious Tuscan hills. Then picture yourself stretching it all out with yoga amidst age-old olive groves before sitting down to a delicious, nutritious restaurant-standard Italian dinner. Well you have just imagined Tuscan Fitness – one of Italy's best rated and rivered fitness and yoga retreats.
Tuscan Fitness is a bit of a dream come true for fitness and yoga lovers. One minute you could be huffing and a-puffing through a high-intensity workout and the next you're off exploring the wilderness on a hike. Then before you know it, you're sinking into a yoga pose with the Tuscan sunset as your backdrop.
Making it Worth Your While: Getting the Bang for Your Buck
I'll be honest with you. These retreats are not cheap and can leave a big, chunky dent in your wallet. As such, you really want to make sure you're getting the most bang for your buck when searching for fitness retreats.
The 3 nights and 4 days Yoga/Fitness Packages starts at €900 per person (private A/C room with en suite bathroom) which is pretty representative of fitness retreats in Western Europe, and is actually very reasonable considering the prices of general accomodation in this particular region. Of course, do remember that you will also have to fund your flights to Italy and transport to Tuscany (the retreat is situated between Siena and Florence) on top of this.
So is this good value for money?
Well, Tuscan Fitness benefits from an impressive roster of first class, experienced trainers, leaders and coaches from all over the world who will push you and guide and ensure that you get the maximum beenfor from each and every workout or session you participate in. A day starts with a Yoga session, and then guests can choose from HIIT sessions, circuits or a hike into the countryside. The retreat is a busy one, and offers more activities per day than other retreats.
7.30am – Yoga
9.30am – Hike
11am – Fitness
2pm – Yoga
Evening – Misc activities
All guests are invited to join both a wine tasting AND olive oil testing session into the heart of Tuscany and longer stayers may also be able to catch a guided meditation or sun-salutation session. Also remember, this is one of Italy's best rated fitness retreats.
The accommodation options on offer at Tuscan Fitness are hosted at Hotel La Florra, a gorgeous hilltop guesthouse with spacious, comfortable, clean modern rooms. Retreats include 3 meals per day, plus dessert at dinner, served in the restaurant which caters to all dietary requirements (vegan, veg, meaty, healthy etc). Perhaps best of all, each day is rounded of with evening cocktails (just go easy if you plan on making the morning Yoga sesh yeah?!)
Final Thoughts
If you're up for a bit of adventure, keen to up your fitness game, or simply want to escape the daily grind in a drop-dead gorgeous setting, a fitness and yoga retreat in Tuscany might be just the thing for you. Taking a fitness retreat is like hitting the refresh button on your life while living it up in one of the most stunning spots on the planet. It is taking the kind of holiday that you don't need another holiday to then recover from.
So, what are you waiting for? Pack your bags, grab your yoga mat and make an investment in your health, happiness, and all-round good vibes – you won't regret it. Ciao for now, folks.
---
Find out how YOU can support the site.
We're a big site with a big team and this job isn't always easy. But we do it because we love it – we love providing epic and free content. We love the knowledge that our content keeps you adventuring. We don't ask for money, but if you'd like to find out how you can help the site in more organic ways, click the button below.
Thank you for your support 🙂
And for transparency's sake, please know that some of the links in our content are affiliate links. That means that if you book your accommodation, buy your gear, or sort your insurance through our link, we earn a small commission (at no extra cost to you). That said, we only link to the gear we trust and never recommend services we don't believe are up to scratch. Again, thank you!