One of two autonomous regions in Portugal, Madeira is an island archipelago located in the North Atlantic Ocean. Just north of the Canary Islands and close to Morocco on the African mainland, it is no ordinary travel destination.
Madeira is a place for outdoor enthusiasts of all types. Set in a remote region between Europe and Africa, it is famous for its lush vegetation and spectacular spring blooms. Known by locals as Spring Island, you'll find many small villages scattered across the island, lush mountains, and, most noticeably, incredible views of the never-ending Atlantic Ocean.
Hikers, surfers, swimmers, and cyclists flock to the island for the beautiful year-round weather and adrenaline-pumping activities. However, this island destination is also packed with delicious cuisine, beautiful hotels, spas, and a diverse local shopping scene.
While many tourists choose to stay in the island's best hotels and resorts, you might prefer a bit more privacy and space. If this is the case, I highly recommend staying in one of the best villas in Madeira. This way, you can enjoy access to a private kitchen and living area, a beautiful deck, and great views – all to yourself.
In this article, I will focus on fifteen of the best villas on the island, from historical stone structures turned into cozy homes to extravagant modern villas made from glass.
Best Villa for Couples in Madeira
Best Villa for Couples in Madeira
1-Bed Casas da Levada with Courtyard
> $
> 2 Guests
> Breakfast included in your stay
> Cozy building reconstructed from an old stone layout
Best Budget Villa in Madeira
Best Budget Villa in Madeira
1-Bed Villa with Ocean and Mountain Views
> $
> 2 Guests
> Yoga and surf house with swimming pool and direct beach access
> Set on the beach in Sao Vicente against a mountain backdrop
Over-the-Top Luxury Villa in Madeira
Over-the-Top Luxury Villa in Madeira
2-Bed Pirate Sea House with Pool and Garden
> $$$$
> 4 Guests
> Interior-designed home with eclectic furnishing
> Overlooking the sea in the heart of Funchal
Staying in a Villa in Madeira
If uninterrupted ocean views and gorgeous scenery excite you, this is your sign to book a villa on the Portuguese island of Madeira. Well-priced, beautifully maintained, and ideally located with ocean views, villas are an excellent option for accommodation in Madeira.
Villas are typically defined as large homes with multiple bedrooms and bathrooms and a central living area with a fully-equipped kitchen, living room, and dining area. Most of the villas in this region have a terrace, balcony, or garden (or all three) with ocean views and are typically fitted with outdoor furniture and BBQ facilities. In fact, you won't struggle to find a property with a private swimming pool, either.
With multiple bedrooms and space for many guests, villas are typically the accommodation of choice for friends, families, and travelers visiting together in groups. That being said, while couples or solo travelers might usually opt for a bed and breakfast or hotel room, there are even a few villas in Madeira suited for small groups of travelers, too.
Apart from a few of the most exclusive villas, villas in Madeira are not as opulent and outlandishly luxurious as you might expect. Instead, they offer a homey and comfortable space with down-to-earth vibes featuring all the necessities and amenities you could wish for from self-catering accommodation.
Most of the best villas in Madeira are located along the island's coastline, some within the central city and others further out in more remote locations. Whether you're after a cultural experience or are looking to be one with nature in this beautiful region, you won't struggle to find accommodation in the perfect location here.
What to Look For in a Villa in Madeira
No matter the destination, staying in a villa offers the privacy of your own home with the added benefits of amenities you won't necessarily find in a hotel or bed and breakfast.
Firstly, the fully-equipped kitchen is a common amenity at any villa, making it easy to cook and prepare your own meals without changing your routine up too much. With local food markets and farm stalls dotted across the most secluded parts of the island, one of the best ways to eat in Madeira is to purchase the freshest ingredients and cook at your own private villa.
Most of the top villas in Madeira are located on the cliff face overlooking the ocean or directly on the beach. With the unique island geography, sea views are commonplace here. However, some properties have better views than others, so check the location and views before booking a villa.
One of the best things about villas in this part of the world is the terraces, balconies, and decks overlooking ocean views. Typically furnished with outdoor living and dining furniture, BBQ facilities, and pool decks, you'll spend most of your downtime relaxing in the sunshine or fresh air outdoors.
If you're traveling with your family and have young children, there are a bunch of unique accommodations in Madeira offering child-friendly amenities, including toys, games, yards, and swimming pools. With warm year-round weather, I highly advise finding a villa with its own pool and garden where kids can enjoy the sunshine and outdoors safely and securely.
Filter your search to accommodate for children to find the best Booking.com or Airbnb properties with child-friendly amenities. These two platforms, along with VRBO, have the most extensive selection of villa listings in Madeira.
The Top 15 Villas in Madeira
With private kitchens, living spaces, and terraces with gorgeous ocean views, plenty of beautiful villas are available to rent in Madeira. Let's look at fifteen of the best villas available on Booking.com, Airbnb, and VRBO.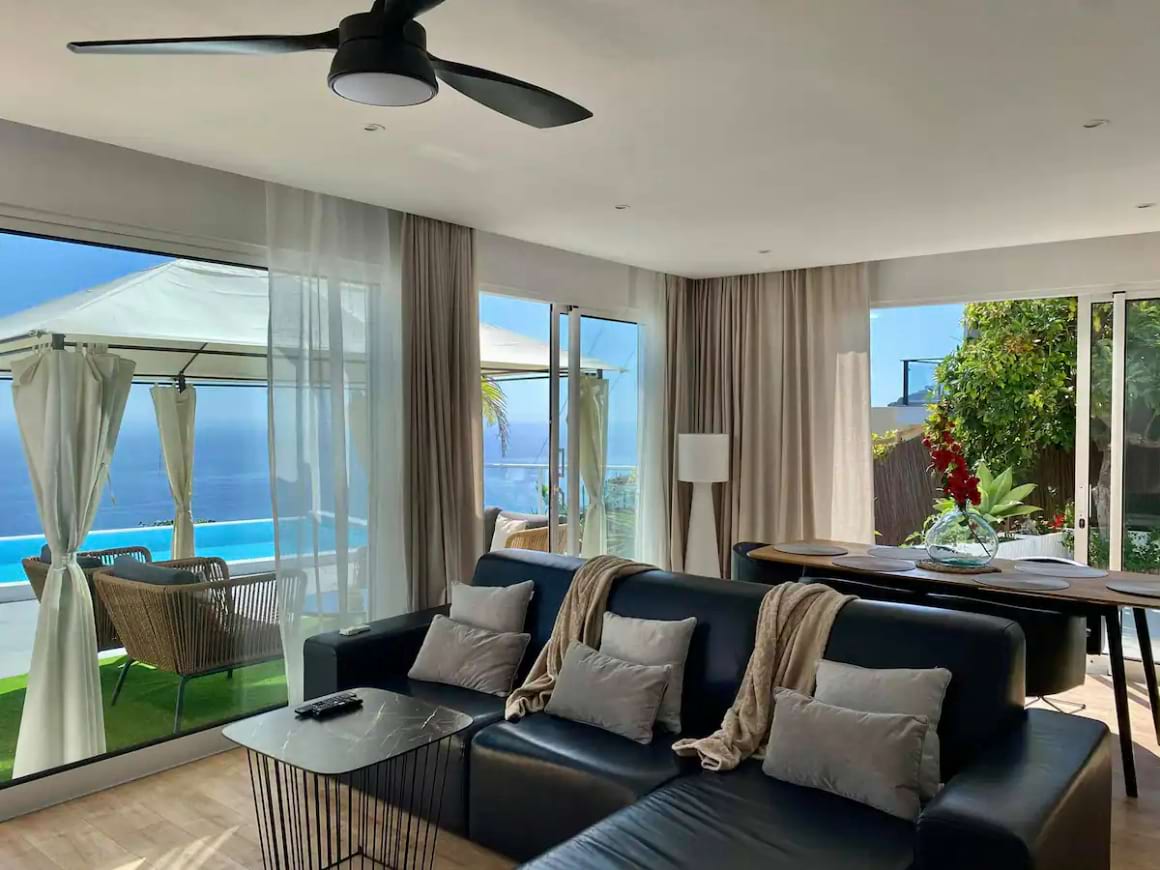 Historic home in the sunny neighborhood of Tabua
Modern interiors with a soft color palette and wooden accents
Initially built in 1932 and called 'The Old Wine House' by local winemakers, the house has been updated with modern amenities but kept old historic features like the brick oven and vine hangers. Best of all? It's one of the best villas in Madeira on a budget.
The villa is cozy yet comfortable, decorated with modern interiors and neutral tones. It has two bedrooms and a spacious central living area with floor-to-ceiling windows and doors inviting abundant natural light into the space.
Besides the pool deck with an outdoor living space and infinity pool overlooking the ocean, the villa has a small garden with a firepit!
Yoga and surf house with swimming pool and direct beach access
Set on the beach in Sao Vicente against a mountain backdrop
Not only is this one of the most affordable villas on the island, but it is also one of the best located. While most villas are set on hills overlooking the sea, this one is located directly on the beachfront, a few steps from the crashing Atlantic shoreline.
The villa offers two large bedrooms that can be booked alone or together, as well as an open living space and a fully-equipped kitchen. Together with a garden, barbeque area, and swimming pool, its location on the beach makes it a top spot for couples, families, or friends.
At such a reasonable price, even solo travelers could indulge in this coastal haven without breaking the bank.
Breakfast included in your stay
Cozy building reconstructed from an old stone layout
Casas da Levada is one of the most historic and unique accommodations in Madeira, perfect for setting a romantic scene. Rebuilt from an old stone foundation where ancient families would store their wicker, this home is decorated with a blend of rustic and modern living.
The home is part of a group of six agriculturism properties located in Ponta do Pargo, on the sunny west side of the island.
Another massive plus for couples, guests can enjoy a self-service breakfast included in the nightly rate. With exquisite views of the Atlantic and a gorgeous sunset from the house, your only problem will be that you won't want to leave the property.
Trendy minimalistic interiors, pool deck overlooking the ocean
Walking distance to waterfall Cascata dos Anjos in Ponto do Sol
If you're visiting Madeira with a group of friends, you're going to want to take a look at this property. Located on the cliff in Ponta Do Sol, just a short walk from the famous waterfall, this home is inspired by traditional Southern European architecture. Wooden window shutters and terracotta roof tiles fit right into the dramatic coastal landscape.
The interiors are modern and sophisticated, featuring neutral tones and island-inspired furnishings like rattan furniture and wicker carpets. Plenty of natural light and airflow throughout the home, which opens from an inside living room to an outdoor pool terrace.
Spend your day lounging by the pool overlooking the ocean before cooking up a storm in the contemporary kitchen. You'll feel right at home here!
Interior-designed home with eclectic furnishing
Overlooking the sea in the heart of Funchal
One of the best villas in Madeira, Pirate House, is set on the coastline of Funchal with a private tropical garden and swimming pool. It's just a short stroll to the city center, beach, and any restaurants or shops you might want to check out along the way.
The home has two bedrooms and two bathrooms surrounding the central living space styled with trendy interiors. The house is designed for outdoor living, with a sunbathing space, a living area on the terrace, and an outdoor dining space with a barbeque.
Private saltwater pool and direct access to the beach
Spacious living area and fully-equipped kitchen
Madeira is a place for outdoor enthusiasts, and what better way to spend a family vacation surrounded by nature on the Portuguese island? I'll tell you – it would be to stay in this luxurious villa with private beach access in Machico.
One of the few homes in the area to have its own sandy cove, kids can enjoy the beach and swim in both the sea and the huge swimming pool while adults relax on the comfy sun loungers.
The home has been recently refurbished and is decorated with trendy and bright interiors, combining warm wooden tones with pops of color and exciting art. When you aren't gathered in the central living area, play a round of pool in the games room or let the kids go wild in the second living room.
Set in a lush area surrounded by plantations and vineyards
A short walk from the beach in Jardim do Mar
It's not easy to find the best villa in Madeira for backpackers, since villas are usually designed for multiple guests and have high price tags to match. However, if you're looking for the next best thing, you could rent out a unit in this exquisite historic villa for a fraction of the price you might expect.
Set in a lush green property overlooking the sea and banana plantations, Woodlovers is a wooden home designed to respect and pay tribute to the natural surroundings. Located on the ground floor, Unit 3 looks directly onto the shared pool and features a king-sized bed, living room, fully-equipped kitchen, and access to a private garden.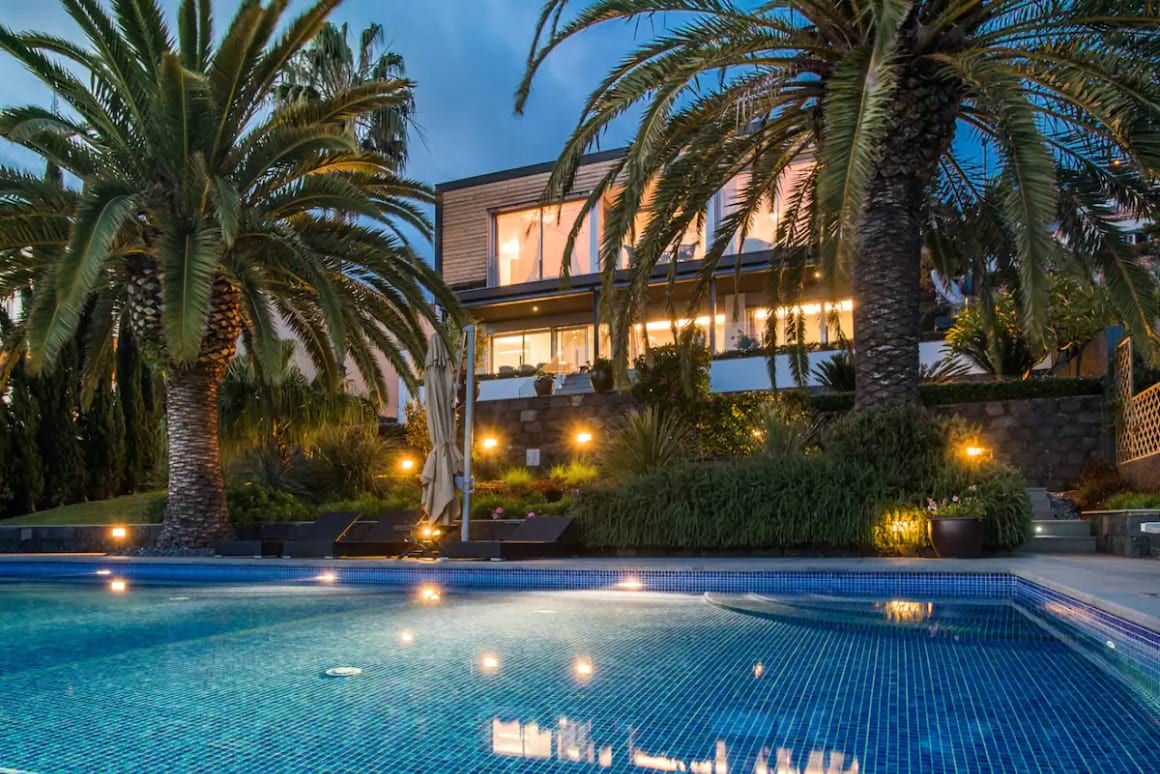 Swimming pool and secluded deck with panoramic ocean views
Comfortable modern rooms with tons of natural light
Views aren't too hard to come by in Madeira, where most properties have some sort of ocean view. However, if I had to choose any one villa for its views, it would be the ocean and cliff views from Casa Martinhos.
Admire the views from the overflowing swimming pool, multiple-bedroom balconies, or the private deck. Inside the house, you can spread out across the spacious living and dining room, all while gazing across uninterrupted ocean views from every window.
Other than views, this five-bedroom villa has a pool table, a state-of-the-art kitchen, and a BBQ deck. It's the whole package!
Private villa on five-star hotel property with access to amenities
On Estrada Monumental in the city of Funchal
Don't feel like preparing meals or doing laundry? Sometimes all you need is an all-inclusive vacation, and La Villa is the best villa in Madeira for the job. Set in a private property adjacent to a five-star hotel in Funchal, La Villa at The Cliff Bay offers the perfect combination of a private villa with all-inclusive hotel-like amenities and services.
Relax by your own private pool, on your outdoor deck, or in the living room of your private four-bedroom villa flanked by lush plants and palms while professional hotel staff takes care of your every request.
You will have access to the entire hotel through a door in the garden, including breakfast at the hotel, spa treatments, outdoor pools, and restaurants.
Traditional Portuguese home with pool and terrace
100-year-old stone house with a fully equipped kitchen
If you're looking for a place to stay for an extended trip, I recommend this historic century-old villa. Refurbished with modern facilities while retaining its modest Portuguese beauty, the stone home has three bedrooms and a combined living room, dining room, and kitchen.
The interior is simple yet beautiful, with different tones of wood bringing a warm feel to the home.
All of the rooms look out across the terrace and ocean views. The terrace is flanked by bougainvilleas, with a shaded living space and a swimming pool. In fact, there are plenty of small balconies and spaces where you can enjoy a bit of peace and quiet outdoors, typical of a Portuguese home.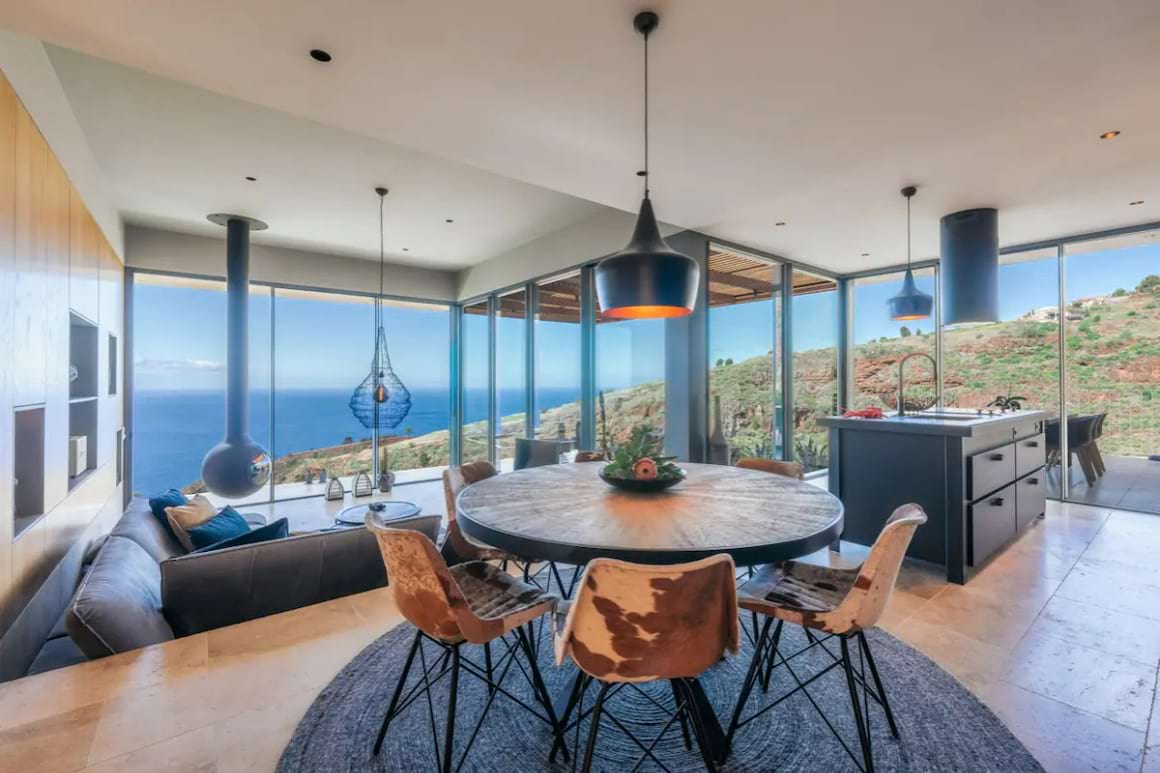 Built into the cliffs in Estreito da Calheta
Ultra-modern home with floor-to-ceiling windows
While most villas have sprawling ocean views, Grey Rock Villa boasts unique views of both the surrounding hilly landscape and the neverending ocean. This villa is designed by celebrity architects with two ensuite bedrooms and is suitable for up to five guests.
Depending on the weather, you could relax and rejuvenate by the heated swimming pool or by the abstract fireplace in the modern living room. Other than its incredible facilities, this villa is one of the best villas in Madeira for its prime location in the heart of Estreito da Calheta, just up the hill from Jardin do Mar.
Tropical-inspired home with tons of greenery and high wooden ceilings
Pool and Bali-style garden overlooking the ocean
I know beauty is in the eye of the beholder, but I can guarantee everyone will agree this is one of the most gorgeous villas in Madeira. Surrounded by a garden of lush tropical plants and palm trees, this premium property is a green oasis.
Featuring an island-inspired open-concept living room with a vaulted ceiling opening up onto an azure blue infinity pool deck, this villa appeals to anyone looking to kick back in the sun.
With three bedrooms, a fully-equipped kitchen, and a spacious terrace and mature garden, it's the perfect retreat for families or groups of friends. While slightly off-the-beaten-track in Estreito da Calheta, it is still near restaurants and bars.
Minimalistic interiors with calm neutral tones
Spacious deck overlooking the ocean
A honeymoon calls for a private and secluded space, and Vila Flor provides just that. The best villa in Madeira for a couple, the villa has two bedrooms (one of which can be used as a study) and is located just a stroll away from the beach in Ponta Do Sol.
The property's main attraction is the outdoor space, which features a pool, garden, and covered dining and living area surrounded by greenery. Rinse off in the outdoor shower after a day at the beach before heading in to prepare a feast with your significant other in the state-of-the-art kitchen.
Homey interiors with Portuguese bespoke furnishings
Garden and swimming pool with city and ocean views
Just east of the center of Funchal in Sao Goncalo, this 13 thousand square foot villa offers a unique vacation experience in a traditional Portuguese home. The villa overlooks the ocean and the city of Funchal, with spectacular views in all directions.
Decorated with bespoke furniture and traditional Portuguese interiors, you'll feel right at home in this spot. After an intense workout in the home gym, enjoy a relaxing sauna finished off with a dip in the cool pool.
With a swimming pool and deck overlooking the ocean, a shaded pagoda dining area, and lush lawns and gardens, the villa is perfect for families with young kids and groups of adults.
Cozy interior with fireplace. Pool deck overlooking the sea
In a historic building in Ponda do Pargo
Set in a big old barn that was used by shepherds to store their animals, Casa do Pastor has been refurbished to retain its original character and design. The perfect balance between modern and rustic countryside living, this unique accommodation in Madeira has a large established garden overlooking the Atlantic Ocean.
It is also set on the boundary of Madeira's Natural Forest of Laurissilva, surrounded by organic gardens and tall trees. Guests can harvest their own vegetables and herbs to use in the farm-style kitchen.
Don't Forget Your Madeira Travel Insurance
ALWAYS sort out your backpacker insurance before your trip. There's plenty to choose from in that department, but a good place to start is Safety Wing.
They offer month-to-month payments, no lock-in contracts, and require absolutely no itineraries: that's the exact kind of insurance long-term travellers and digital nomads need.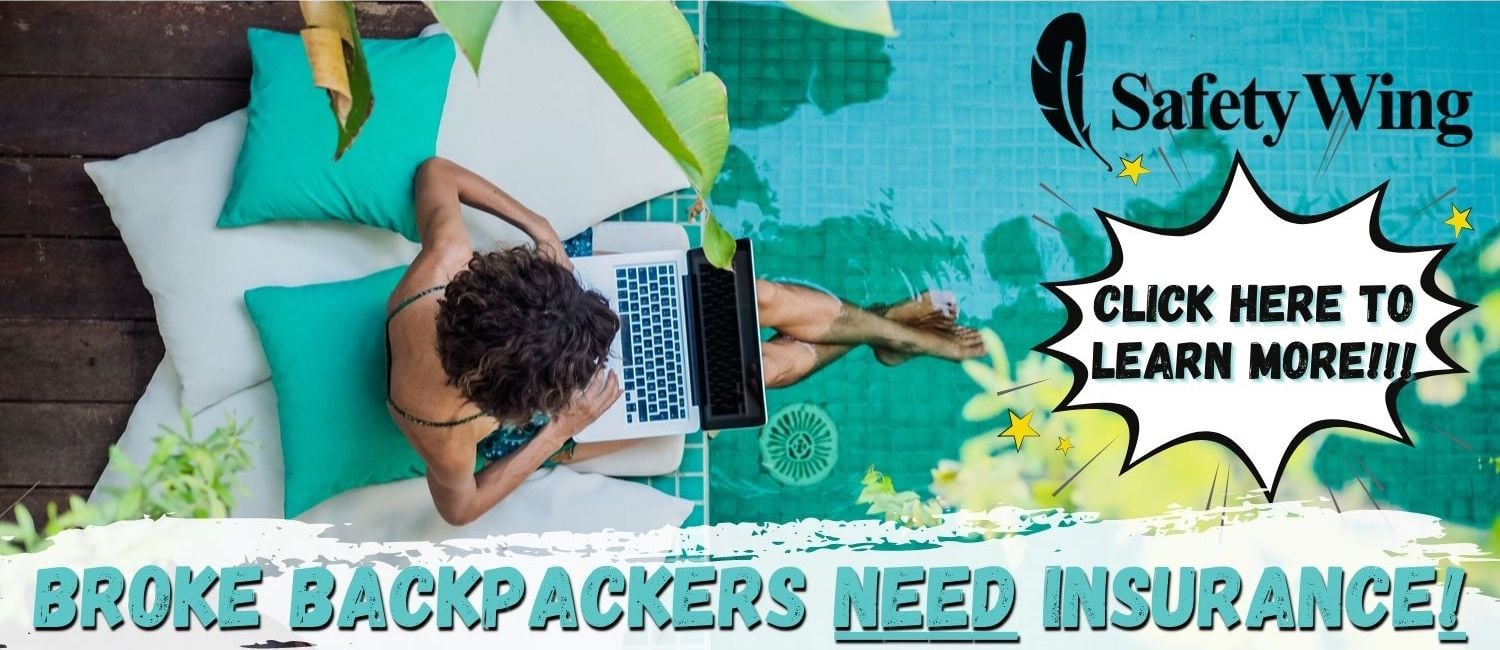 SafetyWing is cheap, easy, and admin-free: just sign up lickety-split so you can get back to it!
Click the button below to learn more about SafetyWing's setup or read our insider review for the full tasty scoop.
Final Thoughts on Villas in Madeira
Located in the remote Atlantic Ocean between Africa and Europe, Madeira has fast become one of the world's top island destinations for its remote beauty and opportunities for outdoor adventure. It perfectly balances relaxation and adrenaline, with plenty of activities to keep the whole family happy.
With some of the most dramatic ocean views and a geographical landscape which means most properties have ocean views, Madeira has some epic hikes and is packed with gorgeous villas suitable for all types of travelers.
Whether you're traveling solo and are looking for an affordable self-catering villa, are visiting with family or friends, and require a larger space with multiple bedrooms, there is a villa with your name on it.
Before you book your trip to one of the best villas in Madeira, make sure you have suitable travel insurance sorted for you and all those traveling with you. Especially for a location with so many adrenaline-pumping activities, there is always the chance that something might go wrong on the road, and it is always best to be safe rather than sorry.
---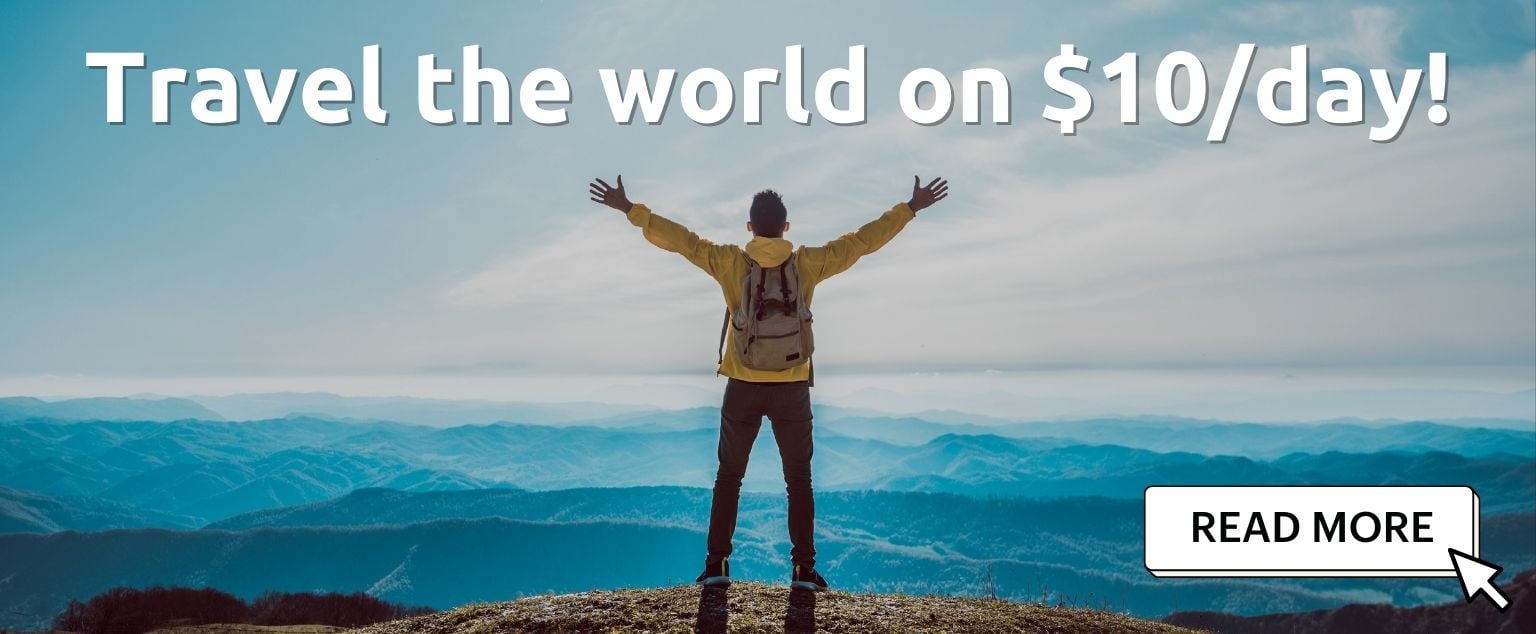 And for transparency's sake, please know that some of the links in our content are affiliate links. That means that if you book your accommodation, buy your gear, or sort your insurance through our link, we earn a small commission (at no extra cost to you). That said, we only link to the gear we trust and never recommend services we don't believe are up to scratch. Again, thank you!