Door County can be found on a peninsula that juts out onto Lake Michigan. Is it full of postcard-worthy coastal towns? Yes. Is it to be mistaken for a sleepy, backwater county in the middle of who knows where? Hell no! This place is full of adventure and has plenty of activities year-round, so you can have your cake and eat it too.
There are 10 waterfront towns in the area, which all serve as a perfect base to explore all that Door County has to offer, whether it's diving to shipwrecks, kayaking through island caves, or feeling like a bond villain on a high-speed boat tour.
If you're looking for something more laid-back, visit one of the local wineries or head to Lautenbach's Orchard Country for some delicious apple cider! For the ultimate experience, head to a pick-your-own orchard where you can pick fresh fruit right off the tree to bring home for later. Make sure to don a pair of wellington boots and bring a cute wicker basket (for the 'gram).
Staying in a VRBO in Door County will not leave you feeling disappointed, as there are incredible houses, condos, and lakefront cabins available! Keep reading to find out our favorite rentals in Door County:
Quick Answer: These are the Top 5 VRBOs in Door County
Overall Best Value VRBO in Door County
Overall Best Value VRBO in Door County
Cottage in Ephraim
> $
> 2 Guests
> Short drive to cafes and restaurants
> Forested area
Best Budget VRBO in Door County
Best Budget VRBO in Door County
Stylish condo in Egg Harbor
> $
> 4 Guests
> Outdoor patio
> Light and airy
Best VRBO for Couples in Door County
Best VRBO for Couples in Door County
Cottage with Private Pier in Secluded Spot
> $$
> 2 Guests
> Retro cottage decor
> Cast iron fireplace
Best VRBO for Families in Door County
Best VRBO for Families in Door County
Historical Cottage next to the Water
> $$
> 8 Guests
> Kayaks
> Walking distance to shops, restaurants, and galleries
Over-the-Top Luxury VRBO in Door County
Over-the-Top Luxury VRBO in Door County
Shorefront Estate in Egg Harbor
> $$$$
> 18 Guests
> Lakefront location with private pier and swimming ladder
> Heated garage with foosball and ping pong table

Unlock Our GREATEST Travel Secrets!
Sign up for our newsletter and get the best travel tips delivered right to your inbox.
What to Expect from VRBOs in Door County
Door County VRBOs range from cute little cottages, to quaint condos, to large lakefront houses. Rentals here have more of a "home away from home" feel without all the polish of a professionally done place. They can be found dotted throughout the county, but most of them are (unsurprisingly) found in one of the 10 main towns. However, that doesn't mean if you're looking for seclusion and privacy Door County isn't for you! There are plenty of one-of-a-kind rentals here that are set away from the crowd but still within easy reach of restaurants, shops, and attractions.
Pretty much all the rentals here are self-contained and come with a kitchen or kitchenette, dining area, and living space. If you're lucky you might be able to nab yourself a place with an open fire or a cast iron fireplace!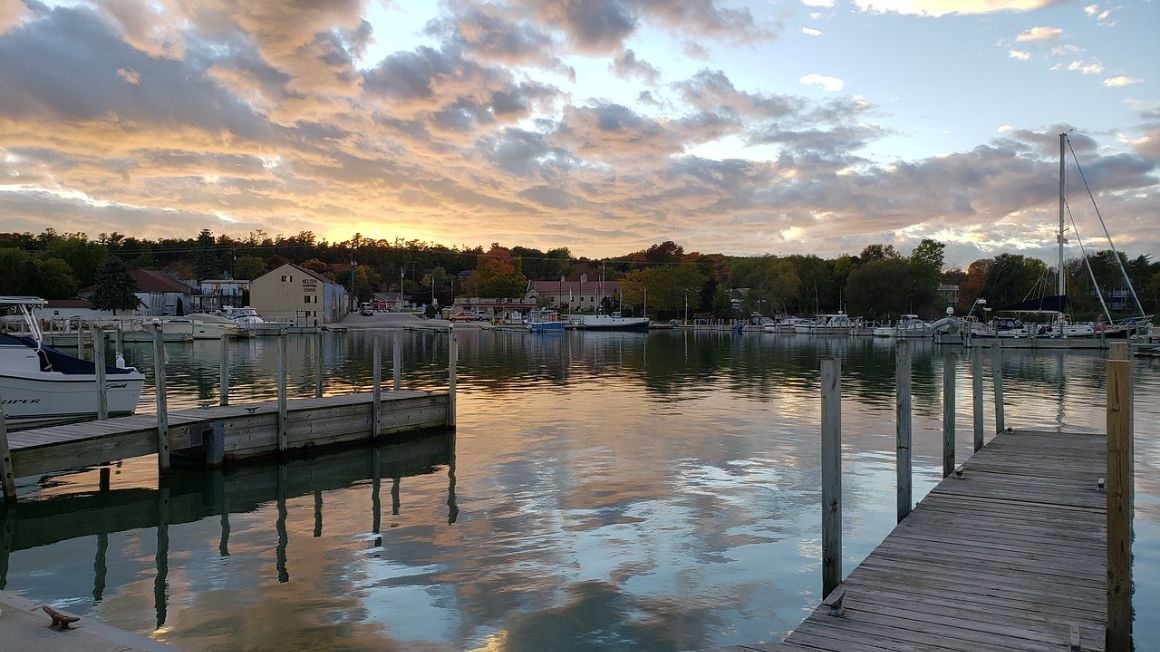 Cabins/Cottages
There are cabins and cottages for days in Door County, and they will live up to all of your expectations! They range in size so are good choices for couples, groups of friends, or families. Picture hand-hewn log cabins with rustic interiors and stone fireplaces, or cute wooden-clad cottages full to the brim with midwest charm. There are even a few A-frames in the mix too! Despite their quaint feel, you can be assured that they are well kitted out with modern-day appliances and facilities.
You will find them either close to the lake or on the lakefront itself, with the largest concentration of them in the most popular towns of Sturgeon Bay, Egg Harbor, and Fish Creek (how adorable are the town names here?). Cabins and cottages are our top choice for couples looking for a romantic getaway as they tend to offer a lot of privacy. Door County is full of open space so there will be some distance between you and the neighbors.
Houses
Houses are some of the best VRBOs in Door County, especially for families and groups of friends! If you're looking for a longer stay these are the way to go too since they will have everything you're used to back home. Houses always have fully equipped kitchens, so if you're looking to save some money by cooking at home, have no fear as this can be easily done!
You will find houses scattered along the coastline in Door County, with a large number in the main urban areas. Lots of them are super close to the water, with a few having their own lakeside deck or private pier! Like cottages and cabins, these rentals have their own delightful charm that reflects the countryside surroundings. Many homes have stylish wooden cladding that takes on a more 21st century feel when couples with large feature windows, and several possess stylish fireplaces.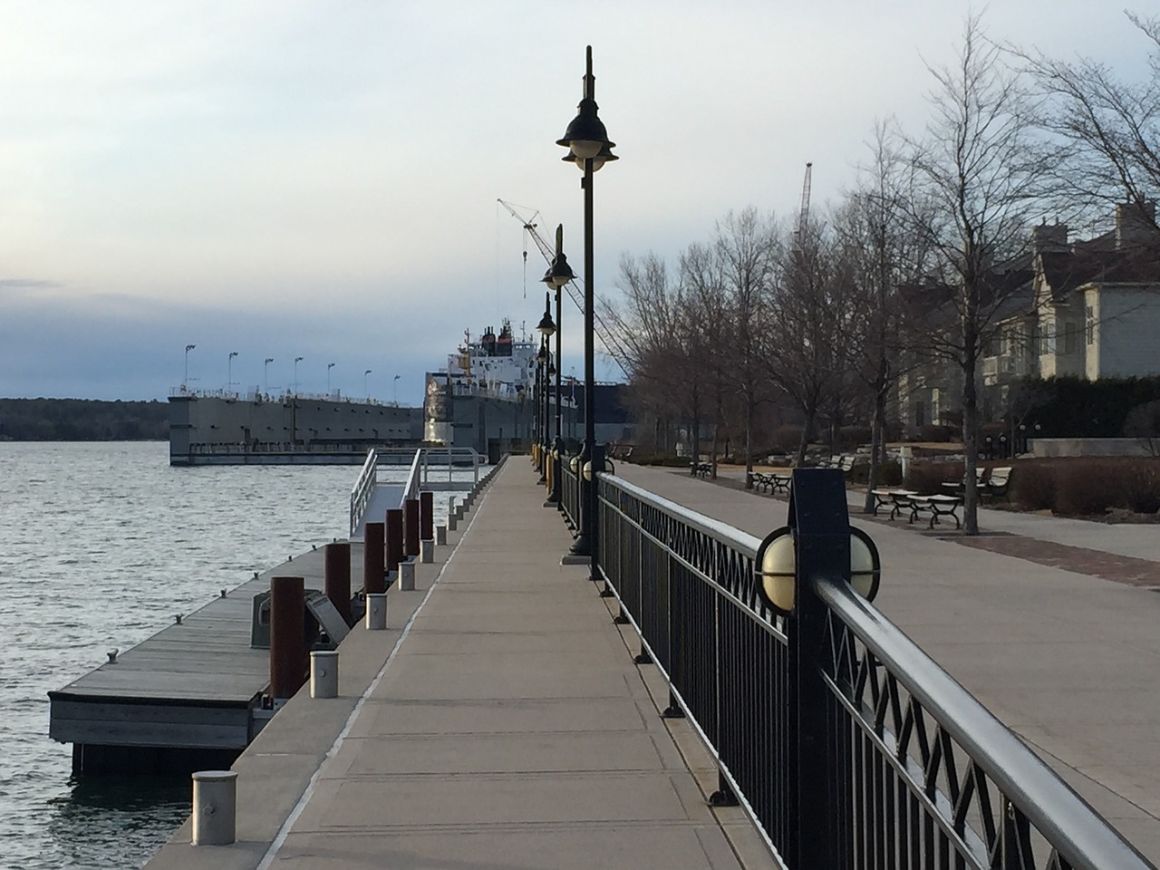 Condos/Apartments
Condos and apartments are probably the least abundant VRBOs in Door County, but that doesn't mean there isn't a great selection available! This type of rental has a bit more of a polished (yet uber stylish) look about them, as they're in relatively new buildings. If you're a city dweller who just loves the idea of a country vacation but would like to come home after a long day at the lake (or winery), to familiar and comfortable surroundings, then condos are for you! These are also a fantastic choice for couples or a small family who would like to be in the thick of all the action in the town centers.
Why Stay in a VRBO?
We think VRBOs are awesome and we know you will too! Aside from some kickass accommodation, here are some reasons to book through the VRBO platform:
Local Experience: When you book through VRBO your local host will be more than willing to divulge some of Door County's best-kept secrets with you!
Staying Long Term: Hosts on VRBO can set up long-term discounts, so you can spend the entire summer living it up by the lake, and with some money off too. How great is that?
Safety: VRBO vets both the host and the guest, with customer support available 24/7 in case any issues arise. If the worst comes to worst, they'll find you somewhere else to stay.
Last-minute Booking: Spur of the moment road trip? VRBO has you covered and will let you know what properties are available that very same day! Yes to spontaneity!
The 20 Top VRBOs in Door County
Take a deep breath and get ready to have your mind blown.. Here they are, our top 20 Door County VRBOs.
Overall Best Value VRBO in Door County | Cottage in Ephraim
2 Guests
Short drive to cafes and restaurants
This little cottage is adorable and cozy! It has a great location, giving off the impression it is very secluded because it is surrounded by trees, when in fact it is just a short drive to places to eat! If you don't want to eat out, prepare your food in the fully equipped kitchen and enjoy it on the lovely outdoor deck!
Ephraim Public Beach
Peninsula State Park
Eagle Harbor
Anyone who thinks you can't live it up in style and still save your pennies has clearly never booked through VRBO.com! This affordable condo is super stylish and modern, with a ton of space, floor-to-ceiling windows, and doors, plus a private patio with seating. What's really amazing though, is that even at this price, you are still within walking distance from all the Egg Harbor attractions! Who said budget travel can't be cozy?!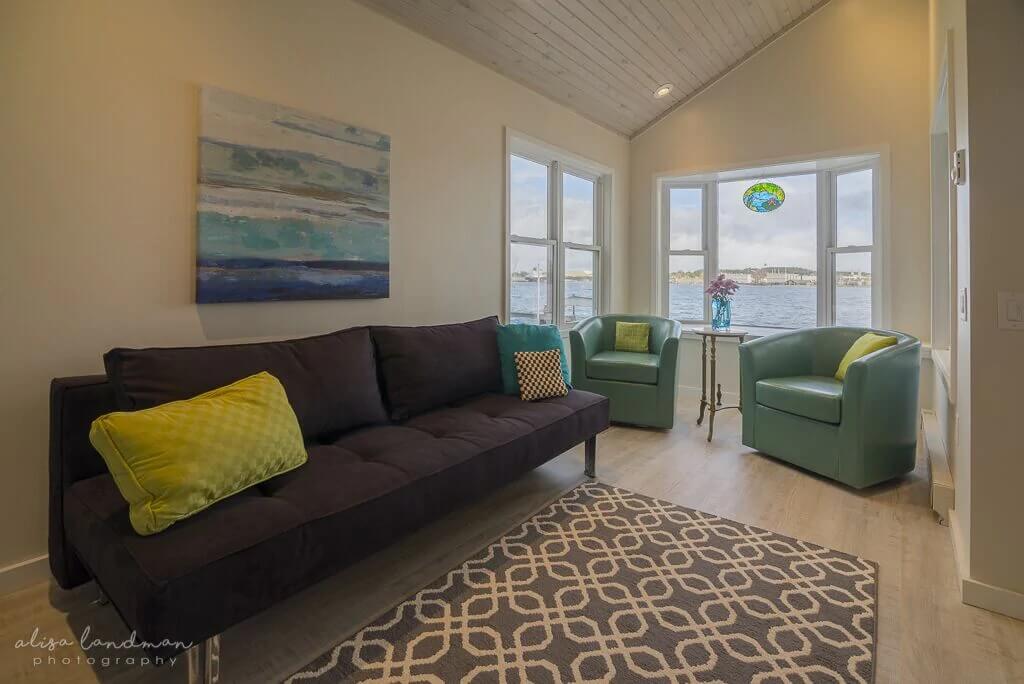 $
Walking distance of all Sturgeon Bay attractions
1-2 Guests
Right on the water!!
This adorable cottage in Sturgeon Bay makes a great base for solo travelers. It is right on the lakefront so you can fall asleep to the sound of the waves lapping at the deck below. If you're into water sports, the deck provides the perfect kick-off point for kayaks and SUPs which can be rented in the main town. The central location is a real bonus, as you can easily walk to restaurants, shops, and parks – a great spot for solo female travelers!
Is This the Best Travel Pack EVER???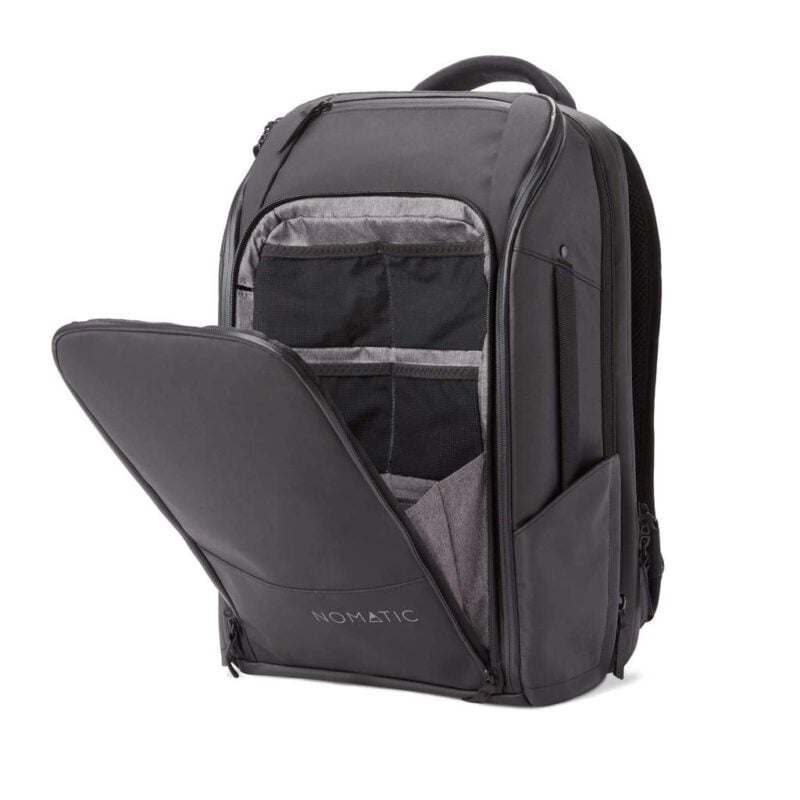 2 Guests
Retro cottage decor
Need some alone time with your other half? This cottage in Ellison Bay is a great choice for those of you looking to rekindle the romance. It is in a more secluded area of Door County and has everything you need right there for the perfect stay including a beautiful cast iron fireplace and some stylish retro decor. Staying here you're just a short two miles to the hubbub of the nearest town where you'll find cafes and restaurants.
$$
Walking distance to shops, restaurants, and galleries
This beautiful cottage dates back to the 1850s and is right across the street from the water! It has a spacious interior with lots of comfy seating for the whole family. Keep the kids entertained with swimming, free use of the two in-house kayaks, and a whole stack of board games. End your evenings around the barbecue in the garden, before heading inside to watch a family movie in the living room.
$$$$
Heated garage with foosball and ping pong table
18 Guests
Lakefront location with private pier and swimming ladder
An estate is definitely the only way to accurately describe this VRBO in Door County. The place is luxurious all around, from the private shorefront, heated garage/games room, and gourmet kitchen. There is even a sub-zero refrigerator because it seems that ice-cold beer is just too basic… Each bedroom has its own en-suite and there is a spacious coach house that functions as a fully separate apartment.
Okay, this one is for all of you out there who aren't looking for midwest vibes and want to stay somewhere comfortable and chic. This modern condo is absolutely gorgeous and has prime views of Sister Bay right from the living room! The master bedroom is to die for with a huge bed and sliding doors that open up onto a bayview balcony! It is in a great location close to restaurants, shops, and the beach.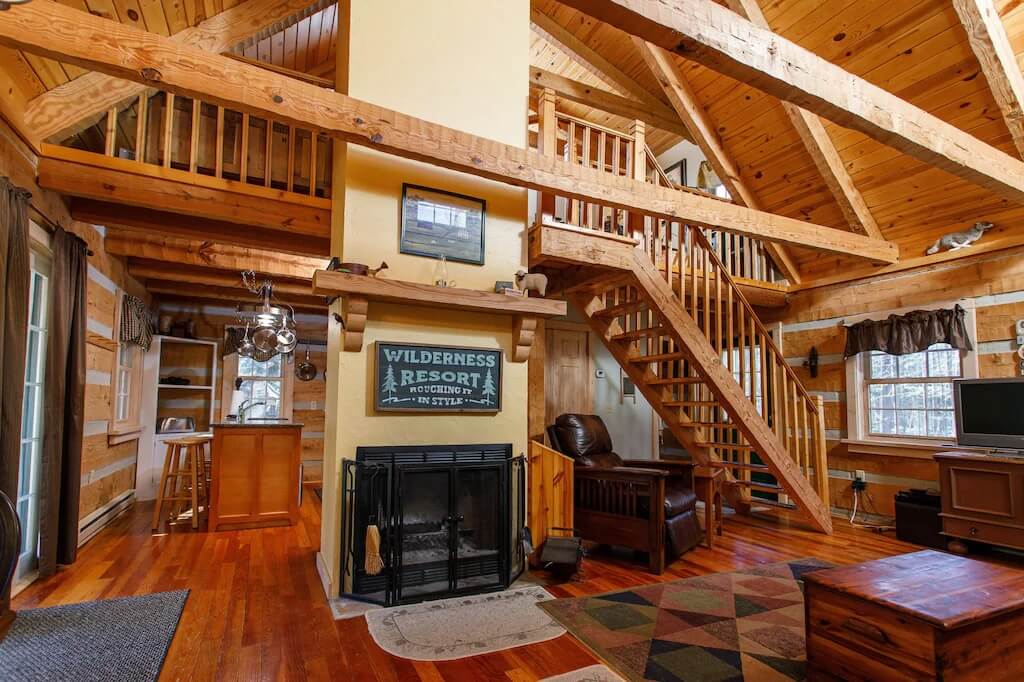 4 Guests
Warm wooden interior
This cabin is the perfect place to disconnect from it all and spend time with loved ones and family. We mean this in a literal sense as the place doesn't have any wifi so if you want a real forest retreat, this is it! There is a full kitchen to cook your meals in, plus a fantastic Weber grill for a night of hotdogs and burgers. Once the sun sets gather around the firepit for a round of spooky stories before retreating to the safety of the cabin.
$$
Outdoor deck with seating
One of the best VRBOs in Door County, this place is house, meets log cabin, meets A-frame! The high vaulted ceilings in the main room coupled with the numerous windows bring a modern touch to the otherwise rustic atmosphere. The bedrooms are spacious yet have a snug feeling to them, and the lovely outdoor deck at front is a perfect gathering place for the whole group. The house is just a short walk to the Marine at Rowleys Bay which is the perfect starting point for a day of adventure on the lake!
This lovely restored 1930s bungalow is in a fantastic location in Sturgeon Bay and is within easy distance of great restaurants, museums, and parks. We adore the vintage feel of this place which shines through in the carefully curated antique furniture, decor, and artwork. During the summer, fire up the grill and get the fire pit going for some late nights. In the winter months, hunker down in the comfortable living room and enjoy some hot cocoa.
$$
Outdoor seating and fire pit
Let's be real here, no cabin in the woods is complete without some outdoor seating and a fire pit to cook s'mores. Thankfully, this incredible hand-hewn log cabin has exactly that! Not only is this place nestled in just over three acres of protected forest land, but it is actually just a short drive to Door County attractions and the main town! It has beautiful feature windows which bring a taste of the surrounding outdoors inside plus gives the living area a ton of natural light.
4 Guests
Whirlpool bathtub
This cottage in Snug Harbor is the perfect place to base yourself for a weekend of fun by the lake. One of the best Door County VRBOs, it is equipped with everything you could need for your stay, including a kitchenette, dining area, and a whirlpool bathtub (who doesn't need a whirlpool bathtub in their lives?). The view from the room and front garden is just what the doctor ordered, you can sit with your morning coffee while watching the boats pass by.
Stunning Cabin for Honeymooners in Door County | Secluded A-frame Cabin
2 Guests
Secluded location only 5 minutes drive from Sister Bay
We can't think of a better way to spend your Door County honeymoon than in a gorgeous A-frame cabin surrounded by your own private forest! This place has everything you need for the most romantic stay, including a beautiful, cast iron fireplace to cozy up next to during the cold nights. There is a lovely open deck with seating where you can sit back, take in the scenery, and imagine your next 50 years together.
Best House in Door County for a Group of Friends | Log House with Hot Tub
$$
Rustic style with modern amenities
Start calling up your friends because this place is amazing. If you want log cabin vibes but with all the comforts of the modern-day (state-of-the-art kitchen, flat-screen TV, etc.) then we have found you THE perfect place! The huge, open-plan kitchen, living, and dining area is a great place for the whole group to spend some quality time together, but the thing we really just can't get over is the dreamy hot tub nestled on the wrap-around deck.
There's just something about these Door County VRBOs that make us want to pack up and start a new life in the country! This lakefront house is no exception, with its blend of wooden floors and ceilings, large feature windows, and statement stone fireplace. It has an incredible wooden deck with a fire bowl perfect for drinks on a Saturday night, and a large kitchen great for cooking Sunday morning breakfast.
This beautifully decorated condo is spacious and bright. It probably has one of the best views in Sister Bay as it overlooks the town and the water. There is a large, open plan kitchen, living and dining area, plus three amazing bedrooms. All of this and it's within easy reach of the town's restaurants, shops, and bars. It's a steal!
7 Guests
Shabby chic interior
We've found you the perfect rental for your long-term stay. This cottage is one of the best VRBOs in Door County! It is in the village of Ephraim which is a hub of activity with plenty of nice restaurants, shops, and galleries within walking distance. You'll love coming home to this cozy cottage with its charming decor.
4 Guests
360-degree views from the top floor
This place is truly unique and can only be described as a cylindrical stone tower or some sort of castle turret. It is super cool and has 360-degree views from the top floor of all the surrounding countryside and ocean below! The secluded location makes it perfect for stargazing, yet it is just a short drive to the nearest town.
7 Guests
Located in 12 acres of forest
We love this house and think it's totally worthy of the title of Most Beautiful VRBO in Door County! The whole place is like a work of art with Norweigan murals adorning the space. The breathtaking Scandanvian decor makes it difficult to know which way to look as there is so much going on (but in a good way). It is Door County's version of a fairytale cottage!
$$$
Large yard with fire pit
The ultimate party house, this Door County VRBO has got "best party ever" written all over it! The main room is large and has plenty of room for all the guests, plus a fully equipped kitchen should you decide to cater everything yourself (yikes!). The outdoor deck is large enough that if you want to take the party outside, you can!
Don't Forget Your Door County Travel Insurance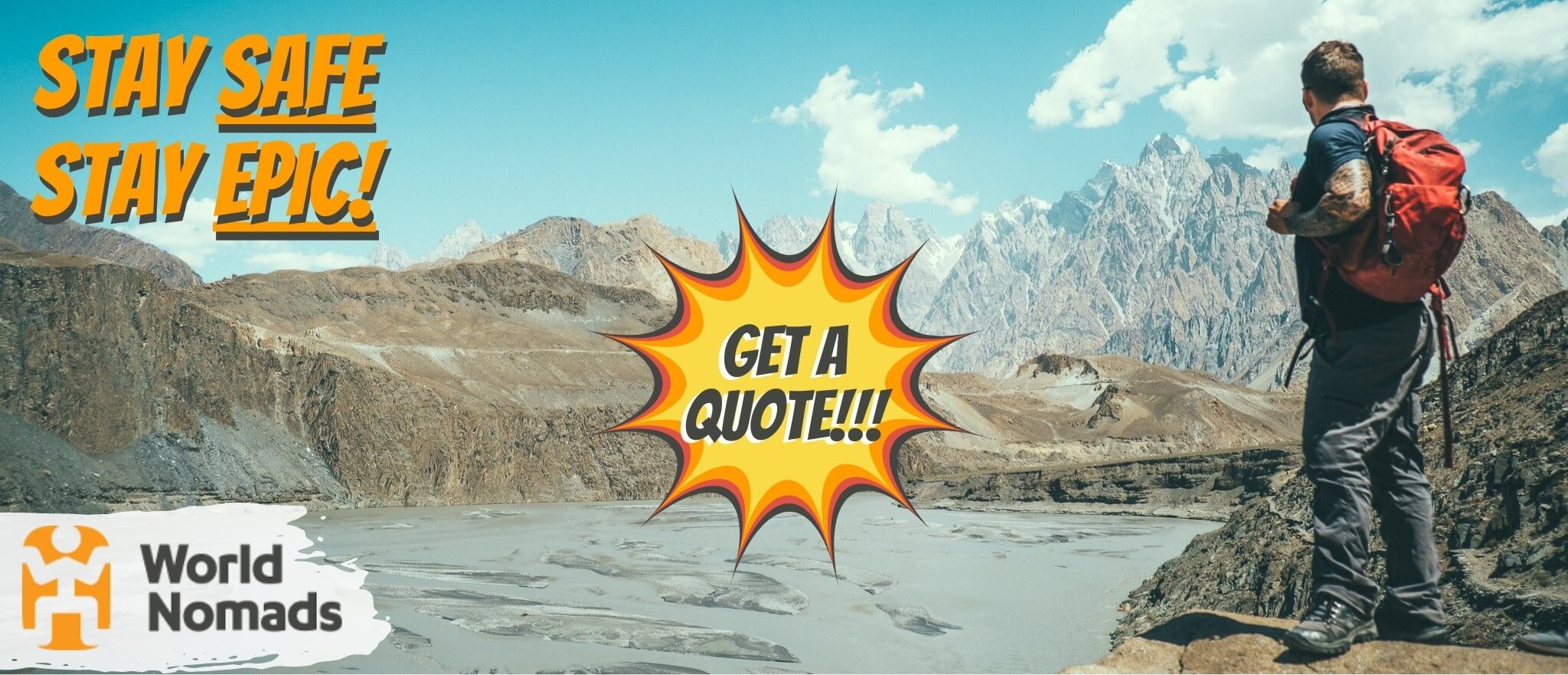 World Nomads' mission is to support and encourage travellers to explore their boundaries. They offer simple & flexible travel insurance, and safety advice to help you travel confidently.
They've been doing it since 2002 – protecting, connecting, and inspiring independent travellers just like you.
Get a quote below or read our in-depth review!
World Nomads provides travel insurance for travelers in over 100 countries. As an affiliate, we receive a fee when you get a quote from World Nomads using this link. We do not represent World Nomads. This is information only and not a recommendation to buy travel insurance.
Final Thoughts on Door County VRBOs
Door County VRBOs are truly stunning! There's a huge range of properties, but somehow each of them feels as if they're really channeling the Door County Spirit! We love the mix of cabins, cottages, condos, and houses, each bringing something a little different to the table, so whatever you're looking for you will be sure to find it.
---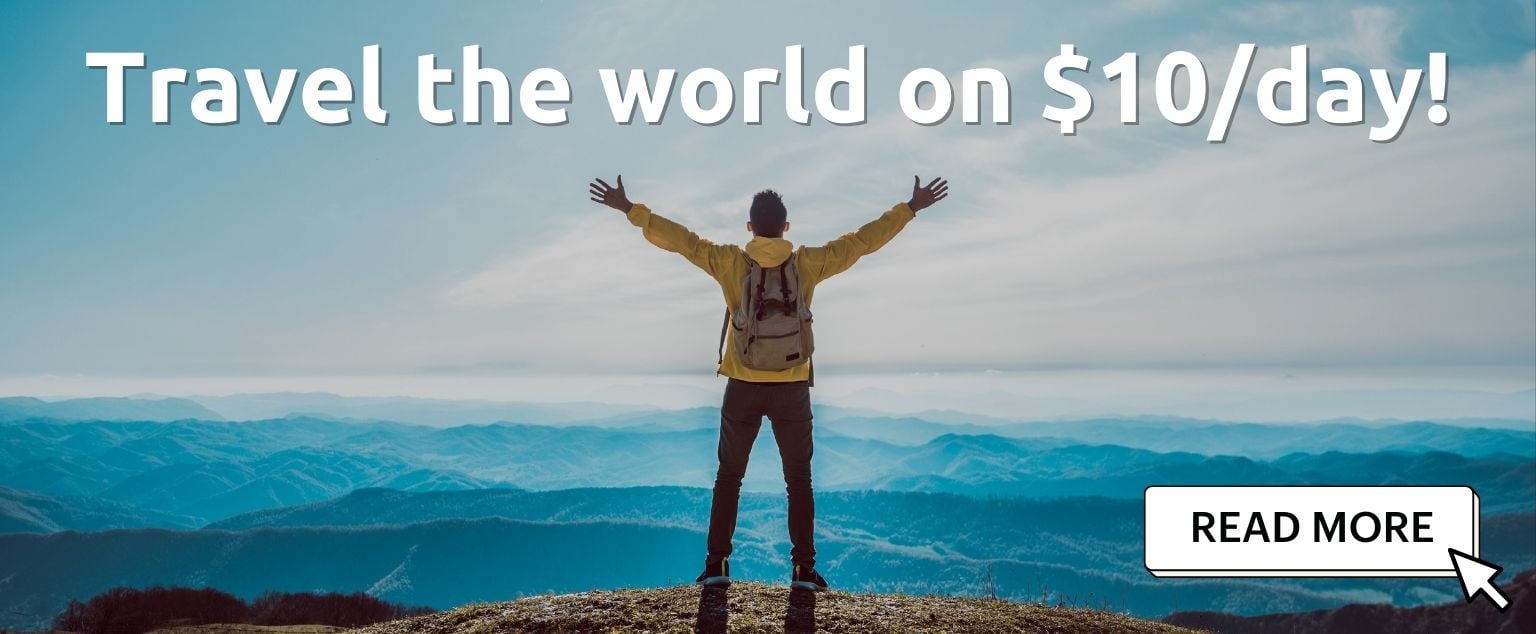 And for transparency's sake, please know that some of the links in our content are affiliate links. That means that if you book your accommodation, buy your gear, or sort your insurance through our link, we earn a small commission (at no extra cost to you). That said, we only link to the gear we trust and never recommend services we don't believe are up to scratch. Again, thank you!