Dubai is a global city in the Middle East and a business hub! If you travel frequently, you will most likely find yourself in the metropolis at some point in your life.
As a popular layover destination, Dubai sees millions of travelers passing through its airport on an annual basis. Next time you find yourself in Dubai – whether for a layover, a weekend, or a longer vacation – make sure that you explore what the city has to offer!
I've put together a few nuggets of essential information to help guide your weekend in Dubai. With golden tips on the best places to stay, how to get around, and the coolest places to visit – your weekend in Dubai is guaranteed to be one to remember!
So, pack your bags and get ready to explore all that the luxurious Middle Eastern city has to offer!
Know Where to Stay in Dubai
If you're only in Dubai for the weekend, the last thing that you want to do is waste time going back and forth between your activities and accommodation! Make sure that you know where to stay in Dubai before you start your travels so that you have more time to explore!
How do you decide where to stay in a new city? When choosing where to stay in Dubai, it's important to consider the location, the view and the vibe.
Here are a few of my recommended accommodation choices, with something to suit everyone's budget. If your budget is super low, you might have to stick with one of Dubai's awesome hostels – but don't worry, they enjoy the best reviews worldwide!
Enjoy staying just outside of the hustle and bustle at this villa near the beach! It's just footsteps from the sea and provides beach towels during your stay. Hang out in the large living space right outside your bedroom door that is decked out with large comfy sofas, coffee tables, books, board games and a massive TV with both cable and Netflix. Perfect for couples looking to have a lazy weekend stay.
Top location near attractions such as the Dubai Mall and the iconic Burj Khalifa
Facilities include a swimming pool to cool down, a fitness center and a restaurant
he fully-serviced kitchenette gives guests the opportunity to whip up quick meals while on the run!
The Emirates Grand Hotel Apartments offers the perfect launchpad for a Dubai adventure! Travelers can enjoy all of the comforts expected from a hotel, such as air-conditioning, balcony views and even a hot tub, without breaking the bank!
Excellently located in the heart of Dubai – just a stone's throw away from popular attractions!
Rooms are furnished with incredibly chic and stylish design in a comfortable setting!
The hotel offers breathtaking views of the city's landscape and tourist attractions!
The ultimate hotel for those with a little more to spend, the Burj Residences put guests on the doorstep of the most visited Dubai attractions such as the Dubai Fountain, Dubai Mall and Burj Khalifa!
Our Favorite Hostel – At The Top Hostel
Perfectly located in the bustling Dubai Marina district – with the ultimate view from the 66th floor!
Reception is manned by the super friendly staff to help with all your needs on a 24/7 basis
The hostel in Dubai prides themselves on exceptional cleanliness, meaning guests can always expect a very clean environment!
At the Top Hostel ticks all the accommodation boxes for the budget traveler – it is affordable, central and clean! Conveniently surrounded by nightlife, easy transportation options and a beautiful view; it's no wonder that this hostel is our top choice!
Know How to Get Around in Dubai
The easiest (and most affordable) way to get around the city is the Dubai Metro, which you can use after purchasing a Nol smart card. The metro conveniently runs from the airport and follows a route to all the top destinations across the city. World-class and fully automated, the Dubai Metro can safely get you to all of the city's landmarks starting at a cost as little as USD 1.
Dubai has nearly 1,500 buses circulating throughout the city. The air-conditioned vehicles are a cool reprise from the heat of the city, and super affordable! You can use your Nol smart card for the buses as well.
If public transport is not your thing, there's a variety of other transport options.
Renting a car is a great mode of transport if you want the flexibility of being able to travel wherever you want, whenever you want. It's important to note that if you do want to rent a car, you need to have a valid international driver's license, a passport, a credit card and third-party insurance!
Most people prefer taxis. Taxis in Dubai are reasonably priced and can either be scheduled with a phone-call or hailed as you need them. If you want a slightly more cultural transportation option, be sure to explore the dhow boats and abras, which are available on the Dubai Creek.
The nightlife in Dubai is something special! With most of Dubai's attractions staying open late into the night, there is something fun for everyone! From sipping drinks on rooftops to watching the Dubai Fountain Show!
Fun fact: Fridays and Saturdays are considered the weekend in Dubai, and Friday is a religious day, so not everything will be open for business! The city is bursting at the seams with fun stuff to do and see! Sunday is a working day, so everything will be open for business.
The Marina
Dine at any of the many incredible restaurants in the area such as La Carnita and Le Frenchy
Enjoy a few drinks and a party at the famous Barasti Beach Bar
For a free night out, stroll along the marina and absorb the beauty of the city at night
The atmosphere at this man-made canal is as festive at night as it is during the day! With many different clubs, bars and restaurants in the area, you'll be hard-pressed to choose your favorite! But, you can ponder your experience as you wander along the water and observe the illuminated skyscrapers.
Irish Village in Al Garhoud
This is one of the only areas in the city that permits drinking!
There's a variety of different pubs that offer good food and live bands.
The nightlife area got its name because of its high employment of Irish expats!
Although it may seem odd to visit an area named after another country, the Irish Village is one of the only areas that permit drinking! With a myriad of clubs in the area, it's considered one of the top nightlife areas in Dubai!
Downtown Dubai
Watch the exquisite light and water display of the Dubai Fountain show lit up!
Sip on a cocktail at the At.Mosphere bar and watch the city lights sparkle from the 122nd floor of the Burj Khalifa.
Take in the mesmerizing view of the Arabian Gulf at night by visiting any of the many rooftop bars in the area.
Downtown Dubai offers a host of nighttime activities and opportunities to see the city in a different light. You can enjoy a drink on one of the many rooftop bars, or visit one of the other attractions nearby, such as the Dubai Fountain or Dubai Aquarium which stays open until midnight!
While Dubai boasts countless opportunities to indulge in delicious Middle Eastern cuisine, the city is also fondly known to host a variety of different global restaurants and tastes. A weekend is not enough time to explore all of Dubai's flavors, but here are a few places to start!
Markets
An open-air market, Ripe Market is one of Dubai's favorites! Boasting the best food trucks and organic produce
The Farmer's Market, located in the shade of the Burj Khalifa, sells the country's best local produce sold by organic farmers
The Dubai Spice Souk is a traditional market offering the ultimate sensory sensation!
Markets are one of the most exciting ways to explore the best of Dubai's local foods and produce! Be prepared to haggle, as this is the nature of many stalls, and don't be afraid to shop around – there are countless delicious snacks and ingredients to try!
Best Restaurants
For out-of-this-world seafood, visit Pierchic, a romantic spot located on a pier along the Arabian Gulf
The Buddha Bar is one of Dubai's top restaurants, boasting the most delectable oriental cuisine!
Amaseena on the Dubai Marina offers guests world-class Lebanese and Middle Eastern cuisine in an unparalleled setting!
Dubai's cuisine is some of the finest, and what better way to get your tastebuds exploring the exotic flavors than at some of the best restaurants in Dubai! With a rich global cuisine culture, you can be sure to enjoy the most incredible dining experience to suit your tastes!
Best breakfast in Dubai
The Boardwalk overlooks the Dubai Creek Marina and offers waffles and almond pannacotta – be sure to book for a Saturday morning!
Tom & Serg is loved for whipping up a delicious traditional breakfast daily – with a twist!
Levee celebrates good, wholesome food and offer tasty Mediterranean breakfasts amid beautiful scenery.
They say that breakfast is the most important meal of the day, so be sure to start your day properly and fuel yourself for your weekend adventures! Dubai is not short on cafes and breakfast bars, so try to make sure you pick your spot in advance to make the most of your day!
Despite the heat in Dubai, there are always people out and about taking part in various sporty activities. From communal get-togethers to some of the slightly odd sports in Dubai; there's an activity for every sports fan!
Free yoga classes
Al Barsha is a popular area for hosting outdoor yoga classes on various days, at various times
Many of these classes are free, offering a great way to exercise and see a new area on a busy weekend
Make sure you choose a sunset or full moon class for something extra special!
Yoga is an incredibly popular activity in Dubai, with many different organizations hosting free outdoor classes for people to take part in. This is a great way to exercise while seeing the city – on a budget! For an extra-special experience, look out for the full moon classes!
Camel-riding
Choose from a variety of different camel-riding experiences in Dubai – from an overnight experience to an hour-long outing!
Explore the deserts of the Middle East or go for a ride along the beach
Boost your experience by going for a quad-bike ride or sand-boarding before or after!
Camel-riding is synonymous with the desert landscape, and a popular activity to take part in when in Dubai. If time allows, a desert tour gives you the full experience of an Arabian night but if limited to a weekend, you can always ride a camel on the beach! Book a tour right here.
Go skiing!
yup, skiing and snowboarding in the desert!
have a whole day of fun in actual snow
go on the snowball ride and the bobsled
This ski park is truly unique. You can find it right in the middle of the desert, but there's no sand in sight. Rent skis or snowboards at the entrance, as well as warm clothes and helmets. It's definitely worth a visit. Make sure to book your ticket here.
Watch a professional cricket game
Along with golf and football, cricket is one of the most popular sports in Dubai
Dubai International Cricket Stadium hosts regular professional matches – from ODIs to Twenty20s
The stadium is lit by a special system of lighting called the "Ring of Fire"
If cricket is one of your favorite sports to watch, then you may be in luck and find a big match scheduled for your weekend in Dubai! From international matches to more local friendlies, the multi-purpose stadium always has something exciting on the go!
With such an incredible global influence, Dubai provides a wide variety of different musical experiences. Pop into one of the many bars that feature live bands, or book a ticket for a show at one of the beautiful theatres – the city is yours to explore!
Madinat Theatre
State-of-the-art venue hosting large scale shows from dancing, music and theatrical performances
Located in the heart of the bustling Souk Madinat Jumeirah
Madinat Theatre promises a sophisticated, memorable experience!
Madinat Theatre hosts unforgettable shows ranging from musical productions to the likes of comedy shows! The 442-seat theatre resembles the architecture of an Arabian citadel, creating an intimate environment for the ever-changing scheduled shows. Make sure that you book a ticket online!
Maxx Music Bar
Maxx Music Bar is loved for their cocktails, house beverages and, of course, their live music!
Dance the night away with live music every day of the week!
A venue with plenty of character, the bar even hosts Karaoke nights on Friday – an opportunity to steal the show perhaps?
Maxx Music Bar is popular as a down-to-earth venue that offers great music, tasty drinks and "food that hits the right notes"! If live music in a relaxed and fun environment is right up your street, then you should definitely add Maxx Music Bar to your itinerary for your weekend in Dubai!
Hard Rock Cafe
The international brand is one of the best venues to listen to and enjoy live music in Dubai!
The venue offers a wide variety of tasty dishes to munch on while rocking your body to the music
Need some fresh air? Step out onto the beautiful outdoor terrace for a romantic break
Hosting travelers and Dubai locals alike for more than 20 years, Hard Rock Cafe in Dubai Festival City Mall is a favorite for live music! Rock-n-Roll themed, the venue promises a night of fun as late as 2am! Don't forget to pop into the Rock Shop for some memorabilia!
Wondering how big your Dubai Travel Budget should be? The city is known for its over-the-top restaurants, lifestyles, and attractions, but that doesn't mean the city isn't visitable for backpackers. There are plenty of ways to keep money in your bank account while exploring Dubai!
10 Other Awesome Things to do in Dubai This Weekend
While the above suggestions cover some highlight spots to visit, there is so much more to explore in the Arabian city. Here are some bonus activities to do if you find yourself in Dubai for the weekend.
#1 – Visit the Burj Khalifa
If none of the above-suggested activities leads you to the Burj Khalifa, it should definitely be added to your Dubai itinerary at some point!
Revered as the tallest building in the world, the Burj Khalifa reaches an incredible height of 828 m! You can either visit the At the Top Sky Lounge (148th floor), reach the observation deck for a panoramic view of the city (124th floor), stop on the 122nd for a delicious meal, or ogle at the height of the building from the ground!
To make your life a bit easier, you can book your tickets to the 124th floor right here in advance.
#2 – Shop 'till you drop at Dubai Mall
Did you know that the Dubai Mall covers an area the size of 200 football pitches? The Dubai Mall is not only one of the top big shopping malls in the city, but it offers a near-intimidating number of boutique stores, but also a host of fun and exciting activities for the whole family!
In addition to the over 1,200 shops and 150 restaurants, the big shopping mall is also home to the popular Dubai Aquarium and indoor theme park (among other attractions).
Although the mall is huge, be sure to pop past the indoor fountain and take a photograph!
#3 – Explore the Palm Jumeirah
The Palm Jumeirah is one of Dubai's most iconic aerial sights! The man-made island, which is architecturally designed to outline the shape of a palm tree, is the attraction that coined the phrase "only in Dubai".
One of the largest artificial islands in the world, the Palm Jumeirah is home to a wide array of restaurants, shops and hotels. Transport to the island is easily accessible so there is no reason not to add the Palm to your list of stops!
Most people visit the Palm Jumeriah to skydive over the incredible manmade structure, which is certainly the best view to see it in all its glory. But before you go jumping out of a plane, make sure to check out this essential information about sky diving to find out whether it is for you.
#4 – Dubai Creek
Of all of the places in Dubai, Dubai Creek is the one place that is constantly bustling with activity! Considered the real heart of the city, the creek is a vibrant area that connects locals and travelers alike to the frequently visited souks.
For a traditional Dubai experience, hop on board an abra to cross the river. You can do this for as little as USD 1!
For a more luxurious experience, you can book a cruise or dinner on a dhow and float along the creek, taking in all of the beautiful sights that surround you!
#5 – Hit the waves on Kite Beach
If you are an adventurous, outdoor type, then a visit to Kite Beach is a must! Loved as Dubai's neighborhood beach, Kite Beach offers is the top spot to try a variety of beach sports. If volleyball or kitesurfing is not quite your thing, then you can always grab a bite to eat and watch the athletes in action!
Be sure to keep an eye on the time as it is quite easy to get swept away in the activity on the beach and spend the whole day there!
#6 – Take a trip to the desert
When deciding what to do in Dubai for the weekend, a night away might not be your first choice as it can take up a lot of your time. However, a trip to the desert in Dubai is a surreal experience that will leave magical moments in your memory bank!
One of my favourite things to do in the desert is to go dune bashing, a term used to describe driving over the sand dunes in a 4×4 vehicle. Sometimes you get stuck, sometimes you go zooming down the dunes and it's thrilling and frightening at the same time. But most of the time, it's an incredible adventure.
Some trips are less than 20 minutes away from Downtown Dubai and offer all of the traditional perks of a desert tour – from camel riding and quad biking, to sand-boarding and barbecues. If you've chosen to rent a suitable car, you can even drive out to see the dunes yourself!
There are many hidden gems in Dubai, nestled in the heart of the desert, like Al Marmoom Oasis Camp, the Abandoned Village of Al Madam, or UAE's first National Park. Don't forget that headscarve to protect yourself from the sun and blowing sand.
#7 – Visit Al Fahidi, Bur Dubai
Journey through Dubai's heritage district, Bur Dubai, and discover one of the oldest areas in the country! Rich in culture, walking through the historic neighborhood offers a truly nostalgic experience. Be sure to visit the Sheik Mohammed Centre for Cultural Understanding where you can take part in various tours such as guided mosque visits.
Al Fahidi is one of the best ways to learn about Dubai's past, and learn to appreciate the Arabian culture even more!
#8 – IMG Worlds of Adventure
IMG World of Adventures is an incredible indoor theme park that offers a world of adventure, bringing your favorite character to life! Promising moments encompassed with speed and excitement as you explore a multitude of rides.
With something for everyone, there are Ben 10 and PowerPuff Girl themed rides for younger travelers and Marvel-themed rides for older visitors! There is a wide range of entertainment, with great restaurants available for a refreshing break before rushing back to the rides!
#9 – Dubai Aquarium and Underwater Zoo
No trip to Dubai would be complete without visiting the Dubai Aquarium and Underwater Zoo. Walk through the underwater tunnel and discover a variety of underwater species, including sharks!
The aquarium is one of the largest suspended aquariums in the world and has the capacity to hold 10 million liters of water! Don't forget to stop by the Underwater Zoo to further explore aquatic life. Look out for the likes of otters, piranhas and crocodiles! Rather than buying your ticket at the counter, you can easily book it in advance right here – saves you a lot of time and makes the whole experience even better!
#10 – Visit the gold souk
One of the traditional markets in Dubai, the gold souk is a famous spot to find over 250 gold shops. In addition, it is the Middle Eastern hub for jewelry supply in the UAE!
Wandering through the gold souk will give you a chance to experience the hustle and bustle of the area as you watch local trade and perhaps even do a bit of shopping yourself! The best time to visit is on a Saturday evening when all the locals are off work and the streets are alive.
Before choosing a purchase at the popular tourist attraction, take the time to familiarize yourself with the type of gold and the market price. This will help you find the balance between haggling for a deal while offering a fair price!
Traveling to a new city, especially for a short amount of time, normally requires a fair amount of preparation! Here I'll share a few of the more commonly asked questions about visiting Dubai to help you make the most of your weekend in the magical Arabian city!
Don't Forget Your Dubai Travel Insurance
ALWAYS sort out your backpacker insurance before your trip. There's plenty to choose from in that department, but a good place to start is Safety Wing.
They offer month-to-month payments, no lock-in contracts, and require absolutely no itineraries: that's the exact kind of insurance long-term travellers and digital nomads need.
SafetyWing is cheap, easy, and admin-free: just sign up lickety-split so you can get back to it!
Click the button below to learn more about SafetyWing's setup or read our insider review for the full tasty scoop.
Final Thoughts on a Great Weekend in Dubai
Whether you are in Dubai for a short weekend visit or an extended vacation, you are in for a treat! Hopefully, this list of the best places to go, things to do, and foods to try, has made you excited to explore the incredible city, and given you a launch pad to start!
The challenge is on – to tick off as many of Dubai's iconic attractions as possible! Luckily, many of the popular spots are located close to one another.
Keep the heat of the city in mind as you adventure from one spot to the next, and make the effort to stay hydrated and protected from the sun!
---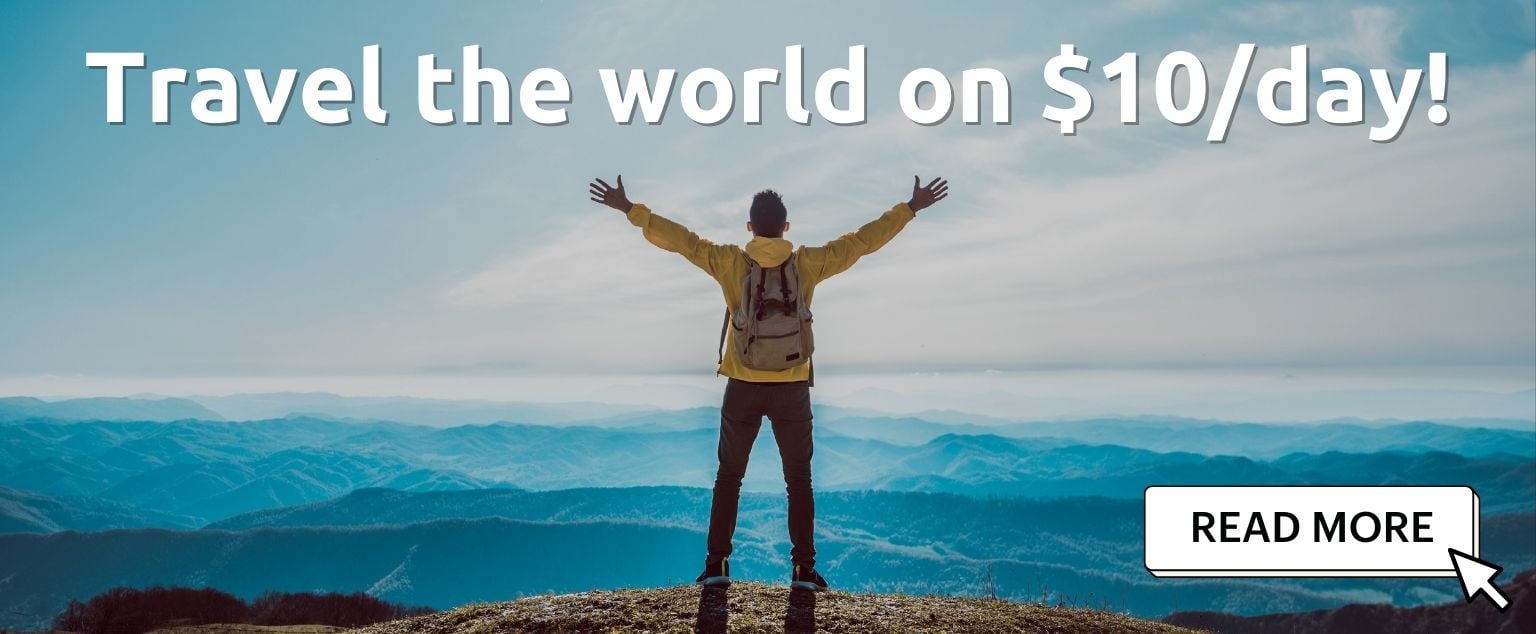 And for transparency's sake, please know that some of the links in our content are affiliate links. That means that if you book your accommodation, buy your gear, or sort your insurance through our link, we earn a small commission (at no extra cost to you). That said, we only link to the gear we trust and never recommend services we don't believe are up to scratch. Again, thank you!