Famous for glamorous shopping, towering buildings, modernity, and sheer excess, Dubai United Arab Emirates is one of the hottest spots in the Middle East right now. Surrounded by sandy desert with a long stretch of Persian coastline, there are plenty of opportunities for relaxation and adventure too. From sunbathing and swimming to diving and dune bugging, you'll never have a dull moment in Dubai!
However, Dubai's reputation for exclusivity can put many people off visiting.
There's no need to swerve Dubai completely though; not only are there some excellent activities that won't break the bank you can also hit many of the highlights in just a couple of days, meaning that your overall stay doesn't need to be for too long. Our expert team of travel writers have compiled this list of the best places to visit in Dubai so you can make the most of your trip without blowing your budget.
Spoiler alert: Some of the best places to visit in Dubai are sure to blow you away!
If Jumeirah Beach isn't quite your cup of tea, check out where to stay in Dubai before you scroll on down into the main Dubai attractions.
There are LOADS of areas just waiting to be explored, some of which have accommodation options too. If in doubt, I recommend staying on Sheikh Zayed Road, which is the longest road in Dubai and connects you to all the main tourist attractions.
Now, buckle your seatbelts, it's time to look at the best places to visit in Dubai. This is gonna be fun!
#1 – Burj Khalifa – Possibly one of the most important places to visit in Dubai
Why it's awesome: The Burj Khalifa, open since 2010 and built in just five years, is the tallest building in the world. Standing at 828 metres (2,717 feet) tall, it's certainly an imposing sight! The building is that tall that people on the highest floors can still see the sun several minutes after it has set for those at ground level!
Sleek metal and gleaming glass rise high into the sky, with fountains and a pretty tree- and bench-filled park at the bottom. It has several observation decks from where you can enjoy terrific views over Dubai, and there are places inside to eat, drink, and sleep.
Also across from the Burj Khalifa, you will find Dubai's hottest attraction, Sky Views Dubai. This adrenaline-packed activity that opened in November 2021 at the Sky Views Hotel allows visitors to slide down a complete glass slide from the 53rd floor to the 52nd floor. If you're not afraid of heights, this attraction is for you.
What to do there: Stroll through the park at the bottom of the tower and perch on a bench to enjoy the vibe and views. Snap plenty of pictures of the towering beauty before riding the high-speed elevators up to the viewing points. (It is advised to book tickets well in advance to avoid disappointment.) On Level 124 you can enjoy stunning views of the world at your feet, seeing even further afield thanks to the super-strength telescopes. One of the best places in Dubai.
Level 125 has a beautiful Arabian-style lounge with panoramic views. Dare to step out onto the interactive glass floor—it seems to splinter right beneath your feet, all while standing 456 metres (1,496 feet) above the ground.
You can also take a virtual tour to the very pinnacle of the tower and enjoy a virtual flight over the city. To really feel fancy, book one of the drinks packages, such as afternoon tea, a champagne sundowner, or nighttime cocktails.
#2 – Wild Wadi Waterpark – Easily one of the most fun places to check out in Dubai
Why it's awesome: Wild Wadi Waterpark is one of the best places in Dubai to beat the heat and cool down while having heaps of fun. The large outdoor water park has some 30 rides and attractions for people of all ages and it is themed around the story of Juha, an Arabian folklore figure.
There are several pools and places where you can take it easy and bask in the sunshine, and you'll also find great spots to grab refreshments and meals. Don't worry if you've forgotten any of the essentials as there's also a shop on site that sells bathing suits, goggles, towels, and anything else that you'd need for a great day. You can also buy a range of merchandise.
What to do there: Take a refreshing dip in one of the pools and relax around the park. Why not spoil yourself and rent a private cabana for your day at the water park?
Lazily drift along Juha's Journey, a mellow and laid-back lazy river, grab a ring to hurtle down the ring slides, bob in the turbulent waves of Flood River, and try to keep your head above water in Breaker's Bay, the biggest wave pool in the Middle East. This place is a great spot to spend some time on the weekend in Dubai, just make sure you bring your sunscreen!
Get your body-boarding and surfing game on at the Wipeout and Riptide Flowriders, one of just four such water attractions in the world. Feel an adrenaline surge at Tantrum Alley and Burj Surj, and climb the 32-metre (105-foot) tower of Jumeirah Sceirah to hurtle down the long and exhilarating slide at a breath-taking 80 km/h (50mph).
Watch as your kids have heaps of fun and giggles at Juha's Dhow and Lagoon, with tamer slides, water cannons, fountains, shallow pools, and more, all with a cool theme. Pick up souvenirs, enjoy a tasty meal, and have a great day to remember.
#3 – The Dubai Mall – A great place in Dubai if you love to shop!
Why it's awesome: The best place in Dubai to spend money, the elegant and huge Dubai Mall is perhaps the most famous shopping centre in the UAE, if not the Middle East. With more than 1,000 shops and a variety of entertainment and dining options, you should plan to spend a good few hours there.
Open since 2008, it is now one of the most-visited places across the entire world! You'll find men's, women's, and children's fashions, fragrances and cosmetics, toys, electronics and gadgets, homewares, and more. Oh, its also amongst the best places to go in Dubai for some free AC and the top place to visit in Dubai for free toilets.
If you're visiting in December and January, you'll be visiting around the Dubai Shopping Festival, which is where you can witness live music displays, light installations, daily fireworks d even a DSF Drone Light Show – that's how it's done in Dubai!
What to do there: Escape the heat and step into air-conditioned comfort to enjoy some high-class window shopping and retail therapy. Even if you don't plan on buying anything it's still well worth visiting the Dubai Mall to admire the sumptuous surroundings and fancy shop displays. Stores include Chanel, Chloe, La Perla, Aldo, Apple, Tiffany and Co, Clinique, Prada, Mac, Dior, Bose, Lego, Fendi, Gap, DKNY, Puma, Gap, Rolex, and many, many more.
Visiting with kids? No worries! Take them to Kidzania where they can have fun with other youngsters in various cool roleplay settings in a mini world designed just for children.
Catch a film at the 22-screen cinema, grab a bite to eat in one of the many restaurants, cafes, and concession stands, go ice skating, see the replica of the Dubai Creek Tower in the Atrium, explore the underwater world at Dubai Aquarium and Underwater Zoo, and feel a shiver down your spine in the haunted house of Hysteria. There really is so much to enjoy at the Dubai Mall in addition to shopping.
#4 – Ski Dubai – One of the more unique places to visit in Dubai!
Why it's awesome: What could be more unusual than skiing and enjoying diverse snow sports while surrounded by desert?! That's exactly what Ski Dubai offers—heaps of wintery fun! The large facility can be found in the Mall of the Emirates and was the Middle East's first indoor ski resort.
A top way to get some respite from the heat, temperatures are kept at around -1 to 2 degrees Celsius (30 to 35 degrees Fahrenheit) at all times. It offers tons of fun for people of ages, so whether you're travelling with friends, family, or your love interest you'll have a great time there. You can book your full-day-ski-pass here.
What to do there: Don your warm clothes and practice your skiing techniques on the five slopes. If snowboarding is more your thing don't worry—you can do that too. Have a go at bobsledding, tobogganing, snow tubing, and zorbing, tackle the climbing wall. And ride in a snow plough.
Have a blast in the snow, building snowmen, making snow angels, or simply enjoying a good old snowball fight. Don't miss seeing the penguins too. The facility is home to both king penguins and Gentoo penguins. There's a cool penguin parade each day, which is sure to enchant visitors old and young alike. Of all the Dubai place to see, this is the only one I can think of that involves snow.
#5 – The Dubai Desert Conservation Reserve – Dubai's first national park!
Why it's awesome: Its camels, romance and surfing down the sand – it just doesn't get any more awesome than exploring the Dubai Desert Conversation Reserve, Dubai's first national park! This tour will take you roughly 60 km from the city centre, right into the red dunes. This is THE place to go in Dubai to get away from Dubai…
What to do there: With this EPIC 4×4 desert tour, you'll be exploring the Dubai Desert Conservation Reserve on the back of a camel, have a breathtaking view over the red sand and test your surfing skills down the dunes. The tour ends with a BBQ and, of course, traditional shisha for everyone. The desert is amongst the best places in Dubai to visit – do not miss this if you have the time.
#6 – Dubai Fountain – One of the most incredible free places to go to in Dubai
Why it's awesome: Located outside of the famous Dubai Mall on the large Burj Khalifa Lake, the marvellous Dubai Fountain is the world's biggest choreographed fountain. Created by the same company that designed the famous fountain show at the Bellagio Hotel in Las Vegas, shows take place at the Dubai Fountain at various times throughout the day.
There are many spots where you can watch the spectacular sound, light, and fountain show for absolutely free. This is a very popular place to go in Dubai so try to get here early though to secure a great spot.
What to do there: Be in awe of the stunning fountain show, set to traditional Arabian music, classical sounds, and contemporary tunes. Marvel at the exquisitely designed show, which incorporates perfectly synchronised jets of water, colourful lights, and music. Gasp as jets of water shoot up to 152 metres (500 feet) into the air and be blown away by the overall beauty and grace of the stunning fountain show.
#7 – Jumeirah Beach – A perfect place to visit in Dubai if you are on a budget!
Why it's awesome: Fine white sands meet the sparkling blue waters of the Persian Gulf at Jumeirah Beach. There is no charge to enjoy the public beach and you'll find various vendors and facilities close to hand, so it's perfect if you're visiting Dubai on budget.
Water sports are available at the beach, along with a variety of fun beach sports and activities, or you can simply relax and soak up the sun or bury your nose in a good book. The popular beach also offers great views of the ocean and city skyscrapers.
What to do there: Stroll along the white sandy shore and admire the ocean vistas and views of the city's skyscrapers, including the iconic Burj al Arab. Spread your towel on the sands to soak up some sun or pay a small amount to rent a lounger and parasol. Paddle and swim in the sea (though do be sure to be cautious of undercurrents and rip tides and make sure that children, especially, do not go far from your reach).
Get some morning or evening exercise by walking, jogging, cycling, or skating along the long beach boulevard, pick up some refreshments from one of the beach vendors, and enjoy a day at the seaside in Dubai.
#8 – Dubai Miracle Garden – A beautiful and scenic place to check out in Dubai
Why it's awesome: The stunning Dubai Miracle Garden is an award-winning attraction. Among the biggest flower gardens in the world, it contains many large and beautiful floral displays that are photogenic and impressive. The garden boasts around 50 million flowers in a wide array of hues and 250 million plants.
Opened on Valentine's Day, it is a great destination for lovers with much natural beauty to admire. Some of the garden's features appear in the Guinness Book of World Records. The garden featured in a Bollywood movie, with the director eager to show a different side to Dubai than simply towering buildings and high-tech elements.
What to do there: Wander through the pretty gardens, admiring the rich array of flora and inhaling the enticing scents. The aromatic garden is especially alluring. See the gigantic floral clock, observe the peacocks that roam the grounds, marvel at the huge Mickey Mouse topiary, and be awed by the gigantic Airbus A360 floral display (entered in the Guinness Book of World Records for being the biggest flower-created structure in the world).
Visit the world's biggest indoor Butterfly Garden, home to around 15,000 attractive butterflies. Other great features include a castle made from millions of flowers, a passageway of umbrellas, a kids' trampoline park, a walkway of hearts, a hill of flowers, a towering floral teddy bear, a shimmering lake, and a giant tortoise.
You'll find various places to eat and drink throughout the gardens too, and there are plentiful opportunities to relax and simply enjoy being outdoors and away from the city's hustle and bustle.
#9 – Dubai Museum – A fascinating educational place to visit in Dubai
Why it's awesome: Dubai Museum is located within the 1787 Al Fahidi Fort, the oldest remaining building in Dubai present on every backpacking Dubai travel guide (as it should be!). The mighty building exudes a sense of strength and history, having been used as a weapons storage facility, a defensive fortress, a prison, and a royal home in times gone by.
Providing insights into the Dubai of old, from a time before oil made the country rich and the modern buildings sprang up in the desert terrain, there are heaps of fascinating displays and exhibits. Open since the early 1970s, the museum seeks to preserve the traditional way of life and culture of Dubai. The museum is one of the best places to see in Dubai for those who want some historical context.
What to do there: Enter the mighty coral-built fortress through the cannon-flanked main entrance to appreciate the structure's grandeur and strength. Gaze up at the old tower, which dates back to the 1780s, see the reconstructed city walls, and admire the traditional boat (known as a dhow) in the main courtyard.
Make your way around the diverse galleries and halls, seeing exhibitions of musical instruments, weapons, furniture, drawings, pottery, tombstones, and more.
Look into the various replica buildings, including mosques, souks complete with an ironmonger, tailor, carpenter, and other tradesmen, homes, a Bedouin tent, and farms, see how Dubai has changed over the years at the large dioramas, and learn more about the area's traditional pearl-diving activities. There's also an onsite gift shop.
#10 – Hatta – A very cool place in Dubai to go for a day
Why it's awesome: Hatta is a gorgeous location in the Hajar Mountains. Scenic views and a sense of history make for a fantastic day out away from the skyscrapers and modern way of life. The mountain enclave has a cultural town with desert farms and a fortress and Hatta Heritage Village is a great place to see a way of life long since passed.
There are incredible viewpoints and the deep blues of the sparkling lake contrast with the reddish-grey rocks and arid terrain. Of all the places to go in Dubai for nature, Hatta is one of the best.
What to do there: Feast your eyes on natural splendour as you drive through the craggy mountains to Hatta. Inhale deliciously fresh air and try a variety of outdoor adventures—enjoy thrilling mountain biking and hiking, go kayaking on the shimmering lake, and spot a variety of nature.
Admire the vistas from Hatta Dam and learn more about the country's past at Hatta Library. The Heritage Village is a must, with its ancient fort and recreated huts and houses. History is really brought to life.
#11 – Dubai Frame – A great place to see in Dubai if you love architecture
Why it's awesome: Dubai Frame, open since early 2018, is one of Dubai's most incredible landmarks. Standing at 150 metres (492 feet) tall, the large frame is 105 metres (345 feet) wide. Located in Zabeel Park, the structure is surrounded by grass, palm trees, and various other natural features.
Diverse leisure options are available in the park too. Not only is the frame itself a beautiful piece of architecture, made from aluminium, steel, glass, and concrete, but the whole point of the huge frame is to provide cool views of the city's magnificent skyline and architectural marvels.
What to do there: Stand one side of the frame and see Dubai's modern skyscrapers as if in a picture, and then move to the other side for a framed perspective of Old Dubai. Depending on your position you can compare and contrast the old and new parts of the city.
Take plenty of pictures of the Dubai Frame and the views through the massive structure. Aside from admiring the structure and getting your Insta-fix, the frame is a great spot to meet up and hang out. Locals and visitors use the area for jogging, skating, picnicking and simply hanging.
#12 – Burj al Arab – One of the most amazing places in Dubai!
Why it's awesome: The stunning Burj al Arab is one of the most famous hotels in the world. Coined as the world's only six-star hotel, it offers unrivalled luxury and pampering. You don't have to be staying at the magnificent hotel to enjoy its splendour however; many people visit simply to admire the iconic structure from outside, marvelling at the sail-like form and gleaming profile.
Standing on an artificial island, the sea provides a gorgeous backdrop to the maritime-inspired building. The hotel has featured in several films and TV shows and diverse high-profile events have taken place at the lofty helipad, including Tiger Woods playing gold, David Coulthard driving an F1 racing car, and a tennis match between Andre Agassi and Roger Federer.
What to do there: If you really want to splash the cash and spoil yourself, book to stay in the world's most lavish hotel and enjoy star-quality pampering. Guests can enjoy all trapping like the decadent spa, inviting swimming pools, modern fitness centre, and chauffeur-driven Rolls Royce. For a cheaper (though not cheap) experience you can also dine in one of the hotel's world-class restaurants or indulge in afternoon tea or cocktails. Alternatively, admire the elegant building from the outside and snap plenty of pictures of the striking hotel.
#13 – Palm Jueirah – Dubai's collection of palm islands!
Why it's awesome: The Palm Islands are a collection of three man-made islands that make up the shape of a palm. Palm Jumeirah is lined with luxury hotels with private beaches, making it the ideal place to stay if you want to be pampered and have a totally luxurious experience.
However, it is also a place best-seen from above. If you don't have a drone, then you can sky dive and view the structure in all its glory.
What to do here: Take a stroll around the streets of the Palm Jumeirah or bathe on the private beach of one of the luxury hotels (if you're staying there of course). To be honest, there isn't much to see here from the ground, it's more about having a luxury experience at one of the hotels.
#14 – Motiongate Dubai – Awesome place to visit in Dubai with kids!
Why it's awesome: Motiongate Dubai, open since late 2016, has various cool areas with different Hollywood-inspired themes. There are diverse rides, attractions, and shows, with something to suit old and young alike. A popular place for a family outing, there are indoor and outdoor activities and attractions. The themed areas include Studio Central, Smurfs' Village, DreamWorks, Lionsgate, and Colombia Pictures. Enter the world of film and the big screen and meet many well-known characters. There are places to eat and shop too.
What to do there: Get set for an active and fun day out at Motiongate Dubai. Discover the different enchanting areas and enjoy the cool rides. Enter the world of animation at DreamWorks, themed around movies like Shrek, Kung Fu Panda, and Madagascar, and enjoy the whimsical world of Smurfs' Village. In Columbia Pictures you'll find attractions based around Sony Picture productions, including Ghostbusters, The Green Hornet, and Hotel Transylvania.
Feel the rush on adrenaline-inducing rides like Blast Off, High Speed Chase, and Capitol Bullet Train, let your kids have a whale of a time in play areas like Flint's Imagination Lab, Woodland Play Park, and the Smurfberry Factory, and have an interactive adventure at Underworld 4D and Unstoppable Awesomeness. Tap your feet at shows like King Julien's Side Show Stop and Operation Penguin Shake, and make many magical memories.
#15 – Safa Park – A beautiful outdoor place to visit in Dubai
Why it's awesome: Popular with locals and tourists alike, Safa Park is a pleasant place to unwind outdoors in Dubai. It's easy to find a quiet place to relax and chill with a good book. Children can enjoy the play areas and there are facilities for jogging, cycling, tennis, basketball, volleyball, and football. The park's landscapes include three lakes, a waterfall, and a small forest, and you can spot an array of wildlife. Each month Safa Park hosts a large flea market—visit on the first Saturday of the month for some bargain hunting.
What to do there: Choose a shaded spot to sit and relax and soak up the peaceful air, or get active and partake in some exercise. You can walk or run around the jogging track or grab your friends for a game of volleyball, tennis, or football. Stroll around the shimmering lakes and look out for the many bird species that call the park home. You'll also likely spot butterflies, small mammals, and small reptiles too. Enjoy the great views of downtown Dubai, cook up a meaty feast at the BBQs, and enjoy an outdoor lunch at the picnic areas.
#16 – Al Fahidi Historical Neighbourhood – One of Dubai's coolest historical sites!
Why it's awesome: Al Fahidi Historical Neighbourhood (also referred to as Al Bastakiya) offers a charming glimpse into Emirati life of times gone by. Sitting alongside the atmospheric Dubai Creek, the neighbourhood has much of its original streets and buildings.
Narrow alleyways wind through the olde-worlde buildings and the overall vibe is steeped in history and heritage. The way of life is peaceful and unhurried. There are vendors selling traditional foods and you'll find a wealth of cultural establishments and small stores. A variety of events take place here throughout the year, including the Sikka Art Fair.
What to do there: Take a leisurely stroll through the winding streets and narrow lanes, absorbing the nostalgic energy and atmosphere. See buildings of old, a stark contrast to the more modern parts of Dubai. Hear whispers from the past as you walk past old homes and towers, imagining a life long since passed.
Learn how the people of yesteryear lived, before oil and wealth drastically changed the city. Travel back to the middle of the 19th century and uncover past times at the Sheikh Mohammed Centre for Cultural Understanding. Browse in the quaint art galleries and soak up the creative air and pause for a break and to watch the world go by in a cosy cafe.
One of my favorite things to do here is to visit an old Arabian tea house and enjoy a delicious lunch meal and some exquisite tea.
#17 – Dubai Garden Glow – Quite the quirky place in Dubai!
What it's awesome: Dubai Garden Glow is an enchanting and amazing evening destination in the large Zabeel Park. Old and young alike are sure to be mesmerised by the stunning lights and displays. While attractive during the day, watch as the park goes through a magical transformation as darkness descends, with many colourful illuminated features. Split into different areas, the park also has a terrific zone dedicated to recycling and eco-awareness. There are street entertainers to add to the carnival-like air and you'll find various shows and places to eat and drink.
What to do there: Plan to spend at least a couple of hours exploring Dubai Garden Glow and try to time your visit to enjoy the garden both during the daylight and during the dark. Little ones can run and play in the wide open spaces and younger members of the family are all but guaranteed to be transfixed in the large Dinosaur Park. Home to around 120 huge animatronic dinosaurs, it's certainly exciting!
Appreciate the eco-friendly Art Park, with its striking displays made of empty bottles, old ceramics, CDs, and other recycled items. Marvel at the exquisite ice sculptures in the Ice Park and be dazzled by the beautiful lights of Glow Park. There are lanterns, landmarks, flowers, and animals, all made from lights. Call into the food pavilion if you feel peckish.
#18 – Dubai Opera – A great place to visit in Dubai at night
Why it's awesome: Dubai Opera is a modern and eye-catching building that was built to look like a dhow, or traditional boat. It was the first purpose-built multi-arts venue in Dubai. The large venue can seat around 2,000 people at any given time and it hosts a variety of shows and events. The program includes musicals, plays, ballets, operatic performances, comedy shows, fashion shows, and more. The interiors are lavish and opulent and the building also has a restaurant and a beautiful sky garden.
What to do there: Check the listings and book tickets to see an event at the Dubai Opera. It's definitely a great way to inject a little more culture into your stay. Admire the elegant building from the outside and inside and go up to the sky garden to see sweeping views across the city. The great views include the iconic Burj Khalifa and the sublime Dubai Fountain. Dine on delectable gourmet cuisine in the high-class restaurant too. This the best place to visit in Dubai for a blast of Wagner or Puccini although the idea of an opera in the desert is a bit Fitzcaraldo.
#19 – Grand Mosque – One of the most religious places to see in Dubai
Why it's awesome: Dubai's Grand Mosque is at the heart of local religious and spiritual life, and it's also a major place for Islamic culture and social events. The original mosque was built at the start of the 20th century, though it has been rebuilt several times since with the present mosque dating back to 1998. The towering minaret is one of the tallest in the country. Resembling a lighthouse, it's an impressive piece of architecture. There are many fine details around the main body of the mosque, including glorious domes, stained glass, and Quranic calligraphy. Of all the Dubai must see places this is the most classical beautiful.
What to do there: Be sure to dress modestly to visit Dubai's Grand Mosque (or any other place of worship for that matter). Walk around the courtyard and admire the building from the outside and watch as the faithful come to pray. Non-Muslims aren't permitted in the main mosque, but you can look at the beautiful minaret. Standing at 70 metres (230 feet) tall, the lighthouse-like tower is the tallest in Dubai and one of the tallest in the UAE. Soak up the spiritual air in the heart of the old city. Come back to see the mosque at night time too when it is beautifully lit up.
#10 – Al Marmoom Desert Conservation Reserve – An unknown (but awesome!) place to see in Dubai!
Why it's awesome: Situated just around a 30-minute drive from the hustle and bustle of downtown Dubai, Al Marmoom Desert Conservation Reserve is a great place to discover the surrounding desert areas. It's easy to forget that the modern and gleaming city of Dubai is almost entirely surrounded by arid desert. The first unfenced nature reserve in the country, it is home to an interesting array of flora and fauna. The man-made lakes are picturesque and the area also has fascinating archaeological sites too. Many locals come here to enjoy the natural beauty, though it sees relatively few international visitors. It makes a pleasant change to the high-tech aura, frenetic activity, and tall buildings of Dubai.
What to do there: Visit the extensive network of artificial lakes, the Al Qudra Lakes and spot interesting wildlife, including some rare and endangered species. Look out for butterflies, birds, lizards, frogs, fish, and rodents, and see around 40 different species of plants. The observation platforms are some of the best places to see different native wildlife. If you can bear the heat you can enjoy long bike rides along the 84-kilometre (52-mile) track.
Visit the Saruq Al Hadid Archaeological Site, discovered in 2002, to see an assortment of artefacts from the past. Things like jewellery, pottery, weapons, and tools were unearthed here. If you visit in the late afternoon you can witness a striking sunset and then stay for a spot of stargazing. With almost no light pollution it's a great place for astronomy fans.
#21 – Bollywood Parks – Cool place to see in Dubai with friends!
Why it's awesome: A great place for a fun day out with your family or friends, Bollywood Parks is a unique theme park in Dubai. Indeed, it's the world's first theme park to be dedicated to the Indian movie industry. Inspired by the colours, music, and energy of Bollywood, the vibrant amusement park is divided into several captivating zones. There are exciting rides, captivating shows, and cool attractions as well as delicious Indian cuisine, gift shops, and backstage experiences.
What to do there: Get into the Bollywood groove as you explore the five different zones, all full of passion, colour, joy, emotion, action, romance, and adventure. Wander the scintillating Bollywood Boulevard, a riot of colour with enticing eateries and spellbinding shows. Experience Mumbai Chowk with its flair, zest, cuisine, and adventures, and immerse yourself even further into Indian life in the picturesque Rustic Ravine. This is a good place in Dubai to visit for fans of Bollywood – and there are at least a billion of them.
The decadent Royal Plaza is sure to impress and you can step into the silver screen at the Bollywood Film Studios. Enjoy an immersive cricket match at Thrill of Victory, compete against your mates at the Hunt for Gabbar Singh, enter the virtual world at Unleashed, fly high through the skies on Hero's Flight, travel back in time at Crossroads, and enjoy all the glitz and glam at Stars on Steps. Don't forget to pick up themed merchandise and fabulous outfits before you leave.
#22 – Dubai Creek – One of the most romantic places to visit in Dubai!
Why it's awesome: Dubai creek connects the desert with the seaport, and was once a major trading route. It was once at the heart of the pearl trade and was/is a major place for fishing. It's still a hive of activity today, with vessels of all sizes bobbing along the waters. The creek used to divide the city into two parts: Deira and Bur Dubai.
The Bani Yas tribal group first settled along the edges of the water. Several interesting buildings sit alongside the creek, including Dubai Creek Tower, the National Bank, and Deira Twin Towers, and there's a pleasant Dubai park close to hand. A nice place for a stroll with your beloved, there are also several activities to enjoy here too.
What to do here: Admire the waterside vistas and take a walk alongside the creek. Admire the attractive buildings at the water's edge and relax in the large Dubai Creek Park. Get a taste of port life at the Dhow Wharfage, an area filled with traditional sailing boats and a thronging place of activity.
Wave to the friendly sailors and watch as they unload their hauls and cargo. If you're lucky, you may also catch a glimpse of street performers next to the creek. One of the most romantic things to do at Dubai Creek is to charter a ride on a dhow and admire the city from the water. You can also watch a splendid sunset in the evening times.
#23 – Spice Souk – Certainly one of the most exotic places to see in Dubai!
Why it's awesome: Part of the Old Souk, the spice souk specialises in fragrant spices from across the globe. You'll also find a wealth of beautiful fragrances and perfumes too—it really is a place that appeals to the senses. Furthermore, there are also other goods for sale, including textiles, rugs, and souvenirs. The narrow twisty lanes are lined with open-air stalls and more traditional closed stores and the atmosphere is pretty old-fashioned. The spice souk is definitely a striking contrast to the modern malls and shopping centre in downtown Dubai. This is the Dubai place to go for a taste and smell of typical Arabic life.
What to do there: Get lost roaming the tiny alleyways and winding streets as you peruse a wide selection of spices and fragrances. You'll find everything here from custom-made scents that smell like designer perfumes, teas, herbal remedies, culinary spices, and incense. Discover common spices used in local dishes and pick up items to take home with you. Don't forget to haggle and negotiate if you do want to make a purchase. Inhale the rich aromas of things like cumin, saffron, pepper, garlic, turmeric, nutmeg, cinnamon, and cloves. The heady Arabian atmosphere transports you back in time and really gives you a sense of the exotic.
#24 – Jumeirah Mosque – One of the nicer places in Dubai to sightsee!
Why it's awesome: Built in the late 1970s, Jumeirah Mosque has a traditional Fatimid style with elements from Egypt and Syria. The photogenic building is a popular place for tourists wishing to learn more about Islam. It is the only mosque in Dubai that permits entry to non-Muslims, though do be aware that you should be dressed modestly and that women are requested to cover their hair. (Items are available for visitors to borrow.) Informative, friendly, and educational tours are available for visitors.
What to do there: Admire the large pale building from the outside, taking in the visual beauty of the two minarets, domes, windows, and arches. Take a tour to learn more about the local way of life and beliefs, and feel free to ask questions and take photos. Listen for the harmonious call to prayer issued five times each day from the minarets. Try traditional snacks and drinks like coffee and dates. Try to visit the mosque in the evening too when it is splendidly illuminated.
#25 – Alserkal Avenue – One of the most underrated places to see in Dubai
Why it's awesome: Wondering where to go in Dubai for a bit of art? Well cool, creative, hip, and trendy, Alserkal Avenue is an up-and-coming part of Dubai. Once little more than an edgy industrial area, today you'll find a wealth of excellent art galleries and other creative spaces alongside workshops, studios, stores, and offbeat eateries. Most establishments are housed within former warehouses and factories. The area grew from one single gallery that moved here in 2008. Today, it's one of the freshest emerging districts in the whole of the Middle East.
What to do there: See the converted industrial buildings and soak up the creative vibe in the many art spaces. With around 60 art- and design-focused venues there's something to cater to all tastes. Admire a wide selection of artistic works by both local and international artists, learn more about local community projects, watch performing art demonstrations, attend diverse workshops, and purchase unique items to take home with you.
Galleries in the area include Ayyam, El Seed, Green Art Gallery, Carbon 12 Dubai, Jean Paul Najar Foundation, and Gallery Isabelle van den Eynde. Check out the cultural events calendar and see what's on when you're visiting the city. Have a look in Salsali, the first private museum in Dubai, shop for hip fashions, gadgets, custom-made jewellery, and boutique lifestyle items, and stop for refreshments in one of the district's cool cafes and restaurants.
#26 – Ras al Khor Bird Sanctuary – A nice quiet place to see in Dubai
Why it's awesome: Peaceful and quiet, it's difficult to believe that the wetlands and wildlife of Ras al Khor Bird Sanctuary are just a stone's throw from the urban sprawl of Dubai. The large sanctuary incorporates mudflats, lagoons, mangroves, and salt flats, with habitats suitable for many types of birds and other creatures. There are fish, crustaceans, reptiles, and small mammals in the sanctuary too, with some species using the area as a breeding ground. It's one of the few places to get up close to nature near the modern desert-surrounded city and there's no charge to use the hides.
What to do there: Admire the varied terrain and settle down in a hide to watch for a variety of wildlife. There are so many species of birds to look out for, including kingfishers, egrets, herons, ospreys, storks, peafowl, eagles, and wagtails. The sanctuary is especially known for its huge numbers of pretty pink flamingos in the winter months. You may also see fish, rodents, and other small creatures.
#27 – Kite Beach – An awesome place to visit in Dubai for half a day!
Why it's awesome: Kite Beach is one of the best beaches in Dubai. It boasts white sands and a laid-back vibe. There are plenty of opportunities to be adventurous out on the waves too, with activities like surfing, kitesurfing, and stand-up paddle boarding. There's also no shortage of beach games to watch or join in with, and you'll find amenities like bathrooms and showers close to the beach. It's free to visit the public beach. The food trucks and refreshment carts are ideal for keeping hunger and thirst at bay.
What to do there: If you're after water sports, head to Kite Beach in the afternoon for the best conditions. There are rental stores close to the beach if you need equipment, then you're good to go! Hit the waves and enjoy active watery adventures! Kayaking, kite surfing, and paddle boarding are just a few things you can do at Kite Beach. You can also relax in the sun, join in with a game of beach volleyball, build a sandcastle, paddle in the sea, and take a long walk along the coast. Lap up the views of the Burj al Arab and, if you visit on a Friday or Saturday, shop for trinkets and souvenirs in the seaside market.
Get insured for your trip to Dubai!
World Nomads' mission is to support and encourage travellers to explore their boundaries. They offer simple & flexible travel insurance, and safety advice to help you travel confidently.
They've been doing it since 2002 – protecting, connecting, and inspiring independent travellers just like you.
Get a quote below or read our in-depth review!
World Nomads provides travel insurance for travelers in over 100 countries. As an affiliate, we receive a fee when you get a quote from World Nomads using this link. We do not represent World Nomads. This is information only and not a recommendation to buy travel insurance.
Find out what people want to know about the best places to visit in Dubai
Work through these best places to visit in Dubai for a diverse, fascinating, and memorable trip to one of the coolest destinations in the Middle East. Covering shopping, iconic landmarks, culture, heritage, and nature, there's definitely something to keep everyone happy.
You'll find a good selection of budget-friendly attractions and some great hostels and activities in Dubai, so there's no need to worry too much about making your bank manager angry! Have a great time discovering the city's highlights and hitting up the very best places to visit in Dubai.
Insider Tip: If you have the money and don't want to spend hours in the car, driving from one hot spot to the next, you should check out this helicopter tour. Instead of exploring the city from below, you can simply fly over Dubai and have an amazing adventure that not many people get to experience!
---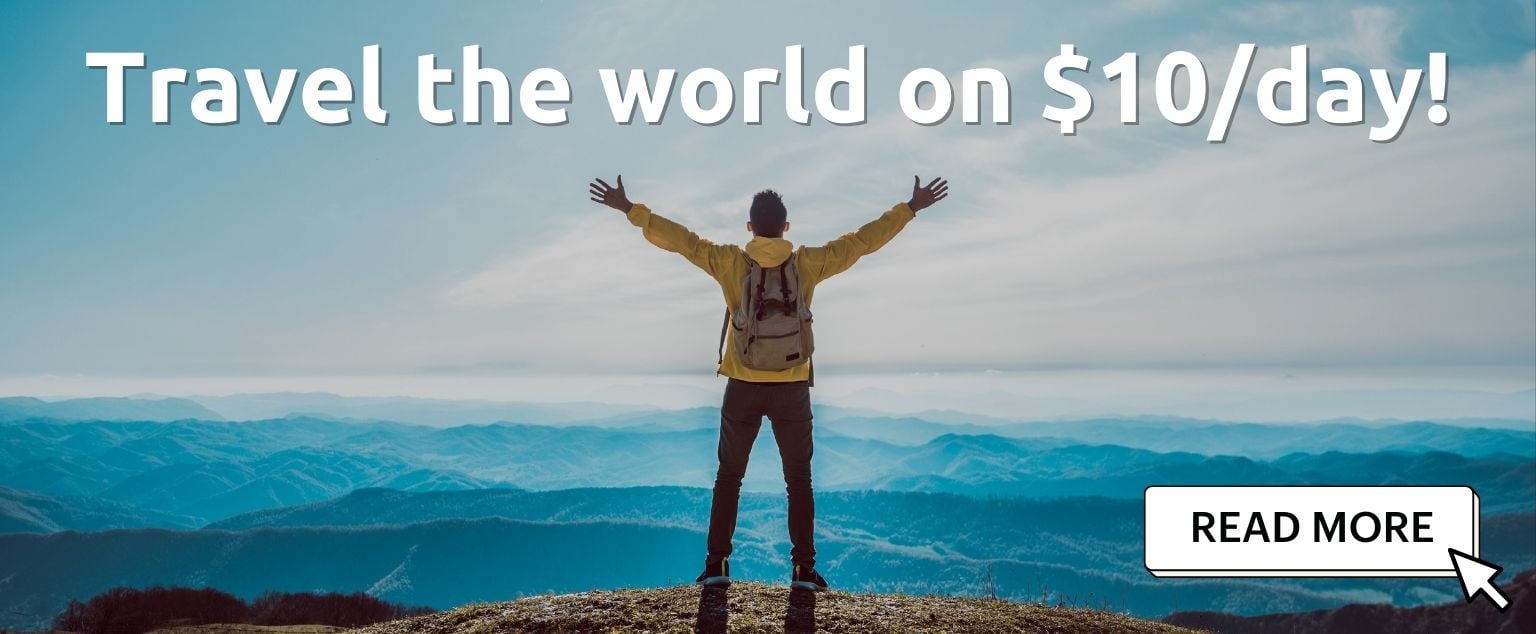 And for transparency's sake, please know that some of the links in our content are affiliate links. That means that if you book your accommodation, buy your gear, or sort your insurance through our link, we earn a small commission (at no extra cost to you). That said, we only link to the gear we trust and never recommend services we don't believe are up to scratch. Again, thank you!