Dubai has some of the tallest, largest and best of everything. Two decades ago it was nothing more than a desert. Today, it is a thriving city with enough skyscrapers to compete with New York and China.
You can shop at Dubai Mall, the largest shopping mall in the world with over a thousand stores. It is home to the tallest building in the world, The Burj Khalifa, reaching over 800m in height.
Or visit one of the many huge aquariums and the magnificent indoor snow dome. Dubai is the United Arab Emirate's oasis. It even has its own set of manmade islands. The city is nothing if not extravagant.
But is Dubai expensive?
As with most places, this depends. The city has a reputation for being a little pricey but this shouldn't deter you. There are ways to make your trip to Dubai budget-friendly, you've just got to travel smartly.
This guide will provide you with tips and tricks to help you travel to Dubai on a budget.
Planning a backpacking trip to Dubai needs to include the essentials. This guide will cover the following costs:
Flights
Accommodation
Transport around the city
Food
Attractions
Prices change all the time and vary based on individual preferences. This guide will estimate the average costs to help you get an idea of how much your trip to Dubai will cost.
How much does it cost to go to Dubai? This will change depending on your currency.
To make things easier, all prices in this guide will be given in US dollars. Dubai makes use of the Dirham. The exchange rate at the time of writing is 1 Dirham to US$0,27.
The following table includes a summary of Dubai vacation costs, on average, for a three-day visit.
3 Days in Dubai Travel Costs
ESTIMATED EXPENSE: $300-$500 for a round trip ticket
Dubai International Airport is the world's busiest airport and is a common layover destination. The airport is huge and offers a lot to do for passengers.
But does this mean flights to Dubai are expensive?
Flight prices change depending on the time of the year. Most cities have a cheap time of year and Dubai is no different.
The cost of a trip to Dubai will also vary based on where you fly from. The list below will give you the average cost of a roundtrip from various international airports:
New York to Dubai: USD $300-$500
London to Dubai: GBP £120-£300
Sydney to Dubai: AUD $400-$700
Vancouver to Dubai: CAN $520-$650
Flights can be a large bulk expense but there are ways to save money. This can be done using error fares and special deals. It's also a good idea to take advantage of the loyalty programs offered by most airlines, especially if you're a frequent flyer.
ESTIMATED EXPENSE: $50-$100 a night
Accommodation in Dubai can be quite pricey, especially if you decide to stay in a hotel. The city has some of the best hotels in the world but also the most expensive. Don't despair though, there are loads of affordable options.
The cost of accommodation in Dubai depends on the level of luxury you expect and where you want to stay in Dubai. If you're happy with a comfortable bed and WiFi then you won't have to break the bank. Hostels are generally the most affordable option and are well-located, but they're not everyone's cup of tea.
Airbnbs are also a great option. They offer privacy and you can save some money by self-catering. How much does it cost to stay in Dubai? We've broken it down for you below.
Hostels in Dubai
Dubai hostels are known for their cleanliness and amazing staff. Most hostels have WiFi and a few even have swimming pools. Hostels are by far the cheapest options. Plus, you'll meet like-minded travelers from all over the world.
Hostels are great if you love people and don't mind sharing a room. They're usually located close to shops and within walking distance of a metro station. The staff are generally very knowledgeable and can help you find your way.
A private room will cost you around $70 a night. A dorm bed will cost you between $10 and $20 a night depending on the size of the room.
Below we've included some of the best value hostels in Dubai.
Bombay Backpackers: This hostel is in the perfect location, overlooking Jumeirah Beach. It's clean, spacious and affordable. What more could you want?
California Hostel Dubai Beach: This beachfront hostel offers an amazing view. It's within walking distance of both the beach and the metro. They have five pools and a gym that guests are free to use. It's right by the Dubai Marina so you'll be close to restaurants and shops.
BackPacker Dubai: This hostel is made to be pleasant and comfortable. It's in a lively neighborhood, close to attractions and the metro. They also have a pool and really helpful staff.
Airbnbs in Dubai
If you're looking for a little more intimacy, Airbnb's are a great choice. They're normally cheaper than hotels and you get to experience what it's like to live like a local. Which can be super bougie. w
Airbnbs are usually self-catering so you can save a little cash on food. They're the perfect place to relax after a busy day of exploring the city.
They're also better for groups and families. You'll be able to choose from a variety of apartments and villas. An apartment will cost you around $50 a night but the price will vary based on your personal tastes.
Hotels in Dubai
Dubai doesn't mess around with its hotels. It has the only seven-star hotel in the world (with prices to match). There are some affordable options available though.
A hotel in Dubai will cost you about $100 a night but this price will vary based on the level of luxury offered. Most of the hotels are intricately designed with attentive staff. If you choose to stay in a hotel, you'll be able to enjoy perks like housekeeping and room service.
We've listed some great value hotels in Dubai:
Zabeel House by Jumeirah, The Greens: Zabeel House is a breath of fresh air, its beautiful design and outdoor pool make it stand out from other corporate hotels. This hotel also gives discounted access to the waterpark, Wild Wadi.
Hampton by Hilton Dubai Al Seef: Located on the Dubai Creek, this 3-star hotel is close to the airport, Dubai Mall and the Burj Khalifa. The hotel has a gym, restaurant and swimming pool.
Maisan Hotel: This hotel is located in Dubai Investment Park and has two restaurants on-site. It's a great choice for travelers on a budget. There's also a bar, a shared lounge, and a garden.
ESTIMATED EXPENSE: $5-10/ day
Dubai has a lot to do – spread over a wide area. You'll definitely need to invest in some sort of transport if you plan on seeing the city. Luckily, transport costs are low.
There are also various methods of transport available. The main methods are buses, Dubai Metro, Dubai Tram, and water buses. The transport system is divided into zones and the price of a ticket varies depending on how many zones you go through. It's also pretty safe to take transport in Dubai.
The best method of paying for transport is investing in a contactless card known as a Nol Card, which allows you to load credits on to it. These cards vary based on individual needs:
A Red Ticket can be loaded with up to ten trips or five daily passes. But it isn't rechargeable and can only be used in one method of transport.
If you're planning on staying in the city for longer, a Silver Card costs 25 AED ($7) but 19 AED will remain on the card as trip credit. This card is rechargeable and can be used on most transport services.
If you're looking for luxury (at an extra cost), a Gold Card will allow you access to first-class sections of popular transport.
You can also take a taxi but these can be quite expensive, a short trip will cost you around $3 but the price increases per kilometer. Dubai relies very heavily on taxis so you'll probably need to take one at some point.
Traveling around Dubai on foot is not easy. There aren't many pavements, traffic lights or pedestrian crossings (jaywalking is strictly forbidden and a fine will cost you $100).
If you're keen to walk, the best areas to do so are Dubai Marina, Deira, City Walk, and Bur Dubai.
Train Travel in Dubai
Dubai doesn't have a train network but there is a metro line that runs to most major parts of the city.
The Dubai Metro offers amazing views of the city. It currently has two lines, the Red Line and the Green Line. A new line, Route 2020 is meant to open in 2020.
The Red Line operates from 5 am until midnight on most days. While the Green Line operates from 5.30 until midnight Saturday to Thursday and from 10 am to 1 am on a Friday. The Metro is clean, efficient and reaches most parts of the city.
It will cost $1 if you travel in a single zone and $2 if you travel in up to five zones.
Dubai Tram is really useful for getting around the Dubai Marina, it is a bit slow, however. It'll cost you the same as the metro and you'll need a Nol Card to ride.
There is also a Monorail that runs from Dubai Marina to the Palm Jumeirah. It costs around $9 for a round trip ticket.
Bus Travel in Dubai
Dubai's buses are clean, cheap and comfortable. There are over a hundred routes around the city. Most bus stops are smart shelters where you'll have access to WiFi, recharge your Nol Card and buy a snack.
The buses are completely air-conditioned so even on hot days they're not unpleasant. You'll need a Nol Card to ride.
Dubai makes use of water buses as a popular means of transport. These are a great way to see the city from a new perspective. There are four different types of water transportation.
Water bus – The water bus is the most affordable option and works with the Nol Card. It costs around $1 for a short trip and travels around Dubai Marina, stopping at Marina Walk, Marina Mall, Marina Promenade and Marina Terrace.
Water taxi – Water taxis cost around $100 for a trip and are best for private groups who want to travel in style.
Water Abra – This is the most traditional mode of transport. It's a half-boat half-raft and costs around 30 cents to ride. It is the most popular way to tour Dubai Creek. There are also air-conditioned abra's that will cost $1-$3 to ride.
Water ferry – This is a great way to view the sights of the city and travels to a variety of places. Including Al Seef, Dubai Festival City, Marina Mall, Jumeirah, Sheikh Zayed Road, and more.
Renting a Scooter or Bicycle in Dubai
If the air isn't too humid, scooters and bicycles can be a fun and easy way to get around Dubai. Scooters are a great option for short distances. You just need to remember to stay hydrated.
The biggest scooter rental company is Qwikly. To rent a scooter with Qwikly you'll need to download an app. The app will assist you in finding nearby scooters. It'll cost you around $1 to unlock the scooter and then around 15 cents for every 0,6 miles. You need to be over 18 to ride and have a valid driver's license.
Bicycles can be rented using apps like Nextbike or at a bike shop or from a cashier (the prices are pretty similar). These will cost you around $21 for 24 hours or $4 for thirty minutes.
There are various rules regarding bicycles in the UAE. You'll be required to wear a helmet and you won't be able to ride on footpaths or main roads.
ESTIMATED EXPENSE: $40-60/ day
The costs to travel Dubai would be incomplete without factoring in food. Restaurant prices have the potential to be notoriously high. Especially if you choose to dine out in some of the popular tourist locations.
Buying food from grocery stores is a viable alternative to eating out. Shopping at places like Carrefour, Spinneys, Choithrams, and Co-Op can help you keep your trip budget-friendly.
Dubai is known for its extravagant restaurants but that doesn't mean there aren't very reasonably priced restaurants on offer. Restaurants are more expensive in malls and touristy areas, so rather avoid eating in those places.
Dubai has lots of food from all over the world but the most popular is stuffed camel or shawarma.
Shawarma: $1,50
Pizza: $13
Burger and chips: $10
Casual restaurant lunch with a drink: $15
Buying food and cooking it yourself is the most affordable option when it comes to eating on a budget in Dubai. Below are some common market food prices:
A dozen eggs: $3
1 liter Milk: $1,70
Bottle of beer (0.5 litre): $4,50
2 lbs potatoes: $1
1 bottle red wine: $19
Where to Eat Cheaply in Dubai
Dubai food prices can be a lot less if you eat at specific places. Fast food is reasonably priced, as is the local street food. When you're buying local food don't be afraid to haggle with the price a little bit, this is quite common.
Dubai has loads of international fast-food restaurants like Hardees, Wendy's and Five Guys but they also have great local fast-food restaurants. We've listed some of Dubai's most affordable restaurants below:
Eat and drink: Locals love this place because it offers cheap and delicious food. A local specialty, the shawarma will only cost you $1. They also have amazing fresh juices.
Reem Al Bawadi Restaurant and Cafe: This place is ideal if you want to try reasonably priced Arabic food. There are several chains all over Dubai.
Shakespeare and Co: This chain cafe-restaurant is located all over Dubai. They offer affordable sandwiches and salads. Each location is unique with an antique British vibe.
Aappa Kadai: All dishes on the menu are less than $11. This Indian restaurant serves amazing biryani and other canteen-style food.
Antar Cafeteria: This local restaurant offers delicious burgers for $4 and wraps for $3. There's a reason why locals love this place.
ESTIMATED EXPENSE: $20/ day
Is it expensive in Dubai? If you base your estimation based on the price of alcohol, your answer would probably be yes.
Dubai is a Muslim country so it has reasonably strict rules regarding the sale and consumption of alcohol. Drinking alcohol is allowed only in licensed locations including hotels, clubs, and restaurants and you'll need to get a personal liquor license.
Getting a license isn't too much trouble, you just need to apply with your passport at any MMI or African + Eastern stores (provided you're over 21 and non-muslim). And it's free!
Dubai has a lot of amazing bars if you're willing to splurge a little on a drink. And finding out when happy hour is can save you some serious money.
Buying alcohol in Dubai is a bit of a hassle and ridiculously expensive. Drinking a beer at a restaurant could cost you almost $20. If you're really searching for cheap alcohol, The Cellars has the cheapest alcohol in the UAE.
ESTIMATED EXPENSE: $20-$50/ day
Attractions will be a significant part of your Dubai vacation cost. Dubai has tons to offer but these can be quite pricey.
Dubai has almost 50 attractions including magnificent beaches, beautiful deserts, and amazing malls. Below we've listed some top attractions:
Dubai has a variety of theme parks. IMG Worlds of Adventure is the world's largest indoor theme and amusement park in Dubai. Dubai Parks and Resorts offers four different theme parks: Motiongate, Legoland, Bollywood Parks, and Legoland Waterpark. These parks charge an entry fee of around $50-$80 per person.
There are also many water parks such as Wild Wadi, Aquaventure, Legoland Waterpark, and Laguna Waterpark. These will cost around $50-$55 to enter.
A desert safari will cost you about $40-$60.
In the Mall of the Emirates, you'll find Ski Dubai, an indoor ski resort and snow experience. The price of these activities ranges depending on what you want to do. Expect anywhere from $50-$370.
Tickets for the Burj Khalifa are $35-$50 depending on the time of day.
A ticket to the Dubai Aquarium will cost around $27 – and it's worth a visit.
Ice skating on a real ice rink in Dubai Mall will cost about $16 for 2 hours.
While a lot of the attractions are costly, there are a variety of free experiences (you'll just need to pay for transport):
The Dancing fountains at Dubai Mall are completely free, you can watch them from 19.30 until 23.30 daily on the hour and every half an hour on weekends.
Visiting the Palm Jumeirah is an awesome experience and will only cost you $9 for a monorail ticket.
Dubai has many beautiful beaches that can be visited at no cost.
Visiting La Mer by Meraas is also free. This beachfront shopping experience is beautiful no matter what time of day you go. It offers amazing views, beautiful street art and direct access to the beach.
Visiting Old Dubai is an experience worth having. You'll be able to find affordable gifts (with a bit of haggling) and explore the city's past. It's a way to see how the locals really live and put the extravagance of Dubai into perspective.
The Spice Souk is a delight for the senses. It's filled with both beautiful colors and amazing smells.
Make sure to take your picture with the Dubai frame. It's the biggest frame in the world and offers an amazing view of the city.
How expensive is Dubai? Well, this depends on how many attractions you choose to do and how long you're staying. A weekend in Dubai won't cost you as much as a full week.
There are a few ways you can save money on attractions though. Be sure to look out for specials and passes like the ones below:
Go Dubai Card: This card costs a fair amount initially but it allows you to do a lot in the city. If you're planning on seeing many attractions, this card will save you money. The cost of the pass depends on how many attractions you want to see, an adult 3 choice pass is $184 and allows you access to three attractions within a 30 day period. You can even create your own pass and receive a 20% discount.
Dubai Pass: This pass allows you to save up to 60% and has different types on offer. It's a great way to save money if you've got your heart set on seeing the major attractions.
When traveling there are always unforeseen expenses. In a place like Dubai, you'll definitely need to budget a little extra money.
The city is known for its amazing shopping malls, a little extra money can make sure you do more than just window shopping. Old Dubai has a lot of amazing gifts at affordable prices, their pashminas are incredible as are their spices.
There are also unexpected costs on almost every trip. Transport, medicine, and other costs can creep up out of nowhere. We recommend setting aside 10% of your total expenditure, just in case.
Tipping in Dubai
A standard 10-15% is acceptable when it comes to tipping in Dubai. It is a city with great service so it's customary to tip.
Most restaurants include taxes and service charges in the bill. Tipping your taxi driver is also a pretty common practice but you can usually just round up the bill or tell the driver to keep the change.
If you can't afford to leave a tip, just make sure to smile and say thank you.
Get Travel Insurance for Dubai
ALWAYS sort out your backpacker insurance before your trip. There's plenty to choose from in that department, but a good place to start is Safety Wing.
They offer month-to-month payments, no lock-in contracts, and require absolutely no itineraries: that's the exact kind of insurance long-term travellers and digital nomads need.
SafetyWing is cheap, easy, and admin-free: just sign up lickety-split so you can get back to it!
Click the button below to learn more about SafetyWing's setup or read our insider review for the full tasty scoop.
Use public transport: It's more affordable than taxis and really efficient.
Don't be afraid to haggle with locals: It may seem uncomfortable at first but many of the locals hike up their prices for tourists (especially in Old Dubai)
Avoid the touristy areas: Dubai gets really expensive really quickly if you choose to eat out and shop in the touristy areas.
Pack the Dubai essentials: Nothing is worse than spending money on something you simply forgot to pack. Plan ahead and make sure you've got everything you need with you.
Get a pass or a card: Dubai's attractions are incredible and worth seeing, rather save some money and purchase them all at once.
Book in advance: Many attractions will offer you as much as a 20% discount, it's worth it.
Don't worry too much about getting a Sim card for Dubai, there is WiFi all over Dubai.
Have a water bottle: Don't waste money on plastic, bottled waters; carry your own and refill it in the fountains and the tap. If you're worried about potable water, get a filtered bottle, like the GRAYL, which filters out 99% of viruses and bacteria.
Earn money while you travel: Teaching English while traveling is a great way to make ends meet! If you find a sweet gig, you may even end up living in Dubai.
Become a volunteer with Worldpackers: Give back to the local community and, in exchange, you're room and board will often be covered. It's not always free, but it's still a cheap way to travel in Dubai.
Now we've broken down all the individual costs, is Dubai expensive to visit?
The answer is, it depends on what you do and where you go. You can visit Dubai on a limited budget if you're smart and plan ahead.
Dubai can be very expensive if you're not careful. It's easy to get distracted by all the glitz and glamour. The city offers luxury at its finest but you can get away with a little luxury if you follow our tips.
Accommodation and transport can be affordable and there are many attractions that won't cost you more than a few dollars to get to. Dubai also has attractions that will cost you a fortune. Choose wisely.
So how much is a trip to Dubai?
What we think an average daily budget for Dubai should be: $80-$120.
---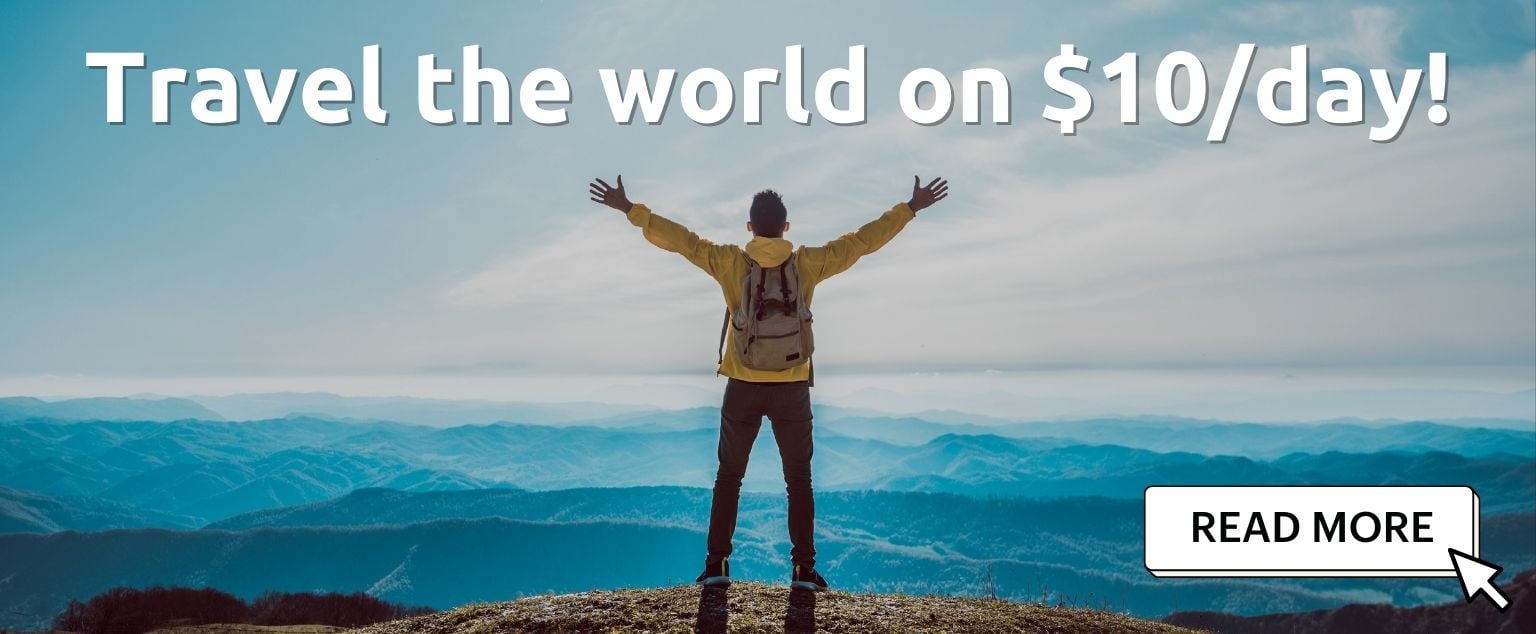 And for transparency's sake, please know that some of the links in our content are affiliate links. That means that if you book your accommodation, buy your gear, or sort your insurance through our link, we earn a small commission (at no extra cost to you). That said, we only link to the gear we trust and never recommend services we don't believe are up to scratch. Again, thank you!