Set on the banks of the Danube River, Vienna is a city that combines grand opulence, imperial palaces, and baroque streetscapes, with a charmingly modern way of life and vibrant culture. Vienna has been ranked as the most liveable city in the world for the last 10 years in a row, and frequently tops lists of the best places to visit on earth!
It's a city with a rich history stretching back nearly 2,000 years. For a long time, it was one of the most powerful cities on earth and it has consistently been a global hub for culture and creativity!
There's plenty to see and do during your Vienna mini-break, from archaic buildings and world-class culinary experiences to lively nights out and getting immersed in the cool coffee house culture. Not to mention its top-notch music venues and epic sporting activities!
Vienna city breaks are a great way to explore the city! Whether you're planning on spending three days in Vienna or just stopping by for a Vienna weekend break, this Vienna travel guide has you covered!
Insider Tips for an AMAZING Weekend in Vienna
We've put together some insider tips to help you make the most out of your time in Austria's stunning capital city.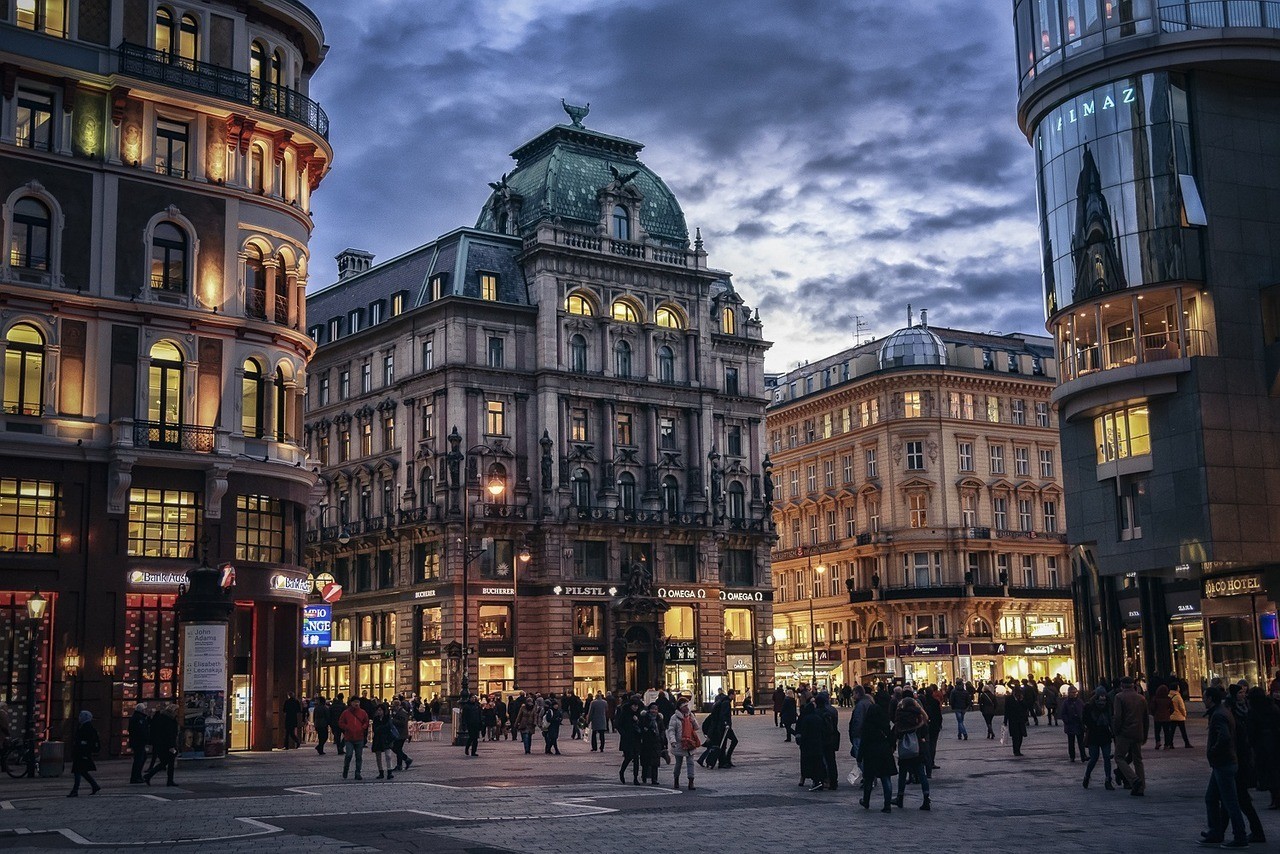 Know Where to Stay in Vienna
There are several awesome districts in Vienna, each with their own unique atmosphere and benefits. From the lively creative atmosphere in Leopoldstadt to Vienna's grand and opulent center, Innere Stadt, there's a place for every kind of traveler in Vienna.
That being said, we do highly recommend that you stay somewhere central during your trip to Vienna. That way, you'll save time and money by avoiding traveling to and from the city's main attractions. You'll also find it easier to head back to your accommodation after a night out!
To be properly prepared for your trip to the beautiful city, make sure to find out how expensive Vienna is. It's always good to know roughly how your travel budget should look like!
Check out our guide on the coolest places to stay in Vienna for a more in-depth rundown of the city's neighborhoods.
Located right next to Naschmarkt, the city's most famous and vibrant market
The rooms are clean and comfortable and there's even an onsite bar and pool table
A great place to meet like-minded travelers
Located in the trendy Wieden district, this hostel offers top-notch affordable accommodation in central Vienna. It's just a short walk from many of the city's main attractions, with popular restaurants, cafe's, and bars right on its doorstep.
Discover Vienna on foot while staying smack dack in the city center in this modern but cozy apartment. And if you do plan to venture out, this home is footsteps from the bus station.
Do you like meeting new people on your travels? If that's you, this is the spot to be; the private room is in a huge home where you share the space with a few people that will quickly feel like family you may end up going o future adventures with during your time here.
Not to mention, even with a house full of people, the place continues to stay immaculate. With a full kitchen to use whenever you please as well as a cozy living area that has an organized space to play board games or cards, you may not even leave home!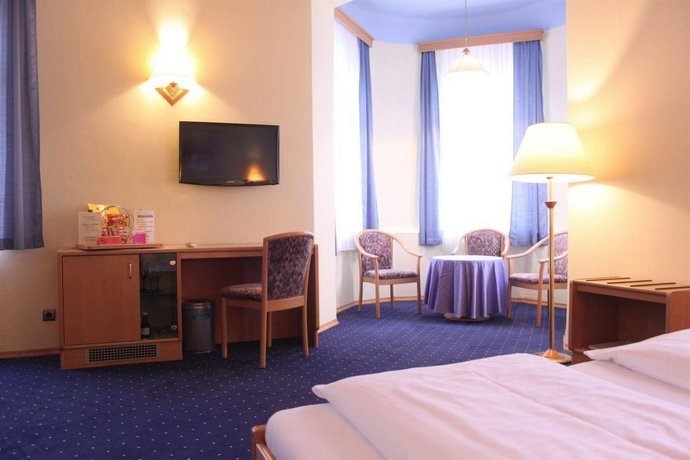 Centrally located in one of Vienna's best areas
Clean, comfortable, and really reasonably priced
A friendly, thoughtful staff that is happy to help make your stay more enjoyable.
Hotel-Pension Wild offers guests exceptional value for money. Set in a beautiful old building, it's just a short walk from many of the main attractions and a metro station. The rooms come with comfortable beds, towels, toiletries, linen, and a fan. A delicious breakfast is also served each day.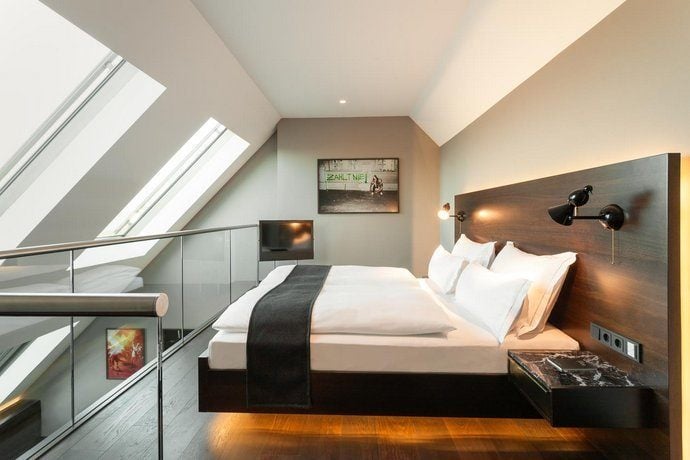 Each room features fine furniture and high-end audio-visual equipment
Higher floor rooms boast views of the State Opera House and city center
Each room comes with four bottles of Austrian wine and other beverages free-of-charge
Just a 5-minute walk from St. Stephens Cathedral, The Guesthouse Vienna is about as central as can be. As a design hotel, naturally, it boasts exquisite exterior and interior design that permeates through each of the uniquely crafted rooms.
Know How to Get Around in Vienna
You'll be pleased to know that Vienna has one of the best public transport systems in the world, making getting around the city a breeze!
Vienna is a vast city, spread out over a large area, so you'll need to make use of this comprehensive public transport system during your stay. The best way to get around in the city is by using a combination of the Vienna Metro (U-Bahn), trams, and buses. The public transport in Vienna is incredibly efficient, and you'll never have to wait long.
A single one-way ticket on for all inner-city transport (U-Bahn, trams, and buses) is $2.70, but we recommend getting a 48-hour pass for around $16. Or, if you're planning on spending three days in Vienna, buy a 72-hour pass for roughly $20. This will almost certainly save you money, and remove the headache of buying a ticket every time.
The best thing about Vienna's public transport system is that on weekends, it runs 24-hours, so you'll be able to get home no matter how late you stay out.
Within each of the central districts, especially the Historic Center, walking is a great way of getting around and absorbing the Viennese atmosphere. Lastly, cycling is a particularly popular method of transportation in Vienna, so you can always rent a bike and travel like a local!
Insider Tip – When you arrive at Vienna Airport, buy a $5 train ticket from the OBB ticket counter. These tickets are significantly cheaper than the designated City Airport Train (CAT), and will also allow you to get on a U-Bahn once you arrive in the city.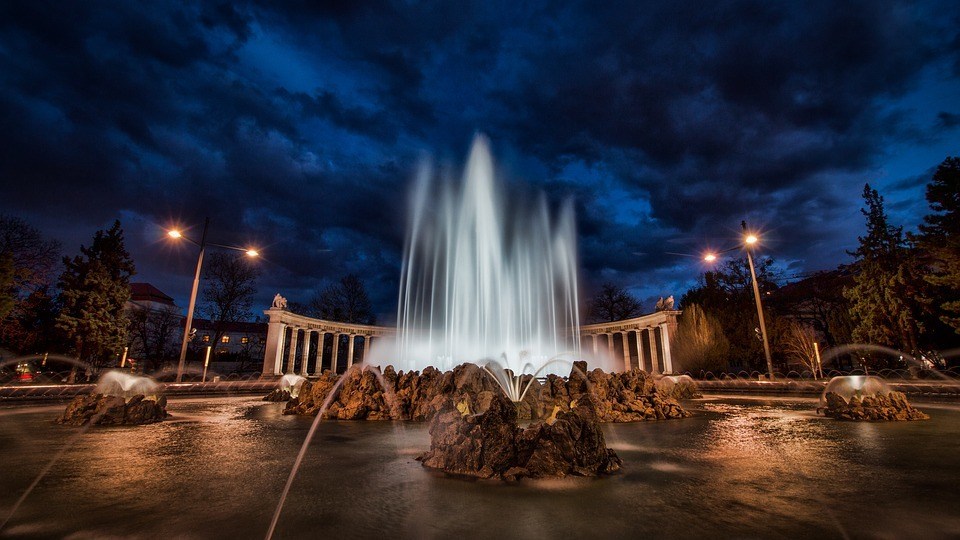 No area in Vienna is particularly well-known for its nightlife, but that's not to say that the city isn't a good place for it. It simply means that the bars and clubs are spread throughout the city and that many of the central districts are great for a night out.
Innere Stadt
The highest concentration of bars and clubs in the city
Home to Loos American Bar, one of the city's finest drinking establishments
A great place for a classy evening out on the town
Most of the city's best clubs and bars are found in Innere Stadt, Vienna's central hub. If you're planning a night of bar hopping, this is a good place to start. Loos American Bar is one of the city's legendary bars. Operating since 1908, it offers the best classic cocktails and a wonderfully retro atmosphere.
Leopoldstadt
A trendy, creative neighborhood with good nightlife options
Das Loft is a great place to sip on cocktails with a view of the city
Check out ZWE for some top-notch jazz performances
In recent years, this formerly run-down district of Vienna has become a thriving hub for young creatives. It's also home to a series of nightlife venues, our favorite of which is Das Loft. This classy glass-walled lounge bar sits on the 18th floor of the Sofitel, resulting in spectacular views of the city!
Neubau
A cool neighborhood with a young crowd
Strandbar Herman offers a 'beach bar' experience in the middle of a city
Donau is run down but chic, and offers a great menu of cocktails
Neubau is an artsy neighborhood with a young crowd. Its streets are lined with cool cafes for day time chilling, and bars and restaurants worthy of a great night out! Strandbar Herman is beach bar set on the banks of a canal. It offers beach chairs and solid DJs flooding the air with music. The atmosphere is wonderful, and the cocktails are delicious!
Is This the Best Travel Backpack EVER???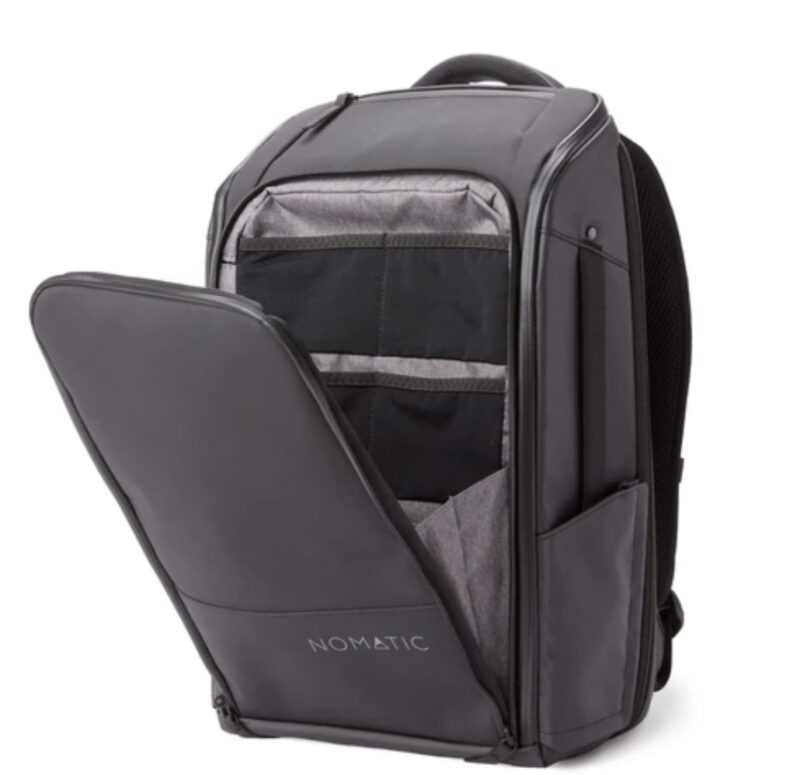 Vienna has a world-class culinary scene. The local cuisine is full of uniquely delicious delights, and the city offers a plethora of international restaurants!
Wiener Wiaz Haus
Try a top quality Wiener schnitzel, one of Austria's most legendary dishes
Delicious vegetarian options are also offered for those who don't eat meat
Great Austrian beer and friendly staff
No trip to Vienna would be complete without experiencing the city's local cuisine, especially the legendary Wiener schnitzel! It's the best-known specialty of Viennese cuisine, and no establishment does it better than Wiener Wiaz Haus. Pay this restaurant a visit for a great atmosphere and some of the city's best local food!
Insider tip – many restaurants only accept cash, so be sure to carry some cash around with you! Also, make sure that you hide it.
Learn How to Make Apple Strudel
Learn how to make one of the country's most iconic sweet treats
A fun experience with a great atmosphere
Take the finished product home with you, or enjoy it warm after the class
Apple Strudel is another one of Austria's classic cuisine favorites. It's a soft, sweet pastry with delicious apple at its core. In this group apple strudel baking experience, you'll learn the secrets and history of this warm Austrian favorite. The experience is complemented with drinks and snacks throughout, and you can enjoy your finished product at the end of the class.
A 500-year-old market with an impressive history and great atmosphere
A wide range of food from around the world spread between stalls and restaurants
A great way to experience this foodie fantasy is on a guided food tour
Naschmarkt is Vienna's most popular and well-known market, with routes stretching back to the 16th century. The market lanes are lined with amazing food stalls and small restaurants, offering a vast selection of foods from around the world. Naschmarkt is a tasting market, allowing you to get a broad range of culinary experiences and discover some hidden gems.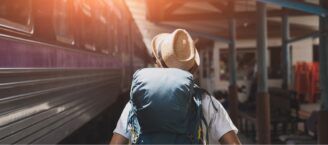 Unlock the The Broke Backpacker's GREATEST Travel Secrets
Sign up for The Broke Backpacker Newsletter to receive weekly tips on how to travel on a budget + a FREE copy of The Backpacker Bible!
Vienna offers some awesome activities for sports lovers and fitness fanatics! These sporting activities offer a great workout and are all a lot of fun.
Indoor Climbing
Climbing focuses the mind and gives you a great workout without you even realizing it
It's a popular sport, and you can climb inside no matter the weather
Boulderbar is a light and airy bouldering space in the city
Over the course of the last few years, climbing has become incredibly popular, especially in Austria. And whilst there isn't exactly a mountain to climb in the center of Vienna, the city is home to a number of awesome climbing gyms, where you can enjoy bouldering and top rope climbing!
Stand Up Paddleboard
Paddle along the Alte Danau river and experience the city from a new perspective
Get a good workout while having loads of fun
Can be incredibly peaceful, and offers spectacular scenery
SUPing (stand up paddleboarding) is another up-and-coming sport that is rapidly gaining traction around the world. It involved standing on a large, highly-buoyant surfboard and gliding across the surface of the water with the help of a hand-held paddle. It's a great workout and thoroughly enjoyable. SUP Centre Wien is a great place to rent a SUP or get some lessons.
Kahlenberg Forest Rope Park
A great way to get a workout and experience Vienna's gorgeous natural surroundings
A scenic and fun way to spend some time
25-minute drive or 50 minutes using public transport from the city center
Located a little outside of the city, Kahlenberg Forest Rope Park is an adventure park offering a range of treetop obstacle courses. Visitors can climb, hang, swing, and balance their way through the trees. The courses come in a variety of difficulty levels, so it's great no matter your fitness level.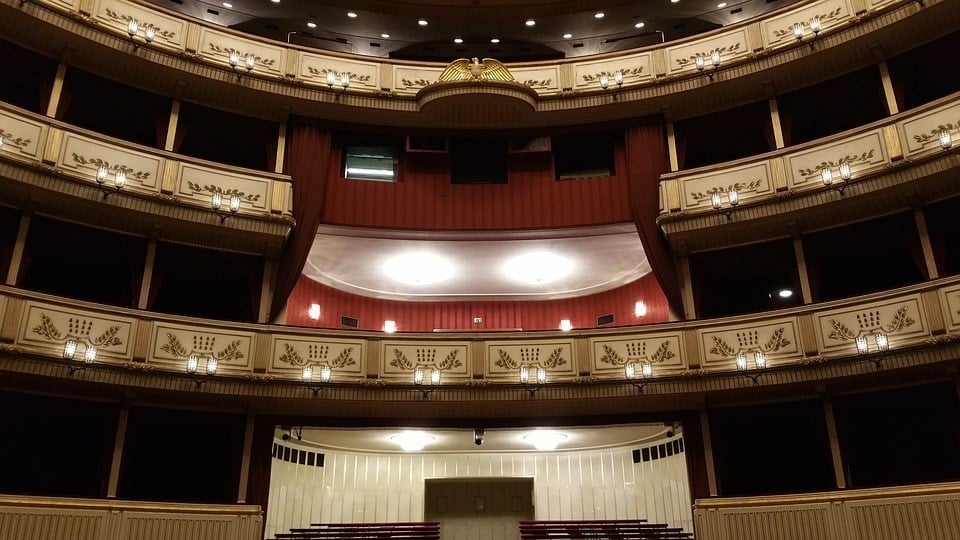 Vienna is often referred to as the city of music and is considered one of the music capitals of the world. The city has been home to more world-renowned composers than any other city on earth and has produced the likes of Mozart and Beethoven amongst several others.
See an Opera at the Vienna State Opera
The Vienna State Opera is a beautiful building and iconic Viennese landmark
Experience a beautiful old building that exudes a rare kind of opulence
Immerse yourself in traditional Viennese culture for a fraction of the usual cost
Attending an opera is an authentic way to experience true Viennese culture. The Vienna State Opera house is one of the city's best-known landmarks and frequently houses world-class operatic works. It is considered one of the world's finest opera houses, so try to add it to your Vienna itinerary.
While attending an opera is generally highly expensive, it's possible to purchase standing room only tickets at the Vienna State Opera for just $3.50.
Insider Tip – The standing room only tickets go on sale at the opera house 80 minutes before a show starts, so be sure to plan which show you'd like to see and be there as soon as tickets go on sale!
House Of Music
A fascinating exploration of sound and music
A series of immersive interactive exhibits make for a rich experience
Learn the musical history of one of the world's greatest music cities
House Of Music (Haus Der Musik) is a museum of sound in Vienna. It explores all aspects of music, from the fundamentals of sound to the great composers of history. It offers an experience like no other, with a series of interactive multimedia exhibitions bringing the sound and music to life.
Porgy and Bess Jazz Club
Hosts world-class jazz performances as well as other genres occasionally
A great atmosphere every evening
Delicious food and drinks are available in the club
If you're a fan of jazz, you'll feel right at home at Porgy and Bess. It's one of the top jazz clubs in Europe and hosts world-class performances pretty much every night of the year. The stage frequently welcomes top-notch local and international players, making for outstanding shows.
Travel with peace of mind. Travel WITH a security belt.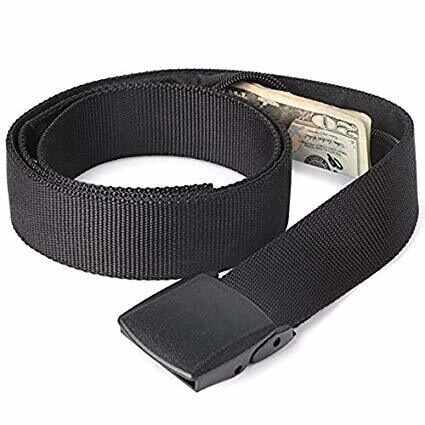 Custom-designed BY the Broke Backpacker FOR broke backpacking, the Active Roots Security Belt will keep your valuables safe no matter where you go.
It looks exactly like a normal belt except for a SECRET interior pocket perfectly designed to hide a wad of cash or a passport copy. Never get caught with your pants down again! (Unless you want to.)
Check on Amazon
10 Other Awesome Things to do in Vienna This Weekend
There's plenty more to see and do during your two days in Vienna! Here are a few of our favorites.
#1 – Schönbrunn Palace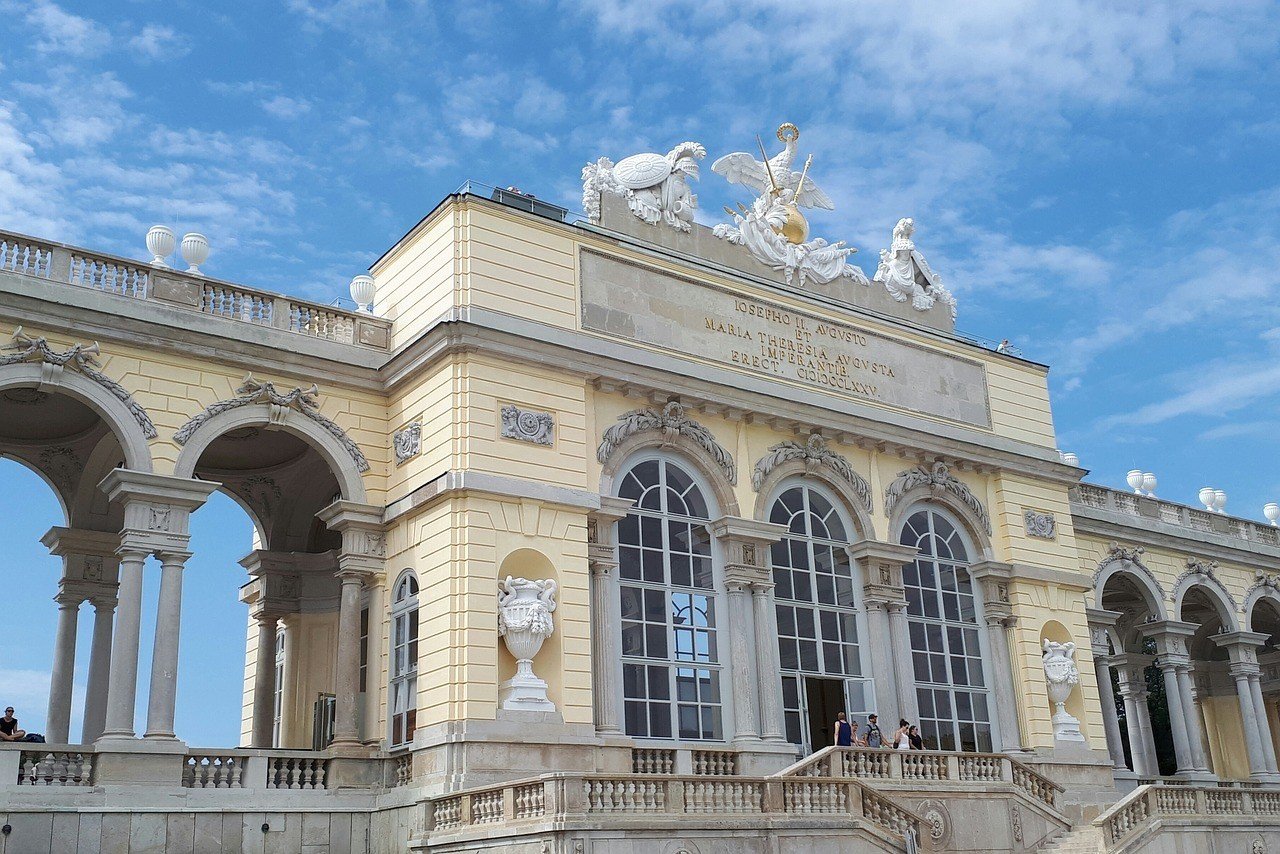 The Schönbrunn Palace is one of Austria's most iconic monuments, and one of the most impressive buildings on earth. Standing since the 17th century, this enormous palace houses a staggering 1,441 rooms and was the primary summer residence of the Habsburg rulers.
The palace is also one of the city's most popular tourist attractions. Visitors can explore the palace on a tour of it's most impressive and important rooms, immersing them in the lives of the palace's historic royal residents. The tours of this magnificently opulent palace offer a fascinating window back in time.
The Schönbrunn Palace gardens are also highly impressive, and free to visit, so it's well worth walking around and absorbing their beauty!
#2 – MuseumsQuartier
Set around a large public piazza, MuseumQuartier, or Museum Quarter, is Vienna's cultural hub. Here is where you'll find the majority of the city's most impressive museums and art galleries.
With such a diverse range of cultural activities and institutions crammed into a relatively small area, a visit to the Museum Quarter is ideal for any kind of traveler.
For art lovers, MUMOK and The Leopold Museum are some of the finest contemporary art galleries in the country. Museum Quarter is also home to one of the world's finest natural history museums.
Designforum Wien is a great experience for those interested in design, and ZOOM is one of the coolest children's museums in the world. The district is also home to a plethora of cafes, bars, and restaurants, making it ideal for a day out.
#3 – Take a Tram Around the Ringstrasse
The city's tram network offers a fabulous and affordable way to see the city's sights and experience a taste of local Viennese life. The Ringstrasse (ring road around the old town district) tramlines are the best option to get a holistic picture of the city and pass many of its iconic landmarks.
Start the experience by hopping on tram 1 at Schwedenplatz. Be sure to grab a window seat as you set off around the Ringstrasse. Along the way, you'll pass such sights as Parlament, Maria-Therisien-Platz, and the State Opera. The views are great, and the ride is a great way to see the city.
#4 – Wurstelprater Amusement park
One of the coolest things to do in Vienna is visiting Wurstelprater (often referred to Prater), the oldest amusement park in the world.
The park offers a wide selection of attractions, from roller coasters and bumper cars to ghost trains and a Madame Tussauds waxworks cabinet. It is also home to the iconic Wiener Reisenrad, a 212ft tall Ferris wheel. The 120-year-old wheel is one of the city's most iconic tourist attractions and was once the tallest of its kind in the world.
The park is free to enter, with each attraction charging their own fee. It is also open until 1 am each evening, and at night it comes to life in a swirl of dazzling, colorful lights.
IN A RUSH? THIS IS OUR FAVORITE HOSTEL IN VIENNA!
#5 – The Hofburg
Up until 1918, this extravagant palace was the political center of the monarchy and was once the principal imperial palace of the Habsburg dynasty royals. Today it is the home and workplace of Austria's president and is open visitors
The palace dates back to the 13th century and is exceptionally extravagant. Touring the palace is a fascinating experience for those interested in history. Visitors can marvel at the Imperial Silver Collection and explore the life of Empress Elisabeth at the Sisi museum.
#6 – Tiergarten Schönbrunn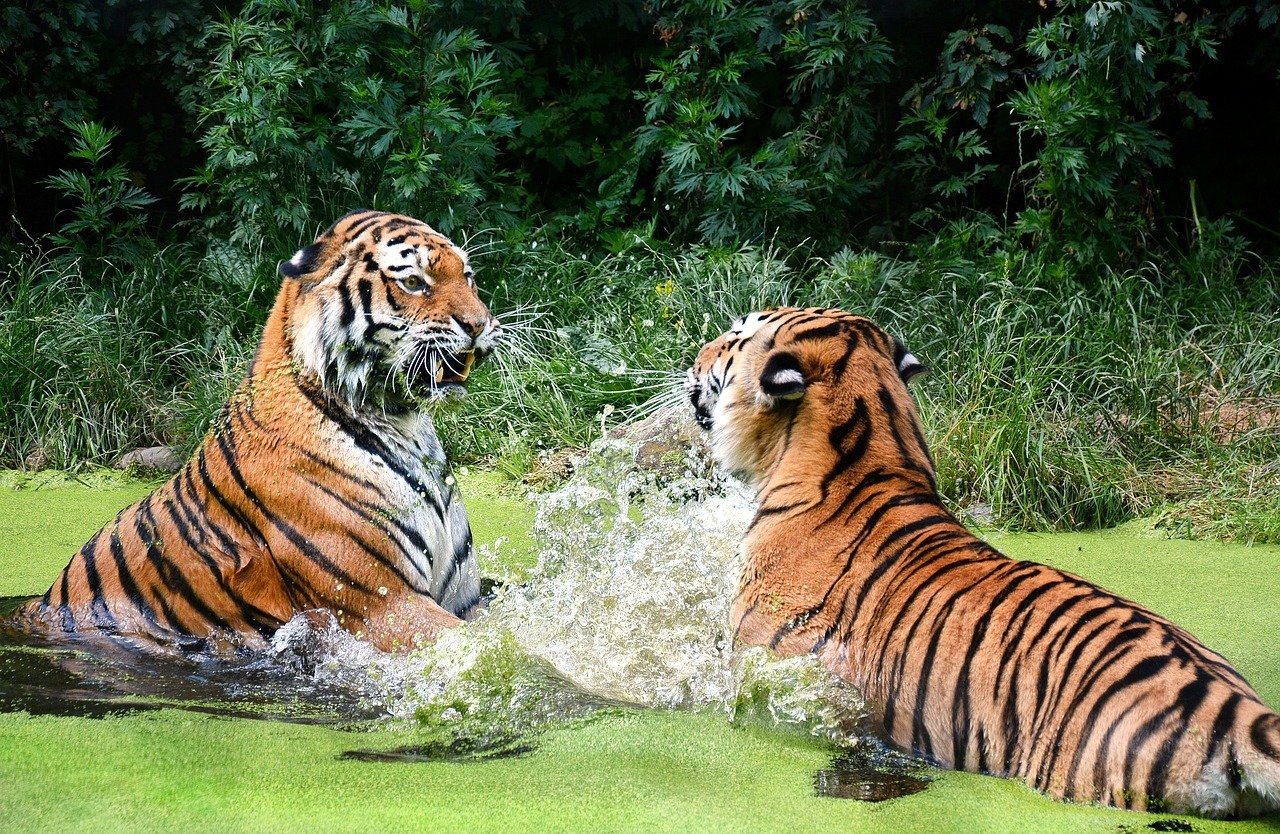 Situated in the grounds of the Schönbrunn Palace, Tiergarten Schönbrunn is the oldest zoo in the world, and certainly one of the finest! Housing a vast collection of exotic animals, the zoo prides itself on being a center for conservation and education.
With over 700 animal species, you'll find everything from Siberian tigers and elephants to giant pandas and sloths! The zoo is set amid beautiful greenery, making a visit to it an interesting and tranquil experience.
#7 – Hundertwasserhaus
An incredibly creative and artistic collaboration between artist Friedensreich Hundertwasser and architect Joseph Krawina, this expressionist landmark is truly unique.
It is an apartment house with a colorful patchwork exterior and a plethora of trees, shrubs, and vines growing on it and creeping across its walls! The building even features undulating floors and is one of the most visited buildings in the entire country.
While you can only view the Hundertwasserhaus from the outside, the Hundertwasser Village is just a couple minute walk away and open to the public. It was designed by the same artist and offers a similar experience.
#8 – St. Stephens Cathedral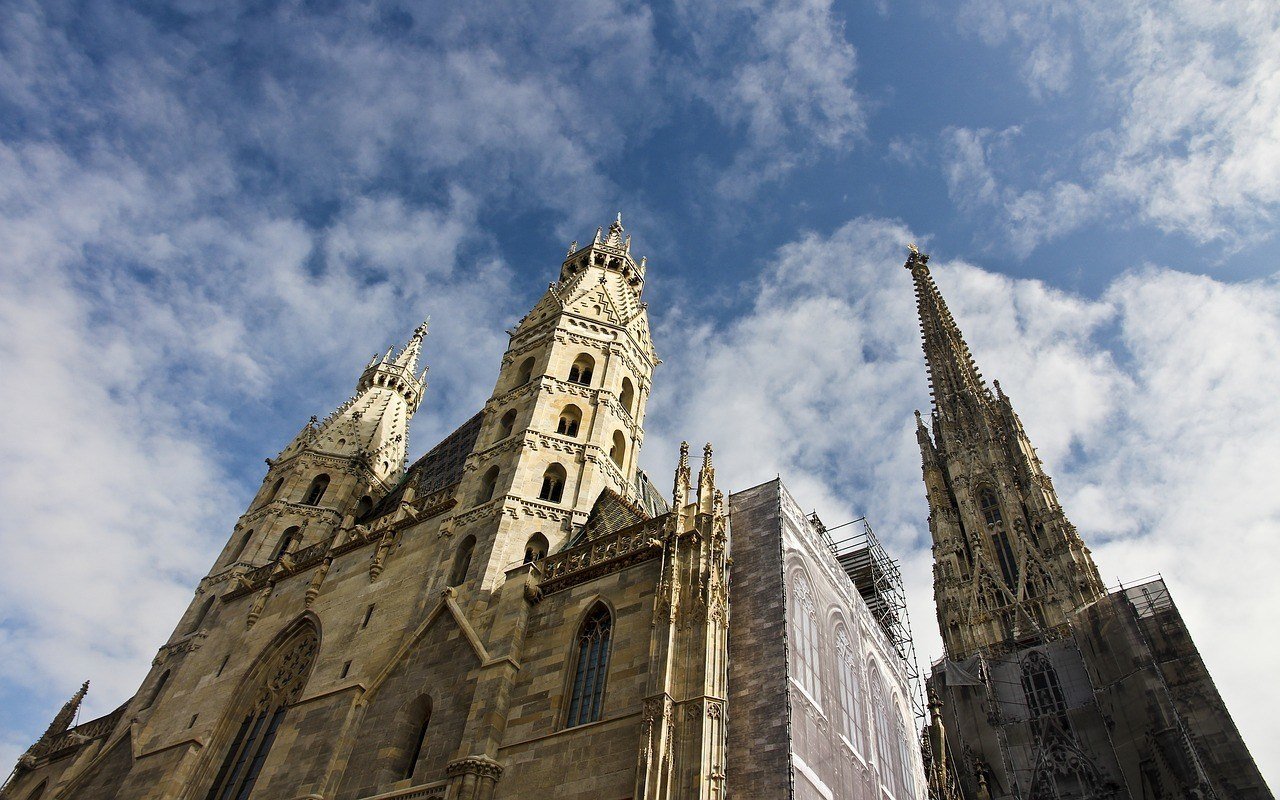 Dating back to the 12th century, St. Stephens Cathedral is the symbol of Vienna and one of the world's most beautiful specimens of Gothic architecture! Having dominated Vienna's city skyline for almost 1,000 years, the cathedral is truly a sight to behold.
The interior is just as impressive as the exterior, with elegant detailing, stunning altars, and ceilings soaring high overhead. The catacombs below also offer a morbidly fascinating experience.›
Take a walk up the 343 steps of the South Tower to experience incredible views of the old town. You'll also get a close-up view of the cathedrals famous colorful roof tiles!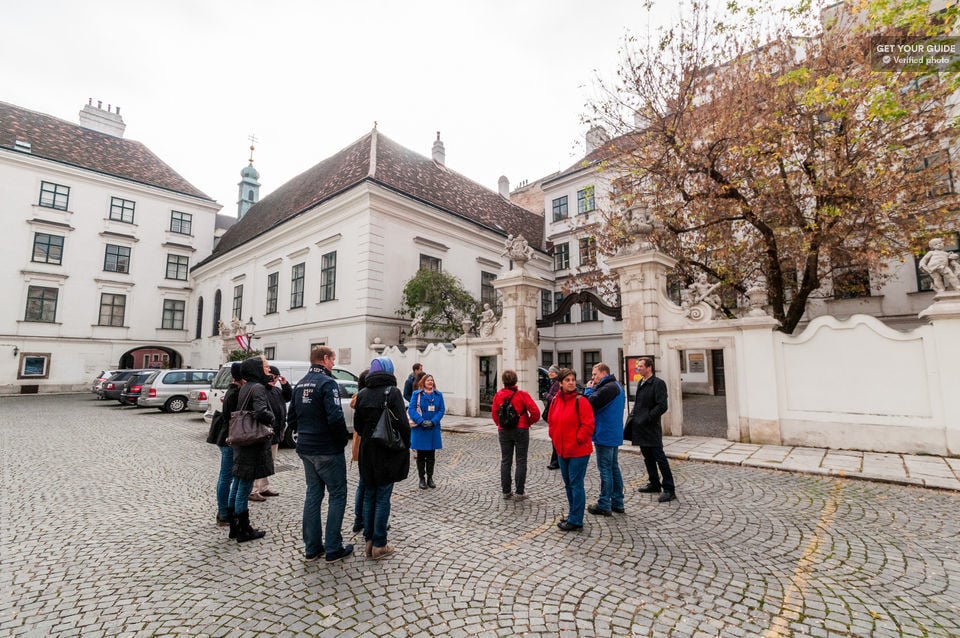 Innere Stadt, also referred to as Old Town, is the gorgeous historic center of Vienna, and a UNESCO world heritage site. In fact, up until 1850, Innere Stadt was synonymous with the city of Vienna. You'll likely spend a fair amount of time in Innere Stadt during your visit to Vienna, but it's worth giving the area some designated exploration.
One of the best ways to soak up the archaic atmosphere of Old Town is by taking a guided walking tour. You'll get to see some of the city's finest sights and hidden gems, as well as hear stories from it's long and winding past.
#10 – Shop On Mariahilferstrasse
Undoubtedly one of the most famous streets in Vienna, Mariahilferstrasse is the largest shopping street in the city. If you're looking to do some shopping in Vienna, this is the place to come.
It's a particularly long street that lined with every type of store imaginable and plenty of cafes where you can take a break from your shopping. Be sure to explore the side roads that stem off from Mariahilferstrasse; there are plenty of boutiques and hidden treasures!
Don't forget to pack a good book! A Death in Vienna: is our top recommendation for an awesome and inspiring read on this magical city.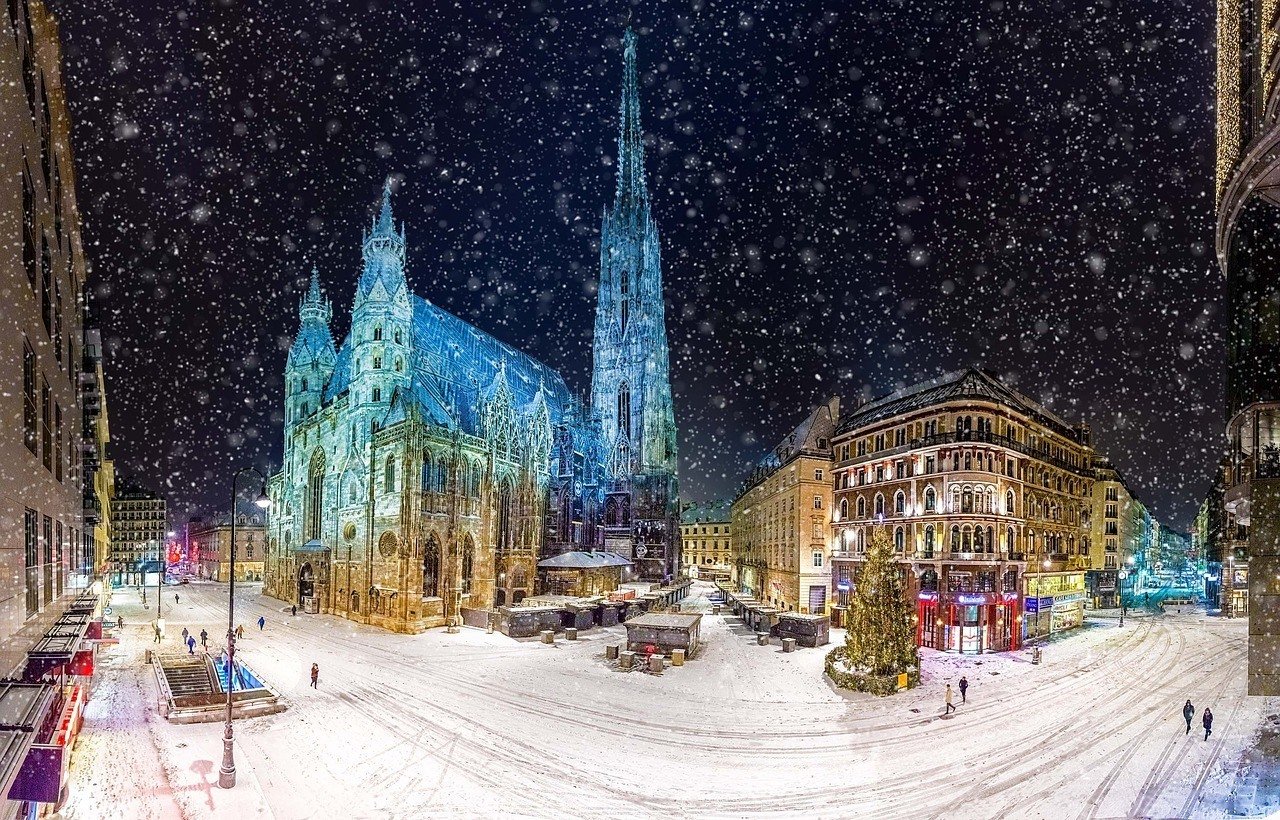 We're sure you have a few questions that you want to be answered before your holidays to Vienna. So we've done our best to answer some of the most frequently asked questions below!
And have you thought about getting Travel Insurance for your trip? We've put together a roundup of Travel Insurance for backpackers – check it out here, or if you're low on time, get a quote from World Nomads, our favorite travel insurance provider.

Final Thoughts on a Great Weekend in Vienna
Vienna is an incredible city with so much to offer those who visit. It's a city that will enchant any traveler with its balance of grandiose magnificence and quaint charm. The entire city exudes a rare opulence, yet keeps a cool modern attitude!
The atmosphere will seduce you from the moment you arrive, and you'll only grow more fond of this wonderful city.
Whether you're after a reserved sightseeing city break or a fast-paced cultural immersion full of fun and excitement, Vienna has something for you! The culinary culture is top-notch, the nightlife is cool and trendy, and the cultural activities and sightseeing opportunities are never ending!
Whether you're spending a long weekend in Vienna, or plan on staying for a full week, we hope this Vienna itinerary helps you make the most out of your visit!
---
Find out how YOU can support the site.
We work hard to put out the best backpacker resources on the web for free! It's all about helping out our tribe of awesome backpacker readers (that's you!). Please visit the link to find out how you can help keep the site going 🙂
For the sake of transparency, some of the links in our content are affiliate links. This means that if you book your accommodation, buy a piece of gear, or sort your insurance through our link, we earn a small commission at no extra cost to you. We only link to stuff that members of the Broke Backpacker team has actually used and never endorse products or services that are not up to scratch. Thanks for your support!