Vienna is widely considered one of the most beautiful European cities, and its energy and culture have bred some of the finest minds (Beethoven, Mozart, Freud, and more). Vienna's architecture, culture, and overall vibe is the epitome of European sophistication and will leave you craving more!
But with high sophistication comes high prices. Vienna is the capital of Austria – one of the most expensive countries in Europe, where saving money can be quite a challenge. Which is exactly why I wrote this stress-free guide to the 5 best hostels in Vienna. 
Everyone's travel needs are different. So to help your specific travel needs, I've separated Vienna's best hostels into different categories. So no matter what you want to do while traveling in Vienna, this guide will help you book your hostel quickly.
Let's take a look at some of the best hostels in Vienna right now!
Quick answer: These are the Best Hostels in Vienna

Do You Want to Travel FOREVER??
Pop your email in below to get a FREE copy of 'How to Travel the World on $10 a Day!'.
What to Expect from Hostels in Vienna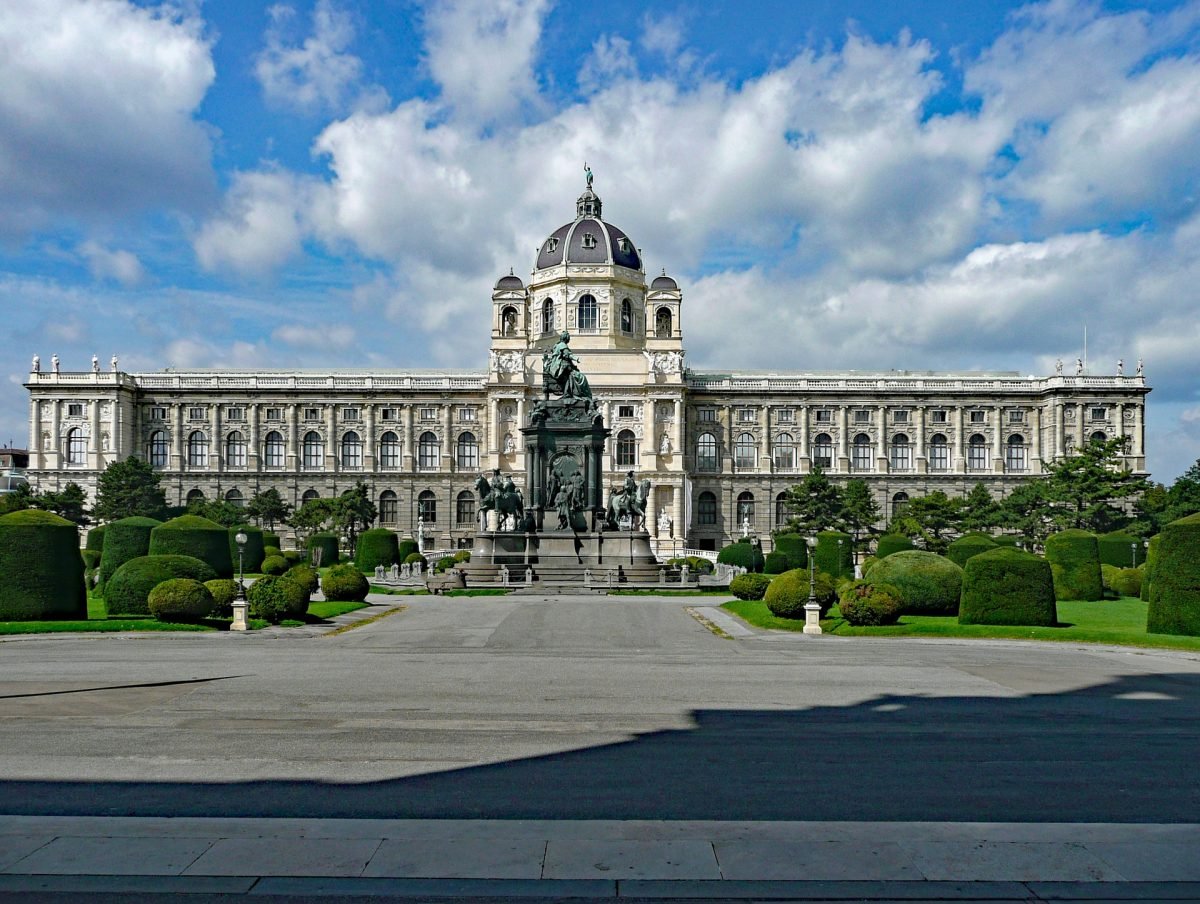 Hostels are generally known to be one of the cheapest forms of accommodation on the market. That doesn't just go for Vienna, but pretty much every place in the world. However, that's not the only good reason for staying at a hostel. The unique vibe and social aspect are what makes Vienna hostels TRULY special. Head down to the common room, make new friends, share travel stories and tips, or just have a great time with like-minded travellers from all over the world – you won't get that opportunity in any other accommodation. 
Vienna's hostel scene is truly unique. You'll find some of the best hostels in stunning, historical buildings that really made the Austrian culture stand out. Since Vienna is also one of the major cities in Europe that sees millions of travellers every year, you can be sure to have plenty of accommodation options.
If you're visiting during high season, we'd highly recommend booking your hostel beforehand, especially if you want to stay closer to the city centre and near all the top things to do. The best hostels in Vienna are in high demand!
Let's talk more about the important stuff – money and rooms! Vienna's hostels normally have three options: dorms, pods and private rooms (although pods are rare). Some hostels even offer large private rooms for a group of friends. The general rule here is: the more beds in a room, the cheaper the price. Obviously, you won't have to pay as much for an 8-bed dorm as you would for a single bed private bedroom. To give you a rough overview of Vienna's prices, we've listed the average numbers below:
Dorm room (mixed or female-only): $18-42 USD/night
Private room: $68-82 USD/night
When looking for Vienna hostels, you'll find the best options on HOSTELWORLD. This platform offers you a super safe and efficient booking process. All hostels are displayed with a rating and previous guest reviews. You can also filter your personal travel needs easily and find the perfect place for you.
Vienna might not be the biggest city, but there are still quite a few charming neighbourhoods and areas that offer unique vibes. It's important to know where you want to stay before you start your travels, so to make your life a bit easier, we've listed our favourites below:
Innere Stadt – this is the perfect spot for first-time visitors as it offers most of the historical sights and great connections to all other areas from Vienna Central Station.
Wieden – Wieden is the first hipster area the city has known and is filled to the brim with cool vibes and an epic nightlife
Leopoldstadt – this is a great spot for families thanks to trendy cafés and great open spaces.
Now that you know what to expect from hostels in Vienna, let's have a look at the best options…
Whether you're looking for the best Vienna youth hostel for solo travellers, a romantic Vienna hostel for couples, a top Vienna hostel for digital nomads close to Vienna Central Station, or the ultimate backpackers' hostel for partying in Vienna – our list of the 20 best hostels in Vienna has got you covered.
Make sure you're well prepared by having the right travel budget before going to Vienna. Find out whether Vienna is expensive or not, and how to trick your way around a couple of expenses!
From the depths of the hostelsphere, we bring you… the Hostel Card!
HostelPass has spent years & years looking for the best places to stay in Europe, and they just came back with something GREAT.
The Hostel Card is a hassle-free solution with up to 25% discount at the most amazing hostels, tours, and experiences. Any-where-you-go.
Don't sleep on the ultimate budget travel card — use code "brokebackpacker" at checkout for 25% off!
Get the Card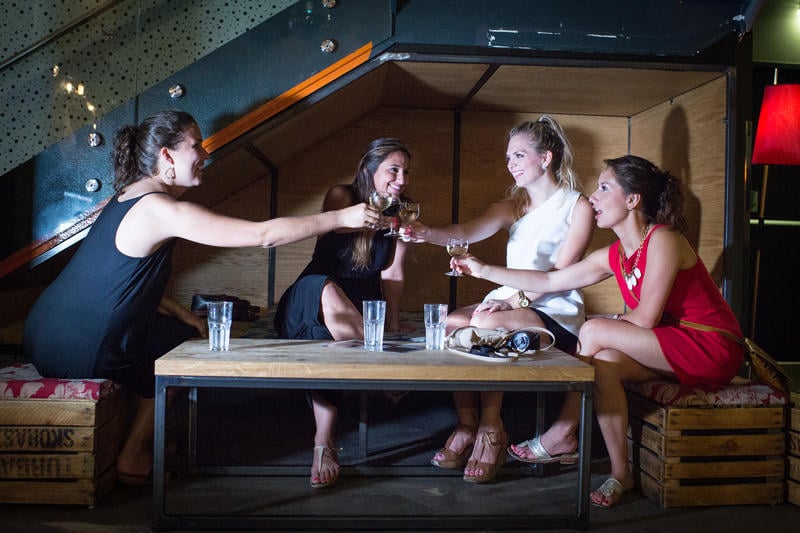 Pool Table
Laundry Facilities
Our pick for the overall best hostel in Vienna, Wombats City Hostel Vienna is a sociable place to meet heaps of cool and interesting characters. There'll be no kids running around spoiling the peace either—the hostel has a strict over-18s-only policy.
Run by travellers, for travellers, the bar keeps the cheap beer flowing, all guests get a free welcome drink, there's a free walking tour, the affordable all-you-can-eat breakfast is a perfect start to any day, and the shared areas are pretty sick. There's free wifi and the clean and secure hostel has self-catering facilities and a terrific location in the historic city centre within walking distance of the biggest market in Vienna.
Why you'll love this hostel:
Short walk from attractions
Cheap drinks
Multiple awards
It's easy to see that this is an amazing hostel right in the city centre. A quick look at the reviews should do. With over 26.000 reviews and an incredible 9.1/10 rating, Wombat's City Hostel Vienna might not only be the most popular place to stay in Vienna but in all of Austria as well.
While it's not the cheapest of the hostels in Vienna, you can be sure to get the best value possible. There are loads of freebies during your stay which makes up for the relatively average price, including free city maps, free luggage storage and free internet access.
If you're on a tight budget, opt for the bunk beds in the charming dorm bedrooms and make some new friends with your fellow travellers. Otherwise, the private rooms are pretty epic as well. You can even book a private group room, ideal if you're travelling with your friends.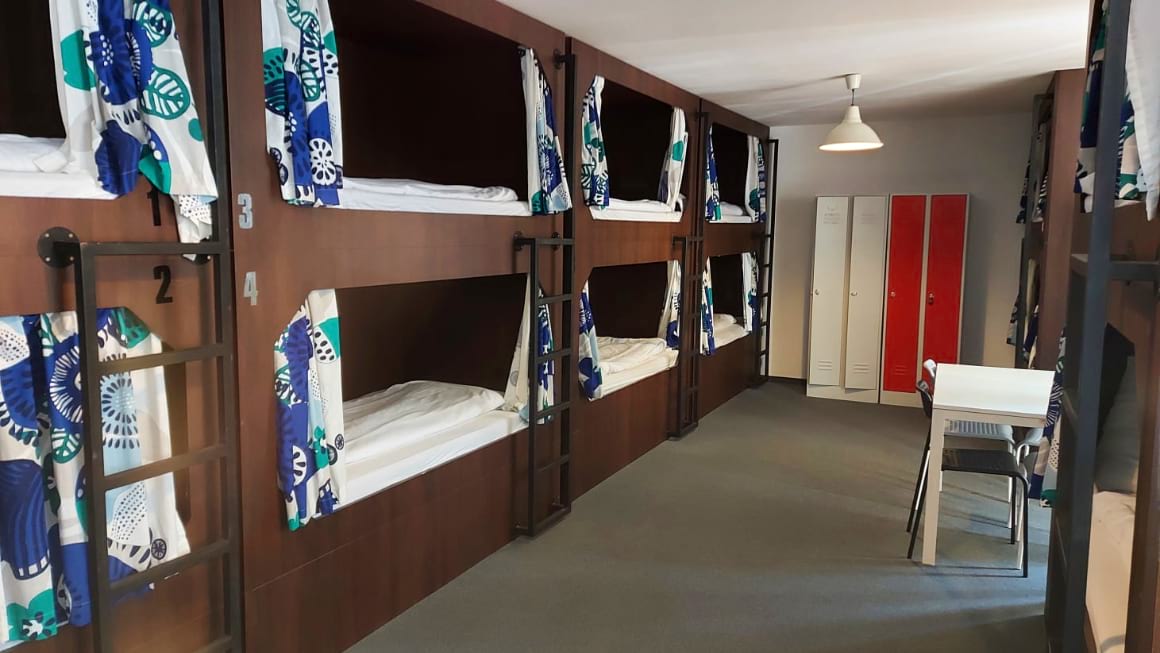 300 year-old building
Over-18 rules
Solo travellers will absolutely love this charming Boutique Hostel in Vienna. Zum Goldenen Kegel offers backpackers a really unique experience in a historical building that'll make you feel like you're stepping back in time.
But don't worry, everything inside the hostel is super high quality and totally modern and it's still got free wifi!
If you prefer to meet people outside of your accommodation and stay by yourself otherwise, you've just found the perfect spot. Zum Goldenen Kegel has some really cool private and twin rooms which are the literal dream of a traveller that needs some alone time.
Why you'll love this hostel:
Private backyard
Laid back and quiet
Amazing location
According to previous guests, the beds are super comfortable and the hostel's atmosphere is quiet but extremely welcoming at the same time. This also makes it one of the best places to stay for adults or travellers that don't want to deal with kids and teenagers running around and making a lot of noise.
If you do feel like. a bit of socializing, head to the hostel's yard and chill with the other travellers. If you're lucky, you'll even meet the hostel's owners. Since the place is family-run and therefore quite small, you'll be super well looked after.
Close To Westbahnhof Train Station
24-Hour Security
Our winner for the best hostel in Vienna in 2020, the fab Hostel Ruthensteiner Vienna has a great location close to Westbahnhof train station. It typically attracts sociable travellers who are up for plenty of fun times with new buddies. Whether you chill in the garden or jam in the music area, it's all but impossible not to enjoy yourself here.
Share meals in the kitchen, throw some meat on the BBQ or grab a bite to eat from the onsite café-bar. Bikes can be rented for daytime explorations and you can rent a variety of tours.
Why you'll love this hostel:
Insanely good reviews
Cute garden
Musical instruments library
Digital Nomads will love this: There's free wifi (and the signal reaches the rooms!) and there are computers you can use which also have free internet access. Other perks include the three hostelling "L"s: luggage storage, lockers, and laundry facilities. It's a great all-rounder hostel that offers quite a bit of bang for your buck.
Another fact that really speaks for this hostel is the insanely good reviews. With over 10.000 reviews from previous travellers, Hostel Ruthensteiner Vienna is still going super strong with an impressive 9.5/10 rating. But to be honest, if you look at what this place offers its guests, it's really no surprise that everyone loves it!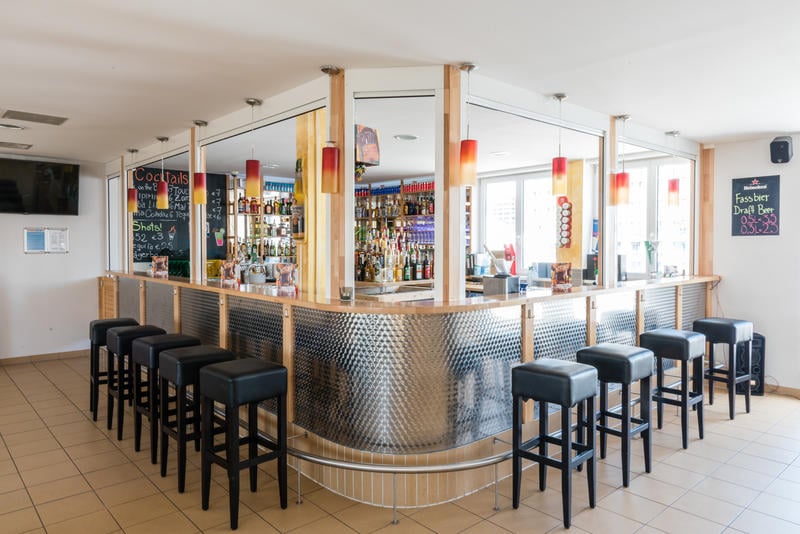 A classy recommended hostel in Vienna, A&O Wien Hauptbahnhof is more of a flashpackers' pad than a budget base. Dorms can accommodate four or six, and there are separate female-only dorms too. Private rooms are also available.
Located in the heart of Vienna city centre, a major drawcard is the stylish SkyBar, which offers fabulous views, delicious drinks, tasty bar snacks, and a sophisticated atmosphere. Perhaps better suited to travelling couples and groups of friends, have a friendly game of pool or foosball, watch TV, and surf the net with free wifi.
Why you'll love this hostel:
Daily newspaper
Cheap all you can eat breakfast
Pets allowed
If you're not particularly keen on staying in an old, historical building, this hostel is the right one for you. As a newly built building that offers its guests plenty of modern spaces, travellers can enjoy stylish design, high-quality amenities and a young backpacker crowd.
The highlight of the a&o Wien Hauptbahnhof is to discover the buzz of a whole new hostel! Stay right in the historic city centre and enjoy all the advantages of a completely new building! You're also pretty close to Vienna Central Station which is super convenient.
For the ones that want to explore Vienna's small corners, head to the reception and grab a couple of insider tips from the friendly staff. They're known to have the best hidden-gem knowledge of the city.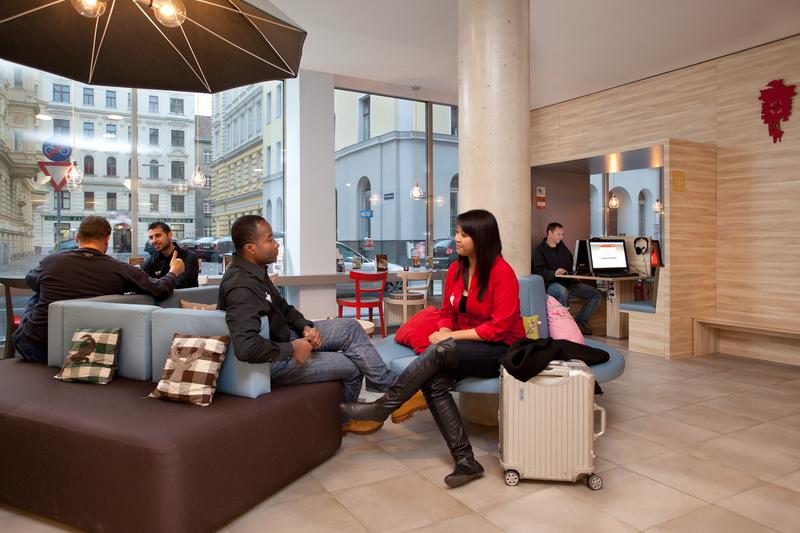 Key Card Access
Luggage Storage
Meininger Vienna Downtown Franz is a calm and clean Vienna backpackers hostel close to Schottering station. Our choice for the best hostel for digital nomads in Vienna, you can work at the free computers or access the free wifi on your own devices around the hostel. It's one of the most stylish hostels in town, even your dorm room is something special. Forget bog-standard bunk beds, the pod style bed with curtains make it one of the best hostels in Vienna.
There are various peaceful spots where you can sit and work and you can get a good night's sleep in the comfy dorms. Alternatively, if you're a light sleeper, or need to burn the midnight oil to meet a deadline, there are also private single rooms. All work and no play can quickly get boring, though; head to the kitchen, games room, bar, or lobby for a break.
Why you'll love this hostel:
Great location
Ticket and activity desk
Bike rental
We'd highly recommend this hostel, especially for Digital Nomads thanks to the calm atmosphere. Nothing is more annoying than having to get work done and people are constantly interrupting or irritating you. Sit down in the charming common area, co-work with your new friends and then enjoy some socialising afterwards.
Once you're done with work, you can enjoy the charming neighbourhood with the free city maps. The MEININGER Hotel Vienna Downtown Franz is located in lively Leopoldstadt. Here, in the former Jewish quarter and one of the town's most popular areas, you can find ample green spaces and the Karmeliter Market with numerous stalls, cafes and restaurants that offer dishes from around the world in addition to local treats.
Is This the Best Backpack EVER???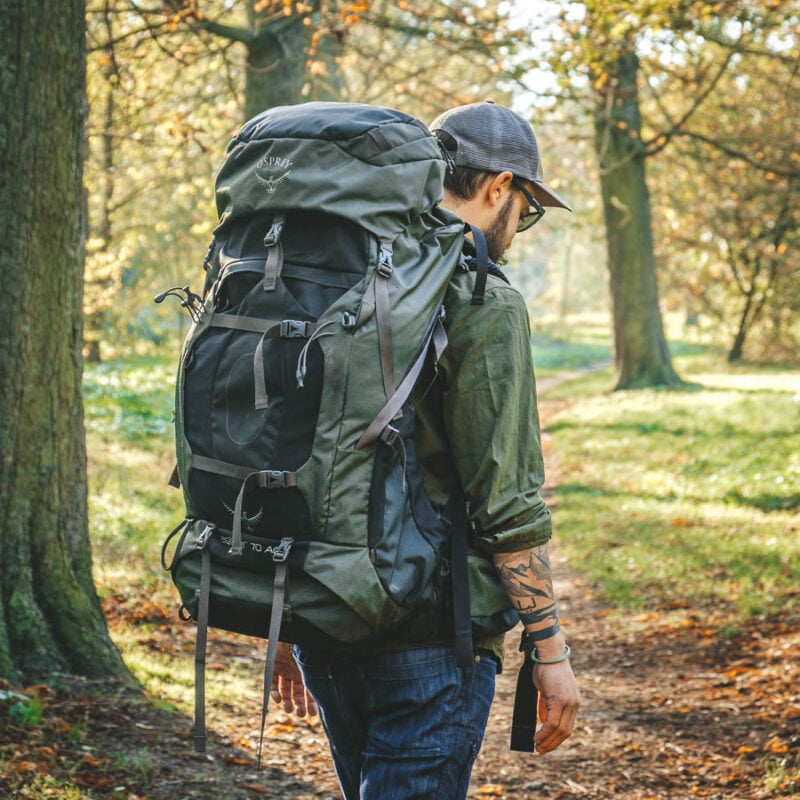 More of the Best Hostels in Vienna
Wait for it—there's more! Here are some additional top-notch youth hostels in Vienna to really make sure you find the ideal city pad:
Are you looking to stay in a specific neighbourhood? Check out our guide to Vienna's best areas to stay.
female-only Dorms
Wheelchair Accessible
Maybe the coolest cheap hostels in Vienna, A&T Holiday Hostel is modern, colourful, and sociable. Mingle with other backpackers and make new pals in the bar, complete with a pool table and foosball. There's no kitchen, but the café serves up a mean meal, and vending machines help to stave off midnight hunger pangs.
Besides, there are plenty of places to eat and drink close by. There are dorm rooms for four and private twin rooms. They offer female-only dorms too.
Best Hostel for Couples in Vienna – Space Homes
$$
Japanese Sleeping Capsules
Safe Box
Digital Lock On Pods
Space Homes is going to completely rock your world! This futuristic concept has been taken right from the wacky world of Japan and transplanted into the old world of Vienna! Wild! Here you can stay in your own intergalactic space pod complete with lockable doors, air conditioning and a safe inside.
Travelling with your partner? Each pod is big enough for two and with the changeable lighting, it offers a strangely romantic vibe! The only downside is that you probably won't find it as easy to socialise as you won't want to leave those amazing pods!
Best Hostel with a Private Room in Vienna – JO&JOE – Vienna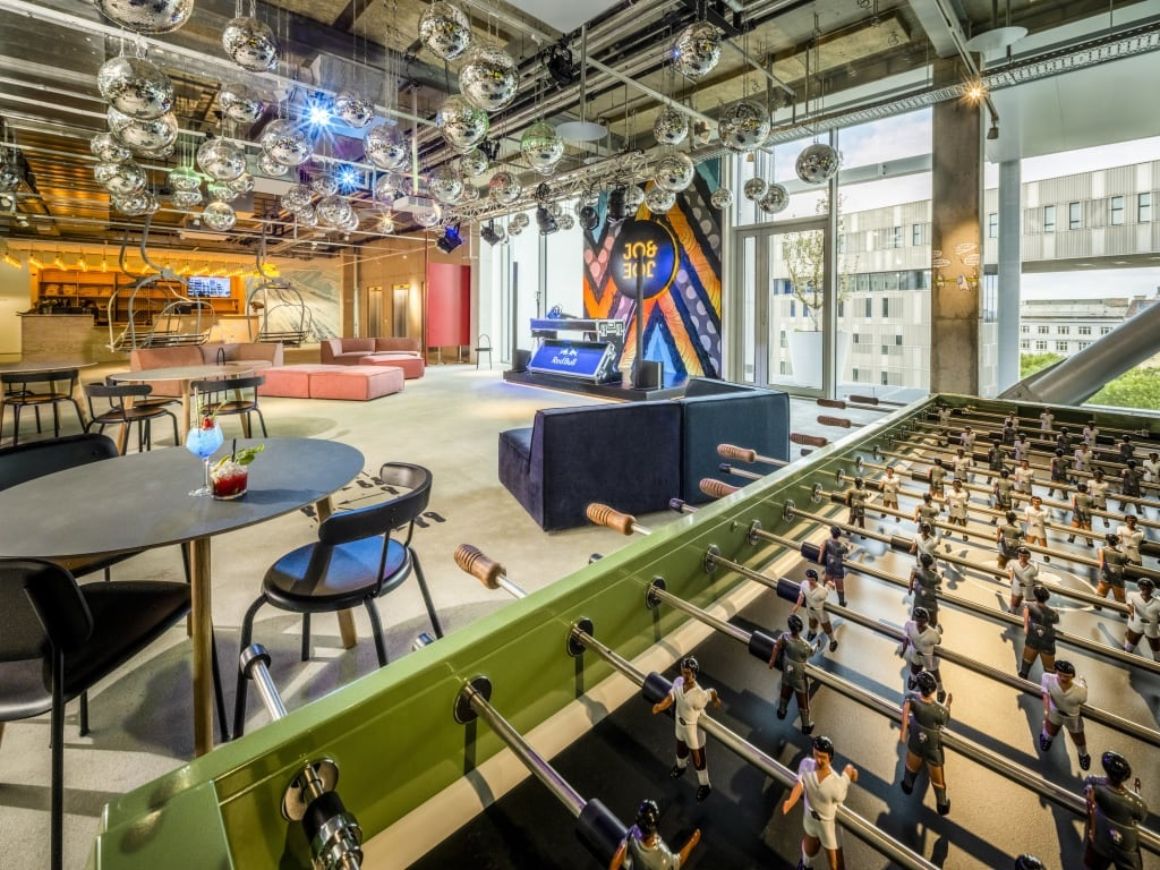 Bike Hire
Wheelchair Friendly
Offering incredibly easy access to public transport connections and with Vienna's city centre just a hop, skip, and a jump away, JO&JOE – Vienna has every right to be proud of its fantastic location. A sociable top hostel in Vienna with cool facilities, play a game of pool, get travel tips and tricks from other guests in the bar, chill in the lobby, and have some light competition in the games room. There are private en suite rooms and modern pod style dorms with plenty of bathrooms—no hopping around while you wait in a queue!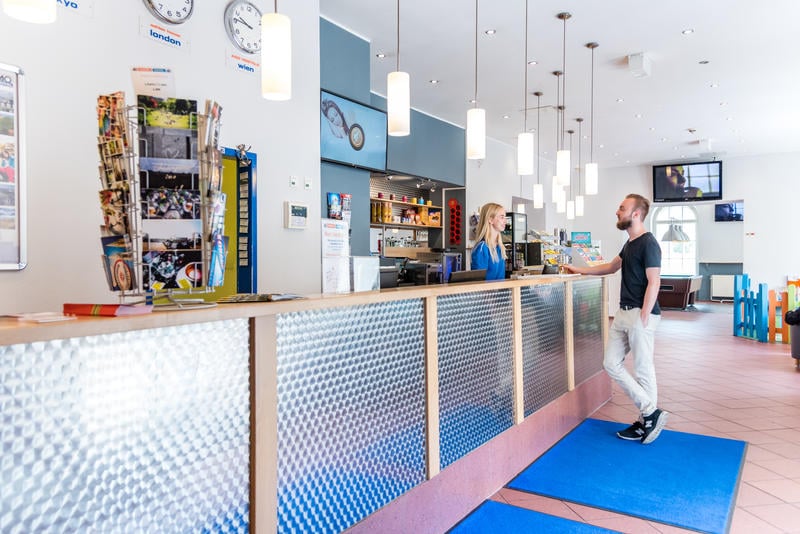 Tour Desk
Laundry Facilities
A well-equipped, modern, and comfortable Vienna backpackers hostel, A&O Wien Stadthalle has awesome members of staff, a cheap breakfast buffet where you can fill up on as much food as you can eat, free Wi-Fi, a tour desk, laundry facilities, and more.
Whether you're staying in a dorm or private room, the lobby bar is a great place to meet other cool travellers and swap travelling tales. Perhaps you'd fancy a game of pool or foosball too? Housekeeping services and key card access make your stay that little bit sweeter.
Hostel Wien – Myrthengasse (HI) is one of the best budget hostels in Vienna. The six-bed dorms are single-gender and there are also private rooms for two. Breakfast and Wi-Fi (accessible in common areas) are free, and you can also benefit from free luggage storage on your arrival and departure days and free parking for bicycles. Do note that you'll need to be a Hostelling International member to stay here.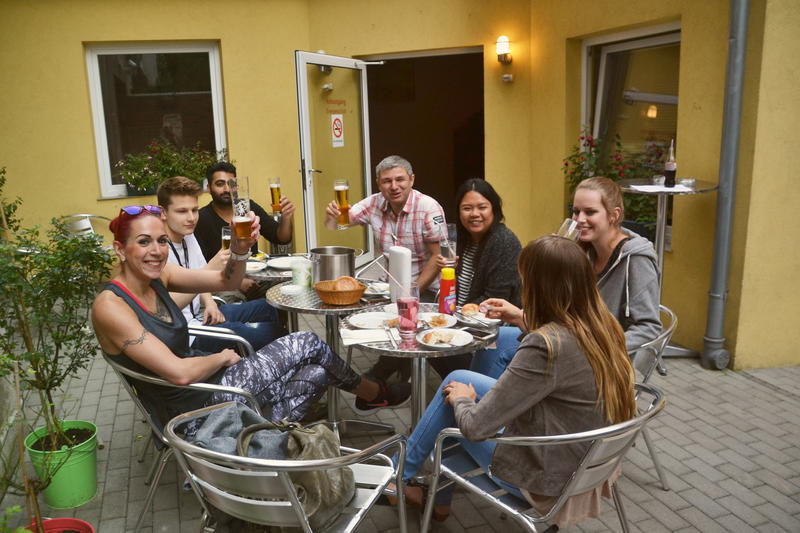 Do Step Inn is a clean and cosy base in the heart of Vienna, close to the famous shopping street of Mariahilfer Strasse. Basic meals can be bought in the café-cum-bar, but the fully equipped kitchen makes it easy to cook exactly what you crave. The small bar is the hostel's social hub, though you can also chill in the spacious lounge. Challenge your new pals to a game of pool or perhaps play gigantic chess in the courtyard. There are tons of free things too at this Vienna backpackers hostel, such as lockers, towels, city tours, Wi-Fi, and luggage storage.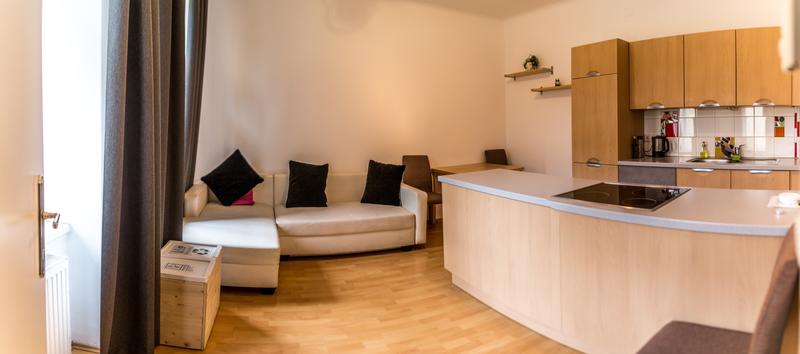 Female-only Dorms
Free City Maps
Situated in a quiet area away from the hustle and bustle of city life yet close to public transportation links, Gartl Apartments and Hostel is an all-around top Vienna backpackers hostel for couples, friends, families, and solo travellers. There are female-only dorms as well as mixed dormitories, or you can book one of the private double rooms for more privacy at bedtime. Each dorm has its own bathroom and guests can keep their stuff in secure lockers. The peaceful interior courtyard is a pleasant place to chill.
Cable TV
Laundry Facilities
Happy by name and happy by nature, Happy Hostel has a wide selection of private rooms in different sizes for families, friends, solo city explorers, and couples. Some rooms have private bathrooms and kitchens, and others share facilities. Rooms are spacious and well-equipped, with good storage space and cable TV. Wi-Fi is free and the hostel also has laundry services and luggage storage. It's one of the best hostels in Vienna if you want somewhere chilled with your other half.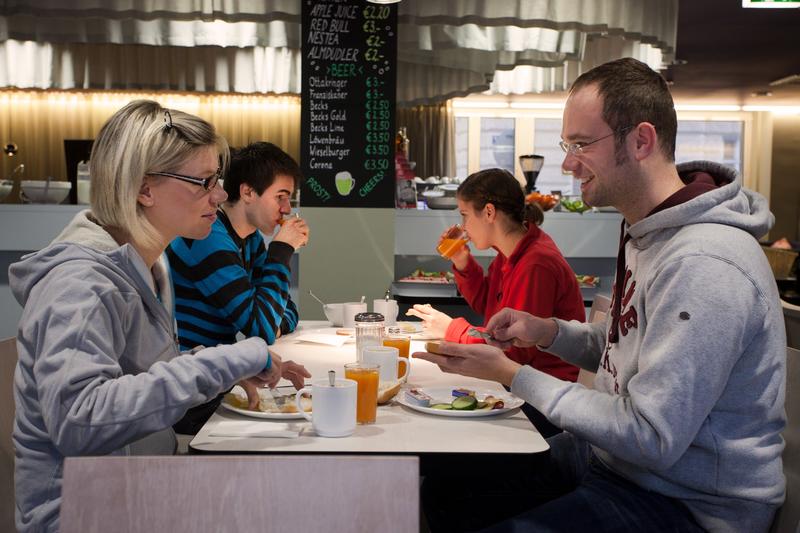 A posh place to stay in Vienna, Meininger Hotel Vienna Downtown Sissi has private apartments for one, two, three, and four, though the hostel-like facilities make it feel a bit more sociable than a sterile hotel. The apartments are sometimes rented as shared dorms too.
All rooms have a bathroom and a TV and the accommodation has free Wi-Fi, an onsite bar, a lounge with free-to-use computers, a communal kitchen, and luggage storage. Situated in the historic district of Leopoldstadt, you'll find heaps to do right outside, though public transport links are also close.
Another Cheap Hostel in Vienna #1 – Youth Hostel Hütteldorf
Free City Maps
Laundry Facilities
If you're looking for some great bang for your buck, Youth Hostel Hütteldorf is the best cheap hostel in Vienna. Offering a wide selection of mixed and female-only dorms as well as various-sized private rooms, budget backpackers can save even more Euros by preparing their own basic meals in the simple kitchen.
In an ideal location, on the edge of a forest, for fans of the great outdoors, Vienna city centre can easily be reached in under half an hour by subway. Freebies include Wi-Fi, lockers (you'll need your own padlock), free luggage storage, free city maps, and free parking. The sociable common room has foosball, a pool table, and cable TV, and there are also laundry facilities and an onsite restaurant.
Youth Hostel Hütteldorf is one of our favourites in Vienna but they're not taking guests right now. We're not sure if they're closed for good but we hope they'll come back soon.
Best Party Hostel in Vienna – Westend City Hostel
Laundry Facilities
Elevator
Westend City Hostel is a popular backpackers hostel in Vienna. While there are only a few options in Vienna that could truly be called party hostels, the selection of bars and clubs within walking distance of Westend City Hostel make this one of the best party hostels in Vienna.
Sure, other places may have an onsite bar, but who wants to stay in all the time?! The sociable team will point you in the right direction of the best parties around and when you come back you can sink into a cosy and comfy bed to recharge your batteries. The hostel has great amenities too including free city maps and is close to Vienna's main shopping street. It's one of the best hostels in Vienna for location and solo travellers.
Westend City Hostel is one of our favourites in Vienna but they're not taking guests right now. We're not sure if they're closed for good but we hope they'll come back soon.
Palace Hostel
Laundry Facilities
Key Card Access
With plenty to do both within the hostel and just outside the front door, Palace Hostel is a top hostel in Vienna for travellers who like to pack as much into a city break as possible. There's a leafy park across the road, hiking tracks start nearby, and, in the winter months, the area is transformed into an icy wonderland with the huge Wilhelminenberg Christmas market. Public transport links are close to the hostel.
Access is by keycard, keeping things safe and secure, and facilities include an array of free equipment to borrow, such as board games, trekking poles for Nordic walking, and Frisbees, free Wi-Fi, washing machines and dryers, and common areas.
Palace Hostel is one of our favourites in Vienna but they're not taking guests right now. We're not sure if they're closed for good but we hope they'll come back soon.
Westbahnhof Hostel One
Laundry Facilities
Close To Westbahnhof Train Station
A great Vienna base for shopaholics, Westbahnhof Hostel One is situated right next to Vienna's main shopping street: Mariahilfer Strasse. Many places of interest are close to hand too. Unsurprisingly, it's also close to Westbahnhof train station so no need to hunt high and low for a Vienna hostel near the airport.
There are indoor and outdoor seating areas and the kitchen is spacious and modern. There are power points inside the personal safety deposit boxes, meaning that you can leave your devices charging while you go out exploring. If you're over climbing ladders you'll love the beds here—there are absolutely zero bunk beds!
Westbahnhof Hostel One is one of our favourites in Vienna but they're not taking guests right now. We're not sure if they're closed for good but we hope they'll come back soon.

Unlock the The Broke Backpacker's GREATEST Travel Secrets!
You pop your email here, and we promise to send you only travel content that's actually relevant — sounds like a pretty good deal to us!
Chichilli Hostel Vienna
Book Exchange
Laundry Facilities
A friendly family-run youth hostel in Vienna, Hostel Vienna is housed within a handsome historic building in a high-class neighbourhood. Homey and welcoming, the hostel is clean and secure. Whip up a storm in the shared kitchen and catch up with personal chores with the laundry facilities. Airport transfers can be arranged for reasonable prices too, meaning you don't have to waste nights at a Vienna hostel near the airport—come right to the city centre!
Chichilli Hostel Vienna is one of our favourites in Vienna but they're not taking guests right now. We're not sure if they're closed for good but we hope they'll come back soon.
FAQ about Hostels in Vienna
Here are some questions backpackers ask about hostels in Vienna.
Travel Safety Tips for Vienna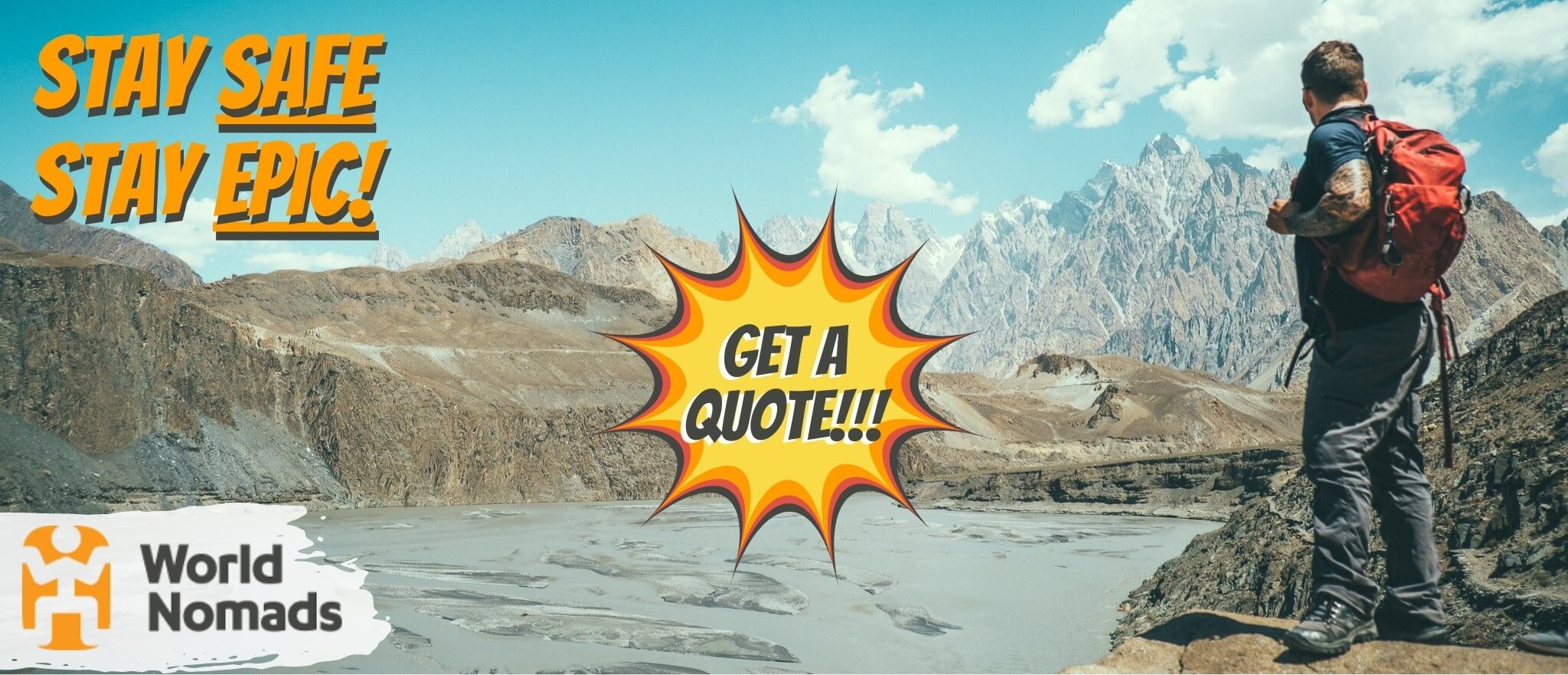 World Nomads' mission is to support and encourage travellers to explore their boundaries. They offer simple & flexible travel insurance, and safety advice to help you travel confidently.
They've been doing it since 2002 – protecting, connecting, and inspiring independent travellers just like you.
Get a quote below or read our in-depth review!
More Epic Hostels in Austria and Europe
Hopefully, by now you've found the perfect hostel for your upcoming trip to Vienna.
Planning an epic trip all across Austria or even Europe itself? Don't worry – we've got you covered!
For more cool hostel guides around Europe, check out:
Final Thoughts in the Best Hostels in Vienna
Do yourself a favour while in Vienna – grab a cappuccino, and enjoy the world pass by. Vienna will blow you away.
Hopefully, with the help of this list of the best hostels in Vienna, you can book your hostel quickly, and focus on what matters – exploring this amazing city!
Remember, if you can't pick one hostel, just book at Wombats City Hostel Vienna. There's plenty to see and do at this best hostel in Vienna for a good price.
If you think we've missed anything or have any further thoughts, hit us up in the comments!
---
Bye for now, but not forever!
If you want MORE top-tier Broke Backpacker content like this, then sign up for our weekly newsletter below to get the latest and greatest!
And for transparency's sake, please know that some of the links in our content are affiliate links. That means that if you book your accommodation, buy your gear, or sort your insurance through our link, we earn a small commission (at no extra cost to you). That said, we only link to the gear we trust and never recommend services we don't believe are up to scratch. Again, thank you!