Surrounded by the Caribbean, the British Virgin Islands (BVI) are one of the more adventurous destinations in the area. Most visitors arrive by boat, making it a great choice for an epic excursion from one of the other islands.
It's still totally off-the-beaten-path for most tourists, so you'll get to enjoy peaceful beaches, laid-back restaurants and unique local attractions. If you're bored of the same old destinations, BVI might just be the place for you.
Each island offers something completely different, so it's super important to plan where you want to stay well in advance to ensure a peaceful and rewarding break.
That's where we come in! Combining our own experience with advice from locals and tour guides, we've figured out the five best places to stay in the British Virgin Islands. This unique destination has a lot to offer and you're sure to find something that suits your travel style.
So let's dive right in!
Bright Villa in British Virgin Islands – Cachette Cottage
This bright and airy space is the perfect spot to unwind in the British Virgin Islands. This small studio is a great choice for couples seeking a romantic getaway.
The private pool has gorgeous views across the coast, the interiors are spacious and include a modern kitchen. There's not a lot to do nearby, but the secluded feel is part of the charm for many guests.
Surrounded by nothing but hills and forest, this one really is a rural retreat. The villa sleeps up to 12 people, is a perfect spot for groups heading to the British Virgin Islands to get away from everyday life.
There's a pool, free wifi and 5 ensuite bedrooms overlooking the ocean. Gorda Peak National Park is right on your doorstep, so you'll have endless opportunities for hiking and scenic photography.
Luxury Hotel in British Virgin Islands – Scrub Island Resort
If you're coming to the British Virgin Islands and fancy splashing out, this stunning 5-star resort is a great place for it. With a huge expanse of private beach, you'll get to enjoy a sense of exclusivity and unparalleled luxury.
Hiking, kayaking and snorkelling are just a few of the many activities on offer at this resort.
The British Virgin Islands are a rewarding destination, but traveling here doesn't come without its difficulties. If you can, hire a boat upon arrival so you can easily travel around the different islands. The water is surprisingly calm, but you'll need to have some experience just to make sure you can navigate around the territory safely.
If you aren't able to sail, we recommend sticking to Tortola. This is the main island and home to the airport, making it super convenient for travellers. There's so much to do on the island, with quieter spots in the north, and the capital (Road Town) in the south. You'll get a good overview of the territory from this island.
There are a few passenger ferries that can take you around the most popular islands. Jost Van Dyke can be accessed from Tortola, making it another great option if you're not able to sail. There isn't as much to do there, but that's just part of the charm. If you're looking to kick-back and relax, look no further than Jost Van Dyke.
Virgin Gorda is on the other side of Tortola. The British Virgin Islands are a really unique destination for couples – and the secluded beaches make it a really romantic place to vacation. Virgin Gorda has a good balance of things to do in the main town, whilst also benefiting from peaceful spots that you can enjoy all to yourself.
Those are the three most visited islands, but if you're willing to travel further afield you'll discover some real hidden gems. Anegada, with a population of less than 200, is truly the place to get away from civilisation. You'll need a boat to get here and we recommend stocking up on supplies in Tortola, but it's totally worth it for the escape value alone.
Finally, the Southern Islands are the most secluded destination in BVI. Why? Well, nobody actually lives there! There are still a few tourist accommodation options available, but you'll need to hire a boat to get there. The great thing about the Southern Islands is that whilst they are uninhabited, they're just a short journey away from Tortola. This really gives you the best of both worlds.
Still undecided? The British Virgin Islands are a fascinating destination with so much to offer, so we totally understand that it's not easy to make your mind up. Keep reading for more information about each area – including our top accommodation and activity picks.
1. Tortola – Best Place to Stay in British Virgin Islands for a First Visit
Tortola is the main island in the British Virgin Islands and home to the capital – Road Town. This is where the airport is, so unless you're sailing to the islands yourself this will be the first place you visit during your trip. For first time visitors, this is most accessible island in the territory and comes with the most activities.
Road Town is where you will find the main cultural attractions in the BVI. Beyond the capital, the rest of the island is just as quiet as everywhere else in the British Virgin Islands. The BVI don't have a sewerage system, so we recommend hitting the less populated beaches on the north coast.
If you're something private, this gorgeous villa comes is the perfect choice and has stunning ocean views. There isn't a lot to do in the local area, so this is one for those laid-back coastal breaks. It consists of two buildings that can sleep up to six guests. From the on-site pool you can also admire views across neighboring islands.
This is another stunning villa that has a more luxurious vibe. It directly faces the sunset, so you'll get to enjoy romantic views throughout your stay.
Mount Healthy National Park is also right next door, giving you some good hiking trails. That being said, you'll never want to leave the indulgent comfort of this beautiful little hideaway.
This one is actually located on Scrub Island, which is just off the northeast coast of Tortola. There are ferries connecting the two islands – and if you've brought your own boat they have a marina where you can dock.
This gorgeous hotel will cater to your every whim. With a decadent restaurant and spa offering every service under the sun you'll be truly spoiled for choice.
Things to See and Do in Tortola
Josiah's Bay is a good beach for swimming and surfing. Just make sure to follow the lead of the locals, and avoid the corners where the undercurrent is strong.
Take a walk down Main Street where you can admire the colorful architecture, shop at local boutiques and enjoy a laid-back meal in the heart of town.
You can take a ferry to Salt Island. It has three inhabitants and delivers one pound of salt to the Queen's each year, and is known for its eerie unmarked graves dedicated to a local shipwreck.
Serendipity Bookshop Café is a great spot to relax, sip a coffee and soak up the chilled out atmosphere that the BVI are known for.
2. Jost Van Dyke – Peaceful Area in British Virgin Islands for a Laid-Back Vacation
West of Tortola, Jost Van Dyke is the second most popular destination in the BVI. This doesn't mean it's busy, however, and you're likely to have entire beaches to yourself on this island. This is one of the most popular spots for snorkelling and scuba diving, so make sure to bring your gear along with you.
What we love about Jost Van Dyke is that it's connected to the capital by ferry. This makes it super accessible, but still benefits from a low population. If you don't have access to a boat but still want to get away from the main tourist areas, this is the place for you.
Modern Escape in Jost Van Dyke – Glass House
If you're looking for something a bit more contemporary, this stylish house is perfect for you! Designed as a vacation home for the family that owns it, it sleeps up to 12 people and is a great choice for families willing to splurge.
Stand up paddle boards and boogie boards are provided, so you can explore the coast on calmer days.
Scenic Villa Community in Jost Van Dyke – Ocean View Villas
Want to stay in a villa but not too sure about organising everything yourself? Ocean View Villas is a vacation community where you get the same convenience that you would from a hotel, whilst still getting to enjoy your own space.
Each villa comes with a patio where you can enjoy your meals with a view. You will also be able to get to know other guests and travelers.
Calm Studio in Jost Van Dyke – Carrot Bay
Overlooking the stunning Apple Bay, this quirky little studio is perfect for couples hoping for a secluded escape. The British Virgin Islands are undoubtedly an expensive destination, but this accommodation is among the most affordable in the region.
Bomba's Party Shack is a local bar and restaurant, and is within walking distance so you can mingle with the local community.
Things to See and Do in Jost Van Dyke
Jost Van Dyke Scuba is the only diving and snorkelling experience provider on the island – and offers diving lessons for first-timers.
Foxy's is a local favourite that offers typical BVI cuisine throughout the week, as well as a vibrant barbecue night every Friday.
The Soggy Dollar Bar is the best place to socialise on the island, and has long been popular with both locals and visitors to Jost Van Dyke.
3. Anegada – Secluded Spot in British Virgin Islands for Adventurous Travellers
Anegada is the furthest island from the capital, so you'll need to have your own boat to visit here. That alone creates a sense of adventure – but you'll also find some great diving, fishing and kite boarding experiences on the island.
The population here is just 200 people, quiet evenings are to be expected. There are a few bars and restaurants around, but these are known to close at random times. If you can, bring supplies from Road Town with you because it's a longer trip, and make sure you pack everything you could need on a trip so you're extra prepared.
Peaceful Tiny House in Anegada – Cow Wreck Beach
This rustic little house oozes charm. You're only a two minute walk from the beach, though the house is slightly further inland giving you peace and quiet away from the main tourist areas.
Interiors are a little basic, but with affordable room rates this is an excellent choice for anyone traveling on a budget. There's also a restaurant and bakery nearby.
This accommodation is part of a two cottage resort so you won't be alone, but it won't get too crowded either. Both cottages are located right on the beach, so you can roll straight out of bed in the morning and jump into the ocean.
You'll also have your own private deck area, which comes with a wood-fired pizza oven to keep you well fed throughout your stay.
Friendly Resort Village in Anegada – Four Diamonds Park
This group of villas gives you the opportunity to socialise with other guests whilst enjoying the otherwise remote Anegada. The resort offers a bicycle rental service, which is a great way to take in all the stunning views across the island. There's a communal pool and barbecue area, whilst the villas themselves are spacious and modern. They also offer fishing!
Things to See and Do in Anegada
Anegada is the best place in the British Virgin Islands to snorkel – and there's a wealth of shipwrecks to explore if you're an experienced diver.
There are a few great gift shops to pick up unique souvenirs – we love The Purple Turtle in particular, as well as Vera's Pottery Shop
Head down to Anegada Beach Club for some of the best roti in the BVI
4. Virgin Gorda – Romantic Destination in British Virgin Islands for Couples
So, pretty much everywhere in BVI is great for a romantic getaway. Captivating sunsets, secluded beaches and laid-back restaurants make it the ideal vacation for couples, especially if you're looking for a real escape.
Virgin Gorda, however, has avoided the commercialisation of Tortola, snd offers endless white sand beaches and authentic eateries.
The main town is Spanish Town, but we recommend heading north for the beaches. There's a somewhat regular ferry from Road Town, so you'll never be too far from Tortola's popular attractions.
Stylish Cottage in Virgin Gorda – Cachette Cottage
Bright and open, this property embodies calm wherever you walk. The outdoor pool area is our favourite part, as not only does it come with stunning views, but also a small dining area where you can soak up peaceful sunsets in the evenings.
Daily housekeeping is included, so you won't have to lift a finger throughout your stay. This is perfect for a relaxing getaway.
Secluded Paradise in Virgin Gorda – Anam Cara Villa
Awarded gold seal certification by the British Virgin Islands tourism board, this really is the crème de la crème of luxury in the region. With stylish architecture and unbeatable viewpoints on the doorstep, it's no wonder this villa constantly gets top reviews.
It comes with its own pool, but we recommend taking a dip in the sea with snorkelling gear for a breathtaking swim.
Virgin Gorda is one of the quietest islands in BVI, so staying at an aparthotel is a great way to get in some social interaction whilst still enjoying your own private apartments.
Bayview Vacation Apartments are among the best rated accommodations on the island. Rooms are well equipped with modern furnishings, and there's a communal barbecue and garden outside.
Things to See and Do in Virgin Gorda
Hike through Virgin Gorda Peak National Park for stunning views across the entire island and its verdant nature
The Baths is the most famous beach on the island thanks to the hidden pools and caves, but we also love Little Trunk Bay for something more secluded
Bitter End Yacht Club can get a little pricey, but their restaurant is the ideal spot for an unforgettable date night
5. Southern Islands – Where to Stay Off-The-Beaten-Path in British Virgin Islands
OK so we must confess – nobody actually lives here! Not permanently, anyway. There are still a few great accommodation options for visitors in the Southern Islands, giving you the ultimate escape from civilisation.
It really doesn't get more off-the-beaten-path than this. You'll need your own boat, but thankfully the crossing from Road Town isn't too long. Cooper Island is the best serviced island, but there are even more secluded options on the other islands.
Secluded Cottage in Southern Islands – Cooper Island
If you're looking for something with a bit of character, you can't go wrong with this pretty pink villa on Cooper Island. The beach is right on your doorstep, giving you a secluded slice of luxury in the Southern Islands.
Inside the villa you will find traditional design and sturdy furnishings. There's also a small terrace with a dining table overlooking the beach.
Laid-Back Pied-a-Terre in Southern Islands – Point View Dwelling
You'll need your own boat to access this property – but this also means you get to enjoy a good balance between peaceful seclusion and convenient access to the main island.
Tortola is only a few minutes away, so you won't need to worry about running out of supplies. The property itself is pretty basic, but well maintained and with gorgeous views at the back.
Peaceful Retreat in Southern Islands – Quart-a-Nancy
This is another stunning Cooper Island retreat, located on the edge of Quart-a-Nancy. This is known as one of the most beautiful spots in the British Virgin Islands, and you'll mostly have it all to yourself. There's a small path connecting you to the pier where you can dock your boat upon arrival.
It is powered entirely using solar energy, ideal if you want to travel responsibly and keep your carbon footprint in check.
Things to See and Do in Southern Islands
There's nothing here in terms of organised activities, but that's just part of the charm.
Spend your days enjoying the entire island to yourself, exploring its gorgeous beaches and secluded coves
ALWAYS sort out your backpacker insurance before your trip. There's plenty to choose from in that department, but a good place to start is Safety Wing.
They offer month-to-month payments, no lock-in contracts, and require absolutely no itineraries: that's the exact kind of insurance long-term travellers and digital nomads need.
SafetyWing is cheap, easy, and admin-free: just sign up lickety-split so you can get back to it!
Click the button below to learn more about SafetyWing's setup or read our insider review for the full tasty scoop.
There's no escaping how unique the British Virgin Islands are. This destination is a treasure trove of hidden beaches, gorgeous scenery and laid-back local attractions. You'll need to save up a little for your visit, but it's totally worth every penny – especially if you just need to get away from civilization for a bit.
If we had to pick one area that really stands out for us it would be Virgin Gorda! This island is well connected to Tortola by boat, but also has plenty of attractions in its own right. These are a little more understated than those in the capital, and you'll find plenty of hidden gems in the north where you can enjoy stunning sunsets in peace.
That being said, it really depends on what you want to get out of your stay. Tortola is the most accessible destination, so if this is your first visit it's a good plan to stay there. Otherwise, the other destinations mentioned in this guide offer something a little more adventurous and off-the-beaten-path.
Did we miss anything? Let us know in the comments!
Do you own an awesome hostel, hotel or apartment? Want to be featured in our list? Email [email protected] to find out how.
---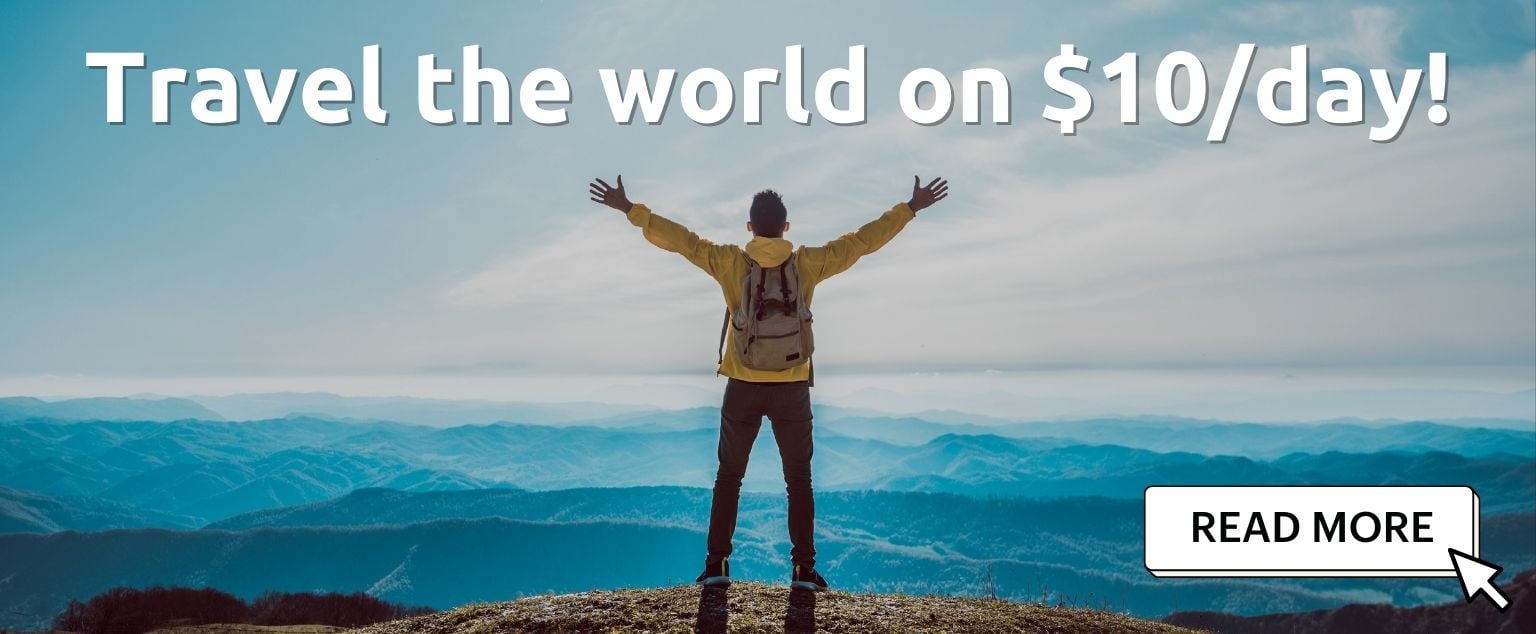 And for transparency's sake, please know that some of the links in our content are affiliate links. That means that if you book your accommodation, buy your gear, or sort your insurance through our link, we earn a small commission (at no extra cost to you). That said, we only link to the gear we trust and never recommend services we don't believe are up to scratch. Again, thank you!