A gem of the Caribbean, but relatively undiscovered, Curacao is one of the best places to visit in this cluster of fascinating and beautiful islands. Aside from this, there is also an eclectic range of accommodation for you to choose from here, handpicked by us!
With the perfect balance of urban and rural landscapes, you will be spoilt for choice of adventures and exploring to get your teeth into during your stay. As one of the Netherland Antilles, there is an abundance of incredible history to uncover, all in the setting of some of the most gorgeous beaches and breath-taking landscapes to be found in the Atlantic.
With so much on offer, it can be quite overwhelming when trying to decide where to stay in Curacao.
But with our easy, step-by-step guide, you'll find the best areas to stay in Curacao to meet your interests and budget!
Without further ado, here's our guide to where to stay in Curacao, Netherlands Antilles.
Unlock the The Broke Backpacker's GREATEST Travel Secrets!
Sign up for The Broke Backpacker Newsletter below to receive weekly tips on the travel-life + a FREE copy of The Backpacker Bible!
While backpacking the Netherlands, visiting Curacao might not pop into your mind. However, believe it or not, Curacao is part of the Netherlands. So why not add a bit of tropical vibe into your trip. Looking for a specific stay? These are our highest recommendations for places to stay in Curacao …
This is a brand new house in a delightful resort, with a shared outdoor pool and patio space for you to enjoy a meal or drink outside.
Inside the property, there are two large, comfortable bedrooms, a gorgeous kitchen/diner for you to cook up a storm in, and a lovely lounge area for you to snuggle up in front of the Apple TV!
This is a hostel like you've never seen before! Not only will you have an amazing stay in a modern and comfortable hostel, but you'll have the chance to use a free city bicycle included in the price of your room!
This is the best place to stay in Curacao if you're travelling on a budget and want to see as much of the island as possible whilst simultaneously helping the planet!
This hotel, along with its own private beach is the perfect place to stay on Curacao if you want to sit back and unwind in the Caribbean sunshine. With a beach bar, amazing local food and complimentary breakfast included.
There's also an outdoor pool and hot tub for you to unwind in after a day of exploring or doing nothing!
FIRST TIME IN CURACAO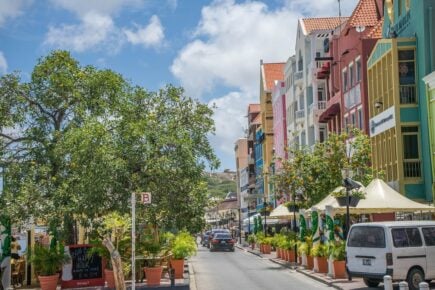 FIRST TIME IN CURACAO
Willemstad
What better place to get to know this amazing island than its capital, Willemstad? This city is vibrant, fascinating and beautiful, with different coloured buildings and historical landmarks around every corner.
ON A BUDGET
ON A BUDGET
Sint Michiel
Curacao doesn't have to just be for those who want to splash the cash. If you enjoy the great outdoors and want to embark on some cheaper activities, then Sint Michiel is the perfect place for you to stay.
NIGHTLIFE
NIGHTLIFE
Piscadera
The Caribbean is a well-known place for some real parties, so we've got you covered for the best place to stay if you're a bit of a night owl: Piscadera.
COOLEST PLACE TO STAY
COOLEST PLACE TO STAY
Sabana Westpunt
If you're a fan of the great outdoors, then we have found the coolest place to stay on Curacao for you: Sabina Westpunt.
FOR FAMILIES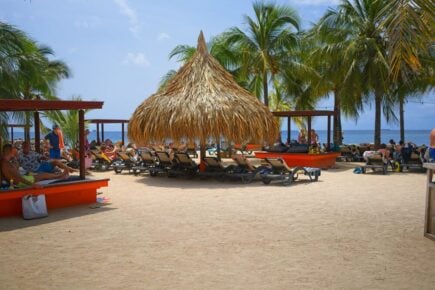 FOR FAMILIES
Jan Thiel
Planning a family holiday is stressful at the best of times, so that's why we've done all the hard work for you. The best place for you to stay for the perfect family holiday is Jan Thiel.
This Lesser Antilles island country is the jewel of the southern Caribbean. About 65km off the Venezuelan coast, you'll find this small, yet beautiful island which has so much to offer to travellers of all shapes and sizes. With a population of just over 150,000 people, this is a relatively secluded island, however, there are still loads of exciting things to do in Curacao. The small local population are renowned for their friendliness and the culture here is so vibrant.
As a result of the sharp drop of 60m off the island's northern shore, Curacao is a worldwide famous diving spot. Conversely, the calmer, shallower waters of the southern coast are a haven for tourists wanting to relax. Having volcanic geology too, it's a favourite among science and geography nerds too!
If you're here for a relaxing beachside break, then the best place to stay for you is Sint Michiel. Characterised by its green spaces and a variety of local beaches, you'll be spoilt for choice for places to relax. And the great news? This area is also our recommendation for the best place to stay in Curacao on a budget. So you can relax and save some money too!
Curacao has so many amazing geological features and natural landmarks which are well worth exploring. It might take a bit of a hike to get there, but boy is it worth the wait! The coolest place on Curacao is Sabana Westpunt and it's also the perfect place to see some of these amazing sights.
Taking the kids away? Don't panic. We have the perfect place for you too. Not only does Jan Thiel boast some of the most exquisite beaches on the island, overlooking the transparent Caribbean Sea, it is also one of the best places for activities. Whether it's water-skiing, boat trips or diving with sea turtles, this is the best place to stay to be relaxed and entertain the kids!
If you're looking for somewhere to party, the Caribbean is certainly well known for its carnival culture and Curacao is no exception. Piscadera is an area just outside the capital of Willemstad and has access to some gorgeous seaside-themed bars and restaurant, where you'll also find some amazing live music. Dance the night away on beaches and watch the sun go down across the water!
But the best place to stay in Curacao if you're visiting for your first time is the capital itself. Once one of the most influential ports of the Dutch empire, Willemstad has an amazing history, and you can learn all about it in local museums and art galleries. The architecture here is also stunning, with brightly coloured buildings lining the seafront. And, as it's a seaside city, it, of course, boasts an incredible beach for you to unwind on after a long day of exploring!
Getting to Curacao is super easy, so you don't need to worry about that. Curacao International Airport connects this tiny island to the rest of the world and once you're here you can easily get around in cars or buses!
Curacao's Top 5 Towns and Districts to Stay In
With so much history, culture and scenery to enjoy, Curacao is one of the best places to visit in the Caribbean! Make sure to figure out what you want to see and do before you start your travels and choose your location accordingly. Depending on your available transport, you might not want to be miles away from the awesome Curacao hotspots.
What better place to get to know this amazing island than its capital, Willemstad? This city is vibrant, fascinating and beautiful, with different coloured buildings and historical landmarks around every corner.
As this city is still coastal, you can still access some amazing activities in the sea, but if you'd rather stay on land, there are some amazing city tours and walks on offer too.
This house really is what it says on the tin. Luxurious and in a fabulous location. Right on the seafront, you can enjoy the privacy of your own outdoor pool and loungers, complete with an outdoor shower. Inside the property is an innovative and contemporary design, with large open spaces and beautiful furnishings. The most luxurious house in Willemstad!
Stylish, in a great location and with not only one, but two pools – this cute loft is the perfect place for your first visit in Curacao. Designed with an eye for detail, you'll feel welcome as soon as you step through the door. The hosts go above and beyond for their guests, helping with booking tours and giving amazing recommendations. Just check out the pictures to convince yourself!
This is a bright and vibrant hostel, where you'll find luxury at a lovely low price. There's an outdoor pool for you to relax in or beside and a restaurant serving up some brilliant local delicacies. Car hire is also available and it's located on the site of an ex-ice cream factory! What's not to love?
Sip on a Pina Colada on the poolside overlooking the Caribbean Sea, or head down to the sea itself with this hotel's own private beach! If you want to head into town, attractions like the Queen Emma Bridge are close by. But if you'd rather stay in, there's a fitness centre and restaurant on site!
Things to See and Do in Willemstad
Have a stroll along the Queen Emma Bridge, which connects the Punda and Otrobanda areas of the capital. At night, it is illuminated by beautiful lights!
Fort Amsterdam was built in 1634 by the Dutch West India Company, so has huge historical significance. Not only is it a beautiful building, but it's also a museum.
Get to know the ocean that surrounds you at the Curacao Maritime Museum. You can go on a guided tour of the harbour and learn about Curacao's eclectic boating history.
See some of the beautiful, vibrantly-coloured architecture in Brion Square with a stroll around the seafront neighbourhood of Willemstad.
To really get to know the underwater world, why not go on an Aquafari tour? That's right, you can hop on an underwater scooter and delve into the ocean, seeing anything from seahorses to sea turtles!
What is the One Item Every Traveller NEEDS???
There is one item every traveller NEEDS. Some travellers don't even know they need it, but those travellers need it more than anyone.
What is this forgotten essential of the backpacker-life? SPOILERS! Guess you'll just have to click the button to find out. 😉
Find Out What It Is!
Curacao doesn't have to just be for those who want to splash the cash. Budget travellers and broke backpackers who enjoy the great outdoors and want to embark on some cheaper activities will find Sint Michiel is the perfect place to stay.
In this coastal area, there are loads of beaches and lovely green spaces to explore, as well as opportunities to dive and make some animal friends.
Enjoy stunning views across the ocean from the living room of this charming guesthouse. With a lovely living area for you to relax in, this is a simple, yet delightful space for you to enjoy. It comes with its own private stretch of beach for you to access at any time of the day!
Living on a budget but still want a place to yourself? This cute Airbnb makes it possible. The studio in Sint Michiel is in a very central location and close to the beach. The nightly rate is pretty low for the value you're getting. To save even more money, you can use your own kitchen to prepare meals instead of having to go out for expensive food every day. 
This is a delightful waterfront hotel, boasting amazing views across the Caribbean Sea in a secluded location. Fall out of this hotel onto Blue Bay Beach, or stay in and make use of the onsite pool! There is a range of rooms available, from luxurious doubles to whole suites and all for very reasonable prices.
If you want some of your own private space, then this is the best choice for you. Blue Bay Curacao Golf and Beach Resort not only has an amazing and challenging golf course for you to try out, but it's really close to Blue Bay Beach. Also, you can have whole duplexes for you and your fellow travellers, with fully equipped kitchens and some even have patio areas!
Things to See and Do in Sint Michiel
Make some furry friends at the miniature animal park Rancho Alegre Curacao. There are rabbits, horses and birds of all kind to discover!
All year round you can enjoy the luxury of having your very own diving instructor as you jump under the waves with Red Snapper Diving!
Blue Bay is a gorgeous white sandy beach, where you can relax in the Caribbean sunshine under the palm trees.
Fort Sint Michiel is an ancient fortress for the history nuts among you to explore!
Fancy a hike? It's a great cheap way to see this amazing area, so head up the Sint Michiel trail. It's a delightful coastal walking area for you to enjoy with friends or on your own for some solitude.
Is This the Best Travel Pack EVER???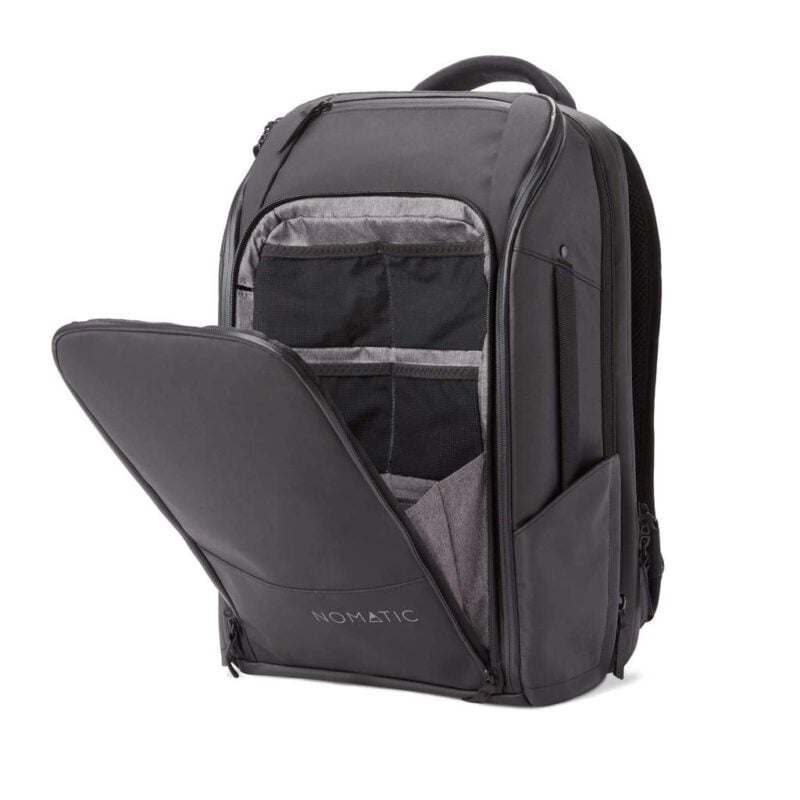 The Caribbean is a well-known place for some real parties, so we've got you covered for the best place to stay if you're a bit of a night owl: Piscadera. Located on the coast, there are lots of restaurants and bars overlooking the ocean for you to relax and enjoy a drink.
If you need to cure your hangover or just fancy getting out in the day, there are beaches and art galleries in the area too.
Begin your night out from this place of luxury, overlooking Piscadera Bay. With a bright, chilled out feel, this is the perfect place to have friends over for some drinks in the evening. If you fancy a bit of diving for the morning after the night before, there are three trusted diving instructors within a walking distance, recommended by your host.
We can all agree, not having some peace and quiet after a big night out is absolutely horrible. This spacious Airbnb offers a great place to cure your hangover while still being around your friends. Located in a big resort, the bungalow accommodates up to 6 guests at a time, so you and your friends can stay together. The pool and garden are perfect to have a couple of drinks before heading out too. 
Another vibrant choice here, perfect if you're travelling with friends or want to meet friends along the way! With a communal bar and terrace, you'll be sure to get along with fellow guests and can enjoy a bite to eat at the onsite restaurant. This hostel also has an outdoor pool for you to relax by after a long night dancing!
This trusted famous hotel franchise will be a familiar sight on your travels! You know the standards here – amazing service, spacious rooms and incredible features. Whether it's the luxurious outdoor pool, lush tropical gardens or world-class delicacies from the restaurant, you'll want for nothing here.
Things to See and Do in Piscadera
To cure the hangover, head to the delightful Parasasa Beach. Spend the day relaxing on the white sand, rolling through the aqua blue sea and sip on a Pina Colada as the sun goes down!
Enjoy some local art at the Gallery Alma Blou, if you want to relax indoors for a few hours.
Are you a history nerd? Head to Fort Waakzaamid to see an ancient fort from the colonial era.
Another history museum now, this time set in an old 19th-century hospital. There are artwork, exhibitions and gardens for you to walk around.
Pirate Bay is not only a well-known seafood restaurant right on the beach, but later on, in the evening it becomes a night club, so you can dance the night away!
Other brilliant bars for a memorable night out are Miami Bar, Netto Bar and Rif Fort Bar.
The Future of the SIM Card is HERE!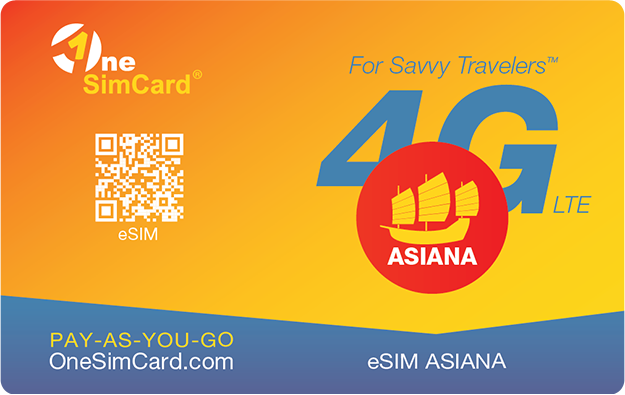 A new country, a new contract, a new piece of plastic – booooring. Instead, buy an eSIM!
An eSIM works just like an app: you buy it, you download it, and BOOM! You're connected. It's just that easy.
Is your phone eSIM ready? Read about how e-Sims work or click below to see one of the top eSIM providers on the market and ditch the plastic.
Buy an eSIM!
If you're a fan of the great outdoors, then we have found the coolest place to stay on Curacao for you: Sabina Westpunt. This is a town on the northern tip of the island which is surrounded by incredible natural landforms and features to explore.
There are a variety of different activities for you to try, depending on how mobile you are. With hidden beaches, hiking trails and beach hopping tours, you won't have a dull moment here!
This villa really is what it says on the tin. Virtually every room in this huge house has fantastic views across the sea, and you can enjoy them with a meal or a drink on your own private balcony. Air conditioning will make your stay comfortable, and you will have beautiful gardens to stroll around too.
Small and cozy this private studio has all you need when visiting Curacao's coolest place. Located in a diving resort, you'll be close to the sea. Designed in a charming way, you'll love the modern but welcoming interior design. Flooded with light and equipped with amazing amenities, your trip will be even better when booking this stunning Airbnb.
This is a charming, authentic hotel where you'll get some incredibly low-price deals. There is an outdoor pool and free parking available, as well as an airport shuttle, so you'll be able to get here easily. With beaches just a short walk away, this is the perfect secluded getaway, without breaking the bank.
'Which beach shall we go to?' This will be the only daily struggle you'll have during your stay at this hotel because you're surrounded by them! Not only that, but you're nestled among the very cliff edges and coastal areas which have some of the best hiking trails on the island. With indoor and outdoor pools available, you'll be able to relax on your return no matter the weather!
Things to See and Do in Sabana Westpunt
Hop aboard a boat with All West Beach Hopping Tour! You'll see some of the west of the island's most beautiful beaches and have the opportunity to swim with sea turtles.
Take a 4×4 tour around Sheke Boka National Park, which is one of Curacao's most amazing landscape. You'll take a dip in hot springs and go snorkelling!
Take a hike out to the northern tip of the island to Watamula Hole. An amazing geological feature, it'll be worth the walk!
If you're looking for a bit of seclusion, then there are loads of hidden beaches for you to discover. Playa Kalki, Playa Gipi and Un Boka are some examples.
Christoffel National Park is a vast, expansive open space for you to explore. There are hiking trails, car routes for the less mobile, and coastal parts of the park to explore.
Save $$$ • Save the Planet • Save Your Stomach!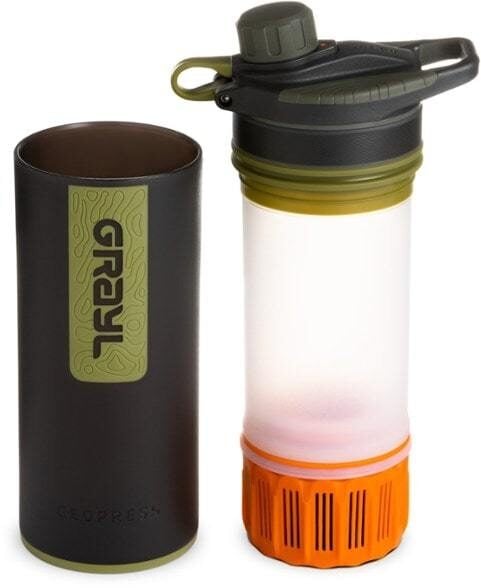 Drink water from ANYWHERE. The Grayl Geopress is the market's leading filtered water bottle protecting your tum from all the waterborne nasties. PLUS, you save money and the environment!
Single-use plastic bottles are a MASSIVE threat to marine life. Be a part of the solution and travel with a filter water bottle.
We've tested the Geopress rigorously from the icy heights of Pakistan to the tropical jungles of Cuba, and the results are in: it WORKS. Buy a Geopress: it's the last water bottle you'll ever buy.
Buy a Geopress!
Read the Review
Planning a family holiday is stressful at the best of times, so that's why we've done all the hard work for you. The best place for you to stay for the perfect family holiday is Jan Thiel.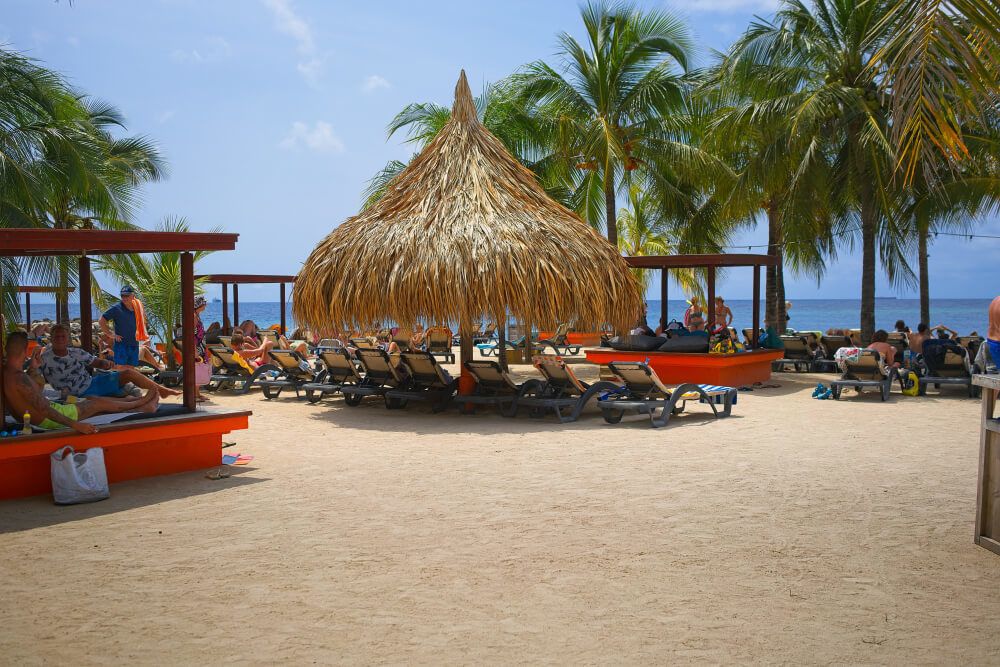 There are so many amazing adventures for you embark on as a family, whether it's water sports, boat trips or beach relaxation days, there's something for all generations of the family to enjoy.
Enjoy a good night's sleep in comfortable beds, or a day by your own private pool in this amazing villa. Cook up a storm in the outdoor gas BBQ, or relax in the hammock while the kids watch the large TV. Just a short walk from nearby beaches and water activities, this is perfectly located for you to have an incredible family holiday!
Keeping the whole family together is no problem in this stunning Airbnb. The sea view apartment accommodates up to 6 people at a time and is located on the ground floor of the host's house, so it's easily accessible for children and elders. The terrace is a great spot to watch the sunrise while enjoying your morning coffee. 
This is a huge hostel complex, decorated with vibrant colours and funky furnishings. You can enjoy access to an outdoor pool, restaurant and outdoor bar area, as well as mountain bikes for all the family to enjoy! There are a variety of room types available, all at super cheap prices!
This is a lovely, family-run hotel for you and the kids to enjoy for some privacy and peace. With an outdoor pool and garden area, the kids will be entertained, giving mum and dad a chance to relax in the Caribbean sunshine!
Things to See and Do in Jan Thiel
Take the kids on an oceanic adventure to the Curacao Sea Aquarium. There are live shows from sea lions and dolphins throughout the day, as well as the opportunity to learn about the incredible Atlantic Ocean you'll be surrounded by!
Fancy a more relaxing day? Head down to Jan Thiel beach. It's famous for its water sports, so the kids will be entertained while you relax with a book on a sunbed.
If you want a family trip to see these islands from the sea, why not go out on a Mermaid Boat Trip? Setting off from a local port, these trips are a great way to get out on the waves and see some incredible wildlife!
If you want to take a trip to Caracas Beach, make sure you hire out some windsurfing equipment from some nearby stores!
FAQ about Finding a Place to Stay in Curacao
Here's what people usually ask us about the areas of Curacao and where to stay.
Don't Forget Travel Insurance for Curacao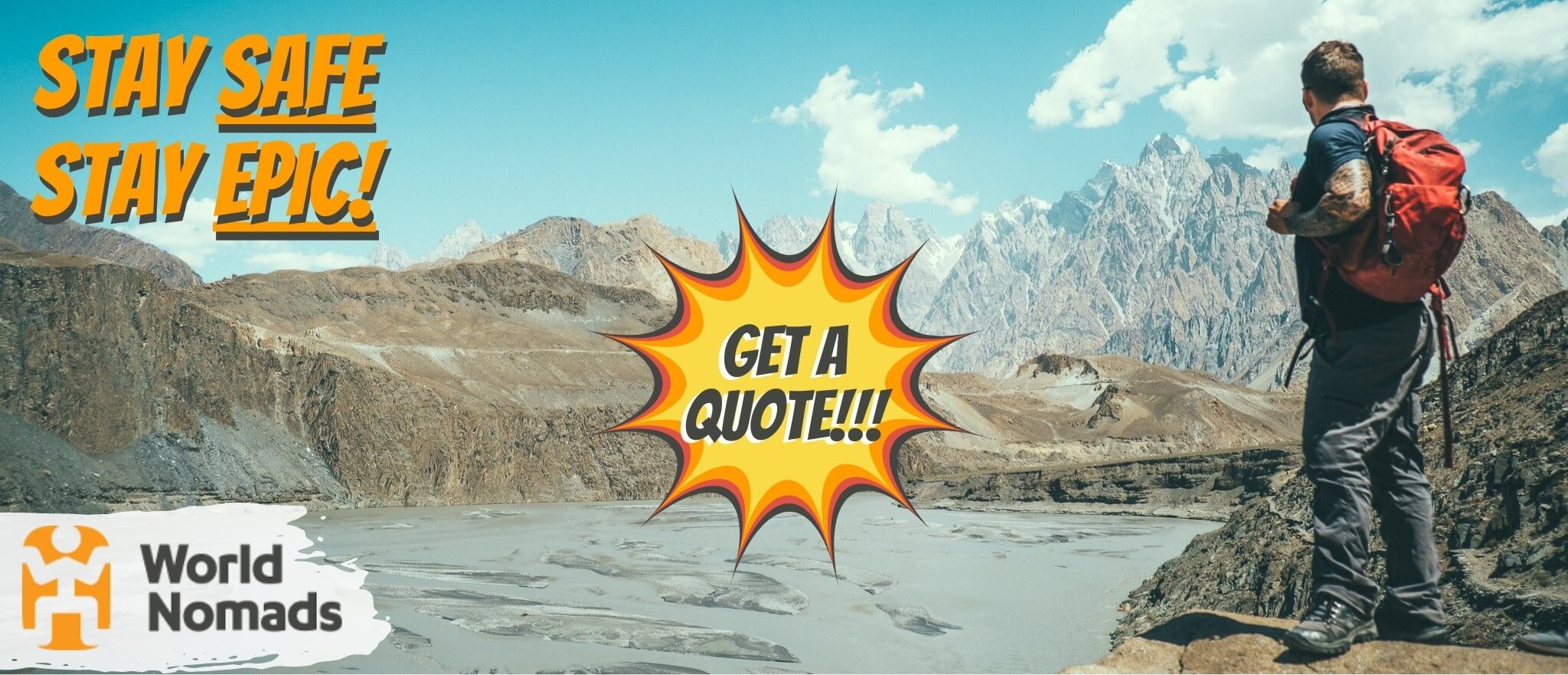 It's good to get lost sometimes, but it's also good not to get too lost. There are people that want you home in one piece.
There's one travel insurance provider The Broke Backpacker trusts for all his wildest shenanigans… World Nomads!
Click the button below to get a quote on your insurance or read our in-depth review of World Nomads' coverage. And then… let the shenanigans begin. 😉
Final Thoughts on Where to Stay in Curacao
Outstanding scenery, vibrant culture and one-in-a-lifetime activities – Curacao has so many amazing things to do to for travellers of all types! It comes as no surprise that Curacao is the perfect place to visit for all ages!
To recap: Willemstad is the best place to stay in Curacao for your first time. As the capital of this island, you'll learn all about its history and culture, and of course, have access to some beautiful beaches!
To recap: Curacao's most luxurious hotel is Baoase Luxury Resort. Contemporary, comfortable and chilled-out!
If you are travelling on a budget, then the best place to stay in Curacao is Bed & Bike Curacao. Not only do you get a brilliant room- but a bike too!
Have we missed anything? Let us know in the comments below! Otherwise, enjoy your travels!
Do you own an awesome hostel, hotel or apartment? Want to be featured in our list? Email [email protected] to find out how.
---
Thanks for reading – that was fun! 😀
We bring you epic FREE content!
Find out how YOU can help support us.
We're a big site with a big team and this job isn't always easy. But we do it because we love it – we love providing epic and free content. We love the knowledge that our content keeps you adventuring. We don't ask for money, but if you'd like to find out how you can help the site in more organic ways, click the button below.
Thank you for your support 🙂
---
Bye for now, but not forever!
If you want MORE top-tier Broke Backpacker content like this, then sign up for our weekly newsletter below to get the latest and greatest!
And for transparency's sake, please know that some of the links in our content are affiliate links. That means that if you book your accommodation, buy your gear, or sort your insurance through our link, we earn a small commission (at no extra cost to you). That said, we only link to the gear we trust and never recommend services we don't believe are up to scratch. Again, thank you!