Going on a working holiday abroad is a next-level adventure. If you're looking to leave the rat race of your pencil-pushing job and set out on a long-term trip, then a working holiday could be just what you're looking for.
So many people rave and rant about Canada – the insane landscapes, winter sports scene, and cool cities like Toronto and Quebec, make it a great place to put down some (semi-permanent) roots. You can change things up in a new environment, get to learn all about the awesome Canadian culture, and go on some INSANE hiking trips (if that's what you're into).
On your days off, you could find yourself observing the beauty of the Canadian Rocky Mountains, kayaking on turquoise blue lakes in the summer, or tearing up the slopes in the winter. If this sounds like heaven to you, then keep reading our EPIC guide on how to find a working holiday job in Canada.

Do You Want to Travel FOREVER??
Pop your email in below to get a FREE copy of 'How to Travel the World on $10 a Day!'.
Taking a Working Holiday in Canada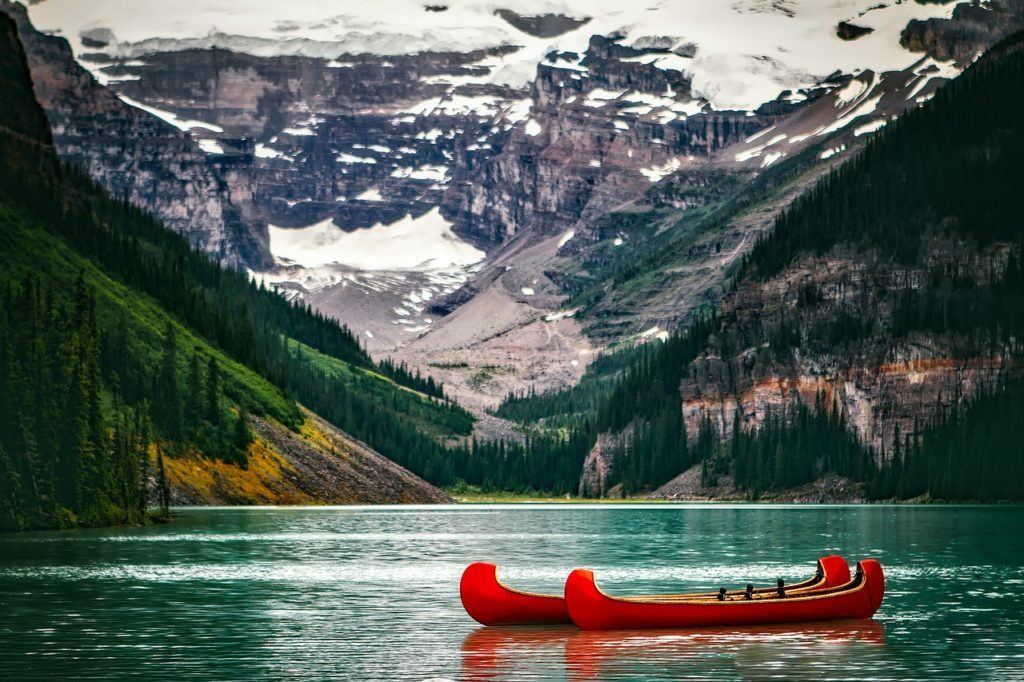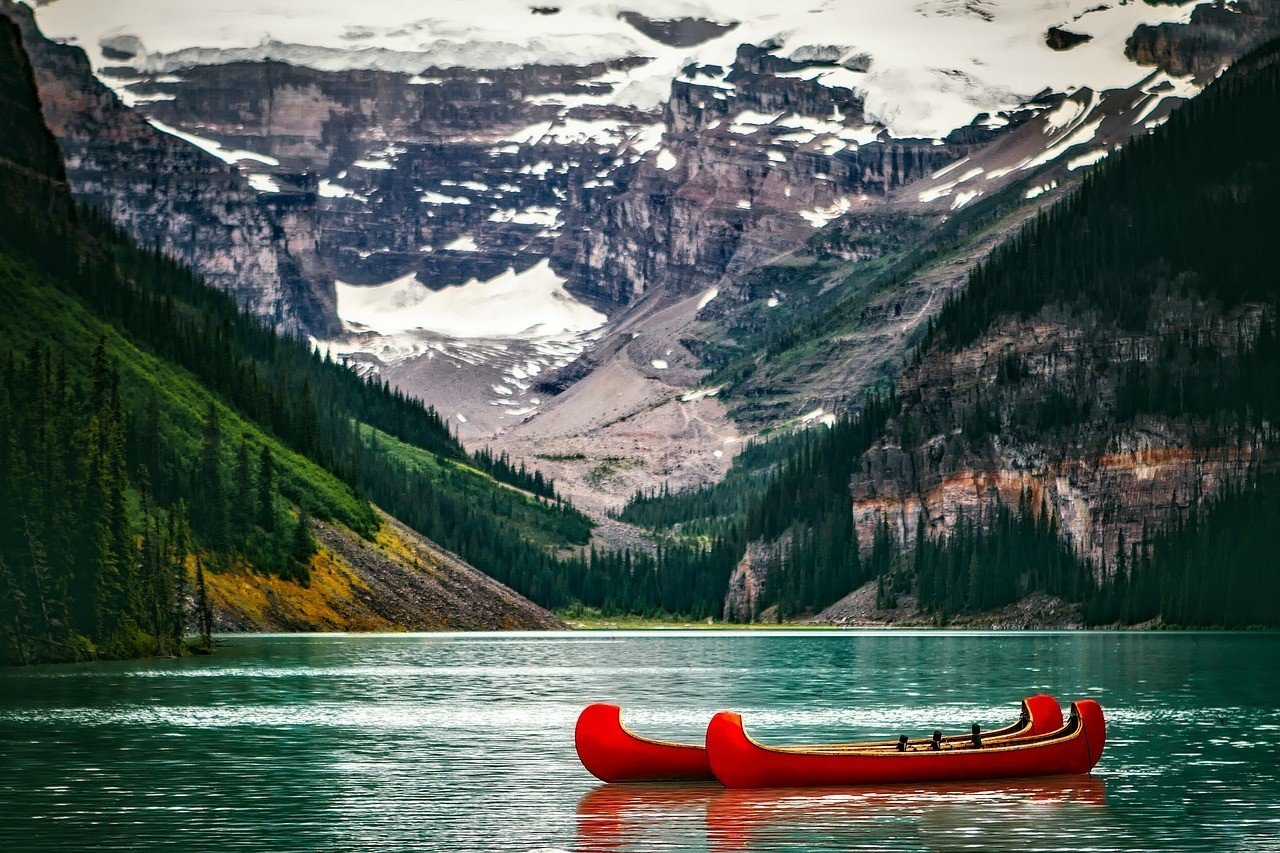 Anyone who wants to shake up their life, whether it's by taking a gap year in Canada, taking a year out in between jobs at home, tackling an adult gap year, or just wanting to travel long term, should seriously consider a working holiday abroad.
Canada is the land of adventure! Even if you're working a regular 9-5 job, you'll still find plenty of time during your time off to explore and have fun. The country is literally massive, so you'll never run out of epic things to do and see.
Working while you're trying to take a vacation might not seem ideal, but trust me, the memories you will make seeing sights like Niagra Falls or even hanging out at your favorite poutine joint with friends will far outweigh your working hours. What's more, you can always take some time after your employment is over to backpack around Canada.
So, what job could you end up doing in Canada? Well, the most popular opportunities are mid-level social jobs within hospitality or tourism, working in ski resorts over the winter, or summer camps in the summer. An au pair for a family (great if you love kids) or doing an internship are also great options! Very handy for students wanting to spice up their CV.
Since there are so many work and volunteering options, it might get a bit overwhelming to choose what to do. But don't worry, we've got your back! Check out these two options…
Worldpackers is an online company that connects travelers with foreign volunteer hosts who then work in exchange for housing. That being said, Worldpackers does do more than just connect volunteers to hosts. It offers a plethora of additional resources, a great support network, a blogging platform for collaboration, and a whole lot more.
Sounds pretty rad, right? But wait, there's more!
According to their mission statement, Worldpackers is "a community based on collaboration and honest relationships that make travel more accessible to those seeking a profound cultural experience." They value environmentalism, authenticity, growth and working together above all else and make a great effort to provide the best experience possible.
And even better – Broke Backpacker readers get a special discount of $10! When you use our special hookup, it makes even more sense to pay. Just use this Worldpackers discount code BROKEBACKPACKER and membership is discounted from $49 a year to $39.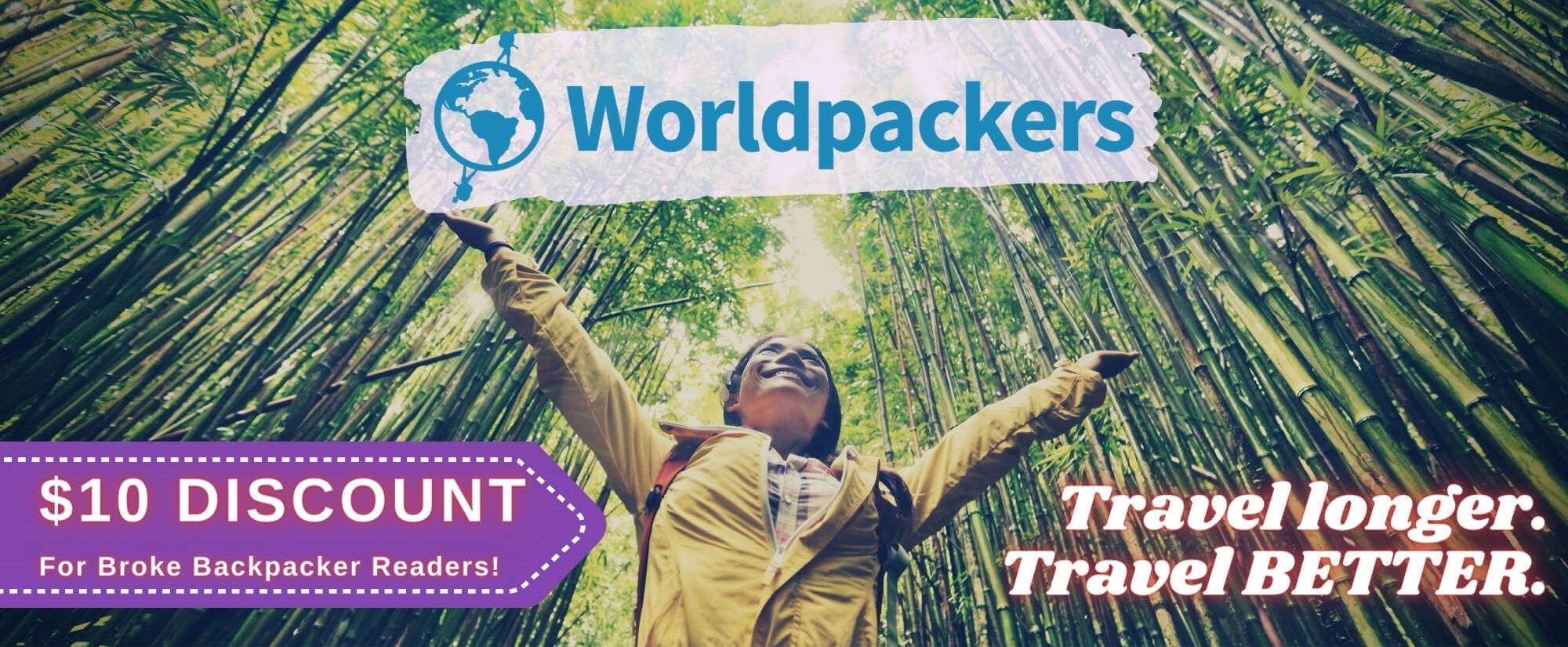 Worldpackers: connecting travellers with meaningful travel experiences.
There are a LOT of options, I know. Luckily for us, companies like Global Work and Travel exist to hold our hands and sort out all the little details. All you need to do is pick what exactly you want to do!
It's got a bit of a different approach than Worldpackers, but it offers JUST as many amazing opportunities for travellers.
It provides working holidays, teaching abroad, volunteering, au pair and student internship packages. On top of that, the agency plans, sorts and assists with visa requirements, connections to local businesses, accommodation search and job interviews.
Most products even come with flights and basic medical insurance, a 24/7 Emergency line and payment plans.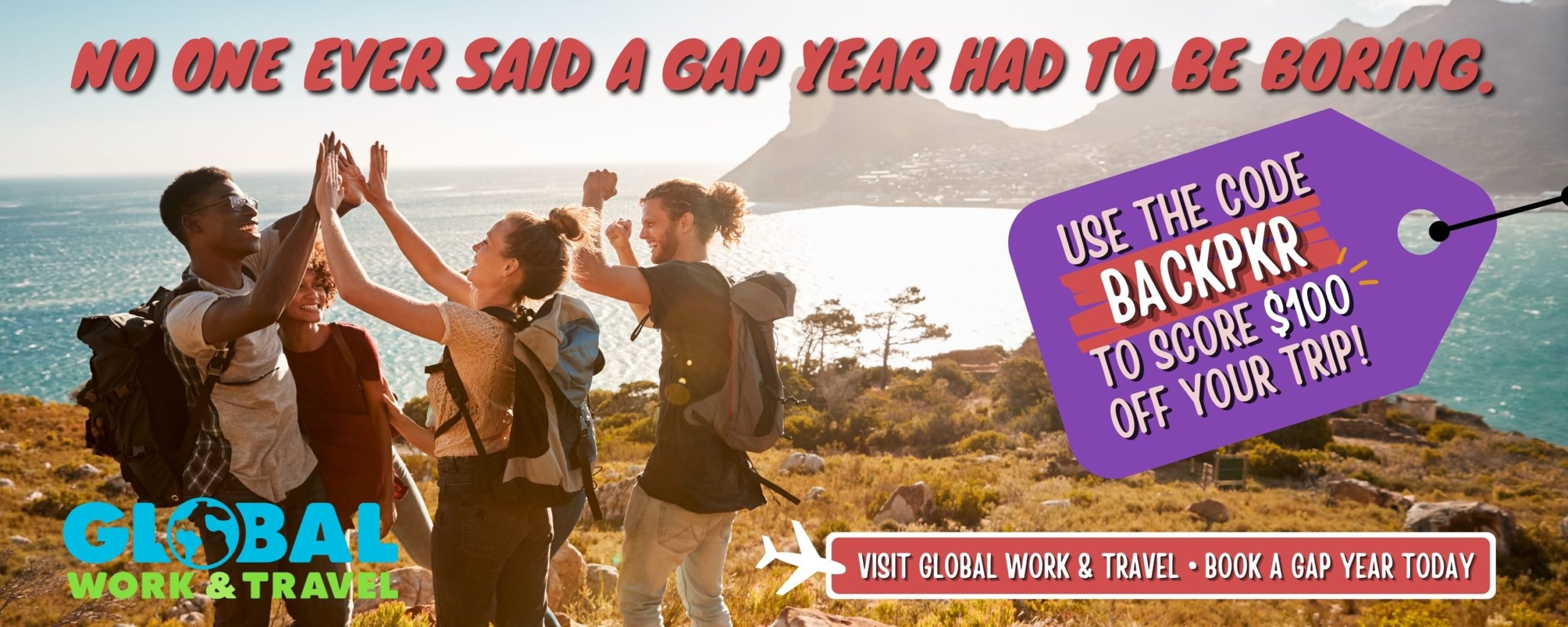 Top 5 Tips for a Working Holiday in Canada
What do you really need to know about getting a working holiday job in Canada? You just show up, work, earn money, and travel right?
Ehh, maybe not… sometimes the planning can be a little overwhelming, and moving to a new country needs a little foresight. These top 5 easy tips will help make sure everything is smooth sailing.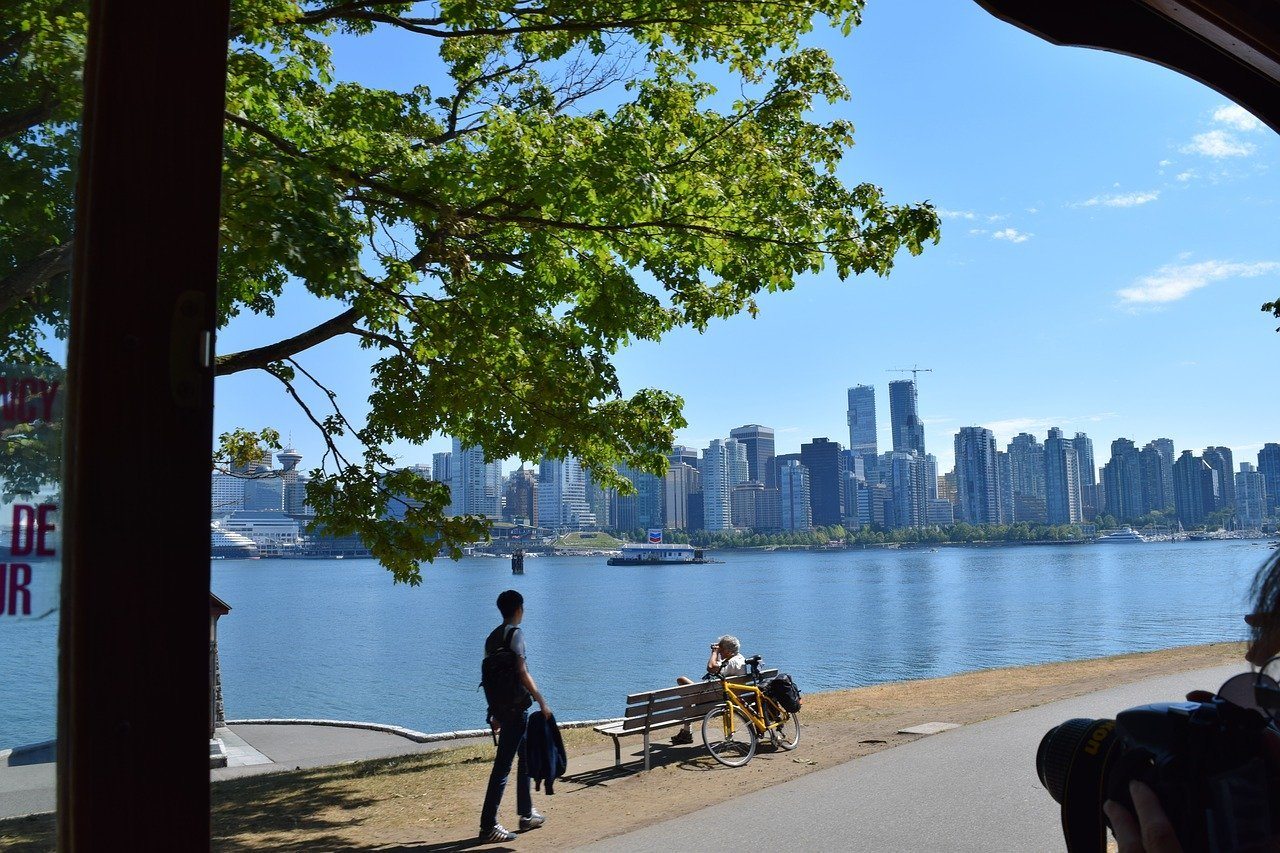 Applying for the correct visa. If you're aged between 18-30/35 then you've lucked out and can apply for a Canada working holiday visa! Do a little research as you may be more suited for a young professional visa (for those wishing to get professional work experience) or an International Co-Op visa (for students who want to gain work experience through internships or work placements)
Know the length of your stay. Getting a work visa for a short trip where you probably won't work? Nah. Get a tourist visa. Even some types of short-term volunteering don't require a work permit. Better to save yourself some extra hassle and fees down the line.
Finding the right job. The good news is, if you don't get the right job on your first try, you can always try, try, and try again! The beauty of this visa is you have a wide range of jobs to choose from so you can find the perfect fit. Life is short, don't settle for a job that will make your stay awful.
Finding accommodation. Accommodation in Canada doesn't come cheap! It's best to have a crystal clear idea of what your budget is going to be so you can find somewhere clean and comfortable, but within your means. Think about price, but also think about where you want to live too. Another good thing to factor in, if you've already found a job, is how long it will take you to commute every day, and the cost of the journey.
Getting around during your time off. Traveling by car is by far THE best way to see Canada. Especially if you want to check out the national parks. If you're from the UK, US, Australia or New Zealand, you can drive a car in Canada as long as you have your license and are over 21. Getting around by bus is also a convenient and cheap way to explore the country.
The Future of the SIM Card is HERE!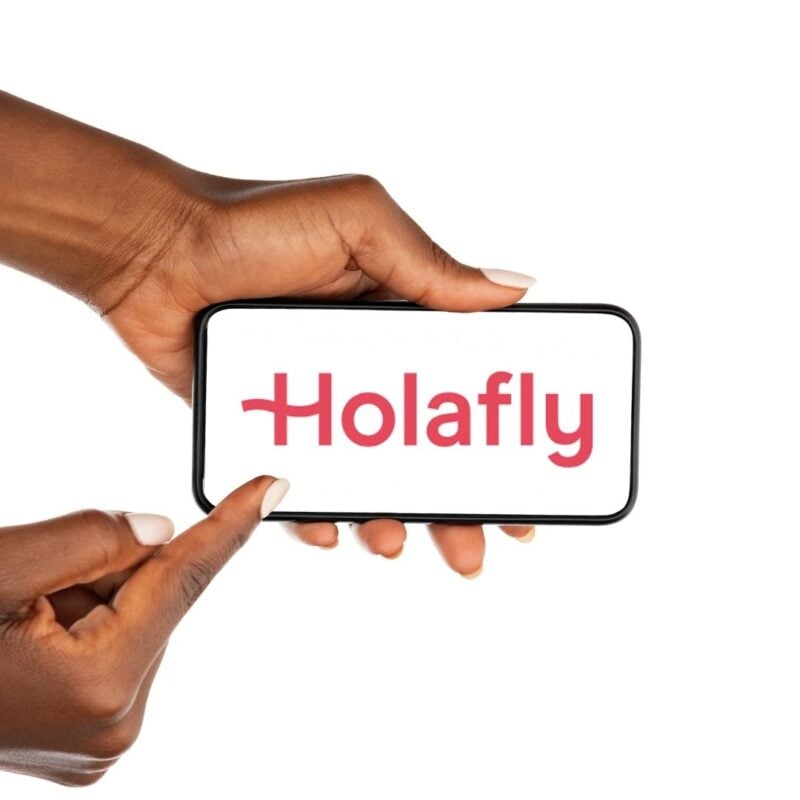 A new country, a new contract, a new piece of plastic – booooring. Instead, buy an eSIM!
An eSIM works just like an app: you buy it, you download it, and BOOM! You're connected. It's just that easy.
Is your phone eSIM ready? Read about how e-Sims work or click below to see one of the top eSIM providers on the market and ditch the plastic.
Grab an eSIM!
Canada Working Holiday Visas
The availability of a Canada working holiday visa and the requirements will vary based on the nationality of your passport. It's always good to double-check on the Government of Canada's website to get up-to-date information.
To be eligible, aside from holding a passport from the approved countries, applicants have to be aged between 18 – 30 (up to 35 for citizens from some countries). Your passport needs to be valid for the entirety of your stay, you'll have to have the equivalent of $2,500 CAD on arrival, have health insurance for the entire duration of your stay, and either a roundtrip ticket booked, or the financial means to purchase a departure ticket. You'll also need a police certificate, and if you've traveled to certain countries six months prior to your visit, you may be required to take a medical exam. All applicants will need to be fully vaccinated against COVID-19.
The first step to apply is to create a profile on Immigration, Refugees, and Citizenship Canada (IRCC)'s website. The system has a pool where candidates are selected randomly to receive an invitation to apply for a work permit. These draws are at random intervals during the season, it is better to apply as early in the season as possible to give yourself the best chance of getting drawn. If you are chosen, you'll have 20 days to submit your application and relevant forms. The fees are a total of $256 CAD covering your IEC participation fee ($156 CAD) and the work permit holder fee ($100 CAD).
If that all seems a little too much, Global Work and Travel are waiting to handle it all for you. Once you've chosen one of their working holiday programmes, they will take care of the tricky bits.
If you're planning on going it alone and arrange your own Canada working holiday visa outside of an agency or company, Visa First can help you out in arranging your visa (working holiday, young professional, or international co-op). Sit back and plan all the important details of your trip while they handle the boring stuff. How great is that?!
Insurance for a Working Holiday in Canada
I don't wanna preach… but it is ALWAYS a good idea to get insurance for your trip, no matter what kind of trip you're going on. Here at The Broke Backpacker we've used World Nomads for donkey's years and are never disappointed! Their website is easy to use, and you can find great deals to suit whatever you're looking for.
ALWAYS sort out your backpacker insurance before your trip. There's plenty to choose from in that department, but a good place to start is Safety Wing.
They offer month-to-month payments, no lock-in contracts, and require absolutely no itineraries: that's the exact kind of insurance long-term travellers and digital nomads need.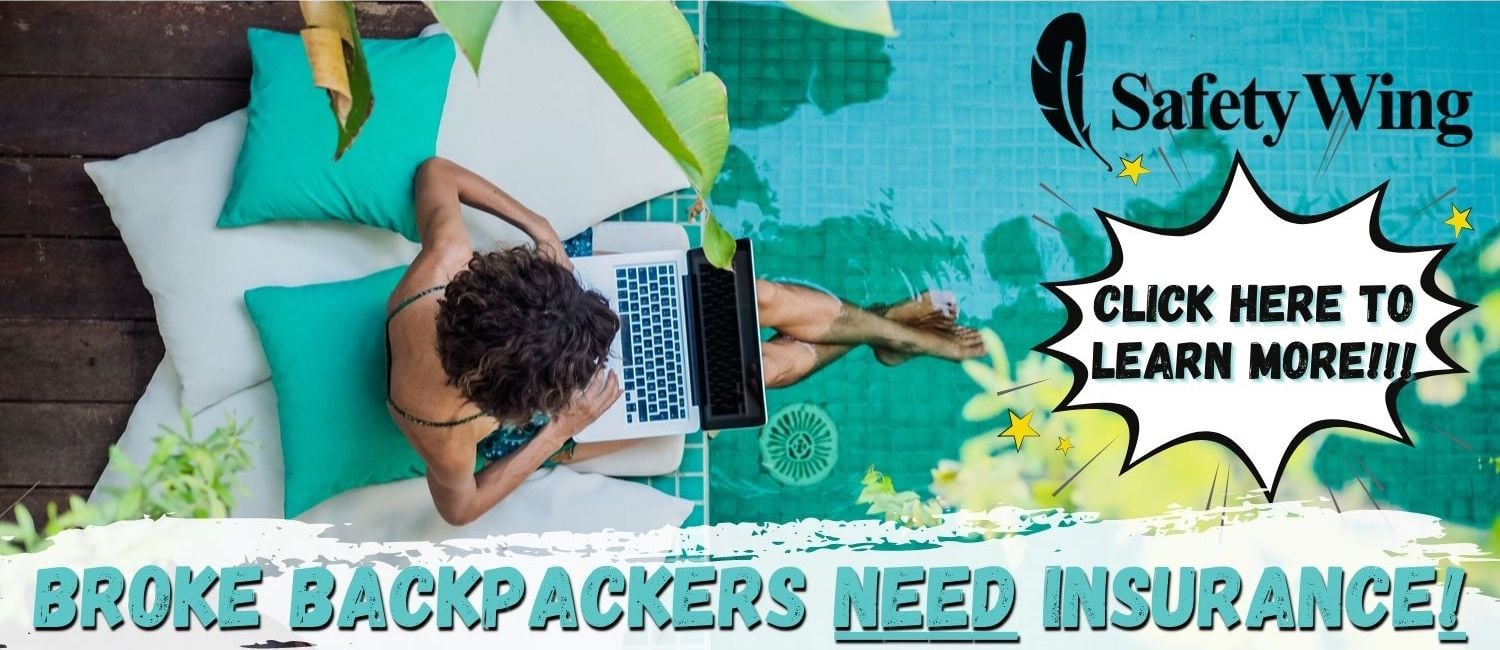 SafetyWing is cheap, easy, and admin-free: just sign up lickety-split so you can get back to it!
Click the button below to learn more about SafetyWing's setup or read our insider review for the full tasty scoop.
Working Holiday in Canada Budget
It's time to talk about money, specifically budgets. As you read earlier, when it comes to a working holiday in Canada, you need to have a minimum of $2,500 CAD to even be eligible for a work permit, and you'll need enough cash for a round-trip ticket.
Now, that's just the bare minimum. I know $2,500 CAD sounds like a lot, but depending on what you want to do, where you'll be based, and your spending habits, you may want to have a little more. We recommend working out a monthly budget so you can factor in your salary from your job.
Whether you choose to live in Vancouver or Quebec City, eat out or cook at home, go snowboarding at the weekend or watch a movie at home, all of these decisions will impact your cost of living in Canada and therefore your budget. For example, rent, transport, food, and activities in Vancouver can cost you around $1,370 USD, but if you live in Quebec City, it would be closer to $900 USD. Of course, if you score a job that includes accommodation and are a little more careful with money, this rough budget will vary.
Luckily, Canada is a very affordable place to live, so even working with a minimum wage job, you can still live a comfortable life, and possibly save a little if you're mindful of your spending!
Working Holiday in Canada

| Expense | US$ Cost |
| --- | --- |
| Rent (Rural vs Central) | $600 – $1400 |
| Eating Out | $60 – $150 |
| Groceries | $200 – $300 |
| Car/Public Transport | $80 – $150 |
| TOTAL | $940 – $2000 |
Earning Money on a Working Holiday Visa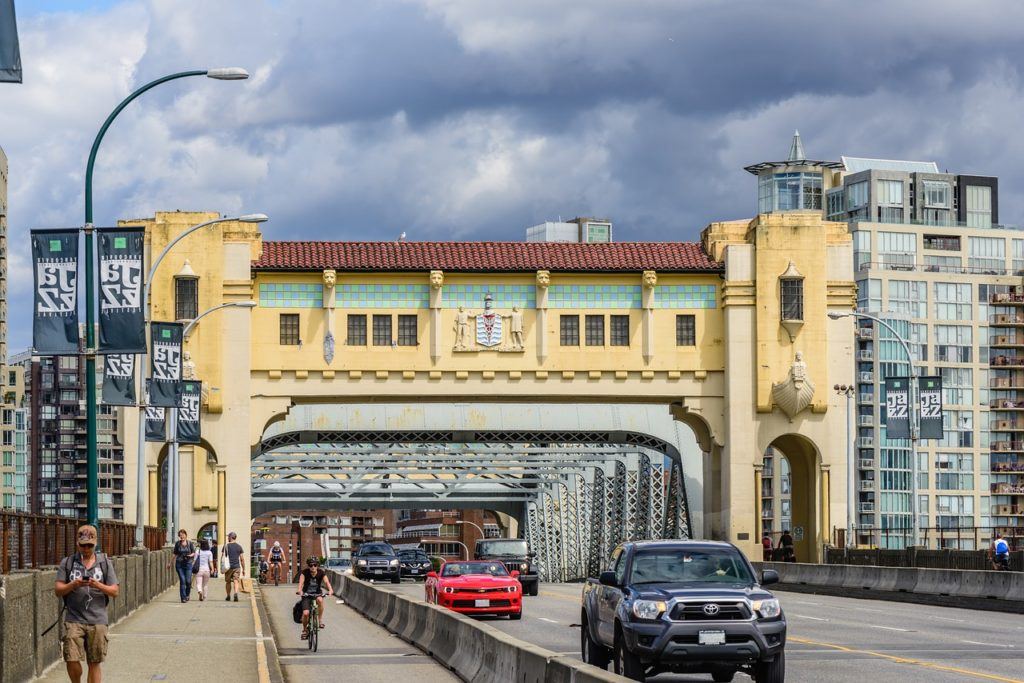 The beauty of a Canada working holiday visa is that you could find yourself doing a wide range of things. From teaching snowboarding at a mountain resort, working in retail, or even trying your hand on a construction yard – the possibilities are endless!
Sadly, just because you're going on an epic adventure, it doesn't mean you don't still have to do some "adult" things… like paying taxes. Since you'll be working and earning money, you'll be expected to pay a portion of your earnings to the Canadian tax man (or woman).
First, you'll need to get a Social Insurance Number (SIN). To do this, head to your closest Service Canada Office with your work permit and passport. You don't need an appointment and it will usually take you less than 15 minutes.
Next, you'll need to know how to file your taxes. A few basics you need to know is that the Canadian tax year runs from January to December, and even if you can see tax being taken off your payslips, you'll still need to file your own taxes at the end of the tax year. This is usually done in February for the previous year's taxes, although the deadline is April. Your employer will give you a T4 slip by the end of February (either by email or snail mail), you'll need this to file your taxes.
You can DIY your taxes, using your T4(s) and your SIN, or splash out between $50-100 USD for someone else to do it for you.
As well as tax, employment insurance (E.I), and the Canadian Pension Plan (CPP), will be deducted from your pay, even if you're taking a Canadian working holiday.
You're also going to need a bank account for your salary to go into. In most cities, you can just head to the bank with your passport and work permit and they'll sort you out. If you're planning on transferring money into your new Canadian bank, we really recommend Wise (A.K.A Transferwise) for ALL your money-transferring needs. You can even use it to hold funds and pay for goods. Payoneer is another great option to consider.
Pre-planned Working Holiday Jobs with Global Work and Travel
I know a lot of you out there just can't wait to organize your own working holiday, but, there's no shame in wanting a little extra help. Moving somewhere new, let alone a foreign country, can be a little daunting. Add trying to find work to the mix and you've got yourself a potentially stressful situation. This is where agencies like Global Work and Travel are the bomb diggity and can help you ease into your new life, hassle-free!
So what does the world of pre-planned working holidays in Canada look like? Well, you could find yourself au pairing with a local family, doing a kick-ass internship (awesome college applications and CVs are on the horizon), the list goes on and on and on!
Au Pair in Canada
If you're not too familiar with what an au pair is or does, they are sort of live-in nannies who provide childcare and do a little bit of light cleaning and cooking. This is a fantastic choice for someone who absolutely adores kids and wants to be fully immersed in Canadian culture, living with a local family. You can expect to be given room and board, plus between $235 – $290 USD a week depending on the family.
Often, au pairs and the families develop a super close bond, so saying goodbye might be difficult. However, it is a SUPER rewarding role and one that will challenge you and push your personal growth. This is why finding the right fit in terms of your host family is really important. Think about your nonnegotiables like location, how old the kids are, and any additional things you'll be expected to do around the house.
Finding an au pair job in Canada is super easy. You can either enlist the help of agencies like Global Work and Travel or take the plunge and do a little spot of DIY job seeking. You'll be able to find jobs on online job boards (there are ones specifically for au pairs) or by keeping an eye out on the ground at classified ads or backpacker noticeboards.
If you're still feeling a little put out thinking about all the things that could potentially go wrong, you're not alone! This is where I'd recommend you to consider signing up with Global Work and Travel as they can hold your hand throughout the whole process and make sure you're matched up with the perfect family.
The au pair package will set you up with a host family before you even arrive. Through family profiles and video calls you can be sure you'll mesh well together. You'll be given a pre-approved family agreement with the potential to earn between $200 to $400 CAD a week. Your personal trip coordinator will be there throughout the entire process, answering any questions, giving you visa guidance, and helping you with your profile.
The program has so many locations across Canada to choose from that you'll be spoiled for choice. In general, you'll work between 25 and 45 hours a week, with one and half days off a week, and two weeks of paid vacation including public holidays. There are 6 and 12-month contracts to choose from.
Interning in Canada
I'm going to level with you, finding an internship isn't the easiest thing to do. Especially if you want to find one in a competitive field. You'll probably need contacts in Canada to get in with a reputable company, or you'll find yourself email blasting for a while until something comes up.
It's such a competitive market because interning not only looks great on your CV but also counts as work experience and can be a valuable step for students or new graduates looking to land a job in their field. You will really learn the ropes of your industry in a more structured way compared to say volunteering, and it's a great way to network in your field.
A good place to start if you want to find your own internship is to send your resume and cover letter to companies that you want to intern with. Bear in mind that you will be competing for internships against Canadian students/graduates, so you may be at a slight disadvantage. Many companies may not even know that you (if your country is part of the IEC program) can intern legally either through the Canada Working Holiday visa or the International Co-op visa. Make sure to double-check, as there are different rules regarding the different visa types under the IEC program.
If you're a bit worried about being able to find a good internship and are finding it hard to wrap your head around the whole visa situation, this is where Global Work and Travel can swoop in to save the day. They offer an internship package that can help you find a fantastic placement, and will be there to support you during your internship abroad.
They can help you secure an internship in a wide range of fields from fashion to real estate, environmental internships to media. Some fields only accept interns who are looking for college credit, so make sure to read the fine print. Otherwise, all you need to apply is to be between 18-35 years old, be a citizen of an eligible country, and have had no criminal conviction over the last five years – pretty easy right?
Global Work and Travel will provide you with a dedicated trip coordinator who can answer your questions and help you perfect your CV/resume to appeal to companies. They give you visa guidance and will arrange interviews with placement companies. Following your acceptance, you'll be given a structured internship with one of their partner organizations.
Work in Canada
Aside from au pairing or doing an internship, actually working in Canada is another awesome (and probably the most popular) way to spend your working holiday. Just imagine it, you get to explore a new country AND make money at the same time!
Finding an entry to mid-level job in Canada is possible. You can look online at job boards or try and find something once you hit the ground by looking at notice boards for backpackers or job vacancies in the classified ads. There are a tonne of jobs to choose from in hospitality, tourism, sales, construction, and more! You'll also be able to find a job pretty much anywhere in Canada, although big cities and tourist destinations will be the best place to start. Some companies may not hire travelers, so be prepared for that.
Although having to work doesn't sound like holiday bliss to everyone, you'll still have plenty of time during your days off and vacation time to hit up the rest of the country. You could find yourself watching an ice hockey game in Montreal or even kayaking with orcas over in Manitoba during the weekend. The whole of Canada will be your oyster.
For anyone who just loves a package deal (ME), Global Work and Travel are at it once again with a 10/10 working holiday programme in Canada that will help you find an ideal job for the best six months to two years of your life! This is the COMPLETE package with guaranteed interviews before you arrive with GWaT partner organizations, visa guidance, and a dedicated trip coordinator. They'll also assist you with opening up a local bank account, getting a Canadian number, finding somewhere to live, AND sorting out your tax return!
If all that wasn't enough, when you arrive you get four nights free of accommodation in Vancouver plus airport pick up, and a sightseeing tour and day out to Whistler for some skiing. But wait… there's more! You even get an overnight night stay in Las Vegas where you can party it UP. Just contact your trip organizer when you're ready to take the trip.
There's a range of industries to choose from, and you can expect to earn from $11CAD an hour. If your first interview wasn't successful, they'll help you keep trying until you find a job.
DIY Working Holiday in Canada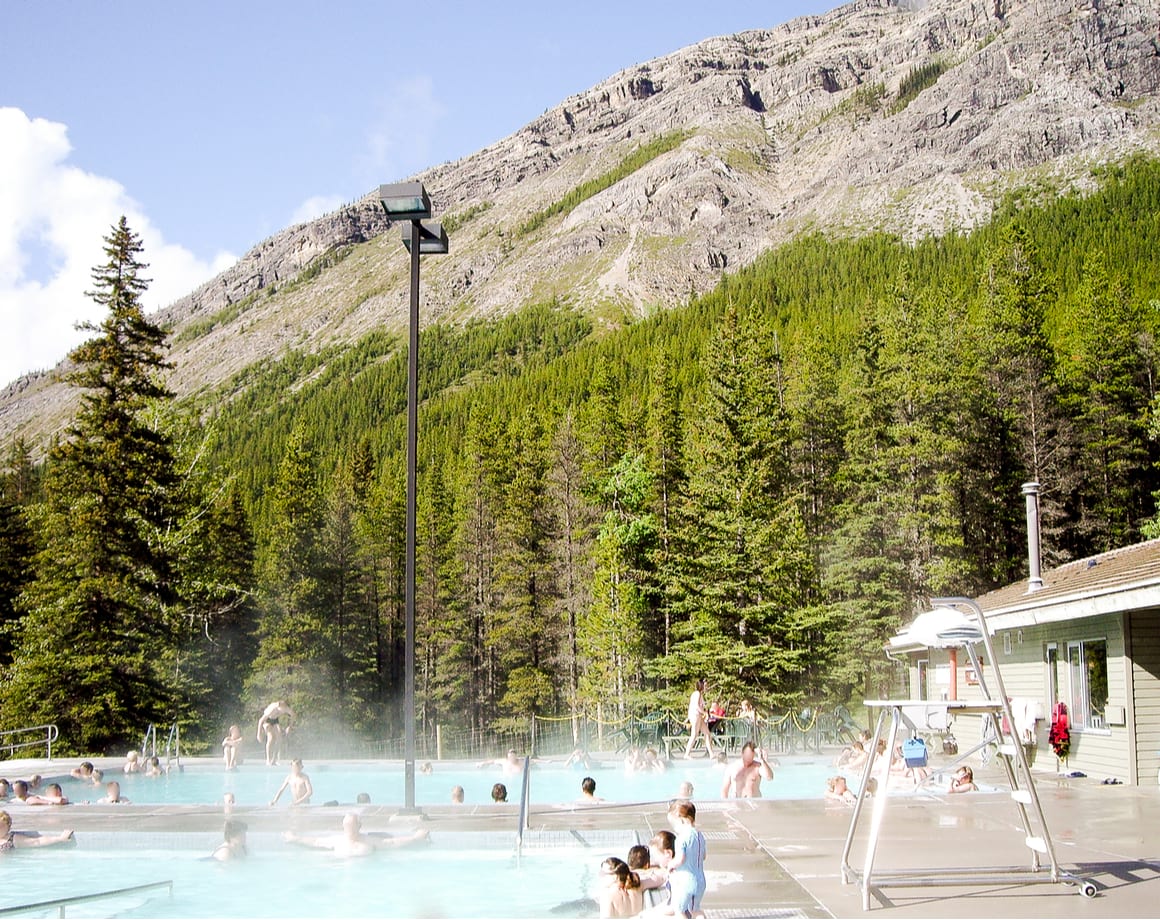 I've already talked about DIY-ing your working holiday in Canada (I know plenty of people who have), and it is something I would recommend for you free spirits out there who don't mind doing a little extra legwork to maintain flexibility. One thing to bear in mind is that some parts of Canada are French-speaking so if you only speak English, you may not have the best success job hunting – unless you find a family who is looking for an English-speaking au pair.
You'll need to sort out your own visa, flights, have sufficient savings, and have an idea on how to do your taxes and set up a bank account. Most on-the-ground jobs will be found in the big cities like Vancouver, Montreal, and Toronto. To work a ski season (the dream) hit up online job boards before you arrive, or try looking once you're on the ground for jobs that ask for in-person interviews. Ski job fairs are also a good place to check out!
The majority of backpacker jobs in Canada are for unskilled workers and will probably pay minimum wage. You could find yourself working in a hotel as a receptionist, a barista in a cafe, housekeeper in a resort, or a cashier in a store.
If you have your heart set on working a ski season, working for a resort normally offers a tonne of benefits like free lift passes, discounted gear rental, and access to low-cost accommodation. Don't think you have to be a ski instructor either, resorts need all sorts of staff to run!
For a different kind of working holiday experience, you could consider prolonging your trip by working in exchange for room and board. This is where sites like WWOOF, Worldpackers, and Workaway will be your best friend. You can find loads of incredible opportunities helping on all sorts of projects. These tend to be quite hands-on like farming, helping out in the home, or childcare, and can be loads of fun!
Final Thoughts
If you're still on the fence about taking a working holiday in Canada, I seriously recommend just doing it! There's no better way to "level up", than by living through new experiences, making friends from all over, and putting yourself in some situations that will really push you! Working holidays are the perfect way to do all that while still keeping your bank balance in a happy place.
You'll not only be able to explore a whole load of Canada, but you'll make lifelong friends! The kind you see on your weekends off and plan trips with, not your usual "friend for a day" that you might experience backpacking (not that we don't LOVE those). Slow traveling through Canada will also give you a totally different perspective of the country, and give you a great chance to experience the true Canadian culture.
There's no doubt about it, whether you DIY your working holiday or choose to experience it with the help of an agency, this new chapter of your life will be filled to the brim with adventure and you won't regret it!
---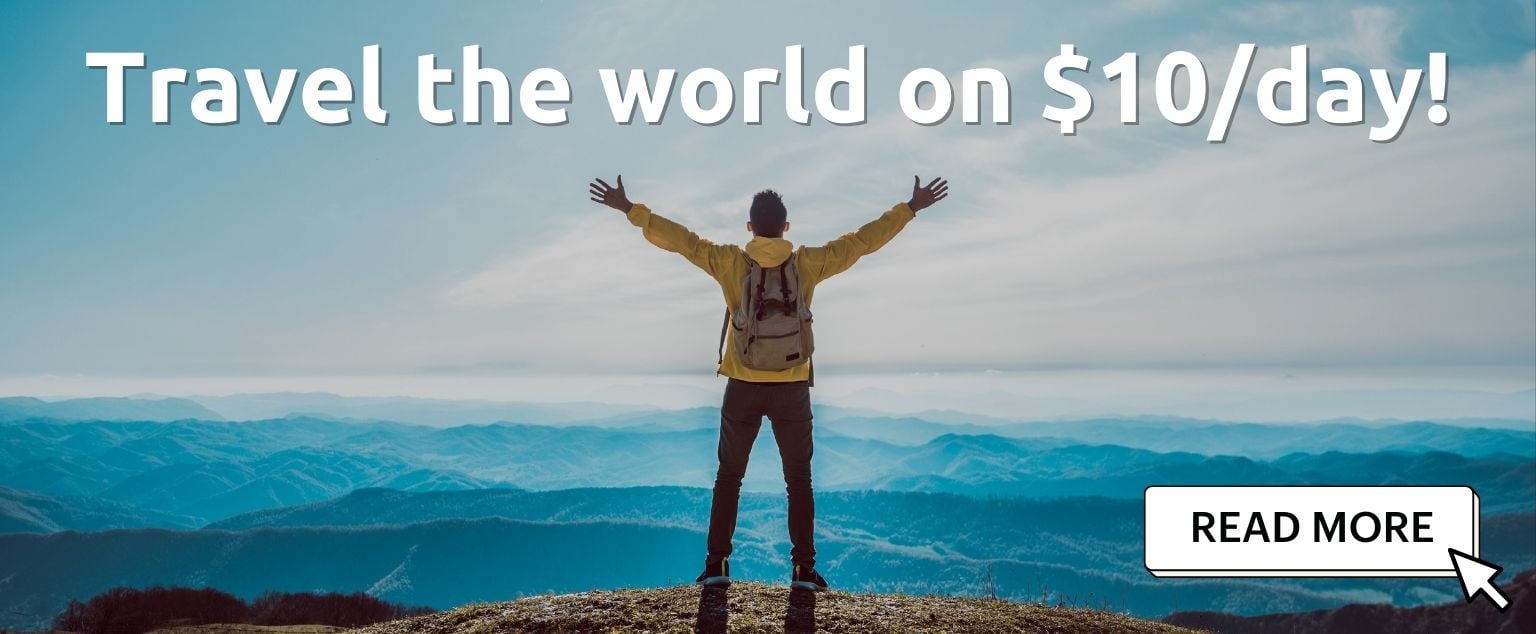 And for transparency's sake, please know that some of the links in our content are affiliate links. That means that if you book your accommodation, buy your gear, or sort your insurance through our link, we earn a small commission (at no extra cost to you). That said, we only link to the gear we trust and never recommend services we don't believe are up to scratch. Again, thank you!