The largest city in Western Australia, Perth has lots to offer on top of epic surfing and the warmth of the Indian Ocean! Much quieter than Sydney and Melbourne, this remote city has plenty going for it. Aussies and foreigners alike come to make the most of exciting food, drink, and art scenes.
Now that you've decided to visit Perth, the next step is deciding where to stay. An Airbnb in Perth is a great way to keep your costs down while exploring this exciting city. Rentals in Perth come in all shapes and sizes, from private rooms to villas. There's even a train in there!
In this post, we'll take a look at the best Airbnbs in Perth. With everything from budget pads for solo travellers to huge villas for family gatherings, there's a Perth property for you. Not only that, but we'll also show you the top experiences you can have in town. Let's check it out!
Quick Answer: These are the Top 5 Airbnbs in Perth
OVERALL BEST VALUE AIRBNB IN PERTH
OVERALL BEST VALUE AIRBNB IN PERTH
Private Studio in Central Perth
Price > $$
Capacity > 4 Guests
Why we like it? > Awesome Location
Awesome Features > Complimentary Coffee
BEST BUDGET AIRBNB IN PERTH
BEST BUDGET AIRBNB IN PERTH
Poolside Room in Noranda
Price > $
Capacity > 2 Guests
Why we like it? > Swimming Pool
Awesome Features > Access to rest of home
BEST AIRBNB FOR COUPLES IN PERTH
BEST AIRBNB FOR COUPLES IN PERTH
Boutique Studio CBD Apartment
Price > $$
Capacity > 2 Guests
Why we like it? > Queen Bed
Awesome Features > Fully equipped kitchen
BEST AIRBNB FOR FAMILIES IN PERTH
BEST AIRBNB FOR FAMILIES IN PERTH
East Perth Family Apartment
Price > $$$
Capacity > 6 Guests
Why we like it? > Fully equipped kitchen
Awesome Features > Big Balcony
OVER-THE-TOP LUXURY AIRBNB IN PERTH
OVER-THE-TOP LUXURY AIRBNB IN PERTH
Modern Taste of Nature
Price > $$$$
Capacity > 9 Guests
Why we like it? > Infinity Pool
Awesome Features > Pizza Oven
What to Expect from Airbnbs in Perth
With a whole range of quirky and unusual Airbnbs available, you can forget about a hostel or hotel in Perth. With high rise studios and views of the skyline, entire townhouses with space for a big group, or cheap and cheerful private rooms you can use as a base, you really are spoiled for choice – whatever your style and budget!
What you can expect from your property depends on how much you want to spend, where in Perth you're staying and how much space you want. Hosts are usually locals and will be able to give you recommendations on what to do in and around the city.
There are very few properties without Wi-Fi, so you'll be able to stay in touch with your host (friends and family too) throughout your stay.
Entire Flat
One of the most popular options for Airbnbs in Perth, an entire flat is a true home away from home. Unlike a private room, you're not just restricted to a bedroom, and you can expect extras such as a fully equipped kitchen. Great if you want to save your money by cooking your own meals!
Flats are available all over the city; they're the best option if you're staying in the CBD. For that reason, they're popular with solo and business travellers. CBD flats can be pricier than other districts, but you're paying for the convenience of having everything on your doorstep.
And in some flats, you're paying extra for that stunning skyline view!
House
If you're looking more towards the suburbs of Perth, you might be able to snag a full house to yourself, and it won't cost you that much more than a CBD flat. Houses come in a wide range of shapes and sizes, so on our list, you'll find a couple of wonderful honeymoon pads. However, some have space for more guests, so they're good spots for family gatherings and groups of friends to meet up.
Houses will normally come with a fully equipped bedroom and an outside space. Whether that's a yard or a garden depends on the area. The best areas to look for houses in Perth are Mount Lawley, Subiaco, and Osborne Park.
Villa
House not big enough for you? Okay then, how about a villa?! This is a great way to host a family gathering or big party during your stay in Perth. You'll have to cast your net a little wider though – and don't expect anything in the CBD. Instead, cast your eyes out towards Freemantle, Scarborough, and the base of Kalamunda National Park.
While villas may seem more expensive at first glance, remember that you can fit more people into a villa, which means you can split the cost more ways. Sometimes they don't work out any more expensive than flats or houses.
Why Stay in an Airbnb
There are so many reasons to stay in an Airbnb. Rather than list them all, here are our top five.
Local Experience: Get the low down on the best things to do and see in Perth from your host. Guaranteed their recommendations won't be in the guide book!
Unique Properties: Airbnbs have so much more character than the equivalent hotel or hostel. While we're on that subject…
Affordability: They're cheaper too. The more rooms you book in a hotel, the higher the price will go. And there's no contest when it comes to quality! This comes especially handy if you're backpacking Perth on a budget.
Staying Long-Term: You'll see on our list that long term stays can often be negotiated for a cheaper rate. Great for digital nomads or working holidayers!
Airbnb Experiences: It's not just where to stay. Airbnb offers awesome experiences, too. Later on, we'll show you five of the best Airbnb experiences in Perth!
The 15 Top Airbnbs in Perth
Now for the part you've all been waiting for. Here are 15 of the best Airbnbs in Perth. We hope you like them!
4 Guests
Complimentary coffee
Let's kick off our list of the best Airbnbs in Perth with one of the most desirable locations there is. It's close to the Swan River, the free red CAT bus route, and all the best shops, restaurants, and attractions.
There's space for up to four guests, but it's probably slightly better suited to a couple, as one of the beds is a small sofa bed. You'll be treated to complimentary coffee, and there's a bathtub where you can rest your aching muscles after a long day of exploring Perth!
2 Guests
Access to rest of home
Looking for a cheap Perth Airbnb? An entire flat or house might be a little out of your price range, but when you find this lovely private room, you won't mind one jot. Usually, in such an inexpensive property, you'd expect a bed, Wi-Fi (if you're lucky) and a friendly host. Well, that's not the case here. You're welcome to use the swimming pool and chill out in the BBQ area, patio, and gardens of the house.
$
Shared kitchen and outdoor area
2 Guests
Cats and chickens
Travelling solo? You'll want low costs but a chance to meet locals, right? This cute and spacious room in West Perth will be right up your street. Get recommendations from your friendly hosts on what to see and do in the area.
Perhaps you'll do that over a game on the PlayStation through the projector or with a glass of wine in the yard. Animal lovers rejoice – there are two cats and a chicken here!
2 Guests
Fully equipped kitchenette
Right in the heart of the CBD and just five minutes from the Swan River, you'll find this gorgeous Airbnb. There's a queen-sized bed so you can both be assured of a good night's sleep… and whatever else a couple might use a bed for! If you don't want to take advantage of the many restaurants and cafes on your doorstep, whip up a tasty meal in the fully equipped kitchenette.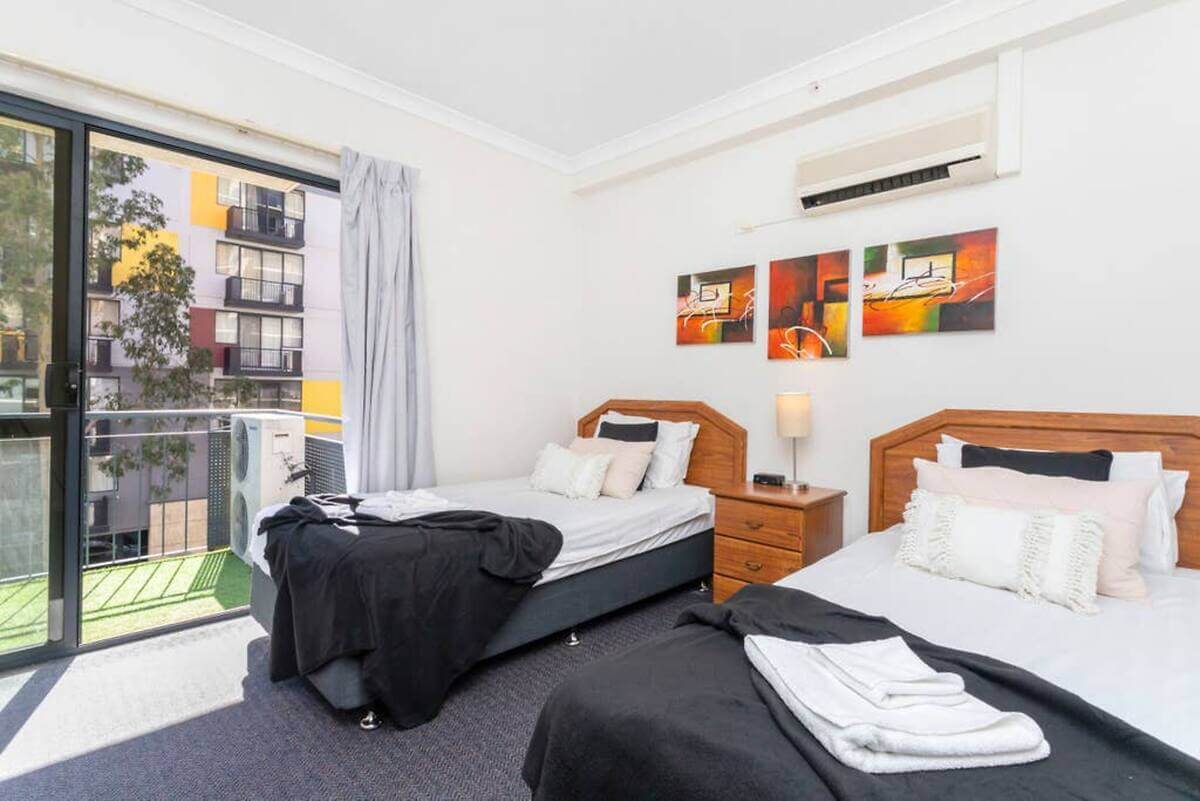 $$$
Fully equipped kitchen
This enormous apartment is suitable for families of any age. There are two bedrooms – one with a queen and another with singles. There's also a sofa bed for a bigger group! It can be expensive for so many people to eat out together, so it's a good job there's a fully equipped kitchen here where you can prepare everyone's favourite dish. There's also a huge balcony and a pool – both great for chilling out and cooling off.
For those who are travelling to Perth with impossibly deep pockets (or a big overdraft), check out this incredible house in Gooseberry Hill. Alright, it might not be in the city centre, but here you have Kalamunda National Park on your doorstep. Oh, and you can chill out in the infinity pool – while you enjoy a pizza that you've made in the outdoor oven. What's that? It's too cold? Just head inside and enjoy a movie on the projector!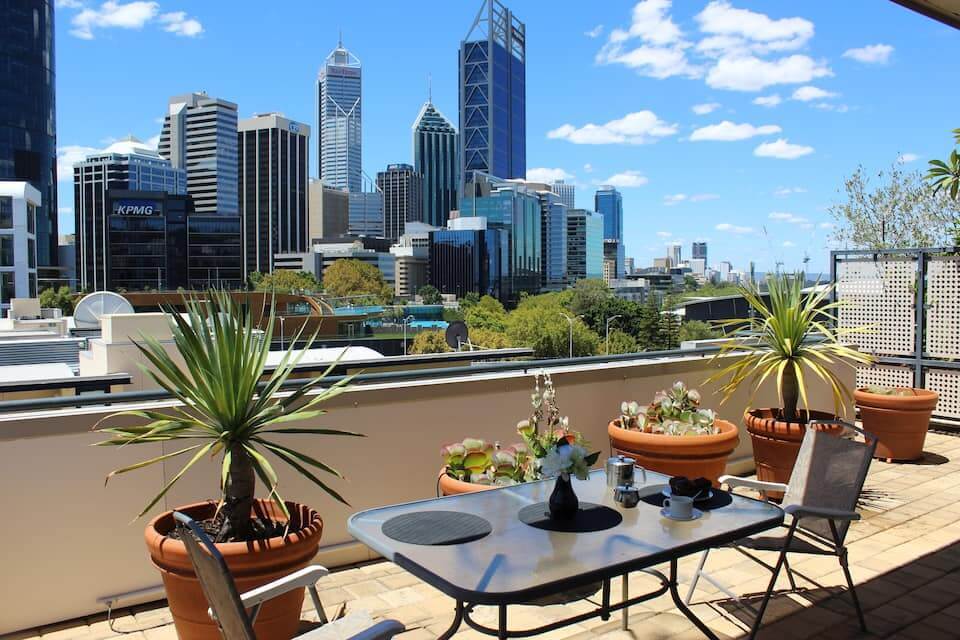 One of the most eye-catching properties in Perth, we reckon this one will find its way onto your Instagram feed. The unique apartment is in Mount Lawley, one of the coolest areas in town, and it's another great spot for couples. Enjoy the little sun trap of a patio with your morning coffee and smell the roses in the air. It's even pet friendly, so if you're travelling with your dog or cat, this place should be bumped right up to the top of your list!
$$$
Fully equipped kitchen
14 Guests
Air conditioning
If you can find 14 people, this villa actually works out as one of the cheapest Airbnbs in Perth. However, if you're not on vacation with your entire extended family, it still won't break the bank. There are six, that's right six, queen beds here, and the fully equipped kitchen has enough pots and pans for you to feed everyone. Enjoy a board game or cards around the coffee table/breakfast bar or take in a move on the TV. The choice is yours!
$
Laptop-friendly workspace
2 Guests
Breakfast included
Another unique Airbnb in Perth and it's perfect for digital nomads. As well as super-fast Wi-Fi and a laptop-friendly workspace, you've got breakfast included in the price. So, no need to waste valuable time you could spend working looking for a nearby cafe. Kayaks and bikes are complimentary, so hit up the beautiful Swan River!
When you think about where to stay on vacation, a train carriage normally isn't that high on the list – unless you're travelling through Vietnam or something. However, this stationery carriage in a couple's garden is great for solo travellers or couples. You can enjoy the garden, and you might even get a hello from the friendly dogs and rabbit who call this place home!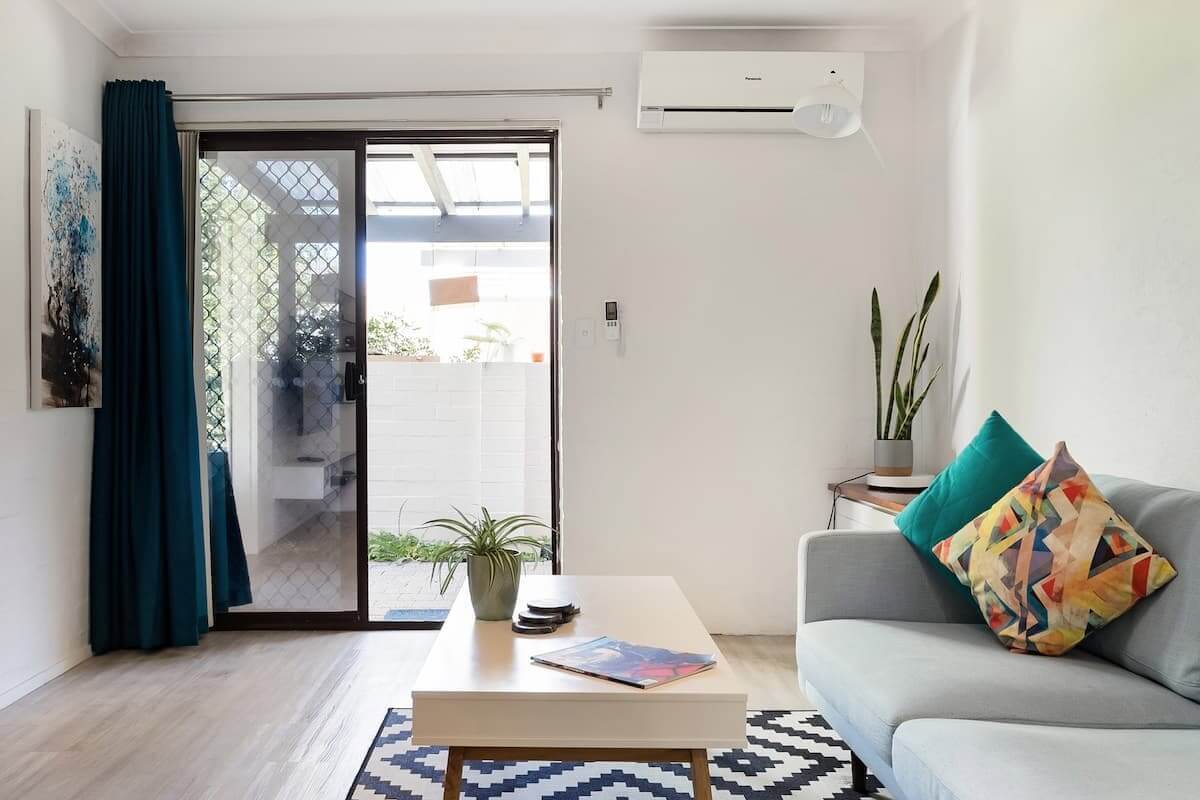 Airbnb Plus just has that little X factor that makes it even more standout and unique than other properties. And this plant-filled riverside apartment certainly fits into that box! With room for five guests, it's a great spot for friends or family. And it doesn't work out that pricey if you're able to split it between five people! However, you'll all have to fight over who gets the best spot in the house – the patio's hanging chair.
Stunning Airbnb for Honeymooners in Perth – Gables on the Park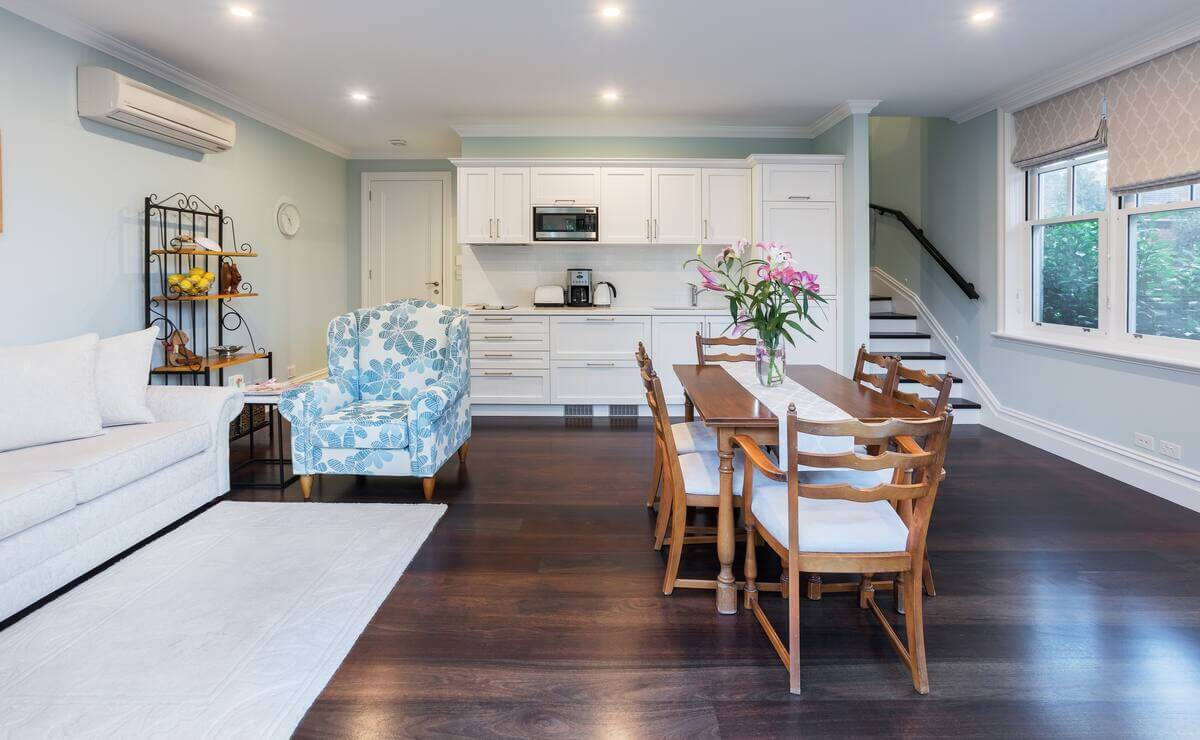 If you're travelling to Perth on your honeymoon, you're going to need somewhere truly special. That's what we've found for you with this luxury townhouse in Mt Lawley. You'll share a backyard with your hosts who have the property, and you're welcome to chill out on the lawn or at the table. If you'd prefer to stay inside, you'll have a king bed and a beautiful kitchen/dining room area where you can enjoy a romantic feast together.
Looking to spend longer in Perth? This might just be the place for you. If you're looking for a job for your working holiday visa or you're a digital nomad wanting a solid base for a month or longer, this place is already cheap enough before you consider any discount for a long term stay. And it's not just a bed, desk and chair either; you'll have your own pool and a washing machine. No need for trips to the launderette!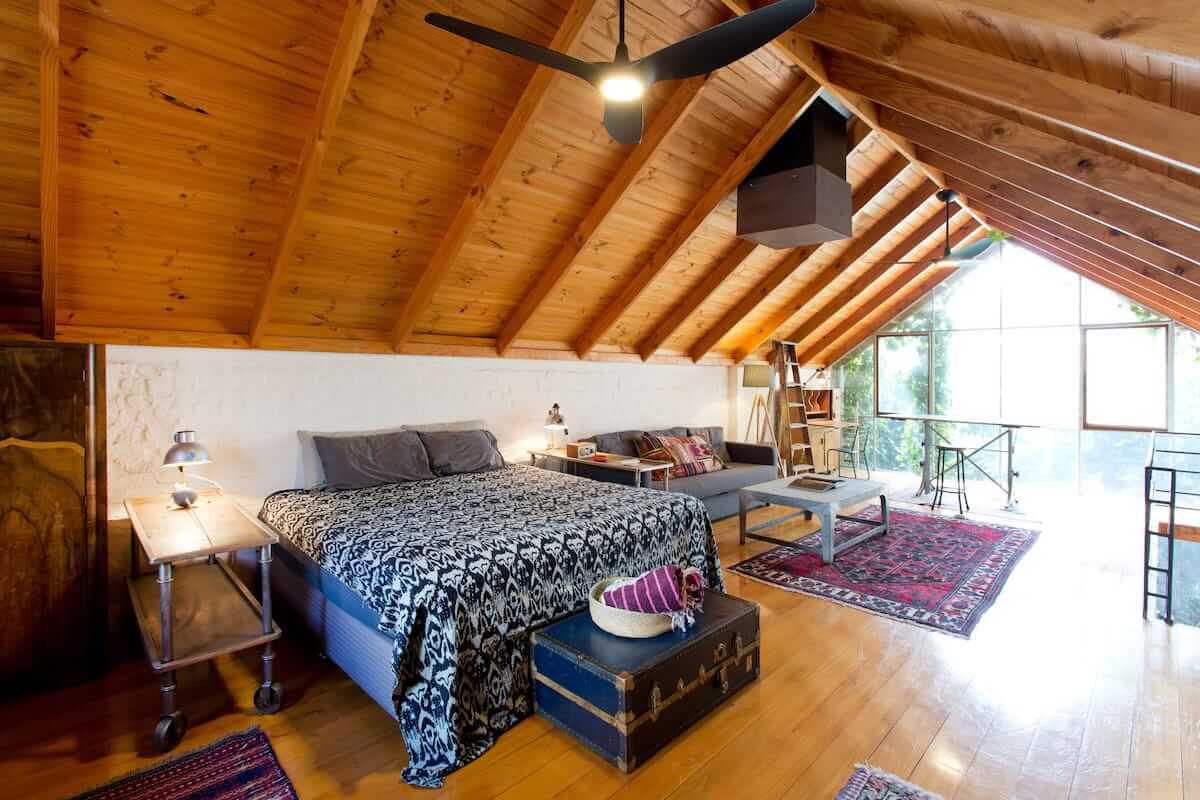 Our final Perth Airbnb on the list is perfect for a group of friends. The townhouse is actually part of the iconic Salvation building, right in the CBD. It's got heaps of character – from the double french doors to the cool furnishings and art. Your friendly and helpful host knows everything there is to know about Perth, and he'll be happy to share that with you.
Top 5 Experiences in Perth
If you want to see more of Perth but don't want it to feel artificial, an Airbnb experience might just be what you're looking for. With everything from hikes and outdoor activities to cooking classes and walking tours, there's something to suit every type of traveller. Here are five of the best!
$200 AUD/person
5 hours
Up to 10 Guests
One of the absolute must-dos in Perth is getting a selfie with a quokka. These cute little critters live on Rottnest Island, and that's where this snorkelling trip will take you. You can expect to see much more than friendly quokkas, though: get up close and personal with seals in the water and enjoy a BBQ back on board the boat.
$110 AUD/person
3 hours
Up to 6 Guests
Another way to escape the hustle and bustle of Perth is by taking a bushwalk. This one will take you through an abandoned stone quarry before enjoying some Billy Tea pumpkin scones. Once you're fed and watered, you can make your own souvenir canvas print. This combines the great outdoors, food, and painting in one trip. You certainly won't be bored!
$45 AUD/person
5 hours
Up to 8 Guests
There's only so long you can aimlessly wander around Perth without being curious about what's what. This walking tour with a local guide will show you some of the most important historical attractions. You'll even stop off at a viewpoint that has incredible views of the city.
$160 AUD/person
7 hours
Up to 10 Guests
Many tourists put Swan Valley on their Perth itinerary. However, what's the point of going to wineries if you can't drink? Ditch the rental car and enjoy this tour from town instead. Not only will you sample some of the finest wines the valley has to offer, but you'll also stop off for lunch with one of the best chefs in the area.
$175 AUD/person
2 hours
Up to 1 Guest
Are you a solo traveller who has always wanted to feel the wind in your hair as you ride a Harley along the coast? Well, all your wildest dreams will come true with this wonderful day out. Your guide will stop off in a few places and explain more about where you are. A real day to remember!
Final Thoughts on Perth's Airbnbs
Now that you've seen the best Airbnbs in Perth, you'll probably feel more confident in booking your trip. Remember, we've seen every type of accommodation there is. Do you want a private room where you can crash and spend as little as possible? Perhaps you'd like a warm and cosy home away from home? All that is possible with Airbnb.
If you're still struggling to decide where to stay in Perth, we'd recommend going with our top choice. The best value place to stay is Private Studio in Central Perth. In the heart of the CBD, you won't find better value for money in such a great location!
Don't forget to try an Airbnb experience while you're at it. Especially if you only have a weekend in Perth, you got to use your time wisely.
And don't forget to take out Travel Insurance for your trip! I have been using World Nomads for some time now and made a few claims over the years. They're easy to use, professional and relatively affordable. They may also let you buy or extend a policy once you've started your trip and are already abroad which is super handy.
If there's one insurance company I trust, it's World Nomads. To find out why I use World Nomads, check out my World Nomads Insurance review.
Getting an estimate from World Nomads is simple – just click the button or image below, fill out the necessary info, and you're on your way!

---
Find out how YOU can support the site.
We're a big site with a big team and this job isn't always easy. But we do it because we love it – we love providing epic and free content. We love the knowledge that our content keeps you adventuring. We don't ask for money, but if you'd like to find out how you can help the site in more organic ways, click the button below.
Thank you for your support 🙂
And for transparency's sake, please know that some of the links in our content are affiliate links. That means that if you book your accommodation, buy your gear, or sort your insurance through our link, we earn a small commission (at no extra cost to you). That said, we only link to the gear we trust and never recommend services we don't believe are up to scratch. Again, thank you!