Founded in 1804 by the British as a prison colony, Hobart is the second-oldest capital city in Australia, behind Sydney. Located on the southeastern coastline of the island of Tasmania, Hobart is Tasmania's capital and home to nearly half the population of the entire island.
Set against a backdrop of Mount Wellington, flanked by the estuary of the River Derwent, the city is a paradise for outdoor lovers and adventurers, from hikers to mountain bikers to surfers.
This historical city is known for a few quirky reasons, including being home to Australia's first-ever casino and brewery. Its proximity to the South Pole makes it one of the only big cities where you can view the Southern lights year-round. Surprisingly, this small city packs a punch when it comes to partying and socializing, with tons of festivals and events held year-round.
With its colonial history and local atmosphere, it's no surprise that bed and breakfasts are one of the most popular types of accommodation in this city. Alongside B&Bs, Hobart is known for its luxury boutique hotels, and quirky and unusual accommodation suitable for everyone from party-bound millennials to avid adventurers to luxury-seeking families.
Typically run by generations of local families, staying in one of the best bed and breakfasts in Hobart is easily the best way to experience the charming city. Continue reading for a breakdown of Hobart's best B&B accommodation.
Best Bed and Breakfast for Couples in Hobart
Best Bed and Breakfast for Couples in Hobart
Orana House
> $$
> 2 Guests
> Rooms with garden and river views
> Manicured gardens and grounds
Best Budget Bed and Breakfast in Hobart
Best Budget Bed and Breakfast in Hobart
Mulberry Cottage Unique B&B Accommodation
> $
> 2 Guests
> Free parking and shared sun terrace
> Tea and coffee-making facilities
Over-the-Top Luxury Bed and Breakfast in Hobart
Over-the-Top Luxury Bed and Breakfast in Hobart
The Rivulet
> $$$$
> 2 Guests
> Heritage-listed building just a short walk from Battery Point and Salamanca Square
> Luxurious bathrooms with high-end toiletries
Staying in a Bed and Breakfast in Hobart
Bed and breakfasts are often a popular type of accommodation for small towns or villages. Unlike Airbnb or self-catering vacation rentals, bed and breakfasts are small inns subject to state or local lodging laws. You can think of them as a really small, family-run boutique hotel.
However, while a hotel can lack in personality and quirk, bed and breakfasts don't. Usually run by a local couple or family, these small properties are designed and run with care and pride, with personal touches from the owners.
They also offer a few extra perks and advantages you might not get from a hotel or self-catering vacation rental. Hobart's bed and breakfasts are all unique properties offering personalized services. Each is distinctly its own, with a character and atmosphere distinct to that property.
With a small guest list, you're just as likely to make friends with other guests at your bed and breakfast as you have the entire property to yourself. On top of that, the hosts of bed and breakfasts are typically the property owners and will be more than happy to share local knowledge or insider advice about Hobart.
The second B in B&B is another distinguishing feature. At the best bed and breakfasts in Hobart, you'll wake up to the smell of freshly baked bread and pastries and be treated to a delicious homemade breakfast (always in small batches) before you head out for the day.
What to Look For in a Bed and Breakfast in Hobart
On top of having a more homey and inviting atmosphere compared with hotels, there are a lot of other perks associated with staying in a bed and breakfast.
First, you could enjoy access to shared spaces, including lounges, gardens, and terraces. If you prefer cooking your own food or need to save a bit of cash by doing so, it is possible to find properties in Hobart with private kitchenettes or communal kitchens which can be used to prepare your own meals.
If you're a digital nomad, you'll be pleased to know that many bed and breakfasts here come with a dedicated office desk and working Wi-Fi, making it easy to get your work done from the comfort of your room.
Of course, breakfast is a significant bonus offered by bed and breakfasts, and most of the top properties in Hobart offer a selection of continental foods and an optional hot breakfast prepared daily. However, make sure you check that breakfast is served at the B&B you choose, as this isn't always the case.
Most of the best B&Bs in this Tasmanian city are found on Booking.com, with a few listed on Airbnb. If you are looking for an accessible property, use the convenient filters supplied to narrow down your search.
The Top 15 Bed and Breakfasts in Hobart
If you're searching for the best bed and breakfast in this charming Tasmanian city, you've come to the right place! In this article, I'll lay out the best of the best bed and breakfasts in Hobart, separated into categories suitable for different types of travelers.
Overall Best Value Bed and Breakfast in Hobart – Strathmore in Sandy Bay
Fold-out bed available for children
A short walk to Salamanca Markets and Hobart CBD
Set in a late Victorian 1890s brick home, this bed and breakfast is conveniently located on Sandy Bay Road, a quick drive from the airport. Room 3 has two large single beds and space for a fold-out bed should you bring an extra guest. The room shares a bathroom with two other guest rooms and there is an additional toilet on the ground floor.
Guests can use the tea and coffee facilities in the dining room at any time, and a delicious continental breakfast is served each morning.
Free parking and shared sun terrace
Tea and coffee-making facilities
Mulberry Cottage is easily one of the best bed and breakfasts in Hobart on a budget. Perfect for those looking to save a buck, the accommodation is surrounded by gardens and designed with unique antique and bespoke furniture.
The eclectic B&B features private suites and a cottage, each with high-end bedding, complimentary toiletries, and a mini-fridge, microwave, and tea and coffee facilities.
Grab a cup of steaming tea and soak up some sunshine on the shared terrace or gardens after exploring Hobart.
Best Bed and Breakfast for Couples in Hobart – Orana House
Rooms with garden and river views
Manicured gardens and grounds
With rooms pretty enough for a royal, Orana House is one of Hobart's most romantic places to stay. The interiors feature a blend of contemporary and antique furnishings complete with luxurious linens and tons of natural light.
The rooms are large and comfortable, perfect for a couple. Feel free to request the superior queen room with a spa tub for a bit of extra romance.
Guests can enjoy the shared garden, lounge, and dining area, where a continental breakfast is served every morning. Best of all, this spot is also ideally located for exploring Hobart, just a short distance from the Hobart Convention and Entertainment Center.
Rooms fitted with spa baths and antique four-poster beds
A three-minute walk to restaurants and craft breweries in the North Hobart strip
Another excellent option for a romantic escape to Hobart, The Lodge on Elizabeth is set in a heritage building and decorated with historic and antique furnishings. It's just a short stroll from the CBD, making it one of the best bed and breakfasts in Hobart to base yourself between cafes and shops.
This spot is best for a winter vacation. Grab a glass of port or coffee and enjoy it in front of the wood-burning fireplace in the shared lounge on a cool day. Well equipped for winter, the beds are all fitted with electric blankets, and some rooms even feature a spa bath.
Best Bed and Breakfast for a Group of Friends in Hobart – Annie's Garden Cottage
Free private parking and family rooms are available
Communal kitchen and dining area
If you're visiting Hobart with a group of your friends, Annie's Garden Cottage has more than enough space for four guests. The cottage has three bedrooms, a garden, a full kitchen, and a patio.
When you have had enough of eating out, the cottage is fully equipped with a kitchen, a dining area, and a cozy lounge – perfect for a night in with your friends.
Well located to explore the city on foot, this cottage is just a short walk from the Hobart Cruise Terminal and Convention Center.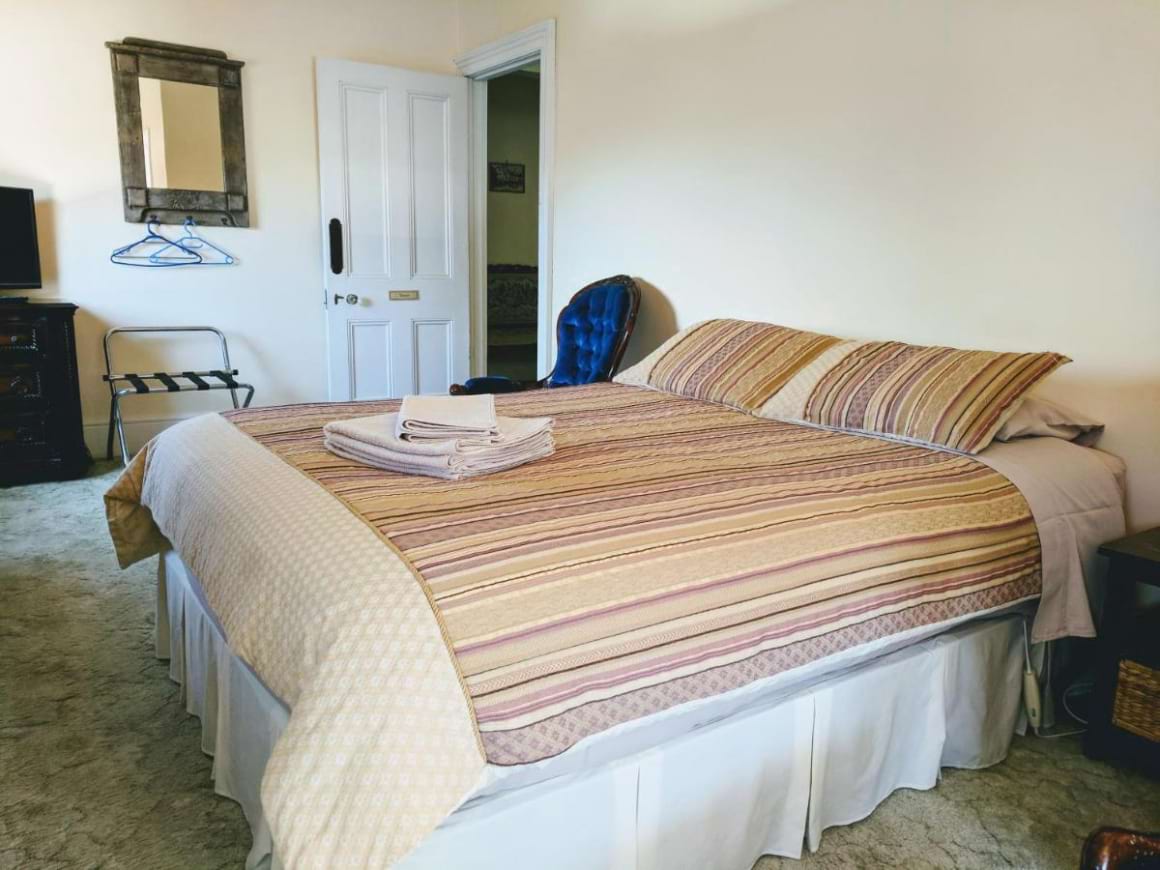 A five-minute drive from Hobart CBD
Tour desk to arrange hikes, wine routes, and museum entrance
Hamlyn House Bed and Breakfast offers another gorgeous space for a group of friends to stay in Hobart. Set in a historic home built in 1896, the building boasts high ceilings, spacious guest suites, and refurbished bathrooms.
The three-bedroom apartment has more than enough space to fit seven guests. Just a short drive from the city center, each room at this bed and breakfast in Hobart has its own bathroom and is equipped with electric blankets and much-needed central heating.
Over-the-Top Luxury Bed and Breakfast in Hobart – The Rivulet
Heritage-listed building just a short walk from Battery Point and Salamanca Square
Luxurious bathrooms with high-end toiletries
Located in the heart of Hobart, The Rivulet is a heritage-listed boutique bed and breakfast set in a grand historic manor house. Each room in this luxurious bed and breakfast offers air conditioning and heating, high-end bedding, and private bathrooms with complimentary toiletries. Every room is unique, with eclectic art and unique furnishings.
Guests can also use a peaceful garden, shared lounge, and dining room, where a first-class breakfast is served each morning. You can also enjoy a fresh cup of coffee or local wine on the verandah anytime during your stay!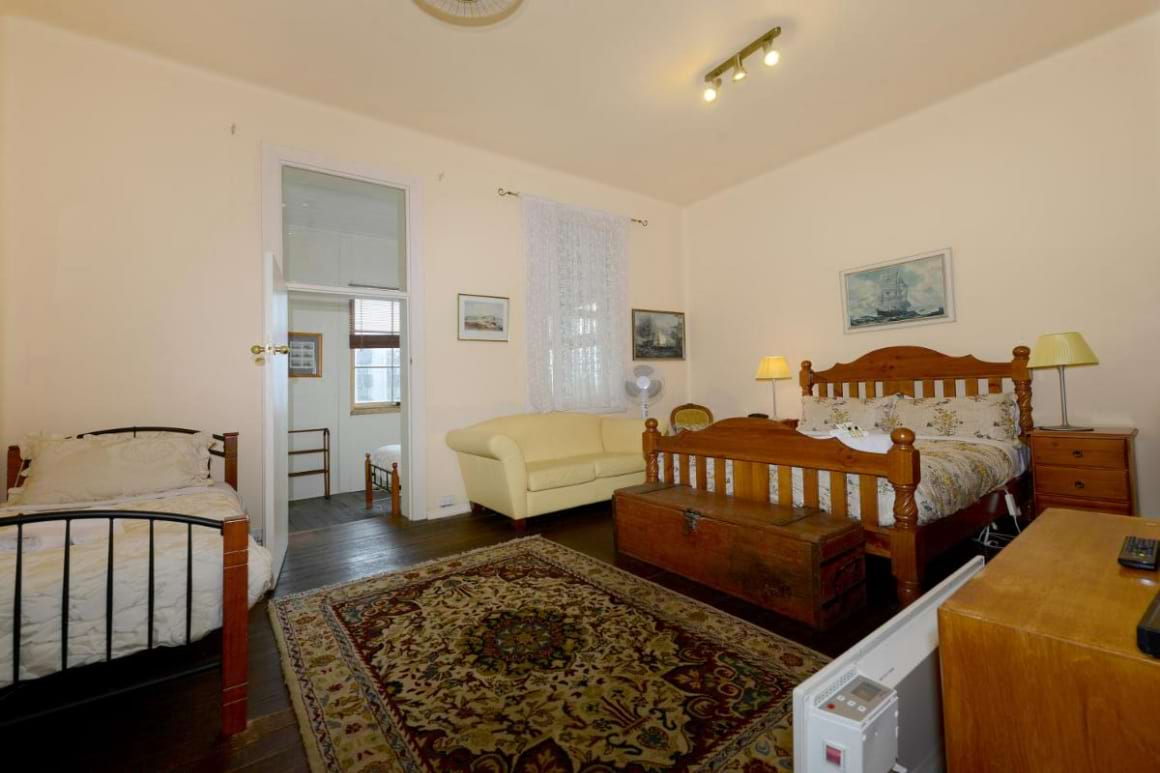 Family-sized room with balcony
Edwardian house built in 1908 with retro interiors
Perfect for families traveling with young kids, the Edinburgh Gallery is one of the best bed and breakfasts in Hobart, with a friendly and relaxed atmosphere. Located in the heart of the city, guests can walk from the property to local tourist attractions and restaurants easily.
The building was built in 1908 and is furnished with a blend of new and old interiors. The family room has two separate bedrooms, one with a large double bed and the other with two single beds and a shared bathroom.
Best Bed and Breakfast in Hobart for Backpackers – Rebs Bed and Breakfast
Buffet and continental breakfast available each morning
Private bungalows with kitchen, terrace, and garden views
Ideal for backpackers or budget travelers, Rebs B&B features self-catering chalets in the Action Park region, just across the river from Hobart. Since it's not located in the city's center, it is a lot more affordable and doubles as one of the best places to stay for long-term travelers.
Each unit has a private bathroom and kitchenette with a microwave, kettle, and toaster. Guests have access to the entire property, including a garden, free parking, and BBQ facilities. Of course, you can take advantage of a complimentary daily breakfast to fuel you for the day ahead.
Set overlooking the river inlet and Hobart mountains
Delicious breakfast served daily
Easily one of the most beautiful and luxurious best bed and breakfasts in Hobart, Brightwater B&B offers sunny accommodation just south of Hobart in Tinderbox. Set on a hill overlooking the River Derwent and surrounded by wild forests, this bed and breakfast has some of the most beautiful views on the island.
Each guest room has been renovated and furnished with a blend of contemporary and antique furniture, with the main feature being the views. Expansive glass windows and balconies mean you can look out across the mountains and river from the comfort of your bed!
On a historic street in the heart of New Town, a short walk from central Hobart
Historic Federation-style building built in 1891
Located on the main street in New Town, just a couple of miles from the CBD of Hobart, Assemblage Boutique Art B&B offers a unique accommodation experience. The accommodation is set in a Federation-style building built in 1891, once a local landmark and meeting place of the town.
Scattered with bespoke furnishings, original art, and handmade objects, the property is a collective of local creative life in Hobart. The rooms are beautifully decorated with warm colors and linens.
Best Bed and Breakfast in Hobart for Long-Term Travelers – At Eleven – Le Petite Maison
Fully-equipped flatlet with kitchen and terrace
Continental breakfast served daily
At Eleven – La Petite Maison is one of the best bed and breakfasts in Hobart on a budget. Combined with a fully-equipped kitchen, it's also one of the most suitable for long-term travelers.
The B&B has a terrace overlooking mountain views and provides bicycles for guests to use for free. Guests can spend some time lapping up the sun in the garden after enjoying a freshly prepared breakfast each morning.
The Bed and Breakfast with the Most Epic Location in Hobart – Otago Cottage
Fully-equipped bungalow and cottages
On the banks of the River Derwent, with incredible views
Located just across the River Derwent from the heart of Hobart and MONA, Otago Cottage is set on the banks of the river, surrounded by nature and incredible views. You can't get much better than waking up to the sound of the water lapping against the beach out front.
The cottage is a self-catering property, but breakfast provisions are provided for guests each morning. The rooms are simple yet well equipped with a kitchen and private bathroom, perfect for a family or couple.
Best Bed and Breakfast in Hobart for Honeymooners – Explorers Lodge
Garden views and terrace
A 20-minute drive to MONA
Easily one of the best bed and breakfasts in Hobart, Explorers Lodge offers contemporary accommodation in a peaceful setting just outside the buzz of the city. Guests at the lodge can enjoy access to a cozy lounge with a fireplace, a sunroom, a deck, and landscaped gardens.
Of course, Wi-Fi is provided, along with other convenient features, including electric blankets, complimentary tea and coffee, and ensuite bathrooms. Some self-catering apartments have a kitchen and separate living areas for extra space.
Most Traditional Bed and Breakfast in Hobart – Clydesdale Manor
1800s house with a grand staircase and high ceilings
Some rooms with a spa bath or balcony
Finding traditional accommodation in Hobart, where half the buildings are registered as historic properties, isn't too tough. Clydesdale Manor offers four-star accommodation in an 1880s manor just a five-minute walk from Sandy Bay. The location is perfect for exploring Hobart on foot.
Each room is fitted with tea and coffee facilities and comfortable beds with luxurious linens; some even include a spa bath or balcony.
Don't Forget Your Hobart Travel Insurance
ALWAYS sort out your backpacker insurance before your trip. There's plenty to choose from in that department, but a good place to start is Safety Wing.
They offer month-to-month payments, no lock-in contracts, and require absolutely no itineraries: that's the exact kind of insurance long-term travellers and digital nomads need.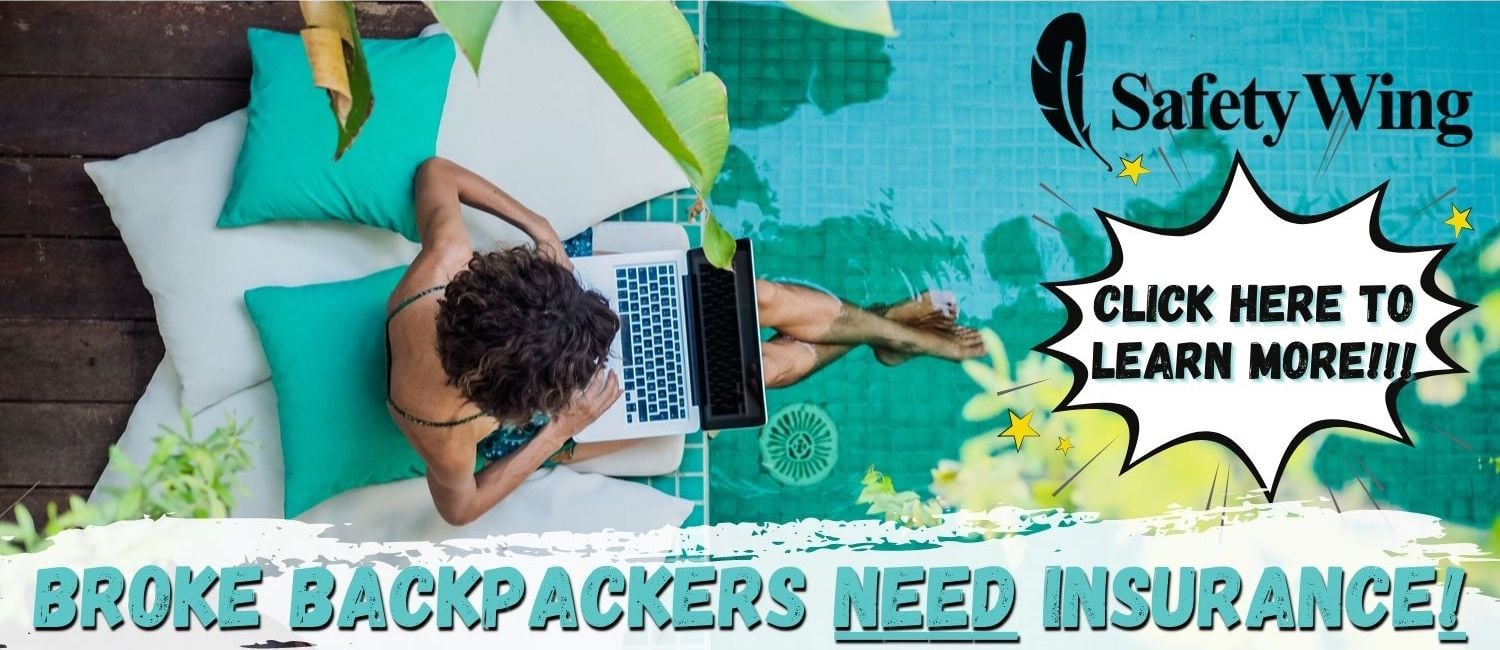 SafetyWing is cheap, easy, and admin-free: just sign up lickety-split so you can get back to it!
Click the button below to learn more about SafetyWing's setup or read our insider review for the full tasty scoop.
Final Thoughts on Bed and Breakfast in Hobart
Whether you're visiting for a relaxing weekend or a family getaway, Hobart is a wonderful destination for your next vacation. Set on a river inlet on the Australian island of Tasmania, the city is surrounded by gorgeous nature and historical intrigue.
The city is small, and tourism isn't its most significant trade, so finding a good place to stay isn't always easy. Our advice? Set yourself a budget and choose one of the best bed and breakfasts in Hobart.
Bed and breakfasts are one of the best and most unique accommodations in Hobart to make you feel in a home-away-from-home while offering the amenities of shared spaces at the same time.
For any international trip, do yourself a favor and organize comprehensive travel insurance for all members of your travel party before you depart. Although Hobart is a safe city, there is no telling what could go wrong on a blissful vacation.
---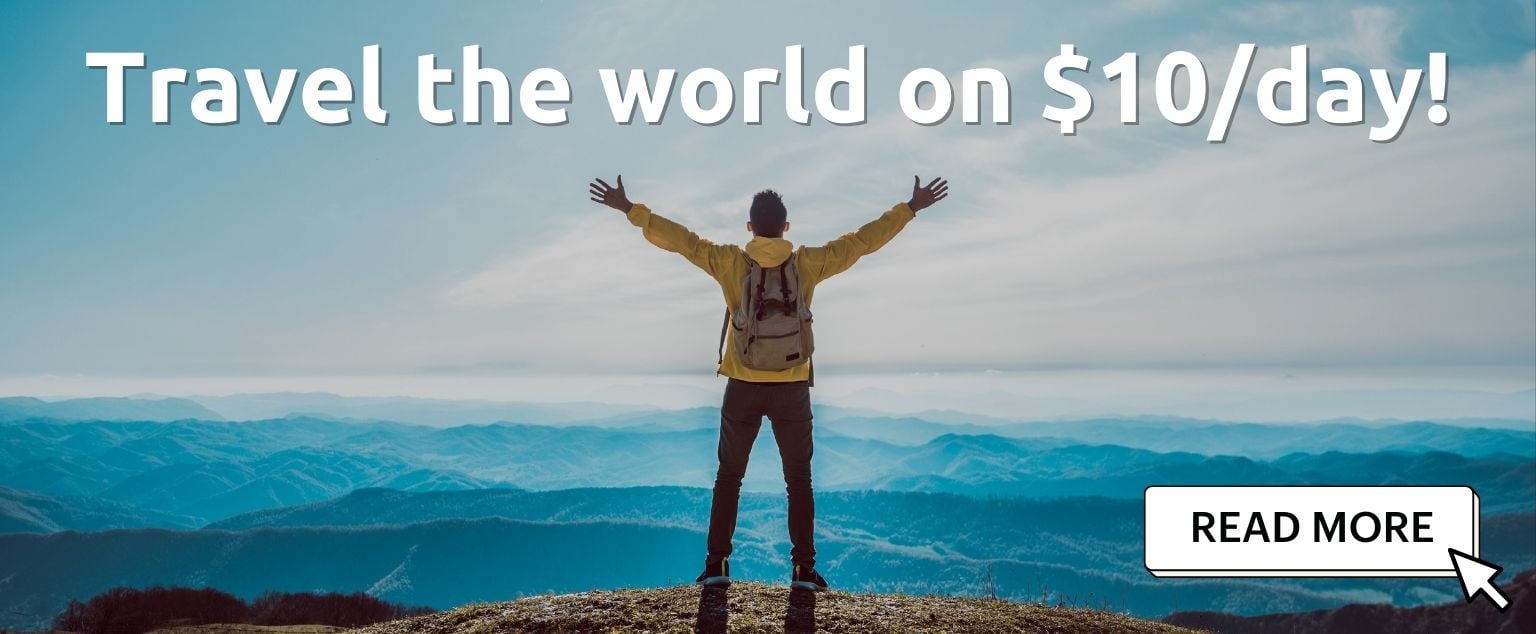 And for transparency's sake, please know that some of the links in our content are affiliate links. That means that if you book your accommodation, buy your gear, or sort your insurance through our link, we earn a small commission (at no extra cost to you). That said, we only link to the gear we trust and never recommend services we don't believe are up to scratch. Again, thank you!