Chicago, Illinois is one of the biggest and brightest gems in the Midwest and a true great amongst American cities. It has renowned architecture and over forty museums, not to mention nearly 7000 restaurants that serve up some famous food like Chicago deep-dish pizza and Chicago hot-dogs. If you're headed to the Windy City, you're in for a real swell time, especially after you find the best Airbnb in Chicago for you!
However, trip planning just wouldn't be complete without figuring out where to stay. As hotels cost more than a pretty penny and hostels are pretty limited, I think that Airbnbs in Chicago are the way to go!
We've sorted them out by travel group size, style, vibes, and budget for your convenience. Ready to find the perfect Chi-Town Airbnb for you?
Let's get into it!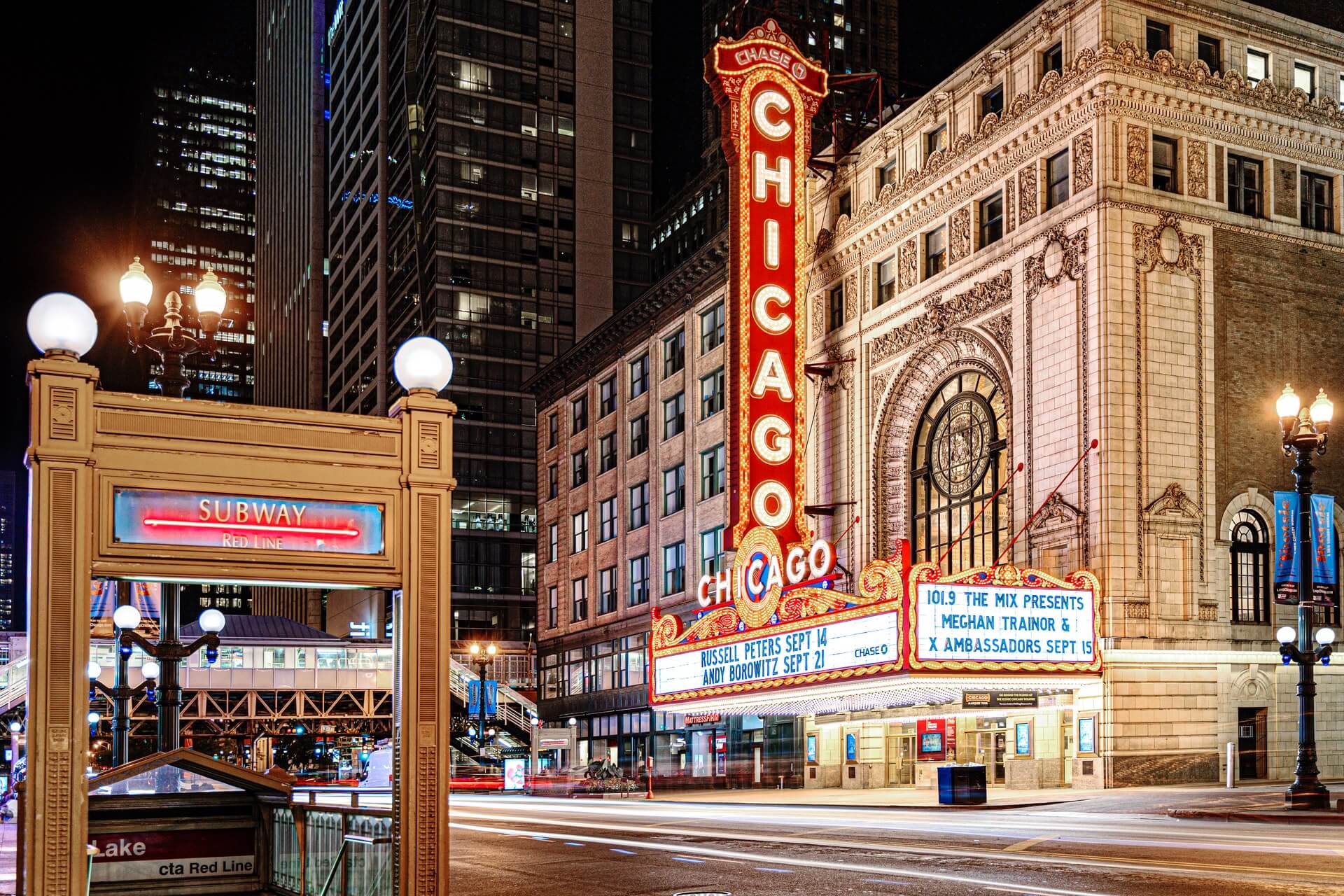 Quick Answer: The Top 5 Airbnbs in Chicago
OVERALL BEST VALUE AIRBNB IN CHICAGO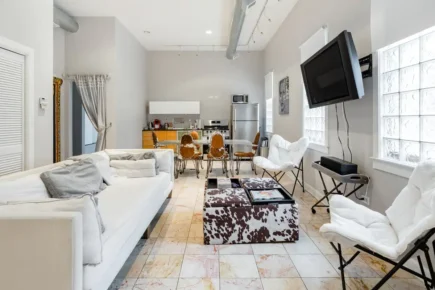 OVERALL BEST VALUE AIRBNB IN CHICAGO
Studio with Private Outdoor Hot Tub
> $$
> 2 guests
> Private Hot Tub & Yard
> Quiet Location
BEST BUDGET AIRBNB IN CHICAGO
BEST BUDGET AIRBNB IN CHICAGO
A Budget Traveler's Dream Room
> $
> 2 guests
> Walking distance to public transit
> Billiards Room
OVER-THE-TOP LUXURY AIRBNB IN CHICAGO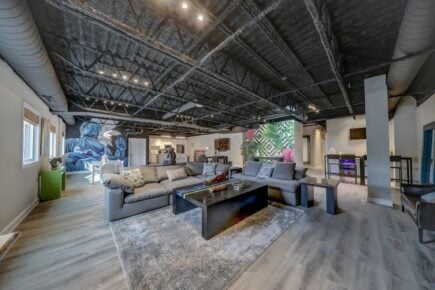 OVER-THE-TOP LUXURY AIRBNB IN CHICAGO
Zen Loft in Downtown
> $$$$
> 10 guests
> Seven TVs
> Gourmet Kitchen
BEST AIRBNB FOR DIGITAL NOMADS IN CHICAGO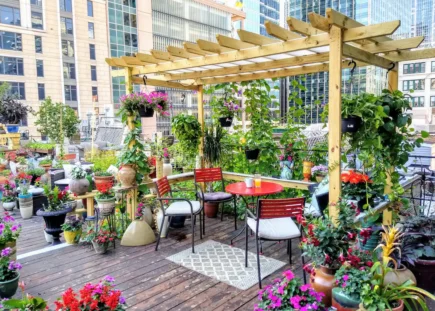 BEST AIRBNB FOR DIGITAL NOMADS IN CHICAGO
Private Room in Sunny Artist Loft
> $
> 2 Guests
> AMAZING outdoor garden
> Full kitchen
BEST AIRBNB FOR COUPLES IN CHICAGO
BEST AIRBNB FOR COUPLES IN CHICAGO
Artsy Apartment With Funky Vibes
> $$
> 2 Guests
> Unique Artwork & Atmosphere
> Private free parking

Do You Want to Travel FOREVER??
Pop your email in below to get a FREE copy of 'How to Travel the World on $10 a Day!'.
What to Expect from Airbnbs in Chicago
There are a ton of Airbnbs in Chicago, and they come in a seriously wide variety. From trendy, modern lofts downtown to listings that more closely resemble houses in the suburbs, there's an Airbnb in the Windy City for every budget and preference.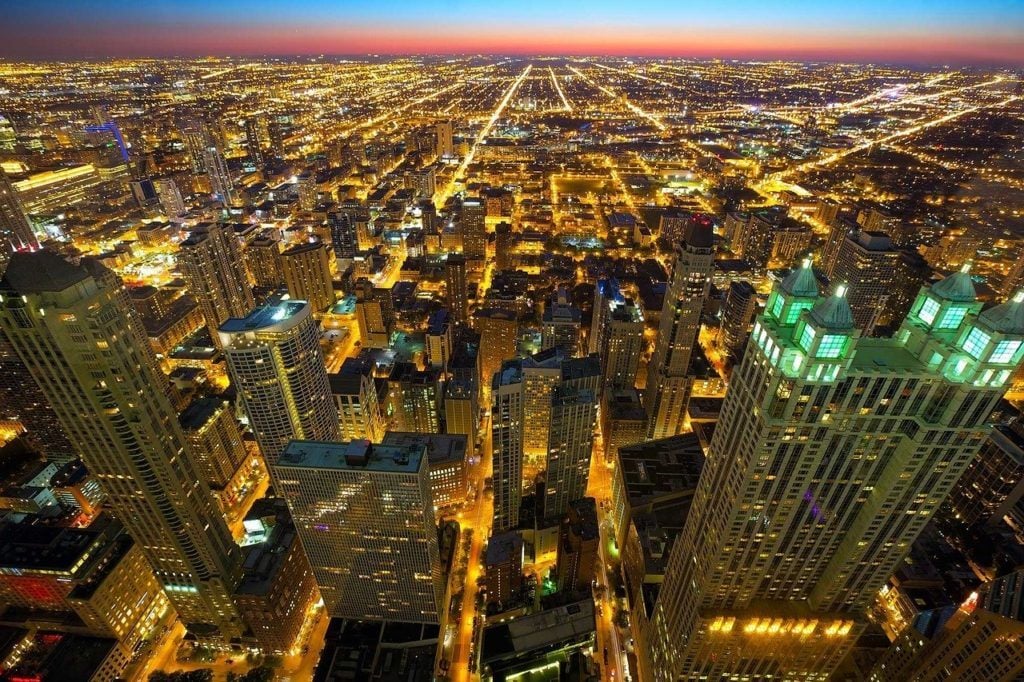 Centrally located Airbnb Chicago rentals tend to be more expensive, but that's the trade-off for being near the city's top attractions. If you're down to choose a place that's a bit farther away, you can save yourself some cash and instead use it on eating and exploring expenses.
With hundreds if not thousands of options to choose from, you should be able to quickly score a cool accommodation for your trip! Here's a bit more of a breakdown of what Airbnbs you can expect to find while planning your trip to Chicago:
Apartment
Apartments are the most common type of accommodation to be found in Chicago, which makes sense given that it's quite a metropolis. From small, elderly studios to modern lofts big enough to house large groups, it's no surprise that costs will vary widely.
Newer, larger apartments in the city center will be more than shabbier options in alternative neighborhoods. So if you're trying to stick to a budget, the best places to stay in Chicago might not be where you expect.
Some of the coolest Airbnbs in Chicago are a bit off-the-beaten-path. But thanks to the Windy City's fantastic public transit system, you won't have to worry as much about location as you would elsewhere in the US.
Whether you're seeking a comfy one-bedroom apartment to relax in after days and nights out on the town OR a large penthouse that can fit a big group, Chicago has it all.
Apartments in Chicago may have limited amenities or might have a full kitchen and a hot tub. Be sure to fully investigate all this before booking your Airbnb.
House
If you don't mind staying a little bit away from all the city action, you can spend your Chicago trip in an actual house! While the best Airbnbs inside the Windy City are all apartments, there are several super-close suburbs that often have houses to choose from.
The benefits of staying in a house instead of an apartment are obvious–peace, quiet, and likely more space! Houses can sometimes have cool amenities like pools and hot tubs, and you can count on most of the suburbs around Chicago being safe, too.
Private Room
Private rooms are an extremely common type of Chicago Airbnb, and you'll definitely see a bunch while browsing through the listings. A private room is essentially a room in a shared apartment or home. Some private rooms are more like mini studios, while others are JUST a room.
The size of such rooms (and their amenities) is super varied. One private room might mean access to a beautiful kitchen and hot tub, while another might mean a shared bathroom and no hang-out space. Like virtually all Chicago Airbnbs, you get what you pay for, so do take careful note of ALL reviews!
Why Stay in an Airbnb?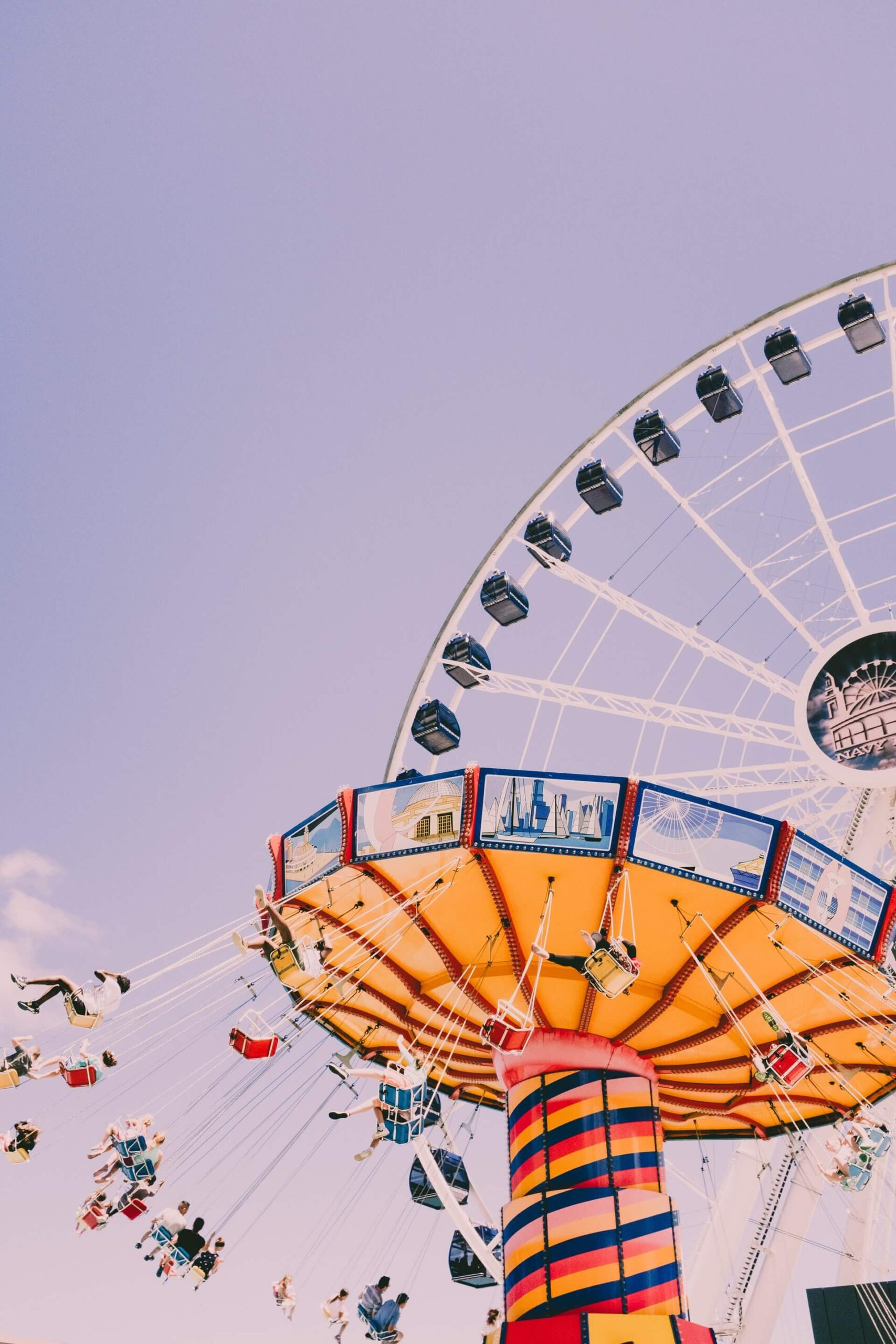 Local Experience: Having a local as a host means you can find out all the best places to visit in Chicago that are off the beaten tourist track.
Unique properties: Airbnb has every kind of property you could think of. There's even a 'unique stays' search function, where you can find your dream property on the site.
Privacy: Another great filter – choose an entire place to ensure you won't be disturbed during your trip.
Safety: It might seem a little weird staying in someone's house; however, both hosts and guests are vetted by Airbnb to ensure the safety of both. While Chicago is safe, the Airbnb booking security just adds a little extra security to your trip.
Airbnb Experiences: Choosing Airbnb isn't just about where to stay – it's about enjoying the area like a local with curated tours!
The 15 Top Airbnbs in Chicago
Whether you're spending a weekend in Chicago or hoping to stay long-term, there's an iconic Airbnb waiting for you! To make the search a bit easier for you, here are the best Airbnbs in Chicago for all types of travel.
This entire rental unit is a rare Chicago Airbnb find, and it's worth MUCH more than its listing place! Settle into a stunning modern design, along with a truly iconic amenity: a fully functional OUTDOOR hot tub! Yup–this spacious apartment does indeed have a yard, a rarity in this packed city. Plus it has easy access to Chicago's best things to do.
A full kitchen means you can save money on eating out if you so wish, and the high-speed internet and common spaces filled with natural light make this the perfect pad for digital nomads. The bed is comfortable, and the place is of such high quality that it's denoted as an "Airbnb Plus" listing.
It's also located in a beautiful, safe neighborhood that's close enough to all the touristy stuff, but far away enough that you get a truly local experience. You can easily walk to Wicker Park, or jog in the larger Humboldt Park. All combined definitely make this studio the best overall value Airbnb in Chicago.
$
Walking distance to public transit
This private bedroom Airbnb in Chicago is a wonderful budget option for those looking to save some dough so they can instead spend it on some deep-dish dough! Because as you'll soon learn, that's the real highlight of any Chicago itinerary.
This Chicago Airbnb offers guests a stay in a historic Victorian-era home that's only 3 minutes walking distance from public transit. The room has a king-size bed, as well as a sofa bed for those traveling in a group size larger than two. Also, guests are invited to use the full-size kitchen as well as the outdoor and indoor living room areas.
There is also even a billiards room that you can play a game of pool in! With plenty of space, fast Wifi, and an unbeatable price, it's definitely one of the best Airbnbs to stay in Chicago on a backpacker's budget!
Budget Tip: Dorms in Chicago start from $20 USD per bed. They're the cheapest accommodation in the city. So why not spend a night or two at one of the best hostels in Chicago?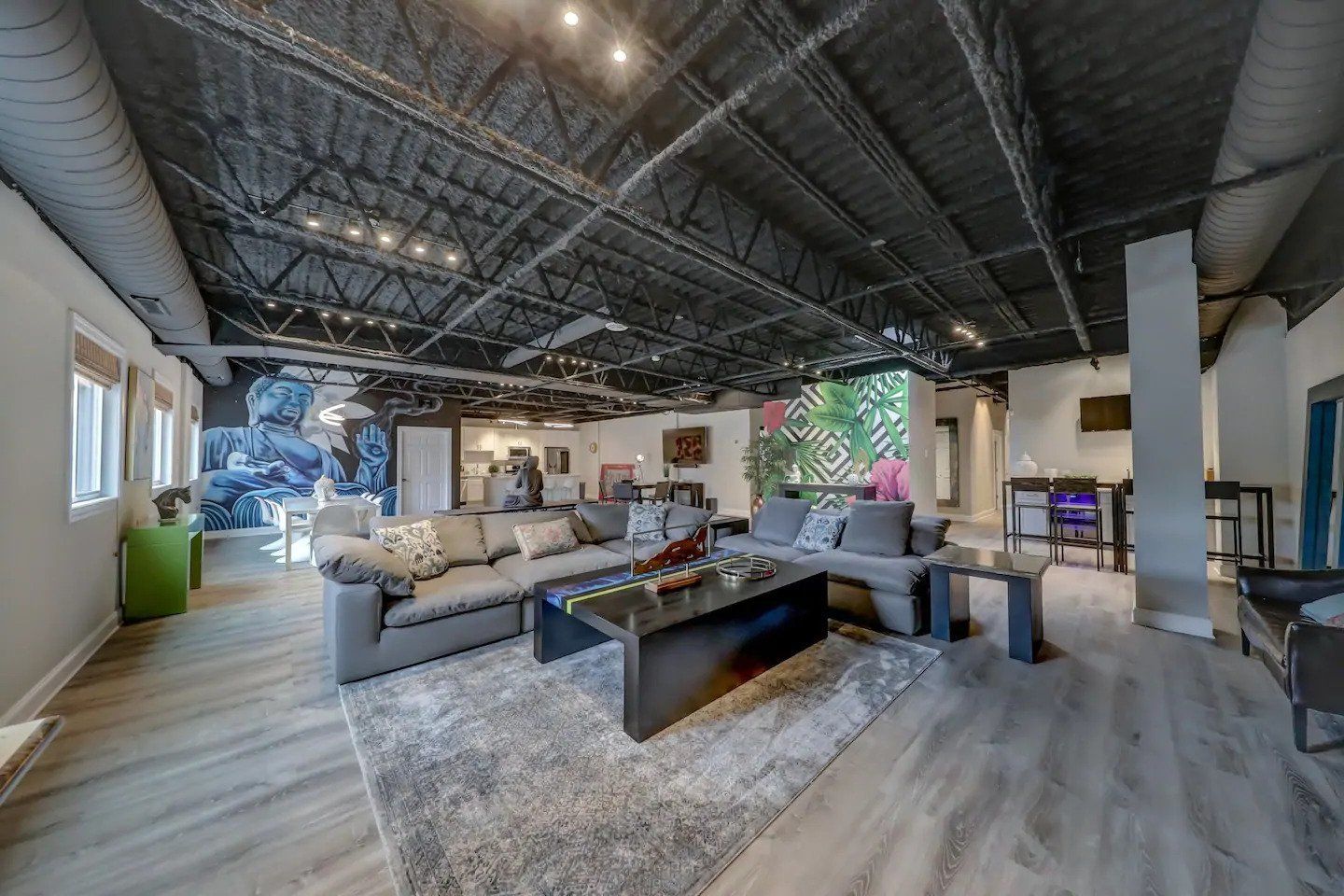 This four-bedroom and two-bathroom loft in Old Town Chicago is drool-worthy. It's 3,500 square feet of zen heaven. The artwork and furnishings, a mix of industrial and magazine-worthy pieces, make this Chicago Airbnb a haven for Instagram-worthy shots.
Additionally, there are four queen beds and one full bed, as well as air mattresses and baby cribs available. There are a total of seven TVs, including two 75 inch TVs strewn throughout this enormous apartment. While you can imagine that the price sure ain't cheap, it becomes relatively affordable if you have a large group!
This sunny, artist's loft is a dream come true for those living the digital nomad life. It looks like something out of a mood board, with dozens of stunning plants inside the apartment AND on the lovely outdoor deck. The property features a comfy king-sized bed with shared spaces, making this a social space perfect for connecting with other unique travelers.
The location is almost unmatched with plenty of delicious restaurants nearby, and the Chicago River and lakefront are both within walking distance too! You'll also have convenient access to public transport to get virtually anywhere you want to visit in Chicago. Don't miss out on a chill evening on the deck, a truly blissful space that couldn't possibly be more floral come summers!
The studio is also particularly art-based, so expect unique vibes and an absolutely perfect space for creation of any kind. You're not going to find lighting like this in any other Chicago Airbnb! With a comfy queen-sized bed and a room filled with plenty of sunlight, you're staying in digital nomad heaven.
Is This the Best Travel Pack EVER???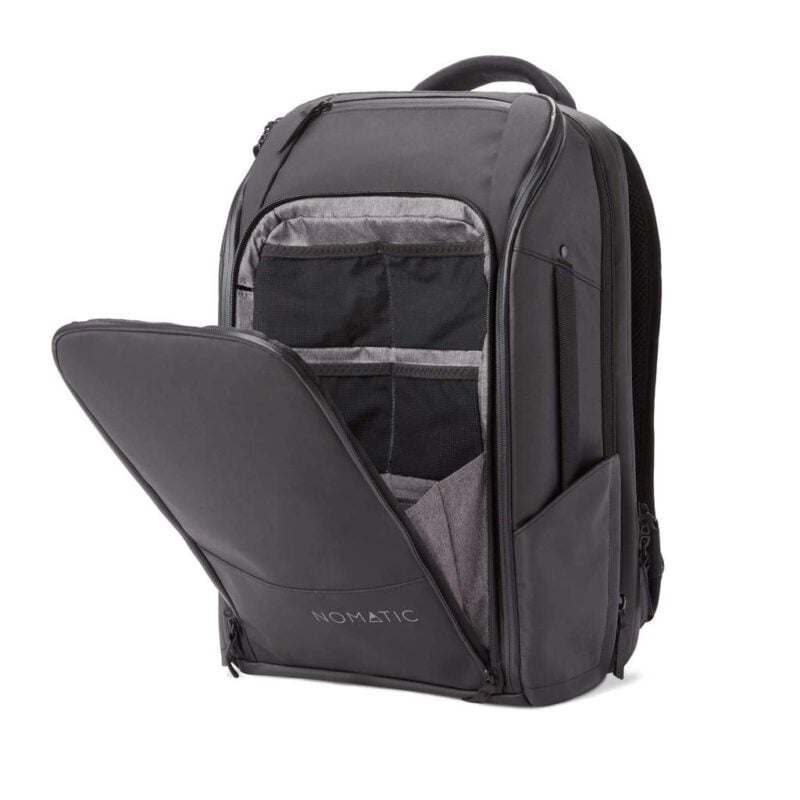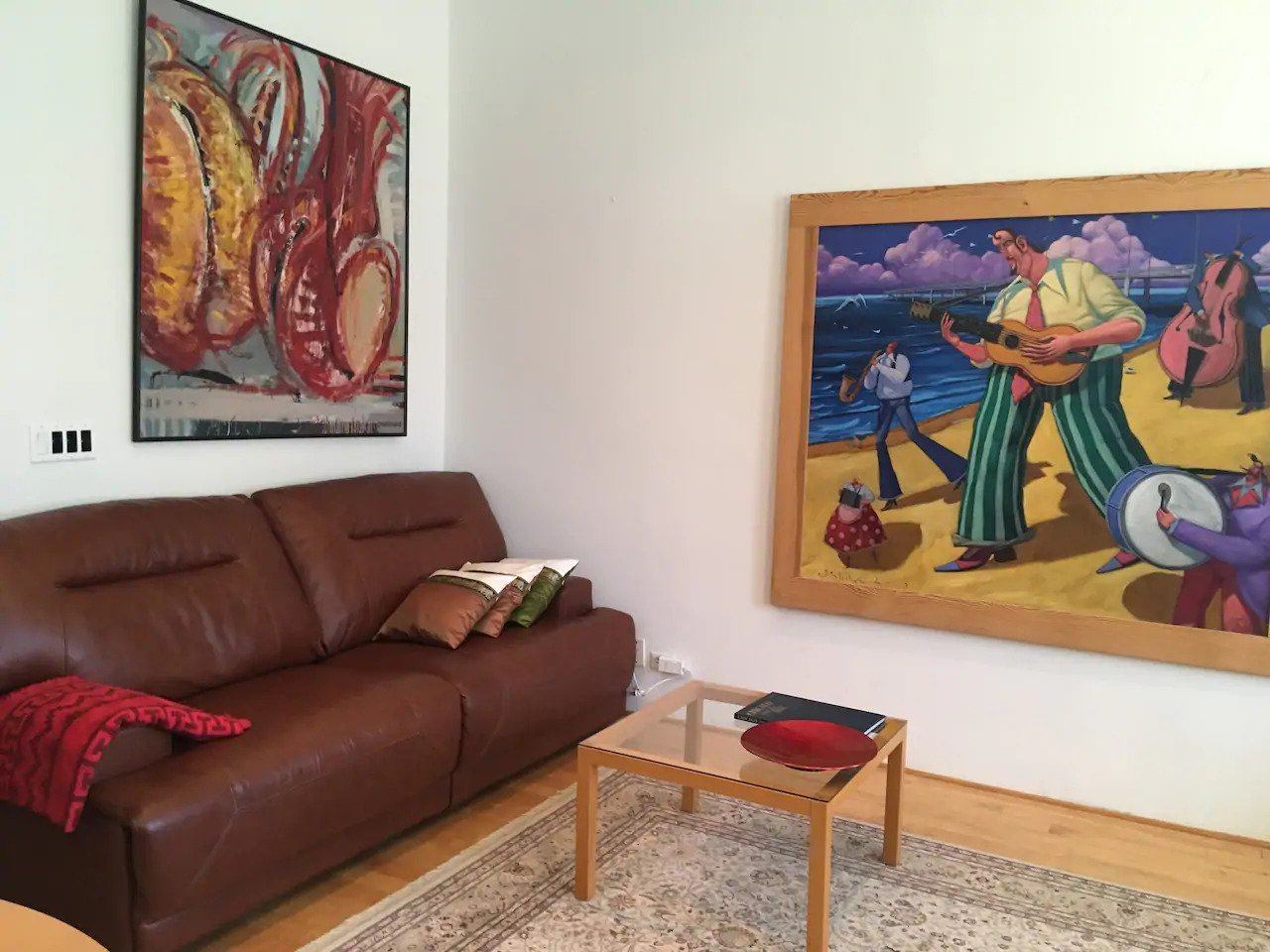 $$
Unique Artwork & Atmosphere
2 Guests
Private free parking
This one-bedroom/one-bathroom Chicago apartment is perfect for your Chicago couple's getaway. It's located in the city's Wicker Park/Bucktown community, just one block from the subway and conveniently close to some great eateries and shops. It features a comfortable queen-sized bed, as well as a refrigerator and microwave to store and heat up those amazing Chicago eats y'all just couldn't finish.
This beautiful home makes for a memorable stay for couples visiting the Windy City–it's private, clean, comfortable, AND reasonably priced based on what you get. With free private parking to boot, this is the best Chicago Airbnb for all you lovebirds out there!
This one-bedroom and one-bathroom short-term rental in Chicago is perfect for all the badass solo travelers out there. It's a small studio, with hardwood floors, that is best described as sweet and simple. Also, there is a kitchenette to use that has all the basics, including coffee for those java fiends out there.
If you're looking for somewhere to stay on a budget, as a solo traveler, with no frills or fickleness, this is the Chicago Airbnb for you! Located in Pilsen Westside, this is a spot full of arts and culture and delicious food, not too far from Downtown at all. Just a 15-minute ride on public transportation is all you need to get to Chicago's top sights!
Best Airbnb in Chicago for a Group of Friends | Aloha Dreamy Paradise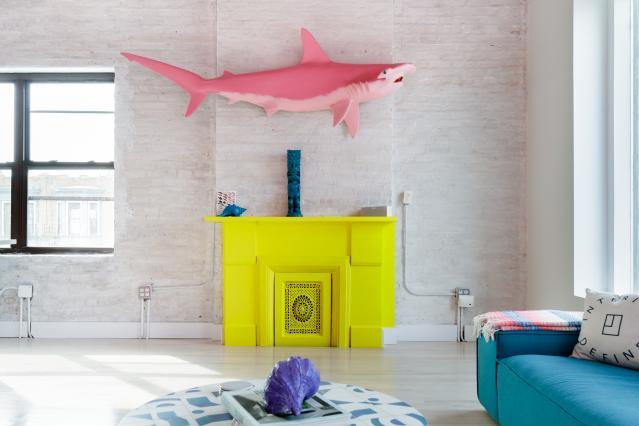 $$$
Giant Neon Palm Tree Sign
10 Guests
Skylights & High Ceilings
This four-bedroom and two-bathroom Chicago Airbnb has a total of five beds. It's located in the heart of Wicker Park— where there are endless things to do and see! The decor is super fun, with an enormous neon palm tree sign and a giant pink shark adorning the walls. This entire apartment seems to come right out of a Hollister magazine, with bright furnishings and whacky knick-knacks, from seashells to tiki statues.
The kitchen is stocked up with everything you need, that really goes beyond the basics including a blender and a waffle maker!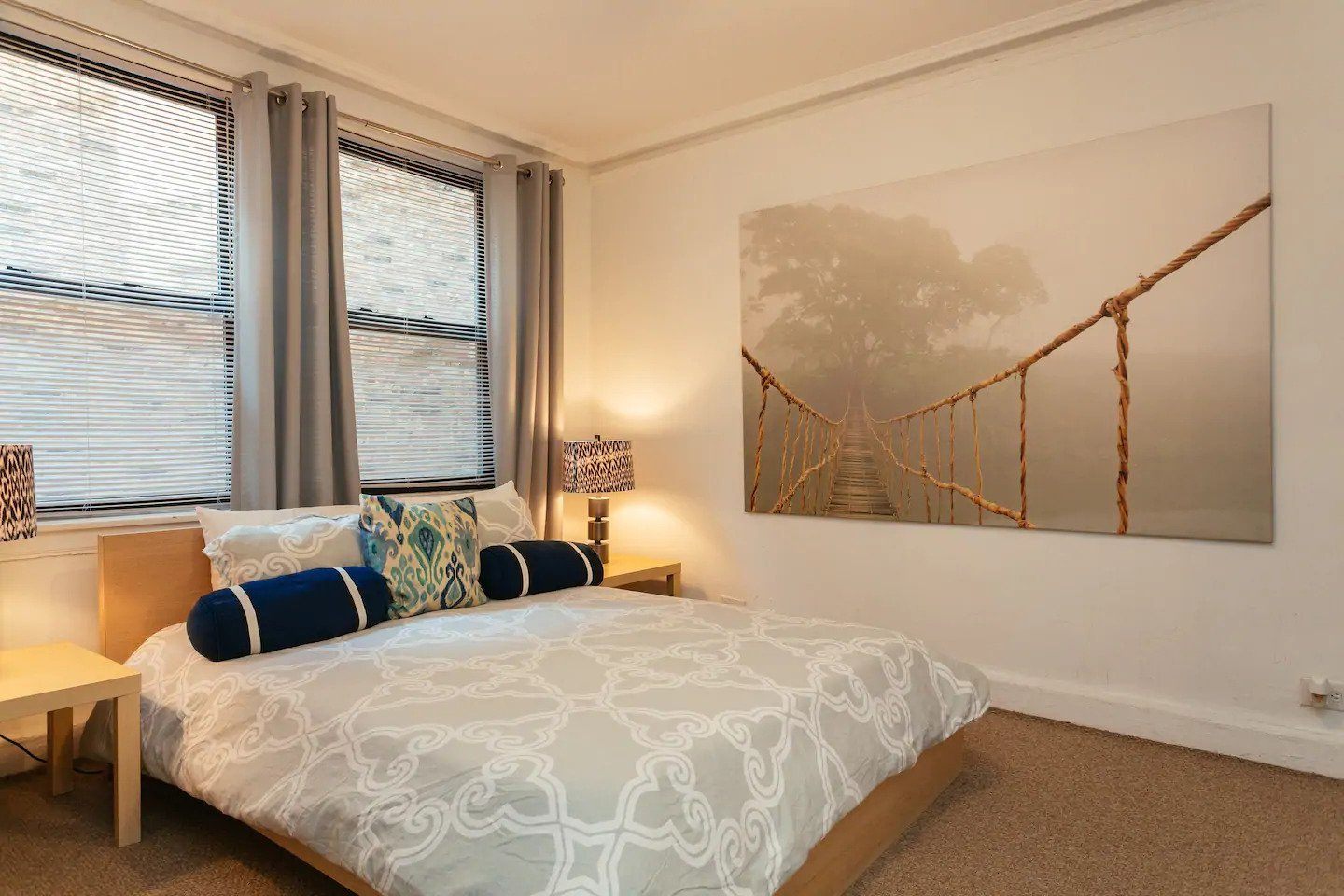 This one-bedroom and one-bathroom studio apartment in Lincoln Park is packed with value. In terms of location, there is fantastic food and vibrant nightlife just outside this Chicago Airbnb's doorstep. The Orange Cafe is on the same block, for a fabulous brunch or Trader Joe's is up the block if you want to snag some goodies to cook your own meals in the fully equipped kitchen. It's a very comfortable space, with a cozy bed filled with little artsy touches from pillows to paintings.
An extra air mattress can also be provided should an extra guest be tagging along!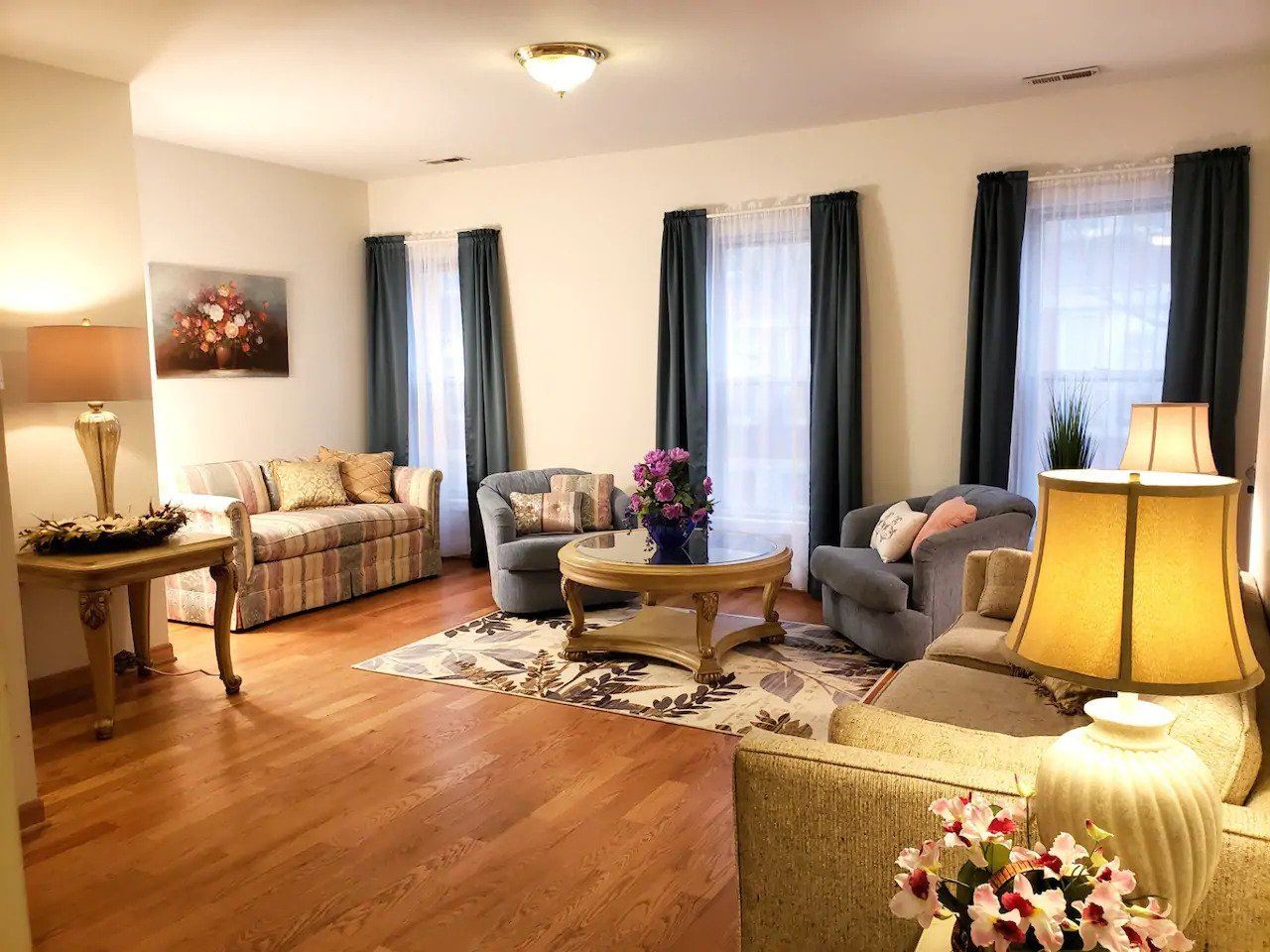 $
Free Parking Space Provided
2 Guests
Memory Foam Mattress
Located in the heart of downtown with easy self-check-in and free luggage drop-off, this is an incredible Chicago Airbnb homestay. The hosts allow early check-in, as early as 11:00 am. They also provide a free parking spot for your car.
The location is truly incredible! Just a five-minute walk to the University of Illinois Chicago and a five-minute walk to public transportation. It's also just a quick ride on the metro to Downtown!
Since it's not in the heart of Downtown, it's quiet enough that you won't hear any shenanigans going on outside at night. Enjoy a peaceful night's sleep in this beautifully designed Chicago Airbnb that will quickly feel like home!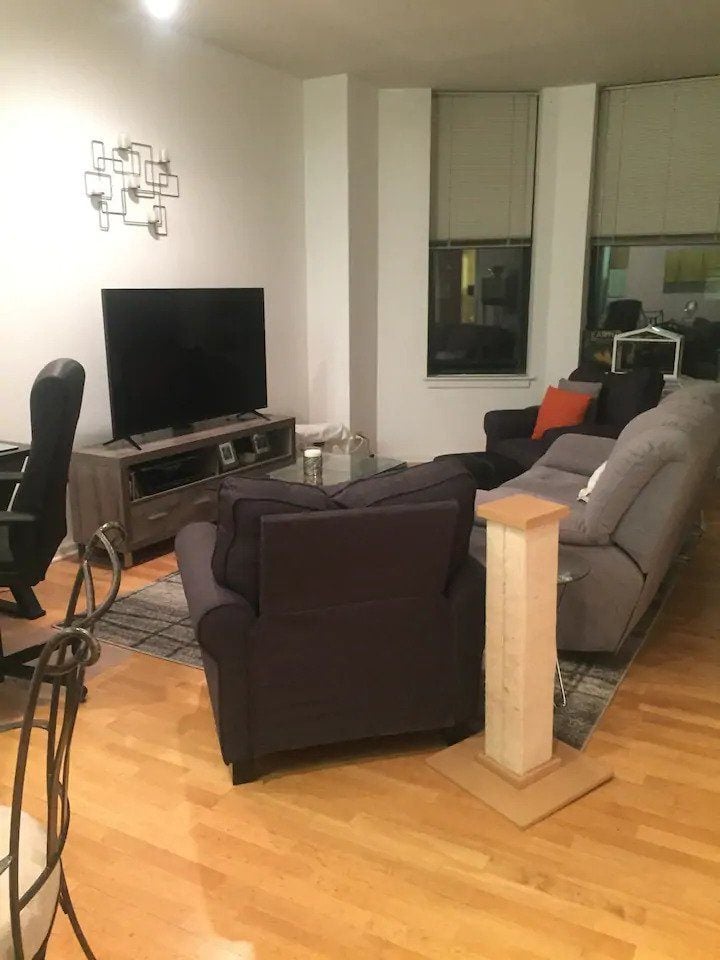 $
Use Apartment to Fullest Extent
2 Guests
Free Coffee & Tea
Chicago is home to hundreds of incredible bars and pubs, quite a few of which are now city landmarks. If you're heading to Downtown, you'll be surrounded by incredible nightlife from the Tiki bar of Three Dots and a Dash, to the London House Rooftop Bar, to the glitzy Z Bar. It's hard to pick just one bar to visit, so go ahead and visit a few!
This one-bedroom with one private bathroom room rental in a Chicago apartment is the perfect place to stay to be close to all the nightlife. The room itself is spacious and has high ceilings. Also, guests are lol allowed to use the apartment to the fullest, and enjoy using the kitchen, dining room, living room, and laundry facilities. This is just a two-bedroom and two-bathroom apartment, so you only have to share the apartment with just the hosts themselves.
$$$
Brick and Timber Styled Loft
This one bedroom and one bathroom apartment in the West Loop of Downtown Chicago is a dream. It's got a rustic vibe going on, with exposed brick walls and moody lighting, yet modern with its furnishings and tasteful touches. It's a 900 square foot traditional brick and timber loft that has all the amenities you could need. The washer and dryer make your stay in this Chicago Airbnb even easier. The minibar and Keurig machine are also great additions!
This big, open, stylish loft is the answer to all your Chicago travel problems.
$$
Modern Space w/ Custom Comforts
8 Guests
High Chair & Crib
This three-bedroom and one-bathroom Chicago apartment comes with a total of four beds. If you and your big family are heading off to Chicago, this is the Airbnb for you! There is a free parking space in the garage, as well as a fully equipped kitchen and even a high chair for the kids. Also, there is high-speed WiFi 250-350 MB/sec so the kids won't be complaining about the internet struggling to load the My Little Pony show on youtube.
Situated in the South Loop of Chicago, you'll be less than 3km away from Grant Park, the Art Institute of Chicago, and the Field Museum of Natural History. This is one of the best Airbnbs in Chicago in terms of furnishings and facilities as it's filled with lots of thoughtful touches that will make you and your family feel right at home.
$$$
Ideal Location Facing Michigan Ave
2 Guests
Gym & Pool Access
Spacious and minimalist, this one bedroom and one bathroom Chicago apartment is right by Millennium Park, facing Michigan Ave. It's less than a 10-minute walk to incredible Chicago tourist hot spots, from the Art Institute to Grant Park. If you're traveling without a car, and don't want to deal with metro cards and long walks, this is the Chicago Airbnb for you!
Moreover, this Chicago apartment is quite well-equipped to make your stay extra comfortable, from complimentary breakfast items, to plenty of clean towels, to a TV with Netflix already hooked up! In the building itself, you'll get to use the indoor pool and the 24-hour gym. There is also a doorman on-site 24-hours a day for an added safety feature.
$$
2-Min To Millenium Park
2 Guests
Great Views from Apt
This one-bedroom and one-bathroom studio apartment is perfectly located Chicago Airbnb right in the heart of Downtown. Seriously, it couldn't be more Downtown than this! Truly unbeatable location. Sightseeing all happens within a two-minute walk! There is also Pizzano's just around the corner that serves up some famous Chicago deep-dish pizza! This Chicago apartment is just what you're looking for. Of course, it includes all the basics from fuzzy, fully towels to a fully-equipped kitchen.
You'll be sitting pretty in this Chicago Airbnb.
2 Guests
Private Bathroom w/ bathtub
This private room rental is a wonderful Chicago homestay. This short-term rental is for a large master suite room that has plenty of space to move around and breathe. Located just outside of the center of Chicago, it's just a ten-minute ride metro ride to downtown or to other popular tourist spots from Millenium Park to the Willis Tower.
Additionally, the private bathroom is divine. Complete with a bathtub and a shower, you can enjoy a warm bubble bath after a long day exploring Chicago. This host also allows last-minute reservations, canceling within 24 hours for a free refund, and no security deposit. So if you're a little unsure about your travel specifics, this Chicago Airbnb is the one for you! What's better than having an Airbnb with a hot tub? (Well, an Airbnb with 2 hot tubs and a helipad. But I can't find one).

Our GREATEST Travel Secrets…
Pop your email here & get the original Broke Backpacker Bible for FREE.
Top 5 Airbnb Experiences in Chicago
Checking out the trendiest places to stay in Chicago sure is exciting, but let's pivot to the best things to do once you get there!
Airbnb experiences are tours and activities organized for small groups. They're designed to help you see a more local side of the city, whether it be through food, walking tours, or anything in between! Experiences are led by locals, so they'll give you the chance to see the city from a totally different perspective.
There's a solid selection of Airbnb Experiences to choose from in Chicago, so to help you pick the one that's worth the most bang for your buck, I've compiled the top 5 options that will definitely be worth your time!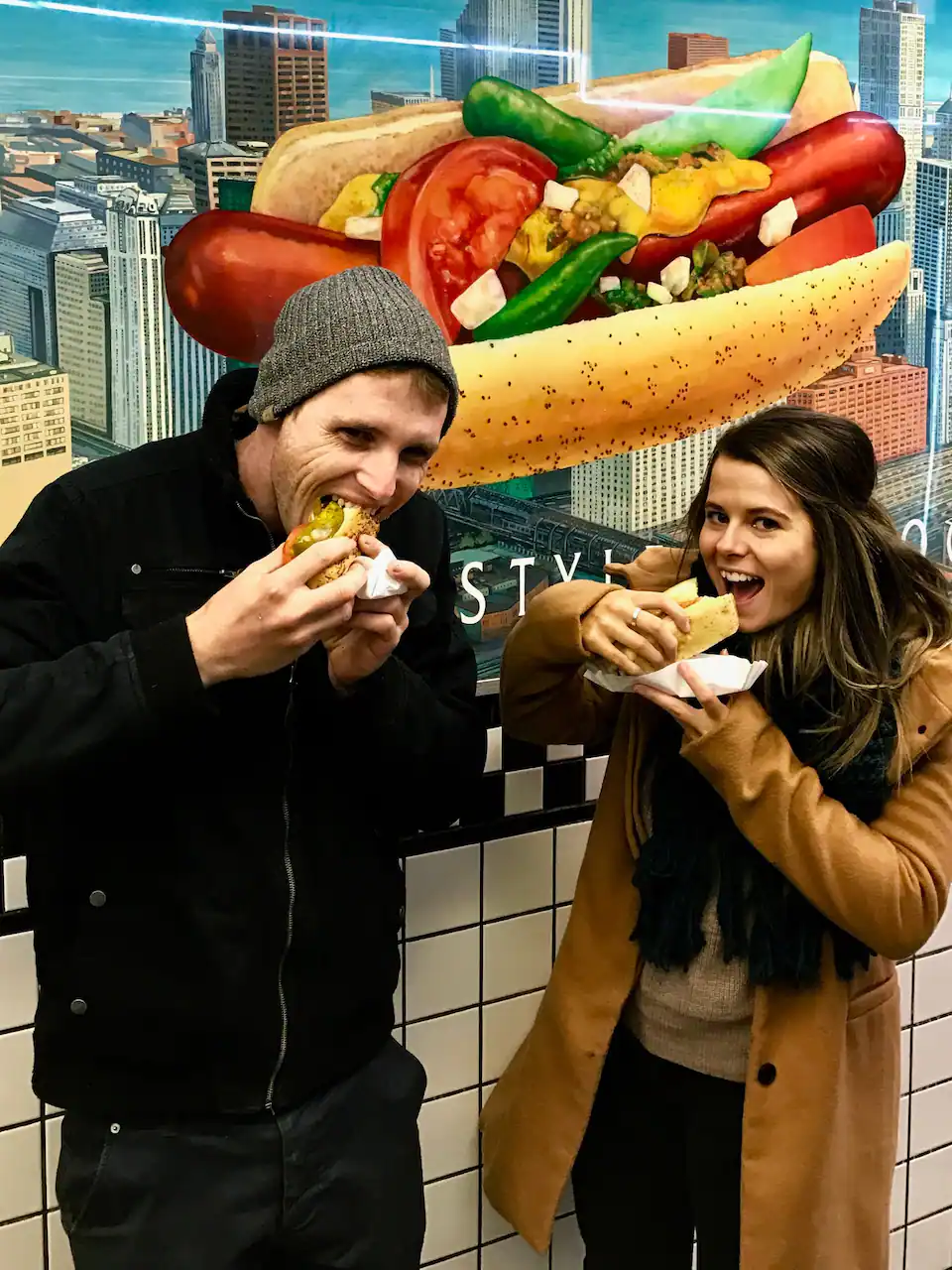 Chicago's food scene is to die for, and taking a few hours out of your trip to properly explore it is an absolute must when visiting the Windy City. The menu includes deep dish pizza of course, along with hot dogs, Italian beef, and dessert. Foodies 21 and older can also add a craft beer tasting to the ticket price.
While this walking tour is sure to satisfy your stomach, you'll also learn a bit too–as it's a walking tour, plenty of Chicago's architectural and historical delights will be covered, too! The tour begins on a delicious note at Lou Malnati's famous deep-dish pizzeria.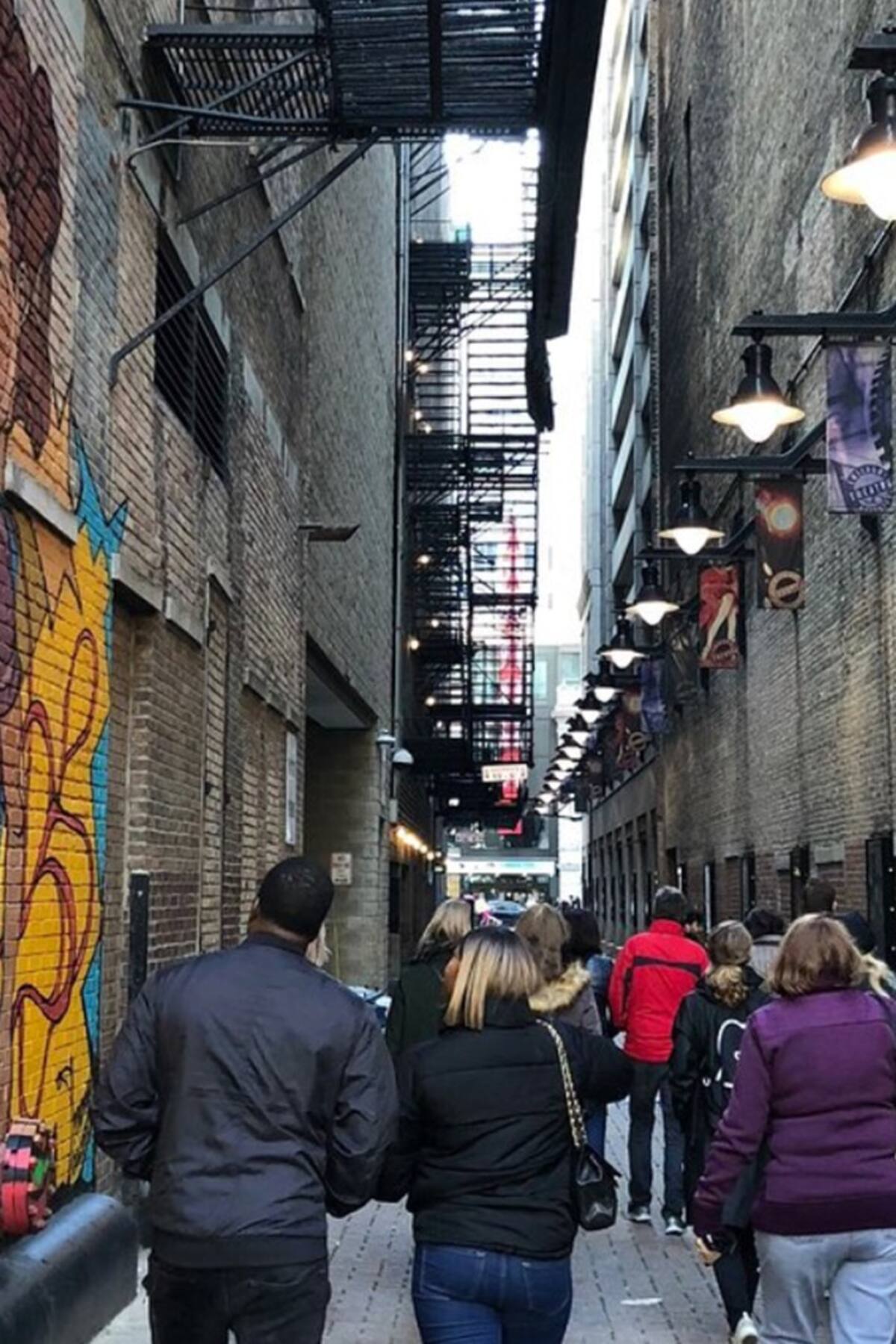 Want to REALLY get to know Chicago? Look no further than this 2-for-1 tour where you'll get to immerse yourself into Chicago's gangster past AND get spooked by ghost stories, too!
The tour takes place in the city's Loop Vice District, and gives you unparalleled insight into the crimes and charisma that made Chicago into what it is today.
The host is a local historian with 10 years of guiding experience and extensive knowledge of the scene–there's no surprise this is one of the highest-rated Airbnb experiences in Chicago!
I personally believe that the best way to see a city is by cycle, and Chicago is no exception! But lugging a bike across the country or world is no fun task–so that's where this perfect Chicago Airbnb Experience comes in.
Spend 4 hours cycling through some of Chicago's coolest and most historical neighborhoods, though expect the knowledgeable host, Steve, to ensure you get off the beaten path too! Aside from being well-versed in all things Chicago history, the host is also an avid long-term cyclist, meaning you'll be in excellent hands. Expect to cover up to 20 miles, with many of the stops being some seriously hidden gems.
Summers in the Windy City are simply perfect, and there's no better way to enjoy them than on Lake Michigan with a Chicago boat rental. Luckily, this iconic and luxurious Chicago Airbnb Experience will help you do just that! Starting in Downtown Chicago, you'll get to ride out on Lake Michigan in style. If you're into swimming, you can even jump in once the boat docks.
The hosts are avid and experienced sailors, so you can sit back and relax, or try your hand at steering if you wish! You also get to catch some sweet views, learn a bit of Chicago history, and even crack open a cold one or two. The hosts have made the experience BYOB, so feel free to stock up on your favorite drinks beforehand for a boozy ride.
This top-rated and affordable architecture tour will take you on foot to some of Chicago's most stunning structures. You'll get a solid history lesson as you go, and ensures you'll see all those hidden gems you'd likely miss otherwise.
An especially great Chicago Airbnb experience for photographers, though anyone with a love for art, history or culture will enjoy this tour. The entire two-hour program will take you to the famous and the unknown, including seldom visited atriums and other obscure areas infrequently seen by tourists!
FAQ about Airbnbs in Chicago
Here's what people usually ask us when they look for vacation homes in Chicago.
Don't Forget Your Chicago Travel Insurance
Hey, I know, paying for insurance is no fun. But neither is paying medical bills.
Trust me, you don't want to know what that experience is like in the USA. Just get insured.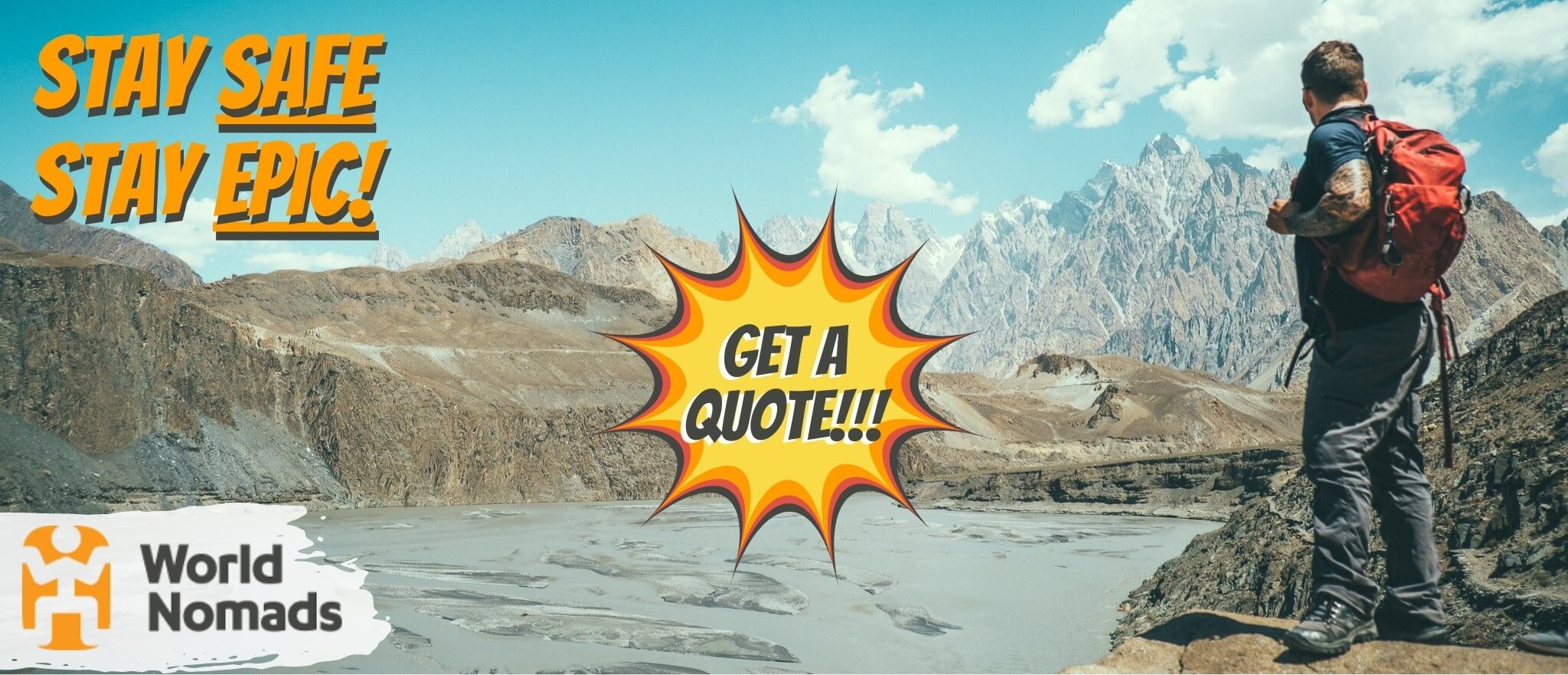 World Nomads' mission is to support and encourage travellers to explore their boundaries. They offer simple & flexible travel insurance, and safety advice to help you travel confidently.
They've been doing it since 2002 – protecting, connecting, and inspiring independent travellers just like you.
Get a quote below or read our in-depth review!
World Nomads provides travel insurance for travelers in over 100 countries. As an affiliate, we receive a fee when you get a quote from World Nomads using this link. We do not represent World Nomads. This is information only and not a recommendation to buy travel insurance.
Final Thoughts on Chicago Airbnbs
Chicago is quite a fun city to visit! With plenty of skyscrapers, fantastic museums, and some of the best food in the USA, there is very nearly too much to do in Chicago for just one trip!
Hopefully, this list has helped you pick the best Airbnb in Chicago for you! From bougie lofts fit for royalty to budget-friendly homestays, there's a Chicago Airbnb that will suit each and every travel style.
The only thing left to do is secure it! Book your Chicago trip today, and see why Airbnb is so much better than a stuffy hotel room!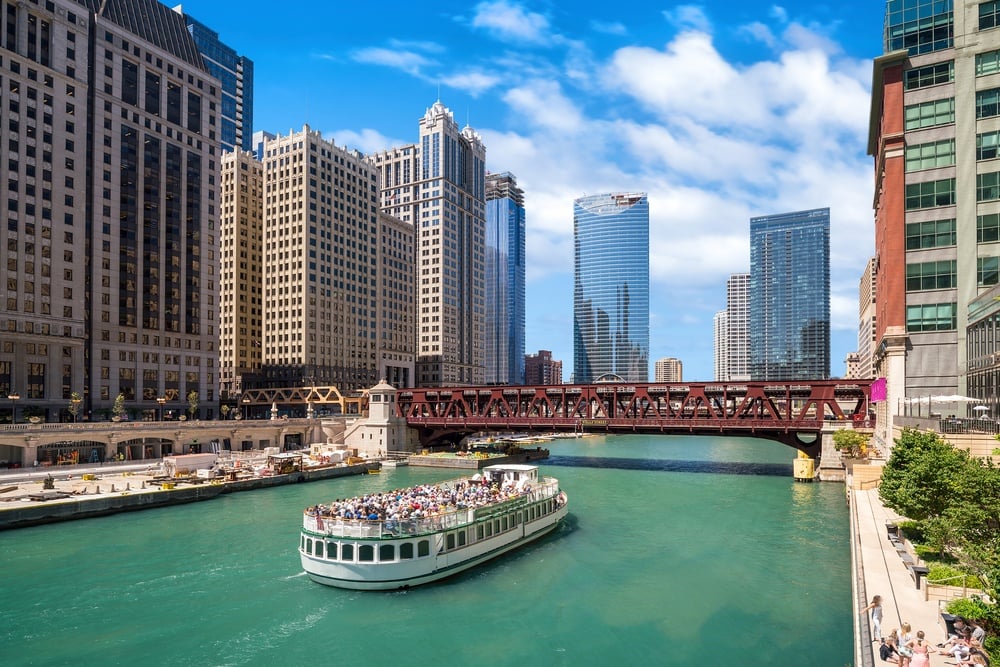 Updated April 2022 by Samantha Shea
---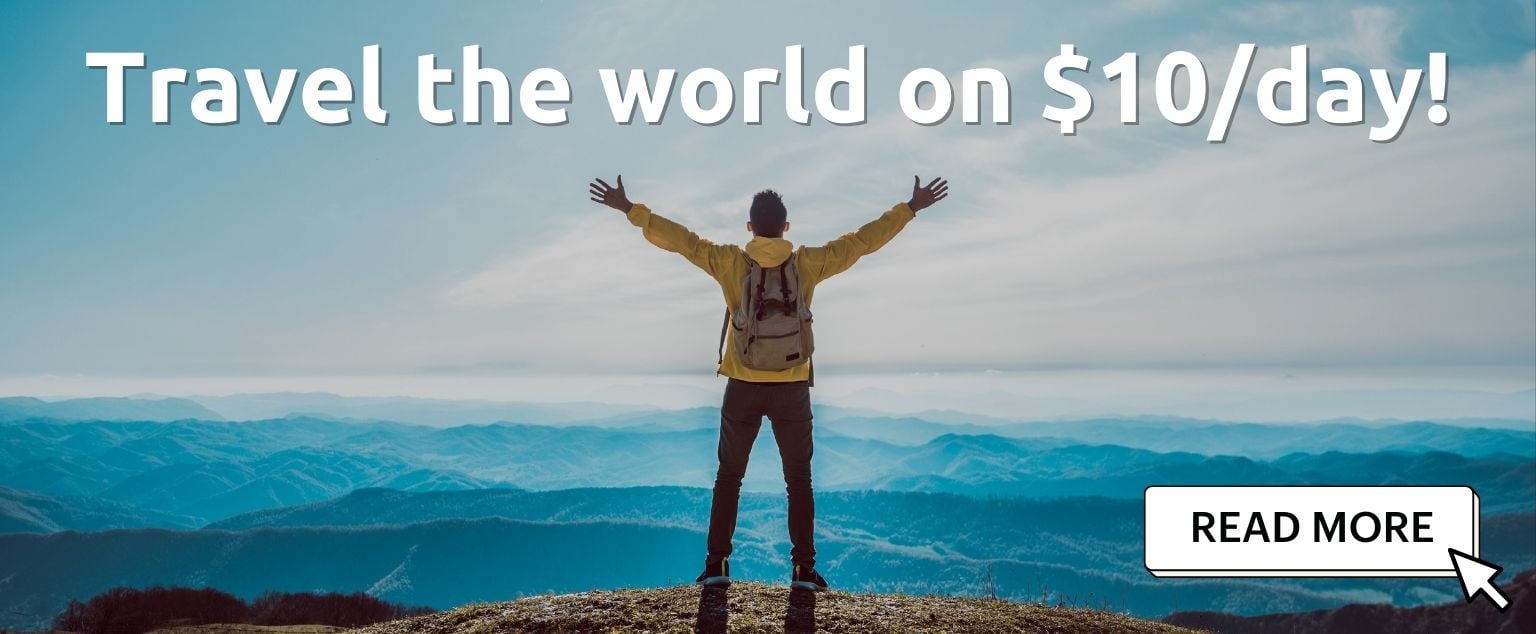 And for transparency's sake, please know that some of the links in our content are affiliate links. That means that if you book your accommodation, buy your gear, or sort your insurance through our link, we earn a small commission (at no extra cost to you). That said, we only link to the gear we trust and never recommend services we don't believe are up to scratch. Again, thank you!