Chicago, Illinois is one of the biggest and brightest gems in the Midwest and a true great amongst American cities. It has renowned architecture and over forty museums, not to mention nearly 7000 restaurants that serve up some famous food like Chicago deep-dish pizza and Chicago hot-dogs. If you're headed to Chicago, you're in for a real swell time.
However, trip planning just wouldn't be complete without figuring out where to stay. While hotels cost more than a pretty penny and hostels aren't really a thing yet in Chicago, we think that Airbnbs in Chicago are the way to go! Check out our list of rentals in Chicago below to figure out which of our top 15 Airbnbs are right for you.
We've sorted them out by travel group size, style, vibes, and budget for your convenience. Ready to find the perfect Chi-Town Airbnb for you? Let's get to it!
In a Hurry? Here's Where to Stay in Chicago for One Night
First time in Chicago
City View Apt with Pool & Gym
If you want a Chicago Airbnb that offers that little something extra, then check out this little gem. This loft apartment is our top pick on account of the view over the city, on-site pool & gym and the modern, snazzy styling. Oh, and it's incredibly well priced.
Places to Visit:
Epic views over the famous Chicago skyline

Deep-dish pizza joints within a few blocks

State Street and Magnificent Mile are right outside
Is this amazing Chicago Airbnb booked for your dates? We've got your back with our other favorite properties below!
Quick Answer: These are the Top 5 Airbnbs in Chicago
OVERALL BEST VALUE AIRBNB IN CHICAGO

OVERALL BEST VALUE AIRBNB IN CHICAGO

City View Apt with Pool & Gym

>

$

>

2 guests

>

Access to Pool & Gym

>

Private Sauna

>

$

>

2 guests

>

Access to Pool & Gym

>

Private Sauna

VIEW ON AIRBNB

BEST HOMESTAY IN CHICAGO

BEST HOMESTAY IN CHICAGO

Sunny Room in Central Apt

>

$

>

2 guests

>

Memory Foam Mattress

>

Free Parking Space Provided

>

$

>

2 guests

>

Memory Foam Mattress

>

Free Parking Space Provided

VIEW ON AIRBNB

BEST AIRBNB FOR COUPLES IN CHICAGO

BEST AIRBNB FOR COUPLES IN CHICAGO

Artsy Apartment With Funky Vibes

>

$$

>

2 guests

>

Private free parking

>

Unique Artwork & Atmosphere

>

$$

>

2 guests

>

Private free parking

>

Unique Artwork & Atmosphere

VIEW ON AIRBNB

BEST AIRBNB FOR FAMILIES IN CHICAGO

BEST AIRBNB FOR FAMILIES IN CHICAGO

Stylish Apt. w/ Thoughtful Touches

>

$$

>

8 Guests

>

High Chair & Crib

>

Modern Space w/ Custom Comforts

>

$$

>

8 Guests

>

High Chair & Crib

>

Modern Space w/ Custom Comforts

VIEW ON AIRBNB

BEST LUXURY AIRBNB IN CHICAGO

BEST LUXURY AIRBNB IN CHICAGO

Zen Loft in Downtown

>

$$$$

>

10 Guests

>

Gourmet Kitchen

>

Seven TVs

>

$$$$

>

10 Guests

>

Gourmet Kitchen

>

Seven TVs

VIEW ON AIRBNB
Why Stay in an Airbnb?
Local Experience
Airbnb gives travellers the unique opportunity to live "like a local." If you decide to book a shared home with your host, you get to look inside a local's daily life, learn about their culture and you might even be able to taste some traditional home-cooked meals.
There are few other ways short-term travellers can get into the homes and lives of locals, so this is a great way to create new connections. As an added bonus, you'll contribute to the local economy and build relationships.
Reach out to your host with questions about things to do or where to eat and they will be happy to help out and give you the best spots and tips. Don't be shy, Airbnb hosts are known for their caring and open hospitality.
And who knows? Next time you might be staying as a friend and not as a paying guest! (No promises though.)
Affordability
Basic backpacker or fancy business person? Airbnb aims to create a cosy escape for EVERY type of traveller! No matter your budget, you'll find something within your price range, from an entire home to a room in a shared house. There are over six million unique places to choose from.
Some places only charge per night and not per person. This usually works out a lot cheaper for big groups like families or if you are travelling with friends. Just split the bill at the end and everyone benefits!
Even the smaller rentals sometimes have more than one bedroom or a pull-out couch. Remember to request extra linen whenever you want to make use of that and your host will provide you with everything you need. To make sure your place is exactly what you're looking for, you can also filter the rentals for amenities like kitchen, TV, Wifi and much more.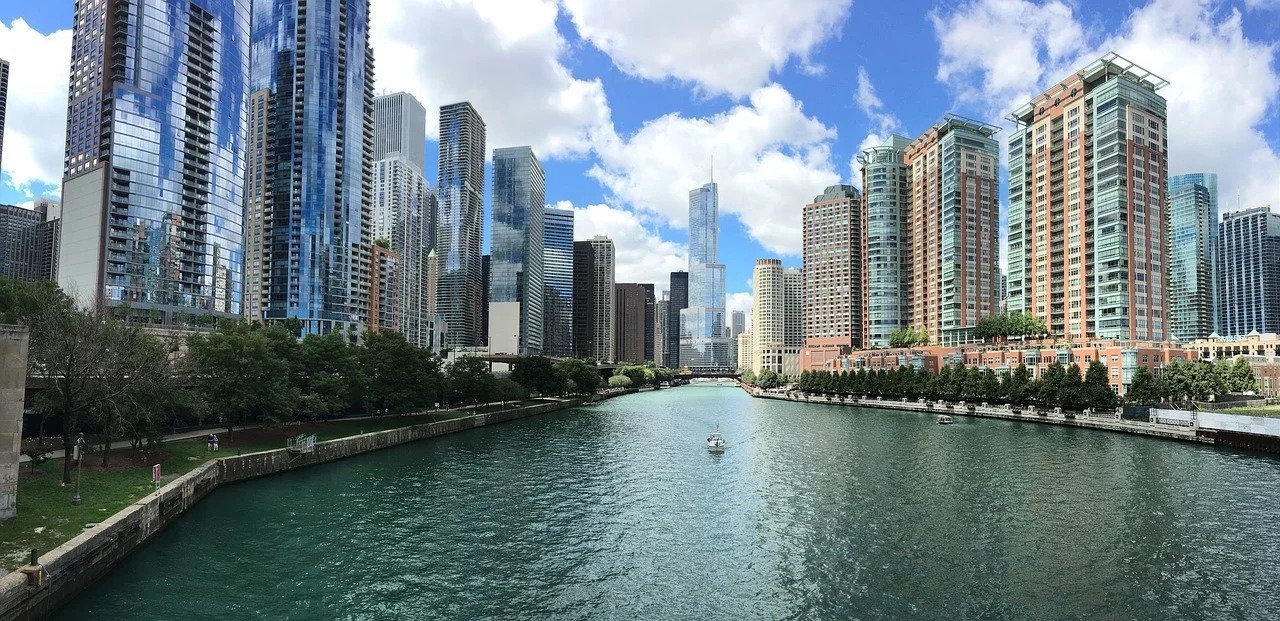 Safety
Are Airbnb reviews legit? Airbnb wants every guest to be safe so they created a world-class review system where tenants are encouraged to be honest about their experience because it stays invisible until the reviewing period has locked.
Guests are given the power to tell the truth and "make or break" the place they stayed at since the platform forbids the owner to change or remove the review. Every comment you can read on Airbnb is based on finished stays and experiences. Plus, some hosts often depend on the money they earn renting their property and one bad experience from any guest would devastate their income. It might be a bleak perspective, but hey, that's something of a guarantee you'll be cared for!
Airbnb also has a 24/7 emergency line with someone ready to assist you. In the worst case, Airbnb will provide a driver or make sure you find a safe place. If you choose this booking platform, you will always be in good hands, without any doubt.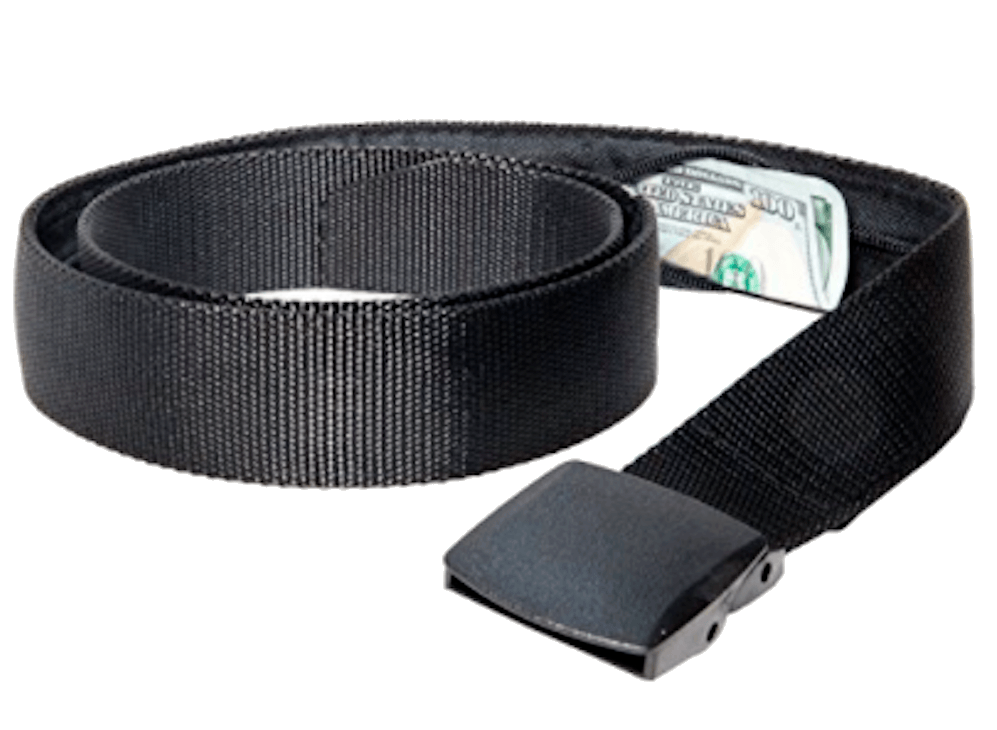 You should always have emergency cash hidden on you - pick up this awesome security belt with its hidden pocket before your next trip. It's perfect for hiding cash, card and a passport photocopy.
The 15 Top Airbnbs in Chicago
$
2 Guests
Access to Pool & Gym
Private Sauna
This incredible studio loft is an unbelievable find in Chicago. Coming in at an astonishingly low-rate, this Chicago Airbnb is not one to pass up on. With a swimming pool, basketball court, gym, and private sauna the amenities this complex has are out of this world at this price point. Just a few steps off your front door is the historic State Street and the Magnificent Mile.
You'll be very close to the Navy Pier, as well as other tourist hotspots. There is even a lovely balcony that is perfect to enjoy taking in a breath of fresh air.
$
2 Guests
Billiards Room
Luggage Drop-Off
This one private bedroom Airbnb in Chicago is a wonderful homestay option for those looking to save some dough so they can spend it instead on the deep-dish dough! Yes, we have a joke or two up our sleeves…if you thought that was cheesy (you know, cheese/pizza) wait til you see what else we have in store.
Anyways, this Chicago Airbnb offers guests a stay in a historic Victorian-era home. The room has a king size bed, as well as a sofa bed for those traveling in a group size larger than two. Also, guests are invited to use the full-size kitchen as well as the outdoor and indoor living room areas. There is also even a billiards room that guests can enjoy and play a game of pool! It's definitely one of the best Airbnbs to stay in Chicago on a budget!
$
2 Guests
Washer & Dryer In-Unit
Breakfast Included
This private room short term rental in a Chicago homestay is a dream come true for the digital nomads out there. With a comfy queen sized bed and a room filled with plenty of sunlight, you're staying in digital nomad heaven. There is also a mini-fridge, desk, chair, ironing board, and TV inside your room itself.
Guests are welcome to use the balcony and the seating area, as well as the in-unit washer and dryer. With just a fifteen minute walk to downtown, you're close to everything you could need. There is actually even a restaurant directly below this apartment, so you won't have to go far for a bite to eat! This is the best Airbnb in Chicago for digital nomads for sure!
$
2 Guests
Free Parking
Vibrant Neighborhood
This one bedroom and one bathroom short term rental in Chicago is perfect for the solo-travelers out there. It's a small studio, with hardwood floors, that is best described as sweet and simple. Also, there is a kitchenette to use that has all the basics, including coffee for those java fiends out there.
If you're looking for somewhere to stay on a budget, as a solo traveler, with no frills or fickleness, this is the Chicago Airbnb for you! Located in Pilsen West side, this is a spot full of arts and culture and delicious food, not too far from Downtown at all. Just a 15 minute ride on public transportation is all you need!
The Best Travel Backpack?!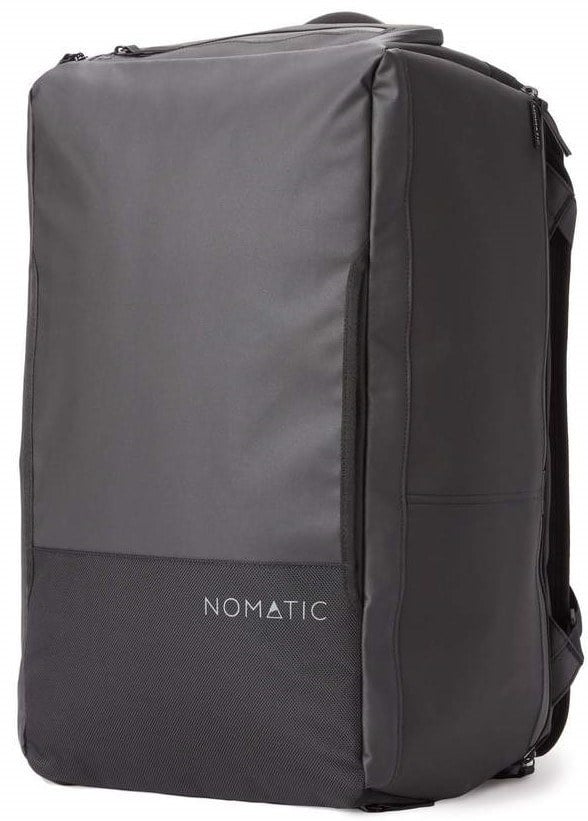 Pssssst! Not picked the perfect travel backpack yet? The Broke Backpacker team has tried out over thirty backpacks this year! Our favourite carry on backpack is the Nomatic Travel Bag.
Read our full review!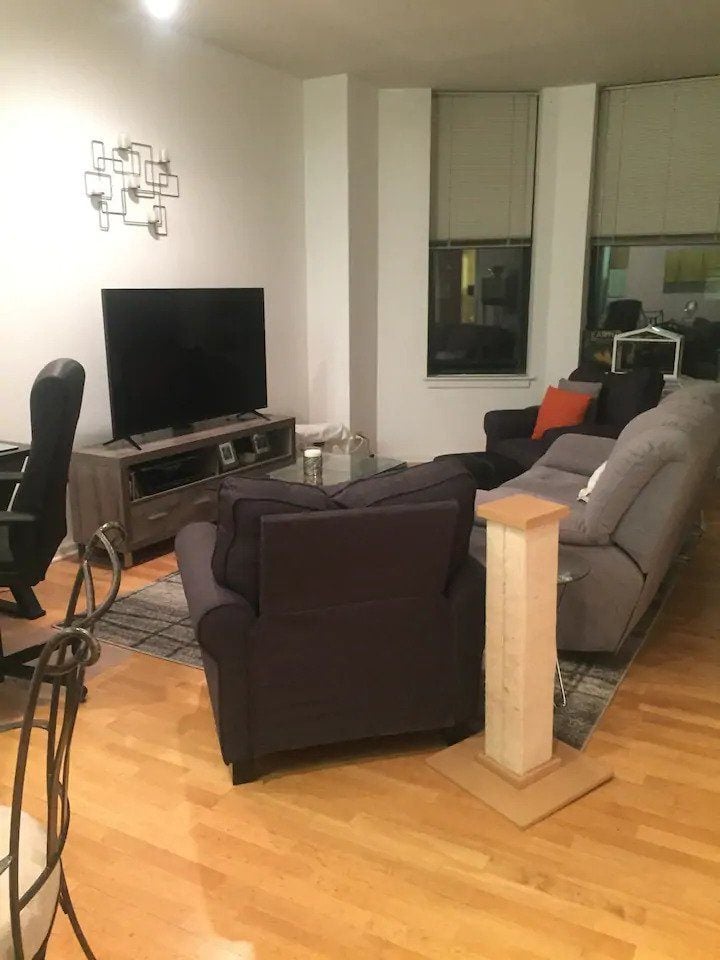 $
2 Guests
Free Coffee & Tea
Use Apartment to Fullest Extent
Chicago is home to hundreds of incredible bars and pubs, quite a few of which are now city landmarks. If you're heading to Downtown, you'll be surrounded by incredible nightlife from the Tiki bar of Three Dots and a Dash, to the London House Rooftop Bar, to the glitzy Z Bar. It's hard to pick just one bar to visit, so go ahead and visit a few!
This one bedroom and one private bathroom room rental in a Chicago apartment is the perfect place to stay to be close to all the nightlife. The room itself is spacious and has high ceilings. Also, guests are lol allowed to use the apartment to the fullest, and enjoy using the kitchen, dining room, living room, and laundry facilities. This is just a two bedroom and two bathroom apartment, so you only have to share the apartment with just the hosts themselves.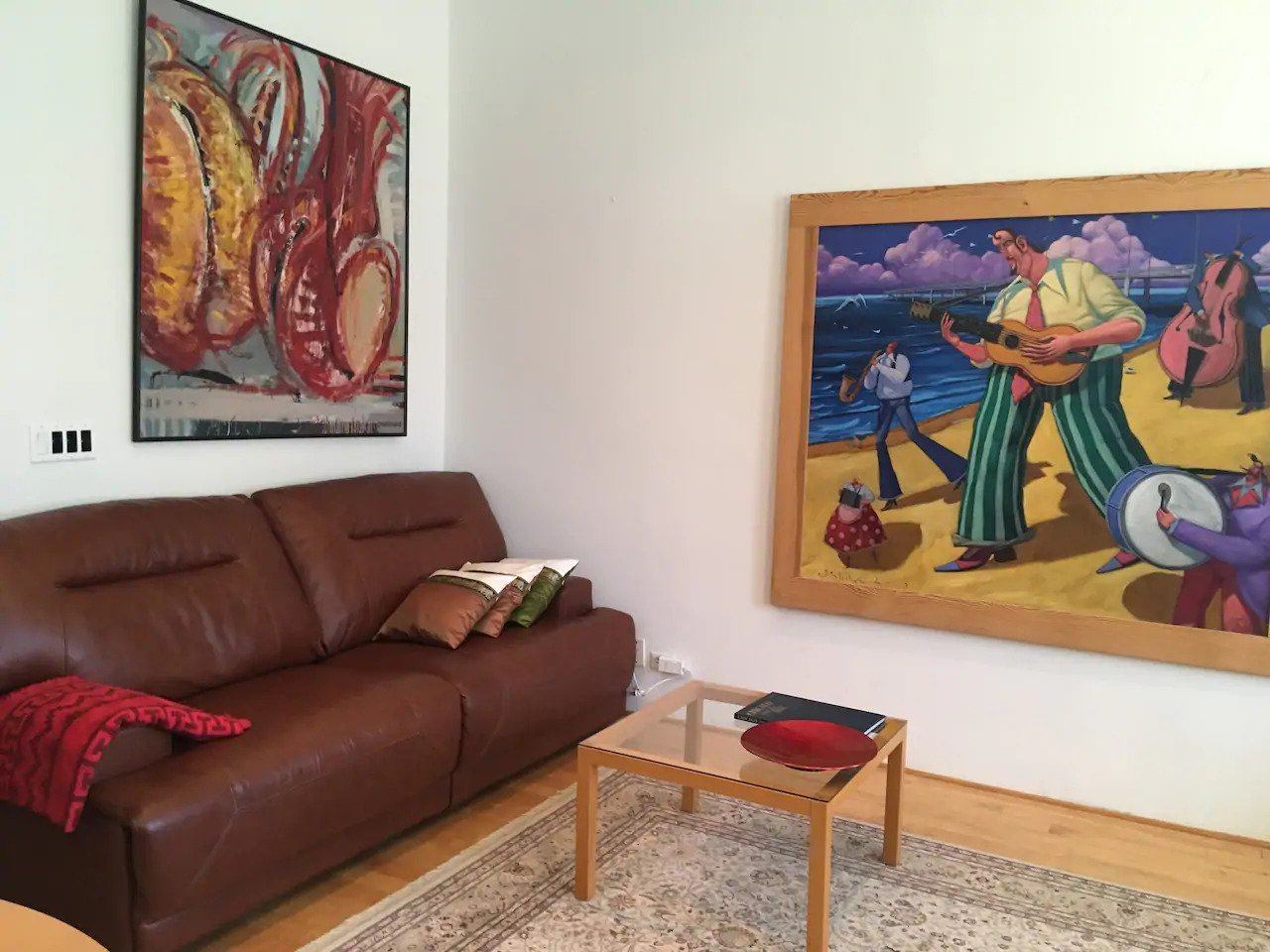 $$
2 Guests
Private free parking
Unique Artwork & Atmosphere
This one bedroom and one bathroom Chicago apartment is perfect for your Chicago getaway. It is in a great location of Chicago's Wicker Park/Bucktown community. It's just one block from the subway and is conveniently located near great eateries and shops. There is a comfortable queen sized bed, as well as a kitchenette with a refrigerator and microwave.
This beautiful home makes for a memorable stay for couples visiting the Windy City. With free private parking to boot, this is the best Chicago Airbnb for all you love-birds out there!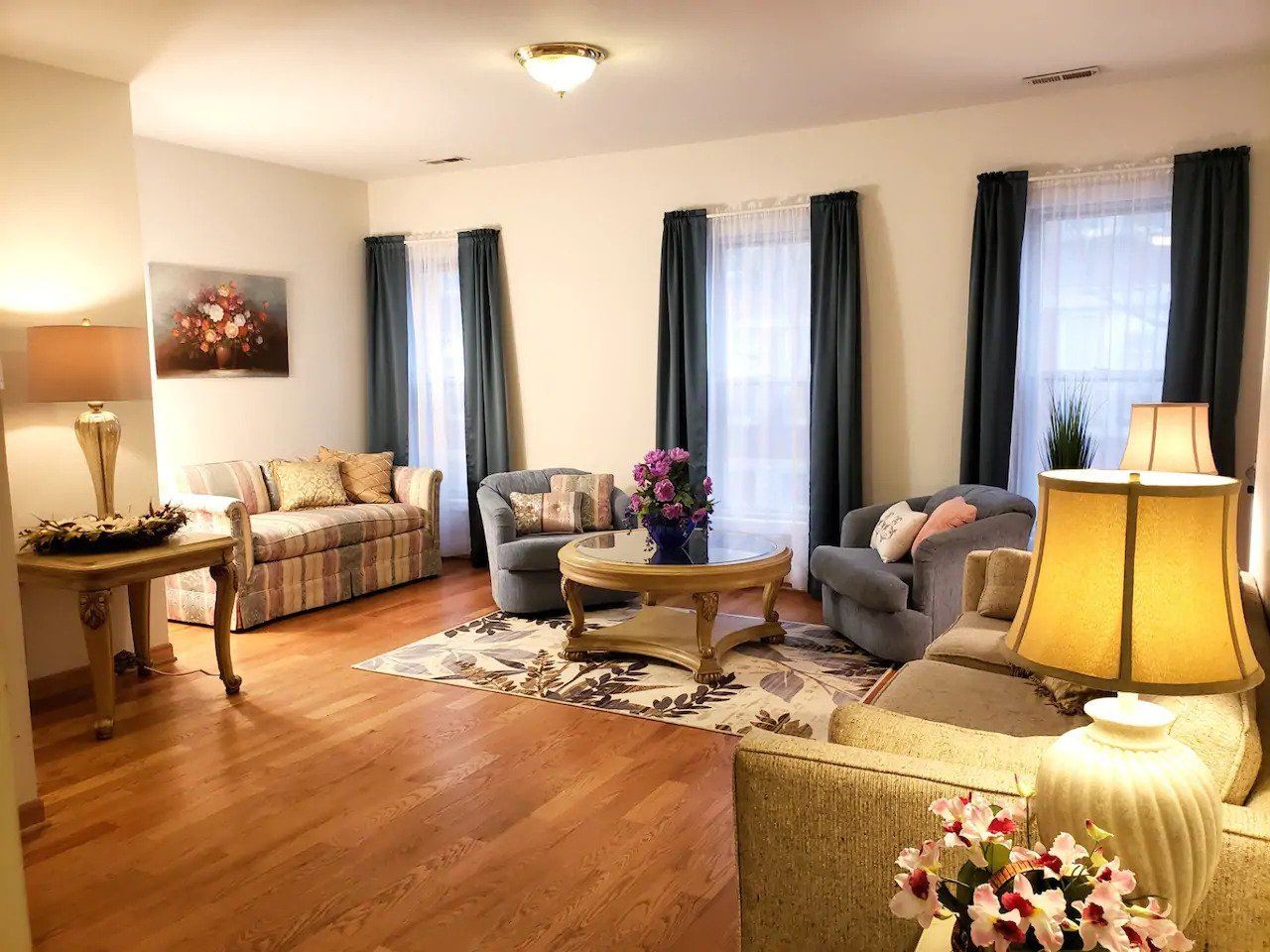 $
2 Guests
Memory Foam Mattress
Free Parking Space Provided
Located in the heart of downtown, with easy self-check-in and with free luggage drop off, this is an incredible Chicago homestay. The hosts allow early check-in, as early as 11:00am, and also provide a free parking spot for your car. The location is truly incredible! Just a five minute walk to the University of Illinois Chicago, and a five minute walk to public transportation— it's also just a quick five minute ride on the metro to Downtown!
Since it's not in the heart of Downtown, it's quiet enough that you won't hear any shenanigans going on outside at night. Enjoy a peaceful night's sleep in this beautifully designed Chicago Airbnb!
$
2 Guests
Private Bathroom w/ bathtub
Hot Tub
This private room rental is a wonderful Chicago homestay. This short term rental is for a large master suite room that has plenty of space to move around and breathe. Located just outside of the center of Chicago, it's just a ten minute ride metro ride to downtown or to other popular tourist spots from Millenium Park to the Willis Tower.
Additionally, the private bathroom is divine,. Complete with a bathtub and a shower, you can enjoy a warm bubble bath after a long day exploring the Windy City. This host also allows last minute reservations, canceling within 24 hours for a free refund, and no security deposit. So if you're a little unsure about your travel specifics, this Chicago Airbnb is the one for you! What's better having an Airbnb with a hot tub? (Well, an Airbnb with 2 hot-tubs and a helipad. But we can't fine one).
$$$
2 Guests
Washer & Dryer
Brick and Timber Styled Loft
This one bedroom and one bathroom apartment in the West Loop of Downtown Chicago is a dream. It's got a rustic vibe going on, with exposed brick walls and moody lighting, yet modern with its furnishings and tasteful touches. It's a 900 square foot traditional brick and timber loft that has all the amenities you could need. The washer and dryer make your stay in this Chicago Airbnb even easier. The minibar and Keurig machine are also great additions!
This big, open, stylish loft is the answer to all your Chicago travel problems.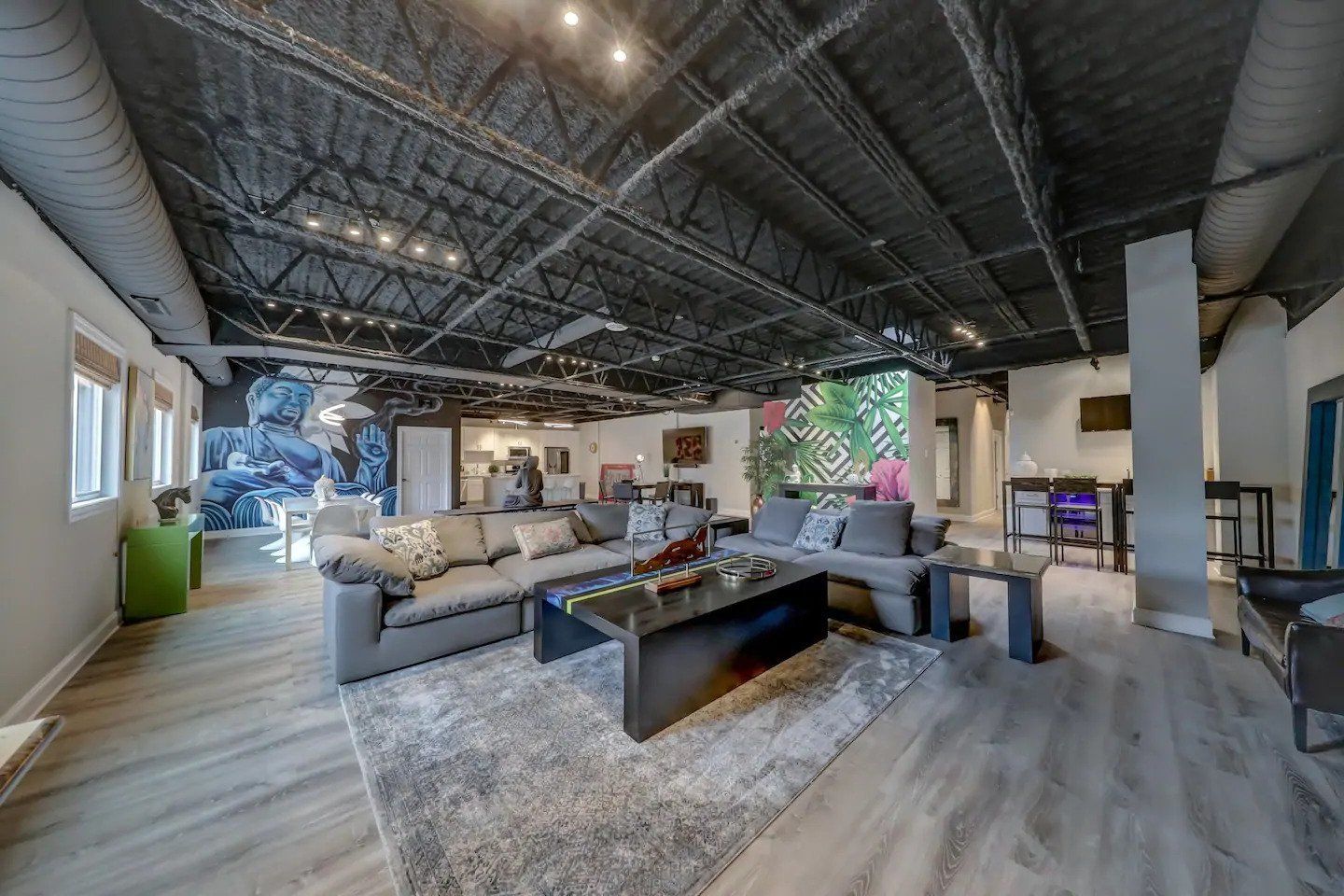 $$$$
10 Guests
Gourmet Kitchen
Seven TVs
This four bedroom and two bathroom loft in Old Town Chicago is drool-worthy. It's 3,500 square feet of zen heaven. The artwork and furnishings, a mix of industrial and magazine-worthy enormous artwork make this Chicago Airbnb a haven of Instagram-worthy shots. Additionally, there are four queen beds and one full bed, as well as air mattresses and baby cribs being available. There are a total of seven TVs, including two 75 inch tv's strewn throughout this enormous apartment.
$$
8 Guests
High Chair & Crib
Modern Space w/ Custom Comforts
This three bedroom and one bathroom Chicago apartment comes with a total of four beds. If you and your big family are heading off to Chicago, this is the Airbnb for you! There is a free parking space in the garage, as well as a fully equipped kitchen and even a high chair for the kids. Also, there is high speed WiFi 250-350 MB/sec so the kids won't be complaining about the internet struggling to load the My Little Pony show on youtube.
Situated in the South Loop of Chicago, you'll be less than 3km away from Grant Park, the Art Institute of Chicago, and the Field Museum of Natural History. This is one of the best Airbnbs in Chicago in terms of furnishings and facilities as it's filled with lots of thoughtful touches that will make you and your family feel right at home.
Best Airbnb in Chicago for a Group of Friends – Aloha Dreamy Paradise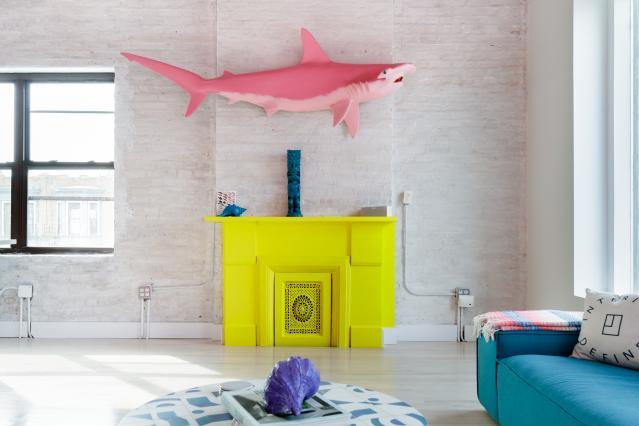 $$$
10 Guests
Skylights & High Ceilings
Giant Neon Palm Tree Sign
This four bedroom and two bathroom Chicago Airbnb has a total of five bed. It's located in the heart of Wicker Park— where there are endless things to do and see! The decor is super fun, with an enormous neon palm tree sign and giant pink shark adorning the walls. This entire apartment seems to come right out of a Hollister magazine, with bright furnishings and whacky knick-knacks, from seashells to tiki statues.
The kitchen is stocked up with everything you need, that really goes beyond the basics including a blender and a waffle maker!
$$$
2 Guests
Gym & Pool Access
Ideal Location Facing Michigan Ave
Spacious and minimalist, this one bedroom and one bathroom Chicago apartment is right by Millennium Park, facing Michigan Ave. It's less than a 10-minute walk to incredible Chicago tourist hot spots, from the Art Institute to Grant Park. If you're traveling without a car, and don't want to deal with metro cards and long walks, this is the Chicago Airbnb for you!
Moreover, this Chicago apartment is quite well-equipped to make your stay extra comfortable, from complimentary breakfast items, to plenty of clean towels, to a TV with Netflix already hooked up! In the building itself, you'll get to use the indoor pool and the 24-hour gym. There is also a doorman on-site 24-hours a day for an added safety feature.
$$
2 Guests
Great Views from Apt
2-Min To Millenium Park
This one bedroom and one bathroom studio apartment is perfectly located Chicago Airbnb right in the heart of Downtown. Seriously, it couldn't be more Downtown than this! Truly unbeatable location. Sightseeing all happens within a two-minute walk! There is also Pizzano's just around the corner that serves up some famous Chicago deep-dish pizza! This Chicago apartment is just what you're looking for. Of course, it includes all the basics from fuzzy, fully towels to a fully-equipped kitchen.
You'll be sitting pretty in this Chicago Airbnb.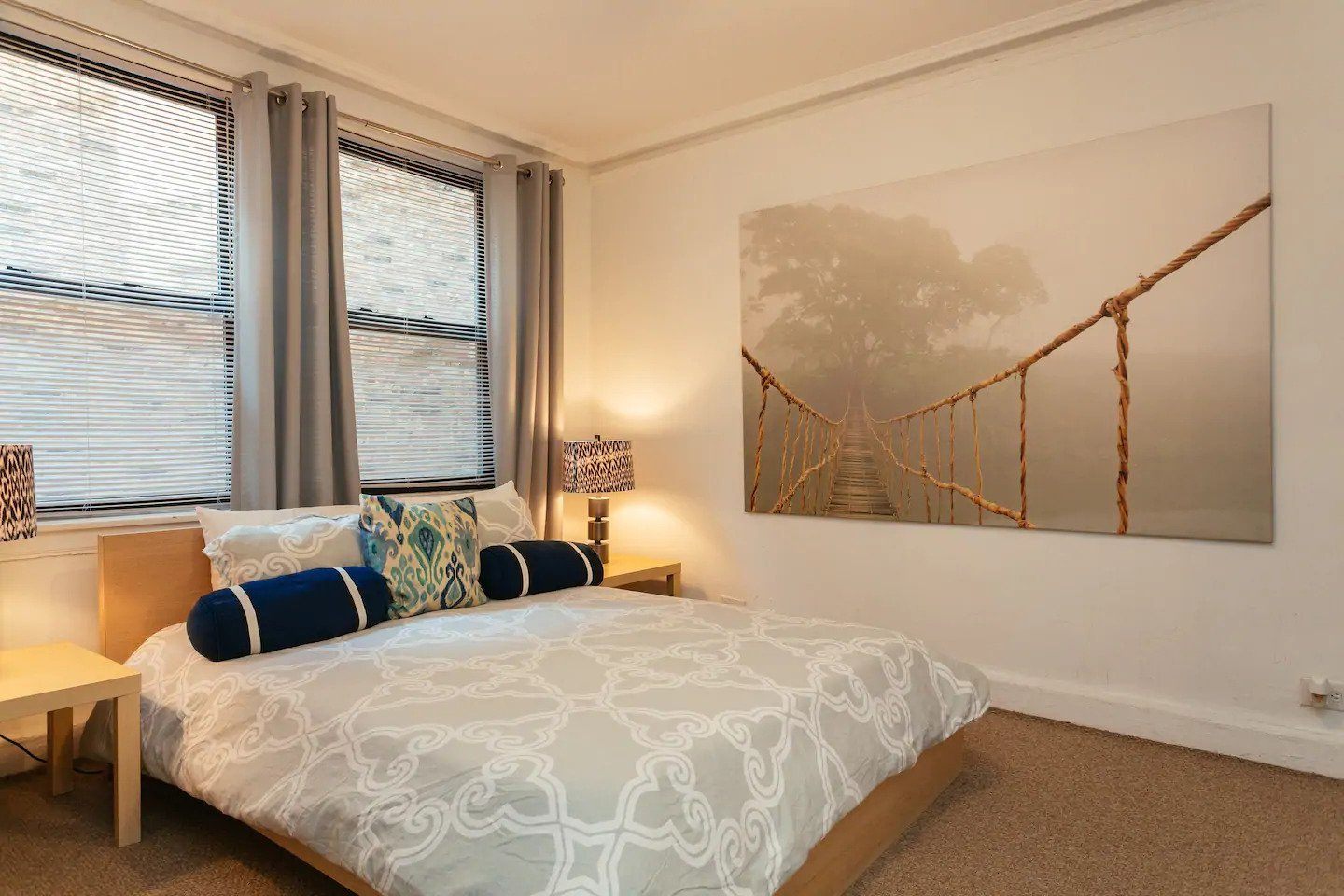 $$
2 Guests
Quality Air-Con
HDTV & High Speed WiFi
This one bedroom and one bathroom studio apartment in Lincoln Park is packed with value. In terms of location, there is fantastic food and vibrant nightlife just outside this Chicago Airbnb's doorstep. The Orange Cafe is on the same block, for a fabulous brunch or Trader Joe's is up the block if you want to snag some goodies to cook your own meals in the fully equipped kitchen. It's a very comfortable space, with a cozy bed filled with little artsy touches from pillows to paintings.
An extra air mattress can also be provided should an extra guest be tagging along!
Check out these other great resources
We have loads more information to help you plan your trip.
Final Thoughts on Chicago Airbnbs
Chicago is quite the fun city to visit! With plenty of skyscrapers and fantastic museums to visit, there is very nearly too much to do in Chicago for just one trip! Hopefully, our list of the top 15 best Airbnbs in Chicago helped you check one very important item of your trip-list: accommodation planning! Let us know in the comments below which Chicago Airbnb was a dream come true for you.
If you're heading to Chicago, you might want to look at some travel insurance. We'd like taking a peek at World Nomads and requesting a lighting-fast-no-strings-attached quote. Go get 'em tigers!
And don't forget to sort your travel insurance before heading to Chicago! We've put together a roundup of the best travel insurance for backpackers – check it out here, or if you're low on time, get a quote from World Nomads, our favorite travel insurance provider.
Getting an estimate from World Nomads is simple – just click the button or image below, fill out the necessary info, and you're on your way!

Yay for transparency! Some of the links in this post are affiliate links. This means that if you book your accommodation, buy a book or sort your insurance, I'll earn a small commission atno extra cost to you. I only link to stuff I've actually used and never endorse crap. Your support helps me keep the site going.
---
Need More Inspiration?
Like this post? PIN ME!!!