Want a seriously cool city famous for BBQ? You'd best head for Kansas City Missouri. The largest city in the United States to be located in two states, you may be surprised to learn that Downtown KC is actually in Missouri! It's here you'll find some of the artsiest neighbourhoods – along with some incredible museums.
With everything going on here, you'll need to find somewhere to stay. For the best value for money and properties with personality and charm, why not look up vacation rentals in Kansas City? In such a large city, there's a lot to choose from, but I've decided to help you out.
That's right; in this post, I've found 15 of the best Airbnbs in Kansas City. I've focused on the Missouri side of the city, where you'll find Downtown. Not only have I got some awesome KC Airbnbs, but there are some Airbnb Experiences to check out too. Let's jump right in!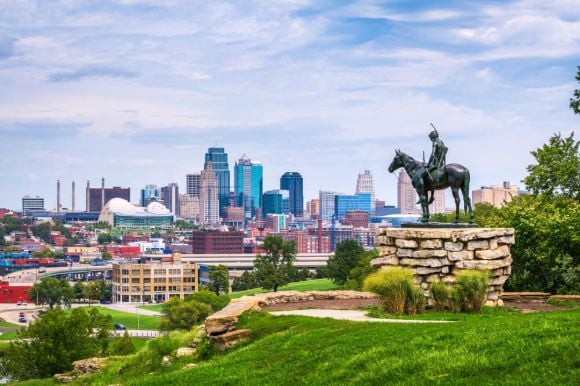 Quick Answer: These are the Top 5 Airbnbs in Kansas City
Overall Best Value Airbnb in Kansas City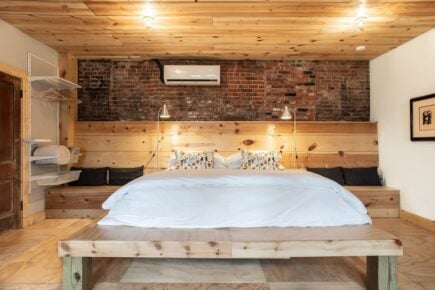 Overall Best Value Airbnb in Kansas City
WestSide brick barn studio
> $$
> Four guests
> King bed
> Free street parking
Best Budget Airbnb in Kansas City
Best Budget Airbnb in Kansas City
Peaceful Midtown House
> $
> Four guests
> Near to Country Club Plaza
> Free parking
Best Airbnb for Couples in Kansas City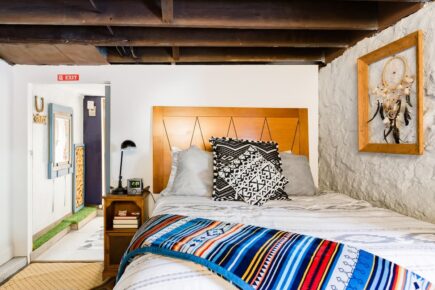 Best Airbnb for Couples in Kansas City
AJ's little ranch guest suite
> $
> Two guests
> Reclining queen bed
> Private entrance
Best Airbnb for Families in Kansas City
Best Airbnb for Families in Kansas City
Brick House Downtown KC
> $$$$$
> Eight guests
> Cool outdoor space
> Fully equipped kitchen
Over-the-Top Luxury Airbnb in Kansas CIty
Over-the-Top Luxury Airbnb in Kansas CIty
Downtown Home of the Year
> $$$$$$$$$
> 16 guests
> Rooftop terrace
> Award-winning home

Unlock Our GREATEST Travel Secrets!
Sign up for our newsletter and get the best travel tips delivered right to your inbox.
What to Expect from Airbnbs in Kansas City
As you might expect from a large American travel destination, there's a huge selection of Airbnbs in Kansas City Missouri. These can be anything from a cheap and cosy private room to a huge design home with a rooftop terrace!
There are some unique properties too, which is what Airbnb is all about – like an airstream caravan or tiny house. The best neighbourhoods in Kansas City aside from Downtown include Midtown Westport, Plaza Westport, and around Hyde Park.
The more money you choose to pay or the bigger the property, you're more likely to be dealing with a business rather than a local host. However, businesses still have electronic guides or can advise you on what to see and do in town.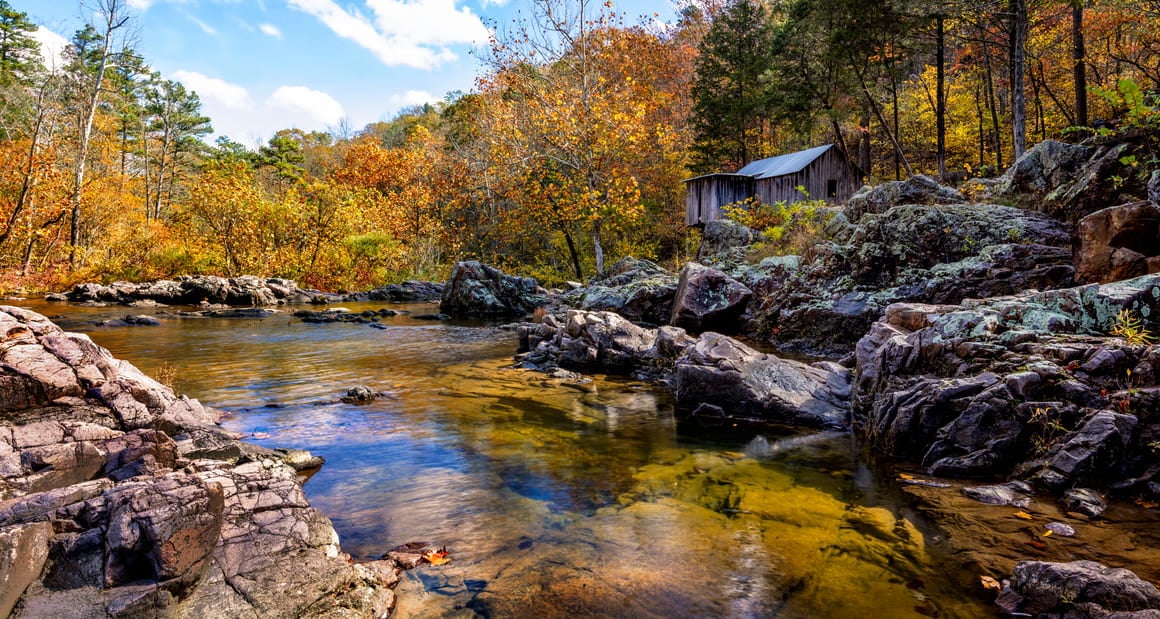 Bungalow
Looking for a home away from home in Kansas City? Then a bungalow might just be the vacation rental for you. These single storey homes offer a cosy space that is often suitable for a small family or a couple. Expect a fully equipped kitchen, living space, and if you're lucky, a garden.
You won't find bungalows Downtown; they're all in residential suburban areas – a great opportunity to see a non-touristy KC neighbourhood. Midtown, South Hyde Park, and Manheim Park are the best areas to search for bungalows.
If you don't want to stay in a property for five or six people or don't have the budget to stretch to a smaller bungalow, don't worry. There are several private rooms in bungalows available in Kansas City. A homestay is a good way to get a local impression of the city without breaking the bank!
Loft
If a Downtown location is important to you, you should be looking at entire flats and loft apartments. Lofts are a little more expensive, but worth every single dollar. The majority of loft apartments are at the top of buildings, but not always.
They'll often have high ceilings and big windows that let lots of light in – giving you plenty of space. Most loft apartments are suitable for smaller groups and couples; however, you can find a few loft apartments that have multiple rooms and fit more than the average four guests.
In most lofts, you'll get a fully equipped kitchen and a large, comfortable living area. If you're lucky, you may also get a roof terrace and/or a private balcony!
Entire House
I'm keeping it simple with this one – an entire house. Around Hyde Park and suburban Kansas City, there are lots of historic houses and mansions listed on Airbnb as an entire rental unit. With many homes having room for ten guests or more, these are awesome for family gatherings or groups of friends to spend some time together.
They come with all the amenities you would need, including a fully equipped kitchen and living space, you'll also benefit from multiple bedrooms and bathrooms. Many entire homes in suburban KC also boast outdoor spaces such as porches and gardens. Some of these will have pools and hot tubs, too.
Note that entire houses and bungalows may cross over when you search in Airbnb.
Why Stay in an Airbnb
There are loads of reasons to stay in an Airbnb. Here are five that you might not have thought of.
Local Experience: With a local host (or even a local business), you can get inside info on all the best things to see and do in Kansas City Missouri. I'm talking stuff you won't find in the guidebooks!
Privacy: Many Airbnbs have self-check-in. You can even filter for a completely private Airbnb accommodation should you wish.
Affordability: In a hotel, you get a room and access to the facilities. However, in an Airbnb, you get access to a whole home – much better value for money.
Safety: Airbnbs rating system vets host and guest, giving both parties peace of mind. You can also get in touch with Airbnb customer support for help resolving issues.
Airbnb Experiences: Airbnb offers more than places to stay; it also has cool experiences – more to come on that later. But first…
The Top 15 Airbnbs in Kansas City
Now you know what to expect and why you should stay in an Airbnb, let's get to the part you've been waiting for: here Kansas City's best Airbnbs, chosen with you in mind!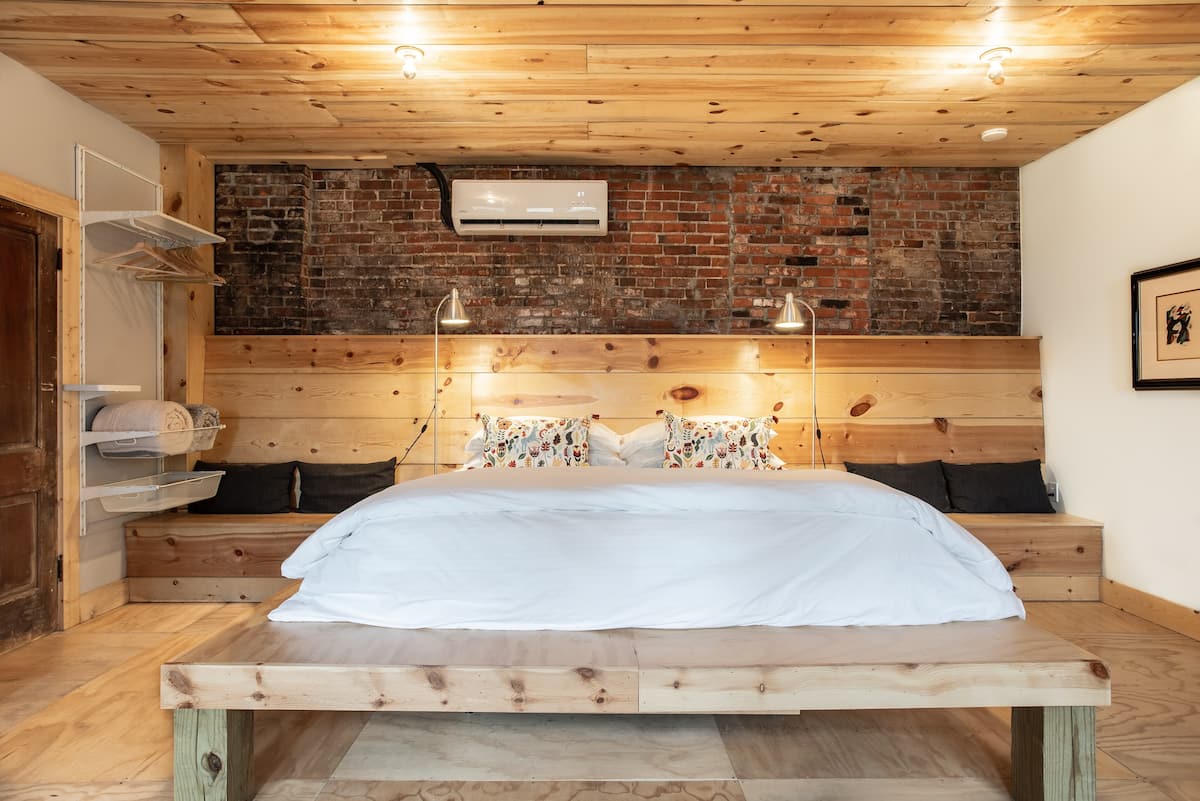 Four guests
Free street parking
The first Kansas City vacation rentals I'm going to show you is a carriage house. If you're not familiar with carriage houses, they're independent buildings attached to the property of another home.
Where horses used to be kept! Nowadays, you'll find they're popular throughout the US as guest suites.
This one is one of the nicest out there – with wood tones throughout and a huge king bed. Though it's on your host's property, it's entirely private, and you have self-check-in.
$
Near to Country Club Plaza
Tucked away on a quiet street is this small and yet spaciously designed vacation rental between Midtown and Westport. If you've got a low budget, don't worry, as this is one of the most affordable Kansas City vacation rentals.
You have one bedroom with a double bed, and a sofa bed if you are travelling as a group of four. There's a fully equipped kitchen and a nice sized private bathroom too. The living area is spacious and cozy, and good news for digital nomads, there's free WiFi and a table to work at.
---
Psst…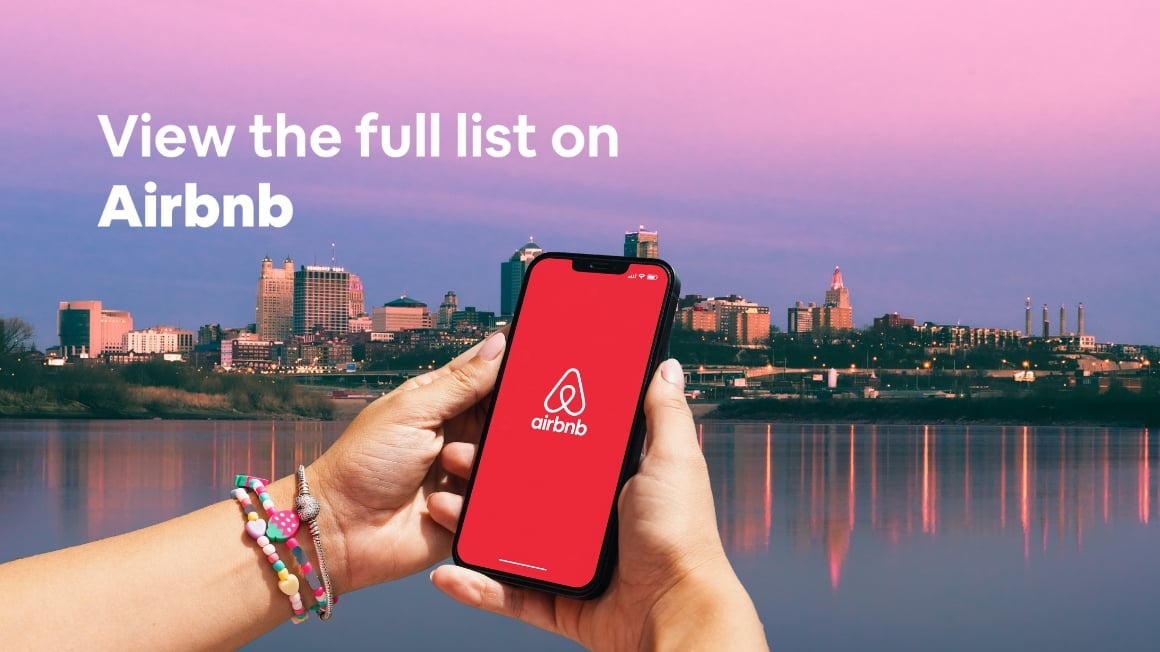 ---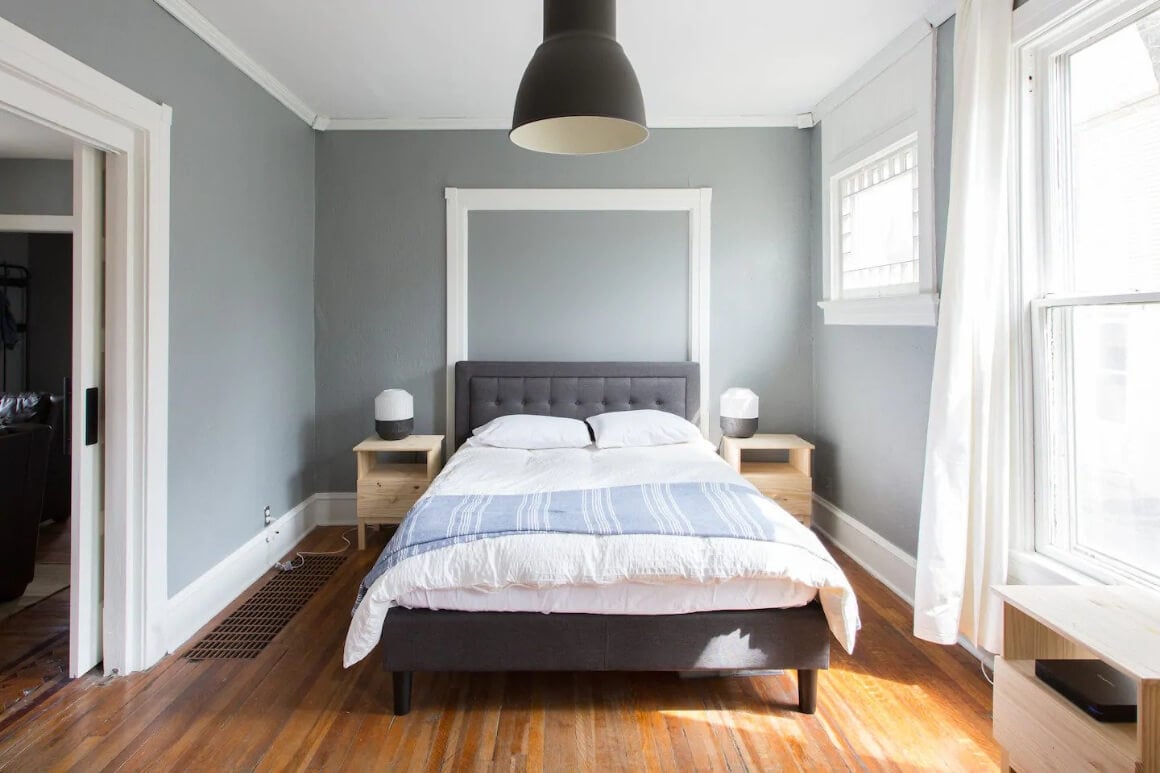 An apartment in Kansas City for solo travelers doesn't mean spending a lot of money. In fact, this apartment in Midtown is the perfect place solo travellers to keep their costs down whilst still having the luxury of a full home.
This self-contained private studio has everything you need, from a queen-size bed to a stylish and well-stocked kitchen. There's a private entrance and free parking too! Perfect for those on a road trip.
Is This the Best Backpack EVER???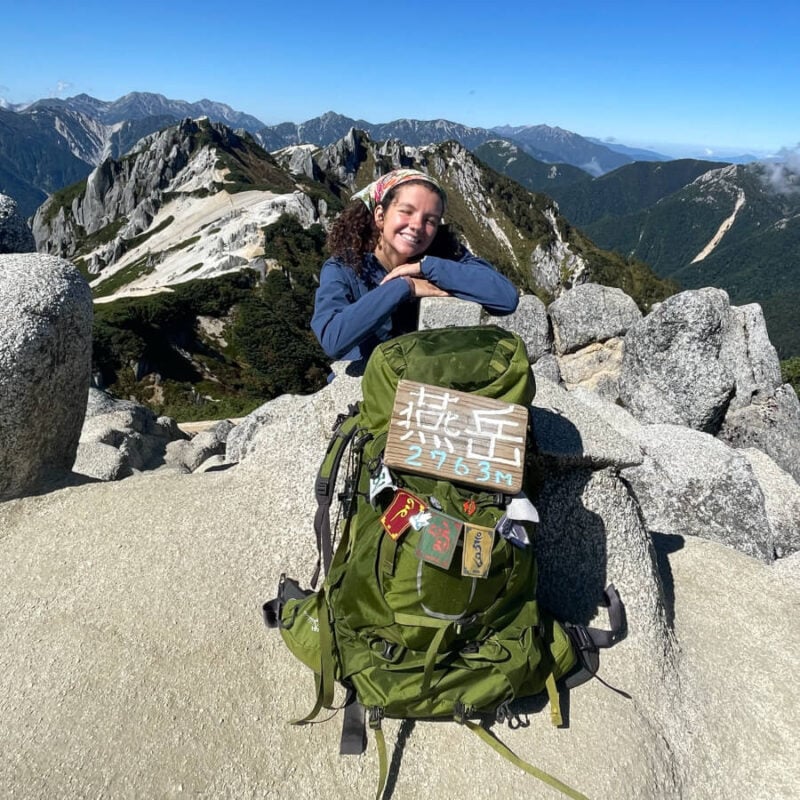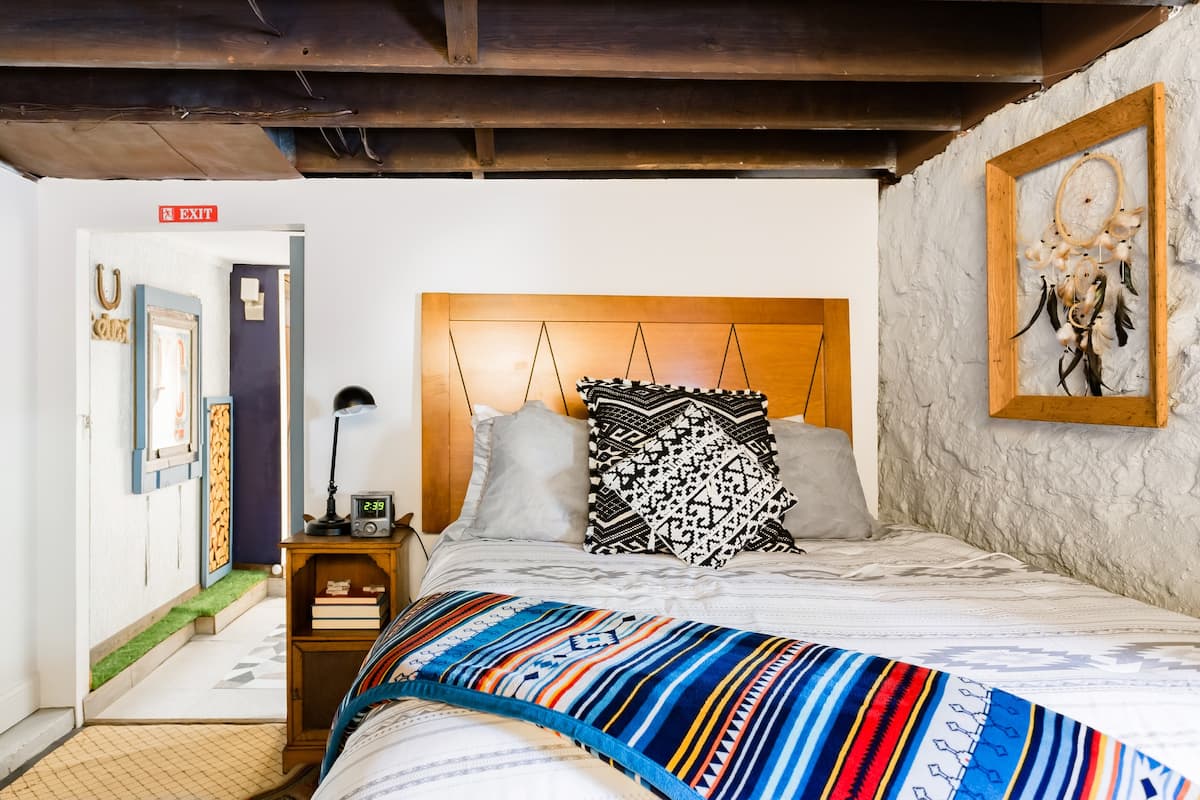 Two guests
Private entrance
We're staying in and around Hyde Park for our next property. This private lodge-like hideaway is perfect for couples, and it's deceptively cheap!
The luxurious reclining queen bed is perfect to come back to after a day of exploring the city. You've got a basic kitchen and even a small outdoor space where you can enjoy a morning coffee together. Guaranteed to sweep your other half off their feet!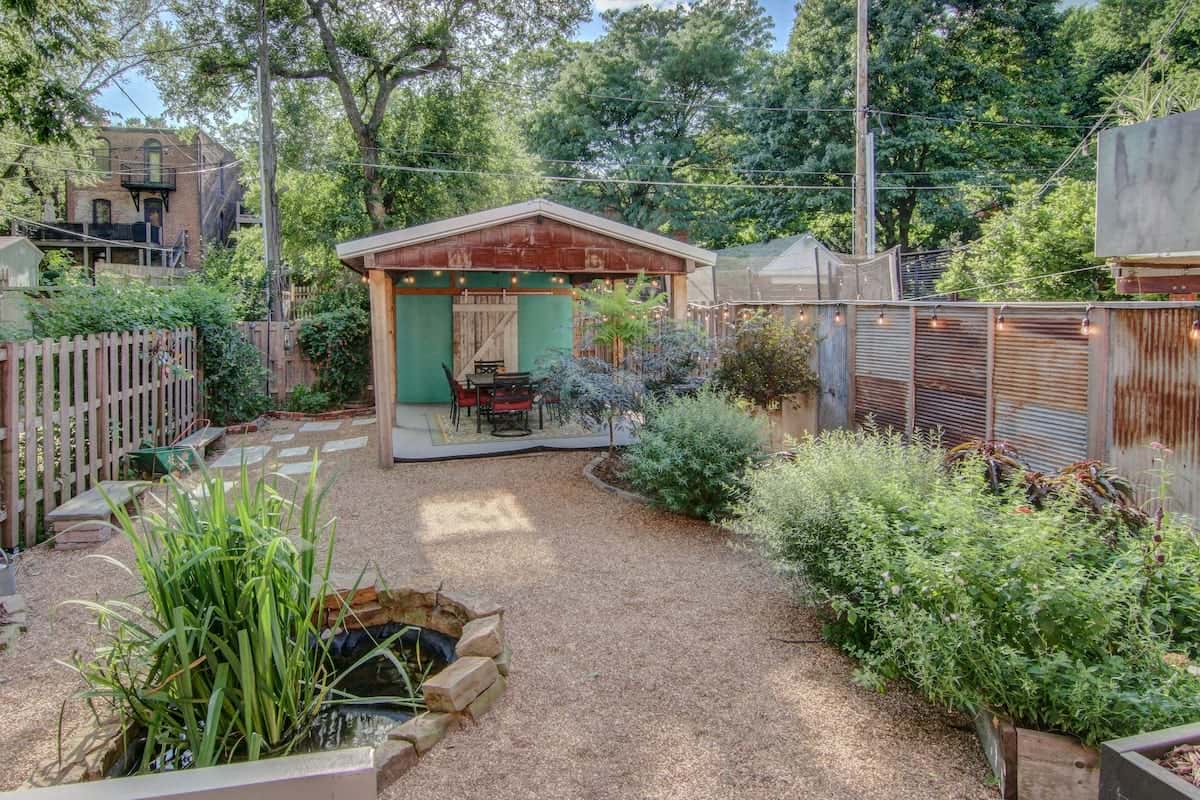 Eight guests
Fully equipped kitchen
This charming property is perfect for families of all ages. With space for eight guests and some lovely communal areas, it's a great place to spend time together.
Dating back to the 1890s, some modern conveniences have been added, such as a fully equipped kitchen and that beautifully designed outdoor space – ideal for a board game or dinner on a warm summer evening. Restaurants and cafes are right on your doorstep, too!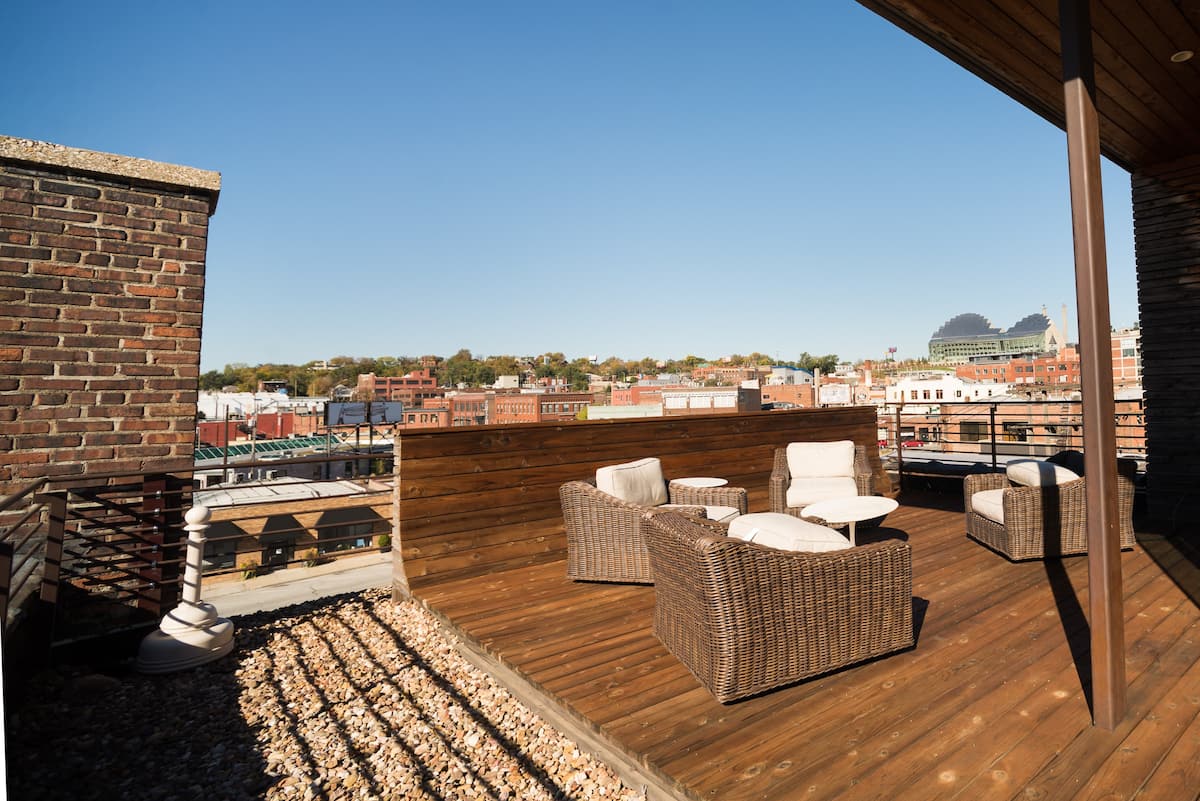 16 guests
Award-winning home
The star of the show at this award-winning home is undoubtedly the rooftop terrace, where you can appreciate the jawdropping views of the Kansas City skyline.
If it's raining and you fancy staying in, you won't be disappointed. There's an enormous chef's kitchen where you can rustle up something delicious for all your travelling companions, and the huge living room is ideal for relaxing after a day of exploring the city.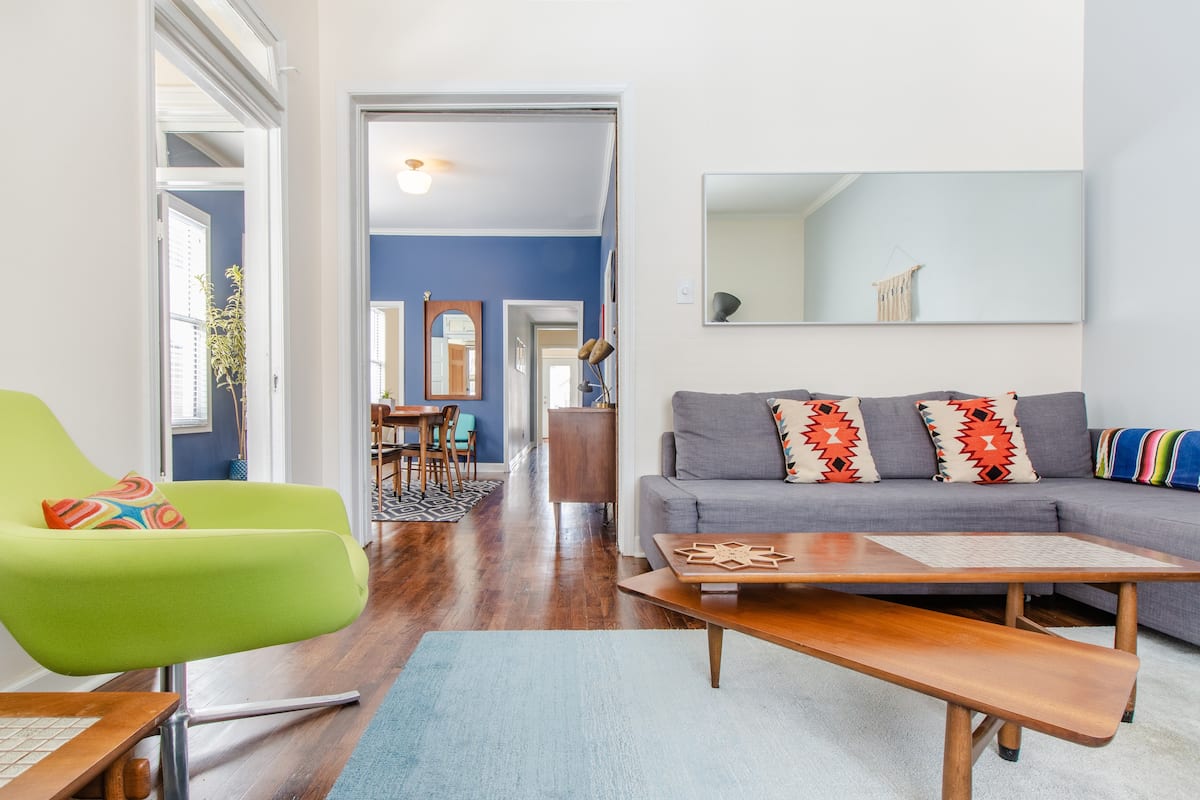 $$$$$
Beautiful living space
Six guests
Modern and vintage design
With space for up to six guests, this bungalow would suit a family or a group of friends. It's an Airbnb Plus property, so you know you're getting the best quality accommodation.
Though the home is packed with modern conveniences, its colourful and vintage furniture is what gives this place so much character. The bungalow is just a few blocks from the restaurants and nightlife of Downtown Kansas City Missouri.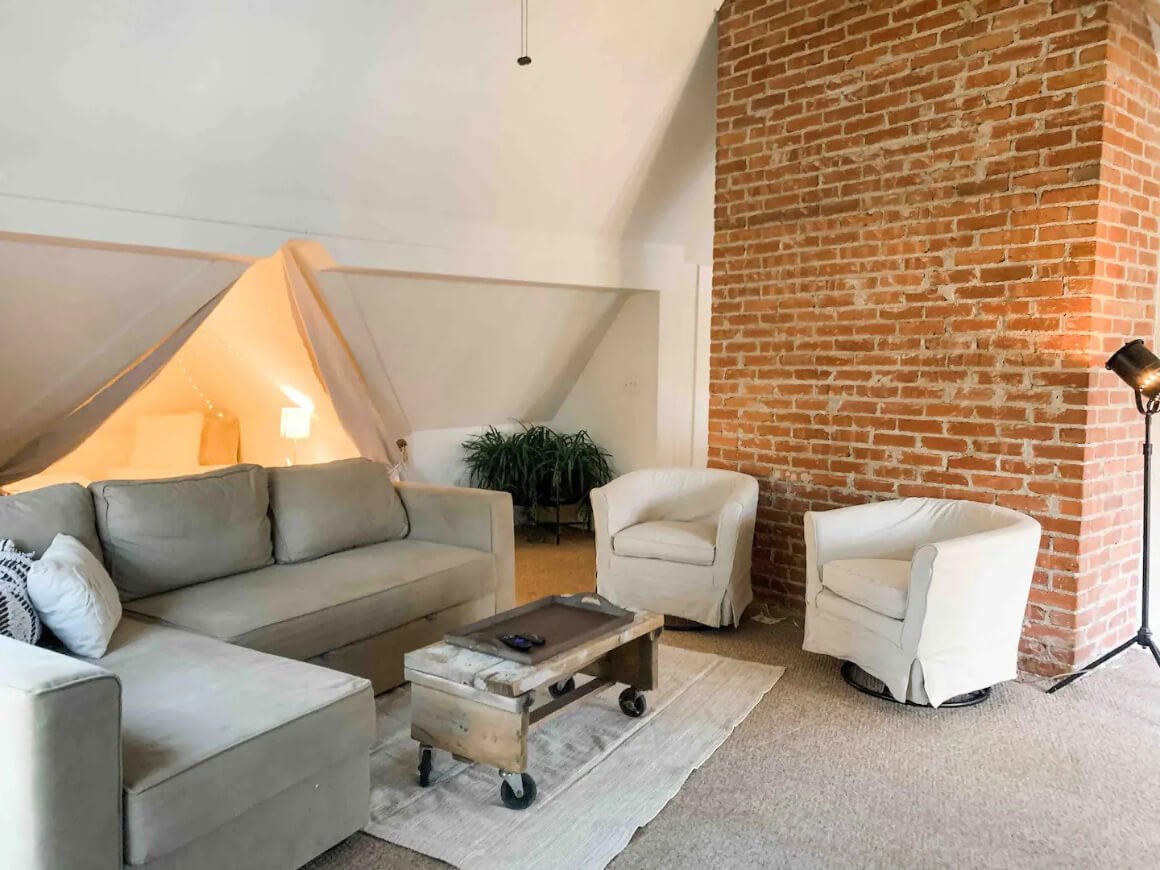 This industrial-chic loft is one of the coolest Airbnbs in Kansas City. If you're travelling with kids, they will love playing inside the fort. There one bedroom with a king-size bed and a sofa bed, so it could be ideal for a couple or a family, depending on what you need.
Since the loft is located between Westport and Midtown, it's reasonably priced too. It's only a 10 minute drive to all the best spots in the city. There's a fully equipped kitchen, a private balcony, and a tennis court across the street. What more could you want?!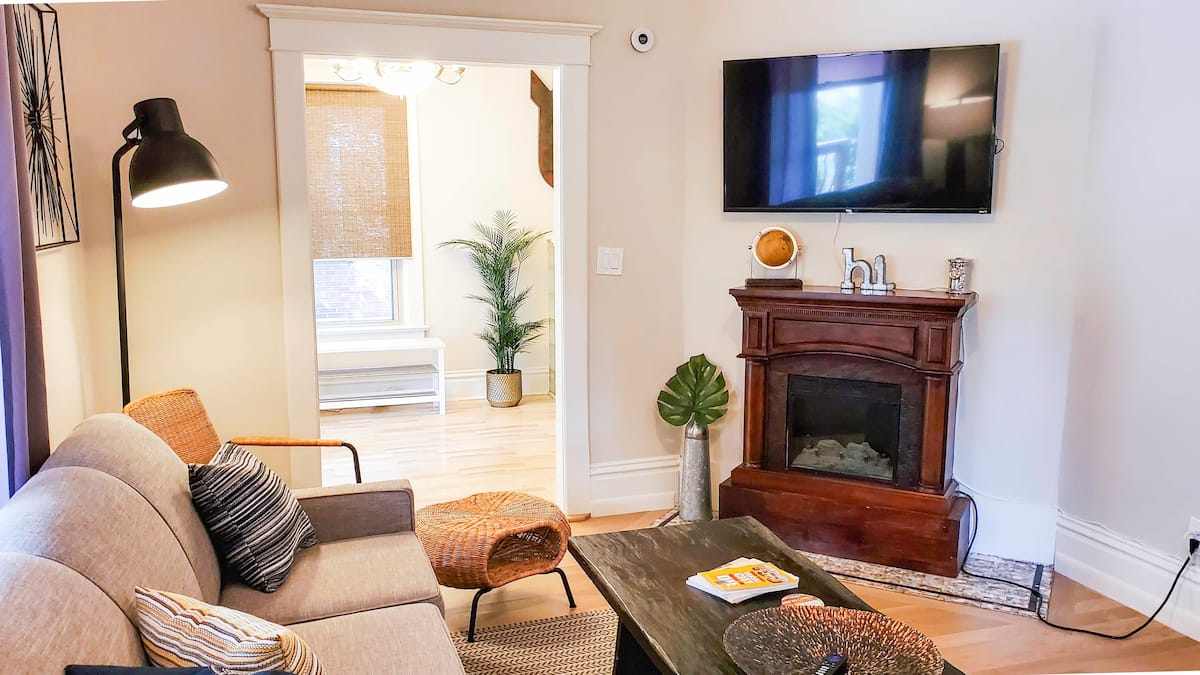 $$$$$
Fully equipped kitchen
Ten guests
Six person hot tub
This large house in the Westport area of the city is perfect for a busy break. It's not too far from Downtown Kansas City and lots of things to do, but there is enough distance for it to be quiet at night.
Spend your evenings recuperating from long walks in the six-person hot tub or catching a movie in the cosy living room on the first floor. It really is just like being at home – perhaps even a little nicer!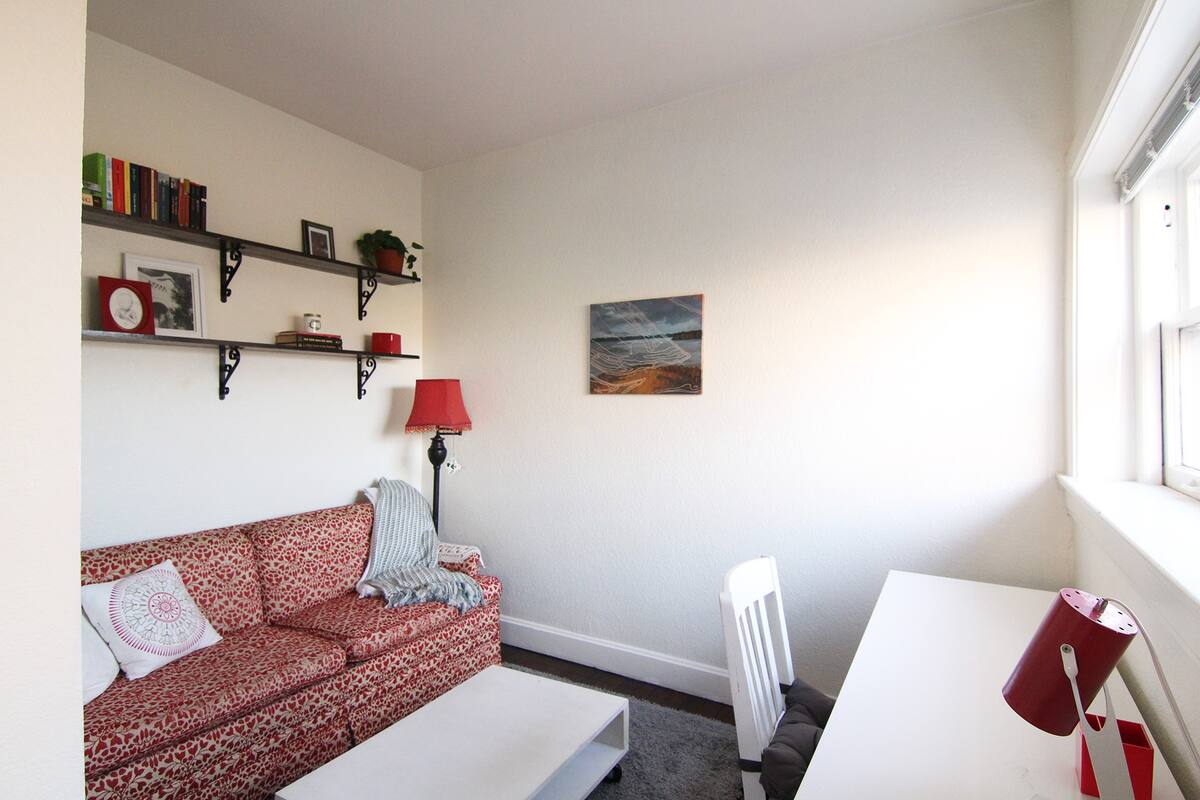 $
Private sitting room/study
A dedicated workspace and fast Wi-Fi is usually the minimum a digital nomad would ask for. However, you get a whole lot more here – with your own private room plus a private study and living space!
There's a queen bed, too, but it's great to be able to keep your workspace and relaxing/sleeping space separate. The kitchen is not part of your private quarters, but you're welcome to use the microwave or kettle should you wish to.
Best Airbnb Plus in Kansas City | The Slow Space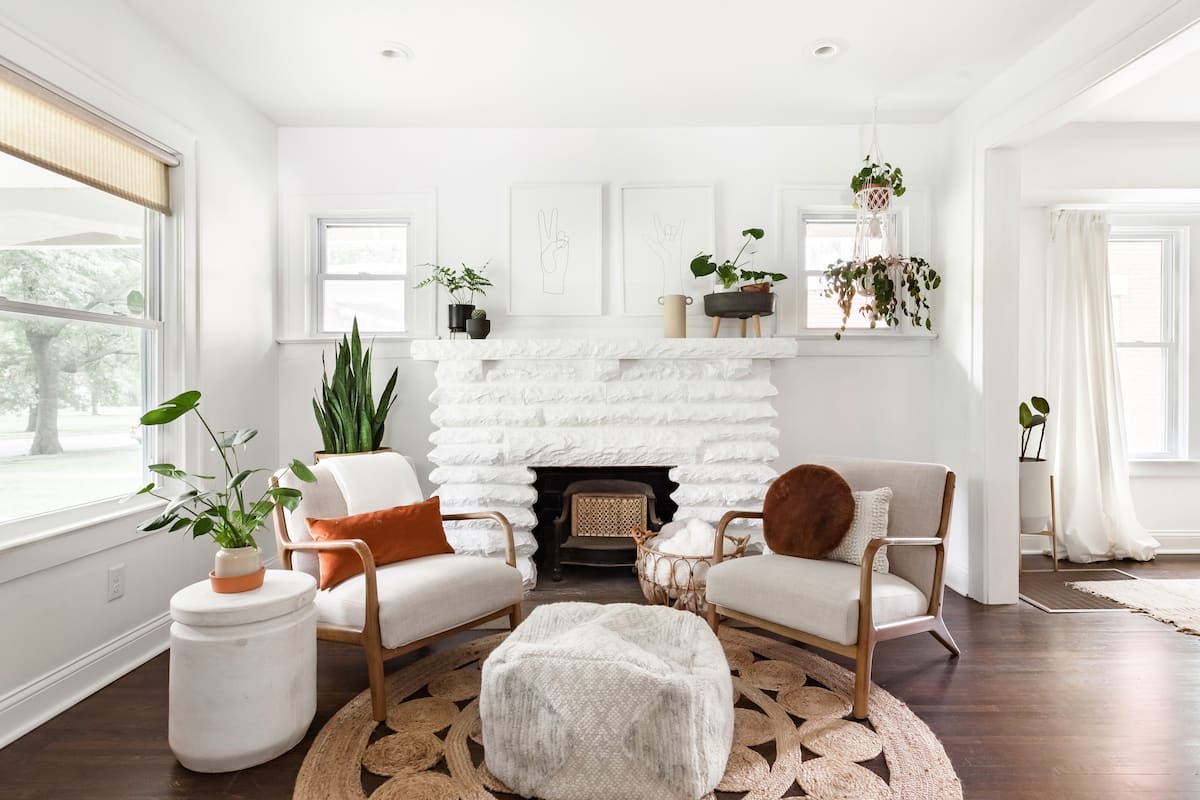 Seven guests
Lots of houseplants!
Airbnb Plus properties are the cream of the Airbnb crop that are given the seal of approval thanks to consistently good review scores, the host's attention to detail, and even a visit from an Airbnb representative.
This one is absolutely bedecked with houseplants in light and airy rooms, giving the feeling of space and clean air. The sitting room by the white fireplace is especially comfortable!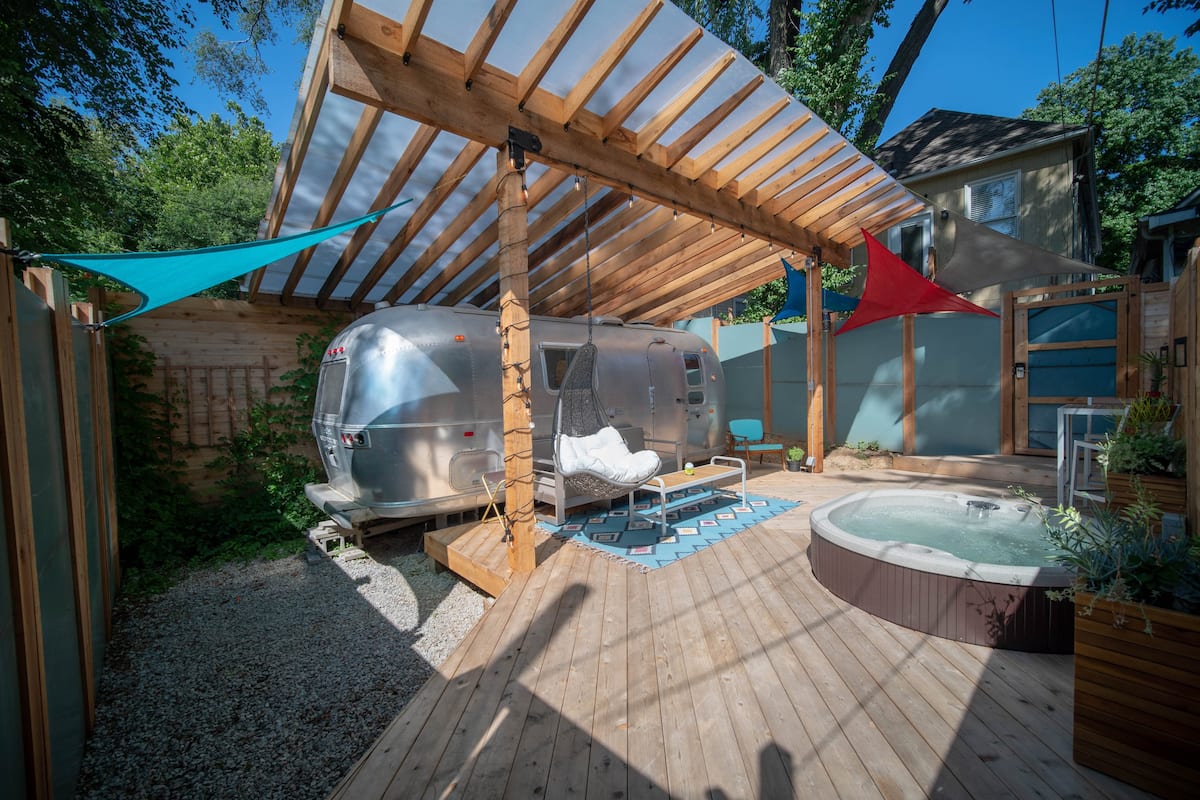 Two guests
It's an Airstream caravan!
Unique properties are the whole reason that people look for vacation rentals. And what could be more unique than an airstream caravan?
One of the most popular Airbnbs in Kansas City, you also get a year-round hot tub and a cute little outdoor area where you can enjoy breakfast or sit with a book.
Despite the caravan being almost 50 years old, it's packed with mod cons, such as a Samsung convection oven and microwave, LED lighting, and a Smart TV with all the apps!
This quiet spot in the the heart of Midtown in Kansas City has excellent views from its private terrace. You can see all the most notable buildings on the skyline! Though there's room for two guests, but if you're travelling alone as a digital nomad, you'll love the fast WiFi and dedicated workspace.
There's also laundry facilities and free parking, and it's central to all the best places to visit in Kansas City. What more could you ask for?
Eight guests
Rooftop terrace
Not only does this KC home have a swimming pool, but also a cabana where you can cool off and dry off! When it's too cold for the pool, you can head up to the roof terrace instead and take some time out in the hot tub.
There's space for up to eight guests, so though that price may seem intimidating at first, remember you can split it multiple ways. A perfect spot for a group of friends or family to make the most of the sun!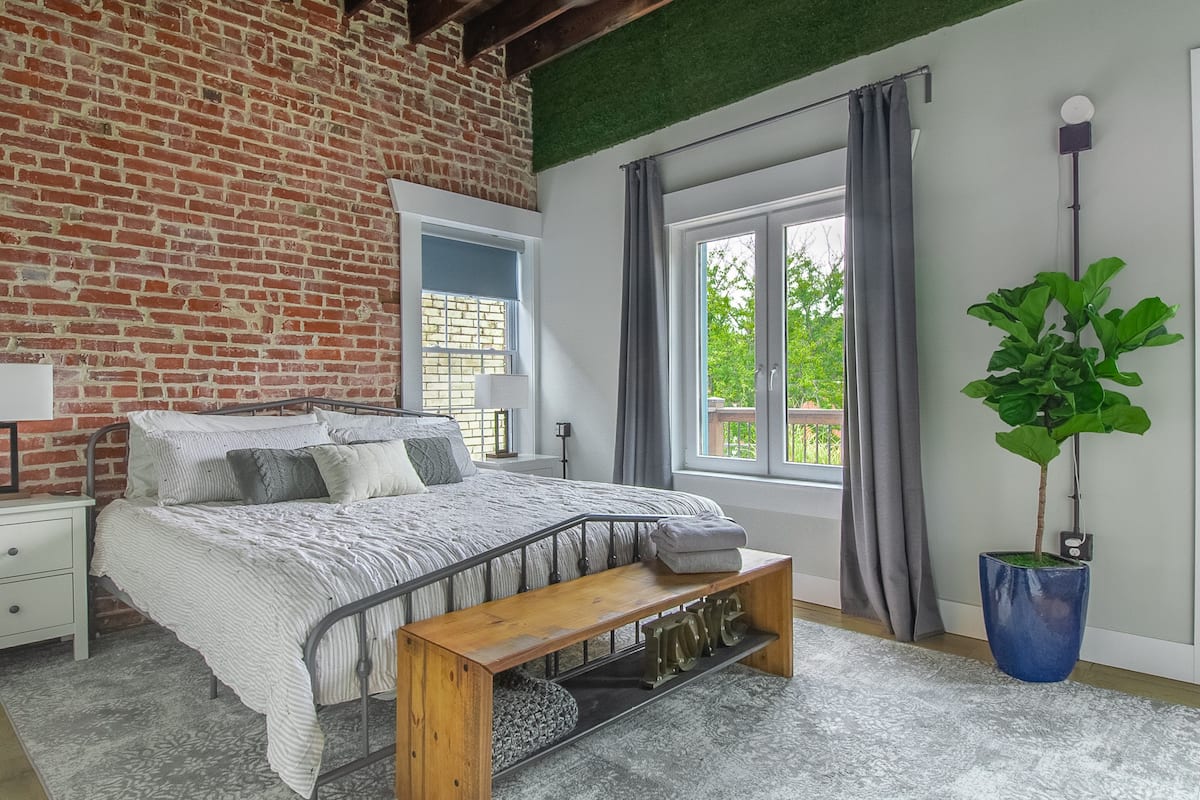 $$
High ceilings and indoor brick
Five guests
Two private decks
For a smaller group of friends, check out this historic loft in the heart of Kansas City. With two private decks, you can spend your mornings enjoying a coffee and people-watching or taking in views of the skyline.
There are lovely touches throughout the place, such as a swinging hammock chair and exposed brickwork, and wooden beams throughout. There are a fair few houseplants as well!
Top 4 Airbnb Experiences in Kansas City
Now you've seen the best Airbnbs in Kansas City, it's time to think about what to do when you arrive. Once you've ticked off the top tourist attractions, you might be at a loose end. So be sure to have some stuff planned before you arrive with Airbnb Experiences!
Airbnb Experiences are your opportunity to meet local guides who curate tours to show off just how great their city is. It can be anything from walking tours and picnics to unusual sports experiences.
In this next section, I'm showing you my favourite Airbnb Experiences in Kansas City. You're going to love them!
$32/person
2 hours
Up to 8 guests
Ever wanted to play disc golf before? If you're unsure what that is, it's a hybrid of frisbee and golf. You'll be throwing a disc at a target across nine or eighteen holes. Your host will meet you at the Rosedale Disc Golf Course, where you'll begin your adventure.
If it's your first time, you might want to choose the open course, which is great for first-timers. However, if you'd like more of a challenge, there's a more technical course with several trees thrown in – an unusual but cool way to spend a morning or afternoon in KC!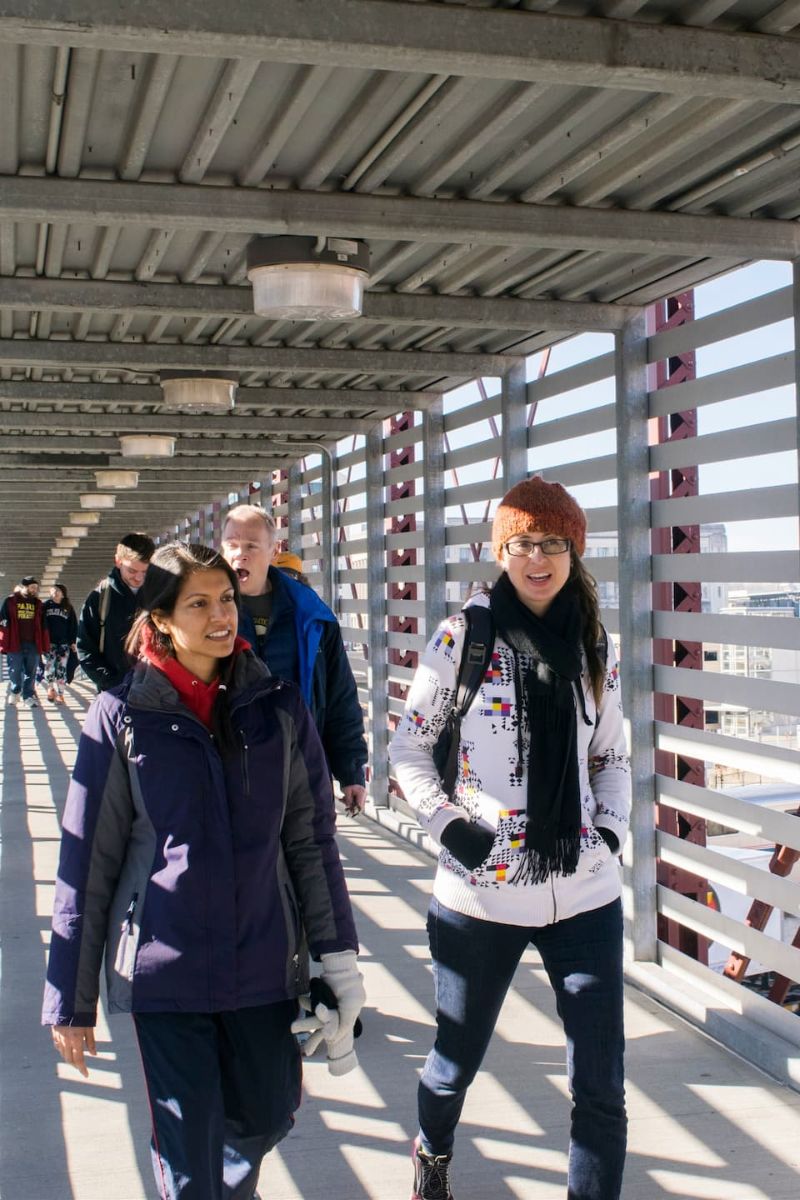 $37/person
3.5 hours
Up to 10 guests
If you're looking to combine sightseeing with exercise, this is more than your average walking tour. On the 3.5 hour urban hike, you'll do more than your daily recommended step count while taking in the city's most notable landmarks.
There'll be regular stops for photos, and your guide will explain the stories of each site. You'll be walking more than five miles, so make sure to wear comfortable shoes!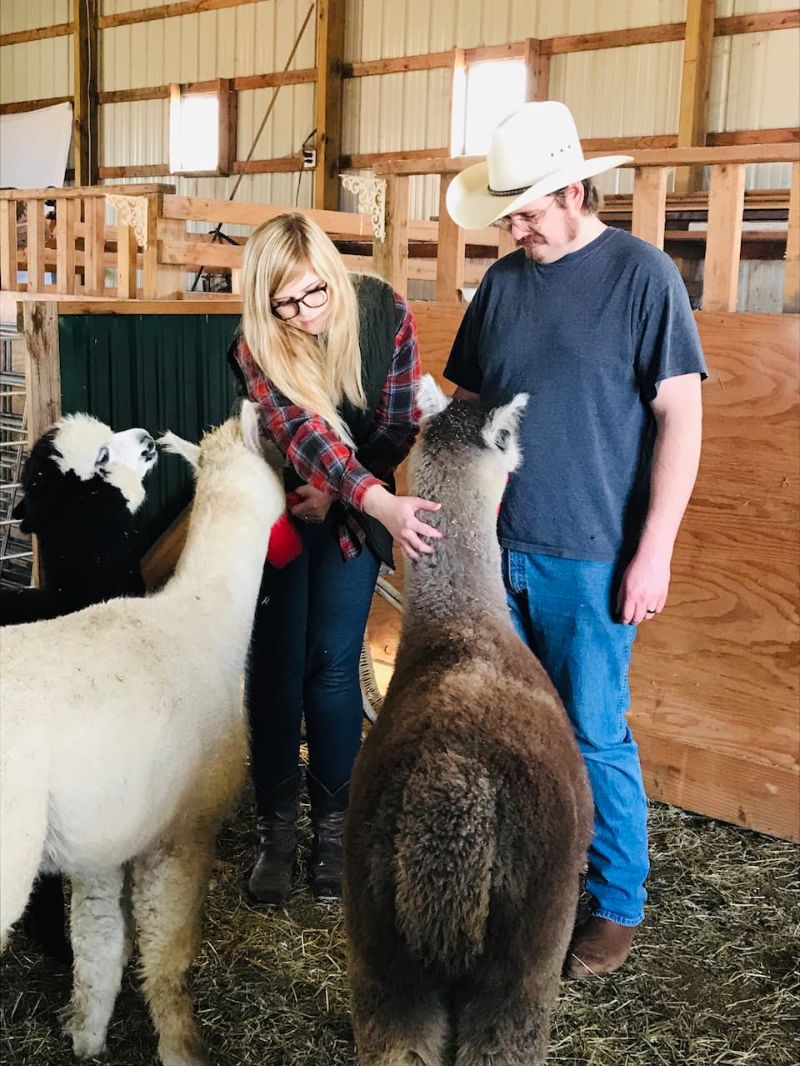 $20/person
2 hours
Up to 10 guests
Always wanted to get up close and personal with alpacas? Here's your chance.
This cute picnic at the Green Meadows Alpaca Ranch is part of the Airbnb animals collection; you'll not only meet alpacas, but also Nigerian Dwarf Goats and Katahdin sheep.
You'll hand feed all the animals before some free time where you can enjoy a picnic on the farm.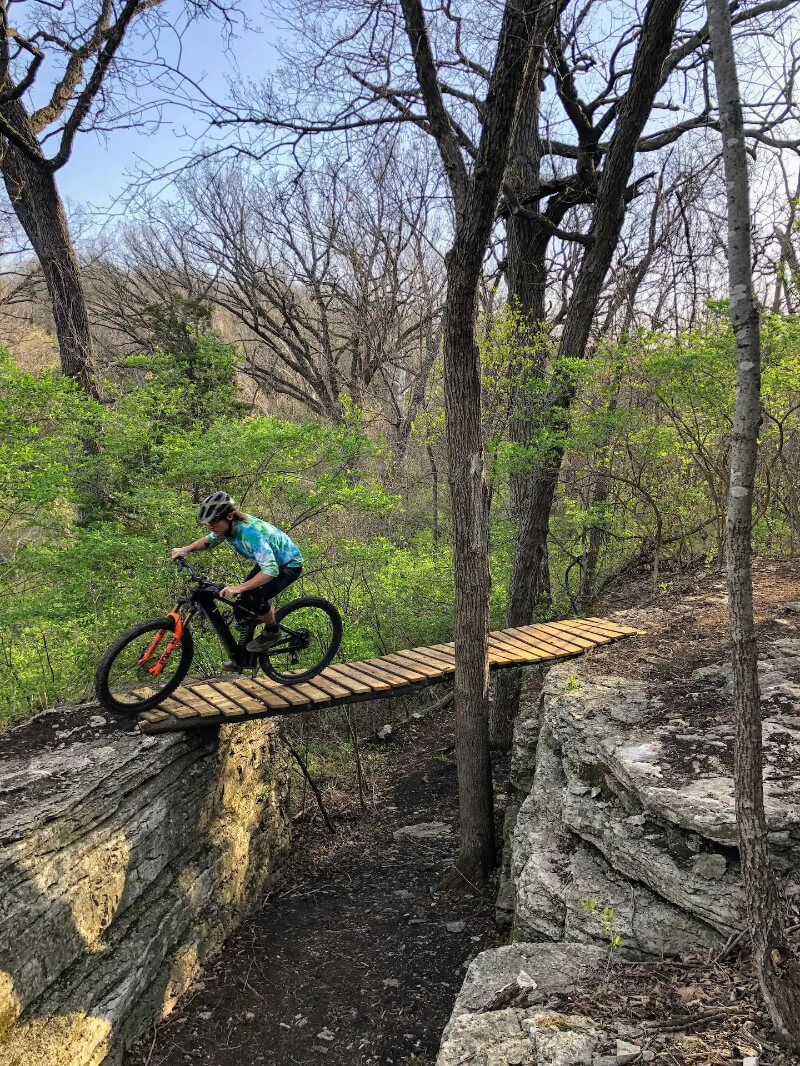 $75
2 hours
Up to 10 people
Love to get out into the great outdoors and stay active on your vacation? Then you're going to love mountain biking the extensive trail network of Kansas City with over 60 miles of diverse terrain.
The biking trails are named "Blue River Parkway" and "Swope Park" on Trailforks and this tour will take you along the Blue River corridor, which has some of the best views of the river, limestone bluffs, and wildflower glades.
Pack plenty of water and snacks, and your guide will bring the rest! Suitable for beginners anf families, to the most technical riders.
FAQs About Kansas City Airbnbs
Here's what people usually ask us about vacation rentals in Kansas City Missouri…
Don't Forget Your Kansas City Travel Insurance
ALWAYS sort out your backpacker insurance before your trip. There's plenty to choose from in that department, but a good place to start is Safety Wing.
They offer month-to-month payments, no lock-in contracts, and require absolutely no itineraries: that's the exact kind of insurance long-term travellers and digital nomads need.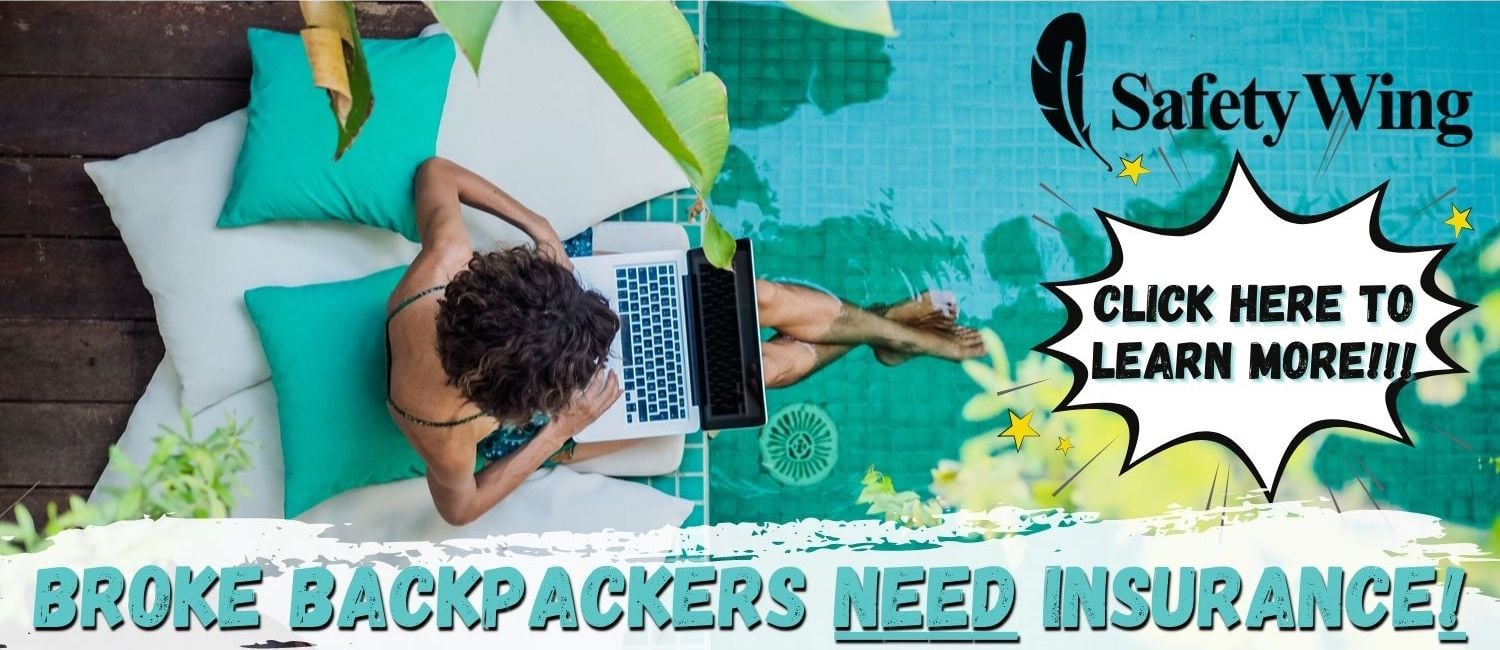 SafetyWing is cheap, easy, and admin-free: just sign up lickety-split so you can get back to it!
Click the button below to learn more about SafetyWing's setup or read our insider review for the full tasty scoop.
Final Thoughts on Kansas City Airbnbs
So, there you have it. Those are the top 15 Airbnbs in Kansas City… at least, on the Missouri side. There are some cool Airbnb Experiences too, which should help you make some memories on your vacation! Whether you want to stay in a cool loft, a historic townhouse, or a cosy bungalow, there's an Airbnb in Kansas City for you.
Still can't make your mind up on where to stay? I'd suggest keeping it simple and going for my overall best value Airbnb in Kansas City. That's the WestSide Brick Barn Studio. The carriage house is close to Downtown Kansas City, and it's decorated beautifully!
I hope that wherever you choose to stay in Kansas City, you have an incredible vacation. To keep yourself and your belongings safe too, be sure to check out travel insurance from World Nomads.
---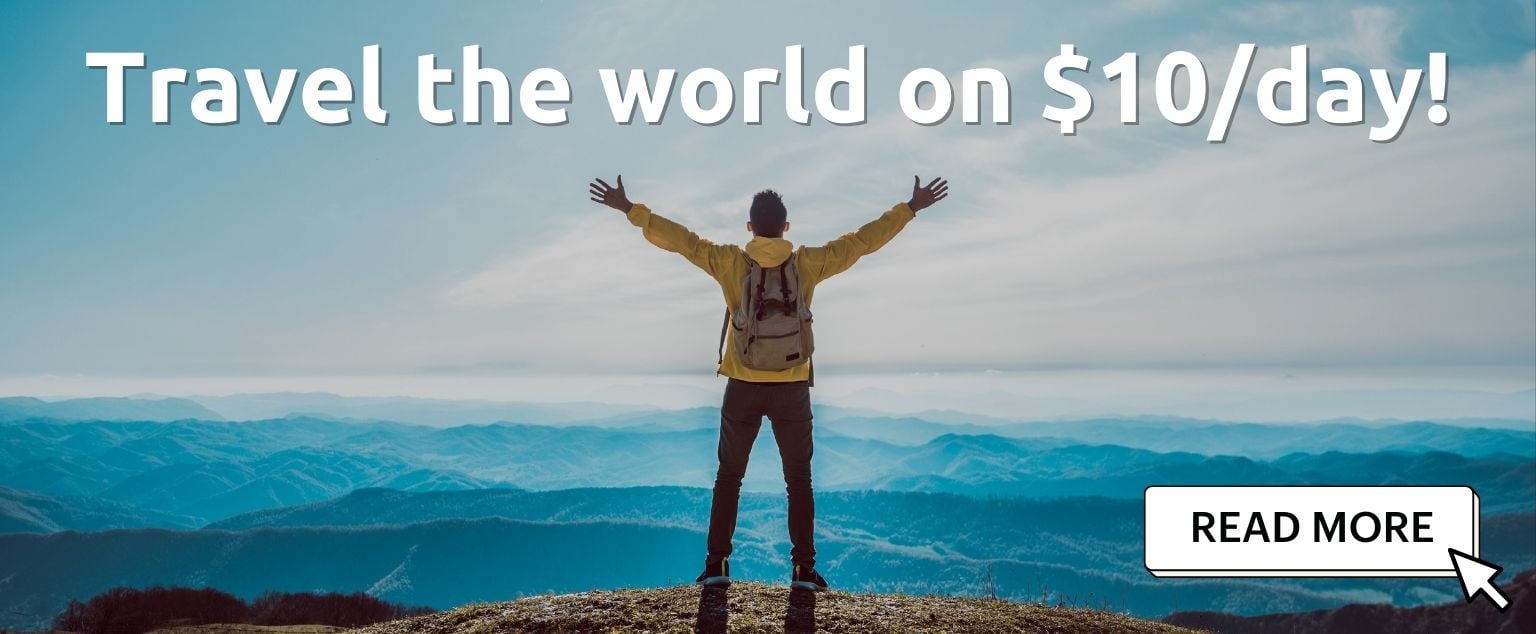 And for transparency's sake, please know that some of the links in our content are affiliate links. That means that if you book your accommodation, buy your gear, or sort your insurance through our link, we earn a small commission (at no extra cost to you). That said, we only link to the gear we trust and never recommend services we don't believe are up to scratch. Again, thank you!