The Adirondack Mountains of New York are a magical wilderness landscape of cascading waterfalls, forested slopes, rivers and lakes, and outdoor adventures. Whichever time of year you choose to visit, the Adirondacks offers plentiful things to see and do.
Whether you're looking for thrilling outdoor adventures or a more sedate reconnection with nature, there's always something to see and do in any season. With such a wide variety of experience on offer, the Adirondacks is also home to an increasing number of unique accommodation options.
Everything from lodges and resorts to neat B&Bs and large hotels is available. But we reckon truly the best and most authentic experience can be had at one of the awesome cabins in the Adirondacks.
There's a large variety of these on offer, too, to suit the diverse traveller crowd. In this guide, we've got the 15 best cabins in the Adirondacks for any travel style and budget.
In a Hurry? Here's Where to Stay in The Adirondacks for One Night
FIRST TIME IN THE ADIRONDACKS
Lake Algonquin Cabin
Tucked away beneath the trees, Lake Algonquin Cabin is a newly constructed retreat with all the essentials and modern conveniences needed for a comfortable stay in the Adirondacks. It offers two bedrooms, sleeping up to four guests.
Places to visit:
Town Beach
The Great Escape Theme Park
Lake George
Is this amazing The Adirondacks Cabin booked for your dates? We've got your back with our other favorite properties below!

Unlock Our GREATEST Travel Secrets!
Sign up for our newsletter and get the best travel tips delivered right to your inbox.
Staying in a Cabin in The Adirondacks
The Adirondacks are wild and untamed, so it seems fitting to explore these wilderness regions from a traditional cabin. Imagine the smell of raw timber, a roaring fireplace or wood-burning stove, and an outdoor firepit for telling stories of the day's adventures and enjoying amazing stargazing.
The best cabins in the Adirondacks will offer you a comfortable and well-equipped stay, so you won't be roughing it entirely. Instead, you will be enjoying an authentic nature experience with a few added modern conveniences – and maybe even a sexy hot tub.
What to Look for in a Cabin
Usually, the best cabins in the Adirondacks will offer a fire pit, a kitchen with all the essentials, and an outdoor space like a deck or a porch. Do a quick search on Airbnb and you'll see that cabins range from very basic to somewhat more luxurious retreats.
If the pioneering spirit is strong in you, you may enjoy a basic cabin with just the essentials – a bedroom, a bathroom, and a simple kitchen. But if you're looking for a more indulgent stay, you'll be pleased to know that it's possible to find cabins with some extra bells and whistles, like a sauna, high-speed Wi-Fi, and air conditioning.
Overall Best Value Cabin in The Adirondacks
Overall Best Value Cabin in The Adirondacks
Lake Algonquin Cabin
> $
> 2 Guests
> Private dock
> Newly constructed cabin
Best Budget Cabin in The Adirondacks
Best Budget Cabin in The Adirondacks
Modern Adirondack Retreat
> $
> 2 Guests
> Sunroom with day bed
> Convenient and leafy setting
Best Cabin for Couples
Best Cabin for Couples
North Hudson Modern Cabin
> $
> 2 Guests
> Outdoor firepit
> Sheltered by surrounding forest
Best Cabin for a Group of Friends
Best Cabin for a Group of Friends
Johnsburg Escape
> $
> 8 Guests
> Master suite balcony
> Peaceful atmosphere
Best Cabin for Families Visiting The Adirondacks
Best Cabin for Families Visiting The Adirondacks
Lakefront Knotty Pine Cabin
> $$
> 8 Guests
> Rowboats and a private beach
> On a private lakefront
The Absolute Cheapest Cabin in The Adirondacks
The Absolute Cheapest Cabin in The Adirondacks
Butternut Adirondack Cabin
> $
> 4 Guests
> Shared in-ground pool
> Newly renovated stylish cabin
Amazing Luxury Cabin in The Adirondacks
Amazing Luxury Cabin in The Adirondacks
Kooyahura
> $$
> 12 Guests
> Private beach access
> Wraparound deck with views
The Top 15 Cabins in The Adirondacks
We've put together this list of the best cabins in the Adirondacks to make it easier for you to find one that meets all your needs. Whether you're headed out with family, looking for something romantic for two, or anything in between, you're sure to find something perfect for you!
Overall Best Value Cabin in The Adirondacks – Lake Algonquin Cabin
$
2 Guests
Private dock
Newly constructed cabin
Lake Algonquin Cabin is hidden in the woods above Lake Algonquin just outside Wells, New York. Lake George is one hour away by car via a scenic drive.
The cabin is newly constructed and has been equipped with all-new appliances and modern furnishings. There are two spacious bedrooms and one bathroom, as well as a modern kitchen and a screened-in porch – ideal for a couple or up to four guests.
Spend your days at Town Beach which is just a short walk away, or make your way to Lake George. The Great Escape Theme Park is also within an hour of the cabin, which makes for a super fun day trip.
$
2 Guests
Sunroom with day bed
Convenient and leafy setting
The Modern Adirondack Retreat is conveniently located in a quiet and leafy setting. It provides easy access to Saranac Lake village, as well as the lake itself.
This neat and compact wooden cabin has one bedroom, as well as a cosy loft with additional sleeping space. The kitchen is equipped with all the essentials, and there's a BBQ out on the patio.
This ute cabin in the Adirondacks is ideal for a couple wanting to enjoy the peaceful setting while being close to village amenities. The cabin is also within easy reach of climbing and walking trails, so make sure to pack your hiking boots!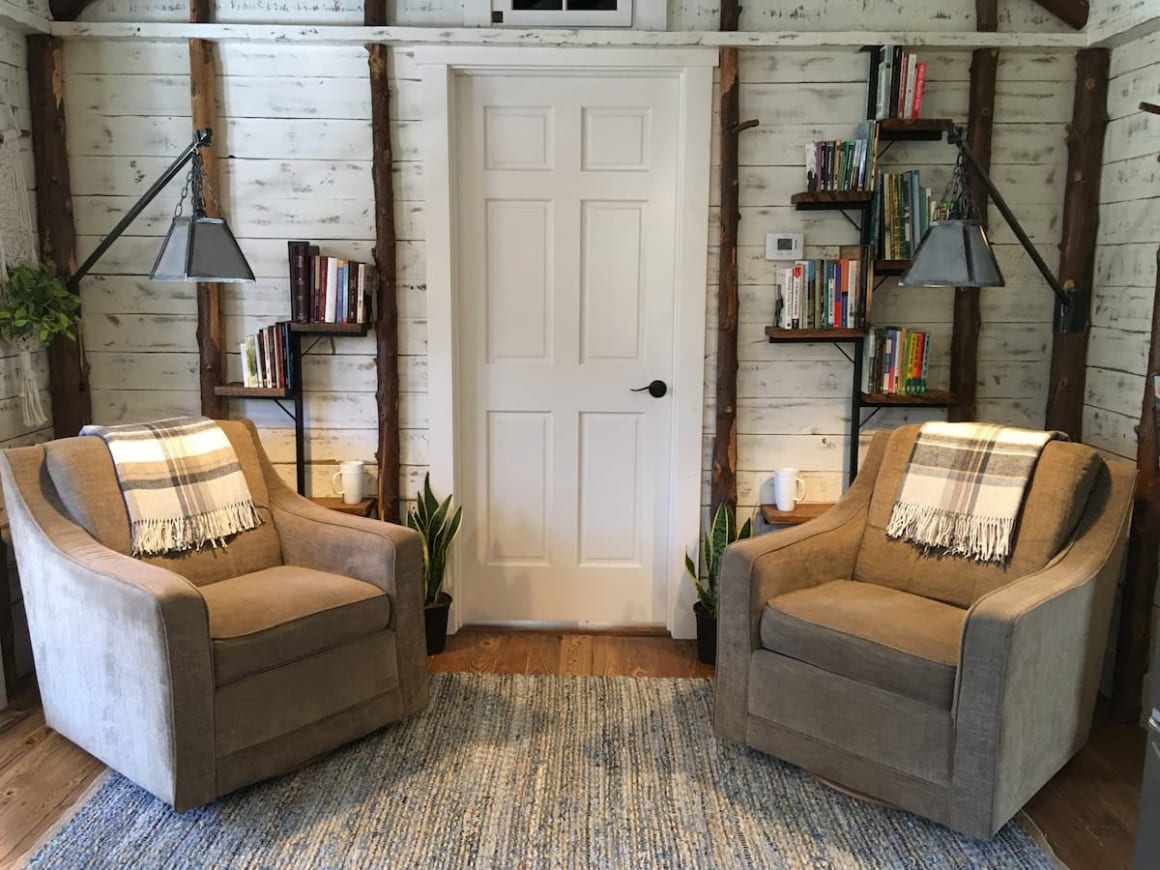 $
2 Guests
Outdoor firepit
Sheltered by surrounding forest
North Hudson Modern Cabin is a cosy and contemporary escape for two. lt's just 20 minutes from Schroon Lake and 45 from Lake Placid, but you will need a car to get around.
Surrounded by a forest, the cabin is the ideal place for couples looking to unplug and enjoy nature. A full kitchen, bedroom with a king bed, and a quaint enclosed sunroom provide a comfortable retreat with everything you could need.
Alongside the gorgeous indoor space, guests can enjoy an open outdoor area with a BBQ and firepit, the perfect place to roast some marshmallows.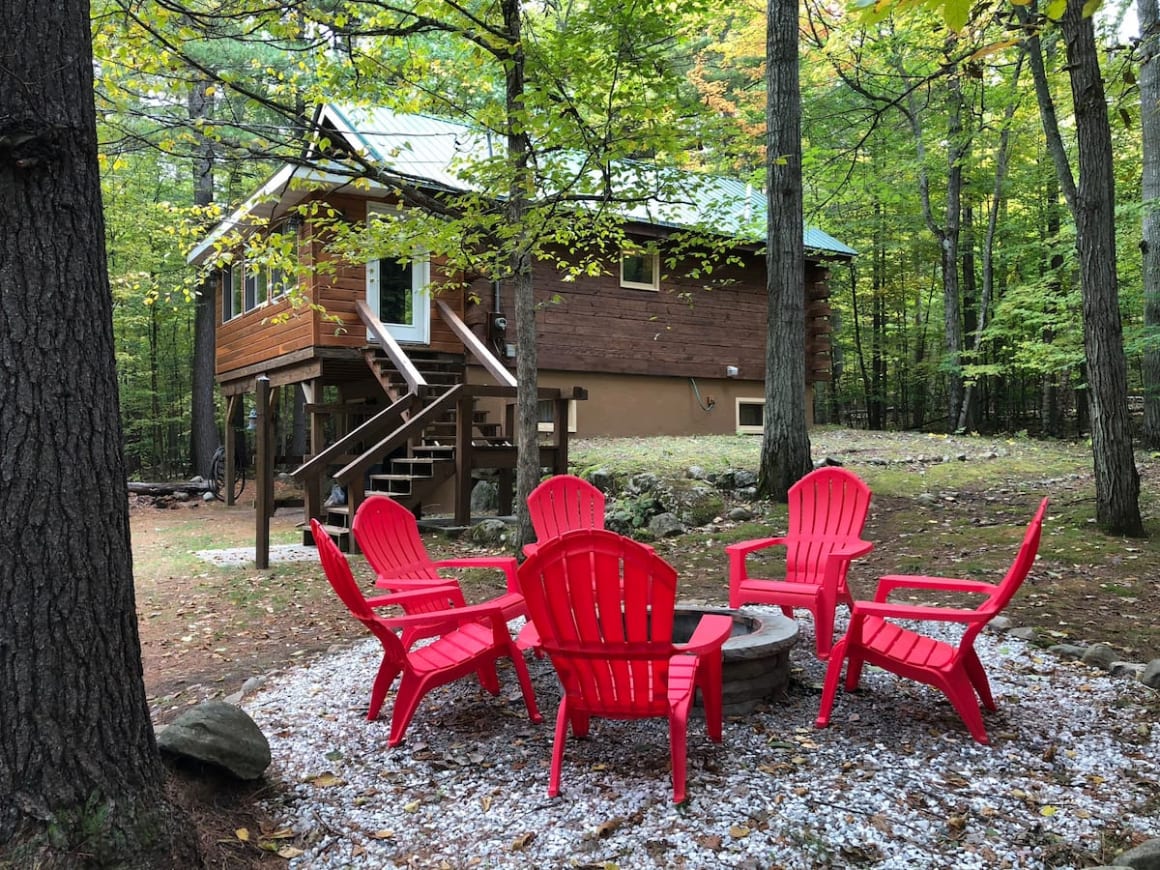 $
2 Guests
Loft-style bedroom
All profits donated
Another great option for you and your beau, Nora's cabin in the Adirondacks sits on a peaceful woodland property. The newly furnished cabin sits within walking distance of the Ausable River. Whiteface Mountain, Wilmington Beach, Lake Placid, and Mirror Lake are also within easy reach, making this perfect for adventurers.
It comes complete with a small but well-equipped kitchen, a cosy lounge with a wood-burning fireplace, and a loft space with a queen-size bed. The outdoor firepit and green surroundings provide a peaceful backdrop to relax in.
Adventures nearby include fishing, hiking, skiing, or snowshoeing, so you'll have plenty to do if you fancy leaving the property!
An Eco-Friendly Traveller NEEDS an Eco-Friendly Backpack!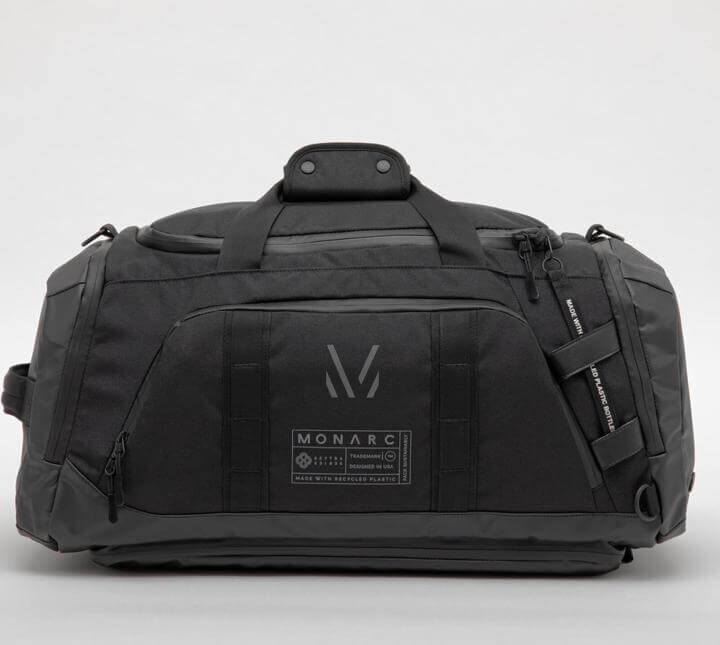 50 recycled plastic bottles – that's what goes into every Monarc Settra: the world's MOST SUSTAINABLE backpack.
Whether you're rocking duffel mode or backpack mode, if you're a traveller that gives a flying hoot about their environmental impact, then there's only one backpack you should consider – the plastic-negative Monarc Settra.
Learn More Now!
Best Cabin for a Group of Friends – Johnsburg Escape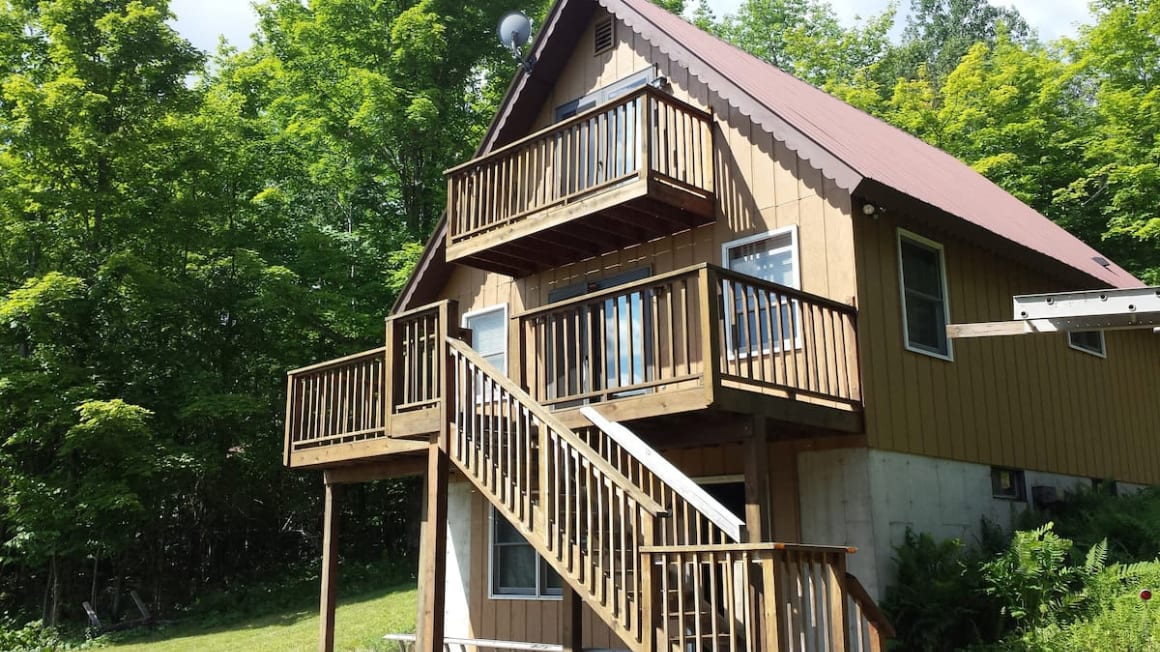 $
8 Guests
Master suite balcony
Peaceful atmosphere
Johnsburg Escape is hidden in the mountains above Johnsburg, 15 minutes from North Creek. The area offers scenic roads and plentiful outdoor activities ranging from fishing and rafting to hiking and mountain biking.
The cabin is spacious and well equipped to provide a comfortable and cosy retreat for a small group or family. In addition to three bedrooms and two bathrooms, the cabin has a futon in the living room for additional sleeping space.
After a day of adventuring in nature, return to the cabin for an evening around the fire pit. If the weather turns, light the indoor fireplace and enjoy a couple of board games.
$$
8 Guests
Rowboats and a private beach
On a private lakefront
Lakefront Knotty Pine Cabin is a classic pine cabin just outside of Warrensburg, close to all the region's popular attractions and Lake George Village. Top hiking trails, Six Flags Great Escape, and Bolton Landing are all a short drive away.
There's plenty of sleeping space for up to twelve guests in this spacious three-bedroom cabin. For additional guests, there's a sleeper couch, futon, and two queen air mattresses. There's also plenty to do for every member of the family including board games and children's books and toys.
One of the coolest things about this cabin in the Adirondacks is the private beach and lakefront access. You can enjoy swimming, rowing, and fishing right on your doorstep!
$
4 Guests
Shared in-ground pool
Newly renovated stylish cabin
Budget backpackers, this one's for you! Butternut Adirondack Cabin is just minutes from Gore Mountain for great skiing and Lake George and other lakes for swimming and fishing. White water rafting and hiking opportunities are also within easy reach.
Offering exceptional value, this Adirondacks cabin is a comfortable retreat in a great location. There's one bedroom and additional sleeping space for two in the open plan living area. Pets are also welcome (for an additional charge).
There's a full kitchen for rustling up meals, so you don't have to spend money on constantly eating out! And, despite being small, the cabin even offers a cosy fireplace. Talk about value for money!
Amazing Luxury Cabin in The Adirondacks – Kooyahura
$$
12 Guests
Private beach access
Wraparound deck with views
This luxury Adirondacks cabin sits on the shores of Hinckley Lake in Cold Brook. There are numerous year-round activities and attractions nearby, offering something to suit every traveller. From winter sports to wine tasting and hiking, you'll have loads to see and do no matter when you visit.
The spacious cabin has four rooms and a sleeper couch that can comfortably accommodate up to twelve guests. The cabin also has a full kitchen and a barbeque for preparing meals, but there's a restaurant nearby if you don't fancy cooking!
Days can be spent on the private beach on the lake, perfect for swimming and sunbathing. After a full day of outdoor adventures, you can relax in the hot tub, chill on the wraparound deck, or warm up by the fireplace.
$$
6 Guests
Fire pit and furnished patio
Perfect for all seasons
The Adirondack Cabin Near Whiteface is a spacious pet-friendly accommodation in a tranquil rural area near Wilmington. Within easy reach of Whiteface Mountain ski resort and Lake Placid, the cabin is perfectly positioned for anyone planning a weekend getaway in nature.
There's enough room for up to six guests and comfortable furnishings to make you feel right at home. Wifi is available, and the cabin is also pet-friendly.
Spend evenings around the fire pit, rustle up tasty meals in the well-equipped kitchen, or cosy up for a movie night. This place is perfect for a quick weekend getaway, but we won't blame you if you decide to stay longer!
Another Great Cabin for a Weekend in The Adirondacks – Posh Camp
$
4 Guests
Ski-in/ski-out
Hand-made timber frame cabin
Posh Camp is situated on 150 acres of private land with easy access to a variety of outdoor adventures. In addition to being close to alpine and Nordic ski areas, the cabin is well placed for anyone wishing to go hiking, rafting, kayaking, mountain biking, fishing, and snowshoeing.
The cabin features an open floor plan which offers a social atmosphere to spend time with loved ones. It has one bedroom, which is more of a sleeping alcove, as well as additional sleeping space in the living area. A separate spacious bathhouse is set a short distance from the cabin.
Because of the remote location, the cabin offers exceptional stargazing. Spend evenings around the fire pit enjoying the stars or cosy up in front of the wood-burning stove indoors.
Cabin with an Epic Location – Cedar Hollow
$
4 Guests
Fast Wi-Fi
A stone's throw from the river
Cedar Hollow provides family-friendly accommodation near Lake George, sitting just steps from the Hudson River on a two-acre property. Gore Mountain is just 15 minutes away, and Saratoga is 45 minutes away by car.
This cabin may look tiny from the outside, but it sure packs in a lot of amenities! The main cabin features an open-plan kitchen and dining area and a double bedroom, while the smaller cabin has a compact loft-style sleeping area and a fireplace. Laundry facilities are also available.
This awesome cabin is surrounded by woodland and close enough to the river that you can hear it. It's got one. of the best locations for exploring, meaning you won't have to travel far for all the Adirondack activities and experiences.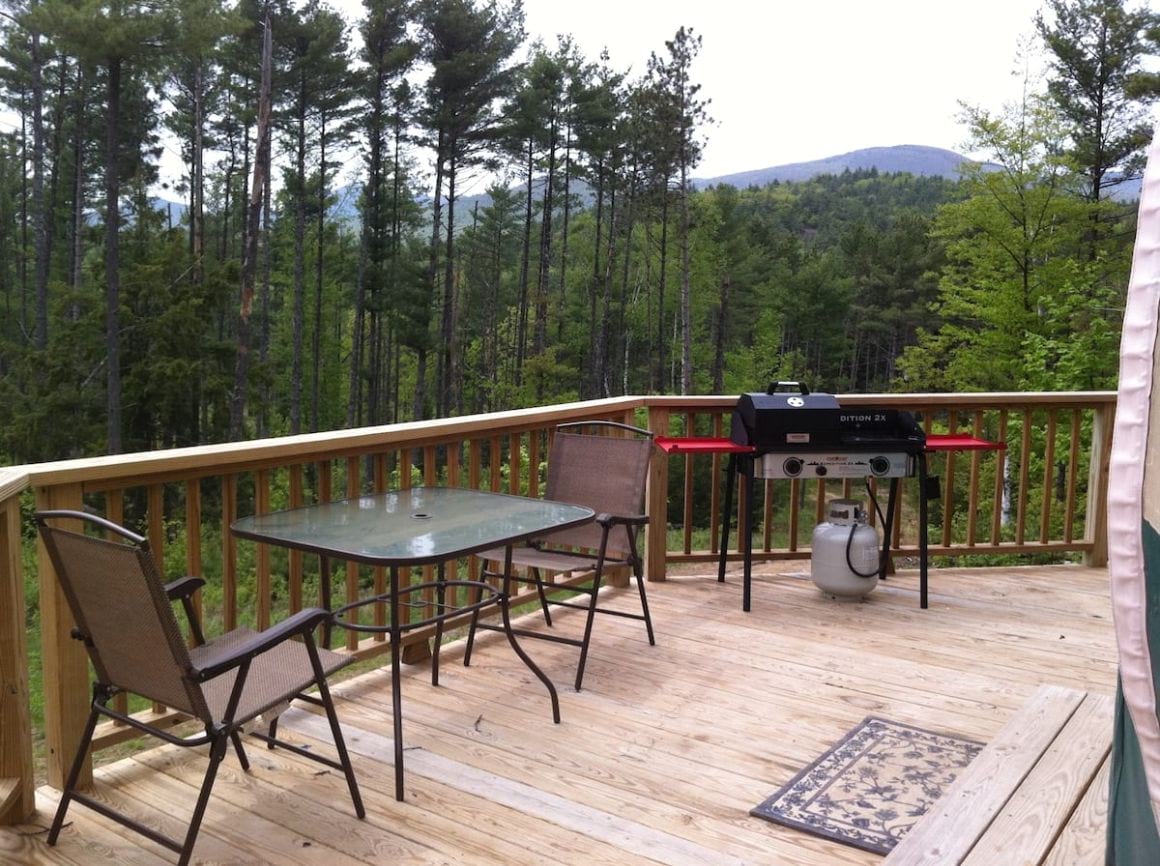 $$
4 Guests
Propane heater and fans
Magical experience year-round
The High Peaks Yurt is perched on a hillside, surrounded by 85 acres that guests can explore. The deck offers expansive views of the rolling, tree-lined hills and mountainous backdrop. The environment also makes a great space for hiking, skiing, and snowshoeing.
The spacious and well-furnished yurt is ideal for a couple or a family with young children seeking a unique and adventurous experience. There's heating during the winter and in the warmer months, ceiling fans help create a breeze.
The yurt has a full kitchen, a full bathroom, and one private bedroom. Additional sleeping is located in a loft space – great for the kids.
Best Cabin for Long-Term Travellers – Riverside Cabin
$$
4 Guests
Kayaks and fishing poles
Secluded location in nature
Riverside Cabin lies tucked away in the northwest part of the Adirondack Park in a secluded spot on the banks of the river. Potsdam is a short drive away where you'll little local shops and attractions.
The cabin offers a beautiful design as well as a tranquil setting – ideal for a long term stay surrounded by nature. It's been recently renovated and offers all the comforts of home as well as a large deck, screened-in porch, and a Finnish wood-fired sauna.
Around the cabin are four miles of private hiking trails waiting to be explored. If you're there during snowfall, you'll be pleased to know that the property is ski-in/ski-out. Back at the cabin, you can warm up by the firepit or the indoor fireplace.
Most Traditional Cabin in The Adirondacks – Camp Killoquah
$$
16 Guests
Semi-private lake
Built in the 1880s
Camp Killoquah was originally built in the 1880s and is one of the oldest camps in the Adirondacks. Accessible exclusively by boat, the lakefront cabin is tucked into the woods by Forked Lake.
The spacious homestead can accommodate 16 guests across nine bedrooms. The large kitchen and dining area are perfect for a large family gathering, and the two living room areas provide ample place for everyone to relax.
With incredible wildlife, a tranquil setting, and only your loved ones for company, Camp Killoquah is the perfect digital detox destination.
Most Beautiful Cabin in The Adirondacks – Serenity Creek Cabin
$$
4 Guests
Waterfront location
Unique waterfront getaway
Serenity Creek Cabin lies just feet away from Otter Creek in southern Lewis County. Surrounded by pristine wilderness areas, the cabin is an ideal retreat at any time of year.
The unique cabin features a compact but modern design with an open-plan living area and a well-equipped kitchen. Set in a small clearing in the woods, the cabin also has a fire pit and a patio area with a barbeque.
The rushing creek is just a few steps away – ideal for fishing and swimming. Nearby state parks are great for hiking, fishing, horse-riding, biking, and skiing.
Don't Forget Your The Adirondacks Travel Insurance
ALWAYS sort out your backpacker insurance before your trip. There's plenty to choose from in that department, but a good place to start is Safety Wing.
They offer month-to-month payments, no lock-in contracts, and require absolutely no itineraries: that's the exact kind of insurance long-term travellers and digital nomads need.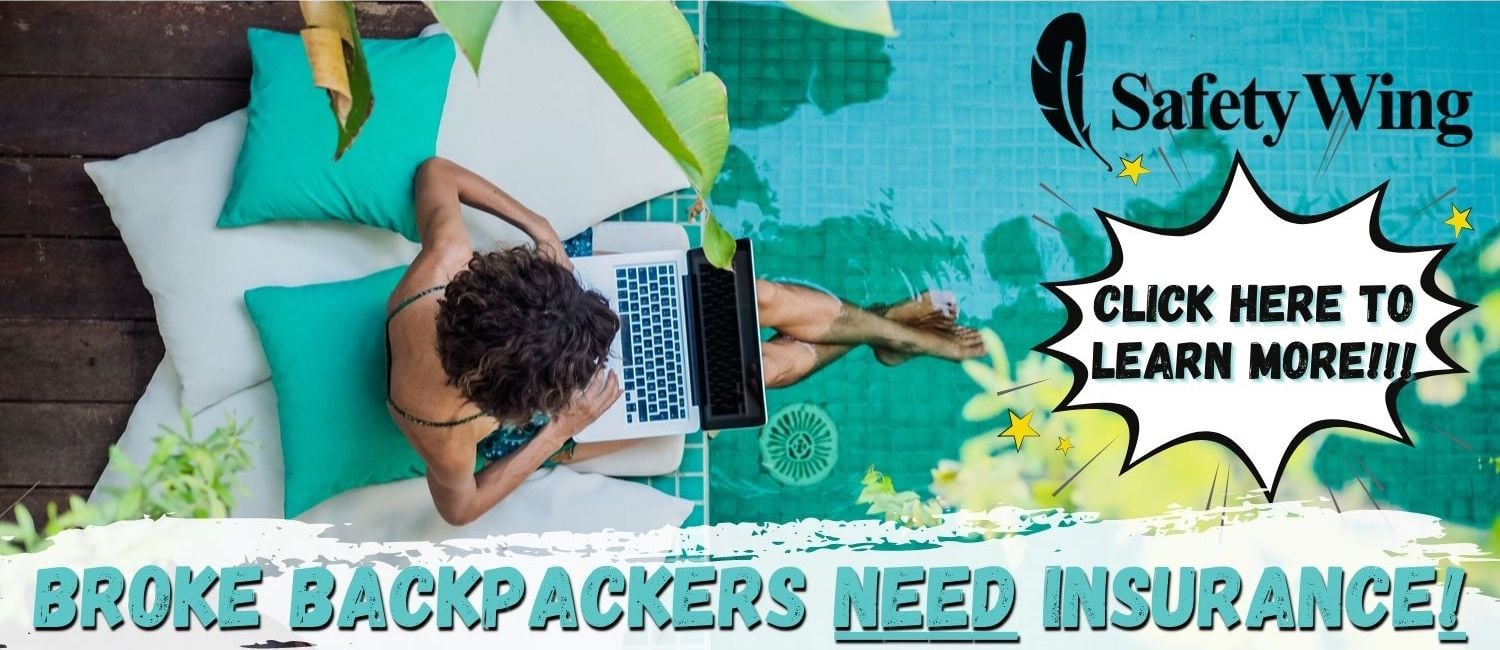 SafetyWing is cheap, easy, and admin-free: just sign up lickety-split so you can get back to it!
Click the button below to learn more about SafetyWing's setup or read our insider review for the full tasty scoop.
Final Thoughts on Adirondacks Cabins
Adventurers visiting the USA love the Adirondacks for the incredible scenery, untamed wilderness, and long list of activities to enjoy. If you're seeking an escape from the city with plenty of fresh air and memory-making opportunities, this is the place to do it.
If you're choosing to stay in one of the best cabins in the Adirondacks, you'll be completing this wilderness experience in authentic and unique accommodation. Not only will you enjoy a comfortable stay, but you'll get a secluded and close-to-nature experience, too.
---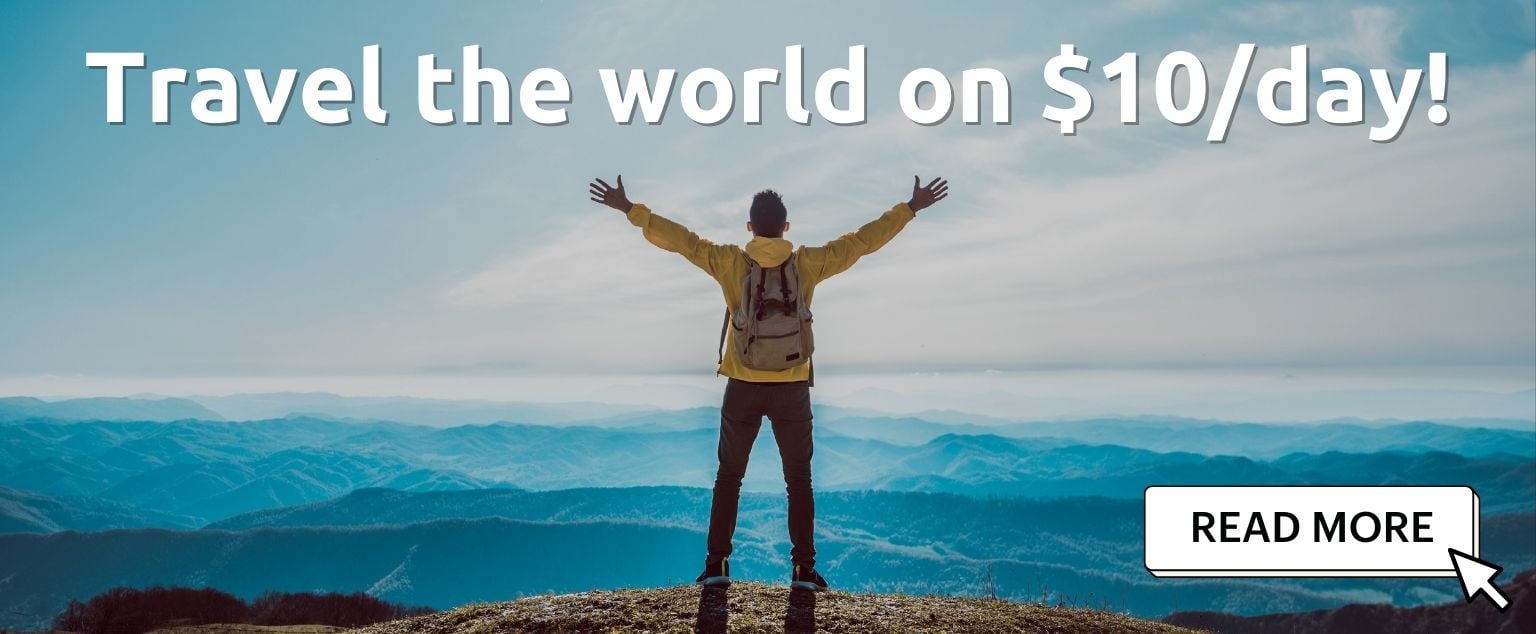 And for transparency's sake, please know that some of the links in our content are affiliate links. That means that if you book your accommodation, buy your gear, or sort your insurance through our link, we earn a small commission (at no extra cost to you). That said, we only link to the gear we trust and never recommend services we don't believe are up to scratch. Again, thank you!