Thailand is full of gorgeous islands. Perhaps the most mellow spot to chill out, party, or go diving is Koh Tao; a true slice of paradise.
The vibes on Koh Tao are far less rowdy then the neighboring full-moon party having islands. The diving is world-class and the beaches sublime.
Backpackers flock here from all over the world for the epic scuba diving opportunities and the legendary chill on offer here.
A lot of backpackers means alot of hostels. The best hostels in Koh Tao are a well-kept secret. That is until now…
Welcome to my insider guide to the best hostels in Koh Tao for 2021!
This hostel guide gives you a detailed run-down of all of the best accommodation options in Koh Tao so that picking the right spot for yourself is about as easy as enjoying an ice cold coconut water.
I want you to be able to focus more on diving and less on figuring out where the hell to stay on Koh Tao.
No matter what type of backpacker you are, I am more than sure there is awesome place for you somewhere on my list of the best hostels in Koh Tao.
Let's have a look…
Quick Answer: The Best Hostels in Koh Tao
The 15 Best Hostels in Koh Tao
If you are backpacking Thailand then you will probably run the full gauntlet of hostel standards. From sublime to shitty, accommodation in Thailand cater to every taste and budget. To spare your suffering though, we have chosen some of the best hostels in Koh Tao for you.
Do You Want to Travel FOREVER??
Then pop your email address in below and we'll send you a FREE copy of 'How to Travel the World on $10 a Day!' – make travel your LIFE.
$$$
Free Breakfast
Swimming Pool
Bicycle Hire
Soooooooo nice! Really! This is the sort of hostel you'd find in heaven, if such a place existed. It's all white paint, and white fabric, and neutral colours, seaworn wood and bright airiness that you'd expect more from a boutique upscale spa resort than a Koh Tao backpackers hostel. But here we are. And that's what makes it the overall best hostel in Koh Tao. Yeah, yeah, yeah, it's pricey, but only relatively – truly, this place remains a STEAL. The staff are amazing. You'll never want to leave. Really. Since this is the best hostel in Koh Tao, 2021's gonna get booked up pretty quick, we reckon!
Best Hostel for Solo Travellers in Koh Tao – Summer of '69
$$
Live Music
Free Breakfast
24-Hour Reception
Despite being named after *shudder* that song, this place is genuinely lovely. The staff are very, very nice – friendly, helpful, and generally help cultivate a decent, chilled atmosphere. However, aside from the staff that vibe mainly comes from the live music nights that they put on pretty much every evening. It's a great chance to come together, drink, meet, socialise, make friends, and that is invaluable time for someone travelling on their own, otherwise, you're just, well, on your own. Yep, social and chill-wise, this is the best hostel for solo travellers in Koh Tao. It's also away from the parties of Koh Tao, making it nice and quiet, too.
Best Cheap Hostel in Koh Tao #1 – Sleep Inn Hostel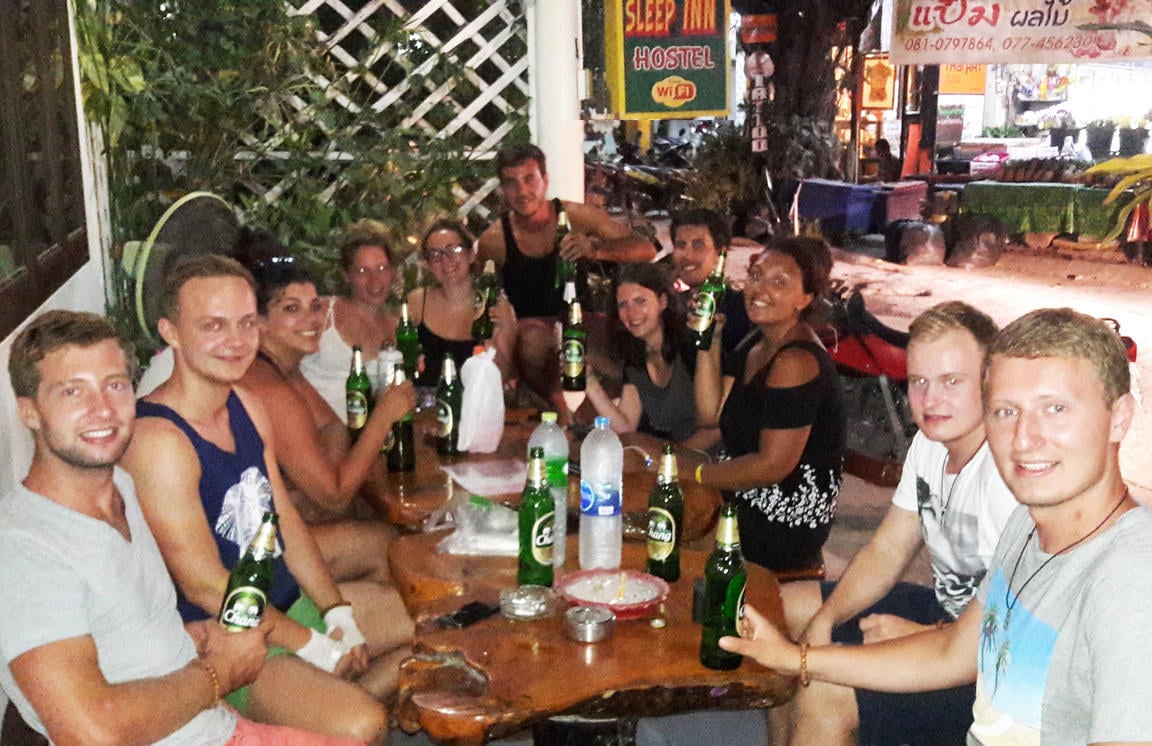 $
Tour Desk
Towels Included
24-Hour Security
Even for a budget hostel in Koh Tao, Sleep Inn Hostel's name takes a brutally real approach in terms of what we actually use a hostel for. You sleep in it. Sleep in hostel. Um…  The no-holds-barred punning of this Koh Tao backpackers hostel aside, we can confirm that it's cheap, that it's pretty basic, that the private rooms are actually quite nice, and that the dorms with curtained beds and personal light and plug sockets give you a nice little slice of privacy in what is a sorta cramped space. As for location, right near the pier. NO TAXI REQUIRED, as they say. Nice enough, and for the price, easily the best cheap hostel in Koh Tao.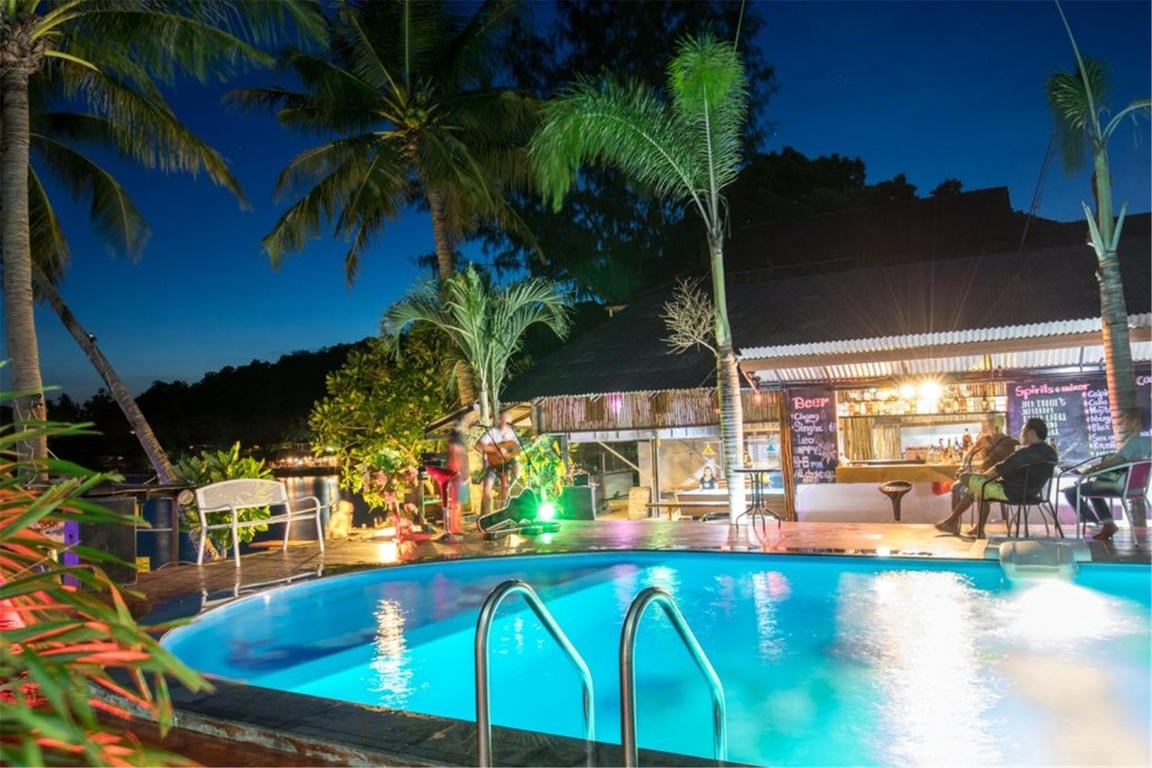 $
Restaurant
Diving Stuff
Common Room
This Koh Tao backpackers hostel is pretty unique since it's a) pretty chill and quiet and b) a two-bird-one-stone kinda situation in that here it's all about diving. So if you were planning to go diving, here's where it's at. And moreover, if you want to be around like-minded people who also like diving, then staying here will be a good opportunity to swap stories about lionfish and reef sharks the bends and other stuff about the salty depths. A highly recommended hostel in Koh Tao, there's also an on-site but relatively pricey restaurant for your food and drink needs.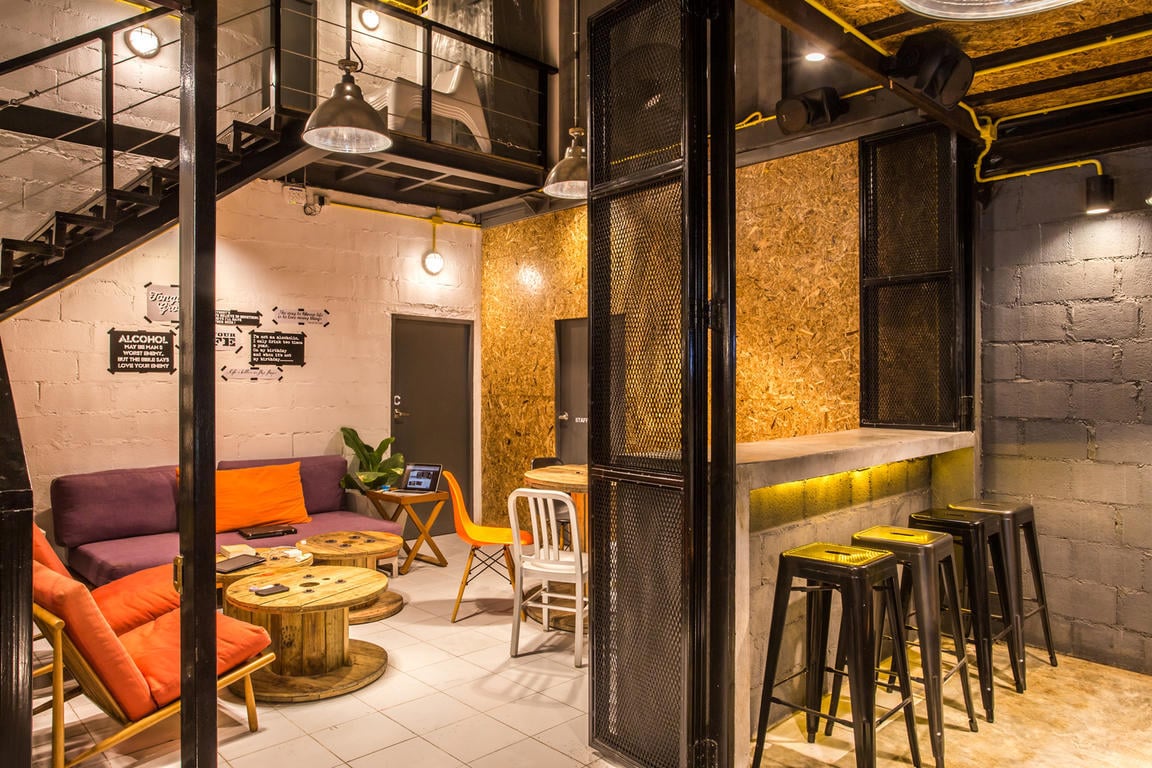 $
Bar & Cafe
24-Hour Security
Air Conditioning
Polished grey plaster, plywood, painted white breezeblocks – yes, it's a hipster haven in the form of a Koh Tao backpackers hostel. But really though it does look cool, we can't argue with that. We can't admit that we like this minimalist style. We rate it. Another heavyweight in the coolest hostel in Koh Tao category, for sure. Aside from aesthetics, the place is clean, clearly newly renovated or constructed or whatever, and features a great little bar area where you can talk and drink and drink and talk some more. Location-wise, it's just off Mae Haad, making finding this place after arriving at the pier a breeze.
Is This the Best Backpack EVER???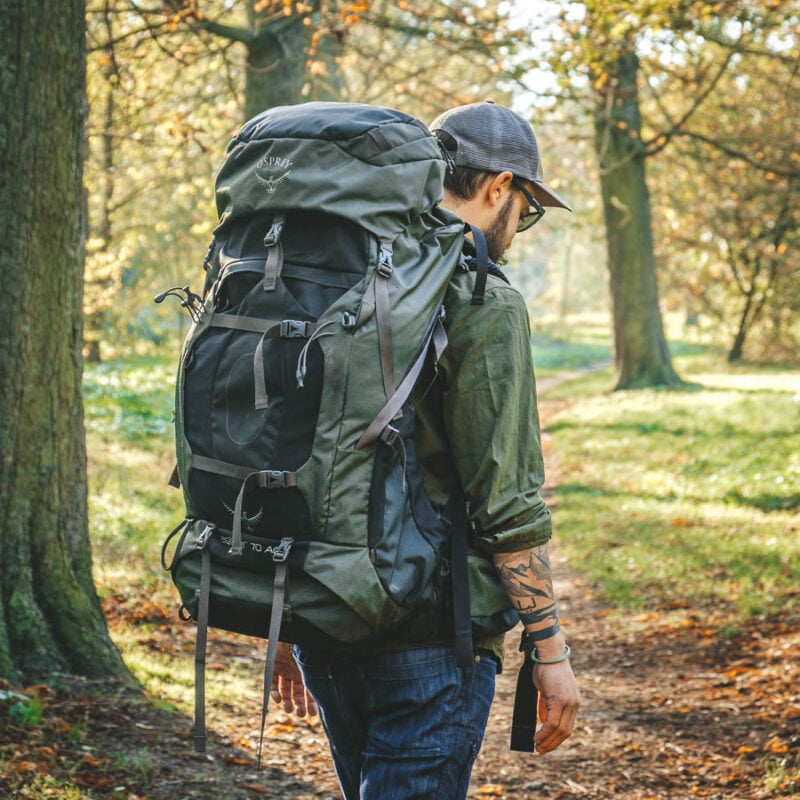 Best Hostel for Couples in Koh Tao – White Jail
$$
Bar & Cafe
Air Conditioning
Late Check-Out
The name. It's a bit. Yeah. But it's called White Jail since it's in an area of Koh Tao that was used as a political prison from 1932 to 1943. Ouch. But, um, yeah! The polished plaster, wood floor and white furnishings game of this youth hostel in Koh Tao is STRONG. So strong that it also might be the coolest hostel in Koh Tao, too. The private rooms are amazing, literally like something you'd stare at for, oh, a good 10 seconds on Instagram. Properly nice. That little bit of stylish YET affordable luxury makes it the best hostel for couples in Koh Tao, we'd say – plus it's also just a paltry 1 min stroll to Mae Haad.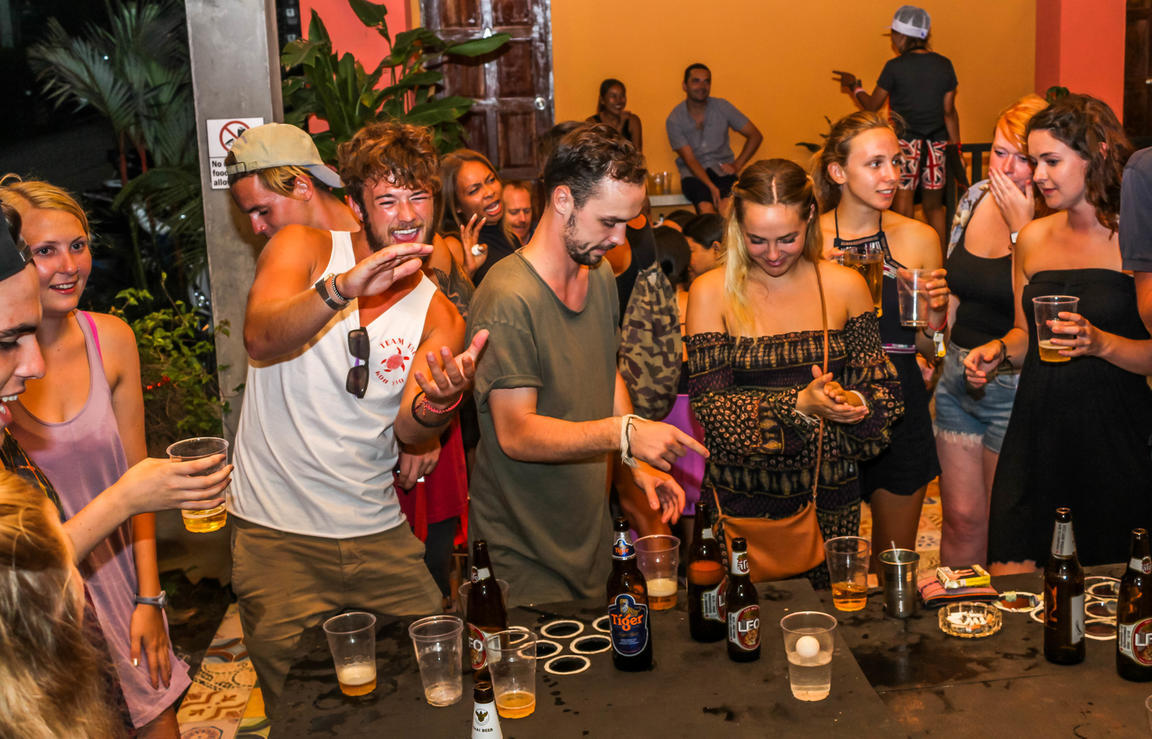 $$
The Name
The Bar
The Outdoor Terrace
Talk about attracting a party crowd, talk about Taco Shack. I mean, let's just let that sink in… Taco Shack. Why wouldn't the party crowd be attracted to a place that calls itself Taco Shack? To be fair, it's probably also got something to do with the fact that it's also a well above average hostel – nay! a highly recommended hostel in Koh Tao, in fact. Oh, and also that it's located in the party area of Sairee Beach. Serves Mexican food, check. Huge rooftop for sunset views, check. Movie night, check. Comfy dorms, check. Surprisingly clean, check. Bar (duh), check. Best party hostel in Koh Tao, check.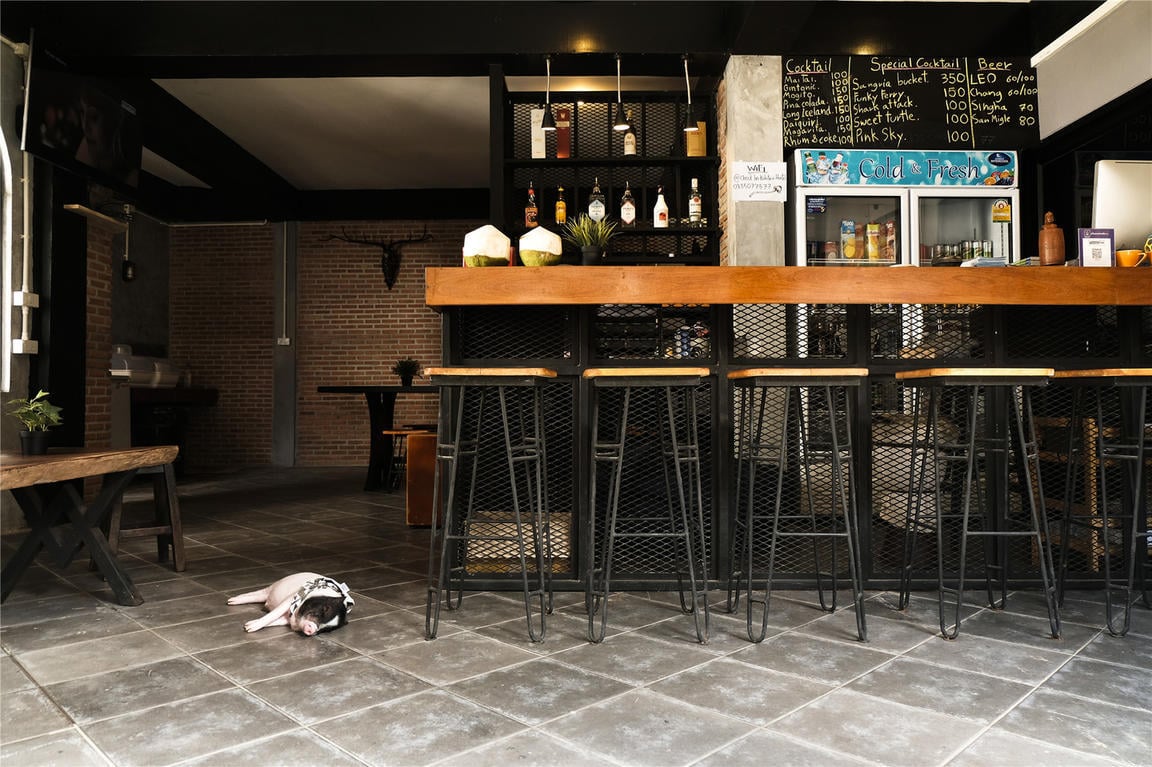 $$
Bar
BBQ
Also Tattoo Parlour
Can't really think of a nicer place we'd wanna do work than this very cool place. Bed and Ink (nice) is the coolest hostel in Koh Tao, well, possibly – it IS attached to a tattoo parlour, and it DOES look the part, too – sorta industrial-minimal feel to the place. And lots of desk space, which is why we've selected it as the best hostel for digital nomads – nice to do work in nice settings, isn't it? Pop the laptop down, crack open a beer – or a coffee, don't panic – and get typing. And it's also a decent place to meet people too since the vibe is friendly in the bar area.
Best Hostel with a Private Room in Koh Tao – Summer Hostel Koh Tao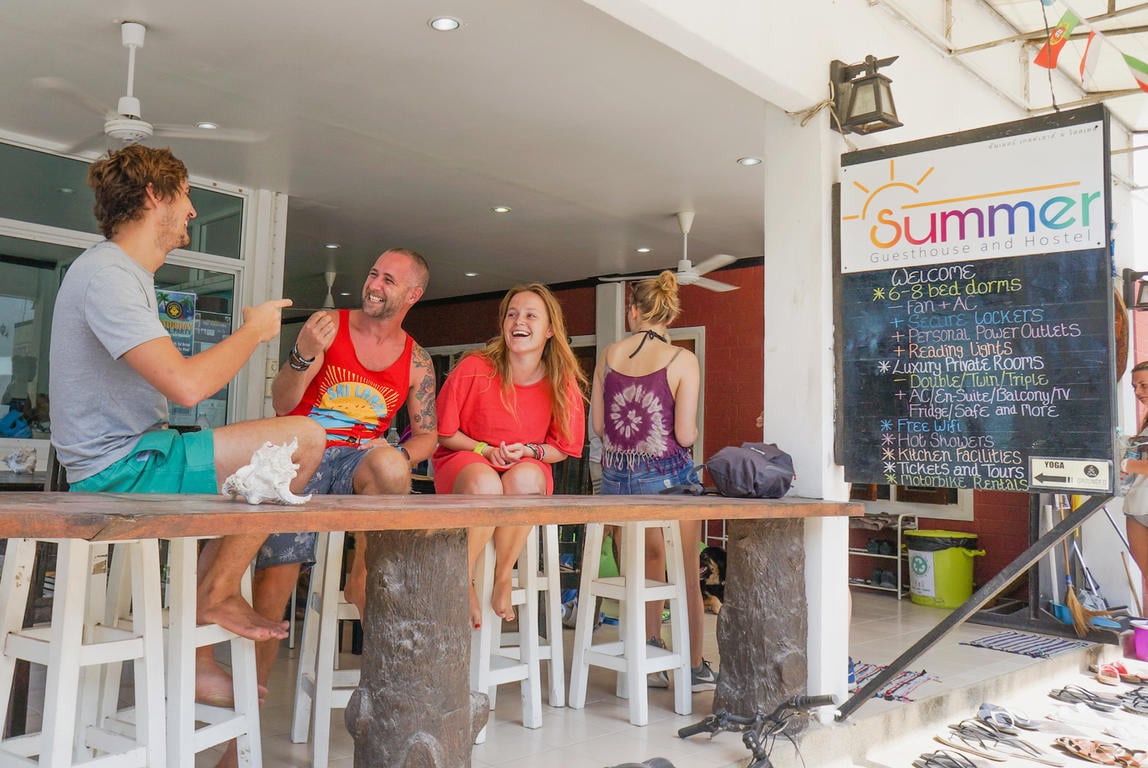 $$
24-Hour Reception
Common Room
Air Conditioning
Wow, talk about best hostel with a private room in Koh Tao – the rooms here are massively spacious. They're also neat and tidy. And carefully decorated. Well, actually let's go through those private room highlights: fridge (for snacks and beer, duh), AC, kettle, free tea and coffee and water, en-suite bathrooms, private balconies, extra comfy extra large beds. Pfft, I mean, what's not to like here? Plus the atmosphere is amazing, it's well-cultivated by Dan (the host). 24-hour convenience store right across the street is great for, well, it's just great. Easily a top hostel in Koh Tao.
More Best Hostels in Koh Tao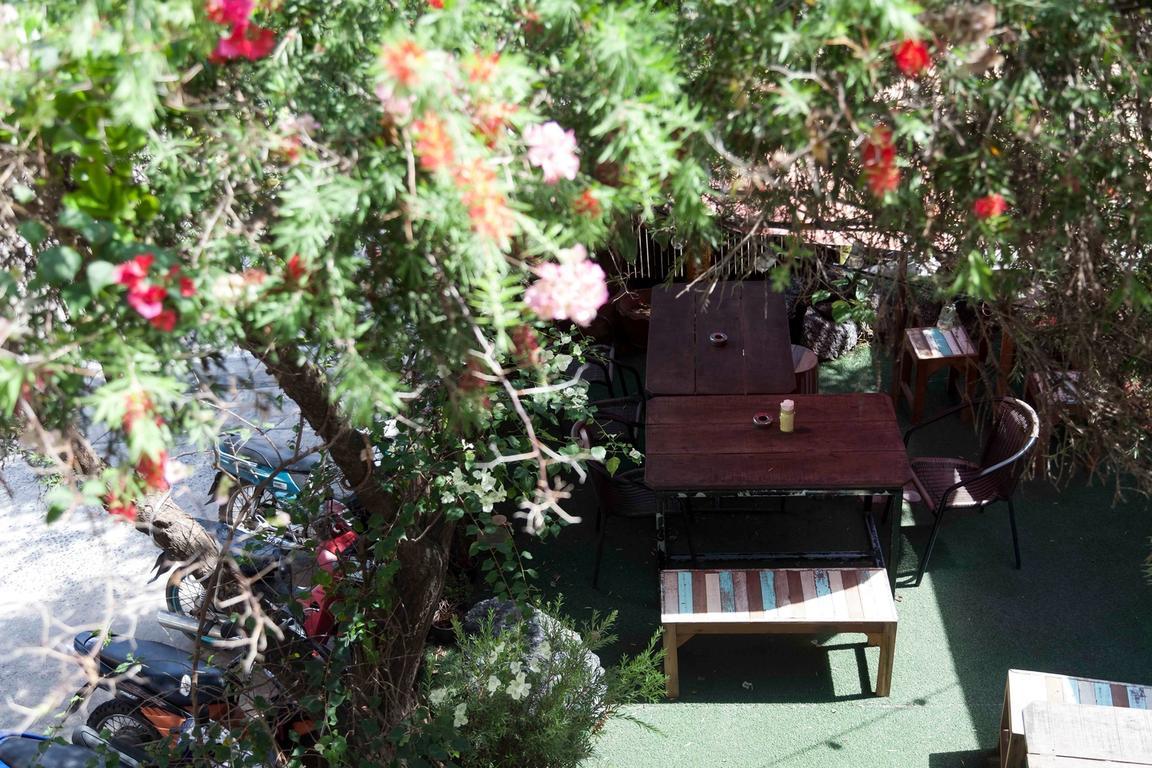 $
Free Tours
Vegetarian Restaurant
Outdoor Terrace
The aircon is strong, there's a pool table, and probably the most unique thing is that Green Shelter is an eco-hostel, meaning that… well, amongst other things, it serves vegetarian food in its very cute restaurant. And that's good! Especially if you're a veggie. This recommended hostel in Koh Tao also offers free tours and discounted activities, like diving, Thai boxing lessons, yoga classes, nice wholesome things like that. It's smack in the middle of Mae Haad, and just a 2 min walk from the pier. Prime location. And it's cheap, too.
$
Bar & Cafe
24-Hour Security
Late Check-Out
Pretty basic, but nicely done, this is a classic sorta Koh Tao backpackers hostel. The dorms are done in the ubiquitous polished plaster thing that everywhere seems to be doing nowadays, which is cool, though possibly a bit much here. It's on all surfaces – almost. The private rooms are cute, kinda like an update on the standard Thai guesthouse but with a bit nicer furniture and some cuteness added in the form of stickers and decals on the walls, which is a nice touch. It's right in Sairee, which is good for partying, but there's no social area to speak of at this budget hostel in Koh Tao.
$$
Bar & Restaurant
Common Room
Tour Desk
Actually pretty cool, and pretty big, it's all centred around a courtyard sorta area that has a climbing frame – for socialising? Maybe? We don't know really but it's a fun idea. Elsewhere there's a ping pong table for a spot of table tennis (or beer pong) which is always fun. There are loads of types of room at this top hostel in Koh Tao, various private rooms and a few different dorms. All of it's nicely decorated and furnished since it's pretty new, so here would be a good bet. Not the cheapest, but deffo good for space and facilities. And staff (they're nice!).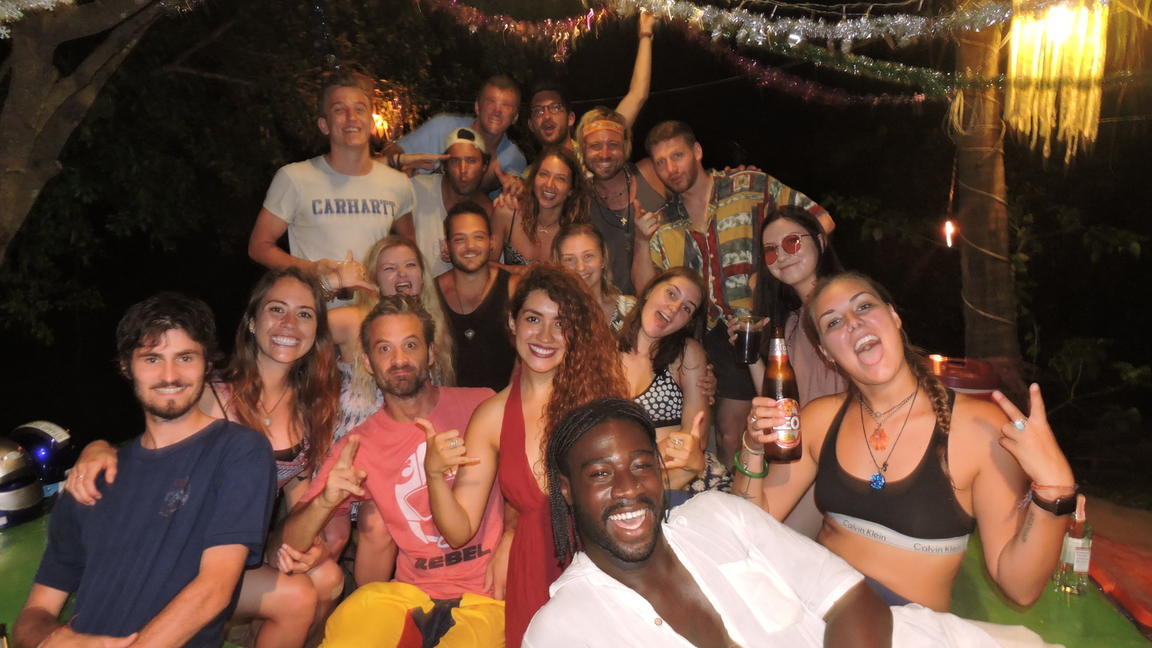 $
BBQ
Bar
Self Catering Facilities
Seriously what is up with that name? Spicytao? We have no idea either. Name aside, this is a recommended hostel in Koh Tao for socialising – and we think that probably has something to do with the cheap beer on sale here. The atmosphere is great, since it gets lively when it wants to rather than constantly being on it, like some places in Sairee; but Spicytao is 10 mins from there, and 15 mins from the main beach, allowing you to chill and have fun in relative privacy and see Koh Tao's sights at your own pace. One for socialites, not beer monsters.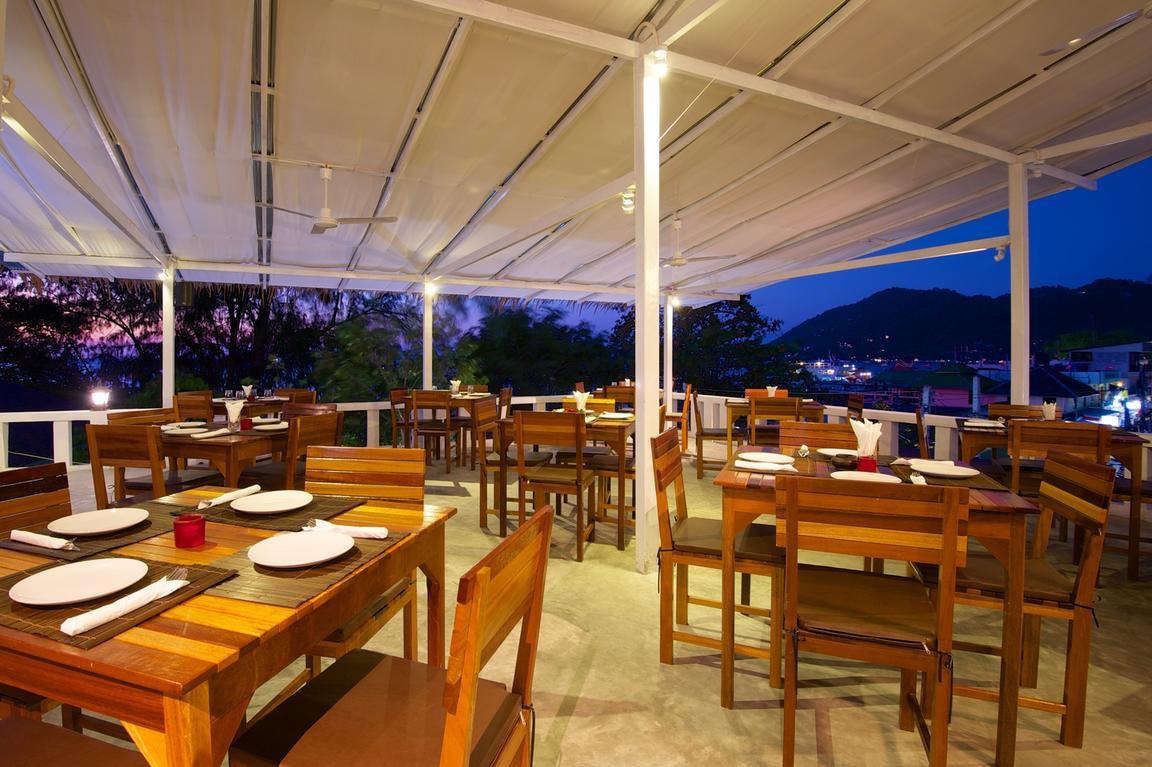 $
Restaurant & Cafe
Luggage Storage
Towels Included
Neptune Hostel is very very close to the pier, which is good if you want to switch a few nights before your ferry takes off for another Thai island or the mainland. Location aside, the hostel itself is clean, cool, minimalist (maybe we just mean 'bare' but it LOOKS cool so we say minimalist) and the staff are friendly too. But really it does have quite a boutique-y feel, which we like, so there. Neptune's Mediterranean restaurant/cafe is a decent place to hang out in the day if you haven't got much to do – or if you've already done too much. A nice hostel in Koh Tao. However, be warned: beds are a lil' hard.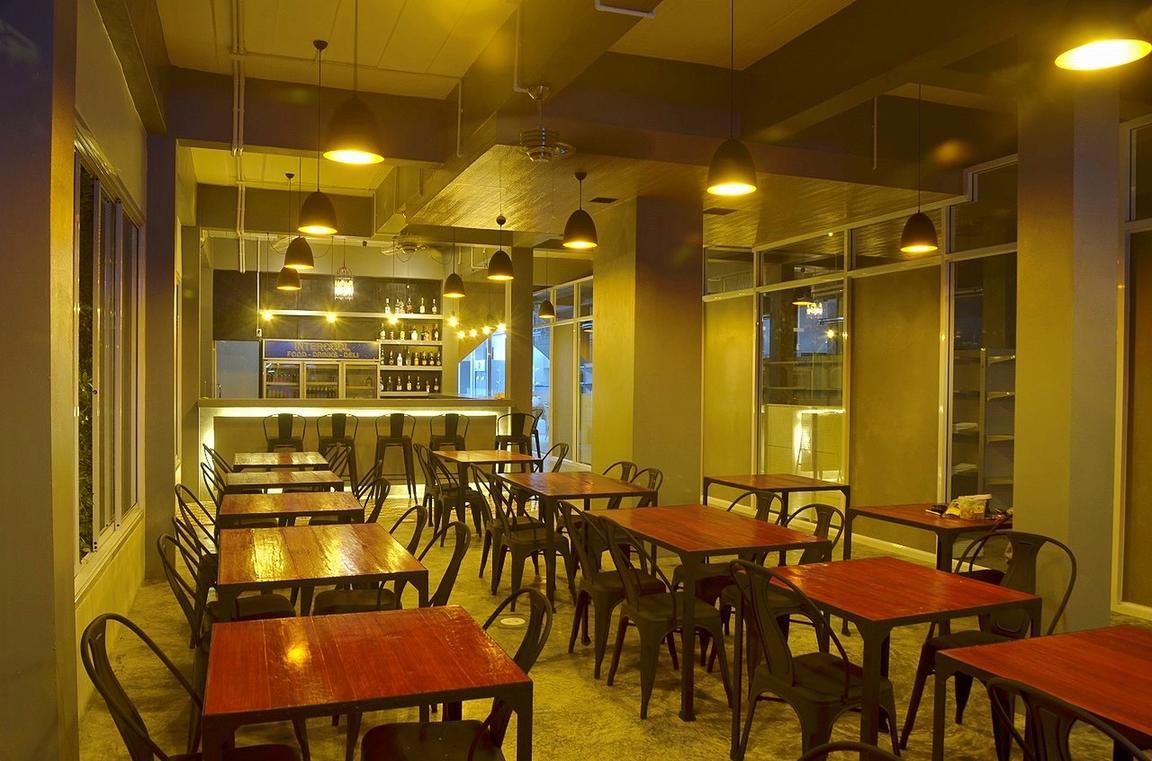 $$
Bar
Dive Centre
Air Conditioning
The hostel that's also a restaurant that's also a mini-mart that's got a dive centre, CK Hostel is a great place to chill and relax after the trauma of the Full Moon Party. There's a nice atmosphere here, and – whoa, the private rooms, the beds in there are suuuper comfy. But at night they play music till about 11pm so, well, it's not that quiet but hey – it's a Koh Tao backpackers hostel near Sairee, after all. The restaurant/bar downstairs is a nice place to hang out. Oh, and the staff are nice too. Decent laundry service as well, comes back the same day!

Unlock the The Broke Backpacker's GREATEST Travel Secrets!
You pop your email here, and we promise to send you only travel content that's actually relevant — sounds like a pretty good deal to us!
What to Pack for your Koh Tao Hostel
Pants, socks, underwear, soap?! Take it from us, packing for a hostel stay is not always quite as straight forward as it seems. Working out what to bring and what to leave at home is an art we have perfected over many years.
Check out our definitive Hostel Packing list for our top packing tips!
Why you should travel to Koh Tao
Well there you have it guys, alas, the sun is setting on my ultimate guide to the best hostels in Koh Tao.
You are now in full possession of my top hostel picks for this beautiful Thai Island. Be sure to check out our in-depth breakdown on the best areas in Koh Tao for more fantastic places to stay!
As you have gathered there are some awesome hostels in Koh Tao and some clearly over-priced, lame ones (not featured on this list of course).
This hostel guide organizes all of the absolute best hostels in Koh Tao, so that every backpacker can find the one. Booking the right hostel for yourself should be super easy now that you know what your options are.
Clearly where you stay matters. In the paradise of Koh Tao, that couldn't be more true.
The last thing I want is for any traveler to end up in a awful hostel when some many great ones are on offer.
All of the best hostel in Koh Tao are now like water in your cupped palm; don't let them slip through your fingers… Before heading to Koh Tao, book the hostel that caught your eye to ensure that you score the one you're after.
These hostels book out fast. This is Thailand after all!
Still having trouble deciding? Feeling overwhelmed? No worries…
When in doubt, I typically recommend that you just book my top overall pick for best hostel in Koh Tao:The Dearly Koh Tao Hostel. Happy diving and happy travels!
FAQ about Hostels in Koh Tao
Here are some questions backpackers ask about hostels in Koh Tao.
Travel Safety Tips for Koh Tao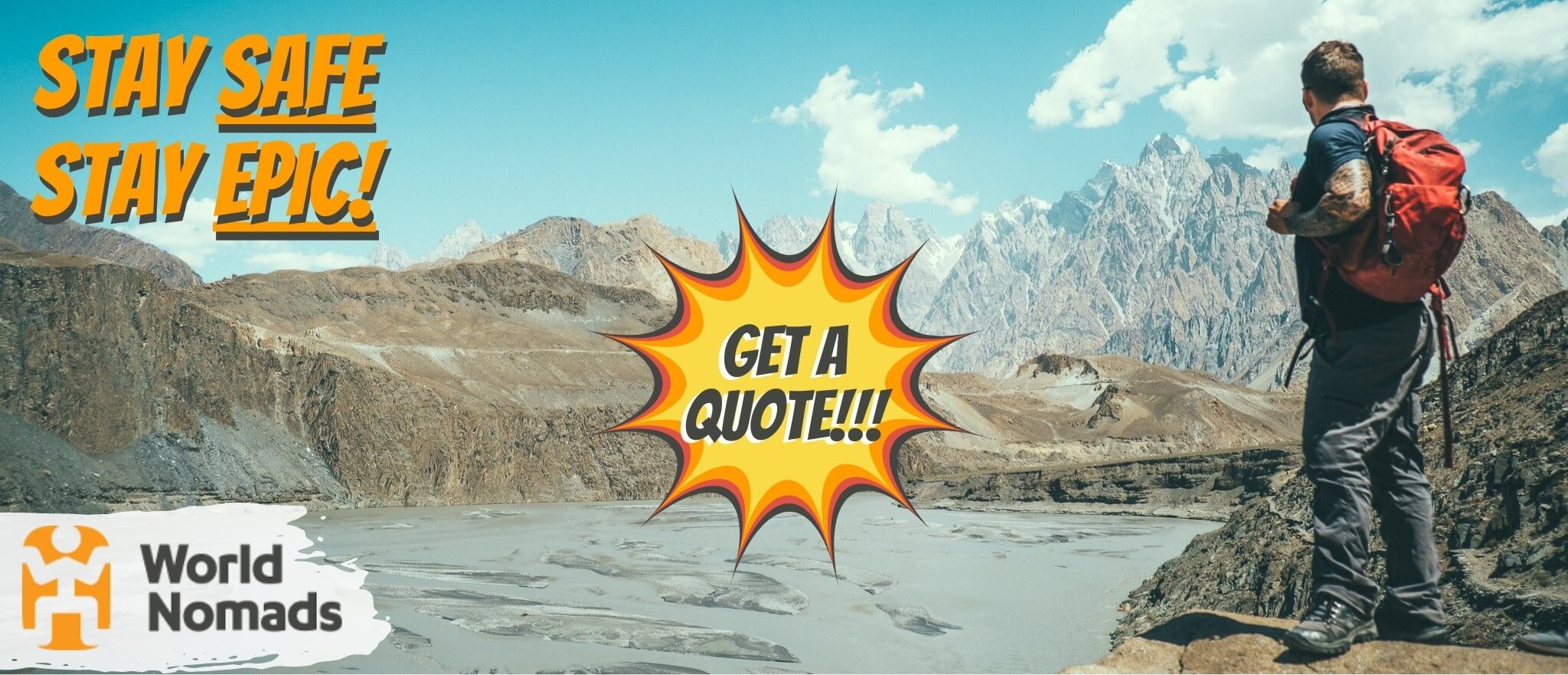 It's good to get lost sometimes, but it's also good not to get too lost. There are people that want you home in one piece.
There's one travel insurance provider The Broke Backpacker trusts for all his wildest shenanigans… World Nomads!
Click the button below to get a quote on your insurance or read our in-depth review of World Nomads' coverage. And then… let the shenanigans begin. 😉
More Epic Hostels in Thailand and Southeast Asia
Hopefully by now you've found the perfect hostel for your upcoming trip to Koh Tao.
Planning an epic trip all across Thailand or even Southeast Asia itself?
Don't worry – we've got you covered!
For more cool hostel guides around Southeast Asia, check out:
Over to you
By now I hope our epic guide to the best hostels in Koh Tao has helped you choose the perfect hostel for your adventure!
If you think we've missed anything or have any further thoughts, hit us up in the comments!
---
Thanks for reading – that was fun! 😀
We bring you epic FREE content!
Find out how YOU can help support us.
We're a big site with a big team and this job isn't always easy. But we do it because we love it – we love providing epic and free content. We love the knowledge that our content keeps you adventuring. We don't ask for money, but if you'd like to find out how you can help the site in more organic ways, click the button below.
Thank you for your support 🙂
---
Bye for now, but not forever!
If you want MORE top-tier Broke Backpacker content like this, then sign up for our weekly newsletter below to get the latest and greatest!
And for transparency's sake, please know that some of the links in our content are affiliate links. That means that if you book your accommodation, buy your gear, or sort your insurance through our link, we earn a small commission (at no extra cost to you). That said, we only link to the gear we trust and never recommend services we don't believe are up to scratch. Again, thank you!