Lush green rainforests, calm, azure seas, more islands than you can count, and incredible tourist infrastructure are just a few of the thing that make life in Thailand feel like a dream. Extremely affordable compared to the West, this South Asian nation has long been one of the best place in the world to go backpacking.
And nowadays– more and more digital nomads in Thailand are choosing to working in paradise–putting down roots, and building community along the way. It's here that you'll not just find the tropical landscapes of your dreams but also an abundance of ancient history and culture.
Thais are incredibly friendly and welcoming, and the food…I could write an entire article about the food.
But perhaps you're still unsure about what to expect in the Land of Smiles, or maybe you just need a little more information before booking that plane ticket.
Which is exactly why I've put together this entire guide filled with essential facts and tips on living in The Land of Smiles as a digital nomad. From where to live, where to work, expenses to expect and everything in between, I'm here to show you why I think this country is absolute best place to work from.
So without further ado, let's get to talking about Thailand!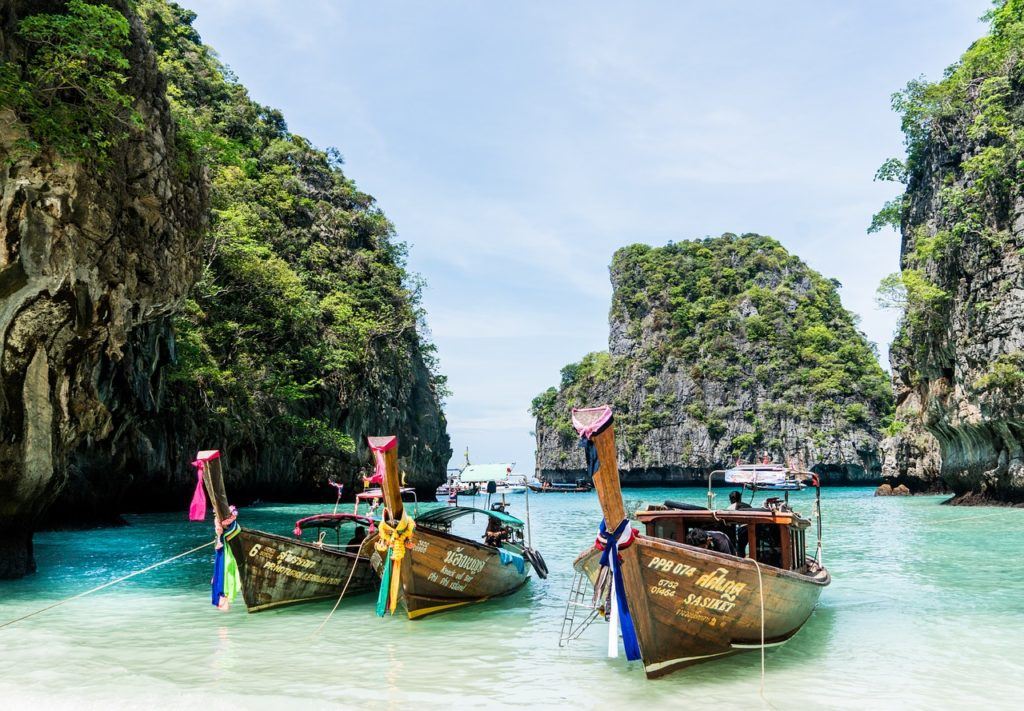 Is Thailand Good for Digital Nomads?
Thailand is a paradise for digital nomads.
Thanks to stunning views and thriving communities of remote workers, Thailand is perhaps THE best country to work online. Home to the most stunning beaches in the world and some of the best nomad infrastructure, you'll quickly see why many choose to make Thailand home.
Not to mention the copious amounts of cheap and delicious street food, an affordable cost of living (think $300 or even less), AND the relatively lax visa policy for Westerners.
Thailand's wifi is also blazing fast, from the islands up to the jungle-filled mountains.
So the answer to the question is that Thailand isn't just "good" for digital nomads–it's incredible!
Cost of Living in Thailand
The cost of living in Thailand varies across regions but is low overall for Westerners earning in foreign currency. As such, the country is incredibly popular for remote workers and holidayers alike, making certain areas more expensive than others.
For example, it will be WAY more expensive to live in Bangkok or Phuket than in less-visited regions like Isann. But then again you are paying for the convenience of international eats and lively coworking spaces.
Delicious (and wallet-friendly) street food is available just about everywhere, so you don't have to worry about spending a lot on food if you don't want to. In foreigner-filled areas, you'll also find plenty of Western restaurants that, while cheaper than Europe and North America, still add up more quickly than local eats. 7/11 is always available for frugal snacks and mini-meals.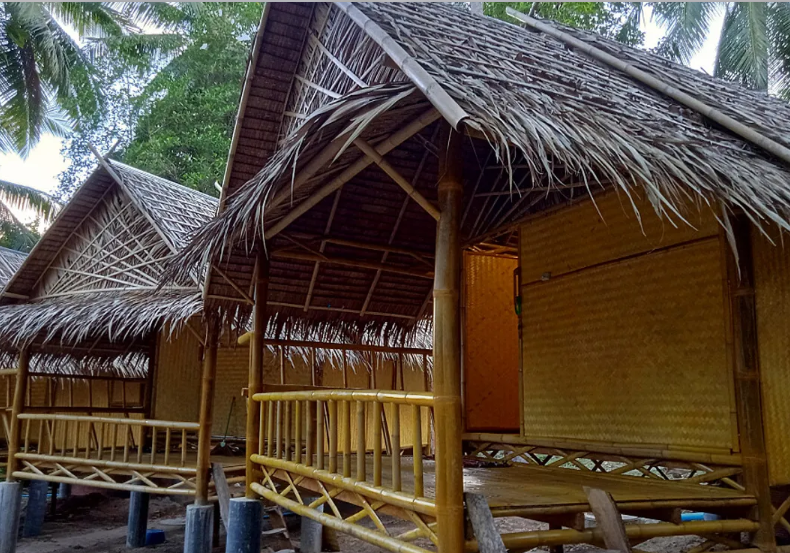 Traveling in Thailand is also affordable–many nomads choose to get acquainted with scooter life, which is great with proper lessons and a quality helmet. But buses, trains, ferries, and even flights within the country tend to be under $50 USD.
It's more than possible to live in the Land of Smiles on a backpacker's budget, but luxuries are also there if that's more your style.
Here's a breakdown of what your average expenses might look like:
Eating out: $2-$15+ USD/meal
Monthly rent: $200-$600 USD/month (more if you want to live in a lux area)
Transport: $1-$2 USD for public transport, $50 USD for one-way flights
Activities: $10-$50+ USD depending
Groceries: $40-$60+/per week
Digital Nomad Accommodation in Thailand
Finding accommodation in Thailand that will be suitable for life as a nomad is easy!
There are many amazing coliving spaces to choose from, where you'll have a bunch of perks included in one monthly price. You'll also find plenty of hostels, guesthouses, and Airbnb rentals throughout the country.
Digital nomads tend to base themselves on one of the popular islands (Koh Phangan, Koh Samui, Phuket, etc.) in Bangkok, or in Thailand's second city of Chiang Mai.
Where Should Digital Nomads Stay?
These three accommodation options were designed with nomads in mind:
Best Digital Nomad Hostel in Thailand: Lub d Bangkok Siam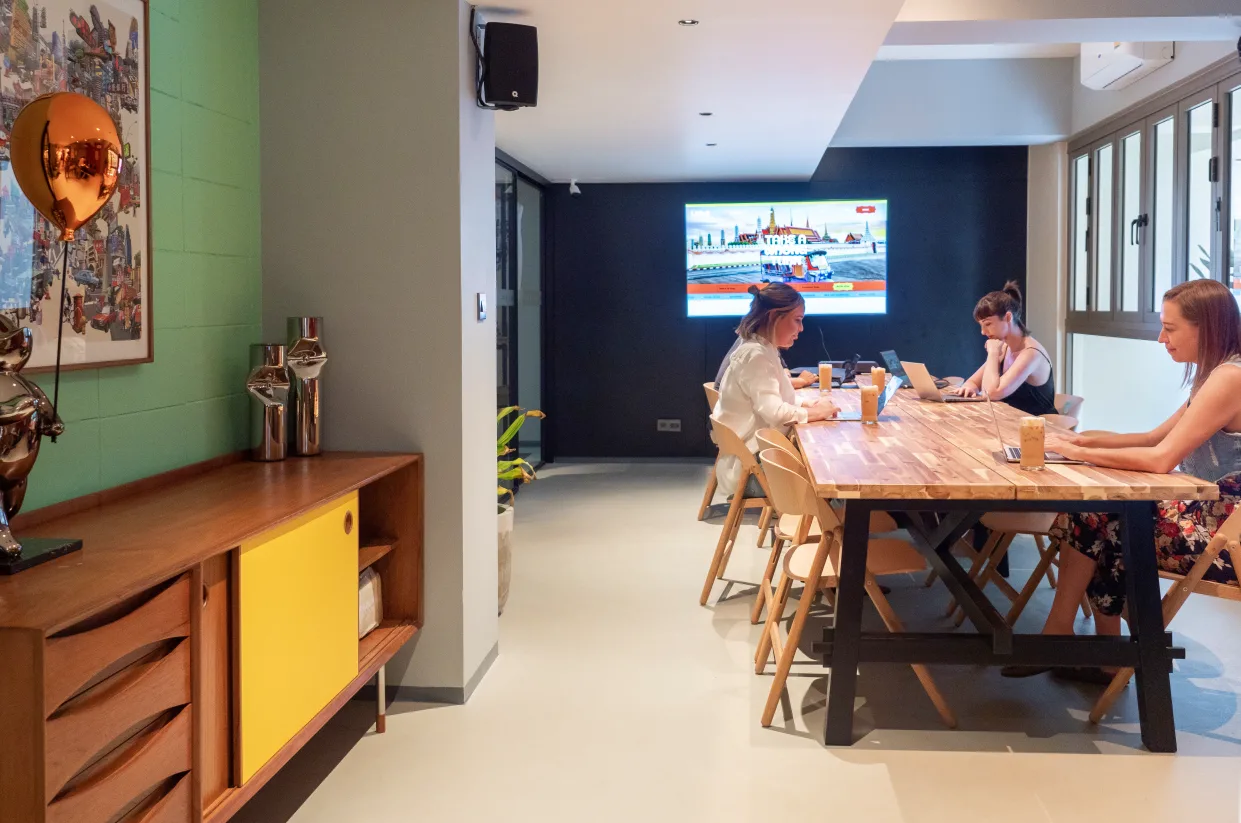 This modern Bangkok hostel is the perfect place to kick off your Thailand digital nomad journey. It's not a party hostel, which means you'll actually be able to get work done at the many communal workstations. Fast wifi and a first-floor bar/lounge are other perks of this nomad-friendly hostel, plus you'll be super close to the sky train so all of the city is easy to access.
Best Airbnb for Digital Nomads in Thailand: Studio Seafront Villa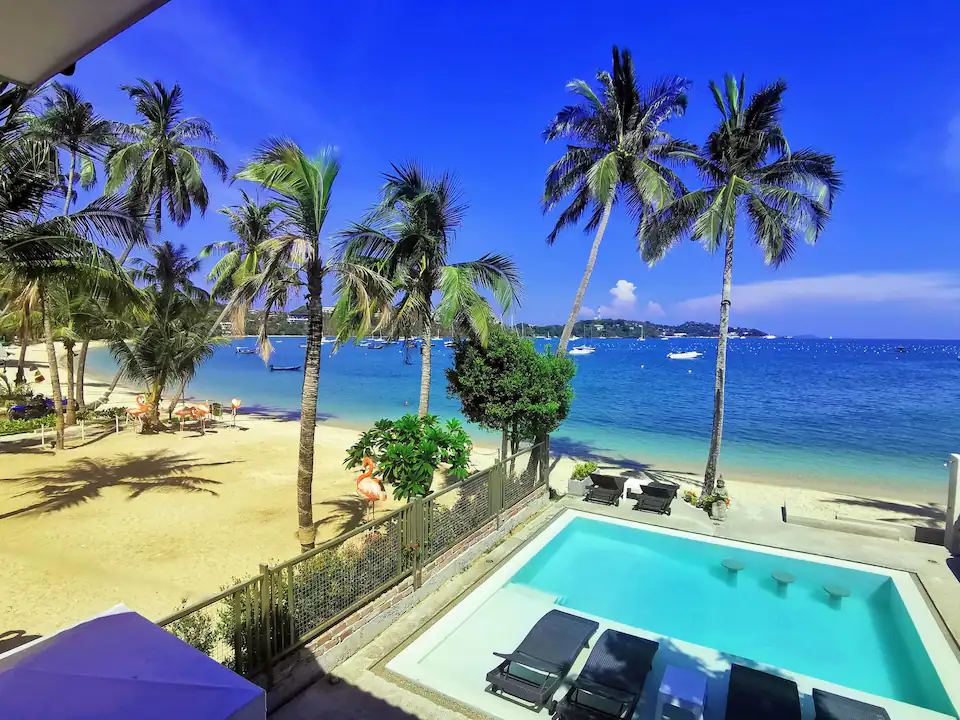 Stay in what just might be the best Airbnb in Thailand–a Phuket studio with its own private infinity pool that's literally right on the beach. Enjoy the bliss of one of the world's most famous islands in peace as the Airbnb is away from the chaos of Phuket's central areas. Work from either the indoor workspace or out by the pool, where there are both beach chairs and somewhat of an outdoor workspace. You can count on fiber optic-cable wifi will keep you connected throughout your stay.
Have you sorted your accommodation yet?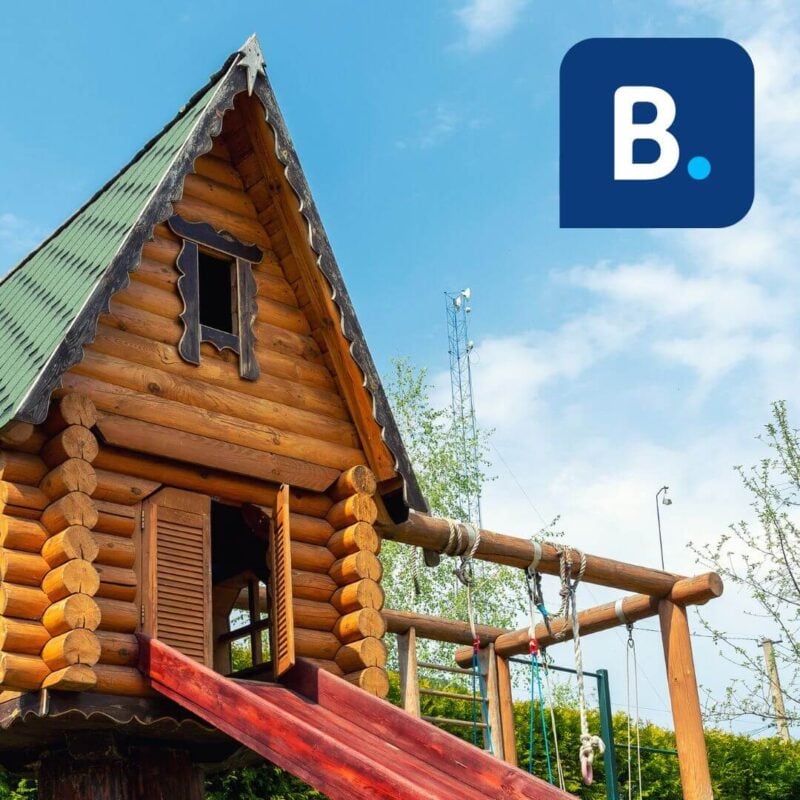 Get 15% OFF when you book through our link — and support the site you love so dearly 😉
Booking.com is quickly becoming our go-to for accommodation. From cheap hostels to stylish homestays and nice hotels, they've got it all!
View on Booking.com
Wifi in Thailand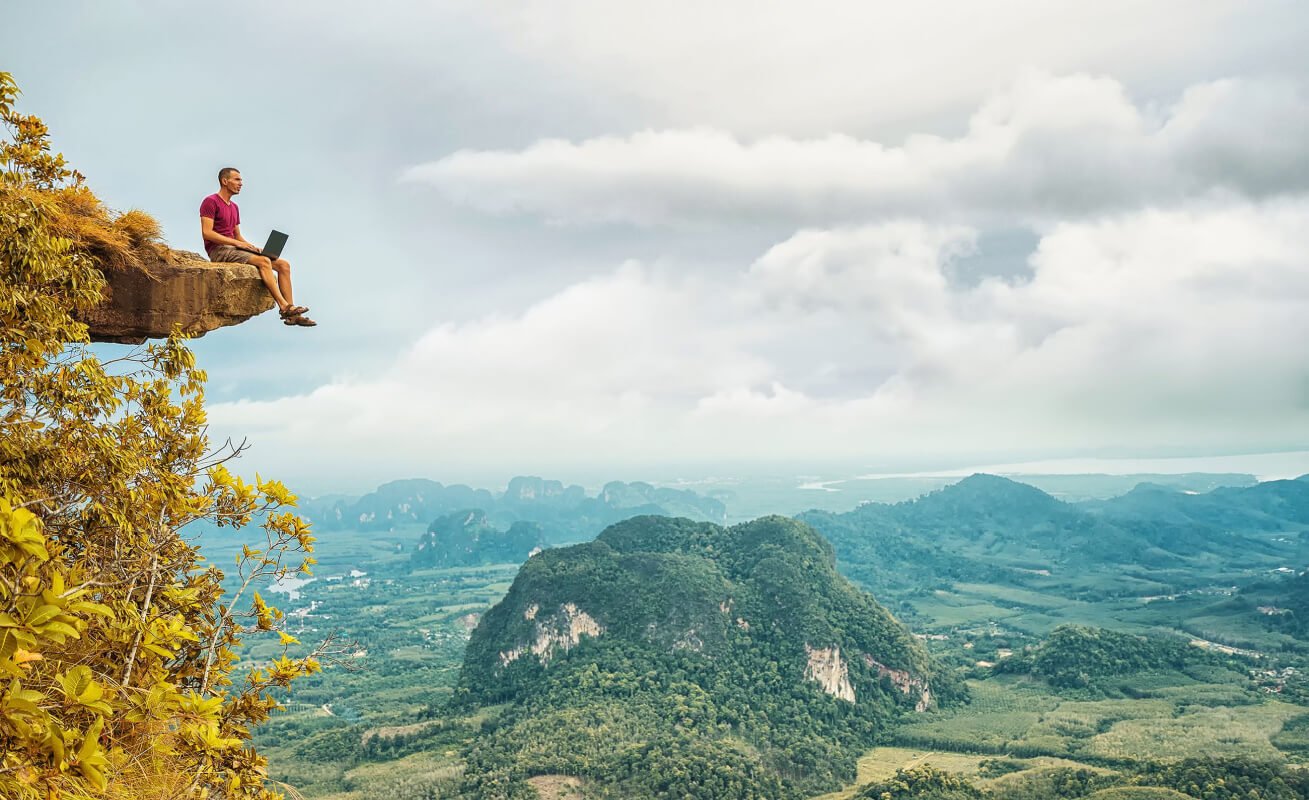 Thailand's wifi is ideal for the digital nomad lifestyle. And I mean REALLY fast. Connection is available at most public places and accommodations, though it won't be an issue to rely on data as it's equally amazing. AIS is the company with the widest national coverage.
Some Wifi connections have insane speeds of close to 1Gbps, which is incredibly impressive, to say the least. Out of all the things you'll have to worry about as a digital nomad in Thailand, your internet connection shouldn't be one of them.
Coworking in Thailand
Thailand's coworking infrastructure is the cream of the crop–you won't find cuter or more well-thought-out places to work from.
They're particularly fantastic for workers who have a lot of meetings or calls. You'll have the option of renting a private desk on a daily or monthly basis, which comes with perks such as designated napping spaces or unlimited coffee/tea.
The Best Coworking Spaces in Thailand:
Naplab (Bangkok): Yup–there is in fact room to lap here! The massive, yellow, and white-colored space is filled with natural light and has 15 private nap pods. Aside from various floors to work on, there are showers, a cafe, and a communal work era to collab with others. One room even has a grass-inspired floor and copious amounts of pillows and beanbags.
Yellow (Chiang Mai): Another state-of-the-art coworking facility is located up north in Chiang Mai, one of the world's most popular places to be a digital nomad. Featuring luxuries like a "Youtube Room", cafe, and showers, members will have 24/7 access for just $9 USD/day.
KoHub (Ko Lanta): Doubling as a co-living community, KoHub has a nearly solid 5-star rating. Set on the tropical paradise of Koh Lanta, day passes, monthly memberships, and even rental packages are available.
Cafes with Wifi
From the southern islands to the hills of Chiang Mai, one thing digital nomads in Thailand won't be hard-pressed to find are quality cafes to work from. Here are some of my favorites:
Wherever You Roam… Get Insured First
Month to month payments, no lock-in contracts, and no itineraries required: that's the exact kind of insurance digital nomads and long-term traveller types need. Cover yo' pretty little self while you live the DREAM!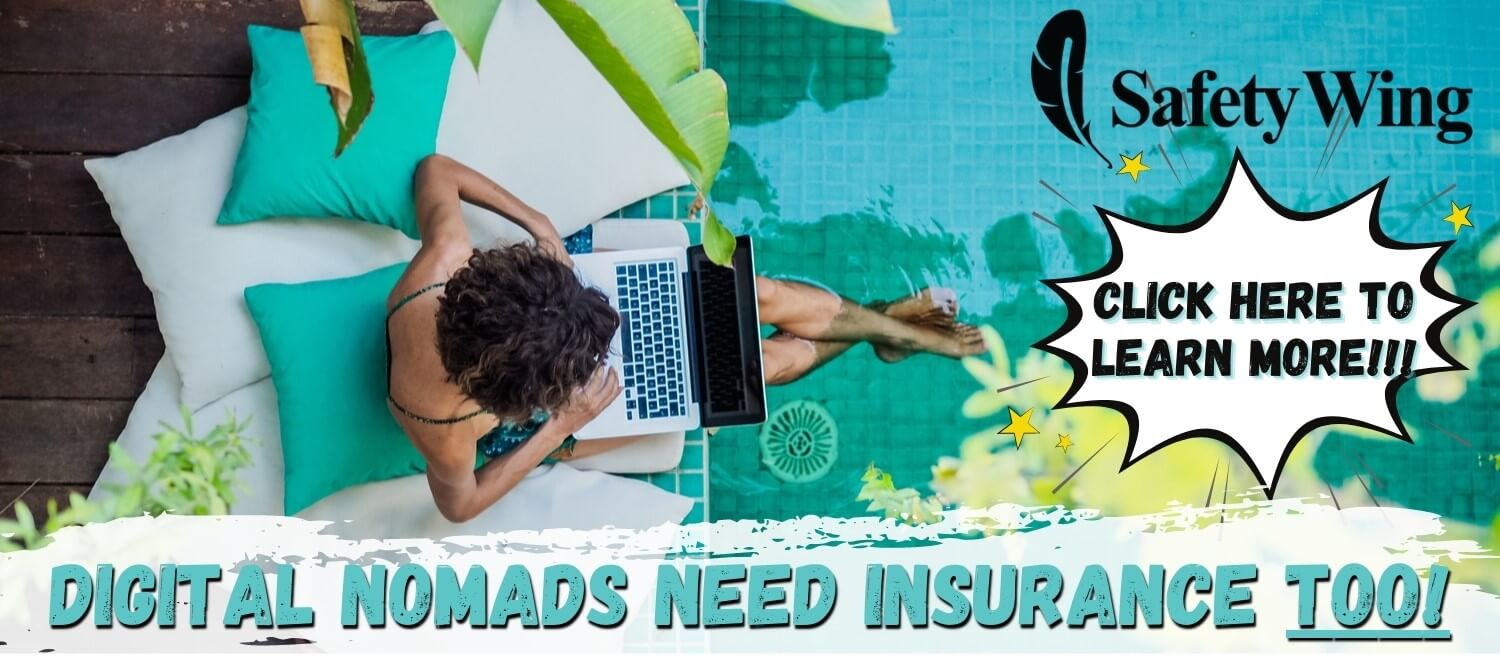 SafetyWing is cheap, easy, and admin-free: just sign up lickety-split so you can get back to work! Click the button below to learn more about SafetyWing's setup or read our insider review for the full tasty scoop.
Keep yourself and your precious electronics safe when roaming around town. Travel insurance is key for your own peace of mind, and The Broke Backpacker stands strong for SafetyWing.
What to Eat in Thailand
Thailand has some of the best food in the world. The street food (and food market) scene is particularly life-changing, at least for me!
I had one of the best meals of my life (chopped octopus tentacle mixed in a sweet and sour sauce) right in the midst of Pai's Famous Walking Street.
Here's what you shouldn't miss: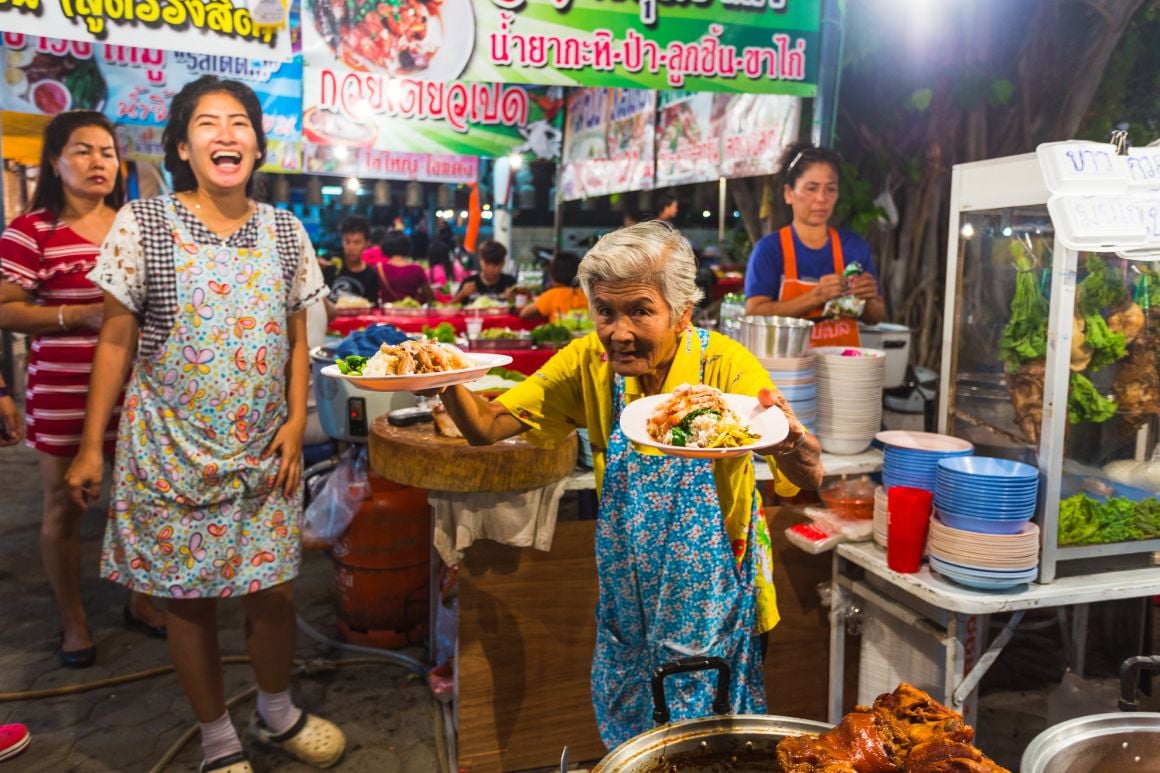 Pai Walking Street: A famous night market in the town of Pai that's well worth the hype, you'll find everything from deep-fried seafood balls to octopus, to (oddly enough) lasagna. Each stall sells something different–there are also vegetarian options–so don't be surprised if you find yourself coming back every night you're in town.
Thong Sala Night Market: Located on the magical island of Koh Phangan, I've literally had some of the best food of my life in this fantastic market. You'll encounter categories of food you didn't even know existed…and comfort food favorites like homemade crispy fried chicken.
Any stall in Bangkok: Bangkok is award-winning when it comes to street food–you'll find everything from classic Thai faves to adventurous eats like fried scorpion and fish cakes. Jay Fai even has a Michelin Star–the crab omelet is beyond words.
What it's Like Living in Thailand
Life in Thailand is literally a dream come true.
Postcard-worthy landscapes, the world's best street food, and thriving ex-pat communities make it one of the best places to be a digital nomad.
But as with any country, there are a few things you should know before you arrive. Here are a few key facts:
Visas
Despite being a home base to so many digital nomads, Thailand has yet to come out with a proper digital nomad visa. Nationals of these countries are visa exempt, meaning you simply show up and can enter Thailand for 30 (or 45) days, with the possibility of another 30-day extension.
While you might think you can just easily do visa runs, Thailand only allows two land border entries per calendar year without a pre-arranged visa. So if you really end up feeling at home in Thailand, be aware of your legal options.
Expat Community
Thailand has a HUGE ex-pat community–more than 100,000 permanent residents are from Western countries and millions more tourists visit every year. The best places to base yourself if you're looking to meet other digital nomads in Thailand are:
Koh Phangan
Phuket
Koh Tao
Koh Samui
These locales will have ex-pat staples like quality western restaurants, cafes, coworking spots, and nightlife.
Language
Thai is the official language of Thailand, which also has its own written script. You really don't need to worry about not knowing it though–in tourist areas, you'll find a lot of English signs and menus. If you truly want to live in Thailand though, I can't recommend actually trying to learn the language enough. There is even a special type of visa known as a non-immigrant "ED" that allows you to stay long-term in Thailand and study Thai!
Transportation
The most convenient way to get around Thailand is undoubtedly by scooter or motorbike. Scooters are everywhere, but that doesn't mean they're just fancy bicycles. Ideally, you should have a motorbike license (and real-life experience) at home before trying to ride in Thailand.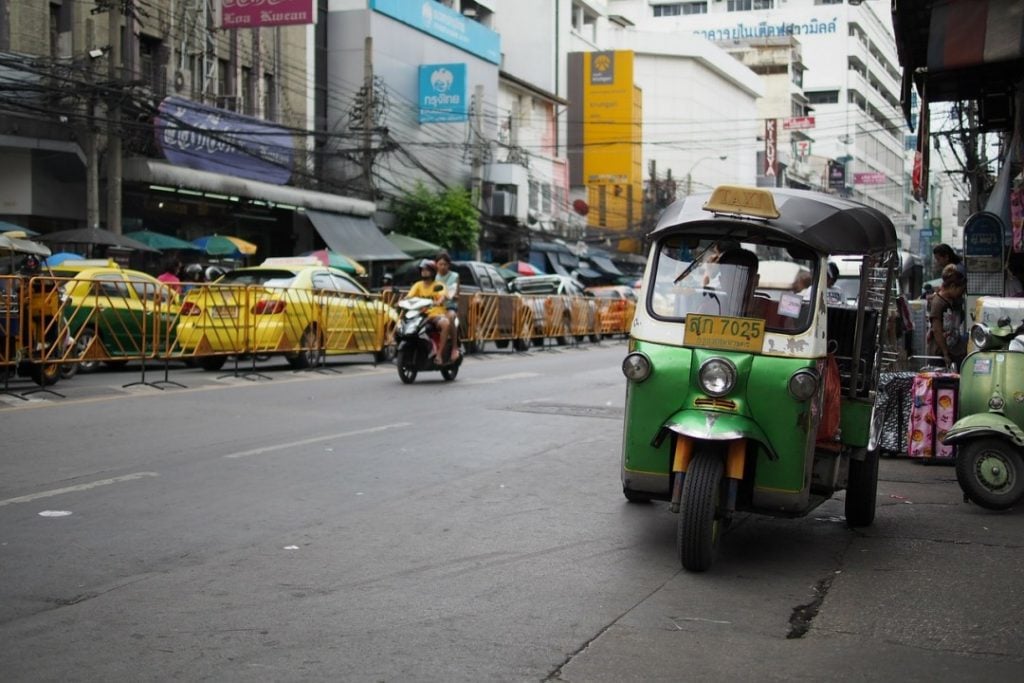 Per Thai laws and most travel insurance companies, you'll also need to have an international driving license which is luckily easy (and cheap) to obtain. And now for the most important rule of driving in Thailand–wear a good helmet! Biking is particularly useful on the islands and in places like Pai in the north where public transport is very limited.
Other than biking, you'll find the excellent BTS Skytrain in Bangkok, as well as ride-share apps like Bolt and Grab. In Chiang Mai–one of the most popular bases for digital nomads in Thailand–songthaews, which are covered pickup trucks that carry multiple passengers at a time, the name of the game for around $1-$2 USD per ride.
You'll also find a vast train network that is useful for exploring the country on the cheap.
What to Do in Thailand
Explore the islands: There are 1430 islands in Thailand, and while you might not be able to explore them all, make a point to explore the lesser-visited ones. The only thing to be aware of is the rainy season, which generally lasts from April-October.
Visit ancient Buddhist temples: Centuries of Buddhist history–in the form of temples, monasteries, and more–can be found all over the country. The Wat Pho temple complex in Bangkok is one of the most famous. You'll also find ancient ruins in Ayutthaya.
Experience Songkran Festival: The Thai New Year happens every April and involves a peculiar form of celebration you won't experience anywhere else. Water is the main focus of this event, so prepare to get soaked and buy a squirt gun or bring a bucket!
Learn to scuba dive: Thailand is one of the best places in the world to go scuba diving. Koh Tao is particularly popular with divers, and it's also one of the cheapest places to get your certification.
Indulge in street food: I've already gone on about it but I'll say it again, being a digital nomad in Thailand means you have access to the world's BEST street food. Eat it as much as you can!
Final Thoughts on Being a Digital Nomad in Thailand
With some of the most beautiful scenery in the world, incredible remote-work infrastructure, and a low cost of living, it should be no surprise that full-time travelers are flocking to the Land of Smiles.
While Thailand is always a good idea, I hope you now feel much more comfortable about what to expect as you settle in. Just remember that while Thailand is cheap, it's easy to go over budget if you spend all your money on Western food and amenities.
Revel in the fact that you're living in the street food capital of the world and enjoy those eats! But really–Thailand is incredibly special, and it's no surprise at all that so many fall so hard for it.
So–hike in the jungles up north, spend your days off lounging on the beaches down south, and take some time to get off the beaten path in the central regions of the country.
You soon see why digital nomads in Thailand have everything a remote worker could want and more.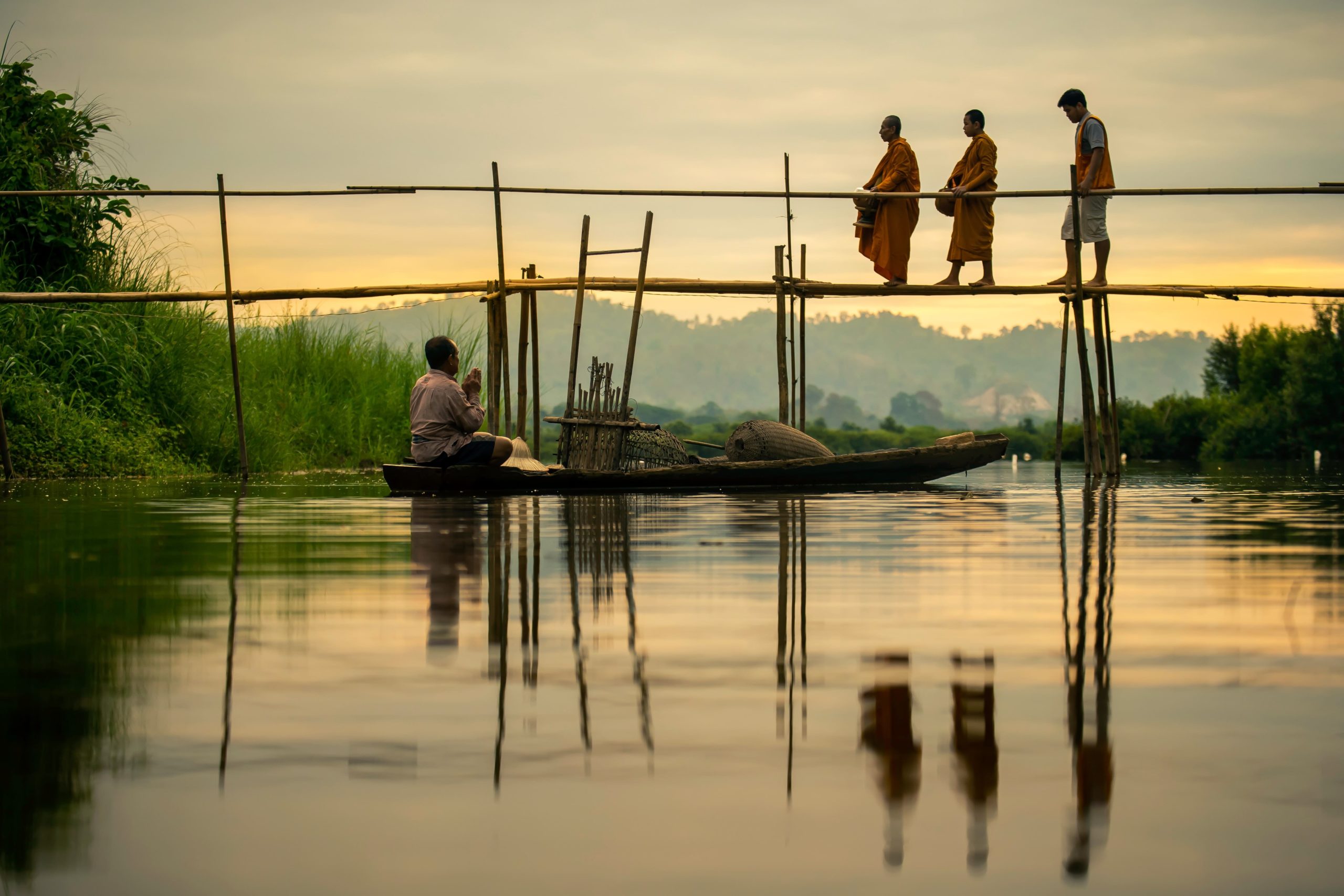 ---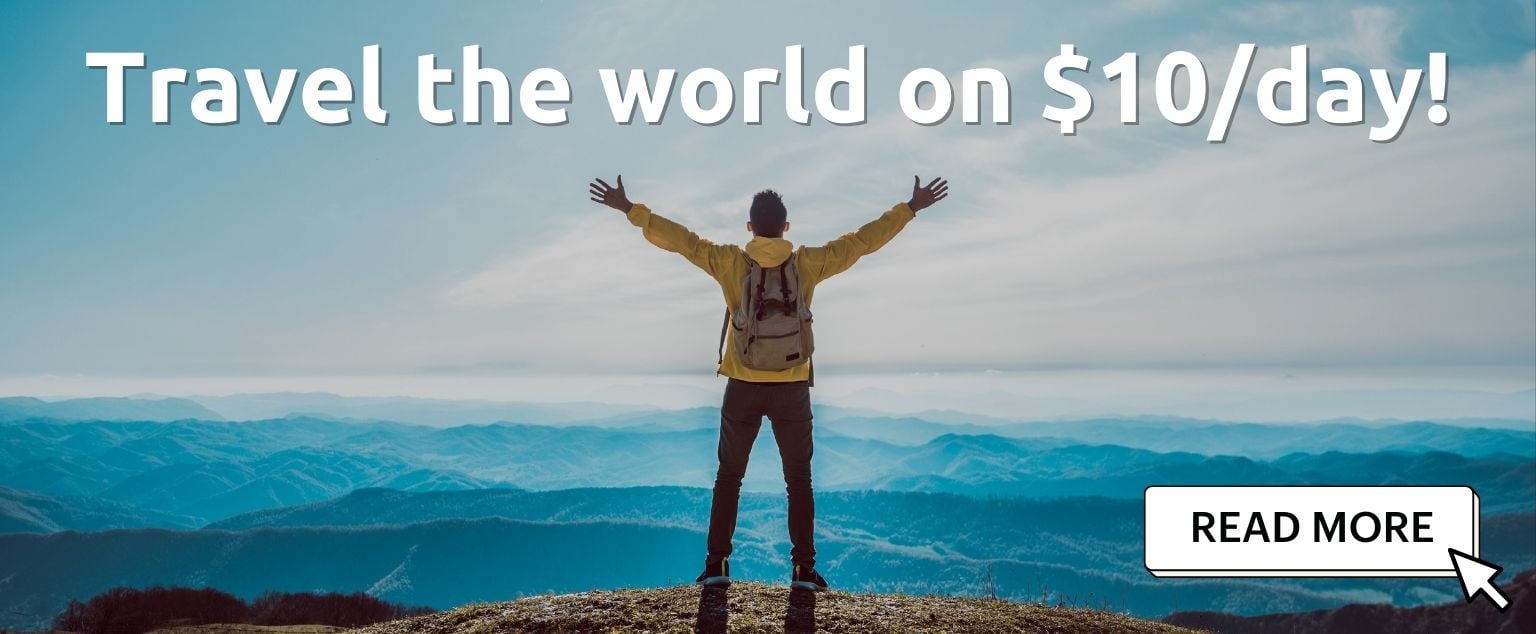 And for transparency's sake, please know that some of the links in our content are affiliate links. That means that if you book your accommodation, buy your gear, or sort your insurance through our link, we earn a small commission (at no extra cost to you). That said, we only link to the gear we trust and never recommend services we don't believe are up to scratch. Again, thank you!