Hanoi is a feast for the senses. The smells of some of the world's best street food, the sights of peaceful lakes, and the buzzing of what seems like millions of scooters will enthral, delight, and surprise you. The mazy backstreets of the Vietnamese capital hold treasures just waiting to be discovered.
Although Hanoi is now a modern and vibrant city, there are still nods to the past which shouldn't be missed by any history buff. The city has recovered remarkably well and is now consistently voted as one of the top cities to visit in the world.
In this article, we'll take a look at the best places to stay in Hanoi, helping you to make the most out of your trip and maybe even live like a local for a bit!
Best Places to stay in Hanoi
When it comes to the where to stay in Hanoi, you are blessed with a lot of choices thankfully! And it's super cheap so it's easy to get overwhelmed. So, here's a quick list of 3 of the best places to stay in Hanoi, with options for different budgets and styles. If you're wondering where the coolest neighbourhoods in Hanoi to stay are, then check out the Old Quarter (Hoàn Kiem), Tay Ho, or Ba Dinh.
Right in the heart of the best neighbourhood in Hanoi, the Old Quarter View Hanoi Hostel is the perfect place for solo travellers. Looking to make new friends and explore the Vietnamese capital? No problem. The hostel has a packed events programme including trips that will help you easily get out of the city.
The common area and terrace aren't bad either, especially when you consider there's free beer in the evenings! With over 2,500 positive reviews on Hostelworld, you don't just have to take our word that it's one of the best hostels in Hanoi to book in for a week (or more).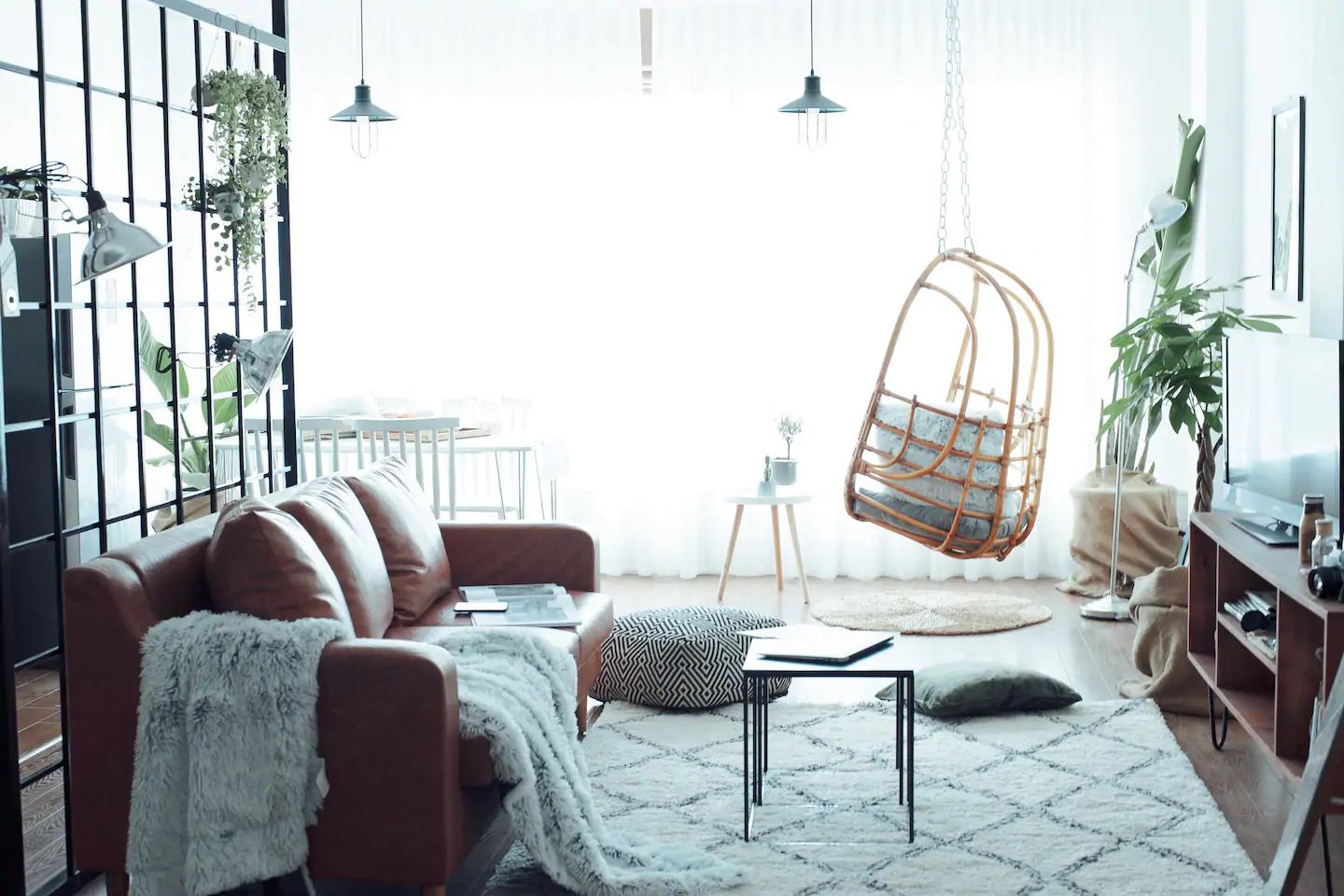 This beautiful flat combines a modern western vibe with an old school Vietnamese class, just like Ba Dinh itself. The place is a stone's throw from a number of museums, and the Imperial Palace. Getting too and from the city center will be a breeze from this place, and it's only a short walk to the old quarter
What you get for your money in a budget hotel in Hanoi will blow your mind. What you'd spend on a sandwich in London can get you a king hotel room with rose petals scattered all over the bed here! And being the best of the lot is a real achievement, so congratulations Bonjour Hanoi Hotel!
In the heart of the Old Quarter, you're close to all the action and a fair few of the places you'll read about on our list. Don't worry about getting to or from the airport either, the hotel offers a shuttle service!
If you're thinking about the best places to stay in Hanoi, you may as well check out a luxury hotel. For an affordable price, the Oriental Jade Hotel is a stunning five star hotel that you won't want to leave – even to visit the cool places on our list!
Instead, you might prefer to watch the Hanoi skyline from the rooftop infinity pool or catch a tan on a sun lounger. The good thing is it's close to many attractions, and the buffet breakfast is a perfect way to fuel up before some sightseeing!
Need a place quick? Here's the best neighbourhood in Hanoi:
BEST AREA IN HANOI
Hai Ba Trung
Hai Ba Trung is a modern and lively district set in Hanoi's city centre. Adjacent to the Old Quarter, this district is well-connected throughout Hanoi, making it a great base for exploring the city.
Places to visit:
Dance until dawn at The Bank Hanoi, the largest nightclub in the city.
Learn about the contributions women had to Vietnam's history and culture at The Women's Museum.
See the beautiful Hai Ba Trung Temple.
These are the BEST Places to Visit in Hanoi!
#1 – Hoàn Kiem Lake
A beautiful and scenic place to check out in Hanoi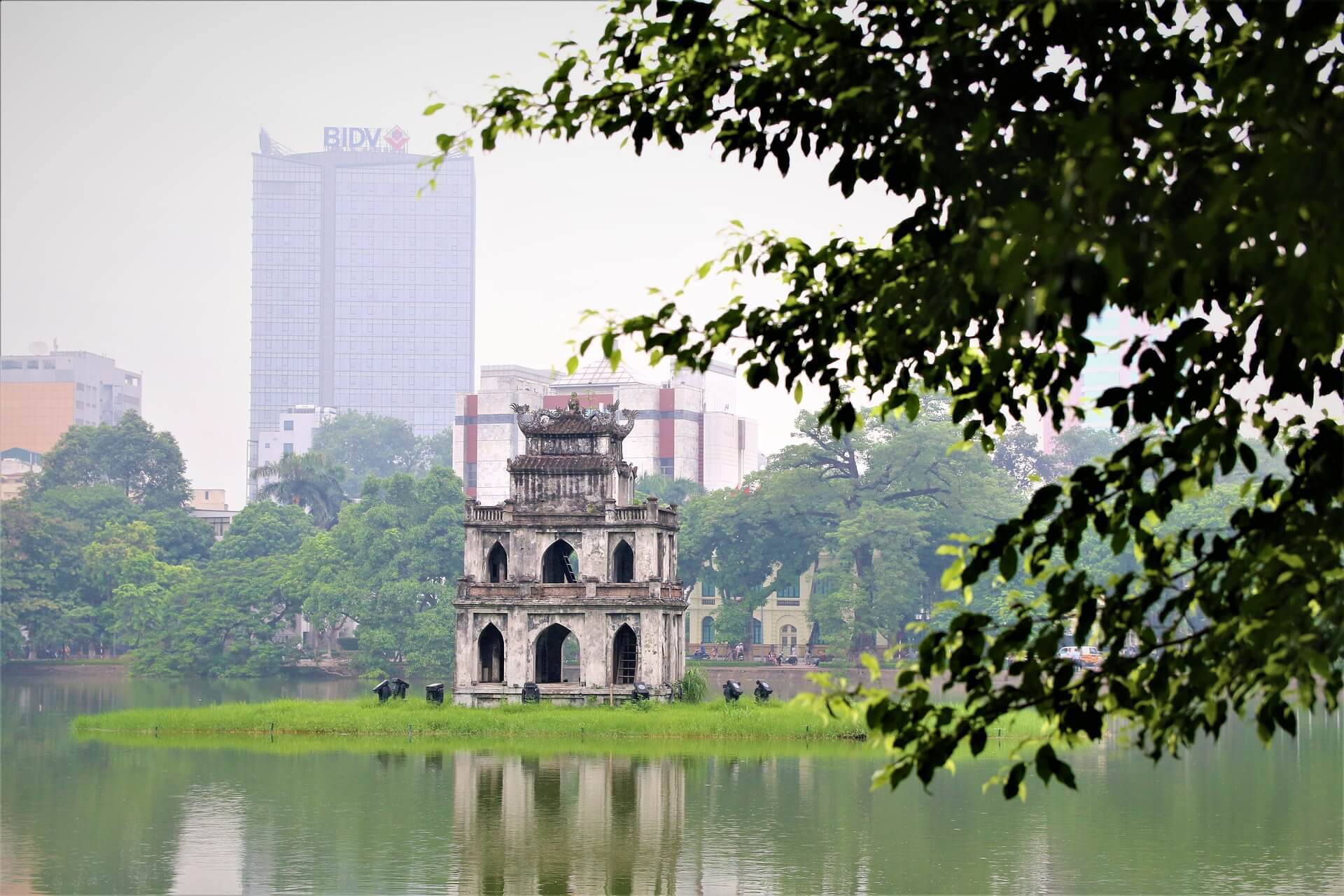 Walk around the beautiful city centre lake
Peaceful and relaxing
Escape from the hustle, bustle, and traffic!
Why it's awesome: Hoàn Kiem Lake is one of the prettiest spots to find in the whole of Hanoi and an absolute must-visit on your sightseeing itinerary. Located in the heart of the Old Quarter, there are a number of activities to do on the shores of the lake. Weekends are the best time to visit, as the lake is closed to traffic from Friday to Sunday. Vietnamese legend tells that a golden turtle stole an emperor's sword and dived to the bottom of the lake. This is how it gets its name, which means the lake of the restored sword. You can see this tale re-enacted at the Water Puppet Theatre, which we'll get to later!
What to do there: Take a walk on the shores of the lake to clear your head from Hanoi's noise. In the centre of the lake, there's the beautiful Ngoc Son temple. Take a walk over the bridge and explore the temple, it'll cost you less than $1 USD. One of Hanoi's more unusual landmarks is Thap Rua, a small tower in the middle of the lake that's often used as a symbol of the city!
#2 – Ho Chi Minh Mausoleum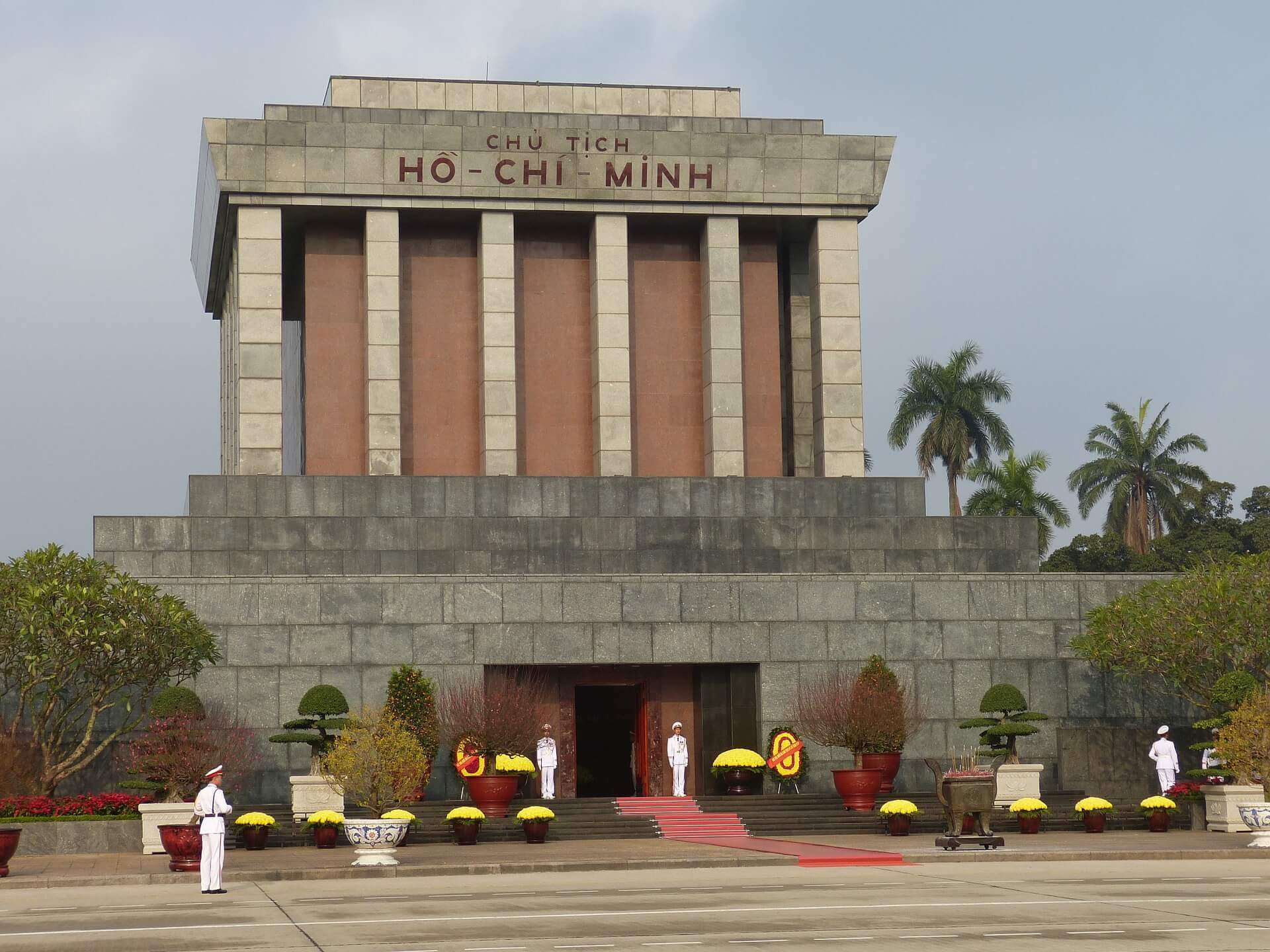 See the perfectly preserved body of Ho Chi Minh
Hanoi must-see for history lovers
One of the most unusual things to do in Hanoi
Why it's awesome: Although Ho Chi Minh City is in Southern Vietnam, the man's body is here in Hanoi. What's unusual about this place is that the body is still perfectly preserved, more than 40 years after his death. Even an embalmed body would decay eventually, leading to rumours that it's actually a model of Ho. Not that he will mind, as his original wish was actually to be cremated! You won't spend a lot of time here since the line is never allowed to stop moving.
What to do there: Really the only thing you can do if you include this in your Hanoi itinerary is to respectfully observe the body of one of Vietnam's great leaders. That's because the guards will want you out so that the hordes of both locals and tourists can see the body. It may seem macabre, but it's one of the most visited historical sites in the country by travellers in Vietnam. Afterwards, take a walk through Ba Dình, where the man you've just laid eyes on reading the Proclamation of Independence!
#3 – The Imperial Citadel of Thang Long
One of Hanoi's coolest historical sites!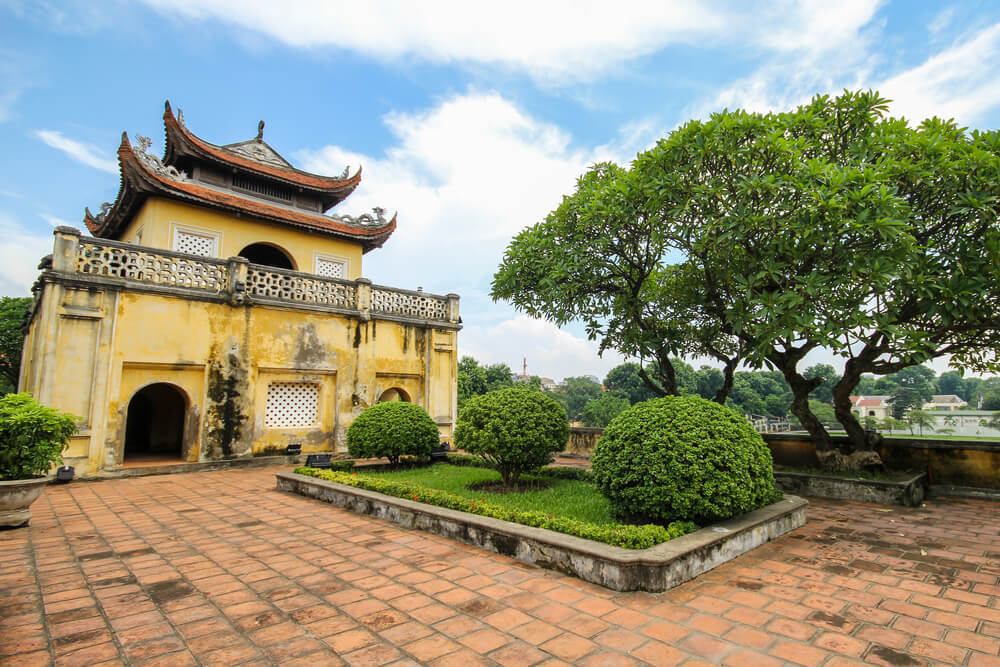 Hanoi's only UNESCO World Heritage site
One of the major attractions in Hanoi
Don't miss the stunning views from the Hanoi Flag Tower
Why it's awesome: Staying in the Ba Dình District, the Imperial Citadel of Thang Long is not to be missed while backpacking in Hanoi. The citadel was the capital of Vietnam for 8 centuries, while it was the political centre since its construction in the 11th century! Nowadays, it's open to the public to explore the stone fortresses and walk through the beautifully landscaped gardens. Entrance to the citadel is 30,000VND, which is about £1 or $1.30 (at the time of writing). For one of the best places in Hanoi, it's well worth that low price!
What to do there: Transport yourself back to the 11th century and admire the beautiful architecture of the stone buildings. Don't miss the beautiful dragon statue either! If you want to get some panoramic views of the city, then climb the flag tower and spend some time looking out. You're sure to have a few more Insta likes and followers by the end of the day! The Imperial Citadel is close to Quan Tanh Temple and the Military Museum so those are good options for your next activity!
#4 – Temple of Literature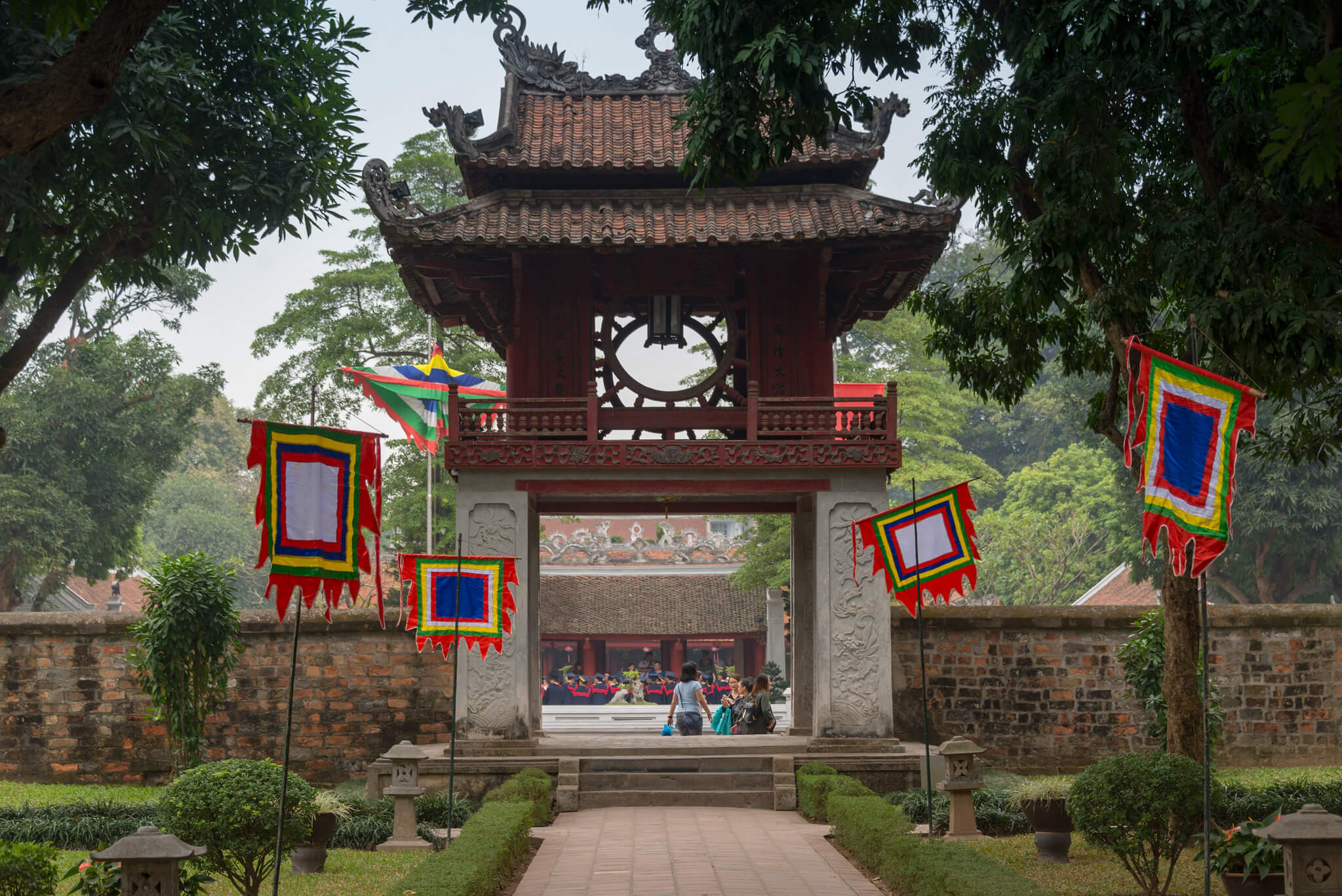 One of the most picturesque landmarks in Hanoi
A memorable historical site
Check out the cool stone turtles – bearing the names of graduates
Why it's awesome: Many people say the Temple of Literature is the most beautiful attraction in Hanoi. It's certainly one of the oldest, dating back to 1070 AD (although it's not quite as old as the citadel). Originally a Mandarin University, the site was also open to students from the royal family, aristocrats, and the elite. However, it took a lot longer to open up to "intelligent" commoners. Eventually, it did though, and you can see the names of graduates carved into the stone turtle statues outside!
What to do there: Escape from the concrete jungle of Hanoi and spend some time contemplating and relaxing at this temple. Not only are there religious and academic buildings, but there are five courtyards to take a leisurely stroll through. Two are home to landscaped gardens and another has a pond called "The well of heavenly clarity". In the others, you'll find a statue of Confucius, who the temple was originally dedicated to, and a drum and bell tower. This is one of the most important academic landmarks in Hanoi and Vietnam.
#5 – Tran Quoc Pagoda
The Oldest Buddhist temple in Hanoi
Switch off from the outside world
Take a walk around Hanoi's West Lake
Why it's awesome: This peaceful and quiet pagoda has over 1,500 years of history, making it one of the oldest landmarks in Hanoi. Sat on a peninsula jutting into the largest lake in Hanoi City Centre, it is another excellent place to escape from busy city life. Although the pagoda has stood for 1,500 years, it hasn't always stood on the West Lake. In fact, it was moved here in the 20th century after a serious landslide! Tran Quoc is one of the best things to see in Hanoi if you're looking to learn more about the city's rich history and culture!
What to do there: Since it's such a chilled out and relaxed place, we'd recommend coming here and taking as long as you need to disconnect from the real world. If you prefer to always be on the go, of course you can visit the on-site museum, which is full of priceless Vietnamese antiques. It's even home to the statue considered the most beautiful in all of Vietnam. If you feel you're not quite ready to return back to the hustle and bustle after visiting the pagoda, take a walk around West Lake!
Is This the Best Travel Backpack EVER???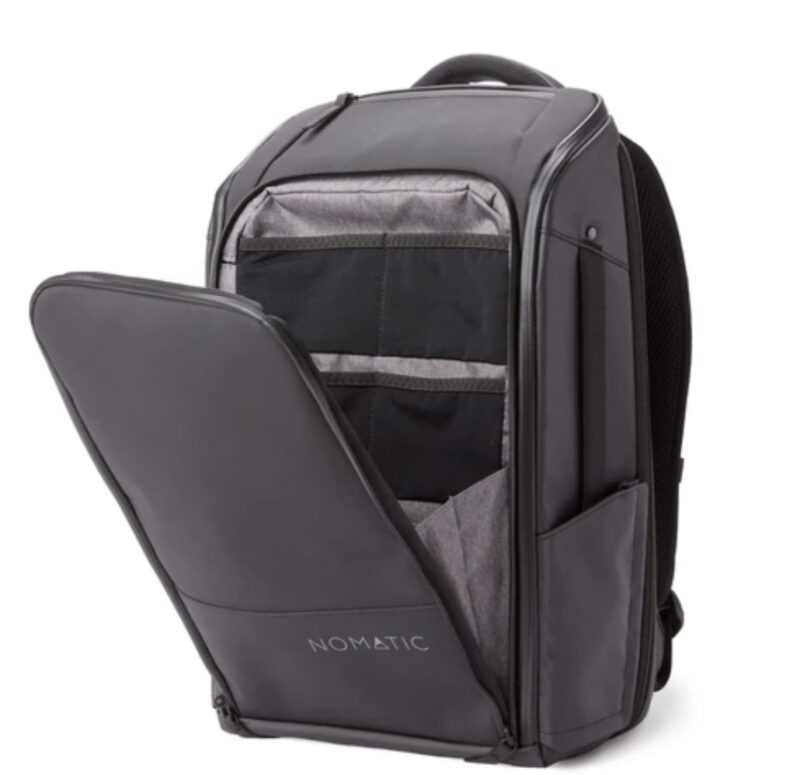 #6 – Thang Long Water Puppet Theatre
Quite the quirky place to visit in Hanoi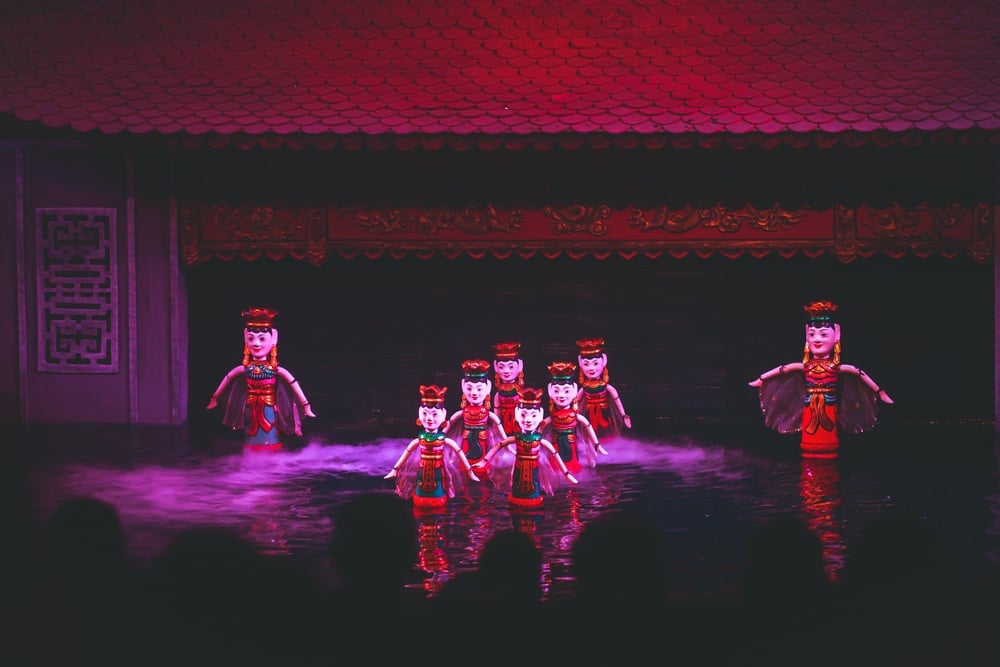 See Vietnamese myths and legends told through the art of water puppetry
Hear traditional Vietnamese music
One of the more unusual things to do in Hanoi
Why it's awesome: Thang Long Water Puppet Theatre sits at the northern tip of Hoàn Ki?m Lake and you may wonder why this unassuming building has a queue outside around 7pm every night. Well, it's to see water puppetry. This is an ancient Vietnamese art which was mostly unknown outside of Northern Vietnam until the 1960s! Although it's still pretty much a secret abroad, locals and tourists alike flock to see the ancient folkloric tales and listen to the haunting music which makes up water puppetry shows!
What to do there: You can't go to the water puppet theatre without seeing a show! Buying tickets on the door costs around £3 or $4 and the show lasts around 50 minutes. It's a really cool place to take kids, especially if you need to keep them quiet for an hour! Look out for the puppeteers, who are stood waist-deep behind a screen in water operating their creations. Think carefully when choosing where to sit, as you might get splashed if you're in the front row!
Need to travel to Hanoi on the cheap? Use Bookaway to find the best deals on bus, plane, train, and ferry tickets. It's easy to use and saves you time and money. Once you've arrived, why not use what you've saved to treat yourself to a cold beer and a bite to eat?
Book your transport on Bookaway now to guarantee your seat and for the right price.
#7 – Train Street
See a huge train pass just inches from city buildings
Get a glimpse of local life
Another of the most unusual things to do in Vietnam
Why it's awesome: If you head to Train Street and it's not 3pm or 7pm, to be honest, it's not that awesome. However, as you might have guessed from the name, there's a reason that changes. Sometimes as little as a minute before, you'll see the residents taking in clothes, picking up children, and stray dogs reluctantly getting up. Then, you'll feel the quaint street start to vibrate. That's because a train that has travelled from crossed through many other regions of Vietnam is somehow navigating the narrow Old Quarter streets of Hanoi!
What to do there: First of all, come at the time when the train is expected to come through to get a totally unique experience and some great pictures. You'll need them to back up your story, as friends and family back home will never believe this! Coming when there's no train isn't a wasted journey though. It enables you to see a part of Hanoi you probably wouldn't have bothered with otherwise, and you'll catch a glimpse into local life. Maybe even practice your Vietnamese! It may be one of the hardest languages in the world, but the locals will appreciate the effort!
Quick Note – Staying Safe in Hanoi
Hanoi is in general safe for tourists to explore. Violent crimes against tourists are rare, but there are still a few things you have to be on your guard for. The Old Quarter is mostly okay at night but do avoid taking any dark and narrow shortcuts back to your accommodation! The problem that most travellers will face at some point in Hanoi (and and an all-round safety concern in Vietnam overall) is scams.
They range in degrees of severity, so be on your guard. You can avoid scams by booking hotels in advance through a secure booking provider, taking a local guide when out and about (from a reputable company), and researching what to avoid in Hanoi. Don't let this put you off though, Hanoi is a charming city where most locals are friendly and welcoming!
Do you need Travel Insurance for your trip? I have been using World Nomads for some time now and made a few claims over the years. They're easy to use, professional and relatively affordable. They may also let you buy or extend a policy once you've started your trip and are already abroad which is super handy.
If there's one insurance company I trust, it's World Nomads. To find out why I use World Nomads, check out my World Nomads Insurance review.
Travel with peace of mind. Travel WITH a security belt.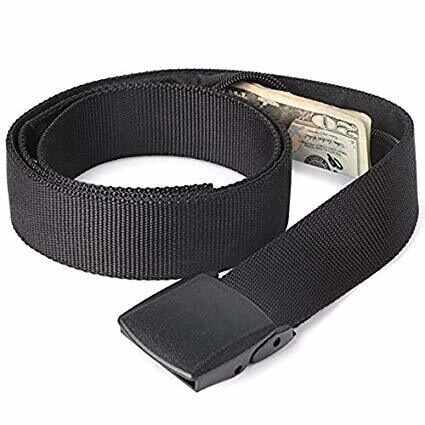 Custom-designed BY the Broke Backpacker FOR broke backpacking, the Active Roots Security Belt will keep your valuables safe no matter where you go.
It looks exactly like a normal belt except for a SECRET interior pocket perfectly designed to hide a wad of cash or a passport copy. Never get caught with your pants down again! (Unless you want to.)
Check on Amazon
#8 – Hanoi Opera House
A key point of interest in Hanoi
Visit one of the many events
See an example of French colonial architecture
Why it's awesome: The Hanoi Opera House is probably the best and most beautiful example of French colonial architecture in Vietnam. It dates back to 1911 and the grand building looks out of place among the palm trees and the roads around it. If you think it looks impressive on the outside, just wait until you actually enter! The building was modelled on Paris Opera House and there are chandeliers, 600 plush seats, and a stage fit for opera and ballet!
What to do there: Admiring from the outside is the first thing in order on your trip here. It's possible to do a guided tour of the Opera House, and that's definitely recommended. For 400,000VND, you can see the amazing architecture inside in the building also known as the Cathedral of Art. As well as the tour, there's a small performance included. This a great option if you don't have the budget or time to spend a whole evening seeing an opera or ballet performance!
#9 – Hanoi Night Market
A great place to visit in Hanoi at night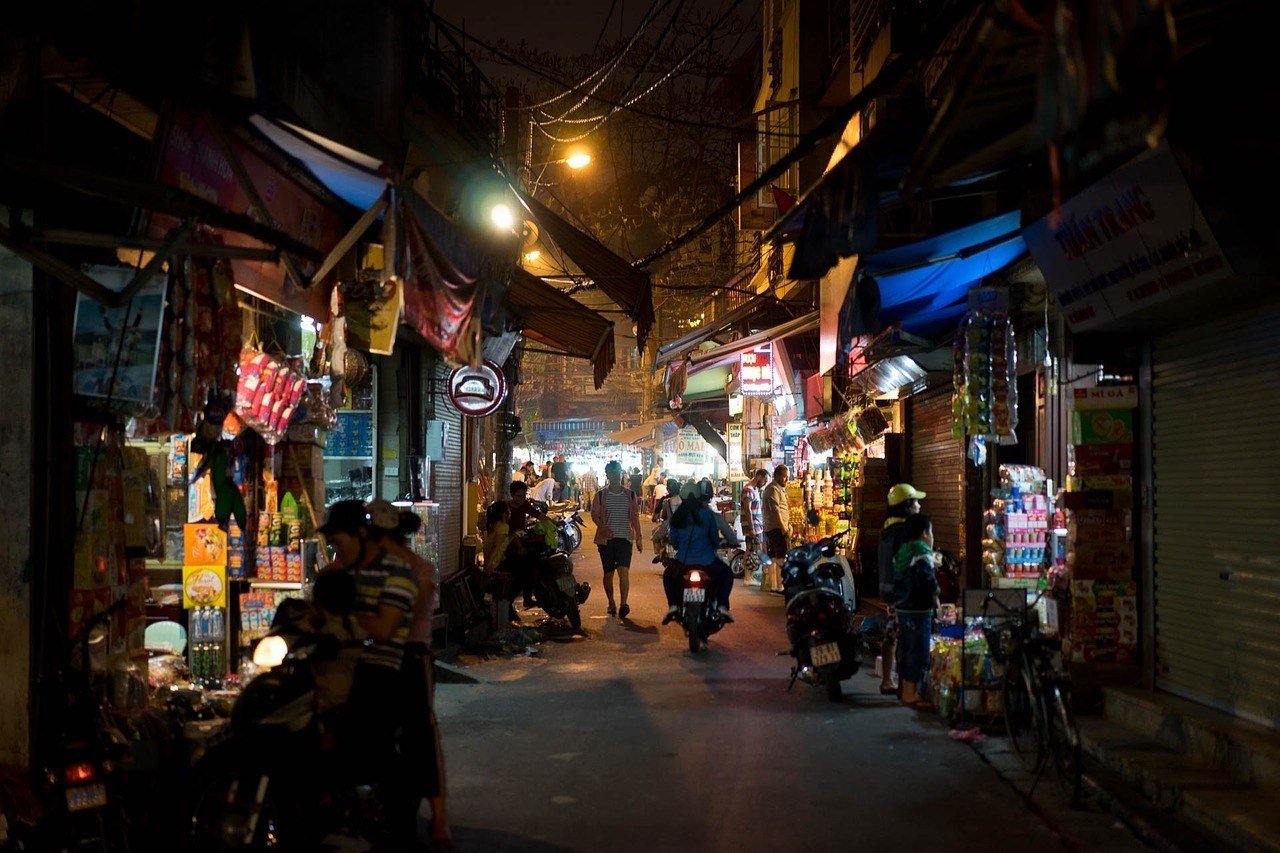 A cool and vibrant hotspot in Hanoi!
Take home some cool souvenirs for friends and family
Explore Hanoi's street food scene
Why it's awesome: A Southeast Asian staple is the night market. Some are gaudy and over touristy, while some cater to tourists while retaining their authenticity and being a great place to be. Thankfully, Hanoi's night market falls into the latter category! In the streets to the north of Hoàn Kiem Lake, you can spend your VND on a range of things while enjoying the friendly family atmosphere of the night market. Particularly recommended are the traditional Vietnamese souvenirs (which are super cheap) and street food!
What to do there: Let's talk more about street food! Bánh mì baguettes, iced coffee with condensed milk, spring/summer rolls, and pho should all be on your list! The Night Market really hammers it home that the best places to eat in Hanoi aren't always restaurants. If you've plenty of space left in your backpack when you packed for Vietnam your trip, this is the ideal spot to pick up souvenirs. That way, you'll have a lasting physical memory of your trip to one of the coolest attractions in Vietnam!
#10 – Perfume Pagoda
A very cool place in Hanoi to go for a day
Take a day trip to the Houng Tich Mountain Chain
Enjoy a relaxing journey in a wooden rowing boat
Get away from the bright city lights
Why it's awesome: Okay, so we've included a few places in our list that allow you to escape the hustle and bustle of the city. However, sometimes you need to completely get out to disconnect, rest, and relax. Perfume Pagoda gives you the opportunity to do exactly that! This incredible Buddhist temple complex really gets you off the beaten track. To get to the temples themselves, you'll have to take a traditional wooden rowing boat – don't worry, you don't have to row it yourself, which is a truly special part of the journey!
What to do there: After the boat ride, visit the most important temples of the complex. Chua Trong is perhaps the most astounding, as it's located inside a cave. Inside the complex, there are a number of food stalls and souvenirs shops too. You can either follow the stairs or take the cable car to the top of the hill where your reward is awesome views of the surrounding landscapes. You won't see many westerners here, but it's a special place for Vietnamese people!
#11 – Hoa Lò Prison Memorial
Explore Hoa Lò aka the Hanoi Hilton
Learn about the prison's grisly history
One of several famous landmarks in Hanoi
Why it's awesome: It's safe to say that Hoa Lò Prison Memorial isn't for everyone, but it is nevertheless an important Hanoi landmark. In the late 19th century, this prison was opened under French rule for political agitators and dissidents. It was originally intended to hold just a few hundred prisoners, but this quickly increased to more than 2,000. Unfortunately, the prisoners lived in squalid and horrendous conditions. A symbol of French colonial oppression, the Vietnamese repurposed it when colonial rule ended in 1954. Unfortunately, conditions didn't improve but prisoners changed. It was then used for American Prisoners of War.
What to do there: Most of the prison was knocked down in the 1990s to make way for high rise buildings. There is still a museum which tells of the grisly history of the prison though, with many artefacts on display. It is here that you can see the former US Senator John McCain's flight suit and parachute. Yes, he was an inmate at the prison! Unsurprisingly, the museum focuses more on the French oppression and there are some quite graphic representations of torture. This one isn't for the faint of heart!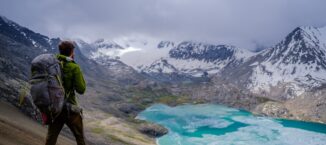 Do You Want to Travel FOREVER??
Then pop your email address in below and we'll send you a FREE copy of 'How to Travel the World on $10 a Day!'
Get insured for your trip to Hanoi!
Remember, when you are traveling you may need insurance! World Nomads are our go-to Travel Insurer; we have used them ourselves for years now.
Getting an estimate from World Nomads is simple – just click the button or image below, fill out the necessary info, and you're on your way!

Final Thoughts
So, that's the end of our list of the best places to visit in Hanoi. Hopefully, you'll have found this list useful and helpful for planning your trip to the Vietnamese capital and be eager to start your journey. We think that there are definitely enough places to visit in Hanoi for 3 days on our list!
You'll have seen that Hanoi mixes the historical, the exciting, and the downright unusual and really our list is just a snapshot. It's impossible to capture the vibrant buzz of this city, but you sure won't forget it in a hurry once you've experienced it. Oh, and the street food really is some of the best in the world!
We don't just want you to have a great holiday in Hanoi, we want you to experience it like a local. Our list will help you do just that! Whatever you end up doing when you visit Hanoi, we hope you have a spectacular holiday and come back with lots of unforgettable memories!
---
Find out how YOU can support the site.
We work hard to put out the best backpacker resources on the web for free! It's all about helping out our tribe of awesome backpacker readers (that's you!). Please visit the link to find out how you can help keep the site going 🙂
For the sake of transparency, some of the links in our content are affiliate links. This means that if you book your accommodation, buy a piece of gear, or sort your insurance through our link, we earn a small commission at no extra cost to you. We only link to stuff that members of the Broke Backpacker team has actually used and never endorse products or services that are not up to scratch. Thanks for your support!