Hanoi is alive with energy. The vibrant streets emanate with the constant hustle and bustle of motorists and loud traffic. The Vietnamese capital is popular amongst backpackers and offers an incredible cultural immersion created through decades of change, with many dark times and social adversity.
The capital of Vietnam is considered as one of the oldest capitals in the world with has a history dating back over a thousand years ago. Emperor Ly Thai To moved the capital here in 1010 with the name of Thang Long, meaning rising dragon.
Hanoi is now home to over 7 million people, making it the second largest city in Vietnam. With so many sights and sounds at every moment, this city can feel like a lot to take in. There are countless museums, temples, pagodas, and parks to discover.
If you're wondering what to do in Hanoi, you've come to the right place. I have put together this Hanoi trip Itinerary to help you navigate the overwhelming senses of this fast-paced and fascinating cluttered yet functioning city in order to make the most of each Hanoi attraction.
Hanoi is a city of incredible history, cute architecture, amazing food, and the warmest hospitality you will find in South East Asia. It has something for every traveler, from relaxing lakes, ornate temples, incredible museums, and some pretty weird and unique theatre…which I'll get on to later. Whatever you do for fun, you'll never run out of things to do in Hanoi!
Whether you're spending one day in Hanoi or planning an unforgettable 3 day Hanoi itinerary, there are some phenomenal options jostling for a spot on your list! I'd personally suggest taking at least three full days to explore the city, and if you have more time, you can certainly stay a week and not get bored.
If you want to see all of the important landmarks you will be hard-pressed to fit it all in within 24 hours, but if you pay a private driver you could manage, but that's expensive and stressful. So do yourself a favour and set more time aside.
In this 3 day Hanoi itinerary, you'll find three days packed with history, culture, and adventure. But don't worry, you won't have to rush from A to B, trying to fit everything in.
I've chosen the ideal daily structure, added times, routes to get there and suggestions on how long you should spend at each spot. Of course, you can add your own spots in, swap things around, or even skip some places. Use this itinerary as inspiration instead of a fixed plan to get the most out of your trip!
3 Day Hanoi Itinerary Overview
Hanoi is a large and busy city so finding somewhere to stay can be a difficult task when you don't know where you're going. Depending on what you're looking for, there are many options.
From centrally-located hostels for backpackers visiting Hanoi to hotels and Airbnbs further afield that offer a bit more peace, there are heaps of amazing places to stay. I've outlined the general areas to give you more insight into where you'd like to base yourself for your holiday in Hanoi.
The Old Quarter (Hoan Kiem) is probably the area to stay in Hanoi, as it is right in the middle of the action. It's the ideal place if you can handle the noisy streets and enjoy the constant hustle and bustle of city living.
The nightlife is thriving all around this area, and there are plenty of street food stalls to delve into some great authentic Vietnamese food with ease. You'll be able to find something around this area for any budget.
Ba Dinh is Hanoi's downtown. It is a bit further away from the madness, offering a more peaceful base but is still close to attractions like Ho Chi Minh's Mausoleum, the Temple of Literature and the One Pillar Pagoda.
This area is ideal for travelers who'd like somewhere they can escape the crowds who don't mind having fewer restaurants and nightlife options. You'll need a slightly higher budget for staying around Ba Dinh on your Hanoi holiday.
Tay Ho, or Hanoi West Lake, is another more peaceful area than the Old Quarter. This area is great for foodies and peace-seekers. It's packed with great restaurants and a few Buddhist temples and offers a more romantic atmosphere with the best sunset views in Hanoi. You'll need a higher budget to stay in this area and there are fewer accommodation options.
Hai Ba Trung and Dong Da districts are two other less popular options. They are near Hoan Kiem district which is the center of the city so it's still easy to get around and they have the added bonus of being cheaper areas of Hanoi to stay in than the other 3 areas mentioned above.
This hostel is conveniently located in the heart of Hanoi's Old Quarter. It's the perfect place for Hanoi backpackers to explore from and has a common terrace and free beers every day from 6 pm to 6.30 pm!
This beautiful flat combines a modern western vibe with an old-school Vietnamese class, just like Ba Dinh itself. The place is a stone's throw from a number of museums, and the Imperial Palace. Getting to and from the city center will be a breeze from this place, and it's only a short walk to the old quarter
This traditionally Vietnamese decorated hotel is affordable and boasts a great location just 5 minutes walk from Hoan Kiem Lake. They also offer free Wi-Fi and an on-site Vietnamese restaurant!
Acoustic Hotel is a superb centrally located hotel with a fitness center and free bikes! The property also has a bar and restaurant serving local cuisine, and all rooms include a desk and Wi-Fi and a flat-screen TV. Free buffet-style breakfast is served daily.
Your first day of this 2-day itinerary in Hanoi will be spent getting to know your surroundings and the general geography of the city, with a couple of the most memorable and exciting sites to see in Hanoi.
9:00 AM – Explore the Old Quarter
The starting point in this Hanoi guide is the Old Quarter; the soul of Hanoi and the rhythm of local modern life in the city. It can seem like a bit of a maze with around 36 streets of the market and food stalls in a labyrinth of ancient streets, once inhabited by traders serving the nearby citadel.
The best way to explore The Old Quarter is by following a Hanoi guide along with the Medicine, Headstone, Tin, and Silk streets on foot. The area is always humming with life, so be ready to dodge scooters and prepare yourself for a bit of a sensory overload! This really is the quintessential Hanoi.
The Old Quarter is the immersion point of Hanoi. Taste the local dishes like Bat dan or Pho (Noodle soup) or specialty coffees like ca phe sua da (iced coffee) on "Coffee street". Head to "Silk street" to peruse the boutiques, ceramics, and silk prints, or take a break Hanoian style on the low-slung plastic stools along the pavement, watching the daily maelstrom.
Insider Tip: Haggle, bargain, and battle for anything you're interested in buying! Don't just accept the first price.
Cost – Adults: Free!
Getting there: Take a Grab bike to the Hoan Kiem Lake and walk from there.
How long should I spend there: You could spend 1-2 hours walking the streets, trying a Vietnamese coffee or Bahn Mi…or 2.
10:00AM – Stroll Through Dong Xuan Market
The French government first opened the Dong Xuan Market in 1889, centrally located in the Old Quarter as the place for locals and tourists to visit and to purchase goods.
It offers the perfect place to go in Hanoi to experience everyday life, browsing everything from groceries to clothing. If you aren't looking to buy anything you can simply walk around having a look at all the different items.
The Dong Xuan Market is also a great outing for a weekend in Hanoi.
Cost – Free, with lots of goodies to purchase.
Getting there: it's in the Old Quarter
How long should I spend there: 1-2 hours should be enough time.
12:00PM – Visit Hoan Kiem Lake & Ngoc Son Temple
Hoan Kiem Lake, or The Lake of the Returned Sword, is one of the Hanoi landmarks and is the scenic centre part and greatest tourist attraction in Hanoi. It provides the perfect place to get away from the frantic pace of the city and spend some time in peace and quiet with beautiful natural surroundings.
The Lake surrounds the Ngoc Son Temple, which was built in commemoration of the 13th Century leader Tran Hung Dao. He was renowned for his bravery in the battle against the Yung Dynasty along with scholar Van Xuong and Confucian master Nguyen Van Sieu.
The island that the temple is built on is known as Jade Island, and so the temple is known as "The Temple of the Jade Mountain". It's connected to the mainland by the iconic Huc Bridge or the Rising Sun Bridge (a charming Vietnamese scarlet painted wooden bridge that makes a great place to photograph at night).
Legend has it that the emperor was once given a magical sword that helped him to defeat the Chinese Ming Dynasty which brought about the return of the Golden Turtle God to the Lake. The temple houses ancient artifacts including ceramics and a preserved 250kg giant turtle found in the Lake.
Cost – Free to explore the Lake
Getting there: It's in the Old Quarter.
How long should I spend there: It will take less than an hour to walk around it.
2:00PM – Walk Through the Ma May Ancient House
This Hanoi itinerary takes you to this ancient Hanoian house – a step back in time. Come and discover the history of Hanoi and see pictures dating back to the late 19th Century. The ancient house has been restored many times but still maintains most of its old features.
The two main parts of the house are connected by a square in the middle of the yard that was designed to moderate the air and provide a cool breeze and sunlight into the house. The street-facing room was originally used for selling goods, with the rooms on the next floor used for hosting guests and worshipping ancestors.
You'll discover the typically yellow-colored walls, like most Hanoi houses, with all the furniture and decor in good condition. The ancient house is a must-see in Hanoi and a fascinating walk through history to experience the ancient beauty of Hanoi life. There are also some traditional Vietnamese decor items and souvenirs to purchase.
Cost – USD $1
Getting there: it's a 7 minute walk from the Ngoc Son Temple.
How long should I spend there: Around 1 hour should be enough time.
3:00PM – Visit Bach Ma Temple
This 19th Century temple is one of the four royal palaces of Hanoi. Believed to be sacred and commonly used by locals and tourists as a place of worship to pray. The temple was built by King Ly Thai to honour Bach Ma.
The temple was moved to its location in the Old Quarter from Long Do Mountain in order to guard the east side of Thang Long. Legend has it that the name 'Bach Ma', translated to the White horse, refers to the construction of the temple.
The story goes that the King had been struggling with the construction of the temple as the walls kept collapsing. A white horse then outlined with its hooves the area that the King should build the temple, and so it was built.
The architecture is incredible, starting from the ancient wooden doors that open up to a beautifully decorated interior with a red-lacquered funeral palanquin. The temple houses a statue of the White Horse and a shrine dedicated to Confucius, as well as a Phoenix Altar for offerings to the four seasons.
Visiting the temple on this itinerary for Hanoi offers a great insight into the worshippers who come to burn incense and pray and the practice of the Hanoian beliefs.
Cost – Free!
Getting there: it's a 5 minute walk from the last stop.
How long should I spend there: Around 45-minutes to 1 hour should be enough time.
4:00PM – See O Quan Chuong – An Old Gate
The incredible O Quan Chuong Gate is the only original city gate from the citadel on Thang Long to remain. It is an incredible place to photograph the elaborate Asian architecture and learn more about Vietnamese history.
The gate was originally built in 1749 and has withstood thousands of years of war and conflict. This ancient representation of architecture in Hanoi was originally used to open the east side of the city during the day and close it off to protect the citadel from theft and fire at night.
The O Quan Chuong gate was named after a chief of the army. It is a memorial to the Nguyen soldiers who fought against the French when they attacked Hanoi. The gate consists of the original architecture from the Nguyen Dynasty and has two floors and a watchtower.
The only remaining old gate of Hanoi is a fascinating and historical site to see as part of your itinerary for Hanoi. It features the inscription from O Quan Chuong marking the Thang Long capital, as well as proof of the struggle of the indomitable civilians against the foreign invaders.
Cost – Free!
Getting there: it's a 5 minute walk from the last stop.
How long should I spend there: Around 30-45-minutes.
6:00PM – Walk Across Long Bien Bridge
The Long Bien Bridge was constructed between 1899 and 1902, designed by the French but built by Vietnamese workers. It was heavily bombed by the Americans but remained intact with many of its original parts still intact. The bridge is maintained for its memory and historical significance as well as a crossing for trains and motor vehicles.
The bridge is a great historic place for tourists to explore, and with locals coming to shop at the open-air markets in the afternoons. Walk along the 2290m span across the river and experience the unique architectural, historic and cultural value. It's also a great place to watch the sunrise or sunset, or just to admire the scenery.
Cost – Free
Getting there: it's across the road from the last stop.
How long should I spend there: about 20 minutes to 30 minutes.
The second day of your 2 days in Hanoi will be spent getting to know more about the history of the city.
9:00AM – Visit the Ho Chi Minh Mausoleum
The Ho Chi Minh Mausoleum is located in Ba Dinh Square and is one of the most visited attractions in Hanoi. This unique historical experience is a must when visiting Hanoi. The iconic and famous leader of Vietnam, also known as 'Uncle Ho', is preserved here in a glass case (albeit against his wishes). This makes for a fascinating and unique historical visit as part of your Hanoi itinerary.
There is a lot of security at the Ho Chi Minh Mausoleum and tourists are expected to hand over their bags before entering. In the inner sanctum, you'll find Uncle Ho's preserved body under a glass sarcophagus that is guarded by four sentries at each corner of the post. The embalmed body is a fascinating sight and is extremely well preserved and donned in a khaki suit.
Visitors are expected to show respect upon entry into the Mausoleum, and any chattering or indecent movements and actions will be closely monitored by the guards. You're also expected to dress respectfully, covering shoulders and legs and not wearing any indecent attire.
If you're interested in learning more about Ho Chi Minh, you can visit the Ho Chi Minh Museum. The Ho Chi Minh Museum is located just around the corner from the Mausoleum and will take only a short while to visit, but I only recommend those with more time than 3 days in Hanoi because there are a lot cooler places and museums to see.
Insider Tip: Try to visit as early as possible because the crowds will invade the square around noon.
Cost – Free
Getting there: it's located in Ba Dinh, make your way here from your accommodation.
How long should I spend there: Around 30-45-minutes should be enough time.
10:00AM – See the House on Stilts
Uncle Ho commissioned this stilt house to be built for him to dissociate himself from the hated French Governor Generals who lived in the Palace. At this stop, you'll walk from the Presidential Palace visitors entrance along with the gardens and fruit-bearing trees lining Mango Alley, to get to this very simple stilt house.
Uncle Ho lived a very modest and simple life. Propaganda often shows him wearing brown cotton clothes and sandals crafted from the same materials as his fellow countrymen. This is said to be to show empathy with the people and their struggles with the American bomb attacks.
The house on stilts is an interesting visit and is a fascinating historical exploration for your Hanoi itinerary.
Cost – USD $1.5
Getting there: it's across the road from the last stop.
How long should I spend there: Around 45-minutes to 1 hour should be enough time.
11:00 AM – Visit the One Pillar Pagoda
This Pagoda is said to represent a lotus flower rising up out of the water from an elegantly square-shaped lotus pond. This stop at one of Vietnam's most iconic temples is a fascinating one and costs nothing which is perfect for the budget travellers exploring Vietnam!
It was built between the years 1028 and 1054 during the reign of Emperor Ly Thai Tong. The temple is constructed from a wooden base that supports a single stone pillar crafted into the shape of a lotus blossom. It is a symbol of Hanoi and is one of the most revered sights in the city.
Explore the surrounding tranquil gardens with benches to relax and absorb the scenery in perfect contemplation. Inside the pagoda, you'll find a shrine dedicated to the Vietnamese Buddhist deity Quan Am.
The One Pillar Pagoda is said to have been built following a dream by a childless emperor. The temple stands in gratitude for the Goddess of Mercy following the birth of his son and is where the locals come to pray for blessings of fertility and health.
Insider Tip: the Dien Huu Pagoda is located close by and boasts a courtyard full of exquisite Bonsai trees.
Cost – Free!
Getting there: it's around the corner from the last stop.
How long should I spend there: Around 45-minutes to 1 hour should be enough time.
12:00 PM – Admire Artifacts at the Vietnam Military History Museum
This is probably one of the best museums in Hanoi and is an interesting step into history. Come and discover the museum full of Vietnam war artifacts and military paraphernalia. The actual building is built in the shape of a white lotus flower and built around the remains of a crashed jet plane!
Walk around the museum looking at the impressive collection of military orders, mementos, and photos of the communist party's earlier achievements. It also houses the great revolutions and exhibits related to Ho Chi Minh's political activities, and is one of the most fascinating Hanoi points of interest for all history buffs!
Cost – USD $1.5
Getting there: it's a 10 minute walk from the last stop.
How long should I spend there: Around 1-2 hours should be enough time.
2:00PM – Visit West Lake & Tran Quoc Pagoda
Spend your time at this stop walking around the scenic West Lake and visiting the oldest Pagoda of Hanoi. Come inside to discover the main temple some beautiful Buddhas and Bodhisattvas statues.
The Tran Quoc Pagoda is located on the East side of West Lake on a small peninsula. It is regarded as the most ancient pagoda in Hanoi, existing for more than 1500 years.
Discover the history and architecture of this Buddhist center that is representative of the beautiful landscape and the peaceful Lake. This temple has great historic value and has changed names many times as representations of the different milestones of the country, now meaning "Protecting the country".
Cost – Free
Getting there: it's a 30 minute walk from the last stop, or you can take a Grab bike.
How long should I spend there: Around 45-minutes to 1 hour should be enough time.
4:00PM – Enjoy the Museum of Ethnology
There are 54 different ethnic groups in Vietnam, and this museum plays a major role in preserving cultural heritage and promoting socio-cultural diversity. It's also a center for important ethnographic research and highlights the traditional Vietnamese ways of life.
Visitors are welcome to come and browse the vast research that's on display here, and learn more about the incredible diversity in the city. From religious events to different symbolic rituals of varying Vietnamese ethnic groups, there is a great deal to learn from a visit to the Museum of Ethnology as part of your Hanoi itinerary.
Insider tip: on your way to the Museum of Ethnology from the last stop, you could swing by the Vietnamese Women's Museum which tells a history of all the incredible women who have contributed to Vietnam's history and culture. The Vietnamese Women's Museum is not huge and takes a short while to see, so I would only recommend visiting if you have time.
Cost – USD $1.5
Getting there: Take a Grab bike to the next stop, it's a 1.5 hour walk.
How long should I spend there: Around 1-1.5 hours should be enough time.
7:00PM – Watch a Performance at the Thang Long Water Puppet Theatre
The water puppet show is the ideal cultural destination for your Hanoi itinerary as it is the traditional performance of Vietnamese people and runs multiple shows daily. This world-famous Thang Long Water puppet show originates from an art form that dates back to the 11th century.
The tradition stems from a time when rice paddy fields were all flooded and the villagers would provide entertainment for themselves by standing in the waist-deep waters with puppets, and create a show.
The performances are accompanied by a Vietnamese orchestra playing traditional music and telling tales with operatic songs. The puppet show is a great way to learn about some interesting Vietnamese folk tales in a humorous way.
Cost – USD $4/$5
Getting there: Take a Grab bike back to the Old Quarter and Hoan Kiem Lake. The theatre is by the lake.
How long should I spend there: The show is approximately 1 hour long.
Three days is hardly enough! If you're going to be staying longer, then here are some more ideas on what to do in Hanoi.
Temple of Literature
A beautiful and ornately decorated temple.
Has some stunning gardens surrounding it.
One of the most important historical landmarks in Hanoi.
The Temple of Literature is a temple dedicated to Confucious, sages, and scholars from the Lý Thánh Tông era. It also houses the Imperial Academy, Hanoi's first National University. This stunning temple was built in 1070 and has a variety of pavilions, halls, statues, and stelae of doctors who offered ceremonies, study sessions, and exams.
The Temple of Literature is an important historical landmark in Hanoi. In fact, it is featured on the back of the 100,000 Vietnamese ??ng banknote. It is also the place of celebration just before the Vietnamese New Year where calligraphists will write wishes in Ch? Hán.
See St Joseph's Cathedral
The oldest church in Hanoi
Built in gothic revival style, it's one of the most beautiful cathedrals in Southeast Asia
The cathedral has 2 bell towers more than 100ft tall
St Joseph's church was built in 1886 in a medieval gothic style that is said to resemble the Notre Dame of Paris. The whole building is about 5 stories high, with the most noteworthy features being the bell towers, elaborate altar, and stained glass windows.
This is the oldest Roman Catholic church in Hanoi. In order to erect the site, the French demolished Bao Thien Pagoda which stood in its place. This pagoda was an important one that dates back to the 12th century.
On the little plaza in front of the cathedral, you'll find a statue of a figure holding a child in one hand with a long cross in his right hand. Entry via the main gate is only allowed during mass, and at other times can only be entered through the left side door of the church.
It is recommended that you check the opening times of the church before you go as they close during lunchtime. This is definitely one of the best places to visit in Hanoi if you have the time.
Explore Hoa Lo Prison
Learn about the sufferings of the Vietnamese revolutionaries who were confined in Hoa Lo Prison
Intended to make an example of Vietnamese agitators for independence by the French colonial administrators
An interesting insight into the colonial history of Hanoi
Visiting the Hoa Lo Prison is an eye-opening and fairly daunting experience. You'll see the shackles on the walls and floors that held the prisoners down, where they were often beaten by the guards.
The prison was nicknamed the 'Hanoi Hilton' by US prisoners of war during the American war – the name was intended ironically as it was squalid and overcrowded (so the 'Hanoi Travelodge' would be more befitting!).
The prison was built by the French between 1886 and 1901, with an additional renovation in 1913. Executions were often carried out at the prison with a mobile guillotine, which is still on display at the prison near the prison's death row.
Visit Hanoi Opera House
An incredible historical and artistic building
See some amazing performing arts at an exciting show
Discover Vietnamese artists at this great venue!
The Hanoi Opera House is one of the most fascinating examples of colonial architecture in Vietnam. It is a great addition to any Hanoi itinerary. It was built from 1901 to 19011 and was inspired by ancient Greek architecture and the Paris opera house.
Visiting the Hanoi Opera House is a wonderful way to observe the flourishing art in Hanoi. From Vietnamese artists who are living their dreams by performing at this opera house that is the oldest and most representative form of artistic expression in Hanoi.
The building itself is so impressive that it's worth going to see even if you don't plan on watching one of the performances! If you do, shows cost USD $17 and host high-quality art programs that live up to international standards.
Browse Ta Hein Night Market
Vibey night market
Great street food and restaurants
A lovely place to visit in the evenings with loads of people visiting every day!
Whilst staying in Hanoi, it would be a pity to miss out on this awesome night market that attracts a huge number of people to shop and eat every night. The crowds are often mostly made up of young people and it's a great place to socialize and experience Hanoi at night time.
There are plenty of restaurants and food stalls to choose from and bars that serve guests with a variety of different drinks. This is the perfect place to gather with friends in the evening and enjoy the vibrant lifestyle of Hanoians.
Perfume Pagoda
One of the oldest pagodas in Vietnam!
The place where locals go to pray for wishes to come true
Discover the stalactites and stalagmites that have been named after the different blessings they can bestow
The Perfume Pagoda is located 60km outside of Hanoi, but if you have the time it is definitely worth the visit. This pagoda is a sacred site that is highly revered by Vietnamese people who come to pray for their wishes to come true!
Surrounding the pagoda and cave is a maze of incredible Buddhist temples that have been built into the limestone cliffs of Huong Tich and are an incredible sight to see.
The surrounding area is just as beautiful with a spiritual kind of beauty filled with streams and tropical plants, as well as temples. There are many pagodas here to visit, each offering a different shrine and individual blessings of good luck!
Be sure to come and make your wishes come true by receiving good luck from the stalagmites and stalactites found in these scenic caves with incredible natural surrounds. From January to April, the pagoda is particularly busy due to the Chua Hunong festival, which is great to check out if you are around during those times.
Train Street
A great place to get some unique photos.
A good spot to try Vietnamese coffee.
One of the most unusual places to visit in Hanoi.
Train Street is one of the more unusual places to visit in the city. It's a small, narrow street lined with cafes, boutique stores, and bars. Through the middle of the street is a railway line, which is often used by trains.
When visiting train street, you can sit on a small fold-up chair and sip a Vietnamese coffee and watch as the locals and tourists occupy the train line, only to rush to move it to one side when a train comes by.
There isn't much to see and do there other than drink coffee and take photos, but it is certainly one of the most unique attractions in the city.
You can find train street in the C?a ?ông, Hoàn Ki?m district.
It's important to consider the weather when planning a trip to Hanoi. Hanoi is located in the North of Vietnam and doesn't have the typical tropical weather system. They have 4 seasons in one year – Spring (February to April), Summer (May to August), Autumn (September to October), and winter (November to January). I have gathered all this information so you know what to pack for your holiday in Vietnam's capital.
The best time to be looking to travel to Hanoi is generally in Autumn or Spring when the weather is more pleasant with milder temperatures but not too cold or rainy. The rainy season is from about May to September when there is fairly consistent rainfall that may affect your holiday in Hanoi.
The winter months are colder than the typical tropical climates with temperatures sometimes falling below 10ºC (50ºF) with dark and foggy conditions to be expected. Hanoi has high humidity year-round. Use these Hanoi travel tips to plan when to visit Hanoi!
Hanoi travel is relatively easy on foot when exploring the Old Quarter and sights and landmarks around the Lake and central Hanoi. There are some beautiful walking routes that you can take to see the best of Hanoi and to take in all the sights and smells of the city.
If you're heading to a destination a bit further afield, there are a couple of options. If you are comfortable driving a scooter on busy roads, this is the easiest and cheapest way to get from point A to point B.
Grab is the local taxi service, similar to Uber, that is easily accessible by downloading the app on your phone and can be used from anywhere. It's relatively cheap and avoids major taxi scams.
If you'd like to take public transport, the bus system is a great affordable option and goes to most major landmarks or parts of the city. Cycling is another great option for an active and cheap way of seeing Hanoi. You can also join a Hanoi walking tour to see the best of the city on foot.
I've compiled a useful 2-day itinerary for Hanoi to help you start off your stay exploring the best places and seeing the coolest things. If you'll be backpacking around the city for longer and are looking for suggestions for a 3-day itinerary for Hanoi and beyond, there are some more ideas listed on how to spend your time.
Vietnam is safe for tourists, and Hanoi is considered a very safe place to visit on your trip. Generally, the biggest danger you'll face in Hanoi is crossing the street and dodging scooters on the busy streets on a daily basis!
Violent crimes are uncommon, and although occasionally petty theft like pick-pocketing may occur when the opportunity arises. This can often be avoided by being aware of yourself and your surroundings.
If you're going to ride a motorbike around Hanoi, just be sure to wear a helmet and drive with caution. Don't jump on the bike after a night out drinking, and be sure to lock up your scooter or pay to park it with an attendant to avoid theft.
World Nomads' mission is to support and encourage travellers to explore their boundaries. They offer simple & flexible travel insurance, and safety advice to help you travel confidently.
They've been doing it since 2002 – protecting, connecting, and inspiring independent travellers just like you.
Get a quote below or read our in-depth review!
World Nomads provides travel insurance for travelers in over 100 countries. As an affiliate, we receive a fee when you get a quote from World Nomads using this link. We do not represent World Nomads. This is information only and not a recommendation to buy travel insurance.
Find out what people want to know when planning their Hanoi itinerary.
Hanoi offers the perfect combination of tradition and modernity. Now, you'll be able to really get to know Hanoi armed with this valuable Hanoi travel guide. Thanks to us you'll really experience the authentic way of Vietnamese life along with the history that has shaped their culture, beliefs, and fascinating architecture.
Now you know what to do as a 3-day itinerary in Hanoi, you'll enjoy spending your time exploring ancient temples or pagodas and experiencing the peaceful and calm feeling that exists amongst the busy and noisy streets of Hanoi. At war sites or museums, you'll get to learn about the long yet tragic history of Vietnam and how this has shaped the lives of the people.
Hanoi is a frantic city of hustle and bustle, yet has so much to offer in the way of spirituality and traditional beliefs from the kind and giving people who live there. Enjoy hearing the sounds, tasting the foods, and making the most of your trip to Hanoi, this incredible capital of Vietnam!
---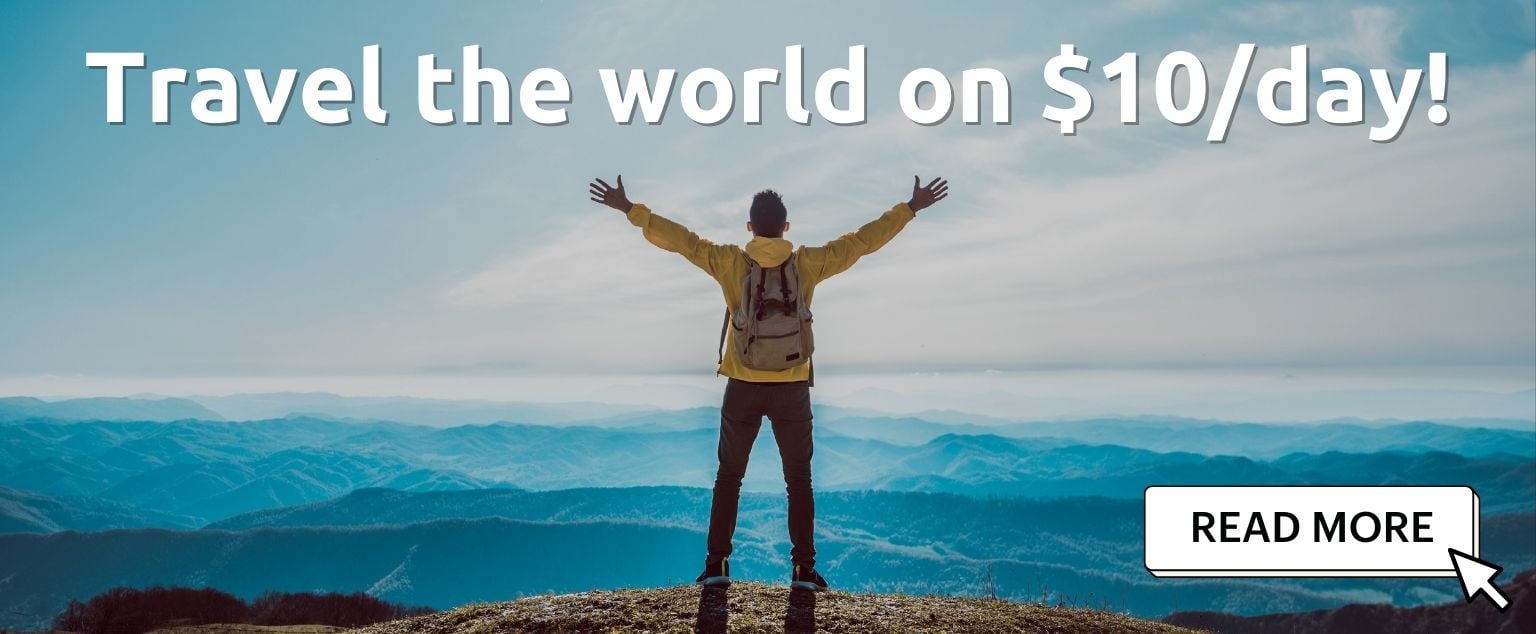 And for transparency's sake, please know that some of the links in our content are affiliate links. That means that if you book your accommodation, buy your gear, or sort your insurance through our link, we earn a small commission (at no extra cost to you). That said, we only link to the gear we trust and never recommend services we don't believe are up to scratch. Again, thank you!