Maui is Hawaii's second-largest island, popular for its golden sand beaches, hidden coves, and marine wildlife. Whether you're visiting to explore the warm local culture, enjoy a relaxing beach vacation, or get your heart pumping on thrilling island adventures, rest assured that Maui is full of unforgettable experiences.
Not only are there plenty of things to see and do, but there are also plenty of places to choose from when deciding where to stay. Staying in one a villa in Maui is a great way to add a little pizzaz to your vacation, allowing you to make the most of this island paradise.
We've gathered this list of some of the coolest villas in Maui to help you find unique accommodation a little easier, no matter what your budget and travel style. Whether you're planning a family vacation, romantic getaway, or anything in between, we've got you covered.
In a Hurry? Here's Where to Stay in Maui for One Night
FIRST TIME IN MAUI
Ocean View Villa in Kapalua
Ocean View Villa in Kapalua is a newly remodelled contemporary space with impressive ocean and golf course views. It sits in a quiet location and is fully equipped, making it perfect for a couple looking for a quiet place to relax.
Places to visit:
Napili Bay
Iao Valley State Park
Waihee Ridge Trail
Is this amazing Maui Villa booked for your dates? We've got your back with our other favourite properties below!

Unlock Our GREATEST Travel Secrets!
Sign up for our newsletter and get the best travel tips delivered right to your inbox.
Staying in a Villa in Maui
Accommodation in Maui ranges from hotels and resorts to bungalows and villas. It can seem overwhelming when choosing from such a large variety, but there's just something extra special about staying in a villa in Maui.
Villas provide a spacious and comfortable stay in a luxurious home-away-from-home. They're fully equipped and come with some added bells and whistles, such as a hot tub or a wraparound balcony.
Villas in Maui provide the privacy you couldn't get anywhere else and make for a truly memorable experience. However, there are a few things to look out for when finding the best ones.
What to Look for in a Villa
The beauty of staying in one of the best villas in Maui is that you have the entire home to yourself. A search on Airbnb will offer you plenty of villas to choose from, some with more luxuries than others, but many will have some of the same elements.
You can expect proximity to Maui's sandy beaches, rocky coves, and the sparkling ocean to come almost as standard. Enjoying Maui's exceptional weather, ocean breezes, and gorgeous scenery is better when you have an outdoor area to enjoy, whether that's a lanai, a balcony, a deck, or a lush tropical garden.
Other popular amenities like hot tubs and swimming pools are also easy to come by.
Overall Best Value Villa in Maui
Overall Best Value Villa in Maui
Ocean View Villa in Kapalua
> $
> 2 Guests
> Self-check-in
> Ocean and golf course views
Best Budget Villa in Maui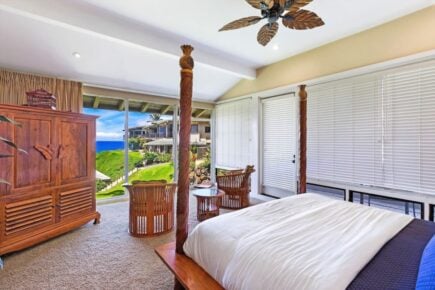 Best Budget Villa in Maui
Hale un Lugar Celestial
> $
> 2 Guests
> Private entrance
> Island style living
Best Villa for Couples
Best Villa for Couples
Napili Cove
> $$
> 2 Guests
> Outdoor shower
> Modern yet rustic home
Best Villa for a Group of Friends
Best Villa for a Group of Friends
Makena Aloha
> $$
> 10 Guests
> Hot tub and pool
> Mountain and ocean views
Best Villa for Families Visiting Maui
Best Villa for Families Visiting Maui
Villa Moana Maui
> $$$$
> 16 Guests
> Covered top floor deck
> Expansive ocean views
The Absolute Cheapest Villa in Maui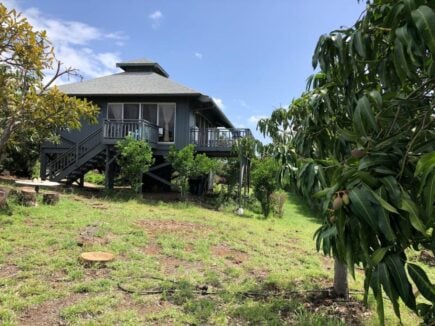 The Absolute Cheapest Villa in Maui
Formosa Makamae Villa
> $
> 4 Guests
> Open deck facing the sea
> 360-degree panoramic views
Amazing Luxury Villa in Maui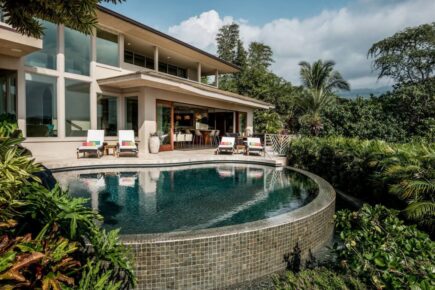 Amazing Luxury Villa in Maui
Hale Makena Maui
> $$$$
> 8 Guests
> Circular cabana bar
> Designer villa overlooking the sea
The Top 15 Villas in Maui
We've gathered this list of the best villas in Maui to help you to find one that perfectly meets your needs. Whatever your travel style and budget, these unique accommodations in Maui offer a little something for everyone.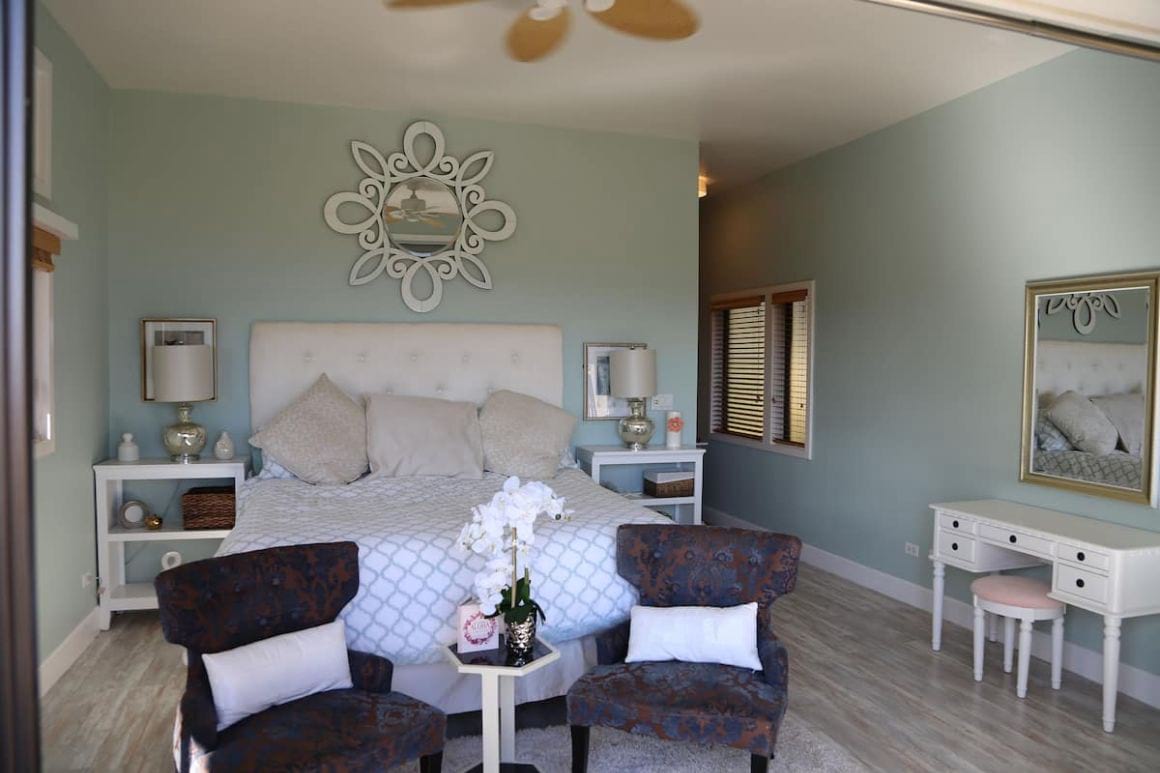 $$
2 Guests
Self-check-in
Ocean and golf course views
Located in a quiet cul de sac, Ocean View Villa in Kapalua enjoys exceptional ocean and golf course views from its position on the top of The Ridge.
The newly remodelled villa is spacious and contemporary, with everything needed for a truly relaxing stay. The ground floor boasts a spacious living/dining area, while the bedroom is beautifully furnished and features a plush double bed. Because this is a corner unit, all rooms enjoy gorgeous ocean views and are filled with natural light.
Enjoy gorgeous views and a glass of wine in your private outdoor area. There's also shared swimming pool for guests to use, as well as a complimentary shuttle to transport guests around Kapalua.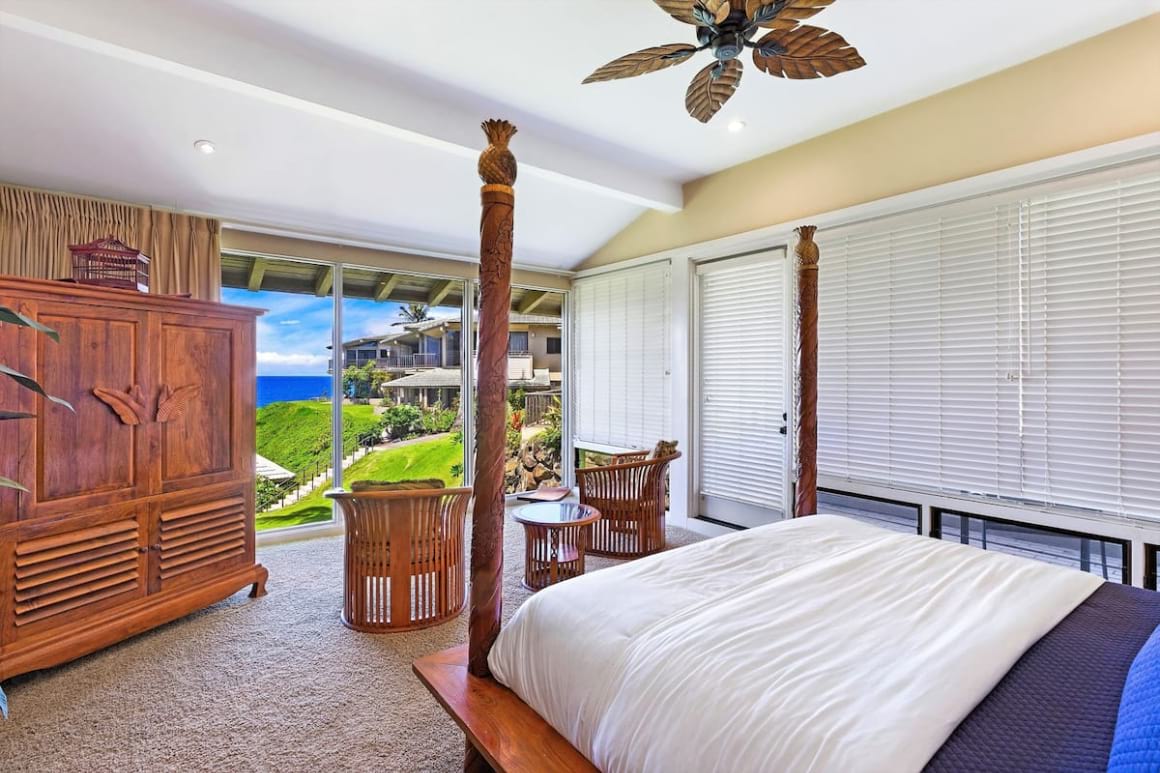 $
2 Guests
Private entrance
Island style living
Travellers visiting Hawaii on a budget will love this place. Hale un Lugar Celestial, meaning 'Home in a heavenly place', is a two-story, ground-floor villa overlooking a pool and the ocean in Kapalua Bay. And it offers damn good value for money!
The villa has been completely renovated, providing a comfortable island living experience. The details throughout are what make this place especially unique, from the hand-carved king bed and bamboo furnishings to the tropical artwork. An outside patio area is perfect for enjoying the cool ocean breeze and views.
There are three pools in the complex, each equipped with barbeques and kitchenettes. A beautiful oceanfront coastal trail is within easy reach of the villa – ideal for couples who enjoy scenic walks. Other amenities include free wifi, free parking, and laundry facilities, making your stay as convenient as possible.
Best Villa for Couples – Napili Cove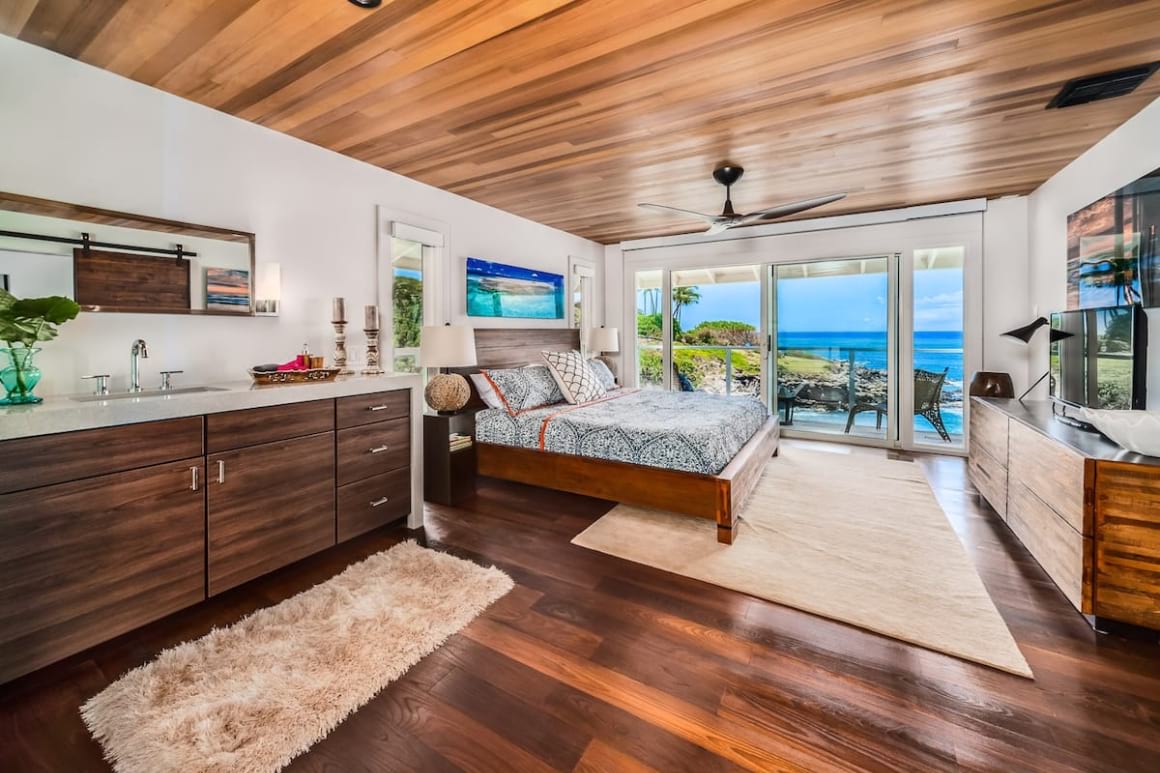 $$
2 Guests
Outdoor shower
Modern yet rustic home
Love birds, this one's for you. Napili Cove sits above a rocky shore overlooking the ocean, just steps away from a private beach on Maui's sunset coast.
This idyllic retreat actually has two king suites (but maybe don't tell the in-laws). Each room has a private balcony where guests can enjoy the views and ocean breeze. Downstairs, there's a spacious and well-equipped kitchen, formal dining area, and lounge with glass doors to the patio.
Spend lazy days together on the sun lounger, swim in the shared pool, or set out to explore the rest of the island. A concierge service can be added to your stay to arrange various activities and excursions.
Best Villa for a Group of Friends – Makena Aloha
$$
10 Guests
Hot tub and pool
Mountain and ocean views
Makena Aloha is a spacious villa located in a quiet area Lahaina, nestled between the mountains and the ocean. Surrounded by fruit trees and coffee plants, the villa enjoys lush surroundings and a tranquil setting.
The spacious villa has five bedrooms, making it ideal for a large family or group of friends travelling together. In addition to a gourmet kitchen, there's a large living area and plenty of space for everyone to relax.
There's lots to get out and explore in the surrounding area, but there's plenty to do at the villa! Relax in the elevated hot tub, take a dip in the pool, or lie out in the lovely garden to enjoy the sunshine and ocean views.
Is This the Best Travel Pack EVER???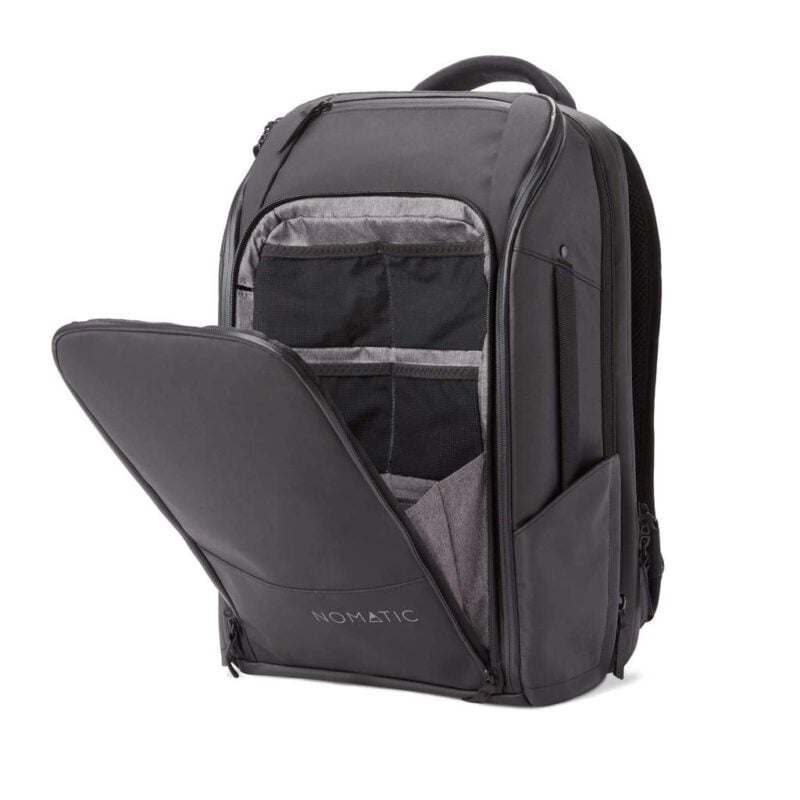 Another Great Villa for a Group of Friends – Luana Garden Villas
$$$$
24 Guests
Four separate villas
Access to all resort amenities
Luana Garden Villas form part of the Honua Kai Resort and Spa in Kaanapali Beach. The whole accommodation is made up of two upper-level and two ground-level villas, providing heaps of space for the whole gang.
Ideal for a multi-family or large group getaway, the four villas together have a total of 12 beds with additional sleeping space. Each villa has its own kitchen and patio with barbeque facilities and is stylishly decorated.
As well as your luxurious abodes, you'll also have access to all of the resort facilities and amenities. These include swimming pools, waterfalls, restaurants, and a fitness centre. This is the ideal place to stay in Kaanapali for its facilities.
Best Villa for Families Visiting Maui – Villa Moana Maui
$$$$
16 Guests
Covered top floor deck
Expansive ocean views
Villa Moana is just steps from the beach in a private and quiet back road. Downtown Kihei is a few blocks away, providing shopping and dining opportunities.
With spacious and well-equipped living areas, this is one of the best villas in Maui for families. Handy extras like a crib and highchair are provided for the little ones, as well as books and toys for older children.
The villa offers easy access to the coast, so make sure to pack your beach essentials! Snorkelling gear and umbrellas are provided, and there's plenty of green space back at the villa to run around in.
$
4 Guests
Open deck facing the sea
360-degree panoramic views
There are plenty of hostels around Hawaii, but why stay there when you can have this! Formosa Makamae Villa is located on a hilltop above Keawakapu Beach just seven minutes from Wailea Beach. The villa is surrounded by incredible flowers and plants as the property was once part of the botanical gardens.
The villa is compact and features one bedroom, but there's additional sleeping space on a sofa bed in the living area. This area has large glass doors and windows, flooding the accommodation with natural light and magical views. A furnished balcony provides an ideal place to enjoy meals outdoors.
The affordable nightly rate makes this villa in Maui perfect for those travellers o a shoestring budget. We also think the location makes it ideal for a couple or small family looking for a quiet stay away from the crowds.
$$$$
8 Guests
Circular cabana bar
Designer villa overlooking the sea
Hale Makena is one of the most luxurious villas in Maui. Perched on a hillside overlooking Makena Beach, it's surrounded by lush vegetation and swaying palms which provide seclusion and privacy.
The villa has four stylish bedrooms for eight guests and plenty of indoor and outdoor space to stretch out. An infinity pool, hot tub, private lanai, and cabana bar provide a relaxing atmoshphere. Indoors, the villa has everything you'll need for a comfortable stay.
Makena Landing beach is a short walk away from the villa, and a quick five-minute drive gets you to the town of Wailea.
Best Villa for a Weekend in Maui – Lahaina Sun Villa
$$$
10 Guests
TV in each bedroom
Luxury home-from-home
If you're only spending a couple of days in Maui, then location is everything! This epic villa lies in the heart of the historic Lahaina Town, just steps from the beach. A short stroll will take you to Baby Beach, while a quick drive will get you to Kaanapali Beach and Black Rock. Free parking is provided at the villa.
The spacious home has no less than five bedrooms, four full bathrooms, and two living rooms. The kitchen is well equipped, but if you don't fancy cooking, there are several restaurants within easy reach.
Head into town, lounge on the beach, and make the most of the gorgeous ocean. Snorkel gear, boogie boards, and other beach necessities are available for guests.
Villa with an Epic Location – Paradise Cove
$$$
6 Guests
Hot tub with a view
Rare gem in a tranquil setting
Paradise Cove is perched on a rocky shore overlooking the turquoise ocean in Napili on Maui's west coast. There's a sandy cove nearby, and shops and restaurants are within walking distance.
Floor-to-ceiling windows in the living area invite the beautiful outdoors in. The incredible views of neighbouring islands can be enjoyed from the lanai, which provides the perfect setting for outdoor dining. Spectacular sunsets can be enjoyed from the hot tub which also features a cascading waterfall, and there's a large indoor pool for swimming.
The west coast is known for its excellent surfing, kayaking, snorkelling, and sunbathing, so take your pick! The location makes this an ideal vacation rental in Maui for a group or family.
$$$$
10 Guests
Sweeping ocean views
Designer minimalism
The modern beachfront residence is located in a private and peaceful natural setting. The swaying palms, lush vegetation, and sweeping ocean views are without a doubt some of the best you'll find in Maui.
This designer villa features modern and minimalist décor throughout all of the five bedrooms. The stylish living area is open plan with a well-equipped kitchen. Outside, there's a large furnished patio, swimming pool, and hot tub that all provide beautiful views of the ocean.
With so much to see and do at the villa, we won't blame you for not wanting to leave! If you do, there are three beach parks nearby, and the nearby town provides shopping and dining opportunities. Kihei was once a popular destination for Hawaiian royalty, and with so much to explore, it's easy to see why!
$$
6 Guests
Wraparound private lanai
Dreamy top-floor penthouse
Wailea Beach Villa looks out over Lanai, Kaho'olawe, and Molokini Crater. And, as the name may suggest, it's just five minutes from Wailea Beach.
The spacious villa is ideal for up to six guests, with three bedrooms and plenty of space to relax in. The living area opens onto the well-furnished wraparound lanai through sliding glass doors so guests can soak in the spectacular sunsets.
All resort amenities are also available to guests, including a shared swimming pool, hot tub, fitness center, and games room.
Best Villa for Long-Term Travellers – Villas by the Cove
$$$$
16 Guests
Private concierge service
Renovated boutique vacation
If you're planning to stay in Maui long-term (you lucky thing), then you'll love this place. It provides all the comforts of home and a prime location just a few steps from the sandy shore. Cove Beach Park is right nearby, where you'll find a very popular surf spot.
The estate is remodelled and is actually made up of two villas. It provides a comfortable and well-equipped stay for families and groups looking for an idyllic island escape.
The property boasts two communal barbeques and lush tropical gardens. Nearby, guests can enjoy swimming, snorkelling, and whale-watching. Nearby Kalama Park is a haven for the little ones, offering a jumbo playground, skate park, and sports facilities.
Most Beautiful Villa in Maui – Kamaole Villa
$$
6 Guests
Instant beach access
Your own slice of paradise
Kamaole Villa lies along a pristine stretch of golden sand of Kamaole Beach. Shops and restaurants are within walking distance, putting you in a superb location to make the most of your visit.
The three-bedroom villa has a sparkling pool that runs the entire length of the property, as well as a hot tub and separate plunge pool. The tiled lanai is great for relaxing and making the most of the barbecue area.
The villa is a destination in itself, but if you're keen to explore the island, Kihei's reefs make for incredible snorkelling, and Maalaea Bay is great for seeing endangered marine species and whale watching.
Another Beautiful Villa in Maui – Blue Sky Villa
$$$$
10 Guests
Private meditation tower
Gracious and beautiful villa
Blue Sky Villa is just a short drive from Lahaina and Ka'anapali beaches, which are both top surf sports. The villa enjoys exceptional views of the ocean, mountains, and surrounding areas, including Lanai, Kahoolawe, and Pu'u Kukui.
The exceptional design makes this one of the most stunning villas in Maui. The interior honours the swirling seas and skies of the island, while retractable glass doors blur the distinction between indoors and outdoors.
From the dedicated meditation tower to the lap pool and hot tub, the outdoor patio area is a haven of relaxation. They didn't cut any corners inside, either; on top of your usual home appliances, there's a media room, formal dining area, and a flashy breakfast bar.
Don't Forget Your Maui Travel Insurance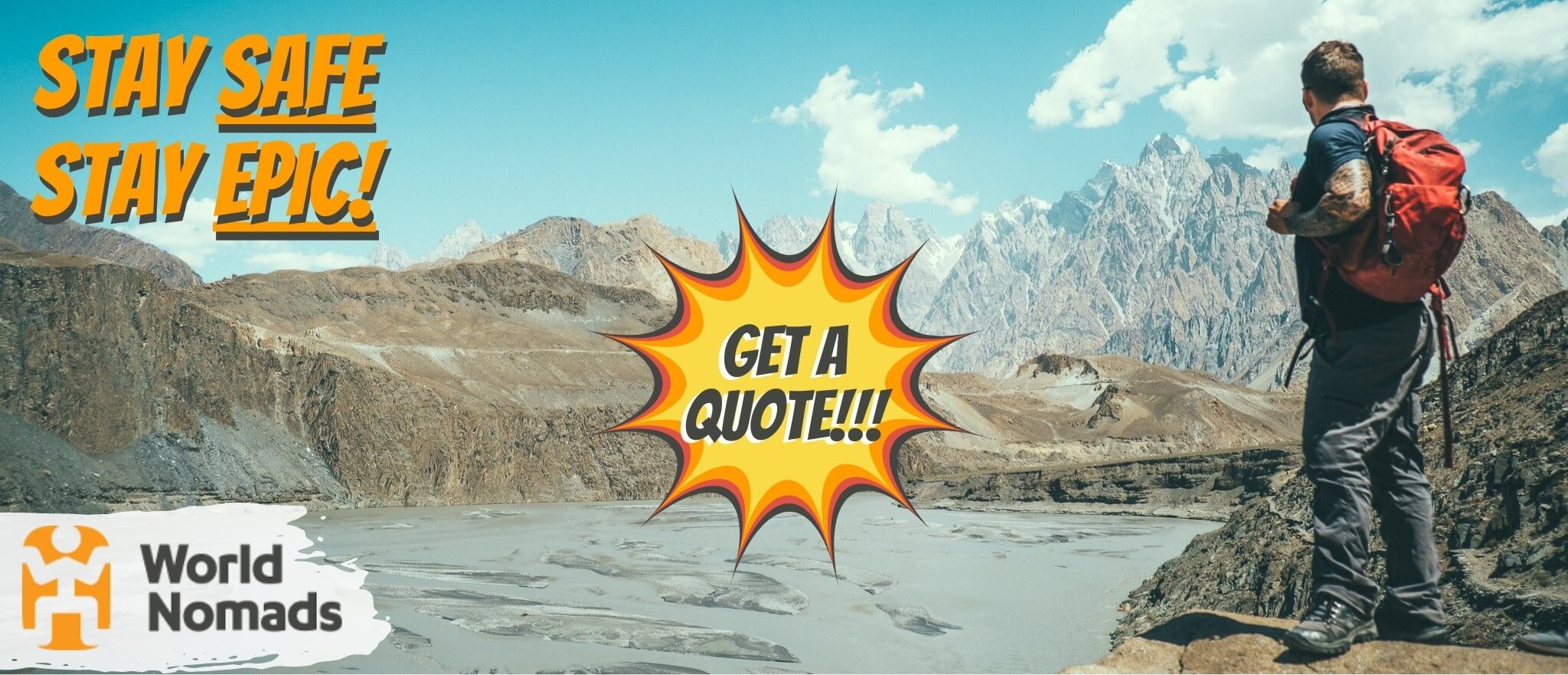 World Nomads' mission is to support and encourage travellers to explore their boundaries. They offer simple & flexible travel insurance, and safety advice to help you travel confidently.
They've been doing it since 2002 – protecting, connecting, and inspiring independent travellers just like you.
Get a quote below or read our in-depth review!
World Nomads provides travel insurance for travelers in over 100 countries. As an affiliate, we receive a fee when you get a quote from World Nomads using this link. We do not represent World Nomads. This is information only and not a recommendation to buy travel insurance.
Final Thoughts on Maui's Villas
A stay in Maui offers not just an idyllic island holiday, but a chance to explore the incredible natural beauty of this island paradise. From watersports and hikes to marine wildlife and ancient cultures, this island is a bountiful destination to discover.
A true island retreat is arguably best enjoyed from a private and well-equipped home in the form of one of the best villas in Maui. Not only will you enjoy a spacious and well-managed retreat in paradise, but you'll be able to add on some extra luxuries to really take your relaxation up a notch.
---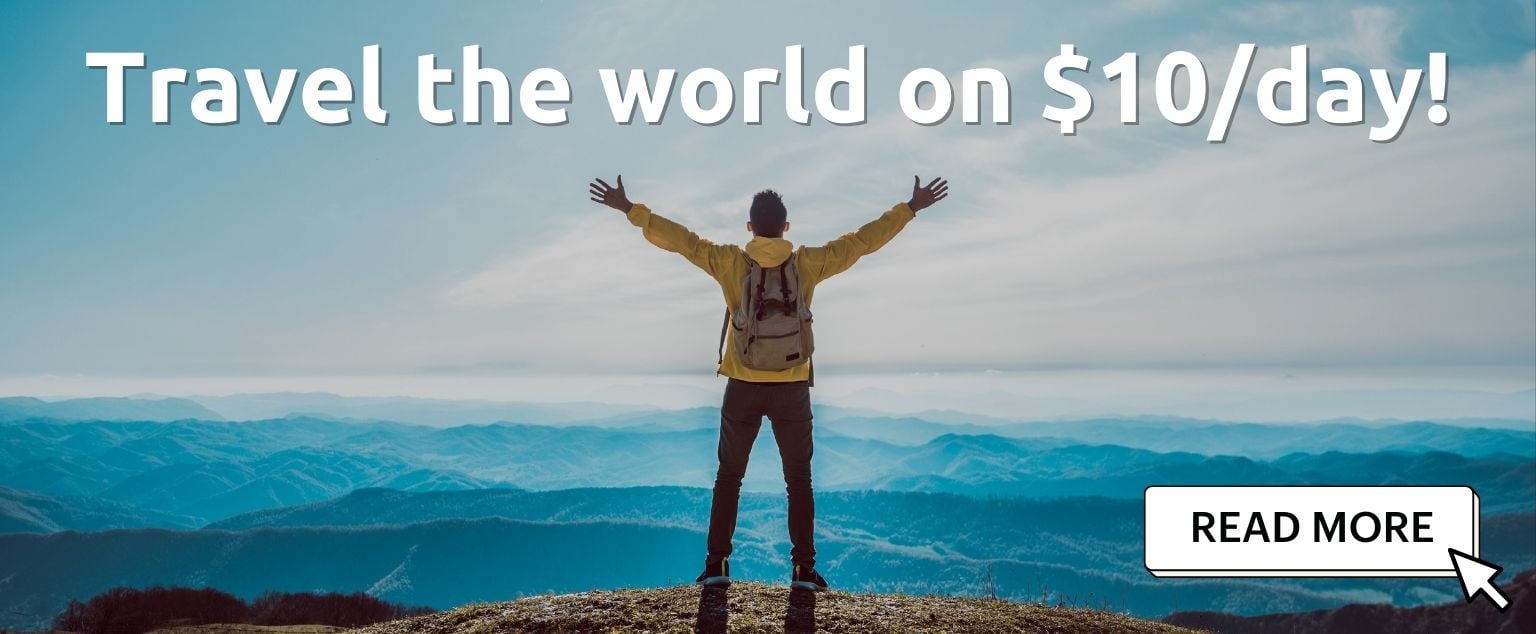 And for transparency's sake, please know that some of the links in our content are affiliate links. That means that if you book your accommodation, buy your gear, or sort your insurance through our link, we earn a small commission (at no extra cost to you). That said, we only link to the gear we trust and never recommend services we don't believe are up to scratch. Again, thank you!