When Hawaii first planned to build resorts, they put them in Kaanapali, where they have been the blueprint for world-class resorts located around the world. If you want to experience the best, this part of Maui is the place to be.
Surrounded by an abundance of natural beauty, three miles of glorious, white sand beaches, and perfect year-round sunny weather, Kaanapali is an ethereal travel destination that leaves everyone stunned to the bones.
Located in northwest Maui, this area was relatively unknown, until the Kaanapali Beach Resort was constructed in the 1960s. It was the first large-scale hotel built on this part of the island and it caught a lot of attention from tourists, who flocked in the thousands to experience this marvelous place.
Since then, more and more resorts have sprung up every year and it is now one of the premier travel destinations in all of Hawaii!
But resorts are not all Kaanapali is good for. It has endless activities to offer – you can pass the days soaking up the sun on the miles and miles of sandy white beaches or play a round of golf on a professional course!
Do you want to push your adventurous side to its limits? Fly through the air on a zip-line or explore the ocean floor in a submarine. Are you here to celebrate your honeymoon? Take on a heavenly sunset cruise or receive a romantic couples massage. You can do all this, and much much more, right here in Kaanapali.
When it comes to deciding where to stay in and around Kaanapali, I know it can be overwhelming and confusing at times. But don't worry, that's why I've prepared this ultimate Kaanapali area guide, so you can find the best place to stay near Kaanapali no matter who you are and what type of accommodation you are looking for!
Let's get started!
Where to Stay Near Kaanapali – Our Top Picks
Headed to Kaanapali and looking for a place to stay but don't have much time? Here are our top overall recommendations on the coolest places to stay near Kaanapali.
In a town famous for its resorts, this spectacular penthouse stands head and shoulders above the competition. It's a modern one-bedroom apartment that can comfortably sleep up to five people, but it's the lavish rooftop terrace that makes it one of a kind. From here, you can see some of the best ocean views in all of Maui, and the private Jacuzzi is a marvelous place to relax and watch the sunset at the end of the day while drinking an ice cold beverage.
Hakuna Matata Hostel is the ultimate budget accommodation near Kaanapali, and the highest-rated hostel on all of Maui. The dorm room prices are astronomically low and they offer fantastic private rooms as well. It is located in the center of Lahaina and is surrounded by some epic restaurants and bars. They have snorkeling equipment, bikes, surfboards, and kayaks that guests can use free of charge. For those of you who love socializing and nightlife, this is for sure where to stay near Kaanapali.
This resort in Kapalua has it all, and that is why it's our top choice near Kaanapali! They have one-bedroom, two-bedroom, and three-bedroom traditional suites to choose from, or you can stay in a jumbo superior villa that sleeps up to 10 people. For sports lovers, they have tennis courts and a gym within the resort and the Kapalua Golf Club Bay Course is only a seven-minute walk away. Finally, this is a great choice if you are traveling for business thanks to the numerous meeting rooms throughout the grounds.
Kaanapali Area Guide
FIRST TIME NEAR KAANAPALI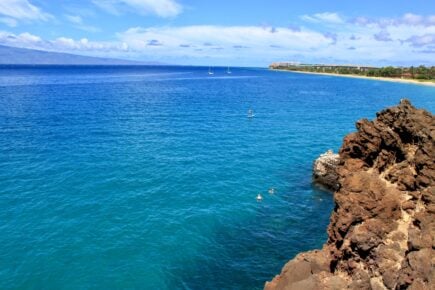 FIRST TIME NEAR KAANAPALI
Kaanapali
Kaanapali is one of the ultimate resort towns not only in Hawaii, but on the entire planet. Almost everywhere you look there are thereare massive, fancy resorts which appear to come directly out of magazines.
ON A BUDGET
ON A BUDGET
Lahaina
Hop in the car and drive south for 10 minutes and you will find yourself in the historic town of Lahaina. It has a long and important history within Hawaii, and today it's packed with historic sites.
FOR FAMILIES
FOR FAMILIES
Kapalua
Kapalua is a quieter and much more laidback area of western Maui located about 10 minutes north of Kaanapali. It is home to a handful of hidden bays which are full of marine life and exquisite for snorkeling or diving.
Kaanapali is the heart and soul of western Maui and the most visited tourist destination in the area. You will love its central location that is smack bang in the middle of all the most popular activities.
One of the top things to do in the area is to head to Myths of Maui for an oceanfront Luau with Hawaiian food and drinks, live music, dancing, and a fire show. If you covet a luxury resort, and the price is not a factor, this is the spot for you!
Just down the coast sits the attractive town of Lahaina. It was once the capital of Hawaii, and today boasts many museums and landmarks where you can learn all about the history of the island. With multiple hostels and small hotels, this is a tremendous budget option near Kaanapali.
It's also just a short drive away from the centre of Kaanapali, so if you want to be near the action but at a smaller cost, this is the area for you.
Home to some of the top snorkeling and diving locations on Maui, Kapalua is an underrated tropical paradise. It's a family-friendly town that has infinite entertaining things to do for everyone. Kapalua Bay Beach was once voted the best beach in America by CNN Travel and is an absolute must-visit on any vacation.
The 3 Best Areas to Stay Near Kaanapali
Now that you've been introduced to the three best neighborhoods in Kaanapali, let's look at the number one places to stay at each place.
If you're looking for a cabin, condo, hotel, hostel, or even a fabulous resort near Kaanapali, here's where you can find the best ones!
1. Kaanapali – Best Place to Stay Near Kaanapali For Your First Visit
Kaanapali means "rolling cliffs" in Hawaiian, and that is a terrific way to describe this small paradise that was once a top destination for Maui Royalty. As soon as you head inland from the beach, you will see the towering West Maui Mountains just waiting to be explored. If you prefer to stay in town, Whalers Village is a superb neighborhood to go shopping, try some local food, and dance the night away.
Kaanapali is one of the ultimate resort towns, not only in Hawaii, but on the entire planet. Almost everywhere you look there are massive, fancy resorts that are the kind you see in glossy magazines. Kaanapali Beach also boasts over three miles of pristine white sand, which is a splendid place to swim, surf, snorkel, or relax and catch some rays.
This two-bedroom condo is a rare find and has a unique Bohemian style decor, which is unlike any other home you will see in the area. Bamboo furniture and high vaulted ceilings are some of the fabulous features you are sure to love about this charming cottage. In addition, there is a large swimming pool on the grounds that guests can use. To top it all off, the location couldn't be any better. It is across the street from Kaanapali Beach and only a short walk away from Whalers Village.
This stunning beachfront penthouse is without question one of the coolest places to stay near Kaanapali. Its spacious and modern interior is wonderful, but it's the exterior that makes this home stand above the rest. There is a huge outdoor living area that has endless seating options, gorgeous ocean views, and its very own private Jacuzzi. If you are on your honeymoon and looking to splurge for a few nights, you won't find a better place than this!
Kaanapali Alii is a luxurious resort located directly on the beach. All of the rooms are apartment-style suites equipped with full kitchens and either one or two bedrooms. Each of the suites come with private balconies that have breathtaking ocean or mountain views. On the hotel premises, you will find an enormous swimming pool, three tennis courts, a convenience store, and daily yoga classes. If that's not enough, the resort borders the prestigious Kaanapali Golf Course and they offer fantastic discounts for guests.
Things to See and Do inKaanapali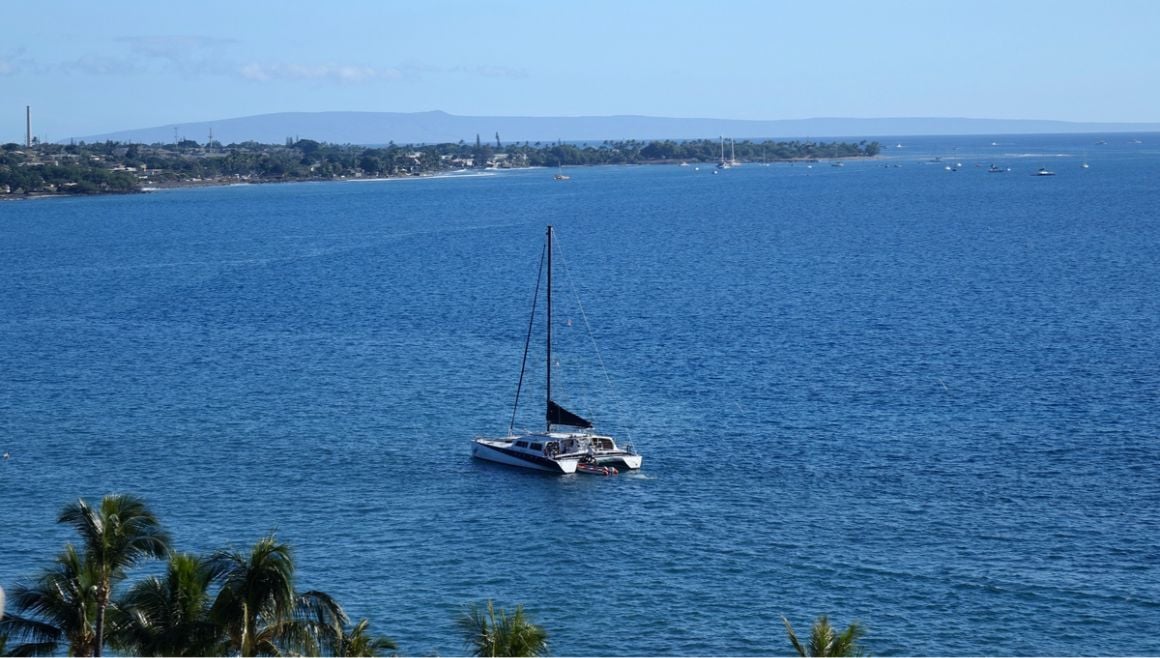 Relax and work on your tan at Kaanapali Beach. It's also a great place for beginner surfers!
Cliff jump, snorkel, or scuba dive, at Black Rock Beach.
View local art at the Maui Hands Art Gallery.
Eat like a local and try some savory Hawaiian delicacies at Joey's Kitchen.
Attend a traditional Hawaiian Luau. The Royal Lahaina Luau, Myths of Maui is one of the most popular things to do on Maui!
Go on a whale watching tour if you are here during whale season (December through April).
Play a round of 18 at one of the two world-class professional golf courses.
2. Lahaina – Best Place to Stay Near Kaanapali on a Budget
Hop in the car and drive south for 10 minutes and you will find yourself in the historic town of Lahaina. It has a long and important history within Hawaii, and today it's packed with historic sites. It originated as a small fishing village, then during the 1800s transformed into a booming whaling village which for 25 years stood as the Capital of the entire Kingdom of Hawaii.
Here you can participate in one of the most unique experiences on Maui, a spectacular submarine tour. Trust me, this once-in-a-lifetime experience is worth every penny and is something you will be able to brag about at every party until the end of time.
Additionally, accommodation in Lahaina is much friendlier on the wallet and it is without a doubt where to stay near Kaanapali if you are traveling on a budget.
This beautiful fourth-floor oceanfront studio is part of the Lahaina Shores Resort. If you are searching for budget accommodation, but with all the perks that a resort offers, you will be hard-pressed to find a better stay. The private terrace could not be any closer to the beach and is a wonderful place to unwind at the end of the day and view the sunset. Front Street is right next door and the historic district is only minutes away, which makes this an excellent home base for exploring Lahaina!
Hakuna Matata Hostel is without a doubt my favorite hostel in Lahaina, and the number one place to stay near Kaanapali if you are on a backpackers budget. Here you can stay in a mixed dorm, female-only dorm, or private room, but for only a fraction of what most places charge. There is a large communal kitchen, as well as indoor and outdoor common areas fantastic for socializing and forging new friendships. Additionally, if you are really trying to save as much as possible, pay cash and they will give you a 5% discount!
The Kulani Maui is a charming, locally run hotel that is completely different from all the monster resorts in the area. It's a breath of fresh air that will make you feel like you are staying in the middle of the jungle even though you are in the heart of the city. All of the buildings are constructed out of wood and you can choose to stay in a standard room or your very own private bungalow. Make sure you grab a delicious cup of locally grown coffee at the cafe before you head out on your day!
Things to See and Do in Lahaina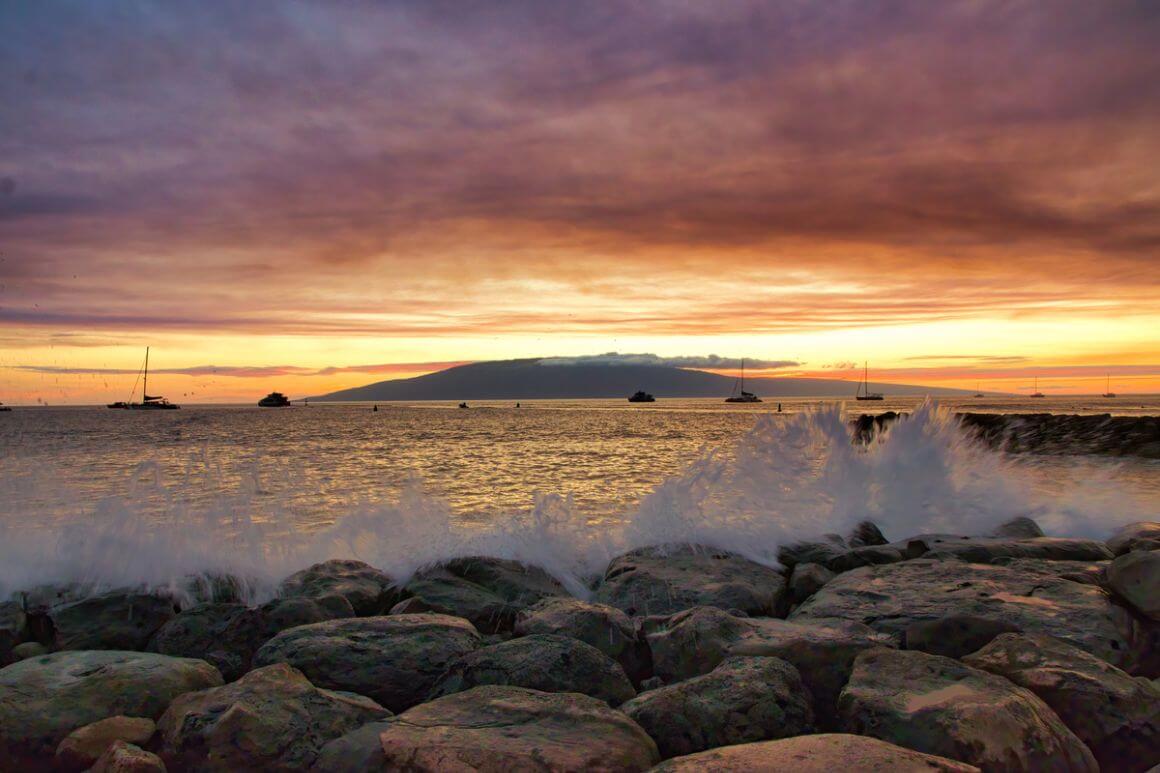 Add an underwater adventure with Atlantis Submarines to your Maui itinerary for a once in a lifetime perspective!
Spend a day walking around town exploring Front Street and all the historic sites.
Enjoy a tasty Hawaiian shaved ice on a sunny day.
Go parasailing and get a birds eye view of the coastline.
Visit the Banyan Tree to see the largest tree in the United States.
Learn some local history at the Historic Baldwin Home Museum.
Surf at the Lahaina Breakwall. There are countless surf schools for those who are interested in taking lessons.
Take in the sunset on a magical sunset sailing tour.
3. Kapalua – Best Place to Stay Near Kaanapali for Families
Kapalua is a quieter and much more laidback area of western Maui located about 10 minutes north of Kaanapali. It is home to a handful of hidden bays which are full of marine life and exquisite for snorkeling or diving. Additionally, there are some brilliant beaches to head to with the family to spend the day. Boogie boarding at DT Fleming Beach Park is a fun option on windy days when the water gets choppy!
The ocean and the beach are far from all Kapalua has to offer though. If you want a thrilling experience, head up into the mountains and go zip-lining or take an ATV through the hills. Also, there are many scenic hiking trails in and around the town which are great for stretching your legs and getting some exercise.
This adorable cottage is wonderfully located at Napili Bay and is only a short walk to a handful of top-rated local restaurants. The endearing interior design of this one-bedroom condo creates a welcoming island atmosphere that will make you feel right at home. Guests have access to a swimming pool, barbecue, and picnic table whenever they want to lie low at home.
If you are looking for a peaceful luxury getaway, look no further. This waterfront condo is clearly one of the coolest places to stay near Kaanapali! Kitted out with all the modern amenities, this one-bedroom is 720 square feet of pure luxury. With a large private patio/garden and being only steps away from Honokeana Bay, this is the best place to stay in Maui for being close to nature. After a fun day in the sun, let the sound of the waves lull you to sleep in this mesmerizing home.
Montage Kapalua Bay is our overall favorite hotel near Kaanapali! It's a monstrous oceanfront resort that sprawls over 24-acres, features a sensational swimming pool, a phenomenal restaurant, and its very own spa and wellness center. You can select from a wide variety of accommodation options that sleep anywhere from four to ten people. If you are traveling as a family or in a large group, this is an unbeatable option, and definitely where to stay near Kaanapali!
Things to See and Do in Kapalua
Snorkel with sea turtles at some of the most pristine snorkeling spots on the island.
Go sailing at Honolua Bay. You can opt for an amazing sailing + snorkeling tour if you don't know how to sail!
Feel the wind rush through your hair at high speeds when you zip-line with Kapalua Zip Lines.
Relax at Kapalua Bay Beach, which was once voted the best beach in America!
Hike on one of the many beautiful trails. The Kapalua Coastal trail and Dragon's Teeth Trail are two of the most popular.
Spend a day at DT Fleming Beach Park. It's a thrilling place for boogie boarding when the water gets choppy!
Final Thoughts on Where to Stay Near Kaanapali
Kaanapali is a true gem in Maui that shouldn't go unmissed. It's a sublime place to hide away and live on island time for a few days. The sun is always shining, and the water is always inviting.
Aside from total tranquility, there are also many bucket-list-worthy activities that you can cross off here. Whether you are traveling alone, on business, with your family, or on your honeymoon, we know you will have an amazing time in Kaanapali.
We hope that this guide has helped you decide on the best neighborhood and places to stay in Kaanapali. Did you find what you were looking for? Let me know in the comments!
And don't forget to take out Travel Insurance for your trip! I have been using World Nomads for some time now and made a few claims over the years. They're easy to use, professional and relatively affordable. They may also let you buy or extend a policy once you've started your trip and are already abroad which is super handy.
Getting an estimate from World Nomads is simple—just click the button or image below, fill out the necessary info, and you're on your way!

Do you own an awesome hostel, hotel or apartment? Want to be featured in our list? Email [email protected] to find out how.
---
Find out how YOU can support the site.
We're a big site with a big team and this job isn't always easy. But we do it because we love it – we love providing epic and free content. We love the knowledge that our content keeps you adventuring. We don't ask for money, but if you'd like to find out how you can help the site in more organic ways, click the button below.
Thank you for your support 🙂
And for transparency's sake, please know that some of the links in our content are affiliate links. That means that if you book your accommodation, buy your gear, or sort your insurance through our link, we earn a small commission (at no extra cost to you). That said, we only link to the gear we trust and never recommend services we don't believe are up to scratch. Again, thank you!