If you're looking for a great camping experience in the U.S, Maryland might not be the first destination that comes to mind. But it should be.
There's tons of awesome nature to discover just about everywhere in this state. We're talking the literally uncountable inlets like Chesapeake Bay, the Appalachian Mountains, and endless woodland. It's pretty awesome.
If you're keen, but new to the camping game in Maryland, no sweat!
We've crafted this top-notch guide to the world of tents and trees in this beauty of a state to help your Maryland camping trip become just what it should be. Epic.

Do You Want to Travel FOREVER??
Pop your email in below to get a FREE copy of 'How to Travel the World on $10 a Day!'.
Why Camp in Maryland?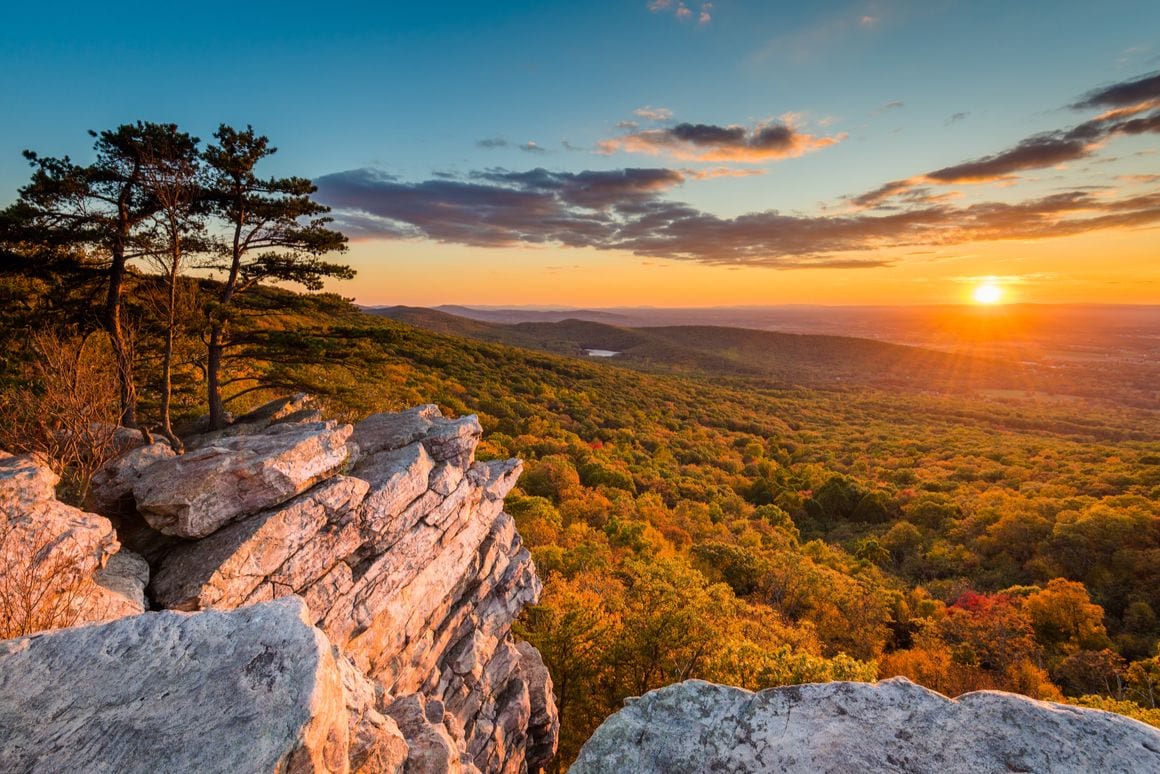 Maryland has a few nicknames, but one that should stick out for any keen camper is "America in Miniature."
It gets this name because there is so much stuff going on in a relatively small space. It's the 9th smallest state coming in at just over 12,400 square miles in area, but it's still the size of Belgium.
There's enough of the great outdoors here to keep you going for more than just the odd weekend here and there. Chesapeake Bay is the top dog, with a hearty coastline that boasts beaches, marshes and forests – perfect for any water-loving traveller.
With lakes, camping in dense woods, hiking in foothills and lounging on beaches packed into its coastline and mountainous parts, Maryland may be a small package, but it packs a punch.
If you're after something more out-of-the-way, Maryland contains part of the Appalachian Trail — so there'll be some awesome forest reserves where you can pitch up and explore. And if you're after some next-level camping, be sure to check out our guide for RV rentals in Maryland.

Sort out your rental before you arrive to get the best price. Rentalcars.com simplifies the process at a lower cost and can match you with the right vehicle for your adventure.
Primitive Camping in Maryland
If you love adventure and roughing it in the wilderness, then primitive camping in Maryland will provide an epic USA backpacking experience.
In a good way, obviously, because the Appalachians in Maryland are pretty stunning – and primed for primitive camping, too. The scenery is just one of good parts of primitive camping in Maryland.
As for whether you can do it here or not… It's not what you may think of when you think primitive camping. You know, find a spot wherever – and put up your tent. That kind of thing is not allowed.
Primitive camping in Maryland is still basic, and still definitely in nature, but you can only pitch your tent in designated sites.
You won't be able to book 'em online, as they're run on a first-come, first-serve basis. They work as follows:
Turn up at your site of choice and swing by the ranger station or bulletin board.
Fill in the self-registration form. This includes your name, license number, and a brief itinerary. Including the dates of your stay are important for your own safety.
Put your fee into the envelope provided, put it into the payment slot
Head off into nature. And some basic amenities.
On weekends, you've got to register for at least two nights. For holiday weekends from Memorial Day through Labor Day, it's a minimum of three nights (Friday, Saturday and Sunday). That's just how it is.
With no National Forests, there are still plenty of State Forests and private campgrounds with some basic, (virtually) unimproved sites.
For example, Green Ridge State Forest in Western Maryland is highly recommended. Campsites here have a picnic table and fire ring, and the whole park is 46,000 acres with access to fishing, boating, hiking and biking. Elsewhere, Savage River State Forest and Garrett State Forest also have primitive camping options.
But if you'd prefer the option of toilets and showers, read on and see what's on offer…
2000+ Sites, Unlimited Access, 1 Year of Use – All. Absolutely. FREE!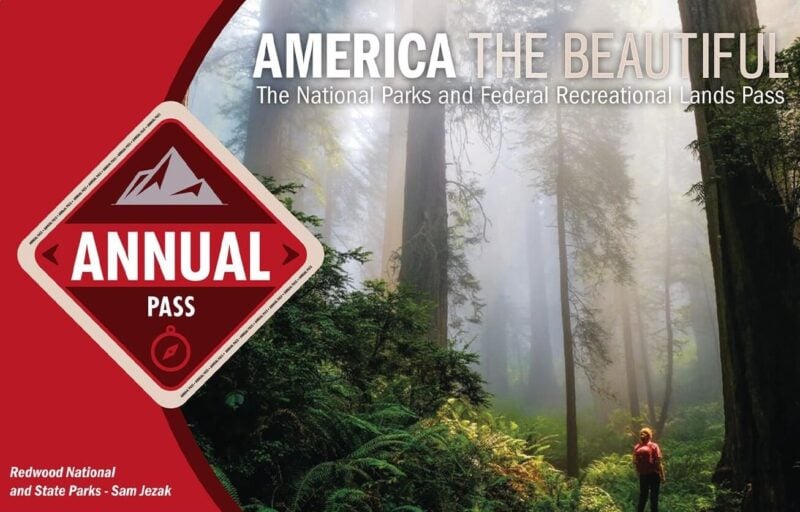 The USA is blisteringly beautiful. It's also blisteringly expensive! Visitng two national parks in day can run you $70+ in entry fees.
Orrrr… you kick those entry fees to the curb, buy an annual 'America the Beautiful Pass' for $79.99, and get unlimited access to ALL 2000+ federally managed sites in the States totally FREE!
You do the math. 😉
Buy the Pass!
10 Best Campsites in Maryland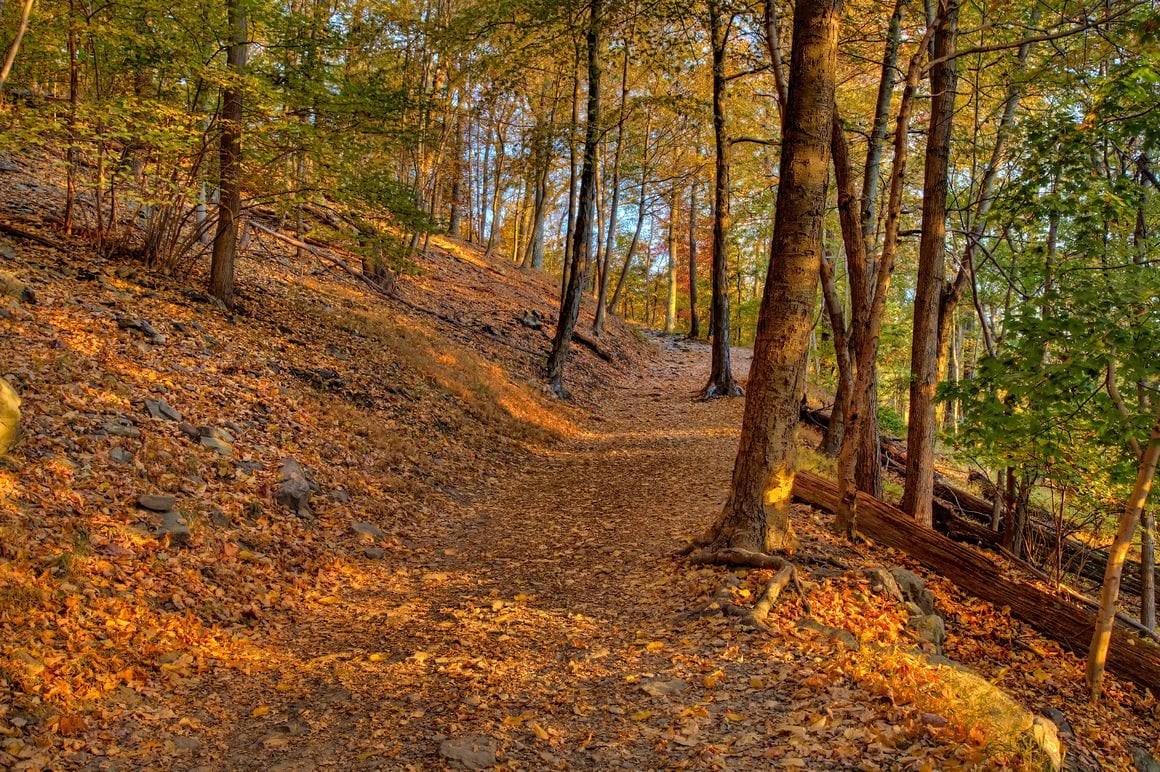 Unlike the primitive options in Maryland, you can reserve a spot at one of Maryland's many, many campgrounds online – just head on over to parkreservations.maryland.gov. You can book up to a year (yep, 365 days) in advance of whatever date you plan to arrive. Score!
So, without further ado, let's have a look-see at the very best campsites that Maryland has to offer. Whether you're travelling as a couple, with a group of friends (road trip!), or taking your family along for the ride, there's no doubt you'll find something awesome for you on this handy list!
Assateague Island is just one of the many islands in Chesapeake Bay that really shows off the natural beauty of Maryland. Easily one of the most awesome things about this spot is the beach. The chance to see wild horses galloping around on said beach is pretty mesmerising, to say the least!
Camping is on scrubland, but because it's all near the beach, there's a constant breeze that keeps things cool. It also helps keep mosquitoes at bay, but they're still around in the evening so make sure to bring DEET spray, wear long shirts/pants and have decent fly netting. Also, there isn't much natural shade from the sun, so remember to bring/craft your own. Those wild horses, though!
Amenities: Chemical toilets, cold water showers and drinking water.
Campsite fee: From $30 per campsite per night.
Situated in Garrett County, Western Maryland, Deep Creek Lake State Park comprises over 1,800 acres of water, shore, and forest for the ultimate camping experience in this part of the state. The shoreline here is a mile long, and comes with two swimming beaches for you to enjoy.
Throw in around 20 miles of trails for hiking and biking, and you have no chance of getting bored here. There's even a few pubs and eateries on the west shore of the lake, in case you feel like sampling something other than what you can grill up from your daily catch.
Amenities: Restrooms, drinking water, and a shower, plus heated bathhouses, dump station, and freshwater fill up.
Campsite fee: From $12 per campsite per night.
Cunningham Falls State Park is separated into two different areas in the beautiful Catoctin Mountains. The William Houck Area has a 43-acre lake to chill out next to, and the Manor Area is just next door.
For the most part, the Houck area is where you want to be. There's some great camping to be had with a ton of well-kept trails to try – including the semi-challenging Cliff Trail that runs to the falls themselves. Camping areas here range from walk-ins, to more popular camping on the shores of the lake. It's all well looked after, with decent ground cover between the sites.
For lakeside camping in Maryland, this one is definitely a solid option.
Amenities: Restrooms, drinking water and a shower.
Campsite fee: From $12 per campsite per night.
For something a little more off the beaten track, definitely check out classic forest camping at Savage River State Forest. Here's your chance for some prime primitive camping – all year round! There's a whole load of sites to choose from (81 to be exact), in ten different areas of the state forest.
There are drive-in campsites situated by paved roads, which is a plus because it makes them hella accessible. What's not so great is they can be somewhat noisy (because of the road), but usually, there's not heaps of traffic. Having a car in the middle of nowhere is a bonus. Walk-in campsites can be found, they do include a few stream crossings, but the paths themselves are nicely kept.
Amenities: Picnic table, a fire ring, portapot.
Campsite fee: From $15 per campsite per night.
For somewhere that really lets the unique beauty of the Chesapeake Bay do all the talking, head to Elk Neck State Park. Situated on a peninsula, it boasts 2,370 acres of land that varies wildly – from thick woods and marshlands to sandy shores and clay cliffs.
It's pretty cool, and there are over 250 campsites available to lap it all up. They're generally pretty roomy and feel private, and once you've found a spot, it's just a matter of getting yourself ready for the beach on Elk River (when it's warm, obviously). If you feel like catching your dinner, there's a fishing pond here, too.
Amenities: Fire ring with grill on top, picnic table, central bathhouse with hot running water for showers.
Campsite fee: From $21.50 per campsite per night.
Part of what makes Catoctin Mountain Park so attractive is just how accessible it is. It's basically a breeze to get here from either Baltimore or Washington DC, if either of those happen to be your starting point. One of the best things about it are its awesome hiking trails, 25 miles of them, to be exact.
Owens Creek Campground is a classic campsite in Maryland, where you can enjoy camping in a wooded setting and pretty much experience the splendour of nature all around. We're talking rolling green hills in summer, wildflowers in spring. And heck, toast some marshmallows when it's chilly out. It's all good.
Amenities: Picnic table, fire rings are provided, potable water, toilets and hot showers.
Campsite fee: From $25 per campsite per night.
Is This the Best Backpack EVER???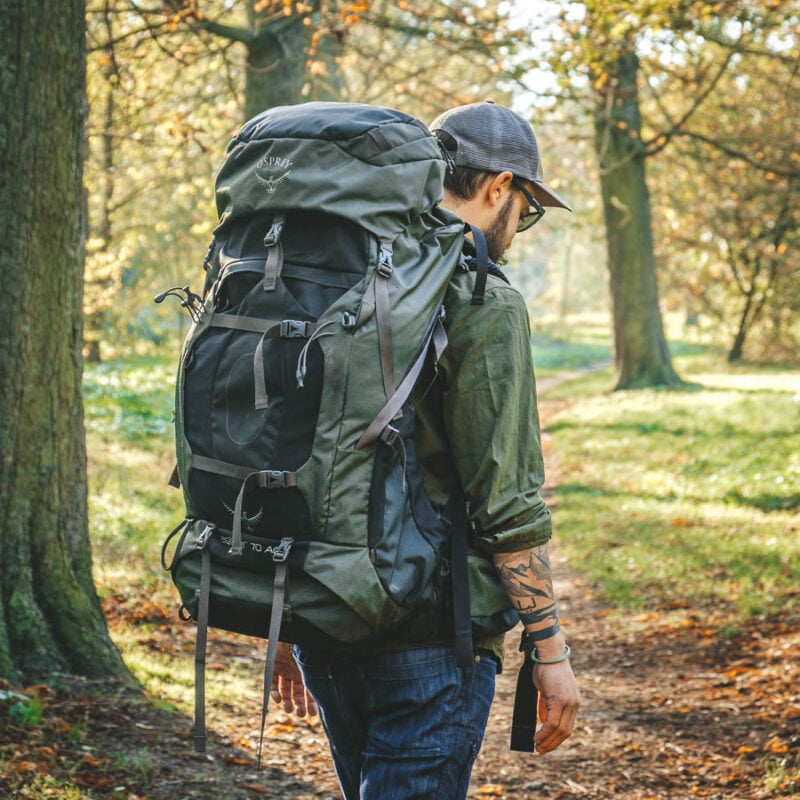 If you feel like soaking up some of Maryland's most spectacular scenery, try out Swallow Falls State Park. The campground here is pretty much in the middle of everything and is set along the decidedly choppy Youghiogheny River (Yough for short, great for rafting). Whatever you like to do – fishing, biking, hiking – it's all here.
The campground is well tended to, with plenty of maintained paths linking everything together. It's pretty awesome really, and you'll still feel like you're sleeping in a forest – it's that close to everything. If you do nothing else here, hike to Muddy Creek Falls for a picnic next to the thundering 53-foot waterfall.
Amenities: Potable water, showers, picnic table available, toilets.
Campsite fee: From $21.50 per campsite per night.
New Germany State Park is a gem of a place to camp in Maryland. Situated between the aptly named Big Savage Mountain (2,900ft) and Meadow Mountain, it's basically a huge forested area covering 483 acres. There are ten miles of trails and a lake to check out here, good for swimming and fishing.
There are 'only' 37 sites throughout this area, but they're all well kept and allow adventurers in this part of the state easy access to hiking trails. It's safe, it's shaded, it's peaceful, and it's pretty great for families if that's who you'll be travelling with.
Amenities: Restrooms, drinking water and a shower, picnic tables
Campsite fee: From $21.50 per campsite per night.
Okay, so you're in need of somewhere by the water to really get away from everything? Look no further than Janes Island. A ton of the campsites here are actually located waterside, which makes those sunsets out over Chesapeake Bay that much more spectacular.
In all of its 2,900 acres, you'll find water trails, saltmarsh, opportunities for canoeing and crabbing. Canoeing (or kayaking) to any number of isolated beaches feels like a proper adventure. Sounds awesome, right? Do note that insects can be very annoying due to being waterside, so come prepared!
Amenities: Camping pad, picnic table, fire ring and lantern post, three centrally located bath houses have hot water showers and flush toilets.
Campsite fee: From $30 per campsite per night.
At the heart of Greenbrier State Park is a 42-acre manmade lake. The pristine water here and stretch of sand make it a great spot for those wanting to spend some time chilling the absolute heck out at the water's edge. It's a popular destination in summer, what with its lifeguards (handy to note for families), paddle boats, snack bar, and lakeside picnic tables and grills.
Greenbrier State Park is situated on a particularly beautiful stretch of the Appalachian Trail, which makes this a great option for those who are looking for camping in Maryland while tackling this epic hiking excursion.
Amenities: Picnic table, fire ring, parking area. dump station, toilets, showers and potable water
Campsite fee: From $21.50 per campsite per night.
Save $$$ • Save the Planet • Save Your Stomach!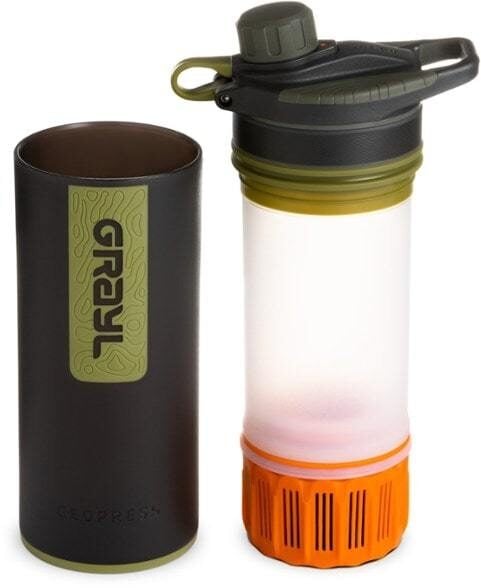 Drink water from ANYWHERE. The Grayl Geopress is the market's leading filtered water bottle protecting your tum from all the waterborne nasties. PLUS, you save money and the environment!
Single-use plastic bottles are a MASSIVE threat to marine life. Be a part of the solution and travel with a filter water bottle.
We've tested the Geopress rigorously from the icy heights of Pakistan to the tropical jungles of Cuba, and the results are in: it WORKS. Buy a Geopress: it's the last water bottle you'll ever buy.
Buy a Geopress!
Read the Review
The Best Glamping Sites in Maryland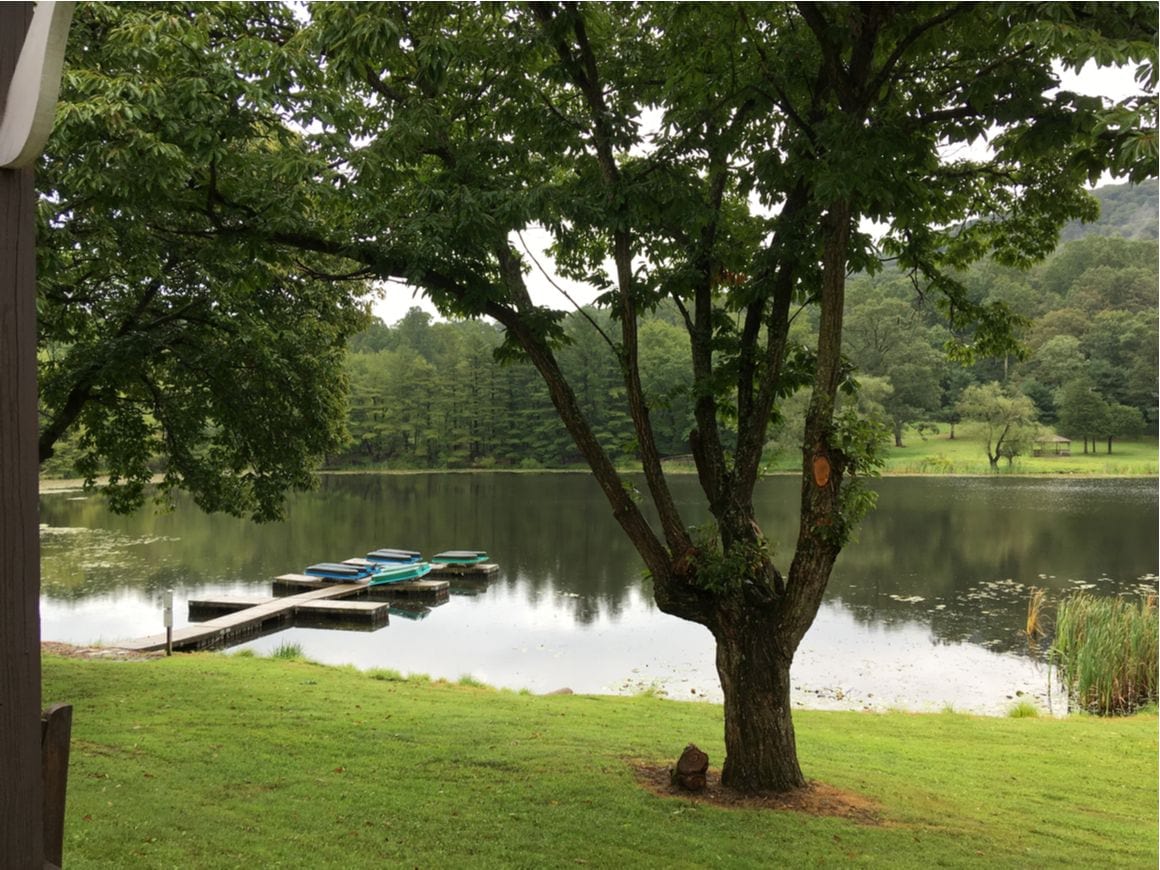 If those campsites in Maryland weren't enough for you, or you're just not down with the mosquitoes and lack of amenities, don't worry. Cue: glamping.
You know, glamping? Glamorous camping? Basically like staying in a plush cabin or tent. You know the drill.
Glamping allows you to connect with nature on a pretty intrinsic level without having to get used to rudimentary toilet facilities, and with all the comforts of home. Well, almost.
It's definitely still set in the great outdoors, so don't be expecting some five-star hotel scenario – though some glamping spots are pretty swanky.
When it comes to glamping in Maryland, cast your eyes over our carefully curated choices below…
Set on the Calvert Cliffs on the western shore of Chesapeake Bay, this awesome VRBO in Maryland is the place to come for some of the state's best scenery. The view out over the water from here, for starters, is nothing short of breathtaking. Sunsets here are actually amazing.
The home itself is cute, with antiques mixed in with modern conveniences for a comfortable, quirky stay in Maryland. There's a private beach to use here, as well as a tennis court, access to five hiking trails, and even a boat ramp. Total relaxation and peace await.
Are you thinking of a romantic couples getaway in Maryland, but not sure about camping? Or maybe you're thinking of taking your family to Deep Creek Lake and need somewhere comprehensive and comfy to stay? This place is for you.
French doors open onto a full, contemporary kitchen, chill dining area and living space. The latter comes complete with stone fireplace, cosy seating area and high ceilings. There's also a hot tub and grill to use outside. And all with the lake just a stone's throw from the property.
Small Pack Problems? 😉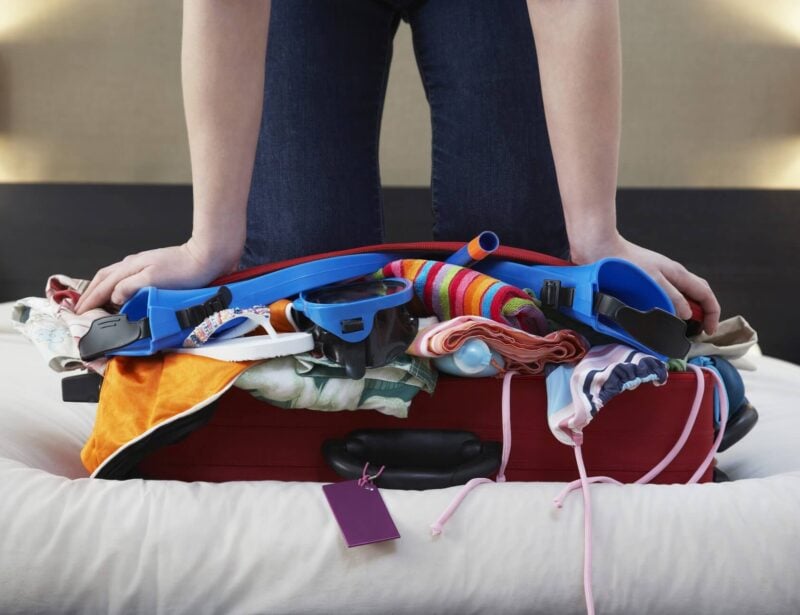 My missus travels with all her clothes in ziplock bags: don't be like my missus. UP YOUR PACKING GAME!
Packing cubes for the globetrotters and compression sacks for the real adventurers – these babies are a traveller's best kept secret. They organise yo' packing and minimise its volume too so you can pack MORE.
Or, y'know… you can stick to ziplock bags.
View Our Fave Cubes
Or Check Out the Sacks!
Okay, this place is really cool. We're definitely all about that A-frame flex, which really gives this chalet a unique aesthetic. It's been totally renovated inside and comes with everything you could ever need, seriously. There's even a loft to hang out in, complete with video-games and swing chairs.
There's also all the things you'd expect of a rustic spot like this, with a hot tub and a fire pit out on the deck. It's a quiet neighbourhood, just a short drive from Deep Creek State Park.
Boasting a wraparound deck, this VRBO in Maryland is a great option for all your glamping needs. It's a great way to be close to pretty much everything Deep Creek has to offer, including some nearby hiking trails. Despite being a pretty huge cabin, it's still surrounded by trees and feels super secluded.
What does this place have to offer you? Well for one thing, it's huge and can sleep up to six people, making it great for you and your family (or mates). It's got stunning wood interiors, a fully-equipped kitchen, and a stone fireplace to cosy up to on chilly evenings..
This historic cabin is a pretty cool base if camping in Maryland doesn't feel like your thing. It dates all the way back to the 1890s, which is decent if you like your places to have some character. Even more character was added in its 2016 restoration, with plenty of eclectic decor throughout.
Other than being totally cosy, this place has everything you need for a non-camping trip that's still close to nature. That'll be wi-fi, a smart TV, a fully equipped kitchen, and beds. This place fits two guests, so it's a top-notch choice for couples.
DON'T DIE OUT THERE! …Please 🙂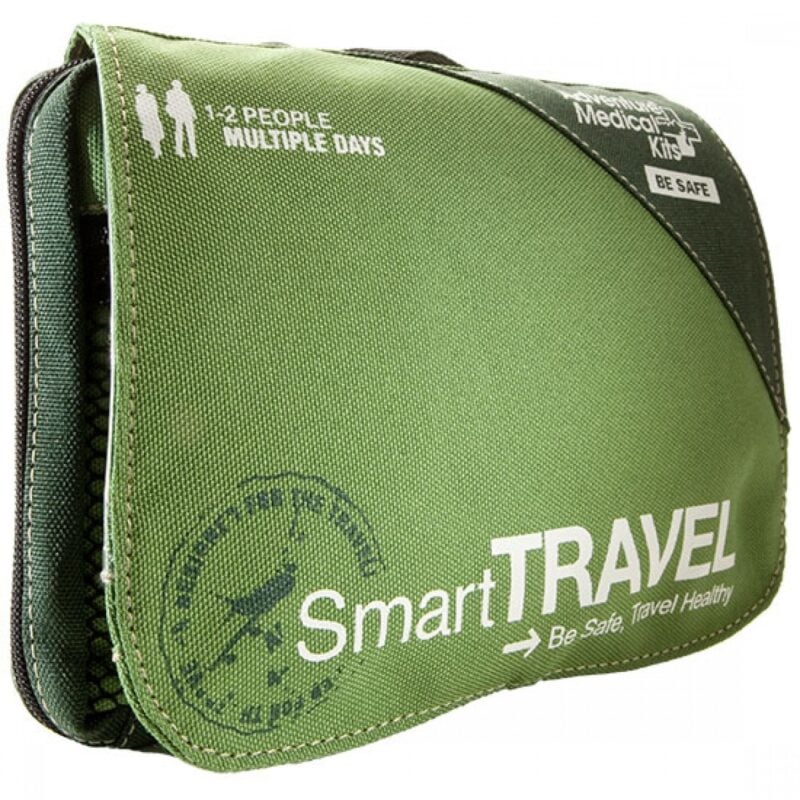 Things go wrong on the road ALL THE TIME. Be prepared for what life throws at you.
Buy an AMK Travel Medical Kit before you head out on your next adventure – don't be daft!
Buy on REI
Camping Packing List for Maryland
So, you've figured out where you want to camp/glamp, but what are you going to take with you? Depending on what kind of camping you're going to be doing, your packing list will be different. And then there's that weather to think about, and the mosquitoes, too!
Maryland's campsites are usually located in wooded areas and often close to lakes and beaches. This means you're definitely going to want to come prepared for a swim, or maybe some fishing.
If you're the kind of camper who likes to bring along a few homely comforts, you'll want to make sure you bring along things like pillows and camping chairs. But if roughing it is what you're into, the basics like a torch will be essential. Obviously.
Make sure you consider the weather in Maryland where you're planning to camp too, a torrential downpour could ruin your trip but the baking sun might also leave you feeling under the weather if you don't pack the right stuff.
To help you have the best camping trip in Maryland, here's a handy packing list…
There's literally nothing worse than leaving behind some essential shiz and ruining your camping trip. You'll be basically in the middle of nowhere, with (probably) no or limited access to camping gear. So, here are a few essentials that you should never, ever forget. If you don't own them, purchase them right now (or make a note so you don't forget).
Sturdy Tent – A well-reviewed, waterproof tent should be the first thing on your camping packing list.
Torch – Easy to forget, a torch is a must-have. Nobody wants to be scrambling around in the dark.
Microfiber towel – Always a handy addition to a camping kit, microfiber towels dry fast and pack down to a small size. No more wet, smelly towels hanging around camp.
Sleeping bag – Get a good night's sleep by getting yourself the right sleeping bag. Make sure the tog is right for the season you're camping in. Shivering through the night is no fun.
Camping plates/ bowls/cutlery – You might be camping, but plates, bowls and cutlery will come in very useful.
Bottle opener/can opener/corkscrew – Keep this handy for opening cans of beans for dinner, or maybe a beer or two around the campfire.
Filter bottle – Your campsite might have a water tap, but it's always good to have a filter water bottle to use when you're out hiking so you never run out of water.
You may not have been expecting it, but yes – Maryland does have beaches. Whether you'll be chilling along Chesapeake Bay or a lakeside beach, you'll want to come prepared. There won't always be shade, and there will often be insects, so here's what we recommend for those Maryland beach days.
Sandals/flipflops – Protect your precious feet from the baking hot sand or rocky beaches. You'll thank yourself for packing these for trips to the camp shower block, too.
Beach blanket – Chilling out at the beach for the day? Bring along a beach blanket so you don't get that annoying sand stuck to you.
Sunglasses– Protect your precious eyes from the sun's harmful rays, these bad boys are always useful.
Sun hat – Never underestimate the power of the sun, sunstroke will really ruin your beach day, so don't forgo a hat.
Daypack – The go-to choice for stashing all your beach essentials.
Sun shade – Some beaches in Maryland will not have any shade at all, so bring your own along. The more portable and packable, the better.
Toiletries are always, always a must when camping, and camping in Maryland is no different. Sites here are pretty well maintained, but they ain't hotels – there are no free amenities in the (sometimes cold) showers. Things can be pretty basic, so here are some bare essentials to keep you clean on your adventure.
Sunscreen – Respect the sun and look after you skin, even on cloudy days.
Toilet paper – Always a good idea to have a spare toilet roll in your bag.
Toothbrush and toothpaste – Camping doesn't mean foregoing oral hygiene, you know.
DEET repellent – Keep the mosquitos away with DEET or spend your trip covered in bites.
Camping Tips for Maryland
We've covered a whole load of information on camping in Maryland. But before you head off on your trip, there are just a few more things for you to keep in mind. Make sure you read these so you're totally clued up.
Check the weather forecast – Rain, sun, wind or even snow (if you're feeling really wild!), you need to make sure you check on the weather. It's a good idea to ask at the campsite before you arrive to see if any adverse weather is predicted and pack accordingly.
Leave your firewood at home – in order to stop the spread of the emerald ash borer, campers are prevented from bringing outside firewood into campgrounds. Only firewood purchased on location may be used.
Make sure to phone ahead if you can – Maryland is a popular place for campers, and a lot of the top spots get booked up in peak season. Call ahead or check out the online booking systems to make sure you're not disappointed.
Don't camp or hike alone – It can seem like a totally cool idea to head out into the wilderness by yourself, but we don't recommend it. To stay on the safe side, head out with a buddy. Look out for each other!
Don't forget DEET – Seriously, you need to make sure you come prepared for the bugs. Depending on where you choose to camp and the time of year, these guys can be full-on.
Primitive camping without a permit is prohibited in some areas – always make sure you contact the relevant parks organisation before setting up your primitive campsite.
Try out an annual pass – The Maryland Park Service offers various park passes, which means you get discounted park rates – a good idea if you feel like you're a frequent visitor to the area.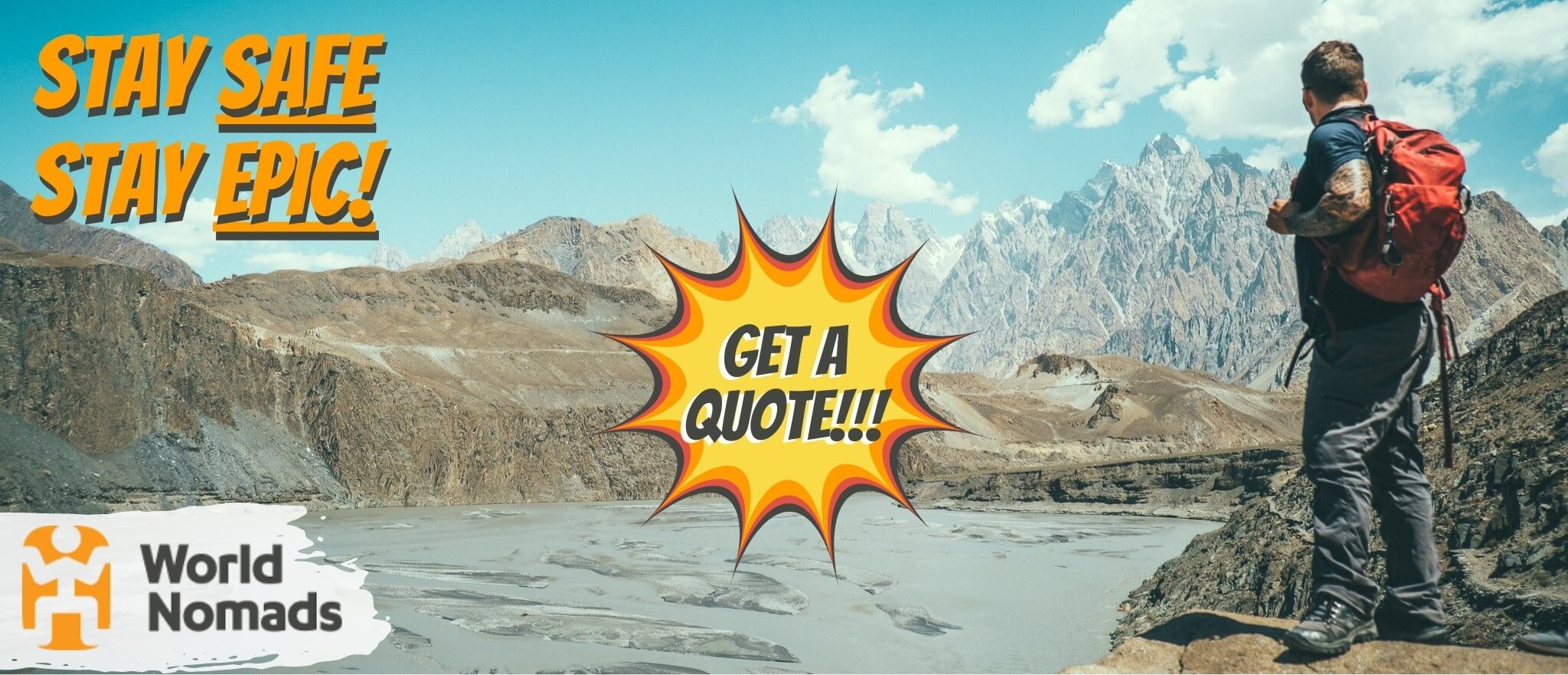 World Nomads' mission is to support and encourage travellers to explore their boundaries. They offer simple & flexible travel insurance, and safety advice to help you travel confidently.
They've been doing it since 2002 – protecting, connecting, and inspiring independent travellers just like you.
Get a quote below or read our in-depth review!
Final Thoughts on Camping in Maryland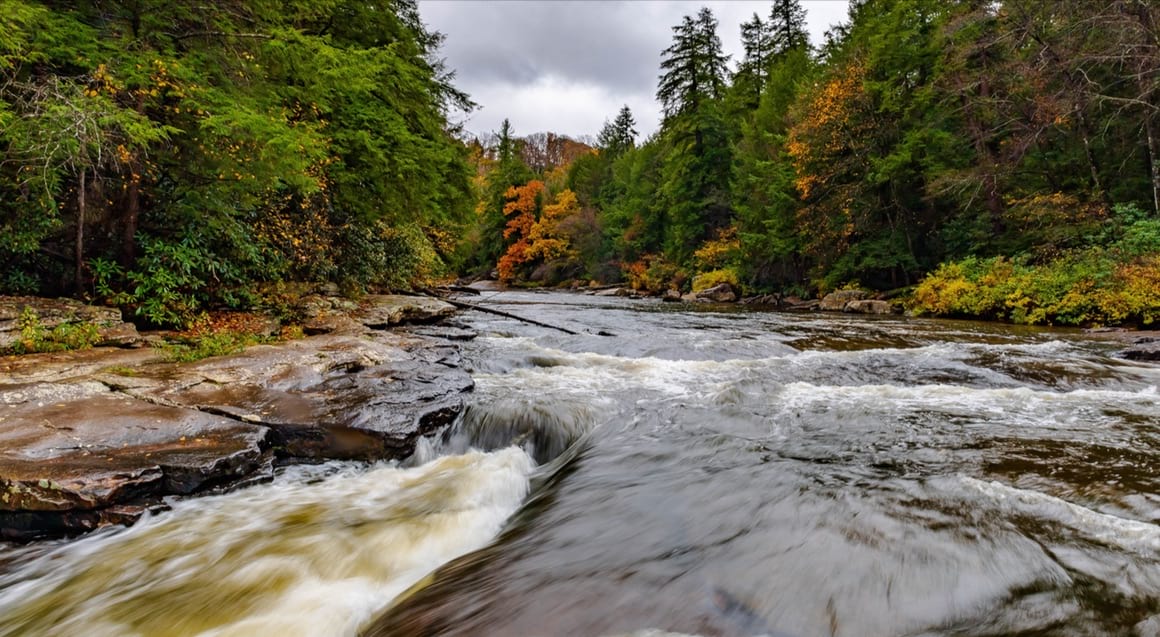 By now, you should be totally ready to get on the road and set up camp at one of the best campsites in Maryland.
And you should have an awesome time! This state seriously has a surprising amount of stuff going for it. Think waterways, wildlife, islands and epic sunsets.
The bonus? Well, there are so many campsites to choose from that if you want some space away from the crowds, this is totally the destination for you.
So, get out there, set up that tent, kick off your shoes, and chill out. Nature, hikes, lake swims, campfires, and starry skies await.
Enjoy yourself – it's going to be a whole lot of fun!
---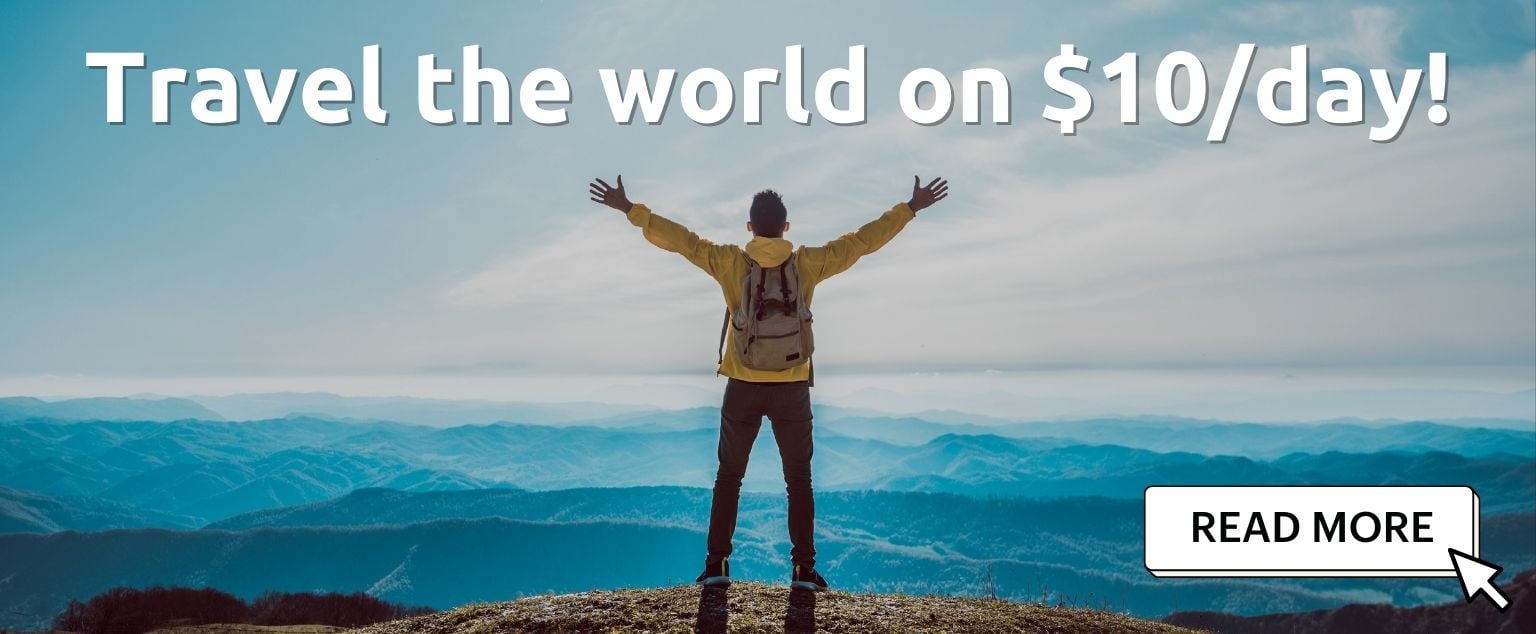 And for transparency's sake, please know that some of the links in our content are affiliate links. That means that if you book your accommodation, buy your gear, or sort your insurance through our link, we earn a small commission (at no extra cost to you). That said, we only link to the gear we trust and never recommend services we don't believe are up to scratch. Again, thank you!