Vienna is a city with exquisite imperial architecture a classical charm you can't help but be romanced by. Nestled in the foothills of the Alps, sitting on the banks of the River Danube, Vienna is absolutely magical. The breathtaking backdrop of snow-capped mountains against the lush green valleys and quaint villages below makes it one of the most stunning cities to visit in Europe.
As with most major cities in Central Europe, the location of Vienna makes it the perfect base for day trips to nearby towns, villages and even other countries. Europe is a treasure trove of historical attractions, castles and cathedrals all ready to be explored from this exquisite base. When you're done with all the wonderful things to see and do in Vienna, why not explore the equally incredible places outside of it.
Here we have compiled our top picks for the most exciting and enthralling day trips to take from Vienna.

Unlock Our GREATEST Travel Secrets!
Sign up for our newsletter and get the best travel tips delivered right to your inbox.
Getting Around Vienna and Beyond
One of the best things about Austria is its efficient public transport system. Moving around the country is easy and convenient.
European rail lines are very well connected and reliable. From Vienna, it's easy to visit a number of different cities and towns both in Vienna and beyond.
U-Bahn (Subway) – Fast, comfortable and safe. A day pass costs 8€. Week pass costs 17€.
Tram (Streetcar) – Slower but more enjoyable. A day pass costs 8€. Week pass costs 17€.
Buses – Reliable & punctual. You can also buy tickets from the driver. A day pass costs 8€. Week pass costs 17€.
Taxi – Fares can quickly add up, so we'd advise sticking to public transport which is reliable and safe.
Bike rental – Vienna is perfect to get around on a bicycle. There's a shared-bike program in the city as well. Rentals begin at 27€ per day.
Car rental – Ideal for trips outside Vienna if you prefer driving in the comfort of your car. Parking is a hassle: parking garages charge up to 6€ per hour.
Whichever public transport options you choose, buy tickets from ticket offices at the stations or ticket vending machines. Don't forget to validate it in a stamping machine before boarding.
The Vienna Card is convenient for travelling within the city because as it allows unlimited travel and discounts at various city attractions. It costs 19€ and is available at tourist information offices and public transport centres.
Many of these day trips can be easily managed with public transport. Be sure to check train times and schedules before you travel and be sure to choose accommodation for Vienna close to transport links.
Use Bookaway to find the best deals on transport – buses, planes, trains, and ferries. It'll save you a load of time when organising transport and you'll probably nab an EPIC DISCOUNT too!
Book your transport on Bookaway NOW. Get the best price for the best ride… then use those savings to buy the best feed in town!
Book Your Transport Here!
Half-day Trips From Vienna
There's so much to do in Vienna, but it's always good to explore a little further. If you're short on time but eager to explore beyond the city. Then worry not! Check out these half-day trips from Vienna that will make your time here even more enjoyable. Even if you only have a weekend in Vienna, there are still some great places to visit outside of the city.
Vienna Woods and Mayerling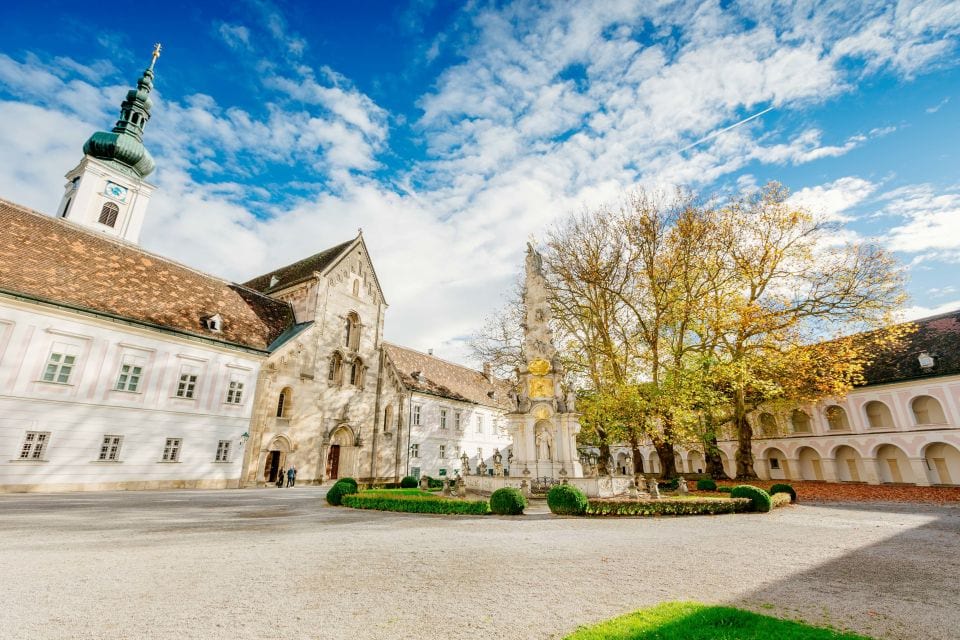 Outdoor enthusiasts will love this half-day trip from Vienna. You'll experience some amazing hiking and walking trails at the Vienna Woods. This stretch of forested hills was even mentioned in a concert waltz in the 19th century, as is its beauty.
The Vienna Woods is a favourite getaway from the city, with a number of historical sites, natural wonders and a beautiful monastery it's easy to see why. Make the journey up Vienna's "mini-mountain", the Kahlrburg, and behold majestic views of the city from above. Visit Seegrotte, the largest underground lake in Europe and take a boat ride through the winding caverns.
The famous Cistercian Abbey of Heiligenkreuz is also a must-see. It is the oldest continually occupied Cistercian monastery in the world, being founded back in 1133. It's considered to be amasterpiece of Austrian Gothic architecture. Another interesting place is Mayerling, an imperial hunting lodge, where the only son of Emperor Franz Joseph was found mysteriously dead with his mistress in 1889.
How to get there: ½-hour ride. Take a tram from Ring to Nussdorf or Rettichgasse.
Suggested Trip: Vienna Woods and Mayerling Half-Day Tour
Weinviertel Wine Region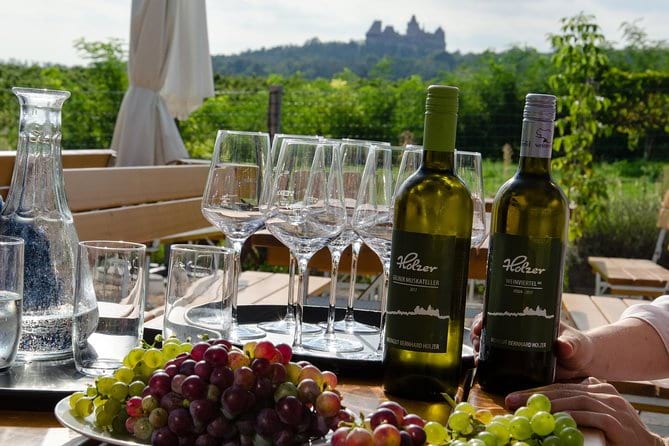 Austria is well-known for its world-class wine. Vienna alone has over 700 hectares of vineyards and is the only capital city with commercial vineyards in the world. Just half an hour away from the city is the Weinviertel Wine Region, the largest wine-growing region of Austria. So if you're into a bit of Wino, then this is the trip for you.
The Weinviertel region, with its vineyards and picturesque lanes of wine cellars and cycling paths, is a beautiful place to experience. Take a scenic drive through the hills and learn all about the region and its people. Sample the most famous grape varieties – Grüner Veltliner, Welschriesling & Zweigelt. Visit the wineries and cellars and meet the local winemakers to learn about their processes. Just make sure you have a designated driver!
The leisurely atmosphere and friendly mood of the place are perfect for a half-day trip from Vienna. There are other places of interest too, such as museums, castles and stately homes in the region. On this quick trip though, you can visit at least three different wineries and have a traditional Austrian dinner to round the day off.
How to get there: ½ hour ride. Ideally, take an organized tour.
Suggested Trip: Half-Day Countryside Wine Tour
Carnuntum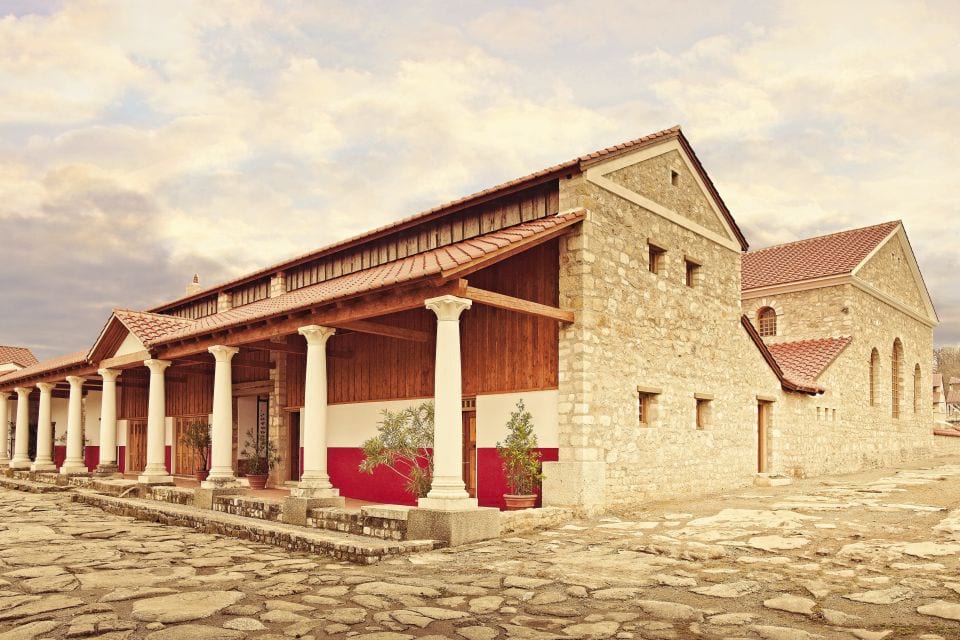 Travel back in time to the Roman city of Carnuntum and get a dose of Austria's early history. An easy and short half-day trip from Vienna, Carnuntum tells the tales of many famous battles fought in the region over the centuries. It was once an important part of the Roman Empire where you can still see the spectacular ruins of the ancient town.
Visit the Archaeological Park and marvel at the re-imagining of the 1st-century city. Roman baths, houses, a city mansion, an arena for gladiators, an amphitheatre and a monumental gate, all have been reconstructed in this open-air park. Re-live the life of the locals and get a glimpse into the Roman society of times gone by. It is an interesting experience that's for sure! Don't forget to check in the Museum Carnuntinum and discover ancient Roman artefacts and treasures. You'll love the day 'romeing' aroundCarnuntum!
How to get there: 1 hour 15 min ride. Take one of the hourly trains from Vienna to Carnuntum.
Is This the Best Daypack EVER???
Full Day Trips From Vienna
There's a lot to see and do in Vienna that's for sure, but there's even more to experience outside of the city. Making Vienna your base is an ideal way to explore what the rest of the country and beyond has to offer. These day trips will make you fall in love with Austria and Central Europe… if you haven't already!
Salzburg
Straight out of a fairytale, Salzburg will have you mesmerized from the moment you arrive. Surrounded by the majestic Alps and with some of the largest castles in Europe dotting its landscape, the picturesque town is like a dream. It is easily one of the most memorable day trips from Vienna and there's so much to do in Saltzburg to keep you entertained!
Salzburg is the birthplace of legendary composer Mozart. Visit Mozart's Birthplace Museum, dedicated to the composer's life. You can even see Mozart's skull on display, weird flex but ok!
Stroll through the quaint cobbled streets of the Old Town and look out for sights such as the Salzburg Museum and the Christmas Museum (open all year round!) The beautiful Baroque architecture of the Salzburg Cathedral is a sight to behold that just can't be missed during your time in the city.
Visit Mirabellgarten and admire its beautiful gardens and intricate fountains. The impressive Hohnsalzburd Castle is truly majestic. The 900-years-old fortress is perched on a clifftop and offers great views of the city below.
How to get there: 2 ½ hour ride. Take the Railjet express directly from Vienna Central Station to Salzburg.
Suggested Trip: Day Tour of Salzburg, Sound of Music Tour
Hallstatt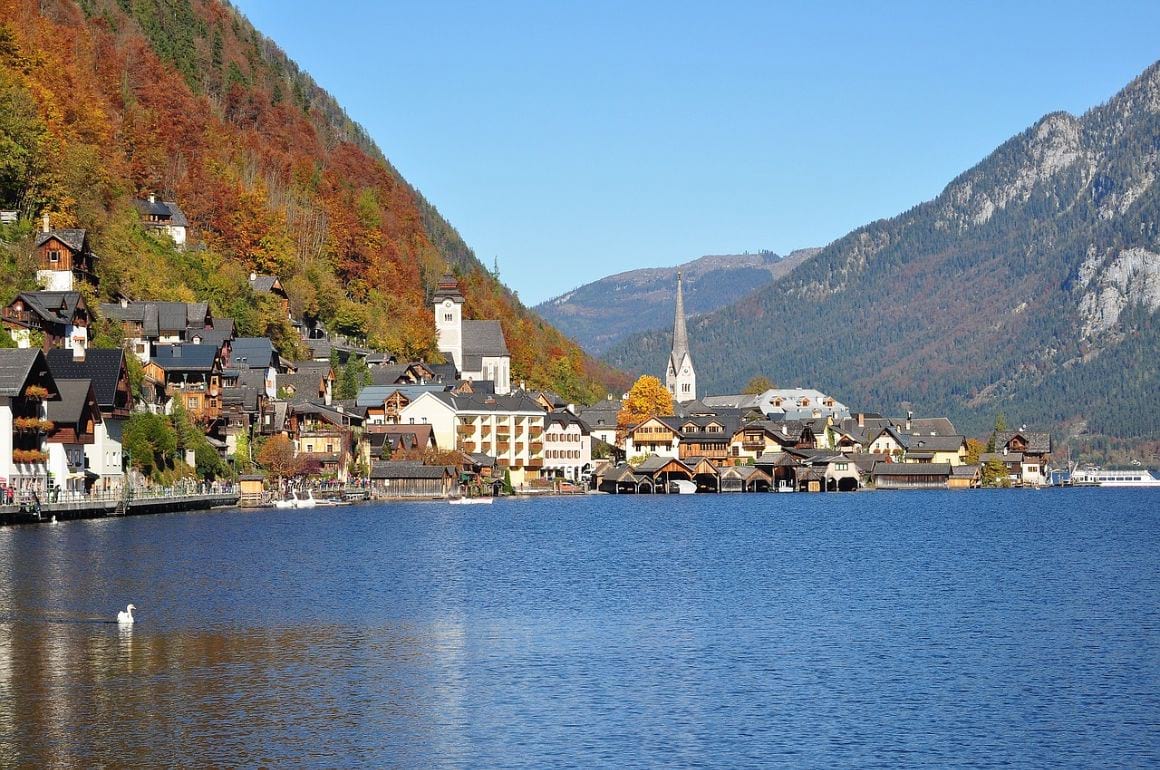 Hallstatt's beauty is the stuff of fantasy, with its peaceful atmosphere, serene lake and charming architecture. It is thought to be one of the inspirations behind Disney's Frozen. Hallstatt is the most wonderful day trip from Vienna and a top bucket list destination for many who visit the country.
Stroll around the village and admire the quaint cottages with flowered balconies lining the gorgeous lake. The backdrop of the Alps and the tall spire of the Evangelical Church of Hallstatt will leave you speechless. It's no wonder that both the village and the lake are UNESCO World Heritage Sites.
Stop by at the Old Town and see fascinating landmarks such as Charnel House, a small 12th-century chapel decorated with skulls. Then walk up the hills to the Skywalk Hallstatt Viewpoint on Mount Krippenstein for stunning views over the town and the mountains beyond.
Hallstatt also has the oldest salt mine in the world, which is also worth a visit and is the home to a modern-day "time capsule" of human knowledge!
The best way to enjoy Hallstatt is to stay overnight. Check out this convenient and affordable BnB that offers lake or mountain views. For more panoramic views of the lake, opt for this 4-star hotel in the city centre.
How to get there: Up to 3 hours ride. The best options are to drive a rental car.
Melk Abbey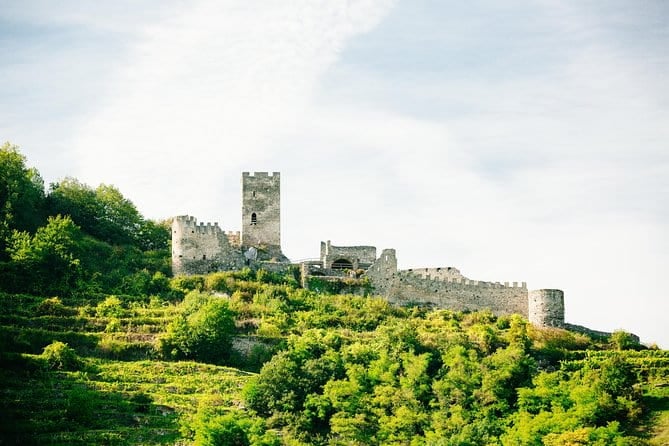 The picturesque town of Melk is situated where River Danube enters the Wachau Valley. Snaking through the lush valley, the Danube flows past beautiful monasteries, grand castles and captivating villages. It is one of the most popular places to visit near Vienna and you'll know why when you cast your eyes on its beauty.
Melk is a great day trip from Vienna for those interested in the historical heritage of Austria. The old town centre has been wonderfully preserved, the architectural wonder of many of the historic buildings remain to this day. The most famous draw is the Benedictine Melk Abbey, sitting high atop a rocky mountainside. The abbey is a magnificent Baroque-style building with a unique octagonal dome. Its Imperial Corridor and Marble Hall are filled with priceless art and incredible frescoes. Melk Abbey is a treasure trove for history-lovers. The Church is one of the finest Baroque churches north of the Alps.
Other nearby attractions are the ruins of the 900-year-old Renaissance Schloss Schallaburg and Aggstein Castle. The countryside around Melk connects the town with natural areas, like the Donauradweg cycling path, which has to be one of the loveliest bicycle routes in Europe.
How to get there: Up to 1 ½ hour ride. Take a train from Vienna to Melk Station. It is a 15 min walk up the hill from the station.
Suggested Trip: Melk Abbey and Danube Day Trip
Budapest
As soon as you arrive in Budapest, it will have you hooked! The impressive Buda Castle dominates Danube's western bank. The City Woodland Park has a number of museums and as well as the remarkable Vajdahunyad Castle. Take your time marvelling at the World Heritage-listed Castle Hill, the 19th century Fisherman's Bastion and Matthias Church alongside the magnificent Hungarian Parliament Building. The incredible architecture of the city spans a number of styles and eras.
Spend time at the Royal Palace before heading for lunch across River Danube. Be sure to visit the Széchenyi Baths and experience the famous thermal pools with a relaxing bath alongside locals playing chess. Don't forget to try Hungary's famous traditional Chimney Cake from Cafe Molnár's Kürt?skalács. Just make sure you get a photo for insta before you devour it!
Known as the "Paris of the East", there is so much to do in Budapest it can be overwhelming! With so manyUNESCO World Heritage Sites, beautiful architecture and interesting culture, you're in for a treat. Heading toBudapest is a day trip out of Vienna to remember.
How to get there: 2 ½ hour ride. Take a direct train from Vienna to Budapest.
Suggested Trip: Budapest Day Trip from Vienna
Ljubljana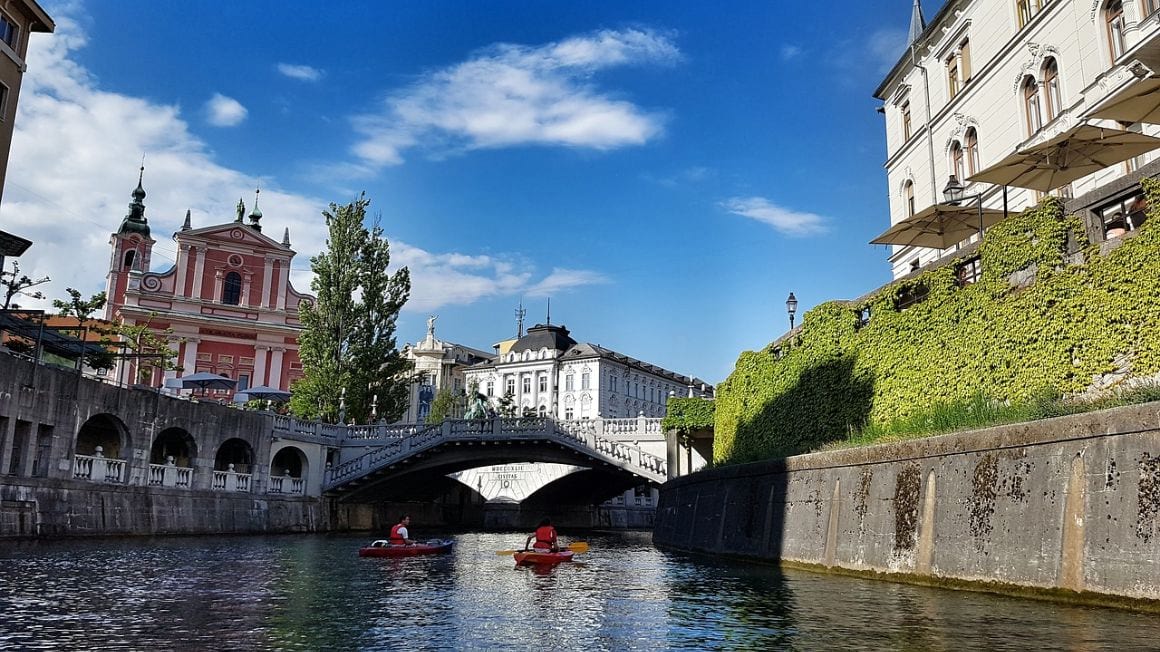 Ljubljana is Slovenia's capital and is a small and charming city to visit. Though it's a little far away from Vienna, it is still a great day trip to take if you get the chance. The old town of Ljubljana is a place you really wouldn't want to miss!
Take a leisurely stroll through the narrow and cobblestone streets of the old town and get lost in its charm and hip vibe. The streets lining both sides of the river Ljubljanica were constructed as early as medieval times but the attitude of the city is very much in the modern-day. Visit the famous Triple Bridge, the town hall and other beautiful buildings such as the Baroque churches and palaces designed by famous architect Plecnik.
Why not walk your way up the hill to Ljubljana Castle for some stunning city views. Alternatively, you can also take the funicular. Have a light lunch of tasty local food from one of the several restaurants. Visit the green park Tivoli and take a relaxing stroll.
How to get there: 4-hour ride by car.
Cesky Krumlov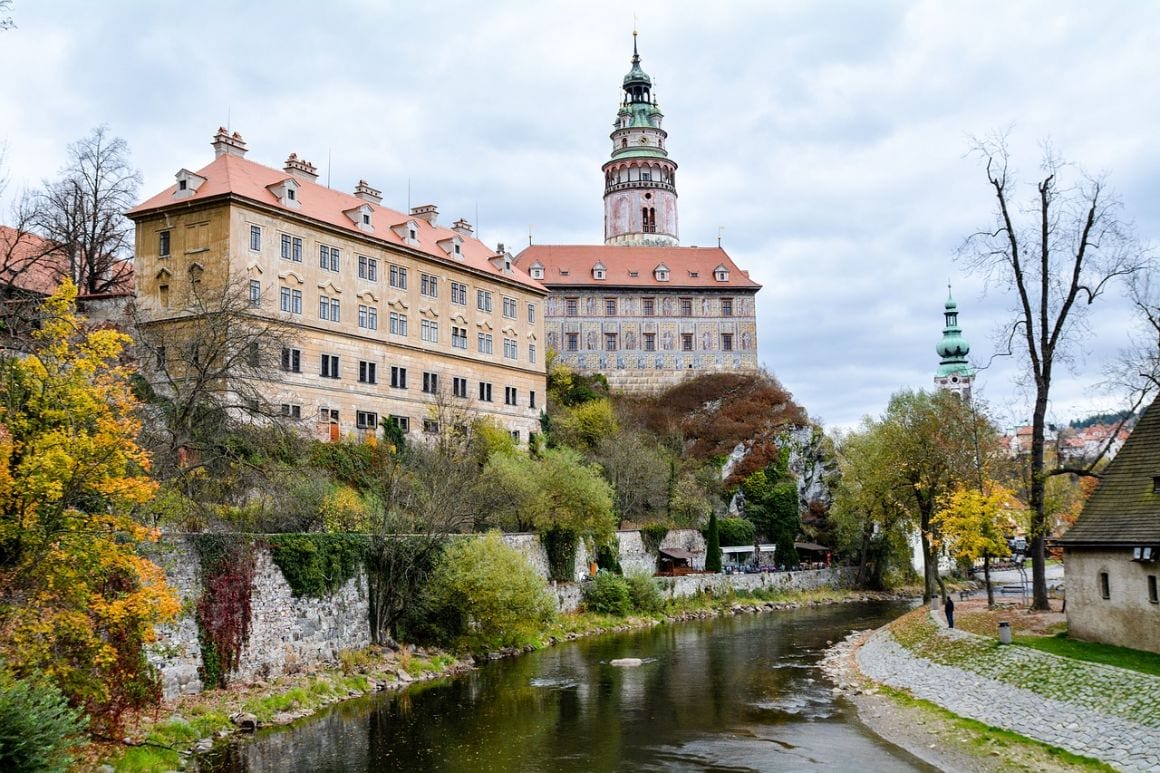 Cesky Krumlov is truly a fairytale town that has to be seen to be believed. This cosy city in the Czech Republic is known as one of the most beautiful towns in Europe. Cesky Krumlov is nestled into the crook of the Vltava River that meanders around the city and has a quaint atmosphere right from the off.
Cesky Krumlov is a real romantic getaway for couples especially. Spend the day strolling around the historic Old Town, whatever the season you can't fail to fall in love with this charming town. Visit the Cesky Krumlov Castle, with its magical pink tower standing high and tall just like Rapunzel's Tower! Walk along the Cloak Bridge and treat yourself to stunning birds-eye views of the city whilst you're up there.
An interesting museum to visit is the Muzeum Tortury – a strange up fascinating museum displaying different medieval torture methods, tools and instruments. Somewhat of an antidote to all that romance! Try the traditional street food "trdelnik", a local pastry with different toppings whilst you're here too.
Cesky Krumlov is somewhere that will capture your heart, which is why we strongly recommend staying overnight. This cosy accommodation in the heart of Cesky's Old Town has spacious rooms. This guesthouse in the city has all amenities and a continental breakfast.
How to get there: 2 ½ hour ride. Take a direct shuttle bus or drive yourself from Vienna.
Prague
Prague should be done as a day trip from Vienna only if you're hard-pressed for time. Otherwise, the magic of the city is best experienced in more than a day as there is so much to do in Prague. Bursting with fascinating architecture, towering spires, magnificent castles and gothic cathedrals, Prague is a city with immense character.
Start with a walking tour from Old Town Square, the lively heart of Prague. You can visit several attractions from here, such as the famous Prague Astronomical Clock, Old Town Hall, and Church of Our Lady Before Tyn. The Astronomical Clock was installed in 1410 and is said to be the oldest clock in the world that is still in operation.
Stroll across the iconic Charles Bridge. Go through the Mala Strana neighbourhood up to Prague Castle. The castle grounds, along with the grand Vladislav Hall and the magnificent St Vitus Cathedral are fascinating places to see and explore. The terrace on Hradcany Square offers panoramic views of Prague, an ideal place to end a day exploring.
How to get there: Up to 4-hour ride. It's better to go with a guided tour for better time & transport management.
Suggested Trip: Prague Day Trip with Walking Tour
Bratislava
If you're looking for a short and fun escape from Austria's capital city, head on across the border to Slovakia's capital city. Bratislava is perfect for a day trip from Vienna – it is a delightful little city with so much to see and experience and it's so close.
Start with the most picturesque part of the city, the Old Town of Bratislava. Stroll around the town square with its impressive 8th-century buildings lining the cute little streets. The Old Town Hall houses the Bratislava City Museum, the city's oldest museum and a great place to learn about the city. The viewing tower of this bright yellow building offers panoramic views of the town square.
Visit Michael's Gate – an imposing construct that was one of the four gates when Bratislava was a fortified city. It's now an icon of the city. Another impressive building is the Gassarlkovich Palace, the residence of Slovakia's president. Then there's Bratislava Castle, perched on a hill overlooking the city and the river Danube.
How to get there: 1-hour ride. Take a train from Vienna to Bratislava.
Suggested Trip: Bratislava Day Trip including Catamaran Cruise
Baden Bei Wien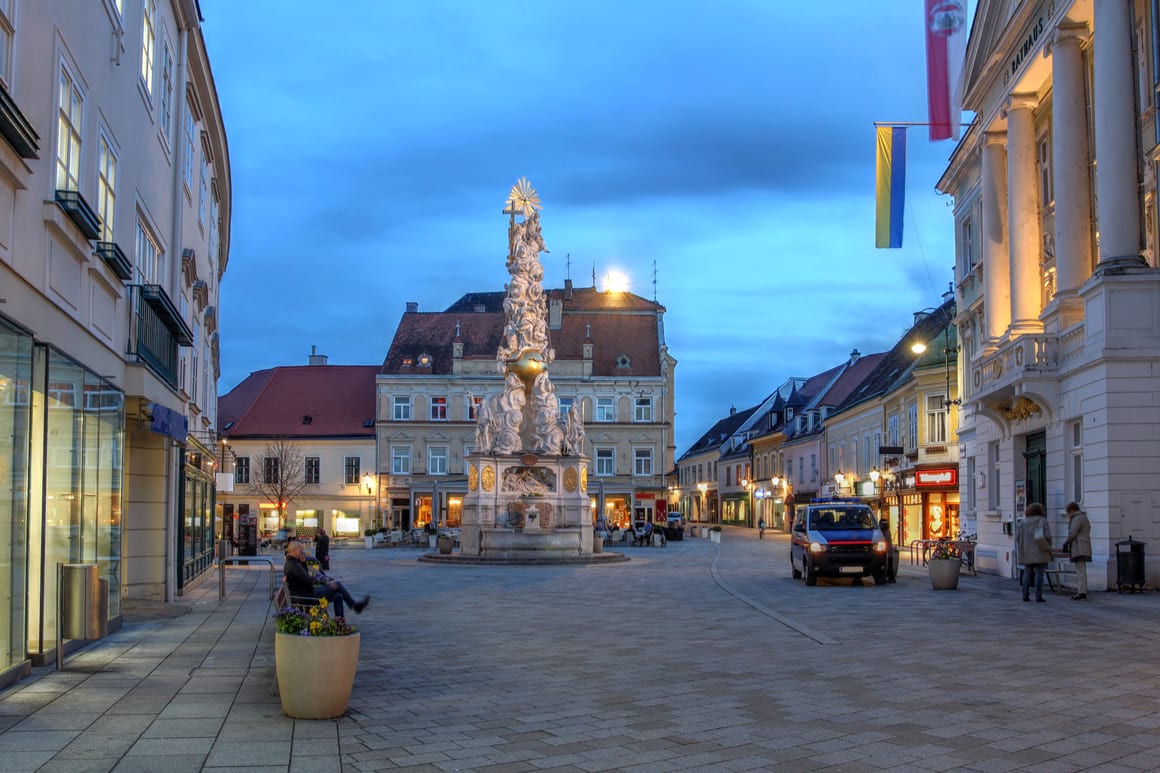 A short yet serene and relaxing break from city life, this town is an ideal day trip in Vienna. Baden Bei Wein is a former ancient Roman town that was well known for its thermal springs. The "Spa of Emperors", Baden Bei Wein was a favourite summer resort for Austrian royalty. For more than two millennia, the restorative waters of the springs have been flowing in the city and enjoyed by all those who visit.
Spend your time in this spa-town bathing in its warm therapeutic waters. Perfect for later in your trip if you need to take a break from all that exploring. With the serenity and wellness effects of the springs, many famous composers came to the city for inspiration and focus. It's easy to see why and you will surely leave the town feeling revitalised too.
If bathing isn't your thing then there's plenty more to explore. Roam the town and admire the wonderful 19th-century classicist architecture. See the Trinity Column plague memorial in the town square, the Casino Baden and Kurpark, a formal city garden that merges with Vienna Woods' forests. Follow the trails to Kalvarienberg, a hill in Kurpark that offers nice views of the town below.
How to get there: 40 min ride. Take a train from Vienna to Baden Bei Wien.
Brno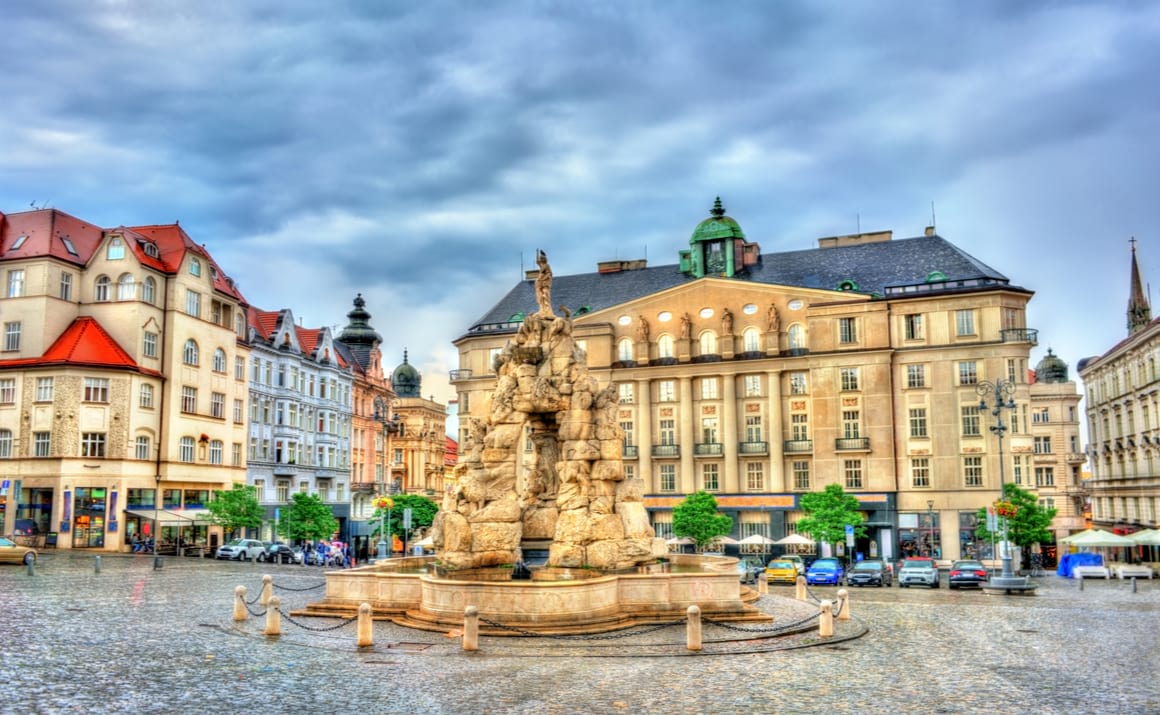 Brno is a city with rich history and beautiful modernist architecture. Just over an hour away from Vienna, Brno is the second-largest city in the Czech Republic and is much quieter than Prague. There are many things to do and see in Brno – remarkable buildings, interesting attractions and great food, beer and wine.
Most of the important historical sites and landmarks are located conveniently around the city centre. Visit the magnificent 13th-century Spilberk Castle and explore its museum, gardens and vaulted prison tunnels. The iconic Cathedral of St. Peter and Paul is another important and impressive landmark. Don't miss St. James Ossuary, which is the second-largest of its kind in Europe and a sight to behold.
Public spaces in Brno are aplenty – the historic Zelnýtrh square is famed for its markets, boutique shops, cafes, and restaurants. The 17th century Parnas Fountain is the centre of the city and where many people come to meet.
If you plan to stay overnight, check out this centrally-located B&B. Or stay at one of the affordable apartments at this hotel, which offers all amenities.
How to get there: 1 ½ hour ride. Take a train or bus from Vienna to Brno.
Small Pack Problems? 😉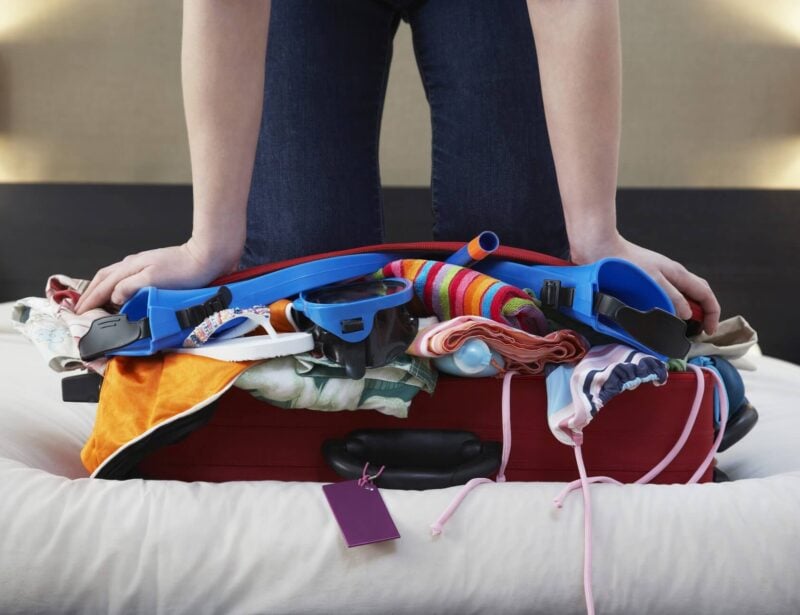 My missus travels with all her clothes in ziplock bags: don't be like my missus. UP YOUR PACKING GAME!
Packing cubes for the globetrotters and compression sacks for the real adventurers – these babies are a traveller's best kept secret. They organise yo' packing and minimise its volume too so you can pack MORE.
Or, y'know… you can stick to ziplock bags.
View Our Fave Cubes
Or Check Out the Sacks!
Don't Forget your Vienna Travel Insurance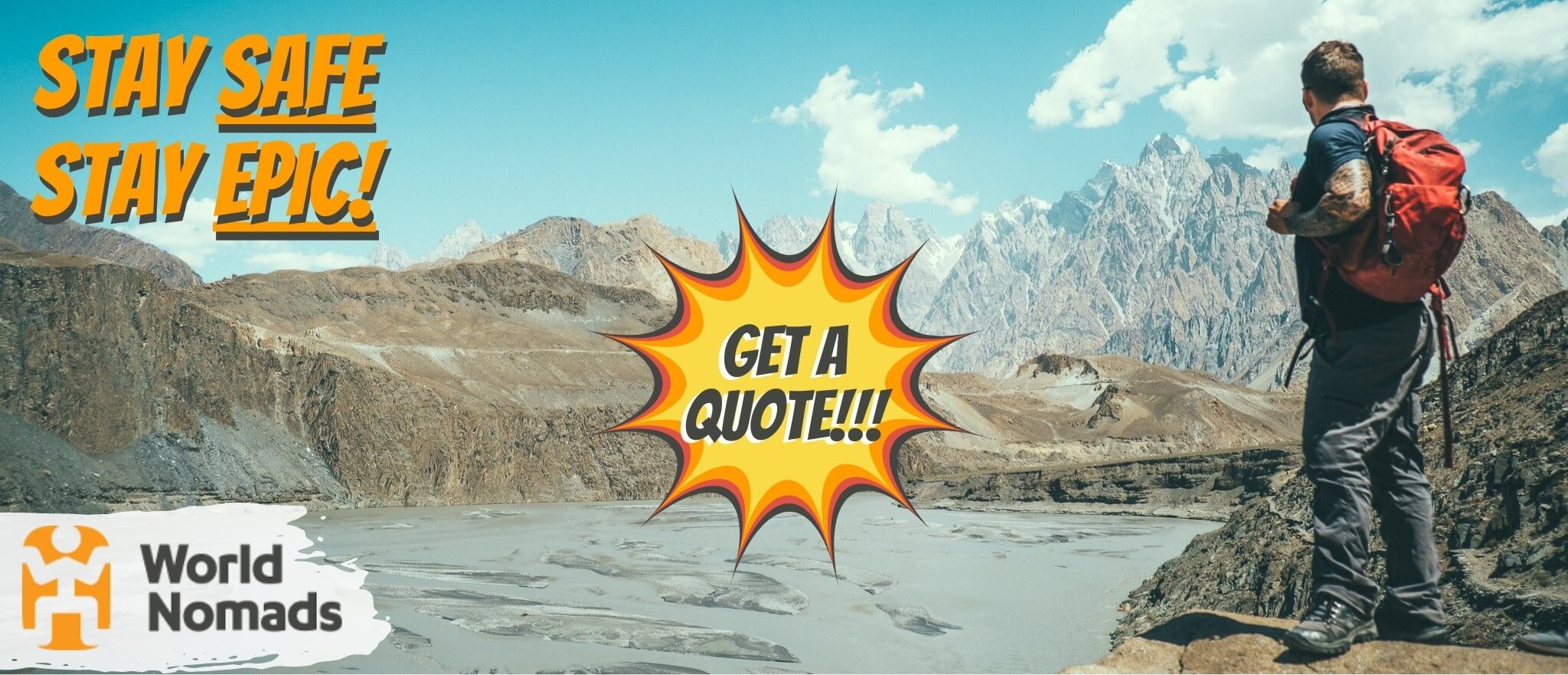 World Nomads' mission is to support and encourage travellers to explore their boundaries. They offer simple & flexible travel insurance, and safety advice to help you travel confidently.
They've been doing it since 2002 – protecting, connecting, and inspiring independent travellers just like you.
Get a quote below or read our in-depth review!
World Nomads provides travel insurance for travelers in over 100 countries. As an affiliate, we receive a fee when you get a quote from World Nomads using this link. We do not represent World Nomads. This is information only and not a recommendation to buy travel insurance.
Final Thoughts
There you go – that was the list of our favourite day trips from Vienna. This list is not exhaustive, but we have picked those places that are well-visited, as well as those places that are lesser-known to give you a few different options. Our favourite day trips are Saltzburg, Hallstatt and Cesky Krumlov – All are fairytale towns right out of a Disney movie.
Best Time to Go:
The mild weather of spring (April to May) and Autumn (September to October) are ideal for a trip to Vienna. Crowds are fewer during these seasons. However, if you enjoy summers more, the weather is warm and sunny, but as it is high season, hotel rates hit the Alps (pun intended) and it can be quite busy in places like Vienna, Prague and Budapest.
---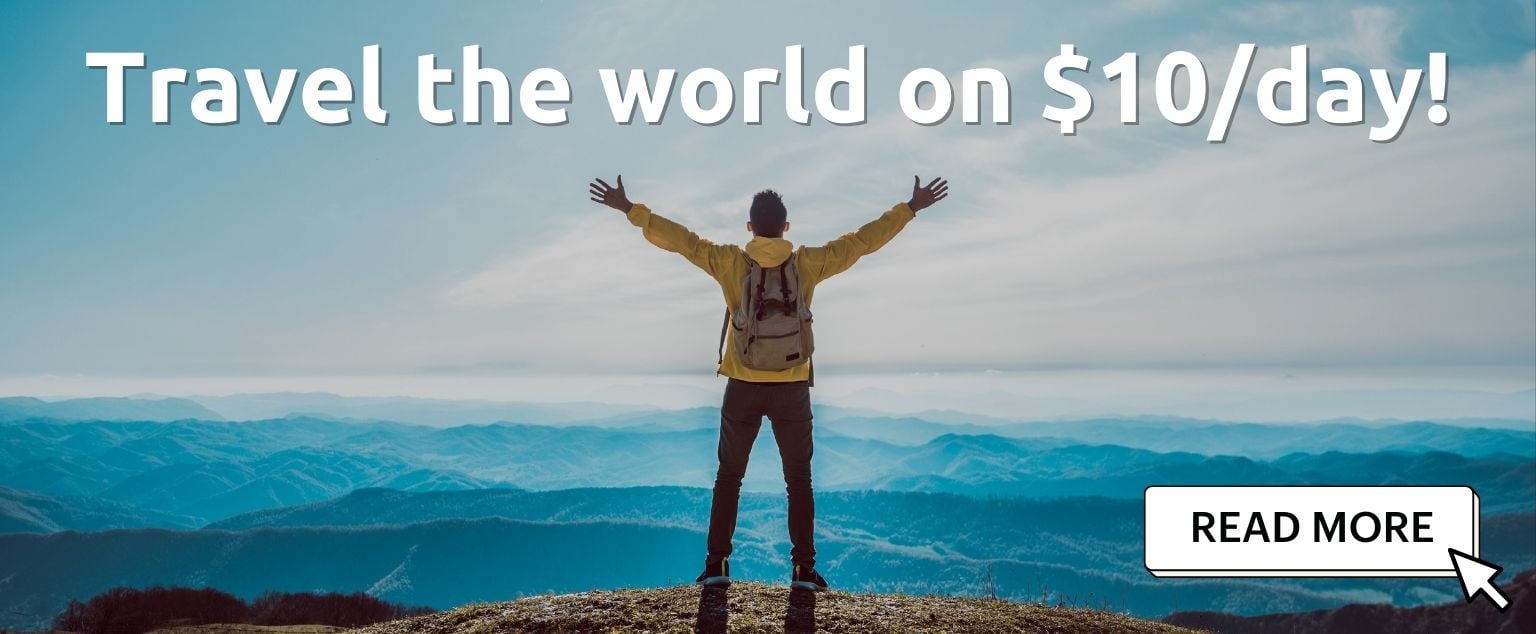 And for transparency's sake, please know that some of the links in our content are affiliate links. That means that if you book your accommodation, buy your gear, or sort your insurance through our link, we earn a small commission (at no extra cost to you). That said, we only link to the gear we trust and never recommend services we don't believe are up to scratch. Again, thank you!