If you're planning to visit Tokyo, you'll want to stay somewhere central to all the attractions and is bustling and lively. Tokyo is one of the most unique city's in the world, and Shinjuku is at the heart of it.
This bustling metropolis is loaded with everything you can expect from this high-tech city, from shopping malls, restaurants, bars, beautiful parks, and some of the tallest skyscrapers in Tokyo.
It's also ideally located near the world's largest transport hub and busiest railway stations, the Shinjuku Station, so if you're thinking of backpacking around Japan, checking out hotels near Shinjuku station is not a bad way to start your trip.
Besides its convenient location, Shinjuku in itself is an exciting and happening place to visit. It's also super popular, which can make finding a place to stay quite a challenge.
No matter, because I'm here to help. With this guide to the best hotels in Shinjuku Tokyo, you can be sure to find a hotel that is ideally suited to your travel style and budget, and in the beat of the action.
In a Hurry? Here's Where to Stay in Shinjuku Tokyo for One Night
FIRST TIME IN SHINJUKU TOKYO
Hotel Gracery Shinjuku
With a Godzilla statue looming near the building like a watchman, this centrally-located hotel in Shinjuku is a quirky experience. Situated just behind the Shinjuku Station, Hotel Gracery is sky-high, but equally grounded. Offering comfortable rooms with amenities like free Wi-Fi, flat screen TV, and en suite bathroom with complimentary toiletries, this hotel gives great overall value. The Japanese-style and western breakfast buffet is the cherry on top!
NEARBY ATTRACTIONS:
Shinjuku Golden Gai
Shinjuku Gyoen National Garden
Memory Lane (Omoide Yokocho)
Is this amazing Shinjuku Tokyo Hotel booked for your dates? We've got your back with our other favorite properties below!

Unlock Our GREATEST Travel Secrets!
Sign up for our newsletter and get the best travel tips delivered right to your inbox.
Staying at Hotels in Shinjuku Tokyo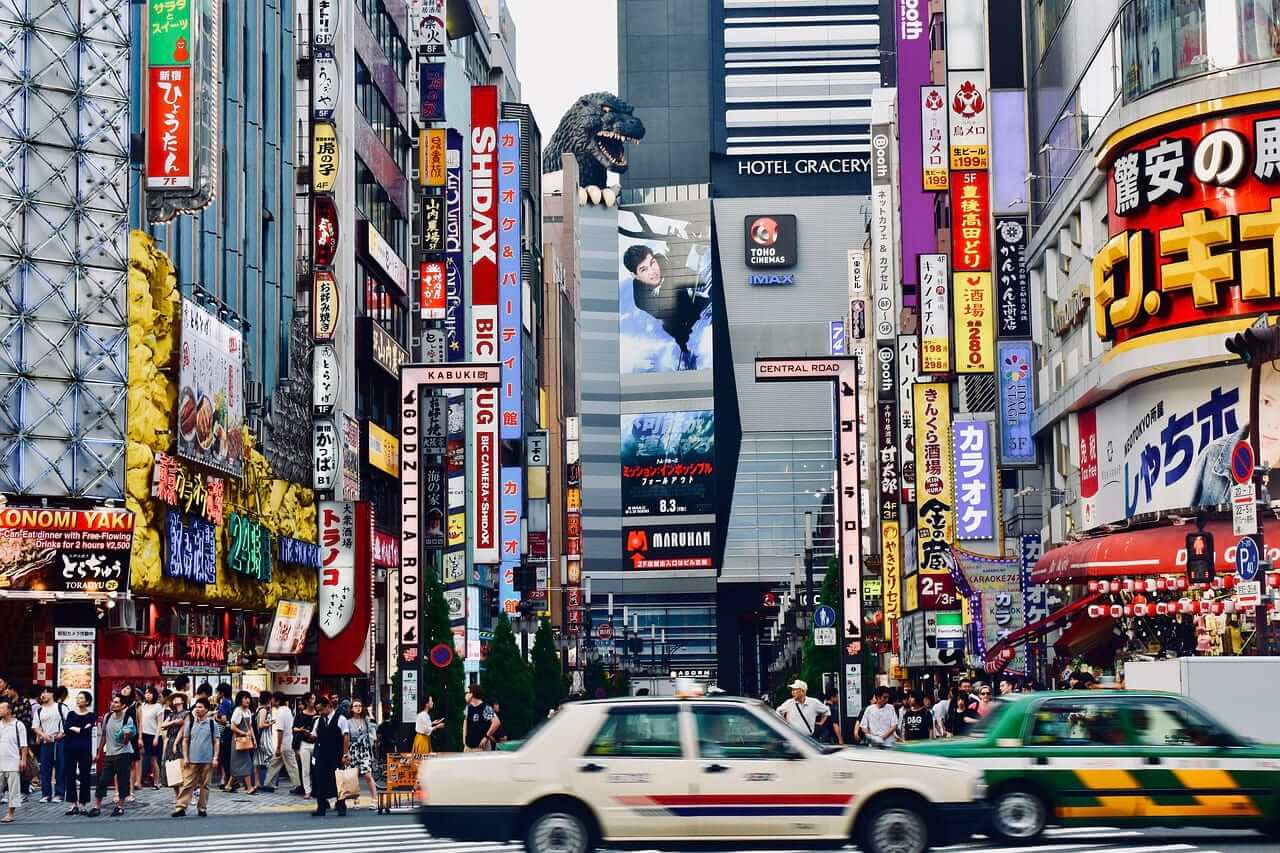 Home to bustling nightlife and plenty of daytime attractions and activities, Shinjuku is a vibrant neighborhood of Tokyo. It is well-connected by public transport so whether you want to take a day trip out to see Mount Fuji or you want to travel around the city, it makes for the perfect base to get to wherever the fun is happening.
Because it's quite a loud and bustling area in the city, staying in a hotel in Shinjuku is definitely suited to travellers who want to get a good night's rest, and hotels near Shinjuku Station are the most ideal.
What to Look for in a hotel in Shinjuku
Choosing where to stay in Shinjuku should not be difficult, but you should definitely consider your location before booking. Just keep in mind the different areas around the station: east is for shopping and night life, northeast is the red light district, and west is the business area. If you're travelling with family, better not stay in the northeast. A more ideal area would be the east of Shinjuku.
Hotels come with many amenities and facilities. Almost all of them offer basics conveniences such as clean rooms with comfy beds and en suite bathroom. Depending on the area, you can find hotels to cater to any type of budget. You will have a simple one that is fit for backpackers in Tokyo on a tight budget, or even a lavish one if you're in the mood for a luxury vacation.
Most hotels offer complimentary breakfast while others charge a fee. Also, most hotels in Shinjuku offer great views of the city and often of Mt. Fuji on a clear day, as hotels tend to be located in skyscrapers.
Amenities like free Wi-Fi, minibar, room service, etc. are also a given. The size of the room is where you may need to compromise. Since Tokyo is a built-up city, hotels tend to have smaller rooms. The size of the room varies with your requirements – e.g. a double room for two people or a suite for a family or group of friends.
Most, if not all, hotels are within walking distance of the subway station, so you're never too far from transport. However, there are plenty of options to choose from, so to help you find the perfect hotel for your stay, I have compiled a list of some of the best hotels in Shinjuku.
You can check the amenities and facilities as per your preference on hosting sites such as booking.com where there are plenty of accommodation options available. But if that sounds like too much work for you, then don't worry, because I have already done the drudgery for you!
So let's look at some of the best hotels in Shinjuku you can stay at.
OVERALL BEST VALUE HOTEL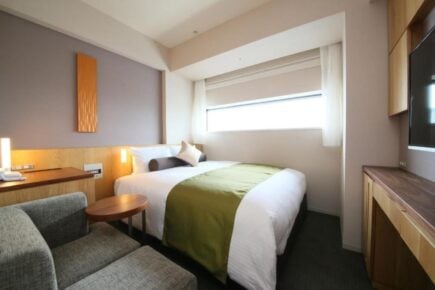 OVERALL BEST VALUE HOTEL
Hotel Gracery Shinjuku
> $$
> 4 Guests
> Non-smoking
> City views
BEST BUDGET HOTEL
BEST BUDGET HOTEL
Hotel Sunroute Plaza Shinjuku
> $$
> 2 Guests
> Luggage storage
> Buffet Breakfast
BEST HOTEL FOR SOLO TRAVELLER
BEST HOTEL FOR SOLO TRAVELLER
Citadines Central Shinjuku Tokyo
> $$
> 2 Guests
> Wake-up call service
> Safety deposit box
BEST HOTEL FOR A BUSINESS TRAVELLER
BEST HOTEL FOR A BUSINESS TRAVELLER
Hyatt Regency
> $$$
> 2 Guests
> Breakfast
> City views
BEST HOTEL FOR COUPLES
BEST HOTEL FOR COUPLES
JR Kyushu Hotel Blossom Shinjuku
> $$
> 2 Guests
> Japanese meals
> Free Wi-Fi
BEST HOTEL FOR A FAMILY
BEST HOTEL FOR A FAMILY
Odakyu Hotel Century Southern Tower
> $$
> 4 Guests
> Non-smoking
> Airport shuttle
BEST HOTEL FOR A GROUP OF FRIENDS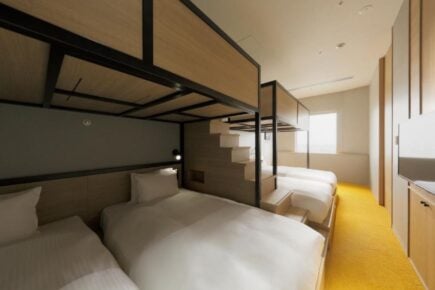 BEST HOTEL FOR A GROUP OF FRIENDS
Hundred Stay Tokyo Shinjuku
> $$
> 6 Guests
> Private kitchen
> City View
10 Best Hotels in Shinjuku Tokyo
No matter where you stay in Shinjuku, you'll be in the ideal neighborhood in Tokyo to stay in to connect to the rest of the city and beyond – thanks to the bustling world-famous Shinjuku Station.
Hotels near Shinjuku Station are aplenty, but let's have a look at some of the best of them below.
Overall Best Value Hotel near Shinjuku Station – Hotel Gracery Shinjuku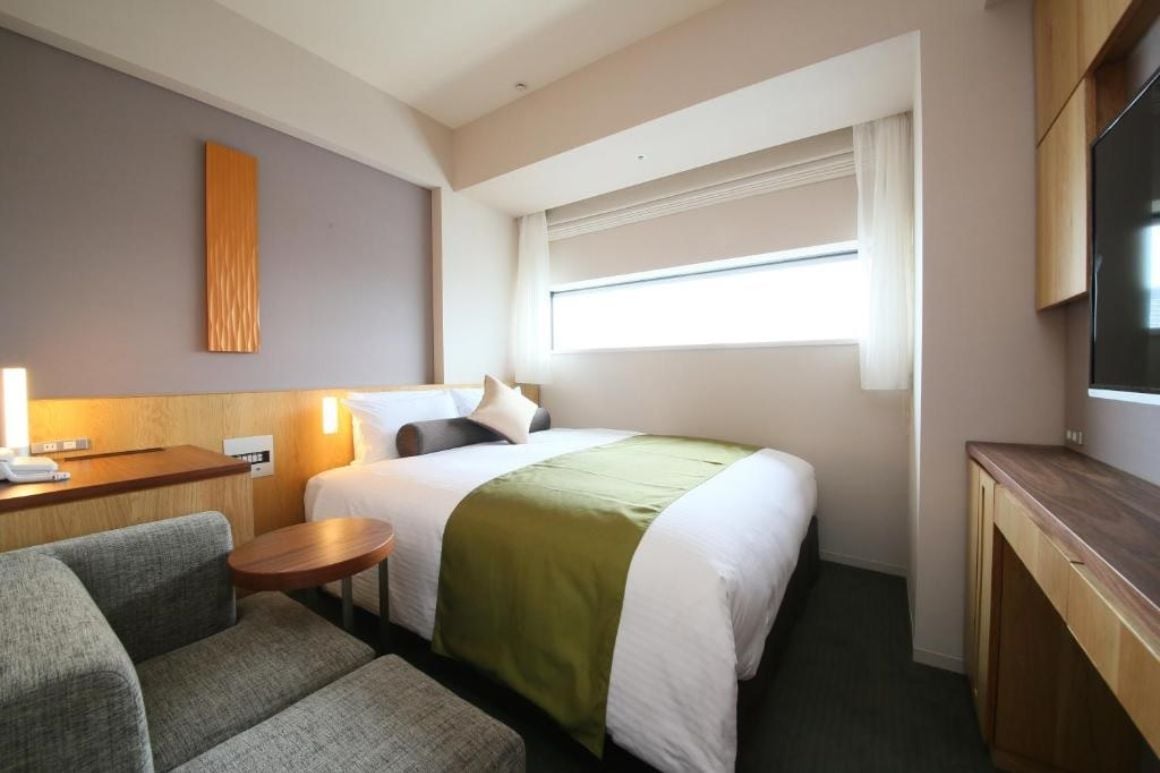 $$
4 Guests
Non-smoking
City views
Godzilla fans will love this hotel. An impressive Godzilla head statue, 12 meters high, sits on the 8th floor terrace of the hotel. There is even a "Godzilla View Room" that offers a view of the beloved monster lizard right outside your window. This weird and quirky hotel is centrally located and has loads of amenities, which gives you an overall great value for money.
Located right behind Shinjuku Station and within easy walking distance to several attractions, this hotel is perfect for exploring all the sights on your Tokyo itinerary.
Your room has comfortable beds, free Wi-Fi, flat screen TV and electric kettle. The en suite bathroom has complimentary toiletries. Breakfast is buffet-style, with Japanese and western menus. Perfect for getting fueled up before a day's exploring.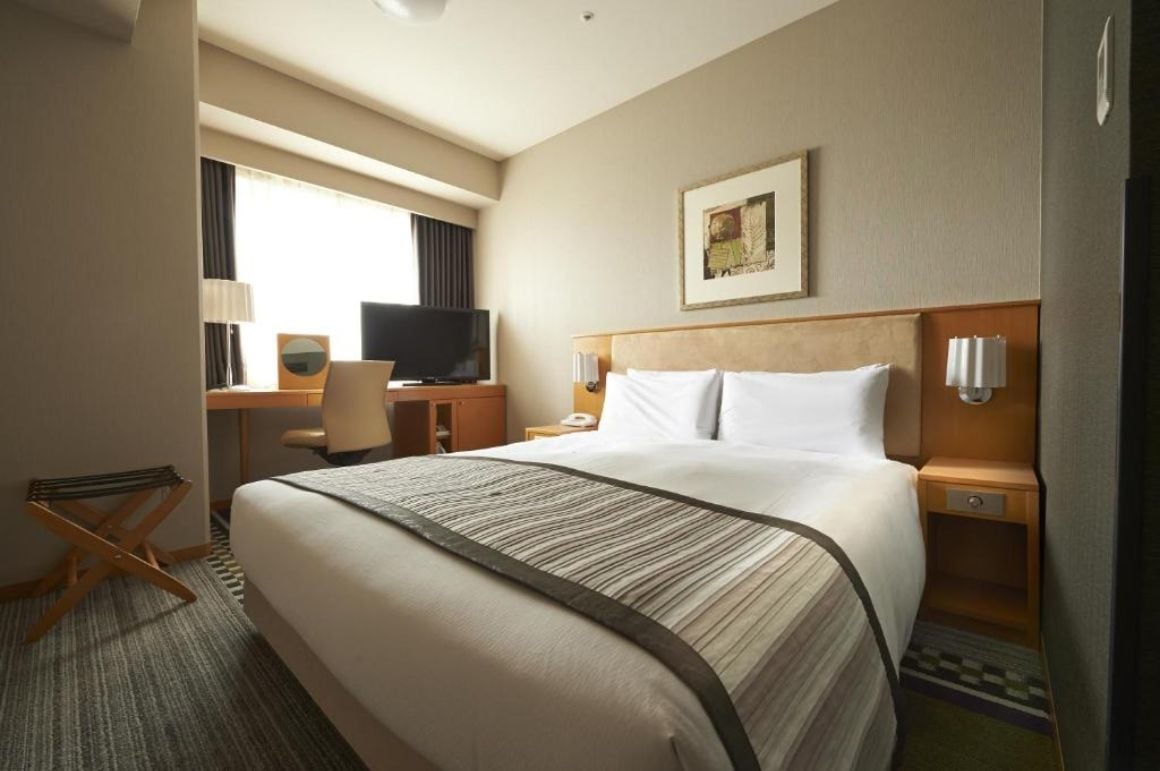 $$
2 Guests
Luggage storage
Buffet Breakfast
If you're looking for a good budget hotel that also offers many amenities, pick Hotel Sunroute Plaza. At just a few minutes' walk from main Shinjuku station, this hotel enjoys a central location with several attractions nearby. The Shinjuku Gyoen Park, Yoyogi Park, the Kabukicho area and the famous Isetan Department Store are all within a few minutes' walk from the hotel.
Rooms at this hotel are soundproofed and feature a simple and sophisticated décor. Your room will have amenities like satellite TV, free Wi-Fi, room fridge, and electric kettle.
The hotel also offers dry cleaning and luggage storage facilities. They serve a Western-style buffet breakfast and Italian cuisine for lunch and dinner. You can even have a light meal or a drink at the stylish bar!
$$
2 Guests
Wake-up call service
Safety deposit box
Citadines Central Shinjuku is the perfect hotel to stay at if you're travelling solo – it is budget-friendly, centrally located, and offers a host of amenities.
This hotel is a quiet space within downtown area Kabukicho. One step outside and you'll find yourself in one of the largest entertainment districts in Asia. Citadines Central hotel gives easy access to transport links and various attractions, such as Golden Gai, so you're always near all the action.
This hotel also houses a 24 hr convenience store and coin-operated launderette. The rooms have LCD TVs, safety boxes, free Wi-Fi, tea/coffee makers and super comfy beds. You'll have a private bathroom with complimentary toiletries.
Best Hotel in Shinjuku for a Business Traveller – Hyatt Regency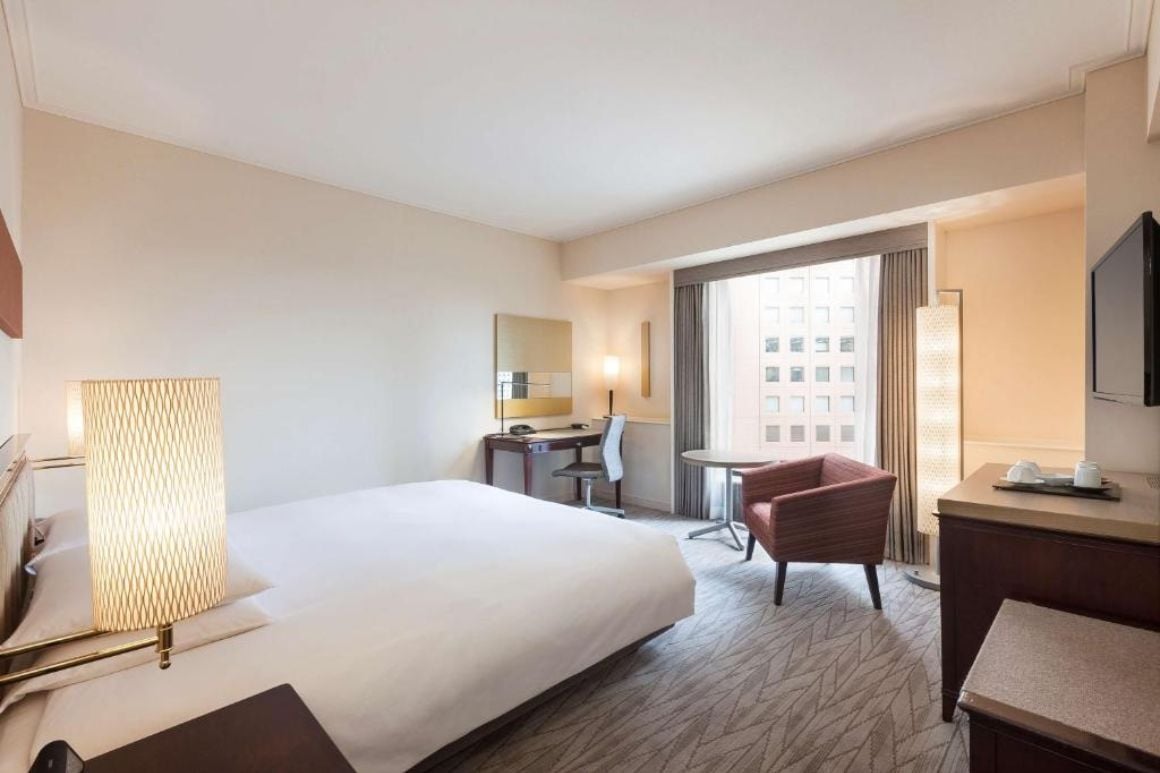 $$$
2 Guests
Breakfast
City views
Right next to Shinjuku Central Park and directly connected to the Tokyo Metropolitan Government Building is the Hyatt Regency Hotel. This one's perfect for business travellers – it operates limo buses between the hotel and two international airports and is just few minutes' walk from Shinjuku Train Station.
This hotel offers 4 star accommodation, with modern air conditioned rooms featuring large windows with views of the city. You will have free high-speed Wi-Fi, flat screen TV and a spacious work desk.
The en suite bathroom has a shower and bathtub for you to relax in. Among the amenities you'll also have access to a spa, wellness and fitness centre, and a 24-hour convenience store.
Is This the Best Travel Pack EVER???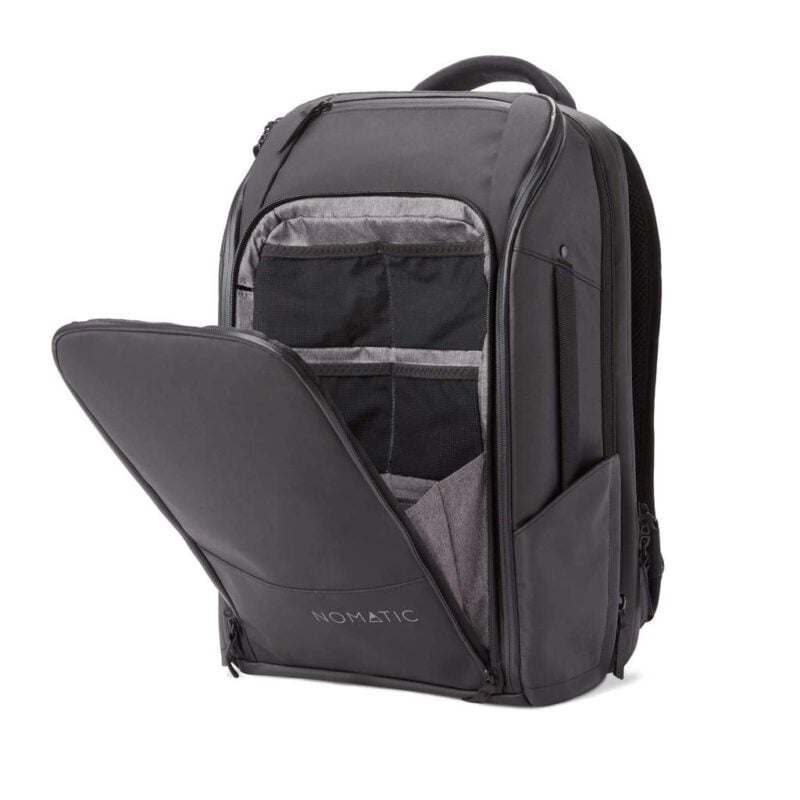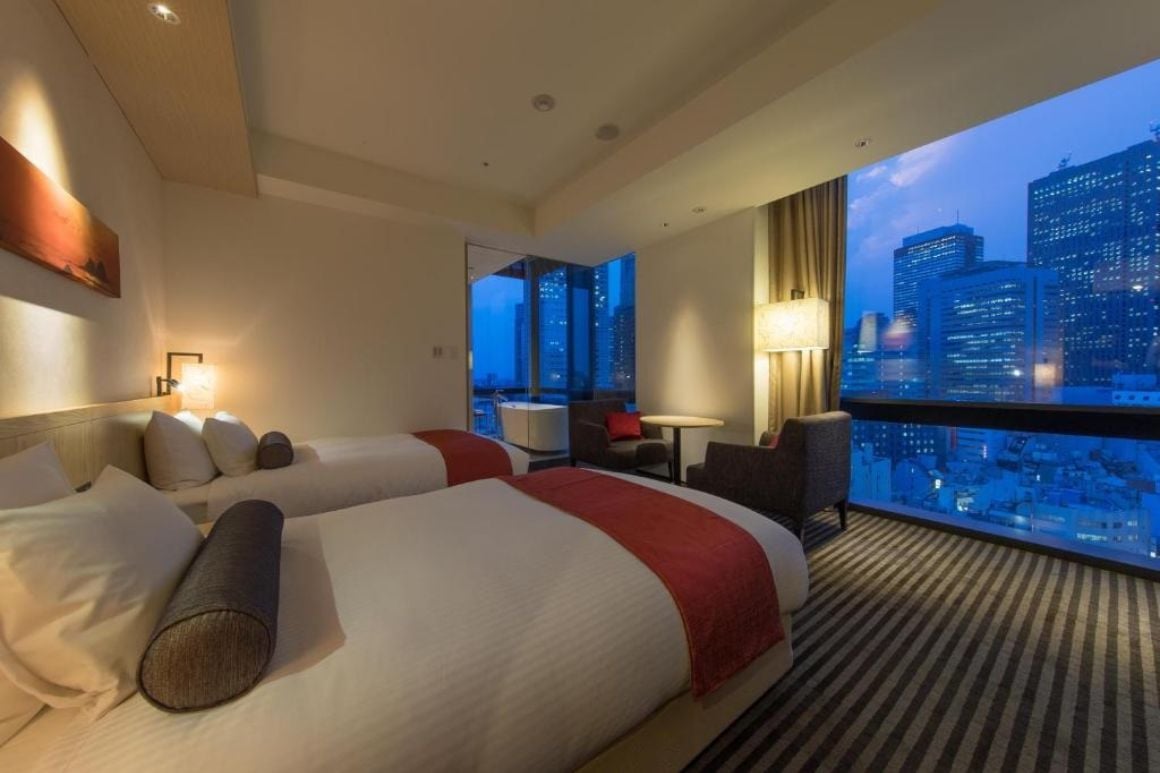 $$
2 Guests
Japanese meals
Free Wi-Fi
The JR Kyushu Hotel Blossom is situated in an ideal location. Some of Tokyo's top places to visit like the Kabukicho area, Golden Gai, Shinjuku Gyoen National Garden, and Takashimaya Store are all within a few minutes of walking. The nearest train station is also just round the corner and gives direct access to other areas of Tokyo.
This hotel is perfect for couples. The rooms are sophisticated, super comfy, and feature décor that is inspired by traditional Japanese materials and motifs.
As with a majority of hotels, amenities here also include free Wi-Fi, flat screen TV, room fridge, and kettle and air humidifier. The en suite bathroom offers complimentary toiletries. The on-site restaurant serves Japanese meals and specialties.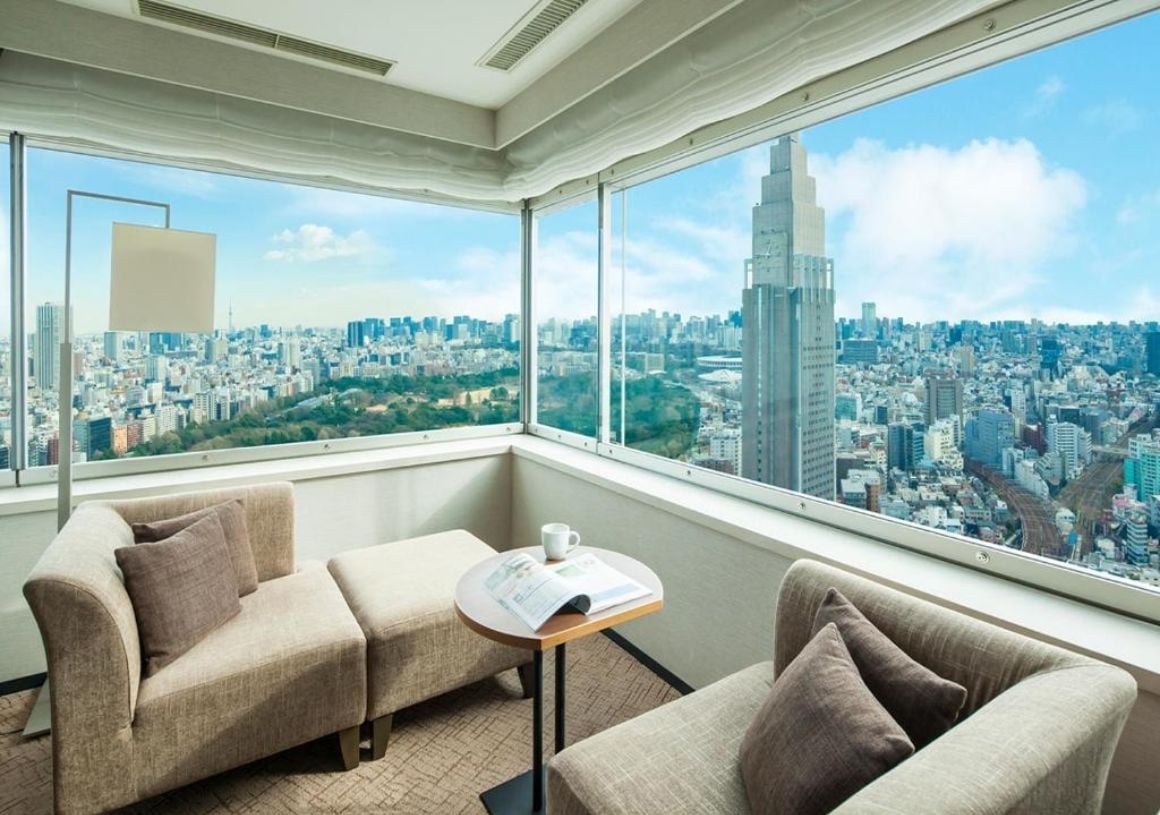 $$
4 Guests
Non-smoking
Airport shuttle
The Odayku Hotel is one property that offers breathtaking views of the city – and even Mt. Fuji if the weather is clear!
Sitting on a skyscraper building just minutes away from Shinjuku Gyoen National Garden, this hotel should be your top pick if you're travelling with family. The hotel is close to plenty of shopping, restaurants, parks, and transport, and offers great value for money too!
This hotel offers comfortable rooms with all the amenities and facilities you'd expect from a good establishment. You'll have free Wi-Fi, air conditioning, electric kettle and comfy beds. The en suite private bathroom comes with a hair dryer and complimentary toiletries. There are facilities for luggage storage and a fitness centre as well.
$$
6 Guests
Private kitchen
City View
One of the best hotels in Shinjuku Tokyo for you and your group of friends is the Hundred Stay Shinjuku. With convenient transport options nearby and the lively Kabukicho area just some minutes of walk away, this hotel has an ideal location.
The lively staff is an added fun feature – they offer karaoke, dancing, and live music to make your stay worthwhile
Hundred Stay hotel provides apartment-style rooms for big groups. The apartments come with fully equipped kitchen, living room, en suite bathroom with bath tub and washing machine – so no need to check out Airbnbs in Tokyo!
Other important facilities include a microwave, room fridge, flat screen TV, and free Wi-Fi. You can have a simple breakfast of bread, cereal, and beverages from their café before you set out for the day!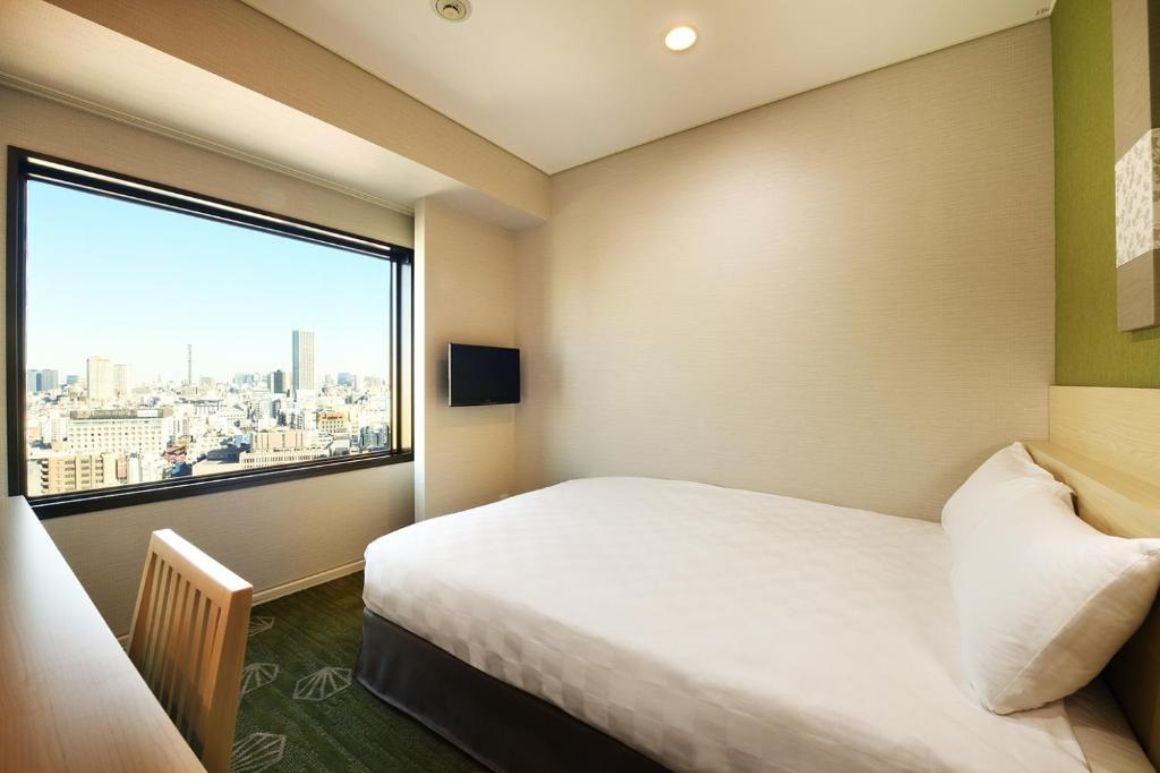 $$
2 Guests
Panoramic views
Creative Japanese cooking & bar
While in Tokyo you will find many good hotels near Shinjuku Station, as you will find this one. Perfect for a weekend in Tokyo and rightly located near the happening Kabukicho area is the Shinjuku Prince Hotel.
This elegant hotel sits directly above Seibo-Shinjuku Station that gives direct train access to Shibuya and Harajaku areas in Tokyo. It is also a few minutes of walk from Isetan shopping mall.
Shinjuku Prince Hotel houses a number of facilities. It has a Japanese restaurant on the 25th floor that offers creative Japanese cooking and a bar and some of the best panoramic views of the city. The rooms in this hotel are comfortable and come with the usual amenities. You will have an en suite bathroom with bath tub, comfy beds, room fridge and safe.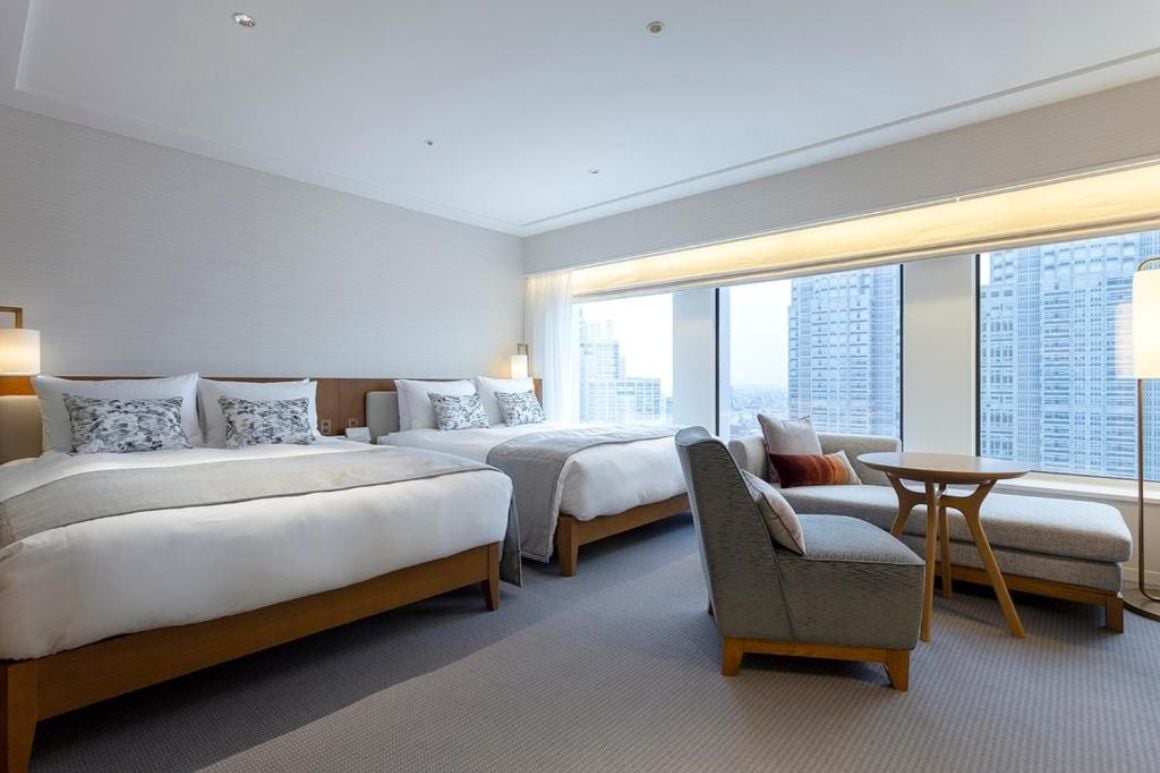 $$$$
4 Guests
Complimentary breakfast
Spa Center
If you're willing to splurge on your Tokyo vacation and stay in Shinjuku with class and style , why don't you check out the Keio Plaza Hotel? It will be your perfect luxury escape close to Shinjuku Station. Keio Plaza is Japan's first skyscraper hotel with a taste of Japanese culture. The Premier Grand rooms and suites on the upper floors of this 5 star hotel offer top notch luxury with stunning panoramic views of the city.
From the private check in to exclusive add-ons like the grand Club Lounge, bar, on-site spa, and rooftop pool, this hotel is one of its kinds. Room amenities shout 'Luxury!" and go above and beyond what you'd normally expect from hotels. You'll have exquisite Italian linens, branded complimentary toiletries, and cosmetics and fine Japanese whiskey and sake in the room minibar.
Over-the-Top Luxury Hotel in Shinjuku – Park Hyatt Tokyo
$$$$
2 Guests
Variety breakfast
Mt. Fuji views
Got more to spend and splurge? Try the Park Hyatt Tokyo. This hotel is (arguably) the most iconic hotel in Shinjuku for contemporary pop culture – it is where the movie "Lost in Translation" was filmed. Park Hyatt is another of the hotels near Shinjuku Station. Just a few minutes' walk away from the station, and from the Shinjuku Central Park and Shinjuku Gyoen, the hotel's location is perfect.
Luxury starts and ends here. Rooms at the Park Hyatt feature exquisite wood panelling, Egyptian cotton sheets, and some of the top-class amenities. You can have a drink at the wet bar and relax in the bathtub. Or just stretch out on the super comfy bed and watch a movie.
The hotel has the New York Bar and Grill on its 52nd floor where you'll be treated to great skyline panoramas, views of Mt Fuji and the finest cocktails. On site restaurants and bakeries offer sumptuous cakes and modern Japanese dishes to tingle your taste buds!
Don't Forget Your Shinjuku Tokyo Travel Insurance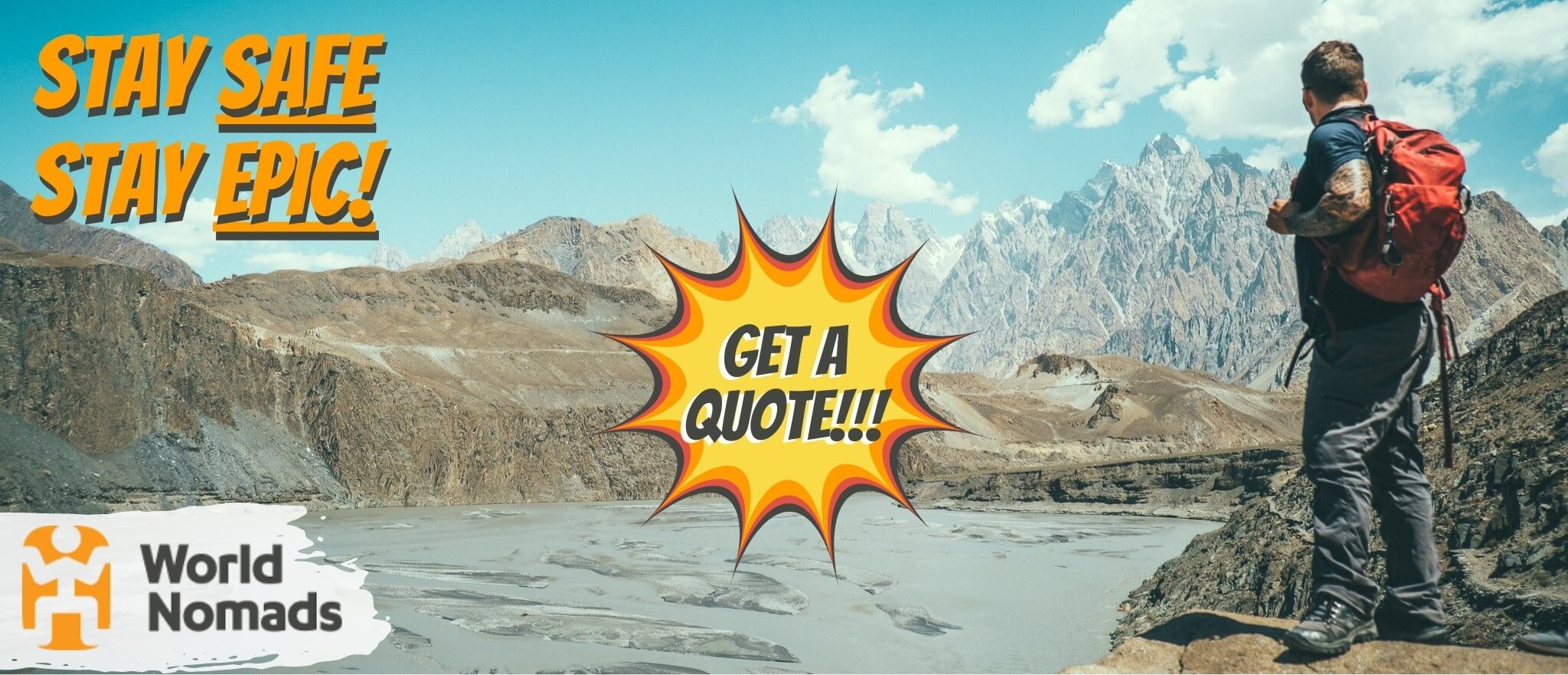 World Nomads' mission is to support and encourage travellers to explore their boundaries. They offer simple & flexible travel insurance, and safety advice to help you travel confidently.
They've been doing it since 2002 – protecting, connecting, and inspiring independent travellers just like you.
Get a quote below or read our in-depth review!
World Nomads provides travel insurance for travelers in over 100 countries. As an affiliate, we receive a fee when you get a quote from World Nomads using this link. We do not represent World Nomads. This is information only and not a recommendation to buy travel insurance.
Final Thoughts on Hotels in Shinjuku Tokyo
Shinjuku is probably one of the most bustling and happening areas in Tokyo and one of the tourist hotspots. The best way to experience it, and get a good night's sleep, is by choosing one of these hotels in Shinjuku.
You can choose between hotels that were featured in notable films like "Lost in Translation" to hotels that feature huge Godzilla statues – it's not just the streets that have some of the most amazing and quirkiest sights in Shinjuku!
If you're planning to go travelling around Japan, it is only fitting that you consider hotels near Shinjuku Station, making whichever hotel you choose, a convenient place to stay at.
I hope you found my ensemble of some of the best hotels in Shinjuku a useful starting point to plan your next Tokyo vacation.
And while you're planning your trip, don't forget to think about travel insurance. If you're traveling internationally, it is wise to opt for insurance. Unforeseen situations may occur and a smart traveller is a prepared one, as we always say! Happy travels!
---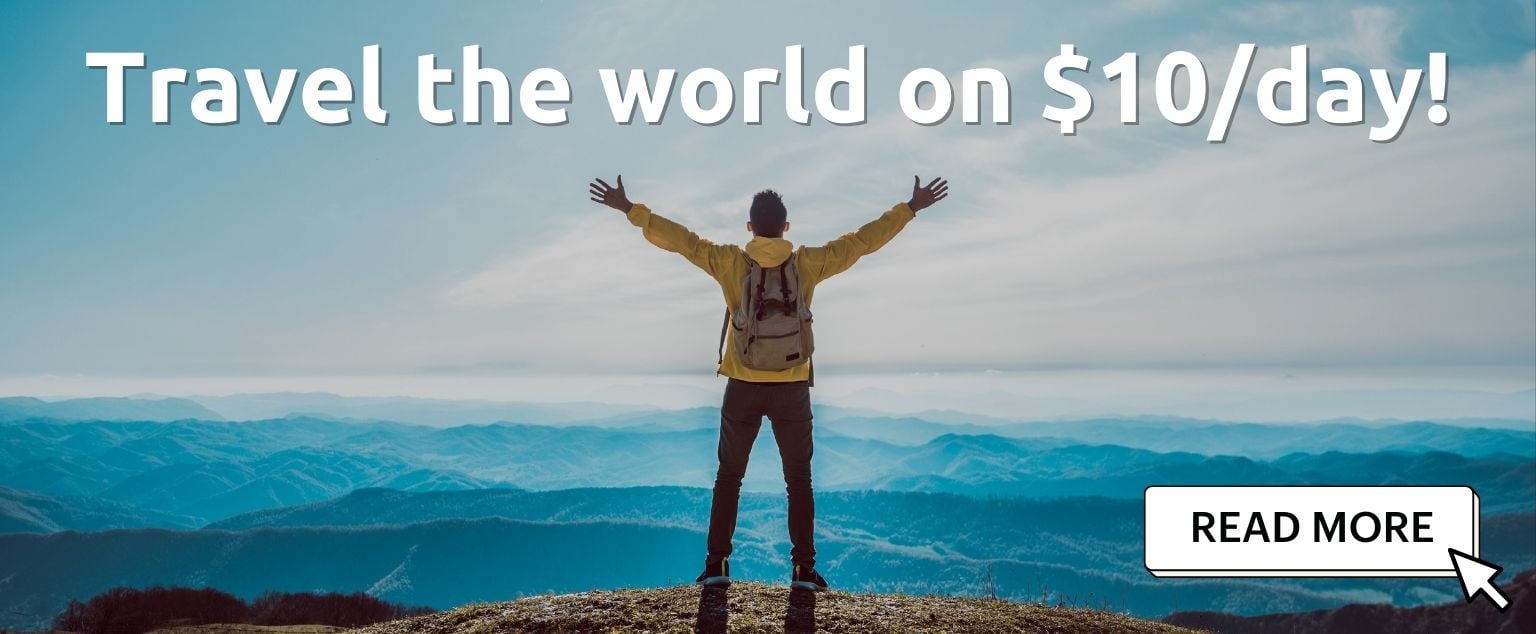 And for transparency's sake, please know that some of the links in our content are affiliate links. That means that if you book your accommodation, buy your gear, or sort your insurance through our link, we earn a small commission (at no extra cost to you). That said, we only link to the gear we trust and never recommend services we don't believe are up to scratch. Again, thank you!