Saint Lucia is one of the Caribbean island paradises that is becoming increasingly popular with independent travellers. It's no wonder: with its natural wonders including the UNESCO-approved twin peaks of the Gros and Petit Pitons, the island is a marvel to explore.
Combine this with pristine beaches, a laid back lifestyle, plenty of rum, street parties and Creole culture and cuisine and we have Saint Lucia – a destination that's so much more than just all inclusive resorts. At the same time, however, it's not quite the paradise that everybody thinks it is…
Violent crime against tourists isn't unheard of  and neither is petty theft. Robberies and break ins also do occur. Then there's the natural world to worry about such hurricanes. It seems paradise comes at a price!
Please don't let it put you off, though. We've created this epic guide to staying safe in Saint Lucia, so you can travel around with plenty of tips and information that will put your mind at ease. Hopefully this guide will make getting to grips with real life in this island nation a whole lot easier.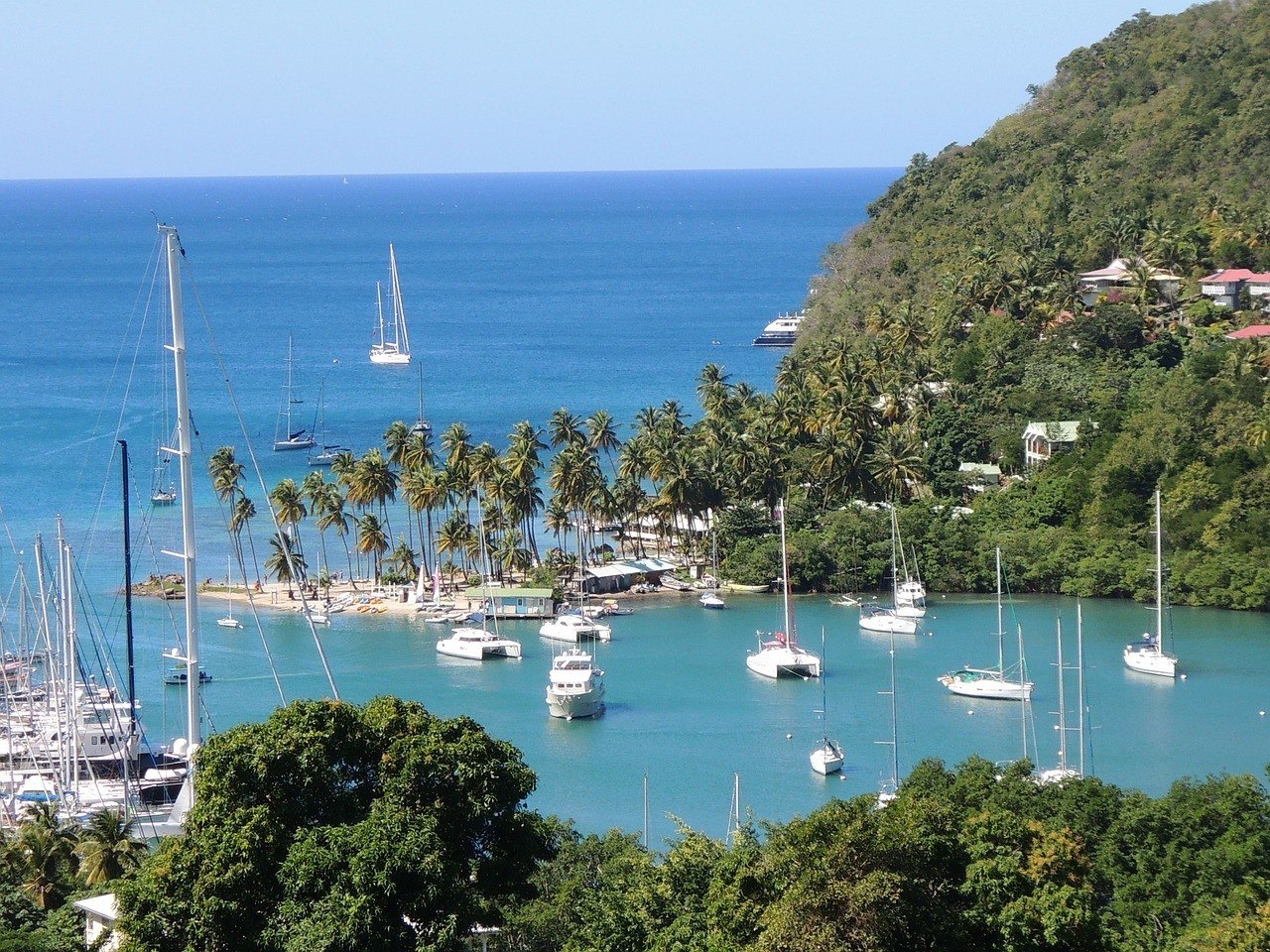 How Safe is Saint Lucia? (Our take)
Saint Lucia is an Eastern Caribbean gem, with a volcanic landscape, plenty of beaches and rainforests thrown in for good measure. It's a very popular destination for people who rock up on cruises and honeymooners, but independent travellers do also find their way to this island – and they have a fun time.
Of course, it isn't all palm trees and pina coladas. There is real life on this island and there is crime, too; not just petty crime, but serious crime has made the news a few times – especially when tourists have been the targets.
Along with that, there is the natural world to be aware of. The hurricane season peaks in August/September and there are active volcanoes on the island.
That doesn't mean that it's an unsafe place to visit; plenty of people come here, have a blast, and then leave without any trouble whatsoever. It's more the kind of place where local transport will be rickety and minibuses speed around winding lanes. It's the kind of place where you'll casually get offered drugs (not aggressively), and locals travelling around in the backs of trucks with machetes. It's all good.
Generally, Saint Lucia is fairly safe, but let's get into the details…
Is Saint Lucia Safe to Visit? (The facts.)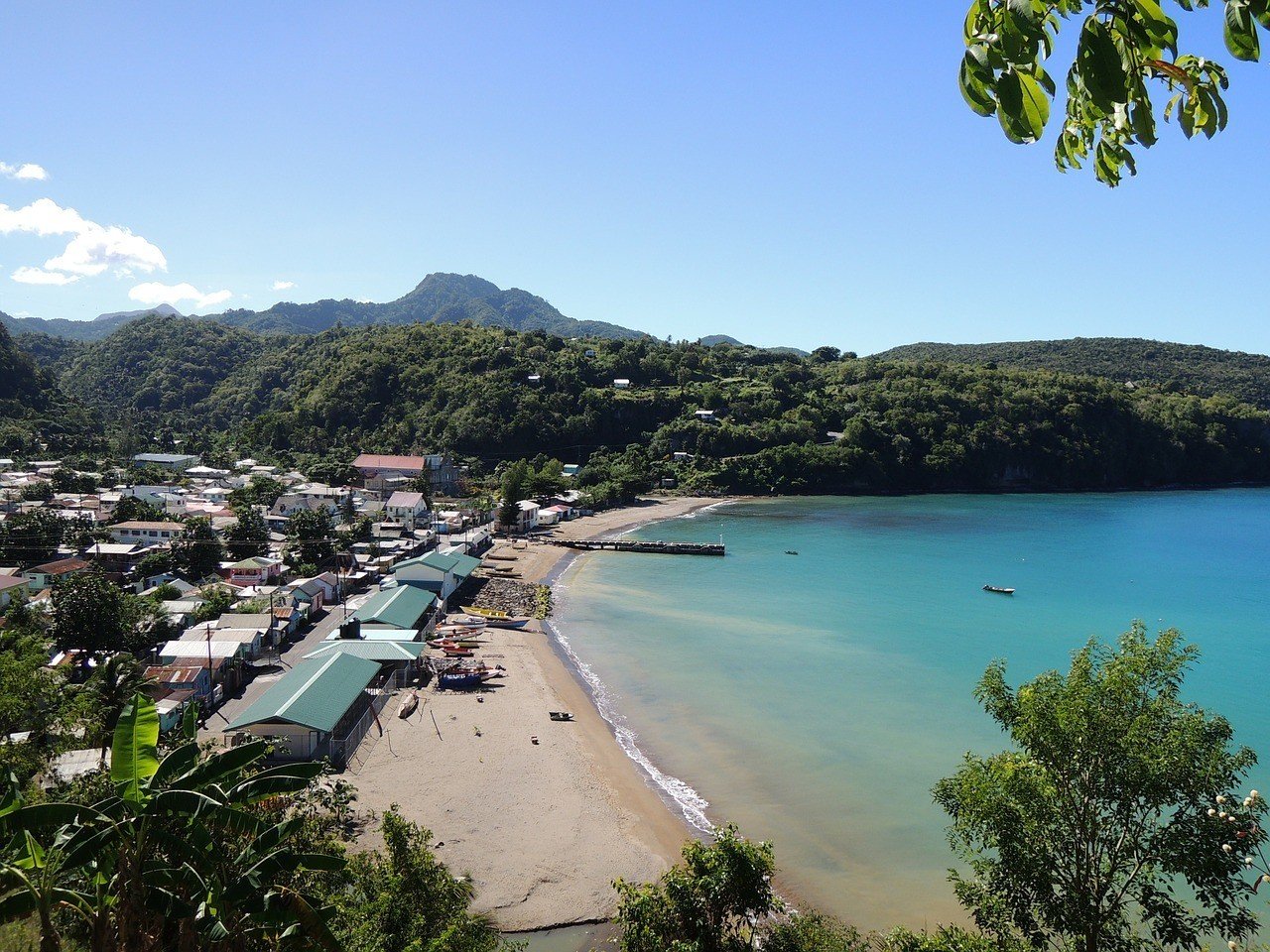 Saint Lucia is a beautiful tropical island – that much we can all agree on – and it's not a very crowded one, either. The population of this Caribbean island is only around 180,000. Locals, that is, the population does temporarily swell when the cruise ships rock up.
When it comes to visitors from other countries, they completely outnumber the local population. 1.2 million tourists arrived on the island during 2018. That number is up 10.2% from 2017 – or 113,000 more visitors – which is a huge jump in popularity.
That's not to say, however, that with all these tourists arriving everything is hunky-dory on the island. In fact, the murder rate has been on the rise in recent years. In 2012, the rate of homicide in Saint Lucia was 21.6 in 100,000, which accounts for 39 murders; fast forward to 2017 and there were 60 murders.
There have also been a number of high profile violent crimes reported from Saint Lucia, with wealthy tourists being the victims even within the confines of their own accommodation. In 2014 a British citizen was murdered on his yacht and in 2015 an American couple were robbed at machete-point.
However, most shockingly, in 2o13, 55 cruise ships passengers were all robbed at gunpoint. The incident occurred in the middle of the day, at the very popular tourist spot that is the Botanical Gardens in Soufriere.
All in all, robbery of all kinds is an issue in Saint Lucia and tourists are often targets. Not surprisingly, in 2014 Saint Lucia was ranked in the top 10 of the most dangerous cruise destinations in the world – that figure being impacted by the 2013 incident.
All this crime, and not a lot of people coming to justice for it (owing poor police procedures) led the Saint Lucia Police to make a public statement. They claimed that they were under-resourced and without enough police officers.
In response, the Ministry of Tourism has collaborated with the Royal Saint Lucia Police to put in place a system of security at hotels, with regular checks and safeguarding measures put in place to help protect tourists from the threat of crime.
Tourists are still told, however, to be aware of and report any suspicious behaviour.
Is it Safe to Visit Saint Lucia Right Now?
With all these goings-on, and many tourists coming in, you're probably wondering to yourself, "Well, is Saint Lucia safe to visit right now…?"
The answer is: yes, it is. "Most visits are trouble free," according to the UK Government, "but there have been incidents of crime including murder, armed robbery and sexual assault."
Though there is nothing pressing that is particularly stopping tourists from visiting Saint Lucia right now, the gradual rise in violent and serious crime over the past few years is cause for some concern.
Saint Lucian authorities are trying to create and maintain a safe place for tourists to visit and enjoy the island for the beautiful, laid back place it is. Though incidents involving tourists are often widely reported and scrutinised, violent crime remains – on an international scale, at least – fairly low in Saint Lucia. Most of it happens in local communities away from tourists.
It's good to be aware that muggings, car rental robberies, thefts from hotels, harassment, and other crimes towards tourists do happen. We're not saying this to scare you, just to let you know that Saint Lucia isn't a playground: it's a real place with its own issues.
Areas with high rates of crime are the capital, Castries – including the neighbourhoods of Wilton's Yard, Leslie Land, Chaussee Road, Marchand, Morn du Don – as well as the waterfalls in Anse la Raye.
Aside from the threat of crime from other humans, there is also nature to contend with, which can cause some safety issues on the island.
Hurricane season runs from June to November and can batter this part of the Caribbean; if you are heading to Saint Lucia at this time of year, you should pay attention to the local news and follow international advice. Be aware of flooding, transport disruptions, flight cancellations.
Do you need travel insurance for your trip? Even if you're only going for a few days, that's more than enough time to get smote by wrathful angels. Have fun in Saint Lucia, but take it from us, overseas medical care and canceled flights can be seriously expensive – insurance can, therefore, be a life-saver.
Travel mishaps can and do happen and it is well worth thinking about insurance before you leave home.
We have used World Nomads for years now, and I have personally made several claims. Why not get a quote from them yourself?
Do be sure to read the terms and conditions to make sure that the policy covers your needs. For more information, you can check out our comprehensive review of World Nomads detailing their policies and coverage.
Getting an estimate from World Nomads is simple – just click the button or image below, fill out the necessary info, and you're on your way!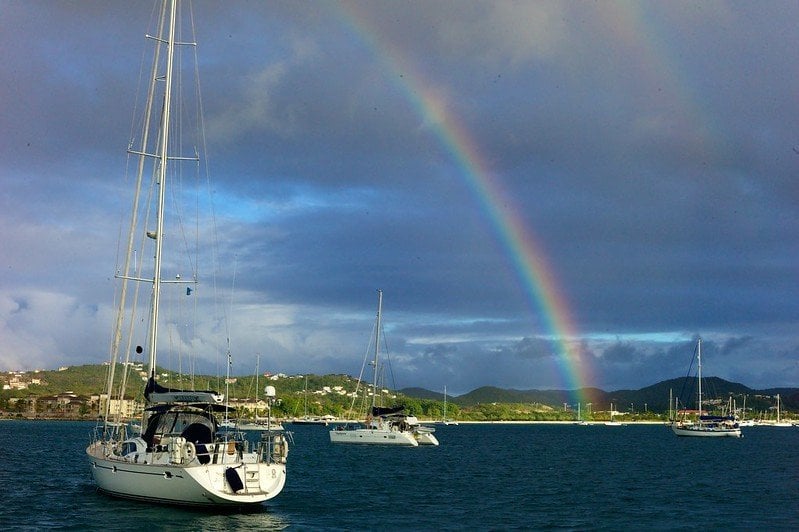 Saint Lucia may seem like a scary place from what we have already said, but in fact, nothing could be further from the truth. It is a friendly, laid back Caribbean destination where locals are up for a chat and where the weather is (almost always) fine. However, there are some things that you should keep in mind when you are visiting to make sure that you have the as safe a trip to Saint Lucia as possible…
Don't wander around at night by yourself – especially in isolated areas.
It's better to take a taxi than walk anywhere at night – we have more tips on Saint Lucian taxis later on in this article
Be careful if you're going out partying in local spots – you might become a bit of a target; read reviews online of good spots
LGBT travellers should note conservative Caribbean attitudes – any openness and affection is likely to offend and/or get a negative response from any onlookers
Be prepared when you head out hiking – the heat can really get to you, so make sure you're prepared and have plenty of H20
Be direct with street sellers – if you don't want to buy anything. A polite "no, thank you" will suffice – or ignore and walk on
Protect yourself from street crime – don't make yourself a target! Would you wear a Rolex out? Be waving around your iPhone? Toting a diamond engagement ring? Protect your valuables while traveling by leaving them at home or (safely) in your accommodation.
Don't flash your cash – don't carry around a huge wad of cash with you; someone may see it when you're paying for something and start seeing dollar signs
Try to blend in – obviously we're not saying "be a local", but we strongly suggest not dressing like a tourist
Take care when swimming in the sea – there can be deceptively strong currents and there aren't always lifeguards or warning flags. If you're not sure, you should ask a local
Stay away from drugs – there are severe penalties for all drug offences
Consider a "throw down" wallet – it may seem excessive, but having a dummy wallet filled with a few dollars that you can hand over in the event of a mugging is better than only having your actual wallet filled loads of money and your credit cards
Wear a travel money belt – more on this later, but having your money hidden on your person means having no wallet to worry about in the first place
Leave your camouflage clothing at home – it's an offence (i.e. against the law) to wear it here, even for children
Hands off – public displays of affection between any type of couple will raise some eyebrows.
Beware of ATMs and foreign exchange places – only withdraw and change money at reputable vendors
Get yourself a good travel sim card that works in Saint Lucia – we don't need to explain the benefits of having a phone with data!
Cover up against mosquitoes – there is Dengue fever present, as well as Chikungunya virus and a risk of Zika virus. So cover up with loose clothing at dusk, use repellent with DEET, because who wants to get bitten by them anyway?
Monitor local weather between June and November – hurricane season can cause havoc
Know what to do in an earthquake – don't be freaked out, but you may feel a tremor whilst you're in Saint Lucia
Respect the sun – don't lay out in the hottest part of the day, cover up as much as possible, stay hydrated, wear a hat, slather on sunscreen because (trust us) sunstroke is horrible
There are snakes in Saint Lucia – one venomous one in particular: the Fer de Lance (brown, black and pale yellow bands with a big head). Watch where you tread!
There you have it – a whole lot of safety tips for travelling around Saint Lucia to bear in mind when you touch down on the Caribbean island. Though it may seem like a lot to remember, in a way it sort of all boils down to two things: not standing out too much and being sensible. It's all about not appearing as an easy target here, but at the same time being aware of your surroundings here is also key.
Some General Safety Tips from the OG Broke Backpacker
Keeping your money safe in Saint Lucia
Possibly the most annoying thing that can happen to any traveller pretty much anywhere in the world is having your money stolen. Much more annoying than losing it yourself, it can mean having to cut a whole trip short, which definitely isn't cool.
Saint Lucia, with something a reputation for robberies in recent years, is somewhere that you are going to want to keep your money as safe as possible – a just-in-case sort of scenario could, in the wrong place at the wrong time, be a reality here.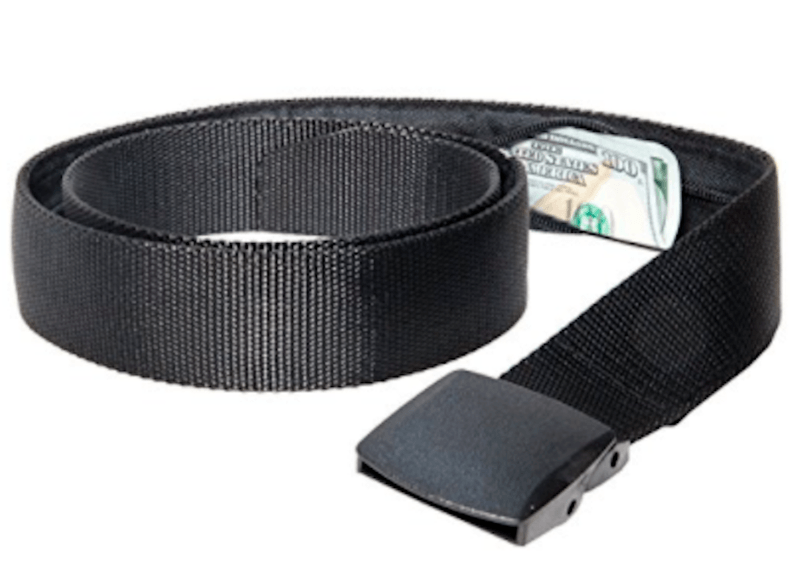 To keep your money safe in Saint Lucia, we highly recommend that you wear a money belt. Now, the world of money belts has a lot of choice and they're not all great: many are bulky, obvious, uncomfortable and over complicated.
Our favourite, however, is not any of those things: the Active Roots Security Belt is a bit of genius simplicity.
Where other money belts act as a sort of slimmed-down bum belt or fanny pack sort of deal, the Active Roots Security Belt is, well, an actual belt with a hidden zipper pocket where you can stash your cash for the day. It could even be where you stash emergency cash, in the case of being the target of street robbery and having to hand over a wallet filled with petty cash. Check out our review of the Active Roots Belt for more info on how to protect your cash!
If you need a little more room for your passport and other travel valuables, have a look at a full-size money belt that tucks under your clothes instead.
Solo travelling is great. We are all for it. Not only is it rewarding to grow as a person whilst travelling alone, but it can also lead you to get in touch with communities and local life that you might miss out on otherwise. Plus you basically get to do what you want when you want!
You might be thinking that Saint Lucia isn't a solo travel spot – you're probably right. This Caribbean island is definitely known as a couples getaway and family holiday destination. However, it can be done and it is safe to Saint Lucia travel alone. Here's how…
Whilst there aren't many party hostels, or many hostels at all for that matter, there are some good options for solo travellers out there. Saint Lucia has a number of family-run hotels and guesthouses for travellers and backpackers on a budget. Her you'll be able to learn about local spots and where is safe for you to go from your hosts. Plus your money goes directly to the local community!
With that in mind, insider knowledge is key. Ask a local friend, the staff at your hotel, resort, or hostel – even your guide or taxi driver – for their local tips on where to go, where's safe, what to eat and what to do. If anybody's going to know, it's the locals.
Get your phone stocked up with apps. We're are talking everything from earthquake apps and Maps.me (offline maps), to Google Translate, currency exchange apps (like XE), and online banking. All that sort of stuff will help you and means you won't have to get your laptop out every time you need to do something. Of course, it will also help you out if you get lost somewhere on the island.
When you are walking around in local areas, walk around purposefully like you know where you're going (even if you don't). Avoid walking around looking like a lost tourist who has no idea what's going on because, chances are, this will make you a target.
Let people back home know your travel itinerary and tell them if it changes, or if you plan to stay in just one place. Having your friends and family back home know where you are is a lot safer than nobody knowing where you are. You could even do it via Facebook and show off your travels.
Another good reason to keep in touch with people back home is to keep away those solo travel blues; chatting with a familiar voice will stop you from getting too lonely, keep you grounded, and maybe even make you remember why you came travelling by yourself to begin with.
Keep emergency numbers saved in your phone: we're talking your hotel, a taxi company, emergency services, your parents. These are numbers that you'll want to be able to call without scrolling through your contacts, so save them with a # before their name to make sure they appear at the top of your contacts.
If you're out and about on a day trip or out exploring by yourself, make sure you are back at your accommodation before dark – especially if you have no contingency plan for after dark travel. Walking around by yourself at night is a risky move anywhere in Saint Lucia, especially in more remote areas.
Travel with enough money. Take credit cards, back up credit cards, a dummy wallet with old credit and debit cards (and a few notes) in it… Just make sure that you are financially stable whilst you're away, because there's nothing quite as stressful as trying to micromanage your bank from afar – and those calls get expensive, too!
If somebody does try to rob you, just hand it over. Your petty cash is not worth dying for, so diffuse the danger by just giving them what they want.
Be careful with going out at night, partying, drinking too much, or doing any sort of drugs. You are just going to put yourself in danger if you go out by yourself. If you do want to do this sort of thing, head out as a group with likeminded people from your accommodation – never alone.
Speaking of which, try to hit up beaches outside of your resort in groups, too; unattended items very easily go missing (especially when you're by yourself), so make sure you travel around in a group.
Keep your important documents, including your passport, safe. They're important for a reason. Don't take it out and about with yourself.
Whilst solo travelling isn't common in Saint Lucia, it can still be done.
Of course, as with anywhere in the world, travelling by yourself poses more of a risk. The only person who is looking out for you is you and whatever God you believe in! Make sure you stick to the basic tips of safe travel: don't put yourself in bad situations, stay in secure accommodation, and always let people know what you're up to.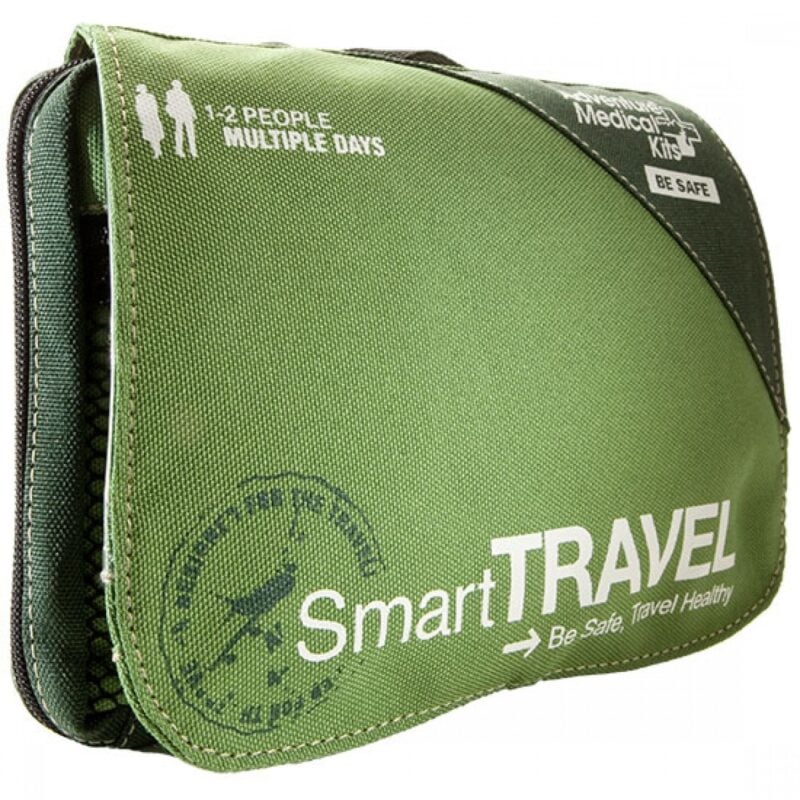 Be prepared for what life throws at you on the road. Pick up an AMK Travel Medical Kit before you head out on your next adventure.
View on REI
View on Amazon
Is Saint Lucia safe for solo female travellers?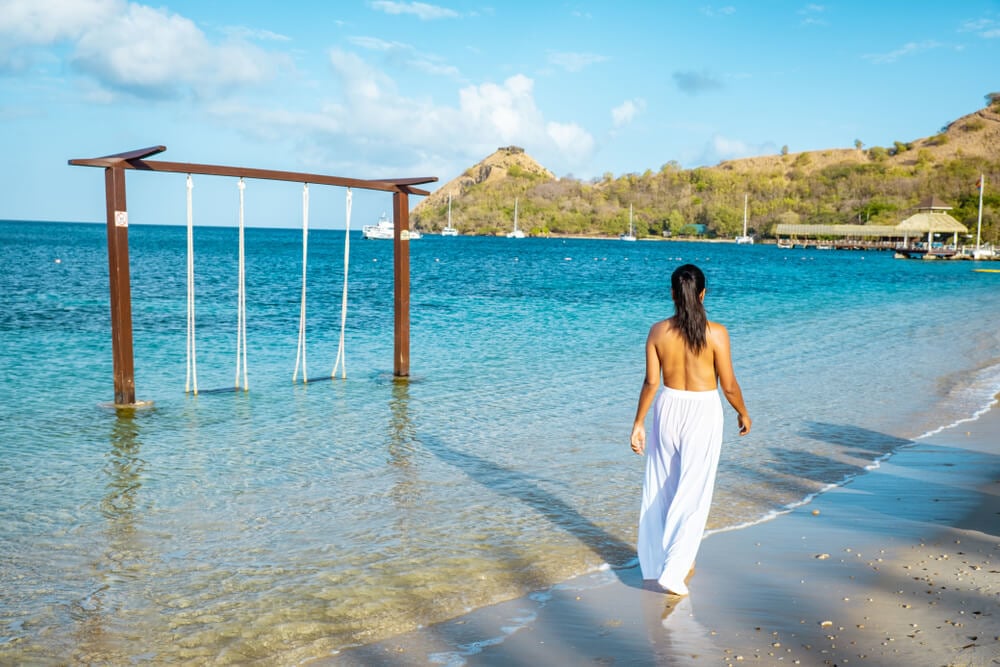 Saint Lucia may not be the best destination in the world for solo female travellers. Yes, it's true that you have to be more than a little bit careful in certain areas, however, you should still be fine.
Firstly, it doesn't even have to be done totally "solo"; you can get a guide, you can stay at a resort and chill if you feel like it. You could even make friends with local ladies who can show you around. There are all sorts of ways to enjoy Saint Lucia as a solo female traveller, so let us run through those with you so that this laid back destination seems like a less daunting option…
It's a good tip for solo female travellers to not go where no one else goes. If a beach isn't busy with locals or tourists, don't go; if a road is completely deserted in a town (even in broad daylight), don't walk along it by yourself. Remote areas like this are just riskier. End of story.
Get yourself a guide. It's good company, a go-to local expert and will act as security. However, do make sure to get a fully vetted, certified guide and only book through a reputable agency even if it means paying a bit more. If you can get some previous client feedback, even better.
Be very careful if you want to go out partying. It's really not a good idea to go out by yourself, so if you want some night time fun, it's best to go as a group with some people that you've met at your accommodation or something. In particular, street parties (or jump ups as they are called) can get particularly rowdy and would not be a good idea for a solo female traveller.
Dress to fit in as much as possible. It's not a good idea to walk around wearing flashy and/or revealing clothes when you're a solo female traveller. Err on the side of modesty, see how other women are dressed around you and try to blend in as much as you can. Rule of thumb: beachwear for the beach, party-wear for the party, Tyne-on-Wear for Newcastle.
Choose your accommodation wisely. There are a lot of options, from Saint Lucia's gorgeous private villas or all-inclusive resorts to a family-run guesthouse or budget hotel. Make sure that you read reviews super carefully, noting positive and negative reviews from other female travellers; don't stay anywhere isolated, and contact the accommodation if you need to know more.
Once you arrive at your accommodation, make sure that it is secure. Make sure that your doors and windows can lock. Make sure that those locks are adequate. Basically you should feel safe and secure in your room; if you feel anything less than that, you can ask to see another room.
We always recommend that solo female travellers trust their gut. Being a female you will most likely be used to being on guard anyway, but that feeling comes into play especially when you're in a situation that feels like it isn't right. Don't ignore that gut feeling. If it doesn't feel right, it probably isn't. Take action and remove yourself from the situation.
One great thing about travelling solo as a female is the amount of female-specific resources there are on the internet. Get online and join groups like Girls Love Travel and Women Who Live On Rocks (that's women who live in the Caribbean), ask questions, for advice, and general tips. People often want to meet up on these groups, so take them up on it and get shown around a local area.
Make sure your phone is charged at all times and that you have a data plan that will last you. Both these things will be crucial in case of emergencies, so maybe get yourself an extra battery pack and pick up a local sim if you need it for the data. It may just help out in a sticky situation.
For any sort of solo traveller, Saint Lucia doesn't exactly stick out as the number one destination. It seems like, and in some ways is, more of a place for cruise ships, couples, honeymooners and families who stay at all-inclusive resorts. However, solo travellers do come here.
Travelling solo around Saint Lucia doesn't mean having to stay at a resort with all those other non-solo guests, but if you do feel that anything less than a resort would be unsafe for you – then don't stress yourself out. Stay at that resort and do what you want to do.
The key is to enjoy yourself – and if enjoying yourself means getting out there and seeing what real life is like in Saint Lucia, it's totally possible. Book yourself on tours, get a guide, hire a driver, but most of all keep yourself safe and secure as you explore this chilled island.
Is Saint Lucia safe to travel for families?
Despite the levels of crime, Saint Lucia is actually perfectly safe for families to visit. With all of its all-inclusive resorts and hotels, you will have no trouble having a comfortable adventure when you and your children visit this Caribbean island.
There is plenty going on here to keep both adults and children entertained during your vacation – that means nobody is going to be getting bored here. There are crystal clear waters for splashing around and snorkelling in around the island, rainforest walks, ziplining adventures and botanical gardens, as well as beach horse rides and dolphin watching boat trips.
Although there's not a ton of children specific attractions located on the island (don't expect crazy amusement parks and soft plays), there is a lot on offer for a fun-filled whale of a time.
Be aware that some hotels have an adults only policy, whilst others won't take children under a certain age. That said, there are a number of resorts out there which are geared up for families (and children) specifically, so you shouldn't have too much trouble at all finding one to suit you.
When it comes to safety, pay attention to the weather, not just in terms of hurricane season and downpours, but the sun.
Young children are affected much more than adults by the symptoms of sunstroke. Ensure that your children don't spend too long in the sun, take frequent shade breaks, are covered up with sun hats and T-shirts. Of course remember to apply that all-important sunscreen (waterproof, if possible, since they'll be jumping in the pool every 5 minutes).
Another thing to note is the necessity of protecting against mosquito bites. Again, children are more at risk than adults, so ensure to use a child-friendly mosquito repellent, burn mosquito coils (if possible), and make sure your little ones are covered up in long sleeves and pants – especially at dusk and around standing water.
When it comes to food, don't worry: there will be plenty on offer for even the pickiest of eaters at the all inclusive resorts and hotels. That said, there are plenty of places to eat outside of the resorts which are family friendly and cater to children, such as La Petit Peak in Soufriere, with local Creole food and great views.
Other than that, being such a well-trodden destination – especially for families – you should have absolutely no worries if you're planning a trip to Saint Lucia!
Is it safe to drive in Saint Lucia?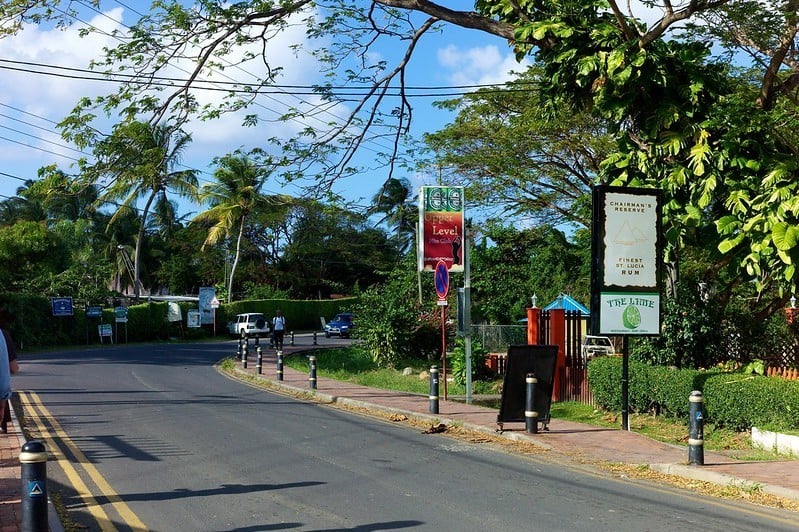 Driving in Saint Lucia is not always straightforward, but it can be done. They drive on the left hand side of the road here (good news if you're from the UK) and the main roads of the island tend to be in a pretty good state.
However, if you're heading off of the main arteries of the island onto some of the smaller roads, the quality of these can vary – to say the least. Some of them are unsealed, others are simply filled with potholes. Owing to the mountainous terrain of the interior, roads that lead through the middle can be winding, narrow and somewhat hair raising.
To be able to drive in Saint Lucia, first of all, you will need to purchase a Temporary Driving License; you can buy these at the car rental company you plan to use and costs $22 USD. However, by some accounts, it seems as though some car rental agencies are accepting International Driving Licenses.
Hiring a car is most easily done at the airport or in a larger town (we would recommend pre-booking, for ease and possible savings). Note that you have to be over the age of 25 years in order to rent a car, and have at least 3 years worth of driving experience under your belt.
If you are heading off the main roads at all, or plan to, then you should probably opt for a four wheeled drive (complete with a spare wheel). Some of those roads can be pretty hazardous.
Speaking of hazards, when driving be careful at night time; in fact, it's best not to drive after dark as a lot of the roads are unlit and there are hazards that you will be unable to see.
Roads can also be quite slippy after a heavy downpour, so take extra care when heading out after rain.
Though you will notice pedestrians standing at the side of the road trying to get a lift (travelling by hitchhiking is fairly common in Saint Lucia), it's not a good idea for you – a tourist – to be picking up passengers. As a side note, make sure you keep your car doors locked when you're driving.
It is pretty safe to drive in Saint Lucia; you can do it and it is pretty fun to do so, but unless you have the necessary experience or you love driving, we would recommend sticking to taxis.
Is Uber safe in Saint Lucia?
We would love to tell you that there is Uber to use in Saint Lucia, but it's just not the case.
You're left with either using local taxis or trying out the recent addition to the private transport scene in Saint Lucia: PayCab.
This is an app that you can download that, not surprisingly, works like Uber. It partners you with licensed taxi drivers and any qualified driver across the island.
It began in Antigua in 2018 and helps people earn a second income. Apparently they have strict eligibility guidelines in place, but being such a new company it's difficult to tell at this stage just how legitimate and effective PayCab ends up being on the island.
Are taxis safe in Saint Lucia?
Taxis are a pretty standard way to get around in Saint Lucia. There are a load of licensed taxis who will ferry you around the island pretty comfortably… and a load of taxis which aren't licensed, too.
You can pick up a taxi at the airport, at the harbour, in front of hotels, at taxi ranks in towns – those sorts of places.
Be aware, however, that they are not metered. Instead, there are standard taxi fares between (most) destinations on the island, but it is important to agree on a fare in the local currency before you set off on your journey. This will help you steer clear of any confusion when you've reached your destination.
Rates can vary depending on a number of factors such time of day, what day it is, whether it's a holiday or not, how much luggage you have, and how many people are in your party. Basically, the consensus is that the drivers just make the rate up on the spot, so it's important to don your haggling hat and negotiate a good price.
Authorised taxis can be spotted by their light blue number plate with a "TX-" at the start of the registration number. Make sure you get a licensed taxi from the airport, as not doing so can be risky; the best thing to do is to arrange a taxi or shuttle service through your accommodation before you arrive.
The drive from Hewanorra International Airport to Castries or Rodney Bay can be pretty windy, and drivers aren't averse to putting the pedal to metal; if you're prone to motion or car sickness at all, then you may want to bring along any remedy that you would usually use to make you feel better.
Apart from that, taxis are a good way to get around. In fact, in many cases, you can arrange for a taxi driver to take you around for the day, which is something that can be organised through your accommodation and a great way to see the island with a local.
Taxis are safe in Saint Lucia, for the most part, there aren't too many scams going on – the most unsafe thing you could do is get into an unlicensed taxi.
Is public transportation in Saint Lucia safe?
To be honest, public transportation in Saint Lucia isn't that developed. Your only option is a bus – minibuses, to be exact.
If you want to get out and about and see the island's culture and soak up local life, then you're probably going to want to take advantage of the island's minibus network.
Catching one of these is the way that locals get around: to work, to school, to go shopping. These can be a fun way to get around for a tourist as well – plus it's pretty cheap, which is great if you are on a budget. It's unlikely that you are going to have a bus journey that is going to cost you over $5 USD.
The main road leading around the island is a comprehensive loop that's dotted with minibus stops. The minibuses stop at all the main towns and run, generally, till around 7pm – apart from on Sundays, when you're not likely to come across a bus.
In towns and urban areas, the bus will stop at bus stops, but if you're somewhere a little rural between towns there won't be any specific bus stops. In these instances, if you want to catch a bus, you'll have to wave one down. When you want to get off, you simply say, "Stopping, driver!" It's as simple as that.
Your hotel or accommodation is a good place to ask about the minibus network. More than likely, they will have a map that they can give you and will be able to tell you which bus routes are good, how to get from A to B most efficiently, and all that sort of stuff.
There are, in fact, three major bus routes that run around the island: the Vieux Fort to Soufriere route; the Soufriere to Castries route; and the Castries to Vieux Fort route.
It's generally pretty easy to get around if you know what you're doing. A big tip from our side would be to ensure you can make your way back to your accommodation before the buses stop running.
Another way to get around is a water taxi.
You can hop on one of these on the west side of the island. The routes for this water-based system of public transport usually run between Rodney Bay in the north to Soufriere or Marigot Bay in the south. It's also possible to hop on a ferry to hitch a ride to another country entirely: Dominica, Martinque and Guadalupe, to be precise.
To conclude, the public transportation in Saint Lucia is safe. Just be aware of your belongings, try not to get lost, plan routes ahead of the journey, and make sure you are able to get on a bus to your accommodation before they stop running.
Is the food in Saint Lucia safe?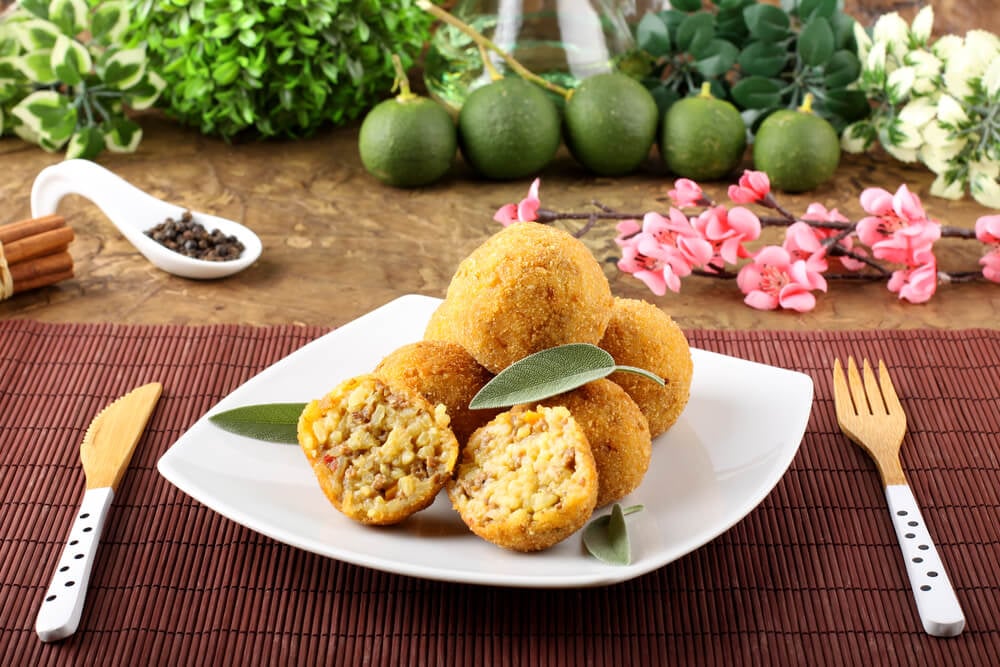 The Caribbean islands have some pretty tasty food on offer and Saint Lucian cuisine is no different. The food on this island is full of deliciously exotic fruits, exciting spices and succulent meat. The Creole culture means a mouthwatering mix of European and African cuisine.
Here's how to eat your way around like a pro…
Your hotel will most likely offer an abundant array of dishes for breakfast, lunch, dinner and everything in between. Whilst this is all well and good, sometimes what's been sitting around in a metal tray all morning won't be as good for you as, say, a freshly cooked plate of Creole cuisine from outside your resort compound.
Make sure to eat at places where food has been freshly cooked; if you can see something being fried up right in front of you, chances are it won't make you feel ill later on.
If you want to go somewhere local to eat, then make sure you go somewhere that's filled with locals. If local people are filling up the place, then it should be good.
Though it's not always possible, try to choose places to eat that look clean. At the same time, if there's a clean place with no customers next to a place that looks rougher around the edges, but which is packed with people, chances are the "dirty" one will be a better bet.
When you eat is a factor in how good the food will be, too. Going at lunchtime will mean a high turnover of customers, a hot grill, and things being freshly cooked. Heading somewhere local mid-afternoon (i.e. not a mealtime), can result in room temperature food that wasn't sold during lunch, and eating this could lead to stomach upset.
Don't go all in! We know the food is amazingly tasty here, but the spiciness of it all, coupled with the probably extreme change in diet with eating food you're not used to, can do crazy things to your stomach. Go easy on it when you first arrive and don't try to eat everything all at once.
This is very simple tip, but it's a good one: wash your hands. Scrabbling around the rainforest all day, being on the beach, touching the seats on public transport, all of this stuff is going to leave you with pretty grubby hands. So to avoid ingesting those germs and bacteria from your fingers, make sure to wash your hands before you eat. It's a no-brainer.
Some dishes to try: accra (fried fish, usually salted cod, served with greens), green fig salad (like a potato salad, but with boiled green bananas in place of potatoes), the national dish of green figs and salted fish (unripe bananas and preserved fish), French-influenced bouyon (a red bean soup with meat and vegetables), and cocoa tea and bakes (breadfruit served with chicken or fish).
Being in Saint Lucia means you can make yourself very busy eating a lot of tasty food. As a traveller to the island, though it's all too easy to stay in your resort and eat whatever they feel like serving you up, you should not steer clear of its deliciously mouthwatering cuisine.
If you're at all a foodie worth your salt, you should head out and explore the culture of the island by trying out its national dishes; not only will it blow your tastebuds away, but you may meet some friendly locals along the way. Always finish up with a Piton – the local lager here.
Can you drink the water in Saint Lucia?
Though you may be thinking that the water isn't safe to drink in Saint Lucia, and you need to buy plastic, bottled water, stop right there: you can drink the tap water in Saint Lucia. It's chlorinated and totally safe to drink.
Don't add to the world's plastic problem and instead bring a refillable water bottle, where you can fill up at your hotel or accommodation as much as you want; they may even have filtered water, too.
If you feel like being on the extra safe side, boil your water vigorously for a minute or more – though it really doesn't need to be done.
Want to save the world?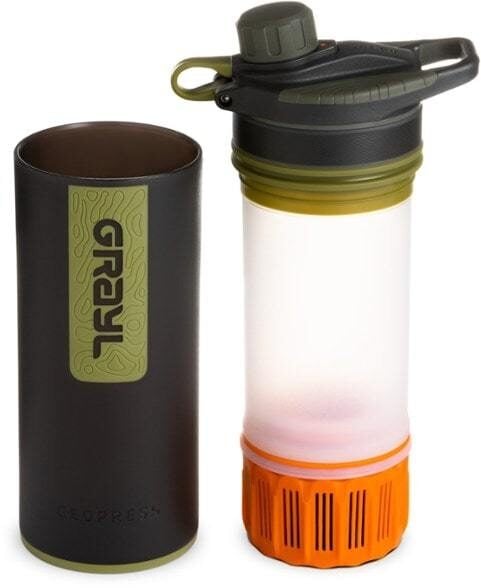 Single-use plastic bottles are a huge threat to Marine Life – Be a part of the solution and travel with a filter water bottle.
The GRAYL GEOPRESS water bottle is the ONLY all-in-one filter water bottle setup you'll need. Whether you need to purify the water from a hostel sink in Kathmandu or a stream trickle in the Andes, the Geopress has got you covered.
Read our full review of the GRAYL GEOPRESS!
Is Saint Lucia safe to live?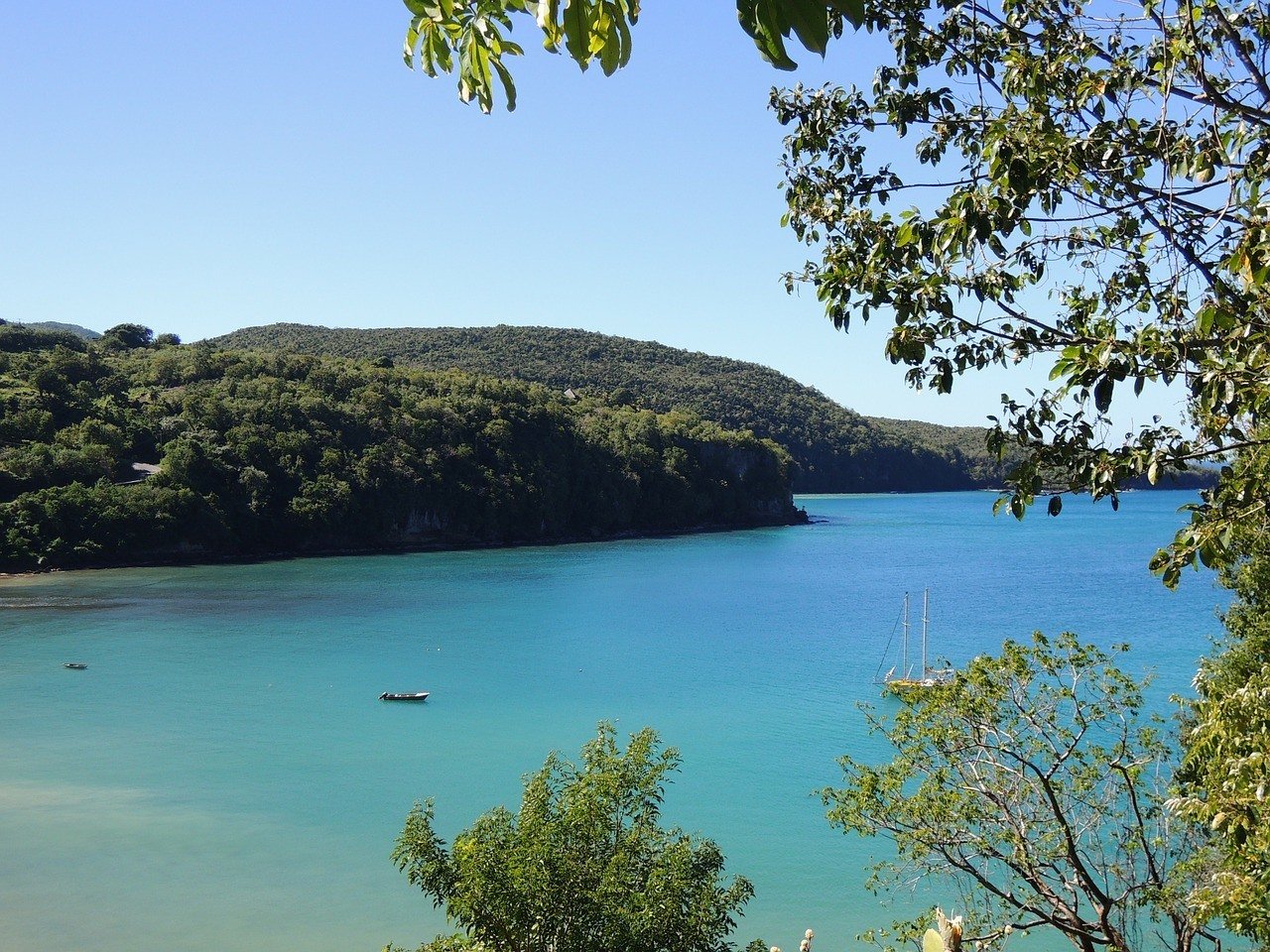 More of a vacation destination than somewhere that's famous for being a liveable expat haven, Saint Lucia is – in fact – a pretty safe place for people to be living.
As with a lot of nations within the Caribbean, there are issues with crime and poverty. Living somewhere is often very different to vacationing there.
A good place to base yourself if you are a foreigner looking to move here is somewhere between Cap Estate and Rodney Bay. Bonneterre is also nearby and has a mix of easy access to entertainment and a population of young professionals and young families.
There's a lot of nightlife you can get involved with in Saint Lucia, and the nature is always beautiful to explore – from the rainforests of the interior, to the beaches. However, that natural world is offset by human problems like a high unemployment rate and not enough jobs to go around.
Jobs aren't easy to come by on the island. It's probably a good idea to be a digital nomad, already employed by somebody on the island, or otherwise remote working.
There are also other things to take into consideration like the underfunded school and healthcare systems.
As a tourist visiting the island, you are unlikely to encounter crime. However, the reality is that the longer you're somewhere, the more likely something is to happen.
Generally, the people are pretty laid back and friendly. There's big rum drinking culture here and beer is abundant too.
Expect an old school way of life in some areas – places that have small, independent stores where you can buy things like one stock cube, or one nappy, for example. It makes for a charming, chilled out place to live.
The best thing to do if you're planning on staying on Saint Lucia for the foreseeable future is to head online, check out expat groups, Facebook pages, ask questions and get some insider knowledge.
How is healthcare in Saint Lucia?
The healthcare for expats in Saint Lucia is not the best. It's a small country on a relatively small island and the healthcare just isn't up to scratch compared to the western world.
If something happens to you on the island, an infection, illness or injury, you should make a beeline to one of two main government hospitals: Victoria Hospital in the north, St. Jude Hospital in the south. These are both acute general care hospitals.
There is also Tapion Hospital, located in the south of Castries, which is private.
However, if something quite serious happens to you, then the likelihood is that you will be recommended to be evacuated to an appropriate, better quality hospital in a (hopefully) nearby country. Make sure your travel insurance provider covers this.
If you do need emergency medical treatment whilst you are in Saint Lucia, then you should call 911 and ask for an ambulance. You should also contact your insurance company right away, preferably before you arrive at the medical facility. If you go to a private clinic, you'll need to check prior to treatment that your health insurance will be accepted there.
For more minor ailments, there are smaller government-run clinics across the country. There are also two district hospitals and one polyclinic. You should ask at your accommodation, or whoever you're staying with, for advice about which one is the best to go to. As we said, conditions and medical expertise might not be the same levels as in the UK, Europe or the United States.
If you need medical advice, seek out a chemist. They are located around towns and urban areas; your hotel may even have its own chemist and a doctor on-call. It's possible to see reviews for them online, so go to one that has favourable comments that isn't too far from you.
FAQ about Staying Safe in Saint Lucia
Here are some quick answers to common questions about safety in Saint Lucia.
Final thoughts on the safety of Saint Lucia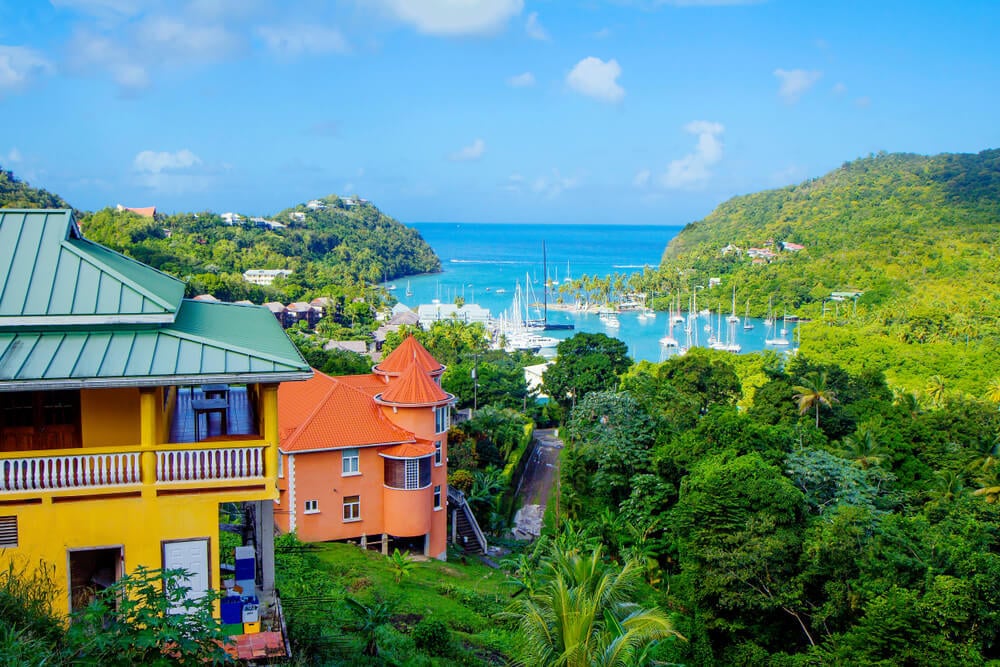 Even with the levels of crime, St Lucia, for the most part, is safe for visitors.
And have you thought about getting Travel Insurance for your trip? You can get a quote from World Nomads by clicking on the link below.
Disclaimer: Safety conditions change all over the world on a daily basis. We do our best to advise but this info may already be out of date. Do your own research. Enjoy your travels!
---
Find out how YOU can support the site.
We work hard to put out the best backpacker resources on the web for free! It's all about helping out our tribe of awesome backpacker readers (that's you!). Please visit the link to find out how you can help keep the site going 🙂
For the sake of transparency, some of the links in our content are affiliate links. This means that if you book your accommodation, buy a piece of gear, or sort your insurance through our link, we earn a small commission at no extra cost to you. We only link to stuff that members of the Broke Backpacker team has actually used and never endorse products or services that are not up to scratch. Thanks for your support!