It's no secret that we love Osprey Packs at The Broke Backpacker. They are tough, durable, fairly priced, and the All Mighty Guarantee makes them a no-brainer.
But each Osprey Pack is different and each is ideal for a certain type of person. Not all Osprey packs are perfect for all types of people.
So if you are here, the question is – is the Osprey Atmos AG 65 the perfect backpack for you?
The Osprey Atmos AG 65 is awesome. This big bag has a comfortable fit and is perfect for hikers, backpackers, world travelers, and everything in between.
But while this bag IS perfect for some people, it's NOT for others.
With the help of this brutally honest Osprey Atmos AG 65 review, you'll know everything there is to know about this amazing backpack, and decide whether or not it's the right fit you for.
And if it isn't, we'll make a backpack recommendation that is right for you.
Let's dive into this Osprey Atmos AG 65 review…
Osprey Atmos AG 65 review – Quick Answers:
The Osprey Atmos AG 65 is ideal for you if you are a world traveler who prefers to travel with lot of stuff (tent, stove, tons of Digital Nomad gear, etc)
But if you want to go smaller and more modern – you gotta check out the AER Travel Pack 2
The Osprey Atmos AG 65 is perfect if you are an avid hiker/trekker, looking for a bag that is lighter/smaller than 70/80 litres
The Osprey Atmos AG 65 has the All Mighty Guarantee, meaning you are covered for life!
We give the Osprey Atmos AG 65 4.5 out of 5 stars!
Ladies & Gents, It's Time to Step Your GEAR Game Up. 😉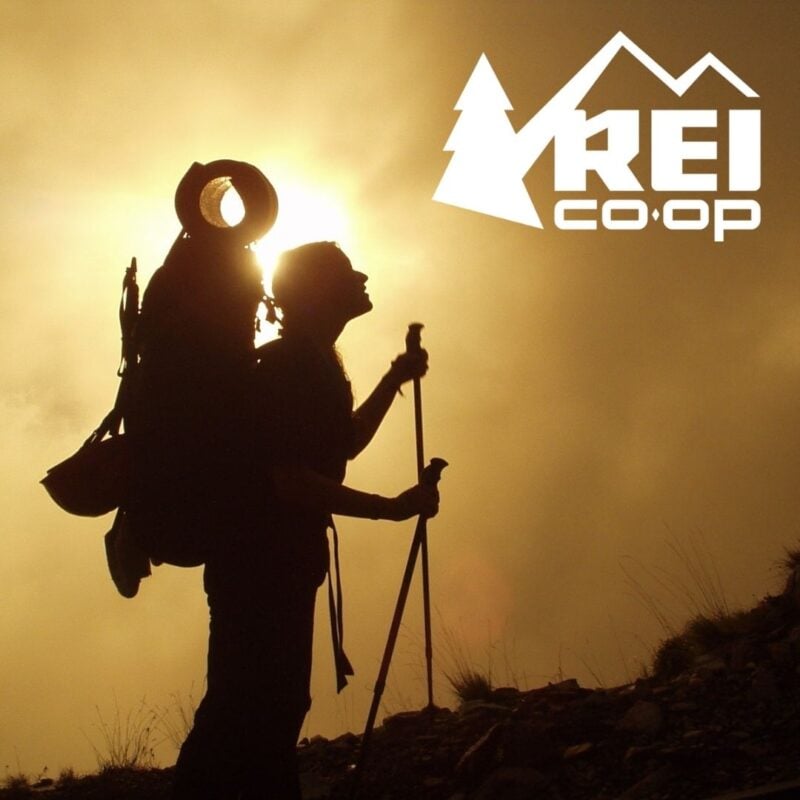 REI is one of America's biggest and most-loved outdoor gear retailers.
Now, for just $30, get a lifetime membership that entitles you to 10% OFF on most items, access to their trade-in scheme and discount rentals.
Join REI Today!
A Brutally Honest Atmos AG 65 review
This bag is freaking awesome, here are some of the key features…
65 Litres of space, ideal for travelers, hikers or both
One of the best suspensions systems on the market. The anti-gravity suspension makes carrying heavier weight a piece of cake
Mesh pockets, belt pockets, panel pockets, inside pockets, outside pockets – this bad boy has a ton of organizational options
Is the Osprey Atmos AG 65 Perfect for you?
Don't worry, we understand and we've covered this on our Osprey Atmos 65 AG review because it's a big question!
All things considered, backpacks are not cheap, and are one of (if not the most) important pieces of equipment you'll buy for any hiking/traveling adventure.
Picking a bag is big deal because it's a huge investment of both time and money, so we are very committed to making sure you KNOW whether or not the Atmos AG 65 is the best bag on the market for you.
So to make sure this is the right fit, let's run through a few things.
The Osprey Atmos AG 65 is NOT for you if…
You are a woman. This is designed to be a man's bag. But don't worry ladies! Osprey has tons of bags for you – check out the Osprey Ariel!
You want to travel light. While this bag is very comfortable for its size, it's still a large bag. If traveling light/minimalistic sounds more appealing to you, then check out the amazing Osprey Farpoint 40.
You need to go on a serious multi day hiking adventure. Unless you are some Bear Grylls survivor pro, a 65 will probably not be enough to carry all of your gear for longer than a few days. If you need more, check out the Osprey Aether 70 or 80.
You prefer more of a modern style. Osprey bags (especially the Atmos AG) have a classic outdoor hiker look to them. Lots of modern travelers (and Digital Nomads) prefer the look of the Tortuga Setout.
Ultimately it comes down to two things – size, and style.
If neither of the above points scares you off, then get excited, because this could be the backpack of your dreams…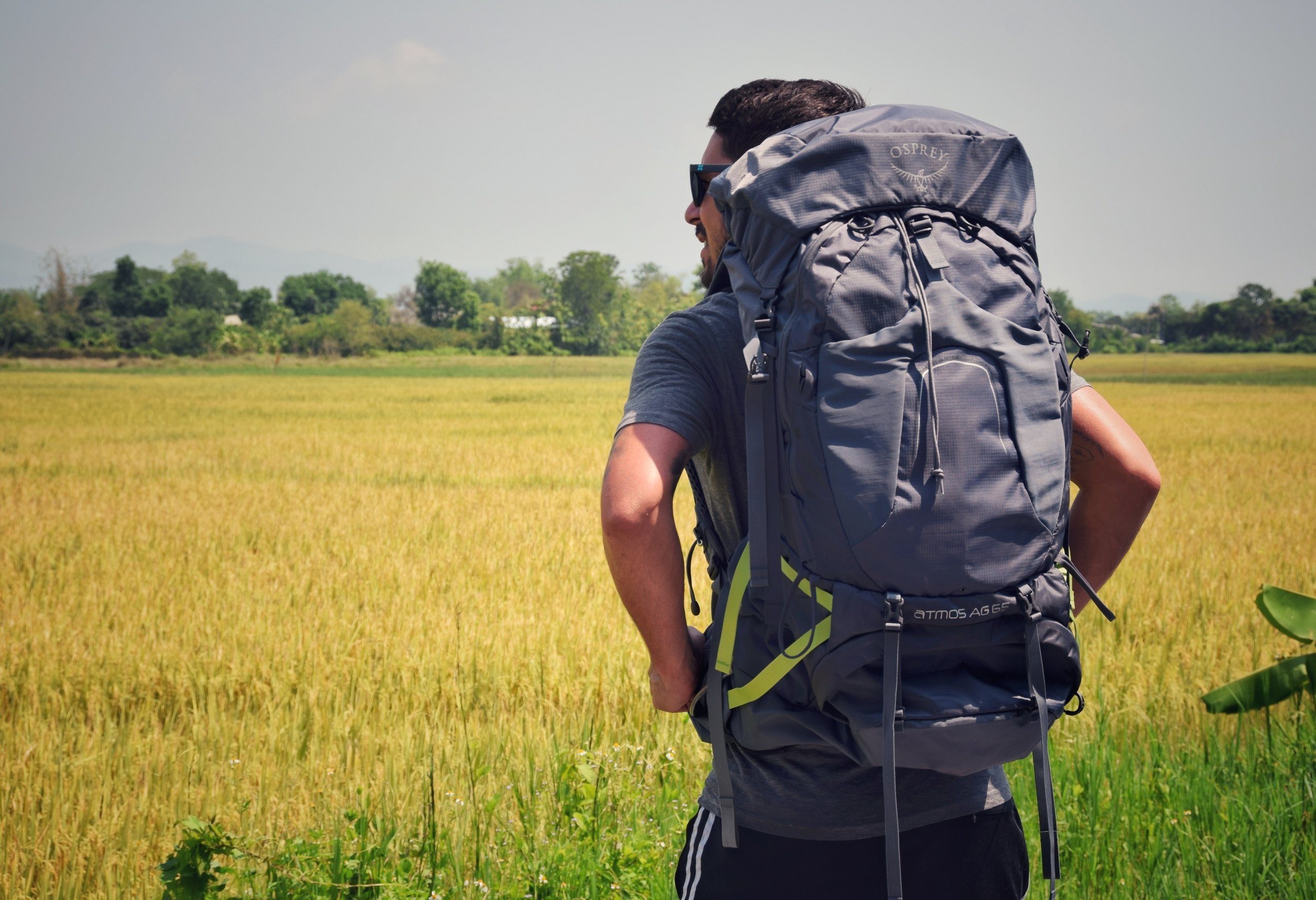 The Osprey Atmos AG 65 IS for you if…
You are an awesome man traveler/hiker/adventurer!
You plan to travel the world and want to do so with some extra gear. Whether you want to bring a tent, a stove, or just want to be extra prepared in case the zombies come – this is a great sized bag for a well-packed world traveler
You are going to be camping, but not for weeks at a time. The Osprey Atmos AG 65 should be enough for most recreational hikers/trekkers.
You are some kind of combination of the two
You really like the style of the Osprey bags
Again, what it really comes down to is size and style.
Size is the most important. If you like to be prepared and don't mind carrying a bit of extra weight around, then 65 litres is ideal. Anything bigger is overkill. Anything smaller can be great, but you'll have to seriously reconsider your packing strategy.
If you have come this far and are thinking, 'hell yea, the Osprey Atmos AG 65 is for me!', then go ahead and use the link below, and congratulations on finding your dream bag!
Still not sure?
Need some more convincing?
We understand, let's get to the next section of our Osprey Atmos 65 review!
Read on, we'll break down everything else you need to know about this bad boy.
The Osprey Atmos AG 65 Review -Top Features in 2018
First thing's first – why is Osprey so awesome?
This is for a few reasons.
The first of which is the brand itself. Lots of backpack companies come and go. Some are in the hiking niche, some are in the travel niche, but most of them end up disappearing.
Not Osprey.
Founded in 1974, Osprey has proven they are more than a fashionable fad – they are one of the biggest players in this game. The company has had a commitment to quality which has proven monumental in their branding and legacy.
Just as important as their reputation, is the styling of Osprey packs. While they have modernized some of their flagship products, their design and style have remained fairly consistent. That Osprey-look is the classic backpacker/hiker look and is ubiquitous for adventurers around the world.
While this can be a pro for hikers, some travelers consider it a con, and prefer to go with something that looks more modern, and is more electronic friendly.
Aside from Osprey's reputation they have something else huge they offer.
The amazing 'All Mighty Guarantee' – Osprey Atmos AG 65 Warranty
We can't finish this Osprey Atmos AG review without mentioning can we now?! Free guarantees are awesome.
Especially when they are free lifetime guarantees.
Yup, believe it or not, every Osprey pack comes with the All Mighty Guarantee, which is even cooler than it sounds.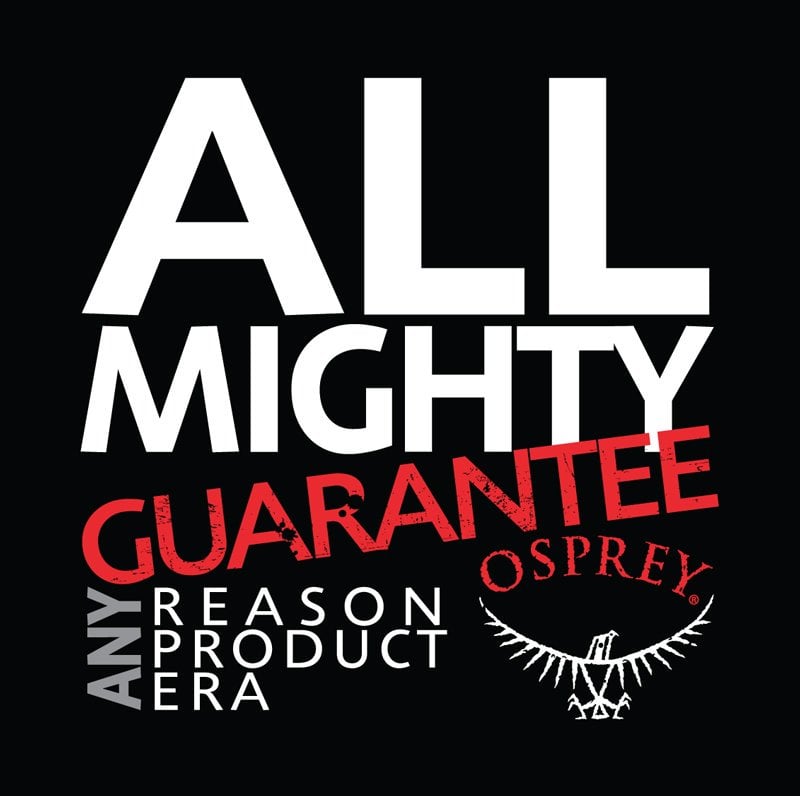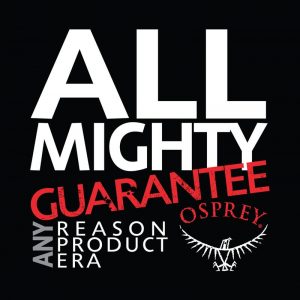 Osprey's lifetime guarantee extends to all of their products, and covers you for any reason, at any time.
This is huge.
Most of us are budget travelers/hikers, so a lifetime guarantee goes a long way (all you have to pay is postage).
I've personally used the All Mighty Guarantee a few times, and Osprey has always been quick to fix the issue, and to ship it back to me.
The peace of mind and additional value obtained for a lifetime guarantee cannot be ignored and is one of the most important reasons why the Osprey Atmos AG 65 (and all Osprey products) is a no-brainer.
Osprey Atmos AG 65 S/M M/L
The Osprey Atmos AG 65 comes in three sizes, and I do recommend taking the time to figure out which of the sizes is recommended for you and your body type.
Here's how Osprey recommends measuring yourself…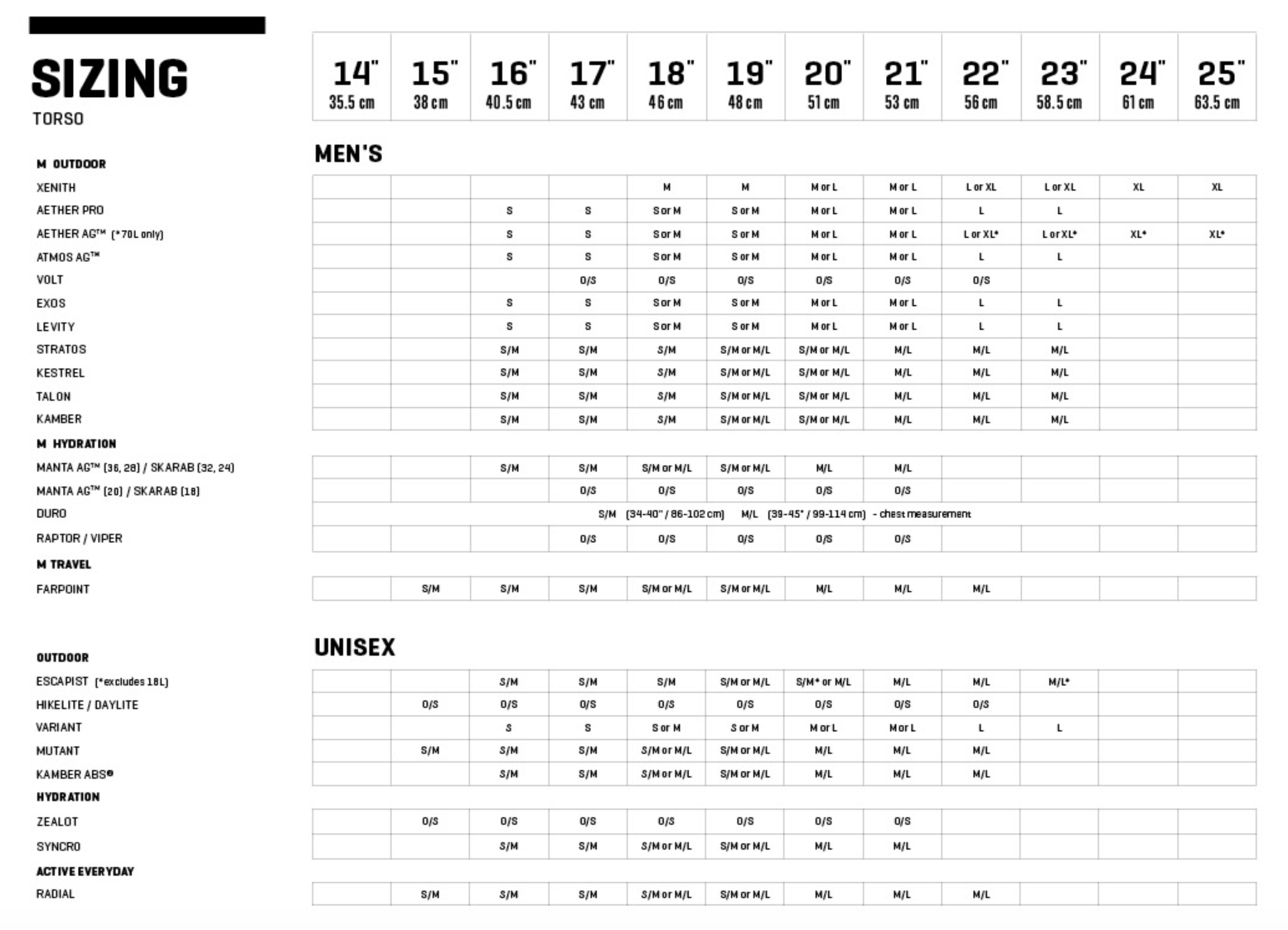 Which size model you buy will ultimately be dictated by your torso length. There are some little things to take into consideration when you decide whether to pick the Osprey Atmos AG 65 medium, large or small.
Osprey Atmos AG 65 Small
Weight – 4lbs 3 oz
62 Liters
Size – 3783 IN3
Specs – 62L/32H x 15W x 16D inches
Osprey Atmos AG 65 Medium
Weight – 4lbs 6 oz
65 Liters
Size – 3967 IN3
Specs – 65L/34H x 15W x 16D inches
As you can see the weight differences aren't too great, but the difference in length and height between the three is fairly significant!
All sizes of the Osprey 65 liter can carry 30-50 lbs and are made of the same fabrics.
The best present of all… is CONVENIENCE!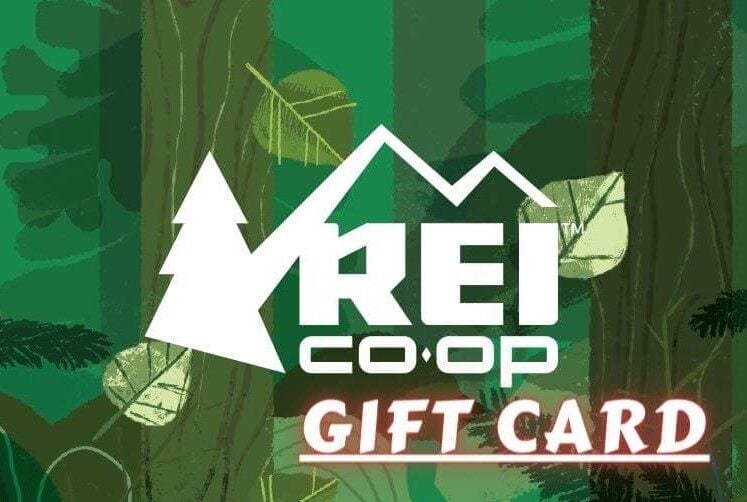 Now, you could spend a fat chunk of $$$ on the WRONG present for someone. Wrong size hiking boots, wrong fit backpack, wrong shape sleeping bag… As any adventurer will tell you, gear is a personal choice.
So give the adventurer in your life the gift of convenience: buy them an REI Co-op gift card! REI is The Broke Backpacker's retailer of choice for ALL things outdoors, and an REI gift card is the perfect present you can buy from them. And then you won't have to keep the receipt. 😉
Buy on REI!
Osprey Atmos AG 65 Specs
This bag has a nearly endless amount of cool features and things worth highlighting, so let's dive into some of the most important specs.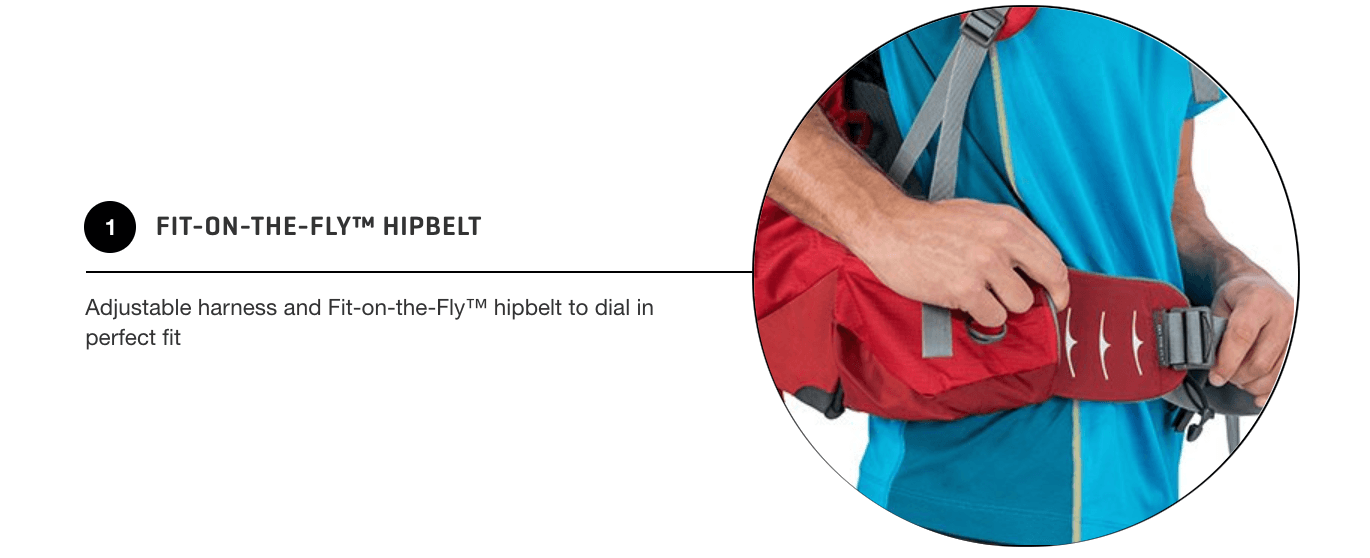 Osprey's Fit-on-the-Fly hipbelt that can be adjusted hip belts in general are usually awesome, and this one is no exception.
It's the epitome of efficiency meeting comfort. The hipbelt on the Osprey Atmos 65 is strong, durable, easy to adjust, and does not protrude into your hips in a painful way.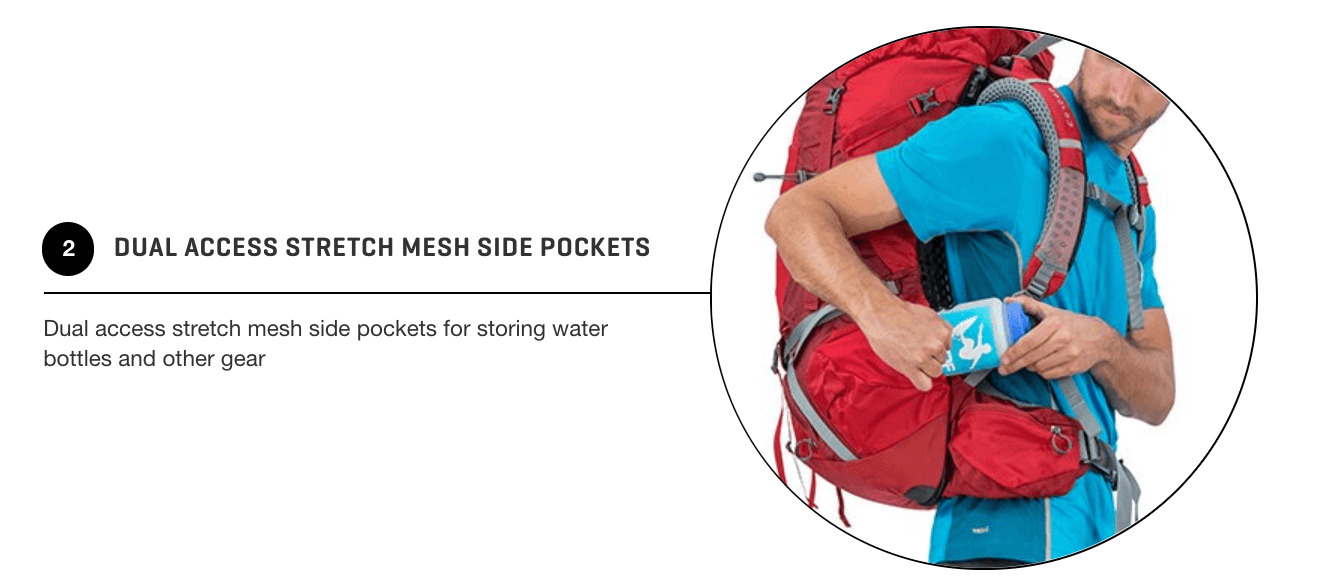 One of the coolest features is the dual access side pockets.
Mesh-made, these are different than your normal side pockets. Typically mesh pockets point up, which actually ends up being very inconvenient to grab.
To be able to grab your water bottle (or bottle of whiskey – no judgements here!) you'd typically have to take on strap off to be able to reach your arm to grab it.
But with the Atmos AG 65, the side mesh pockets are significantly easier to access, leaving you (and your beverage of choice) much happier.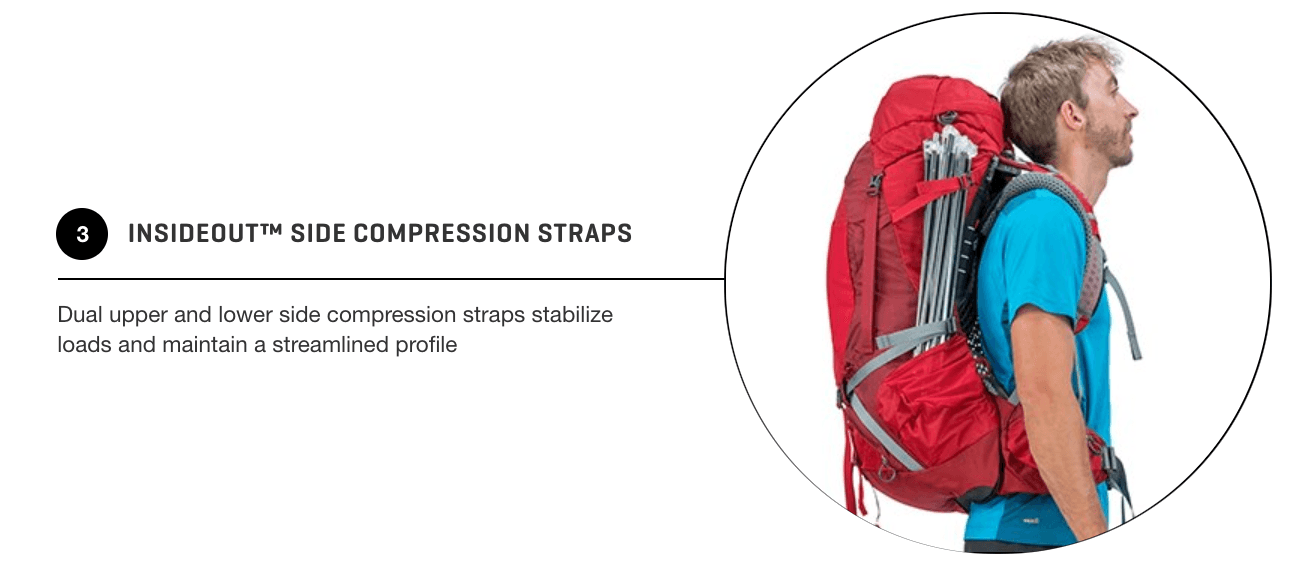 As mentioned, this is a pretty big bag, and with big bags you'll be thankful you have on big feature.
Compression straps.
Whether you are trying to squeeze your bag into a bus, make it smaller to carry, or just feel the need to reduce the overall amount of mass – the compression strap is your friend!
And two is better than one.
Osprey's dual compression straps mean you can compress your bag easier than ever. Side compression straps snug down partial loads and let you carry items on the outside.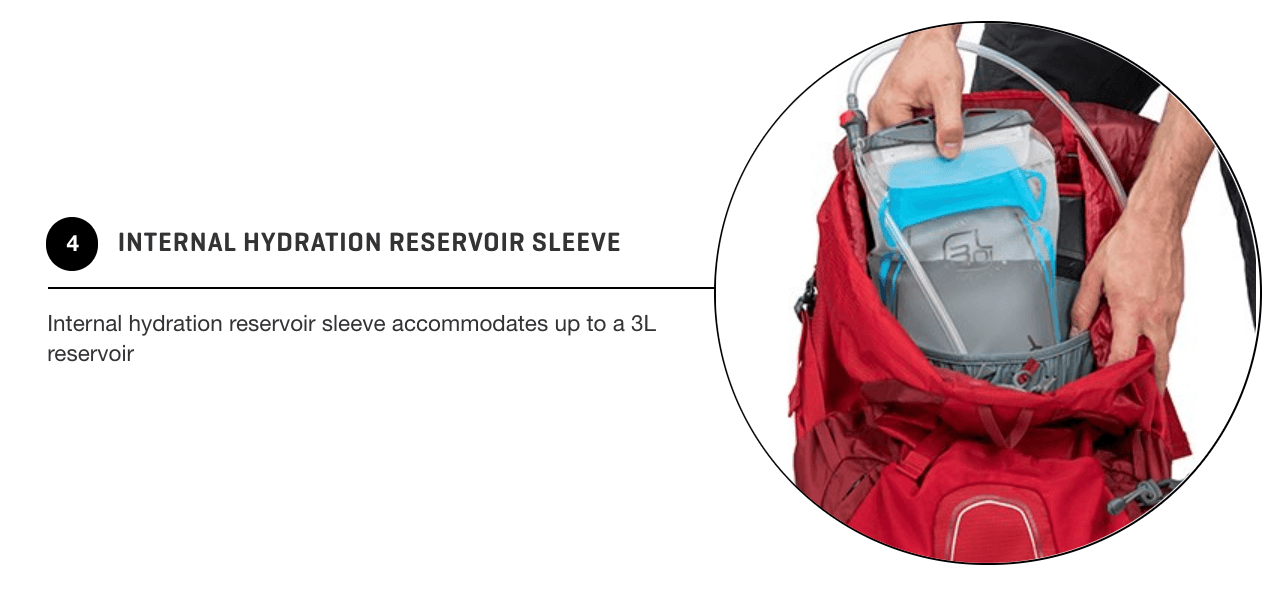 While this is a bit more important for hikers than it is for world-travelers – it's a great feature to have!
The internal reservoir sleeve can fit a 3L pouch of water, which makes hydrating yourself on that epic trek that much easier.
Like I said though, this is much more of a feature for hikers than it is for travelers. But I guess travelers could always fill it with some whiskey?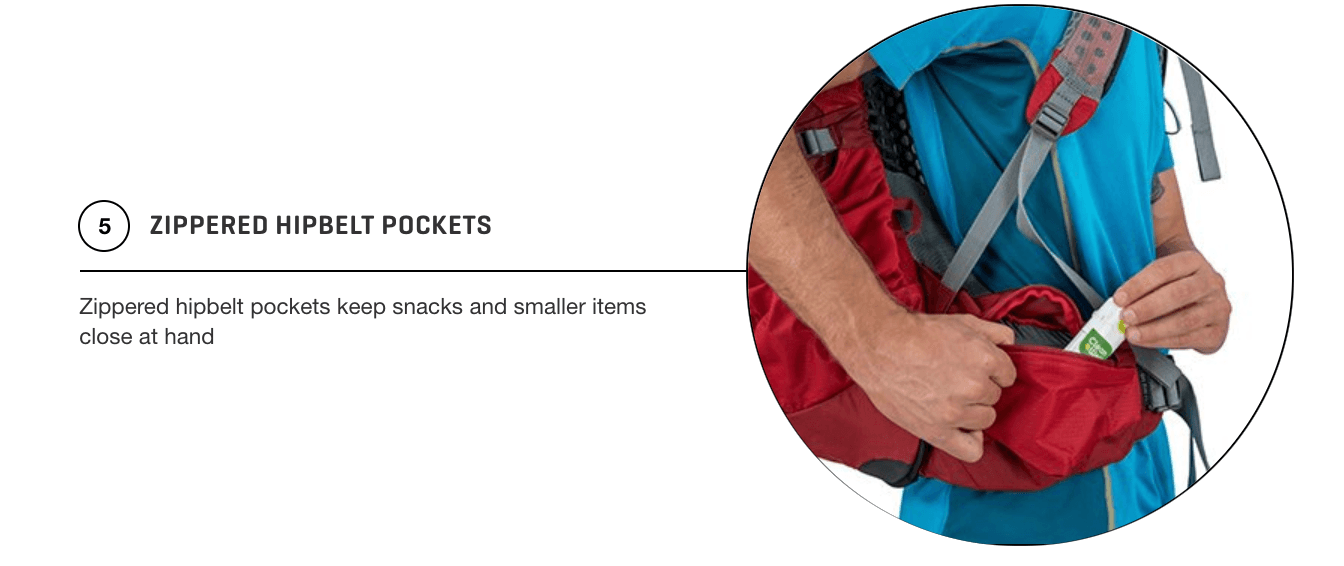 Meh, fairly common, but always appreciated.
Osprey Atmos AG 65 Comfort (One of the best parts)
While the above features are great, I'd say the Atmos AG's most appealing features are in it's anti-gravity suspension and the amazing comfort that comes from it.
Look at that suspension system!
As you can see, Osprey has taken their suspension system to another level, and also introduced a cool aesthetic with the neon-yellow background.
This looks like some space-age technology, and let me tell you, it feels like it to.
The web-like mesh padding is very comfortable and provides a really impressive amount of ventilation that extends to the shoulder straps as well.
Mesh is good. More mesh provides more ventilation, and less sweat, which we can all agree is a good thing.
Overall, the Atmos AG 65 suspension is great, and like all Osprey packs, the hip belt helps transfer weight off your back – which really adds up even after a few minutes of carrying this pack.
To top it all off, as a bonus, Osprey also included a rescue whistle on sternum strap.
Is the Osprey Atmos AG 65 waterproof?
The Osprey Atmos AG 65 is not waterproof, but similar to most of Osprey's flagship backpacks, the Atmos AG 65 is water-resistant.
While the difference is huge, water resistance is still very important, especially if you find yourself outdoors often.
This is where Osprey really helps to separate itself from newer packs – a lot of which are meant to be indoors and can't handle any water or mother nature's wrath.
Please note that the Atmos AG 65 doe NOT come with a rain cover – you will need to buy one separately. You can pop it in the top lid once you acquire one.
Osprey Atmos AG 65 as a Travel Backpack
Can you use the Atmos as a travel backpack? Well the Osprey Atmos AG 65 was designed for hikers, not travelers.
But in no way does that mean it's not a great backpack for travelers.
Even if you plan to travel the world only in hostels, never going camping, never hitchhiking, never being outside, and never really needing any of it's features, the Osprey Atmos AG 65 is still a stellar travel backpack.
The only downfall about the Osprey AG 65 as a travel backpack is that since it's designed for hiking, it isn't designed for traveling.
In contrast, a lot of modern travel backpacks (like AER or Tortuga) don't give a crap about hiking needs – only traveling needs. They have then designed their bags accordingly, making their bags open more like suitcases.
Osprey Atmos AG 65 as a Hiking Backpack
While there may be a bit of disagreement whether the AG 65 is a perfect traveling bag – no one will deny the fact that it's a perfect hiking bag.
That's because, technically, it is designed to be a hiking backpack.
If you plan to do any light to medium hiking, (depending on the weather) this bad boy will most likely be able to handle it.
Also, the AG 65 has tons of features that are specifically designed to help hikers and trekkers. These include the aforementioned reservoir pack, a trekking pole attachment, a lower zippered sleeping bag compartment, and sleep pad straps that are removable.
But why choose one or the other?
If you are someone who likes to hike and you also like to travel, this bag will enable you to kill two hobbies with one backpack!
Cons of the Osprey Atmos AG 65
This wouldn't be a brutally honest review without a few cons, and while I've highlighted most of them, we'll look over a few more.
Heavy – While not the heaviest bag on the market, it's definitely not the lightest. If you are a hiking-enthusiast and looking for the utmost lightest gear possible… you can definitely go a little lighter
Big – As mentioned previously, this is not a small bag. But if you are looking to buy a 65 liter, you probably aren't in the market for a small bag! Just a fair warning to travelers – you can travel the world on a 40L! If you are someone who prefers comfort and conveneince to having a bunch of stuff on you at all times, you might want to seriously consider the carry-on Farpoint 40.
Style – I'll be the first to admit that the whole hiker-style is not for everyone. If you are traveling the world , have no intentions to hike, and are looking for something a little more sleek and modern – check out Tortuga.
Mesh Side Pockets – there are negative reviews online saying that the side-pockets actually forced the water bottles into the users hips, causing discomfort and pain, which doesn't sound very fun
Narrow inside – While it is a 65L and can fit a ton, the bag itself is quite narrow. This is a good thing when carrying the pack, but sometimes it makes packing/accessing your stuff a nightmare.
Granted, these negatives are based around the bag being for the wrong user. Consider your personal needs, and you'll quickly know whether this is the bag for you.

Our GREATEST Travel Secrets…
Pop your email here & get the original Broke Backpacker Bible for FREE.
Final Thoughts on the Osprey Atmos AG 65
There you have it, we've reached the end of our Osprey Atmos review!
One of the best bags on the market, and especially perfect for a specific type of person. If you like light hiking or traveling the world with a larger, hiking-style backpack (or both!) this is the bag for you.
With the help of this brutally honest review, I know you'll be able to easily figure out if this is the bag for you, and if not, remember all of the other recommendations we made to help you find your soul pack.
Did this guide help you? Is there anything in this Osprey Atmos AG 65 Review that I missed? Give me some comment-love below – thanks guys!
Final Score of the Osprey Atmos 65 AG: 4.5/5 stars
---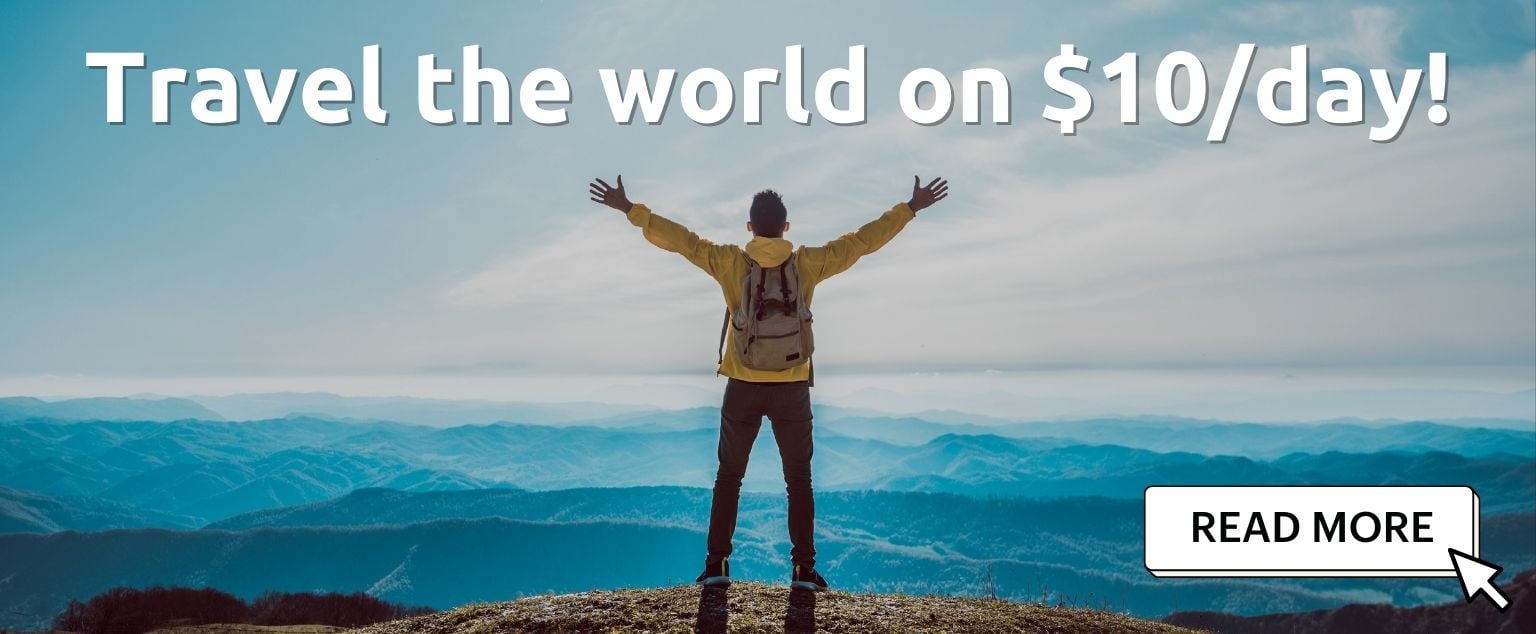 And for transparency's sake, please know that some of the links in our content are affiliate links. That means that if you book your accommodation, buy your gear, or sort your insurance through our link, we earn a small commission (at no extra cost to you). That said, we only link to the gear we trust and never recommend services we don't believe are up to scratch. Again, thank you!