Australia's largest city, famous for its grand harbour front, Sydney Opera House, and being Nemo's ever-elusive destination. It's the perfect place to spend your holidays! With so much to offer, a massive harbour with plenty of waterside activities, historical buildings, and a multitude of fascinating tours to choose from, your Sydney itinerary is sure to be bursting with creative adventures!
Indigenous Australians are thought to have inhabited the Sydney area for at least 30,000 years, this means that there's an overwhelming amount to learn about your destination of choice.
Whether you're spending 2 days in Sydney, 3 days, or even a week in Sydney, we've got your activities covered for the trip. Here's what we like to think is the best Sydney itinerary!
| | Average Temperatures | Chance of Rain | Crowds | Overall Grade |
| --- | --- | --- | --- | --- |
| January | 23°C / 73°F | High | Calm | 🙁 |
| February | 23°C / 73°F | High | Medium | 😐 |
| March | 22°C / 72°F | High | Busy | 🙂 |
| April | 19°C / 66°F | High | Busy | 🙂 |
| May | 16°C / 61°F | Average | Medium | 😐 |
| June | 14°C / 57°F | High | Calm | 🙁 |
| July | 13°C / 55°F | Low | Calm | 🙁 |
| August | 14°C / 57°F | Average | Calm | 🙁 |
| September | 16°C / 61°F | Low | Medium | 😐 |
| October | 18°C / 64°F | Low | Busy | 🙂 |
| November | 20°C / 68°F | Average | Busy | 🙂 |
| December | 22°C / 72°F | Low | Medium | 🙂 |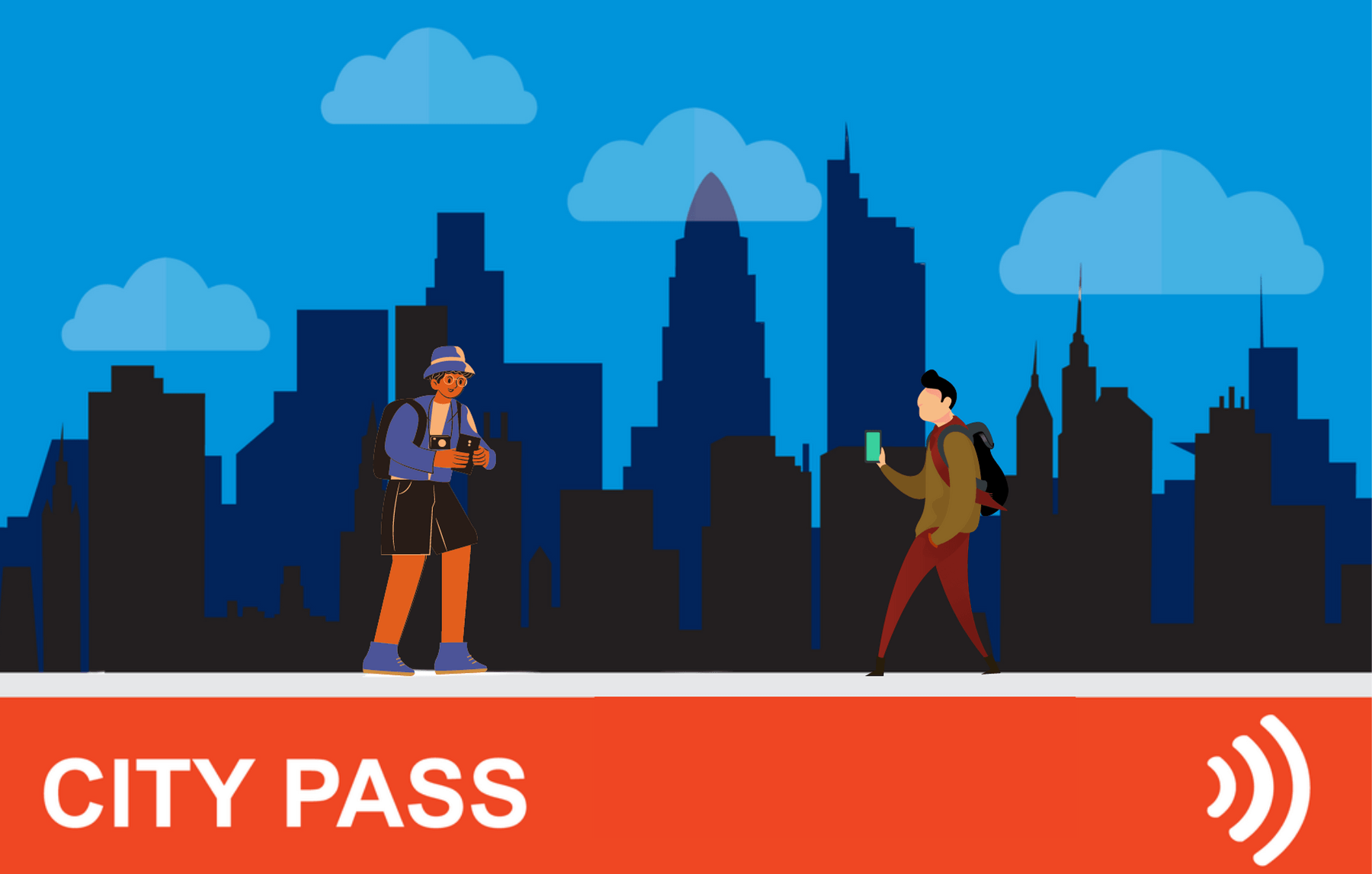 Travelling to Sydney? Then plan yo' trip the smart way!
With a Sydney City Pass, you can experience the best of Sydney at the CHEAPEST prices. Discounts, attractions, tickets, and even public transport are all standards in any good city pass – be sure invest now and save them $$$ when you arrive!
Buy Your Pass NOW!
3 Day Sydney Itinerary Overview
Where To Stay In Sydney
You've booked your flights, now you've got the task of deciding where to stay in Sydney so you can begin planning your Sydney itinerary. There are so many things to do in Sydney you want to place yourself in a location where you can take advantage of the time you have.
Here are two of our favourite places to stay in Sydney!
Bondi Beach is probably one you've heard of before as it's become famous all around the world. This neighbourhood stretches out along the coastline and has a kilometre of beach just waiting to be explored. Bondi Beach is full of health clubs, lifestyle events, and some very elegant dining options.
The locals in this area tend to be very active, go-getter types, so if you enjoy living life to the fullest, Bondi Beach just might be the perfect place for you. You'll also find a lot of homestays and most of the best hostels in this neighbourhood, which makes it ideal for backpackers in Sydney.
Balmain is a neighbourhood in Sydney just 6 kilometres from the city centre. It's home to the largest Italian population in the city, and you can see the Italian influence on every street corner. Italian architecture is sprinkled generously around the neighbourhood and little terraces jut out from almost every building.
As you can imagine, pizza and pasta joints are the main dishes served up in the area, and you'll find cafes on almost every street.
Now that you know how to get around, here's what you should be up to during your time in Sydney.
There's a lot to do in this incredible city, from hitting the beaches to exploring then harbour and discovering the vast histories of this city and country. Sydney is easy to get around and a pleasant and sunny city to discover.

Unlock Our GREATEST Travel Secrets!
Sign up for our newsletter and get the best travel tips delivered right to your inbox.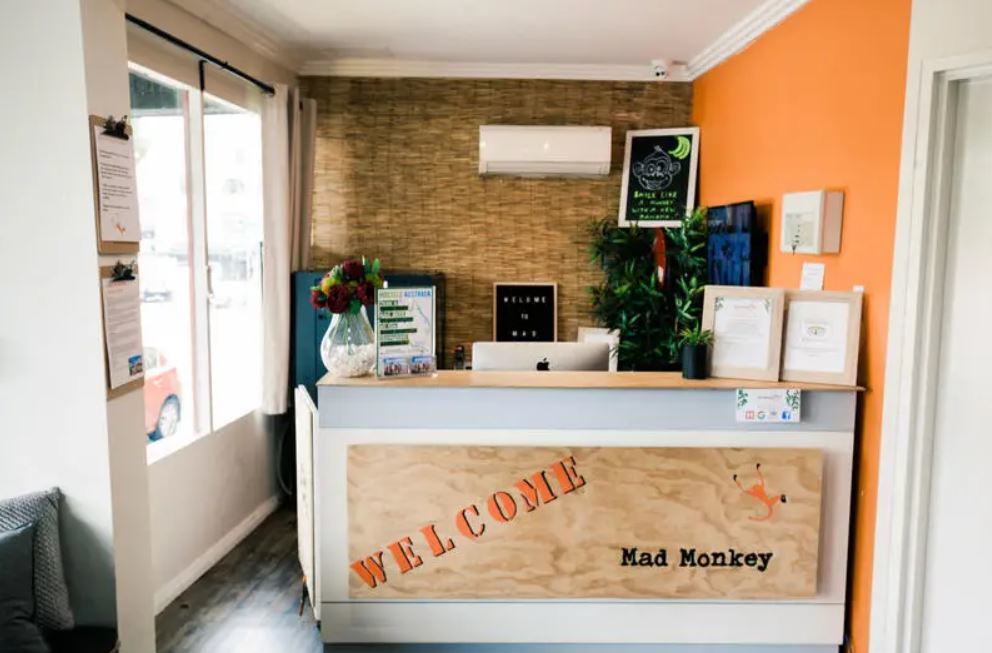 The Mad Monkey Hostel on Broadway offers really affordable accommodation in the most convenient place: just a few minutes walk from Central Station! You can expect a clean interior with modern decor. Hot breakfast is served every morning, so you're in for a treat if you're on a budget!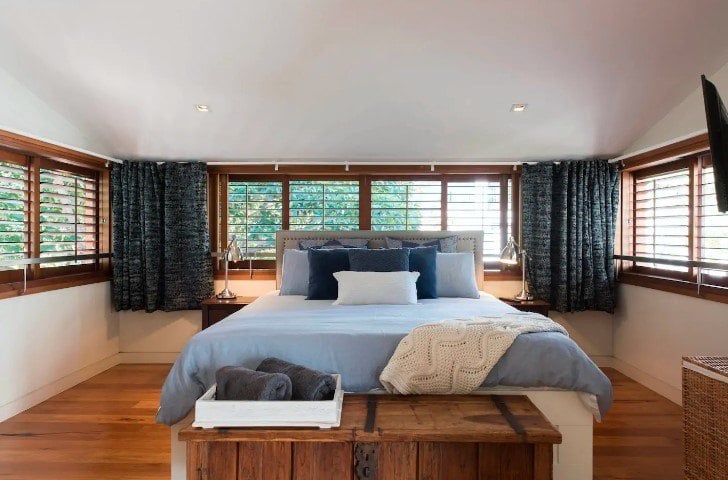 There is no cooler place to stay in Sydney than this 19th century converted barn in Surry Hills. In fact, it's one of the best Airbnbs in Sydney. Enjoy high ceilings, spacious rooms, and modern amenities all in Sydney's coolest neighbourhood.
Just a short walk to Surry Hills' trendy bars, restaurants, and clubs, you won't find a more ideally located flat in the city.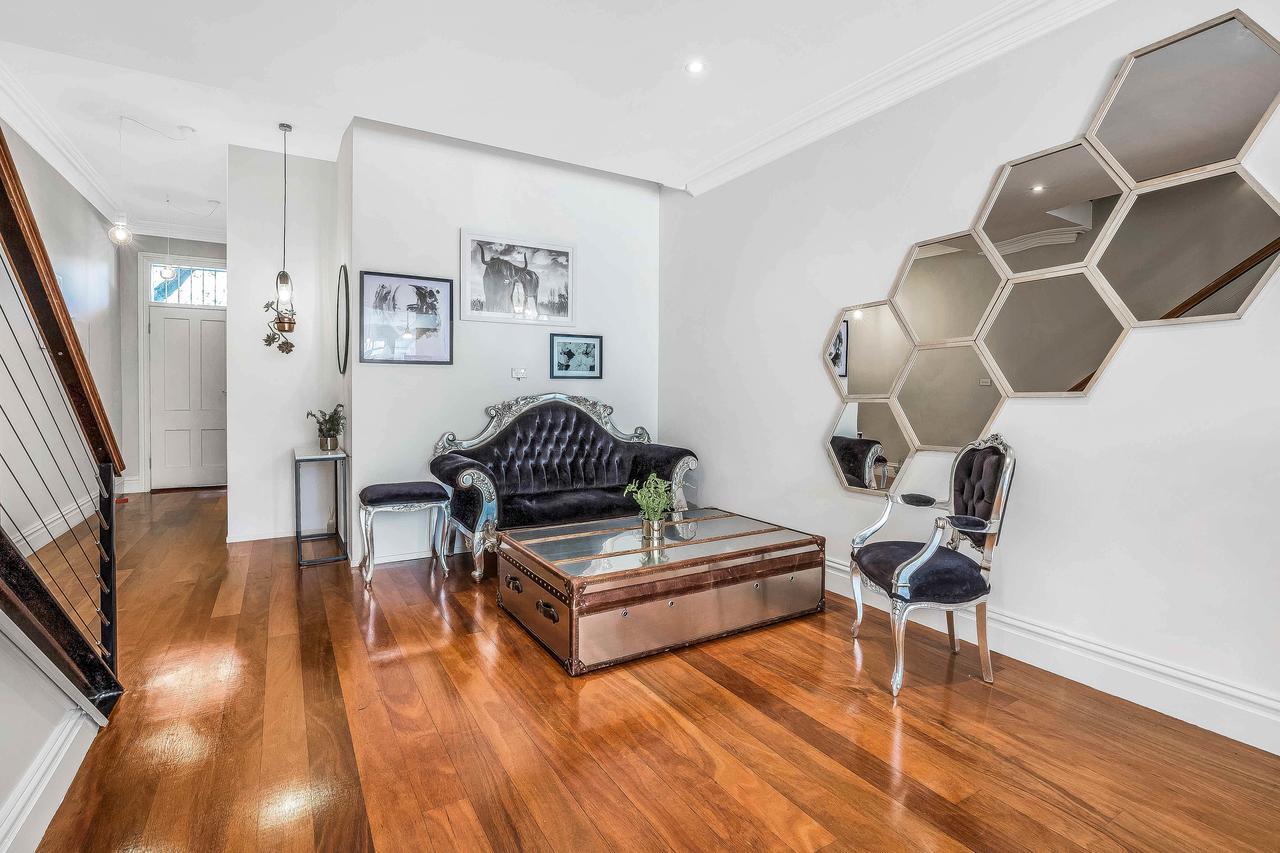 Close to all the best tourist attractions in Sydney, you honestly couldn't ask for a better location than the Wyndham. Each room is modern with a clean finish, and they're equipped with their own small kitchen and cosy balcony. If you're someone who enjoys privacy and value for money, this is a great spot for you!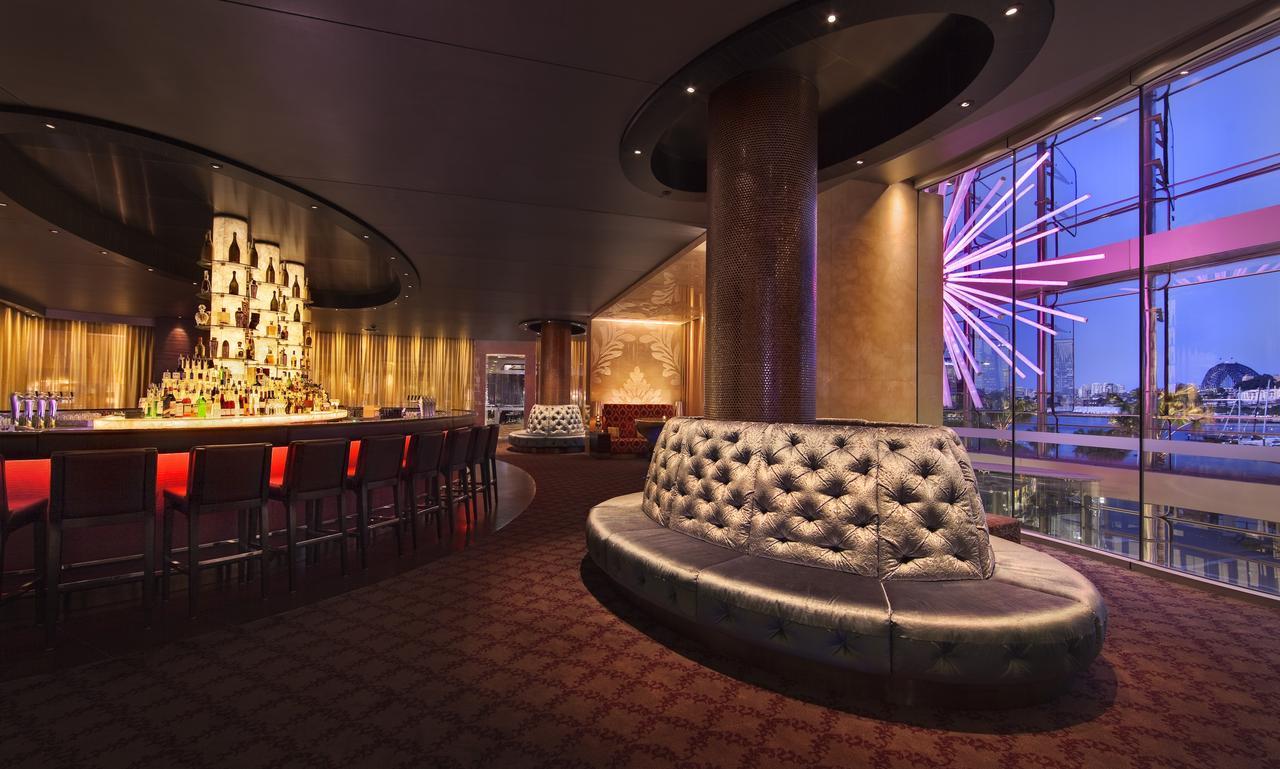 This modern hotel is the picture of elegance at its finest! Located in Darling Harbour, you simply could not imagine a better view! Luxury is hidden around every corner of this hotel and the facilities are nothing less than world-class.
Your first day in Sydney will see you enjoying the beautiful natural surrounds that Sydney has to offer and immersing yourself in unique cultural experiences.
8:00 AM – Take a Swim at Bronte Baths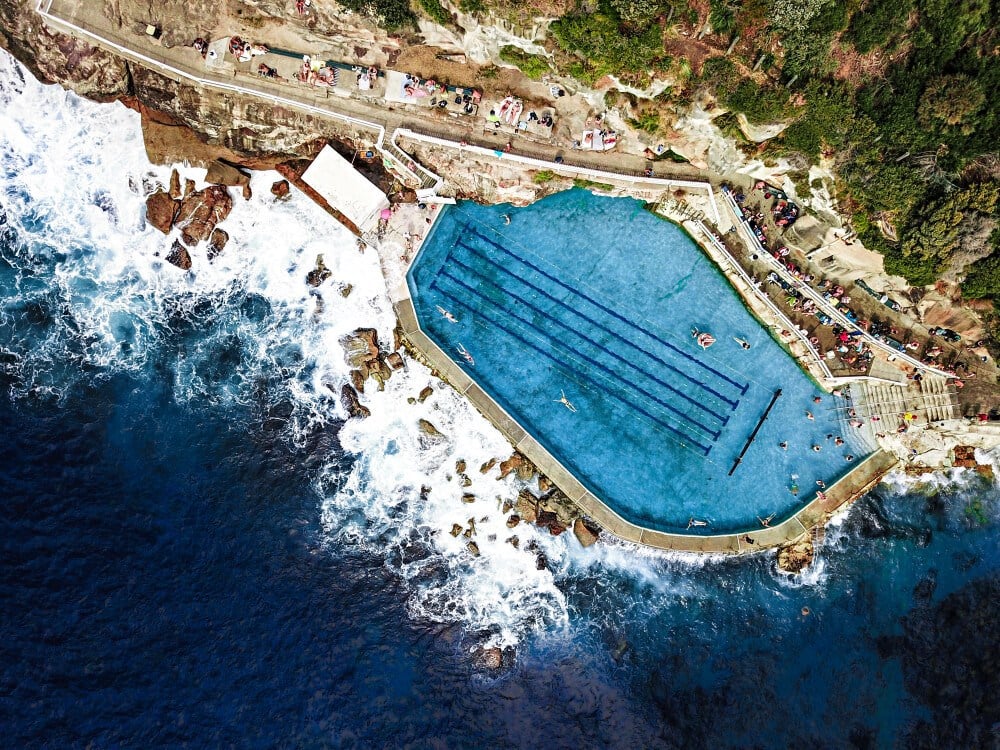 Join the early-risers in Sydney for a few salty laps of the Bronte Baths tidal pool. This full-size tidal pool is the perfect place to get your exercise in before the day has even started.
Waking up to an ocean swim is a truly Australian way to start your day! However, tourists often find that the water at Bronte Beach is a little too violent and volatile for swimming, so this is the perfect way to enjoy a beautiful saltwater swim without worrying about the tides. Blow off the cobwebs from your journey over to Sydney, especially if you've got jetlag, and dive right into the azure Aussie waters!
Enjoy the sounds and views of waves crashing over the edge of the tidal pool, knowing you're safe inside its sheltered walls. Be sure to take your camera along for the trip, as the sunrise from Bronte Baths is nothing less than an Instagrammable sight.
Insider Tip: Try getting to the baths before 7 am, as watching the sunrise on the horizon is absolutely gorgeous from this perfect viewing spot.
Cost – Free!
Getting there – Catch the train/bus to Bondi Junction and switch to the 379 local bus.
How long should you stay – 1.5 hr
11:00 AM – Take a Walking Tour
Taking a walking tour of the city helps you to come to a deeper understanding of the sights you see around you. Learning the history of these sights allows you to take a lot more value away from the experience.
There are 3 tours that take place every day, which makes the rest of your day a lot more flexible and allows you to revisit some of your favourite sights for a more in-depth tour.
Taking a walking tour is a great way to get your bearings and on a limited trip, it's the best way to take in all the main sights in a short amount of time. Heading off with a local guide you'll also get to see some of the more off the beaten track areas you might not have otherwise known about. You'll also get an insider's perspective on the history and culture of this city.
Cost – $50
Getting there – Take the 379 bus to Bondi Junction, then take the train to Martin Place Station.
How long should you stay – 2 hrs
1:30 PM – Take a Tour of the Sydney Opera House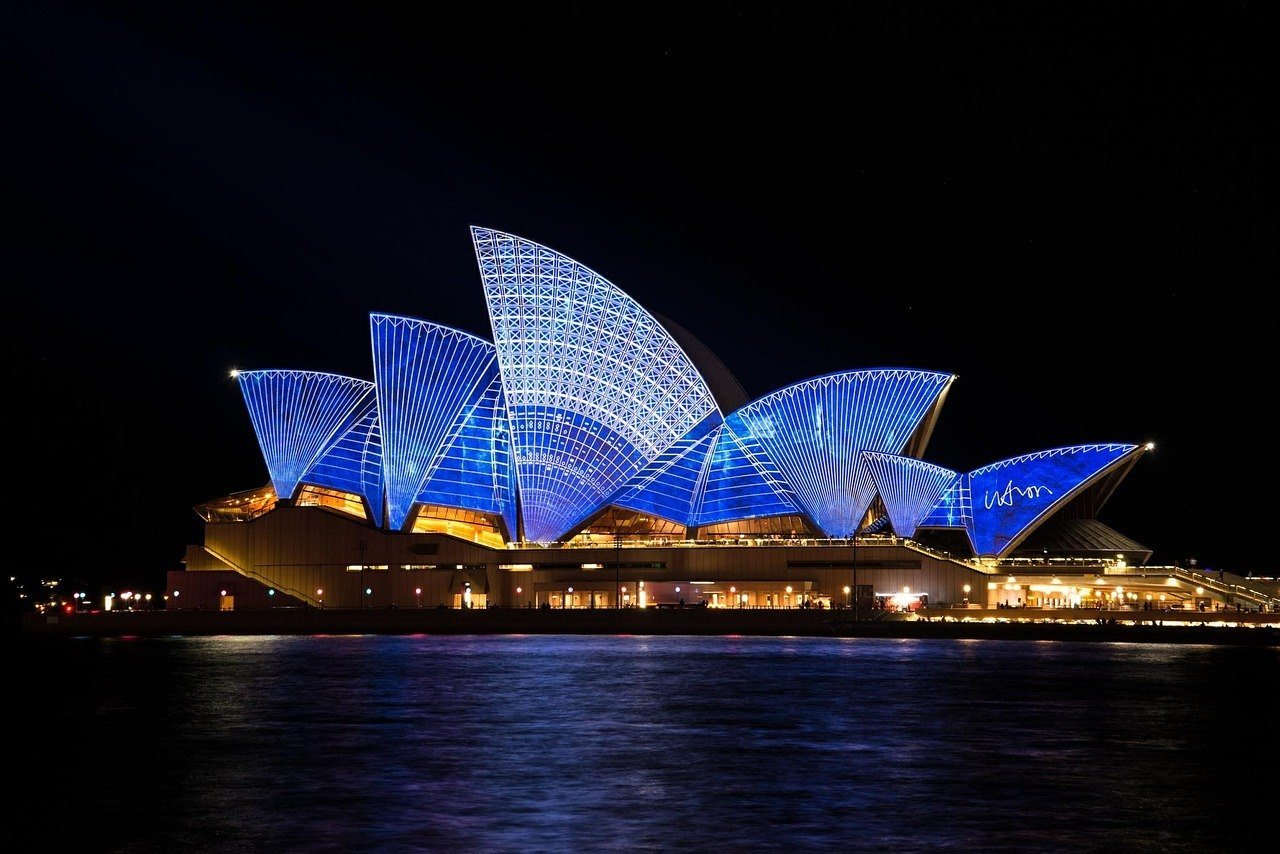 Sydney Opera House was put on the map by its ability to host performing arts on a continuous basis. The building hosts over 1600 events every year, making it one of the busiest performing arts centres in the whole world!
Your guide will lead you under the famed sails of the Sydney Opera House as they tell you the tales and secrets that the building has become famous for over the years.
Don't just see this iconic building from the outside, head inside and learn more about one of the world's most famous buildings!
Cost – $30
Getting there – Take the train to Martin Place Station or walk.
How long should you stay – 1 hr
3:00 PM – Visit Wendy's Secret Garden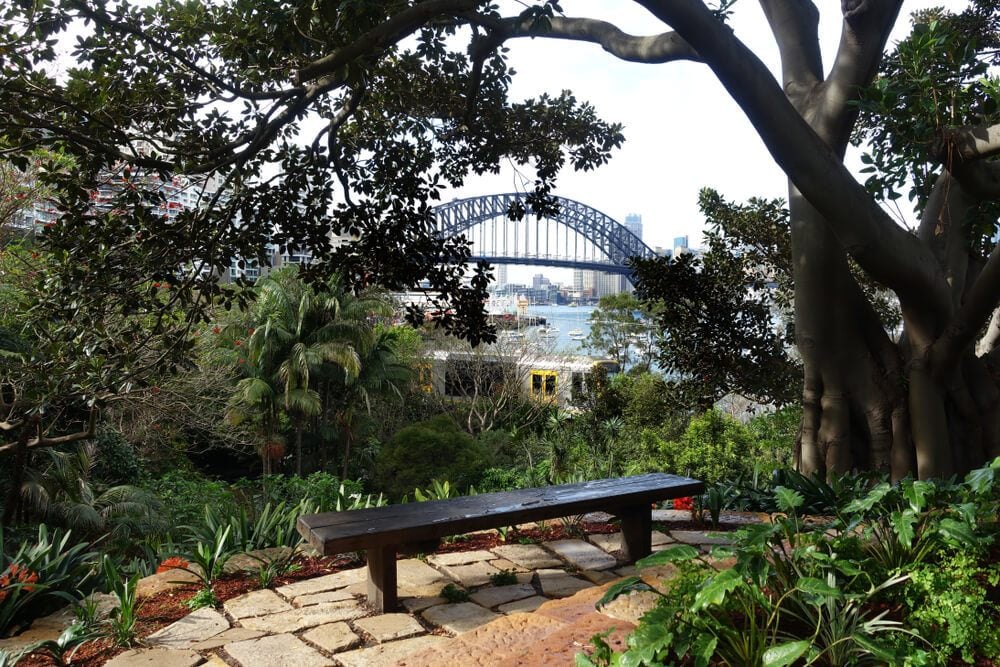 The wife of famed artist, Brett Whiteley, poured her creative energy into designing a gorgeous secret garden when her husband passed away. Her name was Wendy, and that's how the garden got its name. The garden is half public and half private property, but the owners don't mind visitors popping by to explore the garden and enjoy a picnic.
The garden overlooks Sydney Harbour and is the perfect place to snap a pic of the beautiful bay. The garden has been taken care of by Wendy and two gardeners over the past 25 years. They've planted many gorgeous plants and created intricate pathways that run through the grounds. This makes it the perfect garden to explore before settling down for a picnic.
The garden is filled with birdbaths and benches, which makes it a great spot to relax and do some bird watching if you're feeling up for it.
Being an artist's wife, Wendy needed to add an artistic touch to the garden. For this reason, she has placed bronze sculptures throughout the garden. It can be loads of fun trying to find them all. Most of these statues were donated by local artists in the Sydney area.
Cost – Free!
Getting there – Take the train to Milsons Point or North Sydney stations. You can also take a ferry to Milsons Point.
How long should you stay – 1 hr
5:00 PM – Catch a Screening at the Golden Age Cinema
The building was constructed in 1940, intended to be used as offices for Paramount Pictures. It was used for just that for many years, but in 2013 the building reopened as the Golden Age cinema. The cinema contains an old basement theatre that is now being used to showcase old films as well as new Indie films.
Enjoying this old theatre experience is a must during your stay in Sydney. Its old-timey feel sends you straight back to the mid-1900s!
The cinema contains an adjoining bar, where you can purchase movie snacks before the screening. Here you won't find just your regular popcorn and coke, but there are a few fancy extras thrown in.
If you're in the mood for a full-on meal, chefs can prepare your meal and serve it to you during the movie. It really is a great experience. If you're in the mood for a light snack, opt for a sundae. They're known to be the best sundaes in town.
Cost – Around $15
Getting there – Take the train to Museum or Central and walk for 2 mins.
How long should you stay – With there being a bar onsite and food available, you can stay for quite some time!
Small Pack Problems? 😉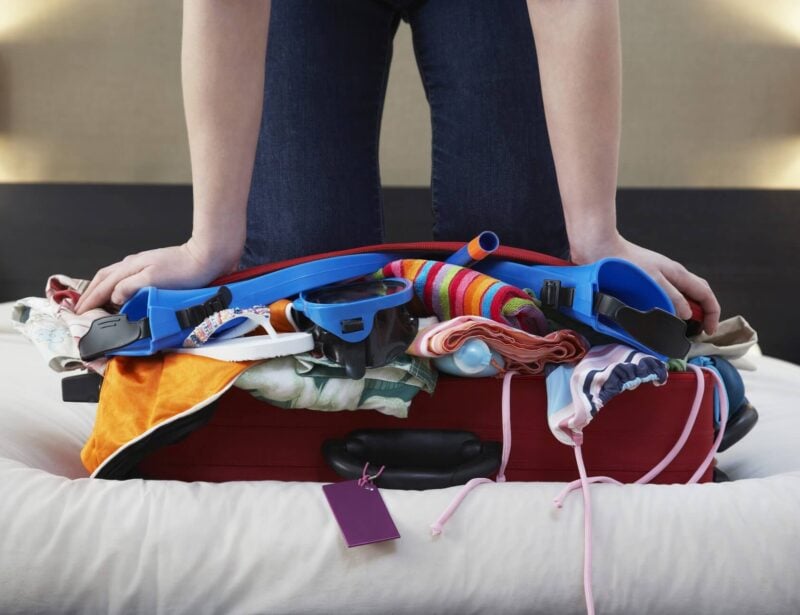 My missus travels with all her clothes in ziplock bags: don't be like my missus. UP YOUR PACKING GAME!
Packing cubes for the globetrotters and compression sacks for the real adventurers – these babies are a traveller's best kept secret. They organise yo' packing and minimise its volume too so you can pack MORE.
Or, y'know… you can stick to ziplock bags.
View Our Fave Cubes
Or Check Out the Sacks!
Your day 2 Sydney itinerary will see you spending plenty of time by the ocean and enjoying some wholesome musical entertainment!
9:00 AM – Swim in Bondi Icebergs Pool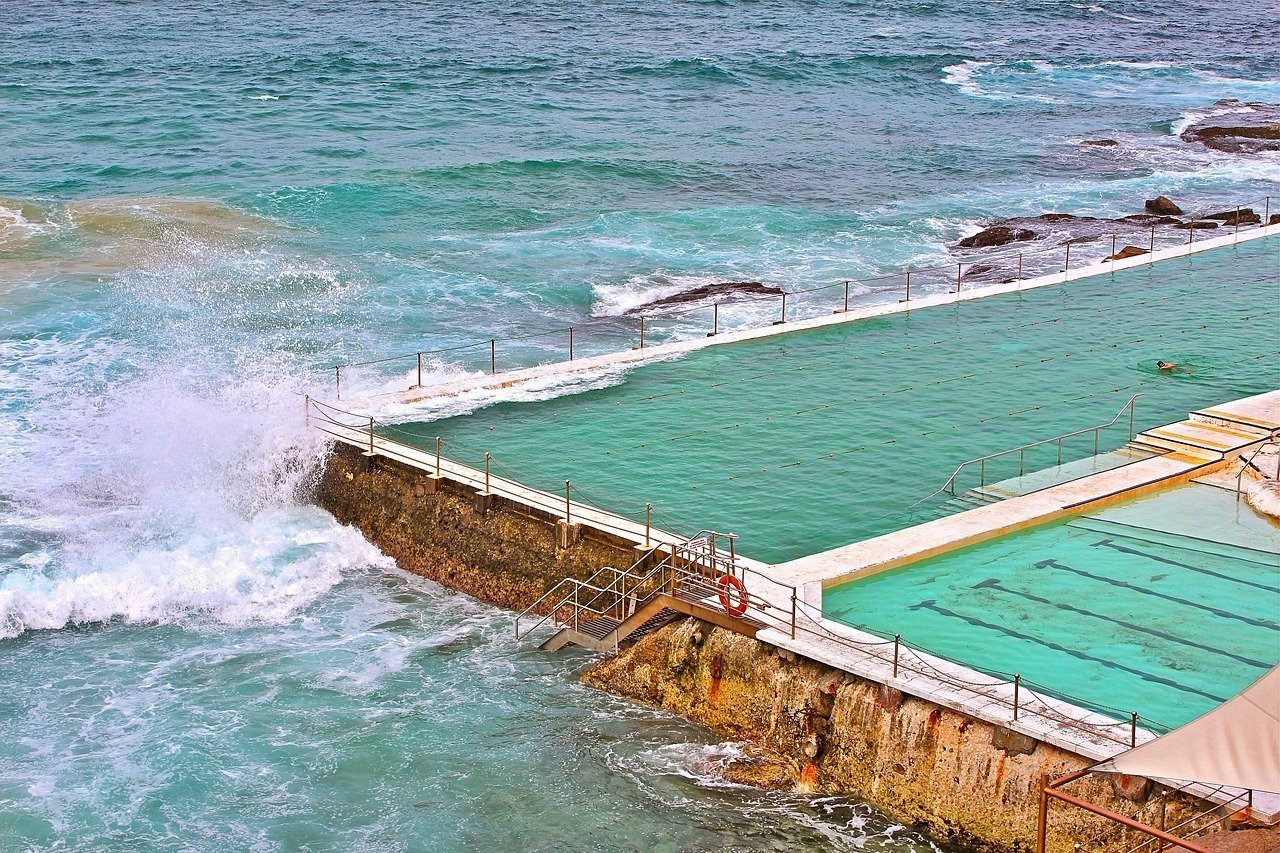 Bondi Icebergs Pool has become an all-year-round landmark for Bondi Beach. A dip into the seawater is the most refreshing way to start the morning, no matter what time of year you're visiting Sydney. It may take a brave soul to venture into the water during winter, although the locals enjoy it just fine! Perhaps they're a little more accustomed to the beach lifestyle?
The Bondi Icebergs Pool is an ocean pool that is by far the most photographed pool in all of Australia! It was built to look like a normal swimming pool but is filled to the brim with seawater, much like any other tidal pool.
Be sure to bring your camera along to this lovely pool as the turquoise blue water is something you'll want to capture!
It's a great way to start another day packed full of adventures by diving into this iconic beachside pool for a refreshing dip!
Cost – $7
Getting there – Take the train to Bondi Junction and either walk or get on the 380, 381, 382 or 333 bus for a 15-minute ride to the beach.
How long should you stay – 1.5 hrs
11:00 AM – Take a Surfing Lesson at Bondi Beach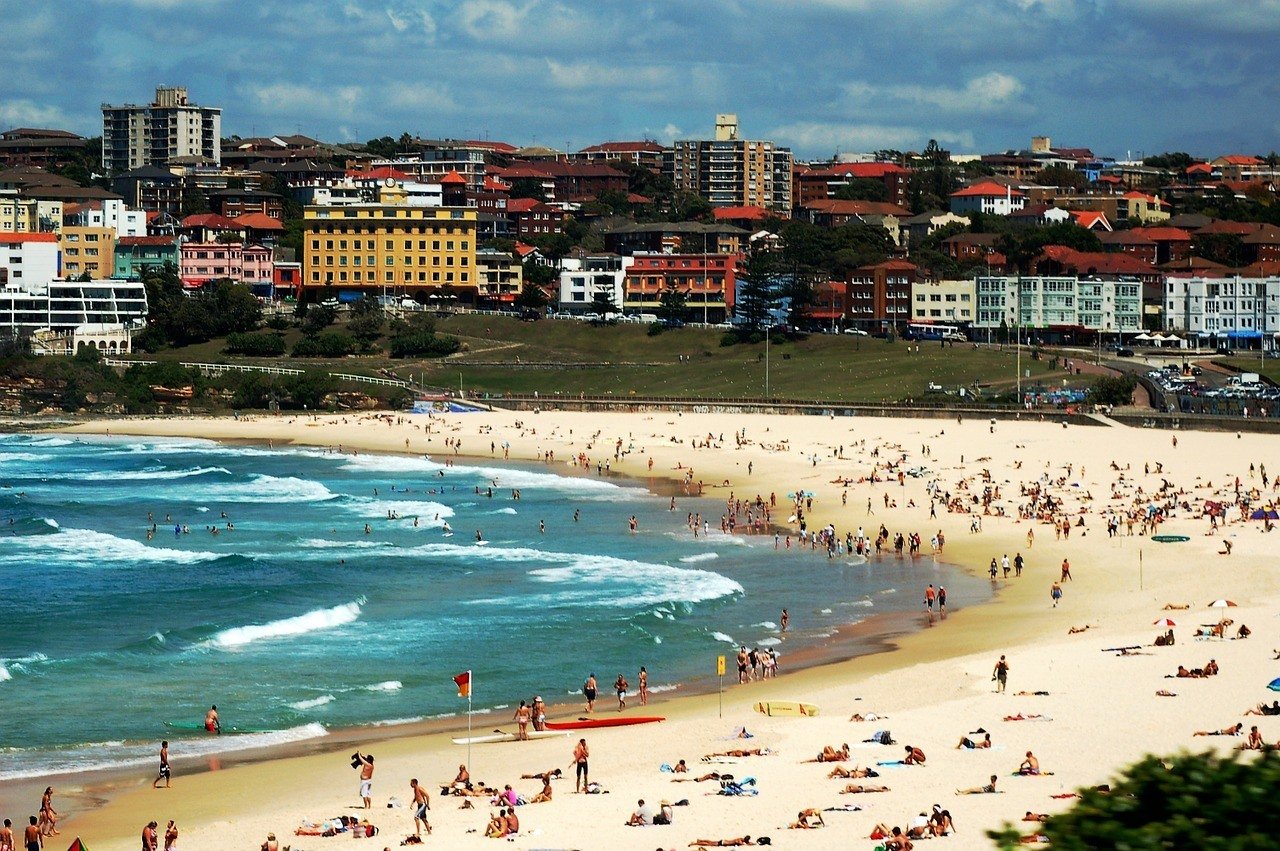 There's nothing more truly Aussie than hanging ten on a wave at Bondi Beach. Learning to surf at one of the most popular surf destinations in the world is an absolute privilege that should not be missed while you're staying in Sydney.
Each surfing lesson for beginners starts on the sand, so you don't need to worry about being thrown in the deep end. Although each surfer requires taking a leap of faith to stand up on the board for the first time.
You'll get the opportunity to feel the rush of riding your first wave, with the help of your very well-trained surf coach. Hopefully, you'll be catching waves by yourself in no time.
During your lessons you'll learn to ride a long-board, these are surfboards used to catch even the smaller waves, so riding a wave shouldn't be a problem! Your lesson will include a wetsuit that you'll be very appreciative of in the winter months. During summer, the water is warm and you may not require a wetsuit but the option is still there.
Cost – $85
Getting there – Walk to the beach from Icebergs
How long should you stay – 2 hrs.
2:00 PM – Walk Along the Bondi to Coogee Coastal Path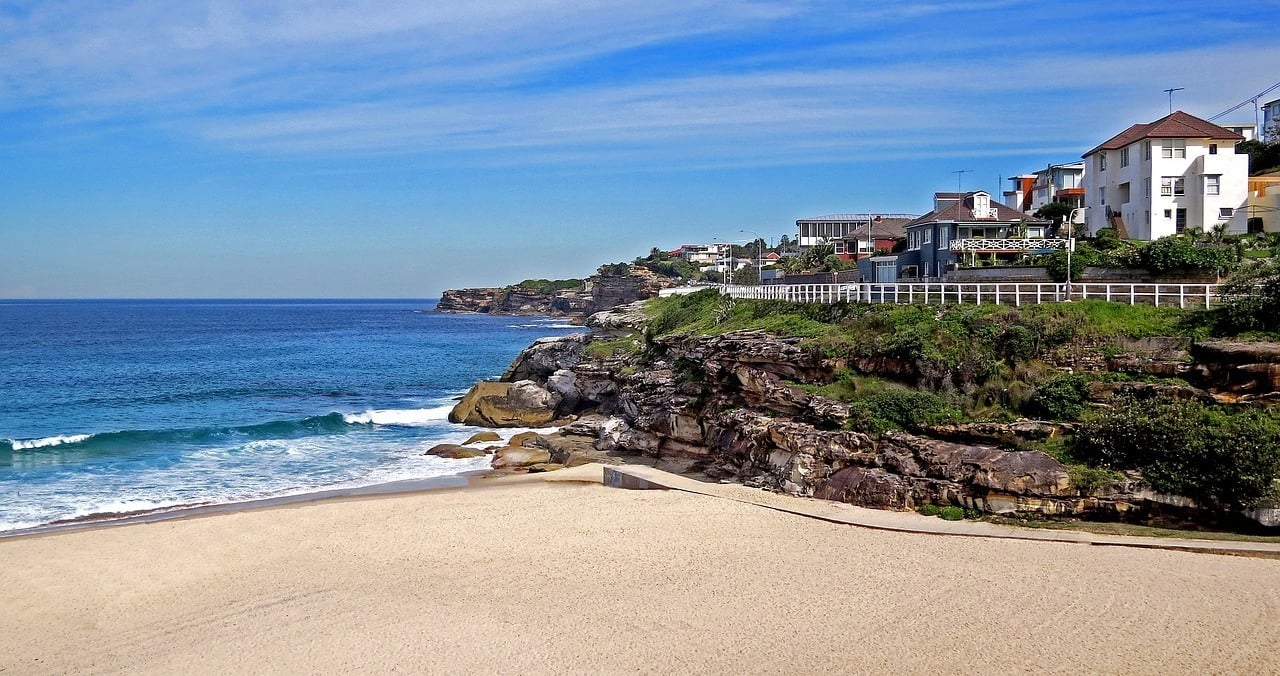 After spending the morning in the water, now it's time to dry off and take a walk along the stunning coast of Sydney. The Bondi to Coogee walk is one of the most famous of the many walks you can take along the coast here and it's one of the best!
The path will lead you past Waverley Cemetery, where it can get a little windy. This part of the walk takes place on a suspended walkway, so be careful during this section of the journey. You'll then pass Clovelly Bowls Club and head towards Gordons Bay. Gordons Bay is a secluded bay that is the perfect stop off for a picnic or just a breather.
This is a beautiful way to take yourself on a self-guided tour of the coastline. Not many tourists experience Sydney this way, so it's a 'must' to add to your Sydney itinerary.
This coastal walkway will lead you along 6-kilometres of the gorgeous coastline while taking in some spectacular views! You'll then reach Coogee where you should stop off for a refreshment or a bite to eat before heading back to Bondi Beach or the city.
You can spend as much time as you want on this trail, it usually takes around 2 hours if you don't have many breaks. However, there are heaps of beaches and inlets along the way where you might want to take a dip or just enjoy the view.
Cost – Free!
Getting there – Starts behind Icebergs. Take the bus back from Coogee back to Central.
How long should you stay – 2 hrs plus
9:00 PM – Listen to Live Music at the Lansdowne Hotel
Support the local live music scene at the Lansdowne Hotel! The hotel pub has become a local favourite for those who appreciate some quality live music.
You'll be happy to know that an over-the-counter meal will only cost you $10, so you'll have plenty of extra cash for the night.
Gain access to live music in the upstairs section for only a few dollars. This amount changes depending on who's playing but is never anything too extravagant.
Sit back and relax in a candle-lit room while listening to the best the live local music scene has to offer. Rugs line the couches giving the place a cosy feel that encourages guests to sit back and relax. However, if you like to get up and boogie, there's always plenty of space to do that.
The venue can hold around 250 people, so don't worry about not being able to get in. There's generally enough space to arrive late and still find a space.
Cost – A few dollars. The amount is dependent on who's playing.
Getting there – Take the train to Central and walk.
How long should you stay – As long as you like… but don't overdo it, we've got another great day planned for tomorrow!
IN A RUSH? THIS IS OUR FAVOURITE HOSTEL IN SYDNEY!
Travel with peace of mind. Travel WITH a security belt.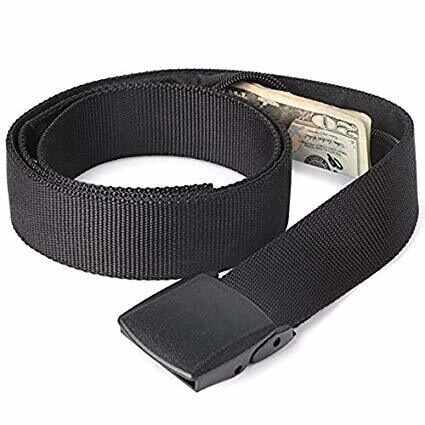 Get your cash stashed with this awesome Pacsafe money belt. It will keep your valuables safe no matter where you go.
It looks exactly like a normal belt except for a SECRET interior pocket perfectly designed to hide a wad of cash or a passport copy. Never get caught with your pants down again! (Unless you want to.)
Hide Yo' Money!
If you're spending more than 2 days in Sydney, you're going to need a few extra activities to add to your Sydney trip! Here are a few of the best places in Sydney we think you should be adding to your itinerary:
9:00 AM – Climb Sydney Harbour Bridge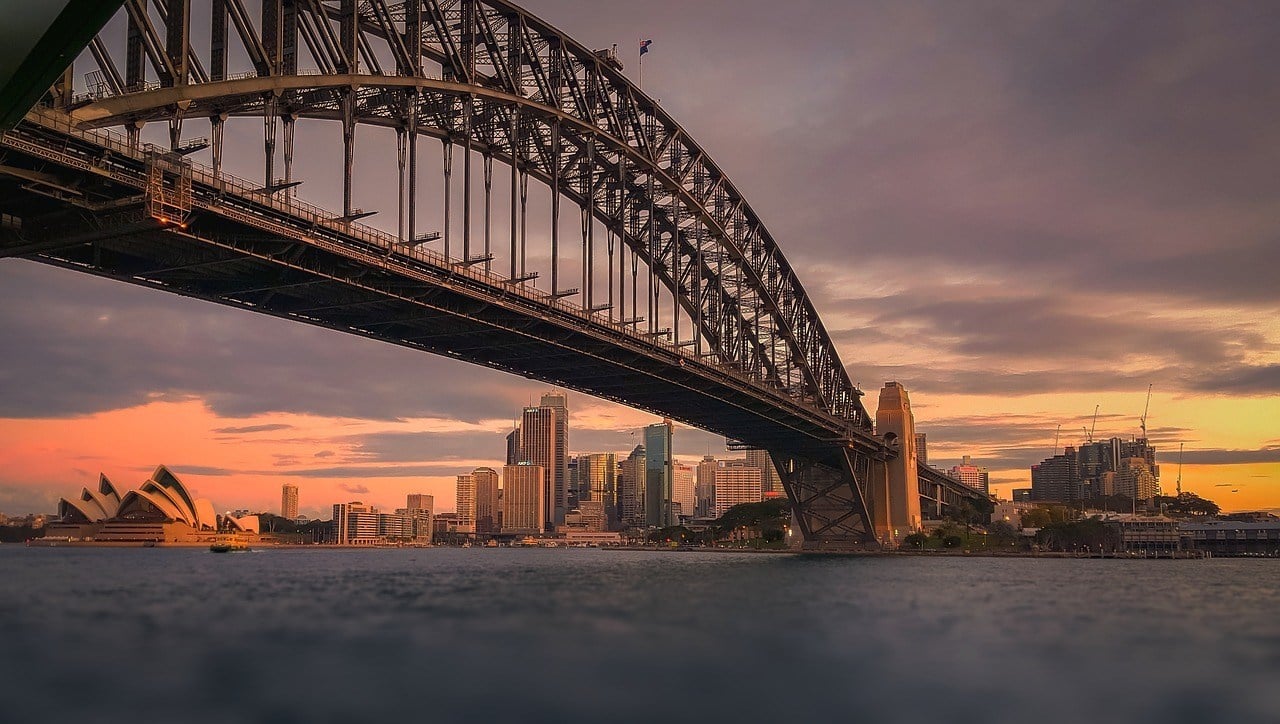 Over 4 million visitors have climbed Sydney Harbour Bridge! Experienced guides will talk you through the activity before your climb and lead you every step of the way up the Sydney Harbour Bridge.
The bridge towers 134m over the water, which makes the view from the top nothing less than magnificent! Tours are held throughout the day, from dawn until dusk, and the views change continuously throughout the day. We recommend going early in the morning to catch the sunrise or late at dusk to catch the sunset.
The Sydney Harbour Bridge has become one of the most photographed parts of the city, and there's no secret as to why. This gorgeous bridge stands tall over one of the most beautiful natural harbours in the world and now shapes the city skyline.
Don't miss the opportunity to take part in an experience completely unique to Sydney. This is one activity you have to add to your Sydney itinerary if you plan on staying for more than 2 days in Sydney.
Before the climb, you will be equipped with everything you need to make the climb. All that you'll need to bring with you are a pair of sunglasses and comfortable shoes.
Climbing the Sydney Harbour bridge was voted the number one traveller's choice experience in all of Australia!
If you have extra time and want to spice things up a bit, you can even charter your own yacht to take you around the harbour. It might be the top end of your budget, but split between six to eight people, you can find an affordable option that still gives a memorable experience.
Cost – Between $140 and $280 depending on which package you decide to take.
Getting there – Catch a ferry, bus or train to Circular Quay.
How long should you stay – 2.5 – 3.5 hrs
1:30 AM – Visit the Royal Botanic Gardens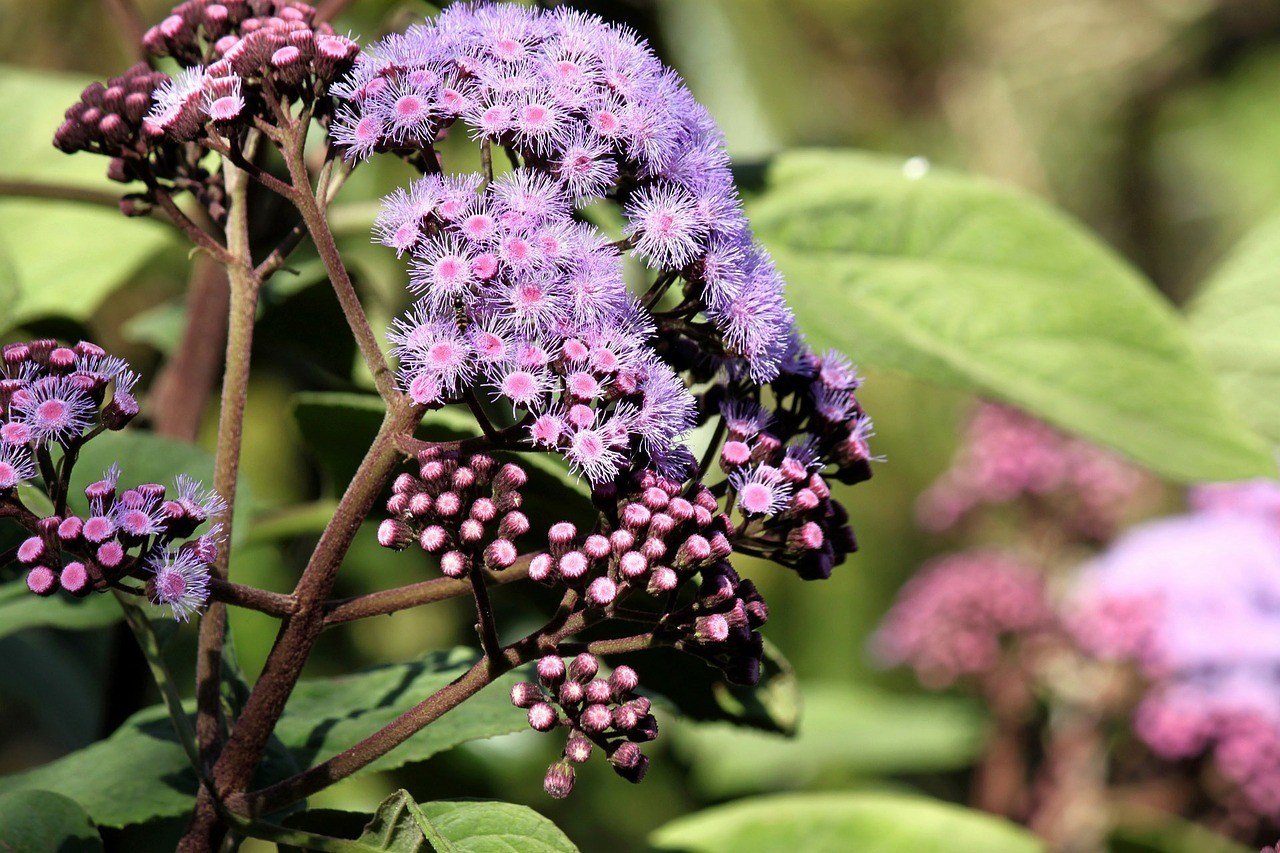 After the excitement of the morning, take some time to wander these beautiful gardens to get your breath before the next thrilling adventure!
The Royal Botanic Gardens are an impressive 74 acres and is home to a variety of events throughout the year. The Gardens are a scientific institution and one of the most important botanic scientific institutions in the world!
These gardens were established in 1816, which makes them the oldest botanic gardens in Australia!
The gardens are open every day of the week and access is completely free! This makes it the perfect place to stroll around in search of some of Australia's most beautiful plants. Plant and birdlife are abundant in the gardens, so be sure to take your camera along for the trip!
From the gardens, it's a short walk to Sydney Opera House if you feel like exploring a little further. These famed gardens are a must-visit during your time in Sydney, so be sure to add them to your Sydney itinerary!
Cost – Free
Getting there – Take the train to either Martin Place, St James or Circular Quay or walk from Central.
How long should you stay – 1 hr
3:00 PM – Let your Inner Child Free at Luna Park Sydney
Sydney's Luna Park is now listed on the NSW heritage registry! Apart from just being an amusement park, the park holds history tours that show you the ins and outs of running an old amusement park. Although it has undergone major restorations in the past, constant maintenance is required to keep it functioning at its best.
The park underwent serious restoration during the 90s allowing it to run safely and efficiently into the 21st century. Luna Park Sydney has a rich history. Starting in 1935, this rare surviving amusement park features fantasy architecture and the art deco style of the 30s.
The famous 'face' entranceway to Luna Park has been photographed many times, and is what the park has become most famous for all over the world!
You'll be given a park map when you enter that will help you decide which rides and attractions you'd like to visit most! On the map, you'll also find interesting facts about the park. You can enthral yourself with roller coasters or scare yourself at the haunted Mystery Manor.
This historic amusement park is a great way to spice up your Sydney itinerary and end your time in the city with a bang!
Cost – $37 for the day.
Getting there – Take the train to Milsons Point station or the ferry to Milsons Point Wharf.
How long should you stay – As long as you like!
Is This the Best Daypack EVER???
The best time to visit Sydney is widely up for debate. While there's no wrong time to visit this gorgeous city, you should make an informed decision when deciding what time of year you'd like to go.
January is the hottest month of the year in Sydney, as it's just after the summer solstice. In February and March, Sydney tends to get its highest rainfall.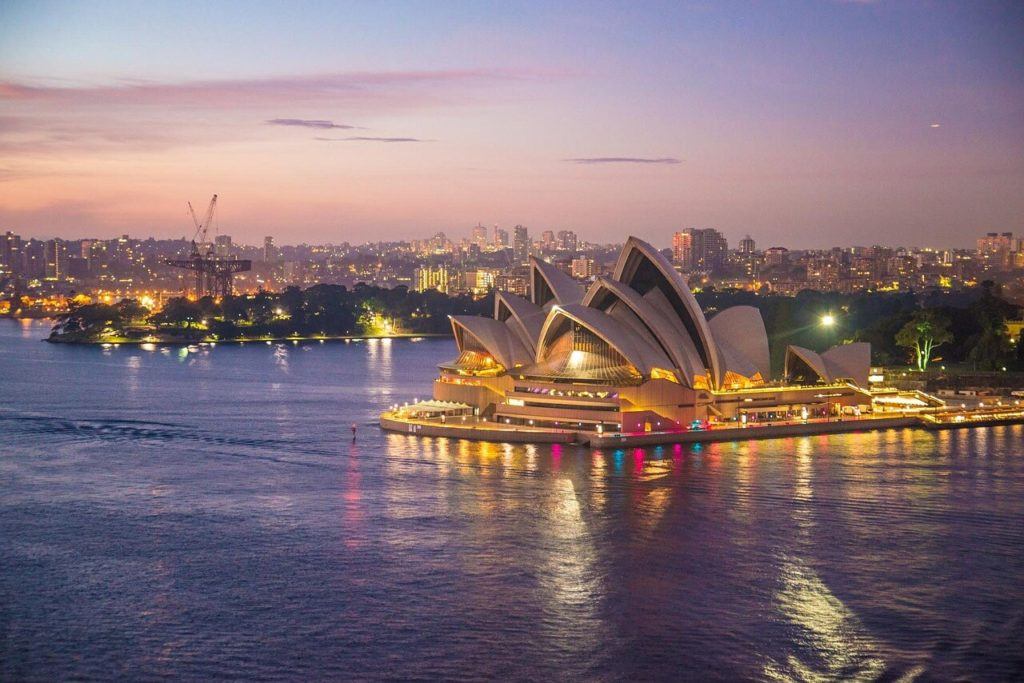 During April and May, the city starts cooling down considerably as Sydney heads into winter.
During the months of June, July, and August, temperatures drop quite low in Sydney which marks mid-winter. In September, October, and November the temperatures start to rise again- during this time Sydney is at its busiest.
December is the driest month of the year in Sydney and marks the end of the tourist season. This is a great time to book yourself into one of the cool Sydney hostels as prices begin to drop significantly.
Get Around Sydney
Knowing how you're going to navigate the city is one of the most important parts of your Sydney itinerary. In many cities, public transport can cause challenges to travellers, but luckily for you, Sydney is not one of those cities. In fact, their transport system is one of the best in the world!
Most of the locals in Sydney rely heavily on public transport. This means that it's efficient and well organised!
It's important to note that in order to make use of public transport in Sydney, you will need an Opal Card. This can be bought at a post office or a supermarket, so they're really not hard to come by.
The train routes run a loop around the city, which is a great way to get from one side of the city to the other. If you're looking for transport within the city, you can make use of the light rail, buses, or taxis.
Being on the coast, ferries are also a great way to get across the harbour and to other areas like Manley, when you take the ferry from Circular Quay you also get great views of the city and the Opera House too!
Staying Safe in Sydney
Sydney as a city is considered a very safe place, especially for tourists. The little crime that Sydney does have generally affects the locals and not visitors to the city. This being said, it's important to be careful, no matter where you're travelling. Like your mother probably told you, it's better to be safe than sorry!
Here are a few things we suggest you watch out for during your vacation in Sydney.
It's advised that you stay away from higher crime neighbourhoods in Sydney, mainly during the night. These include Kings Cross, Fairfield, Redfern, Cabramatta, Campbelltown, Blacktown, Liverpool, and Penrith. This is not to say that these areas are extremely dangerous, but they're at higher risk than other neighbourhoods.
When visiting the beaches in Sydney, be aware of strong undertows that can easily take you out to sea. They have caused many drownings in the Sydney area.
Sydney has many dangerous animals that could bite or sting you. If you get bitten or stung by something poisonous, it's important to call the emergency number immediately, 000. These animals include dangerous insects, spiders, snakes, and marine life.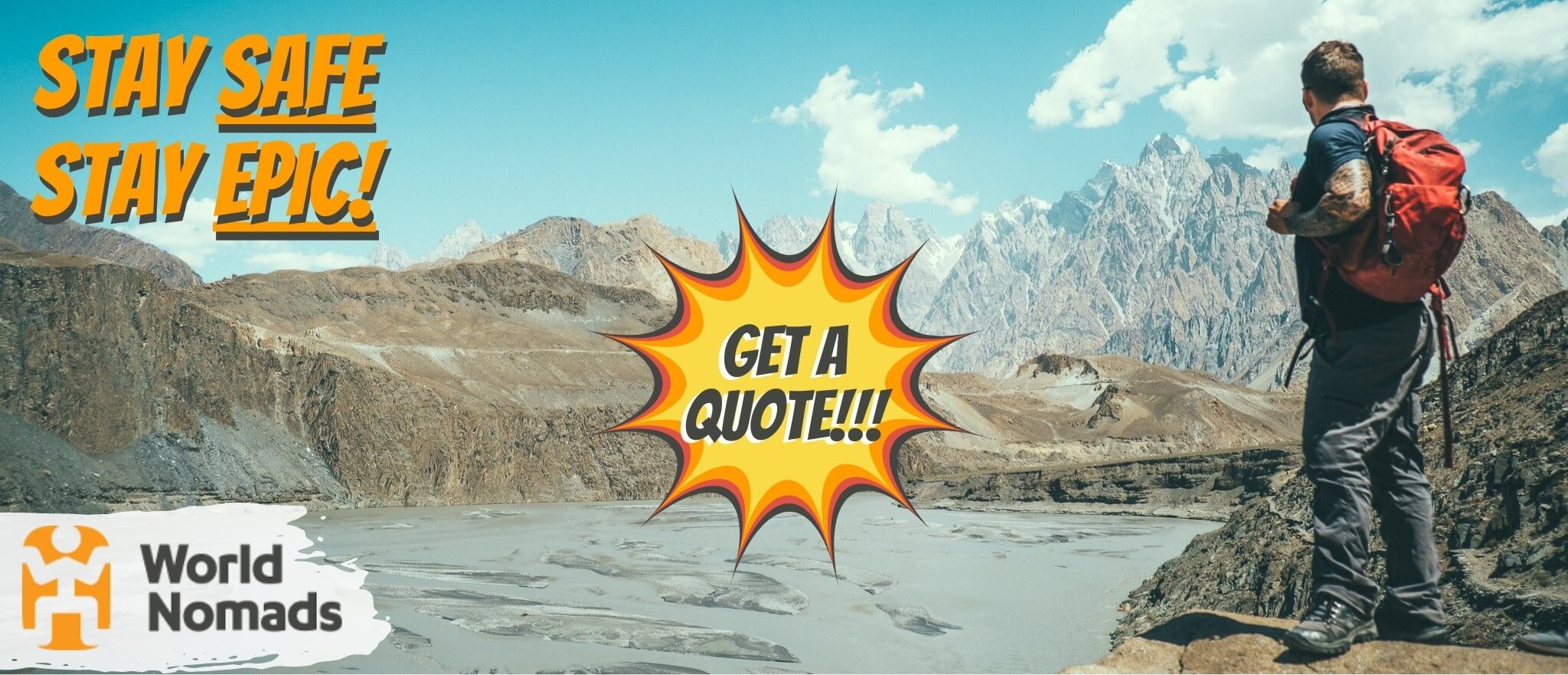 World Nomads' mission is to support and encourage travellers to explore their boundaries. They offer simple & flexible travel insurance, and safety advice to help you travel confidently.
They've been doing it since 2002 – protecting, connecting, and inspiring independent travellers just like you.
Get a quote below or read our in-depth review!
World Nomads provides travel insurance for travelers in over 100 countries. As an affiliate, we receive a fee when you get a quote from World Nomads using this link. We do not represent World Nomads. This is information only and not a recommendation to buy travel insurance.
FAQ on Sydney Itinerary
Find out what people want to know when planning their Sydney itinerary.
Conclusion
Sydney is an absolutely beautiful city! With so much to do, this city makes the perfect holiday destination all year round! Be sure to pack your camera for this trip, because you're sure to be surrounded by exquisite views all trip long!
Sydney has a rich cultural history that is sure to knock your socks off, so be sure to learn as much as you can during your trip! It's important to stay mindful of the incredible city you're visiting.
If you haven't already, be sure to add some of our great activities to your Sydney itinerary and pack your bags for Australia. It's sure to be one for the books!
---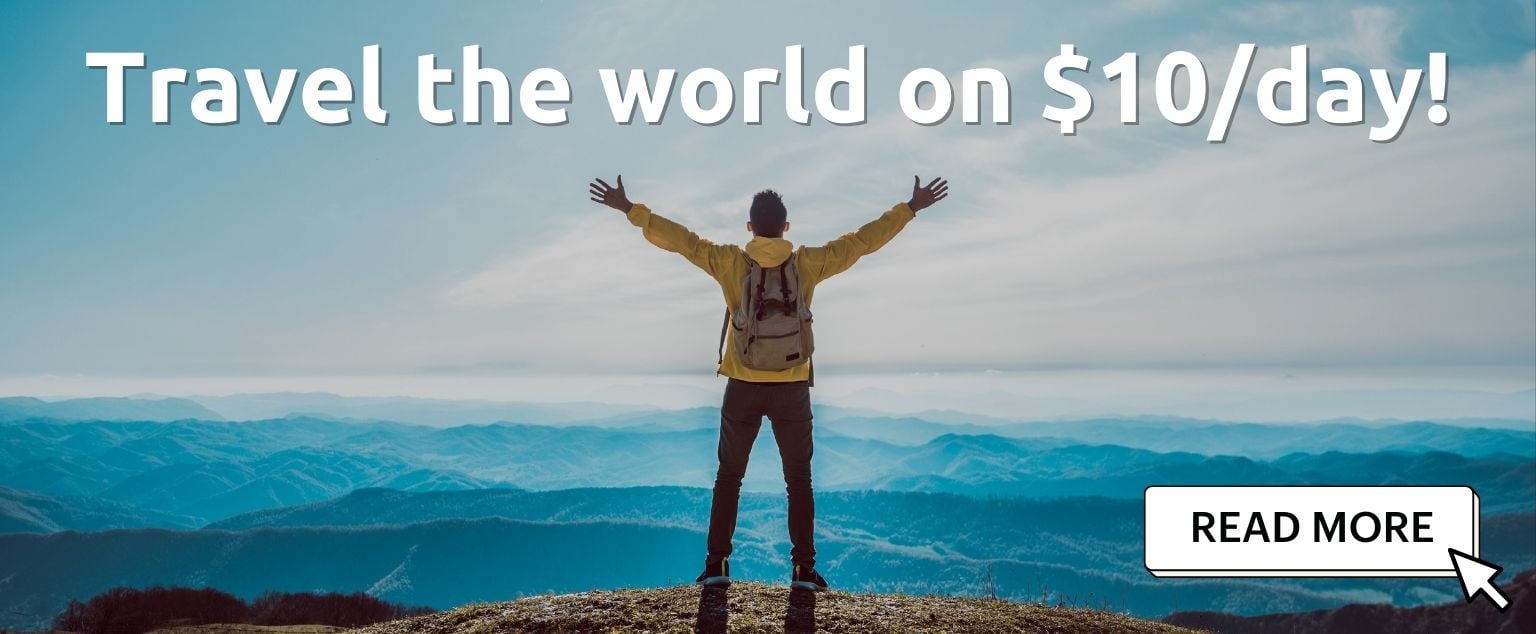 And for transparency's sake, please know that some of the links in our content are affiliate links. That means that if you book your accommodation, buy your gear, or sort your insurance through our link, we earn a small commission (at no extra cost to you). That said, we only link to the gear we trust and never recommend services we don't believe are up to scratch. Again, thank you!