Ahh, beautiful Sydney: the one true capital city of Australia. That's right, Melbourne – shots fired. Canberra? More like Bland-berra!
Sydney is a gorgeous place to visit. It's expensive, bustling, and the public transport can step on a lego, but it's also clean and vibrant and sucks you in (every damn time). Sydney's famous landmarks present beautiful colonial-era architecture merging with the urban neo-jungle of Australia's economic centre. The city is ringed by bushland, interlaced by waterways, and somehow, even in a city of 6 million+, you always seem to find the same communities throughout.
HOWEVER, even though Sydney's attractions are so deliciously pretty that I audibly sigh looking at the Harbour Bridge every time I return, it IS still a stinky bum. It's a sprawling metropolis (with public transport of the stanky posterior variety) and unless you know where you're going, you'll likely end up falling into the tourist traps and missing out on what Sydney's BEST places. (Protip! There are much better beaches in Sydney than Bondi.)
Luckily, you have a legit insider guide! I've been fostering my love-hate relationship with this city for the better part of a decade now and I'm here to tell you that there are some EPIC places to visit in Sydney.
Think; flying through the air at Luna Park, exploring the lesser known Cockatoo Island, delving into Australian culture, wandering around the Royal Botanic Gardens and shopping till you drop at the Queen Victoria Building… Ok, enough spoilers!
Arts, fancy dining, low-key adventures, HIGH-key adventures, and vastly overlooked poppin' local music scene – lemme tell you where to go in Sydney.
Wait just a second there! Before you dive into all the excitement, check out the best places to stay in Syndey and get your accommodation sorted near your favourite attractions. That way, you'll be able to save on transportation costs and spend that money having a blast seeing all the amazing Sydney tourist attractions!
#1 – Bondi Beach – A must-visit beach in Sydney!
Why it's so awesome: If you're used to small beaches with pebbles then you'll be stunned by Bondi Beach. Australia is an island after all, which means that the beaches stretch forever. Bondi Beach is one of the most popular places in Sydney because it has reliable waves, miles of white sand, and is surrounded by cafes and restaurants. So if you love beaches or just want to soak in the beach culture, Bondi Beach is the destination for you. There are heaps of affordable hostels nearby so you'll meet other backpackers too.
What to do there: Bondi Beach can get crowded, so get there early and stake out your spot, ideally not on Sydney's busy weekends. And remember that the waters around Australia are rougher and more unpredictable than you'll find at other beach locations. Listen to the lifeguards, obey the warning signs, and stay close to the shore if you aren't a strong swimmer. Otherwise, just enjoy the sun and sand and grab a VB when it gets hot – it's an Australian tradition!
If you want the ultimate Aussie experience then you can also take a surfing lesson on Bondi Beach too! With a low instructor-to-student ratio, you'll be a pro in no time. You don't even have to know how to swim in this beginner-friendly class!
Insider tip: Contrary to popular belief, Australia does have a winter and though it's nothing like the European winter, it will probably be too cold to swim without a wetsuit. On the other hand, Bondi is a lot quieter at this time of year!
#2 – The Sydney Cricket Ground – If you're into that sort of thing.
Why it's so awesome: The Sydney Cricket Grounds are one of the most famous sporting arenas in the country and were first built in the mid-1800s. And even if it isn't cricket season, the venue also hosts a range of other sports like Rugby and AFL. So if you're curious about Australian football, which is different from anywhere else in the world, then you can learn more about it at this location.
What to do there: Just be a part of the action! Australians take their sport very seriously and yet there's an air of comradery during the games that always makes them friendly and convivial. So find out what's on while you're in the city and be a part of the action.
No games on? Take a stadium tour instead and see what the SCG is like behind the scenes.
#3 – Bondi Iceberg Pool – A nice place to go in Sydney for a more gentle swim.
Why it's so awesome: The Bondi Iceberg pool is the most photographed ocean pool in Australia. It's a 50-meter saltwater pool that's a popular spot for sunbathers and swimmers set right next to the crashing ocean. So if you want to enjoy the beach but you're a little wary of the unpredictable waters, this is a good compromise.
What to do there: These baths have been one of Bondi's most popular landmarks for 100 years and are home to one of Bondi's most popular swimming clubs. But you don't have to be a member to use the facilities: you can pay a small fee for entry and have access to the pool, gym, and sauna. They also run yoga classes by the ocean in the summer months, so take advantage of the sun and the warmth to get a little fitter while you're on holiday!
#4 – Sydney Harbour Bridge – Potentially the most famous place to visit in Sydney.
Why it's so awesome: Sydney Harbour Bridge is a famous coathanger that's shown on almost every postcard and image of Australia and every backpacking Sydney travel guide. It has a stunning view across the bay, particularly at dawn and dust, and you can take in the whole experience while climbing to the top of this iconic landmark. If you're sightseeing Sydney's most famous places, well, Bob's your uncle!
What to do there: You can actually climb this bridge and it's well worth doing because you'll get to see the whole of Sydney Harbour as it was meant to be seen. There are different climbs of varying difficulty, but the express climb is the most popular. It's shorter and takes you up the inside arc, which feels a little more stable.
Make sure you pack your sunscreen and hat for the climb, the sun can be punishing, and once you're up there, take plenty of pictures. If you really want to see something spectacular, try to get on a climb at dusk or dawn. Watching the sunrise or setting over the water is an experience that no one should miss.
If you really feel like stepping your trip up a notch, you can charter a yacht to take you and your friends around Sydney Harbour in style. Split between six to eight people and it doesn't have to break the bank either.
Insider Tip: Head up to the Pylon Lookout (one of the legs) for epic views of the harbour at a really reasonable price.
#5 – Sydney Opera House – The other stupidly famous landmark in Sydney to see.
Why it's so awesome: If you've ever seen pictures of Australia then chances are that you've seen pictures of the iconic Sydney Opera House. The unique shape of the building, like sails against the water, is instantly recognisable. The Sydney Opera House is a UNESCO World Heritage Site and there are numerous places around it where you can have your photo taken with the building in the background.
What to do there: If you want to learn more about this iconic building, then take one of the walking tours. Or better yet, book tickets for a show! It's the bloody Opera House, mate! Obviously, you're also gonna want to take a selfie with what is probably the most recognisable of all the tourist attractions in Sydney!
#6 – Dharawal National Park – A beautiful and scenic place to check out in Sydney.
Why it's so awesome: Australia's natural landscape is like nowhere else on earth and thankfully there's some not too far from the Sydney CBD! It's home to plants and animals that aren't found anywhere else and is a strikingly stark, harsh, and unforgiving wilderness. A good way to experience this is by touring the Dharawal National Park, which only recently opened to visitors. It will allow you to see and experience a side of Australia that you just won't get in a city of cement and glass.
What to do there: Guided tours are held every second Saturday of the month, so make sure you're there at the right time. The tours are led by an Aboriginal Ranger who will share stories of the Dreamtime and local knowledge about the animals and plants around you. Also, if you get the chance, make sure that you stop for a picnic at Minerva Pool, which is a sacred women's place for the area's tribe. Just remember that only women and children may enter the pool, men aren't allowed.
#7 – White Rabbit – A must-see gallery in Sydney.
Why it's so awesome: The White Rabbit might seem like just another gallery, but the name should give you a clue. This gallery is known for its bold and confronting exhibitions, so expect to be surprised. Also, make sure that you find out about the current exhibitions before you take children there because a lot of the exhibitions have very adult themes. It's also right in the heart of the Sydney CBD so it's easy to reach.
What to do there: If you want to see another side of Australia then you need to experience all the influences that made it what it is today. Australia may be closely tied to England, but it's technically within Asia and is strongly influenced by the culture, art, and food of this region. So explore this side of Australia through the White Rabbit artwork. Afterwards, have a plate of dumplings at their in-house tea room to complete the experience.
#8 – The Imperial Hotel
Why it's so awesome: The Imperial Hotel has been a safe place for the LGBTQ community since the 80s and it's a place that celebrates this culture in every way possible. You can expect loud music, costumes and an intentionally daggy disco along with regular parties hosted by some of Sydney's best including Heaps Gap, Girlthing and Honcho Disko. This is one of the top places to visit in Sydney to just get loose for a night!
What to do there: This is a place to celebrate all the differences that keep people apart and bring them together in a loud and colourful style. Every night of the week you'll enjoy a good meal while you watch Sydney's best drag kings and queens strut their stuff. So prepare for a rib-achingly good time and just enjoy the spectacle!
#9 – Carriageworks – Quite the quirky place to go in Sydney!
Why it's so awesome: Carriageworks is held within the Eveleigh Rail Yards, which were built in the 1880s, so the space is huge, cavernous, and incredible. And as if that wasn't enough, they hold all types of theatre, dance, and art in this space, from experimental theatre to cultural festivals and art installations. Basically, this is a quirky and always exciting place to spend some time!
What to do there: Basically, just show up. Find out what events are on while you're in the city and go and see them regardless of whether you've heard of them before. This theatre loves to shock and surprise, so be prepared to see something amazing. And while you're there, visit the bathroom even if you don't need to go, because they're worth the trip on their own.
#10 – Wendy's Secret Garden – One of the more unique places to visit in Sydney!
Why it's so awesome: Before 1992, this area was overgrown and filled with rubbish. It's part private and part public land at the food of the artist Brett Whiteley. When he died in 1992, his wife transformed in, channelling her grief into making something beautiful. It's now an enchanted garden where locals can enjoy nature away from the crowds.
What to do there: This is a quiet area and not appropriate for sports or lots of noise. Instead, it's a place to sit and eat a picnic in a private oasis so get your snacks together and do just that. Enjoy the view of Sydney Harbour from a unique angle. And take a picture of it that includes the trees and shrubs that are part of this peaceful place away from Sydney's craziness.
#11 – Inner West – One of the most underrated areas in Sydney.
Why it's so awesome: Street art is alive and well in the Inner West of Sydney, particularly in Newtown and Enmore suburbs! There are a lot of famous street artists in Sydney and their work can be found everywhere. Whether it's the dancing ballerinas on the Hub building or the displays aimed at raising awareness about the dying coral reefs, these images are well worth exploring and you'll find lots of examples of this art form.
What to do there: Wander around this cool place and soak in the vibe and the art. It's a very friendly and vibrant area in Sydney with buskers, art, and things to see around every corner. If you're backpacking in Sydney, you'll definitely want to visit Newtown because it's a hub for inner-city hippies, students, and the endearing alt weirdos.
#12 – Royal National Park – An unmissable must-visit place in Sydney and Australia.
Why it's so awesome: Australia's natural landscape is unique, hard, and forbidding and it's often a surprise to people who are used to softer lands. But it's also one of the most interesting things to see when you're visiting the country. The Royal National Park gives you the chance to experience this alien landscape close up and in enough variety that you'll start to get a sense of just how different this crazy island really is.
What to do there: This park is the perfect place to swim at secluded beaches, picnic near natural rock pools, bike ride the twisting trails or just hike through the area and take photos. Basically, whatever you like to do outdoors you can probably do it in this park. And between May and November, remember to keep your eyes on the sea during your visit. This is the whale watching season and the Royal National Park is one of the best places in Sydney to see these majestic creatures as they pass by close to the shore.
Not sure how to get there, no worries! Take an organised tour from the city!
#13 – Museum of Contemporary Art – Another touch of cultural sightseeing in Sydney, New South Wales.
Why it's so awesome: The harbourside Museum Of Contemporary Art is important on a local and an international scale and as such usually plays host to the best exhibitions in the city. It also has an amazing rooftop café so after you're done looking at the art you can relax and get a superb view of the bay.
What to do there: Before you go, check out what exhibitions they have on during your stay and spend some time exploring the artwork. You'll see incredible pieces of contemporary art done by huge international artists, photographers and sculptures. Afterwards, go upstairs for a coffee and a snack overlooking the Sydney Harbour Bridge, the Opera House, and Circular Quay.
#14 – Cockatoo Island – A super cool and often overlooked Sydney point of interest.
Why it's so awesome: This is a small island with a lot of history. It's been a film set, a shipping harbour, a house for convicts in the 1800s, and it was originally an Aboriginal fishing spot. Now it's held by the Sydney Harbour Federation Trust and there are a number of different tours run on the island. It's also probably one of the lesser-known Sydney tourist attractions.
What to do there: Cockatoo Island has a varied history and the tours that are run there are designed to let you see glimpses of that history. If you want to stay longer or just spend the night in a quiet area away from the city, there are campsites, glamping packages and Airbnbs where you can stay and soak in the island at night.
#15 – Hermitage Foreshore Walk – A nice and chill walk.
Why it's so awesome: The Hermitage Foreshore Walk is only 1.8 kilometres and along the way, you'll get views of Shark Island, the Opera, and the Harbour Bridge. You'll also get the chance to see Strickland house, a heritage-listed mansion built in the 1850s.
What to do there: Put on your walking shoes, take your camera, and complete the walk. Just a little tip: it's probably better to do it early in the morning or late in the evening so you can avoid the hot midday sun. Make sure you take your swimmers along with you too because there are a number of lovely beaches along this path, so if it gets too hot then you want to be able to duck into the water to cool off.
#16 – Enmore Theater – An absolute hub of activity in Sydney – and the Inner West's – nightlife scene.
Why it's so awesome: The Enmore Theater is a landmark building that can hold 1,600 people and it welcomes all different types of music. You're just as likely to see some of the biggest names in the business in this theatre as you are to see a classical composition, and the combination of genres is what makes this place amazing!
What to do there: Check out what's on while you're in the city and reserve your seat. There are also a lot of fabulous restaurants in the area, so after the show make sure you wander around and try something that smells amazing.
#17 – Centennial Parklands – One of Sydney's many awesome parks.
Why it's so awesome: Horseback riding has always been a part of Centennial Park, which is why it has a 3.6km horse trail that loops around the park. There are more than 200 stables on site that are open 365 days a year, so you won't have any trouble at all finding a horse that suits your riding ability!
What to do there: If you aren't a professional rider, then you can take a one-hour circuit of the park with an instructor. They'll help you find the right path and make sure that you're safe and secure on horseback. While you're in the park, you should also take advantage of the other facilities. Go cycling or walk the path if you're feeling energetic. And if you're not then just take a picnic and enjoy the views.
#18 – The Royal Botanic Gardens – One of the most beautiful places in Sydney to visit.
Why it's so awesome: The Royal Botanic Gardens are a great way to learn more about the Australian bushland. So much of Australia is still wild and unpopulated and this place will show you a glimpse of what those long stretches of land look like. At the Royal Botanic Gardens, you'll also get the chance to learn more about the indigenous culture and how they survived in such a harsh and unforgiving landscape.
What to do there: Taking a tour through the gardens is definitely worth the time and effort, particularly because you'll get to try traditional bush tucker and learn about the indigenous history of the land. You'll taste Davidson plums, see stingless bees, and learn about the deep connection between plants and animals. For example, did you know that the whale migration season lines up exactly with the blooming of wattles, an instantly recognizable and very famous Australian flower?
#19 – Strand Arcade – A great place for shopping in Sydney, New South Wales!
Why it's so awesome: This thoroughfare opened in 1892 and was the absolute latest in shopping centre architecture. Obviously, the world has moved on since then, but this is still a lovely place to explore Australian brands and goods and maybe take something unique!
What to do there: Shop! This is the perfect place to explore Australian brands like Jac+Jack, jewellery from Dinosaur Designs, and natural beauty products at Aesop. There's also a shop called Strand Hatters where you can buy an Akubra or Panama to keep the hot sun from baking you!
#20 – The Sydney Tower Eye – Best place to visit in Sydney for a scenic view.
Why it's so awesome: There's nothing better than getting a great view of an ocean side city and the Sydney Tower Eye will give you the best view possible. It's 309 meters high, it's is the tallest building in the city and an iconic feature of the Sydney skyline. But you don't have to just sit on the observation deck and look. There is also revolving restaurants at the top of the Sydney Tower and a café where you can enjoy a bite and take in the stunning views.
What to do there: Take the express elevator to the observation deck at the top of the Sydney Tower or to the Skywalk, a glass floor viewing platform. Just make sure that you have a strong stomach if you take the latter option! The views are stunning, and you can have a meal at the restaurant or café or watch a 4D movie about the city's most popular sites.
Lines can get pretty long as it's one of the most popular Sydney attractions, so pre-book a ticket here and skip the hassle!
#21 – The Rocks – One of Sydney's coolest historical sites!
Why it's so awesome: The Rocks was named after the rocky coast on the west side of Sydney Cove, where convicts once pitched their tents. This was the site of the first European settlement and is now a heritage site, where old buildings jostle for a place in the crowded streets. There's also a museum where you can learn more about this famous Sydney site as well as souvenir shops, cafes, restaurants, art galleries, and markets. Basically, you could spend a whole day in this area just taking in the sites and the experiences.
What to do there: While you're at the Rocks, make sure you visit the Rocks Discovery Museum to learn more about its transformation from traditional lands to convict slums to the tourist centre of the city. You can also take a guided tour of the area. Try the Aboriginal Heritage Walk to learn more about Australia's first people. This area is one of the most historic of all the tourist attractions in Sydney.
Take a walking tour of the Rocks to learn more about the area.
#22 – Darling Harbour – There's always something happening in Darling Harbour.
Why it's so awesome: Darling Harbour itself is beautiful. Set against the deep blue ocean it's the ideal place to spend a day just wandering around and enjoying the hustle and bustle of everyday life in Sydney. To make it even better, this is the tourist hub of the city which is why it's packed with museums, cafes, restaurants, exhibitions, and entertainment venues. No matter what you're interested in doing, you're bound to find something that will interest you in this area.
What to do there: Make sure you eat. Australia has some of the best seafood in the world and because Sydney is so close to the water, the seafood is amazing. Once you're done with the food, just follow your interests. The Powerhouse Museum is particularly popular but you may also be interested in the Australian National Maritime Museum too. You can also take a harbour jet boat ride, a racing car adventure, or spend some time in a flight simulator if you're looking for something that gets your adrenalin pumping! It's one of the most diverse tourist attractions in Sydney for sure.
#23 – The Queen Victoria Building – A great place to see in Sydney if you love architecture.
Why it's so awesome: If you enjoy older styles of architecture then you'll love the Queen Victoria Building. It was originally built in 1893 and is topped by a central dome surrounded by 20 smaller ones. For a long time, it was left to ruin, but in the 1980s the building was returned to its original splendour so you can enjoy it today. It's got to be one of the most beautiful Sydney attractions.
What to do there: This is primarily a shopping area, with more than 200 high-end shops in light-filled galleries inside of the building. Even if you don't like to shop, the stained glass windows and mosaic floors are absolutely stunning and well worth making the trip to see. And if you want to get the full experience, make sure you check out the Tea Room QVB, which hosts a high tea under the crystal chandeliers that dot the inside of the Queen Victoria Building.
Also, the statue outside of Victoria's dog talks sometimes. It's really weird.
#24 – Chinatown – A must-visit for foodies!
Why it's so awesome: If you enjoy Chinese food, you can find all of it and more in Sydney's Chinatown. Located in the Sydney suburb of Haymarket, this is a vibrant and bustling area that showcases just how influential Asia has been to Australian culture! The best part is, it's cheap! (In the underground food court.)
What to do there: Try the food. There are a number of amazing eateries in the area. But if you get confused at all the variety, there are food tours you can take which will help you find options that you will love. If you're in the area at night, make sure you stick around for the night market where you'll be sure to snap up a bargain!
#25 – Blue Mountains – An awesome day trip from Sydney and a must-see.
Why it's so awesome: Just outside of Sydney and to the west are the Blue Mountains, an area of rugged, dramatic cliffs, waterfalls, quaint towns, and eucalyptus forests. This is where people come to have an outdoor adventure, and maybe even see a spider or snake or two! So if you want to learn what Australia looks like outside of the urban jungle you can see in any city, you need to get to the Blue Mountains.
What to do there: Outdoor activities in this area are extremely popular so you can do everything from hiking to camping and walking trails. The Blue Mountains is also a world-famous climbing destination. If you have the time, make sure you visit Katoomba, a very popular town which is close to the famous Three Sisters site. It's a completely different vibe to Sydney well-worth the visit.
Take an organised Blue Mountains Tour from the city to be sure you see all the highlights.
#26 – Hyde Park – Another of Sydney's gorgeous parks.
Why it's so awesome: Most of the parks in the city are for the tourists, but this is one for the locals. Set right in the middle of the CBD, Hyde park includes lots of lawns, fountains, picnic spots, and flowers; it's where people working in the offices around the park come to relax, have lunch, and get away from their cubicles. There's more to this park than lawns, however. It also contains monuments that are interesting and sometimes sobering reminders of the darkest parts of Australian history.
What to do there: When you first get to Hyde Park, make sure you wander around for a while. There are quite a few historical monuments in this park that will teach you more about the city and its past. For example, the Archibald Fountain, built-in 1932, commemorates Australia's alliance with France in WWI. In the south of the park, there's the Anzac War Memorial from 1934. It's one of the best Sydney attractions if you need to take a little time out from the busy streets!
#27 – King's Cross – Sydney's deliciously seedy nightlife lives on
Why it's so awesome: If you're interested in seeing Sydney at night then King's Cross is where to do it (although, this is one of Sydney's more dangerous areas so be sure to take necessary precautions and stay safe while exploring). This area was an artistic quarter until the 50s when it changed into an area for beatniks and hippies. After that, it started to have problems with crime and other issues because of the influx of sailors on leave who came into the harbour looking for a good time.
What to do there: During the day, this is a trendy area with cafes and boutiques everywhere. People come here to shop, to try the best restaurants in the city, and the area also contains a large number of hostels. At night, the darker side of this area comes out, and it becomes filled with adult clubs. If you do want to explore this area, make sure you stay in a group and don't drink too much for your own safety.
#28 – Camp Cove – Away from Sydney's tourist spots.
Why it's so awesome: Bondi is exciting, but the crowds and the competitive vibe of the beach can get to be a bit much sometimes. If you're looking for somewhere quieter – somewhere the locals go – try Camp Cove. It's a small swimming area just north of Watson's Bay, and it's the perfect place for you to have some lazy beach time.
What to do there: This is the type of beach where you just need to sit back and relax. It's too small for most water sports, and there are too many children around to make it safe anyway, so forget about getting your adrenalin pumping. Instead, pack a good book, a towel, and some sunscreen and soak up the sun and the relaxed vibe. If you're looking for off the beaten track Sydney attractions, this is heaps good mate!
#29 – Art Gallery of New South Wales – A perfect place to visit in Sydney if you are on a budget!
Why it's so awesome: Sydney can be an expensive place to visit which is why you'll probably need outings that will take up a bit of time without taking up all of your money. The Art Gallery of NSW is the perfect place for that. The architecture of the building is neoclassical Greek and stunning and the gallery plays host to a lot of international exhibitions. It also has permanent displays of Australian art, including Aboriginal art. It's great for those looking for some more cultured Sydney attractions!
What to do there: There's always something going on at this museum from tours to lectures, concerts, screenings and movies, so check the schedule before you go to see what's on. The guided tours are free and they're in various languages, so if you struggle with English then inquire at the desk about tours in your native language.
#30 – Luna Park – Awesome place to visit in Sydney with kids!
Why it's so awesome: Luna Park is perfect if you're in the mood for some old-fashioned fun. Entrance into this park is free, but you will have to pay a fee to go on the rides. From the moment you enter through the chip-toothed clown face at the front gates, you'll feel like you're back in the 1930s. And indeed, a lot of the features in Luna Park date back to this time, making it feel delightfully retro in the best way possible.
What to do there: Enjoy the rides of course. Make sure you explore the older parts of the park such as the Coney Island funhouse, carousel, and rollercoaster. If you're planning to go on lots of rides, go online beforehand to buy a multi-ride pass, as they're usually the cheapest way to enjoy Luna Park's best attractions.
#31 – Shelly Beach – A really chill place to relax in Sydney
Why it's so awesome: Located in the suburb of Manly, this beach is part of a protected marine reserve and has a maximum depth of around 12 meters. That makes it the perfect place for snorkelling and scuba diving because the huge variety of marine life can be viewed at a relatively shallow depth. Forget Bondi, this is one of the best tourist attractions in Sydney if you're looking to hit the beach!
What to do there: Make sure you go snorkelling or scuba diving while you're at this beach. Australian waters have some of the most beautiful and unusual marine creatures in the world, so you shouldn't miss the chance to see them up close. If you get tired of the water, take a walk around the bush track. It curls around the headland and offers spectacular views of Northern head and other beaches. There are plenty of amenities at this site including bathrooms, shower, and kiosks where you can enjoy some snacks.
Combine a visit to Shelly Beach with the nearby Manly Beach on a Snorkeling Tour.
#32 – Paddington Markets – Some semi-BoHo market shopping in Sydney!
Why it's so awesome: The Paddington Markets first opened in the 1970s and were a dedicated hippie haunt, but they've become considerably more mainstream since then. They're also the best place to pick up new or vintage clothing, jewellery, and crafts, so bring your wallet and come looking for a bargain.
What to do there: These markets are incredibly popular amongst tourists and locals alike so expect a crowd when you get there. But that's all part of the fun too because the whole point of markets is to thread through the crowds, looking for that bargain item that was made just for you!
#33 – The Powerhouse Museum – For some really cool things to see in Sydney
Why it's so awesome: The Powerhouse Museum is otherwise known as the Museum of Applied Arts and Science and this is why it includes such a wide range of exhibits. Whether you're interested in art history, contemporary movies, or quirky historical displays, you'll find it all at this location.
What to do there: Before you go, make sure you check out the website to see what displays they have on during your visit. And take the kids with you, because children under 16 are free and the museum has a lot of exhibits and displays that are designed to keep your family occupied for hours. Check out the space and EcoLogic exhibits if you really want to have your mind blown by how quickly science is moving forward in the modern world.
#34 – The Sydney Fish Market – A great place to visit in Sydney for… fish.
Why it's so awesome: Sydney is a beach city which is why it has so much amazing seafood. And if you love to eat seafood, then the best place to go is at the Sydney Fish Market. At this location, you'll find everything from the freshest lobster you've ever tasted to fish straight off the boat.
What to do there: You'll be spoiled for choice at this location when it comes to seafood and it isn't all raw either. You can buy trays of cooked prawns and oysters to take to the beach and park for a picnic or take a behind-the-scenes tour. And the location supports and promotes sustainable fishing, so you don't have to worry about damaging the planet while you're eating your fish.
#35 – The Fortune of War – A classically Australian place to eat in Sydney.
Why it's so awesome: This pub was established in 1828 by Samuel Terry, a convict who was sent to Australia for stealing 400 pairs of stockings. The bar has managed to hold onto its history and has retained all its cosy charm while still managing to build a great reputation for food and service amongst tourists and locals alike.
What to do there: Have a 'schooner' (i.e. regular beer in Australia) and enjoy the ambience. The bar also services typical but good bar food like burgers and steak and there's a kid's menu if you're there with the family. Basically, it's a nice, local place to have a good meal and a drink in a friendly atmosphere.
#36 – The Opera Bar – Cool place to see in Sydney with friends!
Why it's so awesome: This bar is sometimes described as the best beer garden in the world and there's a good reason for that. It serves beer, champagne, and delicious food and often has live entertainment as well. But the best part is the views. The bar is right next to the Sydney Opera House, so you'll get to enjoy that iconic building while you sip your drinks.
What to do there: Take a few friends with you and enjoy a relaxed afternoon with a drink and a meal. There's a private bar indoors for groups but the main attraction is the Harbour Bar, which is outside and surrounded by spectacular views of the Harbour Bridge, the Opera House, and the bay. It's the perfect place to relax with some friends, enjoy the warm sun, and have a few drinks on a lazy afternoon!
Get insured for your trip to Sydney!
ALWAYS sort out your backpacker insurance before your trip. There's plenty to choose from in that department, but a good place to start is Safety Wing.
They offer month-to-month payments, no lock-in contracts, and require absolutely no itineraries: that's the exact kind of insurance long-term travellers and digital nomads need.
SafetyWing is cheap, easy, and admin-free: just sign up lickety-split so you can get back to it!
Click the button below to learn more about SafetyWing's setup or read our insider review for the full tasty scoop.
Find out what people want to know about the best places to visit in Sydney
Sydney is a busy, modern, and friendly city and people spend time there about the food, beach, and the sun. In fact, beaches in Australia are amongst the best in the world, so if you enjoy the water and the sun then Sydney is a must-visit.
But there's more to this city than blue water, piercing sun, and white sand. Sydney is surrounded by gorgeous and rugged natural attractions in all directions (don't miss the Blues and the Royal). There are tonnes of underrated areas in Sydney that tourists don't give enough time to (Newtown). And we didn't even cover the rough yet quintessentially Australian Western Sydney areas (yay – bogans)! Coming up with a Sydney itinerary is going to make your stay a lot better too.
With our list, you'll have the best chances of finding the top places to visit in Sydney so that you have the trip of a lifetime when you're backpacking Australia.
---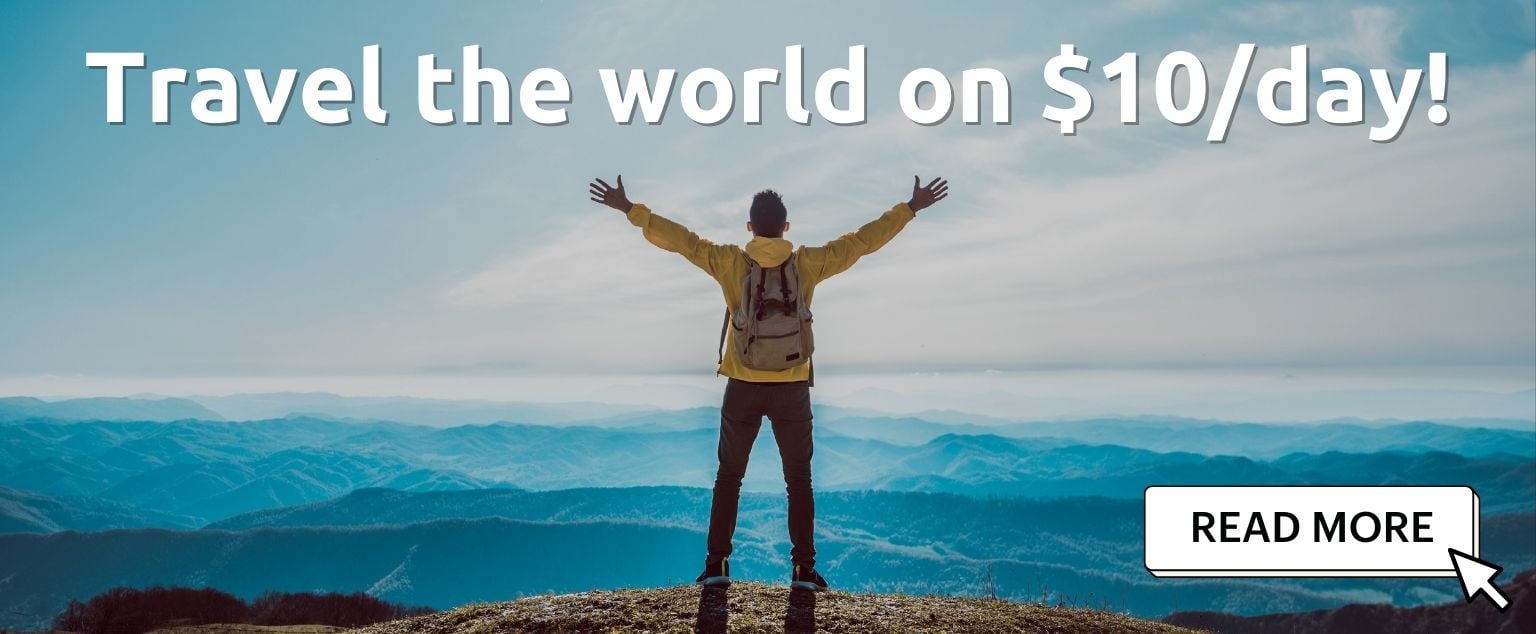 And for transparency's sake, please know that some of the links in our content are affiliate links. That means that if you book your accommodation, buy your gear, or sort your insurance through our link, we earn a small commission (at no extra cost to you). That said, we only link to the gear we trust and never recommend services we don't believe are up to scratch. Again, thank you!