Sydney is the ultimate backpacker destination. From its iconic Opera House and Harbour Bridge to the Botanic Gardens and Bondi  Beach  –  it's easy to see why it's so popular.
Australia is renowned for being an expensive destination, especially given its popularity. However, the city boasts a fully-fledged backpacking scene with plenty of budget hostels to match.
Not all hostels are equal though, and weeding out the good ones can take time. To help you out, we've crafted this handy guide to the best cheap hostels in Sydney. So, no matter how tight your budget – you'll still be able to experience the sunny capital of New South Wales.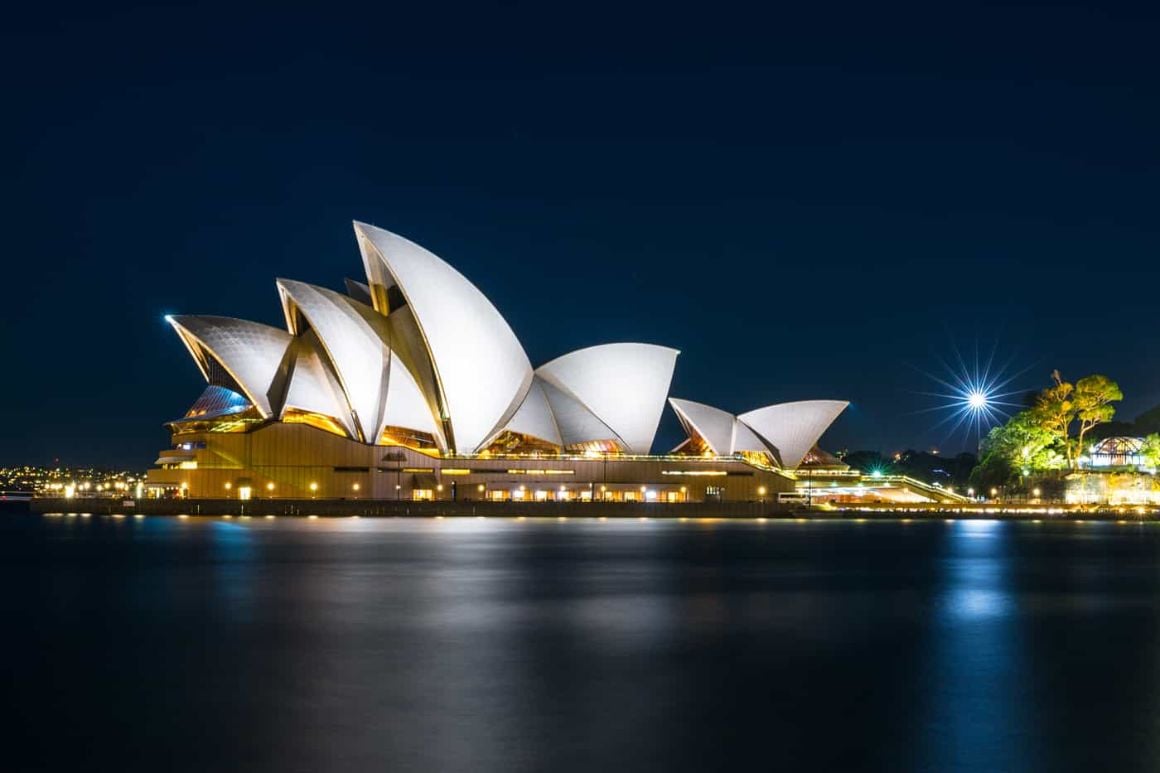 Other than its awesome name, there's so much more to the Jolly Swagman. This fun hostel offers great value for money, and is a true party hostel through and through.
Even though the Jolly Swagman Backpackers is a large hostel, it's still pretty friendly with welcoming staff and an all-around great vibe. It may not be the newest place in town, but it's still one of the best budget hostels in Sydney.
It's comfortable, too, with a ton of communal areas to kick back in. There's also a free breakfast, so you can save your pennies for more important things, like, drinks and sightseeing.
Where is Jolly Swagman Backpackers?
This hostel is located along a fairly low-key street in Potts Point. This isn't exactly the most happening area, but it's just a five-minute stroll to all the backpacker-friendly party action of Kings Cross (and Kings Cross railway station, too). Just a short train ride is Sydney CBD, but you could always walk there through the famous Royal Botanic Garden. The Sydney Opera House is also just a stone's throw away.
When it comes to room options, Jolly Swagman Backpackers has a fair few on offer. Let's start off by looking at the dorm situation:
But if a private room is more your thing, you'll be happy to know that this budget Sydney hostel has those, too. Options include:
Single room
Twin room
Double room
Prices at Jolly Swagman Backpackers start at just $11 USD per night.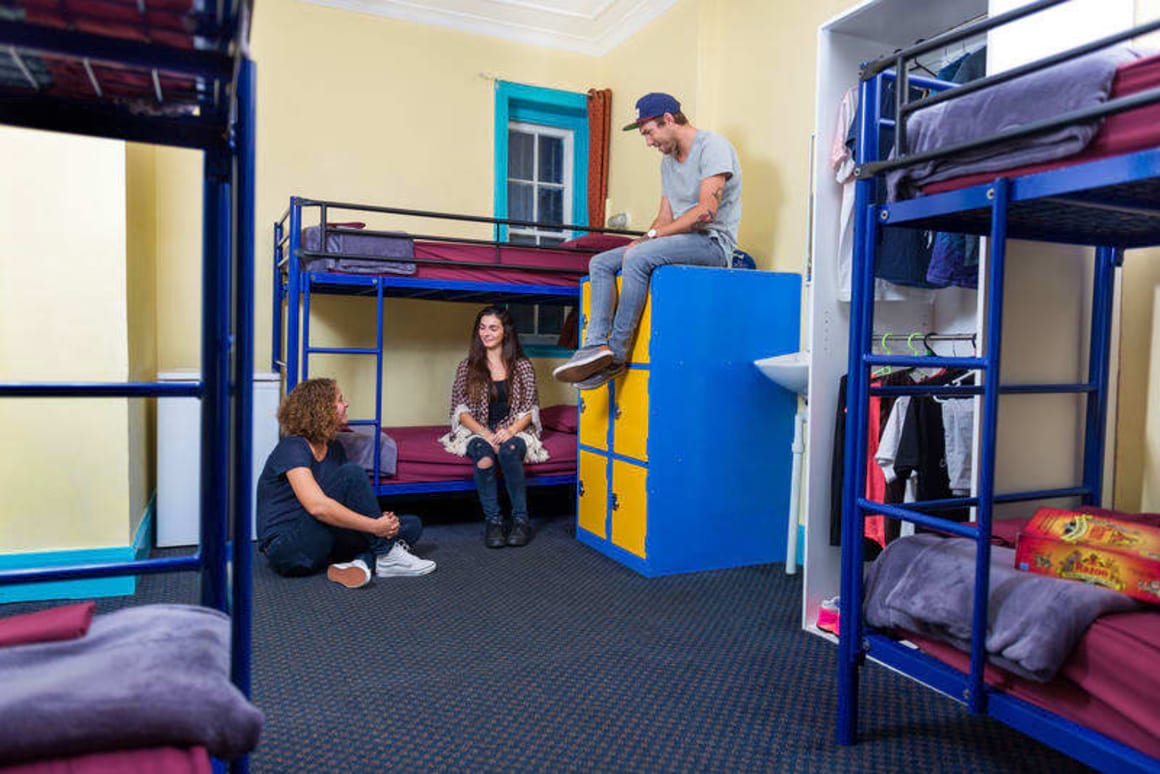 Any extras?
Being the fun party hostel that this place is, it's got a few tricks up its sleeve to keep you entertained and comfortable during your stay. You'll have access to the following:
Common room
Free breakfast
PlayStation
Communal kitchen
BBQ
Drinks deals
Outdoor terrace
Free entry to bars and clubs
There may not be specific events going on, but the drinks deals and general party atmosphere definitely make this a fun place to be. If you're in Sydney to party, that is.
Overall, this is a solid hostel in Sydney. It's not fashionable or super modern, but it is fun without being too raucous. If you're a solo traveler in Sydney and feel like meeting new people, this is an ideal option.
The BEST Travel Backpack?!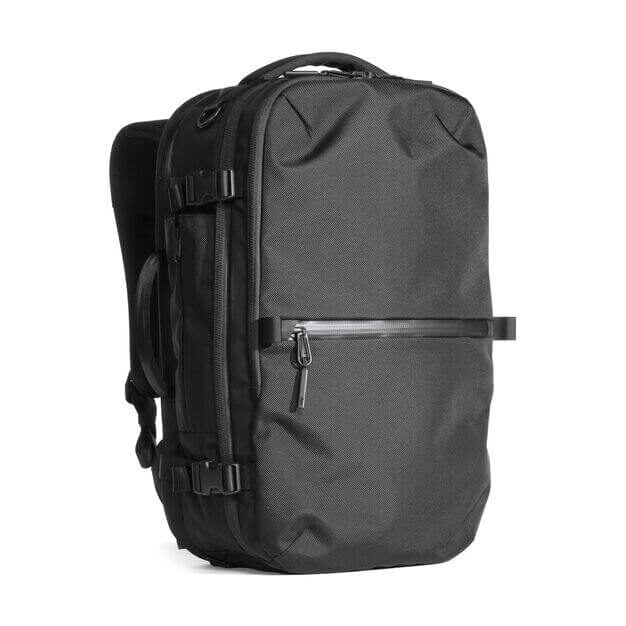 Pssssst! Not picked the perfect travel backpack yet? The Broke Backpacker team has tried out over thirty backpacks this year! Our favourite travel backpack is the Aer Travel Pack 2.
View on AER
Situated in a historic building, this budget-friendly hostel in Sydney offers the ideal balance of chilled-out vibes combined with a party atmosphere. It's a great place for solo travellers, or anyone who wants to meet fellow adventurers as they tour around Australia and beyond.
This place is very affordable and provides all of the basics. However, that doesn't mean there's no effort been put into making this place the best it can be. It's colourful throughout and been thoughtfully decorated, and rest assured it's spotless.
There are some great communal spaces where you can spend some time chilling out, including a garden and cinema room. On top of that, this hostel is managed by a friendly bunch of staff who'll make sure you have a blast while you're there.
Where is Summer House Backpackers Kings Cross?
You'll find this hostel in Kings Cross, the most budget-friendly place to stay in Sydney. It's a party-centric area, just a couple of minutes' walk to Kings Cross railway station and Hyde Park. Close by, you'll get to discover Westfield Tower and Shopping Centre, as well as Darling Harbour and an array of other districts. Just two stops on the train from here and you'll be in Bondi Beach. Not a bad location at all!
Wondering what your room options are at Summer House Backpackers Kings Cross? Well, there aren't any private rooms, but they've got a whole bunch of dorm rooms for you to choose from. These include:
Prices start at a very reasonable $10 USD per night.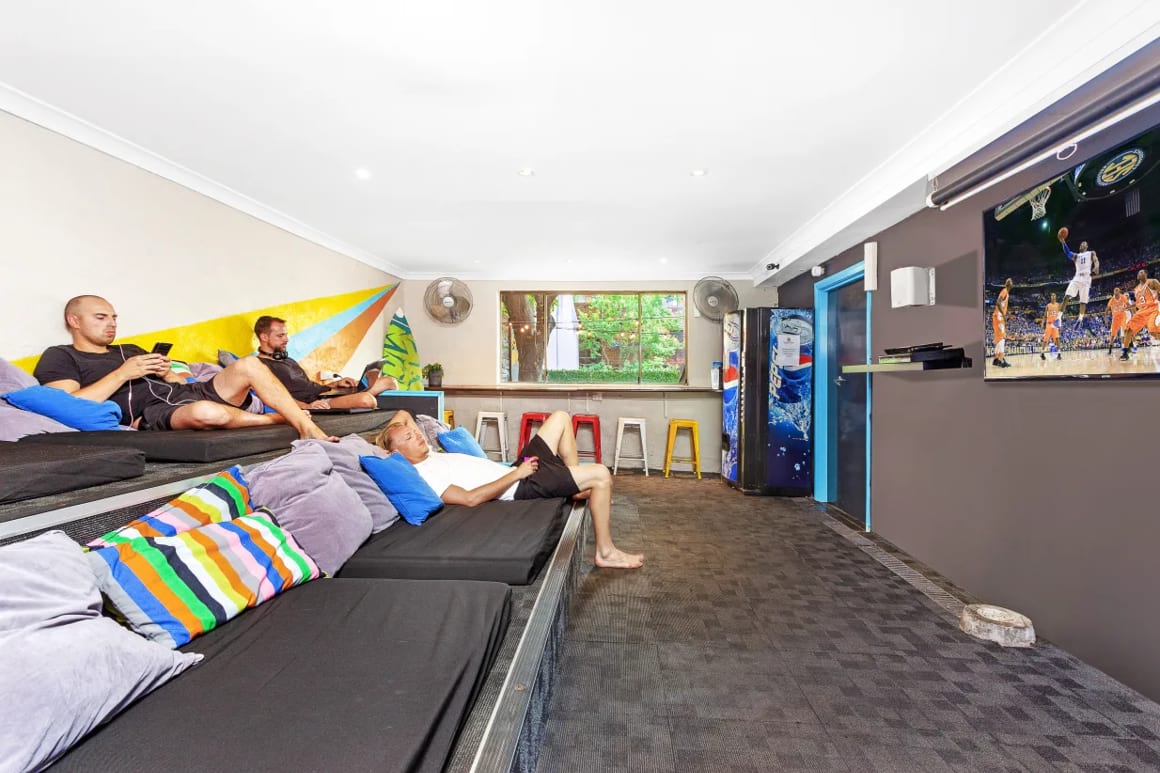 Any extras?
This place is more than just a cheap hostel in Sydney where you can sleep on a shoestring budget. It's fun and friendly, and has a bunch of decent amenities for guests to make full use of. Those include:
High-speed WiFi
Free tea and coffee all day
Games room
Luggage storage
Communal kitchen
Free surfboard hire
BBQ
Bar
There's also a roster of events going on here daily, with nights-out organised by the hostel team themselves. These include barbecues, movie nights, karaoke, quizzes, and all sorts of other fun-filled shenanigans.
So there you have it. Basic and budget-friendly, but pretty funky and fun to boot. Summer House combines its awesome location with an equally great team, so you really can't go wrong.
As the name suggests, this is the perfect base for exploring Sydney. More like a budget hotel than a super cheap hostel, this place has actually been included in iconic guide books like Lonely Planet. It's a good start, for sure.
Though it's set inside a historic, red brick building, the interiors have been lovingly modernized. Contemporary interiors combine with antique leather sofas, chandeliers, and exposed brick walls. It's roomy too, with a ton of communal spaces including a large kitchen and dining area, games room, and the awesome event space.
Rooms here come in an array of shapes and sizes, but in general, the dorms are clean, bright, and modern. They're fairly spacious and are definitely clean; in fact, they claim to be the "cleanest hostel in Sydney"!
Where is Base Sydney?
Base Sydney has an awesome location close to Darling Harbour, Sydney Harbour Bridge, and Town Hall. It's also just a few minutes walk to Centre Point Tower, and there are plenty of cafes and bars in the surrounding area. Basically, you can stroll to pretty much all of Sydney's best sights from this hostel, really saving you extra pennies on public transport.
The room options at Base Sydney are pretty plentiful. Let's start with the dorms:
Not sure about embracing hostel life? Don't worry: they've got private rooms on offer here, too:
Double room
3 bed private room
Prices at Base Sydney start from $14 USD per night.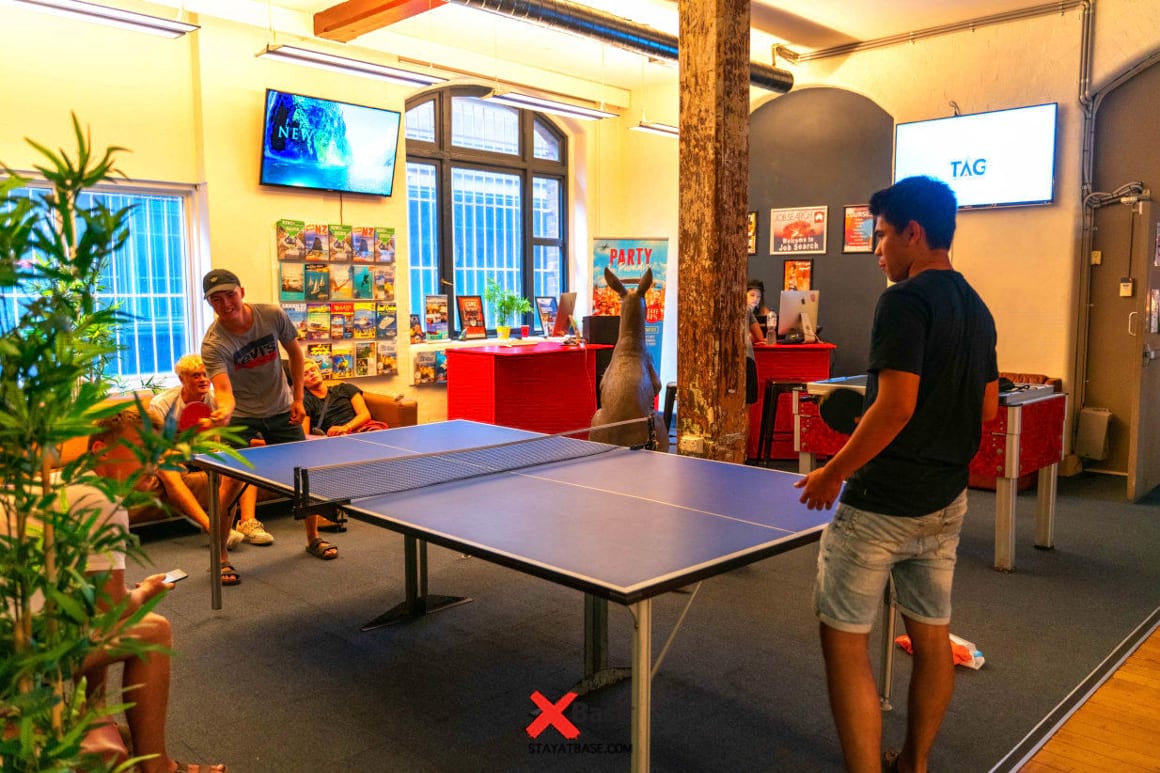 Any extras?
As well as looking the part and being modern with a great vibe, Base Sydney also comes complete with a whole host of different amenities. These include the following:
Specialised security mobile app (for room access)
Laundry facilities
TV and movie room
Fully equipped communal kitchen
Bar/event space
Nightclub
Female-only floor
Bicycle hire available (additional fee)
There are also a load of activities (rotating weekly) going on at Base Sydney, often taking place at the hostel's very own Scary Canary Bar. These include:
Free guided tour over Sydney Harbour Bridge
Free beach BBQ
Theme parties on Wednesday nights
Drinks specials
Beach trips
VIP nights at local bars
Yoga
Interactive activities (quizzes, karaoke, etc.)
Base Sydney is a sanctuary for backpackers. It's got historic charm, tons of things to do, and plenty of space to kick back in. If you're traveling on a budget but want to stay right in all the action, this is definitely an amazing option.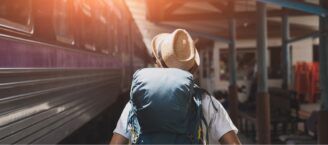 Unlock the The Broke Backpacker's GREATEST Travel Secrets
Sign up for The Broke Backpacker Newsletter to receive weekly tips on how to travel on a budget + a FREE copy of The Backpacker Bible!
Wake Up! Sydney Central is part of an award-winning chain of hostels (and hotels) throughout Australia. So, you know it's a reliable place to stay before you even set foot through its doors.
This is a stylish, modern hostel that's been specifically designed to get the most out of the historic building in which it's situated. For one thing, there's a large lobby lounge area where digital nomads can smash out a bit of work and relax. There's also a large industrial-style communal kitchen, where you can whip up a meal for yourself.
But if you don't feel like cooking, no worries. There's an uber-cool on-site bar/restaurant for your drinking, eating, and partying needs (and a separate cafe, too). The dorms are more basic than the rest of this cheap Sydney hostel, but they're still modern, clean and some even boast city views.
Where is Wake Up! Sydney Central?
As the name suggests, this budget-friendly Sydney hostel has a central location. In fact, it's right opposite Central Station, which makes exploring around Sydney pretty easy. Paddy's Market and Chinatown are close by, and Darling Harbour is just a 15-minute walk away.
The rooms at Wake Up! Sydney Central include the following dorm options:
There are private rooms on offer here, too. Options include:
Twin room
Double room
3 bed private room
Prices here begin from $18 USD per night.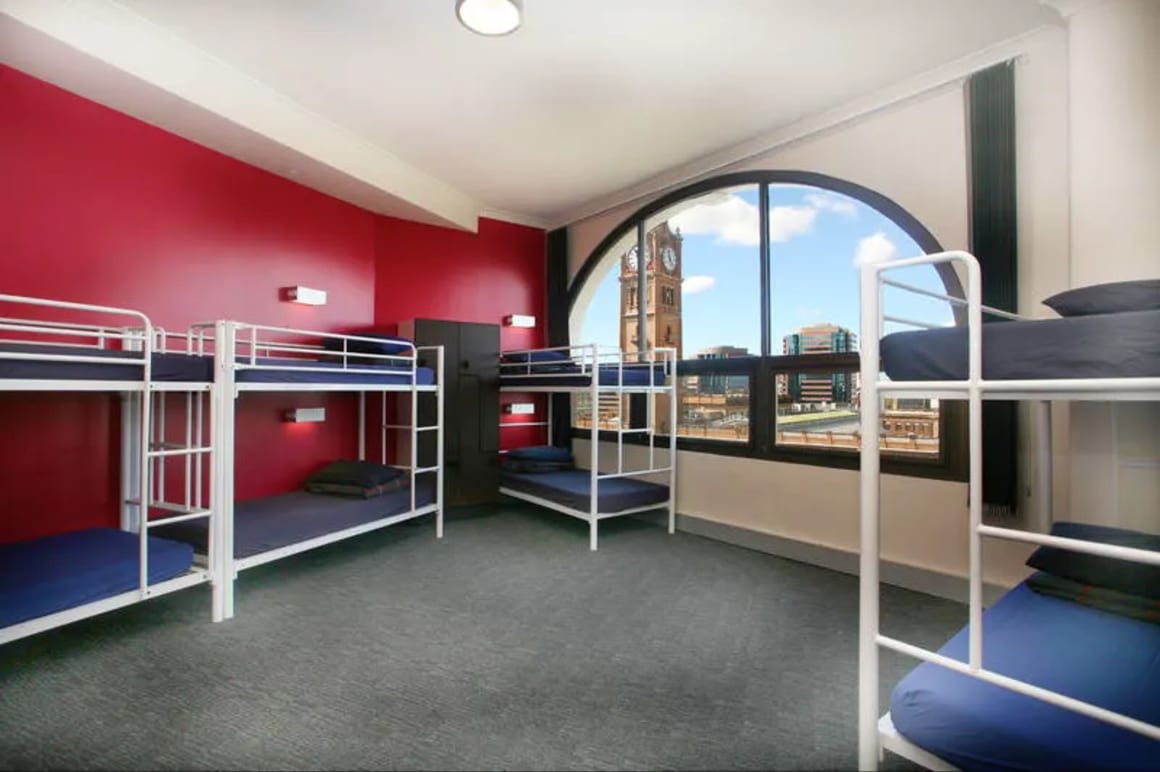 Any extras?
You betcha. There are quite a few different amenities offered at this budget hostel in Sydney that you can enjoy if you choose to stay here. These include:
Cafe
Key card access
24-hour security
Games room
Postal service
Laundry facilities
Restaurant/bar
Breakfast available (free with some room rates)
But wait, there's more. There's actually something going on every night of the week at Wake Up! Sydney Central. Their super-comprehensive roster of events includes:
Guided city tour
Free pizza night
DJ nights
Personal training (at Jetts Gym)
Yoga class
Trivia nights (with cash prizes)
Free wine and cheese party
Beer pong tournaments
The dorms may not be much to look at, but this budget Sydney hostel is way more than just a place to rest your head. With a crazy amount of events and tons of space to kick back in, this place offers some next-level value for money.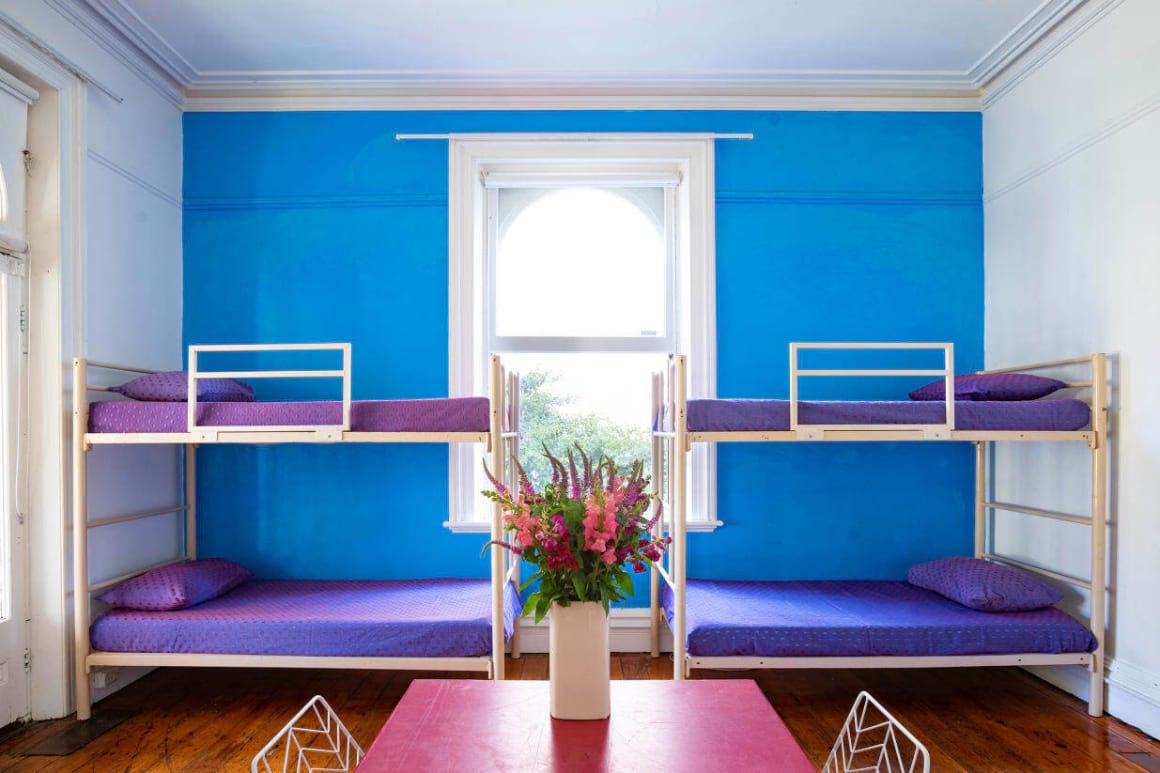 Not super polished and modern, but down-to-earth and pretty stylish, this hostel is set in a large Victorian house with a vintage vibe to match. It's the kind of place where you can expect a lively atmosphere, but not so party-centric that it's impossible to sleep.
The house itself is super nice. It's very clean throughout, with charming period features and surprisingly large dorms and modern communal areas. The garden steals the show for us though; it's a proper oasis, with benches, seats, palms, and a patio with a BBQ.
The staff here are super friendly and make sure everything runs smoothly. They'll help you get to grips with the city, which makes all the difference. The glowing reviews back all this up, with many guests returning for another stay – it's that good.
Where is The Original Backpackers Hostel?
Situated in Potts Point, a quiet, leafy area near Kings Cross, this cheap Sydney hostel is within walking distance to the Botanic Gardens, Sydney Opera House, and Mrs. Mcquarie's Point. It's also just 200 meters from Kings Cross railway station, which makes getting around the city a breeze.
Want to know what the sleeping arrangements are? For starters, here are the dorm options:
You can also choose from the following private rooms if the dorms don't cut it for you:
Twin room
Single room
Double room
Prices per night start from $16 USD.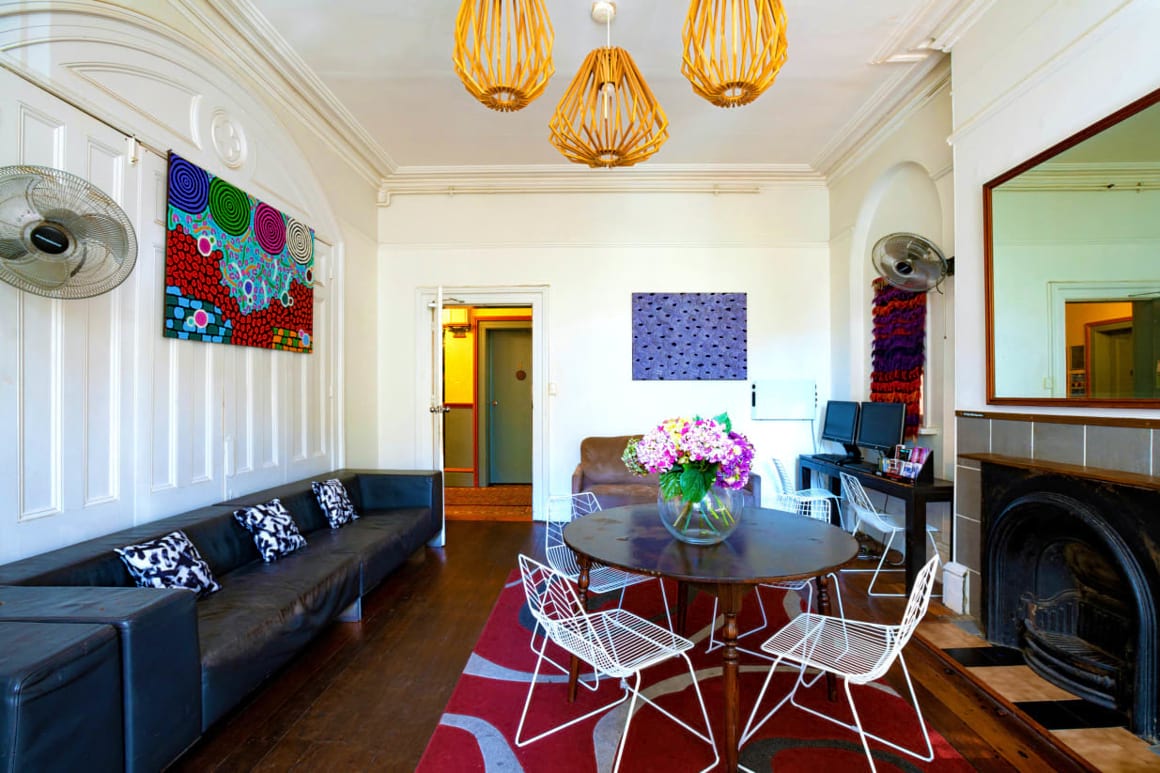 Any extras?
Yes, there's extras at The Original Backpackers, of course. You'll have access to the following amenities and perks:
Gym access (included in price)
24-hour security
Luggage storage
Games room
Jobs board
Free continental breakfast
Communal kitchen
Outdoor terrace
This hostel is one of the more unique among the many to be found in Sydney. It's great value for money, has tons of character (thanks to being set in a Victorian house and all), and has a nice, intimate vibe. Overall, a classic laid-back Aussie hostel in a chilled location.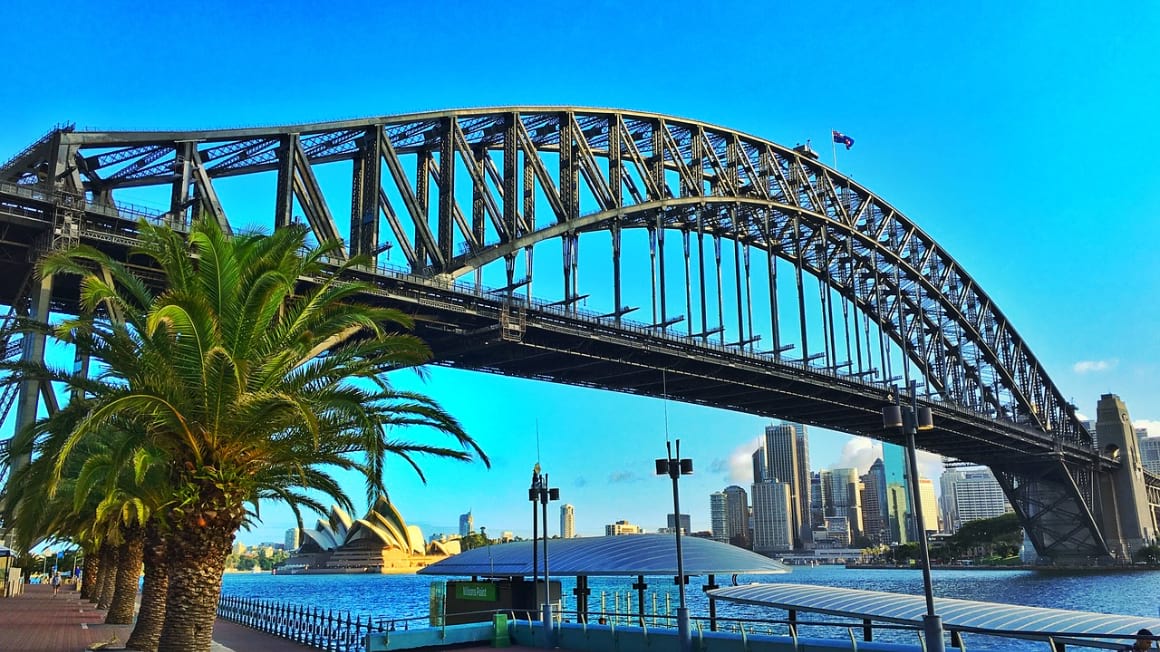 Cheap Hostels in Sydney FAQ
How cheap are hostels in Sydney?
Sydney's hostels are cheap. The cheapest you can find is about $10 USD per night for a dorm bed, which isn't bad at all given its pricey location. The average price is probably more like $15-20, however, which is still great value for money. Private rooms start around $50 and can be upwards of $90.
The cheapest area to stay in Sydney is around the more leafy Potts Point and Kings Cross area, which is pretty much the backpacking hub of the city. It's not 100% central, but it's still easy to get around from here and there's plenty to do in the area, too.
Remember to always keep an eye out for all the extras on offer, though. A more central hostel may have a higher price tag, but they'll often throw a free breakfast in which could work out cheaper in the long-run.
Are hostels in Sydney safe?
Sydney's hostels are indeed safe. They often come with things like key card access and CCTV, as well as 24-hour security. Some hostels have female-only dorms (some even have entire female-only floors), while others boast ingenious security mobile apps that act like keys for dorm rooms.
As a whole, Sydney is pretty safe. Just like any other city in the world, it's a good idea to keep your wits about you and keep your belongings close to you. Generally, however, it's a pretty low-risk place in terms of petty crime. Just watch out for partying too hard.
Are there any more cheap hostels in Sydney?
There are plenty more budget hostels in Sydney. For example, Sydney Beachouse YHA (from $20 per night) is a particularly cool place, complete with big-screen movie room, Mexican restaurant and huge outdoor terrace. Plus, there's a swimming pool!
There's also Secret Garden Backpackers Sydney (from $10 per night) is an affordable place to stay next to Sydney Central Station. Like the name suggests, it's got a big outdoor garden with a grassy lawn to chill out in.
Mad Monkey Bayswater (from $12 per night) is part of the international Mad Monkey Backpackers Group. It boasts a huge rooftop terrace, access to the local gym, yoga classes, nights out, games room, and some cosy dorms.
Final Thoughts on Cheap Hostels in Sydney
Sydney has a pretty amazing hostel scene going on. It's been a popular backpacking hub for decades, and there's plenty to show for it. The area of Kings Cross is pretty much backpacker central, with plenty of international visitors, backpacking bars, and hostels.
There's a lot of variation going on, too. Whether you want a cozy hostel experience or you're just after something basic for a weekend in Sydney, you'll find it here. Plus if you're feeling social, you'll be pleased to note that a whole lot of Sydney's hostels are great for meeting fellow travelers and partying on down. Enjoy!