Often overshadowed by the bigger tourist-centred Central American countries, Belize is the hidden tropical paradise you should add to your bucket list. From the moment you arrive, you'll be greeted by friendly locals, tropical jungles, Caribbean oceans, and historical Mayan ruins. It's the perfect getaway for beach lovers, culture buffs, and outdoor enthusiasts.
There are loads of vacation rentals around Belize that will help you to make the most of your trip. For first-time visits, nightlife, and beautiful beaches, Ambergris Caye is the place to be. It's the country's largest island and is teeming with restaurants and downtown social activity. Choose to stay in a quaint beach cabin or a buzzing resort.
Caye Caulker is a top spot for budget travellers searching for a laid back beach vibe. This Caye is dotted with beach cottages and is a great location to enjoy both tropical beaches and experience local Belizean culture.
Hopkins is another seaside village in Belize scattered with beach vacation rentals. You'll also find some exquisite treehouse properties in the Corozal, Orange Walk, and the Toledo Districts.
Placencia is a tropical paradise with some of the most luxurious resorts, villas, and private islands. Let's not forget about Belize City. We recommend spending a few days exploring the historical sites before heading to the beach.

Unlock Our GREATEST Travel Secrets!
Sign up for our newsletter and get the best travel tips delivered right to your inbox.
Quick Answer: These are the Top 5 Vacation Rentals in Belize
Overall Best Value Vacation Rentals in Belize
Overall Best Value Vacation Rentals in Belize
1 Bed Tropical Hideaway With Pool
> $$
> 4 Guests
> In the beach hub of Caye Caulker
> Wooden island-style interiors with updated fittings
Best Budget Vacation Rentals in Belize
Best Budget Vacation Rentals in Belize
Trendy 1 Bed Apartment With Patio
> $
> 4 Guests
> On the outskirts of Belize City
> Contemporary interiors with hotel-like touches
Best Vacation Rentals for Couples in Belize
Best Vacation Rentals for Couples in Belize
Contemporary Studio on the Sand
> $$
> 2 Guests
> On the beach in Placencia
> Traditional wooden exterior with updated furniture
Best Vacation Rentals for Families in Belize
Best Vacation Rentals for Families in Belize
Beautiful 2 Bed Beach Villa With Private Dock
> $$
> 6 Guests
> On the coast in San Pedro
> Classic interiors with timber ceilings
Over-the-Top Luxury Vacation Rentals in Belize
Over-the-Top Luxury Vacation Rentals in Belize
Extravagant Private Island With 5 Cabins
> $$$$
> 14 Guests
> A private island off Placencia
> Separate luxury cabins and an outdoor bar
Types of Accommodation in Belize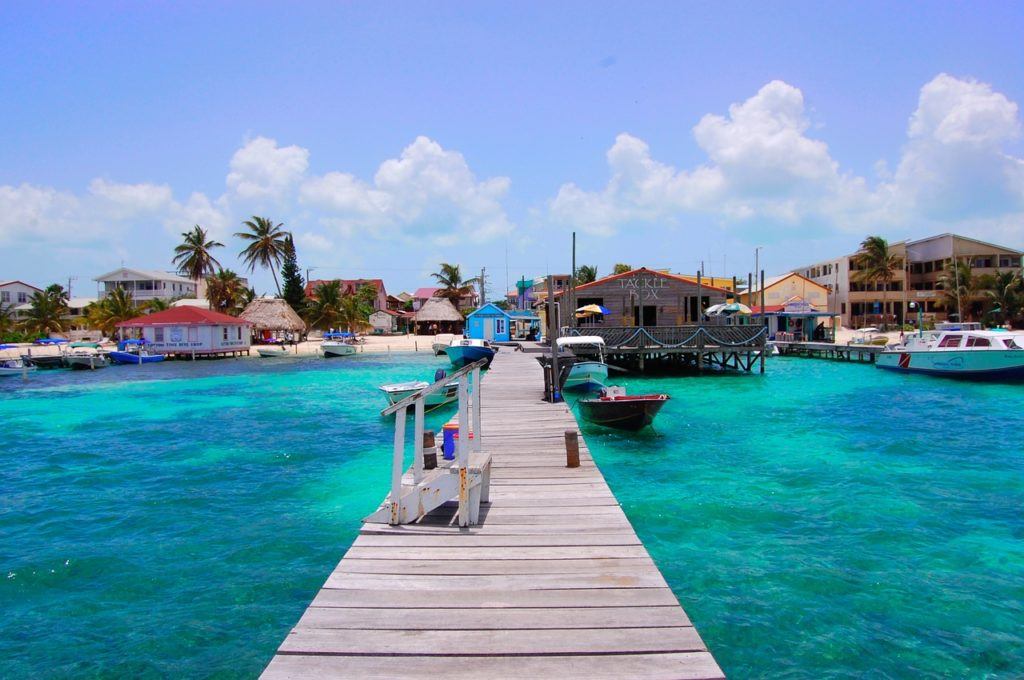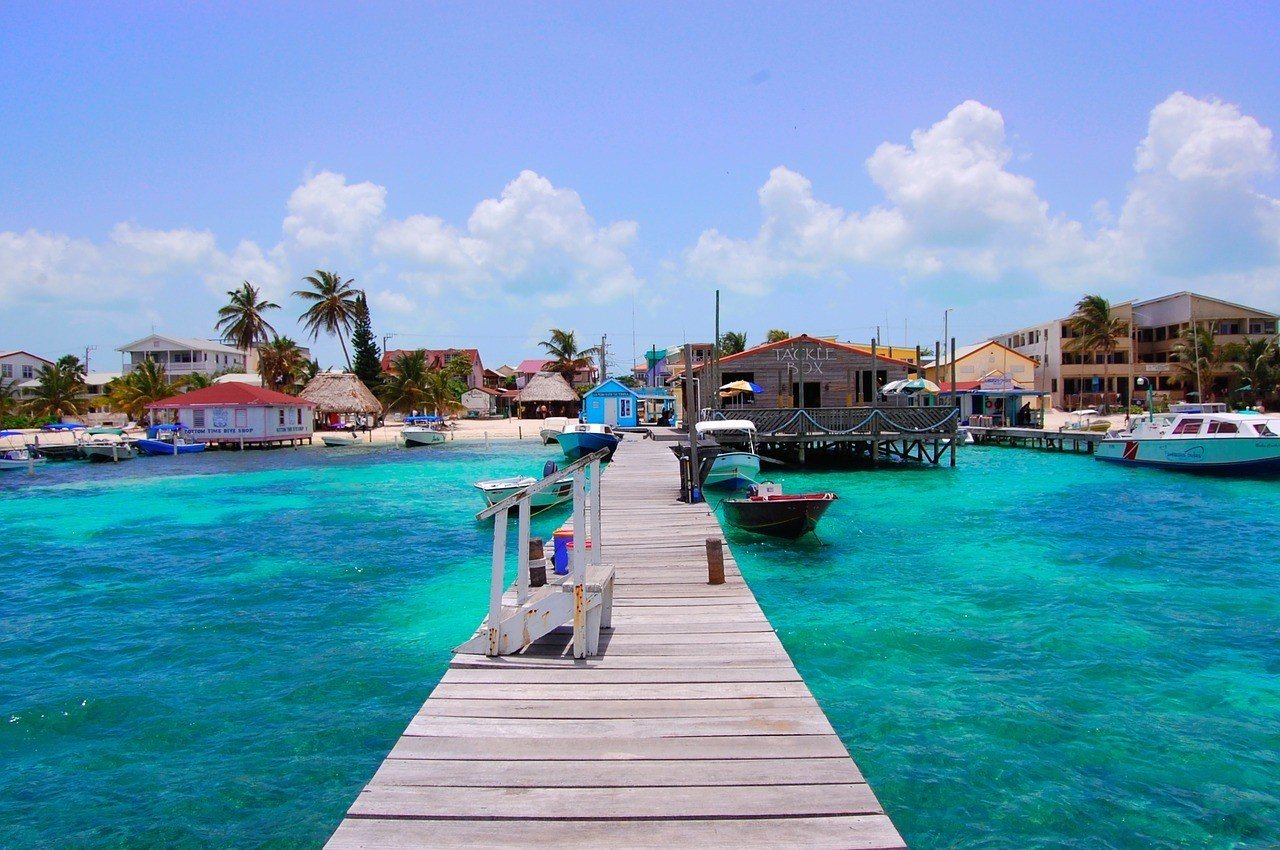 Jungle Eco-Houses and Treehouses
Mix up your beach vacation and schedule some time in the tropical Belizean jungle. These inland areas are gaining tourism popularity and are a great option for anyone seeking peace and quiet in a natural paradise.
Treehouses and eco-houses can be found hidden beneath the treetops in these lush rainforests. Treehouses are typically built above the forest floor, giving guests a truly secluded experience. Eco houses are designed to blend into the natural surroundings, with ergonomic architecture and curved walls and ceilings.
Ranging in size from studios to two-bedroom homes, these spots are ideal for small families, groups of friends, and couples. Because most tourists head straight to the beach, prices in these jungle areas are much more affordable than the coastal towns.
Beach Cottages and Cabins
Belize's best beaches can be found along the Cayes and the coastal villages of Hopkins and Placencia. These areas are scattered with modest to luxury beach houses, most of which are built directly on the sand.
Belizean cottages and cabins are typically built on stilts from local timber, giving them stunning ocean views. Many have been refurbished with a combination of contemporary and island-inspired interiors.
Depending on their size, beach cottages and cabins are the best vacation rentals in Belize for family vacations, romantic getaways, and even solo trips. The best part of these homes? Unlike the more expensive Caribbean islands, beach homes here are much more affordable.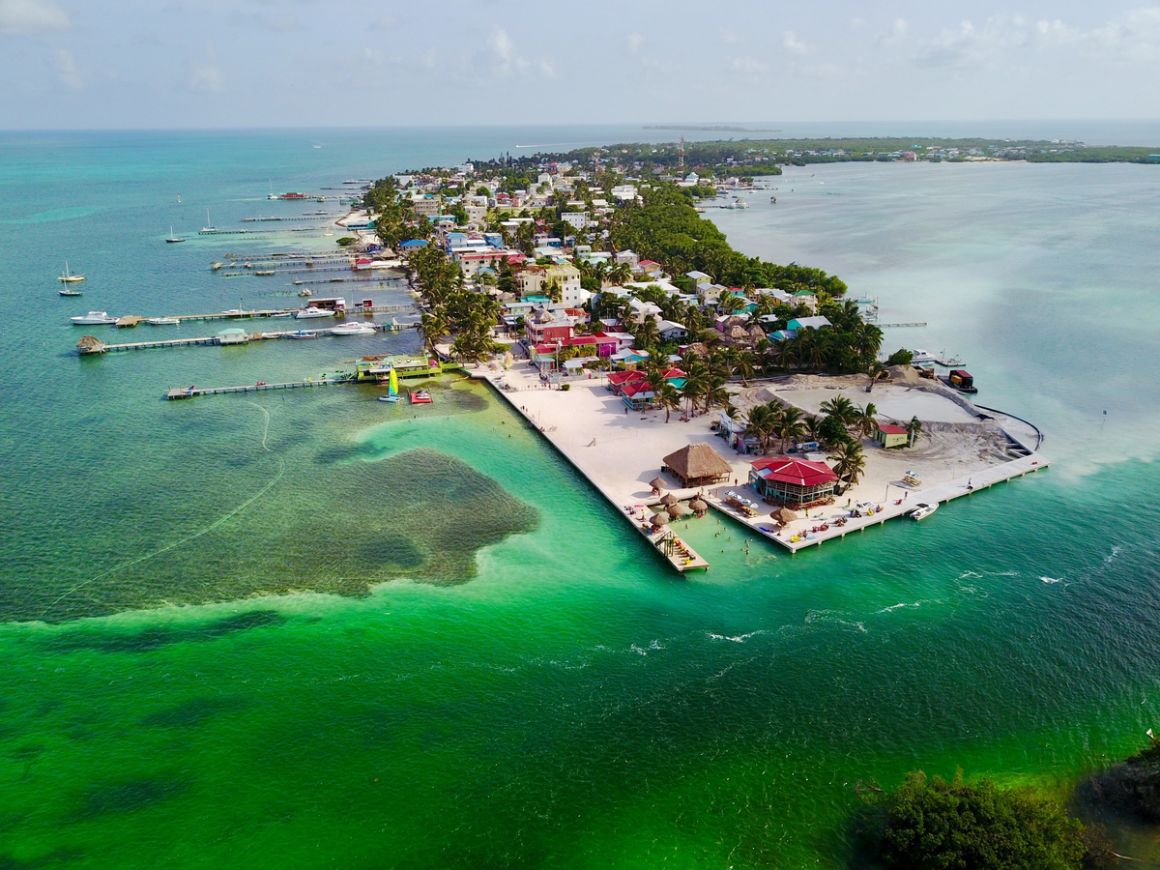 Luxury Private Island Villas
It wouldn't be a tropical Caribbean destination without a few luxurious villas. Well, Belize goes one step further, offering high-budget visitors a chance to rent out their own private islands.
Usually located just off the coast of the mainland or Cayes, these private islands can only be accessed by boat (or helicopter). Beautifully designed by top architects and interior designers, private islands are basically like private five-star resorts.
From swimming pools, Jacuzzis, private beaches, games rooms, boat docks, and tiki bars, these rentals come with all the bells and whistles. While some are designed for intimate romantic getaways and honeymoons, other islands are purposed for a big family, friendly gatherings, or even hosting small events.
Top 20 Vacation Rentals in Belize
From private island getaways to quaint beach cottages to modest jungle treehouses, there is a holiday rental in Belize for every type of visitor.
$$
In the beach hub of Caye Caulker
4 Guests
Wooden island-style interiors
It's never easy picking out the best overall vacation rental, especially in a country with so many options. We chose this property because it sits on the beachfront in the famous Caye Caulker just steps from the pristine ocean. Plus, it's got its own private beach, a private pool, and a Jacuzzi.
While the outside is a winning feature, we can't ignore the beautiful interiors of the home. Local timber and natural island materials will help you feel like you're in a tropical paradise. It's filled with natural light and comes with a fully equipped kitchen and dining space.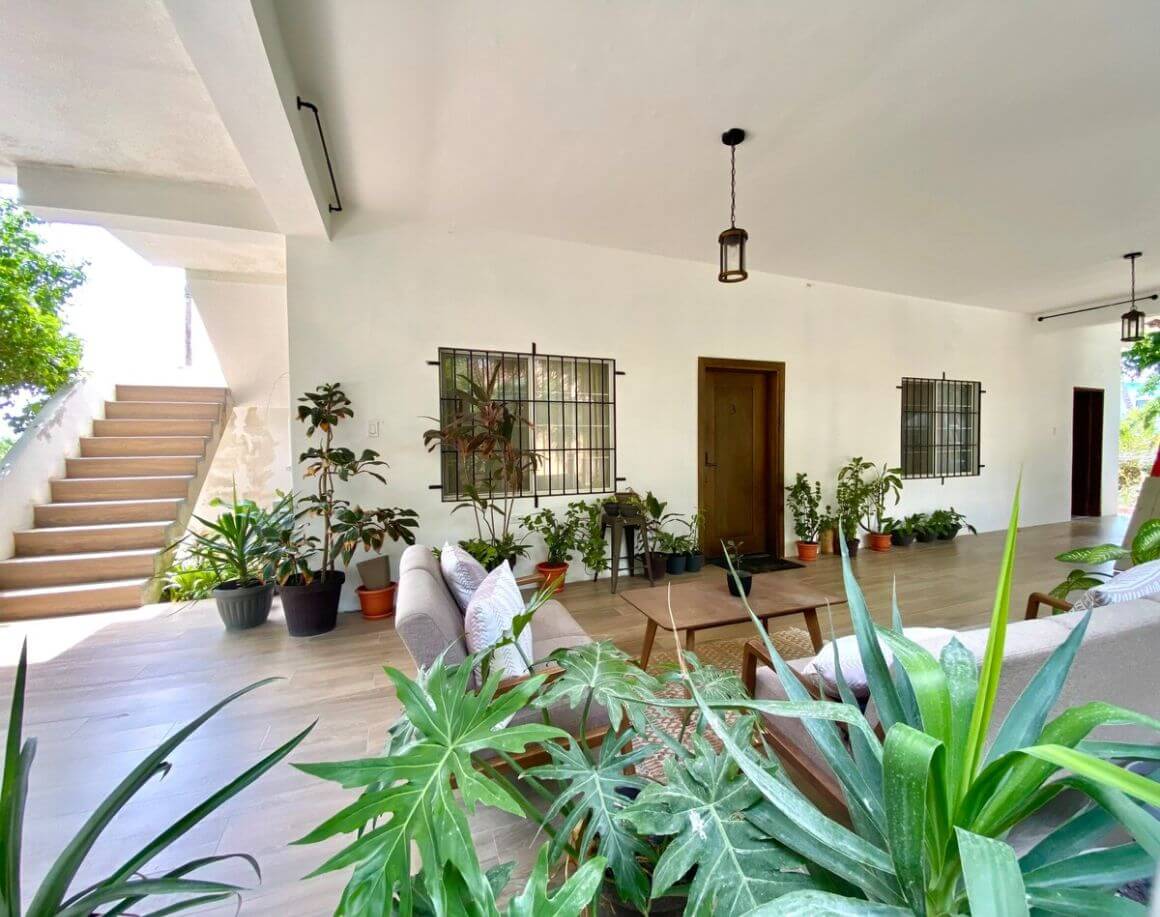 $
Outskirts of Belize City
4 Guests
Contemporary interiors
Conveniently, there's a huge selection of affordable rentals for those visiting Belize on a budget. However, most can be found in secluded beach areas and hard-to-get-to jungle locations. This affordable condo sits just outside the Belize City hustle, making it well-located for a quick stop-over or a longer stay.
Its location makes it a great spot to base yourself between the city, airport, and inland tourist attractions. Staying here, you'll be close to famous caves, natural pools, and Mayan ruins.
The space features neutral tones and contemporary furniture. It also has a fully-equipped kitchen, making it one of the best low-cost self-catering vacation rentals in Belize.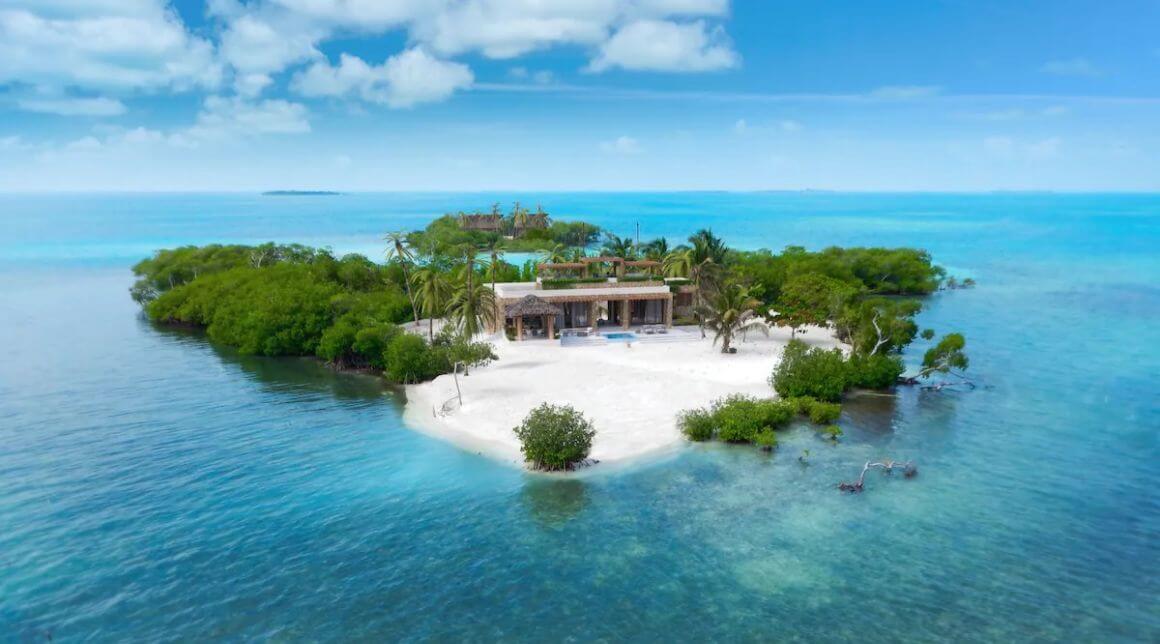 4 Guests
Outdoor/indoor living space with luxury interiors
Surrounded by white sand beaches, tropical plants, and coral reefs, this private Belizean island is without a doubt one of the most exclusive private villas in the world.
In fact, the home is designed to work with the outdoor environment to create a luxurious indoor/outdoor living space that is kept cool throughout the hottest days.
How about cooking a family meal in the outdoor kitchen, before heading to the private beach to enjoy your home-cooked cuisine. The home is filled with luxurious interiors and top-of-the-range fittings. From the kitchen appliances to the bespoke furniture to the infinity pool, luxury awaits you in every corner of this secluded island.
Is This the Best Travel Pack EVER???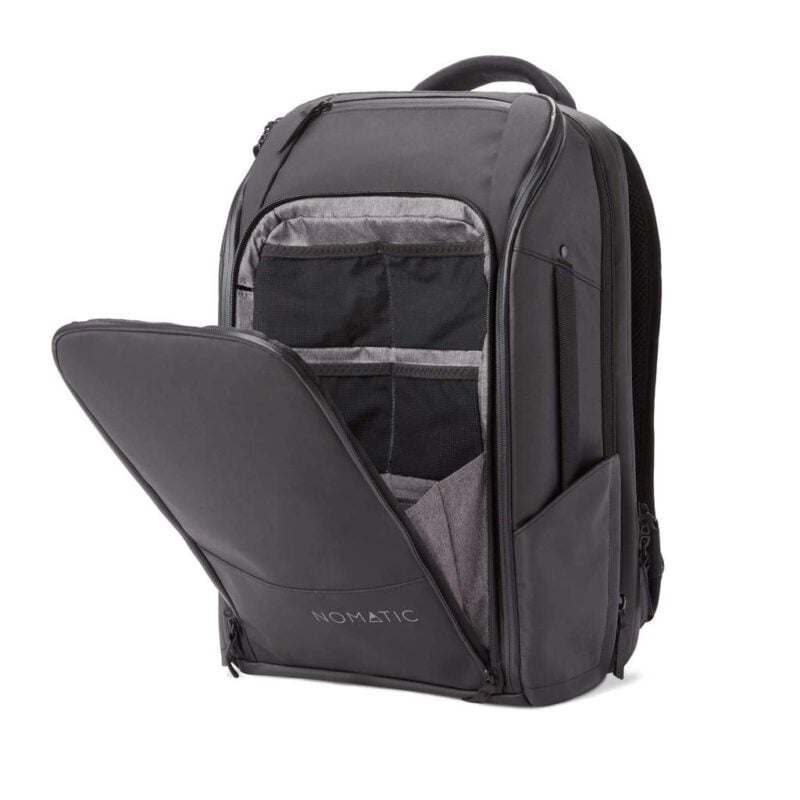 $$$$
Private island off Placencia
If we had to describe this place in two words, it would be opulent and peaceful. This private island retreat off the coast of Placencia offers five free-standing villas, each with its own resort-standard suite.
The rooms boast island-inspired custom-made furniture, luxurious linens, exquisite views of the ocean. In fact, each has its own beach space, making it the ideal luxury vacation rental in Belize for both privacy and socializing.
Split between the villas, guests can enjoy the open-air cabana living space, which has a bar, lounge area, and dining room. It really is the perfect spot to enjoy a luxurious getaway with your family or friends.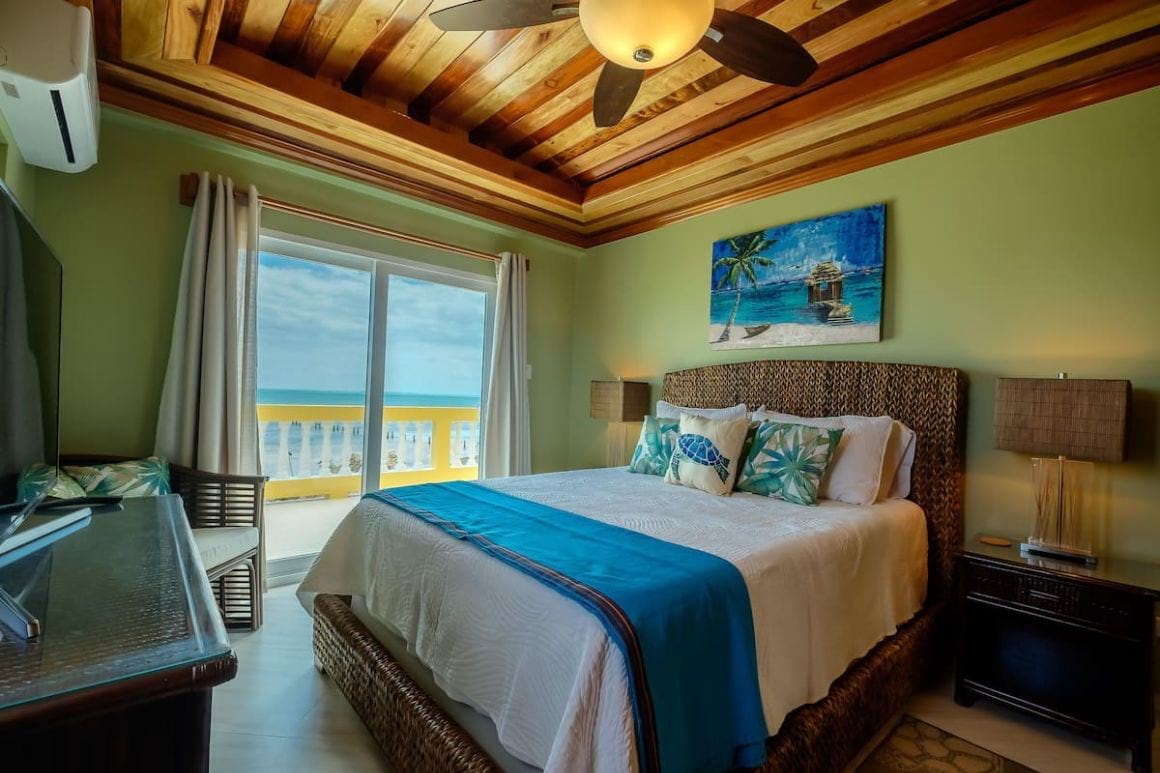 $$
On the coast in San Pedro
6 Guests
Classic island-style interiors
With plenty of space for everyone, this Belize vacation rental is perfect for adventurous families. This beach rental was designed for ocean adventurers, offering guests access to paddleboards, a kayak, and life jackets.
The home itself is influenced by contemporary Belizean design, with natural hardwood cabinetry, vaulted ceilings, and neutral-coloured furniture. However, you'll want to spend most of your time outside, where you can enjoy both a private beach and a beautiful swimming pool. Make sure to spend some time at the two palapas and the private boat dock, which each offer a better view of the sunrise than the next.
$$$
San Pedro beachfront, near shops and eateries
8 Guests
Self-catering condo in a hotel-like resort
If you're visiting Belize for a quick getaway, your best bet would be to minimize travel time and spend your weekend on the beachfront in San Pedro. This way, you'll get a glimpse of the beach scene, culture, history, and local cuisine.
This resort offers self-catering with unbeatable ocean views. The shared amenities are another plus, including a huge pool and Jacuzzi, kayaks, and a private beach for guests to make use of.
The condo features contemporary fittings and trendy pieces. With glass sinks, modern lighting, floating shelving, and mosaic tiling, this condo would fit right into a bustling city landscape.
2 Guests
Contemporary home with tropical garden
This tiny home is so impressive, you might find it hard to actually leave and explore! Not only is it in the most desirable Caye in Belize, but it's only a short walk from the beach. The hosts provide guests with complimentary bicycles, which can be used to access the town within 10 minutes.
The best spot to relax on the property is by the beautiful pool and Jacuzzi area, which is shaded by tall palm trees and surrounded by beach sand.
The modest home is compact yet fully-equipped for a short or long stay. Better yet, it's extremely affordable, making it a great option for a solo traveler or a digital nomad.
$$$
Jaguar Reef beachfront
3 Guests
Tropical bungalow with thatched roof
Finding a wheelchair-friendly beach vacation rental in Belize is a tricky task, as you'll come across steps in most properties. But… fear not! This beautiful luxurious resort offers a bunch of single-story freestanding bungalows for guests to rent.
Each bungalow is decorated to the highest standard, with island-style influences. Neutral tones, woven basket decorations and warm lighting giving each room a homey feel.
Not only is it super accessible for wheelchair users, but it's also a top destination for a romantic getaway.
$$
On the coast in the heart of Belize City
3 Guests
Pool access and a huge deck
If you've got a full Belize itinerary planned, then this is a great place to base yourself. As mentioned, Belize City is not one to be missed. Located near the beach, top cultural attractions, and delicious eateries, this is the perfect spot to explpre and spend a few nights in the city before you head elsewhere.
The loft is part of a residential home and offers access to a shared swimming pool and deck. From your private balcony, you'll get to enjoy exquisite views across the neighbourhood to the ocean.
The single room loft is super spacious and fits a bathroom with a huge soaking tub, two beds, and a fully-equipped kitchen.
(Take note: the bathroom and bedrooms don't have walls, and privacy is limited)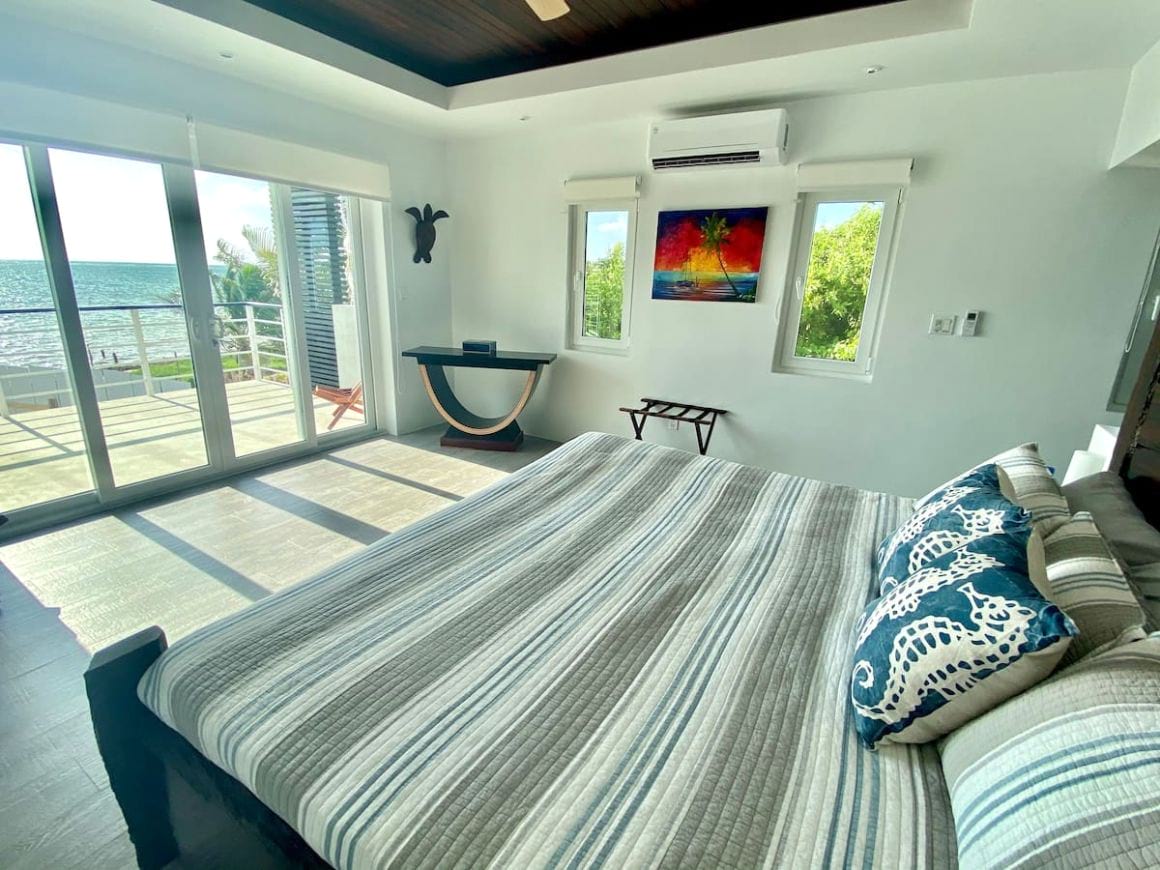 $$$$
On the beach in San Pedro
10 Guests
Games room, private beach, and rooftop deck
Bring your entire family along to this luxury vacation rental in Belize, which is located directly on the beachfront in the desirable San Pedro district. Not only does the home have a massive central living space fit for a big group of guests, but it also includes comfortable sleeping space for ten people.
The modern home boasts floor-to-ceiling glass windows that invite an abundance of natural light and a fresh sea breeze into the home. When the weather allows, you'll likely spend your time under the gazebo on the private beachfront and pool deck.
However, you can still make the most of the place if it gets chilly! With a games room and pool table indoors, you'll have plenty to keep you entertained.
$$$
On Bird Island in Stann Creek District
6 Guests
Island with gazebo, bar, and outdoor living space
Let the games begin! This floating island home iswWithout a doubt the top holiday home in Belize for throwing a bash with your best friends. Built onto a small piece of an island far out to sea, the home extends over the water using floatation devices.
Suitable for sleeping six guests (but able to accommodate many more for day adventures) the island includes a private bar, an overwater swing, a fully-stocked kitchen, and a tiny harbor shielded from the wind. There are even a couple of overwater gazebos where you can relax in a hammock or enjoy some fishing.
Because it's so far from the mainland, the island offers with everything you might need from a beach vacation rental in Belize, including food and snorkeling, and fishing gear.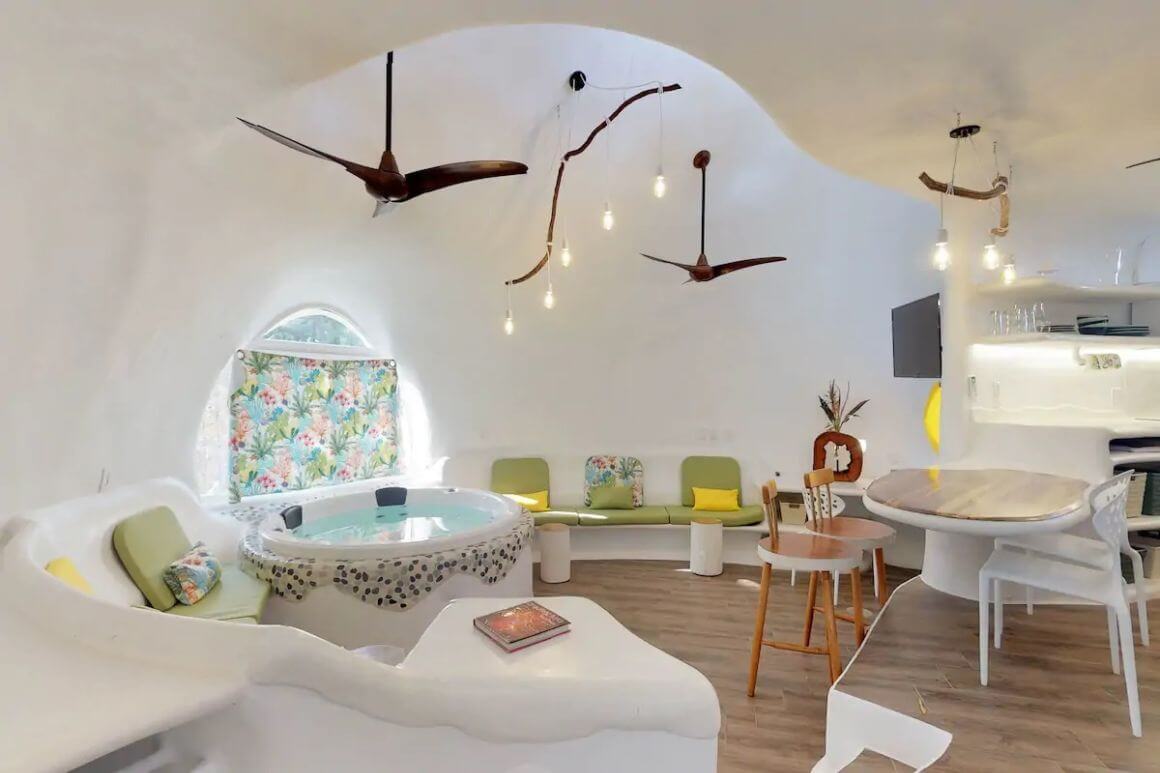 $
On the lagoon beach on Placencia
2 Guests
Rounded walls and ceilings with mosaic details
Outer-space utopia comes to mind when you first lay eyes on this rental. This eco-accommodation in Belize sits on a small patch of sand on the Placencia Lagoon, and uses the elements of nature to keep cool during the hot days.
The unique architecture includes ergonomically curved calls and ceilings. Simple yet ingenious storage solutions make the space feel much larger than it actually is.
To top things off, the double-story home has a round double-bed with a honeycomb-inspired headboard, and a bathroom overgrown with creeper plants. Struggling to picture this space? You'll have to see it to believe it!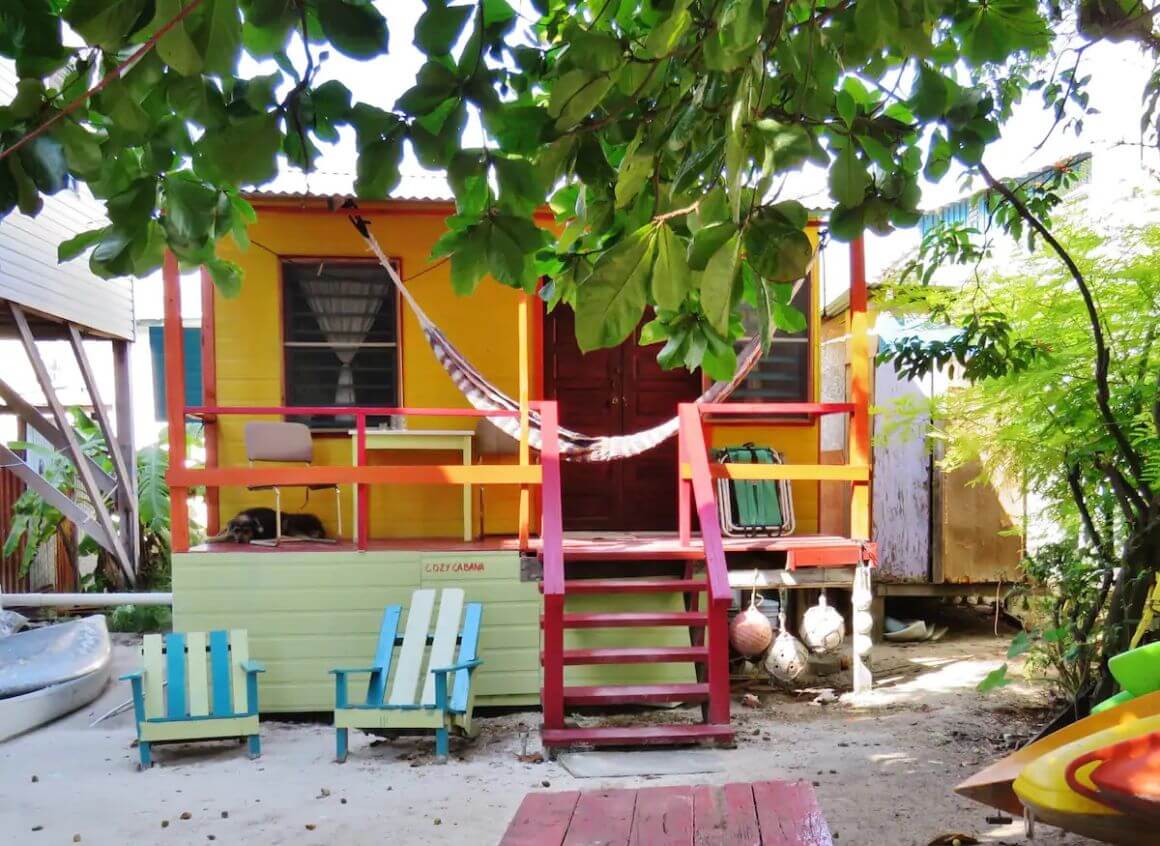 $
Caye Caulker Island's main street
2 Guests
Cozy colourful studio with kitchenette
If you're after some basic budget accommodation but don't fancy staying in one of Belize's great hostels, then this is the spot for you. This colourful beach shack sits on the main street on Caye Caulker, around the corner from all the top beaches, eateries, markets, and boutique shops.
For first-time visitors, this local island is a great place to get a good idea of the country, its people, culture, and beautiful scenery.
The home is tiny but well-equipped with everything you might need from a budget self-catering vacation rental in Belize. This includes a kitchen, porch, and a comfortable bedroom.
$
Near beach bars on busy Caye Caulker island
4 Guests
Large pool deck and bicycles
This charming cabana looks like a home from the classic American Dream. Tthe pale home stands on slack wood stilts and includes a porch overlooking the pool and garden.
This two-bedroom home has a super private and homey feel, despite being a stone's throw from some of Caye Caulker's best beaches.
Aside from the lush garden and spacious pool area, my favorite thing about this rental are the bicycles available for guests to use. As the island has no paved roads, cycling is the most convenient (and enjoyable) mode of transport on Caye Caulker.
$$
On the beachfront in Placencia
2 Guests
Huge deck overlooking the beach and ocean
Are you dreaming of a low-cost rental on a tropical beachfront? Look no further. We've found the perfect spot for a peaceful couples retreat, for a very reasonable price.
While it's in a super peaceful beach area, you'll only be close to bars, restaurants, and markets. It's also just a few feet from the shoreline, so you can simply grab your beach essentials and be on the sand in no time.
The refurbished home has indoor and outdoor living and dining areas, including a fully furnished rooftop deck and balcony. With so many beautiful viewpoints, it's no wonder this is the best vacation rental in Belize for exquisite beach and sea views.
$$
On the beach in Placencia
2 Guests
Traditional wooden exterior with modern furniture
What more could you want from a romantic getaway than a private bungalow located on the beachfront? This modest single-story home is a few feet from the water's edge, ideal for low-key and relaxed beach lovers.
While it looks unassuming from the outside, the interior of this bungalow has been completely remodelled. Expect hardwood floors, exposed beam ceilings, and contemporary fittings.
An ultra-modern kitchen bring sa level of luxury into this quaint beachfront home, which is surrounded by tropical palms.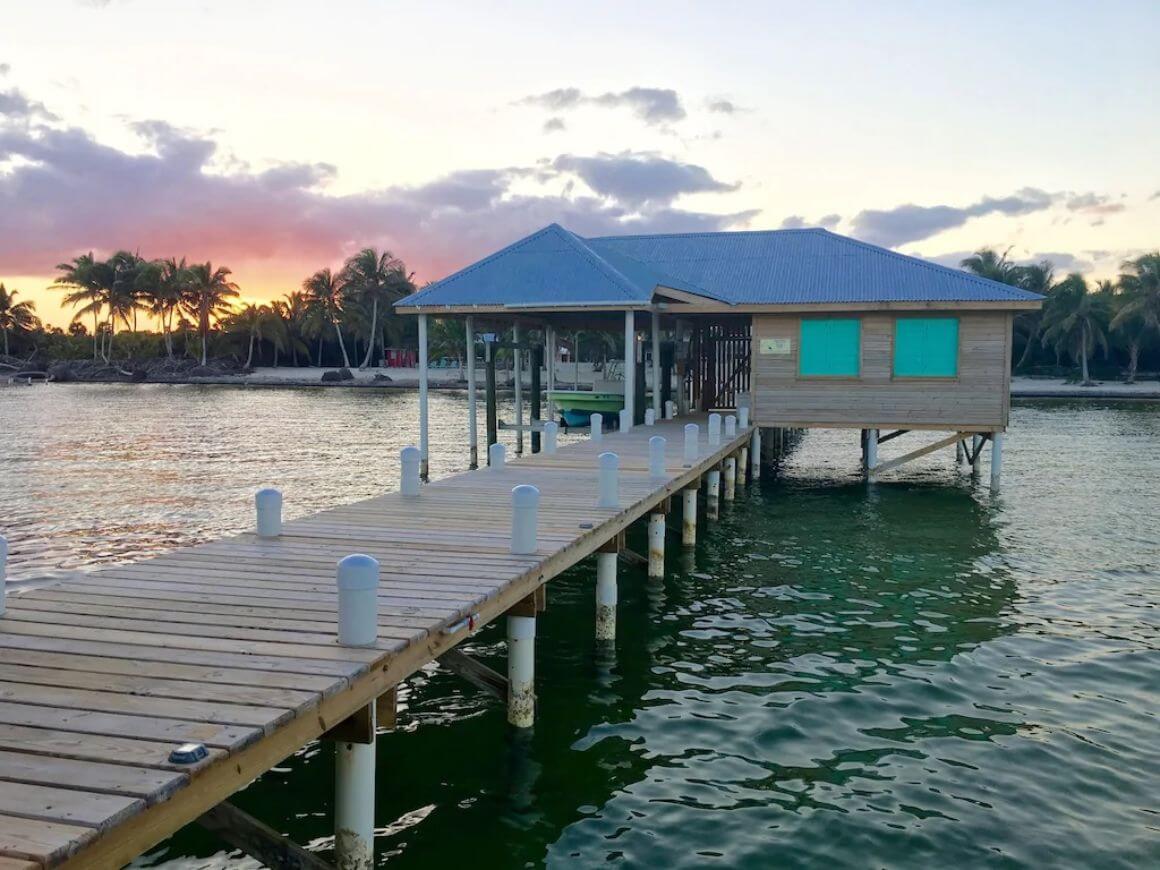 $$
On the coast on Ambergris Caye
2 Guests
Overwater villa at the end of a dock
We don't think you could find more off-the-beaten-track accommodation than this overwater home. Located at the end of a long private dock in Ambergris Caye, it's quiet and peaceful. The only sounds you'll hear from this secluded home will be that of the water underneath the floor and the birds on the dock.
The home offers a private kitchenette with a sink, mini-fridge, and microwave. Furnishings are simple, but you'll have everything you need for a comfortable stay.
Head down the dock to the beach, where you'll find a shared bathroom, dining area, bar, and stunning swimming pool. In my opinion, this spot hits the perfect balance between luxury and rustic.
$$$$
On the banks of the New River in the Orange Walk Jungle
38 Guests
Indoor pool, gym, jacuzzi, and yoga shala
With its beautiful nature, calming atmosphere, and year-round sunshine, Belize is a well-known spot for yoga retreats. If you're hoping to host or attend a retreat in the Mayan jungle, this garden estate will exceed your expectations.
There is a river running directly through the luxury vacation rental in Belize, which is surrounded by lush tropical gardens and water lily ponds. There are many freestanding structures on the property, including bungalows to accommodate 38 guests, a kitchen, dining area, lounge, indoor pool, and spa.
On top of this, this natural paradise also includes access to a huge double-story yoga shala. You'll also have heaps of peaceful outdoor space to choose from.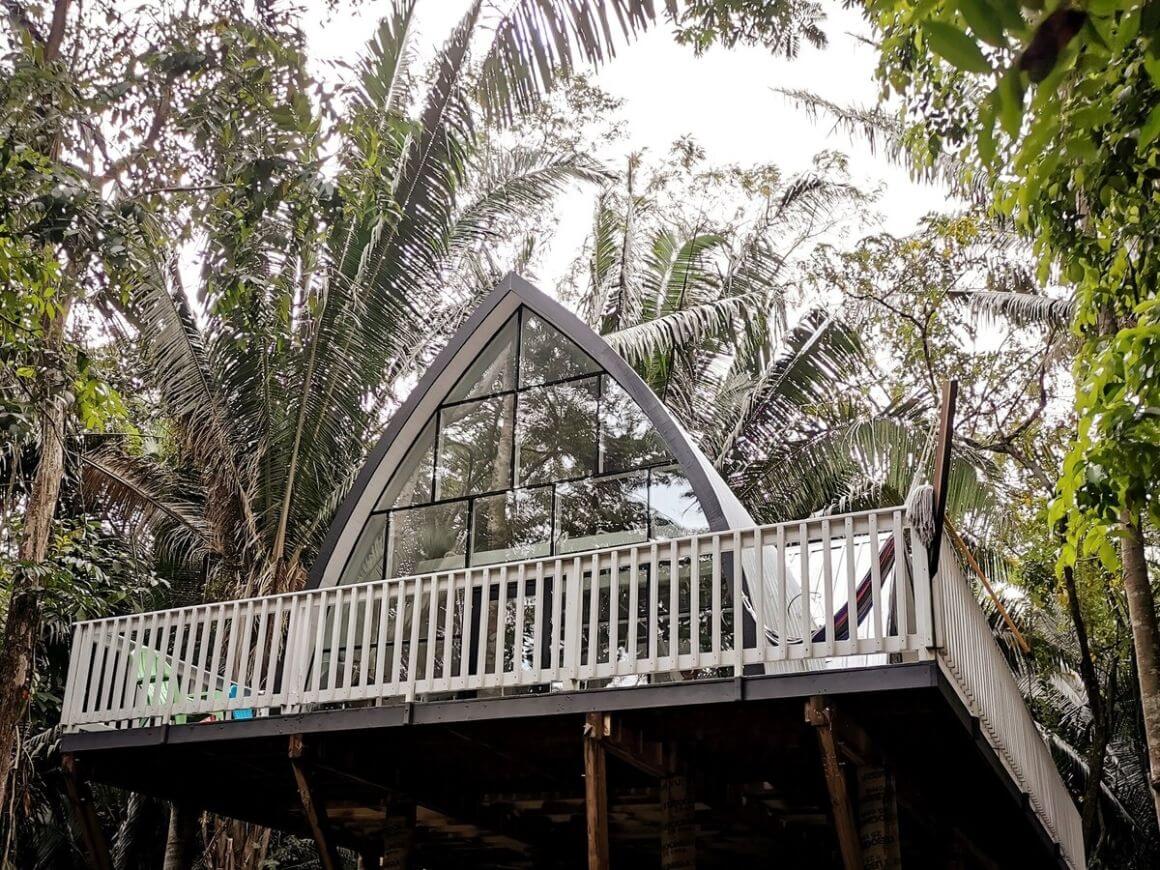 $
In the Cayo District jungle, near Mayan ruins
6 Guests
Abstract architecture with modern interiors
Belize is bursting at the seams with beautiful jungle retreats and vacation rentals. Not only is this spot located near some of the country's most well-known Mayan ruins, but it's also one of the most unique structures in the jungle.
The home looks like something out of a fairytale, with a curved A-frame structure, stone walls, and glass doors. Once you enter the property, you'll be surprised to see a modern home fitted with contemporary furniture and natural tones.
With the glass walls and treetop position of this rental, you'll be properly immersed in the stunning jungle setting.
$
Within a local community outside Belize City
5 Guests
Affordable tiny home
Calling all travellers visiting Central America on a budget! We've found the most charming small town rental in Belize. Located in a local housing community outside the capital city, this small cabin is fully equipped as a self-catering rental.
This eco-friendly home features natural timber materials from the Belizean jungle and offers electricity and gas. The home has two bedrooms, each fitted with a double bed.
The living room is small yet cozy and opens out onto a beautiful covered balcony decked out with hammocks.
Don't Forget Your Belize Travel Insurance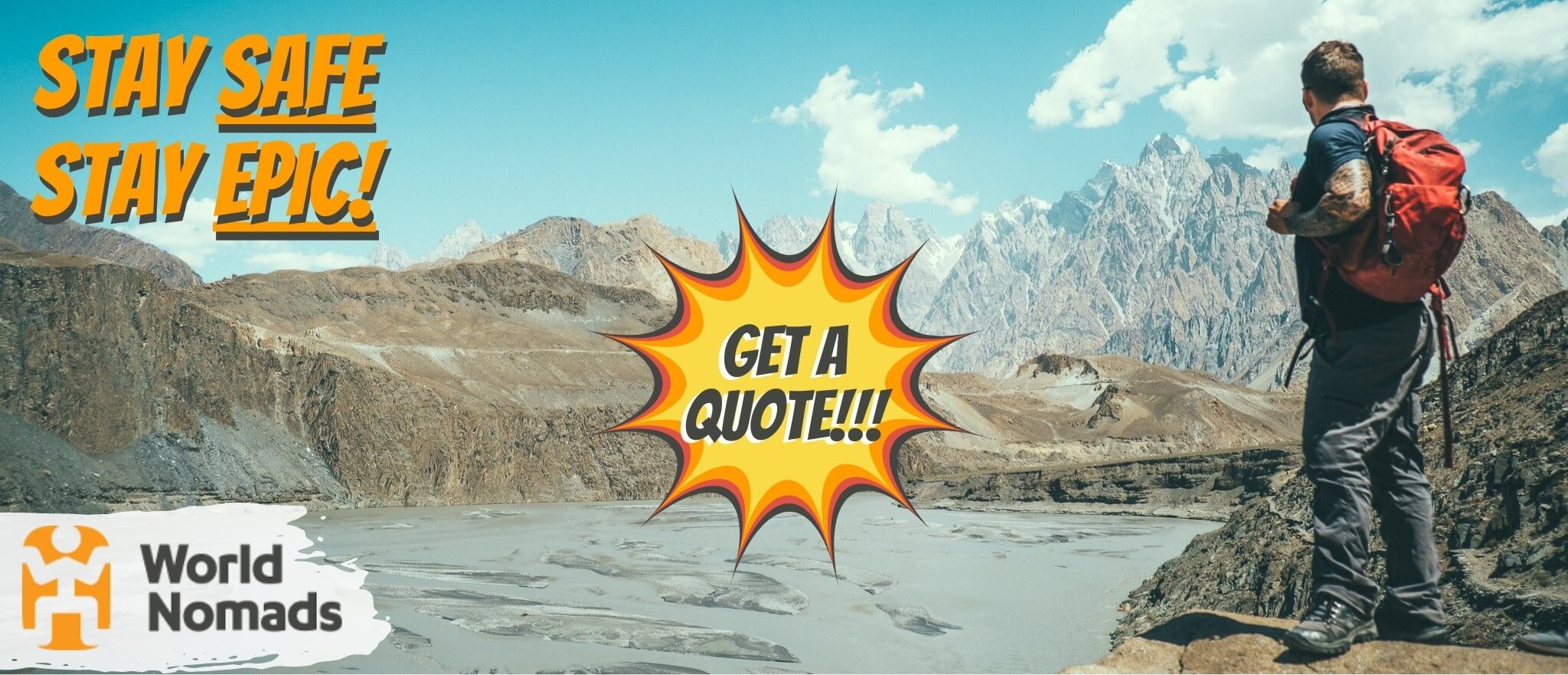 World Nomads' mission is to support and encourage travellers to explore their boundaries. They offer simple & flexible travel insurance, and safety advice to help you travel confidently.
They've been doing it since 2002 – protecting, connecting, and inspiring independent travellers just like you.
Get a quote below or read our in-depth review!
World Nomads provides travel insurance for travelers in over 100 countries. As an affiliate, we receive a fee when you get a quote from World Nomads using this link. We do not represent World Nomads. This is information only and not a recommendation to buy travel insurance.
Final Thoughts
Belize is one of the most underrated Central American countries. However, it's bursting with beautiful nature, interesting culture, historic archaeological sites, and friendly locals. It's very popular with backpackers, and with all its affordable vacation rentals, we can see why.
However, Belize is also gaining popularity with a more up-scale clientele. They're bringing a wealth of attention to the more luxurious private island getaways, so you'll also find more of these popping up.
Whether you're planning a family holiday, a solo backpacking trip, or an over-the-top getaway with friends, you'll find some of the best vacation rentals in Belize.
---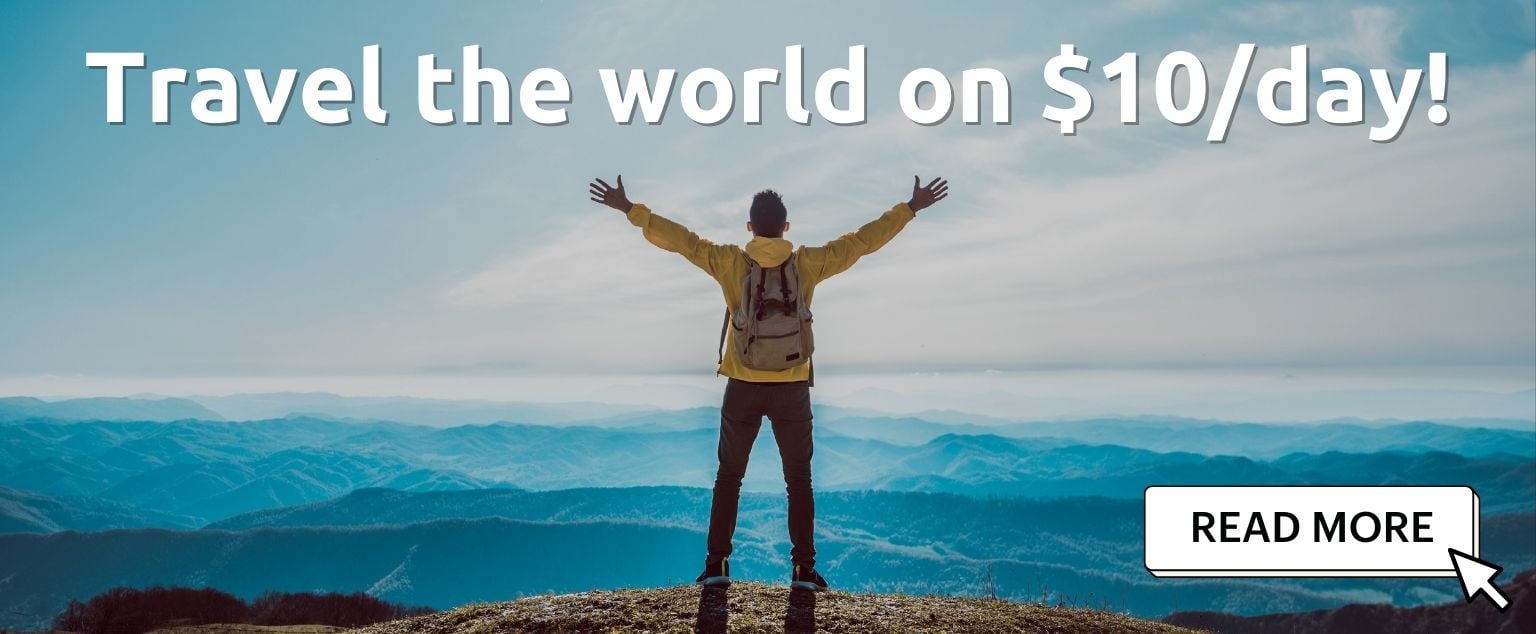 And for transparency's sake, please know that some of the links in our content are affiliate links. That means that if you book your accommodation, buy your gear, or sort your insurance through our link, we earn a small commission (at no extra cost to you). That said, we only link to the gear we trust and never recommend services we don't believe are up to scratch. Again, thank you!