Known for its Midwestern cuisine, jaw-dropping architecture, music, art scene, and iconic neighbourhoods, Chicago is one of the most exciting destinations in the US. A big reason we love Chicago is that you don't need to splurge to experience the city in all its glory. Spending time in a VRBO in Chicago is one of the best ways to experience the city like a local.
The Loop in downtown Chicago is the beating heart of the city and a must-visit spot for all first-time visitors. This is the best area to stay in if you're dreaming of a high-rise penthouse with a city view. Across the city, down-to-earth travelers will thrive in Logan Square, a trendy yet cheaper area dotted with townhouses.
If nightlife is what you're after, pick a Chicago VRBO in West Loop or Wicker Park. Here, the nights are long, the streets are buzzing, and you'll find a comfortable condo to rest your head.
You've waited long enough, let's dive into the best VRBOs across this iconic American city…
Quick Answer: These are the Top 5 VRBOs in Chicago
Overall Best Value VRBO in Chicago
Overall Best Value VRBO in Chicago
1 Bed Coachhouse Studio with Courtyard
> $
> 4 Guests
> In Lincoln Park, Old Town Chicago
> Covered garage parking spot
Best Budget VRBO in Chicago
Best Budget VRBO in Chicago
Contemporary 2 Bed Condo with Back Porch
> $
> 2 Guests
> In Canaryville, near White Sox stadium
> Updated interiors with linen furniture
Best VRBO for Couples in Chicago
Best VRBO for Couples in Chicago
Cozy 1 Bed Apartment with Natural Light
> $$
> 2 Guests
> In the trendy Lakeview East neighborhood
> Stylish interior design
Best VRBO for Families in Chicago
Best VRBO for Families in Chicago
Gorgeous 4 Bed Townhome with Sauna
> $$$
> 8 Guests
> In the buzzing Wicker Park district
> Boho inspired interiors
Over-the-Top Luxury VRBO in Chicago
Over-the-Top Luxury VRBO in Chicago
Luxury 4 Bed Greystone with Porch
> $$$$
> 10 Guests
> In central North Side Chicago
> Contemporary interiors

Unlock Our GREATEST Travel Secrets!
Sign up for our newsletter and get the best travel tips delivered right to your inbox.
What to Expect from VRBOs in Chicago
Chicago is known for its incredible architecture and is home to some of America's most historic residential buildings.
While Greystone buildings and bungalows were built as far back as the 1800s, many of these homes have been restored with care to maintain their unique heritage. The combination of original fittings and updated furniture gives these homes tons of character.
On the other hand, Chicago has a super modern side to its residential sector, mostly situated in the city's high-rise sky-scrapers. You can expect floor-to-ceiling glass windows, modern cabinetry, and luxurious furniture in these apartments and penthouses.
Depending on your budget and the neighbourhood you choose to stay in, you could find a luxurious penthouse with panoramic skyline views. Or, opt for a cosy bungalow studio with authentic interiors.
From ultra-modern skyscrapers to classic bungalows and Greystone condos, you can expect something unique from every VRBO in Chicago.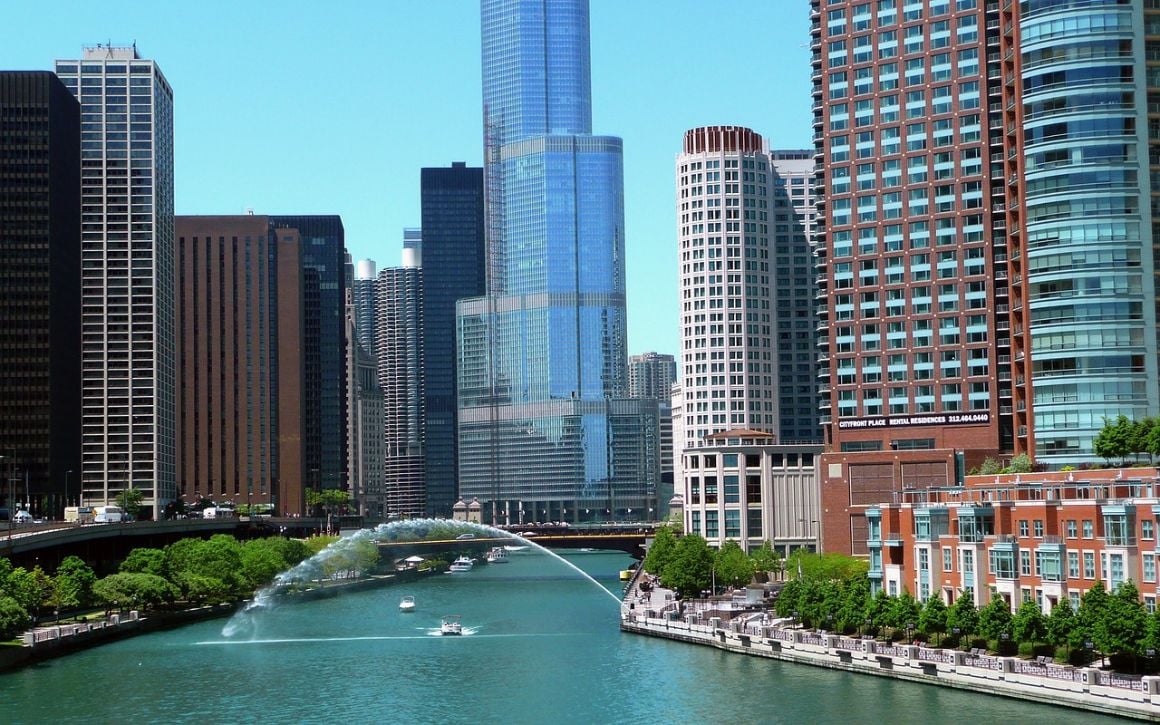 Greystone Townhouses
The Chicago Greystone is the city's version of New York's famous brownstone. Built between the late 1800s to the early 1900s, Greystones showcase a classical revival style. They can be both single-family and multiple-family homes.
Today, many Greystones are tastefully refurbished to keep the historical details of their original buildings. As some of the oldest buildings in the city, they're usually in a central suburban location, surrounded by parks and often near Lake Michigan.
Whether you're travelling with your family, extended family, or best friends, Greystones usually have plenty of bedrooms and are ideal for big groups.
Penthouses in High-Rise Buildings
As the third most populous city in the USA, it should come as no surprise that part of Chicago consists of high-rise buildings and skyscraper accommodation. Penthouses are the 'creme de la creme' of high-rise condos, typically located on the highest floors with the best views.
Aside from their incredible skyline views through floor-to-ceiling glass windows, Chicago's penthouses are also super central. This makes them a top option for anyone interested in the city's museums, nightlife, and cultural heritage.
Most high-rise VRBOs in Chicago are relatively new and feature modern fittings and contemporary furniture. Depending on your budget and the size of the condo, penthouses are an excellent option for couples, small families, and groups of friends.
Chicago Bungalows
Originally built to house working-class citizens in the early 1900s, bungalows are typically one-and-a-half-story brick homes. Most bungalows have a full basement, attic storage, and street-facing porches.
Today, many of these homes have been modernised. It's not too hard to find a well-priced bungalow in a good area, making them an ideal option for solo travellers, digital nomads, and couples.
Original homes include a kitchen, living, and dining room on one side and bedrooms on the other. Historic decorations include arts and crafts style woodwork and antique carvings, guaranteeing visitors an authentic Chicagoan stay!
Why Stay in a VRBO
From resting assured knowing your payment is protected, to receiving first-hand travel advice from local residents, staying in a VRBO in Chicago has some great advantages:
Local Experience – Chicago VRBOs situated in local neighbourhoods (unlike many hotels), and you'll also be able to ask your host for personal recommendations. You could even choose to stay in an authentic Greystone building or a cosy Chicago bungalow for a unique historical experience.
Privacy – Filter your search for self-check-in services. This way, you won't need to interact with hosts.
Affordability – The best VRBOs in Chicago are more affordable when compared with five-star hotels in the same area. Self-catering facilities also mean you can save on eating out.
Safety – VRBO does background checks on both the host and the guest. Customer support is available 24/7 to help resolve any issues.
Last-Minute Booking – Guests can set their final available time to book for the current night. If you're rolling into your destination late with nowhere to stay, VRBO will let you know what properties are still available.
Top 20 Vacation Rentals in Chicago
Whether you're searching for an ultra-modern penthouse in a luxury apartment or a low-key Greystone townhouse by the lake, you'll be spoiled for choice when it comes to VRBOs in Chicago.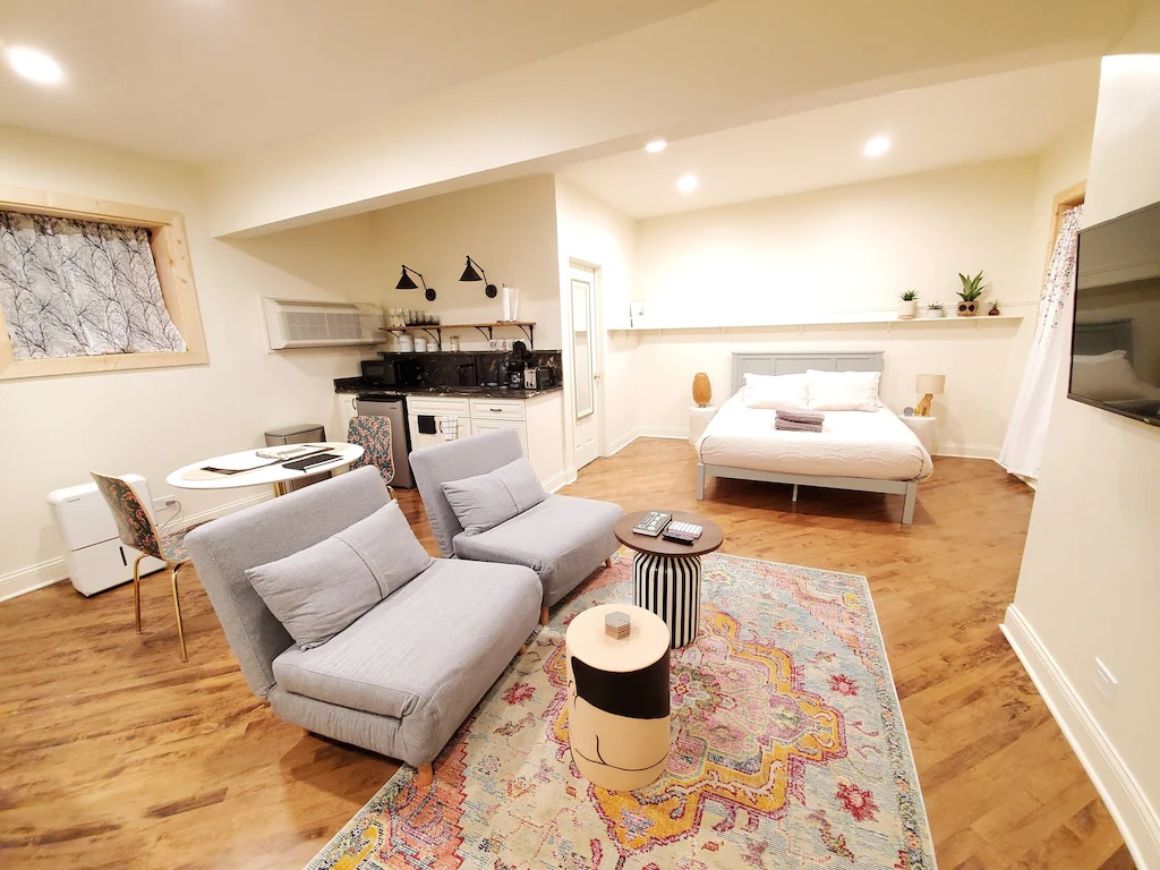 $
In Lincoln Park, Old Town Chicago
4 Guests
Covered garage parking spot
For us, the best value VRBO in Chicago combines many factors. These include location, cleanliness, spaciousness, and affordability.
Perfect for a couple or a small family, this cosy studio hits these nails on the head. The studio is part of a historic coach house built in 1884 in one of Chicago's most prestigious (and easily walkable) neighbourhoods.
While the space is small, the studio offers a spacious bedroom area with a queen-sized bed, as well as a walk-in closet, making it feel much larger than it really is. There are two couch futons, which can be turned into sleeper couches to accommodate extra guests.Although basic, the kitchenette is fitted with everything you might during your stay.
Quirky interior design details and leafy house plants give the space a homey feel. Another winning feature of this spot? Guests can enjoy access to a garage and a rooftop deck.
$
Canaryville, near White Sox stadium
Like many big cities, finding an affordable VRBO isn't too tricky. With so many awesome places to stay, the city is teeming with trendy budget vacation rentals. This spot is in a quiet area a few blocks from some of the top places to visit in Chicago, including Washington Park and the University.
Decorated using neutral colors and natural tones, you'll feel a sense of ease as soon as you walk through the door. From local artists' work hanging on the walls to the well-stocked bookshelf to the antique decorations, it's hard to believe this spot is available for such a low price.
$$
Near transport, bars, and restaurants
2 Guests
Open-plan loft with workspace
Those travelling solo are best off finding a spot that is affordable and well located. This one-bed, one-bath studio boasts a well-stocked kitchenette and an open-plan living and dining area.
If you have to answer some necessary emails, you'll be able to do so using the personal workspace in this Chicago VRBO.
However, the best part about this spot is its location. Not only is it steps from major public transport lines, but it's also a short walk to the famous Wrigley Field, the shoreline of Lake Michigan, and of course, tons of trendy bars and eateries.
Is This the Best Travel Pack EVER???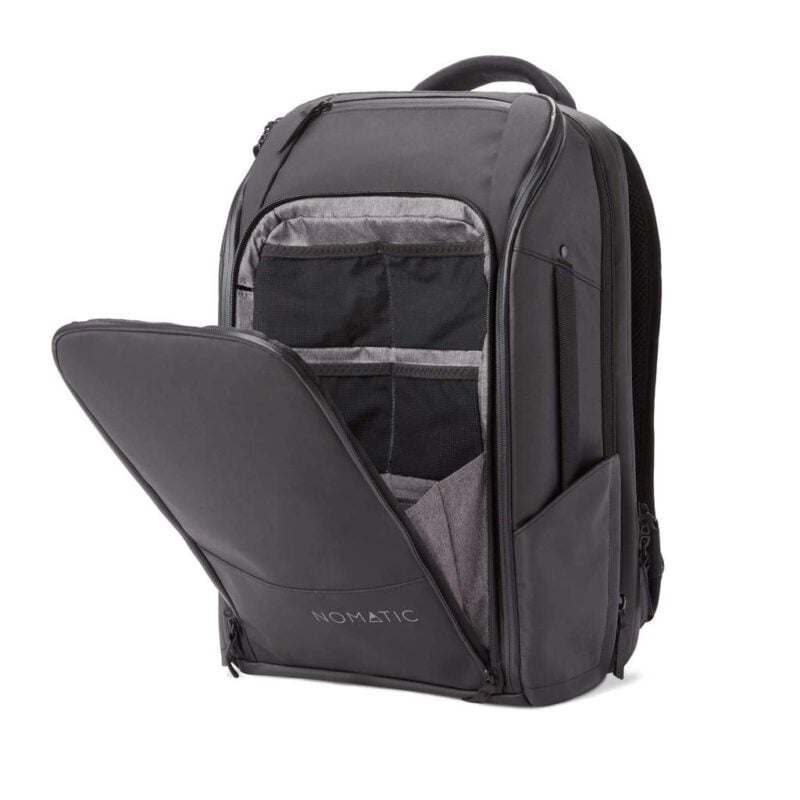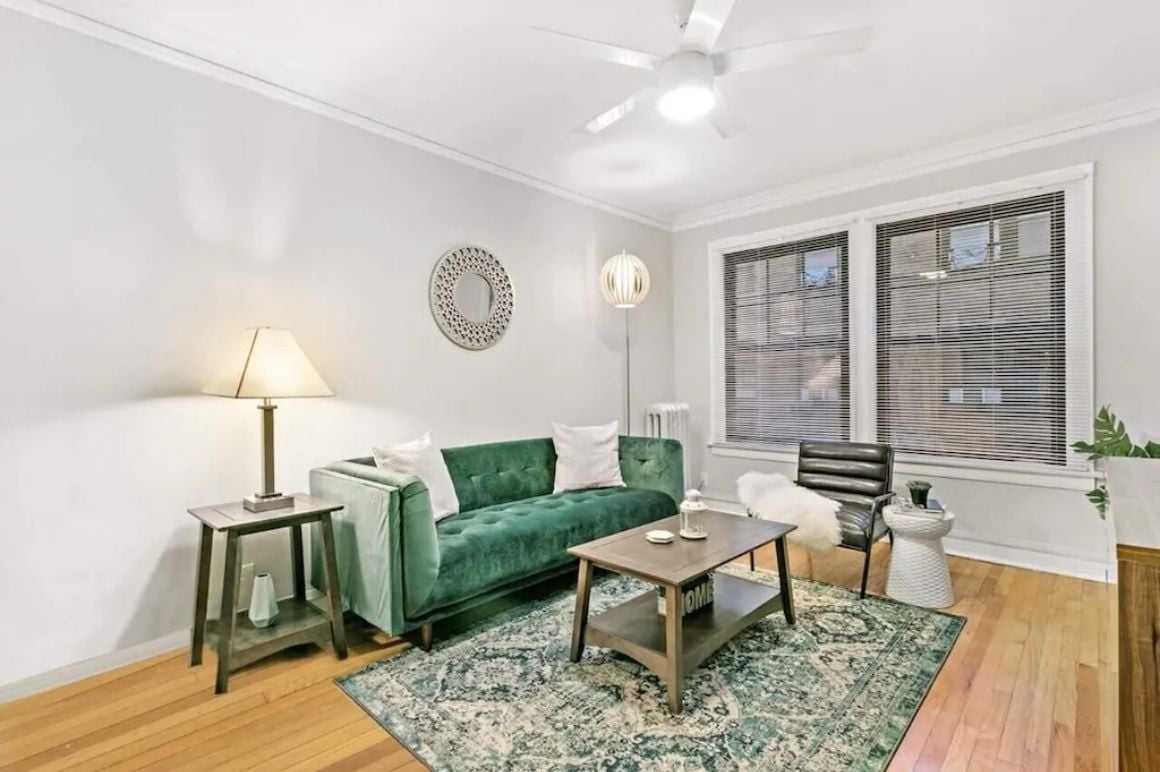 $$
Trendy Lakeview East neighbourhood
2 Guests
Stylish interior design
Chicago is easily one of the best cities to explore with your other half. From the exciting Midwestern culture to the world-class cuisine, there's so much to love (about love) in the city.
With one private bedroom, this cosy apartment is in one of Chicago's most walkable neighbourhoods. The apartment is simply decorated with contemporary furniture and is spotlessly clean.
Ideal for couples, the space has natural light, warm white tones, and luxurious linens. Whether you prefer to eat out or in, the full kitchen is the perfect spot to enjoy a home-cooked meal.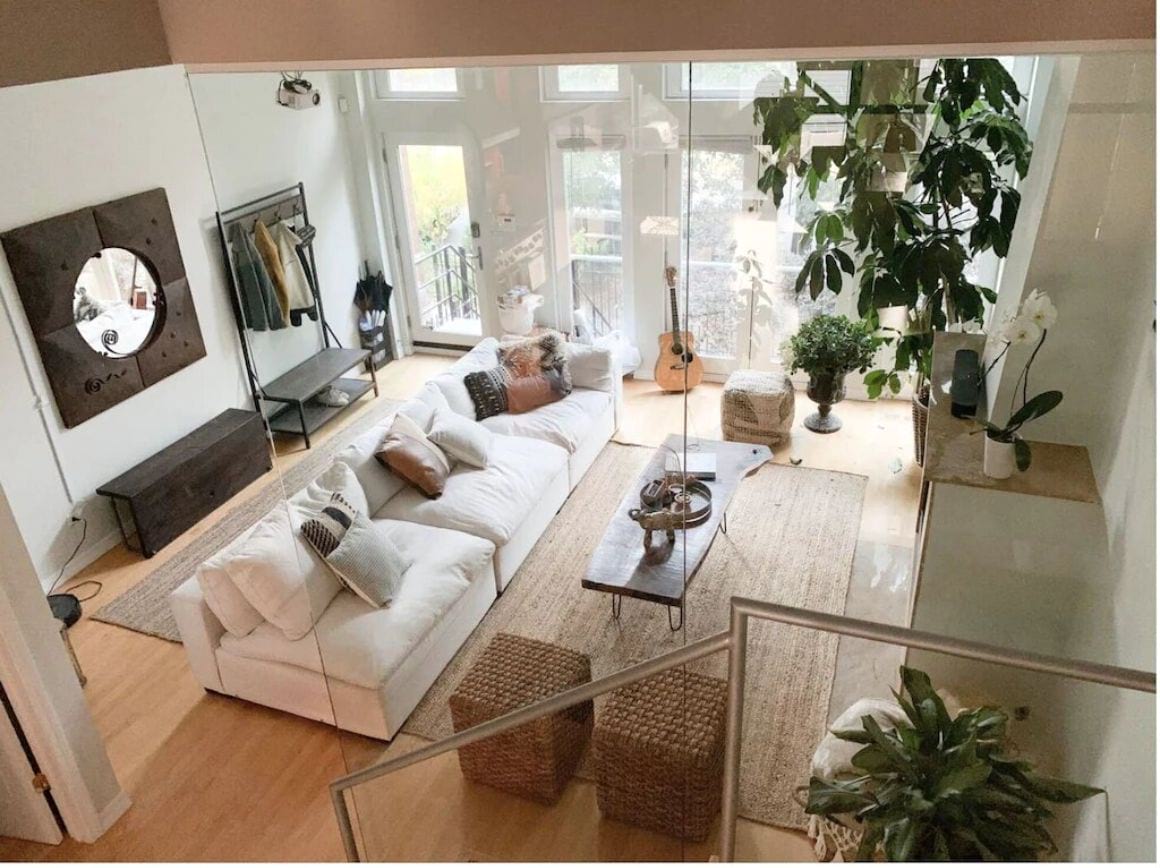 $$$
Buzzing Wicker Park district
8 Guests
Boho inspired interiors
Welcome to suburban paradise! This stunning multi-level VRBO has four bedrooms, a larger-than-life living area, a patio, a balcony, and a backyard. It even boasts extra luxuries, including a private sauna!
Located in a charming street between the busy Wicker Park and West Town neighbourhoods, this area has something for every type of traveller. There's plenty to do here, from family-friendly excursions to exploring Chicago's amazing food scene.
One of this spot's best features is the exquisite bohemian decoration which blends contemporary modern with chic natural tones.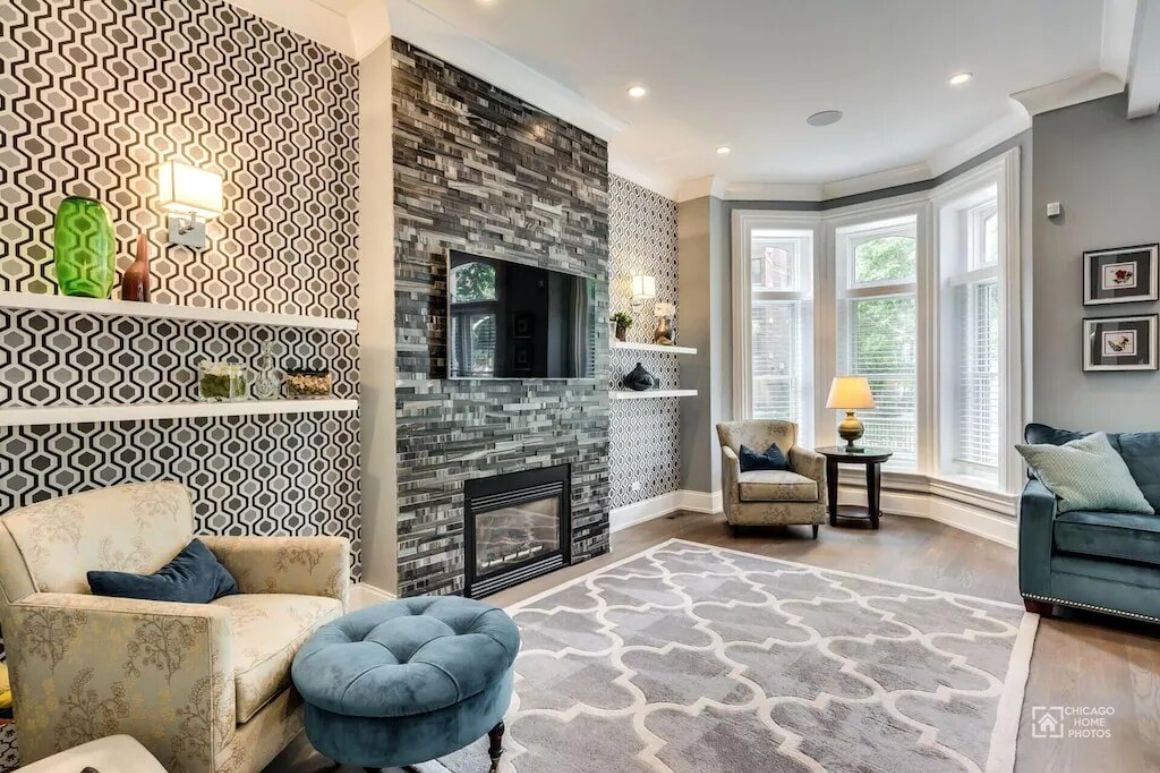 $$$$
In central North Side Chicago
10 Guests
Contemporary interiors
If extravagant luxury is what you're after, this city has you covered. We chose this Greystone home because of its perfect balance between opulence and history. The old building sits on a picture-perfect street preserved from another era and includes a grand entrance hall, huge outdoor living space, and landscaped yard.
The entire spot has been renovated with modern fittings and furnished with new interiors. Guests will be sure to enjoy the top-of-the-range premium appliances, and quality furnishings.
Even better? You'll only have to walk 10-20 minutes to reach the Magnificent Mile and Oak Street Beach!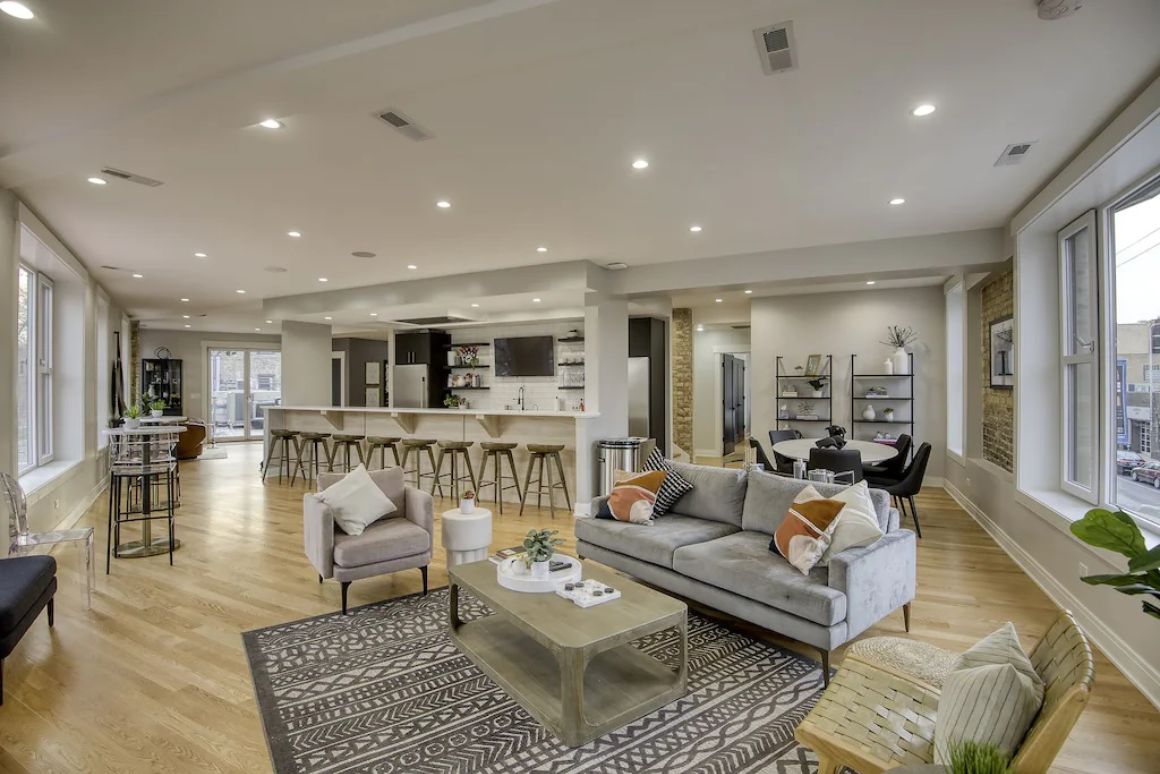 $$$
In the heart of Lakeview, near Wrigley Field
15 Guests
Contemporary home with modern art
Aside from being the best penthouse VRBO in Chicago, this spot could easily double as one of the top luxurious stays in the city. It's also one of the best party houses.
A unique attribute of this double-story penthouse is its sheer size. The vast home can sleep up to 15 guests spread over two stories. The house follows a chic contemporary style – and includes a gourmet level kitchen, a separate kitchenette, a party room, and multiple spacious living areas.
The cherry on top has to be the massive rooftop deck, which includes an outdoor kitchen, shuffleboard table, and bar. You won't find a spot closer to the iconic Wrigley Field. Go on, give it a search!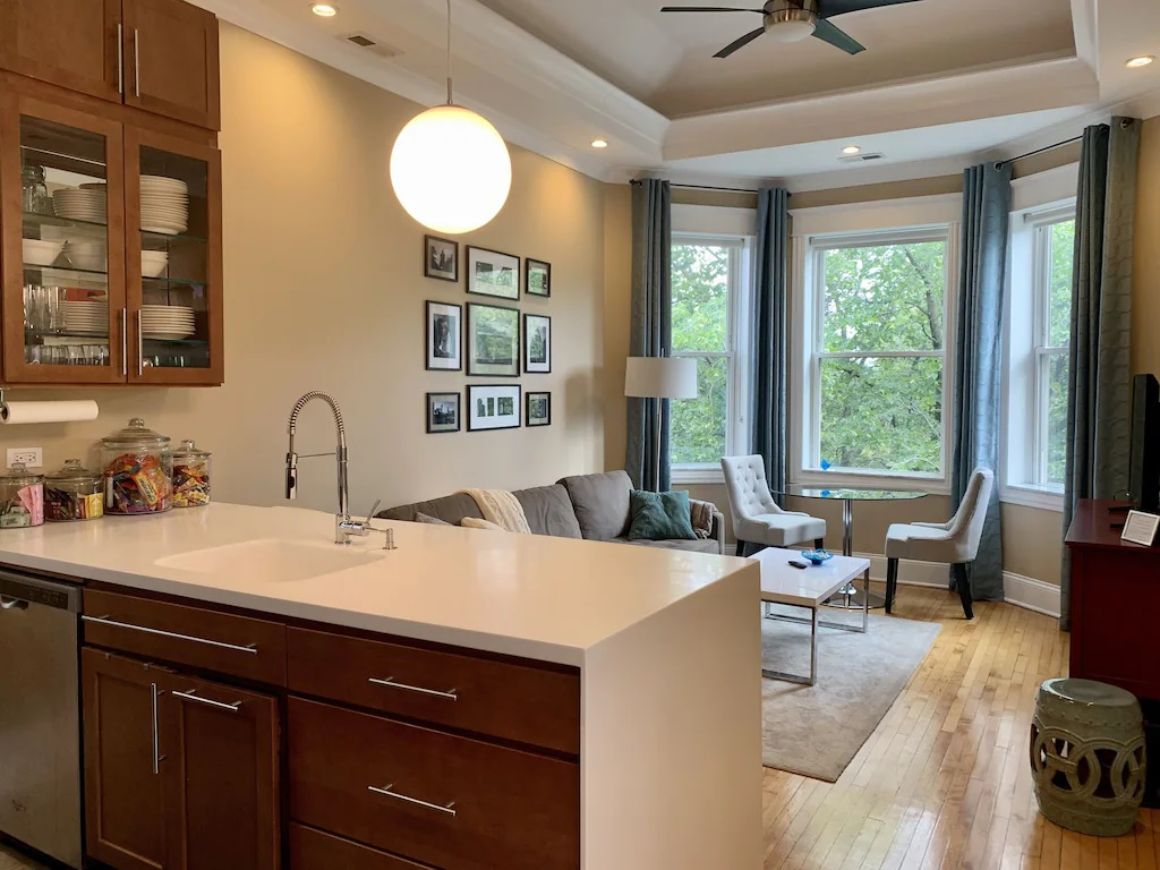 $$
In Little Italy, near Downtown
8 Guests
Historical details
Greystone townhouses are one of the most common yet historical types of accommodation in the city. The unique architecture and heritage give these homes a sophisticated touch.
For example, although this home has been refurbished with a contemporary influence, the space still offers classic features. Think high ceilings, original doorknobs, stone pillars, mosaic features, and impressive bay windows overlooking the tree-lined street beneath it.
Not only is this spot super well-equipped for an affordable historical stay, but it's also located in a prestigious University neighbourhood. Nearby, you'll find plenty of eateries and shops.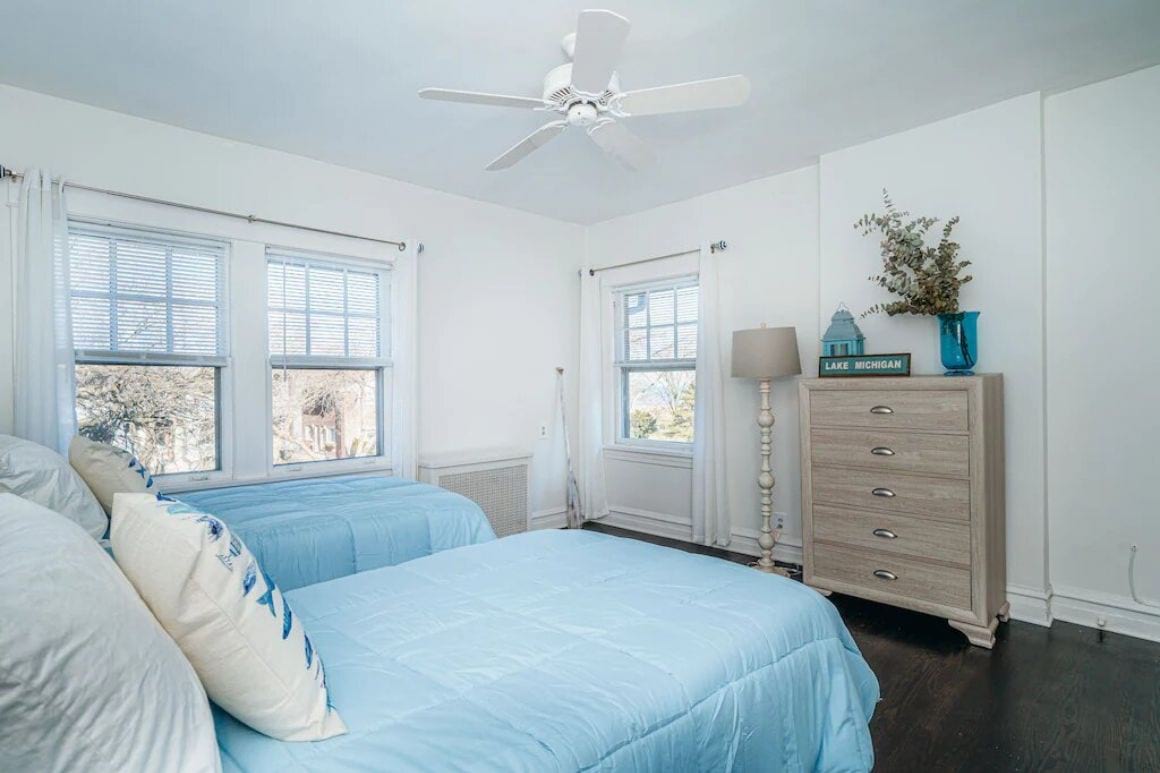 $$$
Steps from Lake Michigan
8 Guests
Massive basement with gym and laundry
This bungalow is perched steps from Lake Michigan's Loyola shores. It's the ideal suburban VRBO in Chicago for families, couples, and friends looking for a relaxed vibe.
This spot classifies itself as the perfect combination between beach and urban life, and we couldn't agree more. From the moment you step foot on this property, you'll feel like you're on vacation.
Enjoy a bright and spacious central living area with Chicago-themed decor throughout. This includes a boating room, a commodore room, and a lake-inspired room.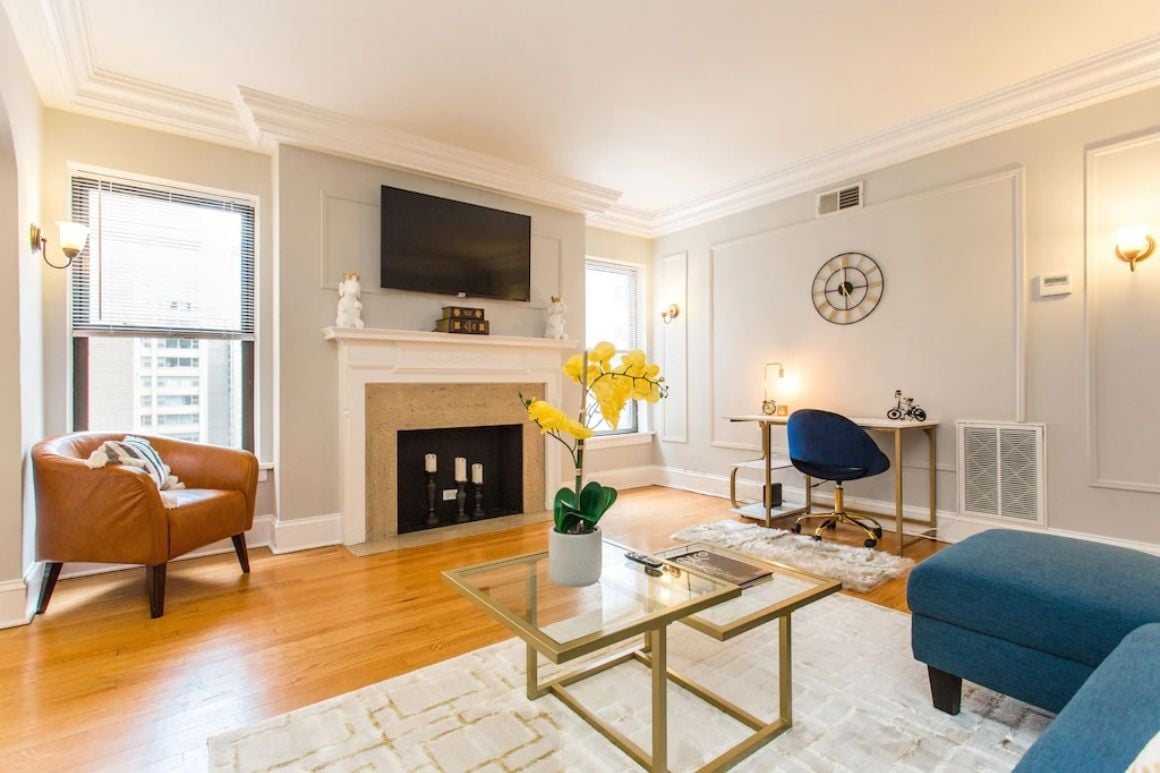 $$
By the Gold Coast and Lake Michigan
4 Guests
Historic building details
Finding a spot to rent with elevator access, no steps, and wide passageways can be tricky. But worry not! This newly renovated spot boasts high ceilings, wide doorways, and is wheelchair accessible.
An abundance of natural light filters through the windows in the apartment, giving each room a warm and welcoming feel. The contemporary decor also lightens up the space, which is well equipped with everything you may need.
On top of its convenience for accessibility, this spot sits in one of the most sought-after locations in the city. You'll find some of Chicago's top eateries, bars, and shops just moments away.
8 Guests
Home built for luxury entertaining
Everything in this classic home is curated to perfectionist standards. Spread across 6,000 square feet of a historical building, this Chicago VRBO provides the ultimate luxury living experience.
Elegant lighting, world-famous art, and upscale furniture complete the home. It's inspired by a mix of contemporary and mid-century styles, with neutral tones with gold touches.
My favourite part of the space has got to be the kitchen. It boasts white marble countertops, wooden cabinetry, and modern chandelier lighting.
$$$$
In the heart of Chicago's Gold Coast
Chicago is overflowing with trendy bars, making it one of the Midwest's top cities to throw a party. If you're planning a fun-filled trip, this home is perfect for enjoying the company of your friends and family.
There are two separate living rooms to relax in after a day of exploring Chicago. The kitchen is perfect for cooking up a storm, featuring an extra-large island, a bar, and a wine cooler.
This is also one of the best VRBOs for the summer months. For some fresh air, head upstairs to the covered rooftop deck, which offers plenty of space for friends to gather.
$
West Loop, near bars and nightclubs
4 Guests
Stylish urban interiors
This city is a midwestern hub of entertainment and music, with an exciting bar and nightclub scene. If you're planning a wild weekend in Chicago, West Town and West Loop are great spots to stay and dance the night away.
This luxurious yet industrial-style home sits a short walk from this nightlife hub. With open-plan living and a BBQ balcony, this spot provides the goods for both a pre-match and post-match with your mates.
$$
Near South Side, the park, and the lake
4 Guests
Floor-to-ceiling glass windows
A world-class view is one way to take any VRBO in Chicago up a notch. Make yourself at home in this beautiful home, which perfectly blends sophisticated style and luxury with industrial quirkiness.
Exposed concrete walls and steel and iron window frames give plenty of character to the property. The furnishings are colourful and cosy, perfect for a couple.
Enjoy the views through the floor-to-ceiling glass windows, which open out onto a spacious balcony.
$
In South Loop, near the park
4 Guests
Industrial red-brick interior
With trendy coffee shops to work from, parks to roam, and weekend adventures to be had, it's hard not to thrive as a digital nomad in Chicago.
We chose this industrial-style loft because of its convenient location, free parking, and affordability. Of course, it also includes a private workspace and fast Wi-Fi connection fit for a hardworking digital nomad.
The condo is also perfect for long-term rentals. There's in-unit laundry, cleaning facilities, and a full kitchen with all the necessities you might need during your stay.
$$
Close to galleries, bars, and shops
4 Guests
Up-scale modern interiors
River West is the coolest neighbourhood to stay in for a local Chicago VRBO experience. There's heaps to do here, from attending live music and art galleries to exploring restaurants and boutiques.
This spot combines the benefits of hotel living with local apartment life. Think self-check-in services, a 24-hour concierge, and high-end cleanliness.
Alongside the amazing surroundings, the home boasts fantastic interiors. Enjoy a beautiful chef-standard kitchen, comfortable living area, and balcony, as well as tons of closet space for those who struggle to pack light.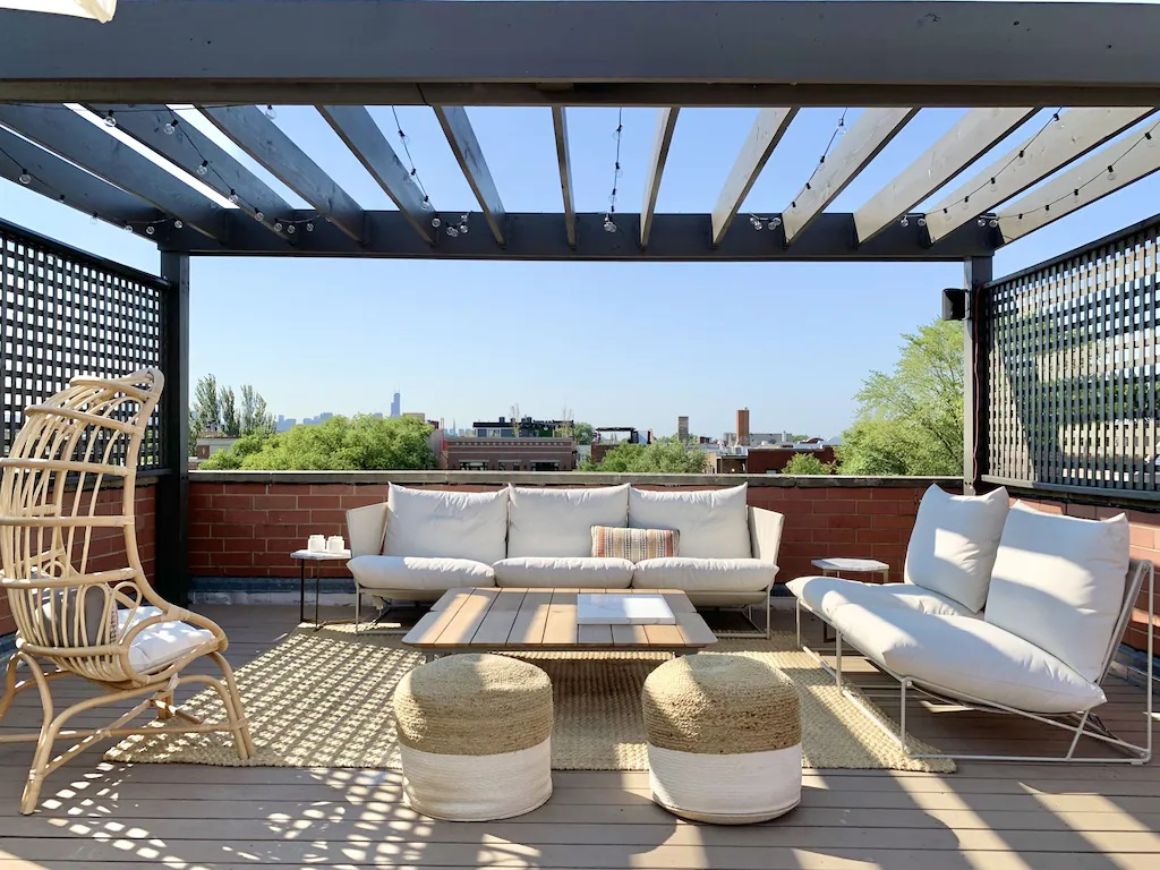 $$$
In Wrigley, with city skyline views
4 Guests
Greystone penthouse with open-plan living area
Are you settling into the windy city for an extended period? We guarantee you'll have a hard time leaving this exquisite rental in Chicago. This Greystone penthouse in dynamic Wrigley provides a safe place to rest and recuperate in the city centre.
The space has been refurbished with contemporary furniture, stylish fittings, and high-end appliances and linens.
In fact, it even has a spacious rooftop deck with panoramic views of the city skyline. This colossal deck is filled with comfortable lounge furniture, a ten-seater dining table, and a BBQ. I can't think of a better spot to enjoy Chicago's balmy summer months.
$$
In Lakeview, two blocks from Lake Michigan
6 Guests
Colorful and eclectic interiors
Planning a quick weekend getaway to the city? This Lakeview VRBO is the best place to base yourself.
With so much within walking distance, this VRBO in Chicago boasts an epic location. Enjoy live theatre, museums, entertainment, and some of the city's top restaurants.
Not only is it in the perfect spot for experiencing authentic Chicago, but the home itself (which is owned by a local artist) is curated to offer guests the most local experience possible.
With three bedrooms, this home is spacious enough for the whole family. It includes a laundry room, a formal dining room, and a fully-equipped kitchen with everything you might need. There's even a lush garden, which is fitted with an outdoor dining table and gas BBQ.
The home is spotlessly clean and designed with quirky colours, local artwork, and stained glass windows. It's super unique and the perfect way to immerse yourself in Chicago living.
$$$
Next to the park in West Town
12 Guests
New interiors and furniture
Gather your best mates and head to the city for an unforgettable getaway. Ideal for sports fanatics, outdoor enthusiasts, party-lovers, and shopaholics, this home is perfect no matter what's on your Chicago itinerary.
This VRBO has tons of shared living space. There's a 12 seater dining table and spacious kitchen, perfect for cooking a family-style meal with your friends.
There's tons of seating in the living areas which offers plenty of space for everyone to stretch out.
4 Guests
Former store converted into a residential home
Have you ever wondered what it would be like to live as a mannequin in a shop window? Well, me neither, but now you can (kind of). This VRBO in Chicago is hidden behind an old authentic shop window on a busy street in Ranch Triangle.
Although the windows have been tinted, you'll be able to do some great people-watching from this quirky rental. They won't see you though, so there's no need to worry about privacy!
The home is designed in a modern and contemporary style, with grey and white tones contrasting the warm wooden features. Although it's small, guests can enjoy a personal workspace and a spacious lounge that can be converted into a second 'bedroom' with a sleeper couch.
Don't Forget Your Chicago Travel Insurance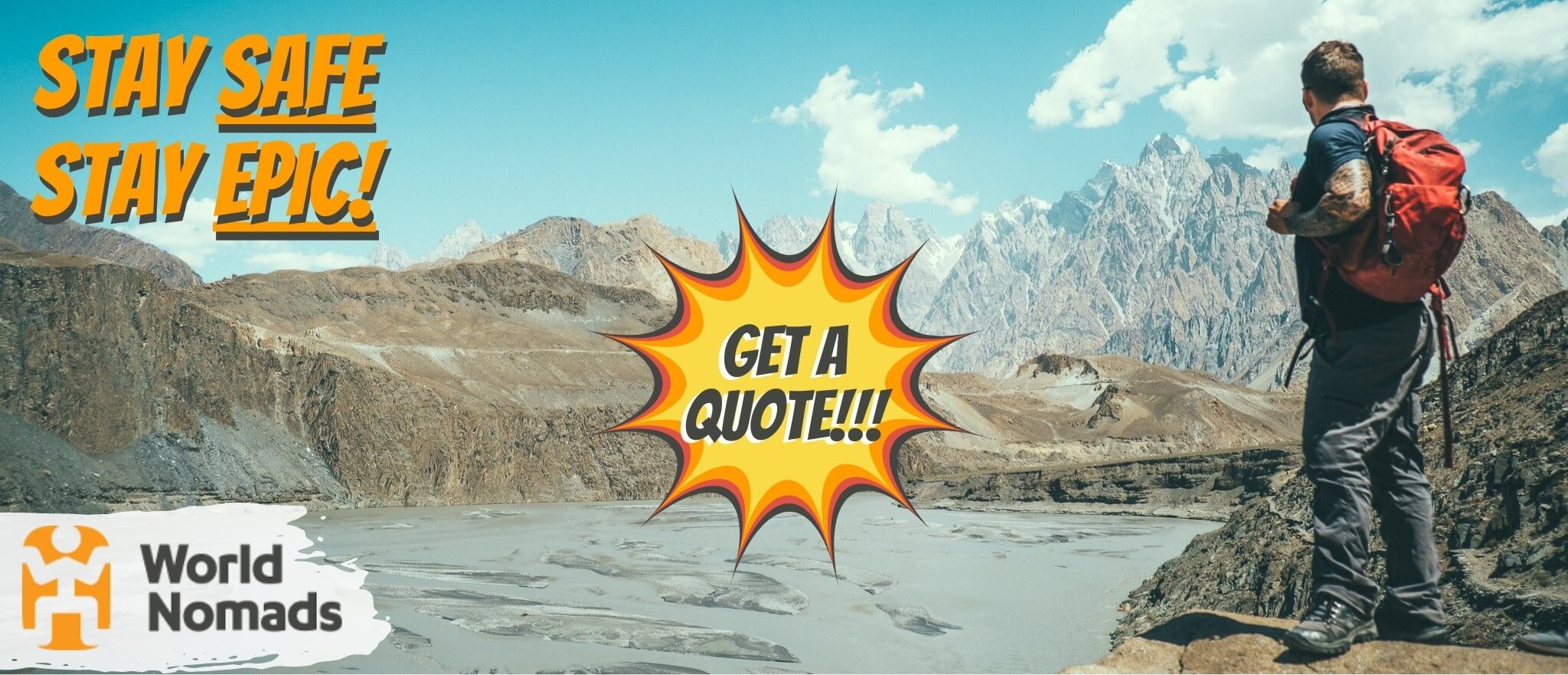 World Nomads' mission is to support and encourage travellers to explore their boundaries. They offer simple & flexible travel insurance, and safety advice to help you travel confidently.
They've been doing it since 2002 – protecting, connecting, and inspiring independent travellers just like you.
Get a quote below or read our in-depth review!
World Nomads provides travel insurance for travelers in over 100 countries. As an affiliate, we receive a fee when you get a quote from World Nomads using this link. We do not represent World Nomads. This is information only and not a recommendation to buy travel insurance.
Final Thoughts
Travellers are drawn to this city for its dynamic music, culture, and dining scene. Being one of the coolest destinations in the USA, it's no surprise that there are some epic VRBOs in Chicago to match.
Whether you're after an industrial warehouse studio, a quiet historical townhouse, or a luxurious penthouse with panoramic views, you'll be spoilt for choice.
---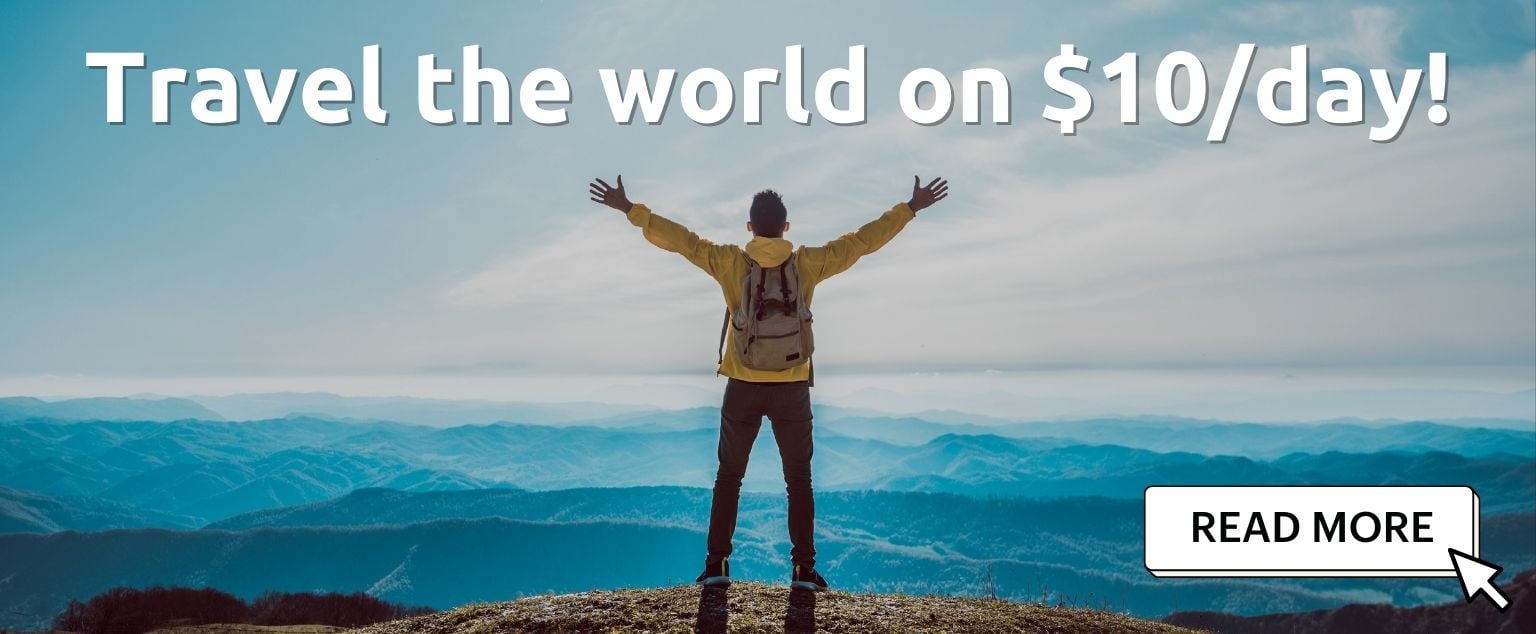 And for transparency's sake, please know that some of the links in our content are affiliate links. That means that if you book your accommodation, buy your gear, or sort your insurance through our link, we earn a small commission (at no extra cost to you). That said, we only link to the gear we trust and never recommend services we don't believe are up to scratch. Again, thank you!