The United Kingdom's fifth largest city needs little introduction. Liverpool was the birthplace of The Beatles, is home to soccer giants Liverpool Football Club and was the departure point for many migrants heading to the United States in search of a better life.
That is not all that this city is good for though, something that you will quickly realize when spending a weekend in Liverpool. It has so much more to offer! From fab shopping quarters to amazing clubbing experiences and renowned art galleries, there is something fun and exciting for everyone to discover!
The city's airport connects with some major cities around the world, and many low-cost airline routes from Europe, so getting there could not be simpler. So put on your favorite Beatles track, practice a Scouse accent (please don't) and prepare for a fantastic weekend break in Liverpool – it'll be boss!!
To get the best out of your trip, we've compiled a quick Liverpool guide to give you a snapshot of what the city has to offer. This information is perfect for all of you preparing short breaks to Liverpool!

Unlock Our GREATEST Travel Secrets!
Sign up for our newsletter and get the best travel tips delivered right to your inbox.
Insider Tips for AMAZING Liverpool Breaks
We've got the hottest tips to have an amazing weekend in Liverpool!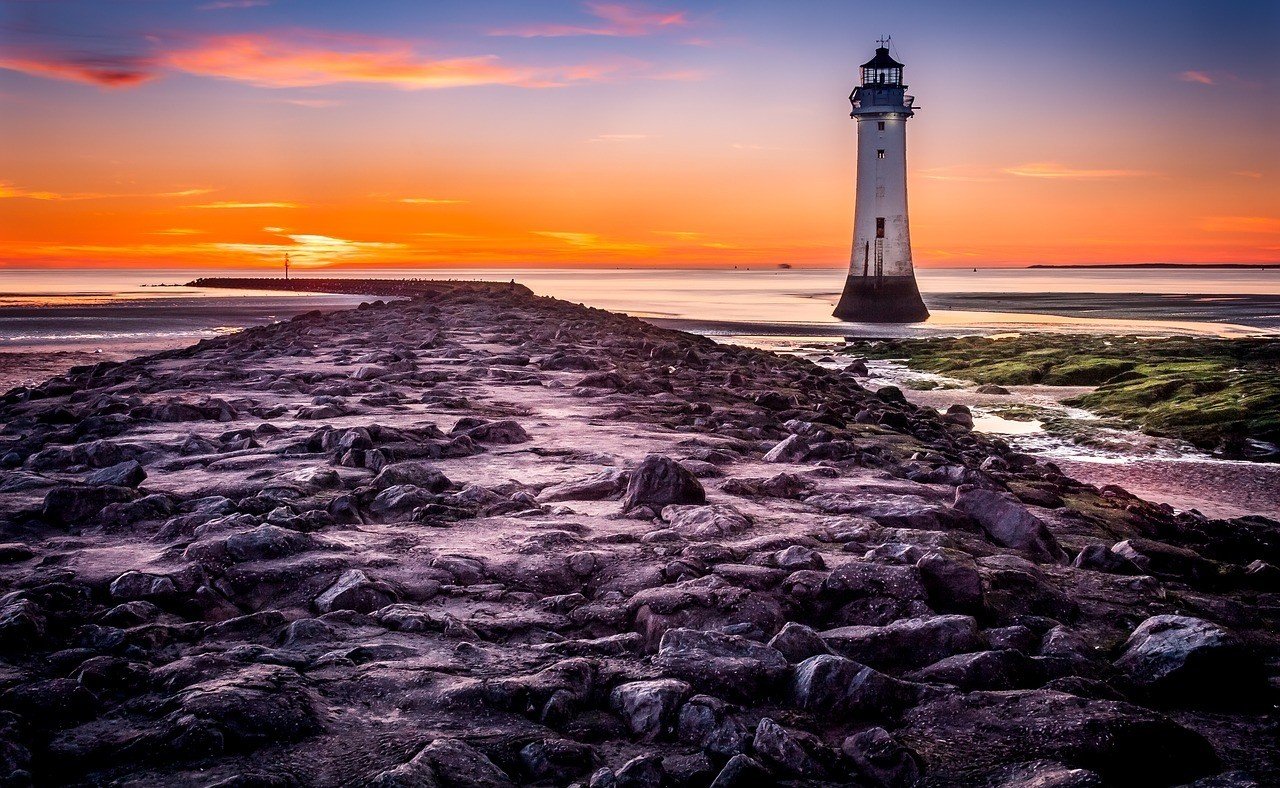 Know Where to Stay in Liverpool
Liverpool centre is relatively compact. It is made up of a collection of quarters, each having its own distinct atmosphere and feel to it. These quarters are rooted in the city's history, and together they combine to form a diverse cosmopolitan city with a proud heritage!
The center of Liverpool is full of historic buildings, brand headquarters, and great shopping streets. A stay around here will mean you'll be surrounded by everything you need for a great Liverpool city break!
If you're wondering where to stay in Liverpool, then we've got you. If you want a trendy neighborhood with loads of popular hang-out spots, gourmet restaurants and indulgent bars, then the Baltic Triangle is just up your alley.
Alternatively, if you favor traveling on a budget and enjoying a more bohemian atmosphere then Ropewalks could be more to your liking. This quarter is a hive of activity, attracting a diverse group of people that enjoy all things quirky, vintage and carefree! As the former site of the city's rope-making factories, Ropewalks is a cheaper area in the city to find accommodation.
Other central areas include Albert Dock, Liverpool One and the Hope Quarter. I recomend avoiding staying in any of the suburbs or outer areas unless your budget is seriously tight.
There are now quite a few hostels in Liverpool. Here are three of the best accommodation options we recommend for a great weekend stay in Liverpool!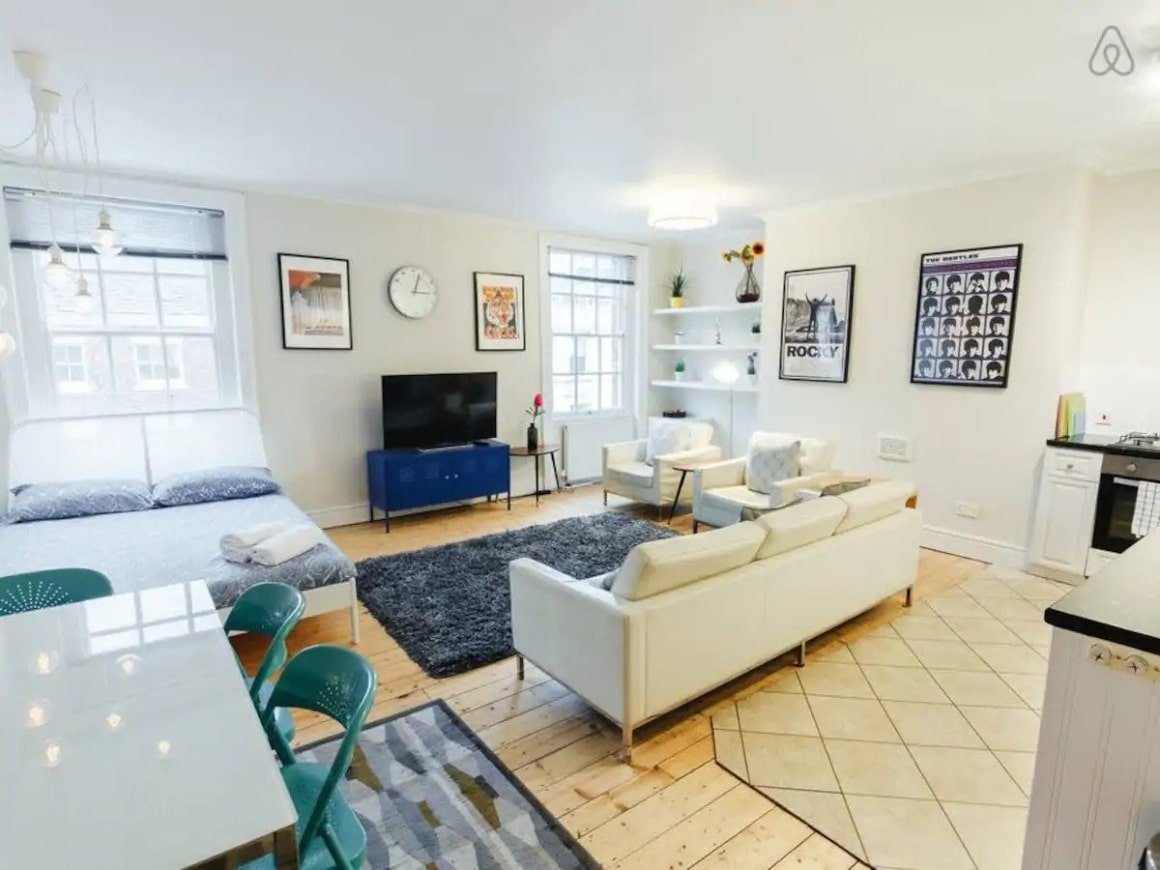 A beautiful modern apartment housed in a colonial-style building, spend time unwinding in comfort. High ceilings are a feature in this central location, whilst big windows make this place light and airy.
It's situated in the city center, walking distance to many of Liverpool's attraction and close to amenities. The apartment is ideal for a weekend in the city with friends or a partner, eating, drinking and enjoying the city's sights and nightlife.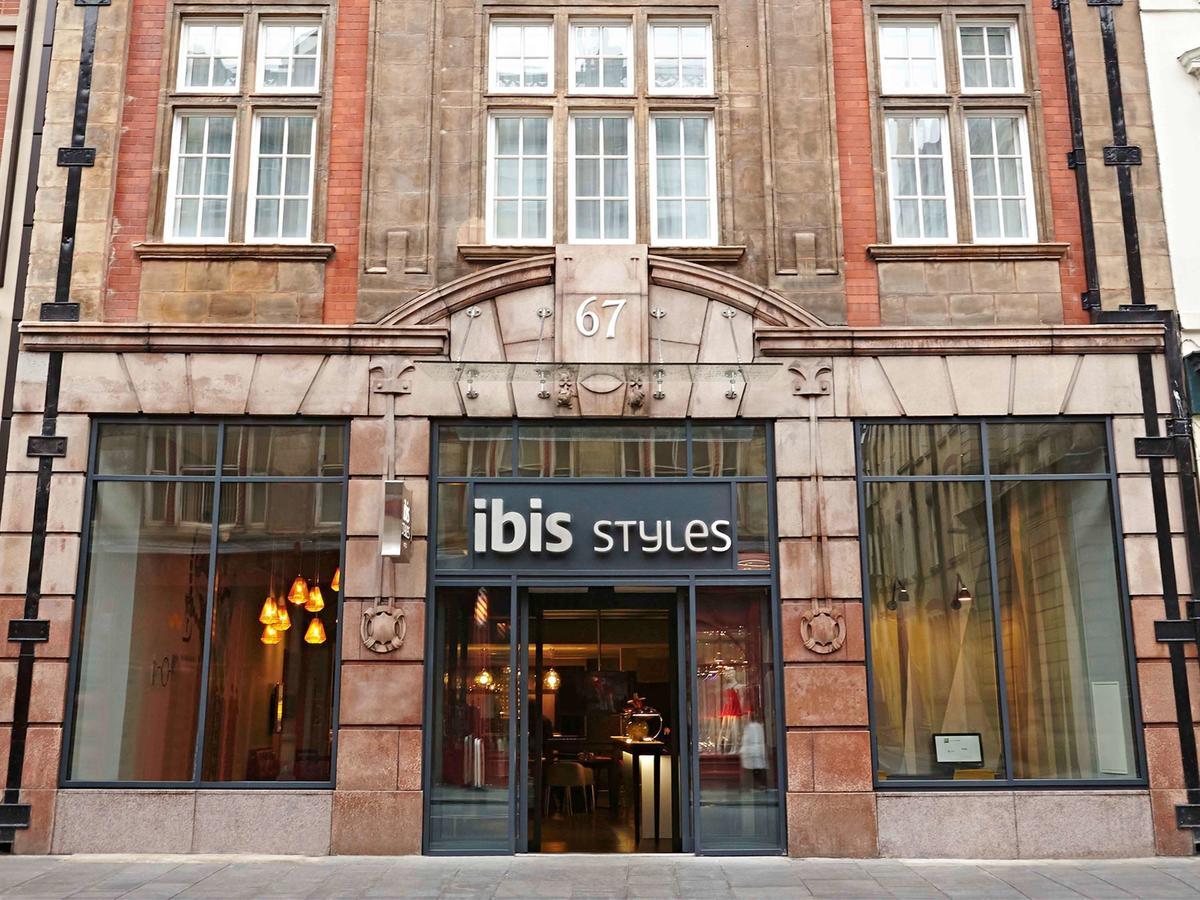 Secure accommodation in the heart of the city
Serves a delicious continental breakfast
Discounted parking available
If you're looking for secure affordable accommodation, look no further than Ibis Styles Liverpool Centre Dale Street, right in the heart of Liverpool! Just a short walk away from Liverpool James Street Station and the Cavern Quarter, this is a great hotel for travelers on a budget.
Located on the former site of North Warehouse, Stanley Dock
Grab a drink at Stanley's Bar and Grill and Rum Bar
The rooms are very spacious and beautifully decorated
The Titanic Hotel Liverpool is set in a former warehouse at Liverpool's Stanley Dock, just five minutes by car from the city center. It offers stylish accommodation, and includes a restaurant and bar, a fitness suite and WiFi.
Our Favorite Hostel – Hatter's Hostel – Liverpool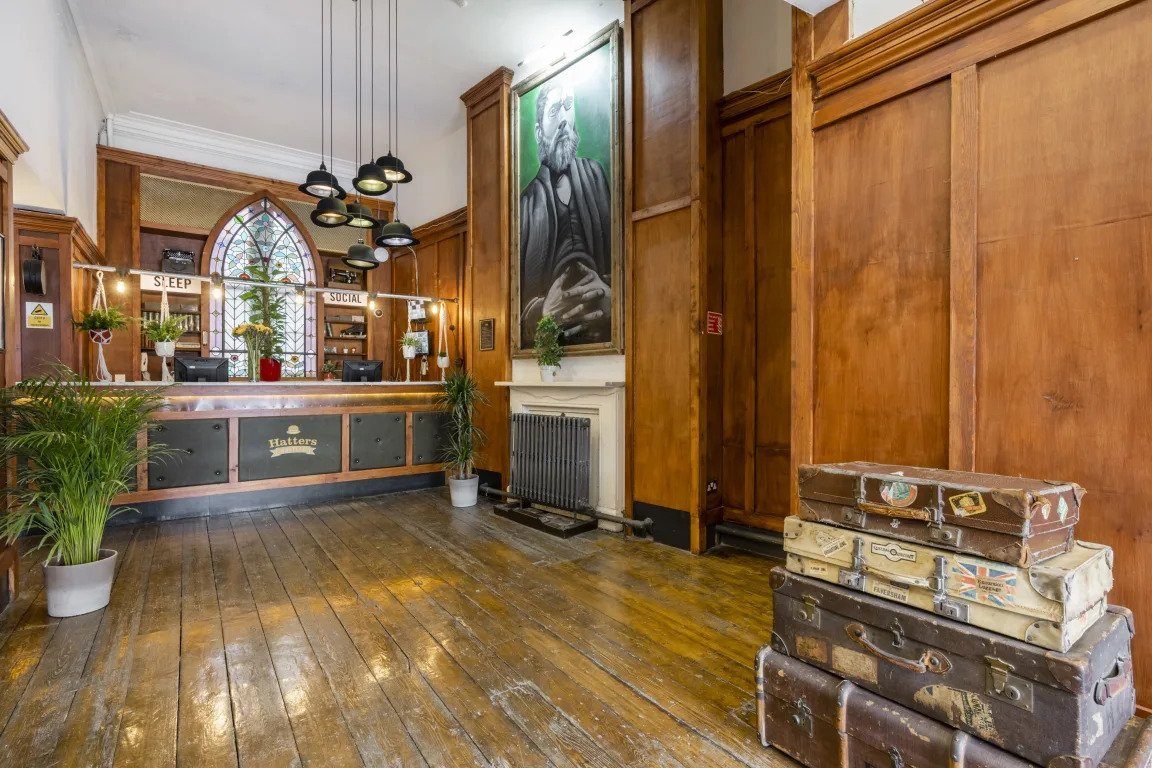 Has a bar in the lobby
Offers mixed dorm or private room accommodation
Shabby-chic interiors and tiled floors
Hatter's Hostel is our favorite hostel and is a wonderful option for solo travelers and couples visiting Liverpool. Just a short walk from the city center, this hostel is perfectly located and has a great atmosphere! There's a bar in the lobby, which is a great place to unwind after a busy day in the city. Hatters also have a hostel in Manchester.
Hatter's Hostel – Liverpool is one of our favourites in Liverpool but they're not taking guests right now. We're not sure if they're closed for good but we hope they'll come back soon.
Know How to Get Around in Liverpool
Liverpool city center is nice and compact, making exploring on foot a great option. Most of Liverpool's top attractions are located in the city center, all within walking distance. You will only need public transport going to and from the airport or if you fancy venturing into the suburbs, outer boroughs or countryside. It's also possible to book a ticket for a hop-on-hop-off bus that'll take you from one attraction to the next.
There are plenty of transport options to get you around the city safely, so there really is no need for a car. If you are driving to Liverpool by car, the good thing is that overnight parking lots are generally pretty affordable. It is usually quite difficult to find street parking close to the city center.
Busses, trains and ferries move thousands of people around Liverpool on a daily basis. Making use of these options will bring you into contact with locals, as most rely on public transport to get to work and back.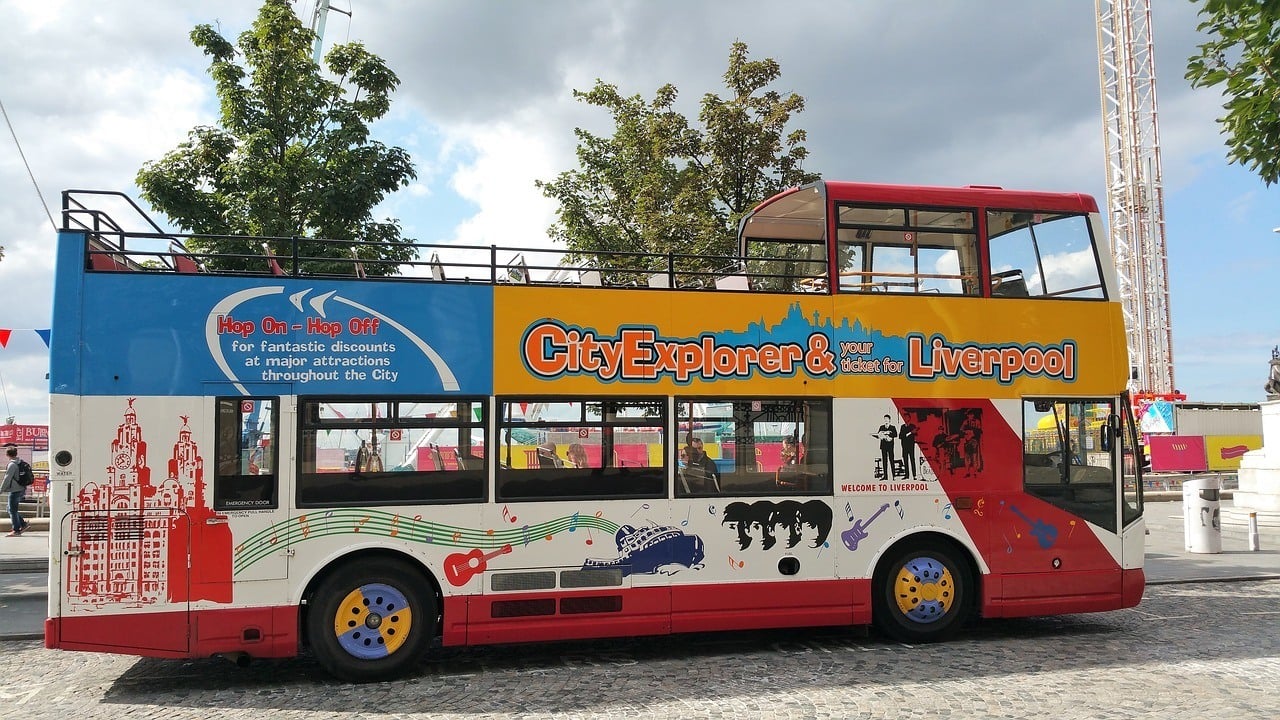 Merseyrail (or MiseryRail) is an extensive suburban train service linking Liverpool with the Greater Merseyside area. Lime St, Central, James St and Moorfields are four centrally located underground stations from which to connect to Liverpool's outlying suburbs. Note that Manchester Centre can be reached in 30 minutes from Lime Street if you take the express train.
Bus travel in Liverpool is a green, convenient and cost-effective way to explore the city. If you plan on using the bus frequently during your stay, you can save some bucks by purchasing a Walrus card or simply by buying day tickets.
Liverpool's famous Mersey Ferry offers a relaxing and informative trip across the Mersey River the Wirral Peninsula. The ride is novel but I only recomend it if you actually need to go to Birkenhead or The Wirral which you probably won't.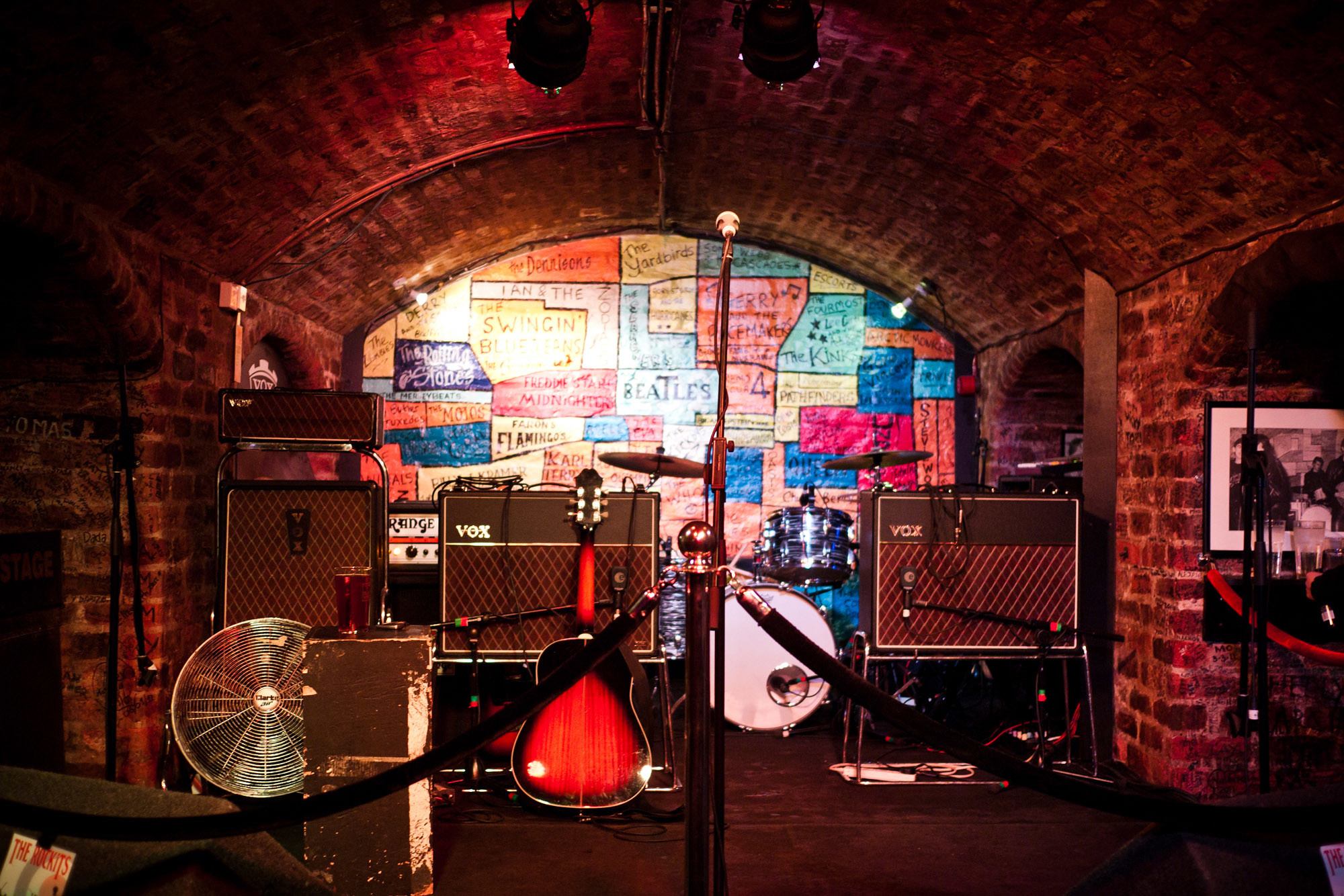 The birthplace of the Beatles and home to some of the best nightlife in the UK, Liverpool has a great mix of old-school live music venues, fancy cocktail bars and world-class nightclubs!
Ropewalks
This neighborhood is loaded with bars, especially in Seel Street
Expect everything from smooth RnB vibes to tropical beach bar atmospheres
The upstairs level of Peacock is the place to be after midnight for late-night dancing
For a great night out on the town where you get dressed up in your fanciest threads, head out in Ropewalks.
The area has a huge selection of bars, each one providing their own take on an enjoyable nightlife experience. Most are located in Seel Street, and no two venues are alike!
Business Quarter
Get your night started on the right foot in Castle Street
In summer, enjoy a drink outside in the sun and watch the world go by
Sample sensational cocktails at Jenny's Bar, an underground bar serving up old-world glamour, with a speakeasy edge.
Castle Street in the Business Quarter is the perfect starting point for early evening entertainment!
Local business people flock to Castle Street for a drink or a meal after a day's work, and ensure the bars and pubs are abuzz with activity until the early morning hours. Around this area you'll find plenty of establishments serving hand-crafted gin and delicious cocktails.
Cavern Quarter
A popular nightlife area for generations of local party-goers
Home to two of Liverpool's most well-known nightclubs, Mansion and Kingdom
The Cavern Club itself is a must-visit destination for anybody coming to Liverpool for the very first time!
Victoria Street in the Cavern Quarter is known as the birthplace of The Beatles and the epicenter of Liverpool's musical heritage!
This area has a host of live music venues and popular Irish pubs, and always guarantees a great night out. Two of the city's most popular nightclubs are found around here, which means the party goes on all night. Note that the Cavern Quarter does a bit lairy with drunken groups on weekend evenings and bank holidays and personally I would avoid it at these times. Ideally, you could join a pub crawl tour with a local guide to avoid all of the tourist traps and stick with the hidden gems instead!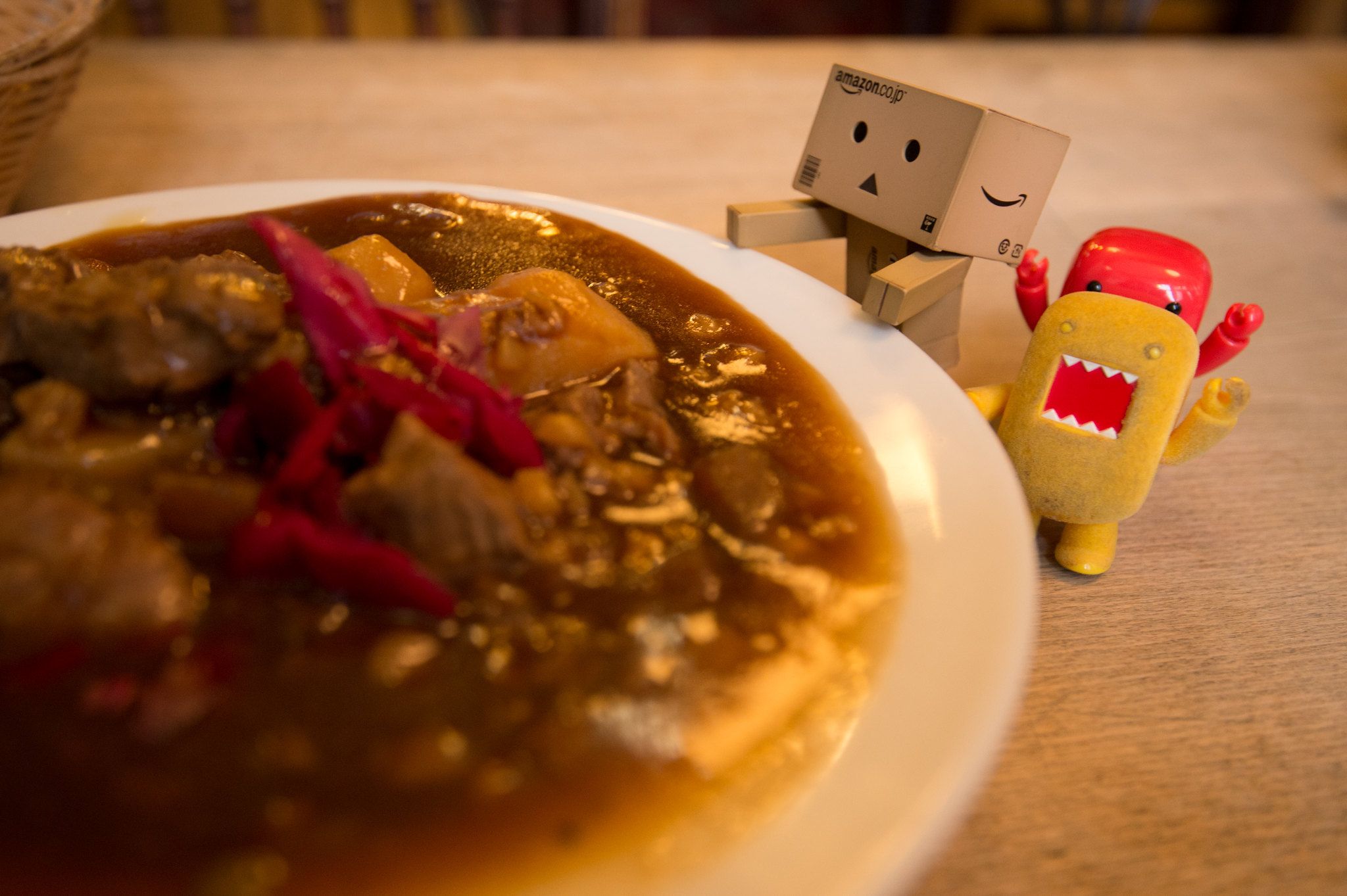 You'll find something tasty to eat every day of the week in Liverpool. Here are a few options that foodies will absolutely love!
Baltic Market
The first food market of its kind in Liverpool
Open Thursday – Sunday from early until late
You just have to try the halloumi fries or wood-fired pizza, two of the market's signature dishes
Baltic Market, located in the city's iconic Cairns Brewery building, is Liverpool's first street food market and features some of the best local traders!
This popular market offers a variety of mouth-watering food and drink options, live music, and events all under one roof. It's definitely a must on your Liverpool itinerary!
Insider tip: If you're a real foodie, why not link up with a local guide and explore the options together?
Wahaca Liverpool And Rooftop Bar
Part of the Wahaca Liverpool franchise
The restaurant features a distinct Latina flair with unique interiors and exotic Mexican plates
Indulge in everything from chicken tinga tacos and black bean fajitas to nachos.
Wahaca is an oasis of South American charm and style in the middle of Liverpool. Have a drink at the rooftop bar or indulge in a vegan-friendly feast in the restaurant!
Their selection of vegan food is top-notch, especially delicious are the burritos and tacos. Wash it all down with a sour cocktail, mojito or margarita!
Dockside Dining Club
Features an eclectic mix of food vendors, market traders and events
Open every day of the week
A contemporary venue at the Royal Albert Dock offering something for everyone
Dockside Dining Club is a casual food hall and social space located at the Pier Head. The venue has loads of independent vendors cooking up all kinds of scrumptious cuisine, with something for all dietary regimes!
The stunning views of the waterfront are a bonus, especially on a beautiful summer's day!
If you're looking to get out and active in Liverpool, you won't be disappointed! Try out one of these fun outdoor activities on your holiday in Liverpool.
Play a round of crazy golf
Indoor crazy golf is taking the country by storm, with loads of funky venues around the city
Grab a beverage and give it your best shot in an urban indoor putt-putt course
A great activity for bachelor/bachelorette parties and birthday celebrations!
A round of crazy golf is without doubt one of the best things to do in Liverpool! The adults-only Ghetto Golf at Cains Brewery Village is an 18-hole venue that offers a unique mini-golf experience surrounded by graffiti artwork.
There's also a cocktail bar and DJs playing live music!
Try your hand at some watersports
Get down to Queens Dock and choose from a range of activities on the water
You can have a relaxing paddle around in a pedalo or try your hand at windsurfing
Wheelchair users can also get in on the action with a ride on a fully-accessible powerboat
For some fun in the sun, head down to Liverpool Watersports Centre for all kinds of water-based activities! The center offers a variety of watersports, including canoeing, stand-up paddleboarding and powerboating.
There is also an aqua park with an inflatable obstacle course, perfect for some competitive fun with your friends!
Watch a soccer match
The experience of watching a live soccer match is something you won't stop talking about
Tickets to home games sell out fast, so you may want to book well in advance
If you can't watch a live game, head to a local pub to get a small taste of the festive atmosphere on game day
Soccer is a religion in England! Liverpool is home to two English Premier League soccer teams – Liverpool FC and Everton FC, and many other lower league clubs!
From September through to May the city will be fever pitch with excitement as the soccer season unfolds. If you can watch a live game, it'll certainly be another tick on the bucket list! Note that lesser known Tramnere Rovers play "across the Mersey" in Birkenhead. Tickets for Tramnere are easier to come by and cheaper then ones for the Premier League giants.
Small Pack Problems? 😉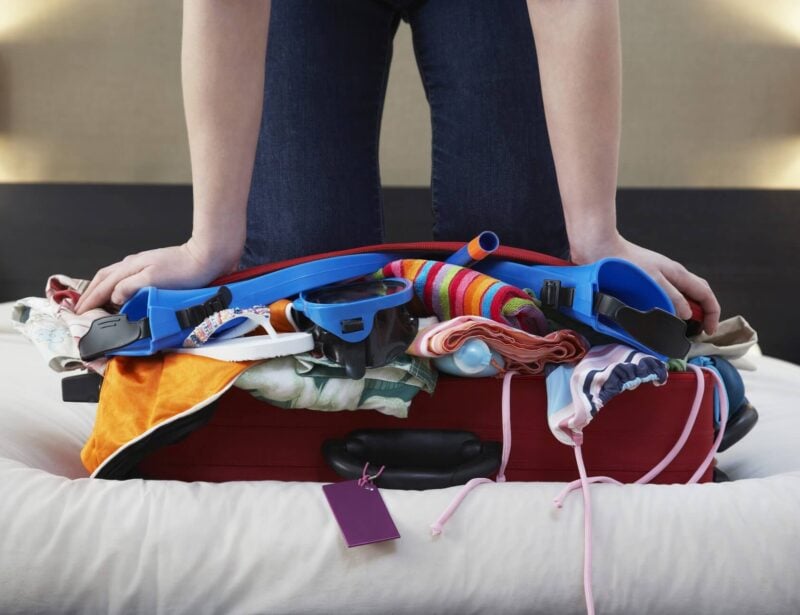 Wanna know how to pack like a pro? Well for a start you need the right gear….
These are packing cubes for the globetrotters and compression sacks for the real adventurers – these babies are a traveller's best kept secret. They organise yo' packing and minimise volume too so you can pack MORE.
Or, y'know… you can stick to just chucking it all in your backpack…
Get Yours Here
Read Our Review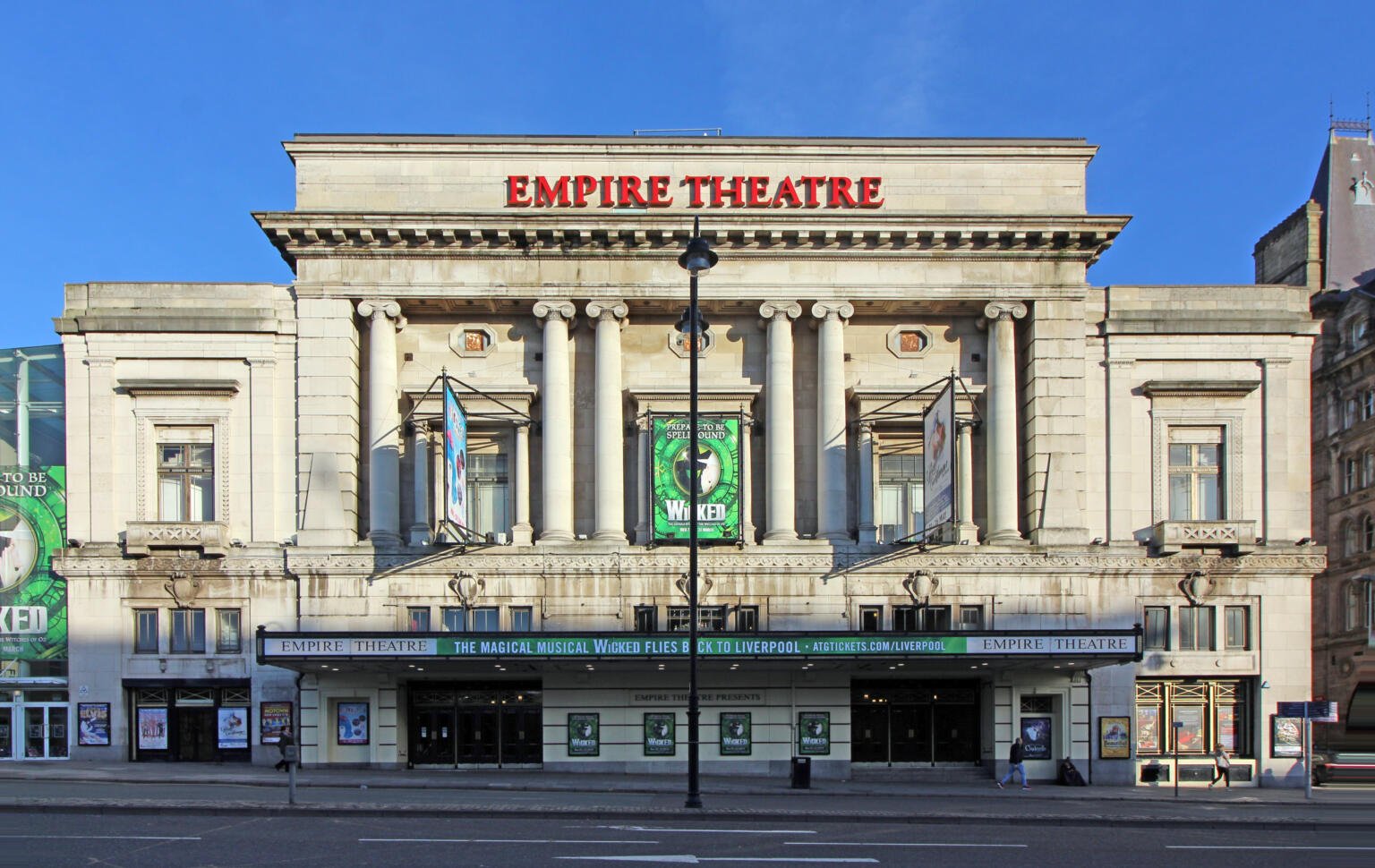 Liverpool is also rich in the arts, having a bounty of live-music and theater venues. Here are three venues that we think you may enjoy while visiting the city.
The Cavern Club
Ground zero of Beatlemania, where The Beatles performed almost 300 times!
See the world-famous stage beneath the brick arches
The place to be to experience the atmosphere and spirit of Merseybeat
The Cavern Club in Mathew Street is an institution in Liverpool, and remains the beating heart of Liverpool's amazing music scene! Although the venue is synonymous with The Beatles, it also hosted legendary acts like The Rolling Stones, Queen, Elton John and The Who!
The Cavern Club is open seven days a week, and hosts everything from solo singer-songwriters to tribute bands. The venue is kitsch as hell and aimed entirely at tourists but you should still call in for a (sub-parr) pint.
Philharmonic Hall
The Royal Liverpool Philharmonic Orchestra stages over 80 concerts each season at this beautiful venue
Classy, 1790-seater venue showcasing live classical and modern music, plus comedy and a cinema
Head to their website to see what's on during your Liverpool weekend away
Hope Street's venerable art deco concert hall is home to the Royal Liverpool Philharmonic Orchestra.
The attractive building with its superb acoustics also plays host to plenty of other music genres and styles, with the likes of Bobby Womack, Rufus Wainwright and Rodriguez all staging successful shows.
Liverpool Empire Theatre
Stages productions in various genres, including musicals, pop concerts, comedians, plays, opera, and wrestling
The theater is reputed to be haunted by at least two ghosts – a former painter and a young girl in Victorian dress
This venue hosted The Beatles in the early stages of their career
Liverpool Empire Theatre is a grand old theater located on the corner of Lime Street and London Road.
It has the largest two-tier auditorium in Britain and can seat over 2,000 people! Since opening in 1925, it has hosted many types of entertainment, and today is a venue popular for live bands, ballets and theater performances.
Travel with peace of mind. Travel WITH a security belt.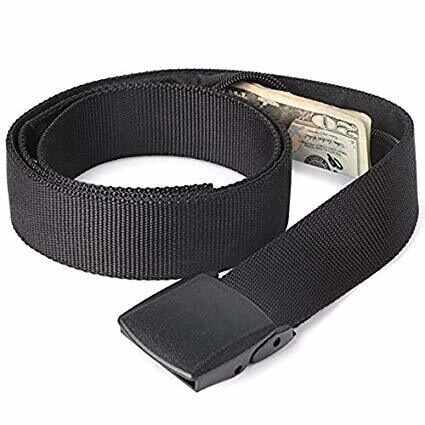 Stash your cash safely with this money belt. It will keep your valuables safely concealed, no matter where you go.
It looks exactly like a normal belt except for a SECRET interior pocket perfectly designed to hide a wad of cash, a passport photocopy or anything else you may wish to hide. Never get caught with your pants down again! (Unless you want to…)
Hide Yo' Money!
10 Other Awesome Things to do in Liverpool This Weekend
So you're still wondering what to do in Liverpool? Here are 10 more Liverpool sites that you just have to visit!
#1 – Royal Albert Dock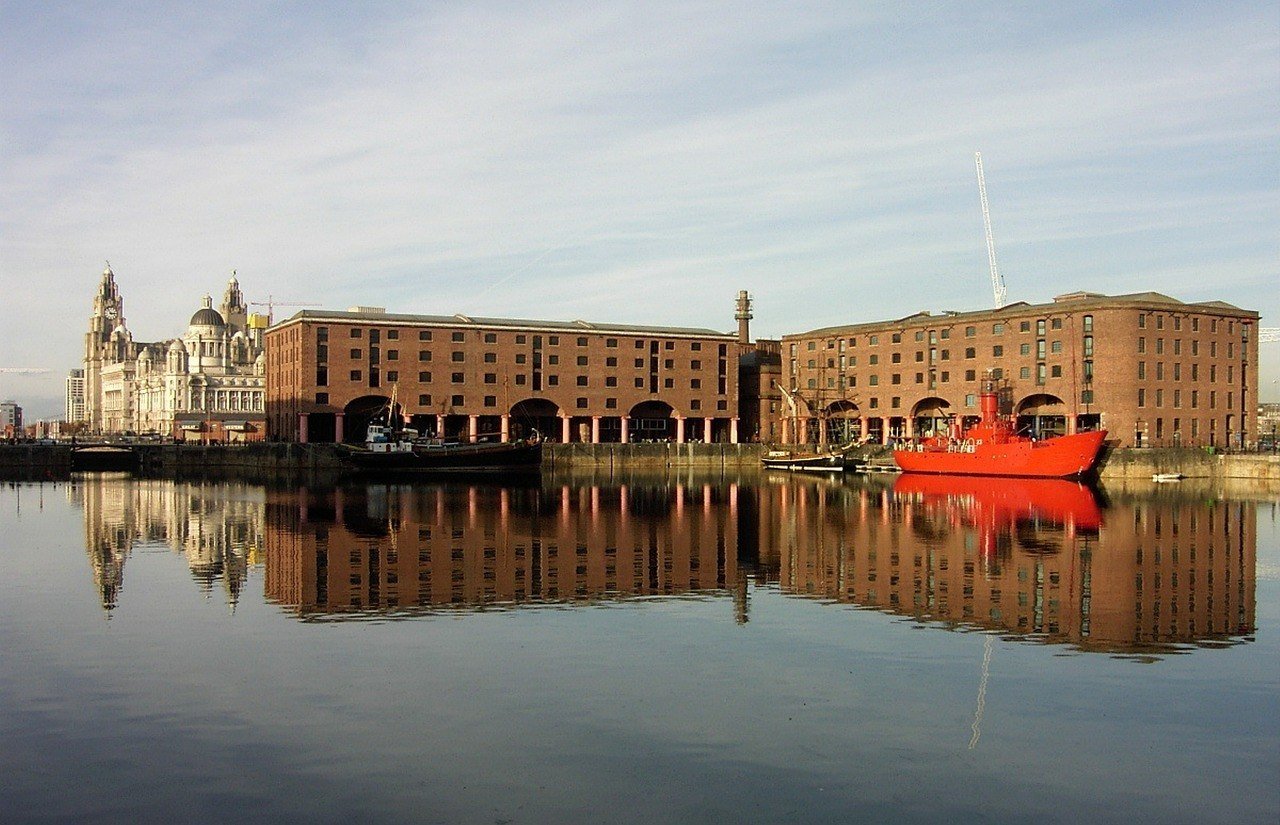 Albert Dock showcases Liverpool's rich industrial history, with shipping docks and old warehouses lining the waterfront. Opened in 1846, Albert Dock was built using iron and brick, becoming the first non-combustible warehouse system in the world. Its construction revolutionized the docking system, as ships were able to be loaded directly from warehouses, and featured the world's first hydraulic cranes!
Today, Albert Dock is a heritage site and attracts around 4,000,000 tourists every year. This is a great place to find entertainment and food, as well as explore the well-preserved history of this maritime city. You can also admire the dock druing a 50min river cruise – it's the perfect balance between sightseeing and relaxation!
#2 – The World Museum
The World Museum is one of Liverpool's biggest museums, and has been expanding ever since opening back in 1851! Originally, it started out as the Derby Museum displaying the 13th Earl of Derby's natural history collection.
Today, the museum features extensive collections covering archaeology, ethnology and the natural and physical sciences. Two very popular special attractions include an aquarium and live Bug House, home to a variety of fascinating arthropods. There is also a planetarium which puts on regular shows for those interested in astronomy. The museum is free to visit, making it an ideal stop on any Liverpool itinerary.
#3 – St George's Quarter
Liverpool's St George's Quarter is a heritage site featuring some gorgeous examples of Victorian architecture. This is also one of the retail hubs of the city allowing for unabated shopping in a beautiful setting!
There are a number of popular theaters in the quarter, including the Liverpool Empire, mentioned in the previous section. While you're in the area, be sure to visit St George's Hall, which is one of the most beautiful examples of neo-classical architecture worldwide. The Hall was home to the famous 2015 sculpture 'Poppies', a moving commemoration to the First World War.
#4 – The Merseyside Maritime Museum
The Merseyside Maritime Museum at Royal Albert Dock, celebrates Liverpool's seafaring past and international importance as a major European port city. The port was a gateway to the world and connected Britain to many other nations and cultures.
At the museum, you can learn about Liverpool's role in emigration, the point of origin for many families that headed to the US, Australia and South Africa. Liverpool was also the registered city of the Titanic, a topic that also features heavily in the museum. The museum holds regular interesting events so there's always something new to learn.
IN A RUSH? THIS IS OUR FAVORITE HOSTEL IN LIVERPOOL!
#5 – Liverpool Cathedral
Liverpool Cathedral is a remarkable building for many reasons, and definitely worth a visit while exploring Liverpool! Work on the cathedral started in 1904 but was only recently completed in 1978. It was originally designed by Giles Gilbert Scott, the same guy who designed England's iconic red telephone boxes!
With an external length of 620 feet, it is the longest cathedral in the world! It is also one of the world's tallest, and offers amazing views of the city below. Entry to the cathedral is free, with a highlight being the daily ringing of the bells.
#6 – Liverpool Museum
The Museum of Liverpool is the city's newest museum, showcasing the cultural significance and history of Liverpool and its inhabitants. The museum's collections feature a variety of culturally important items such as fashion, décor and art, archaeological items and photographs.
Liverpool is examined through its importance as a port and a gateway for diverse communities into England, as well as its impact on industry, music and art. The museum celebrates the city's strong sense of identity and place in the world through interesting exhibits and interactive displays.
#7 – Tate Liverpool
One of the classiest things to do in Liverpool is to visit the Tate. Tate Liverpool is one of the most well-known art galleries in Liverpool, a city famous for its art collections. The gallery features work from the Tate Collection – specializing in contemporary and modern art, but also showcases British art dating as far back as the 16th century.
The Tate Liverpool offers guided tours that provide extra information about the gallery and its art, and often holds special exhibitions that provide insight into modern art. Current permanent collections include works by Duchamp, Matisse, and Grayson Perry.
#8 – The Beatles Story
A visit to Liverpool isn't complete without experiencing The Beatles Story! The exhibition is dedicated to the history of the band, and worldwide influence of The Beatles.
The Beatles Story features a range of artifacts from The Beatles themselves. These include John Lennon's round glasses, George Harrison's first guitar, rare photographs and other memorabilia. Explore the history and wider influence of The Beatles, including their formation, their rise in popularity, the 'British Invasion', and each of the members' solo careers.
For super fans, the unmissable Magical Mystery tour also departs twice daily from here. It is a guided bus tour of Liverpool that visits the Beatles childhood homes as well as Penny Lane and Strawberry Fields.
#9 – Anfield Stadium
Anfield Stadium is home to the most successful soccer team in England, Liverpool Football Club! The team has won more trophies than any other in England, all of which are on display in the trophy room at Anfield.
The stadium is open for guided tours almost daily, which gives you an exclusive look inside this iconic soccer ground. You'll get to learn everything you need to know about Liverpool's favorite soccer club, get a glimpse inside the changing rooms, and even get to stand next to the pitch!
#10 – Sefton Park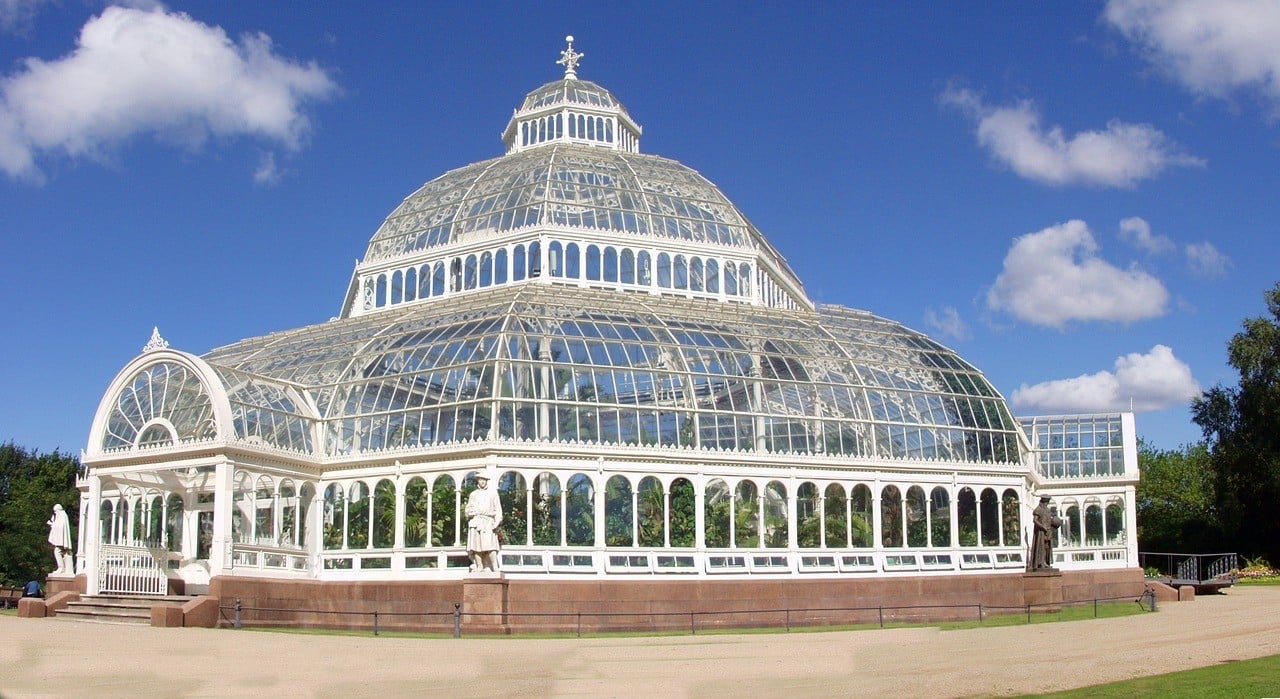 Sefton Park is one of Liverpool's largest public parks and a favorite amongst locals and visitors alike. It consists of 235 acres of parkland and a number of historic features, including Sefton Park Palm House, a huge conservatory built in 1896 to house exotic plants.
Around the Palm House are statues from the French sculptor Léon-Joseph Chavalliaud, depicting important historical figures. The park also features a Victorian bandstand considered to be the inspiration for the Beatles song 'Sgt Peppers Lonely Hearts Club Band'.
Is This the Best Daypack EVER???
Even a weekend trip requires some research to get the most out of your visit. To keep that time to a minimum, we've compiled some of the most frequently asked questions about a weekend trip to Liverpool.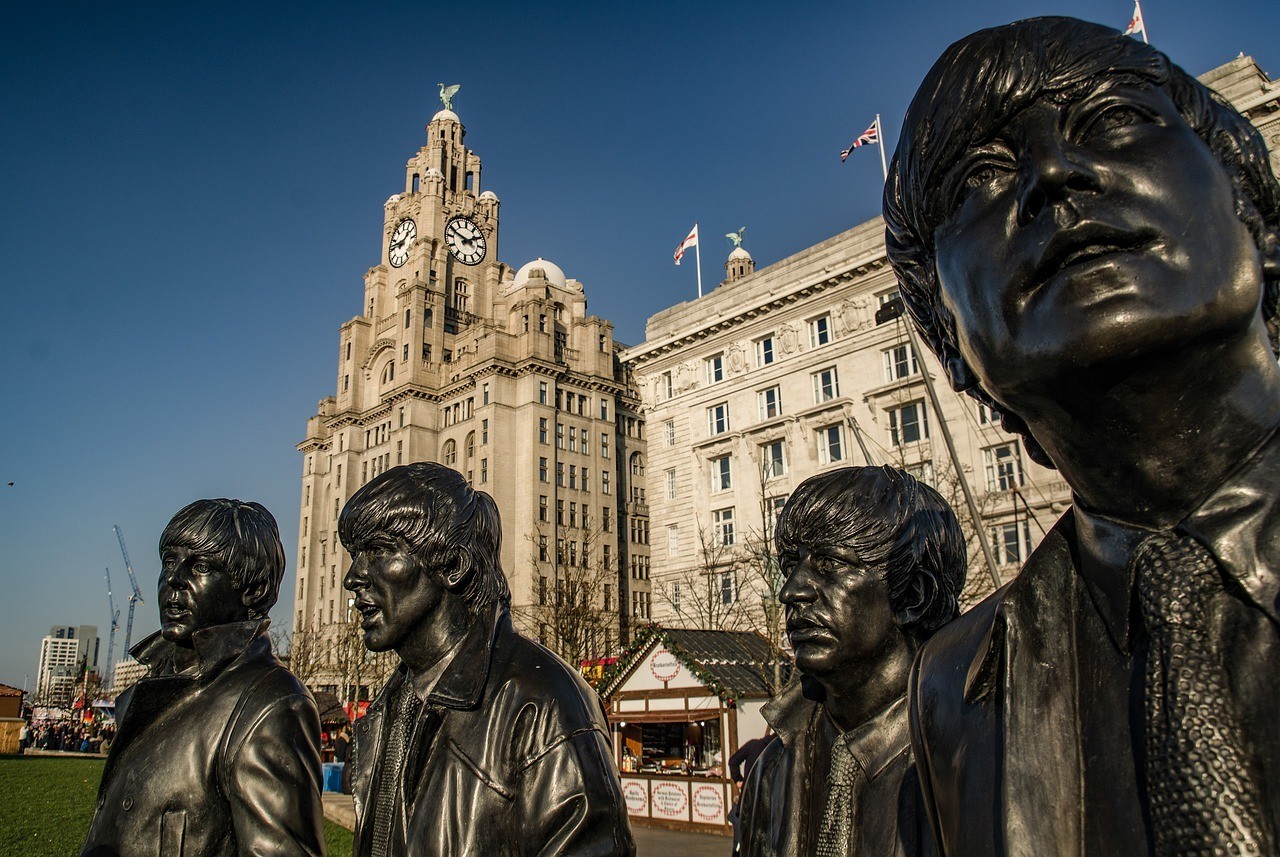 Don't Forget Your Liverpool Travel Insurance
ALWAYS sort out your backpacker insurance before your trip. There's plenty to choose from in that department, but a good place to start is Safety Wing.
They offer month-to-month payments, no lock-in contracts, and require absolutely no itineraries: that's the exact kind of insurance long-term travellers and digital nomads need.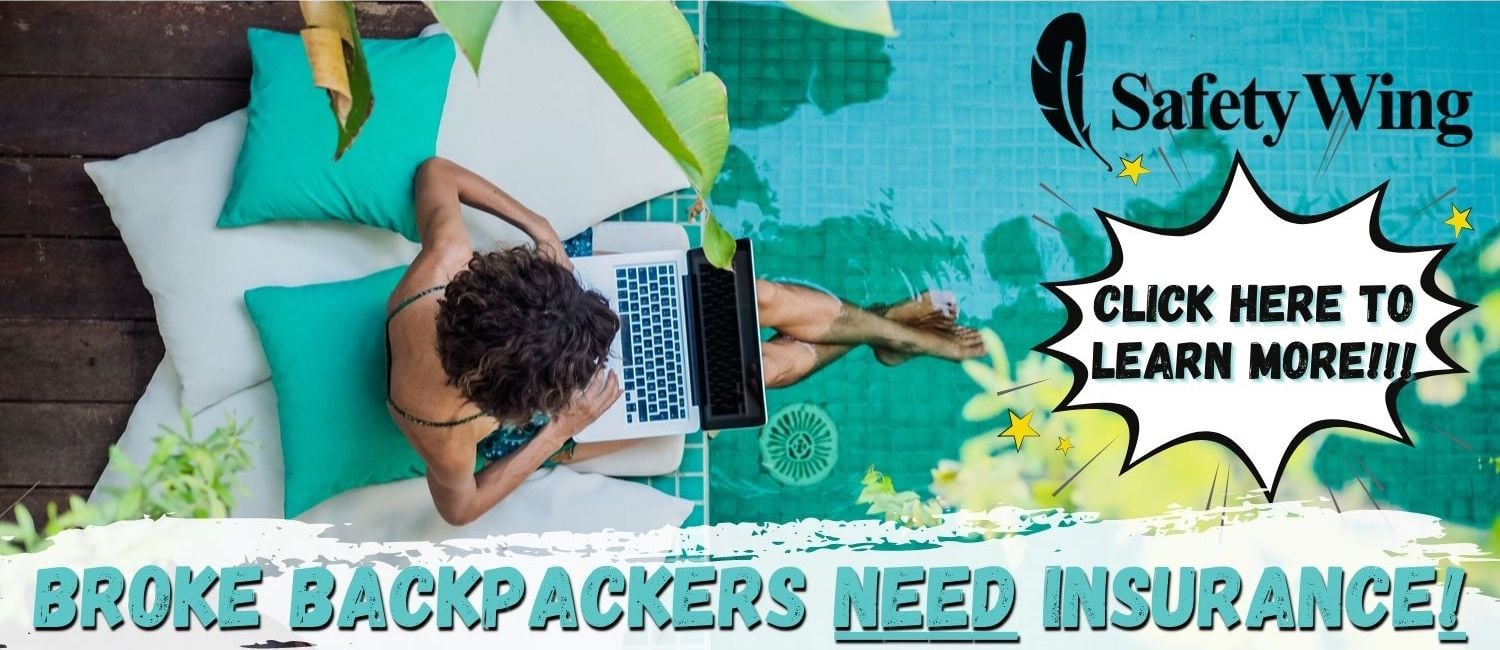 SafetyWing is cheap, easy, and admin-free: just sign up lickety-split so you can get back to it!
Click the button below to learn more about SafetyWing's setup or read our insider review for the full tasty scoop.
Final Thoughts on a Great Weekend in Liverpool
By now, you have all the information you need for the best weekend in Liverpool! All that's left is to pick a time that suits you and enjoy an incredible experience!
Liverpool has a wealth of historical buildings, a vibrant live music scene, a fascinating history, and proud soccer supporters! There's an array of impressive sights dotted throughout the city, and getting around to visit all the attractions is a breeze!
Be sure to take in all the sights and sounds that Liverpool has to offer. You'll find it a fantastic destination, filled with lots of laughs and enjoyable experiences. If you are carrying on your journey through England, check out our tips for a great weekend in Bristol which I think of as being the Liverpool of the South.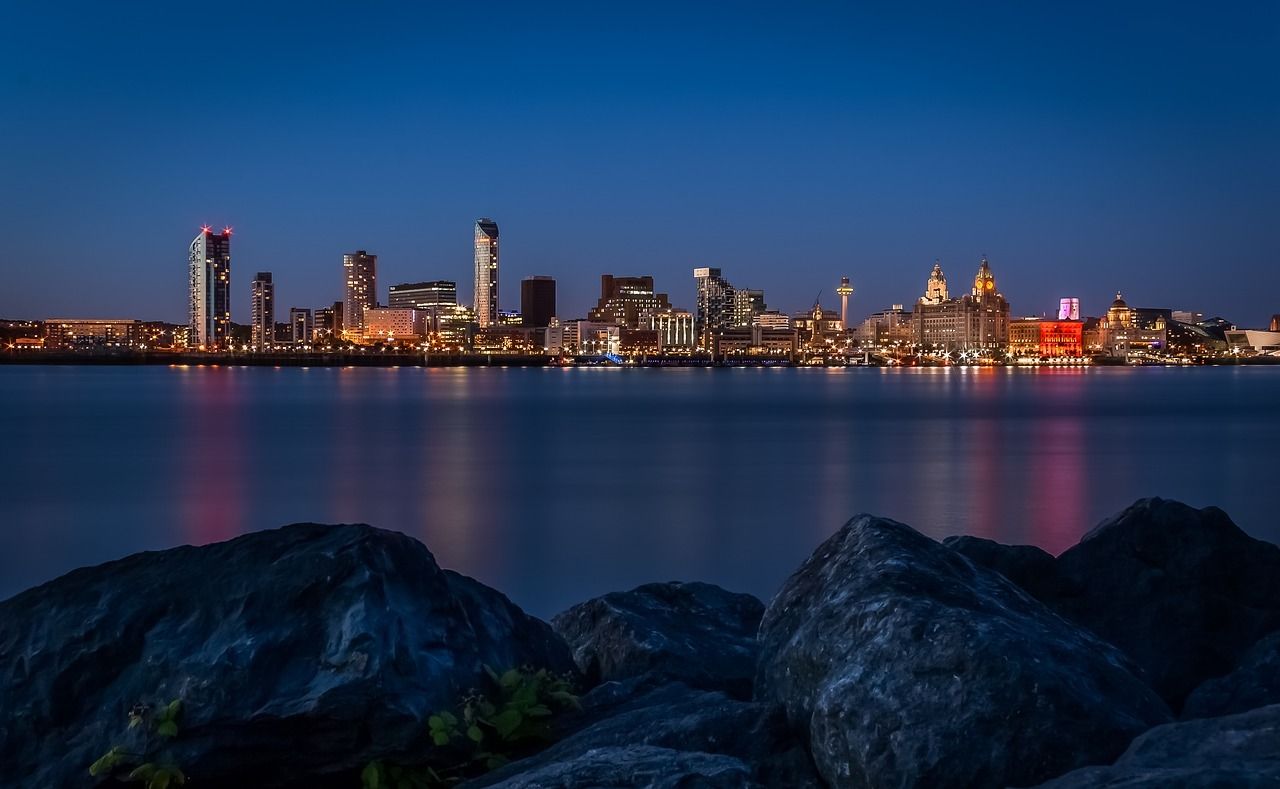 ---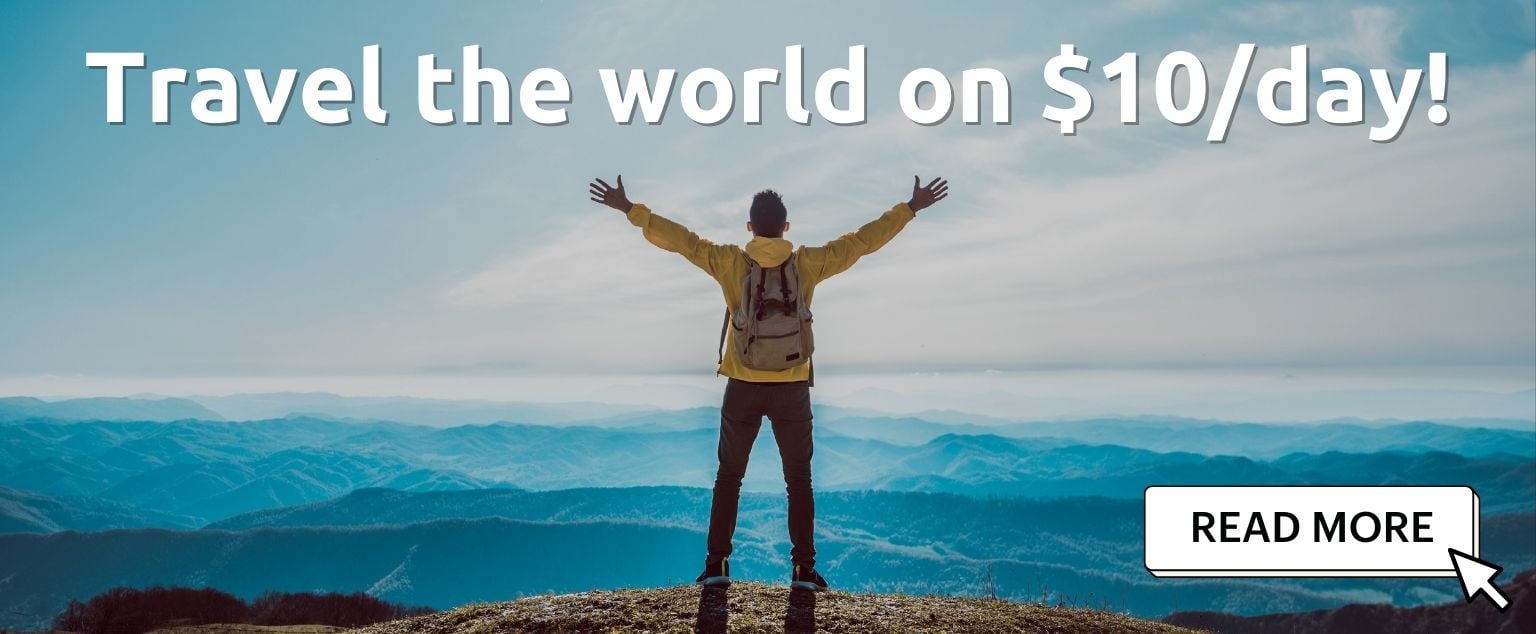 And for transparency's sake, please know that some of the links in our content are affiliate links. That means that if you book your accommodation, buy your gear, or sort your insurance through our link, we earn a small commission (at no extra cost to you). That said, we only link to the gear we trust and never recommend services we don't believe are up to scratch. Again, thank you!