While many travellers to the UK will have London and Edinburgh on their list, there should be a space for Liverpool, too. This northwestern city on the River Mersey and its proud residents – scousers – have plenty to shout about. Whether its the music of the Beatles from the 1960s or the heavy metal football of Jurgen Klopp's Liverpool FC, you're going to love it here as much as the locals do.
Liverpool's city centre is compact and cool, and there are lots of awesome places to stay. Airbnbs in Liverpool are most commonly high rise flats on the Docks or cool lofts near the nightlife hub of Concert Square. Rentals in Liverpool can be a great way to save money on your stay over a hotel.
In this post, we'll take you through the 15 best Airbnbs in Liverpool. Not only that, we'll show you some of the best Airbnb experiences on offer, so you can get to know the city – and of course, make the most of your time here!
Quick Answer: These are the Top 5 Airbnbs in Liverpool
Overall Best Value Airbnb in Liverpool
Overall Best Value Airbnb in Liverpool
Luxury Smart Modern Apartment
> $
> Four guests
> Central location
> Fully-equipped kitchen
Best Budget Airbnb in Liverpool
Best Budget Airbnb in Liverpool
Double Room near Liverpool City Centre
> $
> Two guests
> Shared facilities
> Clean and comfortable
Best Airbnb for Couples in Liverpool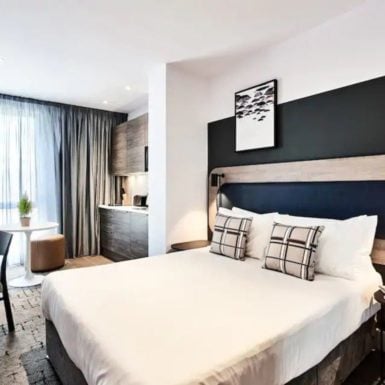 Best Airbnb for Couples in Liverpool
Studio Apartment
> $$
> Two guests
> King bed
> En-suite bathroom
Best Airbnb for Families in Liverpool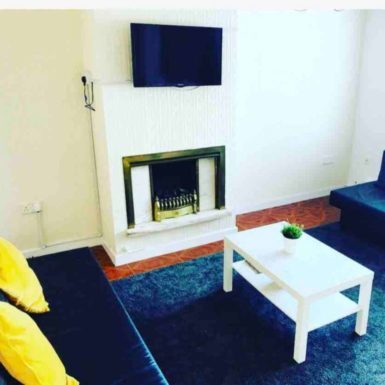 Best Airbnb for Families in Liverpool
Three Bed City Centre House
> $$$
> Seven guests
> Awesome location
> Free driveway parking
Over-the-Top Luxury Airbnb in Liverpool
Over-the-Top Luxury Airbnb in Liverpool
VIP Suite for 24 people
> $$$$$$$$$$
> 24 guests
> Complimentary breakfast
> Private bar
What to Expect from Airbnbs in Liverpool
There's a decent selection of Airbnbs in Liverpool. Not as many as nearby Manchester or UK capital London, but there's still plenty to get excited about. Private rooms in apartments and entire flats or lofts are quite common here. With those, you can expect amenities like kitchens and balconies – particularly useful if you're near the docks.
In the city centre, many of the properties you'll find are run by businesses rather than being private homes. However, you still shouldn't have too much trouble getting recommendations on what to do and see during your stay in the city.
Private room in Apartment/House
While it's not a unique type of accommodation, it's a very useful one – especially for budget travellers. Even backpacking in the UK can be very expensive. If you don't want the noise and lack of privacy of a hostel, it can feel as if your options are severely limited.
A private room in the house or flat of a local is an excellent way around this. Homestays mean you can save your pennies (put them towards a pint at the famous Cavern Club) and get great travel tips from locals, too.
In most, you'll get the use of a kitchen and a living area, but not always. Be sure to check whether your private room is part of someone's home or a hotel/hostel.
Entire Flat
If you don't mind splashing the cash or are travelling as part of a larger group, an entire flat may be more suitable for your trip to Liverpool. While they may seem expensive at first glance, they're often cheaper than a hotel room – and there's more on offer, too. There are a few flats where you won't get a fully-equipped kitchen (or at least a kitchenette).
Expectations will differ according to price and location. If you're staying at the docks, you'll pay more, but you'll get a great view and possibly have your own balcony. Closer to the city centre, you'll have an excellent location but less to look at. Further away from the city centre, you might even stay in a traditional terraced house or family home.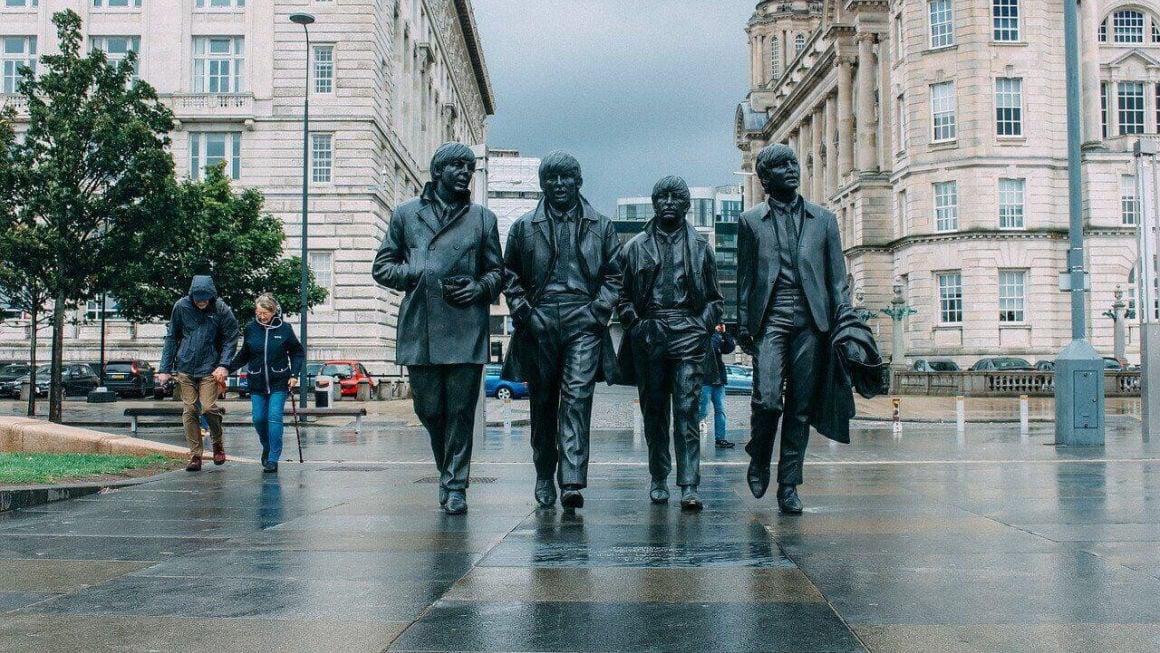 Boat
Unique accommodation is what pulls many people towards Airbnb. It doesn't get much more unique than staying on a boat! Unsurprisingly, you'll find this type of accommodation at the Docks. It's just a hop, skip, and a jump to the city centre from there, so don't feel like you're missing out on location. And there's a whole load of restaurants and things to do there, too!
Boats are up there with the most expensive types of accommodation in Liverpool, but how often can you say that you've had a Titanic-themed boat to yourself or woken up on a houseboat?!
Why Stay in an Airbnb
If you're still thinking a hostel or a hotel is a better shout, let us give you five reasons why you should definitely stay in an Airbnb!
Local Experience: While many Liverpool Airbnbs are managed by companies, they're still locally based. Get the best recommendations for your Liverpool itinerary that you won't find in the guide books to make your trip truly special!
Unique properties: Airbnb has every kind of property you could think of. There's even a 'unique stays' search function, where you can find your dream property on the site.
Privacy: Another great filter – choose an entire place to ensure you won't be disturbed during your trip.
Affordability: You can spend less than £100 a night on an Airbnb and get all the facilities you'd expect in a five-star hotel and more. Airbnb makes it easier to spend your holiday money wisely!
Airbnb Experiences: It's not all about where to stay; looking for things to do in Liverpool? There's no better way to do that than with Airbnb Experiences. We'll show you some of our favourites.
Travel with peace of mind. Travel WITH a security belt.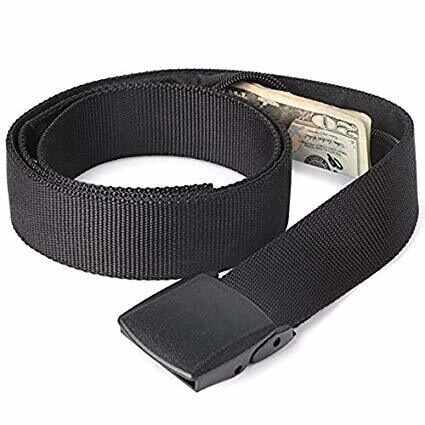 Custom-designed BY the Broke Backpacker FOR broke backpacking, the Active Roots Security Belt will keep your valuables safe no matter where you go.
It looks exactly like a normal belt except for a SECRET interior pocket perfectly designed to hide a wad of cash or a passport copy. Never get caught with your pants down again! (Unless you want to.)
Check on Amazon
The Top 15 Airbnbs in Liverpool
Now that we've given you a bit more background into staying in Liverpool and what to expect from your Airbnb, let's get to the bit you've all been waiting for. Here are our 15 best Airbnbs in Liverpool. Check 'em out!
Four guests
Fully-equipped kitchen
Let's kick off our list of the best Airbnbs in Liverpool with this smart, modern apartment in Liverpool city centre. There's room for up to four guests, and you can all enjoy breakfast (not included) together around the table or chill out in front of the TV on the sofa. It's right on Myrtle Street, which is perfect for shopping or nightlife. There are several international restaurants on the street, too.
Two guests
Clean and comfortable
For those travelling on a budget, an entire flat or house might be a little out of your reach. Instead, check out a private room like this one in a house to the south of the city centre. While you won't have a television in your room, you still get access to the kitchen, dining room, Wi-Fi and a washer-dryer. It's not five-star, but if you're looking for cheap and cheerful, you won't be disappointed.
$
Shared balcony and living room
Two guests
Incredible views
A private room isn't just good if you're travelling on a budget; it's also good if you're solo, as it gives you a chance to keep your costs down and enjoy the company and travel tips of locals. This exclusive apartment over Liverpool docks has a balcony and a living room, and you're welcome to use both. There's free Wi-Fi and parking – what more could you want?!
Is This the Best Travel Backpack EVER???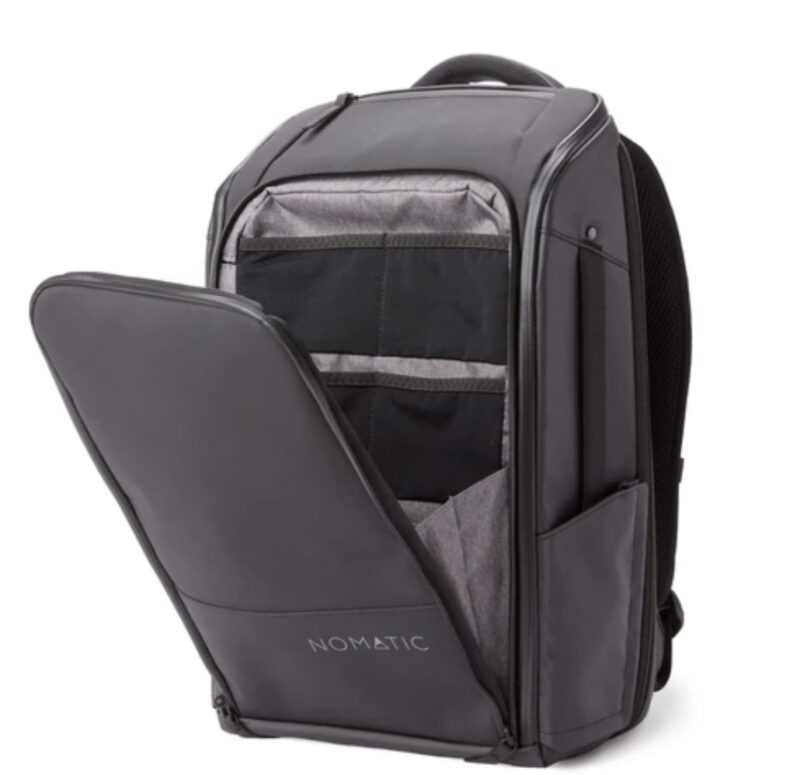 Best short term rental for couples | Studio Apartment
Two guests
En-suite bathroom
If you're travelling with your other half, you won't want to stay in any old place. This studio should satisfy both of you with its big and comfortable king bed. You have some of the best places in Liverpool close by – the shopping district Liverpool ONE, the world-famous Cavern Club (where the Beatles met), and the Walker Art Gallery all within a kilometre, so you'll not be stuck for things to do.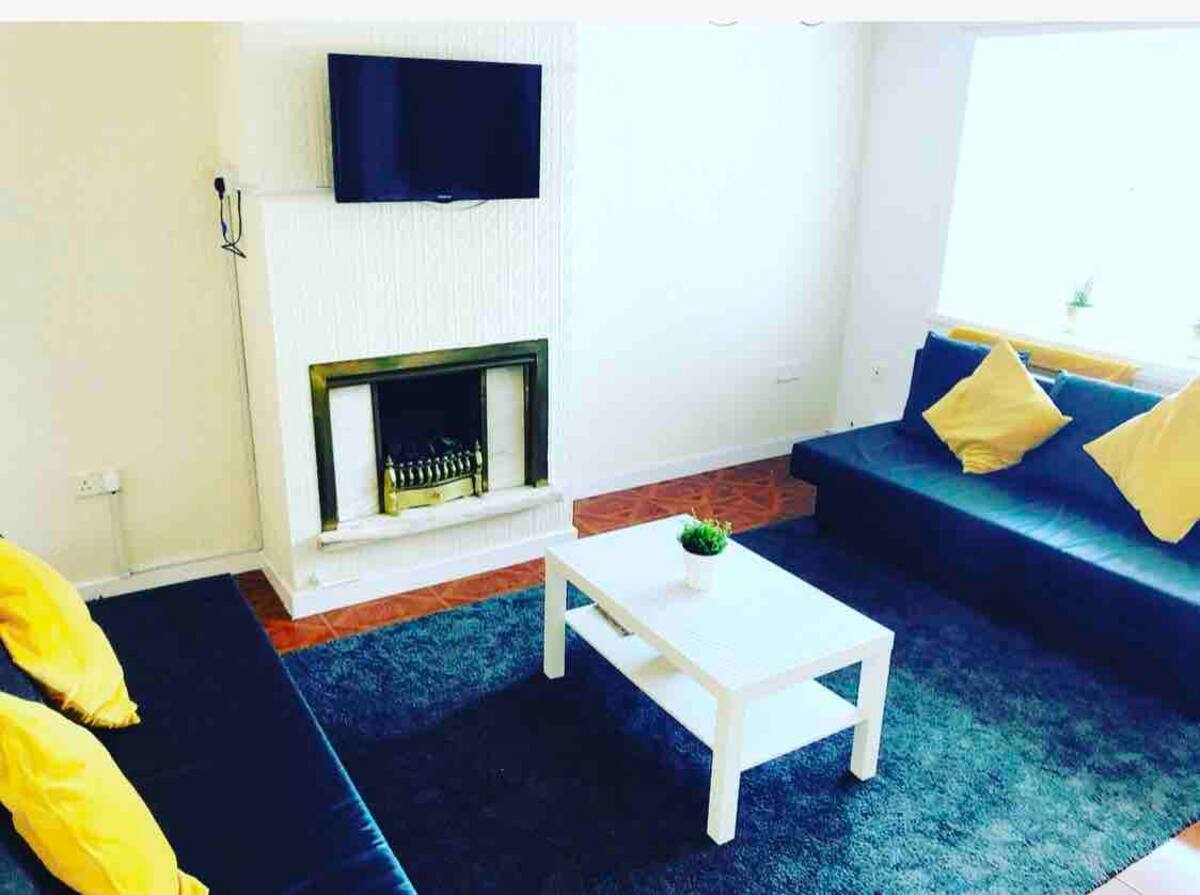 Seven guests
Free driveway parking
With room for up to seven guests, this lovely house is suitable for families of all ages and sizes. It's a semi-detached home, so you'll get the full experience of living as a family in the UK! There's free parking on the driveway, and you'll be greeted by your hosts, who will give you useful travel tips. Especially useful for football fans, it's just a hop, skip, and a jump from Anfield.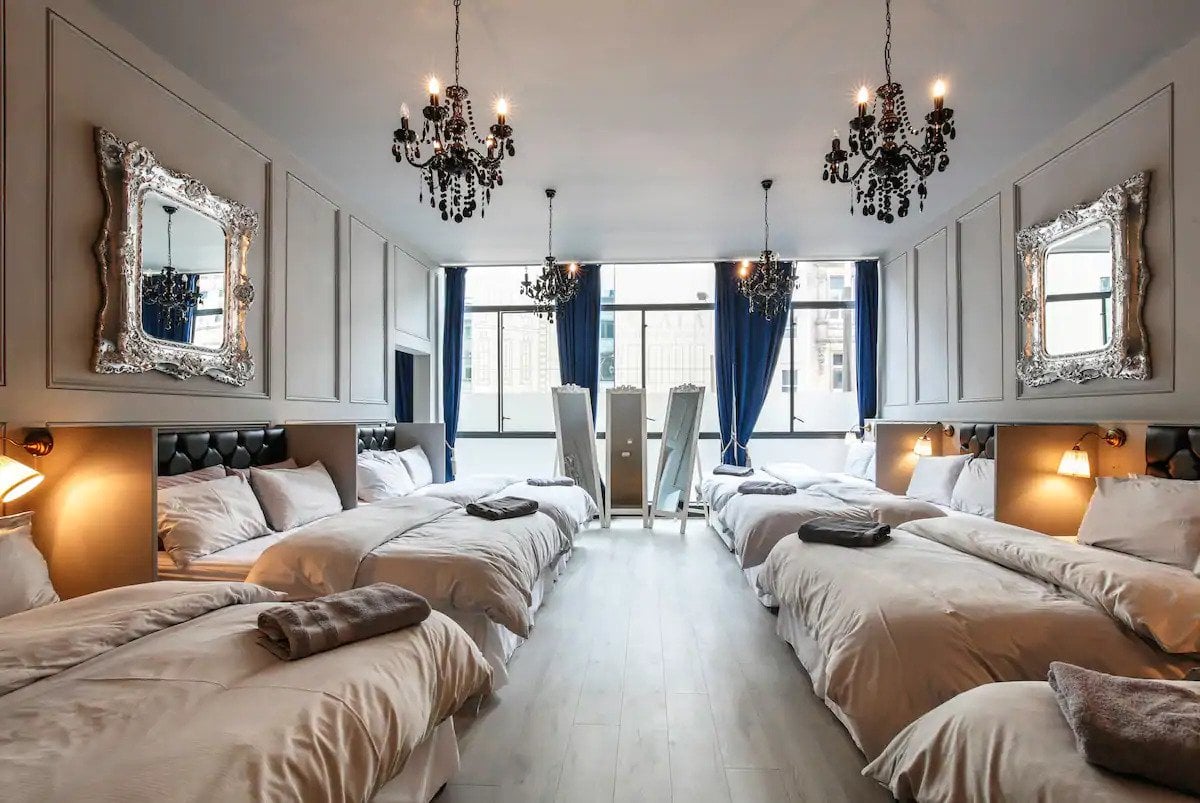 $$$$$$$$$$
Complimentary breakfast
Wow! Just look at this place. If you're going to enjoy partying in Liverpool and its legendary nightlife, you may as well have pre-drinks at your very own private bar! And once you've poured (or been served) your drink, relax in one of the Chesterfield sofas with a view. With space for so many guests, it doesn't even end up being that expensive. A great option for hen or stag parties!
If you're looking for a private room that's a cut above the rest, check out this one – it's in a Georgian townhouse! Digital nomads will love it as there's a desk and chair, while couples will appreciate the double bed. There's also free tea and coffee, lovely to come home to after a day of exploring the city!
Seven guests
Open space kitchen
Many entire places in Liverpool are great for couples, or at a push, a small group of friends. However, with room for up to seven guests, this bright, colourful, and modern pad is excellent for a group of friends or family. With an open-space, fully-equipped kitchen, you can save money on eating out, and the L-shaped sofa is perfect for a night in together.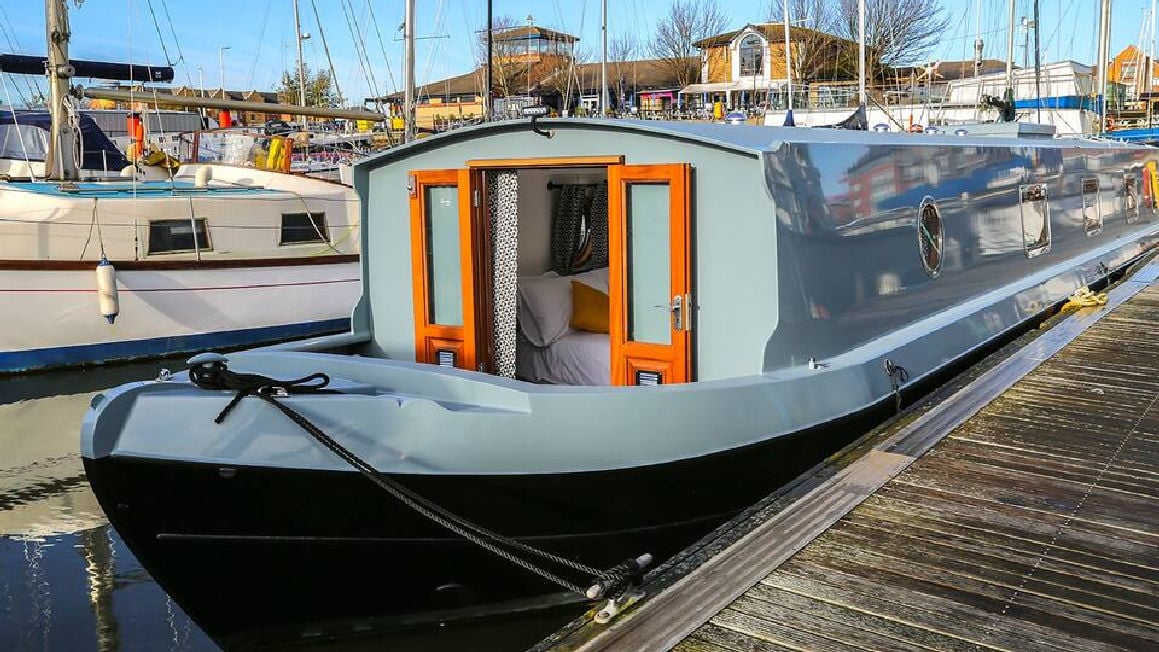 Six guests
Laptop-friendly workspace
If you want a truly unique experience in Liverpool, stay on a boat – more specifically, the best boat in Liverpool! Situated in Albert Dock, you can be assured of a good view and some great places to eat right on your doorstep. There's space for up to six guests, so it's great for a group. You'd be surprised that so much can fit into a small space, but there's a fully equipped kitchen and a bathroom with a tub, as well as three bedrooms!
$
Laptop-friendly workspace
With a laptop-friendly workspace and fast Wi-Fi, you could do a lot worse than staying in this private room in a Georgian townhouse. To keep yourself awake and focused during your work hours, be sure to take advantage of the free tea and coffee in your room. When it comes to relaxing, take a walk to the city centre or kick back and enjoy a movie on the Amazon Firestick!
Just steps from the hub of Liverpool's nightlife Concert Square, you'll find this cosy little loft apartment. There's space for up to four guests. Should you wake up the following day with a hangover, you can prepare breakfast in the fully-equipped kitchen. As it's so close to Concert Square, it can get quite loud here. If you're looking for a good night's sleep, it might be best to look elsewhere.
Four guests
Fully-equipped kitchen
Concert Square's biggest rival is the centre of the LGBTQ+ community – Stanley Street Gay Quarter. With this place being right on the doorstep, it's a wonderful spot to enjoy the bars, clubs, and nightlife in the area. The private serviced apartments come with a fully-equipped kitchen, bedroom, and bathroom. As with the flat above, you may experience a lot of noise during your stay!
Four guests
Free breakfast
Want to be in the centre of all the action in Liverpool? Well, how about somewhere opposite the Cavern Club and Hard Days Night Hotel – both made famous by the Beatles! This cute and cosy flat in the heart of Liverpool is an easy walk distance from the Docks, and Anfield/Goodison Park are just a bus ride away.
You'll even get a free breakfast of cereal, tea and coffee. If you're staying for a short trip or a weekend in Liverpool, this is the perfect place to base yourself.
Most Unique Airbnb in Liverpool | The Titanic Boat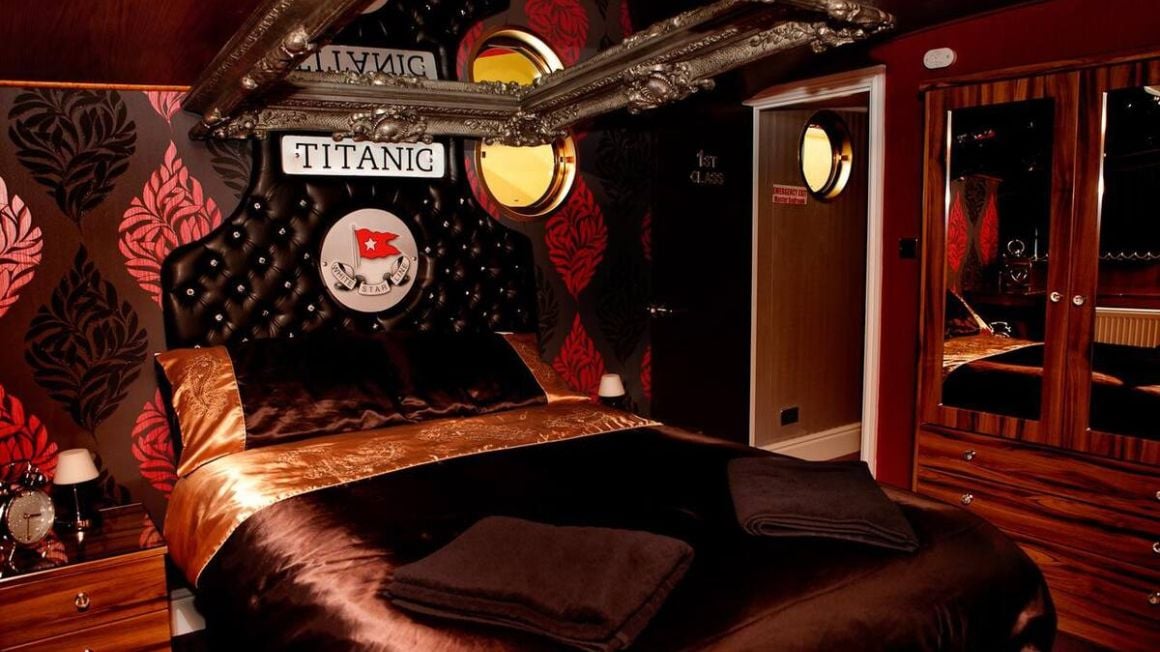 $$$$$
Fully-equipped kitchen
Nine guests
Huge chandelier
You've seen one boat in Liverpool, but this has to be the most unique. The Titanic Boat is quite something. Located in Stanley Dock, it's a real marmite property: you'll love it or hate it, as you might with any room that has a ceiling mirror above the master bed. While some guests might find this homage to the Titanic a little tacky, others will adore the kitsch!
Best Airbnb in Liverpool for a Group of Friends | Liverpool City Centre
Another large Liverpool city centre apartment, this entire flat has room for six guests, and there's a private balcony where you can enjoy a drink or two with an incredible view of the city. Make the most of the fully-equipped kitchen and breakfast bar, where you can eat or do a little work. Fancy a night in? There's a large sofa and plenty of cushions so you can make yourselves comfortable!
Top 5 Airbnb Experiences in Liverpool
Now that you've seen where to stay in Liverpool, let's check out some of the coolest things to do during your stay. Airbnb Experiences are curated by locals and show the best a location has to offer. They can be anything from a multi-day hike (maybe not in Liverpool) to a history walk.
These experiences are a great way to meet other travellers, as they're often in small groups. If you're going solo, bond with new people and forge friendships that will last long beyond your trip!
£45/person
Three hours
Up to six guests
Liverpool might be best known for its city centre, but you'll be pleased to know it's not hard to escape the hustle and bustle of the city if you need to. Its nearby sand dunes are stunning, and this is your chance to see them! Not only will you enjoy a walk, but a bit of beachcombing and beach tennis too.
£18/person
Three hours
Up to ten guests
Toxteth used to be famous for all the wrong reasons, but nowadays, it's one of the most culturally diverse communities in the city. However, the reason you're coming is that one of the more unusual Liverpool attractions is here – a retro arcade and cinema. Spend a couple of hours playing games and learning about the history of gaming!
£28/person
Two hours
Up to ten guests
No trip to Liverpool is complete without some sort of interaction with the Beatles. There's no way you can visit Liverpool and not be reminded that they're from here. Embrace it and learn more about the band's early days on this fascinating walking tour that will also show you other important city-centre sites.
£65/person
Four hours
Up to eight guests
Many people may not know that Scousers are named after 'scouse', a stew commonly consumed by sailors. While you may not sample this on this walking tour, you will at least stop off at six local and independent food and drink establishments with a small group. Even if your Airbnb offers free breakfast, we'd suggest skipping it for the delights on offer on this tour!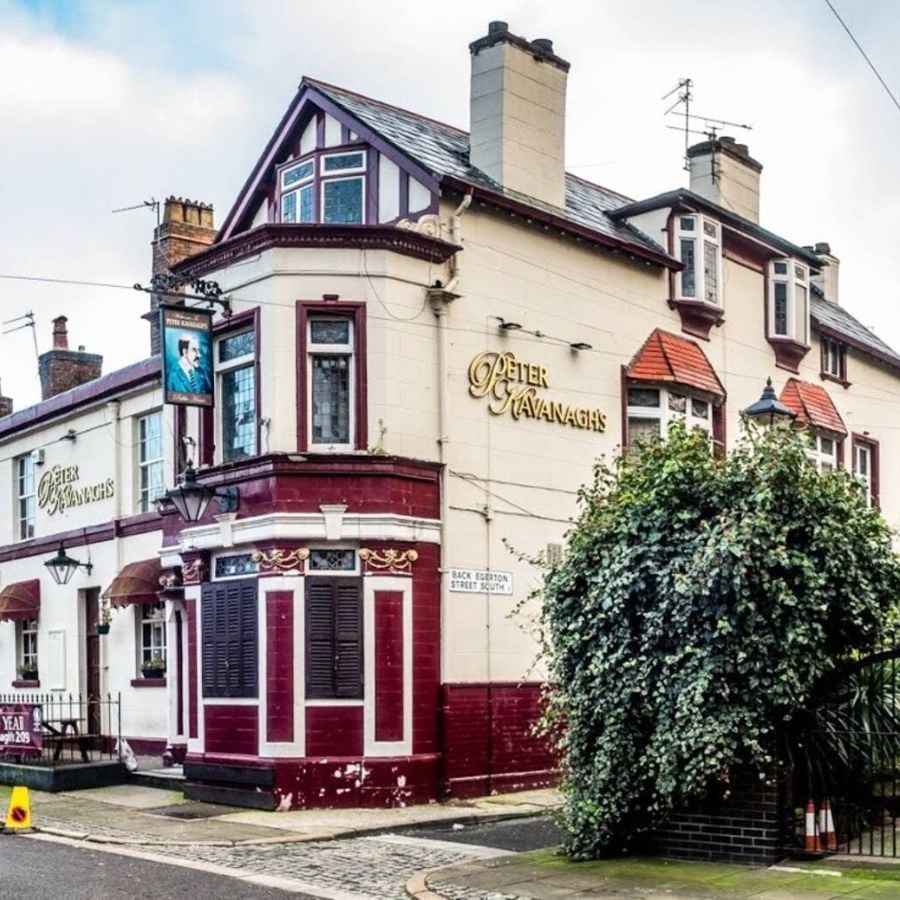 £24/person
Two hours
Up to eight guests
Liverpool is famous for its nightlife. It has everything from back street boozers to massive city-centre clubs. The pubs you visit on this tour won't be in the guidebooks, but that just makes them all the more interesting. This historic pub crawl will take you to places where the best and worst of humanity have had a pint – from Paul McCartney to Hitler!
Final Thoughts on Liverpool Airbnbs
Not only have you seen the best places to stay in Liverpool, but also what to do when you're there. We hope you've found it helpful! The only thing you need to do now is decide which is the best Liverpool Airbnb for you.
If you're still finding that tricky, don't worry, there are a lot of choices! We'd recommend keeping it simple and going for our overall best Airbnb in Liverpool – Luxury Smart Modern Apartment. It has room for up to four guests and is a wonderful combination of value for money and location.
Traveling without insurance would be risky so do consider getting backpacker insurance sorted before you head off on an adventure!
And don't forget to take out Travel Insurance for your trip! I have been using World Nomads for some time now and made a few claims over the years. They're easy to use, professional and relatively affordable. They may also let you buy or extend a policy once you've started your trip and are already abroad which is super handy.
If there's one insurance company I trust, it's World Nomads. To find out why I use World Nomads, check out my World Nomads Insurance review.
Getting an estimate from World Nomads is simple – just click the button or image below, fill out the necessary info, and you're on your way!

---
Find out how YOU can support the site.
We work hard to put out the best backpacker resources on the web for free! It's all about helping out our tribe of awesome backpacker readers (that's you!). Please visit the link to find out how you can help keep the site going 🙂
For the sake of transparency, some of the links in our content are affiliate links. This means that if you book your accommodation, buy a piece of gear, or sort your insurance through our link, we earn a small commission at no extra cost to you. We only link to stuff that members of the Broke Backpacker team has actually used and never endorse products or services that are not up to scratch. Thanks for your support!