If you are looking for an under the radar destination in the Caribbean, look no further than the Dominican Republic! This amazing island nation is an absolute paradise and has a little bit of something for everyone regardless of your interests.
With white-sand, pristine beaches and crystal clear waters, the Dominican Republic is a dreamy place to visit for beach lovers. Prefer the jungle and the mountains? No Problem, just head inland and you will be rewarded with cascading waterfalls, hiking trails with sensational views, and thrilling zip-lines.
There is far more to see and discover than only nature though. The country has a long and proud history, is full of museums where you can learn all about the good, the bad, and the ugly of this Spanish-speaking nation, and even boasts the oldest city in the Americas.
Though the island isn't huge, there are countless options when deciding where to stay in the Dominican Republic and I know that it can be overwhelming and confusing at times.
But don't worry, that's why I've created this ultimate Dominican Republic area guide. To help you find the best place to stay in the Dominican Republic no matter who you are and what type of accommodation you are looking for.
Looking for a place to stay in the Dominican Republic but don't have much time? Here are my top overall recommendations of the coolest places.
This charming bungalow is one of the most unique stays in all of the Dominican Republic! It's built completely out of wood, has multiple outdoor spaces, and fosters a quiet and zen atmosphere. Inside there is one bedroom and one bathroom, along with tons of hand-painted and hand-carved local art. In addition, the location is fantastic and there are beaches, restaurants, and shops all within walking distance.
Best Hostel in the Dominican Republic: Island Life Hostel
If you are a budget-conscious backpacker, the Island Life Hostel is hands down my number one overall recommendation for where to stay in the Dominican Republic! It's a contemporary hostel that resides in a giant colonial-era building and has a huge selection of dorm and private rooms alike. Furthermore, it has multiple indoor and outdoor common areas, a swimming pool, a pool table, and is a great place to create lifelong friendships!
Since Punta Cana is known as a resort town, it's only fitting that it's full of world-class resorts like the Occidental Caribe! It's a four-star all-inclusive hotel where the main goal of the staff is to pamper you and treat you like a celebrity. The pool complex is one of the coolest we have ever seen and kids will absolutely love the waterslide and play area. If you are traveling as a family, this is certainly where to stay in the Dominican Republic!
Before you go ahead and start booking. Slow down there soldier! The Dominican Republic isn't a huge island, and many of the best attractions can be explored by car on day trips, but knowing where to stay on this Caribbean island will make or break your trip. Here are the neighborhoods I would recommend:
Many people skip Santo Domingo in favor of more beachy destinations, but that's a huge mistake! It's the beating heart of the Dominican Republic and perfectly blends together the past and present. If you want to interact with locals and see the REAL country, this is where to stay in the Dominican Republic.
Two and a half hours away by car/bus is the charming town of Santiago de los Caballeros. It's another often overlooked destination that's packed with museums, waterfalls, and dirt cheap hostels. This city is a must-add to any itinerary if you are on a budget and looking for inexpensive places to stay.
Punta Cana is one of the top resort towns in the Caribbean. It's home to towering beachfront all-inclusive resorts, giant adventure parks, and never-ending sandy beaches. If you are on the hunt for that perfect place to spend your next family vacation, look no further!
Las Terrenas is a lazy, off-the-beaten-track small town ideal for those seeking peace and tranquility. It boasts some of the best beaches in the Dominican Republic and if you're a couple you will be hard-pressed to find a more romantic location.
If you want an action-packed and adventure-filled holiday, Cabarete is the best place to stay in the Dominican Republic. It's full of activities adrenaline junkies will love ranging from kite surfing to cliff jumping, and it also boasts some of the wildest nightlife in the country.
Now that you've been briefly introduced to the best neighborhoods, let's look at each one in more detail. If you're looking for an apartment, bungalow, hotel, hostel, or villa in the Dominican Republic, I have listed all the best ones plus included some nearby things to see and do.
1. Santo Domingo – Where to Stay in the Dominican Republic for your First Visit
Santo Domingo is the capital of the Dominican Republic and one of the most vibrant and modern cities in the Caribbean. The Spanish first set foot on the island in the year 1493 and five years later in 1498 they established Santo Domingo, which makes it the oldest European city in the "New World!" The best place to go if you want to see the traditional colonial architecture is the "Zona Colonial." It was designated a UNESCO World Heritage site in 1990 and is a beautiful blast from the past that will make you feel like you've traveled back in time.
If you are interested in learning more about the country's history, there are a handful of fantastic museums in Santo Domingo, with my favorite being "El Museo de la Resistencia". It's a small museum primarily dedicated to the people who fought for their freedom against dictator regimes. Moreover, the city is jam-packed with delicious restaurants, aromatic coffee shops, and lively nightlife!
This cozy one-bedroom studio is wonderfully located in the heart of Santo Domingo and is an ideal basecamp for exploring the city. Tons of restaurants, bars, and malls are within walking distance of the apartment and additionally the train station is only minutes away. The apartment itself has a fully equipped kitchen, a modern bathroom, and a lovely private terrace which features a "chill area" including a sofa, table, and chairs.
The Island Life Hostel is an award-winning hostel in the "Zona Colonial." They offer 4-bed dormitories, 8-bed dormitories, 12-bed dormitories, and a plethora of different-sized private rooms as well. If you are on a tight budget, the 12-bed dorm rooms offers some of the cheapest rates in Santo Domingo. Furthermore, there are multiple common areas perfect for making new friends and a free all-you-can-eat buffet breakfast every day of the year!
This endearing boutique hotel is a hidden treasure situated in the historic center of Santo Domingo. All of the rooms are spacious, fabulously designed, and include private outdoor spaces. In addition to the beautiful rooms, the Hotel Villa Colonial has a large outdoor swimming pool, an adorable garden, and serves a delicious breakfast daily. If you are traveling as a couple this my favorite place to stay in Santo Domingo!
Things to See and Do in Santo Domingo:
Wander the narrow cobblestone streets of the "Zona Colonial."
Explore caves and swim in underground pools at Three Eyes National Park.
Take a look into the life of locals and watch 15 minute micro-plays at the "Microteatro."
See over five thousand plants and trees at the National Botanical Garden.
Shop until you drop in the Agora Mall, the first sustainable "green" mall in the world.
Visit "El Museo de la Resistencia" and educate yourself on the struggles of the country.
Enjoy a coffee, art, books, and other cultural events at the "Mamey Librería."
Get a birds eye view of the city when you ride in the Santa Domingo Gondola (Teleférico).
2. Santiago de los Caballeros – Where to Stay in the Dominican Republic on a Budget
Santiago de los Caballeros is located in the northern part of the Dominican Republic and is the second most important city in terms of size and economy. Even though it's a large city, it's way less crowded and has a much more relaxed atmosphere than Santo Domingo. Moreover, the young population and abundance of hostels makes this undoubtedly where to stay in the Dominican Republic if you are traveling on a backpacker's budget!
No matter what type of activities you fancy, Santiago de los Caballeros will have something for you! Interested in history? You should absolutely go on a free walking tour with a local guide or check out the museum scene. Looking for something to get your blood pumping? Try zip-lining or go on a guided canyoning tour where you can swim, cliff-jump, and repel down waterfalls! Moreover, this area is one of the gastronomical hubs of the Dominican Republic!
Best Cabin in Santiago de los Caballeros: Liberty Cosy Cabin
This adorable wood cabin is a tremendous place to stay if you are looking for a calm and peaceful place to stay in Santiago. The bedroom has a large comfy bed, a 43″ smart TV with Netflix, and is the perfect place to hole up and spend a lazy day. Outside the front of the apartment, there is a delightful patio where you can enjoy a morning coffee or a late afternoon beer, and if you continue to wander to the property you will discover a pretty garden full of flowers.
Best Hostel in Santiago de los Caballeros: W Hostal
While Santiago de los Caballeros has a number of phenomenal hostels, the best of the bunch is the W Hostal! It's an artsy hostel in the center of the city that has both dorm rooms and private rooms available. If you are a solo traveler the common room is a wonderful place to socialize and meet new people. You and your new friends can then head out and grab a bite to eat or a drink from any of the many close by bars and restaurants.
This stellar hotel is located in a quiet neighborhood of Santiago about five kilometers from the main square. It offers a variety of different rooms, with the largest able to sleep four people. If you are up for a little fun and want to test your luck, there is also a casino connected to the hotel. Furthermore, due to the fact that it's outside of the most popular tourist area, it has some of the cheapest room rates in the city.
Things to See and Do in Santiago de los Caballeros:
Join one of the many popular free walking tours around the city.
Stop by the "Centro Leon," one of the largest art museums in the Caribbean.
Visit "La Aurora Cigar Factory," a fully functioning factory that has been producing some of the highest quality cigars in the world for over 100 years.
Go canyoning at the 27 Waterfalls of Damajagua for a thrilling adventure.
See the Iconic "Monumento a los Heroes de la Restauracion," dedicated to those who lost their lives in the fight for independence against Spain.
Whiz through the sky on a zip-line and take in the beautiful views.
Take a day trip to Paradise Island and view the natural beauty of this raw and undisturbed island.
Learn about military history at "Fortaleza San Luis," an old prison that was transformed into a small museum.
3. Punta Cana – Where to Stay in the Dominican Republic for Families
Punta Cana is far and away the most popular tourist destination in the Dominican Republic, and for good reason. It boasts world class beaches, sparkling blue water, out-of-this-world all-inclusive resorts, and more! Thanks to a stunning coastline with more and more giant resorts popping up every year, Punta Cana has evolved from a sleepy beach town into one of the premier resort destinations in the world.
The resorts are far from the only reason to visit Punta Cana though. Once you step foot out of your accommodation there are literally never-ending options of activities and tours to embark on. Catamaran sailing and snorkeling tours are extremely popular and a 100% must-do in my opinion. Other unique experiences include riding a dune buggy through coffee plantations, swimming in hidden underground lakes, and hanging out with monkeys.
Best Hostel in Punta Cana: Gava Hostel
Traveling on a budget but want to stay in this fancy resort town? If that's the case then the Gava Hostel is the best hostel in Punta Cana! The dorm rooms are super cheap and also there's a communal kitchen where you can prepare your own meals if you want to save even more money. Furthermore, the location is great (5 minutes from the beach and town center) and they offer some fantastic tours to places all throughout the Dominican Republic.
This massive all-inclusive resort looks like it was pulled straight out of an advertisement and is a heaven on earth. It offers a wide selection of room options ranging from romantic double rooms to large family rooms. Additionally, every room has a private balcony (many with ocean views), a fully stocked mini-bar, and a smart TV. On top of that, the hotel has multiple pools, tennis courts, a mini-golf course, a restaurant, a bar, a full-service spa, and more!
Best Apartment in Punta Cana: Luxury Residences w/ Private Pool
If you want your very own private oasis, this is where to stay in Punta Cana! It is located only 50 meters from the Marina and is part of the ever so popular Fishing Luxury Residences. While the community has three large communal swimming pools, this home also has its very own private pool. The apartment itself only has one bedroom, but thanks to a large sofa and an additional air mattress it can easily accommodate four people.
Things to See and Do in Punta Cana:
Join a snorkeling and catamaran tour and explore the crystal blue seas.
Relax and catch some sun at one of the many picturesque beaches. Bavaro Beach and Macao Beach are two of the most popular beaches in Punta Cana.
Spend a day at Scape Park, a massive 247 acre adventure park where you can discover hidden pools, go spelunking, zip-lining, and more!
Visit Los Haitises National Park and search for exotic wildlife.
Take a boat trip to Saona Island.
Swim with wild dolphins on "Dolphin Island."
Try your luck gambling at one of the popular casinos in Punta Cana.
Go on an ATV tour! Different ones visit the beaches, national parks, or coffee plantations.
Head into the jungle and visit "Monkey Land," an animal sanctuary where they help protect and raise awareness for crazy cute squirrel monkeys.
4. Las Terrenas – Where to Stay in the Dominican Republic for Off The Beaten Track Travelers
Las Terrenas is a quiet and relaxing beach town tucked away on the Samana Peninsula. It's located on the northeastern side of the island and if you are looking for a place to get away and leave everything behind, this is where to stay in the Dominican Republic. You are going to want to visit this under-the-radar oasis soon though because the word is already spreading and in some years it very well could be the next Punta Cana.
The sprawling spotless beaches are the main draw in this area and I guarantee you will love soaking up some sun while sipping on a tasty, freshly picked coconut. Once you have had your fair share of relaxing and your batteries are fully recharged, make sure you don't skip out on hiking to the "El Limon Waterfall". It's an easy one-hour hike that will reward you with a cascading waterfall and a beautiful turquoise-colored natural swimming hole.
This cute and rustic one-bedroom bungalow is ideal for those looking for a tranquil jungle hideout! It's entirely constructed out of wood and has an enchanting laid back atmosphere. The interior of this home is stunning, but it's actually the outside spaces I love most! There's a front patio, a covered area on its side with a hammock, and a drop dead gorgeous garden area.
Dan & Manty's Guesthouse is a long-running, family owned hostel built to help travelers find a home away from home when on the road. Everything they do at this hostel is meant to help make you feel comfortable. This includes the loving family atmosphere and the nightly home-cooked buffet dinner. If that wasn't enough, the prices for a bed in a dorm are some of the cheapest on the island!
This irresistible boutique hotel is without a doubt where to stay in the Dominican Republic for couples! For starters, they have a handful of elegant and spacious rooms to choose from. Next, they have a breathtaking pool, a romantic jacuzzi, a bar, and a graceful lounge area. The cherry on top is a handmade breakfast that can be ordered and delivered straight to your room.
Things to See and Do in Las Terrenas:
Try and spot the worlds largest creatures on a whale watching tour.
Ride horses on the beach. Sunset is an especially spectacular time to go.
Relax under palm trees on uncrowded, spotless beaches.
Head into the jungle and chase hidden waterfalls.
Try some local food at a beachside restaurant. Tostones (fried plantains), Mangu (mashed plantains), and Sancocho (meat stew) are all popular dishes.
Learn to dance bachata or salsa on the beach with Rubio Dance Movements.
Sign up for a kayak tour, or rent kayaks and explore the sea on your own.
Go scuba diving or take a course to become a certified diver with the Dive Academy.
5. Cabarete – Where to Stay in the Dominican Republic for Adventure Travelers
Cabarete is known as the adventure capital of the Dominican Republic. It's one of the premier kite surfing locations on the planet and perfect for professionals and newbies alike. There's a variety of different beaches to choose from and at least one of them has ideal conditions almost every day of the year. In addition to kite surfing, other adrenaline-filled activities you can do here include normal surfing, windsurfing, paddleboarding, and more!
Young people also tend to love Cabarete thanks to the vibrant nightlife! There are tons of fun bars and restaurants worth checking out, with many of them staying open until the early morning. If you are a solo traveler hoping to meet new people or a group of friends looking for a lively atmosphere, this is unquestionably where to stay in the Dominican Republic.
This off-the-wall beachfront apartment was renovated to have a modern design. It only has one bedroom, but the open floor plan makes it feel much larger than it is. Far and away its standout feature though is the mammoth terrace that overlooks the ocean. It's a wonderful place to have breakfast, watch the kite surfers, or take in a sunset. Furthermore, if you speak with the hosts you can arrange to rent a hummer or bring in a private chef.
Laguna Park is a friendly hostel that welcomes everyone with arms wide open. It has indoor and outdoor communal areas, a swimming pool, and a large guest kitchen. Located close to the beach, as well as numerous bars and restaurants, it's a superb place to stay no matter your interests. As far as accommodation goes, they have both inexpensive dorms rooms and different sized private rooms available.
Velero Beach Resort is a luxury four-star hotel situated right on the ocean. It features a beachside swimming pool, a bar, and restaurant, and its very own private beach. Moreover, it boasts an amazing array of room options that range from standard rooms to luxurious two bedroom suites. The concierge service is open 24/7 and if you want to partake in any activities such as kite surfing, cycling, or horseback riding they can easily help it be arranged.
Things to See and Do in Cabarete:
Learn to kite surf! Cabarete is one of the top kite surfing places in the world.
Explore the magnificent caves in El Choco National Park.
Shop for handmade knickknacks at the Cabarete Night Market. It's a terrific place to pick up some gifts for your loved ones back home.
Drink and dance the night away in one of the many bars in the area. Cabarete has some of the best nightlife in the country!
Eat a delicious meal at "Wilson's" in La Boca, one of the most famous restaurants in the Dominican Republic.
Take a day trip to the eco-village of Rugama. There are plenty of tours that will take you there or you can go on your own.
After all the adventure activities have you feeling sore, relax and get a massage at a spa.
Work up a sweat and get your booty in shape by enrolling in a fitness camp. You can participate in individual classes or sign up for a multi-day camp where they serve a 100% plant based diet and teach you how to live a healthier lifestyle.
World Nomads' mission is to support and encourage travellers to explore their boundaries. They offer simple & flexible travel insurance, and safety advice to help you travel confidently.
They've been doing it since 2002 – protecting, connecting, and inspiring independent travellers just like you.
Get a quote below or read our in-depth review!
World Nomads provides travel insurance for travelers in over 100 countries. As an affiliate, we receive a fee when you get a quote from World Nomads using this link. We do not represent World Nomads. This is information only and not a recommendation to buy travel insurance.
While it doesn't have the name recognition of other Caribbean islands like the Bahamas or Jamaica, you should definitely consider the Dominican Republic for your next vacation!
It has a much more authentic feel than those other countries and it's also overflowing with things to do! Better book your trip soon though, with more and more people visiting every year it, unfortunately, won't stay that way forever.
As you have seen,the Dominican Republic has accommodation options for everyone, no matter what you are interested in or what your budget may be. I hope that this guide has helped you decide where to stay on your next trip tothe Dominican Republic. Did you find what you were looking for? Let us know in the comments!
Unfortunately, the Dominican Republic is not considered safe, so it is a good idea to consider some travel insurance. You never know when you might need it!
---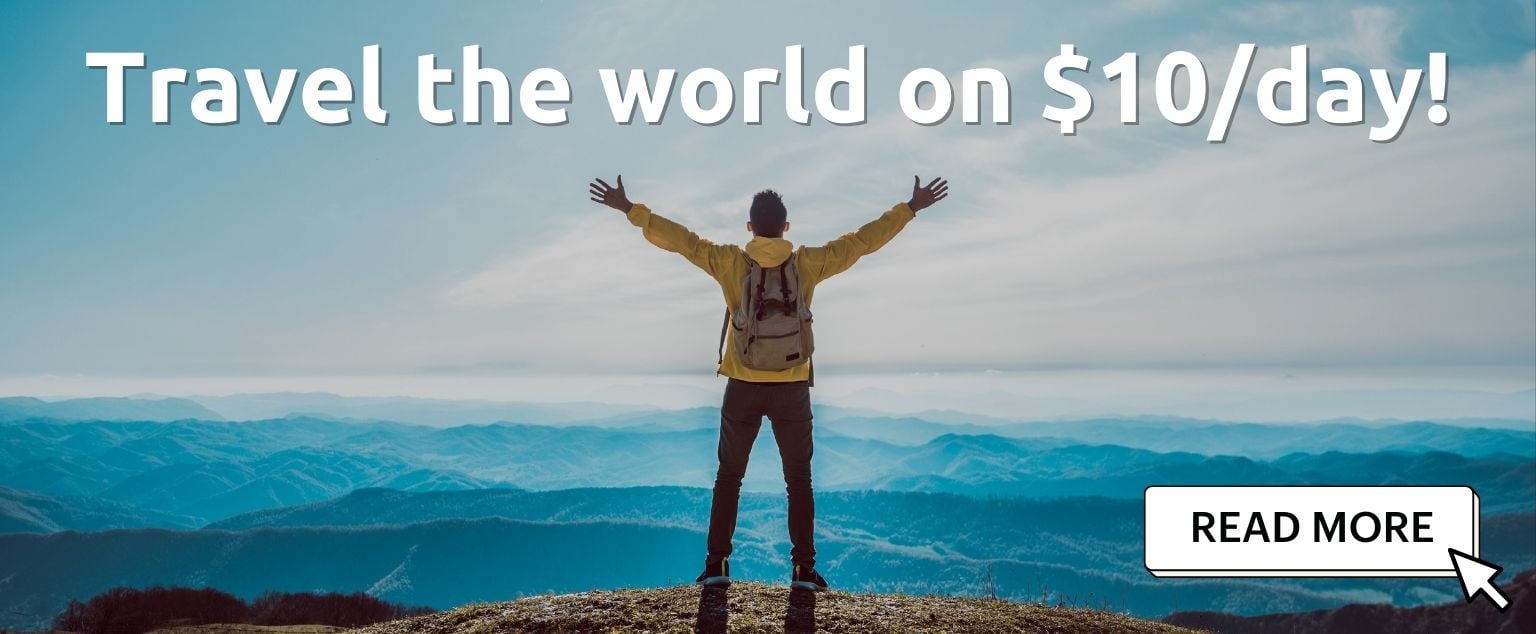 And for transparency's sake, please know that some of the links in our content are affiliate links. That means that if you book your accommodation, buy your gear, or sort your insurance through our link, we earn a small commission (at no extra cost to you). That said, we only link to the gear we trust and never recommend services we don't believe are up to scratch. Again, thank you!