Generally speaking, backpacking meals have never had the best reputation. When many people imagine camping food, they think of unhealthy, bland, watered-down meals that lack in flavor and texture.
Thankfully, there are several companies in the industry that are striving to change the future of hiking food. Nowadays, the best backing meals taste like something you can get in a restaurant or whip up yourself at home. Not to mention, they're also packed with nutrients and made with healthy and sustainable ingredients.
However, not all backpacking foods are made equal: some meals are better than others. You need something that tastes good and provides you with enough energy to trek up the highest mountains and through the deepest valleys. That's why we created this review of the best backpacking meals you can get.
We've got good to go backpacking meals, easy to prepare food and even a rundown of the best backpacking food brands, just so you've got choices!
If you're hiking or camping outdoors, gone are the days of settling for boring backpacking meals. Try one of these delicious options, and never go hungry again! Why just eat in the mountains when you can FEAST?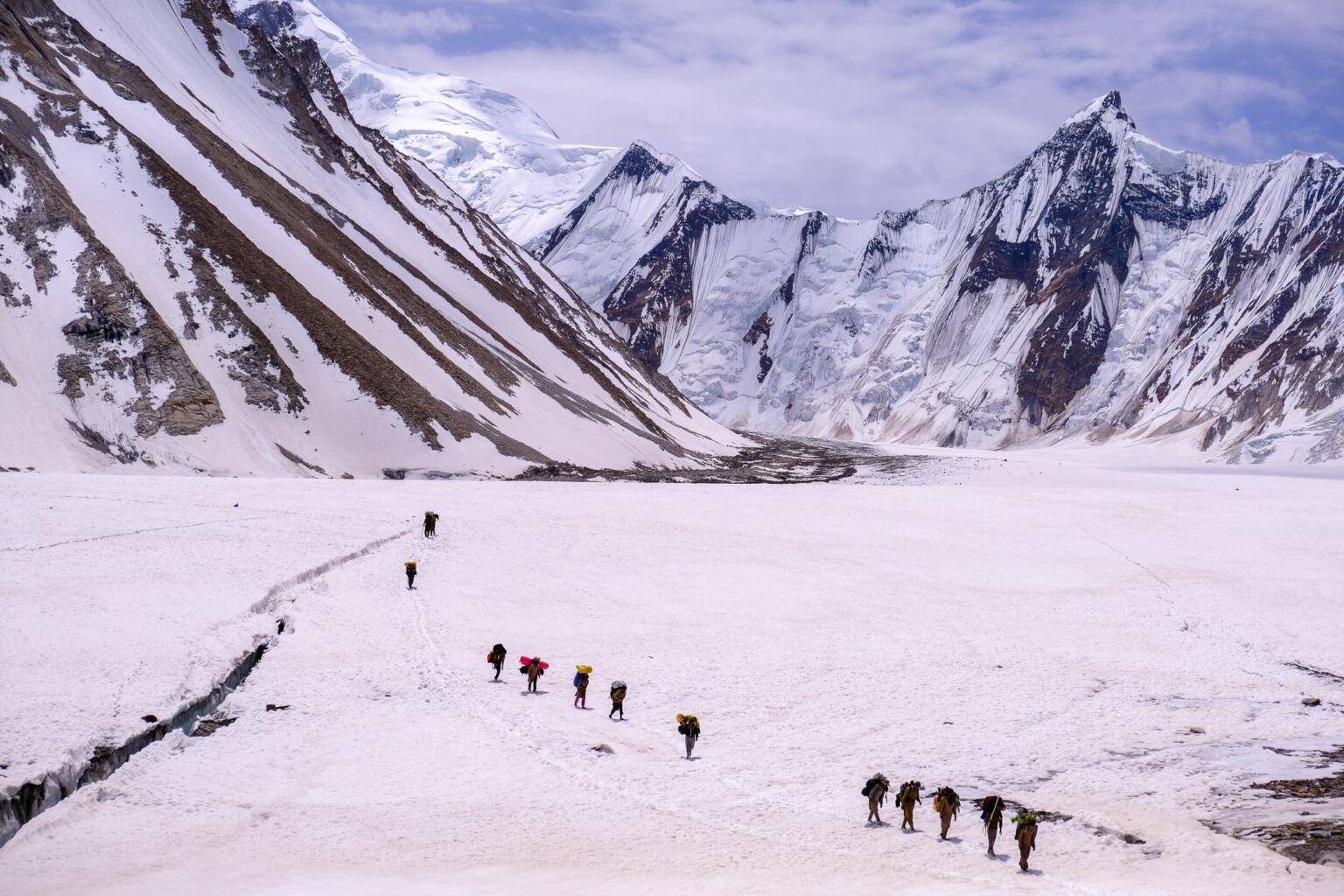 Quick Answer: Best Backpacking Meals Top Picks
BEST BACKPACKING MEALS OVERALL
BEST BACKPACKING MEALS OVERALL
Good to Go
Price > $
> Easy to make
> Low in sodium and gluten-free
BEST BACKPACKING MEALS FOR THRU-HIKERS
BEST BACKPACKING MEALS FOR THRU-HIKERS
Backpackers Pantry
Price > $
> Huge variety of vegan options
> Vegetarian, and gluten-free options
BEST ECO-FRIENDLY BACKPACKING MEALS
BEST ECO-FRIENDLY BACKPACKING MEALS
Patagonia Provisions
Price > $
> Support local environmental issues
> Ingredients are locally sourced
BEST BACKPACKING BREAKFAST FOOD (NON-SAVORY)
BEST BACKPACKING BREAKFAST FOOD (NON-SAVORY)
Mountain House
Price > $
> Freeze-dried breakfasts
> Delicious breakfast foods
BEST BACKPACKING BREAKFAST FOOD (SAVORY)
BEST BACKPACKING BREAKFAST FOOD (SAVORY)
Mountain House
Price > $
> Wide range of savory breakfast foods
> Meals are packaged as pouches, cans, or Pro-Paks
BEST SNACK FOOD FOR BACKPACKERS
BEST SNACK FOOD FOR BACKPACKERS
Patagonia Provisions
Price > $$
> Organically sourced ingredients
> Wide variety of filling snacks
BEST BACKPACKER FOOD FOR VEGANS
BEST BACKPACKER FOOD FOR VEGANS
Good to Go
Price > $
> Plenty of meals for gluten-free eaters, pescatarians & vegetarians
> Nutritious and satisfying
BEST BULK HIKING FOOD DEAL
BEST BULK HIKING FOOD DEAL
Harmony House
Price > $$
> All products are Kosher
> Great alternative to freeze-dried meals
BEST BANG FOR YOUR BUCK DEHYDRATED MEALS
BEST BANG FOR YOUR BUCK DEHYDRATED MEALS
Mountain House
Price > $
> Cheap
> Buy in bulk and save more
BEST BACKPACKING FOOD MEALS FOR GROUPS
BEST BACKPACKING FOOD MEALS FOR GROUPS
Mountain House
Price > $
> Free of artificial flavors and colors
> Great hiking meal for a large group
Ladies & Gents, It's Time to Step Your GEAR Game Up. 😉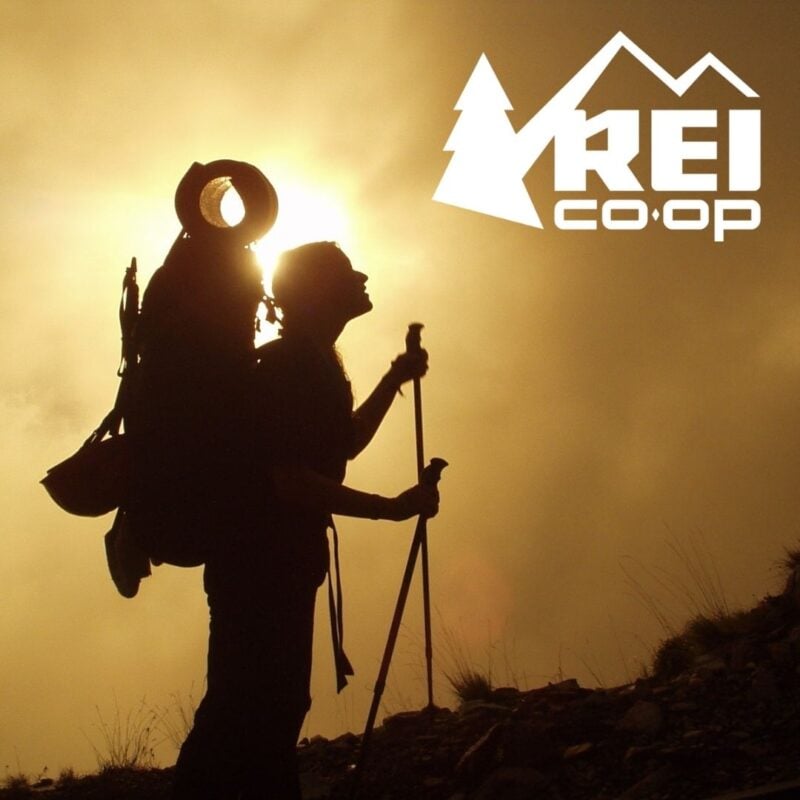 REI is one of America's biggest and most-loved outdoor gear retailers.
Now, for just $30, get a lifetime membership that entitles you to 10% OFF on most items, access to their trade-in scheme and discount rentals.
Join REI Today!
Best Backpacking Meals Overall – Good to Go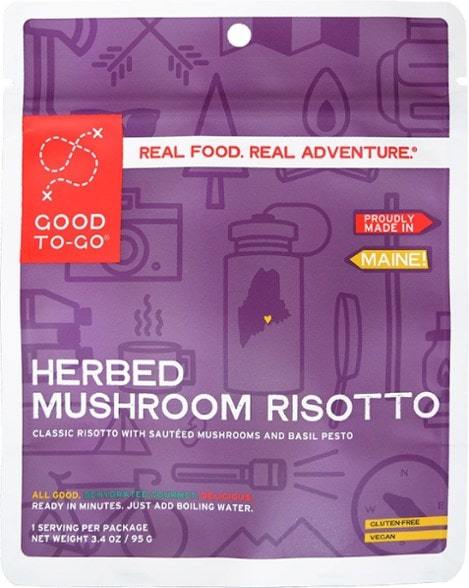 Good to Go has revolutionized the dehydrated food industry, one meal at a time. They've set out to create some of the best backing meals that are not just easy to make but are also good for your body. You won't need to sacrifice taste to enjoy something that is healthy and nutritious for your system.
Best of all, Good to Go meals are delicious. You won't believe these gourmet dishes actually came from a pouch!
Their head chef hails from The French Culinary Institute in Manhattan, so you know they take the taste of their food seriously. Each meal is made in Maine with only the freshest ingredients, which means you can feel good about what you're eating.
Just add boiling water, and you'll be able to enjoy tons of dishes, like Thai Curry, Mexican Quinoa Bowl, Indian Vegetable Korma, and Classic Marinara with Penne. The Herbed Mushroom Risotto is also extremely flavorful and made with real mushrooms, onions, and basil pesto.
All products are low in sodium and gluten-free, and there are even options for vegetarians and vegans. If you're looking for healthy hiking foods that taste like what you could cook yourself at home, look no further than Good to Go!
Our team were super impressed by the Good to Go range and rated it highly in all aspects, most importantly; taste! They love the range of different meals available and felt that everyone hit the spot when it came to flavour and texture once rehydrated. They also love the generous portions too which are ideal for long treks or even sharing for more of a snack.
Best Backpacking Meals for Thru-Hikers – Backpackers Pantry
If you're exploring the world for several weeks at a time, you'll need food that can keep up with you. Why subject yourself to another bland, freeze-dried meal when you can have a variety of culinary options with Backpacker's Pantry?
With a huge variety of vegan, vegetarian, and gluten-free options, you'll never have to eat the same boring meal twice. Choose between spicy vegetable Pad Thai, creamy Fettuccini Alfredo with Chicken, or zesty Jamaican Style Jerk Rice and Beans with Chicken. Aren't you getting hungry just reading this?
When it comes to backpacking food, you also can't go wrong with their Three Cheese Mac and Cheese. The cheese sauce is made with real parmesan, Romano, and cheddar cheeses that are guaranteed to bring the comforts of home to the outdoors. It's one of the best backpackers' pantry meals for sure.
Our team became somewhat obsessed with the Mac and Cheese from Backpacker's Pantry, it was that good! Let's just say, it puts that fluorescent yellow stuff to shame! Not only that but the team found the range of flavours on offer to be great and felt it offered a bit more of something for everyone from spicy to milder offerings, vegan, veggie, meat and the rest! They found the meals easy to prepare and filling enough to fuel all their backcountry adventures.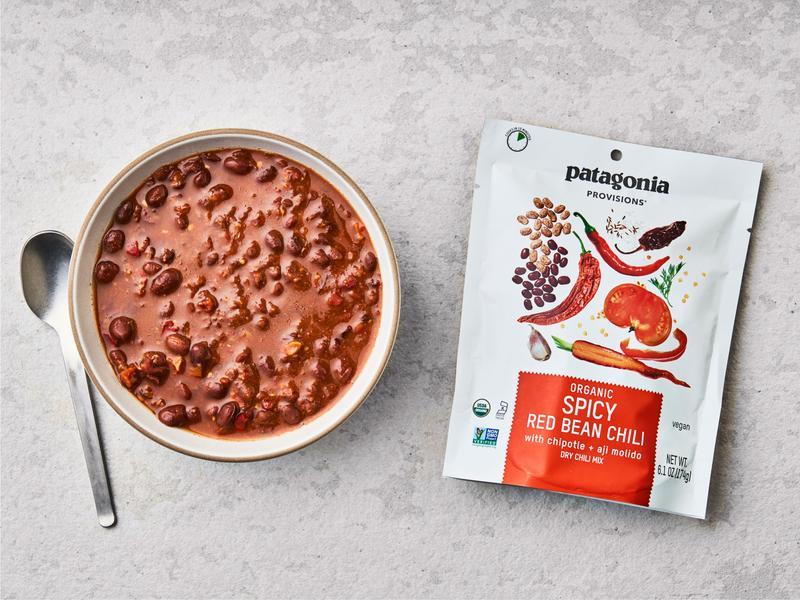 Save the environment one bite at a time with backpacking meals from Patagonia Provisions. They're one of the few camping food companies committed to developing and producing products that are not just healthy to eat, but also support local environmental issues.
Many of the ingredients in their meals are ethically and locally sourced. Their buffalo jerky is made from grass-fed, free-roaming herds tended to by ranchers that are committed to preserving the wild grasslands. They also only use selective-fishing techniques for their wild salmon and support several organizations to protect their natural habitats.
Patagonia Provisions has also launched several conservation efforts to protect mussels and mackerel. They only choose top-of-the-line producers to work with, which means you can enjoy delicious snacks without worrying about your impact on the world.
Besides being sustainable, Patagonia Provisions creates dishes that are extremely tasty. It's the best of both worlds!
For example, their Spicy Red Bean Chili is made with organic beans and three different chilli peppers. You can eat happily, knowing that it's good for your body and the environment.
Our team felt Patagonia was one of the best backpacking food brands (as well as one of their best outdoor brands) due to their eco-friendly products and tasty food. In fact, some of them even bought a few packets of the chili for use at home for when they were feeling a bit lazy, they loved the taste so much! They also loved the wider range on offer from Patagonia which included non-rehydratable foods like tinned mussels and anchovies.
Best Ala Carte Backpacking Meals – Right on Trek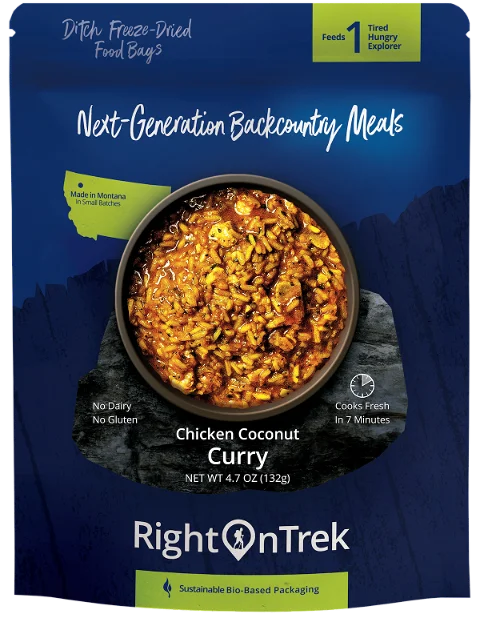 RightOnTrek offers 16 Signature cook-on-the-trail meals for diets including classic, vegetarian, vegan, and keto. They also have offerings safe for those with food allergies including no gluten, soy, peanuts, or dairy.
Their meals are good that you could (almost) find them in a mid-tier restaurant. The Mac N Cheese in particular is not to be missed. It might just be the best backpacking meal out there.
The team just loved the variety of different meals on offer compared to other brands, I mean, how else are you going to be chowing down on a Broccoli Beef Stroganoff next to a waterfall in the middle of nowhere!? The team also loved that these meals could be made even fancier too with additions like grated parmesan and sea salt flatbread crackers. They felt these meals really did just taste like "proper" food!
Best Backpacking Breakfast Food (non-savory) – Mountain House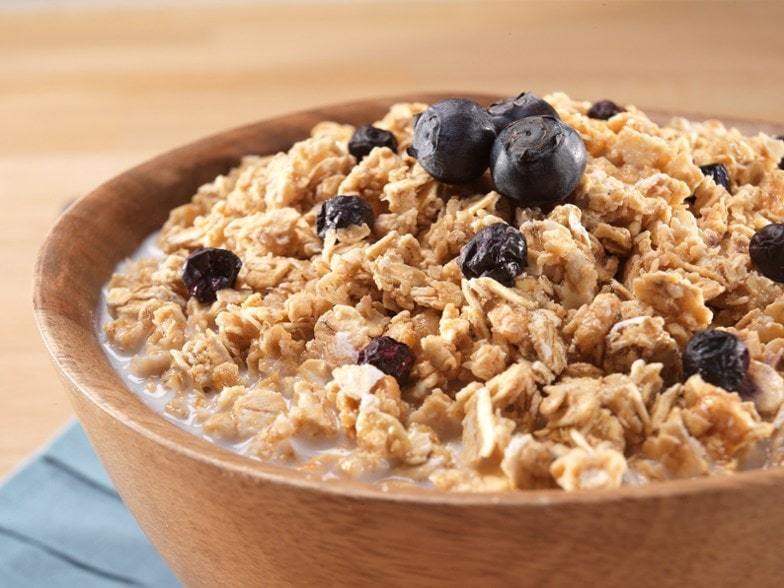 Start your day off right with sweet breakfast backpacking meals from Mountain House. For over 50 years, they've been producing long-lasting freeze-dried meals that can be taken on almost every adventure. Whether you're spending the day at the campsite or making the long drive on your road trip, you can count on Mountain House to keep you full.
Their freeze-dried breakfasts are guaranteed to keep you energized and fueled for an entire day of action. Whether you're trekking up a mountain or spending a day on the lake, you'll have an array of delicious breakfast foods to keep you satisfied.
Made with real blueberries and rolled oats, the Granola with Milk and Blueberries has just the right amount of sweetness you crave. It's one of our favorite things to eat in the morning. Even in the remote wilderness areas of the world, you can still wake up in the morning and enjoy a hot oatmeal breakfast.
The TBB team were glad of a different option especially when it came to breakfast or a sweet treat after a savoury meal if they needed the extra calories. They loved that the blueberries still felt fresh and tasty even though they were dehydrated. What's better is that it works hot or cold too which means you can still have a great meal even if your Jetboil breaks down!
Best Backpacking Breakfast Food (Savory) – Mountain House
If you are craving a more savory option for breakfast, Mountain House also has you covered. They specialize in a wide range of savory breakfast foods, which can all be made in just minutes with boiling water.
Their meals come packaged as pouches, cans, or Pro-Paks, so you can decide the most manageable package for your style of travel. Indulge in comforting classics like Scrambled Eggs with Bacon, Spicy Southwest Breakfast Hash, or Biscuits and Gravy (actually pretty damn good). Unlike other dehydrated or freeze-dried breakfasts, Mountain House eggs taste like you just cracked them open on the skillet. It's the closest thing to farm fresh eggs that you can get, keeping in mind that the eggs are dehydrated after all.
One of our all-time favorites is the Mountain House Scrambled Eggs with Ham and Peppers. This gluten-free option is free of artificial flavors and colors. It's also low in calories and packed with protein to keep you energized and prepared for whatever the world throws at you.
Mountain House isn't just popular among our team for its sweet options, but they were equally impressed by their savoury meals too. They felt they offered something different from other brands like savoury breakfast options. The veggie chorizo breakfast scramble is also a game-changer for the veggies on our team.
Patagonia Provisions hits it out of the park again when it comes to delicious camping food. If you're between meals or just a tiny bit hungry, you'll find that Patagonia Provisions also has a wide variety of filling snacks.
Their Pantry Stuffer Gift Box is a variety pack that includes all the old favorites. You'll have the opportunity to taste some of their best-tasting backpacking meals, like Red Bean Chili, Savory Grains, and Wild Sockeye Salmon. It also comes with protein-packed snacks like Fruit and Almond Bars, Buffalo Jerky, and Mussels.
Like other Patagonia Provision products, their Pantry Stuffer Gift Box is completely eco-friendly. With organically sourced ingredients from only the top-tier farmers, you won't have to question where your food comes from.
This gift box is a great option to sample the different choices that Patagonia Provisions has to offer in terms of backpacking food. It's also ideal if you're simply looking to stock your cabinets with nutritious, sustainable, and easy-to-prepare foods that you can enjoy any time of the day.
Our team rate this awesome pack highly and love the variety of different options available. As we mentioned previously, they are big fans of the fact that they don't just offer bog-standard dehydrated meals, but canned fish, pasta, sauces, honey and even apple tart granolas. They felt the range on offer was much more versatile, especially if you've got the space in your pack and you'll be staying somewhere with a proper kitchen.

Do You Want to Travel FOREVER??
Pop your email in below to get a FREE copy of 'How to Travel the World on $10 a Day!'.
Best Backpacker Food for Vegans – Good to Go
If you're vegan, you understand the struggle of trying to find dehydrated meals that are both nutritious and satisfying. Most of the time, you're stuck with just one or two options that are completely bland and tasteless. Thankfully, Good to Go has created a line of delicious backpacking meals especially with vegans in mind!
Not only do you have classics like Oatmeal and Classic Marinara with Pasta, but you also have the choice to dine on international cuisine. Change up your menu with dishes like their Mexican Quinoa Bowl, Bibimbap, or Herbed Mushroom Risotto.
We also recommend the incredibly delicious Kale and White Bean Stew. It's made with nutrient-rich ingredients like dried navy beans, celery, sweet potato, and fennel. In just a few minutes, you'll be slurping on one of the best backpacking meals that we know all vegans will enjoy. Being vegan in the outdoors has never been easier or more delicious!
Besides vegan meals, Good to Go also creates meals for many other diet and lifestyle choices. They have plenty of dehydrated meals for gluten-free eaters, pescatarians, and vegetarians alike.
The vegans on the team gotta eat too ya know! They're quite used to being left with bland and unimaginative meals that just don't hit the spot. Thankfully Good to Go has hit the spot when it comes to vegan options. From their Risotto to the smoked three-bean chilli, they've got plenty of options too. They also felt that importantly, these meals were super filling and felt substantial to get them through a tough hike.
Looking for more vegan outdoor gear? Check out our guide to the best vegan hiking boots for your next adventure.
Best Bulk Hiking Food Deal – Harmony House
With more than 15 years in the hiking food industry, Harmony House is one of our top companies to produce some of the best backpacking meals you can find in the market today. All of their products are Kosher, and their vegetables, fruits, and beans are all non-GMO, so you can feel good about what you put in your body.
To sample the best of what Harmony House has to offer, try their Trail Ready Gourmet Soup and Chili Pack. It comes with 18 different easy-to-make meals that are all gluten-free and either vegan or vegetarian.
Try their Mama Mia Italian Vegetable Soup, Super Savory Split Pea Soup, or Southwest Style Mixed Bean and Chili. We also love their Hearty Texas BeeFish Stew, which is made from a unique "beef" textured vegetable protein. With amazing soups and chilis like these, you won't even miss eating meat for a second.
Harmony House hiking food is a great alternative to freeze-dried meals. All you have to do is add water! These soups and chilis can be enjoyed while camping, hiking, or simply in the comfort of your home. And with so much variety, you can easily prepare a healthy, satisfying meal for both large groups and hungry diners.
The team rated Harmony House as their favourite bulk backpacking food. As we mentioned above, the team really love the high quality of their meals with them offering food that felt much more "real". So when it came to bulk buying they felt their kit offered a great range of different flavours for a great price.
Best Bang for Your Buck Dehydrated Meals – Mountain House
When it comes to the best backpacking meals, you don't have to spend an arm and a leg just to feed yourself. Mountain House aims to provide delicious, healthy meals that can be enjoyed for as little as a few dollars a day. With their line of backpacking food, you can enjoy hearty, savory meals without breaking the bank!
For example, the Mountain House Lasagna with Meat Sauce is a savory meal that will leave you feeling satisfied. One pack contains two servings of real meat sauce, cheese, and noodles that cost less than what you can order in a restaurant.
Mountain House backpacking food also comes in three different sizes – pouches, Pro-Paks, or cans. Buy in bulk and save even more the next time you're planning an outdoor adventure anywhere in the world!
The TBB, as you can imagine, are keen to keep things as affordable as possible when they're on the road. Often backpacking meals can be pretty expensive compared to the street food and 7/11 toasties most of us are used to. So when it came to budget-friendly options they felt Mountain House hit the sweet spot offering awesome flavours, a good level of protein and generous portions.
Best Backpacking Food Meals for Groups – Mountain House
If you're traveling with a large group, you'll need hiking meals that can feed everyone on your trip. Different travelers have different taste preferences, and you'll need specific backpacking meals that can satisfy each person. That's why we've rated them as our favourite option when it comes to backpacking meals for groups.
Mountain House does just that. They produce delicious, filling hiking food in a variety of mouthwatering flavors. Not only do you have a huge choice of menu options, but you'll also have different meal sizes to choose from.
The pouches and Pro-Paks are ideal for individual travelers or small groups, while their XL packs and ten cans are large enough to feed an entire hungry army.
The Mountain House Beef Stroganoff is a clear winner when it comes to large groups. Just one container of their XL pack has enough food for ten servings. You'll have several hot bowls of savory pasta in under ten minutes. That's faster than most people can cook in the kitchen!
Not to mention, all their meals are free of artificial flavors and colors, so you aren't sacrificing quality for quantity. In fact, our team rated Mountain House as their best-tasting backpacking meals
The team felt that the food looked and tasted much better than the rather unflattering can looked! Don't be put off by the exterior, if you're cooking for a good few people, they felt this was the perfect solution. They loved the tender pieces of beef that make this dish feel satisfying, tasty and filling whether that's at the side of a campfire or deep in a doomsday preppers basement!
Best Backpacking Stoves and Cooking Gear
Campers know that the key to a good outdoor meal is dependent on the equipment you can cook with. The best backpacking gear can either make or break your hiking or camping trip. Afterall, it's all well and good having the best backpacking dishes, but you've got to make them!
When it comes to finding the right backpacking stove and cooking gear, you have a variety of options and products to choose from. Here are some of our favorite products that we've battle-tested for quality and durability.
The Jetboil Flash Cooking System is the ultimate cooking device for the outdoors. This all-in-one cooking device makes cooking camping food and making coffee easier than you could ever imagine.
This small, portable device packs a big punch. It's the fastest stove in the entire Jetboil range, which means it can boil 16 ounces of water in 100 seconds flat. Using the built-in isobutane-propane tank, you can travel almost anywhere and have access to hot water for almost every type of meal. And the color-changing boil indicator guarantees that you don't waste any more fuel than what is needed.
If you're looking to prepare your backpacking meals and hiking food on the go, the Jetboil Flash Cooking System is a must-have for any traveler. You'll have a hot breakfast, lunch, or dinner waiting for you in just under two minutes.
The Jetboil is a classic for a reason and the team wouldn't be without theirs. They love the lightweight but solid construction as well as the efficiency it offers when it comes to brewing up or cooking meals. Plenty of our team has had their Jetboil's for a good few years of solid trekking without failure.
For even more cooking options, check out our list of the best backpacking stoves.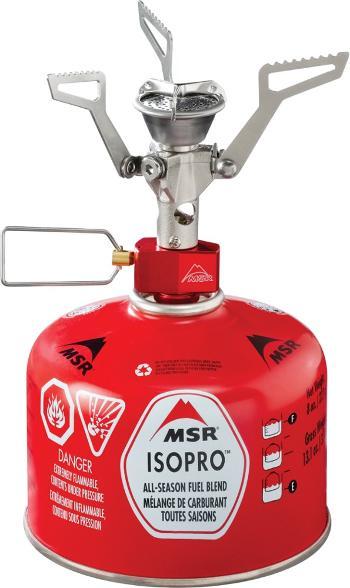 If you're looking for a backpacking stove that's small and affordable, the MSR PocketRocket 2 Stove is another great option. This folding pot can boil one liter of water in just under 3.5 minutes, which is extremely fast for a compact, folding stove. And weighing just 2.6 ounces, it's one of the lightest portable stove options on the market.
The fully adjustable flame makes it easy to cook camping food or brew coffee to perfection in just a matter of minutes. And it's compatible with almost every type of gas canister, which is great if you run out of fuel while traveling.
The MSR PocketRocket Stove Kit comes with everything you need to start cooking outdoors. It comes with the MSR PocketRocket 2 Stove as well as a ten-piece cookware set to make a variety of backpacking meals. With bowls, mugs, pots, and silverware, the Stove Kit is like bringing a mini kitchen with you up the mountains!
The team feel the MSR Pocket Rocket is another great alternative to the Jetboil and in particular love how small the thing folds up when not in use. Its lightweight frame also adds hardly any extra lbs to their packs too, so it's a great option for backpackers or for "just in case".
For more information, read our in-depth MSR Pocket Rocket review.
If you have to cook for a large group of people, a small portable stove simply won't do the trick. You'll need something that's portable but powerful enough to feed multiple people over several days. That's where the MSR Whisperlite Backpacking Stove really shines.
Unlike propane stoves, the Whisperlite uses liquid fuel. One bottle of liquid fuel is equal to seven canisters of propane, which means you can cook to your heart's desire without worrying about running out of fuel halfway through your trip. Since liquid fuel is just petrol, diesel, or alcohol, it can be found almost everywhere.
The fuel itself will also save you a lot of money in the long run. Generally speaking, liquid fuel is far more affordable than purchasing a can of propane.
The team loved that MSR provide different options for different sizes of groups. The Whisperlite Backpacking Stove still offers a weight-efficient size whilst providing a much larger cooking area for bigger pots and pans. The team were impressed by its efficiency and stability, especially with the larger cooking equipment.
To see if the MSR Whisperlite Backpacking Stove is right for your trip, check out our in-depth review.
The best present of all… is CONVENIENCE!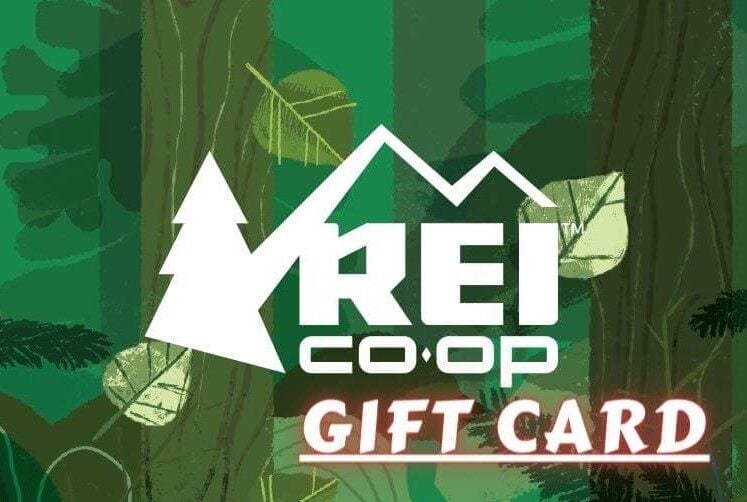 Now, you could spend a fat chunk of $$$ on the WRONG present for someone. Wrong size hiking boots, wrong fit backpack, wrong shape sleeping bag… As any adventurer will tell you, gear is a personal choice.
So give the adventurer in your life the gift of convenience: buy them an REI Co-op gift card! REI is The Broke Backpacker's retailer of choice for ALL things outdoors, and an REI gift card is the perfect present you can buy from them. And then you won't have to keep the receipt. 😉
Buy on REI!
Awesome Camp Utensils
You have your backpacking meals, your stove, and your Grayl Geopress Filter Waterbottle. To complete your on-the-go kitchen, you'll need to bring some durable camp utensils with you on your trip. The ideal cutlery set is lightweight, durable, and easy to clean.
Ultimate Survival Technologies has created a simple, sustainable set of bamboo utensils that you can easily take with you hiking or camping. The set includes four forks, four knives, and four spoons, so you can eat any type of hiking food that you brought. And since it's made with bamboo, you can also use them as tinder in case of emergency! They're essentially two products for the price of one.
If space is a concern, you need to invest in the Snow Peak Titanium Spork. Weighing just over half an ounce, this spork is an excellent option that won't rust or leave a metallic taste in your mouth. Although it's heavier than other spork utensils, it's durable enough to survive even the harshest of camping trips. Why travel with more than one piece of cutlery when you can use one item that gets the job done?
For two utensils in one, take the Sea to Summit Alpha Light Spork with you on your next camping trip. It's made from durable aircraft-grade 7075-T6 aluminum alloy and clocks in at just .3 ounces, making it one of the lightest pieces of cutlery on the market today. It even comes with a small carabiner, so you can clip the spork to your backpack or mug while traveling. If you're looking for a lightweight utensil, look no further than the Alpha Light Spork.
How We Tested The Best Backpacking Meals
There is no perfect or exact science when it comes to testing outdoor and travel gear, and that is particularly true when it comes to the best backpacker meals. Having said that, we've munched our way through plenty of grub on your behalf, so we like to think we do a decent job!
Whenever we test a piece of gear, one of our team takes it out and puts it through its paces. When it comes to backpacking food, some things are a little different. Like, we look at things like taste, texture, nutritional value, how easy each meal is to cook and how long each one lasts.
Whereas there are some things that we look at no matter what we're testing, such as how heavy it item is, how packable it is and how well made it is (in this case not just the food itself but the containers and packaging … no one wants one leaking inside their backpack!)
Finally, we also take into account the cost of each item. The more expensive items will be treated more harshly and held up to higher scrutiny. On the other hand, the more budget-friendly options will be given more leeway.
FAQ about the Best Backpacking Meals
Still have some questions? No problem! We've listed and answered the most commonly asked questions below. Here's what people usually want to know:

Our GREATEST Travel Secrets…
Pop your email here & get the original Broke Backpacker Bible for FREE.
Final Thoughts on the Best Backpacking Meals
Does thinking about all these delicious backpacking meals make you hungry? It sure does for us! Isn't it great that we live in a time and place where dehydrated meals and camping food is tasty and actually good for you?
While there are certain meals for every taste, budget, and diet, we still recommend Good to Go as our favorite backpacking food company. They produce high-quality, delectable to-go options for almost every type of palette. And, they're made with fresh ingredients suitable for vegans and vegetarians too!
Besides picking the right meals for your trip, you'll also need to pack the best cooking gear. A portable camping stove and utensil set are must-haves for any traveler.
When you're out in the wild, don't settle for something bland and dry. Partake in one of these amazing meals and enjoy the luxuries and comforts of hot food no matter where your journey takes you.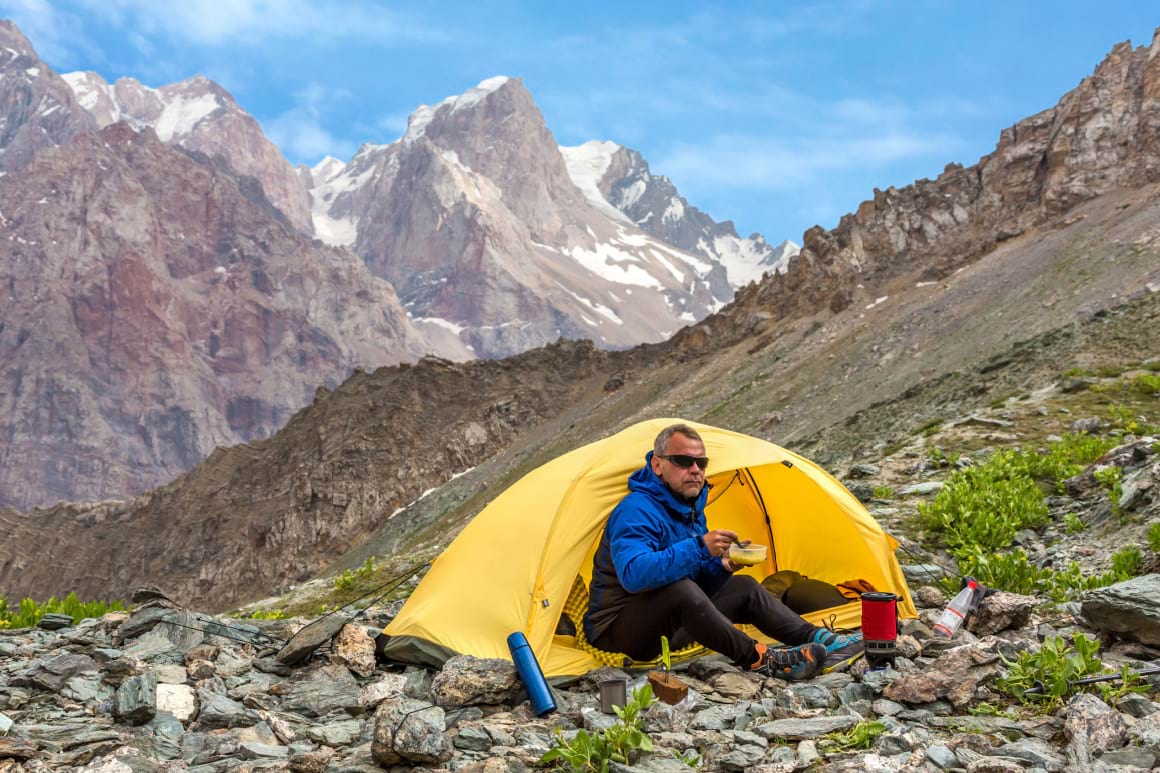 ---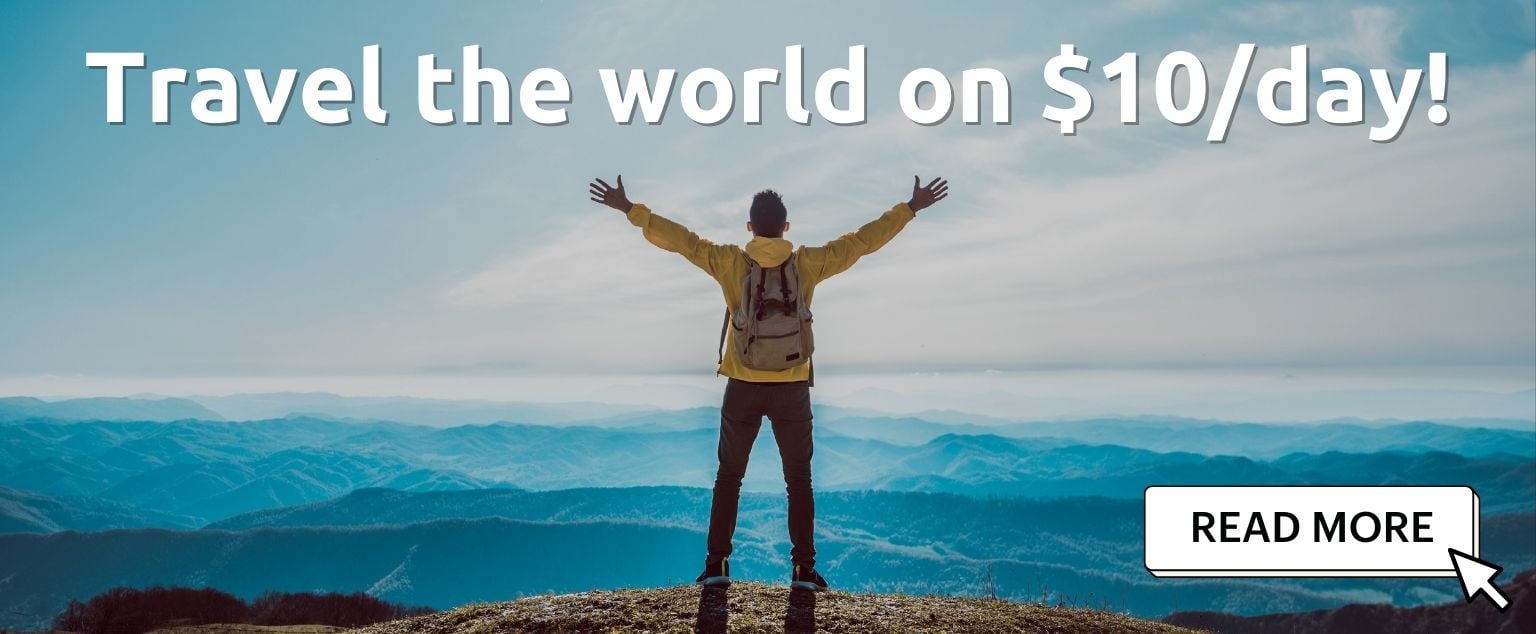 And for transparency's sake, please know that some of the links in our content are affiliate links. That means that if you book your accommodation, buy your gear, or sort your insurance through our link, we earn a small commission (at no extra cost to you). That said, we only link to the gear we trust and never recommend services we don't believe are up to scratch. Again, thank you!