Rome is known as the "Eternal City"- and for good reason. One of the longest continuously inhabited cities in the world, the Italian capital is suitably strewn with ancient monuments. Add Renaissance grandeur and some truly good eats, and it's a wonder to explore.
A trip to Rome does come at a cost, however. It's one of the most famous cities in the world after all, visited by millions of tourists each year. If you're wondering how to stay in Rome on a budget, you're in the right place.
We've figured out the best cheap hostels in Rome to help you find somewhere that's right for your travel style. So, let's get going!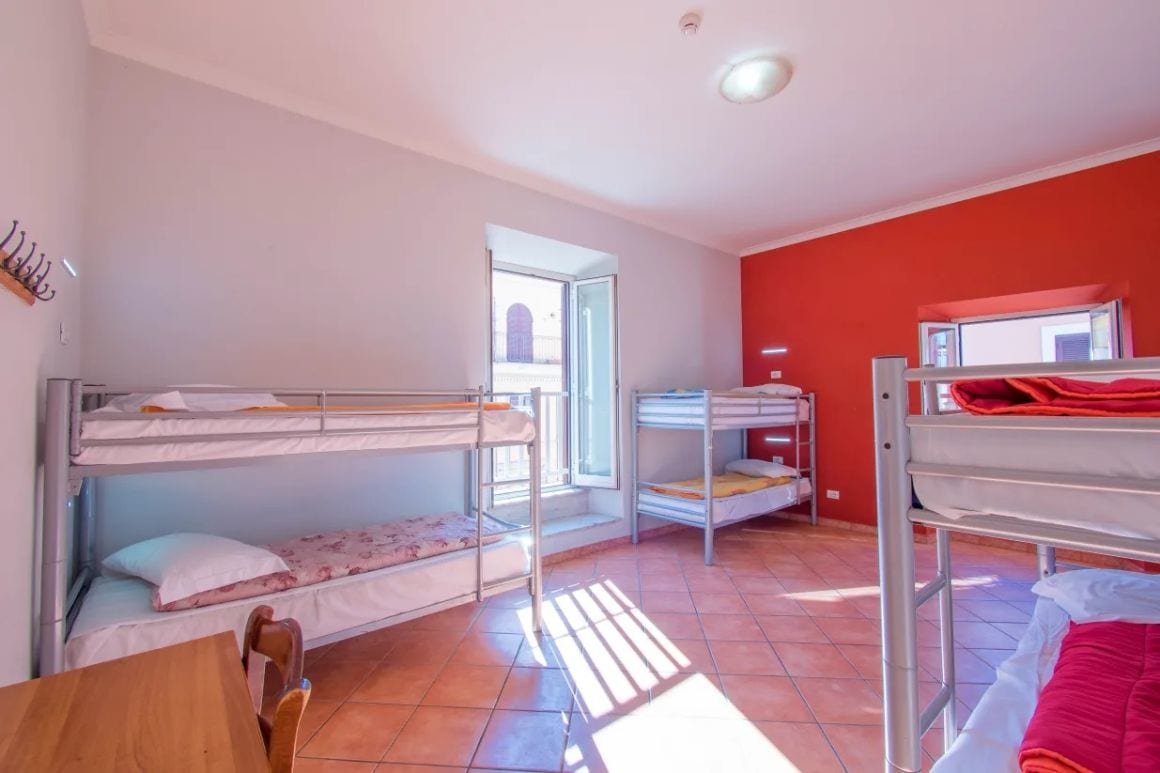 A palace and a bar? Count us in! This is one cheap hostel in Rome that you shouldn't ignore. It's a welcoming place to stay where meeting other travellers is easy. Specifically, the socialising happens in the eponymous bar, complete with Renaissance frescoes. 
Guests can also enjoy hanging out on the outdoor terrace, with city views as the backdrop. The rooms themselves are spacious and clean, making for comfy places to crash after a long day of exploring Rome.
For travellers keeping to a tight budget, the communal kitchen is well-equipped for your meal-making needs. And to top it all off, there's even a gym for guests to use. 
Where is Alessandro Palace & Bar?
This fun hostel has a fantastic location right in the heart of the city. You'll find it very close to Termini Station, which means being able to get around pretty easily. Being so central, there's an array of Rome's top attractions on the doorstep, including the iconic Colosseum and the Pantheon.
In terms of room options, Alessandro Palace & Bar is suitably palatial with quite a varied selection on offer. You'll have the following dorm choices:
There are a couple of private rooms to choose from, too:
Twin room ensuite
Three bed ensuite
Prices start from $21 USD per night.
Any extras?
If you're wondering whether this self-proclaimed palace has amenities and facilities to match, well, there certainly are a few perks to staying here. These include:
Two bars
Rooftop terrace
Communal lounge
Gym
Communal kitchen
Two ("stylish") restaurants
Air-con
Key card access
It's not the fanciest hostel in Rome, but this is still a popular place to stay. You'll benefit from a great location, and a surprisingly comprehensive amount of facilities to make full use of. 
The BEST Travel Backpack?!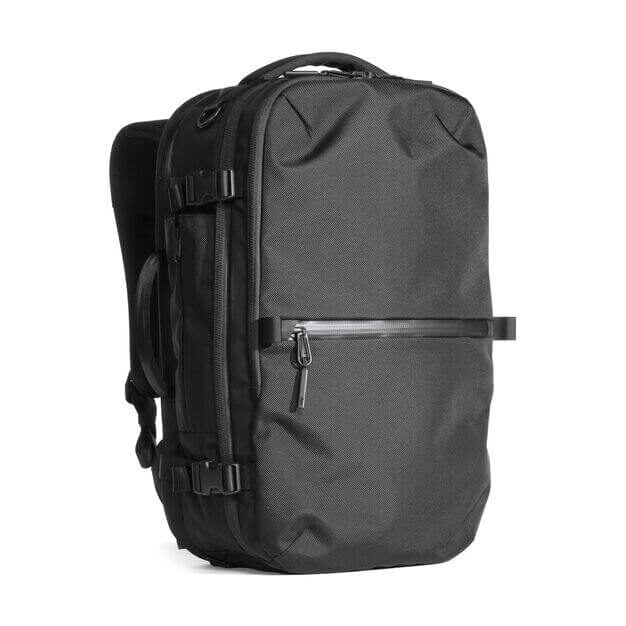 Pssssst! Not picked the perfect travel backpack yet? The Broke Backpacker team has tried out over thirty backpacks this year! Our favourite travel backpack is the Aer Travel Pack 2.
View on AER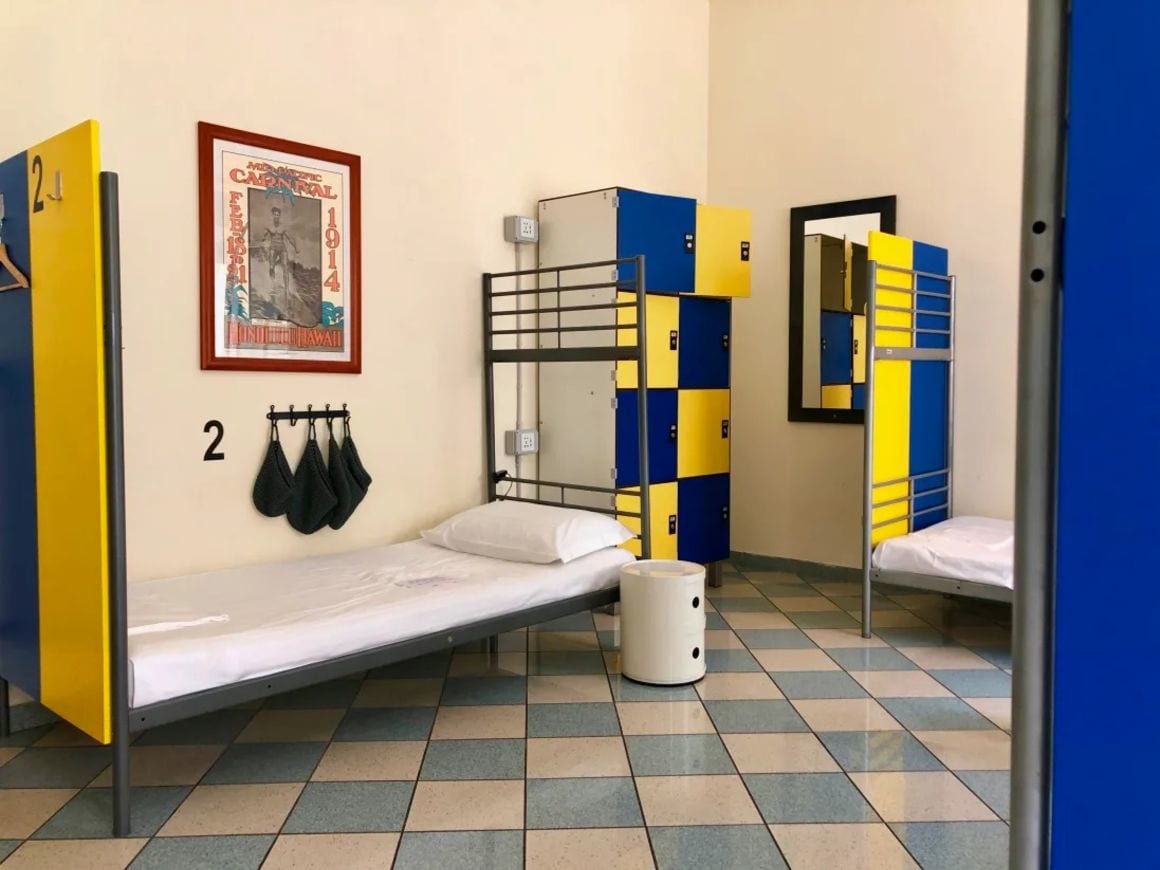 Claiming to be the "homiest and most chill" hostel in Rome, The Beehive opened its doors in 1999 and has been going strong ever since. These guys provide a relaxing oasis away from the busy city streets, with plenty of boho, alternative style throughout.
You can chill out on bean bags in the lush courtyard (complete with colourful wall art), or sip on a freshly brewed coffee in the onsite cafe. It's actually pretty social, too – the kind of place where it's easy to meet other guests.
On top of all that, The Beehive is owned by an American couple who followed their dreams, moved to Rome and opened a hostel. They make it a welcoming place to be for solo travellers, groups of friends, couples and families alike.
Where is The Beehive?
This is a budget hostel in Rome with one great location. It's just a couple of blocks from Termini Station and the nearest metro stop, so travelling to and from Rome Airport is easy. The Colosseum, cafes, bars and restaurants are within easy reach.
The Beehive is a pretty compact hostel, so there's not a whole lot of choice. However, they do have the following dorm options:
If dorms aren't your thing, there are a few private rooms on offer:
Prices start at $23 per night.
Any extras?
There are a few extras and amenities on offer at The Beehive…
Free Wi-Fi
Board games
Cafe
Organic / vegetarian breakfast available (additional fee)
Courtyard garden
Drinks for sale
Book exchange
Laundry facilities
There are also some events going on at this budget Rome hostel. These include:
Cooking classes
Family dinners (twice weekly)
The Beehive is pretty much a "traditional" hostel. There are no fancy bars, workspaces or anything like that. It's more about being a safe and friendly place to stay in Rome.
It's not actually free, but it is definitely a budget-friendly hostel in Rome. And it's worlds away from somewhere like The Beehive – instead, Free Hostels Roma is pretty much a "boutique hostel". It's modern and streamlined, with a clever use space throughout.
One of the best things about this place is its contemporary and functional dorm rooms. Bunks are pod-style capsules complete with reading lights, shelves, and privacy shutters.
Away from the dorms, guests can kick back on the stylish roof terrace, complete with lounging chairs and tables. Or, you could head to the hostel bar for a few glasses of wine.
Where is Free Hostels Roma?
It's less than a 20-minute walk from this hostel to the famous Colosseum, and it's pretty close to the Piazza Vittorio Emmanuel. It's also super close to public transport – the Manzoni metro station is just 300 metres away. Shops, restaurants and cafes dot the surrounding area.
Free Hostel Roma has the following dorm options available:
If you'd rather have some added privacy, your options are:
Twin room
3+ bed private rooms
Prices start from $23 per night.
Any extras?
There are no events on offer here, but guests will still be able to make use of the following:
Multilingual staff
Buffet breakfast (additional fee)
Bar
24-hour reception
Communal kitchen
Security lockers
Cafe
Outdoor terrace
The staff here create a really nice atmosphere. So if you want to stay somewhere that's fairly fun (but not a party hostel), as well as super modern and uber-clean, this is a solid choice.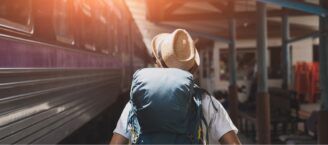 Unlock the The Broke Backpacker's GREATEST Travel Secrets
Sign up for The Broke Backpacker Newsletter to receive weekly tips on how to travel on a budget + a FREE copy of The Backpacker Bible!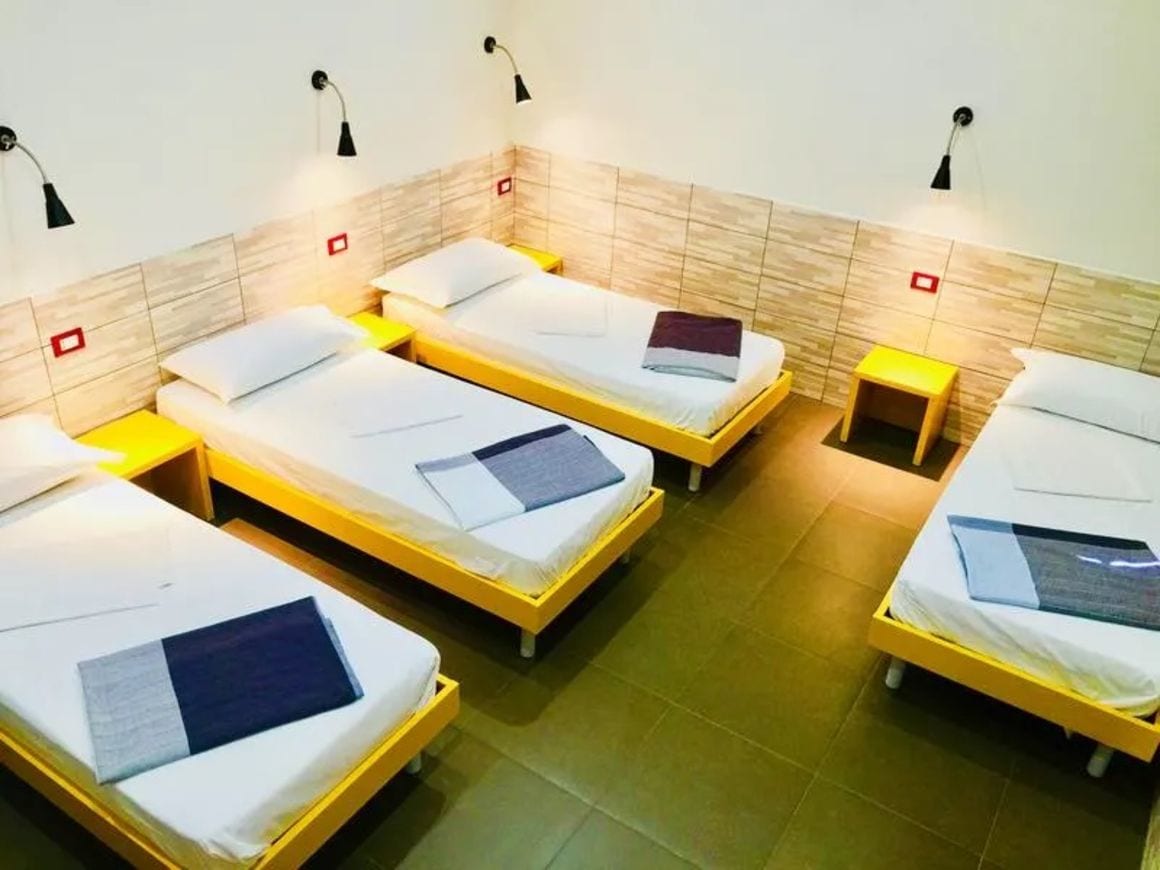 It may be pretty basic, but Legend R.G is a laid-back kind of hostel that makes for a cheap place to stay for a few nights in Rome. It's actually got one of the lowest prices among budget hostels in Rome, so if you're really on a shoestring, it's great value for money.
Don't let the simplicity of the dorms fool you, though. This place gets great ratings, not just for how cheap it is, but also thanks to the incredible staff. They're super helpful and really help to keep up a welcoming atmosphere.
One of the best money-saving perks about this hostel is the free breakfast. Complete with pastries, coffee, and tea, which taste even better when you're not paying for them. Sometimes, they even offer free wine in the afternoons (a good social aspect).
Where is Legend R.G?
This is another budget hostel in Rome that's a stone's throw from Termini Station. The surrounding area is great to explore for local food and drink, and the Trevi Fountain is 15 minutes away on foot.
There are a variety of rooms available at Legend R.G. Dorms include:
There are a few private room options, too, which include the following:
Twin room
3+ bed private room
Four bed apartment
Prices start from $17 per night.
Any extras?
Basic though it may be, this budget hostel in Rome is more than just a cheap place to sleep. It's actually got things pretty sorted with a decent array of amenities and other perks:
Luggage storage
Daily cleaning
Free Wi-Fi
Communal kitchen
Free welcome drink
Free breakfast
Laundry facilities
Key card access
There aren't any events as such, but the free wine afternoons at Legend R.B are pretty hard to beat.
Legend R.B is nothing out of the ordinary, but it's wallet-friendly and great if you're travelling to Rome on a budget. With such reasonable room rates, all the extra free stuff and great social vibe, you can't go wrong.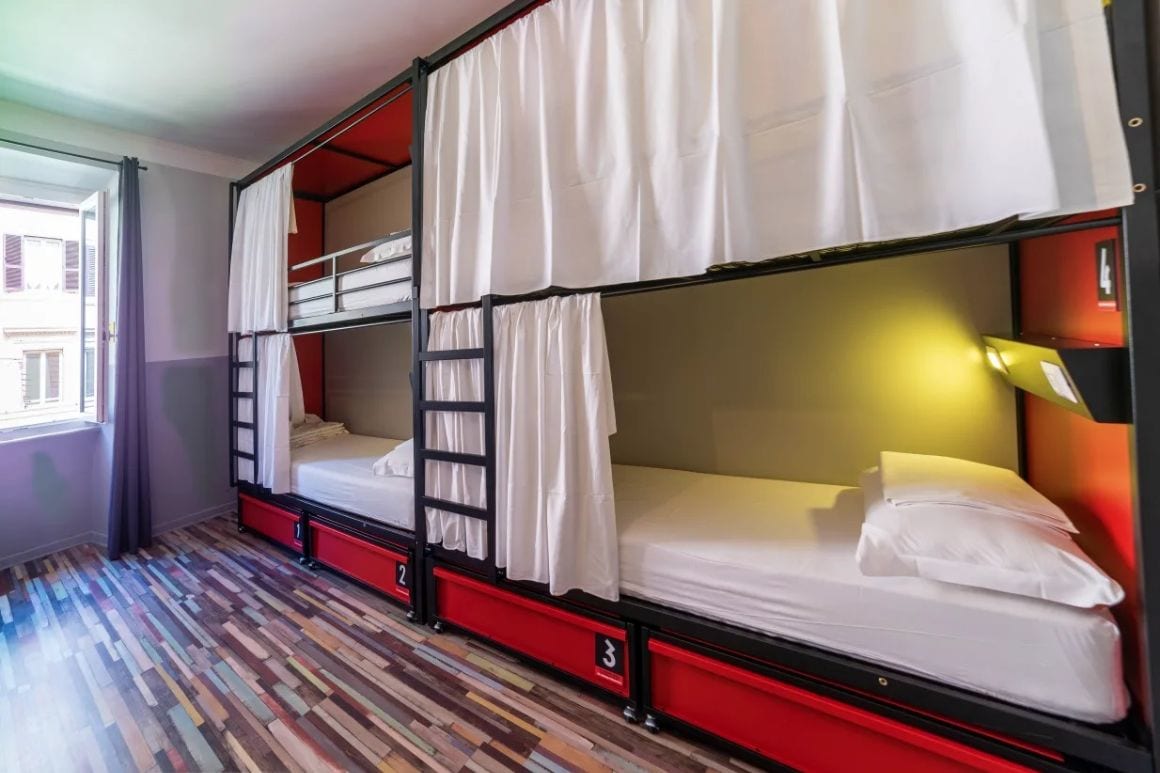 Once voted The Best Hostel in Rome by Hostelworld – among its many other awards – YellowSquare Rome is a vibrant place where it's easy to meet other travellers. It's got many communal spaces, including a "Concierge Bar" as well as "YellowBar", which offer both food and drink.
With its built-for-purpose coworking hall filled with dedicated desks, we'd say this is a great option for digital nomads in Rome. It's properly like an office set-up, so you'll feel professional enough to sit down for at least a few hours to get work done.
When it comes to getting some shut-eye, dorms provide ample space. They're full of clean, modern, bunk-beds and there are some boutique-style private rooms to boot.
Where is YellowSquare Rome?
Set near Termini Station (yep, it's a theme of Rome's budget hostels), it's three kilometres from here to Piazza Navona and the Colosseum. There are plenty of restaurants and cafes in the local area, and it's easy to get around on public transport thanks to the proximity of Rome's main train station.
The dorm options at YellowSquare Rome include:
Feel like a private room instead? You can choose from the following:
Single room ensuite
Double room ensuite
Twin room ensuite
4+ bed ensuite
Prices start from $15 per night.
Any extras?
There are definitely some good facilities to take advantage of at YellowSquare. Specifically, these are: 
Laundry facilities
Bicycle hire (additional fee)
Two bars
Coworking space
Pool table, foosball, etc.
Hair salon
Communal kitchen
Free iPad rentals
And then there are the events…
DJ nights
Beer pong tournaments
Nine-hour long happy hour
The number of perks on offer at YellowSquare Rome is enough to lure in any fun-loving backpacker or traveller on a budget. The fact that there's even a dedicated coworking space (and a salon) makes this hostel great value for money.
Cheap Hostels in Rome FAQ
How cheap are hostels in Rome?
The cheapest hostels in Rome start at $15 USD, with an average price of around $20 for a bunk in a dorm room. Note that these prices can (and do) change depending on the season – you can expect to pay more in the height of summer. A private room will set you back about $80 for a night.

The cheapest area to stay in in Rome is most certainly the neighbourhood around Termini Station. This is where you'll find most of Rome's budget hostels, as well as cheaper food prices. Anywhere else in the city tends to be pretty pricey.
Are hostels in Rome safe?
Hostels in Rome are indeed safe. Things like security lockers, staff available 24-hours a day, and key card access ensure that guests will have peace of mind during their stay in Rome. As ever, it pays to keep your belongings out of sight and locked up if you are worried they may go missing.

Rome itself is a safe city. But you do need to keep an eye out for things like pickpocketing and petty crime around tourist areas and transport hubs. Be sensible – stay alert and keep your belongings close to you.
Are there any more cheap hostels in Rome?
Surprisingly, there are quite a few budget-friendly hostels in Rome. One of these is
Freedom Traveller
(from $17 per night). Complete with a large outdoor terrace and clean, comfortable dorms, it offers great value for money – we're talking free breakfast, free wine and free snacks.
Another worthy contender is
Hostel Trastevere 2
(from $14 per night). This boasts space for up to 50 people to sleep, and is a homely, welcoming place with friendly staff and a great location.
Roman Holidays
(from $14 per night) is clean and cosy with free coffee and croissants in the morning. It's also close to public transport.
Final Thoughts on Cheap Hostels in Rome
Who knew that travelling to Rome could be done so cheaply? There are plenty of awesome hostels all over Italy, and Rome is full of accommodation offering great value for money.
There's a varied bunch on offer throughout Rome. From the basic and more traditional boho-feeling hostels, to places that feel more like boutique hotels than hostels, you're bound to find what you're looking for in this incredibly exciting city.
No longer do you have to worry about sub-par accommodation or less-than-clean dorm rooms when travelling to Italy on a budget. The places we've listed above really are top-notch.
Which one caught your eye? Let us know in the comments below!