Shanghai is a bright, vivid, international city that holds a lot of attractions for visitors. There are numerous amazing places to visit in Shanghai that are both familiar and foreign enough to enthral any visitor. Whether you're traveling to eat amazing food, shop until you drop, or to experience the history of a place, you'll find lots to do in this city.
Shanghai is a little intimidating for many visitors. If you haven't spent much time in Asia, it's a busy, chaotic, and very foreign place that can be difficult to navigate. But that's why we're here to help. Whether it's your first trip to this city, or if you're back for more, our guide to the city will help you overcome your nerves and language barriers and help you get the most from your visit.
If you're also wondering what the low down is on accommodation while you're away, don't worry! We've got this covered for you too. Check out the bestplaces to stay in Shanghai to find somewhere to meet your needs after a long day out exploring the vibrant hustle and bustle of this dazzling city.
#1 – The Bund – Cool place to see in Shanghai with friends!
Why it's so awesome: The Bund is more correctly known as Zhongshan Lu in Chinese and is a broad promenade running along the west bank of the Huangpujiang River. There is a strong European influence in this area, and many of the buildings wouldn't look out of place in some of Europe most popular capital cities! You'll see Gothic, Baroque, Neoclassical, Romanesque, Art Deco, and Renaissance influences all over this street. And it's also home to some of the best restaurants in the city.
What to do there: When you're visiting Shanghai, you absolutely must take a stroll along the Bund. One of the best times to do this is at night, when the buildings across the river are lit up in a dazzling array of colors. Take your time during your stroll and duck into the many boutiques and galleries along the way. And when you get hungry, pick a restaurant that looks busy and duck in for a snack! Shanghai is an international city, so everywhere you go should have an English menu or at least one with pictures on it.
#2 – Longhua Temple and Pagoda – One of the most religious places to see in Shanghai
Why it's so awesome: This temple and pagoda in their current forms date back to around the tenth century. It's still an active temple and is used for Buddhist ceremonies and worship, so make sure that you're respectful when you go there. The Temple includes five large halls, each of them dedicated to different important religious figures and containing different decorations.
What to do there: Remember that this is a working temple, so be quiet and respectful when you explore it. Make sure you spend some time in the Maitreya Hall, which contains a huge Buddha statue and the Grand Hall of the Great Sage, which contains amazing statues and a 16th-century bell. If you're physically able, check out the Belltower as well, which contains a five-ton bell from 1382. The Library too is an impressive sight if you enjoy books, complete with old manuscripts, ceremonial instruments, and around 500 gold painted Luohan Buddhas.
#3 – Nanjing Road – A great place in Shanghai if you love to shop!
Why it's so awesome: This street has existed since the second half of the 19th century and is a major focal point for important events in Shanghai. It's filled with small shops, boutiques, restaurants, cinemas, shopping malls, and street vendors. So, no matter what you're looking for when you travel to Shanghai, you'll probably find it in this area!
What to do there: Grab your credit card and your cash and be prepared to spend some money. This area is always busy, so you'll have to be ready to deal with the crowds, but it also makes for a great day out window-shopping and people watching. Shop until your cards can't take anymore and then duck into one of the nearby restaurants for fortifications. And if you want to sit down for longer, see what's on at the cinema. Also, make sure you keep an eye out for street performances, which can really liven up the already busy street.
#4 – Yu Garden – A nice quiet place to see in Shanghai
Why it's so awesome: This garden was first laid out in 1559 and includes more than 20,000 square meters. It has an inner and outer garden as well as a number of buildings that hold both historic and aesthetic appeal. There's more to see at these gardens than just plants. The buildings are also lovely to look at and decorated with dragons and other interesting reliefs and there are also attractive pavilions throughout the gardens.
What to do there: When you travel to Shanghai, you'll need a place to rest and recharge. And this is a great place to do it. The gardens are beautiful and serene, so spend some time there and soak up nature. Make sure you check out the Hall of Spring where the Company of the Little Swords headquartered when they ruled Shanghai between 1853 and 1855. The artificial rocks in this part of the garden are the only remnants of the work of famed garden designer Zhang Nanyang.
#5 – The Jade Buddha Temple
Why it's so awesome: Located in the Anyuan Lu district, this temple was erected in 1928 to replace the original temple from 1882. This is an important religious site in China, dedicated to the Buddhist faith and with connections to the monk Huigen. The different statues and buildings in this area are stunningly beautiful, and after a wander in this area, you'll start to understand the importance of spirituality in China today.
What to do there: Make sure you take the time to really explore the different sections of this Temple. The Hall of the Kings of Heaven or Tian Wang Dian is particularly spectacular. It contains statues of the four heavenly kings and two Shakyamuni sculptures carved from white jade and standing nearly two meters tall. Also, make sure you spend some time in the Hall of the Great Hero, where you'll see Buddhas of the Three Ages and 18 Luohan figures.
#6 – The Shanghai Science and Technology Museum – Awesome place to visit in Shanghai with kids!
Why it's so awesome: Shanghai has a lot of great museums, but the Museum of Science and Technology is one of the best. It first opened in 2001 and offers a huge range of things to do for people of all ages. Kids and adults will love the interactive displays, the state-of-the-art theaters, and the robotics exhibit. Basically, if you're at all interested in the world, you'll find something to fascinate you in this museum.
What to do there: There's a lot to see at this Shanghai must do, enough to fill an entire afternoon or even a day if you like to take your time. Make sure you check out the popular space and robotics exhibits, the collection of native animals, and the display on scientific achievements.
#7 – Muslim Street Market
Why it's so awesome: If you're a fan of traditional Middle Eastern dishes then you'll love this market. Every Friday, Shanghai's Muslim population gathers outside the Huxi Mosque and cooks up a variety of traditional Middle Eastern dishes. You'll find almost every dish you can imagine at this market, and probably be able to smell the delicious aromas from blocks away!
What to do there: Make sure you're hungry before you arrive at the market and just explore! Try everything that smells or looks good and pay attention to any stall that seems particularly crowded, this usually means that the food will be unusually good. Make sure that you try Naan bread, kebabs, and some Ughyur Samsa, which are pastries filled with lamb. Once you're full, you can also wander through the ornamental halls of the mosque.
#8 – The Shanghai Museum – A great place to visit in Shanghai if you are alone/traveling solo
Why it's so awesome: The Shanghai Museum is one of the most important collections of classical Chinese art in the world. It's located in a building that echoes old concepts of the earth and includes 4 floors of bronzes, seals, artwork created by ethnic minorities, calligraphy, and ink drawings.
What to do there: This isn't an overly large museum, so you should be able to see everything within a few hours. Make sure that you spend some time exploring the jade, coin, and furnishings collections from the Ming and Qing Periods. Also, stop by the gift shop afterwards to take home a great souvenir.
#9 – Chenghuangmiao Old Street – A must-see for foodies!
Why it's so awesome: Located in Huangpu District just off Fuyou Road, you can easily take the metro to this street market. It's one of the most famous snack streets in Shanghai and the vendors sell almost every type of delicious, quick Chinese street foods you can imagine.
What to do there: You must spend some time at this market, otherwise, you can't really say that you've experienced Shanghai! If you want to get the most from the experience, make sure you stay in a hostel nearby, fast for most of the day and then arrive ready to eat! Try some steamed buns, spareribs with rice cakes, crab shell cakes, and pan-fried buns stuffed with pork just to start with. And from there, try anything that looks or smells good!
As with visiting ANY street market abroad, consider the cleanliness of what you're eating, whether it's been out in the sun all day, or the liklihood of spending too much of your precious time in the bathroom later. Safety while traveling includes food hygiene and we want you to stay in tip-top condition to make the most of your trip.
#10 – The Oriental Pearl Tower – A must visit place to visit in Shanghai on the weekend!
Why it's so awesome: The Oriental Pearl Radio and TV Tower was built in 1991 and has become a Shanghai must-see. It offers views over the Bund and the river as well as some great entertainment options. The building contains a revolving restaurant, a shopping mall, the Space Hotel, and a VR rollercoaster ride. So, even if you're afraid of heights, you'll find something to do in this building.
What to do there: This tower is named for the 11 linked spheres of various sizes that went into its construction. Make sure you check out the highest sphere, the Space Module, which contains an observation deck with a glass floor. When you're done taking pictures there, head to the revolving restaurant for some more amazing views with great food and then go shopping in the lower levels.
#11 – Tianzifang – One of Shanghai's coolest historical sites!
Why it's so awesome: This area used to be known as the French Concession because of all the European influences it has. Many of the older homes have been replaced, but the architecture and layout of the area still reflect those beginnings. And it's a trip to walk around an area of China and be reminded of France. As if that wasn't enough, this is one of the most popular landmarks in Shanghai because of the strong art scene.
What to do there: In this area, you should just wander. That's the best way to see shops that look interesting, restaurants that smell tantalizing and to get the feel of the area. It's also a great place to visit at night because the area is full of restaurants selling a variety of different types of foods. When you visit at night, you should also make a point of stopping in one of the music venues to hear what's popular in Shanghai.
#12 – The Sheshan Basilica
Why it's so awesome: There have been problems between religion and the Chinese government in the past, but that doesn't stop people from worshipping. And this Roman Catholic church is evidence of that. It was badly damaged during the Chinese Cultural Revolution but has been renovated so it looks good as new.
What to do there: One of the best things about visiting this site is following the 14 Stations of the Cross which zigzag their way up the hill towards the church. This pilgrimage is both traditional and will offer you some amazing views of the city. Once you're there, take the time to admire the church as part of your Shanghai itinerary.
#13 – Shanghai Propaganda Poster Art Center
Why it's so awesome: If you're interested in learning more about the early days of the People's Republic of China, then is a good way to start. This center contains thousands of propaganda posters from this period in history which provide an interesting and sometimes amusing window into that history. The collection started as a private hobby, but the center has recently become a popular place for visitors to learn more about China's recent history.
What to do there: There is a wide range of posters in this center, so spend a little time studying them. You'll see everything from images of the Communist party battling their enemies to utopian views of a model socialist society. The collection is located in the basement level of building 4 of a larger complex. And if you can't find your way, ask the guards in the parking garage, they're used to talking to tourists who are looking for the right elevator to take. And check out the gift shop on your way out for posters and pamphlets to take home as souvenirs.
#14 – The Shanghai Marriage Market – Quite the quirky place in Shanghai!
Why it's so awesome: Being married by thirty is still a big deal in Chinese society. Unfortunately, due to busy schedules and a mismatch between the male and female population in China, there is a large proportion of young people who are falling behind in this sense. And this display is their parents' attempts to solve that problem. Located in the People's Park, this display allows parents to use ink and paper to put up their children's dating profiles. And watching the interactions there can be fascinating.
What to do there: When you find this park, you'll be surprised by the number of paper profiles stretched out on string, waiting to be read. Stop and stay awhile. Watch the interactions between the parents who are trying to find the right matches for their children. And when you've had enough, spend some time wandering around the park where it's a little quieter.
#15 – Shanghai Jewish Refugee's Museum
Why it's so awesome: It's easy to get distracted by some parts of Chinese history, which means that other parts get forgotten. But this museum will remind you that there's more to China then you think. When you explore this museum, you'll bear witness to one of Shanghai's finest hours. The museum chronicles the lives of the Jews who took refuge in the city and also of the Chinese people who sheltered them.
What to do there: There is still an active place of worship in this synagogue, located in the downstairs level. So, make sure that you take the time to see it because it's one of only two synagogues that still stand in Shanghai. But to see the real treasures you need to go upstairs. The artifacts in this museum chronicle the history of the Jewish people who came to Shanghai for help during the Second World War. This war memorial is atypical though, because the names of the war are of the people who survived thanks to the people of Shanghai. This is in striking contrast to most monuments, and one that's worthy of respect and attention.
#16 – Fuxing Park – One of the most incredible free places to go to in Shanghai
Why it's so awesome: This isn't the type of park where you go to get some peace and quiet. It's always crowded with people doing a variety of activities. But what really draws in the crowds is the community spirit in the area. People visit the park to be active in their own unique ways and to do it together. That's why you'll see people doing tai chi, flying kites, playing music, singing, dancing, and more. And they're all doing it together, which is what's so nice about it.
What to do there: Grab a snack and spend some time just people watching in the park. If you're visiting with a group of friends, grab a kite, throw a ball around, or otherwise take part in the kind of group activity you probably haven't done since you were a kid. You'll feel better for it and understand a little bit more about China by doing it.
#17 – M50 Contemporary Art Space – A perfect place to visit in Shanghai if you are on a budget!
Why it's so awesome: China has a long and fascinating history but sometimes it's nice to just enjoy the present day. And this art hub is one of the best points of interest in Shanghai for immersing yourself in the vibrant contemporary culture of the city. The art hub contains pieces from some of the best artists in the country, so you might discover some work that you absolutely love!
What to do there: This is a free display, so just show up and see what's on offer. If you want some more information, take the time to talk to the gallery owners. They speak English and enjoy talking about the gathered works.
#18 – Shanghai Disney
Why it's so awesome: Well, it's Disney, so that's always a major attraction. It's the home of the most magical movies in history and you'll get to meet favorite Disney characters and buy soft and fluffy souvenirs. This park doesn't disappoint diehard fans with rides and attractions that will enthral children and adults alike. There are also several hotels and restaurants in the area if you need a break from all of the lines and the heat.
What to do there: Brace yourself for the crowds and make a day of it. Just make sure that you book your tickets and your restaurants well ahead of time to avoid being disappointed. Aside from that, follow your whims. Keep an eye out for favorite characters, go on the rides, eat lots of junk food, and just enjoy being a child again.
Get insured for your trip to Shanghai!
ALWAYS sort out your backpacker insurance before your trip. There's plenty to choose from in that department, but a good place to start is Safety Wing.
They offer month-to-month payments, no lock-in contracts, and require absolutely no itineraries: that's the exact kind of insurance long-term travellers and digital nomads need.
SafetyWing is cheap, easy, and admin-free: just sign up lickety-split so you can get back to it!
Click the button below to learn more about SafetyWing's setup or read our insider review for the full tasty scoop.
Find out what people want to know about the best places to visit in Shanghai
Shanghai really does have to be seen to be believed. This city has taken on many western influences and yet it remains charmingly and stubbornly Chinese. The food is amazing, the city itself is bright and modern, and yet it has a long history that has sunk into its bones. It's the perfect destination if you're looking for something a little different. And there are so many amazing places to visit in Shanghai, that you'll easily fill your days and wish for more time!
---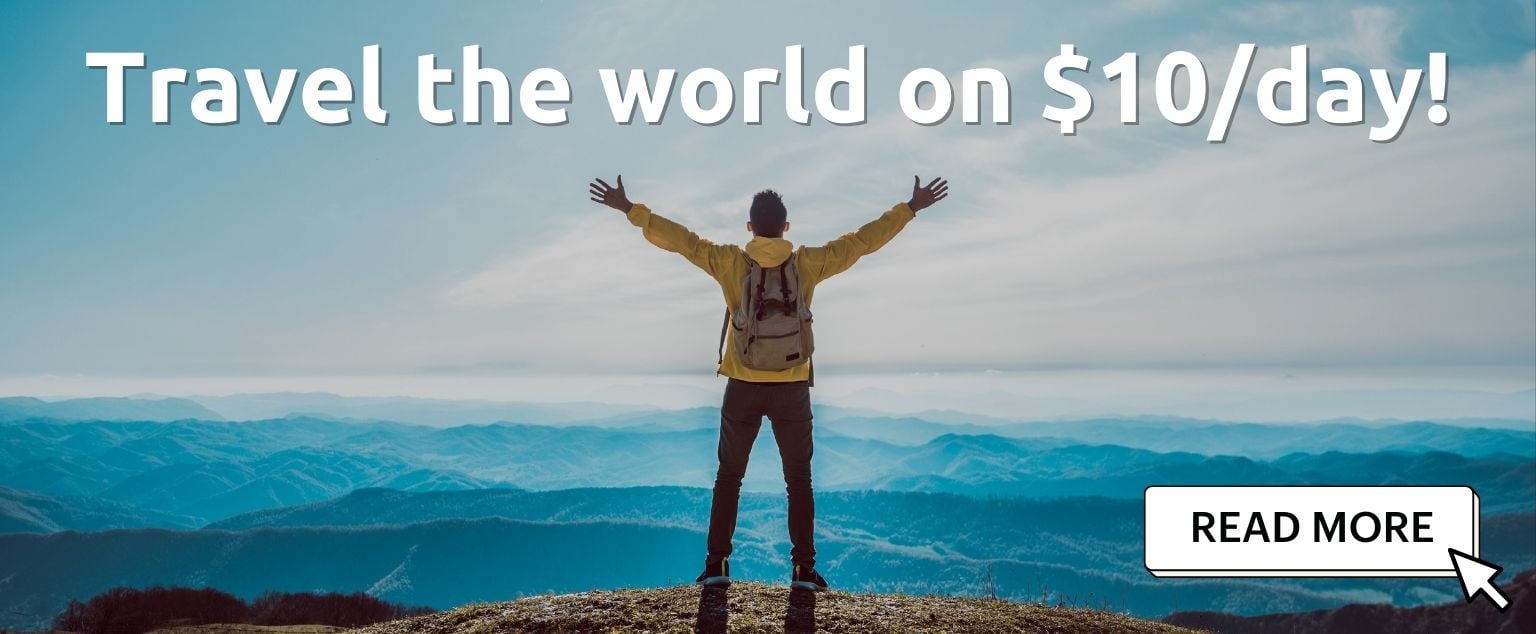 And for transparency's sake, please know that some of the links in our content are affiliate links. That means that if you book your accommodation, buy your gear, or sort your insurance through our link, we earn a small commission (at no extra cost to you). That said, we only link to the gear we trust and never recommend services we don't believe are up to scratch. Again, thank you!