Mauritius is a small island that packs a big punch! With incredible beaches, hiking trails, and diving spots, it's the perfect vacation island for adventurers and beach bodies alike.
What makes a vacation to this incredible island really special though, is your accommodation. Sure, you could stay in a hotel, but what kind of magic would that bring you?
Staying in a villa in Mauritius is one of the best ways to really get an authentic island-life experience. The villas on offer throughout this Indian Ocean archipelago are not only utterly stunning, but most offer beach access and self-catering facilities.
One of the coolest things about booking yourself a villa in Mauritius is the design aspect. Uniquely, many of the properties here combine traditional architecture elements, like thatched roofs and white-washed walls, and combine them with contemporary luxuries – think infinity pools and the like.
A lot of properties totally rock a zen-type feeling, while others utilize Balinese design flair to make their villas stand out from the rest. The inspiration certainly feels cosmopolitan in many villas here.
So if you're now definitely interested in finding the best villa in Mauritius for you, then allow me to introduce you to my carefully curated list below.
Finding the perfect property for your holiday is not easy, so I've done the hard work so you don't have to, letting you simply scroll through a selection of awesome properties for your perfect Mauritius vacation.
In a Hurry? Here's Where to Stay in Mauritius for One Night
FIRST TIME IN MAURITIUS
Sweet Luxury Balinese Villa
Super stylish and with some seriously awesome outside spaces, this Balinese themed villa in Mauritius is a real stunner. Inside it's been beautifully curated with modern fixtures and crafted wooden furnishings. The centerpiece, though, is the courtyard area, overflowing with flowers and a chic outdoor pool.
Places to visit nearby:
Pereybere Beach
La Cuvette Beach
Banana Beach Club
Is this amazing Mauritius Villa booked for your dates? We've got your back with our other favorite properties below!

Unlock Our GREATEST Travel Secrets!
Sign up for our newsletter and get the best travel tips delivered right to your inbox.
Staying in a Villa in Mauritius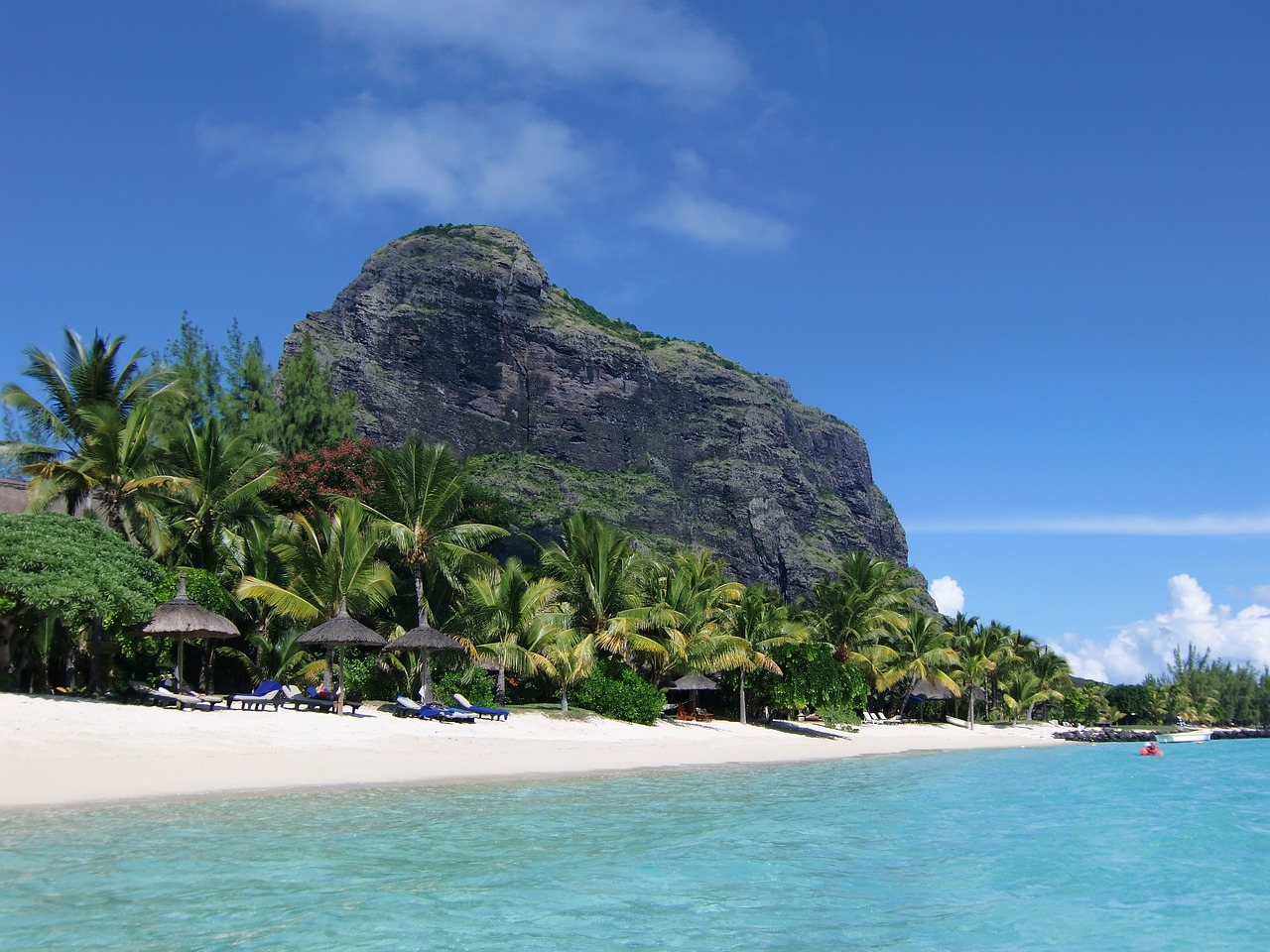 Like villas in many places around the world, villas in Mauritius have quite a global feel to them. Architects seem to have taken inspiration from various styles and design aesthetics from around the world, which results in some truly beautiful properties.
Thanks to the warm weather of Mauritius, the focus with many properties is on indoor-outdoor living. That means that your inside living spaces spill easily out into courtyards, manicured gardens, or decks that surround chic swimming pools.
Villas in Mauritius also offer the chance to take things at your own pace. While hotels (or a hostel if you're on a budget) may do the job for some people, they can lack the privacy and independence you get when staying at a villa. But if you want the best of both worlds, don't worry: in Mauritius, you'll be in luck.
Many properties in Mauritius are actually set in private communities, or in 5-star resorts. This means you can book your property independently, yet have access to all the facilities and amenities of the resort. Not only does this mean any onsite restaurants or spas, but it also includes things like drivers, chefs, and butler services that can be arranged to help put that extra luxurious touch on your stay.
Lastly, there's the cost. Staying in a villa in Mauritius on a budget really CAN be done; even some situated in resorts can be surprisingly affordable, while privately owned villas offer up yet more value for money still. So while many people think villas (especially in Mauritius) are only for the well-heeled, that's definitely not the case here. That makes them perfect for a special vacation with your partner, a group of friends, or your family – no matter what your budget may be.
What to Look For in a Villa
Before booking a villa in Mauritius, it's a good idea to scout out locations and pick the best neighborhood for your island stay. The island is small, but each neighborhood has something very different to offer, so it's a good idea to stay close to the attractions you want to see.
Villas in Mauritius come packed with everything you'll need to make your vacation run smoothly – and then some. As standard, you can expect outdoor spaces like gardens and courtyards, almost always a swimming pool (sometimes of the infinity variety), and the usual like fully-equipped kitchens. Many villas also come with child-friendly features like cots and high chairs, too.
When it comes to where to book your villa, you have options. Booking.com, Vrbo and Airbnb are the most ideal sites for booking yourself a few nights in a villa in Mauritius, but Airbnb is the best of the lot. It has the most varied choice, and the easy ability to speak with the owners or managers of the properties is a major plus.
In order to find the best villa, you need to set detailed filters to make sure that you're separating the wheat from the chaff. Sound complicated? Don't worry, I've done this for you and listed the very best below.
Overall Best Value Villa in Mauritius
Overall Best Value Villa in Mauritius
Sweet Luxury Balinese Villa
> $$
> 2 Guests
> Close to beaches
> Chic outdoor spaces
Best Budget Villa in Mauritius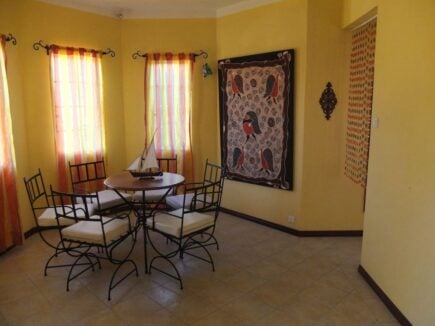 Best Budget Villa in Mauritius
Villa Hibiscus
> $
> 5 Guests
> Fully equipped kitchen
> Large private garden
Best Villa for Couples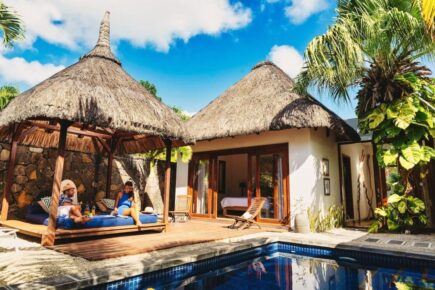 Best Villa for Couples
Romantic Private Villa
> $$
> 2 Guests
> 24-hour security
> Chef services available
Best Villa for a Group of Friends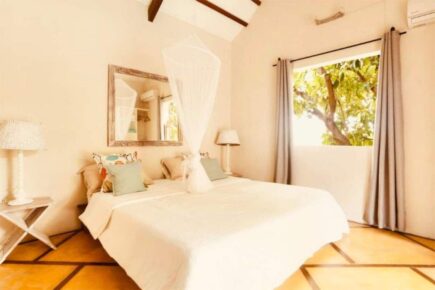 Best Villa for a Group of Friends
Morne Mountain Villa
> $$
> 8 Guests
> Ensuite bathrooms
> Outdoor pool area
Over-the-Top Luxury Villa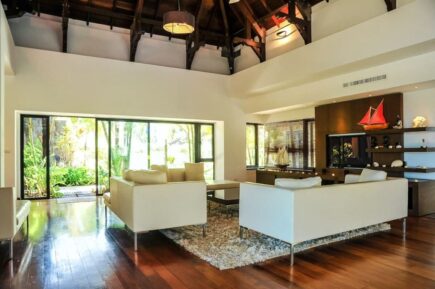 Over-the-Top Luxury Villa
Contemporary Villa Within Belle Riviere Estate
> $$$$
> 14 Guests
> Designer spaces
> Incredible infinity pool
Best Villa for Families Visiting Mauritius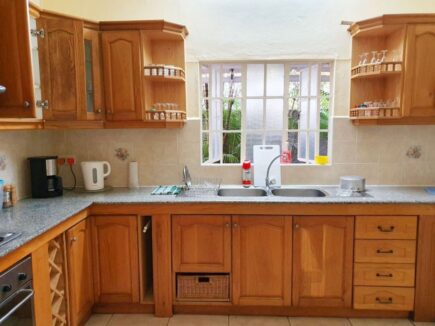 Best Villa for Families Visiting Mauritius
Luxurious Creole Villa
> $$
> 8 Guests
> Child-friendly facilities
> Housekeeping services
Best Villa for Backpackers in Mauritius
Best Villa for Backpackers in Mauritius
Coco Beach Villa
> $
> 4 Guests
> Sea views
> Private garden
The 15 Top Villas in Mauritius
So without further ado, let's take a look at some of the best villas in Mauritius. Whether you're looking to stay near the best beaches on the island, or for a property with a tropical garden, or your own private pool, there's no way you'll be disappointed with these options below.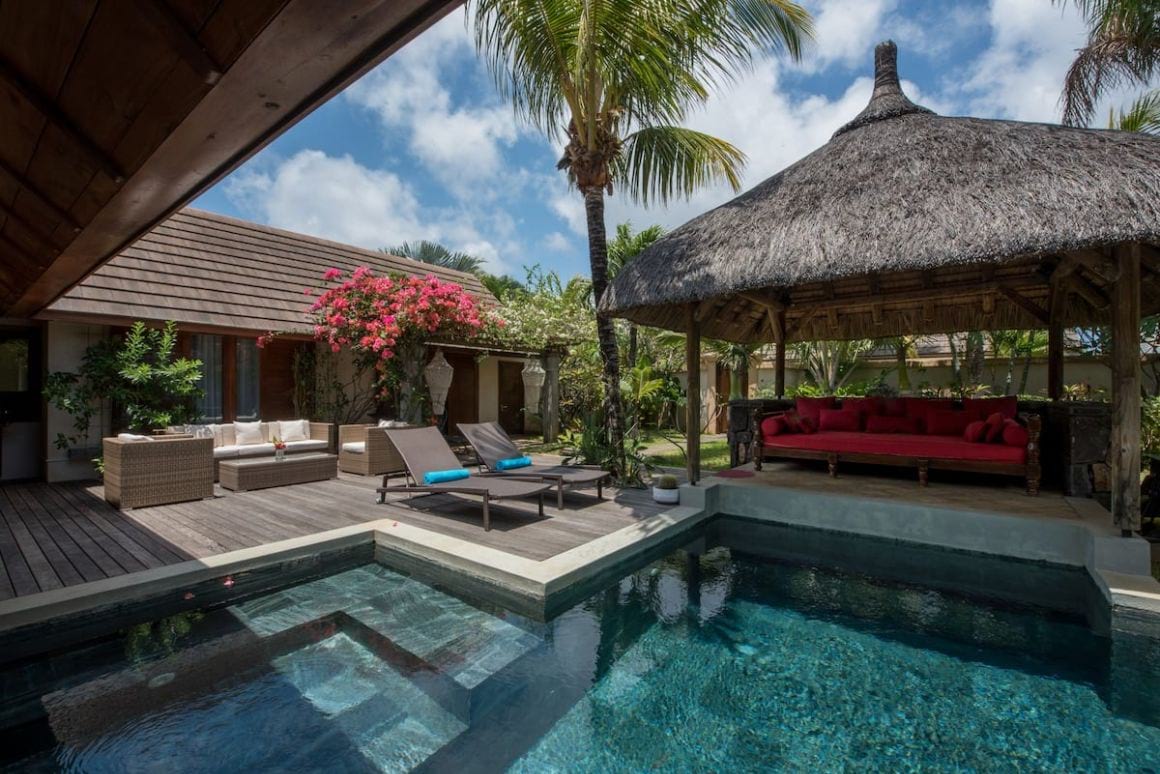 $$
2 Guests
Close to beaches
Chic outdoor spaces
Super stylish and with some seriously awesome outside spaces, this Balinese-themed villa in Mauritius is a real stunner. Inside it's been beautifully curated with modern fixtures and crafted wooden furnishings. The centerpiece, though, is the courtyard area, overflowing with flowers and a chic outdoor pool.
It's near to many restaurants, supermarkets, and the beaches are within a couple of minutes' reach. Located in the north of Mauritius, you'll always be near to cultural activities and outdoor activities such as Sir Seewoosagur Ramgoolam Botanical Garden and diving spots. If you're traveling as a couple or small family, this is the ideal base for you.
Best Budget Villa in Mauritius – Villa Hibiscus
$
5 Guests
Fully equipped kitchen
Large private garden
This beautiful villa in Mauritius might be affordable, but that doesn't mean you skimp out on size. Decorated in a Mediterranean style, this sizeable property is the perfect base for your trip to the island nation. The location is very decent indeed, being close to beaches, restaurants, and shops.
Back at the house you can enjoy a homey atmosphere, hang out in the spacious private garden, and take a dip in the pool. It may not be the most luxurious place going, but if your goal is to stay in a villa in Mauritius at a bargain price, it's perfect.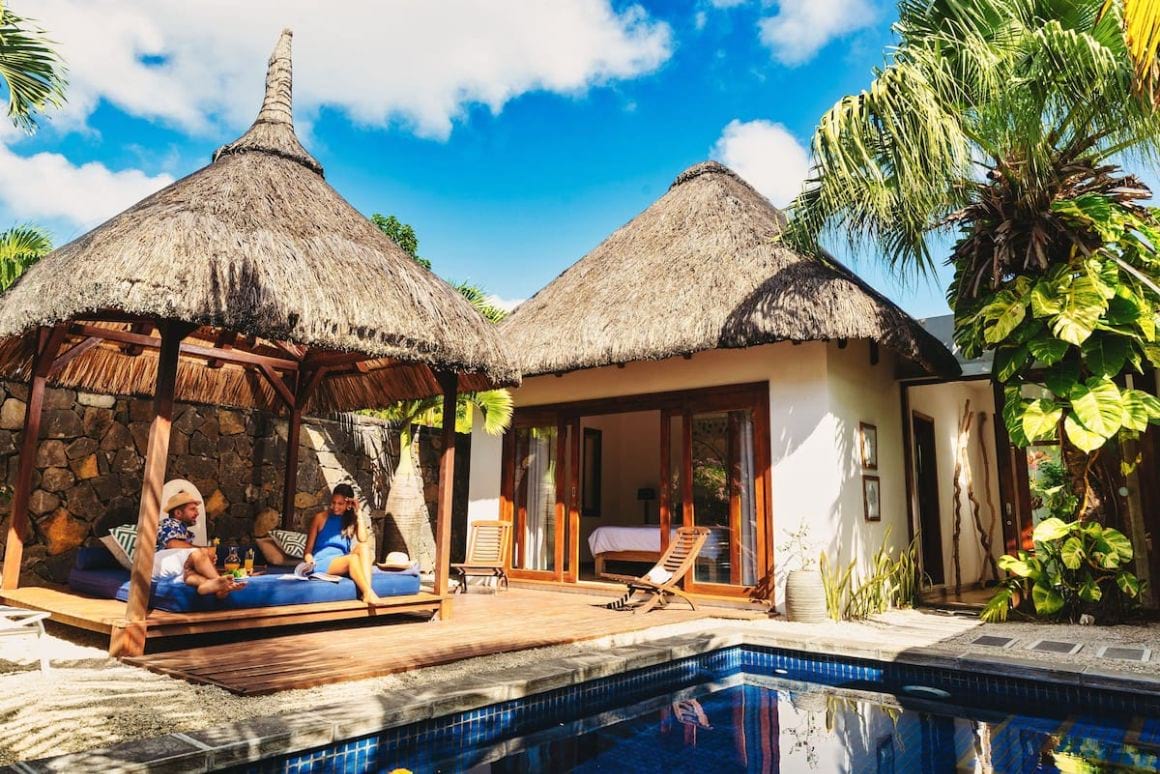 $$
2 Guests
24-hour security
Chef services available
If you book yourself into this romantic getaway, you won't be making a mistake. Here you can unwind in a stylish setting, which has basically been set up for couples. Think ensuite bathroom, private pool and garden, and your own kitchen so you can whip up a bit of breakfast in bed.
The location of this villa in Mauritius is also ideal since restaurants and shops are situated just meters from the front door. If you really want to treat yourself, there are even massage and chef services that can be added to the package.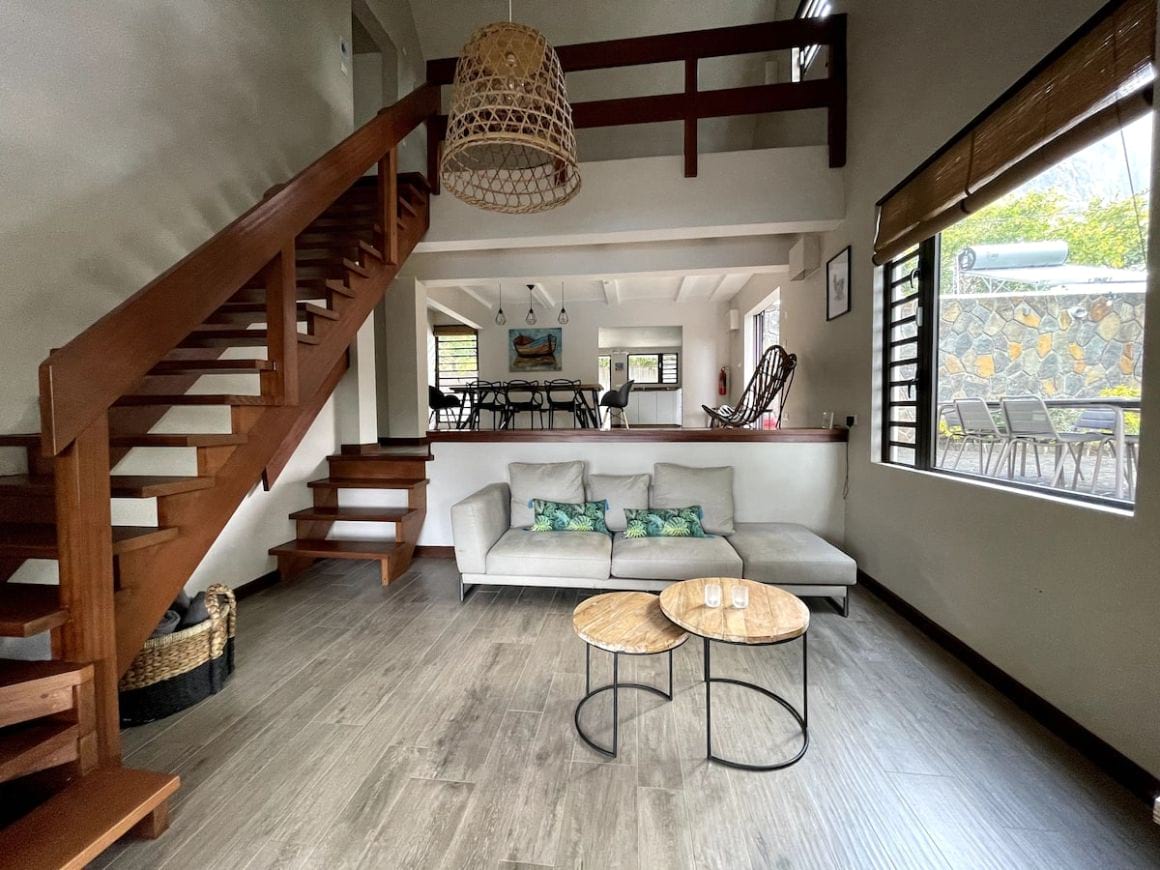 $
2 Guests
Fully equipped kitchen
Free Parking
Couples who want a bit of privacy on their trip should consider staying in this villa in Mauritius. The secluded location, at the foot of Le Morne Brabant mountain, means being surrounded by nature and the best hiking trails on the island. The property comes with a private courtyard shaded by two enormous banyan trees that also feature an outdoor pool.
Inside, the decor is modern and newly renovated, so you can unwind and relax without having to worry about a thing. In the local neighborhood you'll find a couple of good restaurants, the beach and a supermarket – all easily reachable on foot.
Is This the Best Travel Pack EVER???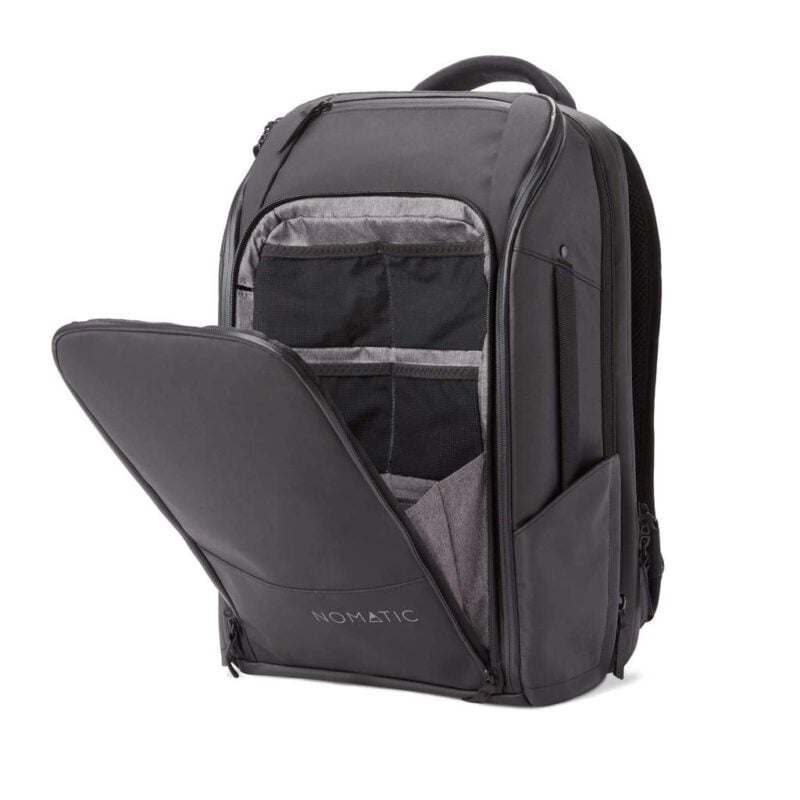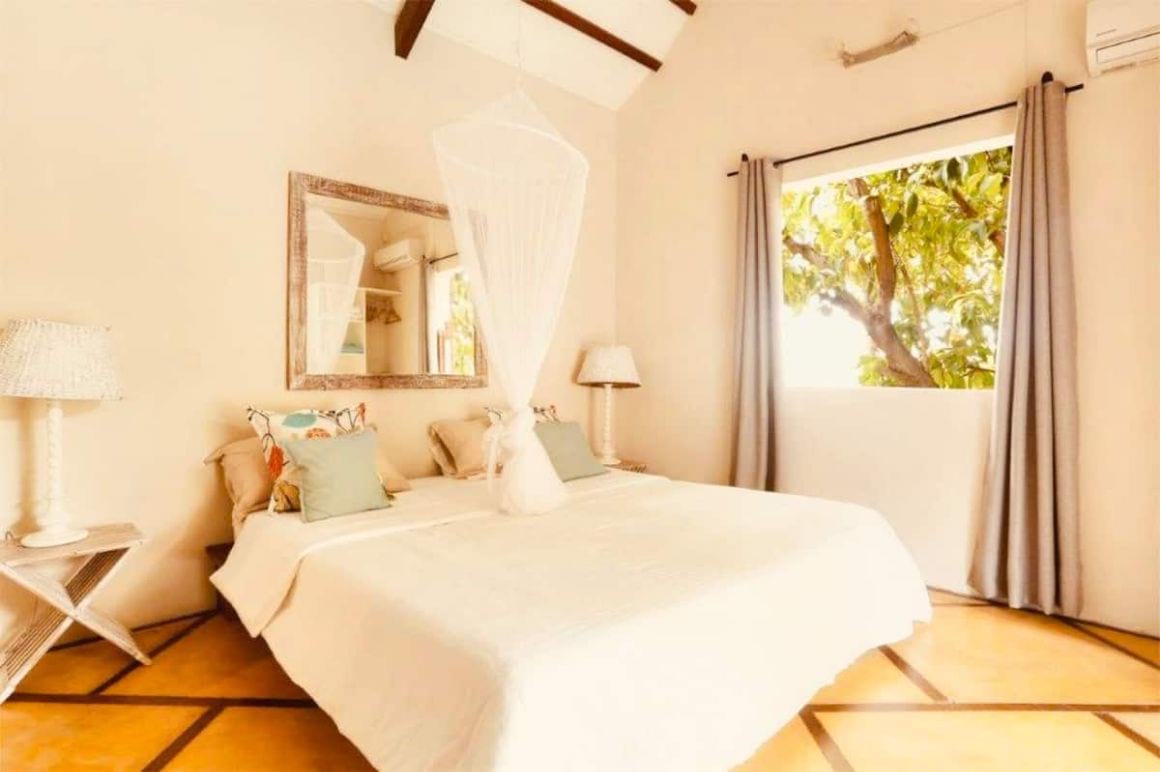 $$
8 Guests
Ensuite bathrooms
Outdoor pool area
If you and your mates are looking for a villa in Mauritius to book yourselves, take a look at this place. You can expect plenty of rustic chic throughout this spacious property, but the main focus of this house is definitely the pool.
In fact, the whole house opens up for a spot of indoor-outdoor living that's just perfect for hanging out with a group of your best friends.
There's three double bedrooms and even a dorm in case there are heaps of you turning up. Bars and restaurants are practically on the doorstep, too.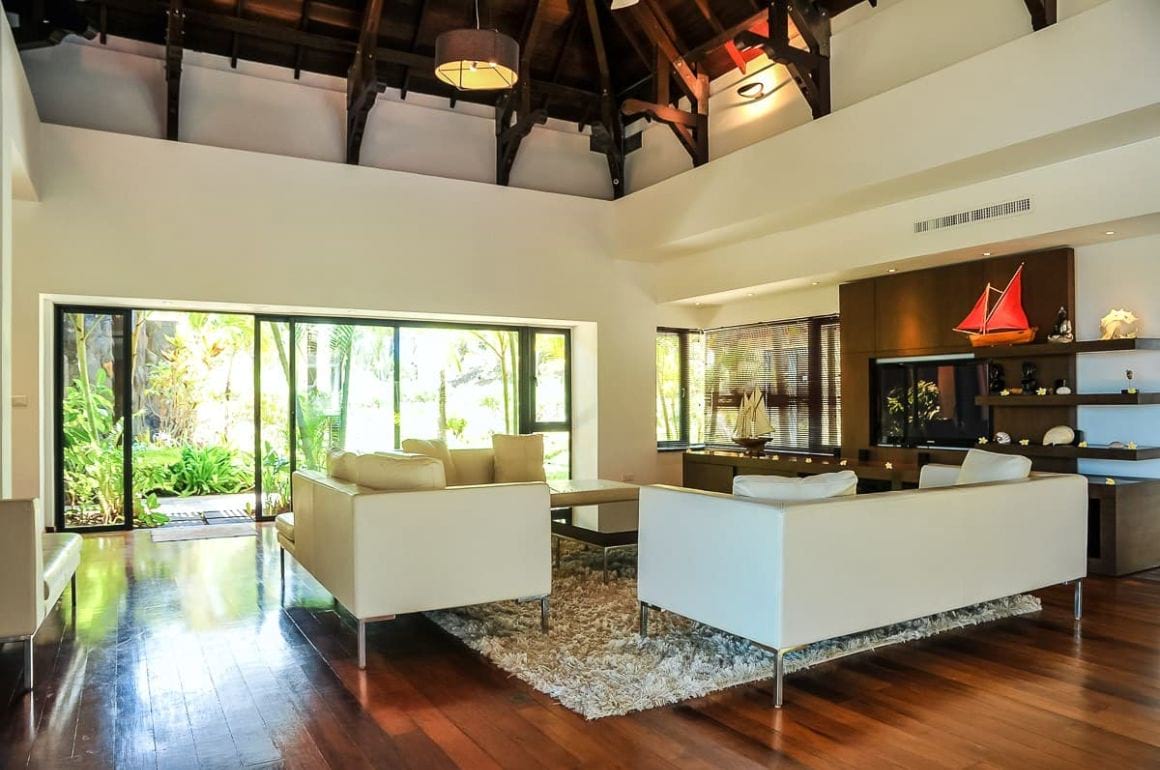 $$$$
14 Guests
Designer spaces
Incredible infinity pool
If you really want to splurge on accommodation in Mauritius, it can definitely be done. And this villa is up there with the best of the best. Located on an exclusive estate, this sprawling villa features seven bedrooms, a gorgeous infinity pool, multiple sun decks, and is basically set up for entertaining yourselves (and your family or friends).
Al fresco dining is a must here. You can even travel around the manicured grounds of the place in your very own golf cart, with the beach just a five-min drive away. In a word: awesome.
Best Villa for Families Visiting Mauritius – Luxurious Creole Villa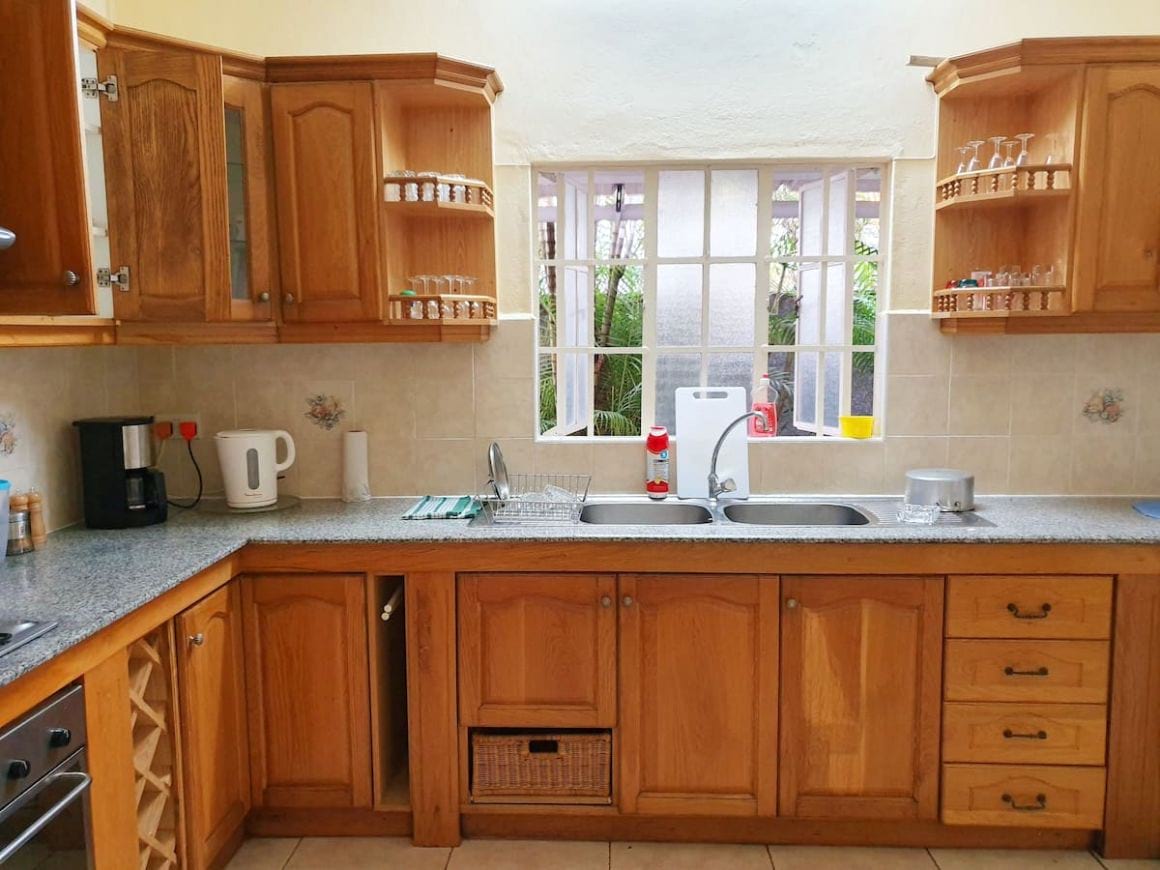 $$
8 Guests
Child-friendly facilities
Housekeeping services
Make your next family vacation a memorable one by staying in this amazing villa in Mauritius. The mixture of luxury feel and family-friendly facilities make it ideal if you're traveling with children. The bright, modern spaces throughout the property are clean and there's plenty of room for all the family to come along (there are four bedrooms, after all).
For families with little ones, amenities like cots and high chairs come with the villa. And as the cherry on top, there's a housekeeping service twice a week.
Best Villa for Backpackers in Mauritius – Coco Beach Villa
$
4 Guests
Sea views
Private garden
Think backpackers in Mauritius couldn't possibly stay in a villa on a budget? Think again. This cool property is located right on the beach, and boasts breathtaking sea views from the balcony. The location is also ideal, with shopping, bars and restaurants in easy reach – but you may not ever want to leave the villa.
That's because it comes with its own tropical garden and barbecue area, bright, comfortable rooms, and an airy lounge and kitchen. Perfect for a few nights treating yourself on your travels.
$$$
14 Guests
Fully equipped kitchen
Beautiful natural surroundings
Located on an exclusive estate among other luxury villas, this property is all about soaking in natural surroundings while living in designer comfort. You can expect high traditional style wood-beamed ceilings, a large breezy veranda, and your very own infinity pool.
Bedrooms come with large, comfortable beds and views out across the treetops to the sea, or out across the private garden. Services include drivers, maids, and access to the facilities on the estate – such as a spa and restaurant.
$$
2 Guests
Private swimming pool
Access to resort facilities
Just because you're traveling solo, doesn't mean you can't enjoy staying at a villa in Mauritius. This property proves it. Ideal for solo travelers since it's located on a resort, this villa not only boasts a safe and secure location but also gives you access to resort facilities such as a gym and concierge services.
The villa itself is fully-equipped with a private pool, a modern kitchen, and even satellite TV. The location also puts you close to a beach and a national park. A pretty dreamy place to be.
Best Villa for a Weekend in Mauritius – Waterfront Villa
$$
7 Guests
Incredible sea views
Close to restaurants, bars and shops
The idyllic location of this villa means you won't be wasting your weekend away in Mauritius, driving around because you're stuck in the middle of nowhere. Instead, you'll have the beach on the doorstep, be a 10-minute drive from the capital of Port Louis and all the best places to visit in Mauritius, and have plenty of restaurants, bars, and shops just a short distance away.
The villa itself features a large terrace that overlooks the ocean and a chic outdoor pool, as well as a barbecue area and outdoor seating.
$
6 Guests
Incredible sea views
Private access to the beach
You can't get much more epic than literally being right on the beach, can you? Stepping out of this Mauritius villa you will be on the beach in mere seconds – you can see it right in front of you from the windows!
The sandy lagoon is the ideal place for beach bums and snorkelers alike, with colorful fish and corals just offshore. Inside, the villa boasts three bedrooms with sea views so no one has to draw the short straw here. If you've come to the island for diving or snorkelling, this is the ideal base for you.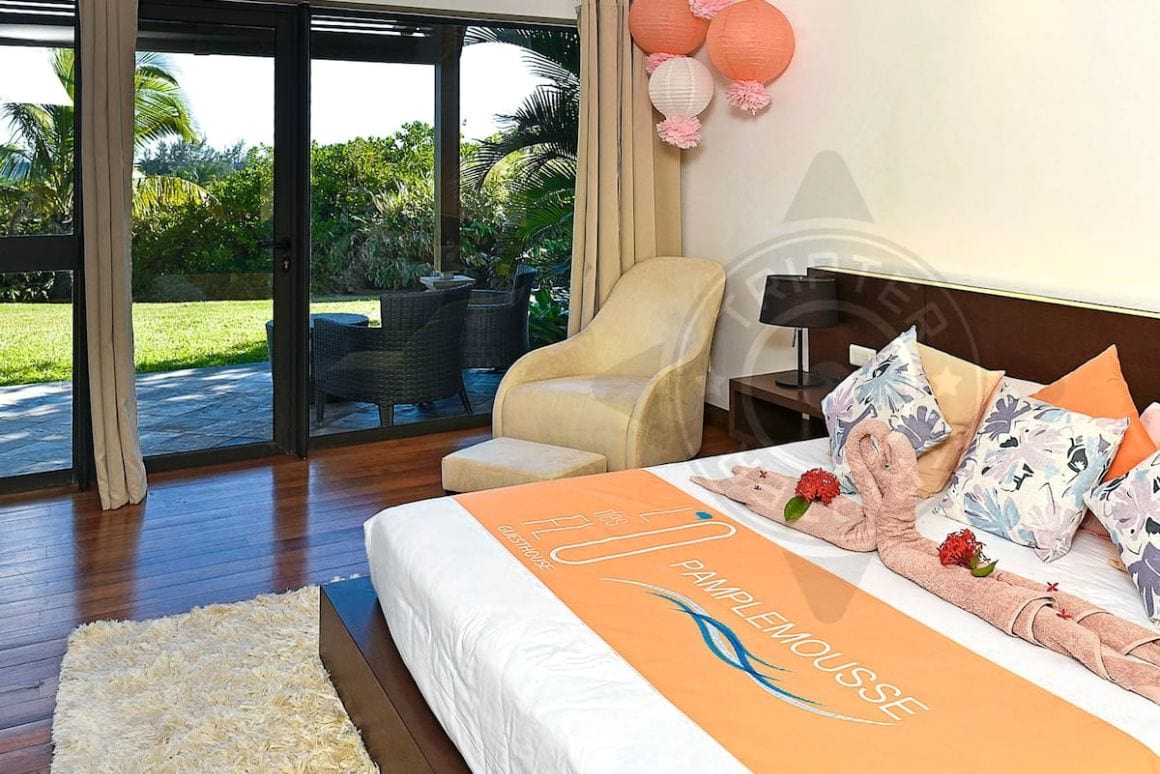 $$$
12 Guests
Infinity pool
Private beach access
If views of the sea weren't good enough, how about views of the sea from an infinity pool? Because that's what you get at this stunning villa in Mauritius. It may not be doable on a budget, but sometimes splashing out really makes the difference.
Here you can lounge around on a gorgeously designed terrace gazing out to sea and spend evenings enjoying meals outdoors surrounded by lush plants and candlelight. You'll be located on a 5-star resort with beach access and options to arrange extras like a chef. Pretty luxe.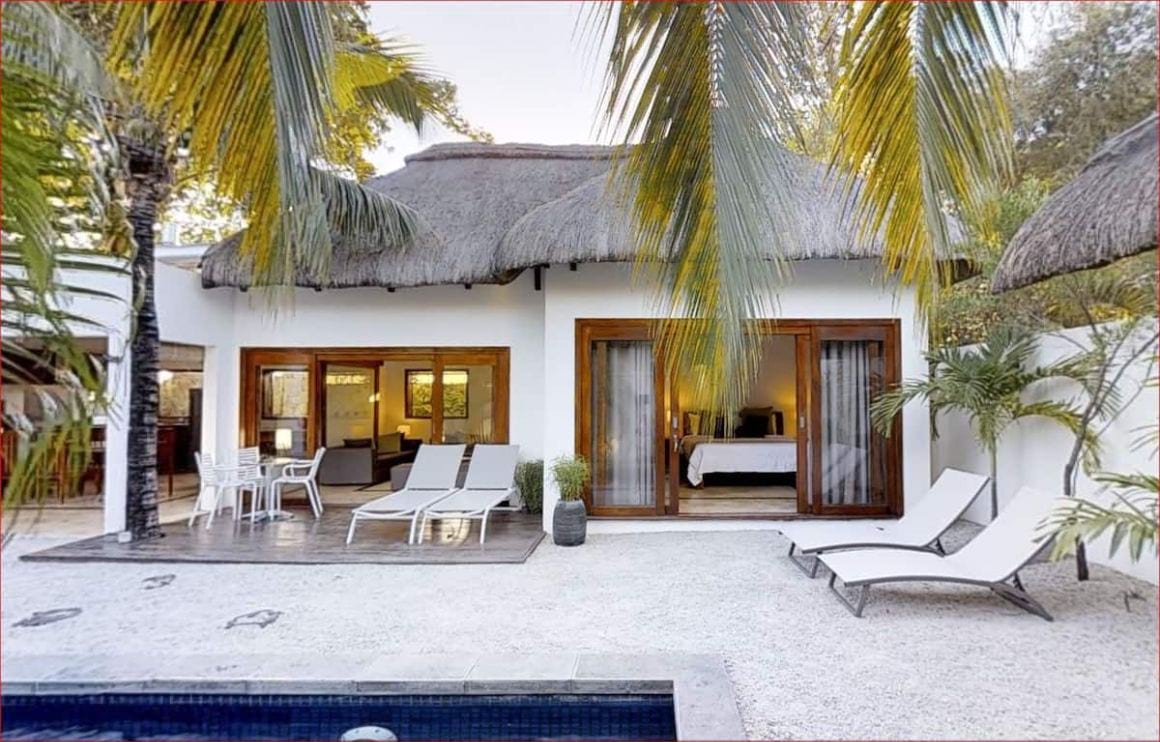 $$
5 Guests
Private swimming pool
Large living spaces
If you're heading off on a dream honeymoon to Mauritius, you should definitely consider staying at this villa. As far as unique accommodation in Mauritius goes, it's pretty cool, combining a traditional thatched cottage with streamlined, zen-esque architecture.
You and your other half can while away the hours in your very own private pool, laze around in bed with doors open to the outdoor terrace, or sip wine and gaze at the stars. The setting is a quiet neighborhood but still in easy reach of restaurants, beaches and bars.
Most Beautiful Villa in Mauritius – Coral Villa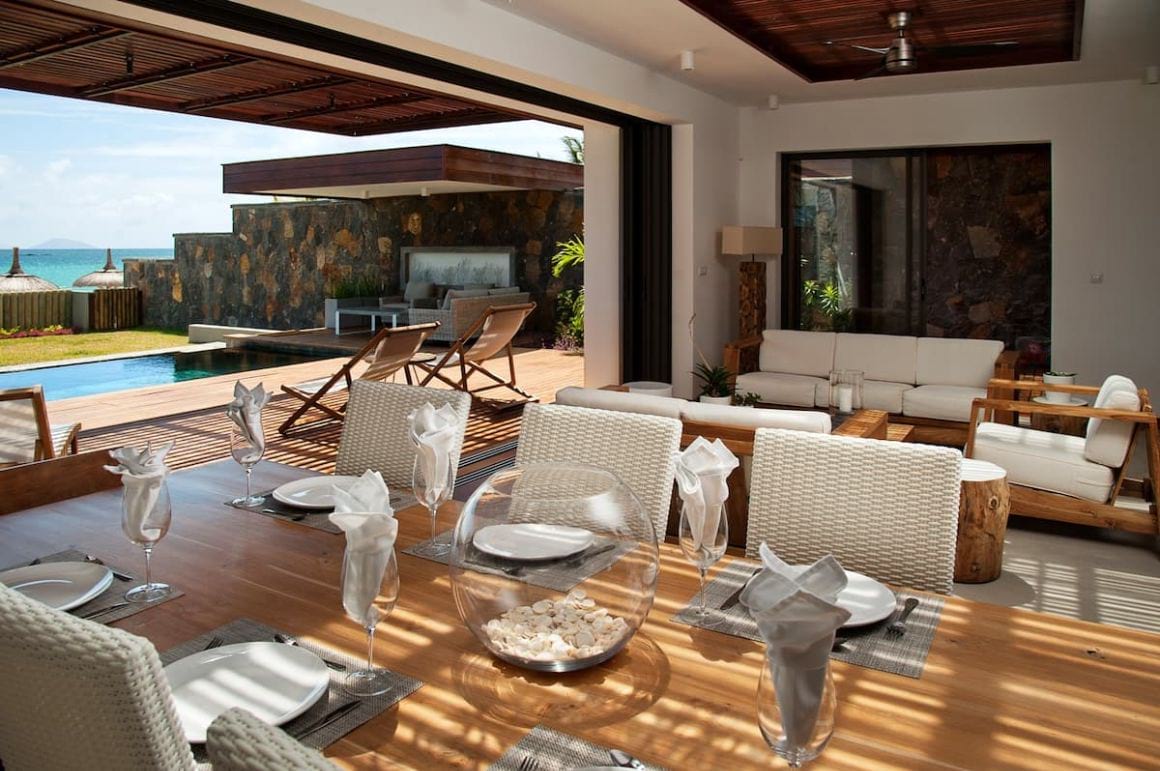 $$$
6 Guests
Gorgeous ocean views
Outdoor swimming pool
Easily the best villa in Mauritius in terms of design and architecture, this very cool property has a really nice use of materials going on. It really maxes out on the indoor-outdoor living, with lots of stone and wood marrying up the interiors with the natural gardens.
Aside from the design credentials of the property, there are also the most incredible views from the terrace across the gleaming blue ocean with islands in the distance. It's beautiful inside and out. Oh, and there's a beach basically on the doorstep.
Don't Forget Your Mauritius Travel Insurance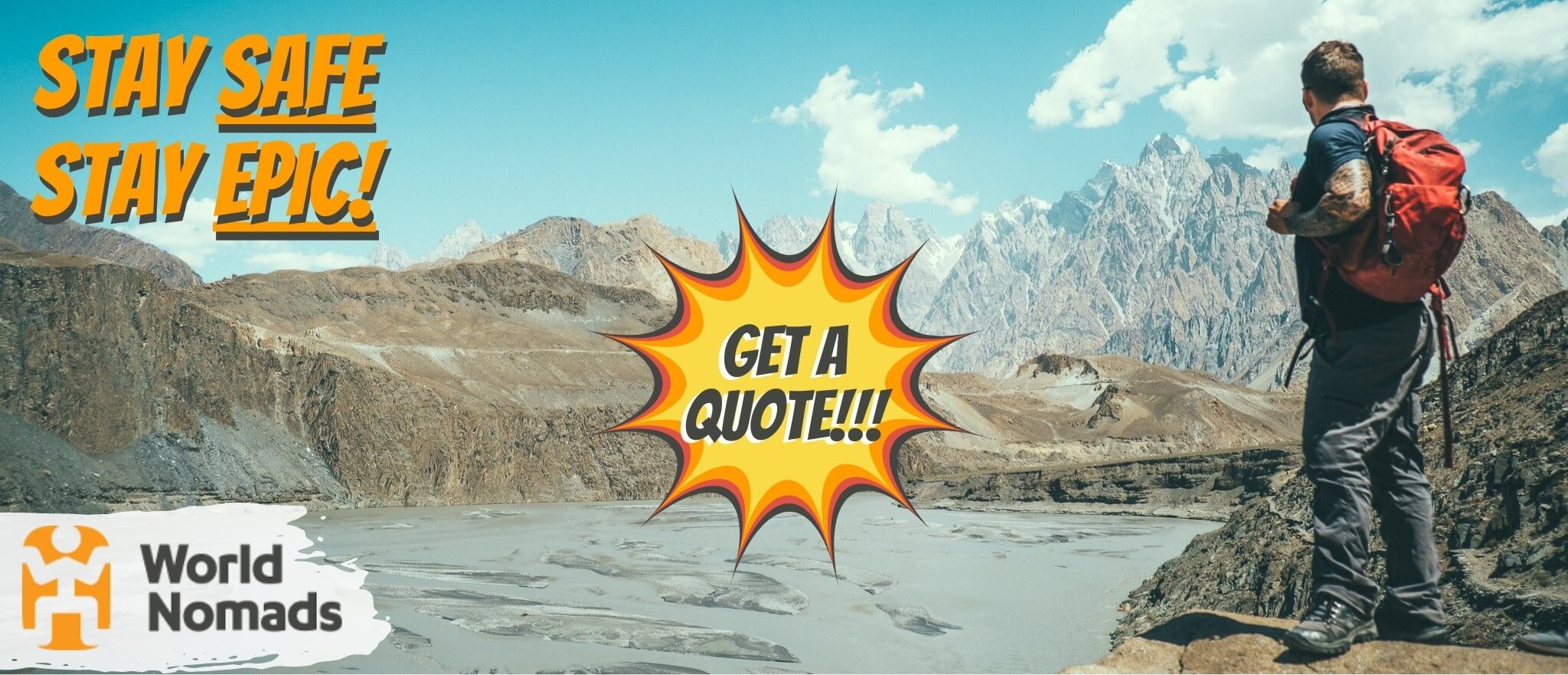 World Nomads' mission is to support and encourage travellers to explore their boundaries. They offer simple & flexible travel insurance, and safety advice to help you travel confidently.
They've been doing it since 2002 – protecting, connecting, and inspiring independent travellers just like you.
Get a quote below or read our in-depth review!
World Nomads provides travel insurance for travelers in over 100 countries. As an affiliate, we receive a fee when you get a quote from World Nomads using this link. We do not represent World Nomads. This is information only and not a recommendation to buy travel insurance.
Final Thoughts on Mauritius Villas
There you have it, folks – the very best villas in Mauritius to suit just about anyone looking to jet off to this sunny string of islands.
As I mentioned to begin with, the design elements are super strong with many of these properties. So if you're someone with an eye for design and aesthetics, you'll be suitably pleased (I think) with pretty much all of the villas in Mauritius listed above.
And if staying in a privately owned villa doesn't cut it for you, there's plenty for those who want the security and comfort of being situated in a resort or gated community. Butler services, maids, chefs, drivers, even properties with golf buggies to take you to the nearest beach. It just doesn't get more luxe than this. Plus, you'll always be close to the best things to do on the island.
No matter where you opt to choose for your travels, however, there's insurance to think about. It's boring, we know, but if you're traveling outside your home country, travel insurance is something to consider.
---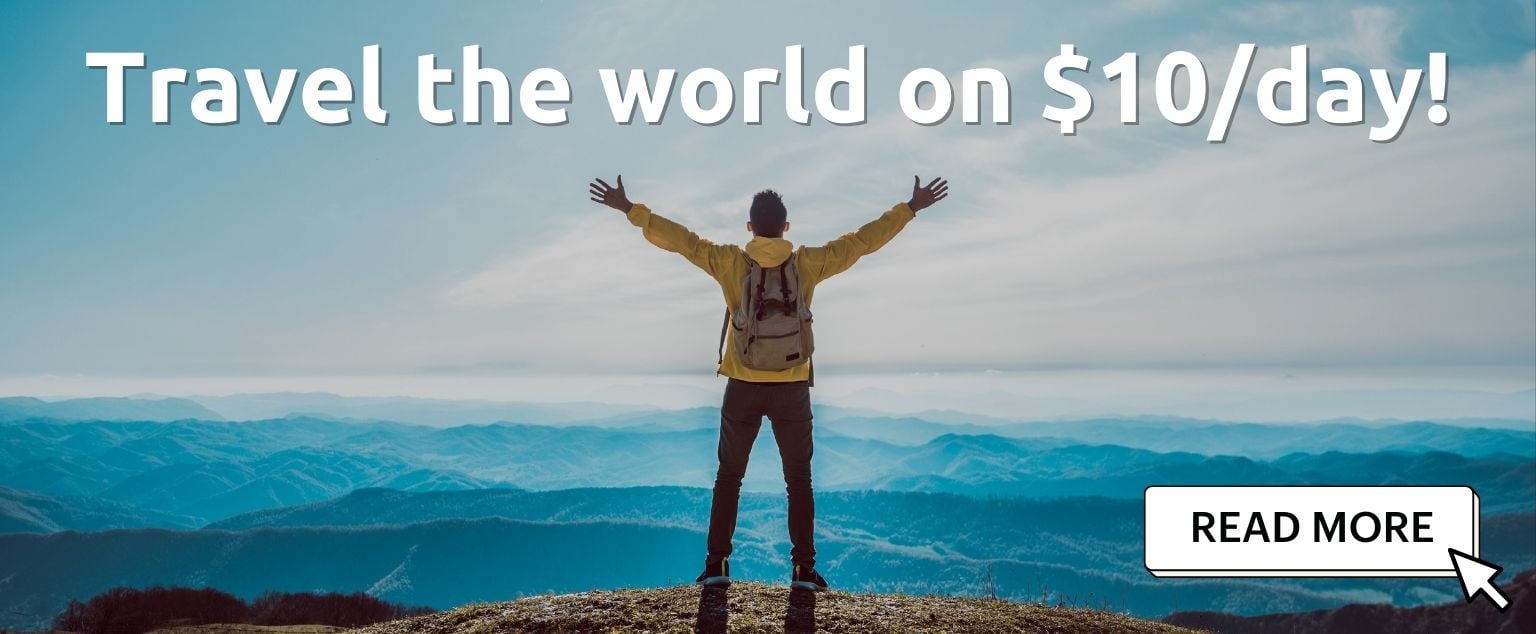 And for transparency's sake, please know that some of the links in our content are affiliate links. That means that if you book your accommodation, buy your gear, or sort your insurance through our link, we earn a small commission (at no extra cost to you). That said, we only link to the gear we trust and never recommend services we don't believe are up to scratch. Again, thank you!