Darling, it's better.
Down where it's wetter…
Under the Mauritian sea!
Perhaps not as famed as many other locations in the world, Mauritius still remains a sublime diving holiday destination as much as any other. Marked by abundant sea life, while equally unmarked by murky and graceless conditions, scuba diving in Mauritius is an activity to not go overlooked. Some may even say that it goes underlooked…
But what's the downside? Well, it's expensive. It's also difficult to find in-depth information on Mauritius's dive sites short of hitting the ground and talking to dive centres. Call me an overthinker, but I reckon you may just want some of that information before you're embarking on that perfect diving trip in Mauritius.
So, it's time to take a look below the surface of this topic. I have the experts' advice on a spread of some of the best dive sites in Mauritius as well as a bunch more info on getting into the game. I reckon you probably want that information!
If not, well, option two is you could just go snorkelling in Mauritius. You wet blanket.

Unlock Our GREATEST Travel Secrets!
Sign up for our newsletter and get the best travel tips delivered right to your inbox.
The Best Beginner Dive Sites in Mauritius
First things first: the best dive sites themself starting with the beginner spots. Can't head out for a spot sub-aquatic adventuring without the tasty deetz.
Though not all, I'm covering a range of the best diving in Mauritius in this post. The thing about diving is that mileage greatly varies. Your certifications matter, your technical skill matters, your ability to stay alive while 30 m underwater for an extended period of time definitely matters…
You'll inevitably uncover some downright sick spots too if you get mad into the Mauritius scuba diving game. But for a beginner, working on the assumption that people of all levels may just read this, let's start with the chill choices.
Flic en Flac Beginner Diving
The 'ehh' option.
Where: West Coast – Flic en Flac
Level: Beginners
Depth: <20m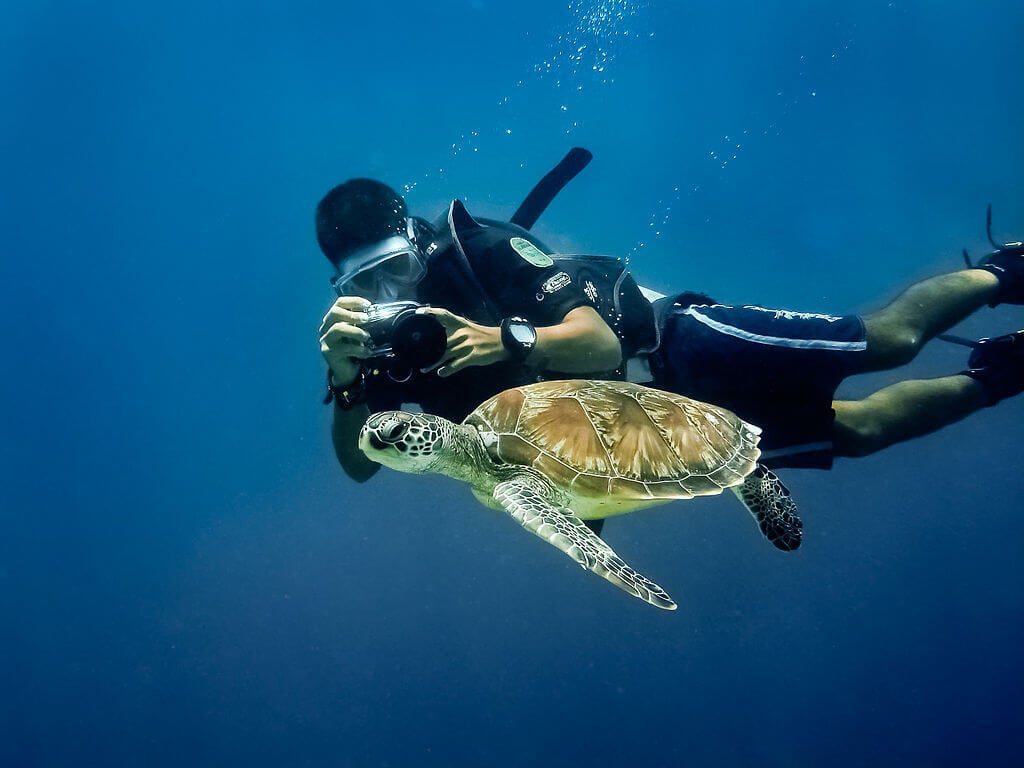 Some people might tell you that some of Mauritius's best scuba diving is at Flic en Flac. They'd be lying.
Now, there are some absolute west coast gems for diving and some are close to – or accessible from – Flic en Flac, but Flic en Flac ain't one of them. Flic en Flac itself is a very resounding meh. So why talk about it?
Well, it's arguably a beginner's go-to. Flic en Flac is a mega-tourist hub – potentially the most trafficked choice of places to stay in Mauritius for tourists – so diving there is easy to find there and easy to do. Furthermore, when you're ready to upgrade to something a little meatier, there are more technical dives in the area. The conditions for the beginner dives are usually comparatively murky, disturbed by the frequent boat traffic, but it's also fairly brainless diving and perfect for getting accustomed to the underwater motion for anyone brand-spanking-new to the bends.
There'll be some coral, some fish too, and maybe some turtles, but it's not the recommendation for the best place to scuba dive in Mauritius. It's just the beginner's spot before you move up onto bigger and better things!
Aquarium
Beginner Mauritius diving 101.
Where: East Coast – Belle Mare
Level: Beginners+
Depth: <20 m
Opposite coast, opposite story! Having both a vibrant selection of coral and fishlife – and with ultra-clear conditions – Aquarium is a perfect warm-up for a diving trip in Mauritius. It helps that Belle Mare is one of the most beautiful beaches in Mauritius and not nearly as touristic as Flic en Flac.
The Aquarium dive site itself is super chill: an easy depth and sheltered from any strong currents in Belle Mare's placid waters. The types of fish on display are pretty startling (angelfish, parrotfish, clownfish, etc.) and there are even octopuses wandering amongst the layers of colour.
It's a lovely and relaxed dive for just about anyone and it's absolutely perfect for the beginners. Also, there seems to be more than one dive site named Aquarium in Mauritius which is just doing my brain all kinds of gymnastics. As a reminder, we're talking the east coast spot here.
Coral Garden
More oceans of colour on the east coast.
Where: East Coast – Belle Mare
Level: Beginners+
Depth: <20 m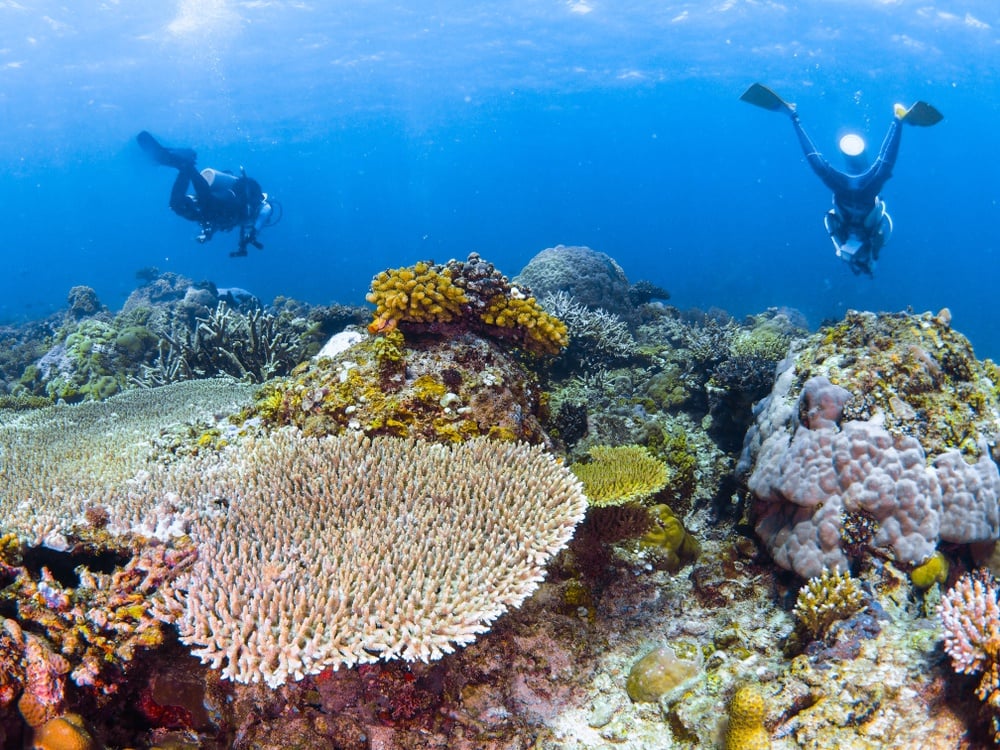 This is another east coast dive spot and another laid-back site for a diver of any level. As the name would suggest, there's a lot of coral. Hard coral, soft coral, medium-rare coral – you're in the octopus's garden!
Wherever there's coral, there's also generally cuties, and Coral Garden is no different. As well as a lot of the fish you'll find elsewhere on the east coast (including Aquarium), there's also the opportunity to spot rays, turtles, and eels weaving between the coral formations. It's even a choice spot for night diving!
There are also a number of other excellent dive sites on Mauritius's east coast, particularly in the Belle Mare area. Although generally the conditions aren't preferable on the east coast for more technical diving, the lagoon at Belle Mare is spot-on for something easy.
The waters here – still and protected – are just made for beginner diving. I'd say, if you're really not keen on the Flic en Flac tourist bubble thing, head to the east coast to kick off your Mauritian diving holiday. In the right spots, you'll find sweet sites with fewer folks scaring the fishies off.
Best Dive Sites in Mauritius: The West Coast
Now we're heading back to the west coast. Save some outliers and choices of wreck dives, majority of the real-deal scuba diving in Mauritius is found on either the west coast or in the north (or the little islands but we'll get to that).
The west coast is fairly whole-heartedly tourist and expat territory; most travellers visiting Mauritius will end up here. The good news, however, is that it's well accommodated for tourists! Throw a rock and you'll hit one of many Mauritius dive schools over this side of the island.
As for the diving itself? Yeah, it's downright dazzling. Whether it's for photography or some regular ol' fish fanaticism, some of the best diving in Mauritius is found on the west coast. So where we headin' first? Back to Flic en Flac!
Yes, I know, Flic en Flac is silly, but it's also an excellent base for the west coast diving sites. There are some real gems over this way.
Snake Reef
Some proper scuba diving on Mauritius's west coast.
Where: Near Flic en Flac
Level: Beginner to Intermediate
Depth: Average – 18 m / Max – 25 m
Accessible from dive centres in Flic en Flac, Snake Reef is your first proper invitation to the neverending house party happening below Mauritius's sea level. Teeming with fishlife (including stonefish, hell to the yes) with the chance to see rays and even moray eels, it's a perfect introduction to what a Mauritius scuba life looks like. Vibrant and magical.
The reef itself consists of rock and coral formations that form pinnacles snaking to the bottom, hence the name 'Snake Reef'. There are no sea snakes here so you're good to do something stupid.
Except that you're 20 m underwater and surrounded by camouflaged venomous guerilla warfare fish so maybe not too stupid.
Cathedral
The unmissable dive site in Mauritius.
Where: Near Flic en Flac
Level: Intermediate to Advanced
Depth: Average – 20 m / Max – 30 m
A complex and devastating underwater array, the Cathedral dive site in Mauritius is quite possibly its most world-renowned. Sudden drop-offs and some majestic boulder formations have created a structure that's a proverbial playground for the divemasters and divepadawans alike.
Starting from 18 m before the very sharp drop to the 30 m floor, the topography of Cathedral is wild! Featuring caves, holes, chimneys, and cavities, the rocky scene is home to a teeming reef life as well as pods of lobsters scouring the depths for their next bloodlust-enraged duel.
If you have the appropriate level of experience, this is a must-visit place below Mauritius. This is some of the best scuba diving Mauritius has to offer.
Kai Sei 113 Wreck
The first of many wrecks to come.
Where: Near Flic en Flac
Level: Advanced
Depth: Average – 35 m / Max – 40 m
Yay, now we're talking – a sunken pirate ship! Well, it's a barge, but we can pretend it's a pirate ship.
The barge formerly known as Kai Sei 113 has turned to a life as an artificial reef over the last three decades. Although only partially covered with coral, the wreck has become a home to a whole host of beasties including eels, lobsters, lionfish, devil firefish, and a whole bunch more.
If you're ready to drop down deep and explore something more advanced while scuba diving in the Flic en Flac area, check out the Kai Sei Wreck.
Passe St Jacques
Drift-diving with Mauritius's predators!
Where: Near Le Morne
Level: Advanced
Depth: Average – 5 m / Max – 30 m
Kind of maybe more the south coast but you can reach Passe St Jacques from Le Morne so it still counts! It's another choice but reserved for the advanced divers due to the technicality of the site. Drift-diving means diving using transportation by the underwater currents and the pull at Passe St Jacques is known for getting pretty strong.
How's the reward though? Smashing.
The underwater life here is superb with a huge variety of ecosystems interacting. It's not just the pacifists either. This is a real good spot to see some of Mauritius's underwater predators as they loiter the current waiting for outgoing prey.
Eagle rays, barracudas, and even sharks are a real possibility here as well as schools of different fish like trevallies and tuna. If you're keen to see the merciless savagery of nature at its finest (as things are devoured before your very eyes), it's the best place to go in Mauritius!
Hoi Siong No. 6
A wreck dive with Le Morne's unbelievable visibility.
Where: Near Le Morne
Level: Beginners+
Depth: Average – 20 m / Max – 29 m
A wreck dive and one way more appropriate for the beginners holidaying in Mauritius. The vessel was actually sunk on purpose to create an artificial reef and sanctuary for the marine life in the area. Now, honestly, that's just the coolest thing ever!
Since it's Viking burial, the Hoi Siong No. 6 has exploded with colour and is now home to a massive variety of coral and fishies. Having only sunk in 2003, the wreck remains in fairly good nick and this, coupled with the awesome visibility at Le Morne, just makes for a brilliant wreck dive. It's one suitable for beginners too!
Plus, you're at Le Morne, and Le Morne is the best.
Le Morne and Black River Area
My preferred base for scuba diving Mauritius's west coast.
Where: West to Southwest Coast
Level: Varies
Depth: Varies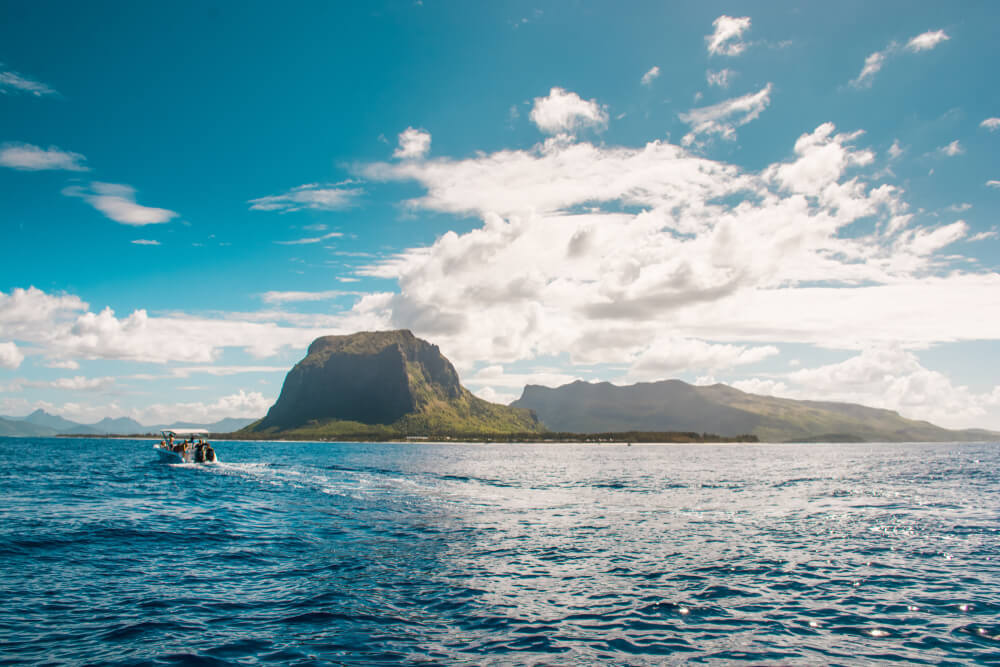 Yeah, so Le Morne kicks ass. Flic en Flac has a lot of kickass dive sites close to it, however, I'd still say that choosing to stay in Flic en Flac over Le Morne is a net loss.
Regarding diving specifically, Le Morne has some truly stupendous visibility and an abundant sea life across its dive sites. When things aren't favourable, a short mosey up the coast to the Black River area (Riviere Noire) still usually has something going on.
And it gets even better because staying in Le Morne is absolutely brilliant. It's one of my favourite places in Mauritius to visit as a whole and it balances west coast vibes with local village life perfectly, i.e. it's not Flic en Flac. If you're wondering where to stay on the west coast of Mauritius and are looking to balance the diving holiday with regular holidaying, I'd recommend Le Morne – no contest.
DON'T DIE OUT THERE! …Please 🙂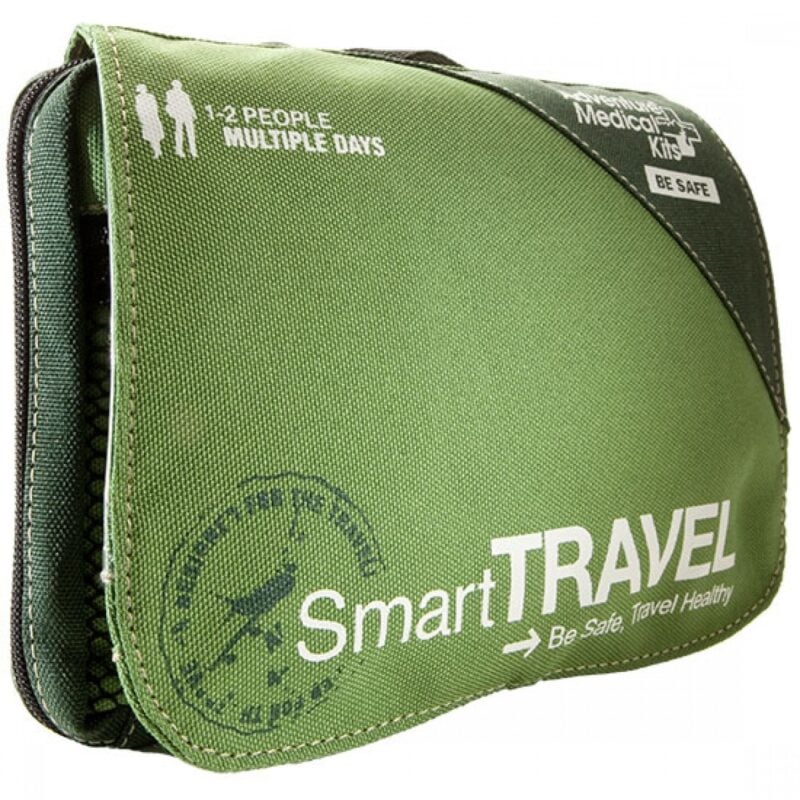 Things go wrong on the road ALL THE TIME. Be prepared for what life throws at you.
Buy an AMK Travel Medical Kit before you head out on your next adventure – don't be daft!
Buy on REI
The Best Dive Sites in Mauritius: The North
Now we're taking a cardinal turn northwards to the other diving centre of Mauritius: the sleepy north. The north is brilliant and well deserving of exploration, but we're not talking about on-terrain adventures here. We ain't some precious landlubbers… we're going downwards!
Since we're talking about bases of exploration, your two best bets for being in the middle of the action are Grand Baie and Trou aux Biches. Heaps of Mauritius's dive schools and centres are located in these areas as well as heaps of dive sites.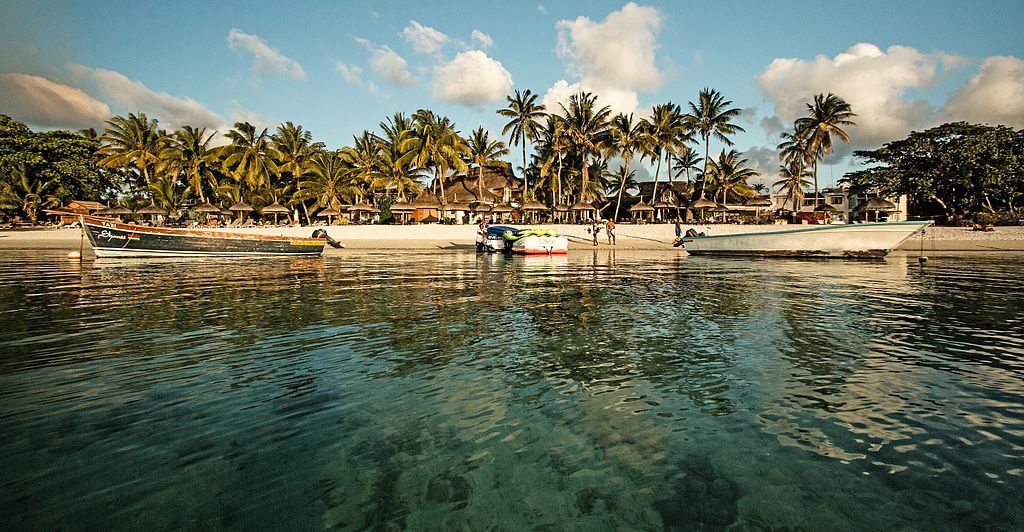 Comparably, it's fair to say that Grand Baie is more like Flic en Flac while Trou aux Biches is closer to Le Morne, purely vibe-wise. If someone put a gun to my head and told me to choose between a beach bungalow in Grand Baie or Trou aux Biches (weird scenario, I know), I'd pick the latter every time.
The Tube
A beginner's dive in the north of Mauritius.
Where: Near Trou aux Biches
Level: Beginner+
Depth: < 10 m
A very popular dive site with beginners near Trou aux Biches. It's a long shallow dive just beyond the barrier reef with plenty of fish and coral. Nothing too hectic; it's just a nice warm-up dive in the north.
Holt's Rock
Underwater boulders are almost as cool as above-water boulders.
Where: Near Grand Baie
Level: Beginner to Intermediate
Depth: Max – 25 m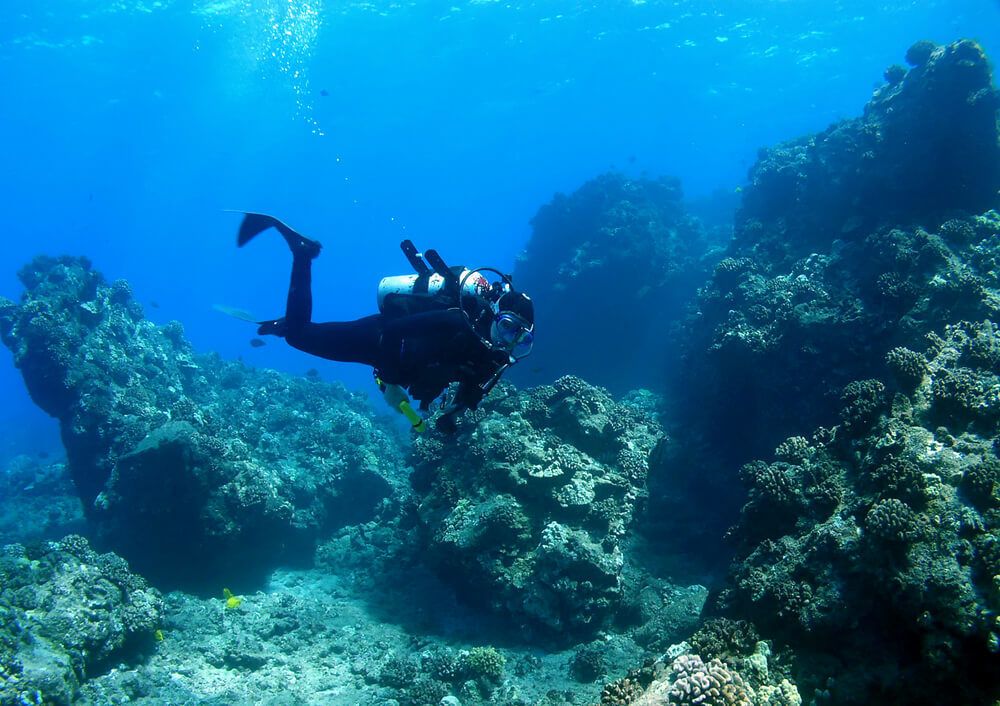 Another relaxed northern dive but requiring more experience due to the depth, Holt's Rock is an awesome opportunity to see some natural underwater structures. Granite domes, boulders, and rock clusters have created a home of colour for the life here.
A variety of triggerfish and soft coral litter the rocky seascape, and there's a chance to see some truly spectacular giant moray eels – more than two metres if you're lucky! Plus, underwater boulders. Boulders are always a win.
Stenopus Reef
For a deeper spot of scuba in Mauritius's northern waters.
Where: Near Trou aux Biches
Level: Intermediate to Advanced
Depth: Max – 35 m
A deeper dive site in Mauritius and still very close to the north's diving hotspot. It's still a fairly chill dive with good visibility and an easy current but due to its depth, it's reserved for more experienced divers.
The topography is really cool with valleys and forests of black and green coral covering the rocks. Fish and moray eels are also common here, but you're also likely to see giant eagle rays!
Water Lily and Emily Wrecks
Two wrecks for the price of one!
Where: Near Trou aux Biches/Grand Baie
Level: Intermediate to Advanced
Depth: Average 25 m / Max – 30 m
One of the fan favourite places to scuba dive off Mauritius's north coast primarily because there's a lot of bang for your buck. Sure, one underwater wreck is pretty cool but how about two? And only 30 m apart!
Both wrecks are in pretty good nick and quite an underwater treat in their own right. The schools of fish and slithers of eels have made this rusted hovel a home and bring some colour to the submerged barges.
Stella Maru Wreck
One of the best wreck dives in Mauritius.
Where: Near Trou aux Biches/Grand Baie
Level: Advanced
Depth: Average – 23 m / Max – 26 m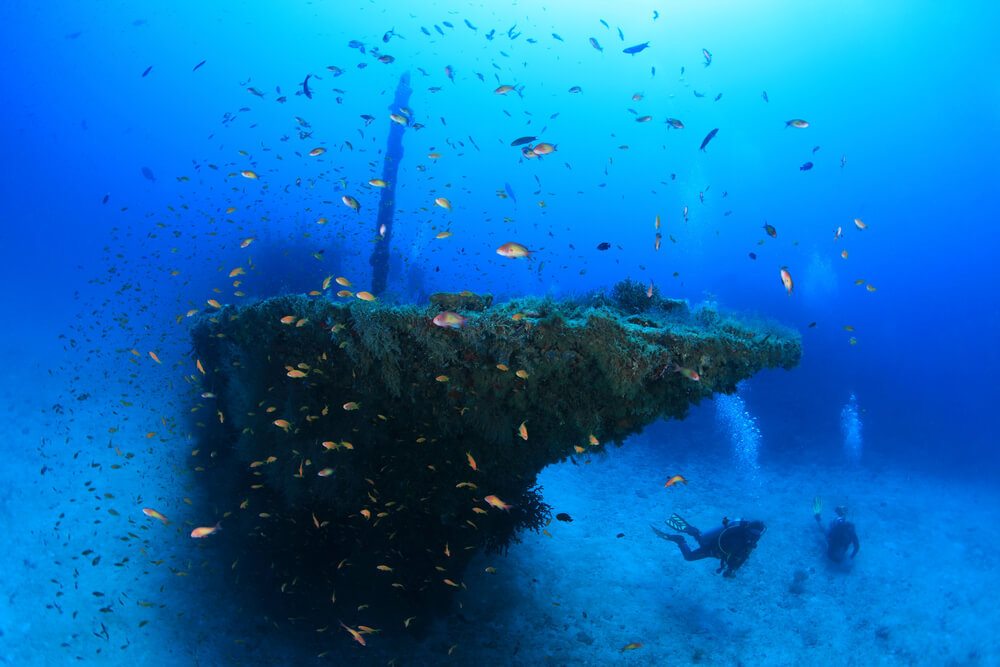 One last wreck dive and I saved the best for last. Well… best is subjective, but I think it's the best!
It's another purposely sunk wreck – this time an old 42 m Japanese trawler – that managed to stick the landing just right. It stands upright on the sandy bottom next to the reef and the underwater view of that perfectly pitched submerged exoskeleton is both ominous and alluring.
Although some algae and soft corals are present on the wreck, the overall state is still much very much of the original ship. The hordes of sea-cuties that have made turned the wreck into a vibrant artificial reef help brighten the picture though. School of tropical fish being snapped up by giant moray eels amongst the rusting husk of an old fishing trawler – kinda poetic really.
Diving Mauritius's Teeny-Tinier Islands
Now, for some of the absolute best diving in Mauritius, you'll need to step off the island… so to speak. Mauritius is pretty small and beautiful but there are some even smaller islands surrounding Mauritius with some wicked dive sites to accompany.
If you know how to live on a boat, Mauritius's sheer overpowering awesomeness just became more awesome! Mauritius is a dream for the boat life.
The best part about these off-shore wonderlands: maximum visibility! The decreased boat, tourist, and diver activity have left these sites a bit more pristine in their quality.
You don't have to go too far for these; they're mostly just off the surrounding coastline. Hell, take a cheap tent and stay the night! Just make sure you've sussed a ride off the next day.
Ile aux Bentiers
Crystal clear lagoon waters.
Where: Southwest Coast (near Le Morne)
Level: Beginners+
Notable Dive Sites: Just one – it's chill
Ile aux Benititiers is a little crescent-shaped island just north of Le Morne backed by a sexy mountainous specimen. There are some dope beaches there; it's touristic but not excessively so.
But we're not talking about beaches. We're talking about diving. Beaches are for losers that like a habitable atmospheric environment!
The reduction of tourists means you'll find some crystal clear waters in the lagoon spread with vast fields of coral in shallow still waters – perfect. Ile aux Benitiers is also a prime spot for spotting dolphins, and that's the bonus deluxe combo deal!
Coin de Mire
Top of the top!
Where: North Coast
Level: Beginner to Advanced
Notable Dive Sites: Heaps to choose from: The Wall, Carpenter, Djabeda Wreck, etc.
This right here is some of the absolute best diving Mauritius as to offer – no doubt! Coin de Mire (AKA Gunnar's Quoin/Point but usually Coin de Mire) came in as my friend's – an avid Mauritian badass diver buddy – undeniable favourite dive site in Mauritius. Full-power tropical might!
There's a host of dive sites at Coin de Mire (backdropped, again, by one dope mountain) starting from beginner and ranging up to truly hectic. You'll find a chill bay dive, another wreck, or choices from sweeping topographies of walls, caverns, rocks, and swim-throughs… there's even a mad cave! With crazy currents!
For full-power, you gotta go to Coin de Mire.
Round Island / Serpent Island
For the topography lovers.
Where: North Coast (northeast of Coin de Mire)
Level: Advanced
Notable Dive Sites: Blinders and the Banc Rouge Wall
It's another island in the north's high-vision blues! These north Mauritius scuba sites are some more of it's best too.
Blinders, a dive site located at the pinnacle protruding from below the sea beside Round Island, is excellent diving fun. There's an insane canyon-like topography filled with a huge scope of beasties: it's like an underwater Wild West prairie adventure!
The Blanc Rouge wall is another awesome site. It's mammoth too, extending down to 64 metres! You'll tonnes of crazy coral on a multi-levelled structure going as deep as you want! (Within reason…)
Similar to the next island coming up, Ile Plate, there are some pretty decent currents and other complexities to manage at these dive sites. They're for the experienced aquatic explorers.
Ile Plate (Flat Island)
<Jaws music plays ominously.>
Where: North Coast (north of Coin de Mire)
Level: Intermediate to Advanced
Notable Dive Sites: 2 – Shark Pit and The Lighthouse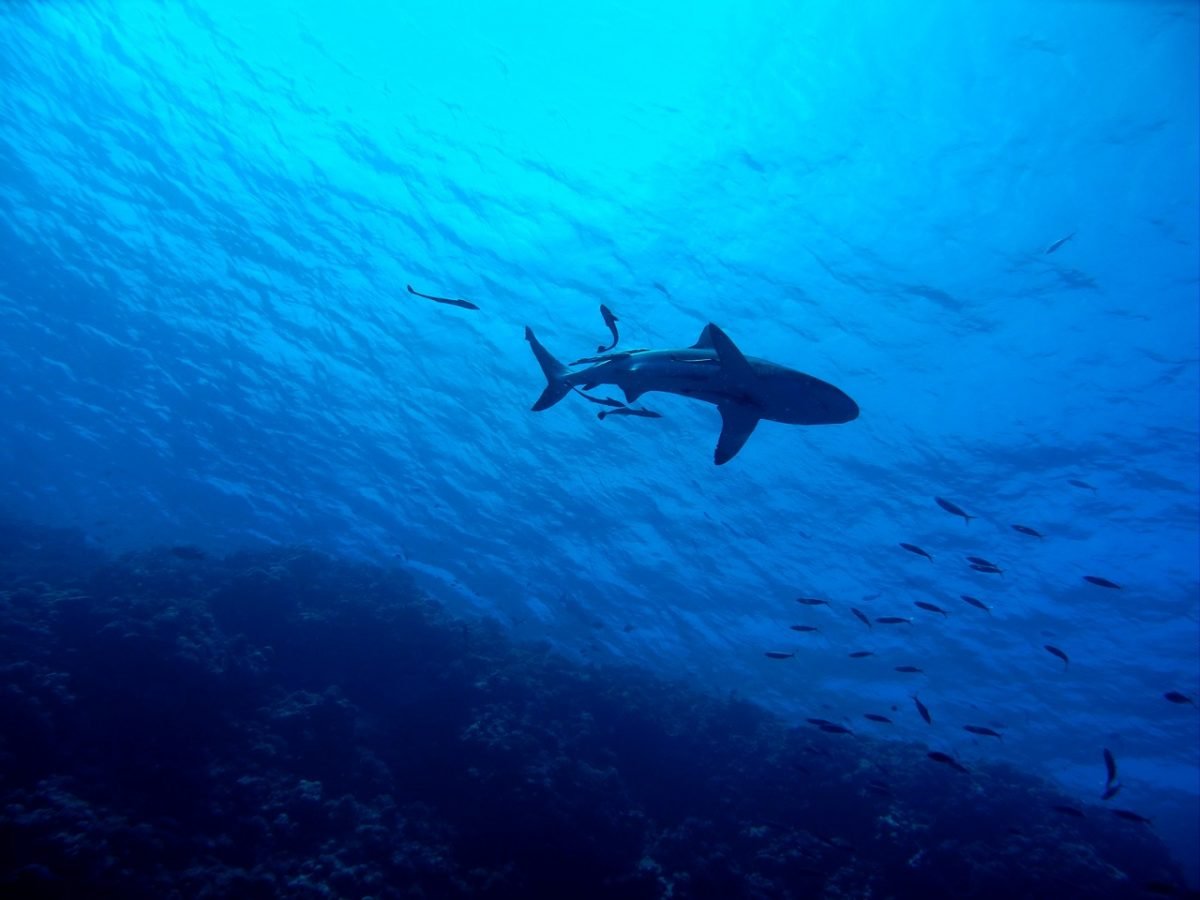 Sharks, sharks, oh, I'm excited, sharks. Sharks!
Bull sharks, grey reef sharks, silvertip reef sharks, maybe a whale shark? Na, probably not. Seeing whale sharks in Mauritius while diving is super rare… but all those other sharks I mentioned still show up!
Oh, wait, so, actually listen for a sec; this is super hectic. Why are there so many sharks at Shark Pit? Well…
It's actually like a petrol station for sharks. They all show up to reoxygenate after the tides, and the cleaner wrasses in the area polish up their fins while they're there! Damn, nature!
Oh, and The Lighthouse is a more chill dive. Maybe there are sharks sometimes but it's not a pit of sharks. Sharks!
Oh, and in case you hadn't guessed, the dive site named "Shark Pit" is for experienced divers only – go figure!
Rodrigues Island
You should just go there regardless of diving
Where: East of Mauritius
Level: Beginner to Advanced
Notable Dive Sites: There are heaps but St Francois Pass, La Grande Passe, and Canyon.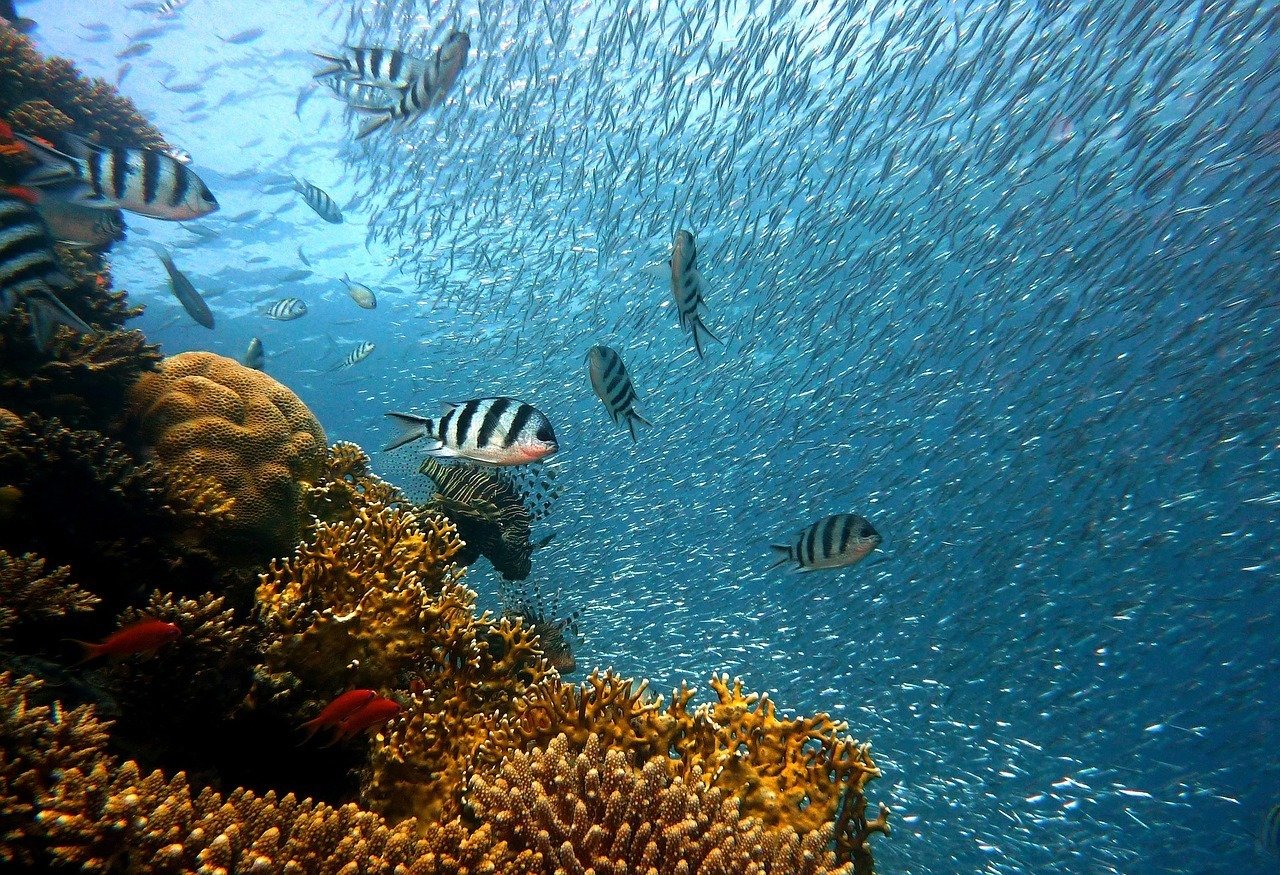 Yeah, so Rodrigues is just a downright sick place to visit in Mauritius (off Mauritius). It's a whole other island with its own communities and things going on except it's, like, maybe a 20th of the size of Mauritius. Like, seriously, it's 108 km²… there are cattle farms bigger than that in Australia!
You'll have to get there though – it's a 2-day bimonthly ferry or a 2-hour plane – but you should go there irrespective of diving. Oh, but how is the diving in Rodrigues?
Dude, that could rightfully score a whole other article; there are heaps of dope dive sites in Rodrigues! The real delights are reserved for the experienced divers but there's neat stuff for beginners to play in too.
So what's the real chunky part about the diving in Rodrigues? It's crazy, man, like all your dream diving destinations in one little spot. Unbelievable visibility backed by colour and life to rival Seychelles or the Maldives. Pure yumminess.
Rodrigues is still Mauritius so you'll have no trouble finding a dive centre. Suss out some sweet sites and see what's good for you!
Save $$$ • Save the Planet • Save Your Stomach!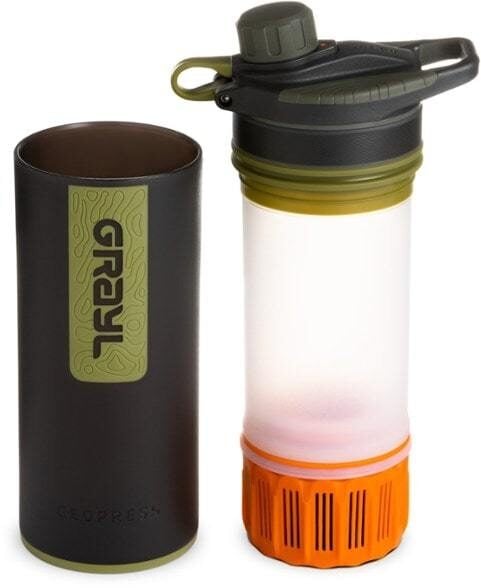 Drink water from ANYWHERE. The Grayl Geopress is the market's leading filtered water bottle protecting your tum from all the waterborne nasties. PLUS, you save money and the environment!
Single-use plastic bottles are a MASSIVE threat to marine life. Be a part of the solution and travel with a filter water bottle.
We've tested the Geopress rigorously from the icy heights of Pakistan to the tropical jungles of Cuba, and the results are in: it WORKS. Buy a Geopress: it's the last water bottle you'll ever buy.
Buy a Geopress!
Read the Review
So, What's the Scoop on Organising a Scuba Diving Trip in Mauritius?
It's a fantastic location for diving. Mauritius isn't the best, mind you, but that depends on what you count as best.
The prices for scuba diving are considerably higher in Mauritius than in the other cheaper parts of the world. Mix that with Mauritius's high-end accommodation areas and you're probably looking at a short diving trip to Mauritius.
The pay-off? Well, you're travelling in Mauritius. That's pretty dope!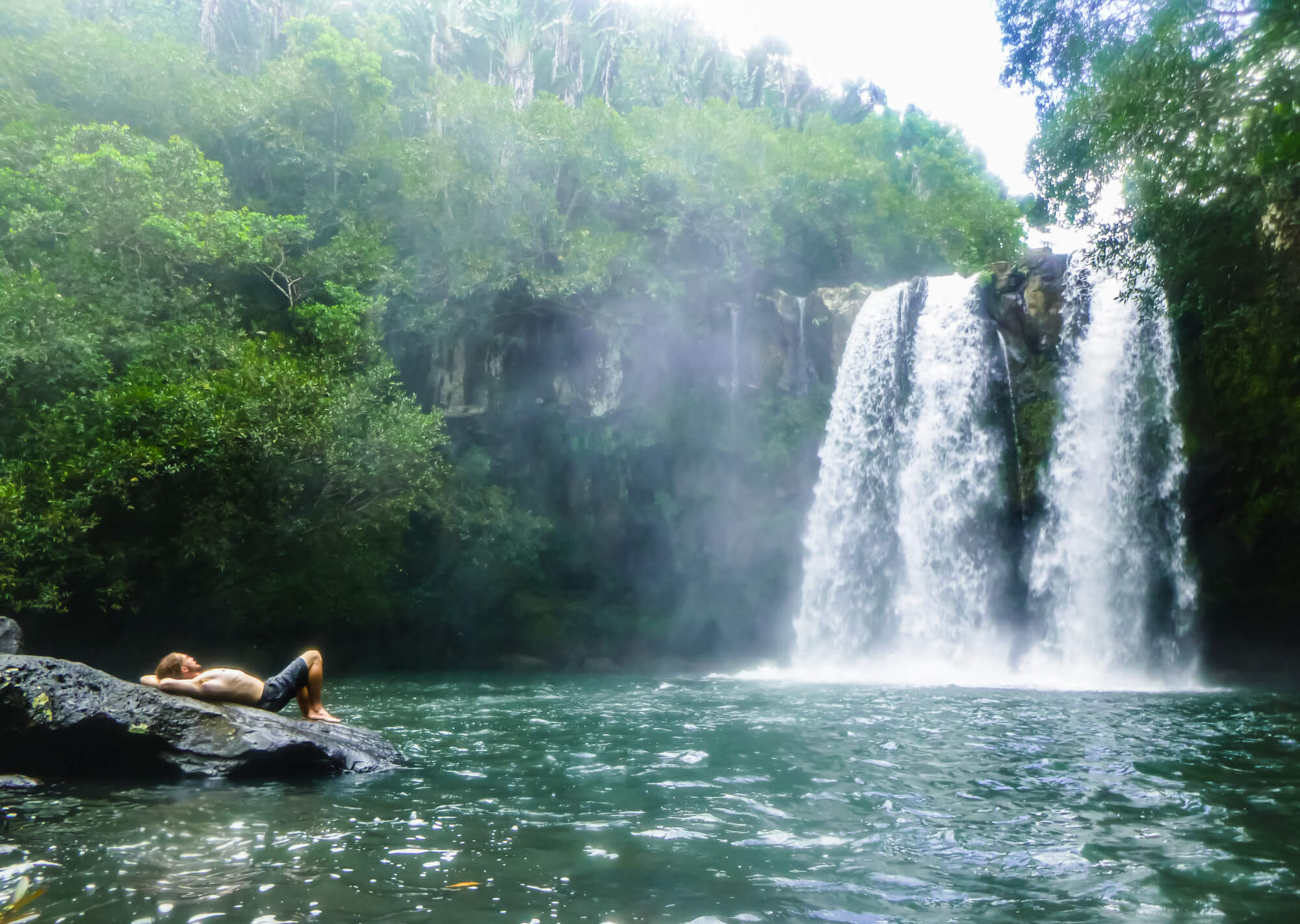 The dive conditions are clear and the fish are colourful! It's a buzzing little eco-system; there's a true abundance of life and vibrancy. Sharks, though becoming rarer, are around. Turtles, many different rays, entire universities of tropical fish, and stonefish which I just think are sick. Whale sharks maybe if you're lucky – whale sharks are kinda like the unicorns of Mauritius's diving scene.
The conditions too, in the right spots, are on-point. It's like looking through glass! An extremely translucent and wet glass…
So, with all that in mind, what's the scoop on a diving holiday in Mauritius? Prices are important, timing is super important, and, hey, what about tips for the snorkellers in Mauritius?
No.
What's the Best Time to Dive in Mauritius
Timing is super important in diving – it's kind of like an anywhere on land. Things change with the season and Mauritius's dive seasons are no different. Besides, you're also just trying to plan your holiday and enjoy the best things Mauritius has to do, right?
December to April is the wet season although it's more like on-again-off-again wetness. Still, stormy seas and wet beaches don't make for the best beach holiday vibes in Mauritius…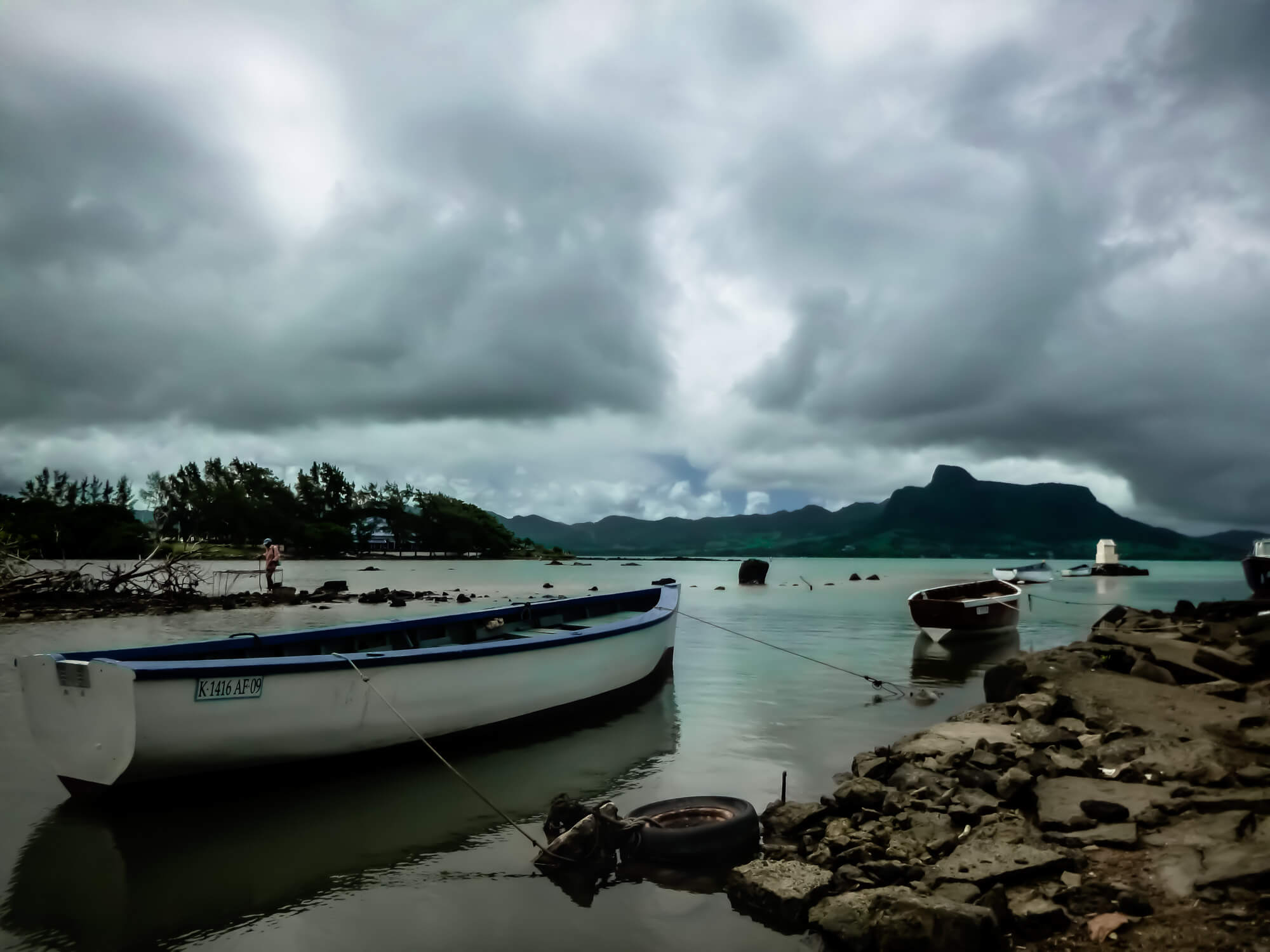 The winter months – June to September – offer some excellent diving opportunities. The water is supremely clear and the drop in temperature (don't worry, it's hardly cold in Mauritius) brings the coral to life.
Alternatively, the shoulders of the rains (October to December or March to April) are the other best times to scuba dive in Mauritius. When it's clear, oh man, it's like looking into an aquarium. It helps that the warmer waters bring in the cuties too!
Oh, and just a reminder that like we humans once did, animals move with the seasons. If you wanna see a specific cutie, check with the diving centres around Mauritius for when the right season is.
How Much Does Scuba Diving Cost in Mauritius?
So how 'bout them prices? Well, that really depends on what you're after (and how experienced you are)… Mauritius, overall, is expensive, and the diving prices in Mauritius are, like, medium expensive. There's more expensive places in the world, sure, but there's plenty of cheaper scuba destinations too if budget is a concern.
For the record, at the time of writing this 100 MUR = 2.55 USD ($2.50 makes for easy maths), however, the global market has been a shit hot mess lately so it's better to check these things first.
Introductory Dives – For a basic beginner's dive with an instructor getting shown the ropes (and possibly with a practice play in the pool first), you're looking at about 2300-2800 rupees.
Second Dive – You can usually get your second dive after the introductory course (and presumably subsequent ones) cheaper – maybe 500 rups less.
Fun Dive – If you already know what you're doing and got the credentials to prove it, you're looking at 1700-2200 rupees.
You can get diving packages as well for a better bulk bundle discount – savings!
Wait, what about the cost of scuba diving courses in Mauritius? Big conversation, different section, skip right ahead here!
Stay Safe When Diving in Mauritius
Well, your deep underwater so do be careful, please. In all seriousness though, this is a serious topic so let's put our super-cereal-faces on and be serious.
Diving safety is mega-important… and I am not the man to teach you about it! There's a whole damn article on Wikipedia on this topic. Look… it's even got formulas!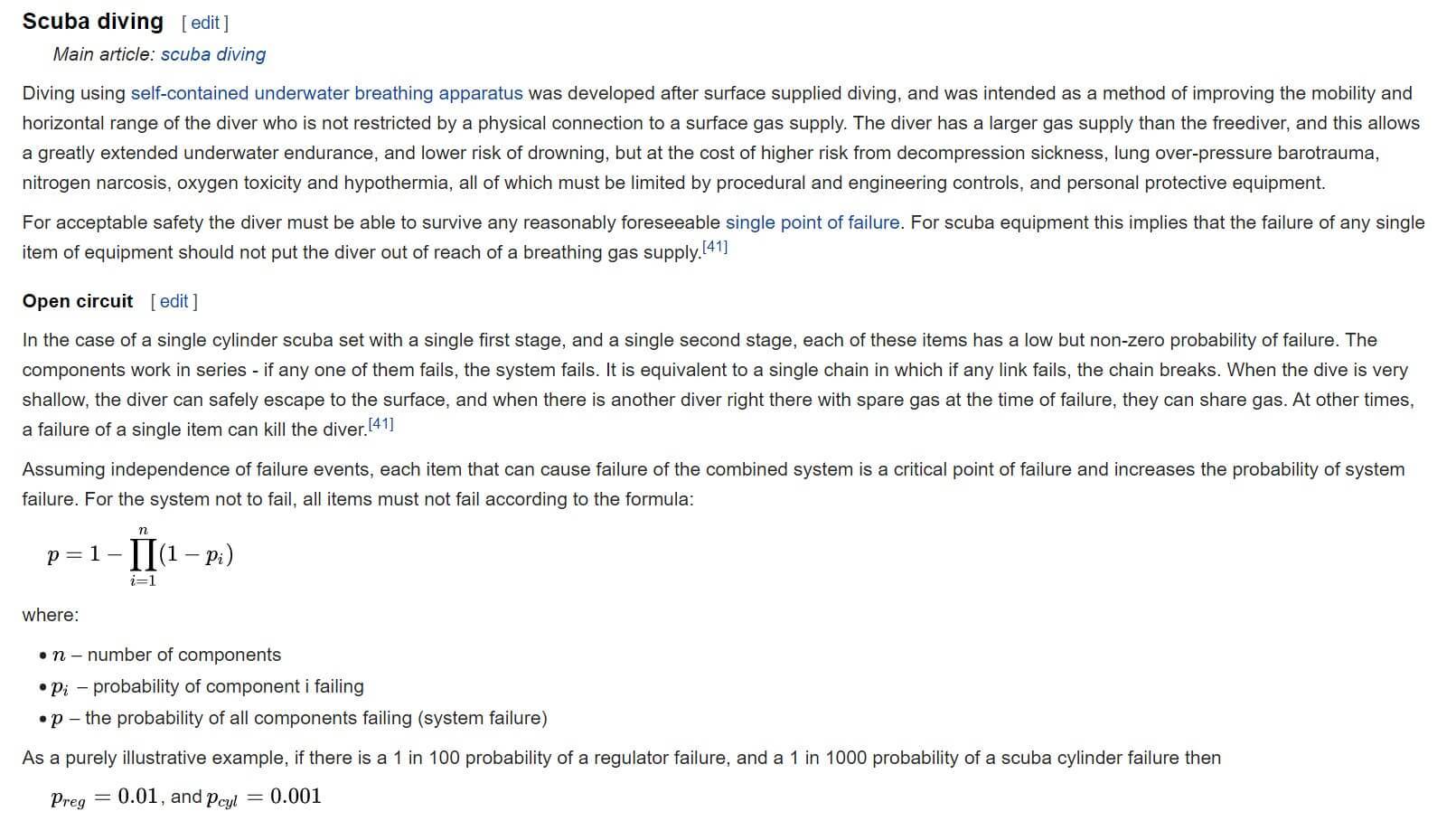 So instead, check out these sources – essential diving safety tips and the diver's skills refresher course – and key yourself in before your 20 metres below sea level. Learn your course, listen to your instructors, and don't touch the fire coral! My Mauritian mate told me to mention that specifically; I dunno why. I guess a lotta people do but that shit hurts!
You may also wanna probably definitely consider getting travel insurance because, well, a shark could take a bite out of you. Or a sperm whale… Or, more likely, a cat, but then you'll tell everyone a sperm whale did it.
Members of The Broke Backpacker team have been using World Nomads for some time now and made a few claims over the years. They're an easy to use and professional provider that the team swears by.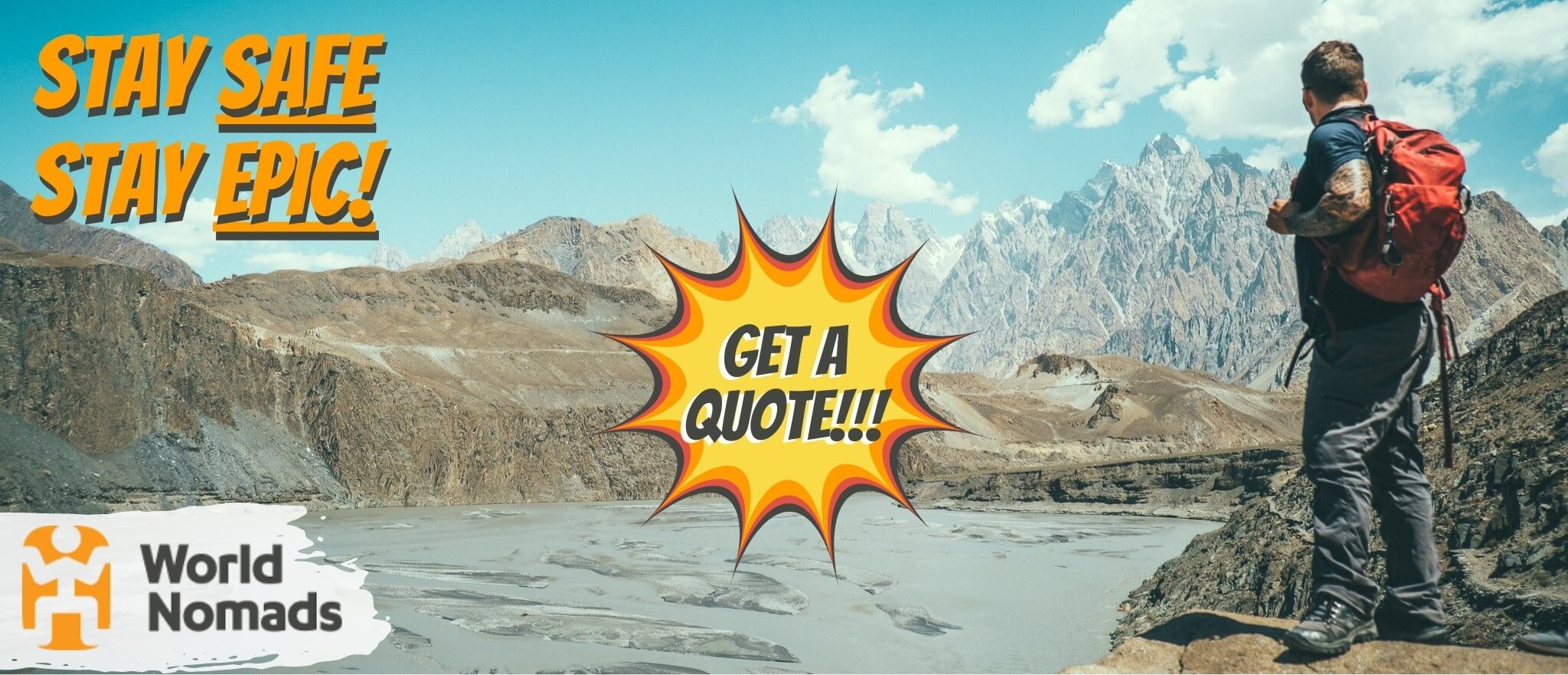 World Nomads' mission is to support and encourage travellers to explore their boundaries. They offer simple & flexible travel insurance, and safety advice to help you travel confidently.
They've been doing it since 2002 – protecting, connecting, and inspiring independent travellers just like you.
Get a quote below or read our in-depth review!
World Nomads provides travel insurance for travelers in over 100 countries. As an affiliate, we receive a fee when you get a quote from World Nomads using this link. We do not represent World Nomads. This is information only and not a recommendation to buy travel insurance.
Also, Be Cool, Homie
It's a beautiful world, right? That shit's important so take care of it! Diving responsibly in Mauritius is right on par for importance with diving safety.
Once again, I ain't the sensei for you: here's an awesome post on eco-friendly diving.
No Touching – The corals, reefs, dead starfish – nope. Hands stay in pockets (figuratively speaking).
Leave No Trace – Duh. Bubbles are alright though.
Maintain Good Buoyancy Control – It'll keep you from accidentally touching anything or using the reef to stabilise yourself.
Don't Feed the Critters – No matter how much that turtle gives you it's sad-hatchling eyes.
Travel With a Reusable Water Bottle – Yup, and keep Poseidon's nostrils clear from plastic pollution. The Grayl Geopress is not only a water bottle but acts as a purifier too.
Overall, just be cool to Mauritius. As my mate told me, even in the last 5 years you can really notice the difference. Boat and human activity in Mauritius's waters has led to a real drop-off in coral and wildlife.
Hey, silver linings though! Mauritians in the diving scene are becoming increasingly aware of environmental impact and there are even sweet restoration projects going on. Take a little piece of coral here, plant it here, sprinkle a bit of love, let it do its thing… it's underwater permaculture!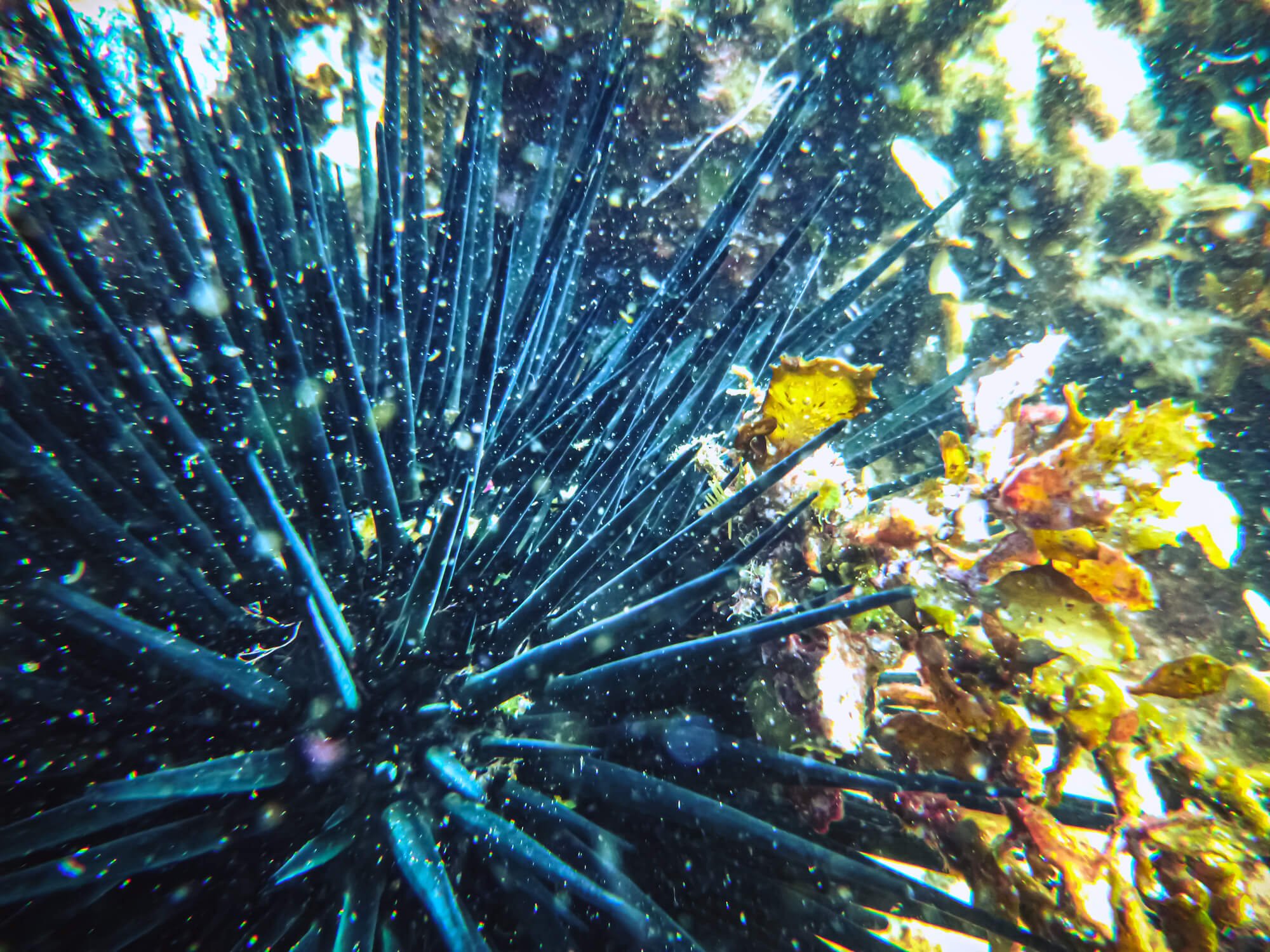 Beginner to Expert: Mauritius Scuba Noob to Scuba Dude
From zero to hero. Loser to bruiser. Snorkeller to badass roti-munching rum-swilling Mauritian diver!
Let's say you catch the bug. No, not that bug! The diving bug!
Well, then you're gonna need to keep diving. The divepadawan must become the divemaster. Certifications, liveaboards, you'll probably have to sign some forms or something – ugh, I know, right?
Well then, you better suit up cause I've got the tips to put hair on your chest irrespective of your personal feelings of gender identity!
On Dive Certifications Required for Mauritius…
So, certifications for diving is another deep-dive topic (heh) in of itself. Suffice to say, for a number of the more technical or deeper dive sites in Mauritius (including a bunch on this list), you'll need appropriate training and the certifications to prove it.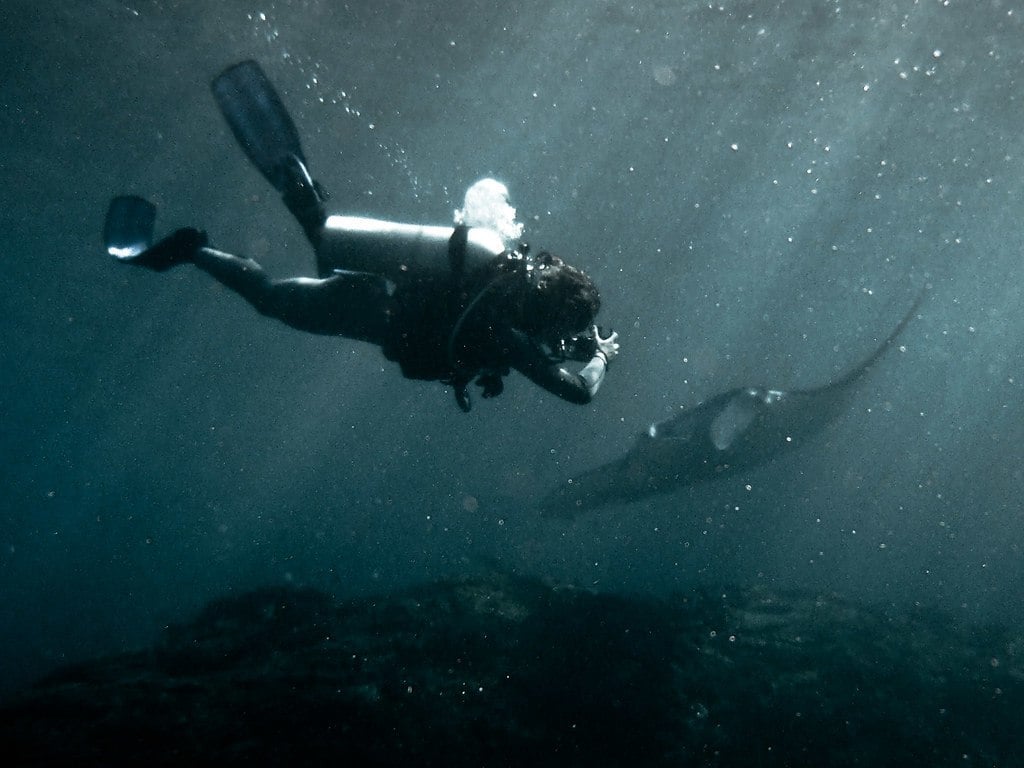 Mauritius's many dive centres are managed by CMAS and PADI and follow their respective course certifications. They also all offer the respective courses for getting certified, but this is where the cost of diving in Mauritius really starts to wear.
Just a PADI-Certified Open Water Course alone is going to cost you in the realms of 15,000-20,000 rupees. More advanced or speciality dive courses are going to be priced comparably. It's better to get certified in a cheaper part of the world and travel to Mauritius when you can skip to the real goodies.
Mauritius Dives and Beyond
Perhaps, after some mesmerising aquatic journeys in Mauritius, you decide that diving is what you live for. Some people go to Mauritius to conquer mountains, some may even see the moon, but you live for what's below the surface. If only there was some way I could live aboard a ship, onsite, and wake up – ready to dive!
Hmm, well, there are liveaboards… Get it? Live aboard… Personally, I think it's a terrible name – sounds like 'liver-board' – but that's what they're called and that's what we're sticking with!
Liveaboards are like sea-bases: you live on a ship on or close to some of the best diving destinations in the world, wake up, dive all day, go to sleep – eat, sleep, dive, repeat! It's like rock climbers dirt baggin' except usually your living is pretty swanky (and the feeds are mean too).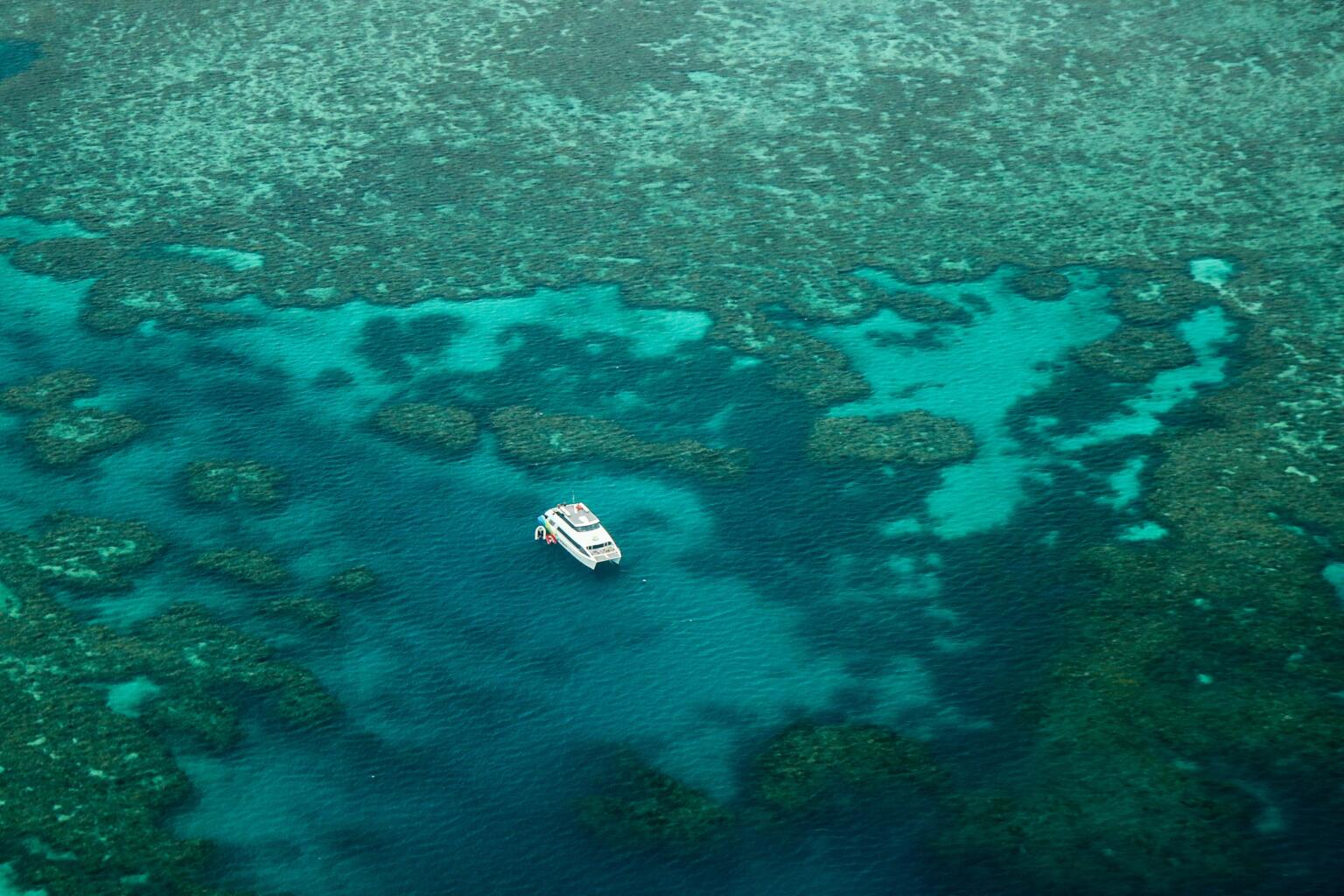 If you wanna get involved with liveaboards right now, check out the conveniently named liveaboards.com. There are lotsa choices for lotsa world-class diving destinations but not for Mauritius so soz.
Alternatively, check out ma man Alex's work on rounding up liver-boards on divingsquad.com. He's the unending fountain of wisdom on anything and everything scuba.
The Best Places to Dive in Mauritius: Recap
A quick recap, a round-off, and we're out! So, do you remember the best dive site in Mauritius for you?
For…
Where to Go
Best Dive Sites/Areas
Beginners
Flic en Flac, Belle Mare area, Grand Baie/Trou aux Biches
-Aquarium
-Coral Garden
-The Tube
Choice Wrecks
Le Morne, Flic en Flac, Trou aux Biches
-Hoi Siong No. 6
-Stella Maru Wreck
-Water Lily and Emily Wrecks
Crazy Topography
Flic en Flac, Trou aux Biches, Round Island
-Snake Reef
-Blinders
-Blanc Rouge
Hectic Divers
Flic en Flac, Coin de Mire, Ile Plate
-Cathedral
-Carpenter
-Shark Pit
Full-Power Beautiful
Rodrigues
-St Francois Pass
-La Grande Passe
-Canyon
Time for that Diving Holiday in Mauritius!
You're free – go forth young divepadawan! Mauritius's many exquisite dive sites are waiting for you and your gregarious flippers.
This is a nice scope of what to expect diving in Mauritius, and it's a pretty sweet spread too. Beginner divers can seek out the chill lagoon waters of Mauritius's east or the frequented dive schools at Flic en Flac or Grand Baie (Trou aux Biches is nicer). The experienced divers? Well, you guys get heaps to play with from stunning colours to complex structures and multifaceted topographies!
Also, there area lot of wreck dives. There are way more wreck dives in Mauritius then I mentioned here – like more than 100 or something ridiculous. I guess it was cyclone season…
Overall, it's just a real good time. Crystal blue waters and surreal dreamlike underwater landscapes followed by baguettes, curry, and rum. French-Indian-pirates bring the goods!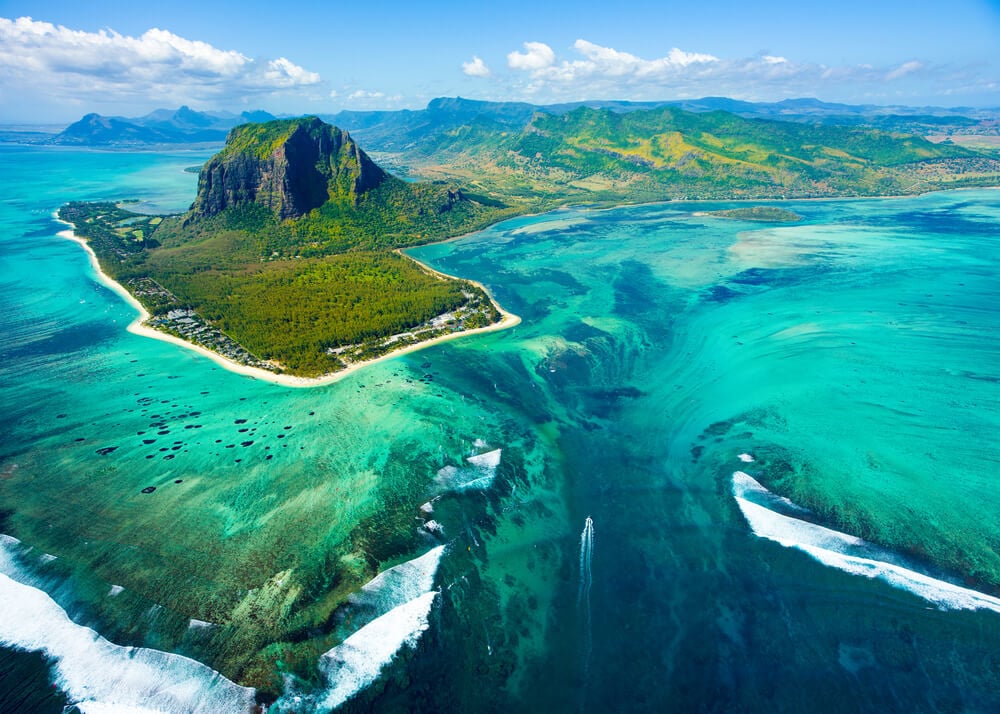 ---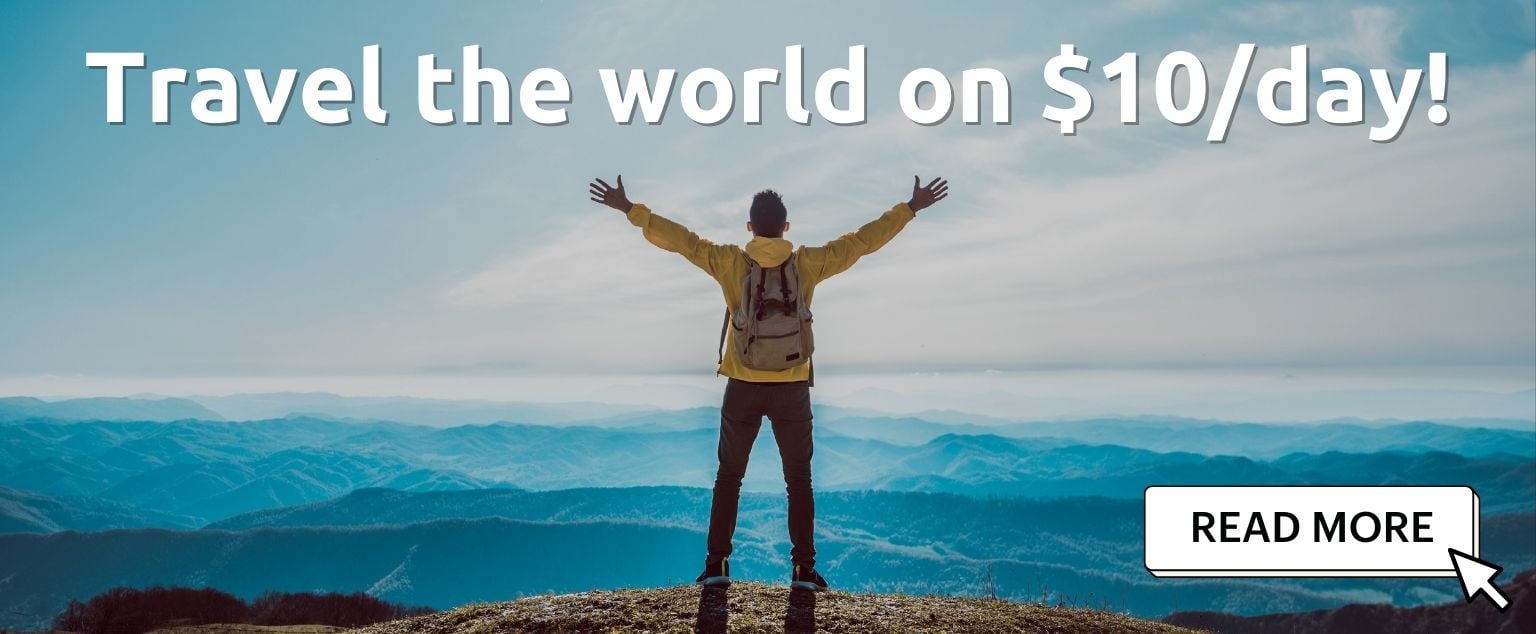 And for transparency's sake, please know that some of the links in our content are affiliate links. That means that if you book your accommodation, buy your gear, or sort your insurance through our link, we earn a small commission (at no extra cost to you). That said, we only link to the gear we trust and never recommend services we don't believe are up to scratch. Again, thank you!