Mauritius is a little country with a lot to offer. Turn a corner, there's something pretty. Catch a bus, prepare to watch the sky. Stubbed your toe?
At least you have a beautiful background as you madly hop around screaming bloody murder!
Suffice to say, there a tonne of beautiful places to visit in Mauritius, and any number of them could be considered "best". Of course, as has become something of a reoccurring theme with my Mauritius content, there are places that are mega-touristic and spoonfed to the people that are travelling to Mauritius, and then there are those that aren't.
So this list has a bit of both because balance is good! I'll cover a few of the most major tourist spots on the Mauritius island, however, perhaps not as many as you'd find elsewhere on the internet. That's cause I just had to dedicate some wordage to a few other mean spots around the island. Peaceful quiet places just built for lazy days getting work done, talking some smack, eating some local bites, and max chillin'.
Does that sound like a good day? If it does, you're my kinda person! Ready? Let's go check out some of the best places to visit in Mauritius.
Ready for that nicely balanced list? Let's cut to the main serving of today's course because this dirtbag is hungry!
From Mauritius's honeymoon places to its famous places and the peaceful ones, let's take a tour of the island.
#1 – Mahebourg – An overlooked place to go in Mauritius.
We're starting off the list of places of interest in Mauritius with Mahebourg purely for its location – 10 km from the airport! Granted, the island is small enough that you could travel to any place in Mauritius straight after landing. Mahebourg gets overlooked though, so let's show it some love!
Why it's awesome: Though not as old as the capital Port Louis, it's still a really pretty city. It's got a much more local feel both for the reduced amount of tourists and development when compared with Port Louis. It's also perched in a perfect spot on the south-east coast and surrounded by some more of Mauritius's handsomely attractive places.
What to do there: Straight up, you gotta go to Coin Casse Croute and get yourself a mine bouille (Sino-Mauritian boiled noodles). Specifically, a seafood mine bouille. What kinda seafood? I dunno but holy sweet halim that's a mine bouille that knows just how to treat my tastebuds!
Other than that, the Mahebourg Waterfront is crazy pretty! If you've just landed, this will be your first taste of Mauritius's twinkling turquoise waters.
Lastly, for a bit of outside-the-city exploration, there are peaceful fishing villages scattered around outside Mahebourg, Lion Mountain towers over the coastline and is a prime place in Mauritius for some day hiking, and Blue Bay just outta town is the beginner course in those exquisite white and blue beaches.
Sidenote: Although there are some great places to stay Mahebourg, it's equally viable, and maybe even preferable, to stay at Blue Bay (by the ocean) and take day trips into Mahebourg and the surrounding areas. That does mean you can't eat that mine bouille three times a day though… hmm…
#2 – Port Louis – Sleepy city number two and the capital of Mauritius.
The laid-back capital city of Mauritius. It's quiet and there's not a lot going on; it's bustling when the school kids get out, drops off after sundown, and I love it for that. This ain't no Asian metropolis – this is city life done slow island style!
Why it's awesome: Honestly, it's just a nice place in Mauritius to visit. It's not hectic or crazy; it's a pretty port city with some crowds but nothing major. There's cheap local city eats around (amazing, considering Mauritius can be quite expensive) and some old-style colonial architecture mixed in with the modern trimmings. This isn't the best place to visit in Mauritius nor the most stunning – backpacking in Mauritius is always going to be about those serene natural attractions – but I like it!
What to do there: Much like Mahebourg, a walk along the Port Louis Waterfront is a pleasant stroll. Les Jardins De La Compagnie, a small but stacked garden, is equally tranquil.
As for a historical place in Mauritius, Aapravasi Ghat World Heritage Site has got the important education on Mauritius's slavery-based and colonial roots. Plus, it's free! That's a strong recommendation.
Otherwise, to be honest, I never visited Port Louis much except for when I had some errands to run and felt like a little explore. Even for a place in Mauritius to visit at night for a spot of partying, Port Louis is not your best bet. It's sleepy in every sense of the word.
Check out Chapeau La Paille for a dank and delicious dahl puri (like a roti burrito but different). Local bus stop eats just get better.
#3 – Flic en Flac – Top of Mauritius's tourist places to visit.
Can I call Flic en Flac the tourist capital of Mauritius? I dunno, but I'm gonna do it anyway. It's fully built for the tourist-in-Mauritius life. If that's what you're looking for, this is where to go in Mauritius without a shadow of a doubt.
Why it's awesome: Look, it's certainly not my vibe. Flic en Flac has exploded and it's not necessarily a pretty explosion: it's more like a grotesque explosion with shrapnel and disembodied swimsuit bods flying everywhere. Developments, apartment complexes, high-end resorts, and souvenir shopping paves the way in Flic en Flac.
All that said, it still definitely makes the shortlist of the most beautiful beaches in Mauritius. Besides, when is a BBQ at the beach ever not awesome!
What to do there: Pack for the beach because it's beach resort town things! Eat some breakfast, go for a swim, work on your tan, fall asleep in the sun and regret your life choices later… There's also some proper good snorkelling and diving spots in Flic en Flac so that's a nice bit of something to break up the nothing!
For the beach holiday thing, it's still one of the best places to visit in Mauritius with the family. Maybe, just not so much for the travellers. With a whole host of restaurants, clubs, casinos, and all the other jazz (Flic en Flac is arguably the top party place in Mauritius for more mainstream events), you'll spend a lot of money while seemingly not doing a lot of anything.
Shoutout and reminder: As Mauritius's tourism has exploded, bad practices have crept in, particularly in Flic en Flac. There are a number of beachfront resorts and hotels in Flic en Flac that now have private beaches, off-limits to everyone including the locals. Stay somewhere cool; don't stay somewhere gross.
#4 – Poudre d'Or – A peaceful place in Mauritius – my favourite.
If Port Louis is sleepy, then Poudre d'Or is comatose. A fishing village on Mauritius's north coast and just an exquisitely quiet place to visit. Nothing ever happens in Poudre d'Or.
Why it's awesome: It really feels like you've abandoned all sense of Mauritius's various tourist spots. There are a few local shops in town that shut down early, one snack that stays open late so people can get their takeaway munchies (down the road from the mosque), and the locals still gather at the village hall to watch the community television at night. The simple village life awaits.
What to do there: Shit all! It's sweet glorious village life. A little bit of aimless exploration is the name of the game. (There's a creepy-ass ghost house on the point which definitely needs to be enjoyed.)
It's a good base for visiting a few other places in Mauritius's north. Pamplemousses has the rather charming Sir Seewoosagur Ramgoolam Botanical Gardens and is good for a nice day trip. Otherwise, Grand Baie and Grand Gaube nearby are two extremely beautiful places to visit in Mauritius… which is exactly why they're the next two entries on the list!
Oh, and there's a ten-outta-ten friendly roti man near the bus stop on the west side of the waterfront.
#5 – Grand Baie – Another tourist-favourite place to visit in the north of Mauritius.
I'm not a fan of Grand Baie vibe-wise per se, however, it is undeniably exquisitely beautiful! If nothing else, it's a must-see place in Mauritius though not necessarily a must-stay one. Unless you like your remote African island with resorts and casinos, of course.
Why it's awesome: Much like the Blue Bay twinkling turquoise introduction, Grand Baie brings more of the white sand and shining water, though maybe with a touch more green in the palette. Front-and-centre is painfully touristic but the good thing about Grand Baie is that it's a grand… bay! There's more than one spot around.
What to do there: If you are looking for the Mauritian tourism thing, Grand Baie provides; casinos, activities (mostly of the aquatic variety), shopping, clubs, etc… it's all there. Grand Baie is another of Mauritius's must-visit places for diving too.
To be totally fair though, you'll probably be doing a fat lot of nothing on the beaches… which is good because that's where Grand Baie truly shines! The main beach in the centre is, again, eh, but it chills out if you walk further along.
Pereybere is another hit with the tourists, as is Mont Choisy on the other side. La Cuvette is a bit more tucked away though calling it a Mauritian hidden gem is reaching. For a nice balance between the majestic well-frequented beachness and the lovely localness, head to Trou aux Biches (pronounced True Ox Bitches if you're a hipcat).
Oh, for food, yeah, sod the fancy restaurants! Hunt around for Ti Kouloir Snack for a mean boulette (dumplings) and mine bouille. It's not on Google Maps; you'll have to find it the old-fashioned way!
#6 – Grand Gaube – The perfectly chill alternative to Grand Baie.
Too many dicks. Some might call them sea cucumbers but semantics be damned! They're booby-trapped penises on the seafloor and when I step on them, I want to go back to Australia with the snakes and the crocs. Ugh.
Why it's awesome: Well, it's not for the sea penises! (Unless you're into that sorta thing.) That's kinda the payoff you have to make though: Grand Gaube has all of the sensual charm of Grand Baie without any of the emotional availability issues. Gorgeous scenery and much less touristed.
What to do there: I dunno, man; it's another beach. You know how beaches work – you got dis!
Actually, I do got something super cool for ya! You'll see a mountain on an island close to Grand Gaube – Gunnar's Quoin/Coin de Mire. Go climb that sucker.
You'll need to seduce a local fisherman with your wily bartering charm (and rupees) to get you out there (AND BACK AGAIN), but it certainly makes for a much more unexplored place in Mauritius! Oh, and go get a mine frite (fried noodles) from the blue shack on the waterfront.
#7 – Le Morne Brabant – Hiking, beaches, a yummy mountain: one of Mauritius's beautiful places with a bit of everything.
Down on the southwest coast is Le Morne Brabant and the Le Morne peninsula… and it's pure awesome! It's like taking all the best bits of Mauritius and putting them in one sexy spot. Le Morne Brabant is easily one of the most romantic places in Mauritius if you like romancing geographic locations: sweet, seductive, and slow-dancing its way right into your heart.
Why it's awesome: It's a perfect balance between the tourist/expat feeling of the west coast and the slow-tempo fishermen village life of the south coast. You get twinkling wide beaches and luscious forests to the shore. There are vibrant sunsets and dank munchies. There's ganja around (shh) and one bang-on sexy mountain with curves in all the right places backdropping the whole thing.
Le Morne is like being served a platter with doughnuts, pizza, joints, and celery for the vegans. Everybody's happy!
What to do there: Climbing that mountain for sunset is a helluva start! It's actually a UNESCO World Heritage Site and a rather substantial historical site in Mauritius.
The beach is another solid choice. Le Morne is one of the best places in Mauritius to go for kitesurfing (fishing too).
It's also just a perfect base for exploring the south coast. You can venture along east for the wild south feels, or up north you'll find Chamarel, Black River Gorges National Park, plus a tonne of other good bits. Just get out and explore!
Tourists tend to head to the part of town north of the peninsula or on the peninsula itself. For maximum prettiness, the peninsula is where it's at, but I really dig the village south of the peninsula on the coast. It's much more local and just has really good vibes.
#8 – Mauritius's South Coast – The Wild South.
The south is dope and a criminally overlooked place to visit on the Mauritius island. Wider, emptier, a bit rougher, and just a bit further feeling away. Absolutely give the south of Mauritius a bit of attention; it's one of the best things you can do in Mauritius if you ask me. It would be a shame not to soak it up!
Why it's awesome: There are sandy beaches on Mauritius's south coast, but you'll also find the wild beaches. Rocky shorelines flourishing with critter life and mercilessly hounded by some hectic swell. A little bit of exploration in the south – on and off the coast – always seems to offer some dope new spot or waiting secret. Also, the people are crusty yet friendly – yay!
What to do there: Camping. There's not even a question about it. Pack your gear and essentials because there are so many top places to camp on Mauritius's south coast!
Both Maconde Beach and Benares Beach are cool places to visit in Mauritius's south and ripe for some beach camping. There are waterfalls and hikes too; even just walking the coast and cliff lines, though perhaps requiring a bit of bushbashing, makes for an excellent hike.
You could opt to base yourself in Souillac – it's a busy town and pretty central on the south coast – but honestly, the joy of the south coast is the sparseness. There are quaint little villages along every stretch. It may not offer the full feeling of being lost but the south of Mauritius is definitely one of the best places to visit for a bit of adventure!
#9 – Mauritius's Mountains – The beautiful natural attractions of Mauritius with that wonderful isolated goodness.
From pretty much anywhere you go sightseeing in Mauritius, there'll be a mountain hovering above. Island mountains, beach mountains, mountains skirting the cities – it's that sweet sweet isolated peak goodness! Do you believe in mountains?
…I do.
Why it's awesome: Dude… it's a mountain! Beaches are cool and all, but they're also super lame and boring. Mountainfolk are where it's at!
The mountains in Mauritius are not exactly world-famous trekking places. They all cut unique shapes with yummy faces and boulders (there's not a strong rock climbing scene, so I guarantee that there are some waiting-to-be-discovered routes), however, none of the peaks exceed 900 metres. They're perfect for a day hike for when you need to burn off those newly gained mine bouillie love handles.
What to do there: Climb dem suckers! Most of the mountains in Mauritius have a trail, even if it's tough to find or require venturing through some private land to reach. Like I said, they're short but sweet day hikes suited for beginners – with some exceptions – to sweat it out and be rewarded with an island panorama (isolated peaks and small islands are a knock-out combo).
They're also ripe for camping. They're not so high that it's a harsh night's sleep. In fact, in the midst of a summer humidity, they're probably the best place to go in Mauritius for a good night's sleep.
But you didn't tell us where to go in Mauritius for some mountainous fun!
Yes, I did, right here in the Mauritius hiking guide! Wam, bam, you're welcome, madame.
#10 – Mauritius's Waterfalls – More places for hiking in Mauritius with the option of cooling off!
You get a mad hike but then you get to finish it with a dope swim: they're places to see in Mauritius with the best of both worlds! There are actually a metric shitton of waterfalls in Mauritius and a lot are pretty spectacular too. Some are secret and hidden – just waiting to be discovered – while others are super popular and for good reasons.
Why it's awesome: Well, they're waterfalls! There's water and its falling… it's pretty simple really! Waterfalls are excellent fun.
What to do there: Not all the falls require some hiking. There are plenty of waterfalls that are easily accessible… but that's boring! The best waterfalls need to be earned.
A top recommendation to check out is Sept Cascade (Seven Waterfalls). As the name implies, you get seven for the price of one! And the price is $0 – oh yes. I do, however, recommend starting the hike from the opposite end to most of the tourists (so you're walking uphill facing the falls); you'll have to check out the aforementioned hiking guide for this.
Waterfalls are excellent and one of the best places for couples to visit in Mauritius! Couples seem to love waterfalls. You get to hang out with your partner while they're wearing minimal clothing, all wet and slippery, while in the middle of a gorgeous forest… Dammit, I think I need to go jump off a waterfall now.
#11 – The Beautiful Beaches of Mauritius – Duh.
If you're taking a trip to Mauritius, you're probably already cognizant of the presence of some bombshell beaches. That's kinda what Mauritius is famous for. Well, that and the Mauritian rum. Ooh, rum and beaches – holiday set!
Why it's awesome: So goddamn pretty! We're talking squeaky white sands, lagoon-like waters, and the feeling of looking through an impressionist's colour-saturated mind's eye. Actually, that's a lie – no painter could ever accurately capture these motherfuckers.
What to do there: I've already touched on a bunch of the beach goodness, but that's barely scraping the surface. I'm pointing you to the guide on Mauritius's best beaches that I wrote because it's a hefty subject.
The beaches are easily the best places to visit in Mauritius on a honeymoon by sheer virtue of that seems to be why all the honeymooners travel here. Holding hands, swimming together, applying each other's sun lotion – bleh! Where is the adventure!
There are a bunch of water activities on Mauritius's beaches too, and a bunch would also be considered adventure activities. Diving, surfing, kitesurfing, burying yourself above the eyeballs and seeing how long you can last before you pass out – it's a real good time! Just take the time to break away from Mauritius's tourist beach places.
There are a lot of beaches.
#12 – Grand Bassin (Ganga Talao) – A historical place to see in Mauritius.
Grand Bassin, or Ganga Talao, is another historical site in Mauritius and one with reverent importance to the Mauritian people that still hold to their Hindu origins. Once a year, sometime in February, Maha Shivaratri takes off and Grand Bassin still receives the proper Indian treatment… much to the dismay of many non-Hindu folks on the island.
Stop with the drums – I'm trying to sleep!
Why it's awesome: So, Grand Bassin is a crater lake; it's not super impressive if we're strictly speaking its scope, however, it is pretty. The 33-metre-high towering statues that greet you (Shiva and Durga Maa) at the lake are certainly things that it's hard not to see in Mauritius too!
What to do there: Wander around and check out the various temples and the lake; the Hanuman temple on the hill offers a sweet view on a clear day (potentially as far as Reunion Island). The real time to visit Grand Bassin is on the aforementioned Maha Shivaratri when people – particularly of Hindu background – make barefoot pilgrimages from across the island to the lake blaring speakers and dragging their ornate kawar. Much like India, Maha Shivaratri used to equally be the pilgrimage of stoners but alas, times have changed in Mauritius.
Why it's awesome extended: Initially, I wasn' too enamoured with Grand Bassin – it was just a pretty Hindu lake. But as I spoke to people, particularly of the older generation, my feelings changed.
Grand Bassin has a number of folk tales and legends to connect it to Shiva, the Ganga, and Mama India. When the Indians were taken from their home and brought to Mauritius by the British, they risked losing their cultural identity and connection to their ancient heritage. Grand Bassin gave them a connection. I heard stories that gave me goosebumps.
The history of Mauritius really isn't so old; two to three generations back and you've already hit slavery (sorry, "indentured labourers"). My friend's great-grandmother knew the man who discovered Grand Bassin and was focal in many of those legends surrounding the place. Taking some time to learn about Grand Bassin gives a window into Mauritius's history and cultural roots, at least regarding the Indian heritage aspect. For that reason, it's both a very interesting and important place to visit in Mauritius.
#13 – The Underwater Waterfall – Oh yes, that's a must-see place in Mauritius.
How many times in your life have you seen an underwater waterfall? I'd hazard a guess that the number is pretty low! Those pesky universal physics are always getting in the way of shit like that. If you're looking for a unique place in Mauritius that you won't find anywhere else in the world, it may be worth considering forking over the cash for this one.
Why it's awesome: Well, it's certainly a very famous place in Mauritius to visit! Let's talk about the elephant on the island though: it's actually just an optical illusion (caused by the movement of sand on the seafloor). It's definitely an optical illusion worth suspending your disbelief for though because dat shit be tight! Expertly beautiful.
What to do there: The underwater waterfall is a place to visit in Mauritius's south – off the coast at Le Morne. There's no way to see it without paying for a helicopter tour (or flying your own). You could also snap some pics with a travel photography drone, but I'm not so sure that counts…
What to do there? Well, you look at it and softly coo I suppose. It's also probably also another romantic place to visit in Mauritius on a date… provided you're not secretly conspiring to push them out of the chopper, of course.
#14 – Black River Gorges National Park – A place in Mauritius for a more unexplored feeling.
There's no deep spiritual connection to the motherland here! Just sweet baby Shiva nature shenanigans. Plus a shitton of birds!
Why it's awesome: Dude, it's nature! Rolling gorges of green forests sounding with birdlife and the rivers and waterfalls weaving within. From up high, the views are magnificent taking you right to the stunning blue coastlines.
Honestly, there's not much else to say. It's just a must-visit place in Mauritius for those that like trees and a strong absence of power outlets.
What to do there: Hike! Yup, that's it. Maybe pack a picnic too.
Plenty of Mauritius's hiking trails are in Black River Gorges from the moderate to the ass-kickers. If you're looking for just one recommendation, do the Macchabbe Trail. It'll give you a nice all-rounder taste of the park's offerings at a medium spiciness and with plenty of opportunities to see some critters too!
#15 – Rodrigues Island – A point of interest even teeny-tiner than Mauritius.
The smallest of the Mascarene Archipelago (Mauritius being the middle-man), Rodrigues is a top attraction in Mauritius and absolutely a must-see place considering you came all this way. Reaching Rodrigues is easy but costs ya. The ferry from Mauritius to Rodrigues leaves bi-monthly (give or take) and the price of a return ticket is maybe half the cost – $120ish vs. $230ish.
Why it's awesome: Slow, sleepy island life just got simpler. It takes the smallness of Mauritius and squeezes it down like a juiced orange (with pulp, of course). Stand on a hill and you'll be able to see coast to coast. The people are hella chill too!
There's a heap of wildlife – some rare and endemic species too – and the fruit is bountiful. They even have there own exclusive lemon! What's it taste like? Well, it's bitter and sour… so kinda like a lemon!
What to do there: Camping for sure, monsieur. Taking a cheap camping tent for a weekend on the beach is a time-honoured Rodrigues tradition. Plus, you know, it's free.
Otherwise, just soak up the local life. That's not to say there aren't plenty of things to see on Rodrigues Island – it's mega-pretty (there are even better diving sites too) – but you could probably walk around the whole thing in a couple of days…
So instead, make some friends! Eat at the local markets, meet some mates camping on the weekend, smack their booties in a friendly game of chess. It doesn't get much simpler than the tiny island life so just take it slow.
#16 – Reunion Island – Technically not a destination in Mauritius, however…
If you wanna discuss the differences between Reunion Island, it's going to be a more nuanced discussion. Mauritius and Reunion – the Papa Bear of the Mascarene Archipelago – has a similar historical and cultural base: French colonialism rooted in slavery, French-based (albeit different) Creole language, bangin' munchies…
The big difference is that Reunion is still very much a part of France. It's an overseas territory, so you'll need a different visa (a Reunion Visa, not a French one). So while this may technically not an attraction in Mauritius, it's certainly one of the best places to visit from Mauritius.
Why it's awesome: Reunion has got all the natural splendour of Mauritius's many beautiful places: honeymoon beaches and verdant greenery spreading far. There are some added bonuses too, however.
Geographically, Reunion tops out to some pretty devastating ranges in the middle; Piton des Neiges the highest point in the Indian Ocean actually! Plus an active volcano… that regularly erupts! If you're looking for some properly crazy adventurous places to visit in Mauritius, you may want to consider switching islands…
Oh, and the weed is cheaper and considerably less illegal! Boom Shiva.
What to do there: Honestly, pretty much anything you were planning on doing when travelling to Mauritius. Reunion is like a sabbatical getaway island of paradise for the French Fryers. It's more slow-moving island life, an osmosis of some serene beauty, and a gentle feeling of escaping the planet's continental chaos.
I.e., do nothing.
Get insured before hitting up all the best places to visit in Mauritius!
ALWAYS sort out your backpacker insurance before your trip. There's plenty to choose from in that department, but a good place to start is Safety Wing.
They offer month-to-month payments, no lock-in contracts, and require absolutely no itineraries: that's the exact kind of insurance long-term travellers and digital nomads need.
SafetyWing is cheap, easy, and admin-free: just sign up lickety-split so you can get back to it!
Click the button below to learn more about SafetyWing's setup or read our insider review for the full tasty scoop.
Look, despite the whole "Africa is scary" shizz-bizz, Mauritius is still a very safe place to visit. Clean, bloodthirsty beast-free, and quite probably a lower sociopath-per-capita ratio than Western Europe. Or the States… Maybe not Canada though.
All the same, no backpacking packing checklist is complete without travel insurance. It's mega-important!
What if you twist your ankle having a slow moonlit honeymoon walk down the beach with your lover? Well, then it's honeymoon over! Now your lover hates you and is dumpin' yo sorry ass for the sexy mailman you always distrusted.
Always consider travel insurance before ANY trip.
Find out what people want to know about the best places to visit in Mauritius
Mmm, that's certainly a list of some amazing places to visit in Mauritius. Hell, one's not even in Mauritius! It still only scratches the surface though.
Mauritius does really bring the goods and you don't have to look hard to find them. That said, the harder you look, the more you'll find.
Mauritius still seems to have plenty of hidden gems that even the locals are still discovering. Considering its size, that really speaks volumes as to how much excellence is bursting from the seams here. That's why I implore any visitor travelling in Mauritius to properly look.
Soak dat shit up because it's so damn tasty: it's like a Mauritian roti burrito floating in the Indian Ocean waiting to be munched. Munch dat shit!
Ask around, make some local friends, and see how awesome Mauritius truly is – and how special and unique its roots are – when you break away from the overdeveloped beaches with expensive restaurants lining them. Besides, there are plenty of secret beaches too.
So go find 'em.
---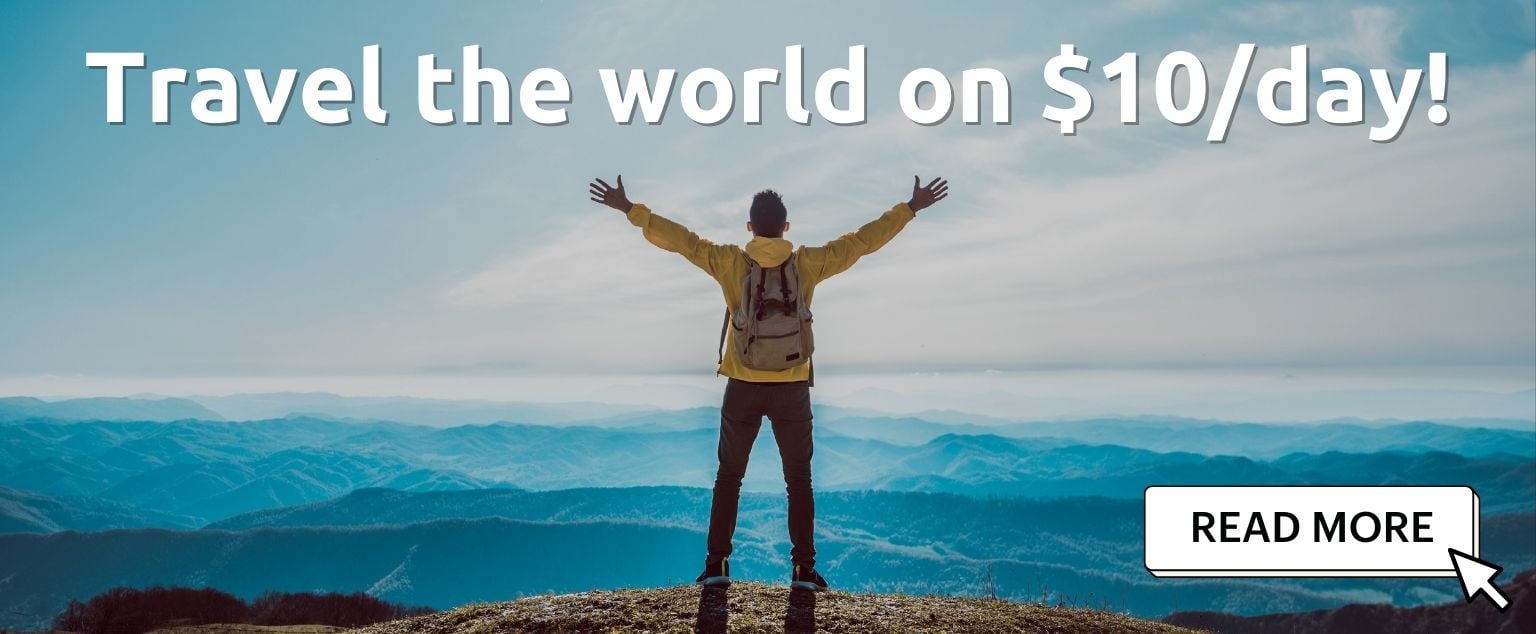 And for transparency's sake, please know that some of the links in our content are affiliate links. That means that if you book your accommodation, buy your gear, or sort your insurance through our link, we earn a small commission (at no extra cost to you). That said, we only link to the gear we trust and never recommend services we don't believe are up to scratch. Again, thank you!