I'd never even heard of Mauritius until I was deeply entrenched in the backpacker world. But if you're reading this, chances are you're thinking about taking a trip there. I'm here to tell you this is an excellent decision.
How does this sound to you?
Snorkeling and scuba diving in what feels like your own backyard.
Interacting with some of the friendliest and most diverse local people you'll ever meet.
Exploring richly historical buildings and cities.
Sunbathing to the sound of turquoise waves rippling over pure white sand.
Sound good? Then, yeah, you'll love Mauritius!
But here's the problem. Many well-meaning travelers and backpackers don't know how to experience Mauritius like a local—that is, without being price-gouged at every other restaurant and attraction. If you don't know what you're doing, you might end up boarding that plane home scratching your head at where all your hard-earned savings went!
Here's the good news: after reading this article, you will know what you're doing. While Mauritius tends to be a little pricier than some of its other island-nation siblings, you shouldn't rule it out on the basis of cost. As with every other destination in the world, traveling cheaply is simply a matter of know-how.
Is Mauritius expensive? It certainly doesn't have to be.

Do You Want to Travel FOREVER??
Pop your email in below to get a FREE copy of 'How to Travel the World on $10 a Day!'.
So, How Much Does a Trip to Mauritius Cost on Average?
Because I'm a good person and don't want you to have to open a hundred different tabs and create an Excel spreadsheet just to organize a basic travel budget, I've included in this article every basic expense you should expect as a traveler when you travel to Mauritius. This includes:
Airfare
Accommodation
Transportation
Food & drink
Activities & attractions
That being said, please keep in mind I don't single-handedly control the entire Mauritian economy. The prices listed in this guide are estimates—accurate, but subject to change with time.
All prices are listed in USD. But for those who are interested, Mauritius's official currency is the Mauritian rupee. As of February 2023, the exchange rate was 46 Mauritian rupees to 1 US dollar.
Before we get into the nitty-gritty, take a look at the table below to get a general idea of what you should expect to spend on a two-week trip to Mauritius.
2 Weeks in Mauritius Trip Costs
Is Mauritius Expensive

| Expenses | Estimated Daily Cost | Estimated Total Cost |
| --- | --- | --- |
| Airfare | N/A | $1,200 |
| Accommodation | $15–$450 | $210–$6,300 |
| Transportation | $5–$100 | $70–1,400 |
| Food | $10–$120 | $140–$1,680 |
| Drink | $3–$20 | $42–$280 |
| Attractions | $0–$15 | $0–$210 |
| Total (Excluding Airfare) | $33–$705 | $462–$9,870 |
| A Reasonable Average | $75–$200 | $1,050–$2,800 |
Cost of Flights to Mauritius
ESTIMATED EXPENSE: $1,200 for a round-trip ticket
Since Mauritius is a tiny island nation, and since Elon Musk's underground transportation system hasn't panned out yet, you can't exactly drive there or take a train (though you're welcome to try)!
What I'm saying is, to get to Mauritius, you need to fly. And flying can be expensive.
One way to save money right off the bat is to visit Mauritius during the summer months. Peak tourist season is from October to April, so it's just a fact that flights will be the most expensive during these months.
Something that makes Mauritius really awesome in this department is its stable weather patterns. Many countries have high seasons with perfect weather, while the low seasons are either too rainy, too hot, or too cold. Not so with Mauritius, no, sir! Average temperatures range from about 70–80 degrees Fahrenheit across all months, and rainfall is also relatively constant throughout the year. I really recommend you take advantage of this to save money on airfare.
Of course, the cost of flying also depends on where you're flying from. Using Skyscanner, I found these average costs for round-trip flights from the major international centers. You can expect these prices to be higher or lower depending on when you choose to travel:
New York to Mauritius: $1,100 USD
London to Mauritius: £750 GBP
Sydney to Mauritius: $2,200 AUD
Vancouver to Mauritius: $2,400 CAD
As much as I'd like to beat around the bush, it's clear that the airfare to Mauritius is on the higher side. This is just because it's such a small, remote chain of islands, so flying there is not the easiest or most convenient.
You'll generally want to fly in to—get ready—Sir Seewoosagur Ramgoolam International Airport. It's the biggest and cheapest airport and is located right on the main island of Mauritius.
One more thing to note, and then we can move on: you can always try to save extra money on flights by using points if you're a frequent flyer, finding sweet deals, or exploiting error fares. It really just depends on how much time you want to spend looking (after all, they say, time is money).
Price of Accommodation in Mauritius
ESTIMATED EXPENSE: $15–$450 per night
After the initial airfare expense, accommodation is likely to take up the biggest chunk of your travel budget.
Here's one of the biggest money-saving secrets to traveling in Mauritius: although the standard chain accommodations are usually pretty expensive, locally owned guesthouses and hostels can be dramatically cheaper. That is, if you know what you're looking for (which you will, after about three more minutes of reading)!
Before we dive in, here are some basic pointers to keep in mind during your search to figure out where to stay in Mauritius:
As always, hostels or locally owned guesthouses will be your cheapest options. These low prices come at the expense of some level of luxury (but there are also so many amazing benefits)!
Airbnbs vary a lot in price, but you can usually get the most bang for your buck with them. You'll be staying in fully furnished, truly private apartments, some with full kitchens and outdoor areas.
Hotels are your best bet for a luxury, ultra-convenient experience. On the flip side, you may find your wallet emptying itself faster than you can say Sir Seewoosagur Ramgoolam International Airport!
As always, accommodation plays a key role in determining the answer to "Is Mauritius expensive?"
Hostels & Guesthouses in Mauritius
Hostels and guesthouses in Mauritius will cost you somewhere around $15–$25 per night, but keep in mind you can sometimes score discounts if you stay for more than a few days.
When I travel, I almost exclusively stay in hostels or locally owned guesthouses, for two reasons.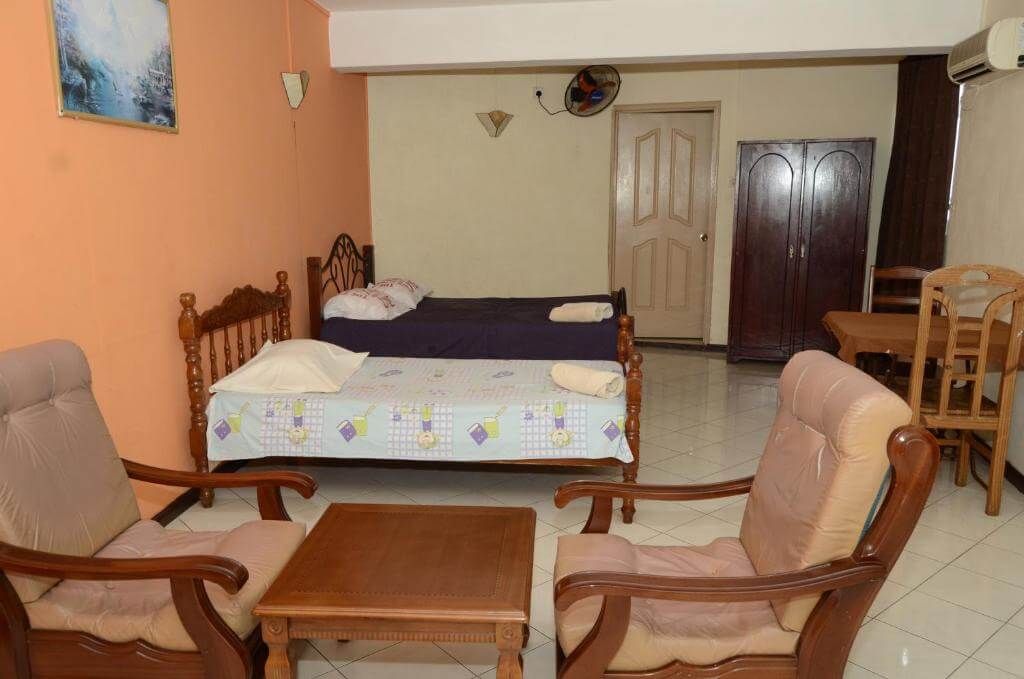 First of all, they're the cheapest. Call me stingy, but I always try to take every opportunity I get to save money. Hostels and guesthouses just always fit that bill the best.
Secondly, it's an experience. At hostels, you'll meet other travelers, while at guesthouses you'll meet mostly locals. Regardless of which one you choose, there's a richness to the relational bonds formed at these places that's rarely found elsewhere. If you stay at a hostel or a locally owned guesthouse, there's a good chance you'll end up making memories you'll never forget!
Below are my top 3 picks for hostels and guesthouses in Mauritius:
Le Bamboo Guesthouse: Located in the southeastern town of Mahebourg, this guesthouse is only a 10-minute ride from both the airport and the beach. It's also within walking distance of downtown.
Dookee House: Only 100 meters away from scores of beaches, restaurants, and shopping centers, Dookee House is Grand Bay's best offer for budget travelers.
Villa Pointe Aux Piments: Three words: cheap, cheap, and cheap! You won't be wondering "Is Mauritius expensive?" here! Though you won't get anything like an inclusive nine-course meal or oil massage, you just can't beat these prices.
Airbnbs in Mauritius
The first thing you need to keep in mind with Airbnbs is that prices vary greatly. This is because Airbnbs can be anything from tiny, single rooms to gigantic luxury mansions. Overall, you should expect to pay something like $50–$200 per night.
Airbnbs are awesome because they're sort of like a mix between locally owned guesthouses and big chain hotels—you get the intimate, local experience of a guesthouse with many of the nice facilities of a hotel. Though generally more expensive than a hostel or guesthouse, Airbnbs are often proportionally cheap given the quality of the space you're getting.
For this guide, we're going to focus on reasonably priced private apartments with amenities like kitchens and laundry machines. Below are my favorite 3 Airbnbs in Mauritius:
Hotels in Mauritius
Hotels are usually the most expensive form of accommodation in any city or country. You should expect to pay $100–$450 per night for a hotel in Mauritius (though it really depends on how luxe you want to go—it's not difficult to find places for $1,000+ per night).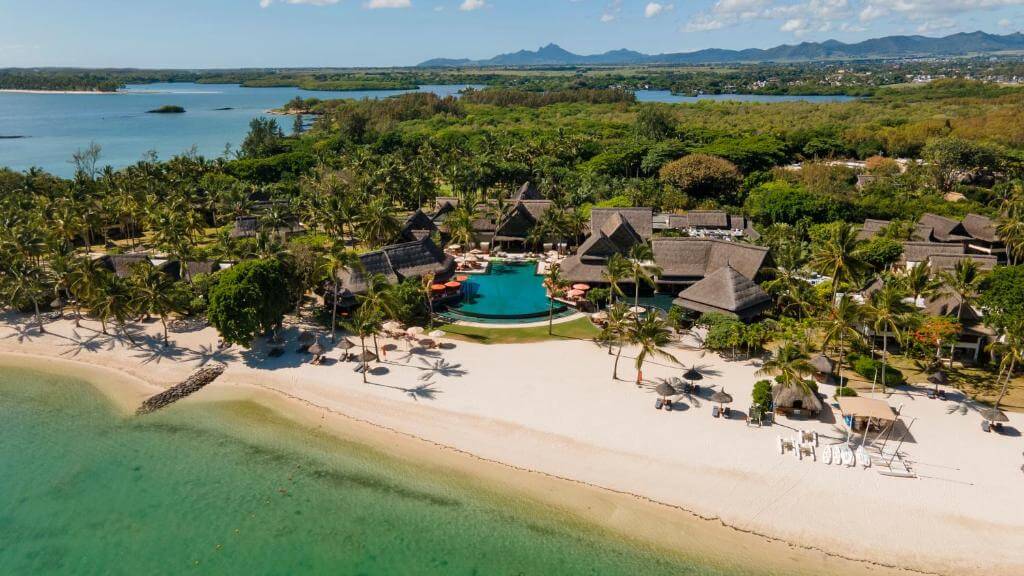 Though hotels can take quite a toll on your budget, it's for good reason—they offer unparalleled convenience and ease of living, with services like housekeeping, laundry, and sometimes an included breakfast.
Though I always prefer staying someplace where I can get to know a country's culture, sometimes you just need to relax and ball out a bit. Whether you stay in a hotel to for one or two nights to break things up, or for your whole trip—I won't shame you for it!
Below I've compiled my top 3 favorite hotels in Mauritius:
Le Mandala Moris: Probably the best mix of budget and luxury you will find anywhere, this hotel is only a 7-minute walk from the beach. It has an outdoor pool and absolutely rave reviews from guests.
Mystik Life Style by NEWMARK: A bit higher up on the extravagance totem pole, this hotel sits right on Mont Choisy beach, complete with an infinity pool, restaurant, and bar.
Constance Prince Maurice: Self-described as a "tropical hideaway," this hotel offers a truly luxurious experience to its guests, including free breakfast, ocean views, and a full cocktail bar.
Is This the Best Travel Pack EVER???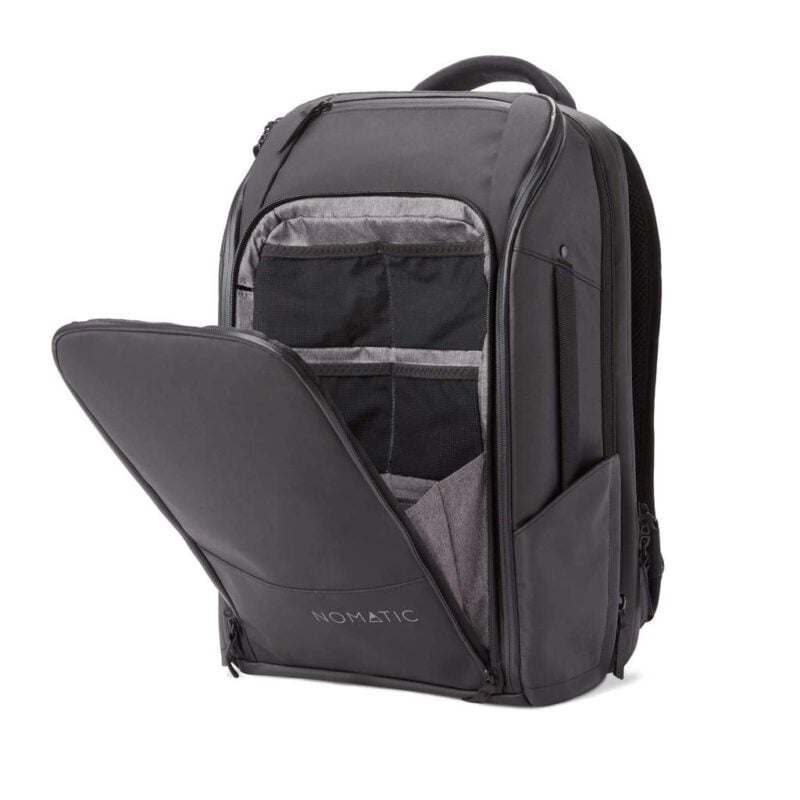 Cost of Transport in Mauritius
ESTIMATED EXPENSE: $5–$100 per day
Transportation is one area where you can save some serious cash in Mauritius. As is the case with all destinations around the world, the cost of transportation here varies depending on the mode of travel. Taxis and car rentals are the most expensive, while public buses and trains are usually very cheap.
There is a huge number of things to do in Mauritius! But since Mauritius is a small set of islands, it's simply not that difficult to get where you need to go. The public transportation system is well-designed and generally easy to understand, as are the taxis and rental-car system.
Train Travel in Mauritius
Mauritius doesn't have a fully-fledged rail system that serves the entire main island. However, the country recently finished the first phase of construction for its new Metro Express. The line runs from Port Louis (the capital city in the north) to Curepipe (a smaller town in central Mauritius). The Mauritian government plans to continually add new routes.
Since it's brand-spanking-new, the Metro Express is comfortable and somewhat scenic, and, assuming your destination is somewhere between Port Louis and Curepipe, it's very convenient.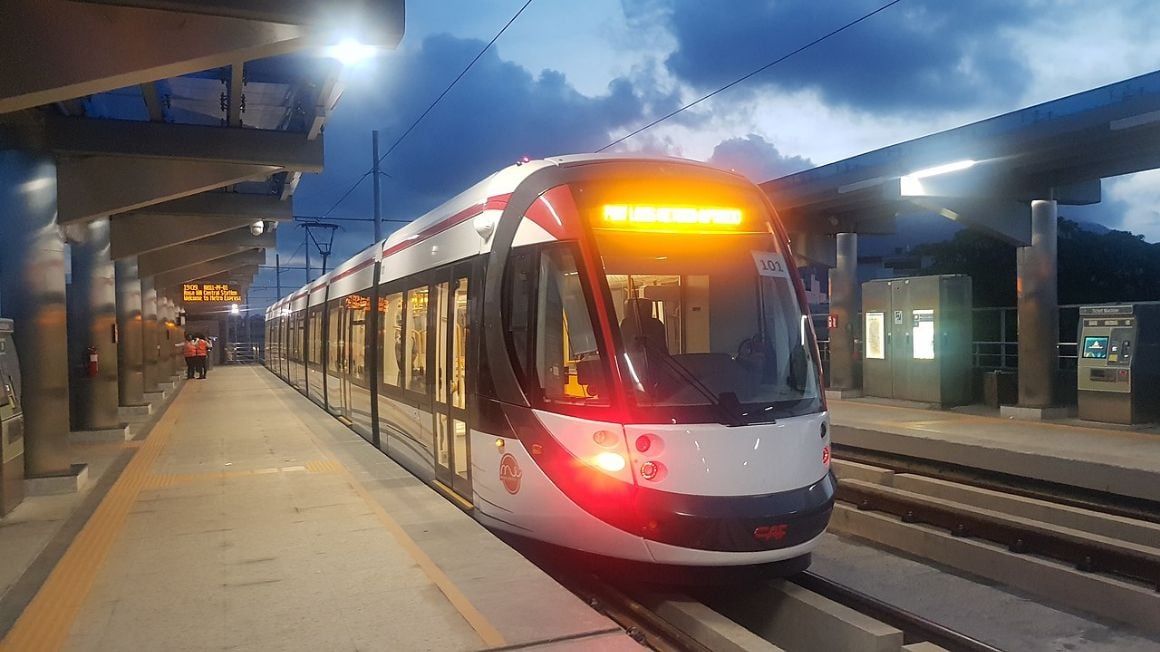 Quite obviously, the only downside is that as of now, you can't access the entire country using only the Metro Express—only the route from Port Louis to Curepipe. For the most comprehensive mode of public transport, you're going to want to use buses (more on those in the next section).
Metro Express ticket prices depend on how far you need to go, but even the most expensive route (from Port Louis all the way to Curepipe) costs a measly $1.20.
If you're going to be traveling the Port Louis–Curepipe route with any substantial degree of frequency, I highly recommend you purchase an MECard. The MECard works like most public transit cards: top up with cash or a bank card at a ticketing machine, use the MECard to pay for fares, and receive a 5–10% discount every time you use it.
Bus Travel in Mauritius
Buses should be your go-to for cheap transportation in Mauritius. Though they can be a tad more expensive than the Metro Express, they can get you pretty much anywhere. The only downside to bus travel in Mauritius is convenience—the buses aren't exactly regular. Due to traffic patterns, they sometimes arrive in clumps, leaving some travelers waiting for 20 minutes or more, while others get lucky and arrive at the bus stop just in the nick of time.
The buses here serve nearly the entire main island but don't expect direct routes. Usually, if you're coming from or going somewhere other than a main city, you'll need to catch two buses. The first will take you to Port Louis or another main city, from where you'll transfer to a final bus.
The mode of payment is pretty old-fashioned—be prepared to pay cash and receive a paper ticket. For the longer, more convoluted routes, you'll be paying around $3–4 in total. For direct routes to or from Port Louis, tickets are only $1–2, no matter where you're coming from or going.
Something you might notice is that Mauritian locals often park their cars at the bus stops and offer rides along the standard bus routes as a sort of side hustle to make extra money. These can be really fun, as you'll have some awesome conversations and may even make new friends! Just be prepared to pay a little more than you would for a bus.
Getting around Cities in Mauritius
Mauritius only has one real city, and that's the capital, Port Louis. Even the capital city is tiny, at only 6% the size of New York City and with only around 150,000 people.
You might think this means that getting around Port Louis will be a breeze—not so, unfortunately. Even though the population is tiny, there's really only one main highway that goes through the city. This means that traffic is heavy most of the week, with Sunday being the least congested.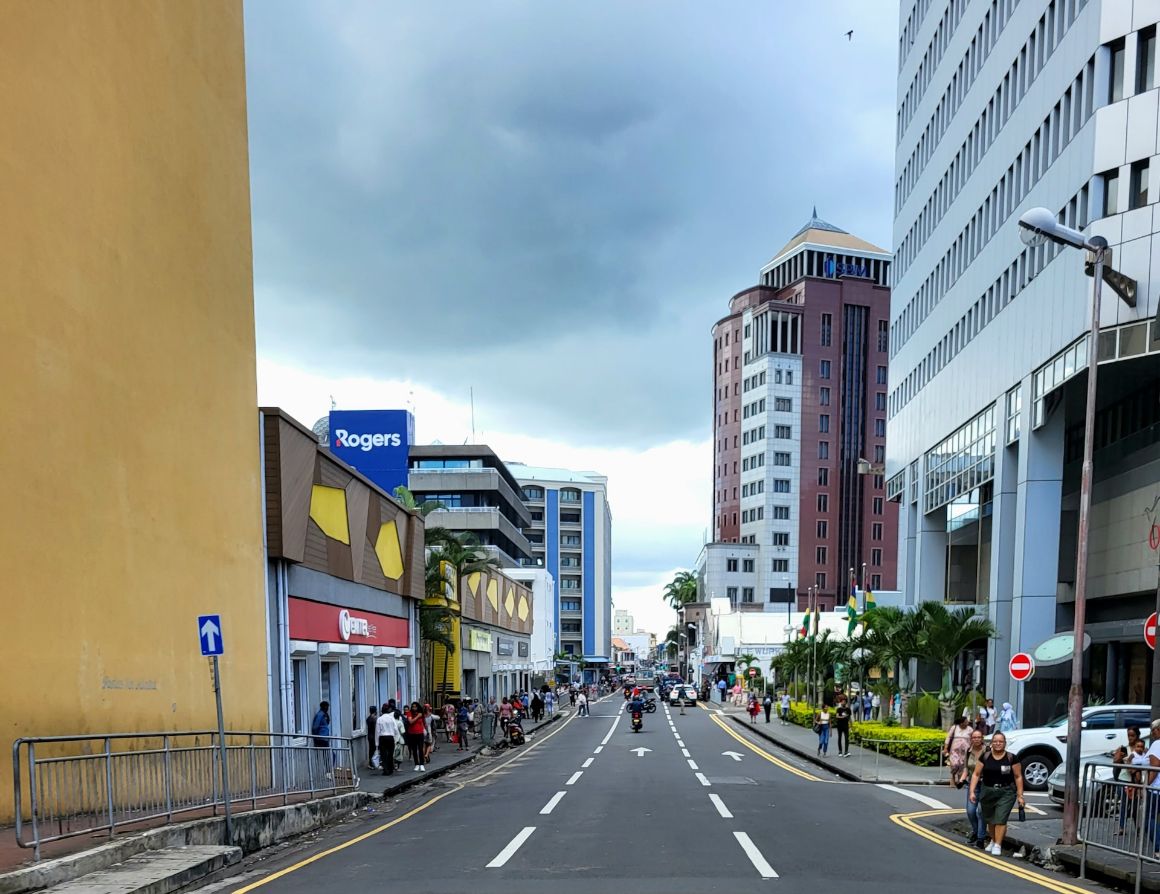 As mentioned above, the Metro Express is your best option for cheaply and efficiently getting around Port Louis, but it's not the only card you can play:
Public buses are cheap and the routes are simple, but they're obviously subject to traffic. Tickets cost anywhere from $1–$4, in cash.
Taxis are also beholden to traffic, but they can get you exactly where you need to go, unlike public buses. Standard rates are around $1.60 for the initial fare, and $1.70 for every kilometer after that. If you want to be like the cool kids and book your ride with an app, check out Yugo—it's basically Uber for Mauritius.
Bicycles are generally not a good idea in Port Louis, as drivers tend to be quite aggressive, and you might choke to death on fumes.
Renting a Car in Mauritius
If money is not an object, renting a car will give you the ultimate freedom of exploration. You simply can't beat the ability to go from one specific place directly to another. And as an added bonus, some of Mauritius's coastal roads are utterly breathtaking, so you'll have great views throughout.
If you're planning on staying for less than four weeks, good news—all you need is your overseas driver's license. Below are some average costs you should expect when renting a car in Mauritius:
$25–$70 per day for the car (depending on how shnazzy your whip needs to be).
$0–$20 per day for insurance (depending on whether the rental agency will accept your current insurance).
$10–$30 per day for gas (depending on how far you drive every day—and yes, gas is expensive in Mauritius).
Renting a car is awesome but it's also clearly the most expensive way to get around. As always, though, there are ways around this: if you want to save some cash and explore Mauritius by rental car, use rentalcar.com to find the best deal possible. There are some great prices on the site and they aren't difficult to find.
Cost of Food in Mauritius
ESTIMATED EXPENSE: $10–$120
You can save some serious cash in Mauritius if you know where to eat. Local street food is hands down your best option for cheap eats (seriously, think full meals for only a few bucks)! Of course, you can also save money by buying ingredients and cooking for yourself. But if you hate cooking (like I do) and insist on eating out at restaurants for every meal (like I do), you'll end up spending a good amount on food (like I do).
Given the island's location, you can expect a truly decadent array of cultural cuisines. French, Indian, Chinese, African, and Italian food are all staples here. Not only that, but Mauritius also has a nice variety of restaurant types. You'll find a lot of fancy restaurants, along with many (much cheaper) dive restaurants and street food stalls. So if you want to splurge on a multiple-course meal for $100 and then spend the rest of your trip eating instant noodles or street food—go for it (though your poor toilet may suffer from your decision)!
In all seriousness, your budget will be best served by reasonableness. Don't feel bad spending a little at restaurants when you're out exploring, but then save some cash later by snacking from convenience stores, street food stalls, or cooking your own food when you're staying in. If you're renting an Airbnb, take advantage of that kitchen and whip up some homemade Mauritian meals! And always keep your eye out for meal specials and happy hours—sometimes the deals here are surprisingly good.
Where to Eat Cheaply in Mauritius
So yeah, where you choose to eat will affect your travel budget tremendously. Unless you're buying ingredients and cooking for yourself, your cheapest option in Mauritius is going to be street food—by far. Here are some ways to save some moolah while also catering to your tummy: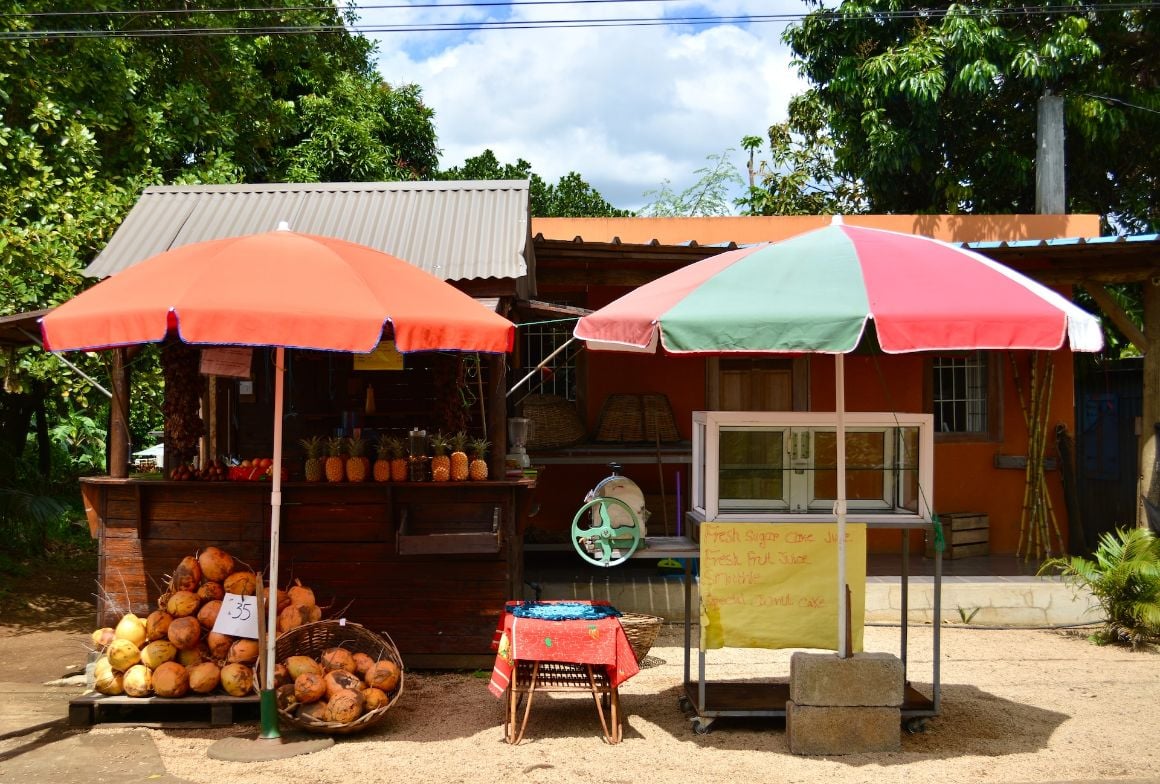 Street food is the holy grail of the gastronomically inclined budget traveler. Seriously—you can get full meals for as little as $2.50 and snacks for as little as $0.20. Fried rice, fried noodles, samosas, and steamed buns can be found everywhere. You also need to try classic Mauritian dishes like dholl puri (flavored flatbread), biryani (rice and meat marinated in yogurt and spices), and gateaux piments (deep-fried, spicy split-pea balls). So good, so cheap.
Casual local restaurants are everywhere, serving Indian, Italian, African, French, and Chinese food. A standard lunch at one of these restaurants will cost you $5–15, depending on what you order. Not quite as cheap as street food, but you'll get a full sit-down restaurant experience, which (in my opinion) makes it worth it.
Fast food isn't recommended as a constant diet (for obvious reasons), but Mauritius is chock-full of these restaurants, and they're reasonably cheap. You can get a meal from McDonald's, KFC, Pizza Hut, or Subway in most of the major cities for $6–$12.
Convenience stores and supermarkets are always great options for snacks, and ingredients for cooking your own meals can be found here at really nice prices. To give you an idea, 1 liter of milk = ~$1.00, a loaf of bread = ~$0.20, and a pound of potatoes = ~$0.50.
Price of Alcohol in Mauritius
ESTIMATED EXPENSE: $3–$20
If you're coming to Mauritius to party, you're in luck—the alcohol here is probably cheaper than you were expecting. Of course, it depends on where you buy it from—if you're going to be constantly hitting up fancy nightclubs, you can forget that whole "cheap" thing. But if you're just looking for some classic rowdy nights at local bars, or if you're willing to purchase alcohol from a supermarket or liquor store, prepare to be surprised!
Locally-made cane rum is a Mauritian specialty—it's relatively cheap and definitely a must-try when you visit. Besides that, stick to beer and wine for inexpensive, tasty drinks. Here are the average prices you can expect:
Bottle of local beer: $1.50–$2.00
Bottle of mid-range wine: $10–$20
Bottle of Mauritian cane rum: $8–$20
Something to note is that Mauritius has a 15% sales tax on alcohol. Keep that in mind, as taxes tend to add up pretty fast. And be wise with where you choose to buy your spirits from. You could find the exact same bottle, in two different stores, with nearly a twofold price difference.
Cost of Attractions in Mauritius
ESTIMATED EXPENSE: $0–$15
Oh baby … now we can really get into the good stuff! There is a huge variety of places to visit in Mauritius, with something special for everyone. Whether you want to stay on the tourist trail or get more into the untapped areas, one thing is for certain: you will never be bored!
First up: the free stuff. One of the main reasons this country is so amazing is that nearly all of the best attractions are 100% free. For instance:
Visiting perfect white-sand beaches? Free.
Hiking to some spectacular viewpoints and waterfalls? Free.
Visiting the Aapravasi Ghat (a UNESCO World Heritage Site showcasing Mauritius's history)? Free.
I could go on, but I think you get the idea.
Next up: the not-free stuff:
Mauritius's coast is full of stunning coral reefs; go scuba diving here for as little as $40+, or snorkel for a fraction of that.
Black River Gorges National Park is utterly majestic. Just pop that into your Google search bar, click "images," and you'll see what I mean. It's free to get in, but you might want to pay for a guide if you're planning on doing any serious exploring.
Sir Seewoosagur Ramgoolam Botanical Garden is over 90 acres of beautifully manicured greenery. You can explore the entirety for an entrance fee of only about $4.50 … and maybe you'll finally find out who this Sir Seewoosagur Ramgoolam guy is.
Plain and simple, there's just a ridiculous amount of stuff to do in Mauritius. And the best part? Nearly all of it is free. For real … you could take a 2-week trip here, spend absolutely zilch on attractions, and still see the best of what this stunning country has to offer—in line with other island paradises around the world!
The Future of the SIM Card is HERE!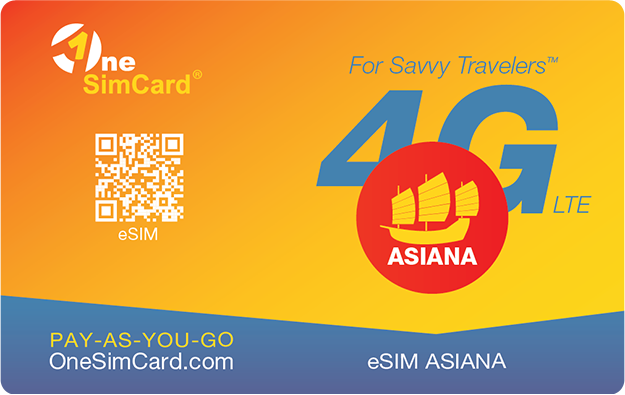 A new country, a new contract, a new piece of plastic – booooring. Instead, buy an eSIM!
An eSIM works just like an app: you buy it, you download it, and BOOM! You're connected. It's just that easy.
Is your phone eSIM ready? Read about how e-Sims work or click below to see one of the top eSIM providers on the market and ditch the plastic.
Buy an eSIM!
Additional Costs of Travel in Mauritius
If you've never traveled to another country before, something that may surprise you (no, it will surprise you) is the way those sneaky little unplanned expenses add up. I'm talking about things like water, donations, books, souvenirs, and all the overpriced trinkets you'll get pressured into buying from overly intrusive street hawkers!
I would advise you to set aside an additional 10% of your total budget for emergencies—call it your "I didn't know I would need to spend this" fund. Trust me, it can't hurt!
Tipping in Mauritius
Perhaps the best example of an "I didn't know I would need to spend this" expense is tipping. Depending on where you're from, you may or may not be used to tipping culture.
By and large, Mauritius abides by what I think are the most reasonable tipping rules: tips are not at all expected, but they're greatly appreciated. A tip of 10–15% for exceptional restaurant service goes over really well. Keep in mind, some restaurants automatically charge a gratuity, in which case you shouldn't feel as obliged to tip.
The same goes for tipping for other services. Feel free to give your bellman, taxi driver, or activities instructor some extra coin, either for their skill or just their general cordiality, joviality, gregariousness, suavity, kindne—you get the idea (and I need to close my thesaurus).
Get Travel Insurance for Mauritius
In the same way that you can't plan for every single expense you'll have on the road, you also can't plan on never having an emergency. If you want ultimate peace of mind while traveling in Mauritius, I highly recommend you look into getting yourself a nice travel insurance package.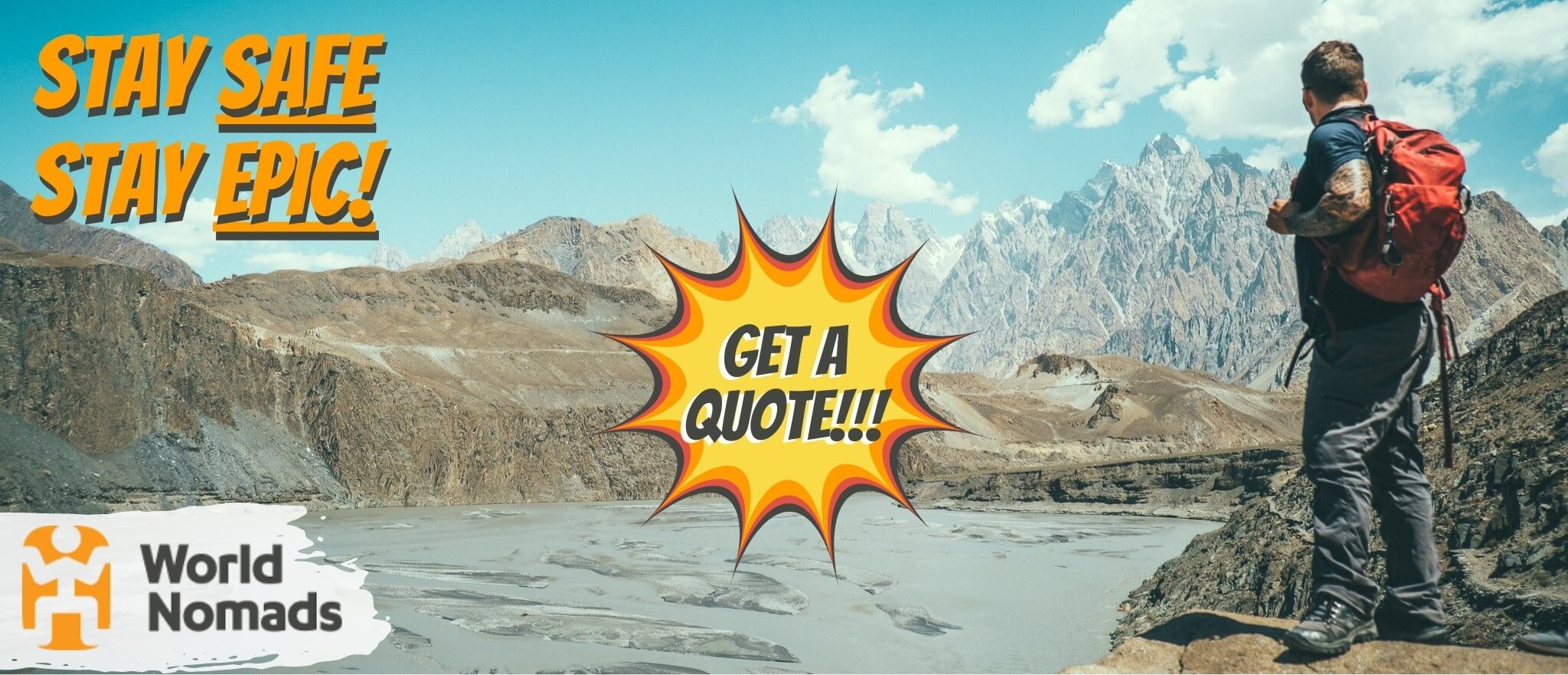 World Nomads' mission is to support and encourage travellers to explore their boundaries. They offer simple & flexible travel insurance, and safety advice to help you travel confidently.
They've been doing it since 2002 – protecting, connecting, and inspiring independent travellers just like you.
Get a quote below or read our in-depth review!
World Nomads provides travel insurance for travelers in over 100 countries. As an affiliate, we receive a fee when you get a quote from World Nomads using this link. We do not represent World Nomads. This is information only and not a recommendation to buy travel insurance.
Some Final Tips for Saving Money in Mauritius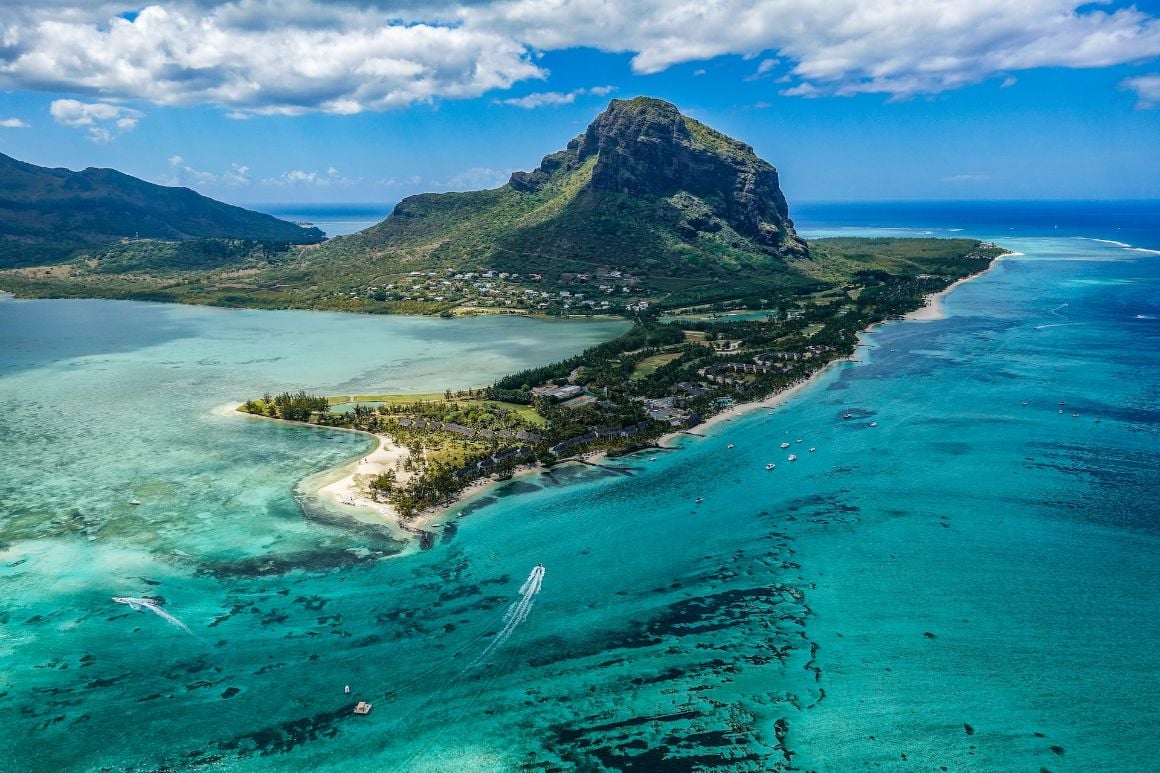 Here are some extra tips and tricks to keep in mind for really making the most of your Mauritius travel fund:
Hitchhike! Many people are afraid to hitchhike, but once they take that first plunge, it's tough to stop. You'll meet amazing people and travel around Mauritius totally for free.
Have a water bottle: Don't waste money on plastic bottled water; carry your own and refill it in the fountains and the tap. If you're worried about potable water, get a filtered bottle, like the GRAYL, which filters out 99% of viruses and bacteria.
Order street food one dish at a time. One mistake I always seem to make is ordering six different street food snacks at once, and then as I sit down to eat them all, I find out my eyes were far bigger than my stomach. Order one dish at a time and you'll end up saving money by only paying for what you need.
Earn money while you travel: Teaching English while traveling is a great way to make ends meet! If you find a sweet gig, you may even end up living in Mauritius.
Grab a backpacking tent and sleeping bag. Camping is totally legal on all of Mauritius's public beaches, as long as you get a permit from the Beach Authority. You'll save some serious money on accommodation by bringing a tent, even if you use it only a few times!
Become a volunteer with Worldpackers: Give back to the local community and, in exchange, you're room and board will often be covered. It's not always free, but it's still a cheap way to travel in Mauritius.

Our GREATEST Travel Secrets…
Pop your email here & get the original Broke Backpacker Bible for FREE.
So is Mauritius Expensive, in Fact?
It's my sincere hope that at this point you're feeling well-armed and ready to take on Mauritius.
Is Mauritius expensive? In this guide, I think you've seen that depending on your standards, Mauritius can be heart-stoppingly pricy. But if you're smart, you really can spend a lot of time in this country, for very little coin.
Eat that street food, catch that bus, sleep in that quaint old guesthouse, and you'll stretch out every dollar in the process.
What we think an average daily budget for Mauritius should be: $75–$200
This brings us to the end of the guide. I trust you are now equipped enough to book those tickets and backpack your way to this dream island.
As I write this (and as you read it from some cramped desk in your office while you're supposed to be working), there's a broke backpacker out there right now, living large on those perfect Mauritian sands. Why shouldn't it be YOU?
See you in Mauritius!
---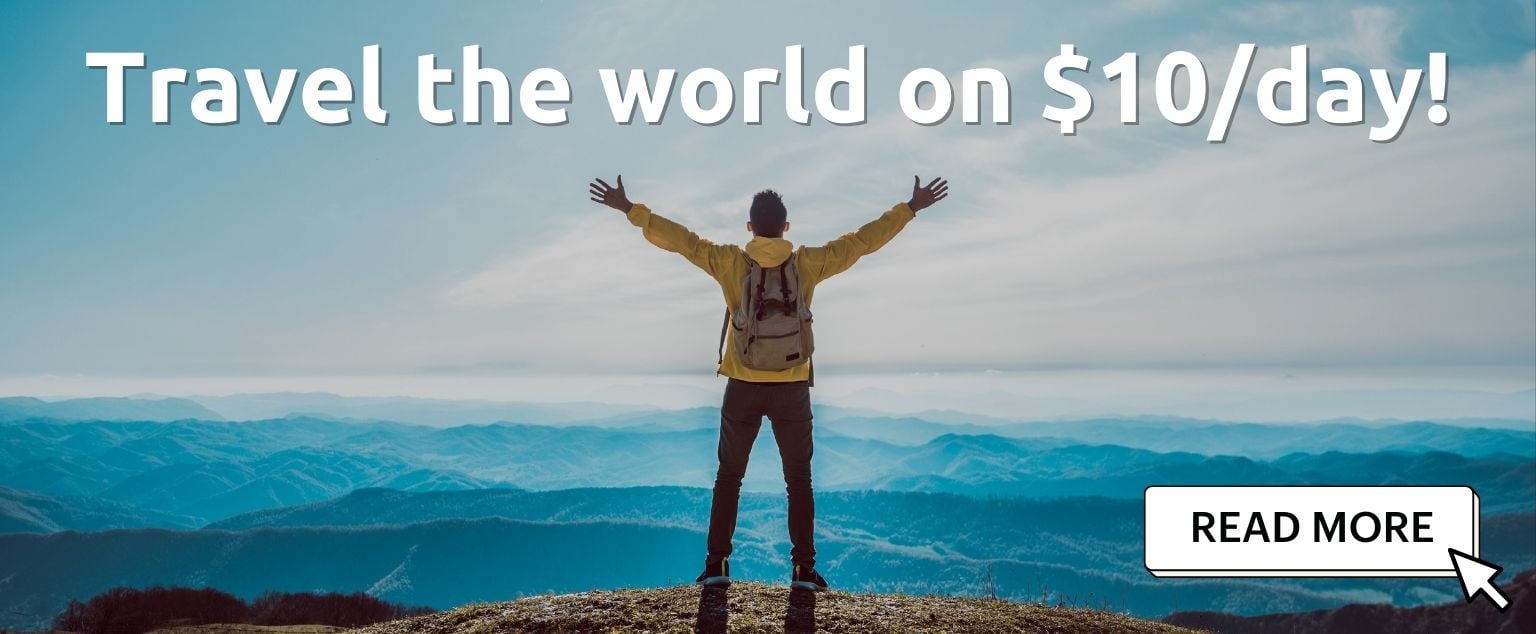 And for transparency's sake, please know that some of the links in our content are affiliate links. That means that if you book your accommodation, buy your gear, or sort your insurance through our link, we earn a small commission (at no extra cost to you). That said, we only link to the gear we trust and never recommend services we don't believe are up to scratch. Again, thank you!