M'kay, let's talk about hiking in Mauritius. It's a worthy conversation! It's easy to get caught up exploring Mauritius's beaches – they're so damn pretty after all.
But then you're missing out on, like, 80% of the fun. There's a whole damn island to explore!
The nature in Mauritius is teeming with goodness: secret and not so secret. Waterfalls, mountains, caves, gorges, forests; there's a little bit of everything and all in bite-size chunks.
So in the effort of breaking away from the lazy beach days, go for an excursion hiking in Mauritius! There are endless spots, some made accessible to the tourists, others pushed into the background. It's a damn shame how much goes overlooked.
That's why you're reading this sweet-ass guide to hiking in Mauritius – to see that pure, unadulterated awesomeness! I've made sure it's stacked with info, both on some of the major natural attractions in Mauritius and on some oft-forgotten by the tourism trail.
Is it a full report on all the seductive adventures to be had in Mauritius? Na, there are too many damn sexy parts! However, It's more than enough to get you inspired and tramping like an islander.
And then, when all is said and done and you're sweating like a champ… then it's finally time to hit the beach.
A Note on Hiking Places in Mauritius
The hiking spots in Mauritius generally aren't trekking places (ever really). Taking your time and camping is certainly excellent – Mauritius is a dope camping destination – but you're not going to find yourself any esteemed world-class hikes or 5 or 10-day treks through towering ravines away from all sense of civilisation.
It's fun-sized! Take a mad day hike, burn your legs out, sweat off the roti and noodles, and then head home for a joint, roti, and noodles!
It's also not always strictly easy to find the hiking trails in Mauritius either – at least, the non-touristed ones; many are expertly hidden in the labyrinths of sugarcane fields. Maps.Me still does a good job, however, it's not as comprehensive as in a lot of other countries I've been to. Sometimes, you may find even yourself venturing through private land.
That's just remote magical island problems though! The upshot is that getting properly lost is pretty damn difficult too. Just keep walking straight and you'll find a road sooner or later.
When it comes to finding the hiking places in Mauritius, you'll have to put your badass traveller hat on. Ask the locals, venture upriver, make a few scrambles – get creative! I'll lay as much info out as possible but ultimately, you'll still need to do some of the leg-work (heh).
All the same, in case you want a hiking guide, I know a dope one. Just a local dude and a top-notch bloke who lives for walking and turned that love into his job. His name is Ashwin and you can contact him on his WhatsApp – +230 5752 6713 – or through his Facebook page, but if you want the exclusive Broke Backpacker 10% discount on all hikes, you gotta utter the magic words: dahl puri.
Chill walks, enduring hikes, the tourist choices, or the hidden gems, Ashwin will set you up and take you on the adventure. Plus, he'll bring some dope tunes too if you ask.
Mountain time is important. Whether it's to contemplate the unrelenting unanswerable of existence or to just take basic beach Instagram snaps (see what I did there), mountain time is food for the soul.
So get some mountainy goodness! The mountains in Mauritius are pretty damn unmissable. No matter where you stay in Mauritius, there'll always be some isolated peak hanging on the horizon (or towering over your face).
They are indeed isolated peaks, so there's very little in the way of ranges and tend to be there-and-back-again style hikes. But they're also gorgeous mountains – skyscrapers jutting over the skyline – and reward you with very green-and-blue panoramas of the Mauritius island.
This isn't going to be a complete list of mountains in Mauritius, but it's definitely a comprehensive one. A solid selection with a little bit for everyone. Some are easy, and some will rock your glutes as any good mountain should.
Le Pouce
This one is the former – it's pretty easy. In fact, if you're mega-lazy and just wanted to go home saying you'd done some hiking in Mauritius, you could get your "See, I told you so," photo here.
Hiking Le Pouce mountain ('The Thumb' – 812 metres) is chill – about a 3.5-hour roundtrip max from the bottom (including rests). It stands over Port Louis, so you get a terrific view of the capital and can even see coast to coast on a clear day.
Where to start the hike: There are a few options for climbing Le Pouce.
The standard place to start the hike is from Petit Verger near the village of Saint Pierre. It's easy to access by bus and Maps.Me has you covered for finding the trailhead or just ask the locals.
You can also climb Le Pouce from Port Louis; the south side behind the racecourse. There's a trail beginning from either Chateau d'Eau Street or the street parallel to Pouce Street.
You could also start from Saint Pierre and descend into Port Louis.
Or vice-versa – it's the mountain of many options!
There's not much else to say really! It's a chill bit of walking in Mauritius – more like a hiking warm-up for the beginners – and it's easy to find. Just look for the hitchhiking peak thumbing it at Port Louis.
Next mountain!
Trois Mamelles
Trois Mamelles is dope! Except maybe the name… 'Three Udders'. Nope, no thank you. I like my mammals without any extra dangly bits.
It's not too hectic – only 629 metres and another 3.5-hour roundtrip (give-or-take) with rests – but it's steeper and does have a few moments where pigeon-pooping yourself on the ground below is a real possibility. As the name implies, there are three peaks and you're climbing the centre one.
Where to start the hike: Finding the trailhead for Trois Mamelles is a bit tougher. Once you're on the trail, it's not so challenging but getting there does mean navigating some sugarcane fields.
For the public transport peeps, head to Quatre Bornes and then you'll need to find a shared taxi from the taxi stand. You're heading to the end of Jawaharlall Nehru Avenue where the approach starts from. Luckily, Maps.Me has you covered! Anyone would think this is a sponsored post for Maps.Me…
The hike itself is awesome. Not long but definitely rewarding with a smidgen of everything. You get a little taster sample of a lot of the nature in Mauritius and the view from the top is pretty badass to boot!
It does, however, require some sections with close edges and scrambling along the rocks, so this may not be the best hike in Mauritius if you're not comfortable using your hands or with heights. Why you're climbing mountains if you're not comfortable with heights or using your hands is another question…
Corps de Garde
Corps de Garde mountain, or 'Guardhouse' (or maybe 'Guard's Body' – who knows), is another banger of a Mauritius hike. It's not a whole lot longer than the previous two – maybe 5 hours max at 720 metres – but it does test your stamina a bit more.
There are a few steep scrambles up rocky inclines and some walks through the mountaintop forest that take a bit of careful footing. It's also another Mauritian mountain that is just prime for some boulder routing. Let's a rock climbing bubble in Mauritius just waiting to be burst.
Where to start the hike: Close to Stanley on Cretin Avenue (on the right-hand side of the stream). The trail itself is pretty easy to find being well-marked with white rocks and starting from pretty much adjacent to the road. Getting there is a bit tougher though.
The closest bus to the Corde de Garde mountain hike stops at Stanley so without a car, you'll be walking from there (or you can hitchhike).
The walk starts with the climb to the ridge itself (it's a fairly long mountain). Once you hit the ridge, you'll start walking it to the Corp de Garde's summit. The views from along the ridge are already pretty delicious but once you reach the summit, you can keep walking all the way to the southern end of the mountain and the last viewpoint. You get a wonderful panorama of Mauritius's more urban centre, as well as on to the west coast.
As an added bonus, this is a super nice mountain for camping. There are plenty of spots along the ridge you could pitch a camping tent and the southern viewpoint is perfect for it.
It's just a really sexy mountain that just looks different from whatever angle you're standing. Good hike, good views, and a good balance of challenge!
Le Morne Brabant / Le Morne Mountain
I didn't even get to climb Le Morne (much to my disappointment). I was there, in town, ready with ma hiking boots and ma hiking face, and then the weather was just like "Na, bro, eat a dick."
…For three days.
All the same, it's a very popular hike in Mauritius, so it's easy to find info on. Le Morne Brabant has actually got a crazy history behind it and is one hike worth doing even if you don't much care for hiking.
Where to start the hike: Easy! The Le Morne trail entrance with the parking area is the beginning point. Alternatively, you can start the hike from the coastal road near the Slave Route Monument, but this will take you through some private properties. Climbing Le Morne Brabant is pretty basic in regards to finding your way; it's well signposted and popular so there are nearly always other hikers around.
The hike up Le Morne itself isn't the most challenging – around 2-3 hours – though there are a few steep sections. The true summit of the mountain isn't actually reachable without climbing gear. Instead, you're heading to the mini-summit where a large steel cross is sitting in tribute to the history of Le Morne Brabant.
It's a super beautiful hike for the view of the Le Morne peninsula and a total highlight in Mauritius for sunrise or sunset (I'm still salty I missed it). The only tough part is the constant legal back-and-forth over the years regarding ownership and access to the peak.
You could take a guide to skip the nonsense but honestly:
If anyone tells you that you can't hike up Le Morne, politely but firmly tell them to suck eggs.
If anyone tells you you need to pay money for crossing their land to the mountain, ditto.
Or if anyone tells you that you need a guide, ditto again.
This is going to be a reoccurring theme of the Mauritius hiking guide, but there's a real issue with privatisation and abuse of the nature in Mauritius that's only gotten steadily worse as its tourism industry has evolved over the years. Don't be a part of the problem and don't patronise bad behaviour. Paradise shouldn't be auctioned off to the highest bidder.
Rempart Mountain
This is the bonus entry for the proper adventurous sorts backpacking Mauritius. Rempart Mountain is an extremely distinctive peak that just looks so damn tempting from afar.
The downside? It's smack-bang on someone's private property and they seem none too pleased about would-be adventurers showing up for the climb. But nobody owns mountains: mountains own you.
Where to start the hike: Given the whole "Get off my mountain, you whippersnappers" BS, there are limited details I can provide (purely because it's all pretty undocumented). As far as the hiking trails in Mauritius go, this one is not well defined (though it's there).
You can start from the Cascavelle side of Rempart Mountain around the Yemen hunting reserve and it will take some navigating the sugarcane fields and fences to reach the foot. Given the lack of exploration for this mountain, there's probably more than the one approach we took.
Your best bet for climbing Rempart Mountain is to make some local friends that know what's up – guides will steer clear of this one in case of having any trespassing issues. There's also this blog post by a man who was trail running in Mauritius that gives some indications of where to go.
Should you be climbing Rempart if it's trespassing? Well, that's up to you, but any defiant finger-wag in the face of the gross privatisation of Mauritius's nature is really just an added bonus on top of summiting a sick mountain!
And how's the climb itself? Extremely technical and extremely difficult – yay! Even though Rempart only sits at 600 metres, it's sheer as all hell, totally unused to hikers, and, well, just look at it! The necessity of using some questionable rope ladders contributed by some undetermined mountaineer some indeterminate amount of time ago just doubles down on this.
Oh, and there are bees on the mountain! Yup, we didn't even finish the climb. My friend stomped his foot through a bee's nest (accidentally) and things got… uhh… messy. One hospital trip later and he's all gravy.
A Short List of Other Mountains in Mauritius
Just a few bonus hikes for those just itching to walk!
Moving on from the mountains now. I know, I'll miss them too but waterfalls are also cool! If mountains were motorcyclists, waterfalls would be people who ride penny-farthings. Still cool but in their own special way.
There is an absolute buttload of waterfalls in Mauritius and while not all constitute a hike, they do all constitute awesome! I've given a list below of some of the best waterfalls in Mauritius be it either for the sake of the hike attached to it or simply for the monumental prettiness you get to look at.
Sept Cascade / Tamarind Falls
And we're starting it off with the best of both worlds! This is actually one of the most kickass waterfall cascades in Mauritius (well, seven cascades actually), and hiking it is one of the coolest things to do!
Sept Cascade actually translates as Seven Waterfalls, but they also get called Tamarind Falls. Also, if you walk far enough, you'll find there are actually nine waterfalls so I guess names are meaningless anyway.
Where to start the hike: You're going to Henrietta – the Bord Cascade bus stop. Chances are you can find yourself a guide at the bus stop when you arrive if you need one, however… <makes fart noise>.
My apologies but my directions for this one are going to be a bit lacklustre. Luckily, again, Maps.Me has got your back. Once you're on the trail, it's easy – just stick with the river and there'll be people around anyway.
I will, however, tell you that most people hike Tamarind Falls from north-to-south going downhill and with the direction of the water. Although it can be tricky, if you can find the southern trailhead (near the southernmost waterfall) and hike upriver, it's way better. There's fewer tourists, a more adventurous walk, and you actually get to look at the waterfalls as you hike.
This does make the hike more difficult, both to find and to follow. It'll require a few river crossings and potentially some light bush-bashing. You'll probably also need to grill the locals (pleasantly) to find the southern entrance.
If you're not up to the challenge, that's cool but definitely don't miss out on hiking Sept Cascade. It's an awesome walk (we cleared it in about 4 hours) and you get seven waterfalls for the price of one. Think of the value!
Rochester Falls AND Cascades Leon
Rochester Falls down on the south coast (at Souillac/Surinam) is both very touristy and accessible; it barely qualifies as walking in Mauritius. It still gets a mention though just because it is super beautiful and has a very unique formation.
Also, there's a much cooler waterfall a couple of hours walk behind it where the tourists don't go! Bait-and-switch, motherfucker!
Where to start the hike: Finding Cascades Leon is a mite trickier so I'm breaking it down best I can here. When in doubt, ask, ask, ask!
From Surinam, follow Riviere Patates Road as if going to Rochester Falls.
Instead of taking the right-hand turn to Rochester Falls, follow the road which will start weaving through sugarcane fields.
Eventually, you'll reach a… power station? (I think it's a power station; you'll know it when you see it.)
Turn around, walk back, and take the first turn on your right.
Follow that trail and eventually, you'll reach a manmade waterfall (like a dam) which you have to walk across. (Easily one of my personal highlights hiking in Mauritius.)
Once across the dam, don't take the road. There's a steep incline on the left to go up the hill. (The road may just be a long way round – I'm not actually sure).
Once you're up the incline, turn left and follow the trail.
The rest is pretty simple from there. You'll actually see a sign at a Y-junction and not long after, you'll hear Leon Cascade. Don't forget your basic beach photo either!
Eau Bleue
Popular but with good reason. Eau Bleue gives you the sapphire effect of Mauritius's best beaches mixed with the tranquil forest feels of its waterfalls. Also, there's a whole bunch of falls scattered around the area, so it's another multi-buy!
Where to start the hike: This is another situation where calling it one of Mauritius's 'hiking places' is stretching it. The various waterfalls are all pretty accessible, albeit it in different spots. You're heading to Cluny, a charming little village close to Mahebourg.
As I said, it's not really hiking, but still a must-see for anyone hunting down the best waterfalls in Mauritius – twinkling crystal-clear waters that live up to the name! I'll link ya to this post if you want to see all the Eau Bleue waterfalls; she does a pretty good job of summing them all up.
Cascade 500 Pieds / Cascades des Galets
This isn't actually the highest waterfall in Mauritius – that title goes to Chamarel Waterfall – but if the name is to be believed (Cascade 500 Pieds / 500 Feet Waterfall), then it is the highest waterfall in Mauritius. I dunno! But it's free (unlike Chamarel), actually involves some hiking, and is also just mega-cool.
On the list it goes!
Where to start the hike: You're heading to the Alexandra Falls Car Park in Black River Gorge National Park. Considering that Alexandra AND Chamarel Falls are near here, you could just have a waterfall day!
Start the walk towards the Alexandra Falls View Point. At the concrete circle, take the path veering left and bada-bing-bada-boom!
The walk itself isn't long, maybe an hour-and-a-half (not including waterfall time), but steep at points and can be slippery. Plus, you're hiking in Black River Gorge now so maybe just keep on exploring…?
As for the payoff? Well, you're standing at the top of a majestic waterfall with a sweeping view of Mauritius's south coast. If you can suss out a way down to the bottom of the falls, it just gets even prettier.
The Super Mega Hectic Underwater Waterfall in Mauritius
There's no hike here; there's not even a real waterfall! Mauritius's underwater waterfall is actually an optical illusion but even optical illusions can be mind-blowingly beautiful.
It's situated off the southwestern coast close to Le Morne. From above, the movement of sand on the seafloor creates the illusion that there's a waterfall beneath the ocean. From above? Yup!
So, how do you see the underwater waterfall? A helicopter tour! It's expensive, for sure (like the whole country is expensive), but it's a worthy mention when talking about the best and most beautiful waterfalls in Mauritius. Picture one of those flat-earth edge-of-the-world imaginings: a drop into nothing.
So, not really an adventurous excursion hiking in Mauritius but still a (quasi) waterfall that deserves a mention!
Secret Waterfalls in Mauritius
Much like Rempart Mountain, there's no shortage of hidden gems in Mauritius; waterfalls that go unnoticed either because they're locked away from the public, don't show up on any maps, or simply are local secrets. This a friendly PSA to remember that when you're hiking in Mauritius, break away from the trails at times and explore!
Make some local friends, grab a guide, or just get out exploring by yourself. Ask people around for local tips. Above all, have an adventure! Keep your ear to the ground and you'll find some rad secret spots.
Be smart, of course, and don't do anything stupid, however, sometimes it pays to be a little bit stupid. Waterfalls only look better in torrential rains, after all!
Now we're talking some of the best hiking trails in Mauritius. Welcome to the playground!
Black River Gorges National Park is full-power hiking goodness filled with trails, viewpoints, waterfalls, peaks, gorges (duh), and animals creeping through the undergrowth and hovering overhead. If you're looking for trekking places in Mauritius, this is really the closest you'll come.
None of the hiking trails in Black River Gorges exceed a 1-day hike but who cares! Slow down, throw up a portable hammock, wander at your leisure… The park does technically close at night (with bigass gates and Israel-style barbed wire fences) but, again, who bloody cares!
What are they gonna do? Repossess my home? Jokes on you: I don't have one!
In all seriousness, Black River Gorges National Park is hella beautiful and one of the best places to go in Mauritius to just walk. The views you get from up high of the peaks and coastlines are worthy of a sit-and-appreciate moment (pack a picnic), and the forest floors are tranquil with that time-dilating effect. The river water is pretty damn tasty too!
Oh, and the entrance fee for Black River Gorges National Park? A big, fat, yummy $0. Get it while it's free!
A Few Black River Gorges Hiking Trails
Again, this isn't a whole list but it's enough to get you started. There are plenty of official and unofficial trails in Black River Gorge National Park with plenty of options to connect the tracks and make your own.
Super Champion Ultra Mega Digivolution Bonus Hike in Mauritius!
Yay for coastal walks! There are probably way more than I know but there's one in particular on the south coast that is just the absolute fucking bee's tits! I just gotta send you there.
Where to start the hike: You're heading for Andrea Lodges close to Souillac (potentially with a stop-off to explore the abandoned sugar cane factory en route). Just before the entrance, you'll see a path turning left downhill into the forest.
Once you reach the rocky beach, cross the river mouth. Now, this rocky beach is worthy of exploration itself – there are tonnes of critters, waterfalls, and rock hopscotch is always a blast – but you're actually following the trail that runs uphill to the cliffs above the beach.
At this point, you're on your own. It's easy to get misled at points but as long as you're heading east in the direction of the coast in line with Benares Village, you'll figure it out. We certainly got mildly lost a few times but if you jump a wall and pass through a property with European-style orgy-villa vibes at some point, you're on the right track!
The end goal is Benares Beach – a sandy beach with cows on it! Please note: cows are inherently transient beings and not suitable to be used as permanent landmarks.
So, that's a pretty in-depth summary of a lot of the hiking trails in Mauritius. There's still a smidgen to talk about though.
Travel tips time! Make sure you're suited up and ready for the climb.
It'll be sublime.
Best Time to Visit Mauritius for Hiking
In regards specifically to the rainfall in Mauritius, you always catch a bit year-round, but outside of the wet season (December to April), it tends to be passing rains. Even during Mauritius's wet season, there will still be opportunities to go hiking. It never sticks too long unless there's an off-shore cyclone (which really just makes climbing mountains even more fun)!
The rest of the year, clear skies are gonna be swimmin' and ingratiating mountaintop yoga photos will be abundant! Chances are, you'll have some brilliant coast-to-coast views with aquamarine waters as the framing which I sadly missed a lot because I blasphemed Zeus once.
It is a hot country though. Like, holy shit. Exploring Mauritius by foot specifically in winter (June to August) is definitely worth the consideration; August, in particular, is one of the driest months and it'll be a helluva lot cooler too.
The closer to the summer rains you are, the more humid it'll be.
What to Pack for Hiking in Mauritius
Predominantly, some solid hiking and backpacking gear would be smart. Camping equipment too if you'll be mixing the walking up with some camping around Mauritius.
It doesn't have to be too hardcore; budget gear is going to be plenty. Trekking poles are certainly overkill, and if you're camping, a sub-zero bag is just silly.
Mauritius hiking is just built for minimalism. Sunscreen, a hat, and definitely something to keep the mosquitoes away.
I'm including a list of some suitable Broke Backpacker gear round-up posts to have a browse of if you're lacking any gear. After that, there's a table with a few top picks from said round-ups:
Extra Resources Before Hitting the Hiking Trails
If you're looking for a hiking guide in Mauritius (of the flesh-and-blood variety; not the internet words type), I do strongly recommend Ashwin. He's an absolute top bloke that just lives to walk, and his prices are much better than the guides you'll come across in the entrenched high-class tourism of Mauritius.
If, however, you're aching to go sans-guide, I applaud you. I for one have never hired a guide, even when I arguably probably should have hired a guide. It's always more fun!
In writing this post, I stumbled across a few great resources for various hiking places around Mauritius. It's not everything, nor will it cover a lot of the local's secrets, but they do cover a lot of what's in this guide plus more:
And don't you be no litterbug out there on the trail: leave no trace! It's super important – we only get one Mauritius – so check out our guide on being an eco-friendly sustainable traveller.
Hiking Safety in Mauritius
I've said it already, but there aren't any places in Mauritius which qualify as trekking into deep and foreboding wildernesses. There are mountains though and sometimes people fall off mountains so probably don't do that.
Even better, there's nothing waiting in the trees to munch your face off! No leopards or bears… there are bees though. We should definitely try to save the bees. That said, bees are assholes.
Is there anything worth mentioning? Hmm, if you're driving a car as opposed to public transport, do be careful leaving valuables in the car and in sight. Break-ins are rare but have been known to occur, particularly at the more tourist-frequented points of interest around Mauritius.
Also, concerning the drinking water in Mauritius, I never had an issue drinking either the tap or river water. However, I have seemingly developed a somewhat stronger constitution than the average traveller over the last few years (presumably due to bathing in certain Indian holy rivers blessed by decomposing corpses). When in doubt, travel with a filtered water bottle – no giardia, no plastic!
Other than that, it's honestly just basic hiking safety tips:
Watch your footing.
Always check rocks' and branches' stability before applying weight.
Keep a phone handy in case.
Check the water depth before swimming/jumping and no diving at all.
Be careful swimming at waterfalls – cramps are common in cold water and people do actually drown.
Sometimes, barefoot is better grip than even the fanciest boots.
If you're lost, give it an ol' "cooee".
Getting Insured Before Any Mauritius Hiking Excursions
The other big duh of any adventure holiday – consider some bloody good travel insurance! You might step on a bee nest and incur the wrath of the hive. You might just get kidnapped and held captive against your will in a weird coastal European orgy house.
That was dark…
Life is dark! That's why ya probably should get travel insurance, ya silly-billy!
ALWAYS sort out your backpacker insurance before your trip. There's plenty to choose from in that department, but a good place to start is Safety Wing.
They offer month-to-month payments, no lock-in contracts, and require absolutely no itineraries: that's the exact kind of insurance long-term travellers and digital nomads need.
SafetyWing is cheap, easy, and admin-free: just sign up lickety-split so you can get back to it!
Click the button below to learn more about SafetyWing's setup or read our insider review for the full tasty scoop.
I dare say you are! What? You're not? Well scroll back to the top and read it again!
Ok, finished? That's twice now. Now you're definitely ready to go explore Mauritius and hike the island!
How am I spending this outro? I'm gonna remind you of a couple of things…
Numero en! Soak her up.
Mauritius has a lot of stunning natural beauty that goes overlooked. Better yet, it's got a lot of secrets hidden behind the swathes of sugarcane. Don't miss out. Ask the locals, make some friends, and find some places that aren't on this list or any other!
And numero de! Damn the taxis. Damn the guides! (Except Ashwin; he's a boss.)
Forget the path that's been carved for you: make your own. That's what you got two legs for!
Some of the best things in life… you gotta walk to. Happy trampin'!
---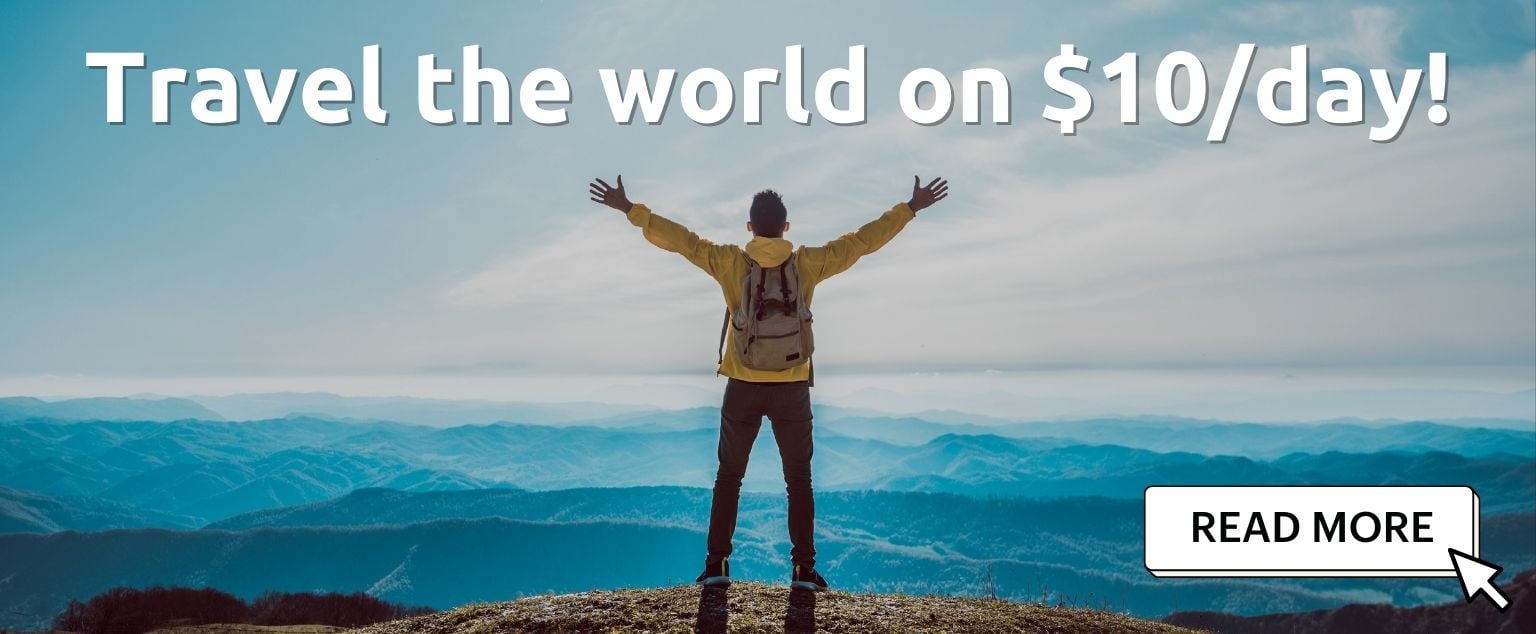 And for transparency's sake, please know that some of the links in our content are affiliate links. That means that if you book your accommodation, buy your gear, or sort your insurance through our link, we earn a small commission (at no extra cost to you). That said, we only link to the gear we trust and never recommend services we don't believe are up to scratch. Again, thank you!