I have a personal motto which I try to live by that says "one cannot commit great deeds in bad shoes…or  in wet shoes". Seriously now, do you think the Declaration of Independence was drafted by men wearing crocs? Was John Lennon wearing thongs when he wrote "Imagine"? No!
Having good shoes is seldom more important than when out hiking. Good hiking boots can mean the difference between savouring each and every step on the trail or aganosing with each football praying to reach the end!
The Renegade GTX is the Lowa brand's signature hiking boot line. The most popular particular boot in the range is the Mid, but they also make a few other variations such as the hiking shoe, the leather inline and the ice boots. This review will focus primarily on the Mid but we will touch on reference the others periodically.
The Lowa Renegade GTX At A Glance
The Lowa Renegade GTX are a mid length, 3 season hiking boot. Made from a combination of Gore-Tex and leather, they offer a decent mixture of waterproofing and breathability. They feel supportive and comfy straight outta the box, and should offer a few good years of heavy use.
They are not the cheapest hiking boots out there and in my opinion, not the prettiest but they are a damned good product for serious hikers who are willing to spend.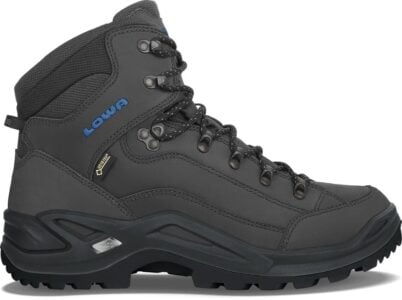 Specs
Weight – 2lbs 7 oz.
Waterproof – Yes
Price – $245
Best Use – 3 season hiking
Who Are The Lowa Renegade Perfect For?
The Lowa Renegade GTX are perfect for hikers who need a comfortable and supportive hiking boot. If you are after hiking boots that offer decent weather proofing and some breathability, then these are excellent boots.
The Lowa Renegade GTX are a great option for serious hikers who are ready to spend some money on getting good quality gear.
Who Are The Lowa Renegade NOT Ideal For?
The Lowa Renegade GTX is not for you if you are on a tight budget. They cost $245 and there are much cheaper boots out there.
They are also not the most attractive hiking boots on the market so if design aesthetics matters to you, then look elsewhere.
Performance Breakdown: Lowa Renegade Review
Over the next few sections, we are going to take a much closer look at the Lowa Renegade GTX and examine it over some crucial areas.
Comfort and Fit
The most important facet of any hiking boot is how comfortable it feels. The Lowa Renegade GTX feels comfortable to wear straight out of the box. Now, hiking boots are not supposed to be worn straight out of the box but we get the feeling that with the Lowa Renegade GTX, you could if you had to.
That said, if a hiking boot fits too well straight out of the box, that can sometimes mean that its comfort level will actually reduce over time as you wear it.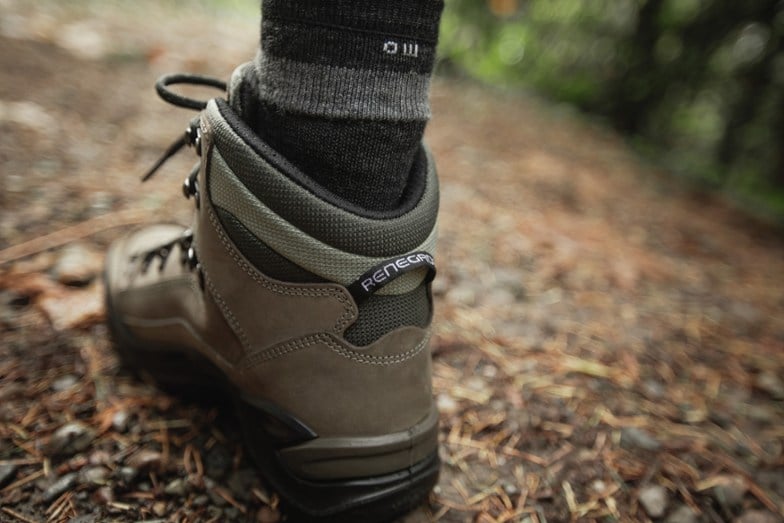 Anyway, the sole has a nice degree of cushioning, the ankle is fully supported, and this boot laces all the way to the top which means it keeps your feet firmly in place. It feels solid and rigid workout feeling too heavy.
As far as boot in this class goes, it is very comfortable even on first use. The only criticisms we can level at it here are that it's not an 'Ultralight' boot (Ultralight cost more, and is less durable) and it doesn't feel quite as breathable as some Solumun boots so it could get a tad sweaty in summer.
Breathability
We touched on this above but now let's look a bit closer at how breathable the Lowa Renegade GTX are. The Lowa Renegade is a classic kind of hiking boot with a leather upper and breathable membrane. Now, leather is simply not the most breathable kind of material there is so if you are looking for desert boots to use in hot, arid conditions, then these are not the ideal ption.
Still, that said the Lowa Renegade does shine above the competition -the upper leather is just about thin enough and the insole/ lining does a sterling job at absorbing and dissipating any moisture.
Remember that this is a 3 – season multi purpose boot and it is not specifically intended for hot weather use. If you have the money and disposition to buy 3 pairs of boots (one for each season) then do it, but otherwise, we feel that this one matches breathability with weather proofing very well. Now, speaking of weather proofing…
Ladies & Gents, It's Time to Step Your GEAR Game Up. 😉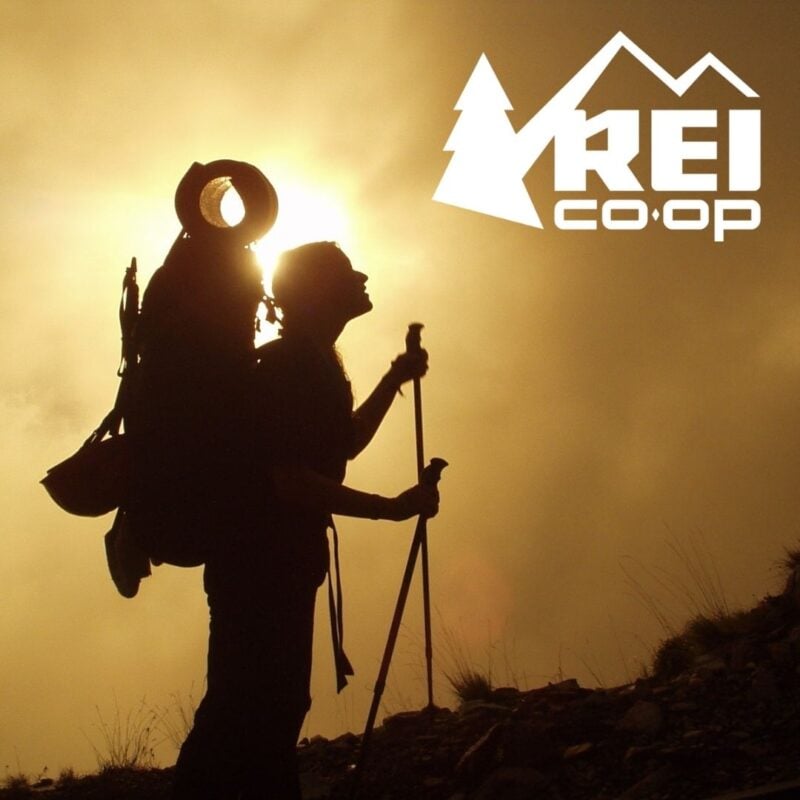 REI is one of America's biggest and most-loved outdoor gear retailers.
Now, for just $30, get a lifetime membership that entitles you to 10% OFF on most items, access to their trade-in scheme and discount rentals.
Join REI Today!
Waterproofing and Weatherproofing
Firstly, in case you didn't know, the "GTX" stands for Gore-Tex and the magic material is utilised throughout the boot. Other than that, the leather (whilst quite thin as we said) offers a decent level of waterproofing.
The Lowa Renegade's height also contributes here. The boot is 6inches high which gives it a good deal of flood protection – you can stand or walk in streams up to 6 inches high before water floods its way into the shoe. That's pretty good for a "mid" length hiking boot.
The boot is not designed for alpine use, but you will be able to use it for light snowshoe use on account of the insulation.
Durability
These boots are not cheap and as such, buyers expect to get a good few years of wear and use out of them.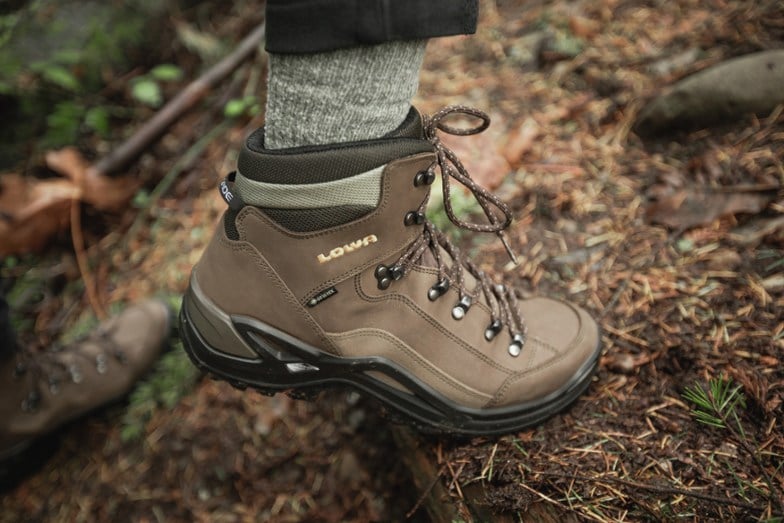 In terms of construction and build, the Lowa Renegade utilises several pieces of leather on each side of the boot – this means more sewn-seams which is a bit of a liability in a boot. As such, we are not sure how long these will fare if given some serious abuse.
We also pointed out that the boots did fit very well straight out of the box which made us question whether they really designed for longevity.
Weight
The men's size 8 comes in at 2lb 7 oz. That is lighter than a lot of other boots in its class. Considering the Lowa Renegade GTX's heavy use of leather, the product is still relatively lightweight.
It is a proper hiking boot, and does feel solid. But, it doesn't feel particularly heavy and you will happily tread the miles.
There are Ultralight boots on the market which feel amazing to wear – but these are more expensive and are typically less durable.

Our GREATEST Travel Secrets…
Pop your email here & get the original Broke Backpacker Bible for FREE.
Aesthetics
I know that some of you subscribe to the world view that aesthetics are not important when it comes to outdoor gear and you are more about practicality. However, I personally cannot bear to wear anything that doesn't look even a little bit cool.
And to be honest, for me this is the Lowa Renegade GTX's biggest weakness. They look like the token, clunk hiking boots worn by Dad's, camp leaders and geography teachers.
I appreciate that this is totally subjective but there ARE plenty of better looking hiking boots out there including any number from the Solumman range and especially Vivobarefoot.
Price & Value
Coming in at $245* These hiking boots are certainly not in the "budget" category. In fact, you can pick up leather, mid length, 3 season hiking boots for around $99 if you are short on cash.
However, considering that this is a quality product from a highly reputable brand, the price point is fair. Cheap outdoor gear usually turns out to be a bad idea as it either feels uncomfortable to use, or simply breaks too easily. Instead, we look at good outdoor gear as an investment that will pay dividends in terms of helping you to enjoy your hikes, and in longevity.
*If you are a member of REI then you can claim 10% off many items including the Lowa Renegade GTX.
Alternatives To The Lowa Renegade
We have previously published a detailed review of the Keen Targhee which is a strong competitor of the Lowa Renegade GTX.
If you are looking for something lighter than the previously mentioned models, then the Vasque Breeze LT Mid GTX or even the NorthFace Hedgehog 3 may prove to be a better fit for your needs.
Final Thoughts on The Lowa Renegade GTX
In summary, the Lowa Renegade GTX are an excellent pair of hiking boots. The marriage of Gore-Tex and Leather lends them good waterproofing whilst still offering a decent level of breathability. They feel comfy to wear straight off the shelf offering good support without being too heavy.
Of course, they are not perfect and may be too hot for peak summer use and are not the prettiest boots. Click on the button below to view them on the REI store!
---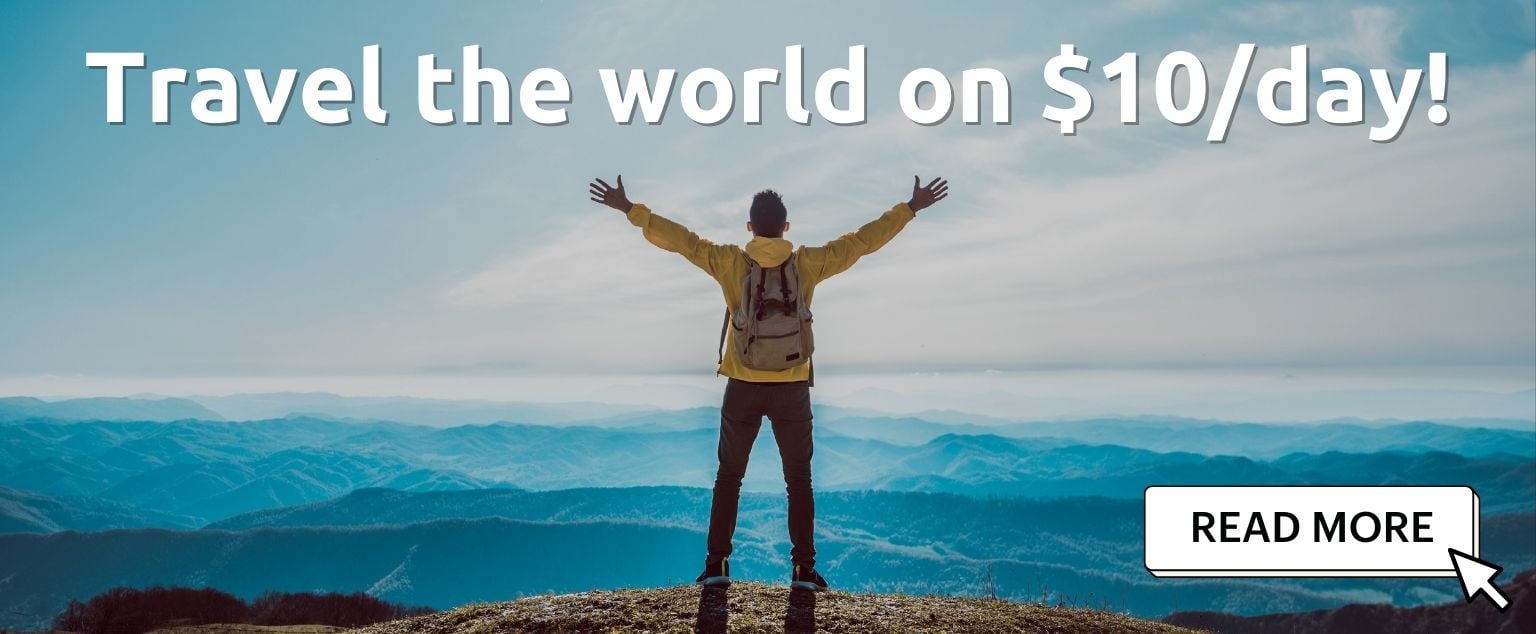 And for transparency's sake, please know that some of the links in our content are affiliate links. That means that if you book your accommodation, buy your gear, or sort your insurance through our link, we earn a small commission (at no extra cost to you). That said, we only link to the gear we trust and never recommend services we don't believe are up to scratch. Again, thank you!