Despite Boston's wildly mis-celebrated treatment of English beverages, there is a still a sizeable selection of more admissible attractions which visitors will no doubt love.
But what are they?
How much do they cost? Are they suitable for my 5-year old? And if I go through with this, will my British girlfriend still love me?
Don't fear, for the answers are no doubt here in my EXCEPTIONAL GUIDE to the top things to do in Boston!
I have collected the crème de la crème of local attractions, so whether you're a child with a dribbling problem, an ex-monk, or a graduate with a horrendous amount of debt, there is something here waiting just for you. And I will even tell you if it offends Brits…
…Let's dive in!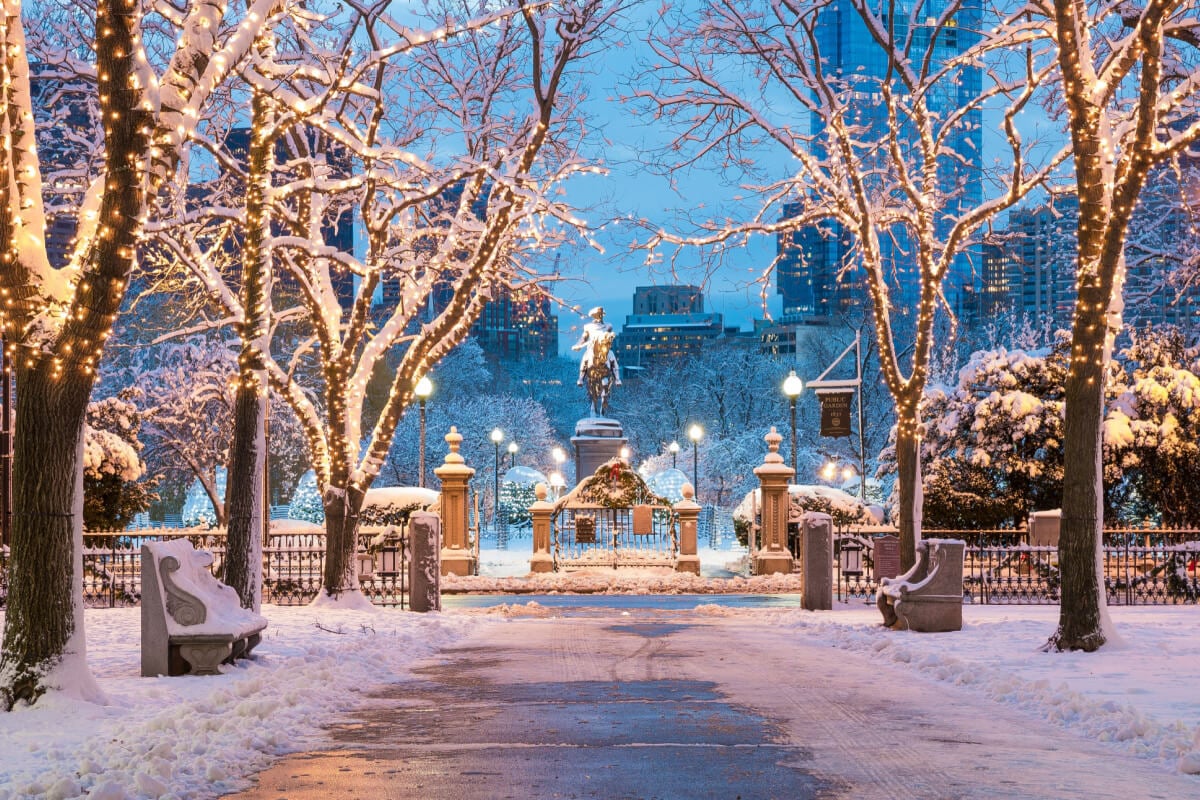 Unlock Our GREATEST Travel Secrets!
Sign up for our newsletter and get the best travel tips delivered right to your inbox.
Top Things to Do in Boston
Are you frantically googling 'Activities in Boston'? Do you feel lost and directionless under the weight and confusion of endless choices? No worries! A Boston visit will soon be plain sailing…
1. Take a gander at Boston's Freedom Trails
Probably one of the most popular things to do when staying in Boston, following the Freedom Trails is a great way to learn about the history of the city. Boston was basically the birthplace of U.S. independence, and walking the Freedom Trail is an iconic way to discover the full story!
Rating: All ages
Cost: Free to $$
My Personal Opinion: A true Boston essential. While it is touristy, it is still very much worth doing. Don't feel bad about taking part!
Walk from Boston Common (the first public park in America, we'll have you know!), past the Granary Burying Ground, which dates back to the 1630s, and pause for a moment of reflection at the site of the Boston Massacre outside the old statehouse. Don't worry: this urban walking trail is easy to follow and takes about 90 mins to walk. It passes several of the top Boston attractions, so taking your time isn't a bad thing!
2. Slight the British at the Boston Tea Party Ships & Museum
The entire US East Coast is integral to the history of the great nation. A key part of America's foray into independence was, of course, the Boston Tea Party. We'd tell you all about it, but… We think the Boston Tea Party Museum would probably be a better place for that.
Rating: All ages
Cost: $$
My Personal Opinion: I hate that they let you pour tea into the sea, but I will accept that there was a good reason.
An essential thing to do in Boston (even on a cheeky Boston weekend), it's not just any old museum – this one's actually mainly housed on an old ship (well, a replica of an 18th-century ship). Here you can learn all about that fateful day, 16th December 1773, the whole "no taxation without representation" thing, and the lead-up to the American Revolution. You can even pour tea into the sea as an eternal !#*$ you to Britain.
3. Dumpling Party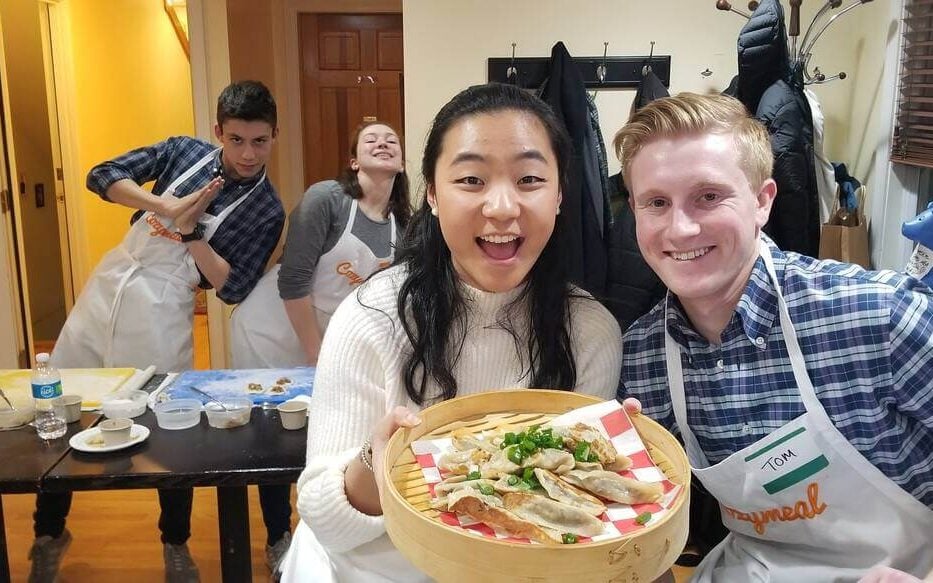 You probably thought I would play it safe and go with the museum of fine arts, or some other national historic landmark. No chance. YES, coming in at number three is the dumpling party, which is potentially not historically Bostonian, but still a heck of a lot of fun. Food tours are a thing in Boston, but this is where you want to be.
Rating: All ages
Cost: $$$
My Personal Opinion: I adore munching Asian pastry pasta, and I am certain that you will too.
If you fancy learning how to make dumplings, competing against your friends in a prize-offering dumpling rolling event, and eating an uncomfortably large number of Asian snacks, then this activity is right up your alley! Also, it's BYOB.
4. Take a stroll around Boston Public Garden
Back in Boston's Financial District, if you're feeling up for an outdoorsy thing to do in Boston, we'd say head on down to Boston Public Garden. Established back in 1837, this 24-acre green space has a fair few interesting sights and a lot of history, but the paths, flowerbeds and statues make it a picturesque place.
Rating: All ages
Cost: Free
My Personal Opinion: Super scenic, super large. Take a picnic and make an afternoon of it!
Some of that historical statue action includes George Washington, so make sure you get your best selfie face on – or do it the old school way and get a passerby to take a photo of you and the big man himself. Afterwards, head to the boating pond, complete with vintage swan boats made in 1877 (don't worry, they still float).
5. Watch Shakespeare for free on Boston Common
For another very cool free thing to do in Boston, we'd recommend heading over to Boston Common on given day of the week (except Monday) from April till November. This is an idyllic summertime activity in Boston. Here's where you'll get the chance to catch a spot of Shakespeare, performed by many different companies in the park's historic Parkman Bandstand.
Rating: All ages
Cost: Free to $
My Personal Opinion: If you can catch a show, there is nothing better. Mind you, it gets busy, as others are looking to do the exact same thing!
What better thing to do in Boston than watch A Midsummer Night's Dream (or, in 2023, Macbeth) on a summer's evening in the city's oldest park – all for free! A very cool idea. You can make a reservation for a chair ($5) up to 5 hours before the performance starts. Otherwise, get a picnic blanket and snacks, then claim a spot.
6. Faneuil Hall Marketplace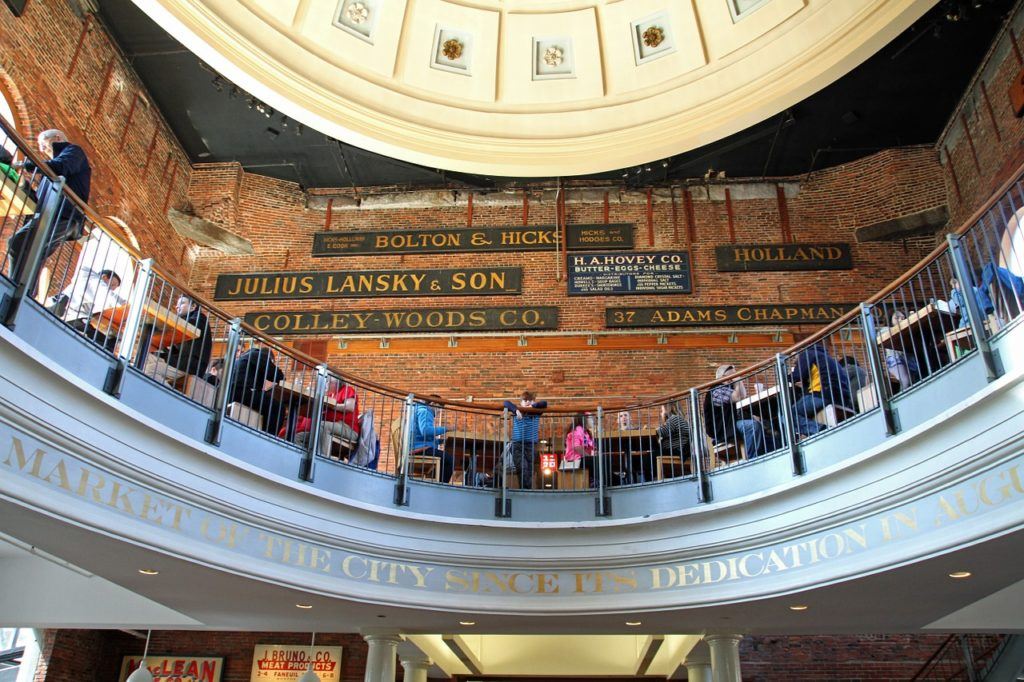 You're in Boston. You don't want to get souvenirs to take back home from some random little tourist shop, right? Of course you don't. You want to get them from somewhere authentic. For that, we'd head to Quincy Market – one of those unmissable things to do in Boston.
Rating: All ages
Cost: Free (depends what you spend)
My Personal Opinion: Worth an hour or two but no more. The food is one of the best bits!
Why unmissable? Because it's one of the largest markets in the US! There's loads of stuff going on here, from interesting trinkets to those all-important souvenirs. And if you're prone to getting hangry, don't you worry: this is a prime lunchtime spot with a ton of vendors and food stalls to keep you well fuelled for your market meanderings.
7. Paul Revere House
Entertain the peculiarities of life a few hundred years ago at the Paul Revere House. Situated in the North End, and part of the Freedom Trail, this historic abode offers an intriguing look into the lifestyles of the times, and there is some pretty tasty silverware hanging around too.
Rating: All ages
Cost: $$
My Personal Opinion: Frankly, the house isn't that large, so only worth an hour of your time (or less). History buffs will enjoy!
The best part of this Boston attraction is most likely the tour guides. They have fantastic knowledge of the period and the stories are great! If you want to settle down to hear about the antics of the Revere family, then you should certainly stop by the Paul Revere house.
8. Chow down on the tastiest food in town
Speaking of food, Boston is pretty dang famous for its food. You would be doing the city a SERIOUS disservice if you weren't to try out any of its top dishes.
Start off in Boston's historic North End and eat your way south as you discover the city's roots through your tastebuds. There's plenty of Italian-American stuff, from fresh cannolis to pizza sandwiches. They've got a fair bit of seafood here too, being positioned on the New England coast: we're talking clam chowder, oysters and the famous lobster rolls. You'll even find baked beans and fish 'n' chips (hello Britain).
Rating: All ages
Cost: Free
My Personal Opinion:
It's a mountain of delights, making for one of the more non-touristy things to do in Boston. Tip: Leave room for Boston cream pie! If you have time, you could even take one of the many fantastic food tours in Boston!
9. Take a trip to the iconic New England towns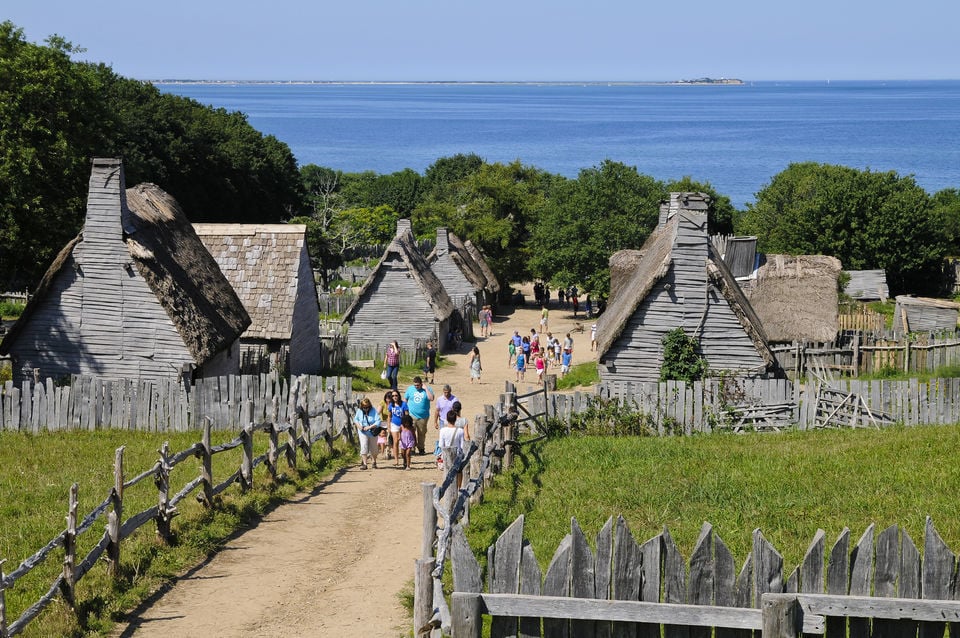 Boston is one of the major cities in the beautiful New England area. This region is known for its rugged coastline, endless suburbs and picturesque fishing villages. Exploring it, with Boston as a base, is a top plan.
Rating: All ages
Cost: $$+
My Personal Opinion: New England is amazing, and heading to Sandwich shouldn't be missed!
So we're saying it's one of the best day trips from Boston you could ever do. Especially if you like your destinations to be extra charming and historic. There's Sandwich, for example, which is the oldest town in New England, dating back to 1637 – expect lots of old buildings (including a 1698 tavern!). Plymouth, where the United States basically was born, is well worth a visit. Cape Cod is also awesome. This whole region is awesome, actually. Definitely go.
10. The Underground Doughnut Tour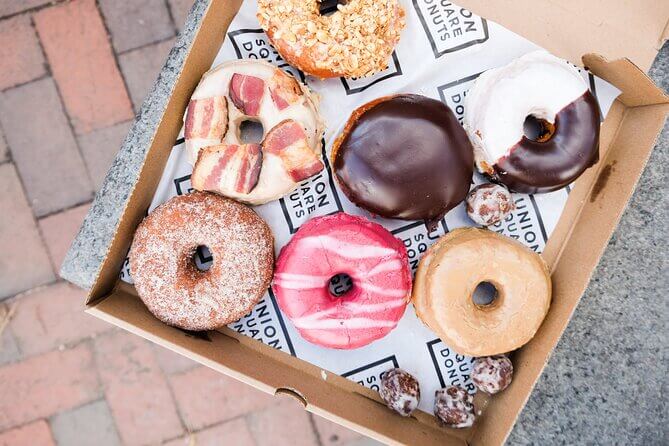 Numerous artisanal doughnut stores? Local knowledge? Sugar levels only a New Yorker or a Texan could handle? Yes, the underground doughnut tour is back in town! And while there is a healthy amount of the sucre on this tour, there is also a pretty awesome amount of history too!
Rating: All ages
Cost: $$
My Personal Opinion: A surprisingly informative way to spend your time.
Explore the Boston Harbour, The Boston Public Market, and the North End, as well as some of the best bakeries in town. This tour is not to be missed in any self-respecting Boston itinerary. Bring on those tasty tasty doughnuts!
Bonus Activities in Boston, Massachusetts
In case you're still hungry, these bangers ought to sort you out! Here are some extra top-tier suggestions to satisfy that things-to-do-in-Boston hunger.
Get spooky in Salem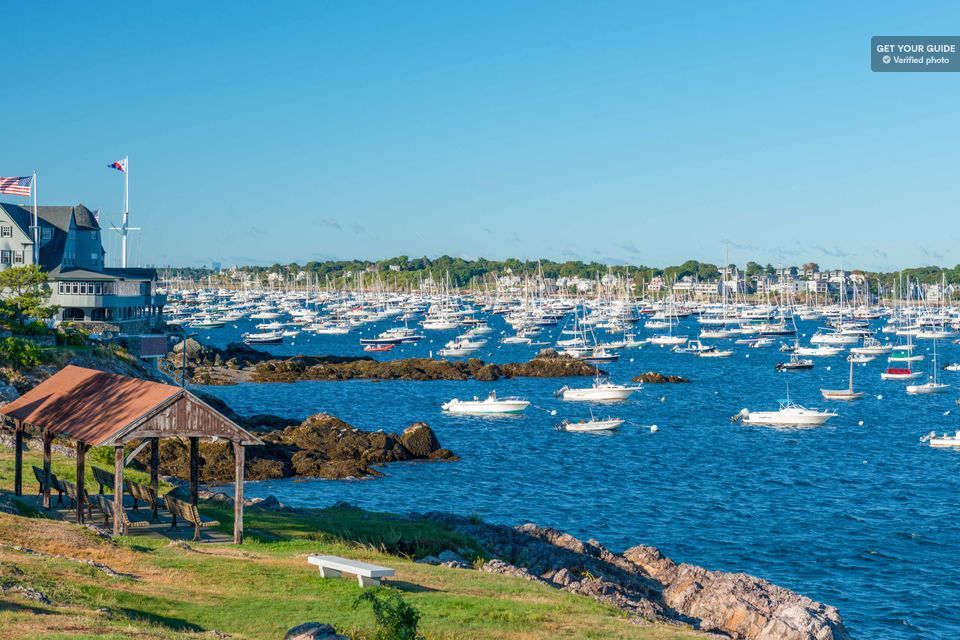 If you feel like getting out of the city and its skyscrapers for a minute, then for a great day trip from Boston we'd recommend heading out to Salem. Not just the name of Sabrina the Teenage Witch's cat, Salem is an infamous village that was known for its pretty bad witch trials from 1692 to 1693. Learn all about it at the Salem Witch Museum, complete with exhibits and info as to why all that madness was going on.
For something that looks right out of a classic American horror film, visit the House of Seven Gables and the Witch House at Salem. When you've had enough of scaring the bejeezus out of yourself, head back to the noise of the city. Ahh – that's better!
See the world at the Mapparium
You might be thinking, "What is a mapparium and why should I be going to one?" It's a glass globe, but it's more impressive than it sounds. One of the more unusual things to do in Boston, this thing really is huge. Spanning three stories and intersected by a glass staircase, the globe is made up of different panels that make up, you guessed it, the map of the world.
It's an interesting way to see what is essentially… a map.
It's pretty weird though because it's from 1935 and all the country boundaries are wrong: think African colonies and the USSR. But what makes it even more of a weird thing to do is, being a perfect sphere, the echoes of people speaking are pretty wavy.
Discover the secret of Bodega
What is the secret of Bodega? Wouldn't you like to know! … Ah, we feel bad. We'll tell you. It's one of the more unique things to do and that's because it's a super high-end streetwear store hidden in plain sight. Well, actually just hidden at the back of an everyday-looking bodega.
The bodega itself looks normal enough: shelves of household products and food. But at the back of the store, there's a Snapple machine (stay with us) which actually doubles up as the door to the fashion shop itself. It's all very sleek and cool and all the more interesting because finding it is like playing a real-life escape-the-room game.
Have Fun on a Pub Crawl
With all that colonial and European heritage going on here, there are a ton of pubs in Boston. Like, we really mean a lot. Not so much British boozers either, but there are a fair few Irish pubs here. When the Irish immigrated to Boston it seems they brought their pubs with them and we're fine with that.
The pubs in the Faneuil area of the Historic Downtown of Boston are where it's at. Here you'll find pubs like the mentally old Green Dragon Tavern (1654), The Bell In Hand Tavern (1795), and the Warren Tavern (1780). Basically, drinking your way around these pubs is one of the best things to do in Boston at night. No doubt about it.
Experience the sights and sounds of Chinatown
Like all good, big American cities, Boston has its very own Chinatown. And this one is the only major Chinatown left in the New England area. Dating back to the 1870s, when Chinese laborers from San Francisco to break a strike, the Chinatown has boomed instead of falling into decline like other Chinatowns in the region. It's the city's centre of Asian American culture with a TON of Chinese and Vietnamese restaurants to try out.
Come for the amazing Chinese food (particularly Fujianese cuisine), stay for the buzzy atmosphere after dark. Get off at the Chinatown stop on the MBTA Orange Line. Exploring this is one of the more unique things to do in Boston: especially during Chinese New Year!
See the home of the Boston Red Sox
Even if you don't know much about baseball at all, chances are you know the names of a few of the most famous teams. The Boston Red Sox will be one of those teams.
Dating back to 1906, it's a pretty historic team with an iconic stadium: Fenway Park, one of America's most well-loved ballparks. If you want to get into the proper details of how it all works, and with some history, you can visit the park itself on a guided tour. That's cool. But to get the full experience, a game is highly recommended. One of the most essential things you could ever do in Boston. We're 100% serious.
See a show at the historic Boch Center-Wang Theatre
Originally opened in 1925, the Wang Theatre is pretty much an institution of Boston. Going there, even just to see the outside of it, is cool enough. But for one of the more cultured things to do in Boston at night, we'd highly recommend getting yourself a ticket to see one of the nightly performances at this storied venue.
The lobby interior is super stunning, complete with chandeliers and so much gilded gold-leafing that it almost feels like a palace. The theatre itself is beautiful. Basically, if you're at all interested in musicals (and honestly, even if you're not) you should experience this place. Get there early before the performance starts just to gawp at how cool the auditorium is. Definitely one of the cooler, more non-touristy things to do in Boston.
Watch a cool movie at Coolidge Corner
Looking for something to do in Boston at night that doesn't necessarily involve drinking (and that isn't a musical)? Well, you've come to the right place. Not only is Coolidge Corner a cool retro building dating back to the 1930s, but it puts on an awesome after dark movie series called Coolidge After Midnite (we especially like the spelling of "midnite").
Every Friday and Saturday night the theatre shows everything from '50s classics and cheesy '90s movies to horror staples (eep!) and even cult 8mm films. And just about everything in between. In true Boston fashion, there are stodgy snacks and cinema favorites to gorge on.
Sip champagne on a yacht
Champagne – check. Historic yacht – check. So, yep, it's pretty much all aboard on this one for (possibly) the most romantic thing to do in Boston.
There are a number of boat-plus-drinking things you can do in the city, but our favourite one is the very cool 1920s commuter yacht, the Northern Lights, that departs from Rose Wharf. This boat is super cool and isn't just one-on-one-on-one with you, your partner and the captain (awkward). It has a full crew and candlelit tables for the full romantic ambience of other people clinking glasses and listening to your flirting.
Gaze upon the city skyline and pat yourself on the back for booking such an awesome night for your S.O.
Wander around Beacon Hill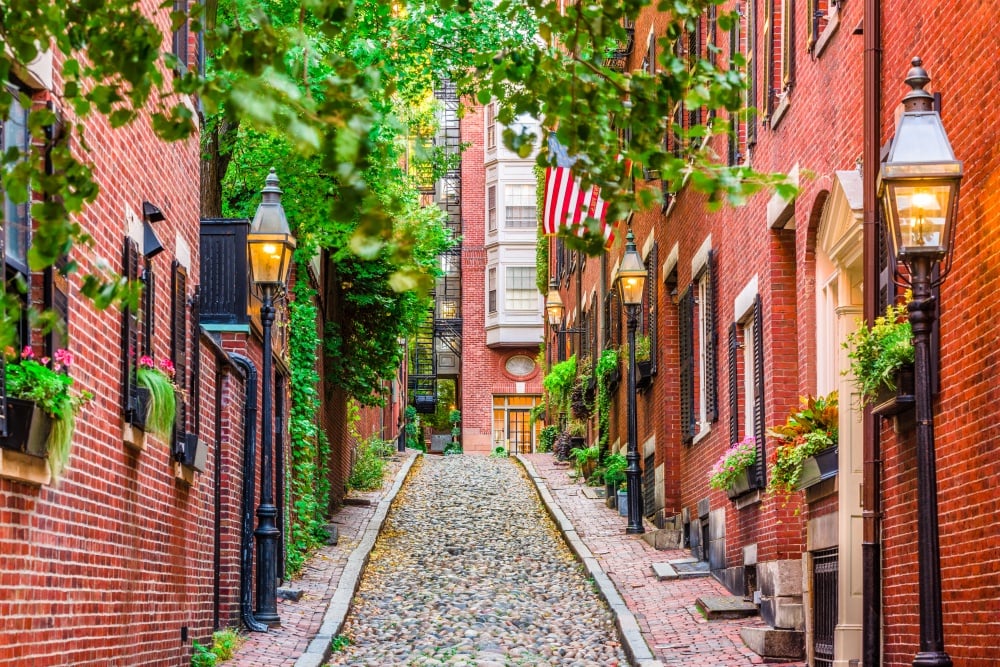 One of the most picturesque neighbourhoods of Boston, Beacon Hill is an amazing place to explore. Especially hand-in-hand with your other half. Another option is to explore the area with a local guide and get to know more about the historic charm.
Strolling the especially charming Acorn Street, with its cobblestones, rows of red-brick, overflowing flower boxes and gas lamps – or admiring the houses on Louiseburg Square – has got to be one of the best things to do for enamored couples. You'll find yourself saying those stupid things like I'd love to live here: it's one of the most desirable (and expensive) areas of the city. Good luck with that. Seriously though, this area is insanely beautiful and a highlight of our Boston Itinerary.
Browse the books (but be quiet) at Boston Public Library
If you like books, this is going to be one of THE best things to do in Boston. Period. It's one of the largest libraries in the United States, with over 22 million books. 22 million! Just think how many words that would be. Insane.
Founded in 1848, it's a beautiful building with murals, chandeliers and a reading room that's to die for (well, almost): it's got beautiful dark wood desks complete with those iconic green library lamps. If you can be discreet about it without annoying people, it's probably one of the best Instagram spots in Boston. If you actually want to learn stuff, there's a regular program of free talks and lectures that goes on here. Either way, exploring this place is one of the best free things to do in Boston.
Visit the oldest bookshop in the USA
More free stuff to do in Boston for bookworms now as we whisk you to Brattle Book Shop. This family-owned bookstore is a veritable Aladdin's cave of used books and, like many things in Boston, is the oldest one of its kind in all of America.
Partly inside, and partly located down an alley next door, there are so many books to sift through here that – if you really are a book fan – you could definitely spend a whole afternoon here. The shelves are completely stuffed with books. We reckon it's easily one of the best things to do in downtown Boston. Very cool.
Top tip: Head to the top floor for rare first editions.
Get your geek on at The Museum of Science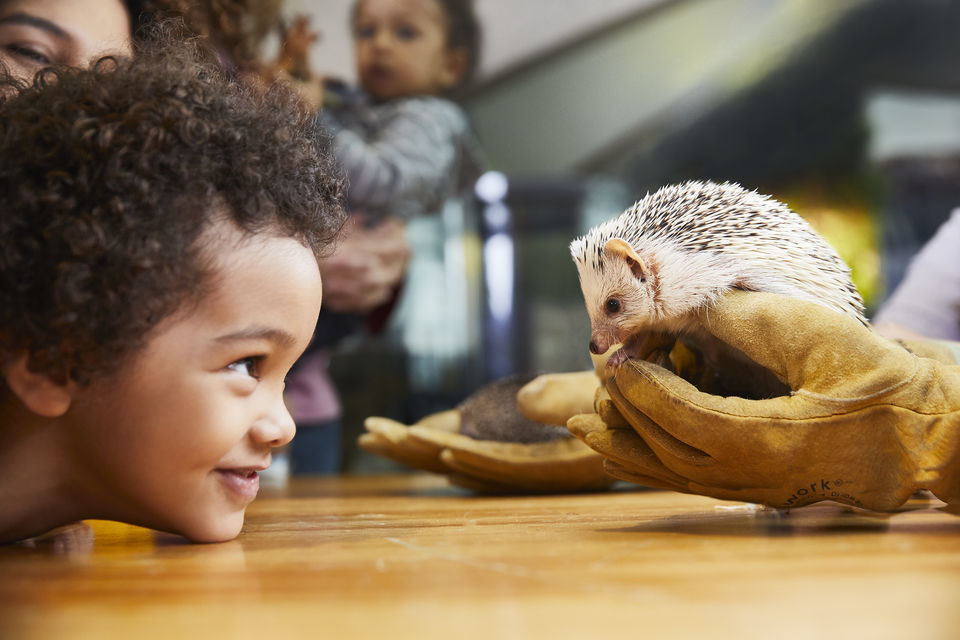 If you're in the city with your family and you're looking for the best things to do in Boston with kids, well, here's one of them. The Museum of Science is a very cool place for you to explore. And, what's more, if you get caught out with some inclement weather, it's all good since it's indoors (automatically one of the best things to do in Boston when it rains).
Get spacey at Moons: World of Mystery, where you can journey through the solar system, or hit up the dinosaurs exhibit for those with 8-year-olds with an obsession with toothed and clawed prehistoric reptiles. Basically it's loads of fun – and it's got a cafe if you forget to bring those all-important snacks.
Go whale-watching
Honestly, what could be more memorable than whale-watching? It's incredible to see these huge marine mammals up close and personal, so if you've got older kids who can sit still for a while (or are entertained enough by being on a boat): go whale-watching!
There are many different ways to do it, some of which involve simply looking really, really hard from the coastline itself, but the best way to spot the whales is to get you and your family on a boat to see them much closer. We're talking humpbacks, finbacks and even white sided dolphins. A lot of the boats come complete with guides and experts who'll be able to answer any questions on these amazing animals and their habitat.
Have a few drinks in a local Boston brewery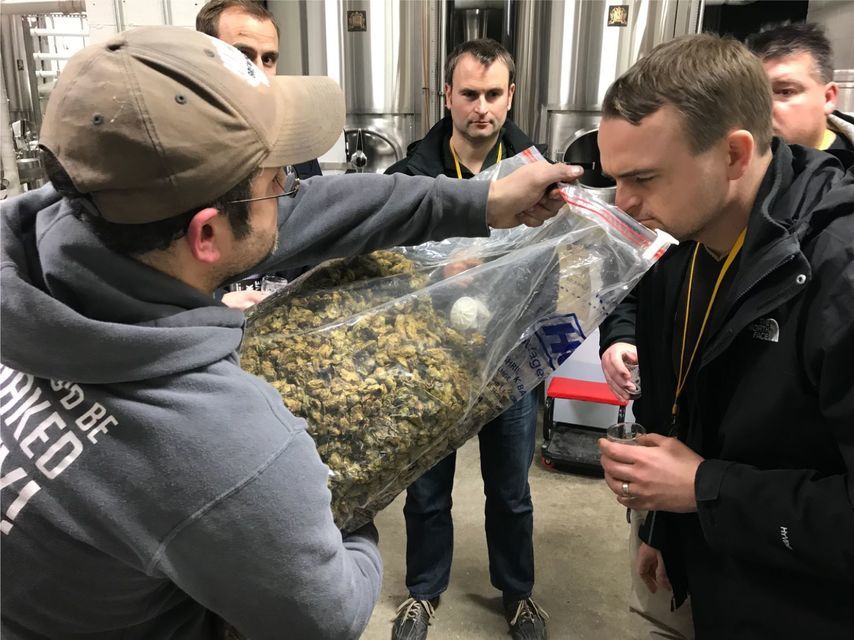 Boston may be famous for its many, many pubs. But in some ways, that's old news. We mean, literally: that's olden-days stuff, right? If you're interested in knowing what's going on in present-day Boston, you should get yourself to a craft brewery.
At Nightshift Brewing you can get a taste of craft beers that have been made using habanero peppers and peppercorns in the brewing process (not as bad as it sounds), at Mystic Brewery you can sample French farmhouse-style ale, whilst at Down The Road Beer Co. they offer up a wide selection of differently brewed beers. Definitely one of the more hip things to do with your time in Boston.
Get schooled at Harvard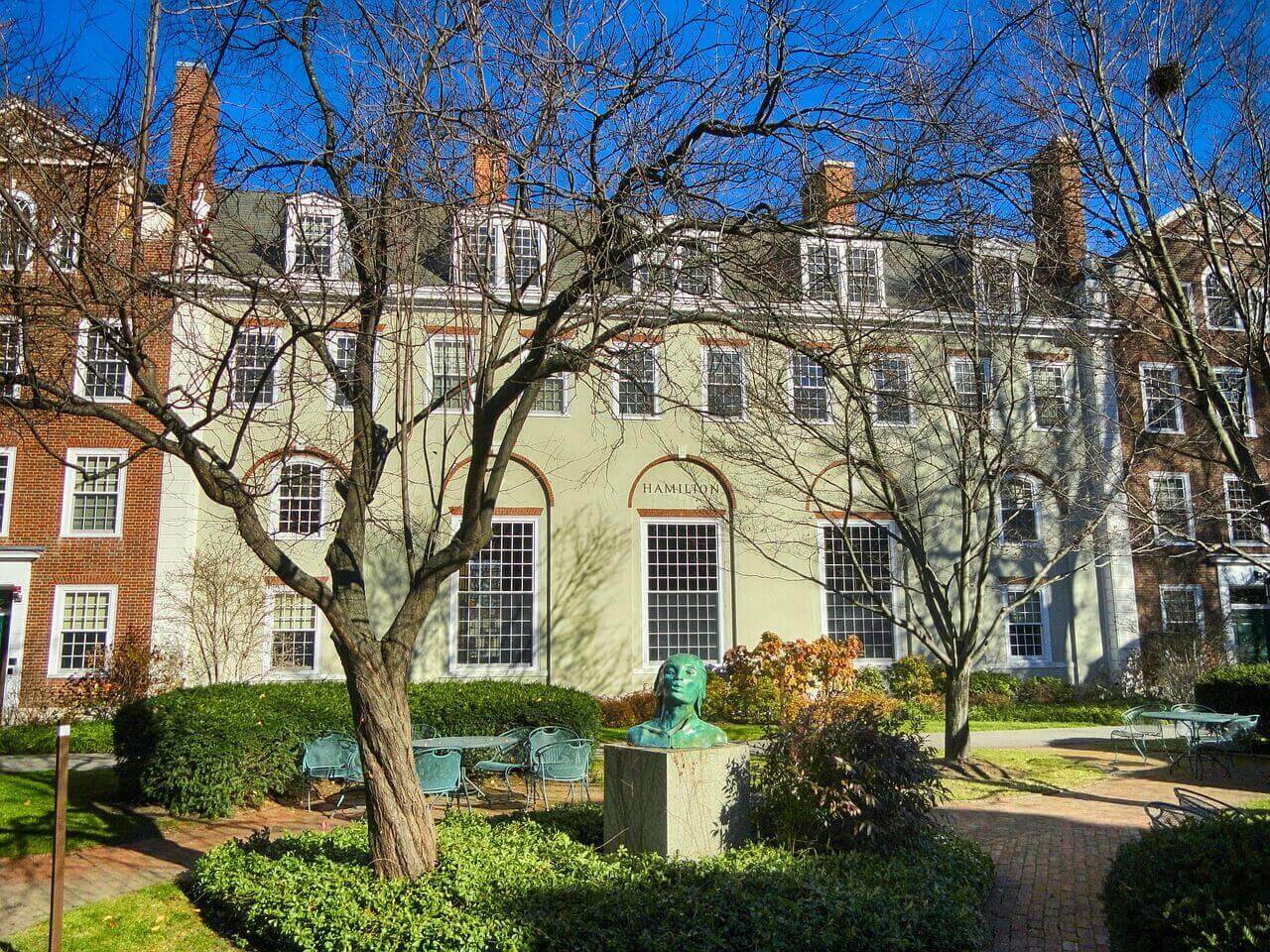 Harvard University is one of the most famous universities in the world. Luckily for you, it's in Boston and it's not exactly closed off to the public. You can just… stroll around. Which makes for one of the more unique things to do in Boston, we'd say.
The Harvard Yard, for example, is one of the oldest parts of the university. It's here where you'll find a load of cool buildings, like Massachusetts Hall which dates back to 1720. You'll even be able to spot the statue of the founder of the university, English clergyman John Harvard himself. There are a ton of old stories about the university, so (if you can) we'd recommend some sort of guide. Or read up beforehand.
Find the best Boston pizza in town
Like pizza? No? Well, skip this one (and don't talk to us again). If you do like pizza then read on, dear friends. It's claimed variously that Boston is home to the best pizza in the whole damn USA. To be fair there is sizeable Italian community in Boston, so it doesn't exactly come as a surprise.
For one of the very best places to get pizza, head to Regina Pizzeria. Dating back to 1926 this awesome place still serves up slices to endless cues of hungry visitors. Another place is Santarpio's, an old bakery turned pizzeria that does some amazing things with dough and tomato sauce. The 1960s Galleria Umberto is another over-the-counter favourite. Basically, getting your pizza on is one of the best foodie activities in Boston. 100%.
See an old operating theatre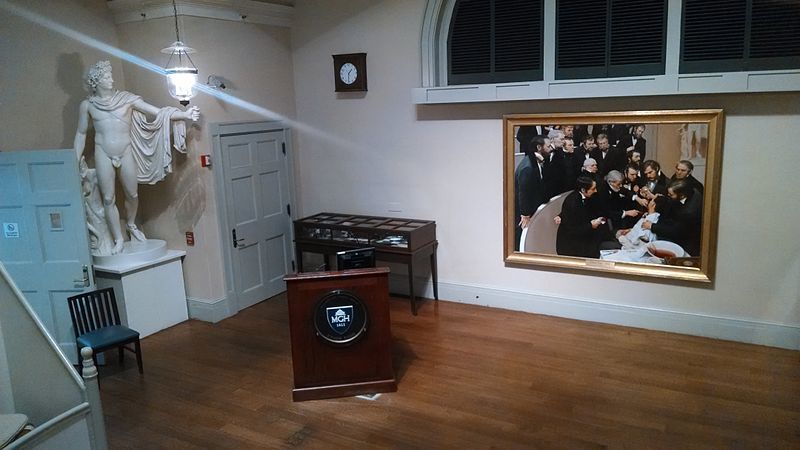 For one of the more… unusual things to do in Boston, we're recommending a former operating theatre. Yes, you read right. It's not weird, spooky, or housed in a derelict old building though. Located at the Massachusetts General Hospital, it's called the Ether Dome and is one of those old-school theatres with the seats and a big glass dome in the roof. It's free.
It was a working operating theatre from 1821 to 1868 and is allegedly the place where the first demonstration of surgical anaesthesia as given (the guy they used it on apparently woke up and said he felt no pain). Weirdest thing: There's now an Ancient Egyptian mummy here. Don't ask us why, there just is. Deal with it.
Take in the city from above
The tallest (and only) observatory in Boston, and the tallest in all of New England, the Skywalk Observatory isn't a standalone building: it's located on the 50th floor of the 228 metre tall Prudential Tower.
Take yourself to this business-oriented building and ride the elevator to the 50th floor for some pretty amazing sights across the city. There's also a restaurant on the 52nd floor for even better views if you've got the money for dinner there. With its 360 degree views and even an audio tour, seeing the skyline from above has got to be one of the coolest things to do in Boston. Warning: it's not cheap.
Pretend you're in a movie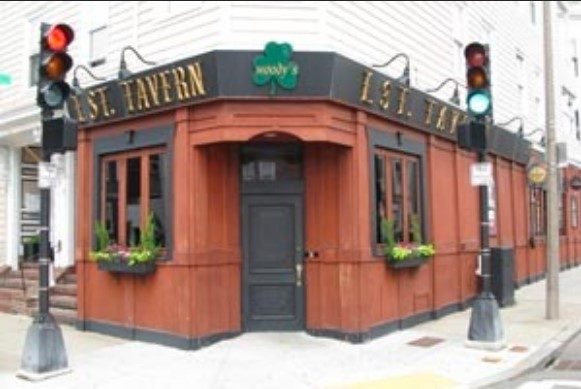 Film buffs and movie nerds: listen up. Boston, being the iconic, historic city that it is, is naturally a pretty desirable filming location. Movies and TV shows galore have had the streets of this storied city as a backdrop.
For starters, a drink at the L Street Tavern (as seen in Good Will Hunting) is in order. Then you peep a lot of sights from Ally McBeal and Legally Blonde as well as The Departed. Head to Beacon Street Bridge for scenes from The Social Network and Whittenton Mills Complex to see bits from Shutter Island.
There's LOADS more. You either know already, or you do some hefty research. Either way: it's one of THE best things to do in Boston.
Spend the day eating in Maine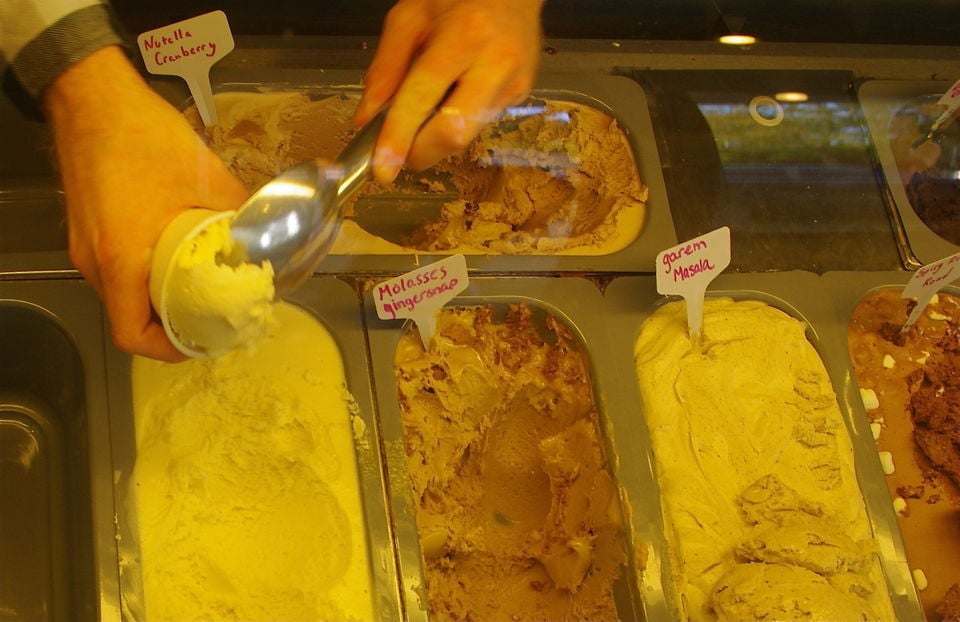 The rocky New England coastline is famed for its seafood so for one of the best day trips from Boston, take yourself on a little excursion to the neighbouring state of Maine. The food here is pretty amazing, making for another amazing trip for foodies.
Maine accounts for about 90% of the United States' lobster supply, almost all blueberries produced in the USA, and about 500,000 gallons of maple syrup. There's dishes that involve clams, oysters, and a whole bunch of fish. For something truly tasty, the brewpub of Federal Jack's serves up amazing food, often involving famed Maine potatoes. And for something homely, go on the hunt for a bean supper!
Find out what a 'Smoot' is at Harvard Bridge
A smoot, you say? We're glad you asked. In 1958 a group of pranksters from MIT's Lambda Chi fraternity took a freshman pledge in the form of Oliver R. Smoot to Harvard Bridge. They had him lay down at the start of the bridge, made a mark where his head was, then had him lay down again and repeated the process. In this way, they measured the whole of the bridge in 'smoots' (5 foot 7 inches, in case you were wondering). The whole thing added up to 364.4 smoots and 1 ear.
Oh the hilarity of fraternities. Anyway, visiting this landmark is one of the more unusual things to do in Boston and a must if you're a fan of kooky measurements. Who isn't?
Walk down All Saints Way
For another unique thing to do in Boston, take yourself to All Saints Way. This interesting alleyway is basically a shrine to almost every single Catholic saint going and is the life work of Peter Baldassari. He decorates the place with seasonal decorations and a whole truckload of religious iconography.
Sometimes it's open, sometimes it's closed. But even when it is closed, just seeing the entrance and the gateway with all its decorations is pretty impressive. If you're lucky, the owner himself might give you a tour and tell you all about his creation. An amazing off-the-beaten-track thing to do in Boston, one that draws a steady drip of curious visitors, you'll find this one in Battery Street in Boston's North End.
Day Trips from Boston
Want to get out of the city? Visit one of these places near Boston for a chance to stretch your legs and experience some of New England's best scenery.
Cape Cod
The iconic Cape is Boston's idea of a vacation. Famous for its endless beaches, charming towns, and historic lighthouses, Cape Cod has become the poster child for the New England coast. Lots of people travel to the Cape in the summer and spend an extended period of time here, either for work or play.
Salem
This historical town was made famous by its gruesome Witch Trials. Anyone who has had any interest in New England history, or the occult for that matter, ends up visiting this town. Contrary to its grim reputation, Salem is actually a fairly affluent place these days.
Portland, Maine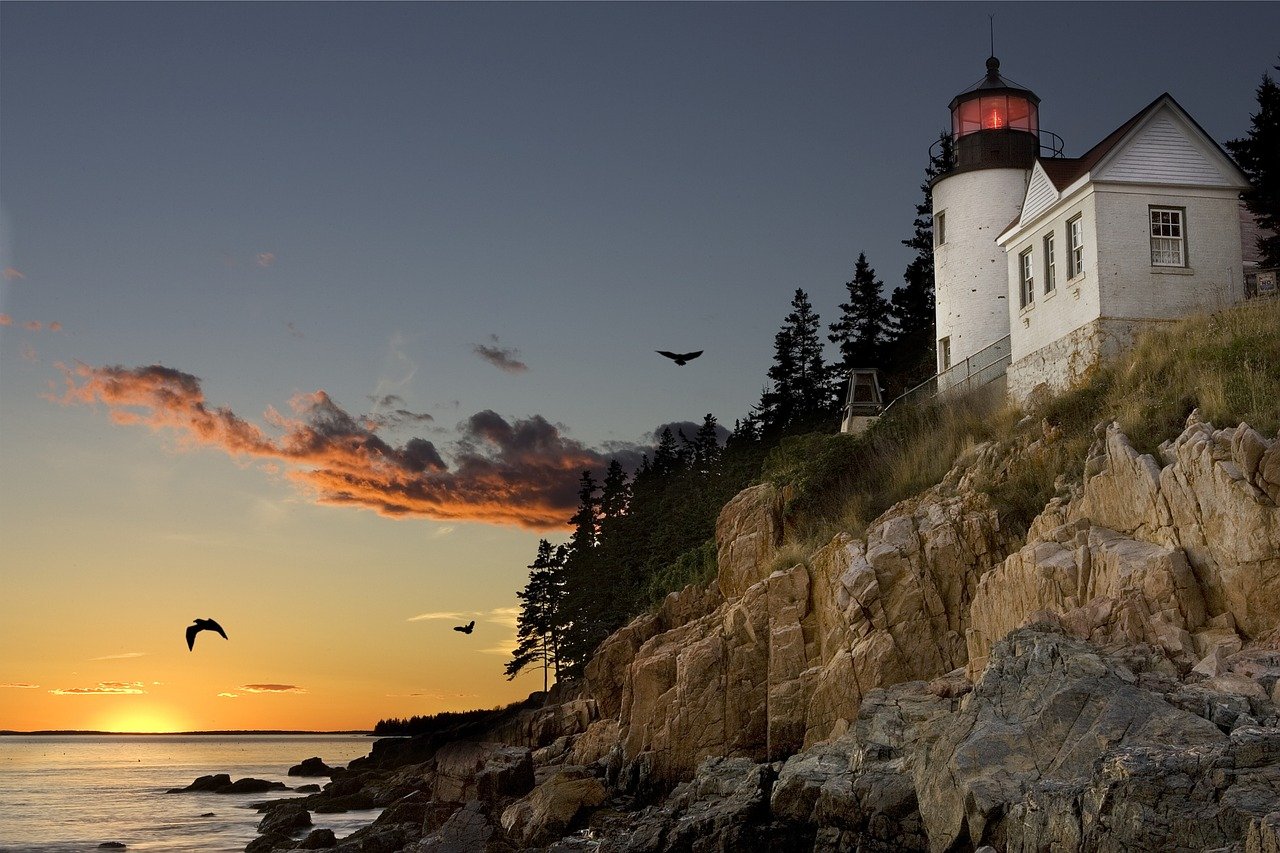 The charmingly unassuming Portland, Maine is a mere 2-hour drive away from Boston and makes for a great road trip. Spend the day exploring the rugged coastline between Massachusetts and Maine, hitting up as many beaches as you can. Arrive in Portland and then grab a fresh lobster at the Old Port with a nice hearty beer.
Don't forget your travel insurance for Boston
ALWAYS sort out your backpacker insurance before your trip. There's plenty to choose from in that department, but a good place to start is Safety Wing.
They offer month-to-month payments, no lock-in contracts, and require absolutely no itineraries: that's the exact kind of insurance long-term travellers and digital nomads need.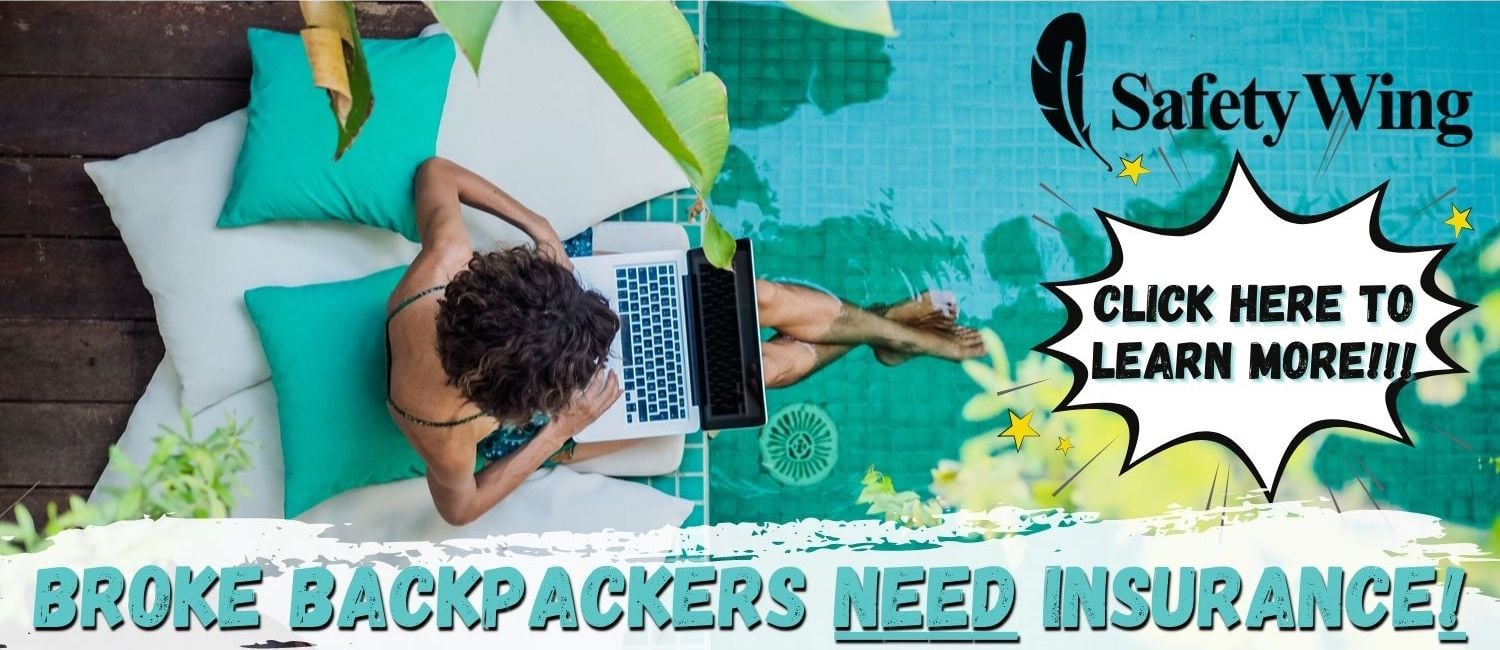 SafetyWing is cheap, easy, and admin-free: just sign up lickety-split so you can get back to it!
Click the button below to learn more about SafetyWing's setup or read our insider review for the full tasty scoop.
FAQs on Things to Do in Boston
Here's what we're usually asked about what to see and do in Boston.
Final Thoughts
Boston is pretty much an amazing city. There's all that history of American Independence, the colonial period before that, and that's before you even start looking into just how culturally rich this city is. From some of the best pizza in America, thanks to its Italian community, to some awesome Irish pubs (thanks to the Irish, of course), food and drink is a great way to get around in Boston. But there's more to it than that.
There are kooky characters, spooky tales, and even college hijinx that have made their impact on the city – one of the most beautiful, historic and actually interesting in all of the United States.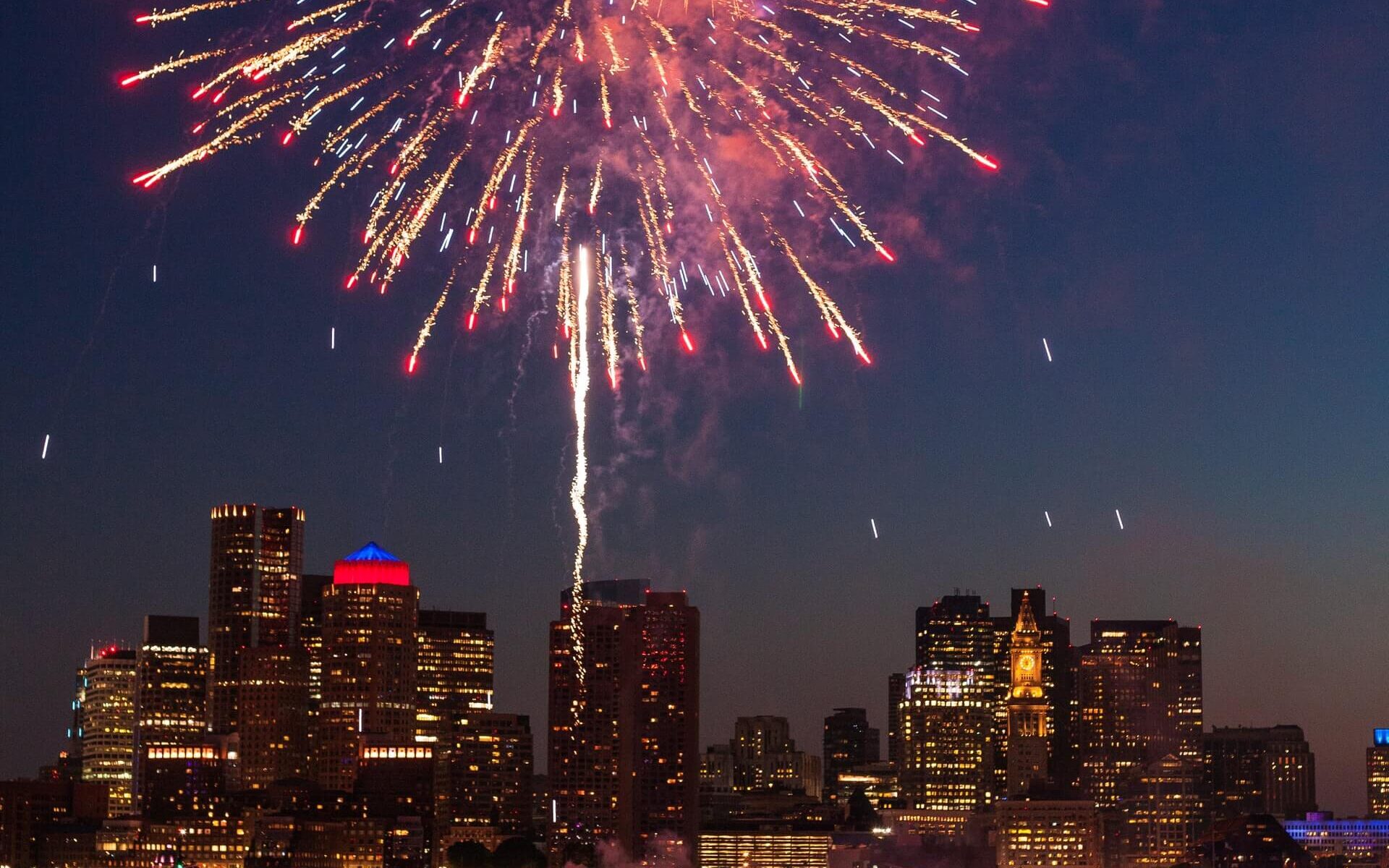 ---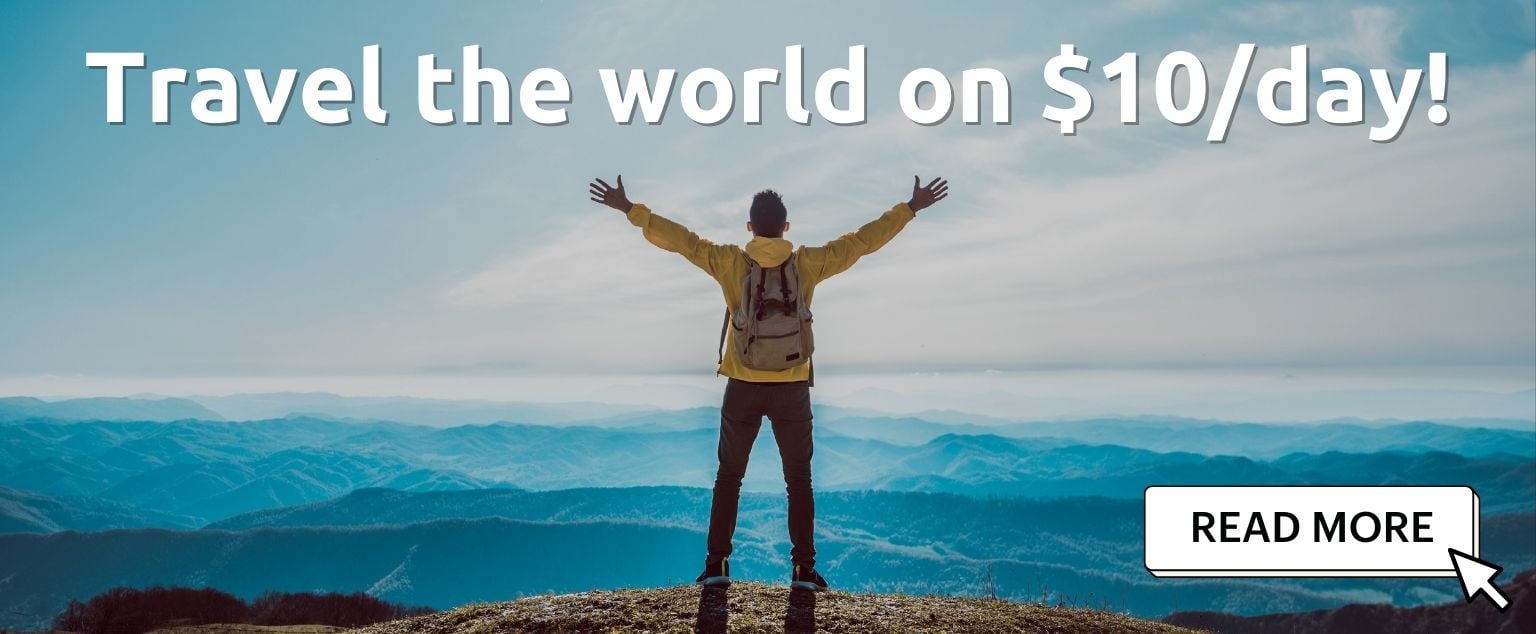 And for transparency's sake, please know that some of the links in our content are affiliate links. That means that if you book your accommodation, buy your gear, or sort your insurance through our link, we earn a small commission (at no extra cost to you). That said, we only link to the gear we trust and never recommend services we don't believe are up to scratch. Again, thank you!