Frozen air crept through the night as I snuggled deeper into the blanket wrapped around me like a shroud. I was the first awake and the camp only just beginning to stir.
Hiking Mt. Pulag in The Philippines was a great unknown to me… It had been an uncomfortable night, I had barely slept as the temperature had plummeted and my feet had turned to blocks of ice. Would it be worth it? I had no idea what to expect on this epic Philippines backpacking adventure.
I stood, transfixed, the stars above me twinkling brightly in the darkness.
Another minute passed as I soaked in the skies above me before fumbling for my head-torch. I was joined by an eager Pinoy backpacker in a bright blue down jacket and an English couple backpacking around Asia. Together, we set off into the darkness in search of Mt. Pulag.
Soaking grass pulled at my trousers as I followed the rough path out of the camp and into the hills. I could see the outline of Mt. Pulag ahead, blocking out the sky and rising up from the darkness like a forgotten monument. I could barely see three meters in any direction but my Filipino friend, Jose, urged me onwards and together we plunged on.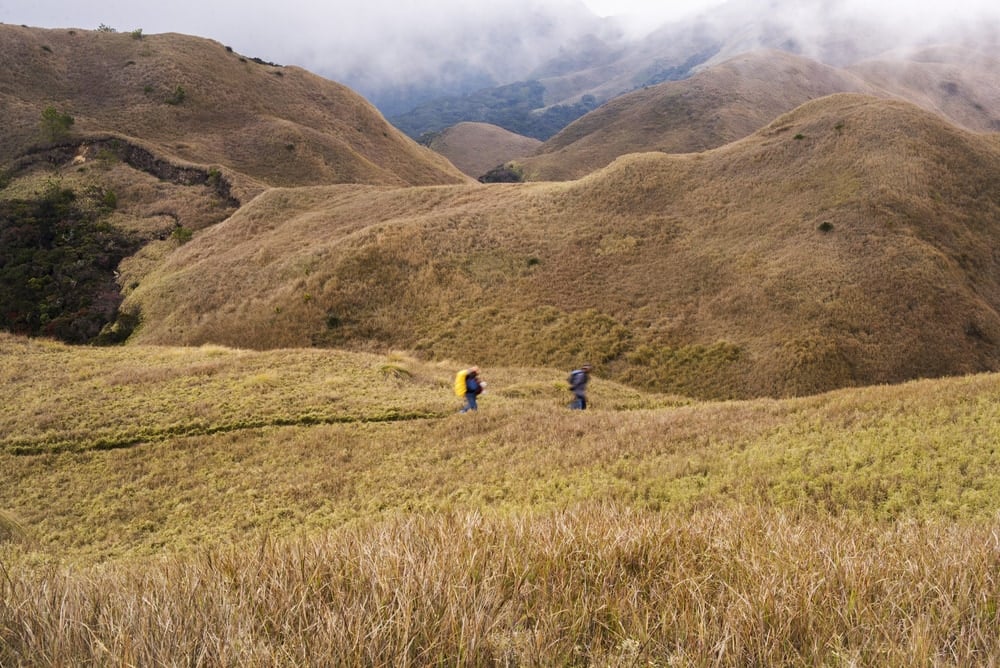 Summiting the Mt. Pulag Hike
As a group, we tackled the path, forcing our way through tangles of grass obscuring our route. Slowly but surely, we began to climb. The top of Mount Pulag beckoning to us through the pre-dawn chill.
We arrived almost without warning at Mt. Pulag's summit. The path simply ended and spat us out gracelessly atop the crest of Luzon's highest mountain. We turned and spotted a trail of faint glows, head torches in the mist, stretching across the grasslands and back towards the campsite.
Unknown shapes danced in the darkness as the sun slowly began to rise. I strained my eyes and could just about make out what almost looked like an endless ocean of clouds.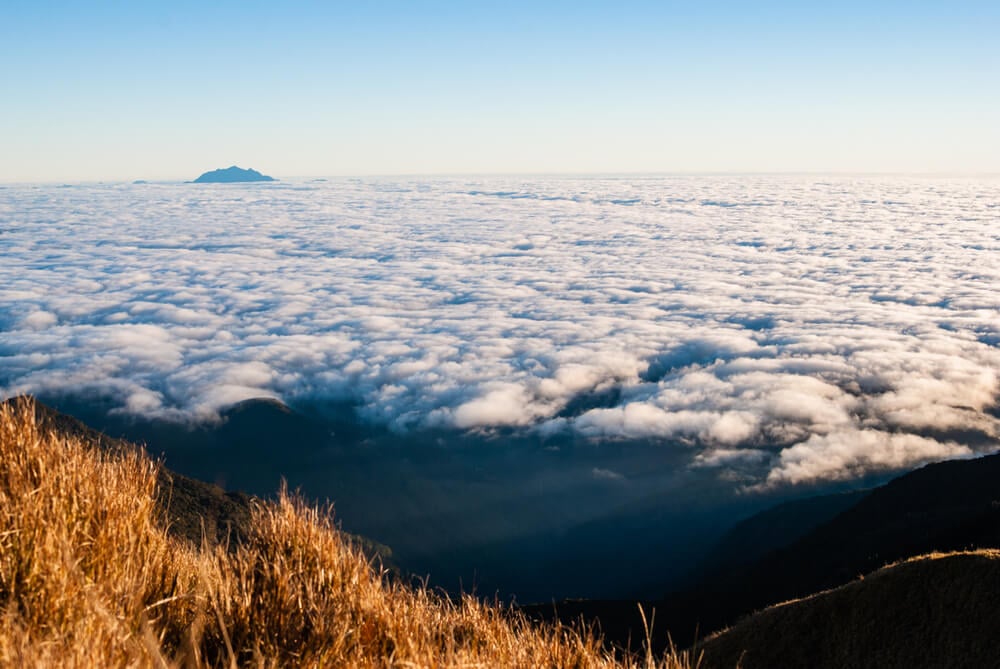 A group appeared and hurriedly began setting up all kinds of photographic equipment: GoPros for time-lapses, cameras for sunrise shots and, of course, selfie sticks for their phones…
Almost on cue, the sun obliged us and began to rise in the distance. Slowly, surely, the scene below me was revealed.
Sunrise on the Summit of Mt. Pulag
An endless plain of fluffy white clouds stretching as far as the eye could see. Psychedelic patterns weaving and turning in the clouds; the sun coloring everything shades of orange, pink and gold. The Pinoy backpacker sat next to me, beaming happily.
"This is amazing," he whispered conspiratorially. I smiled, chatting to my new friend for a while about their favourite places to go backpacking in The Philippines.
I myself have tackled steaming jungles and endless deserts, perilous peaks and mysterious caves; no challenge was too great in my quest to witness the perfect sunrise.
I had never thought that the perfect sunrise which I had been seeking would reveal itself upon a mountain I had never heard of in a country I had only just arrived in. Mt. Pulag in the Philippines…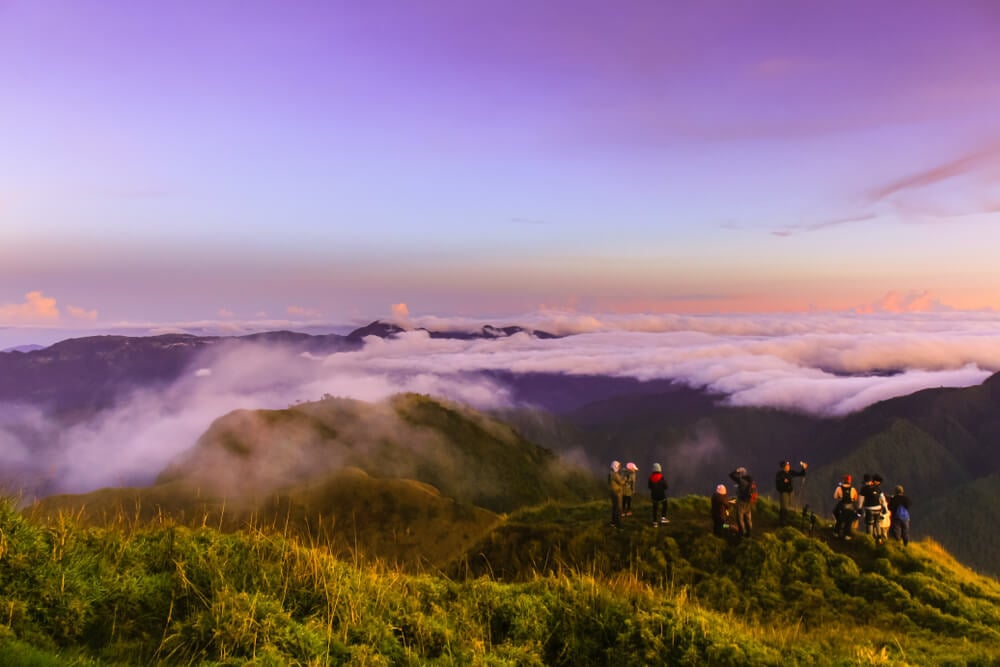 I made a mental note to thank the many folks online who had reached out and advised me to visit this truly special place.
Leaving Mt. Pulag
The view from Mount Pulag on that frozen morning may just be the most incredible thing I have ever seen. Clouds raced towards us and disappeared into a nearby valley, tumbling onwards like a river. I sat, content yet cold, soaking in the first rays of warmth from the sun.
I was jealous of the other travelers; they all had good gear and looked relatively warm.
I, on the other hand, was clad in bin-bags, a borrowed blanket and a Minion hat – I was frozen AND I looked like an idiot…
Slowly, reluctantly, we began to leave the peak in twos and threes. Back at the camp, I joined Jose and some of his friends for a tasty breakfast of tiny sausages, rice and strong black coffee.
I packed up my gear and prepared to leave. I paused, turning to look at Mount Pulag once more time. This was a truly special place. If the rest of the Philippines were anything like this, well, I doubted I would ever want to leave.
Is This the Best Travel Backpack EVER???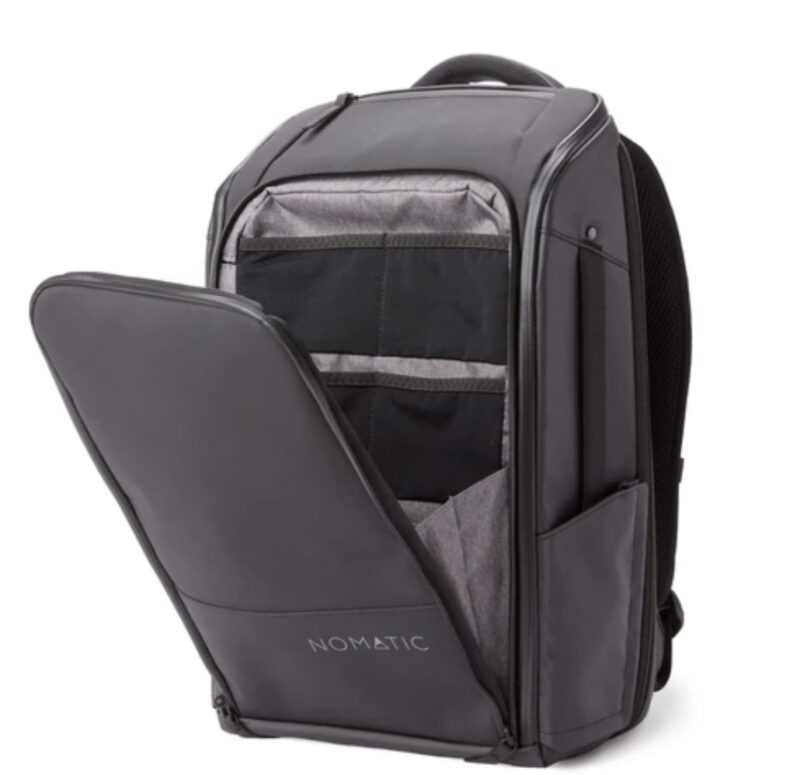 Hiking to Mt. Pulag in The Philippines
The trek itself is not particularly hard. It is probably one of the easiest hikes I have done despite the fact that I didn't have the right gear. Mount Pulag is more of a big hill than a mountain and whilst I do advise bringing waterproofs and warm clothes you don't need to spend a fortune on any specialist gear.
What to Pack for the Mt. Pulag Trail
All that said, you may want to consider packing more than a Minion beanie and bin bags:
Need more juicy ideas in your brain? Check out our master list of the ultimate backpacking gear for your adventures.
Want to save the world?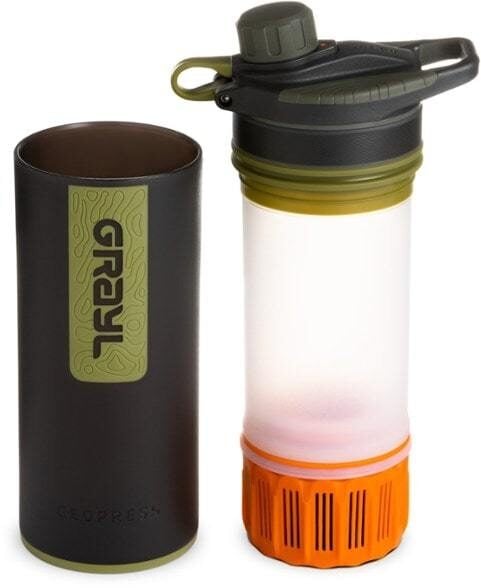 Single-use plastic bottles are a huge threat to Marine Life – Be a part of the solution and travel with a filter water bottle.
The GRAYL GEOPRESS water bottle is the ONLY all-in-one filter water bottle setup you'll need. Whether you need to purify the water from a hostel sink in Kathmandu or a stream trickle in the Andes, the Geopress has got you covered.
Read our full review of the GRAYL GEOPRESS!
And get insured before embarking on the trek…
Just in case you fall off the mountain… Or into the sea of clouds. Or, maybe you show up woefully underprepared for the cold and contract pneumonia.
In all these cases – and many more – it pays to have insurance!
Remember: Have fun on your backpacking adventure, but please do get insurance – take it from someone who has racked up tens of thousands of bucks on an insurance claim before, you may need it.
I have been using World Nomads for some time now and made a few claims over the years. They're easy to use, professional and relatively affordable. They may also let you buy or extend a policy once you've started your trip and are already abroad which is super handy.
Everything you need to know about Baguio
For adventurers wishing to brave Mt. Pulag, Baguio is pretty much an essential stop since you'll be starting the trek so early in the morning. Baguio itself is not that exciting but most travellers end up spending at least one night. It's way better to plan your Baguio accommodation in advance.
I didn't bother to book Baguio accommodation in advance which proved to be a really bad move as a lot of places were already full. If money isn't a concern, I'd recommend checking into Newtown Plaza Hotel, I heard rave reviews from a group of Filipinos who were staying there.
A more budget-friendly accommodation choice is Dream Transient Rooms which is where I stayed. Rooms are clean, simple, well-located, and cheap! There is a whole load of bars and restaurants to choose from in the town centre; keep an eye out for the American-themed diner if you want something a little bit different or stick to the plentiful and cheap local eateries.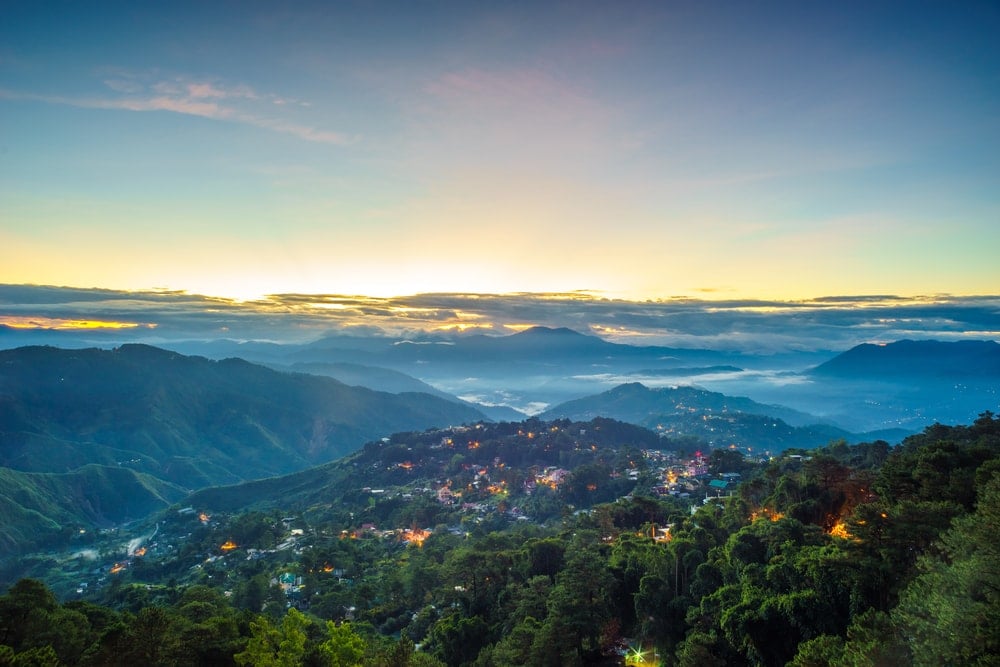 There are numerous Mt. Pulag tour agencies in town who are able to arrange your trek for you. You could attempt to do the trek without a guide but technically you're not allowed to. Getting to the start of the trek from Baguio takes a couple of hours and this is where going with a tour company becomes pretty handy; they will charter a jeepney to take you from Baguio to the mountain at stupid-o-clock in the morning.
My trek was kindly sponsored by Travel Cafe and I can recommend them for making all of your Mt. Pulag tour arrangements. They are certainly one of the better-value operators and are easily contactable by Facebook or by simply going into their office in Baguio.
Need to travel to Mt. Pulag on the cheap? Use Bookaway to find the best deals on bus, plane, train, and ferry tickets. It's easy to use and saves you time and money. Once you've arrived, why not use what you've saved to treat yourself to a cold beer and a bite to eat?
Book your transport on Bookaway now to guarantee your seat and for the right price.
Summing Up the Mount Pulag Journey
A piece of magic above the clouds of the Philippines – that's a good journey! Even freezing my ass off in bin liners and a 2-dollar shop minion beanie, I found magic.
Suspended above the sky of the Philippines, there's a place you need to see. A place where the hues of the sun seem to pierce a little deeper and where the patterns seem to be just a little bit more playful.
Mt. Pulag – the peak where the spirits, the clouds, and the stars all merge together as one. High up on Luzon, go find a grand adventure.
Safe travels, amigos.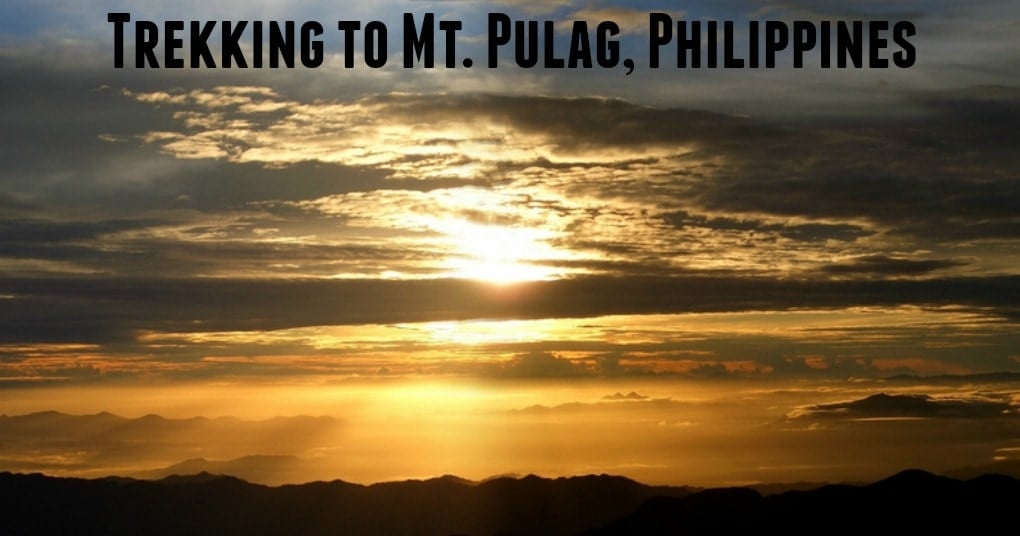 Updated: November 2019 by Ziggy Samuels at Zigz Writes Things.
---
Find out how YOU can support the site.
We work hard to put out the best backpacker resources on the web for free! It's all about helping out our tribe of awesome backpacker readers (that's you!). Please visit the link to find out how you can help keep the site going 🙂
For the sake of transparency, some of the links in our content are affiliate links. This means that if you book your accommodation, buy a piece of gear, or sort your insurance through our link, we earn a small commission at no extra cost to you. We only link to stuff that members of the Broke Backpacker team has actually used and never endorse products or services that are not up to scratch. Thanks for your support!