Guadeloupe is an off the beaten track archipelago in the Caribbean. The French overseas region is made up of more than 12 islands, each with their own unique charm. With towering mountains, never ending white sand beaches, a delicious locale cuisine, and more, Guadeloupe has a bit of something for everyone!
But because there is so much to see and do in the Guadeloupe islands, choosing where to stay is incredibly important. Each island has something different to offer, so where you stay will be largely based on what activities you are interested in and what you want to see.
If you're feeling a little lost on deciding where to stay in Guadeloupe, then don't worry. I know that it can be overwhelming and confusing at times. That's why I prepared this ultimate Guadeloupe area guide, so you can find the best place to stay in Guadeloupe no matter who you are and what type of accommodation you are looking for.
Let's get started…
Looking for a place to stay in Guadeloupe but don't have much time? Here are my top overall recommendations of the coolest places.
This remarkable home is located in Saint-François and is my top choice for those of you who are traveling with children. With two bedrooms it's super spacious, and also it has a large outdoor area. On top of that, it's only steps from the beach! Here every day is a beach day, with the added convenience that you can go home to eat, take a nap, or escape the sun at any time.
Jack Tavern is the ultimate budget accommodation option for those of you traveling on a backpacker's budget. They provide beds in male-only, female-only, and mixed-gender dormitories. The local staff is super knowledgeable and can help you plan a variety of different trips and tours. On top of that, there is a restaurant and bar inside the hostel where you can buy cheap food and drinks.
This extraordinary hotel has it all! It boasts a plethora of different room choices that can sleep anywhere from one to four people. In addition, every room comes with a TV, fridge, and private balcony. With that said, my favorite part of this hotel is all the other amenities it offers. It features a swimming pool and a hot tub that overlook the ocean, direct beach access, tennis courts, and a tasty restaurant that delivers food to the pool or directly to your room!
Before you can go ahead and book your dream hotel in Guadeloupe, it's a good idea to consider your neighborhood first. As I mentioned earlier, there are more than 12 islands in the archipelago and some of the best islands in the Caribbean, in my oh so humble opinion, but chances are you won't have time to see them all.
Basse-Terre and Grande-Terre are the two main islands, which are separated by only a small channel of water, and unless you look closely at the map, you would actually think they are connected. They are far and away the most popular places to stay in Guadeloupe, with the other islands more commonly visited on day trips.
One thing to note is that it can be quite a journey to go from one side of Basse-Terre to the other side of Grande-Terre, with there being notoriously bad traffic at the bridge connecting the two islands. Due to this, I recommend breaking your trip into two parts and spending a bit of time on both islands.
Of course you don't have to do this, but if you want to see all the amazing things that Guadeloupe has to offer, and don't want to spend the whole vacation stuck in the car, it's a good idea.
When it comes to choosing a neighborhood, I recommend Le Gosier for your first time in Guadeloupe. It is a central town located in the western part of Grande-Terre. If you have a limited amount of time in Guadeloupe and want to see as much as possible, this is an ideal place to stay. Also, it's full of bars and restaurants and is home to some of the best nightlife in Guadeloupe.
Pointe-Noire is home to the only hostel in Guadeloupe and is a great option for budget-conscious travelers. Home to Jacques Cousteau's Underwater Reserve, it's also where you can find some of the best diving and snorkeling.
If you like the beach and want to explore as many of the other islands in Guadeloupe as possible, Saint-François is where to stay! Moreover, if you like rum there are a handful of distilleries you can tour in and around the city.
Basse-Terre is where to stay in Guadeloupe if you like nature. It's home to amazing hiking in Guadeloupe National Park, as well as some world-class beaches.
Now that you have briefly been introduced to the main areas to stay in Guadeloupe, it's time to look at each area in more detail. If you're looking for an apartment, condo, hostel, or hotel inGuadeloupe, these are the best ones!
1. Le Gosier – Where to Stay in Guadeloupe for your First Visit
Le Gosier is situated almost directly in the center of the two islands. As much as we recommend staying on both islands for a period of time, if that is not possible, here is hands down the best basecamp for exploring both of them. Also, with beaches, museums, and local markets, there are tons to do right in the city!
If you want to learn about the history of this tiny French-speaking territory, the Mémorial ACTe is a must-visit. It's an incredibly interesting museum that covers in detail the indigenous people, the Caribbean slave trade, and how the island has changed over time.
Moreover, as Le Gosier is located close to the airport, it's a fantastic place to stay if you arrive late at night or have an early morning departure.
This charming seaside studio comes with a fully-equipped kitchen and a gorgeous private terrace. The terrace is a fantastic place to enjoy an early morning coffee or sip on a beer while watching the sunset.
Additionally, there's a stunning infinity pool that overlooks the sea and is shared with other residents in the small gated community. It's ideal for solo travelers and couples who want to be close to the beach.
This modern two-bedroom home looks like it was pulled straight out of the pages of a magazine. It is located in a small beachside community and was recently fully renovated from head to toe.
The two bedrooms are super spacious and can comfortably sleep up to four people. The cherry on top is a terrace featuring a jaw-dropping private pool that overlooks the ocean.
The Zenitude Hôtel Résidences Le Salako is a beautiful beachfront hotel just outside of Le Gosier. It features large, spacious rooms that can sleep up to four people, and every room comes with a private balcony. On the hotel grounds, there is a swimming pool, a Jacuzzi, tennis courts, a restaurant, and more! They also regularly organize and host events like karaoke night, beach football, and beach volleyball.
Things to See and Do in Le Gosier:
Learn about local history and culture at the Mémorial ACTe.
Spend a day interacting and learning about marine life at the Guadeloupe Aquarium.
Test your luck and try to win big at the Casino de Gosier.
Hop on a boat and spend a beach day at Plage De L'ilet Du Gosier.
Explore the canyon in the rainforest.
Take a day trip to Pointe-à-Pitre and explore the city.
Head out on some of the best sailing experiences in the Caribbean!
Shop for food and souvenirs at one of the lively local markets.
Ride a bike or drive along the coast and discover hidden beaches.
View traditional aboriginal clothing at the Museum of costumes and traditions.
2. Pointe-Noire – Where to Stay in Guadeloupe on a Budget
On the far west coast of Basse-Terre is where you will find Point-Noire. It's a small community next to the beach made up of a mixture of Creole and colonial houses.
The surrounding coastline is breathtaking to explore, and a handful of pristine beaches are only a few minutes' drive away. One of those beaches is Caribbean Beach, one of the most popular beaches for swimming and snorkeling in Guadeloupe.
Another benefit of Pointe-Terra is that the prices of accommodation are very friendly on the wallet. There are some absolute bargains on apartments and hotels, and if that wasn't enough, they also have the only hostel in Guadeloupe.
Other fun things to do in this area are to visit the zoo, hike to hidden waterfalls, and explore the underwater statues at Jacques Cousteau's Underwater Reserve.
This lovely bungalow is tucked away in the jungle just outside of Pointe-Noire, five minutes from the beach. It features a stunning wooden, open-air design and is without a doubt one of the most unique homes in Guadeloupe. The outdoor kitchen and dining area are wonderful and are the perfect place to sip on a coffee or juice and enjoy breakfast. If you want to connect with nature and leave the worries of home behind, this is where to stay in Guadeloupe.
Jack Tavern is a terrific hostel close to both the beach and the jungle. You can choose from three different room options, a five-bed male dorm, a 5-bed female dorm, or a six-bed mixed dormitory. Furthermore, it has a shared lounge area and a beautiful garden area. Both are superb places to socialize and make new friends. If you are on a budget or traveling solo, this is where to stay in Guadeloupe.
This hotel is a magical oasis hidden in the jungle outside of downtown Pointe-Noire. They have seven different room options, ranging from double rooms for two to deluxe quadruple rooms for four. In addition, there is a stunning swimming pool and a large sun terrace where guests can relax. What truly sets this hotel apart is the amazing spa services they offer to guests.
Things to See and Do in Pointe-Noire:
Head underwater and explore the magical Jacques Cousteau's Underwater Reserve.
Visit the Zoo de Guadeloupe au Parc des Mamelles.
Take a day trip to Terre-de-Haut or Terre-de-Bas, two picturesque Caribbean islands.
Explore the distilleries and beaches on the neighboring island of Marie-Galante.
Go on a guided tour at La Vanilleraie Fety, an open-air museum where they teach you about vanilla.
Enjoy tasty freshly caught seafood at the beachfront restaurant of La Touna.
Hike to the Cascade le Saut d'Acomat, a popular swimming hole at the base of a waterfall.
Sample fresh grown cacao and chocolate at the La Maison du Cacao.
3. Saint-François – Where to Stay in Guadeloupe for Families
Situated on the southeast side of Grande-Terre, Saint-François is one of the most popular tourist destinations in Guadeloupe. It's home to a handful of great tourist attractions, such as the iconic Pointe des Châteaux. The Pointe des Châteaux is the easternmost tip of the island and boasts dramatic cliffs and breathtaking views. It's a must-visit add to any Guadeloupe itinerary.
Furthermore, it has one of the largest ports and a Marina on the island. From the port, you can take day trips to many of the other smaller islands, such as La Desirade. If you want to stay on the mainland, Saint-François is surrounded by picturesque beaches where you can swim, tan, snorkel, and partake in other water sports!
This luxury two-bedroom, two-bathroom villa is located right on the beach and is definitely one of the most spectacular places to stay in Guadeloupe. It offers 180-degree panoramic views of the Caribbean Sea and is ideal for families.
The inside has a gorgeous open floor plan design and makes the house feel huge. Outside there is a private yard that features a wrap-around porch, a hammock, and amazing views.
Hotel et villa chez Flo is a magnificent five-star hotel that offers standard hotel rooms as well as private two-bedroom villas. Every room has a large flat-screen TV and either a balcony or terrace. On the property, you will find a large outdoor swimming pool, a hot tub, a pool table, a communal lounge, and a restaurant/bar. If you want to be pampered like a celebrity on your trip, this is where to stay in Guadeloupe.
Best Apartment in Saint-François: Le Studio de la Marina
This charming studio is located inside the marina and is surrounded by things to do. The marina is one of the most lively areas in Saint-François and has bars and restaurants galore, a casino, diving, kayaking, and more. Inside the studio, there is a bathroom, a kitchenette, and a living area. Additionally, there is a lovely private terrace that overlooks the boats in the marina.
Things to See and Do in Saint-François:
Swim and snorkel in the crystal clear waters at Plage de la Caravelle.
Walk to Pointe des Châteaux. It's the easternmost point of the island and a photographer's dream.
Spend a beach day basking in the sun at Sainte-Anne Beach.
Take a boat tour of the Mangroves and its lagoon.
Take a day trip to the island of La Desirade to escape the crowds and bask in natural beauty.
Hike Carbet Falls and swim in the pools at the bottom of the cascading falls.
Take a tour of the Distillerie Damoiseau and sample local flavors of rum.
Take a surfing lesson in Le Moule.
Visit the popular tourist site of the Cimetière des esclaves.
View local art at the Musée des Beaux-Arts de Saint-François.
4. Deshaies – Where to Stay in Guadeloupe for Nature Lovers
Deshaies is the perfect place to go if you love nature and want to avoid cities and crowds. It's a small town located towards the top of Basse-Terra and is surrounded by spectacular nature in every direction. On one side you have some of the best beaches in Guadeloupe and on the other, you have wild jungles and mountains.
Spending a day exploring Guadeloupe National Park is an absolute must! It's full of waterfalls, swimming holes, and exotic wildlife. If you are up for a challenge and want to push yourself a little more, you can hike La Grande Soufrière. At 1,467 meters it's the highest point in Guadeloupe, and oh yeah, it's an active volcano!
This unique wooden bungalow is perfect for those of you who are looking for a calm and peaceful place surrounded by nature. It has a zen Japanese style design and is constructed 100% out of wood. The kitchen and dining areas are found outside, under a covered patio. Furthermore, there is a phenomenal swimming pool only steps away from the apartment.
This incredible luxury guesthouse was recently built in 2019 and is a true piece of art. It features two bedrooms, one and a half bathrooms, and can sleep up to four people. Outside there is an exquisite covered patio that features a hammock, chairs, and overlooks the pool. The pool has lights so you can swim at night and is one of the most striking pools we have ever seen!
Les Lodges des Hauts de Deshaies is a beautiful boutique hotel moments away from the beach. Each room comes with a private terrace that either has views of the sea or the garden. Moreover, there is a swimming pool and breakfast is provided to the guests. There are superb hiking trails all around the hotel, making this where to stay in Guadeloupe if you love hiking.
Things to See and Do in Deshaies:
See a plantation, distillery, and hike La Grande Soufrière, an active volcano and the highest point on the island.
Explore the spectacular Guadeloupe National Park, a UNESCO World Biosphere Reserve.
Go on a boat tour to Grand Cul-de-Sac Marin Natural Reserve.
Spend a beach day relaxing and tanning at the Plage de Grande Anse.
Visit the Deshaies Botanical Gardens and learn about local plant life.
Learn about the history of rum and taste local flavors at the Reimonenq Distillery – Museum of Rum.
Eat delicious local food at the Paradise Kafe, an eco-friendly, family-run restaurant.
Relax on the beach under palm trees and drink from fresh coconuts at Plage de la Perle.
World Nomads' mission is to support and encourage travellers to explore their boundaries. They offer simple & flexible travel insurance, and safety advice to help you travel confidently.
They've been doing it since 2002 – protecting, connecting, and inspiring independent travellers just like you.
Get a quote below or read our in-depth review!
World Nomads provides travel insurance for travelers in over 100 countries. As an affiliate, we receive a fee when you get a quote from World Nomads using this link. We do not represent World Nomads. This is information only and not a recommendation to buy travel insurance.
Guadeloupe is without a doubt one of the hidden gems of the Caribbean. Like all hidden gems though, they never stay that way forever.
With all there is to see and do on this tiny island nation, it wouldn't surprise us if it blows up in the near future. So, with that said, I recommend visiting soon while it's still cheap and uncrowded!
As you have seen,Guadeloupe has accommodation options for everyone, no matter what you are interested in or what your budget may be. If you still need some inspiration on deciding on where to stay, consider checking out these Eco-resorts in Guadeloupe.
I hope that this guide has helped you decide where to stay on your next trip to Guadeloupe.
Did you find what you were looking for? Let me know in the comments!
And while you're planning for your next trip, it might be worthwhile to consider some travel insurance. It's always good to have peace of mind knowing you're covered if things don't go to plan, especially if you're going to a foreign country.
---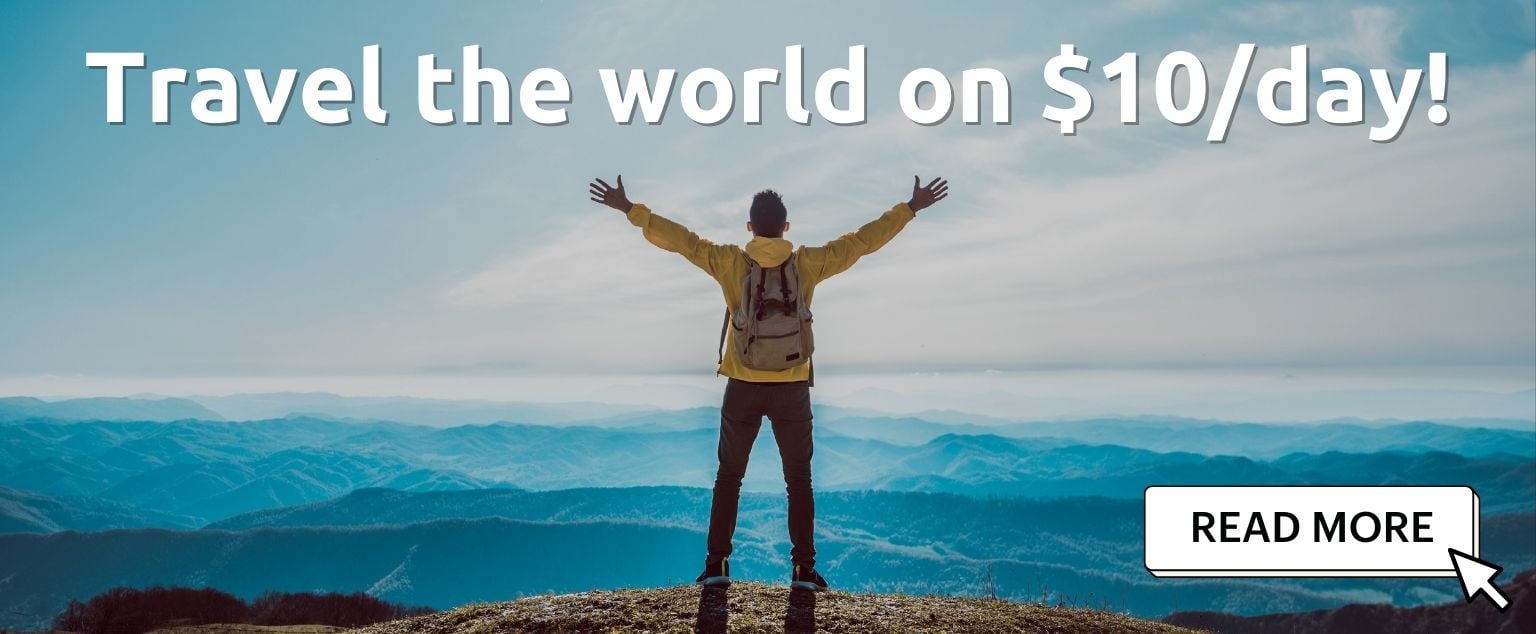 And for transparency's sake, please know that some of the links in our content are affiliate links. That means that if you book your accommodation, buy your gear, or sort your insurance through our link, we earn a small commission (at no extra cost to you). That said, we only link to the gear we trust and never recommend services we don't believe are up to scratch. Again, thank you!